E-mail mij


Druk op onderstaande knop om mij te e-mailen.


Romenu


Romenu is een blog over gedichten, literatuur en kunst Maar Romenu is ook een professionele freelance vertaler
Du-Ne en Ne-Du http://www.romenu.nl.


Huur eens een (vakantie)huis in een natuurgebied, dichtbij het centrum van Nijmegen


Google


Georg Trakl

Georg Trakl werd op 3 februari 1887 in het conducteurshuis aan de Waagplatz 2 in Salzburg geboren. Zijn vader, Tobias Trakl, was een handelaar in ijzerwaren en zijn moeder, die ook psychische problemen had, was Maria Catharina Trakl, (meisjesnaam Halik). Voorts had hij nog drie broers en drie zussen. Margarethe (doorgaans Grethe genoemd) stond hem het naast, zelfs zodanig dat sommigen een incestueuze verhouding vermoeden. Zijn jeugd bracht hij door in Salzburg. Vervolgens bezocht hij van 1897 tot 1905 het humanistische gymnasium. Om toch een academische opleiding te kunnen volgen, werkte hij tot 1908 in de praktijk bij een apotheker. Sommigen vermoedden dat hij dit vooral deed om zichzelf opiaten te kunnen verschaffen. Bij het uitbreken van WO I werd Trakl als medicus naar het front in Galicië (heden ten dage in Oekraïne en Polen) gestuurd. Zijn gemoedsschommelingen leidden tot geregelde uitbraken van depressie, die verergerd werden door de afschuw die hij voelde voor de verzorging van de ernstig verwonde soldaten. De spanning en druk dreven hem ertoe een suïcidepoging te ondernemen, welke zijn kameraden nochtans verhinderden. Hij werd in een militair ziekenhuis opgenomen in Kraków, alwaar hij onder strikt toezicht geplaatst werd.Trakl verzonk daar in nog zwaardere depressies en schreef Ficker om advies. Ficker overtuigde hem ervan dat hij contact moest opnemen met Wittgenstein, die inderdaad op weg ging na Trakls bericht te hebben ontvangen. Op 4 november 1914, drie dagen voordat Wittgenstein aan zou komen, overleed hij echter aan een overdosis cocaïne


Paul Celan

Paul Celan werd onder de naam Paul Antschel op 23 november 1920 geboren in Czernowitz, toentertijd de hoofdstad van de Roemeense Boekovina, nu behorend bij de Oekraïne. Paul Celans ouders waren Duitssprekende joden die hun zoon joods opvoedden en hem naar Duitse christelijke scholen stuurden. In 1942 werden Celans ouders door de Duitse bezetter naar een werkkamp gedeporteerd en daar vermoord. Hijzelf wist aanvankelijk onder te duiken, maar moest vanaf juli 1942 in een werkkamp dwangarbeid verrichten. Celan overleefde de oorlog. Via Boekarest en Wenen vestigde Celan zich in 1948 in Parijs. Daar was hij werkzaam als dichter, vertaler en doceerde hij aan de prestigieuze Ecole Normale Supérieure. Vermoedelijk op 20 april 1970 beëindigde hij zijn leven zelf door in de Seine te springen.


Gerard Reve

Gerard Reve over: Medearbeiders "God is in de mensen, de dieren, de planten en alle dingen - in de schepping, die verlost moet worden of waaruit God verlost moet worden, door onze arbeid, aangezien wij medearbeiders van God zijn." Openbaring "Tja, waar berust elk godsbegrip op, elke vorm van religie? Op een openbaring, dat wil zeggen op een psychische ervaring van zulk een dwingende en onverbiddelijke kracht, dat de betrokkene het gevoel heeft, niet dat hij een gedachte of een visioen heeft, maar dat een gedachte gedachte of visioen hem bezit en overweldigt."


Simon Vestdijk
Simon Vestdijk (Harlingen, 17 oktober 1898 – Utrecht, 23 maart 1971) was een Nederlands romancier, dichter, essayist en vertaler. Zijn jeugd te Harlingen en Leeuwarden beschreef hij later in de Anton Wachter-cyclus. Van jongs af aan logeerde hij regelmatig bij zijn grootouders in Amsterdam, waar hij zich in 1917 aan de Universiteit van Amsterdam inschrijft als student in de medicijnen. Tijdens zijn studie die van 1917 tot 1927 duurde, leerde hij Jan Slauerhoff kennen.Tot 1932 is hij als arts in praktijken door heel Nederland werkzaam. In 1932 volgt zijn officiële schrijversdebuut met de uitgave van de bundel Verzen in De Vrije Bladen. Doorslaggevend voor Vestdijks uiteindelijke keuze voor de literatuur is zijn ontmoeting in 1932 met Eddy Du Perron en Menno ter Braak. Deze ontmoeting had tot resultaat dat hij redactielid werd van het tijdschrift Forum Kort daarop, in 1933, wordt zijn eerste novelle, De oubliette, uitgegeven. In hetzelfde jaar schrijft hij Kind tussen vier vrouwen, dat, eerst geweigerd door de uitgever, later de basis zal vormen voor de eerste drie delen van de Anton Wachter-romans. In 1951 ontvangt Vestdijk de P.C. Hooftprijs voor zijn in 1947 verschenen roman De vuuraanbidders. In 1957 wordt hij voor het eerst door het PEN-centrum voor Nederland voorgedragen voor de Nobelprijs voor de Literatuur, die hij echter nooit zal krijgen. Op 20 maart 1971 wordt hem de Prijs der Nederlandse Letteren toegekend, maar voor hij deze kan ontvangen overlijdt hij op 23 maart te Utrecht op 72-jarige leeftijd. Vestdijk was auteur van ca. 200 boeken. Vanwege deze enorme productie noemde de dichter Adriaan Roland Holst hem 'de man die sneller schrijft dan God kan lezen'. Andere belangrijke boeken van Simon Vestdijk zijn: "Kind van stad en land" (1936), "Meneer Visser's hellevaart" (1936), "Ierse nachten" (1946), "De toekomst de religie" (1947), "Pastorale 1943" (1948), "De koperen tuin" (1950), "Ivoren wachters" (1951), "Essays in duodecimo" (1952) en "Het genadeschot" (1964).


K.P. Kavafis

K.P. Kavafis werd als kind van Griekse ouders, afkomstig uit Konstantinopel, geboren in 1863 in Alexandrië (tot vandaag een Griekse enclave) waar hij ook het grootste deel van zijn leven woonde en werkte. Twee jaar na de dood van zijn vader verhuist het gezin in 1872 naar Engeland om na een verblijf van vijf jaar naar Alexandrië terug te keren. Vanwege ongeregeldheden in Egypte vlucht het gezin in 1882 naar Konstantinopel, om na drie jaar opnieuw naar Alexandrië terug te gaan. In de jaren die volgen maakt Kavafis reizen naar Parijs, Londen en in 1901 zijn eerste reis naar Griekenland, in latere jaren gevolgd door nog enkele bezoeken. Op de dag van zijn zeventigste verjaardag, in 1933 sterft Kavafis in Alexandrië. De roem kwam voor Kavafis pas na zijn dood, dus postuum. Deels is dat toe te schrijven aan zijn eigen handelswijze. Hij was uiterst terughoudend met de publicatie van zijn gedichten, liet af en toe een enkel gedicht afdrukken in een literair tijdschrift, gaf in eigen beheer enkele bundels met een stuk of twintig gedichten uit en het merendeel van zijn poëzie schonk hij op losse bladen aan zijn beste vrienden.


Thomas Mann


Thomas Mann, de jongere broer van Heinrich Mann, werd geboren op 6 juni 1875 in Lübeck. Hij was de tweede zoon van de graankoopman Thomas Johann Heinrich Mann welke later één van de senatoren van Lübreck werd. Zijn moeder Julia (geboren da Silva-Bruhns) was Duits-Braziliaans van Portugees Kreoolse afkomst. In 1894 debuteerde Thomas Mann met de novelle "Gefallen". Toen Thomas Mann met 21 jaar eindelijk volwassen was en hem dus geld van zijn vaders erfenis toestond - hij kreeg ongeveer 160 tot 180 goldmark per jaar - besloot hij dat hij genoeg had van al die scholen en instituties en werd onafhankelijk schrijver. Kenmerkend voor zijn stijl zijn de ironie, de fenomenale taalbeheersing en de minutieuze detailschildering. Manns reputatie in Duitsland was sterk wisselend. Met zijn eerste roman, Buddenbrooks (1901), had hij een enorm succes, maar door zijn sceptische houding tegenover Duitsland na de Eerste Wereldoorlog veranderde dit volledig. Stelde hij zich tot aan de jaren twintig apolitiek op (Betrachtungen eines Unpolitischen, 1918), meer en meer raakte hij bij het Politiek gebeuren betrokken. Zijn afkeer van het nationaal socialisme groeide, zijn waarschuwingen werden veelvuldiger en heftiger. In 1944 accepteerde hij het Amerikaanse staatsburgerschap. Tussen 1943 en 1947 schreef Mann Doktor Faustus (zie Faust), de roman van de 'Duitse ziel' in de gecamoufleerd geschilderde omstandigheden van de 20ste eeuw. In 1947 bezocht hij voor het eerst sinds de Oorlog Europa, twee jaar later pas Duitsland. In 1952 vertrok hij naar Zwitserland. Op 12 augustus 1955 stierf hij in Zürich. Twintig jaar na zijn dood, in aug. 1975, is zijn literaire nalatenschap geopend: dagboekaantekeningen van 15 maart 1933 tot 29 juli 1955, alsmede notities uit de jaren 1918 tot en met 1921.Belangrijke werken zijn: Der Zauberberg, Der Tod in Venedig, Dokter Faustus , Joseph und seine Brüder en Die Bekenntnisse des Hochstaplers Felix Krull.


Rainer Maria Rilke

Rilke werd op 4 december 1875 geboren in Praag. Hij had al naam gemaakt als dichter met zijn bundels Das Stundenbuch en Das Buch der Bilder, toen hij de literaire wereld versteld deed staan en wereldfaam verwierf met de publicatie van zijn twee delen Neue Gedichte in 1907 en 1908. Hij verzamelde daarin het beste werk uit een van zijn vruchtbaarste periodes, die hij grotendeels doorbracht in Parijs. Rilke was daar diep onder de indruk gekomen van Rodin, bij wie hij een tijdlang in dienst was als particulier secretaris. Rodin, zei hij later, had hem leren kijken. Dit kijken kwam neer op intense concentratie, om het mysterie te kunnen zien 'achter de schijnbare werkelijkheid'. Latere en rijpere werken als Duineser Elegien (1912-1923) en het ronduit schitterende Die Sonette an Orfeus (1924) illustreren Rilkes metafysische visie op het onzegbare, dat haar verwoording vindt in een hermetische muzikale taal. Op 29 december 1926 overlijdt Rilke in het sanatorium in Val-Mont aan de gevolgen van leukemie. Enkele dagen later wordt hij, overeenkomstig zijn wens, begraven op het kerkhof van Raron.


* * * * * * * * * * * * * * * *

| | |
| --- | --- |
| | Over literatuur, gedichten, kunst en cultuur |

22-11-2014

André Gide, George Eliot, Dirk van Weelden, Suresh en Jyoti Guptara, Viktor Pelevi
De Franse schrijver André Gide werd geboren op 22 november 1869 in Parijs. Zie ook alle tags voor André Gide op dit blog.
Uit: Si le grain ne meur
"Roger Martin du Gard, à qui je donne à lire ces Mémoires leur reproche de ne jamais dire assez et de laisser le lecteur sur sa soif. Mon intention pourtant a toujours été de tout dire. Mais il est un degré dans la confidence que l'on ne peut dépasser sans artifice, sans se forcer ; et je cherche surtout le naturel. Sans doute un besoin de mon esprit m'amène, pour tracer plus purement chaque trait, à simplifier tout à l'excès ; on ne dessine pas sans choisir ; mais le plus gênant c'est de devoir présenter comme successifs des états de simultanéité confuse. je suis un être de dialogue ; tout en moi combat et se contredit. Les Mémoires ne sont jamais qu'à demi sincères, si grand que soit le souci de vérité : tout est toujours plus compliqué qu'on ne le dit. Peut-être même approche-t-on de plus près la vérité dans le roman.
(…)
Nos actes les plus sincères sont aussi les moins calculés ; l'explication qu'on en cherche après coup reste vaine. Une fatalité me menait ; peut-être aussi le secret besoin de mettre au défi ma nature ; car, en Emmanuèle, n'était-ce pas la vertu même que j'aimais ? C'était le ciel, que mon insatiable enfer épousait ; mais cet enfer je l'omettais à l'instant même : les larmes de mon deuil en avaient éteint tous les feux ; j'étais comme ébloui d'azur, et ce que je ne consentais plus à voir avait cessé pour moi d'exister. Je crus que tout entier je pouvais me donner à elle, et le fis sans réserve de rien. A quelque temps de là nous nous fiançâmes."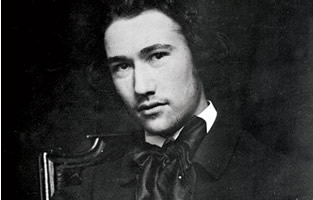 André Gide (22 november 1869 – 19 februari 1951)
Op ongeveer 20-jarige leeftijd
De Engelse dichteres en schrijfster George Eliot werd geboren op 22 november 1819 in Nuneaton in Warwickshire. Zie ook alle tags voor George Eliot op dit blog.
Uit: Silas Marner
"In the early years of this century, such a linen-weaver, named Silas Marner, worked at his vocation in a stone cottage that stood among the nutty hedgerows near the village of Raveloe, and not far from the edge of a deserted stone-pit. The questionable sound of Silas's loom, so unlike the natural cheerful trotting of the winnowing-machine, or the simpler rhythm of the flail, had a half-fearful fascination for the Raveloe boys, who would often leave off their nutting or birds'-nesting to peep in at the window of the stone cottage, counterbalancing a certain awe at the mysterious action of the loom, by a pleasant sense of scornful superiority, drawn from the mockery of its alternating noises, along with the bent, tread-mill attitude of the weaver. But sometimes it happened that Marner, pausing to adjust an irregularity in his thread, became aware of the small scoundrels, and, though chary of his time, he liked their intrusion so ill that he would descend from his loom, and, opening the door, would fix on them a gaze that was always enough to make them take to their legs in terror. For how was it possible to believe that those large brown protuberant eyes in Silas Marner's pale face really saw nothing very distinctly that was not close to them, and not rather that their dreadful stare could dart cramp, or rickets, or a wry mouth at any boy who happened to be in the rear? They had, perhaps, heard their fathers and mothers hint that Silas Marner could cure folks' rheumatism if he had a mind, and add, still more darkly, that if you could only speak the devil fair enough, he might save you the cost of the doctor. Such strange lingering echoes of the old demon-worship might perhaps even now be caught by the diligent listener among the grey-haired peasantry; for the rude mind with difficulty associates the ideas of power and benignity. A shadowy conception of power that by much persuasion can be induced to refrain from inflicting harm, is the shape most easily taken by the sense of the Invisible in the minds of men who have always been pressed close by primitive wants, and to whom a life of hard toil has never been illuminated by any enthusiastic religious faith."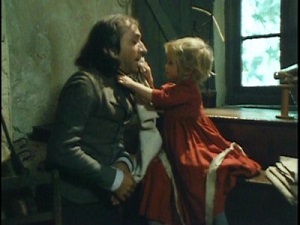 George Eliot (22 november 1819 – 22 december 1880)
Ben Kingsley (Silas) en Elizabeth Hoyle (Eppie) in een verfilming uit 1985
De Nederlandse schrijver Dirk van Weelden werd geboren in Zeist op 22 november 1957. Zie ook alle tags voor Dirk van Weelden op dit blog.
Uit: Het laatste jaar
"David en Brent kwamen elkaar tegen in de late jaren zeventig. Twee slimme, nerveuze jongens, onzeker over hun verblijf op de universiteit (waar moest dat toe leiden?), maar gelijkgestemd in hun liefde voor literatuur, muziek en film. En hoe verschillend ze ook waren, ze hadden een gemeenschappelijk droombeeld, dat ze liever niet hardop benoemden: een schrijvend leven leiden. Hun vriendschap en samenwerking ontstonden in mijn geest, zou je kunnen zeggen. In de geest van de Olivetti Studio 44.
Dus als ik die kop van David zie, zo gretig als hij de beelden in zich opneemt waarin de kampioen ten onder gaat, dan weet ik dat hij denkt aan de luidruchtige pret die hij met Brent maakte als ze samen naar voetbal- en wielerwedstrijden keken. Aan hun liefde voor de vreemde schoonheid en mallotige tragiek die sport kan bieden, en natuurlijk aan Brent, zijn vriend, die op deze drukkende juniavond al meer dan een jaar onder een dikke grijze steen en een paar meter vochtige zwarte aarde ligt te vergaan.
Niet lang nadat ze elkaar hadden leren kennen, begonnen David en Brent elkaar regelmatig te zien. Een paar keer per week en altijd bij Brent thuis. David woonde in een studentenflat aan de rand van de stad, waar hij zich alleen 's nachts en 's avonds, verdiept in zijn boeken en schriften prettig voelde. De rest van de dag was hij in de stad. Brents kamer bevond zich boven een modelbouwwinkel in de binnenstad, aan het A-Kerkhof. Je liep vanaf de straat in een overdekte gang met aan weerszijden etalages. Alpendorpjes en zandwoestijnen, waarin goederentreintjes rondraasden en tanks van het Afrikakorps roerloos op Montgomery stonden te wachten. Boven dit alles bungelden plastic Spitfires en Heinkel-jachtbommenwerpers aan visdraad. Aan het eind van de gang was de ingang van de winkel. Haaks erop de brede deur van donker gelakt hardhout. Daarachter leidde een hoge steile trap naar een paar kamers, een keuken en een badkamer."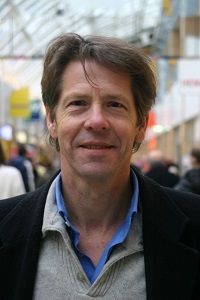 Dirk van Weelden (Zeist, 22 november 1957)
De Brits-Indische schrijverstweeling Suresh en Jyoti Guptara werd geboren op 22 november 1988 in Frimley, Hants in het zuidoosten van Engeland. Zie ook alle tags voor Suresh en Jyoti Guptara op dit blog.
Uit: Conspiracy of Calaspia
"Suddenly Galar realised what must have happened. Poison! With a roar he cut down the nearest foe, before retreating to higher ground. He brought his shoulder to his mouth and desperately sucked at the wound. Along with the blood he drew into his mouth he thought he tasted something bitter. Galar spat in disgust and looked up in time to parry a downward blow. He kicked the beast in the stomach, briefly feeling coarse fur beneath his foot as it stumbled down the incline, and quickly removed throwing-axes from straps on his back. These had small heads, many times lighter than his golden axe, but with long handles. Before the Nurgor could get back to its feet, its skull was split with one swing of Galar's arm. The Dwarf's muscles knotted as he threw the other two axes at the nearest of his opponents, both of which hit the dust.
Sensing their victim's weakening power, the Nurgor surged up the rise in a triumphant assault. Galar struggled to fight off the first few blows before a heavy stave found its way through his defences and knocked him into darkness.
*
'Master, your humble servant reports: we have the Dwarf.'
It was a triumphant call, even if the figure who proclaimed this news looked in no condition to be happy. Though battered and bruised, he walked upright, without the least sign of pain, a grim smile twitching at the sides of his mouth. As the man drew nearer the hulking figure before him, the smile faded and he knelt humbly with outstretched arms."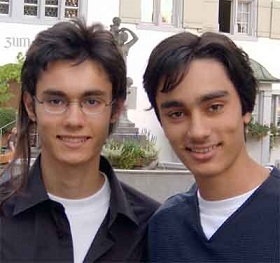 Suresh en Jyoti Guptara (Frimley, 22 november 1988)
De Russische schrijver Viktor Pelevin werd geboren op 22 november 1962 in Moskou. Zie ook alle tags voor Viktor Pelevin op dit blog.
Uit: Buddha's Little Finger (Vertaald door Andrew Bromfield)
"I did not feel any fear of death. Perhaps, I thought, it had already happened, and this icy boulevard along which I was walking was merely the threshold of the world of shadows. I had realized long before that Russian souls must be fated to cross the Styx when it is frozen, with their fare collected not by a ferryman, but by a figure garbed in grey who hires out a pair of skates — the same spiritual essence, naturally.
Suddenly I could picture the scene in the finest of detail: Count Tolstoy in black tights, waving his arms about, skates over the ice towards the distant horizon — his movements are slow and solemn, but he makes rapid progress, and the three-headed dog barking soundlessly in pursuit has no chance of overtaking him. I laughed quietly, and at that very moment a hand slapped me on the shoulder.
I stepped to one side and swung round sharply, feeling for the handle of the revolver in my pocket, when to my amazement I saw before me the face of Grigory Vorblei, an aquaintance from childhood. But, my God, his appearance! He was dressed from head to toe in black leather, a holster with a Mauser dangled at his hip, and in his hand he was clutching a ridiculous kind of obstetrician's travelling bag.
`I'm glad you're still capable of laughter,' he said.
`Hello, Grisha,' I said, `how strange to see you.'
`Why strange?'
`It just is strange.'
`Where have you come from?' he asked in a cheerful voice. `And where are you going?'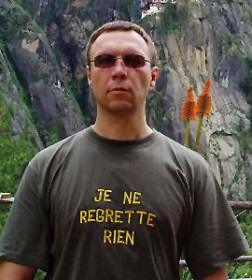 Viktor Pelevin (Moskou, 22 november 1962)
Zie voor nog meer schrijvers van de 22e november ook mijn vorige blog van vandaag.
22-11-2014 om 13:22 geschreven door Romenu

Tags:André Gide, George Eliot, Dirk van Weelden, Suresh en Jyoti Guptara, Viktor Pelevi, Romenu



Endre Ady, William Kotzwinkle, George Robert Gissing, Elisabeth Maria Post
De Hongaarse dichter Endre Ady werd geboren op 22 november 1877 in het huidige Adyfalva. Zie ook alle tags voor Endre Ady op dit blog en ook mijn blog van 22november 2010.
I Should Love To Be Loved
I am neither infant nor happy grandfather
Nor parent, nor lover
Of anyone, of anyone.
I am, as every man is, Majesty,
The North Pole, the Secret, the Stranger,
The will-o'-the-wisp in the distance, the will-o'-the-wisp in the distance.
But alas! I cannot remain this way.
I should like to show myself to the world,
So that someone sees me, so that someone sees me.
This is why I sing and I torment myself.
I should love to be loved.
I wish to be of someone, I wish to be of someone.
The Magyar Messiahs
More bitter is our weeping,
different the griefs that try us.
A thousand times Messiahs
are the Magyar Messiahs.
A thousand times they perish,
unblest their crucifixition,
for vain was their affliction,
oh, vain was their affliction.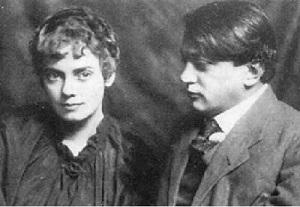 Endre Ady (22 november 1877 – 27 januari 1919)
Hier met zijn vrouw Csinszka (Berta Boncza)
De Amerikaanse schrijver William Kotzwinkle werd geboren op 22 november 1943 in Scranton, Pennsylvania. Zie ook alle tags voor William Kotzwinkle op dit blog en ook mijn blog van 22 november 2009 en ook mijn blog van 22 november 2010.
Uit:The Fan Man
"I am all alone in my pad, man, my piled-up-to-the-ceiling-with-junk pad. Piled with sheet music, piled with. garbage bags bursting with rubbish, piled with unnameable flecks of putrified wretchedness in grease. My pad, my own little Lower East Side Horse Badorties pad.
I just woke up, man. Horse Badorties just woke up and is crawling around in the sea of abominated filth, man, which he calls home. Walking through the rooms of my pad. man, from which. I shall select my wardrobe for the day. Here, stuffed in a trash basket, is a pair of incredibly wrinkled-up muck-pants. And here, man, beneath a pile of wet newspapers is a shirt, man, with one sleeve. All I need now, man, is a tie, and here is a perfectly good rubber Japanese toy snake, man, which I can easily form into an acceptable knot.
SPAGHETTI! MAN! Now I remember. That is why I have arisen from my cesspool bed, man, because of the growlings of my stomach. It is time for breakfast, man. But first I rnust make a telephone call to Alaska,
Must find telephone. Important deal in the making. Looking around for telephone, man. And here is án electric extension cord, man, which will serve perfectly as a belt to hold up my falling-down Horse Badorties pants, simply by running the cord through the belt loops and plugging it together."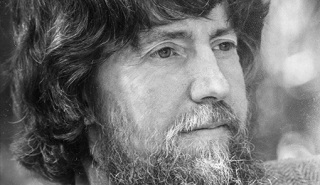 William Kotzwinkle (Scranton 22 november 1943)
De Engelse schrijver George Robert Gissing werd geboren op 22 november 1857 in Wakefield, Yorkshire. Zie ook alle tags voor Georg Robert Gissing op dit blog en ook mijn blog van 22 november 2009 en ook mijn blog van 22 november 2010.
Uit: By The Ionian Sea (From Naples)
"The harbour, whence one used to start for Capri, is filled up; the sea has been driven to a hopeless distance beyond a wilderness of dust-heaps. They are going to make a long, straight embankment from the Castel dell'Ovo to the Great Port, and before long the Santa Lucia will be an ordinary street, shut in among huge houses, with no view at all. Ah, the nights that one lingered here, watching the crimson glow upon Vesuvius, tracing the dark line of the Sorrento promontory, or waiting for moonlight to cast its magic upon floating Capri! The odours remain; the stalls of sea-fruit are as yet undisturbed, and the jars of the water-sellers; women still comb and bind each other's hair by the wayside, and meals are cooked and eaten al fresco as of old. But one can see these things elsewhere, and Santa Lucia was unique. It has become squalid. In the grey light of this sad billowy sky, only its ancient foulness is manifest; there needs the golden sunlight to bring out a suggestion of its ancient charm.
Has Naples grown less noisy, or does it only seem so to me? The men with bullock carts are strangely quiet; their shouts have nothing like the frequency and spirit of former days. In the narrow and thronged Strada di Chiaia I find little tumult; it used to be deafening. Ten years ago a foreigner could not walk here without being assailed by the clamour of cocchieri; nay, he was pursued from street to street, until the driver had spent every phrase of importunate invitation; now, one may saunter as one will, with little disturbance. Down on the Piliero, whither I have been to take my passage for Paola, I catch but an echo of the jubilant uproar which used to amaze me. Is Naples really so much quieter? If I had time I would go out to Fuorigrotta, once, it seemed to me, the noisiest village on earth, and see if there also I observed a change. It would not be surprising if the modernization of the city, together with the state of things throughout Italy, had a subduing effect upon Neapolitan manners. In one respect the streets are assuredly less gay."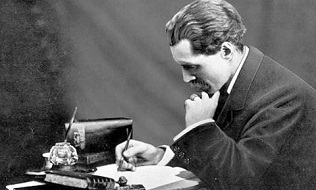 George Robert Gissing (22 november 1857 – 28 december 1903)
De Nederlands dichteres en schrijfster Elisabeth Maria Post werd geboren in Utrecht op 22 november 1755. Zie ook alle tags voor Elisabeth Maria Post op dit blog en ook mijn blog van 22 november 2009 en ook mijn blog van 22 november 2010.
Uit: Het land, in brieven
"Ontijdige beschroomdheid - kwalijk geplaatste tederheid, - schoonschijnende hoogmoed, - zal ons dan niet moeten hinderen in het mededeelen en ontfangen van vermaningen, afkeuringen, of raadgevingen, waar toe het hart zig verbonden voelt. - Laat ons in onze vriendschap deze grondregelen altijd volgen! - Laat derzelver tederheid en vastigheid de dwaling vernietigen, dat de vriendschap onder onze sex geene duurzaamheid kent.
Maar, lieve Emilia! daar ik thans van u afgescheiden leef, en nochtans mijn geest met u werkzaam wil houden - verwagt ik telkens brieven van u, die mij zoo wel uwe gedagten mededeelen, - als ze mij verzekeren, dat gij in de vriendschap van Eufrozyne, gelukkiger zijt dan te voren.
Och Emilia! dat gij ook het Landleven in dit akelig saizoen verkiest, daar ge, onder de schaduw van het vriendendak, zulk een gerust leven, naar uwe verkiezing kont leiden! - Mijn moeder zou zig gelukkig rekenen met zulk eene huisgenote! - Ik heb medelijden met uwen smaak; niet om dat ik dien laag vind, maar om dat die u, naar mijn oordeel, ongenoegens oplegt, die ik u ontnemen wilde. Of heeft de winter op het Land aangenaamheid? Verveelt u die doodelijke stilte niet? Behoeft gij geen menschen tot uw geluk? Hoe slijt gij de winterdagen? Door de beantwoording dezer vragen zult gij het hart verligten van uwe
Eufrozime."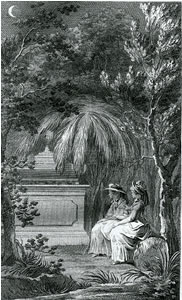 Elisabeth Maria Post (22 november 1755 - 3 juli 1812)
Illustratie uit "Het land, in brieven"
22-11-2014 om 13:22 geschreven door Romenu

Tags:Endre Ady, William Kotzwinkle, George Robert Gissing, Elisabeth Maria Post, Romenu



| | |
| --- | --- |
| | |



Inhoud blog


| | |
| --- | --- |
| | Geert van Istendael, Wim Brands, Eric Walz, Georg Klein, Ernst Jünger, Yvan Goll, R. S. Thomas, Jacques Brault, Denton Welch |
| | Walter van den Broeck, Joost de Vries, Mario Vargas Llosa, Chrétien Breukers, Nelson Algren, Marianne Frederiksson, Russell Banks, Léon-Gontran Damas, Éric-Emmanuel Schmitt |
| | Heinrich Mann, Shusaku Endo, Golo Mann, Carolina Trujillo, Patrick McCabe, Bob den Uyl, Dubravka Ugresić, Francis Ponge, Marie Under |
| | Tennessee Williams, Gregory Corso, Hwang Sun-won, Martin McDonagh, Robert Frost, Patrick Süskind |
| | A. E. Housman, Bettina Galvagni, Hai Zi, Erica Jong, Artur Landsberger |
| | Am vierten Sonntage in der Fasten (Annette von Droste-Hülshoff) |
| | Pol Hoste, Menno Van der Beek, Flannery O'Connor, Jaime Sabines, Peter Van Straaten, Toni Cade Bambara, Antonio Fogazzaro |
| | Jacques Bens, Jacques Audiberti, Filip De Pillecyn, Erica Pedretti, Evliya Çelebi, Anne Fanshawe, Daniel Schiebeler, Mary Webb |
| | Peter Bichsel, Martin Walser, Dario Fo, Lawrence Ferlinghetti, Jacob van Lennep, Jeroen Mettes, Harry Prenen, Willem van Iependaal, Top Naeff |
| | Cri Stellweg, Yōko Tawada, Gary Whitehead, Mitch Cullin, Steven Saylor, Roger Martin du Gard, Madison Cawein, Nils-Aslak Valkeapää, Federica de Cesco |
| | Billy Collins, Eveline Hasler, Érik Orsenna, Léon Deubel, Karel Poláček, Arnold Sauwen, Wolfgang Bächler, Albrecht Goes, Gabrielle Roy |
| | In Memoriam Colin Dexter |
| | Willem de Mérode, Pim te Bokkel, Kees van Beijnum, Jean Paul, Hamid Skif, Hubert Fichte, Peter Hacks, Michel Bartosik, Youssef Rzouga |
| | David Malouf, Friedrich Hölderlin, Katharina Hartwell, Ralph Giordano, Ricus van de Coevering, Jens Petersen, Benoît Duteurtre, Gerard Malanga, Henrik Johan Ibsen |
| | Mano Bouzamour, Hans Mayer, Philip Roth, Kirsten Boie, Lynne Sharon Schwartz, Lina Kostenko, Petar Preradović |
| | William Allingham, Ion Barbu, Rosalie Loveling, Tobias Smollett, Irving Wallace, Peter Abrahams |
| | Am dritten Sonntage in der Fasten (Annette von Droste-Hülshoff) |
| | Christa Wolf, Charlotte Roche, John Updike, Wilfred Owen, Stéphane Mallarmé |
| | Héctor Bianciotti, Hellema, Friedrich Hebbel, Max Barry, Wolfgang Bauer, Richard Condon |
| | Walter Rheiner, Srečko Kosovel, Jean Anglade, George Plimpton, Cosmo Monkhouse, Friedrich Nicolai |
| | Siegfried Lenz, Thomas Melle, Hans Wollschläger, Rense Sinkgraven, Hafid Aggoune, William Gibson, Patrick Hamilton, Karl Gutzkow, Jean Ingelow |
| | In memoriam Torgny Lindgren |
| | Frühlingsglaube (Johann Ludwig Uhland) |
| | Ben Okri, David Albahari, Louis Paul Boon, Kurt Drawert, Gerhard Seyfried, Andreas Okopenko, An Rutgers van der Loeff, Prosper van Langendonck, Paul Heyse |
| | Pam Ayres, Jochen Schimmang, Volker von Törne, Horton Foote, Olivier Delorme, Alexandru Macedonski, Albert Robida, Theodore de Banville, Wout Waanders |
| | Mahmoud Darwish, Yuri Andrukhovych, Didier Decoin, Yeghishe Charents, Vladimir Makanin, Oskar Loerke, W.O. Mitchell, Hugh Walpole, Inge Müller |
| | Jenny Erpenbeck, Dave Eggers, Jack Kerouac, Naomi Shihab Nye, Carl Hiaasen, Edward Albee, De Schoolmeester, Benedict Wells |
| | Kathrin Schmidt, Henrike Heiland, M. A. Numminen, Gabriele d'Annunzio, Irving Layton, Helga Goetze, Françoise d'Eaubonne, Antony Deschamps, Sergej Michalkov |
| | Leena Lehtolainen, Karl Krolow, Daan de Ligt, Frans Vogel, Willem Claassen, Amal Karam |
| | Ernst Wichert, Douglas Adams, Torquato Tasso, Georg Maurer, Josef Martin Bauer |
| | John Rechy, Joseph von Eichendorff, Hilde Van Cauteren, Jakob Wassermann, Karel van de Woestijne, Chloé Delaume, Friedrich Schlegel, Boris Vian, Manolis Anagnostakis |
| | Peter Altenberg, Ed Hoornik, Peter Zantingh, Heere Heeresma, Vita Sackville-West, Josef Weinheber, Taras Sjevtsjenko, Umberto Saba, Agnes Miegel |
| | Jeffrey Eugenides, Walter Jens, Hafid Bouazza, A. Marja, Aslı Erdoğan, John McPhee, Mouloud Feraoun, Mechtilde Lichnowsky, Dominic Angeloch |
| | Bret Easton Ellis, Robert Harris, Jürgen Theobaldy, Georges Perec, Abe Kōbō, Reinhard Kaiser, Manfred Gregor, Jan Frederik Helmers, Alessandro Manzoni |
| | Patrick deWitt, Gabriel García Márquez, Jeremy Reed, Marijke Hanegraaf, Thomas Acda, Günter Kunert, Clark Accord, Elizabeth Barrett Browning, Michelangelo |
| | Pier Paolo Pasolini, Arthur van Schendel, Koos van Zomeren, Jurre van den Berg, Nelly Arcan, Danny King, Jean Orizet |
| | Leslie Marmon Silko, Frank Norris, Fritz Usinger, Friedrich Schnack, Ennio Flaiano, Moritz Carrière, Karl August Timotheus Kahlert |
| | Kristof Magnusson, Khaled Hosseini, Robert Kleindienst, Irina Ratushinskaya, Alan Sillitoe |
| | Ryszard Kapuściński, Jean-Joseph Rabearivelo, Annette Seemann, F. W. Bernstein, Giorgio Bassani |
| | Bernardo Ashetu, Léon-Paul Fargue, Kito Lorenc, Jacques Dupin, Thomas S. Stribling |
| | Manfred Flügge, Hans Verhagen, Tjitske Jansen, James Merrill, Kola Boof, Clifton Snider, Gudrun Pausewang, Josef Winkler, Chris Kraus |
| | Godfried Bomans, Multatuli, Frank Albers, John Irving, Thom Wolfe, Michael Salinger, János Arany, Olivia Manning, Rinske Kegel |
| | Ash Wednesday (T. S. Eliot) |
| | Jan Eijkelboom, Jim Crace, Delphine de Vigan, Franz Hohler, Lytton Strachey, Robert Lowell, Myrthe van der Meer, Franzobel, Steven Barnes |
| | Chanson pour mourir d'amour au temps de carnaval (Louis Aragon) |
| | Stephen Spender, Bart Koubaa, Luc Dellisse, John Montague, Marcel Pagnol, Bodo Morshäuser, Martin Suter, Yórgos Seféris, Howard Nemerov |
| | Josef Svatopluk Machar |
| | Carnival Evening (Linda Pastan) |
| | Cynan Jones, John Steinbeck, Lawrence Durrell, André Roy, Henry Longfellow, Elisabeth Borchers, James T. Farrell, Irwin Shaw |
| | Fastnacht (Achim von Arnim) |


Gastenboek


Druk op onderstaande knop om een berichtje achter te laten in mijn gastenboek