De Duitse dichter en schrijver Ernst Theodor Amadeus Hoffmann werd geboren in Koningsbergen op 24 januari 1776. Zie ook alle tags voor E. Th. A. Hoffmann op dit blog.
Uit: Ritter Gluck
"Der Spätherbst in Berlin hat gewöhnlich noch einige schöne Tage. Die Sonne tritt freundlich aus dem Gewölk hervor, und schnell verdampft die Nässe in der lauen Luft, welche durch die Straßen weht. Dann sieht man eine lange Reihe, buntgemischt – Elegants, Bürger mit der Hausfrau und den lieben Kleinen in Sonntagskleidern, Geistliche, Jüdinnen, Referendare, Freudenmädchen, Professoren, Putzmacherinnen, Tänzer, Offiziere usw. durch die Linden nach dem Tiergarten ziehen. Bald sind alle Plätze bei Klaus und Weber besetzt; der Mohrrübenkaffee dampft, die Elegants zünden ihre Zigarros an, man spricht, man streitet über Krieg und Frieden, über die Schuhe der Mad. Bethmann, ob sie neulich grau oder grün waren, über den geschlossenen Handelsstaat und böse Groschen usw., bis alles in eine Arie aus »Fanchon« zerfließt, womit eine verstimmte Harfe, ein paar nicht gestimmte Violinen, eine lungensüchtige Flöte und ein spasmatischer Fagott sich und die Zuhörer quälen. Dicht an dem Geländer, welches den Weberschen Bezirk von der Heerstraße trennt, stehen mehrere kleine runde Tische und Gartenstühle; hier atmet man freie Luft, beobachtet die Kommenden und Gehenden, ist entfernt von dem kakophonischen Getöse jenes vermaledeiten Orchesters: da setze ich mich hin, dem leichten Spiel meiner Phantasie mich überlassend, die mir befreundete Gestalten zuführt, mit denen ich über Wissenschaft, über Kunst, über alles, was dem Menschen am teuersten sein soll, spreche. Immer bunter und bunter wogt die Masse der Spaziergänger bei mir vorüber, aber nichts stört mich, nichts kann meine phantastische Gesellschaft verscheuchen. Nur das verwünschte Trio eines höchst niederträchtigen Walzers reißt mich aus der Traumwelt. Die kreischende Oberstimme der Violine und Flöte und des Fagotts schnarrenden Grundbaß allein höre ich; sie gehen auf und ab, fest aneinanderhaltend in Oktaven, die das Ohr zerschneiden, und unwillkürlich, wie jemand, den ein brennender Schmerz ergreift, ruf ich aus:
»Welche rasende Musik! die abscheulichen Oktaven!« – Neben mir murmelt es:
»Verwünschtes Schicksal! schon wieder ein Oktavenjäger!«
Ich sehe auf und werde nun erst gewahr, daß, von mir unbemerkt, an demselben Tisch ein Mann Platz genommen hat, der seinen Blick starr auf mich richtet und von dem nun mein Auge nicht wieder loskommen kann."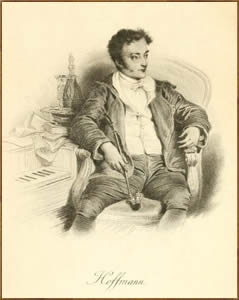 E. Th. A. Hoffmann (24 januari 1776 - 25 juni 1822)
De Oostenrijkse schrijfster Vicky Baum werd op 24 januari 1888 in Wenen geboren. Zie ook alle tags voor Vicky Baum op dit blog.
Uit: Menschen im Hotel
"Als der Portier aus der Telefonzelle 7 herauskam, war er ein wenig weiß um die Nase herum; er suchte seine Mütze, die er im Telefonzimmer auf die Heizung gelegt hatte. "Was war's denn?" fragte der Telefonist an seinem Schaltbrett, Hörer vor den Ohren und rote und grüne Stöpsel in den Fingern.
"Ja - sie haben die Frau plötzlich in die Klinik gebracht. Ich weiß gar nicht, was das heißen soll. Sie meint, es geht los. Aber es ist ja noch gar nicht soweit, Herrgott noch mal!" sagte der Portier.
Der Telefonist hörte nur halb hin, denn er musste eine Verbindung herstellen. "Na, nur mit die Ruhe, Herr Senf", sagte er dazwischen. "Schließlich haben Sie morgen früh Ihren Jungen -"
"Also schönen Dank auch, dass Sie mich hier ans Telefon geholt haben. Ich kann doch da vorne in der Loge nicht meine Privatgeschichten rumposaunen. Dienst ist Dienst."
"Eben. Und wenn's Kind da ist, ruf ich's Ihnen durch", sagte der Telefonist zerstreut und schaltete weiter. Der Portier nahm seine Mütze und ging auf den Zehenspitzen davon. Das tat er, ohne es zu wissen, weil seine Frau nun dalag und ein Kind bekommen sollte. Als er den Gang überquerte, an dem die Schreib- und Lesezimmer still mit halb abgedrehten Lampen lagen, schnaufte er tief aus sich heraus und fuhr sich durch die Haare. Er spürte erstaunt, dass seine Hand davon feucht wurde, aber er nahm sich nicht die Zeit, die Hände zu waschen. Schließlich konnte man nicht verlangen, dass der Hotelbetrieb aussetzte, weil der Portier Senf ein Kind bekam."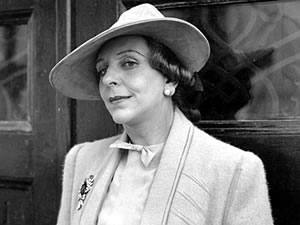 Vicky Baum (24 januari 1888 - 29 augustus 1960)
De Joegoslavische schrijver, vertaler, diplomaat en journalist Ivan Ivanji werd geboren op 24 januari 1929 in Zrenjanin. Zie ook alle tags voor Ivan Ivanji op dit blog.
Uit: Buchstaben von Feuer
"Siegfried Wahrlich wurde in der Neujahrsnacht 1908 in Weimar geboren, war also nur einige Tage jünger als Franz Ehrlich, der im Unterschied zu ihm eine dokumentarisch nachweisbare Person gewesen ist und von dem ebenfalls noch viel zu sagen sein wird. Es muss jedoch, um Verwechslungen und andere Irrtümer zu vermeiden, gleich betont werden, dass diese beiden fast gleichaltrigen Bauhäusler – obwohl sie befreundet waren, teilweise gemeinsame Wege gingen, manchmal zusammenarbeiteten und ein nicht ganz unähnliches Schicksal hatten – keineswegs identisch sind. Siegfrieds Vater, Walter, war Hilfskellner im Hotel »Elephant«.
Als die Wehen bei seiner Frau eintraten, schickte die besorgte Hebamme einen Nachbarsjungen, den Michael Gutmann, ins Restaurant, Walter solle unbedingt sofort zu seiner Frau kommen, aber Oberkellner Klement wollte ihn auf keinen Fall gehen lassen, mehrere andere Gehilfen hatten sich rechtzeitig freigenommen und feierten Silvester mit ihren Familien zu Hause, es mangelte ohnehin an Personal, das Restaurant war vor allem mit Stammgästen, Herrschaften von auswärts und auch mit Offizieren, die fröhlich champagnisierten, sehr gut besetzt.
»Wenn Sie jetzt gehen, Wahrlich, brauchen Sie überhaupt nicht mehr zu kommen!« Als Walter am frühen Morgen endlich nach Hause gehen durfte, war seine Frau schon verblutet und lag gewaschen und leicht geschminkt im frisch bezogenen Ehebett, das Kind jedoch schrie in den Armen der Geburtshelferin kräftig und es erwies sich, dass es gesund war. Die Nachbarin, die Witwe Gutmann, drückte ihr herzlichstes Beileid aus und bot jede notwendige Hilfe an."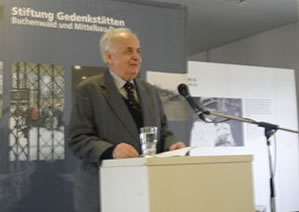 Ivan Ivanji (Zrenjanin, 24 januari 1929)
De Duitse dichter Eugen Roth werd op 24 januari 1895 in München geboren. Zie ook alle tags voor Eugen Roth op dit blog.
Kassenhass

Ein Mann, der eine ganze Masse
Gezahlt hat in die Krankenkasse,
Schickt jetzt die nötigen Papiere,
Damit auch sie nun tu das ihre.
Jedoch er kriegt nach längrer Zeit
statt baren Gelds nur den Bescheid,
Nach Paragraphenziffer X
Bekomme er vorerst noch nix,
Weil, siehe Ziffer Y,
Man dies und das gestrichen schon,
So daß er nichts, laut Ziffer Z,
Beanzuspruchen weiter hätt.
Hingegen heißt's, nach Ziffer A,
Daß er vermutlich übersah,
Daß alle Kassen, selbst in Nöten,
Den Beitrag leider stark erhöhten
Und daß man sich, mit gleichem Schreiben,
Gezwungen seh, ihn einzutreiben.
Besagter Mann denkt, krankenkässlich,
In Zukunft ausgesprochen häßlich.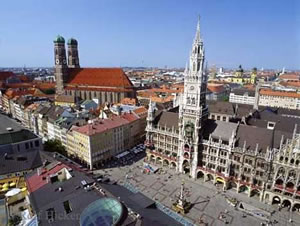 Eugen Roth (24 januari 1895 – 28 april 1976)
München
De Duitse schrijver Ulrich Holbein werd op 24 januari 1953 in Erfurt geboren. Zie ook alle tags voor Ulrich Holbein op dit blog.
Uit: Chance verpaßt (Netztagebuch)
Oft pfiff ich einen Fandango von Boccherini, für Gitarre und Cembalo und wartete jahrelang am Radio auf die Originalfassung für Streichquartett…und Kastagnetten, nur kam diese Musik nie. Recherchen im Tonträgerhandel: erfolglos. Dann trampte ich sommerlich durch Südeuropa usw. Auf dem Rückweg von Venedig, kurz vor Wien, griff mich bei Spätlicht ein Ford transit auf, acht Jugendliche, auch ältere dazwischen, eine lachende Rotwein-Clique mit Gitarren. Zwei davon schaukelten als frisch schmusendes Pärchen abseits; ansonsten blieb unklar, wer zu wem gehörte. Man nahm mich mit; bei Toni konnte ich übernachten. Ein gewisser Dieter hatte Pickel. Manchmal halbierte sich die Gruppe, manche gingen Jobs nach. Wechselnde Wohnungen, ständiges Kommen und Gehn. Tonis Tante hatte ein Kino; Kartenabreißer Toni hatte sein Leben im Kino verbracht. Ich saß im Plus-Minus-Knäuel dieser lustigen Leute, irgendwo südlich von Wien, saß täglich kostenlos im Kino, egal was kam, vor allem in Massenkarambolagen aus: "Oskar laß das Sausen sein". Stets dabei war die sog. "Maus", ein sehr zierliches Mädchen, wenig redend, oft lächelnd, fast zu kleingebaut, um Eventualfall zu sein, doch in sich überaus wohlproportioniert. Wie sie wirklich hieß und wohin sie abends verschwand, entging mir irgendwie. Nächstentags war sie stets wieder dabei. Mein Tagebuch von damals schweigt, erwähnt bloß, daß die Maus maurischer Abstammung war. Nach drei Tagen reiste ich weiter. Mit Toni tauschte ich die Adresse; von Oslo sandte ich eine Postkarte an die Gruppe, auf der ich auch das Wort Maus verwendete. Dann verlor ich Tonis Adresse und jeden Kontakt zu Wien.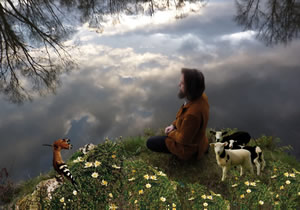 Ulrich Holbein (Erfurt, 24 januari 1953)




De Amerikaanse schrijfster Edith Wharton werd geboren op 24 januari 1862 in New York. Zie ook alle tags voor Edith Wharton op dit blog.
Uit: Summer
"A girl came out of lawyer Royall's house, at the end of the one street of North Dormer, and stood on the doorstep.
It was the beginning of a June afternoon. The springlike transparent sky shed a rain of silver sunshine on the roofs of the village, and on the pastures and larchwoods surrounding it. A little wind moved among the round white clouds on the shoulders of the hills, driving their shadows across the fields and down the grassy road that takes the name of street when it passes through North Dormer. The place lies high and in the open, and lacks the lavish shade of the more protected New England villages. The clump of weeping- willows about the duck pond, and the Norway spruces in front of the Hatchard gate, cast almost the only roadside shadow between lawyer Royall's house and the point where, at the other end of the village, the road rises above the church and skirts the black hemlock wall enclosing the cemetery.
The little June wind, frisking down the street, shook the doleful fringes of the Hatchard spruces, caught the straw hat of a young man just passing under them, and spun it clean across the road into the duck-pond.
As he ran to fish it out the girl on lawyer Royall's doorstep noticed that he was a stranger, that he wore city clothes, and that he was laughing with all his teeth, as the young and careless laugh at such mishaps.
Her heart contracted a little, and the shrinking that sometimes came over her when she saw people with holiday faces made her draw back into the house and pretend to look for the key that she knew she had already put into her pocket. A narrow greenish mirror with a gilt eagle over it hung on the passage wall, and she looked critically at her reflection, wished for the thousandth time that she had blue eyes like Annabel Balch, the girl who sometimes came from Springfield to spend a week with old Miss Hatchard, straightened the sunburnt hat over her small swarthy face, and turned out again into the sunshine."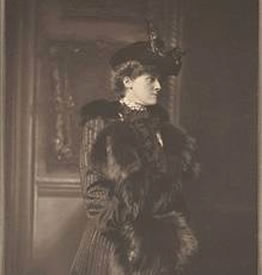 Edith Wharton (24 januari 1862 – 11 augustus 1937)
Zie voor nog meer schrijvers van de 24e januari ook
mijn vorige blog van vandaag
.
24-01-2012 om 19:39 geschreven door Romenu

Tags:E. Th. A. Hoffmann, Ivan Ivanji, Eugen Roth, Vicky Baum, Ulrich Holbein, Edith Wharton, Romenu