E-mail mij


Druk op onderstaande knop om mij te e-mailen.


Romenu


Romenu is een blog over gedichten, literatuur en kunst Maar Romenu is ook een professionele freelance vertaler
Du-Ne en Ne-Du http://www.romenu.nl.


Huur eens een (vakantie)huis in een natuurgebied, dichtbij het centrum van Nijmegen


Google


Georg Trakl

Georg Trakl werd op 3 februari 1887 in het conducteurshuis aan de Waagplatz 2 in Salzburg geboren. Zijn vader, Tobias Trakl, was een handelaar in ijzerwaren en zijn moeder, die ook psychische problemen had, was Maria Catharina Trakl, (meisjesnaam Halik). Voorts had hij nog drie broers en drie zussen. Margarethe (doorgaans Grethe genoemd) stond hem het naast, zelfs zodanig dat sommigen een incestueuze verhouding vermoeden. Zijn jeugd bracht hij door in Salzburg. Vervolgens bezocht hij van 1897 tot 1905 het humanistische gymnasium. Om toch een academische opleiding te kunnen volgen, werkte hij tot 1908 in de praktijk bij een apotheker. Sommigen vermoedden dat hij dit vooral deed om zichzelf opiaten te kunnen verschaffen. Bij het uitbreken van WO I werd Trakl als medicus naar het front in Galicië (heden ten dage in Oekraïne en Polen) gestuurd. Zijn gemoedsschommelingen leidden tot geregelde uitbraken van depressie, die verergerd werden door de afschuw die hij voelde voor de verzorging van de ernstig verwonde soldaten. De spanning en druk dreven hem ertoe een suïcidepoging te ondernemen, welke zijn kameraden nochtans verhinderden. Hij werd in een militair ziekenhuis opgenomen in Kraków, alwaar hij onder strikt toezicht geplaatst werd.Trakl verzonk daar in nog zwaardere depressies en schreef Ficker om advies. Ficker overtuigde hem ervan dat hij contact moest opnemen met Wittgenstein, die inderdaad op weg ging na Trakls bericht te hebben ontvangen. Op 4 november 1914, drie dagen voordat Wittgenstein aan zou komen, overleed hij echter aan een overdosis cocaïne


Paul Celan

Paul Celan werd onder de naam Paul Antschel op 23 november 1920 geboren in Czernowitz, toentertijd de hoofdstad van de Roemeense Boekovina, nu behorend bij de Oekraïne. Paul Celans ouders waren Duitssprekende joden die hun zoon joods opvoedden en hem naar Duitse christelijke scholen stuurden. In 1942 werden Celans ouders door de Duitse bezetter naar een werkkamp gedeporteerd en daar vermoord. Hijzelf wist aanvankelijk onder te duiken, maar moest vanaf juli 1942 in een werkkamp dwangarbeid verrichten. Celan overleefde de oorlog. Via Boekarest en Wenen vestigde Celan zich in 1948 in Parijs. Daar was hij werkzaam als dichter, vertaler en doceerde hij aan de prestigieuze Ecole Normale Supérieure. Vermoedelijk op 20 april 1970 beëindigde hij zijn leven zelf door in de Seine te springen.


Gerard Reve

Gerard Reve over: Medearbeiders "God is in de mensen, de dieren, de planten en alle dingen - in de schepping, die verlost moet worden of waaruit God verlost moet worden, door onze arbeid, aangezien wij medearbeiders van God zijn." Openbaring "Tja, waar berust elk godsbegrip op, elke vorm van religie? Op een openbaring, dat wil zeggen op een psychische ervaring van zulk een dwingende en onverbiddelijke kracht, dat de betrokkene het gevoel heeft, niet dat hij een gedachte of een visioen heeft, maar dat een gedachte gedachte of visioen hem bezit en overweldigt."


Simon Vestdijk
Simon Vestdijk (Harlingen, 17 oktober 1898 – Utrecht, 23 maart 1971) was een Nederlands romancier, dichter, essayist en vertaler. Zijn jeugd te Harlingen en Leeuwarden beschreef hij later in de Anton Wachter-cyclus. Van jongs af aan logeerde hij regelmatig bij zijn grootouders in Amsterdam, waar hij zich in 1917 aan de Universiteit van Amsterdam inschrijft als student in de medicijnen. Tijdens zijn studie die van 1917 tot 1927 duurde, leerde hij Jan Slauerhoff kennen.Tot 1932 is hij als arts in praktijken door heel Nederland werkzaam. In 1932 volgt zijn officiële schrijversdebuut met de uitgave van de bundel Verzen in De Vrije Bladen. Doorslaggevend voor Vestdijks uiteindelijke keuze voor de literatuur is zijn ontmoeting in 1932 met Eddy Du Perron en Menno ter Braak. Deze ontmoeting had tot resultaat dat hij redactielid werd van het tijdschrift Forum Kort daarop, in 1933, wordt zijn eerste novelle, De oubliette, uitgegeven. In hetzelfde jaar schrijft hij Kind tussen vier vrouwen, dat, eerst geweigerd door de uitgever, later de basis zal vormen voor de eerste drie delen van de Anton Wachter-romans. In 1951 ontvangt Vestdijk de P.C. Hooftprijs voor zijn in 1947 verschenen roman De vuuraanbidders. In 1957 wordt hij voor het eerst door het PEN-centrum voor Nederland voorgedragen voor de Nobelprijs voor de Literatuur, die hij echter nooit zal krijgen. Op 20 maart 1971 wordt hem de Prijs der Nederlandse Letteren toegekend, maar voor hij deze kan ontvangen overlijdt hij op 23 maart te Utrecht op 72-jarige leeftijd. Vestdijk was auteur van ca. 200 boeken. Vanwege deze enorme productie noemde de dichter Adriaan Roland Holst hem 'de man die sneller schrijft dan God kan lezen'. Andere belangrijke boeken van Simon Vestdijk zijn: "Kind van stad en land" (1936), "Meneer Visser's hellevaart" (1936), "Ierse nachten" (1946), "De toekomst de religie" (1947), "Pastorale 1943" (1948), "De koperen tuin" (1950), "Ivoren wachters" (1951), "Essays in duodecimo" (1952) en "Het genadeschot" (1964).


K.P. Kavafis

K.P. Kavafis werd als kind van Griekse ouders, afkomstig uit Konstantinopel, geboren in 1863 in Alexandrië (tot vandaag een Griekse enclave) waar hij ook het grootste deel van zijn leven woonde en werkte. Twee jaar na de dood van zijn vader verhuist het gezin in 1872 naar Engeland om na een verblijf van vijf jaar naar Alexandrië terug te keren. Vanwege ongeregeldheden in Egypte vlucht het gezin in 1882 naar Konstantinopel, om na drie jaar opnieuw naar Alexandrië terug te gaan. In de jaren die volgen maakt Kavafis reizen naar Parijs, Londen en in 1901 zijn eerste reis naar Griekenland, in latere jaren gevolgd door nog enkele bezoeken. Op de dag van zijn zeventigste verjaardag, in 1933 sterft Kavafis in Alexandrië. De roem kwam voor Kavafis pas na zijn dood, dus postuum. Deels is dat toe te schrijven aan zijn eigen handelswijze. Hij was uiterst terughoudend met de publicatie van zijn gedichten, liet af en toe een enkel gedicht afdrukken in een literair tijdschrift, gaf in eigen beheer enkele bundels met een stuk of twintig gedichten uit en het merendeel van zijn poëzie schonk hij op losse bladen aan zijn beste vrienden.


Thomas Mann


Thomas Mann, de jongere broer van Heinrich Mann, werd geboren op 6 juni 1875 in Lübeck. Hij was de tweede zoon van de graankoopman Thomas Johann Heinrich Mann welke later één van de senatoren van Lübreck werd. Zijn moeder Julia (geboren da Silva-Bruhns) was Duits-Braziliaans van Portugees Kreoolse afkomst. In 1894 debuteerde Thomas Mann met de novelle "Gefallen". Toen Thomas Mann met 21 jaar eindelijk volwassen was en hem dus geld van zijn vaders erfenis toestond - hij kreeg ongeveer 160 tot 180 goldmark per jaar - besloot hij dat hij genoeg had van al die scholen en instituties en werd onafhankelijk schrijver. Kenmerkend voor zijn stijl zijn de ironie, de fenomenale taalbeheersing en de minutieuze detailschildering. Manns reputatie in Duitsland was sterk wisselend. Met zijn eerste roman, Buddenbrooks (1901), had hij een enorm succes, maar door zijn sceptische houding tegenover Duitsland na de Eerste Wereldoorlog veranderde dit volledig. Stelde hij zich tot aan de jaren twintig apolitiek op (Betrachtungen eines Unpolitischen, 1918), meer en meer raakte hij bij het Politiek gebeuren betrokken. Zijn afkeer van het nationaal socialisme groeide, zijn waarschuwingen werden veelvuldiger en heftiger. In 1944 accepteerde hij het Amerikaanse staatsburgerschap. Tussen 1943 en 1947 schreef Mann Doktor Faustus (zie Faust), de roman van de 'Duitse ziel' in de gecamoufleerd geschilderde omstandigheden van de 20ste eeuw. In 1947 bezocht hij voor het eerst sinds de Oorlog Europa, twee jaar later pas Duitsland. In 1952 vertrok hij naar Zwitserland. Op 12 augustus 1955 stierf hij in Zürich. Twintig jaar na zijn dood, in aug. 1975, is zijn literaire nalatenschap geopend: dagboekaantekeningen van 15 maart 1933 tot 29 juli 1955, alsmede notities uit de jaren 1918 tot en met 1921.Belangrijke werken zijn: Der Zauberberg, Der Tod in Venedig, Dokter Faustus , Joseph und seine Brüder en Die Bekenntnisse des Hochstaplers Felix Krull.


Rainer Maria Rilke

Rilke werd op 4 december 1875 geboren in Praag. Hij had al naam gemaakt als dichter met zijn bundels Das Stundenbuch en Das Buch der Bilder, toen hij de literaire wereld versteld deed staan en wereldfaam verwierf met de publicatie van zijn twee delen Neue Gedichte in 1907 en 1908. Hij verzamelde daarin het beste werk uit een van zijn vruchtbaarste periodes, die hij grotendeels doorbracht in Parijs. Rilke was daar diep onder de indruk gekomen van Rodin, bij wie hij een tijdlang in dienst was als particulier secretaris. Rodin, zei hij later, had hem leren kijken. Dit kijken kwam neer op intense concentratie, om het mysterie te kunnen zien 'achter de schijnbare werkelijkheid'. Latere en rijpere werken als Duineser Elegien (1912-1923) en het ronduit schitterende Die Sonette an Orfeus (1924) illustreren Rilkes metafysische visie op het onzegbare, dat haar verwoording vindt in een hermetische muzikale taal. Op 29 december 1926 overlijdt Rilke in het sanatorium in Val-Mont aan de gevolgen van leukemie. Enkele dagen later wordt hij, overeenkomstig zijn wens, begraven op het kerkhof van Raron.


* * * * * * * * * * * * * * * *

| | |
| --- | --- |
| | Over literatuur, gedichten, kunst en cultuur |

18-01-2015

Sascha Kokot, Peter Stamm, Rubén Darío, Franz Blei, Paul Léautaud
De Duitse dichter en schrijver Sascha Kokot werd geboren op 18 januari 1982 in Osterburg. Zie ook alle tags voor Sascha Kokot op dit blog.
Schließer

auch diese Nacht fällt
hinter deinem Haus zu Boden
du hast freie Sicht tief hinein
weißt von den Funkmasten den Rasthöfen
wie Transit sich daran entlang spurt
mit rotem Licht die Sedimente abfährt
das Zurückgelassene nachdunkelt
viel hast du dort geborgen
dir stur in die Zimmer gestellt
Schwemmholz deiner Herkunft
nun bleibt dir der Blick vom Balkon
auf die halbe graue Stadt die demontierten Gleise
der kalten Rodung folgte Stille nach
dein Heim ist ein begehbares Wesen
in dem unser Fehlen haust
auch dieser See wird heute gedörrt
auch dieser See wird heute gedörrt
mit seinen Untiefen im dichten Bewuchs
den Schwimmern bleibt keine Zeit
für die Querung des Gewässers
ihre Bewegungen greifen ins Leere
die Kiemen verlieren ihre Form
ferne Bojen scheppern hohl auf Grund
irgendwo dazwischen schnappen Segel nach Wind
der Strand rückt zusehends auf eine Schlinge
die sich schnell zuzieht ihr folgen
die Bewohner mit Tuch und Schirm
sie finden nichts mehr vor zum Anlegen
ich habe diesen Sommer gerufen
um in fünfundfünfzig Metern Tiefe
auf dem letzten Flöz zu stehen
vom Großvater vergessen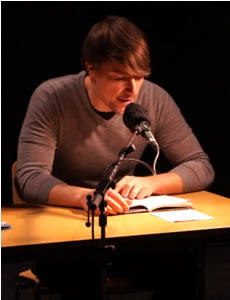 Sascha Kokot (Osterburg, 18 januari 1982)
De Zwitserse schrijver Peter Stamm werd geboren op 18 januari 1963 in Weinfelden. Zie ook alle tags voor Peter Stamm op dit blog.
Uit: Ungefähre Landschaft
"In der Nacht wurde es jetzt, im April, nie mehr ganz dunkel. Kathrine war früh aufgestanden, obwohl es Samstag war. Sie weckte das Kind, machte ihm sein Frühstück und brachte es zur Großmutter. Sie ging nach Hause, schnallte die Langlaufskier an und fuhr los. Sie folgte den Spuren der Schneemobile bis zur ersten Anhöhe, dann der Stromleitung, die zur Radioantenne führte. Schließlich, nach vielleicht einer Stunde, entfernte sie sich im spitzen Winkel immer weiter von dieser letzten Spur und fuhr hinaus ins grenzenlose Weiß des Fjells.
Gegen Mittag setzte sie sich auf einen Fels, der aus dem Schnee ragte, um auszuruhen und um etwas zu essen. Sie fuhr mit den Händen über die orangen, die gelben und weißen Flechten, die den Stein bedeckten.
Später, als sie schon wieder unterwegs war, bildete sich leichter Dunst, eine Art Nebel, und der Himmel verlor seine Bläue und wurde immer blasser. Aber sie kannte den Weg, sie war schon oft beim Leuchtturm gewesen, und auch als die Sonne endlich nicht mehr zu sehen und das Licht so diffus war, daß alles verschwamm, lief sie weiter und hatte keine Angst, sich zu verlaufen.
Kathrine hatte Helge geheiratet, sie hatte das Kind bekommen, sie hatte sich von Helge scheiden lassen. Sie lief zum Leuchtturm, blieb über Nacht und kam am nächsten Tag zurück. Die Mutter schaute dann nach dem Kind und auch während der Tage, während der Wochen, wenn Kathrine im Zollbüro war. Nach der Arbeit ging sie zur Mutter. Zu dritt aßen sie zu Abend, später nahm Kathrine das Kind auf den Arm und ging nach Hause. Irgendwann lernte das Kind, selbst zu gehen, und sie mußte es nicht mehr tragen. Das war im Sommer. Dann wurden die Tage kürzer, der Herbst kam, der erste Schnee und dann der Winter."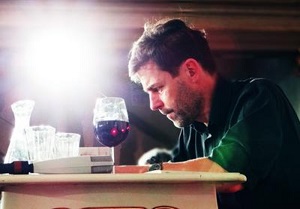 Peter Stamm (Weinfelden, 18 januari 1963)
De Nicaraguaanse schrijver Rubén Darío werd geboren in Metapa, tegenwoordig Ciudad Darío, op 18 januari 1867. Zie ook alle tags voor Rubén Darío op dit blog.
Blazon
The snow-white Olympic swan,
with beak of rose-red agate,
preens his eucharistic wing,
which he opens to the sun like a fan.
His shining neck is curved
like the arm of a lyre,
like the handle of a Greek amphora,
like the prow of a ship.
He is the swan of divine origin
whose kiss mounted through fields
of silk to the rosy peaks
of Leda's sweet hills.
White king of Castalia's fount,
his triumph illumines the Danube;
Da Vinci was his baron in Italy;
Lohengrin is his blond prince.
His whiteness is akin to linen,
to the buds of white roses,
to the diamantine white
of the fleece of an Easter lamb.
He is the poet of perfect verses,
and his lyric cloak is of ermine;
he is the magic, the regal bird
who, dying, rhymes the soul in his song.
This winged aristocrat displays
white lilies on a blue field;
and Pompadour, gracious and lovely,
has stroked hs feathers.
He rows and rows on the lake
where dreams wait for the unhappy,
where a golden gondola waits
for the sweetheart of Louis of Bavaria.
Countess, give the swans your love,
for they are gods of an alluring land
and are made of perfume and ermine,
of white light, of silk, and of dreams.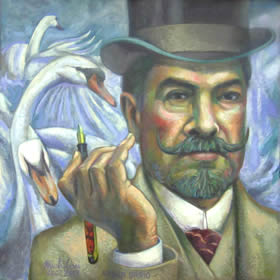 Rubén Darío (18 januari 1867 - 6 februari 1916)
Portret door Sergio Michilini, 2013
De Oostenrijkse schrijver, vertaler en uitgever Franz Blei werd geboren op 18 januari 1871 in Wenen. Zie ook alle tags voor Franz Blei op dit blog.
Uit: Das große Bestiarium der modernen Literatur
"Der Blei. Ist ein Süßwasserfisch, der sich geschmeidig in allen frischen Wassern tummelt und seinen Namen – mhd. blî, ahd. blîo = licht, klar – von der außerordentlich glatten und dünnen Haut trägt, durch welche die jeweilige Nahrung mit ihrer Farbe deutlich sichtbar wird. Man kann so immer sehen, was der Blei gerade gegessen hat, und ist des Fraßes Farbe lebhaft, so wird der Blei ganz unsichtbar und nur die Farbe bleibt zu sehen. Unser Fisch ißt sehr mannigfaltig, aber gewählt, weshalb er auch, in Analogie zu jenem Schweine, der Trüffelfisch genannt wird wegen seiner Fähigkeit, Leckerbissen aufzuspüren. Gefangen und in einen Pokal gesteckt dient er oft Damenboudoirs als Zimmerschmuck und macht da, weil er sich langweilt, zur Beschauerin nicht ganz einwandfreie Kunststücke mit Flossen und Schwänzchen. Aber es ist dies wahrhaft ein Mißbrauch mit dem die Freiheit liebenden Fisch zu nennen, welcher der Jagd nach seinem Belieben entzogen und gefüttert eingeht. Eine merkwürdige Freundschaft unterhält der Blei mit dem Kartäuserkrebs ebenso wie mit dem Rothecht, aber über die Natur dieser Freundschaft ist man noch nicht genügend im Klaren, als daß hier gewissenhafter Bericht möglich wäre. Zumal der echte Kartäuserkrebs sehr selten ist und über die Lebensweise des Rothechtes die unsinnigsten Fabeln im Umlaufe sind. Franz Blei
Claudel. Er hat einige religiöse Stücke geschrieben, um damit zu beweisen, daß es Gott nicht gibt. Er bekam dafür von einer republikanischen Regierung das Kreuz der Ehrenlegion. Er trägt es wie Jesus Christus das seine." Paul Claudel"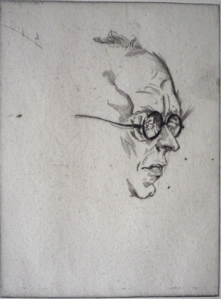 Franz Blei (18 januari 1871 – 10 juli 1942)
Ets door Max Oppenheimer, 1912


De Franse schrijver Paul Léautaud werd geboren op 18 januari 1872 in Parijs. Zie ook alle tags voor Paul Léautaud op dit blog.
Uit:Journal littéraire
"23 mai 1908
Coppée est mort cette après-midi, vers deux heures. (…) Je pensais, en revenant, que c'est une curieuse impression, celle de la mort d'un homme qu'on a connu, au moins de vue, qu'on a rencontré si souvent, l'impression de la disparition, de la suppression. On le revoit comme on le voyait, tel qu'il était, avec son allure, ses tics. Coppée, par exemple, marchant avec l'air de retomber tour à tour sur chaque jambe, l'air mélancolique, parlant tout seul, comme s'il se récitait des vers, faisant même quelques légers gestes d'une main, d'un bras, le dos un peu voûté, balançant les bras, la tête suivant les mouvements du corps, la bouche serrée, les yeux si bleus, si fureteurs dans son teint de brique, la bouffée de fumée de la cigarette, sa façon d'enjamber le pas de sa porte cochère rue Oudinot, de parler seul en marchant. Puis, tout d'un coup, un trait sur tout cela, biffé, enlevé, disparu.»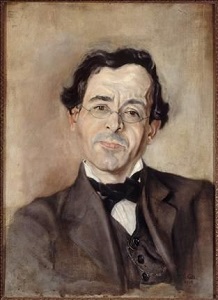 Paul Léautaud (18 januari 1872 – 22 februari 1956)
Portret doot Th. Catti, 1915, musée Carnavalet, Parijs
Zie voor nog meer schrijvers van de 17e januari ook mijn vorige twee blogs van vandaag.
18-01-2015 om 18:35 geschreven door Romenu

Tags:Sascha Kokot, Peter Stamm, Rubén Darío, Franz Blei, Paul Léautaud, Romenu



Arno Schmidt, Jon Stallworthy, Robert Anton Wilson, Alan A. Milne, Roger Bésus
De Duitse schrijver Arno Schmidt werd op 18 januari 1914 geboren in Hamburg. Zie ook alle tags voor Arno Schmidt op dit blog.
Uit: ZETTEL'S TRAUM
»Oh : Fräulein JACOBI ?! – Lànge nich mehr geseh'n.« / (Über eine schräge Schulter 1 sehr künstlicher Blick) : »Phil zú lange.« / (Pariren) :
»›Wahre Dich vor der Auswärtigen, die da einschmeichelnd redet‹ :
SPRÜCHE 7,5.« – / : »Du kennS' aber auch Alles.«; (sagte Sie wehmütig; (faltete das Mäulchen; seufzte. Ward plötzlich modest & timide, und sah Mich auffordernd an : ›nu frag schon‹!) / (Also, anstandshalber –) : »Wir habm Deine—Sòrgn noch nich erledigt Fränzel :
pressiert's damit?« / (Sie nickte; (ehrlich verängstigt?)) / wie's schien.
(Recht mal à propos; ausgerechnet am Tag Hodiernus : das nennt man dann womöglich Ferien!)) : »Komm ma her, Fränzli –« / (Das ließ Sie sich nich 2 Mal sagn :
Die Geléegnheit! Stand schon vor Mir; und legte die Hand an mein' Ellbogn : ? – / (& Ich genoß die kleine lustige Folter doch erst 1 Moment lang : – / (erfreulicherweise gehrte S in Ihrem Bäuchel : erst bell(y)te's leis, (»Pardon« murmlte Sie, verärgert); grölzte & rülpsDe dann aber
So fräulich—flehmisch! – (: »Overdammt!« fluchte Sie : »ausgerechnt—jètz –« / (Diagnose : ›Harzer plus Äpfl‹?)) Beruhijend den Kopf schütteln : sünd Alle von Eddyms Kindern.) : » – « –.
(Allein mit dem kid im Fichtdick : cave!). – : »ZunächsD halt Deine sämtlichen Supercilien ruhich : ›mit Wimpern fangn & durch glatte Lippm fortreißn‹ gibt'S hier nich! – Sperma die Ohrn auf : Wenn die Rede auf Deine ›Sorgn‹ kommt, benimmsDu Dich sofort, als hätt'sDu alles Böse seit Erschaffung der Welt ausgefressn : Du überschätzelsD Deine criminellen Fähigkeitn bestimmt.« / (Sie hob die befränzeltn Lider immer noch nich?) / Also) : »Mach Dir keine Scrupl, Niñana – :
ist es mit Gèld zu erledijen?«. / –) : »›Ninn Jána‹? –« (ebmso niedergeschlagn wie argwöhnisch) – : »Wer wárdnn Die?« / (Laß ma die Litteratur beiseit.) / (Aber Sie fuhr klagnd fort) : »Sind eintlich àlle Eltern Id'jootn?!«. / (Ihr'n Kindern gegnüber fast immer, ja.) / –) :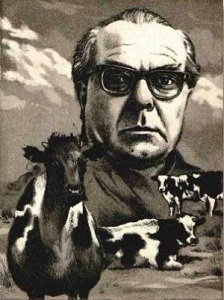 Arno Schmidt (18 januari 1914 – 3 juni 1979)
Ets door Jens Rusch bij Arno Schmidts verhaal "Kühe in Halbtrauer", 1992
De Engelse dichter en letterkundige Jon Stallworthy werd geboren op 18 januari 1935 in Londen. Zie ook alle tags voor Jon Stallworthy op dit blog.
Dreamhorse
Laddie, we called him, Laddie the horse
our father rescued from a house
the auctioneer was knocking down,
knocking down, knocking down,
his little hammer knocking down,
carriage clock and rocking horse.
Conceived in a horse-drawn century,
a foal delivered by carpentry
from the dark of a sapwood womb
to paint-shop and tack-room,
for children to canter and groom
in a mechanised century.
The girls' Black Beauty, my Bucephalus,
my Copenhagen, Pegasus –
responding to the spur
that drove him over
battlefield and frontier –
grew old along with us.
His mane receded. Cowboy spurs cut up
his flank. He lost a stirrup,
but horse-doctors today
can keep old age at bay –
in rocking horses, anyway.
Grandson, let me give you a leg up.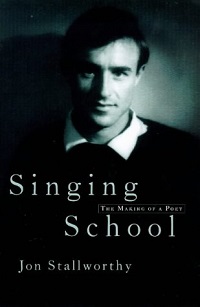 Jon Stallworthy (Londen, 18 januari 1935)
Cover
De Amerikaanse schrijver, filosoof, futuroloog, anarchist en onderzoeker Robert Anton Wilson werd geboren op 18 januari 1932 in New York. Zie ook alle tags voor Robert Anton Wilson op dit blog.
Uit: Schroedinger's Jew
"97 years ago today Leopold Bloom, a fictitious man, wandered the streets of Dublin, a real city; and Joyce scholars still argue about his odd odyssey. I would like to add to the confusion with a note about Bloom's "Jewishness."
"Is" Leopold Bloom a Jew?
Not according to Orthodox Rabbinical law, which defines a Jew as the child of a Jewish mother. Bloom as the child of a Protestant mother "is not" a Jew.
According to Nazi law, however, a Jew "is" a person with a known Jewish ancestor. Bloom as the son of Rudolph Bloom [born Rudolph Virag], "is" a Jew.
See how easily a person can "be" and "not be" a Jew at the same time?
On the third hand, most humanists define a Jew as one who believes in and practices the Judaic religion. By this definition, Bloom who neither believes in nor practices any religion "is not" a Jew. But Marilyn Monroe, who practiced and probably tried to believe in Judaism while married to Arthur Miller, "was" a Jew by that definition-- for those few years, if not before or after.
Extensionally or phenomenologically, a Jew "is" somebody considered Jewish by all or most of the people he meets. By this standard the multi-ordinal Bloom "is" a Jew again.
Once more: in terms of pure existentialism a Jew "is" somebody who chooses to consider themselves Jewish. Bloom obviously doesn't consider himself Jewish but Irish, most of the time. Only when under verbal assault by the anti-semitic Citizen in Barney Kiernan's pub does Bloom define himself as Jewish ["And Jesus was a Jew too. Your god. He was a Jew like me."] Here he obviously has in mind the "known Jewish ancestor" rule, because he adds "And so was his father," to which the Citizen replies, as a correct Catholic, "He had no father," and Bloom, unfamiliar with that theology -- logic played with deuces, eights and one-eyed jacks wild -- can only pragmatically reply, "Well, his uncle then."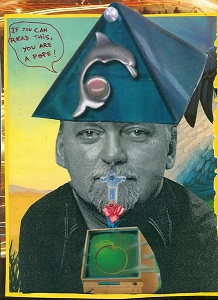 Robert Anton Wilson (18 januari 1932 – 11 januari 2007)
Poster door Afrika Pseudobruitismus
De Britse schrijver Alan Alexander Milne werd geboren op 18 januari 1882 in Londen. Zie ook alle tags voor Alan Alexander Milne op dit blog.
Uit: The House at Pooh Corner
"Then, suddenly again, Christopher Robin, who was still looking at the world, with his chin in his hand, called out "Pooh!" "Yes?" said Pooh. "When I'm--when--Pooh!" "Yes, Christopher Robin?" "I'm not going to do Nothing any more." "Never again?" "Well, not so much. They don't let you." Pooh waited for him to go on, but he was silent again. "Yes, Christopher Robin?" said Pooh helpfully. "Pooh, when I'm--you know--when I'm not doing Nothing, will you come up here sometimes?" "Just me?" "Yes, Pooh." "Will you be here too?" "Yes Pooh, I will be really. I promise I will be Pooh." "That's good," said Pooh. "Pooh, promise you won't forget about me, ever. Not even when I'm a hundred." Pooh thought for a little. "How old shall I be then?" "Ninety-nine." Pooh nodded. "I promise," he said. Still with his eyes on the world Christopher Robin put out a hand and felt Pooh's paw. "Pooh," said Christopher Robin earnestly, "if I--if I'm not quite--" he stopped and tried again-- "Pooh, whatever happens, you will understand, won't you?" "Understand what?" "Oh, nothing." He laughed and jumped to his feet. "Come on!" "Where?" said Pooh. "Anywhere." said Christopher Robin.
So, they went off together. But wherever they go, and whatever happens to them on the way, in that enchanted place on the top of the Forest, a little boy and his Bear will always be playing."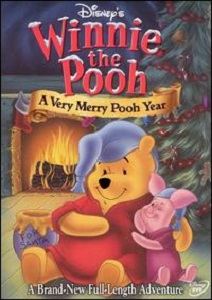 Alan Alexander Milne (18 januari 1882 - 31 januari 1956)
Affiche voor de film Winnie the Pooh: A Very Merry Pooh Year
De Franse schrijver en beeldhouwer Roger Bésus werd geboren op 18 januari 1915 in Bayeux. Zie ook alle tags voor Roger Bésus op dit blog.
Uit:Barbey d'Aurevilly
"On croit généralement s'en tirer avec Barbey d'Aurevilly en évoquant ses redingotes et en citant quelques anecdotes qui dressent sous le regard un personnage haut en couleurs, amateur de femmes et d'alcool. Cela est commode, mais n'enseigne rien sur le grand écrivain que fut ce Normand de la Manche, auteur de quelques œuvres de première importance, dont deux des chefs-d'œuvre de la littérature romanesque du 19° siècle, Le Prêtre marié et Une Histoire sans nom.
Ou bien, va-t-on plus loin, souvent on bifurque. En marche vers le personnage essentiel, le cœur déjà ému, on le rate. C'est une mésaventure qui arrive à beaucoup de ses amis Normands. Ils lâchent la proie pour une ombre, une belle ombre certes, tombant des hauteurs du Cotentin, hautaine plus qu'elles pourtant mais comme elles, lourde de sève et odorante du gras limon. Cependant, le Barbey régionalisé qu'on approche en approchant de Saint-Sauveur ou de Valognes (ce Barbey si cher à La Varende, Connétable des Lettres de la Normandie d'aujourd'hui et qui a bien raison de se défendre d'être en rien l'héritier de Barbey — car il ne l'est pas —) ce Barbey-là, cette ombre puissante, n'est jamais qu'un des tirages de l'original, sur papier à gros grain. »
L'original, point n'est besoin de cheminer en un coin de notre géographie pour le rencontrer, que ce soit sur les boulevards parisiens, où les anecdotes ont levé sous ses pas, ou bien dans les landes de la Manche qui virent l'enfant rêver et le vieillard se souvenir. Il suffit d'entrer à sa suite dans ses héros et de s'y enfoncer jusqu'à ce recès mystérieux où il s'enfonçait lui-même d'un trait, avec quel sûr instinct ! — ce foyer aux dalles nues sur quoi montent la flamme et son ombre, inséparables, avers et revers de la passion.»

Roger Bésus (18 januari 1915 – 17 februari 1994)
Barbey d'Aurevilly, buste door Auguste Rodin
Zie voor nog meer schrijvers van de 18e januari ook mijn vorige blog van vandaag.
18-01-2015 om 18:25 geschreven door Romenu

Tags:Arno Schmidt, Jon Stallworthy, Robert Anton Wilson, Alan A. Milne, Roger Bésus, Romenu



Montesquieu, Henry Austin Dobson, Ioan Slavici, Saint-Martin, Madame de Lafayette
De Franse schrijver en filosoof Charles Louis de Secondat, baron de La Brède et de Montesquie werd geboren op 18 januari 1689 op het kasteel La Brède bij Bordeaux. Zie ook alle tags voor Montesquieu op dit blog.
Uit Lettres Persanes
« Lettre VI. Usbek à son ami Nessir, à Ispahan
A une journée d'Erivan, nous quittâmes la Perse pour entrer dans les terres de l'obéissance des Turcs. Douze jours après, nous arrivâmes à Erzeron, où nous séjournerons trois ou quatre mois.
Il faut que je te l'avoue, Nessir: j'ai senti une douleur secrète quand j'ai perdu la Perse de vue, et que je me suis trouvé au milieu des perfides Osmanlins. A mesure que j'entrais dans les pays de ces profanes, il me semblait que je devenais profane moi-même.
Ma patrie, ma famille, mes amis se sont présentés à mon esprit; ma tendresse s'est réveillée; une certaine inquiétude a achevé de me troubler, et m'a fait connaître que, pour mon repos, j'avais trop entrepris.
Mais ce qui afflige le plus mon coeur, ce sont mes femmes: je ne puis penser à elles que je ne sois dévoré de chagrins.
Ce n'est pas, Nessir, que je les aime: je me trouve à cet égard dans une insensibilité qui ne me laisse point de désirs. Dans le nombreux sérail où j'ai vécu, j'ai prévenu l'amour et l'ai détruit par lui-même; mais, de ma froideur même, il sort une jalousie secrète, qui me dévore. Je vois une troupe de femmes laissées presque à elles-mêmes; je n'ai que des âmes lâches qui m'en répondent. J'aurais peine à être en sûreté si mes esclaves étaient fidèles. Que sera-ce, s'ils ne le sont pas? Quelles tristes nouvelles peuvent m'en venir dans les pays éloignés que je vais parcourir! C'est un mal où mes amis ne peuvent porter de remède: c'est un lieu dont ils doivent ignorer les tristes secrets. Et qu'y pourraient-ils faire? N'aimerais-je pas mille fois mieux une obscure impunité qu'une correction éclatante? Je dépose en ton coeur tous mes chagrins, mon cher Nessir; c'est la seule consolation qui me reste dans l'état où je suis.
D'Erzeron, le 10 de la lune de Rebiab 2, 1711."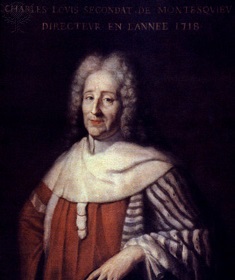 Montesquieu (18 januari 1689 – 10 februari 1755)
Portret in de Académie de Bordeaux
De Engelse dichter en essayist Henry Austin Dobson werd geboren op 18 januari 1840 in Plymouth. Zie ook alle tags voor Henry Austin Dobson op dit blog.
My Little Boy That Died
Look at his pretty face for just one minute !
His braided frock and dainty buttoned shoes,
His firm-shut hand, the favorite plaything in it,
Then, tell me, mothers, was it not hard to lose
And miss him from my side,—
My little boy that died?
How many another boy, as dear and charming,
His father's hope, his mother's one delight,
Slips through strange sicknesses, all fear disarming,
And lives a long, long life in parents' sight
Mine was so short a pride:
And then—my poor boy died.
I see him rocking on his wooden charger;
I hear him pattering through the house all day;
I watch his great blue eyes grow large and larger,
Listening to stories, whether grave or gay
Told at the bright fireside—
So dark now, since he died.
But yet I often think my boy is living,
As living as my other children are.
When good-night kisses I all round am giving
I keep one for him, though he is so far.
Can a mere grave divide
Me from him—though he died?
So, while I come and plant it o'er with daisies
(Nothing but childish daisies all year round)
Continually God's hand the curtain raises,
And I can hear his merry voice's sound,
And I feel him at my side—
My little boy that died.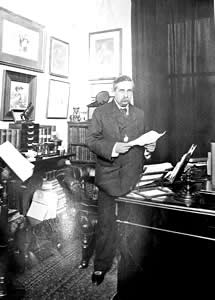 Henry Austin Dobson (18 januari 1840 – 2 september 1921)
In 1905
De Roemeense schrijver en journalist Ioan Slavici werd geboren op 18 januari 1848 in Siria. Zie ook alle tags voor Ioan Slavici op dit blog.
Uit: Popa Tanda (Vertaald door Lucy Byng)
"The long and the short of it was that Father Trandafir was sent from Butucani to Saraceni—to promote a good understanding among the faithful. Priest in Saraceni! Who knows what that means to be priest in Saraceni? That is what befell Father Trandafir! Who would fain leap the ditch throws his bag over it first. Father Trandafir only had a wife and two children; his bag was empty. That was why he leaped so unwillingly from Butucani to Saraceni.
In the "Dry Valley" there was a village which they called "Saraceni." A village called "poor" in a "dry" valley; could any place have a more unpleasant name?
The Dry Valley!
"Valley" because the place was shut in between mountains; "dry," because the stream, which had cut its way through the middle of the valley, was dry most of the year.
This was how the valley lies.
To the right stood a hill called "Rîpoasa." On the left were three other hills, called "Fatza," "Grofnitza," and "Alunish." Rîpoasa was rocky. Fatza was cultivated; the village stood on Grofnitza, while on Alunish lay the village graveyard among hazel and birch trees. Thus it lay to right and left, but the chief feature of the landscape stood at the bottom. Here rose the mountains—from there, came what did come.
The other side, beyond Rîpoasa was the Rapitza Valley—a much deeper valley than the Dry Valley, and so called because the Rapitza flowed through it. The Rapitza was a treacherous river, especially in the spring, and the stream in the Dry Valley was a branch of the Rapitza. In the spring, when the snow melted on the mountains, the Rapitza got angry and poured part of her fury into the branch that flowed through the Dry Valley, and the latter ceased to be "dry."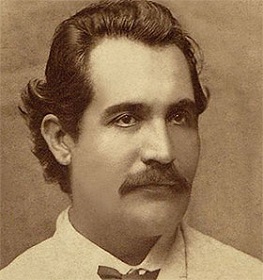 Ioan Slavici (18 januari 1848 – 17 augustus 1925)

De Franse dichter, schrijver en filosoof Louis-Claude de Saint-Martin werd geboren op 18 januari 1743 te Amboise (Indre-et-Loire). Zie ook alle tags voor Louis-Claude de Saint-Martin op dit blog.
Uit: L'homme de désir (Fragment)
« Ainsi tous les rayons de ta parole font briller aux yeux du sage ta lumiere vivante et sacrée ; il voit ton action produire et animer tout l'univers. Objets sublimes de mes cantiques, je serai souvent forcé de détourner ma vue de dessus vous. L'homme s'est cru mortel parce qu'il a trouvé quelque chose de mortel en lui ; et même celui qui donne la vie à tous les êtres, l'homme l'a regardé comme n'ayant ni la vie, ni l'existence. Et toi, Jérusalem, quels reproches n'ont pas à te faire les prophetes du seigneur. tu as pris ce qui servoit à te parer, dit le seigneur, et qui étoit fait de mon or et de mon argent, que je t'avois donnés ; tu en as formé des images d'hommes auxquelles tu t'es prostituée .
Cris de la douleur, mêlez-vous à mes chants d'alégresse ; la joie pure n'est plus faite pour le triste séjour de l'homme. Des preuves irrésistibles sur les vérités premieres, n'ont-elles pas déja été manifestées aux nations ? S'il vous reste des doutes, allez vous purifier dans ces sources. Puis vous reviendrez unir votre voix à la mienne ; et nous célébrerons ensemble les joies de l'homme de desir, qui aura eu le bonheur de pleurer pour la vérité. »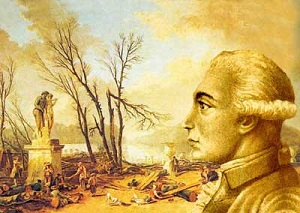 Louis-Claude de Saint-Martin (18 januari 1743 – 13 oktober 1803)
De Franse schrijfster Madame de Lafayette werd geboren op 18 januari 1634 in Parijs. Zie ook alle tags voor Madame de Lafayette op dit blog.
Uit: La princesse de Clèves
« – Vous versez bien des pleurs, Madame, lui dit-il, pour une mort que vous causez, et qui ne vous peut donner la douleur que vous faites paraître. Je ne suis plus en état de vous faire des reproches, continua-t-il avec une voix affaiblie par la maladie et par la douleur ; mais je meurs du cruel déplaisir que vous m'avez donné. Fallait-il qu'une action aussi extraordinaire que celle que vous aviez faite de me parler à Coulommiers eût si peu de suite ? Pourquoi m'éclairer sur la passion que vous aviez pour monsieur de Nemours, si votre vertu n'avait pas plus d'étendue pour y résister? Je vous aimais jusqu'à être bien aise d'être trompé, je l'avoue à ma honte ; j'ai regretté ce faux repos dont vous m'avez tiré. Que ne me laissiez-vous dans cet aveuglement tranquille dont jouissent tant de maris ? J'eusse, peut-être, ignoré toute ma vie que vous aimiez monsieur de Nemours. Je mourrai, ajouta-t-il ; mais sachez que vous me rendez la mort agréable, et qu'après m'avoir ôté l'estime et la tendresse que j'avais pour vous, la vie me ferait horreur. Que ferais-je de la vie, reprit-il, pour la passer avec une personne que j'ai tant aimée, et dont j'ai été si cruellement trompé, ou pour vivre séparé de cette même personne, et en venir à un éclat et à des violences si opposées à mon humeur et à la passion que j'avais pour vous ? Elle a été au-delà de ce que vous en avez vu, Madame ; je vous en ai caché la plus grande partie, par la crainte de vous importuner, ou de perdre quelque chose de votre estime, par des manières qui ne convenaient pas à un mari. Enfin je méritais votre coeur ; encore une fois, je meurs sans regret, puisque je n'ai pu l'avoir, et que je ne puis plus le désirer. Adieu, Madame, vous regretterez quelque jour un homme qui vous aimait d'une passion véritable et légitime. Vous sentirez le chagrin que trouvent les personnes raisonnables dans ces engagements, et vous connaîtrez la différence d'être aimée comme je vous aimais, à l'être par des gens qui, en vous témoignant de l'amour, ne cherchent que l'honneur de vous séduire. Mais ma mort vous laissera en liberté, ajouta-t-il, et vous pourrez rendre monsieur de Nemours heureux, sans qu'il vous en coûte des crimes. Qu'importe, reprit-il, ce qui arrivera quand je ne serai plus, et faut-il que j'aie la faiblesse d'y jeter les yeux ! »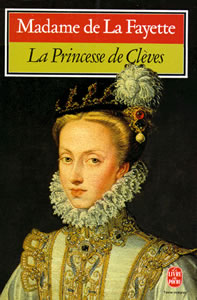 Madame de Lafayette (18 januari 1634 – 26 juni 1893)
Cover
18-01-2015 om 18:09 geschreven door Romenu

Tags:Montesquieu, Henry Austin Dobson, Ioan Slavici, Saint-Martin, Madame de Lafayette, Romenu



| | |
| --- | --- |
| | |



Inhoud blog


| | |
| --- | --- |
| | 'Unless a grain of wheat falls into the ground and dies…' (Malcolm Guite) |
| | Christa Wolf, Charlotte Roche, John Updike, Wilfred Owen, Stéphane Mallarmé, Héctor Bianciotti, Hellema, Friedrich Hebbel, Max Barry |
| | Wolfgang Bauer, Richard Condon, Walter Rheiner, Srečko Kosovel, Jean Anglade, George Plimpton, Cosmo Monkhouse, Friedrich Nicolai |
| | In Memoriam F. Starik |
| | Siegfried Lenz, Thomas Melle, Rense Sinkgraven, Hafid Aggoune, Hans Wollschläger, William Ford Gibson |
| | Patrick Hamilton, Karl Gutzkow, Urmuz, Jean Ingelow, Ebenezer Elliott, Paul Green |
| | P.C. Hooft, Bredero, Dirk von Petersdorff, Zoë Jenny, Alice Hoffman, Hooshang Golshiri, Francisco Ayala, César Vallejo, Per Leo |
| | Ben Okri, David Albahari, Louis Paul Boon, Kurt Drawert, Gerhard Seyfried, Andreas Okopenko, An Rutgers van der Loeff, Prosper van Langendonck, Paul Heyse |
| | Pam Ayres, Jochen Schimmang, Horton Foote, Volker von Törne, Olivier Delorme, Alexandru Macedonski, Albert Robida, Theodore de Banville, Wout Waanders |
| | Mahmoud Darwish, Yuri Andrukhovych, Didier Decoin, Vladimir Makanin, Yeghishe Charent, Geert van Beek, Jan H. de Groot, Kemal Tahir, Joseph Beaumont |
| | Dave Eggers, Jenny Erpenbeck, Jack Kerouac, Henrike Heiland, Naomi Shihab Nye, Carl Hiaasen, Edward Albee, De Schoolmeester, Gabriele d'Annunzio |
| | Nicodemus (Muus Jacobse) |
| | Leena Lehtolainen, Karl Krolow, Daan de Ligt, Frans Vogel, Willem Claassen, Amal Karam, Max Hermens, Eva Meijer, Helena Hoogenkamp |
| | Ernst Wichert, Douglas Adams, Torquato Tasso, Georg Maurer, Josef Martin Bauer, Maartje Smits |
| | John Rechy, Hilde Van Cauteren, Joseph von Eichendorff, Jakob Wassermann, Karel van de Woestijne, Chloé Delaume, Friedrich Schlegel |
| | Boris Vian, Manolis Anagnostakis, Peter McArthur, Samuel Ferguson, Georges Dor, Pedro Antonio de Alarcón, Otto Heinrich Kühner |
| | Koen Peeters, Peter Zantingh, Ed Hoornik, Heere Heeresma, Peter Altenberg, Vita Sackville-West, Josef Weinheber, Taras Sjevtsjenko, Umberto Saba |
| | Jeffrey Eugenides, Walter Jens, Hafid Bouazza, Cándani, A. Marja, Aslı Erdoğan, John McPhee, Mouloud Feraoun, Dominic Angeloch |
| | Bret Easton Ellis, Robert Harris, Jürgen Theobaldy, Georges Perec, Abe Kōbō, Reinhard Kaiser, Manfred Gregor, Jan Frederik Helmers, Alessandro Manzoni |
| | Patrick deWitt, Gabriel García Márquez, Jeremy Reed, Marijke Hanegraaf, Thomas Acda, Günter Kunert, Clark Accord, Elizabeth Barrett Browning, Michelangelo |
| | Pier Paolo Pasolini, Koos van Zomeren, Jurre van den Berg, Arthur van Schendel, Nelly Arcan, Jean Orizet, Leslie Marmon Silko, Frank Norris, Ennio Flaiano |
| | De tempelreiniging (Nicolaas Beets) |
| | Robert Kleindienst, Khaled Hosseini, Kristof Magnusson, Irina Ratushinskaya, Alan Sillitoe, Ryszard Kapuściński, Jean-Joseph Rabearivelo, Annette Seemann |
| | F. W. Bernstein, Giorgio Bassani, Bernardo Ashetu, Léon-Paul Fargue, Kito Lorenc, Jacques Dupin, Thomas S. Stribling |
| | Manfred Flügge, Hans Verhagen, Tjitske Jansen, James Merrill, Kola Boof, Clifton Snider, Gudrun Pausewang, Chris Kraus |
| | Josef Winkler, Heinz Knobloch, Alexandros Papadiamantis, Charles Sealsfield, William Godwin, Paul Guimard, Edmund Waller, Thomas Otway |
| | Godfried Bomans, Multatuli, Frank Albers, John Irving, Thom Wolfe, Michael Salinger, János Arany, Olivia Manning, Rinske Kegel |
| | Jan Eijkelboom, Jim Crace, Delphine de Vigan, Franz Hohler, Lytton Strachey, Robert Lowell, Myrthe van der Meer, Franzobel, Steven Barnes |
| | Peter Pessl |
| | Benedict Wells |
| | Bart Koubaa, Stephen Spender, John Montague, Josef Svatopluk Machar, Luc Dellisse, Marcel Pagnol, Bodo Morshäuser, Martin Suter, Yórgos Seféris |
| | Howard Nemerov, Daniel Handler, Dee Brown, Michel de Montaigne, Marin Sorescu, Saul Williams |
| | Cynan Jones, John Steinbeck, Ruy Belo, Lawrence Durrell, André Roy, Henry Longfellow, Elisabeth Borchers, James T. Farrell, Irwin Shaw |
| | Michel Houellebecq, Victor Hugo, Adama van Scheltema, George Barker, Ulrike Syha, Hermann Lenz, Antonin Sova, Jean Teulé, Elias Annes Borger |
| | De verheerlijking op den berg (Nicolaas Beets) |
| | Amin Maalouf, Aldo Busi, Gabriël Smit, Anthony Burgess, Robert Rius, Karl May, Lesja Oekrajinka, Karel Toman, Vittoria Colonna |
| | Franz Xaver Kroetz, Gérard Bessette, Mary Chase, Karl Wilhelm Ramler, Friedrich von Spee, Carlo Goldoni, Quirinus Kuhlmann |
| | Leon de Winter, Alain Mabanckou, George Moore, Erich Loest, Herman Maas, Luc Verbeke, Wilhelm Grimm, Friedrich Spielhagen, Jacques Presser |
| | August Derleth, Keto von Waberer, Yüksel Pazarkaya, Erich Pawlu, Irène Némirovsky, Vincent Voiture, Rosalía de Castro, Paul Alfred Kleinert, Stanisław Witkiewicz |
| | César Aira, Robert Gray, Jef Geeraerts, Bernard Cornwell, Ljoedmila Oelitskaja, Toon Kortooms, Jo Ypma, Sonya Hartnett, Maxim Februari |
| | Arnon Grunberg, Rob Schouten, Ruben van Gogh, Paul van Ostaijen, Hugo Ball, Danilo Kis, Sean O'Faolain, Ishmael Reed, Edna St. Vincent Millay |
| | J.M.A. Biesheuvelprijs voor Annelies Verbeke |
| | Herman de Coninck, Tom van Deel, Jonathan Safran Foer, Hans Andreus, David Avidan, Chuck Palahniuk, Wystan Hugh Auden, Laure Limongi, Justus van Effen |
| | P. C. Boutens, David Nolens, Ellen Gilchrist, Julia Franck, Georges Bernanos, William Carleton, Cornelis Sweerts, Johann Heinrich Voß, Pierre Boulle |
| | Michiel Stroink, Siri Hustvedt, Helen Fielding, Jaan Kross, Helene Hegemann, Björn Kuhligk, Thomas Brasch, Dmitri Lipskerov, Wolfgang Fritz |
| | De verzoeking in de woestijn (Nicolaas Beets) |
| | Nick McDonell, Robbert Welagen, Bart FM Droog, Maarten Mourik, Huub Beurskens, Gaston Burssens, Toni Morrison, Elke Erb, Charlotte Van den Broeck |
| | Níkos Kazantzákis, Jean M. Auel, Audre Lorde, Mór Jókai, Hedwig Courths-Mahler, Alexander Kielland, Wallace Stegner, Leone Battista Alberti |
| | Shahrnush Parsipur, Willem Thies, Sadegh Hedayat, Yevgeni Grishkovetz, Albert Kuyle, Jaroslav Vrchlický, Chaim Potok, Mo Yan, Frederik Hetmann |
| | Emmy Hennings, Mori Ōgai, Gustavo Bécquer, Georg Britting, Andrew Paterson, Margaret Truman, Ruth Rendell, Fjodor Sologoeb |


Gastenboek


Druk op onderstaande knop om een berichtje achter te laten in mijn gastenboek