E-mail mij


Druk op onderstaande knop om mij te e-mailen.


Romenu


Romenu is een blog over gedichten, literatuur en kunst Maar Romenu is ook een professionele freelance vertaler
Du-Ne en Ne-Du http://www.romenu.nl.


Huur eens een (vakantie)huis in een natuurgebied, dichtbij het centrum van Nijmegen


Google


Georg Trakl

Georg Trakl werd op 3 februari 1887 in het conducteurshuis aan de Waagplatz 2 in Salzburg geboren. Zijn vader, Tobias Trakl, was een handelaar in ijzerwaren en zijn moeder, die ook psychische problemen had, was Maria Catharina Trakl, (meisjesnaam Halik). Voorts had hij nog drie broers en drie zussen. Margarethe (doorgaans Grethe genoemd) stond hem het naast, zelfs zodanig dat sommigen een incestueuze verhouding vermoeden. Zijn jeugd bracht hij door in Salzburg. Vervolgens bezocht hij van 1897 tot 1905 het humanistische gymnasium. Om toch een academische opleiding te kunnen volgen, werkte hij tot 1908 in de praktijk bij een apotheker. Sommigen vermoedden dat hij dit vooral deed om zichzelf opiaten te kunnen verschaffen. Bij het uitbreken van WO I werd Trakl als medicus naar het front in Galicië (heden ten dage in Oekraïne en Polen) gestuurd. Zijn gemoedsschommelingen leidden tot geregelde uitbraken van depressie, die verergerd werden door de afschuw die hij voelde voor de verzorging van de ernstig verwonde soldaten. De spanning en druk dreven hem ertoe een suïcidepoging te ondernemen, welke zijn kameraden nochtans verhinderden. Hij werd in een militair ziekenhuis opgenomen in Kraków, alwaar hij onder strikt toezicht geplaatst werd.Trakl verzonk daar in nog zwaardere depressies en schreef Ficker om advies. Ficker overtuigde hem ervan dat hij contact moest opnemen met Wittgenstein, die inderdaad op weg ging na Trakls bericht te hebben ontvangen. Op 4 november 1914, drie dagen voordat Wittgenstein aan zou komen, overleed hij echter aan een overdosis cocaïne


Paul Celan

Paul Celan werd onder de naam Paul Antschel op 23 november 1920 geboren in Czernowitz, toentertijd de hoofdstad van de Roemeense Boekovina, nu behorend bij de Oekraïne. Paul Celans ouders waren Duitssprekende joden die hun zoon joods opvoedden en hem naar Duitse christelijke scholen stuurden. In 1942 werden Celans ouders door de Duitse bezetter naar een werkkamp gedeporteerd en daar vermoord. Hijzelf wist aanvankelijk onder te duiken, maar moest vanaf juli 1942 in een werkkamp dwangarbeid verrichten. Celan overleefde de oorlog. Via Boekarest en Wenen vestigde Celan zich in 1948 in Parijs. Daar was hij werkzaam als dichter, vertaler en doceerde hij aan de prestigieuze Ecole Normale Supérieure. Vermoedelijk op 20 april 1970 beëindigde hij zijn leven zelf door in de Seine te springen.


Gerard Reve

Gerard Reve over: Medearbeiders "God is in de mensen, de dieren, de planten en alle dingen - in de schepping, die verlost moet worden of waaruit God verlost moet worden, door onze arbeid, aangezien wij medearbeiders van God zijn." Openbaring "Tja, waar berust elk godsbegrip op, elke vorm van religie? Op een openbaring, dat wil zeggen op een psychische ervaring van zulk een dwingende en onverbiddelijke kracht, dat de betrokkene het gevoel heeft, niet dat hij een gedachte of een visioen heeft, maar dat een gedachte gedachte of visioen hem bezit en overweldigt."


Simon Vestdijk
Simon Vestdijk (Harlingen, 17 oktober 1898 – Utrecht, 23 maart 1971) was een Nederlands romancier, dichter, essayist en vertaler. Zijn jeugd te Harlingen en Leeuwarden beschreef hij later in de Anton Wachter-cyclus. Van jongs af aan logeerde hij regelmatig bij zijn grootouders in Amsterdam, waar hij zich in 1917 aan de Universiteit van Amsterdam inschrijft als student in de medicijnen. Tijdens zijn studie die van 1917 tot 1927 duurde, leerde hij Jan Slauerhoff kennen.Tot 1932 is hij als arts in praktijken door heel Nederland werkzaam. In 1932 volgt zijn officiële schrijversdebuut met de uitgave van de bundel Verzen in De Vrije Bladen. Doorslaggevend voor Vestdijks uiteindelijke keuze voor de literatuur is zijn ontmoeting in 1932 met Eddy Du Perron en Menno ter Braak. Deze ontmoeting had tot resultaat dat hij redactielid werd van het tijdschrift Forum Kort daarop, in 1933, wordt zijn eerste novelle, De oubliette, uitgegeven. In hetzelfde jaar schrijft hij Kind tussen vier vrouwen, dat, eerst geweigerd door de uitgever, later de basis zal vormen voor de eerste drie delen van de Anton Wachter-romans. In 1951 ontvangt Vestdijk de P.C. Hooftprijs voor zijn in 1947 verschenen roman De vuuraanbidders. In 1957 wordt hij voor het eerst door het PEN-centrum voor Nederland voorgedragen voor de Nobelprijs voor de Literatuur, die hij echter nooit zal krijgen. Op 20 maart 1971 wordt hem de Prijs der Nederlandse Letteren toegekend, maar voor hij deze kan ontvangen overlijdt hij op 23 maart te Utrecht op 72-jarige leeftijd. Vestdijk was auteur van ca. 200 boeken. Vanwege deze enorme productie noemde de dichter Adriaan Roland Holst hem 'de man die sneller schrijft dan God kan lezen'. Andere belangrijke boeken van Simon Vestdijk zijn: "Kind van stad en land" (1936), "Meneer Visser's hellevaart" (1936), "Ierse nachten" (1946), "De toekomst de religie" (1947), "Pastorale 1943" (1948), "De koperen tuin" (1950), "Ivoren wachters" (1951), "Essays in duodecimo" (1952) en "Het genadeschot" (1964).


K.P. Kavafis

K.P. Kavafis werd als kind van Griekse ouders, afkomstig uit Konstantinopel, geboren in 1863 in Alexandrië (tot vandaag een Griekse enclave) waar hij ook het grootste deel van zijn leven woonde en werkte. Twee jaar na de dood van zijn vader verhuist het gezin in 1872 naar Engeland om na een verblijf van vijf jaar naar Alexandrië terug te keren. Vanwege ongeregeldheden in Egypte vlucht het gezin in 1882 naar Konstantinopel, om na drie jaar opnieuw naar Alexandrië terug te gaan. In de jaren die volgen maakt Kavafis reizen naar Parijs, Londen en in 1901 zijn eerste reis naar Griekenland, in latere jaren gevolgd door nog enkele bezoeken. Op de dag van zijn zeventigste verjaardag, in 1933 sterft Kavafis in Alexandrië. De roem kwam voor Kavafis pas na zijn dood, dus postuum. Deels is dat toe te schrijven aan zijn eigen handelswijze. Hij was uiterst terughoudend met de publicatie van zijn gedichten, liet af en toe een enkel gedicht afdrukken in een literair tijdschrift, gaf in eigen beheer enkele bundels met een stuk of twintig gedichten uit en het merendeel van zijn poëzie schonk hij op losse bladen aan zijn beste vrienden.


Thomas Mann


Thomas Mann, de jongere broer van Heinrich Mann, werd geboren op 6 juni 1875 in Lübeck. Hij was de tweede zoon van de graankoopman Thomas Johann Heinrich Mann welke later één van de senatoren van Lübreck werd. Zijn moeder Julia (geboren da Silva-Bruhns) was Duits-Braziliaans van Portugees Kreoolse afkomst. In 1894 debuteerde Thomas Mann met de novelle "Gefallen". Toen Thomas Mann met 21 jaar eindelijk volwassen was en hem dus geld van zijn vaders erfenis toestond - hij kreeg ongeveer 160 tot 180 goldmark per jaar - besloot hij dat hij genoeg had van al die scholen en instituties en werd onafhankelijk schrijver. Kenmerkend voor zijn stijl zijn de ironie, de fenomenale taalbeheersing en de minutieuze detailschildering. Manns reputatie in Duitsland was sterk wisselend. Met zijn eerste roman, Buddenbrooks (1901), had hij een enorm succes, maar door zijn sceptische houding tegenover Duitsland na de Eerste Wereldoorlog veranderde dit volledig. Stelde hij zich tot aan de jaren twintig apolitiek op (Betrachtungen eines Unpolitischen, 1918), meer en meer raakte hij bij het Politiek gebeuren betrokken. Zijn afkeer van het nationaal socialisme groeide, zijn waarschuwingen werden veelvuldiger en heftiger. In 1944 accepteerde hij het Amerikaanse staatsburgerschap. Tussen 1943 en 1947 schreef Mann Doktor Faustus (zie Faust), de roman van de 'Duitse ziel' in de gecamoufleerd geschilderde omstandigheden van de 20ste eeuw. In 1947 bezocht hij voor het eerst sinds de Oorlog Europa, twee jaar later pas Duitsland. In 1952 vertrok hij naar Zwitserland. Op 12 augustus 1955 stierf hij in Zürich. Twintig jaar na zijn dood, in aug. 1975, is zijn literaire nalatenschap geopend: dagboekaantekeningen van 15 maart 1933 tot 29 juli 1955, alsmede notities uit de jaren 1918 tot en met 1921.Belangrijke werken zijn: Der Zauberberg, Der Tod in Venedig, Dokter Faustus , Joseph und seine Brüder en Die Bekenntnisse des Hochstaplers Felix Krull.


Rainer Maria Rilke

Rilke werd op 4 december 1875 geboren in Praag. Hij had al naam gemaakt als dichter met zijn bundels Das Stundenbuch en Das Buch der Bilder, toen hij de literaire wereld versteld deed staan en wereldfaam verwierf met de publicatie van zijn twee delen Neue Gedichte in 1907 en 1908. Hij verzamelde daarin het beste werk uit een van zijn vruchtbaarste periodes, die hij grotendeels doorbracht in Parijs. Rilke was daar diep onder de indruk gekomen van Rodin, bij wie hij een tijdlang in dienst was als particulier secretaris. Rodin, zei hij later, had hem leren kijken. Dit kijken kwam neer op intense concentratie, om het mysterie te kunnen zien 'achter de schijnbare werkelijkheid'. Latere en rijpere werken als Duineser Elegien (1912-1923) en het ronduit schitterende Die Sonette an Orfeus (1924) illustreren Rilkes metafysische visie op het onzegbare, dat haar verwoording vindt in een hermetische muzikale taal. Op 29 december 1926 overlijdt Rilke in het sanatorium in Val-Mont aan de gevolgen van leukemie. Enkele dagen later wordt hij, overeenkomstig zijn wens, begraven op het kerkhof van Raron.


* * * * * * * * * * * * * * * *

| | |
| --- | --- |
| | Over literatuur, gedichten, kunst en cultuur |

02-03-2014

Berliner Fasching (Kurt Tucholsky)
Bij Carnaval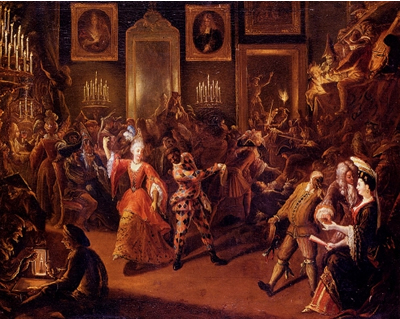 Carnevalsbal door Pierre Bergaigne (1652 – 1708)
Berliner Fasching
Nun spuckt sich der Berliner in die Hände
und macht sich an das Werk der Fröhlichkeit.
Er schuftet sich von Anfang bis zu Ende
durch diese Faschingszeit.
Da hört man plötzlich von den höchsten Stufen
der eleganten Weltgesellschaft längs
der Spree und den Kanälen lockend rufen:
"Rin in die Eskarpins!"
Und diese Laune, diese Grazie, weißte,
die hat natürlich alle angesteckt;
die Hand, die tagshindurch Satin verschleißte,
winkt ganz leschehr nach Sekt.
Die Dame faschingt so auf ihre Weise:
gibt man ihr einmal schon im Jahr Lizenz,
dann knutscht sie sich in streng geschlossnem Kreise,
fern jeder Konkurrenz.
Und auch der Mittelstand fühlts im Gemüte:
er macht den Bockbierfaßhahn nicht mehr zu,
umspannt das Haupt mit einer bunten Tüte
und rufet froh: "Juhu!"
Ja, selbst der Weise schätzt nicht nur die hehre
Philosophie: auch er bedarf des Weins!
Leicht angefüllt geht er bei seine Claire,
Berlin radaut, er lächelt ...
Jeder seins.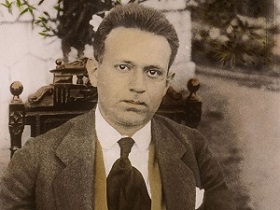 Kurt Tucholsky (9 januari 1890 - 21 december 1935)
Zie voor de schrijvers van de 2e maart ook mijn vorige twee blogs van vandaag.
02-03-2014 om 18:00 geschreven door Romenu

Tags:Carnaval, Kurt Tucholsky, Romenu



Godfried Bomans, Multatuli, Thom Wolfe, John Irving, Michael Salinger
De Nederlandse schrijver Godfried Bomans werd geboren in Den Haag op 2 maart 1913. Zie ook alle tags voor Godfried Bomans op dit blog.
Uit: Erik of Het klein insectenboek
"De kleine Erik lag, juist op het ogenblik dat dit boekje begint, in het oude bed van grootmoeder Pinksterblom met den troonhemel en -de zijden kwasten, en keek over den rand van het blanke laken de schemerige kamer in.
Het was het uur waarop de kleine mensen naar bed gaan, het uur waar de grote mensen niet van weten: alle vertrouwde dingen van den muur vervagen zoetjes aan in het groeiende duister, en de wereld wordt stil, zo stil dat zij zelfs niet meer ademt... Buiten stapt nog iemand voorbij: stap, stap, zo klinkt het, en in de verte roept een jongetje hoog en fijn naar een ander jongetje. Zijn stem klinkt in den avond en je denkt- daar is toch een jongetje op de wereld dat nog niet in bed ligt...
Erik lag stil te.kijken naar het raam in de verte en naar de schemerende portretten van den muur. "Het is net," dacht hij, "of er iets gebeuren gaat. En misschien gaat er ook wel iets gebeuren?" En hij besloot om nu eens niet, gelijk op andere avonden. in slaap te vallen, maar goed op te letten of er misschien , @iets gebeuren ging". Nu was daar een goed middel voor. Want onder zijn hoofdkussen lag een boekje, "Solrns' Beknopte Natuurlijke Historie" geheten, en Erik moest daar voor morgen alle insecten uit kennen. Hij had er dezen helen Woensdagmiddag uit zitten leren en was tot aan de meikevers gekomen. Morgenochtend, onder het speelkwartier, zou hij de meikevers er bij nemen.
"Laat eens kijken," mompelde Erik, "hoeveel poten heeft een wesp ook al weer? Zes. De ogen zijn apart verstelbaar e 'n staan voor in den kop. Mooi. Zij leven niet in korven, gelijk de bijen, maar - ja, waar leven zij dan? Zij zullen apart leven, denk ik Nu, dat doet er ook niet toe. Zij behoren tot de familie der vliesvleugeligen en hebben geknikte sprieten.
En hoe staat het met de vlinders? De vlinder verbaast den aandachtigen natuurliefhebber door haar fraaie kleurenpracht. (Erik zei dezen zin twee keer, zo mooi vond hij hem.) Wij kunnen hen rekenen onder de zogenaamde nuttige insecten, maar de kinderen die zij krijgen - welke rupsen worden genoemd - kunnen zeer schadelijk zijn."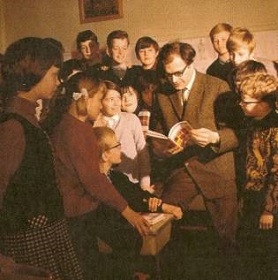 Godfried Bomans (2 maart 1913 - 22 december 1971)
Hier eind jaren 1960 op de basisschool die hij zelf bezocht
De Nederlandse schrijver Multatuli (pseudoniem van Eduard Douwes Dekker werd geboren in Amsterdam op 2 maart 1820. Zie ook alle tags voor Multatuli op dit blog.
Uit: De geschiedenis van Woutertje Pieterse
"Zou dat nu staan of liggen? dacht-i. De arme jongen beet de tanden slee op z'n grift, en 't grift tot gruis... maar och, 't ging niet. Hy was 'n oogenblik verwaand geweest, en werd daarvoor zwaar gestraft, want nu begon hy te gelooven dat z'n moeder gelyk had, toen ze zeide: 'dat er van dien jongen nooit iets komen zou.'
Hy vraagde aan Leentje, of zy wist wat liggende en staande regels waren? En daar zy 't ook niet wist, besloot hy 'morgen eens weêr te probeeren. Misschien zou 't dan beter gaan.' Dit vond Leentje ook.
- My wel, zei de moeder, maar denk er aan dat je me niet veraffrenteert voor jufvrouw Laps... want ik heb gezeid dat je 't kon... en de man is jarig woensdag over acht dagen... dus veel tyd heb je niet.
Wouter ging naar de aschpoort, zocht het brugje, en begon daar bitter te schreien.
- Ga eens kyken wat dat jongetje scheelt, hoorde hy 'n vrouw zeggen tot een meisje van veertien, zestien jaren, 't kind heeft zeker iets verloren.
- Heb je wat verloren, jonge-heer?
Wouter zag op, en schrikte. Want het was hem of-i dat gelaat herkende. 't Deed hem denken aan Fancy.
- O, nu is alles goed... nu gy daar zyt! Ik heb zoo naar u verlangd...
- Naar my, jonge-heer?
- Ja, ja, ja! Ik wist niet dat ik verlangde... maar nu weet ik het: O, zeg het my toch spoedig... wat staande regels zyn, en hoe ik m'n vers moet maken?
Het meisje, dat met hare moeder waschgoed te bleeken legde op 't gras, keek Wouter gek aan. Ze liep terug naar de moeder, en zei niet te weten wat dat kind mankeerde. Maar dat er iets aan haperde was zeker."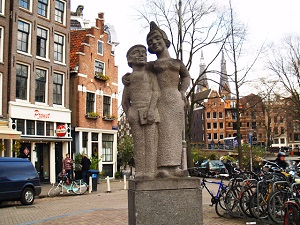 Multatuli (2 maart 1820 - 19 februari 1887)
Woutertje Pieterse en Femke door Frits Sieger, 1971, Noordermarkt, Amsterdam
De Amerikaanse schrijver John Irving werd geboren op 2 maart 1942 in Exeter, New Hampshire. Zie ook alle tags voor John Irving op dit blog.
Uit: Until I Find You
"According to his mother, Jack Burns was an actor before he was an actor, but Jack's most vivid memories of childhood were those moments when he felt compelled to hold his mother's hand. He wasn't acting then.
Of course we don't remember much until we're four or five years old — and what we remember at that early age is very selective or incomplete, or even false. What Jack recalled as the first time he felt the need to reach for his mom's hand was probably the hundredth or two hundredth time.
Preschool tests revealed that Jack Burns had a vocabulary beyond his years, which is not uncommon among only children accustomed to adult conversation — especially only children of single parents. But of greater significance, according to the tests, was Jack's capacity for consecutive memory, which, when he was three, was comparable to that of a nine-year-old. At four, his retention of detail and understanding of linear time were equal to an eleven-year-old's. (The details included, but were not limited to, such trivia as articles of clothing and the names of streets.)
These test results were bewildering to Jack's mother, Alice, who considered him to be an inattentive child; in her view, Jack's propensity for daydreaming made him immature for his age.
Nevertheless, in the fall of 1969, when Jack was four and had not yet started kindergarten, his mother walked with him to the corner of Pickthall and Hutchings Hill Road in Forest Hill, which was a nice neighborhood in Toronto. They were waiting for school to be let out, Alice explained, so that Jack could see the girls.
St. Hilda's was then called "a church school for girls," from kindergarten through grade thirteen — at that time still in existence, in Canada — and Jack's mother had decided that this was where Jack would begin his schooling, although he was a boy. She waited to tell him of her decision until the main doors of the school opened, as if to greet them, and the girls streamed through in varying degrees of sullenness and exultation and prettiness and slouching disarray."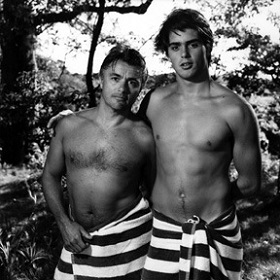 John Irving (Exeter, 2 maart 1942)
Hier met zijn zoon Colin
De Amerikaanse schrijver en journalist Tom Wolfe werd geboren op 2 maart 1930 in Richmond, Virginia. Zie ook alle tags voor Thomas Wolfe op dit blog.
Uit: The Bonfire of the Vanities
"To Sherman, as he headed out onto the sidewalk holding Campbell's hand, she was a vision. She was a vision anew each morning. Her hair was a luxuriance of soft waves like her mother's, but lighter and more golden. Her little face—perfection! Not even the gawky years of adolescence would alter it. He was sure of that. In her burgundy school jumper, her white blouse with its buttercup collar, her little nylon backpack, her white knee-high socks, she was an angel. Sherman found the very sight touching beyond belief.
The morning-shift doorman was an old Irishman named Tony. After opening the door for them, he stepped outside under the awning and watched them depart. That was fine . . . fine! Sherman liked to have his fatherhood observed. This morning he was a serious individual, representing Park Avenue and Wall Street. He wore a blue-gray nailhead worsted suit, custom-tailored in England for $1,800, two-button, single-breasted, with ordinary notched lapels. On Wall Street double-breasted suits and peaked lapels were considered a bit sharp, a bit too Garment District. His thick brown hair was combed straight back. He squared his shoulders and carried his long nose and wonderful chin up high.
"Sweetheart, let me button your sweater. It's a little chilly."
"No way, José" said Campbell.
"Come on, sweetie, I don't want you to catch cold."
"N O, Séjo, N O." She jerked her shoulders away from him. Séjo was José backward. "N-n-n-n Ohhhhh." So Sherman sighed and abandoned his plan to save his daughter from the elements. They walked on a bit.
"Daddy?"
"Yes, sweetheart?"
"Daddy, what if there isn't any God?"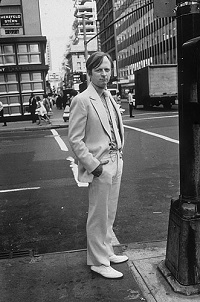 Tom Wolfe (Richmond, 2 maart 1930)
Begin jaren 1960
De Amerikaanse dichter en performer Michael Salinger werd geboren op 2 maart 1962 in Cleveland, Ohio. Zie ook alle tags voor Michael Salinger op dit blog.
Two wheels that go around
Two wheels that go around
Two pedals for my feet
Two handles on a bar
One chain
One seat
One bell to let you know
I am coming up fast
Ring ring ring ring ring
Watch out
While I pass!

Hardware Store
Hammer hammer hammer hammer
Hammer hammer
Drill
All purpose
Heavy duty
Wood filler, roto tiller, screws
Saw blades, wing nuts, steel toed shoes
Half off
Items on this shelf
Do it
Do it
Do it
Do it
Do it yourself.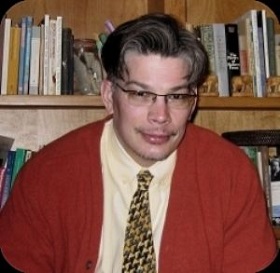 Michael Salinger (Cleveland, 2 maart 1962)



Zie voor nog meer schrijvers van de 2e maart ook mijn vorige blog van vandaag.
02-03-2014 om 17:39 geschreven door Romenu

Tags:Godfried Bomans, Multatuli, Thom Wolfe, John Irving, Michael Salinger, Romenu



János Arany, Jevgeni Baratynski, Sholom Aleichem, Olivia Manning, Pascal Rannou, Gerhard von Halem
De Hongaarse dichter János Arany werd geboren op 2 maart 1817 in Nagyszalonta. Zie ook alle tags voor János Arany op dit blog.
Uit: Toldi (Fragment)
But no, he does not care how it sifts the road
from end to end - through a tower of dust erected
by the wind, proud weapons glitter, proud troops
ascend. A cloud of sighs rises from his heart like
those hazy troops. And bending forward, he stares
and stares as though heart and soul were fixed
in his eyes.
'Neat Hungarian cavaliers, shining knights! How beat
and bitter am I to see you. Where are you bound? How
far? Into battle? To gather flowers for a wreath of
glory? Are you riding against Tatars, Turks? To bid
them good night forever? Ah, if I too, I too were
only riding. Neat Hungarian cavaliers, shining knights!'
These were the thoughts that furrowed into Miklós
Toldi's soul. His head churned, and his heart was
wrung with sadness because he too was the son of a
knight. György, his false brother, was reared as
a companion of the royal heir. He lives it up in
the royal court while Miklós mows and rakes with
the hired hands.
Here they come, the mounted men of the Palatine
Laczfi, and at the head of his proud troops Endre
Laczfi himself. He sits with martial bearing on
his fallow horse, braids of gold on his robe. In
his train dashing young men ride in fancy saddles
on stamping stallions. Miklós stares and stares,
not knowing his eyes are sore for staring so hard.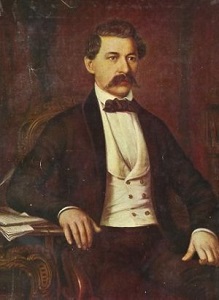 János Arany (2 maart 1817 – 22 oktober 1882)
Portret door Barabás Miklós, 1856
De Russische dichter Jevgeni Baratynski werd geboren op 2 maart 1800 in Sint Petersburg. Zie ook alle tags voor Jevgeni Baratynski op dit blog.
Last Poet (Fragment)
The age proceeds along its iron path,
All hearts a brim with greed; and every hour
Our common dreams grow ever more obsessed
With shameless profit and mundanity.
And in the light of learned reason
All childish dreams of poetry dissolve.
Devoted to industrious pursuits
The young no longer heed them.
Hellas is awake once more
To triumphant liberty,
Gathered are its citizens
And upraised are its capitals;
Science flourishes there once more,
The Pont teem once again with trade
But no more are the lyre's sounds heard
Within the Muses' ancient heav'n.
The winter of the world enfeebled now doth shine
And shine! Mankind grows stern and pale;
But Homer's land is blooming forth,
Hills, forests, and the banks of azure lakes.
Parnassus blooms! Below it, as before,
Castalian waters rush in streams;
Unheralded child of Nature's dying strength,
Behold a Poet -- he strolls and sings.
With simple heart he sings
Of love and beauty,
And science disobedient
Is thin and vain for him:
He cures our temporary sufferings
With his lighthearted play.
'tis better, mortals, for the earth
To feel delight in ignorant days.
Cruel laughter answers him; his hands
Lie motionless upon his lyre,
His lips, once parted, now press closed,
Though his proud head bends not:
In thought he aims his step
Into the wordless, empty wild; but the world's
no more an empty cave,
No lonely place remains.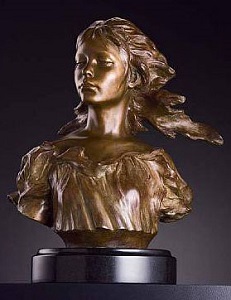 Jevgeni Baratynski (2 maart 1800 – 11 juli 1844)
Poetry 2006 door Frederick Hart
De Russisch-joodse schrijver Sholom Aleichem werd geboren in Pereyslav bij Kiev op 2 maart 1859. Zie ook alle tags voor Sholom Aleichem op dit blog.
Uit: Elijah the Prophet
"Daddy put on his best kapoteh [ritual prayer garment] and went to daven in shul. Mama says to me: "You know what? Lie down. Get some sleep. Then you can sit through the Seder. Then you can ask Daddy the Fir Kashyas ["Four Questions"]. What, am I meshugeh? I should go to sleep before the Seder? "Remember this, on Paysach one must not sleep at the Seder. If God forbid you should fall asleep at the Seder, then Eli Novi goes about and looks for those sleeping at the Seder and takes them away in his sack." Ha, ha. I should fall asleep at the Seder? Me? If they should sit the whole night? Even if it were till the light of morning? What happened last year mama? "Last year, you went to sleep right after Kiddush." "Then why didn't Eli Novi come for me then with his sack?" "Then you were a kleinitschke. Now, you're bigger. Tonight, you must ask daddy the Four Questions. Tonight, you must say with Daddy, Avodim Hayinu [Passover passage from haggadah]. Tonight, you must eat fish and soup and kneidlach with us…shah, Daddy's coming back from shul.
"Gut yontof."
"Gut yontof."
Thank God. Daddy finished up the Kiddush. Me too. Daddy drank up the first cup. Me too. A full one too and to the very bottom. "Look, to the very bottom," says Mama to Daddy. She says to me: "A whole cup of wine? You'll fall asleep." Ha, ha. Me? If they should sit the whole night? Even till the light of morning? Ah, nu, ask Daddy, how did I rattle off the Four Questions? How did I say the hagodeh? How do I shuckle over the siddur and sing with Daddy Avodim Hayinu? Mama keeps her eye on me, smiles and says to me: "You'll fall asleep, fall asleep." Ach, Mama, Mama. It seems to me that even with eight heads, one would still fall asleep from these words alone. Ah, nu, let them sit down by you and sing in your ear: "Fall asleep, fall asleep."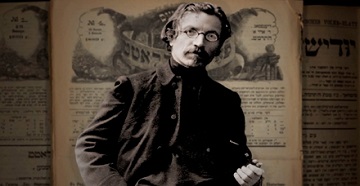 Sholom Aleichem (2 maart 1859 - 13 mei 1916)
De Britse schrijfster Olivia Manning werd geboren op 2 maart 1908 in Portsmouth. Zie ook alle tags voor Olivia Manning op dit blog.
Uit: The Balkan Trilogy (The spoilt city)
"His tone was conclusive: he stood upright, preparing to depart.
David moved forward. "In my opinion," he said, "this could have been helped."
"Indeed!" The chairman paused in surprise.
"We lost this country months ago through a damn-fool policy of supporting Carol at no matter what cost to the rest of the community. The better elements here refused to serve under such a rule. Maniu and the other liberals would have been with us, but we had no use for them. We kept a pack of scoundrels in power. No wonder the country was divided against itself."
"Ah!" Sir Brian was non-committal: a just man, he was prepared to hear all sides. "And what are the facts, as you see them?"
Wheeler rubbed his brow in a despairing way.
Speaking authoritatively, all diffidence gone now, David said: "A united Rumania—a Rumania, that is, who'd won the loyalty of her minorities by treating them fairly—could have stood up to Hungarian demands. She might even have stood up to Russia. If she'd remained firm, Yugoslavia and Greece would have joined with her; perhaps Bulgaria, too. A Balkan entente! Not much perhaps, but not to be sneezed at. With the country solid, enjoying a reasonable internal policy, the Iron Guard could never have regained itself. It could never have risen to power in this way."
Sir Brian, hands together on his umbrella-handle as on a gun-butt, stood upright, head bowed at the neck in an attitude of mourning.
Wheeler cleared his throat, preparing to arrest this indictment, but David was not easily arrested. "And," he persisted, "there were the peasants—a formidable force, if we'd chosen to organise them. They could have been trained to revolt at any suggestion of German infiltration."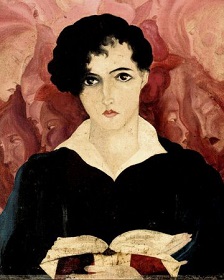 Olivia Manning (2 maart 1908 - 23 juli 1980)
Zelfportret
De Franse schrijver en letterkundige Pascal Rannou werd geboren op 2 maart 1958 in Laval. Zie ook alle tags voor Pascal Ramou op dit blog.
Uit: Tristan Corbière, visionnaire excentrique du pays de Morlaix
"Le nom de Tristan Corbière est depuis longtemps familier aux oreilles des morlaisiens, ne serait-ce que parce qu'il désigne leur lycée. Ce n'est pourtant pas un patronyme breton. De fait, le grand-père du poète était originaire de l'Aquitaine. Militaire, il caserna à Brest, où naquit son fils Édouard. Ce dernier, après une carrière maritime mouvementée, créa en 1839 la liaison par bateau entre Le Havre et Morlaix, où il séjourna de plus en plus, pour finir par s'y installer et y fonder famille. C'est donc en premier lieu grâce à Édouard que le nom des Corbière fut connu. Notable respecté, auteur de romans maritimes à succès, membre du conseil municipal, président de la Chambre de commerce, cet infatigable homme d'action fit installer dans sa cité le pont tournant et l'éclairage au gaz, et créa par ailleurs les régates de Locquénolé. L'ironie de la postérité fait que le père survit aujourd'hui grâce au fils, auteur d'un recueil poétique unique et visionnaire : Les Amours jaunes. La presse de l'époque ne signala pourtant qu'à peine la mort de Tristan..."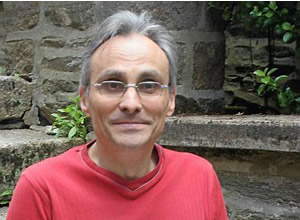 Pascal Rannou (Laval, 2 maart 1958)
De Duitse dichter en schrijver Gerhard Anton von Halem werd geboren op 2 maart 1752 in Oldenburg. Zie ook alle tags voor Gerhard von Halem op dit blog.
Aphorismen
Nie aus der Wahrheit ist so viel Gutes erwachsen,
Als aus der Wahrheit Schein Böses erwächst in der Welt.
*
Wohl zu besänftigen ist die Leidenschaft. Doch Überzeugung, grub sie Verstand ins Gemüth, bleibt unvertilgbar der Zeit.
*
Da herrscht ewig Friede, wo über die Seele Vernunft herrscht.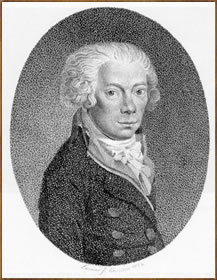 Gerhard von Halem (2 maart 1752 – 4 januari 1819)
02-03-2014 om 17:37 geschreven door Romenu

Tags:János Arany, Jevgeni Baratynski, Sholom Aleichem, Olivia Manning, Pascal Rannou, Gerhard von Halem, Romenu



| | |
| --- | --- |
| | |



Inhoud blog


| | |
| --- | --- |
| | Walter van den Broeck, Joost de Vries, Mario Vargas Llosa, Chrétien Breukers, Nelson Algren, Marianne Frederiksson, Russell Banks, Léon-Gontran Damas, Éric-Emmanuel Schmitt |
| | Heinrich Mann, Shusaku Endo, Golo Mann, Carolina Trujillo, Patrick McCabe, Bob den Uyl, Dubravka Ugresić, Francis Ponge, Marie Under |
| | Tennessee Williams, Gregory Corso, Hwang Sun-won, Martin McDonagh, Robert Frost, Patrick Süskind |
| | A. E. Housman, Bettina Galvagni, Hai Zi, Erica Jong, Artur Landsberger |
| | Am vierten Sonntage in der Fasten (Annette von Droste-Hülshoff) |
| | Pol Hoste, Menno Van der Beek, Flannery O'Connor, Jaime Sabines, Peter Van Straaten, Toni Cade Bambara, Antonio Fogazzaro |
| | Jacques Bens, Jacques Audiberti, Filip De Pillecyn, Erica Pedretti, Evliya Çelebi, Anne Fanshawe, Daniel Schiebeler, Mary Webb |
| | Peter Bichsel, Martin Walser, Dario Fo, Lawrence Ferlinghetti, Jacob van Lennep, Jeroen Mettes, Harry Prenen, Willem van Iependaal, Top Naeff |
| | Cri Stellweg, Yōko Tawada, Gary Whitehead, Mitch Cullin, Steven Saylor, Roger Martin du Gard, Madison Cawein, Nils-Aslak Valkeapää, Federica de Cesco |
| | Billy Collins, Eveline Hasler, Érik Orsenna, Léon Deubel, Karel Poláček, Arnold Sauwen, Wolfgang Bächler, Albrecht Goes, Gabrielle Roy |
| | In Memoriam Colin Dexter |
| | Willem de Mérode, Pim te Bokkel, Kees van Beijnum, Jean Paul, Hamid Skif, Hubert Fichte, Peter Hacks, Michel Bartosik, Youssef Rzouga |
| | David Malouf, Friedrich Hölderlin, Katharina Hartwell, Ralph Giordano, Ricus van de Coevering, Jens Petersen, Benoît Duteurtre, Gerard Malanga, Henrik Johan Ibsen |
| | Mano Bouzamour, Hans Mayer, Philip Roth, Kirsten Boie, Lynne Sharon Schwartz, Lina Kostenko, Petar Preradović |
| | William Allingham, Ion Barbu, Rosalie Loveling, Tobias Smollett, Irving Wallace, Peter Abrahams |
| | Am dritten Sonntage in der Fasten (Annette von Droste-Hülshoff) |
| | Christa Wolf, Charlotte Roche, John Updike, Wilfred Owen, Stéphane Mallarmé |
| | Héctor Bianciotti, Hellema, Friedrich Hebbel, Max Barry, Wolfgang Bauer, Richard Condon |
| | Walter Rheiner, Srečko Kosovel, Jean Anglade, George Plimpton, Cosmo Monkhouse, Friedrich Nicolai |
| | Siegfried Lenz, Thomas Melle, Hans Wollschläger, Rense Sinkgraven, Hafid Aggoune, William Gibson, Patrick Hamilton, Karl Gutzkow, Jean Ingelow |
| | In memoriam Torgny Lindgren |
| | Frühlingsglaube (Johann Ludwig Uhland) |
| | Ben Okri, David Albahari, Louis Paul Boon, Kurt Drawert, Gerhard Seyfried, Andreas Okopenko, An Rutgers van der Loeff, Prosper van Langendonck, Paul Heyse |
| | Pam Ayres, Jochen Schimmang, Volker von Törne, Horton Foote, Olivier Delorme, Alexandru Macedonski, Albert Robida, Theodore de Banville, Wout Waanders |
| | Mahmoud Darwish, Yuri Andrukhovych, Didier Decoin, Yeghishe Charents, Vladimir Makanin, Oskar Loerke, W.O. Mitchell, Hugh Walpole, Inge Müller |
| | Jenny Erpenbeck, Dave Eggers, Jack Kerouac, Naomi Shihab Nye, Carl Hiaasen, Edward Albee, De Schoolmeester, Benedict Wells |
| | Kathrin Schmidt, Henrike Heiland, M. A. Numminen, Gabriele d'Annunzio, Irving Layton, Helga Goetze, Françoise d'Eaubonne, Antony Deschamps, Sergej Michalkov |
| | Leena Lehtolainen, Karl Krolow, Daan de Ligt, Frans Vogel, Willem Claassen, Amal Karam |
| | Ernst Wichert, Douglas Adams, Torquato Tasso, Georg Maurer, Josef Martin Bauer |
| | John Rechy, Joseph von Eichendorff, Hilde Van Cauteren, Jakob Wassermann, Karel van de Woestijne, Chloé Delaume, Friedrich Schlegel, Boris Vian, Manolis Anagnostakis |
| | Peter Altenberg, Ed Hoornik, Peter Zantingh, Heere Heeresma, Vita Sackville-West, Josef Weinheber, Taras Sjevtsjenko, Umberto Saba, Agnes Miegel |
| | Jeffrey Eugenides, Walter Jens, Hafid Bouazza, A. Marja, Aslı Erdoğan, John McPhee, Mouloud Feraoun, Mechtilde Lichnowsky, Dominic Angeloch |
| | Bret Easton Ellis, Robert Harris, Jürgen Theobaldy, Georges Perec, Abe Kōbō, Reinhard Kaiser, Manfred Gregor, Jan Frederik Helmers, Alessandro Manzoni |
| | Patrick deWitt, Gabriel García Márquez, Jeremy Reed, Marijke Hanegraaf, Thomas Acda, Günter Kunert, Clark Accord, Elizabeth Barrett Browning, Michelangelo |
| | Pier Paolo Pasolini, Arthur van Schendel, Koos van Zomeren, Jurre van den Berg, Nelly Arcan, Danny King, Jean Orizet |
| | Leslie Marmon Silko, Frank Norris, Fritz Usinger, Friedrich Schnack, Ennio Flaiano, Moritz Carrière, Karl August Timotheus Kahlert |
| | Kristof Magnusson, Khaled Hosseini, Robert Kleindienst, Irina Ratushinskaya, Alan Sillitoe |
| | Ryszard Kapuściński, Jean-Joseph Rabearivelo, Annette Seemann, F. W. Bernstein, Giorgio Bassani |
| | Bernardo Ashetu, Léon-Paul Fargue, Kito Lorenc, Jacques Dupin, Thomas S. Stribling |
| | Manfred Flügge, Hans Verhagen, Tjitske Jansen, James Merrill, Kola Boof, Clifton Snider, Gudrun Pausewang, Josef Winkler, Chris Kraus |
| | Godfried Bomans, Multatuli, Frank Albers, John Irving, Thom Wolfe, Michael Salinger, János Arany, Olivia Manning, Rinske Kegel |
| | Ash Wednesday (T. S. Eliot) |
| | Jan Eijkelboom, Jim Crace, Delphine de Vigan, Franz Hohler, Lytton Strachey, Robert Lowell, Myrthe van der Meer, Franzobel, Steven Barnes |
| | Chanson pour mourir d'amour au temps de carnaval (Louis Aragon) |
| | Stephen Spender, Bart Koubaa, Luc Dellisse, John Montague, Marcel Pagnol, Bodo Morshäuser, Martin Suter, Yórgos Seféris, Howard Nemerov |
| | Josef Svatopluk Machar |
| | Carnival Evening (Linda Pastan) |
| | Cynan Jones, John Steinbeck, Lawrence Durrell, André Roy, Henry Longfellow, Elisabeth Borchers, James T. Farrell, Irwin Shaw |
| | Fastnacht (Achim von Arnim) |
| | Michel Houellebecq, Victor Hugo, Adama van Scheltema, George Barker, Hermann Lenz, Antonin Sova, Jean Teulé |


Gastenboek


Druk op onderstaande knop om een berichtje achter te laten in mijn gastenboek