De Engelse dichter en schrijver Sir Henry John Newbolt werd geboren op 6 juni 1862 in Bilston, Wolverhampton. Zie ook alle tags voor Henry Newbolt op dit blog.
The Only Son
O bitter wind toward the sunset blowing,
What of the dales tonight?
In yonder gray old hall what fires are glowing,
What ring of festal lights?
In the great window as the day was dwindling
I saw an old man stand;
His head was proudly held and his eyes kindling,
But the list shook in his hand.'
O wind of twilight, was there no word uttered,
No sound of joy or wail?
'A great fight and a good death,' he muttered;
'Trust him, he would not fail.''
What of the chamber dark where she was lying
For whom all life is done?
'Within her heart she rocks a dead child, crying
'My son, my little son.''

Rondel
(from the French of Wenceslas, Duke of Brabant and Luxembourg, who died in 1384.)
Though I wander far-off ways,
Dearest, never doubt thou me:
Mine is not the love that strays,
Though I wander far-off ways:
Faithfully for all my days
I have vowed myself to thee:
Though I wander far-off ways,
Dearest, never doubt thou me.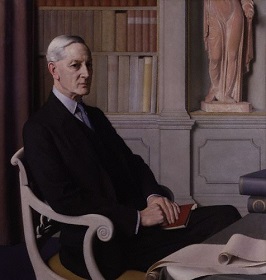 Henry Newbolt (6 juni 1862 – 19 april 1938)
De Amerikaanse dichteres en schrijfster Annie Adams Fields werd geboren op 6 juni 1834 in Boston. Zie ook alle tags voor Annie Fields op dit blog.
Midsummer Noon
Confident Summer!
Thou art here, thou radiant comer;
The sumach and bayberry,
Soft sighing of the sea,
The ever-climbing sun,
The pausing of high noon
When early birds have done --
I know them all! I rest
Upon thy dew-fed breast.
The squirrel questions me,
The oak his acorn drops,
Wild-apple boughs bend over me,
Nor ever stops
The sighing, endless sighing of the sea.
Endymion
The moon was up last night, and all the earth
Was gay under the favor of her face;
Secure from wandering footsteps, creatures bred
In lonely clefts sped over grassy lawns,
And sniffed strange odors from exotic blooms;
The wilding blossoms gathered, worshiping,
New whiteness from the silver of her beam,
While fairies spread bright yellow canopies
To shield them from the keenness of her eye.
This morn, how tired out do they all appear!
The forehead of the sky now wears a veil,
The winds have ceased, the fairy shields remain,
The borrowed whiteness of the blossom stays;
But silent are they all and hide their love,
Timid as one first touched by lover's glance,
Who stands half slain with all heaven in her heart.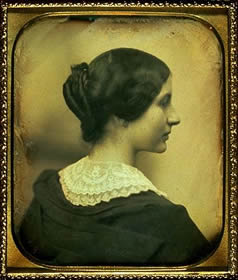 Annie Fields (6 juni 1834 – 5 januari 1915)
De Franse schrijver en politicus Louis Sébastien Mercier werd geboren in Parijs op 6 juni 1740. Zie ook alle tags voor Louis Sébastien Mercier op dit blog.
Uit: Tableau de Paris(Martinistes)
« Nous passerions les jours à redire à nos bons amis de l'autre monde tout ce que nous sentirions pour nos bien-aimés de la terre ; et à nos bien-aimés de la terre, tout ce que nous auraient dit ceux de l'autre monde. Voilà ce que cherchent les martinistes. Ils s'y disposent par l'exercice des vertus ; ils parlent de l'être suprême avec une vénération et un amour qui saisissent l'âme ; et tout ce qu'enseigne le christianisme, ne trouve en eux aucune contradiction formelle. Enfin, ils n'entament aucune question politique. Qui l'eût dit, qu'après les encyclopédistes viendraient les martinistes ? Ceux-ci n'ont aucun trait de la physionomie propre à la hautaine secte philosophique.
Je ne sais comment le clergé, le gouvernement et la littérature s'arrangeront un jour avec eux. La secte qui vit dans un monde intellectuel ne paraît pas vouloir recourir à ce qui choque les hommes. Elle n'ambitionne ni pouvoir, ni richesse, ni renommée ; elle rêve, elle cherche la perfection ; elle est douce et vertueuse, elle veut parler aux morts et aux esprits. Cela n'est pas dangereux. Des jeunes gens distingués par l'éducation et la figure, suivent ces idées extraordinaires. Ils laissent à d'autres les plateaux électriques, les creusets, les vases en fermentation, les recherches sur l'air fixe ; ils tiennent mieux, à ce qu'ils prétendent ; ils acquièrent l'évidence physique sur l'origine du bien et du mal, sur l'homme, sur la nature matérielle, la nature immatérielle et la nature sacrée. Qu'est-ce, après cela, que la base des gouvernements politiques, la justice civile et criminelle, les sciences, les langues et les arts ? Parler aux anges, rappeler son âme aux principes universels de la science, voilà ce qui fait dédaigner la physique et la chimie, qui prenaient une grande faveur."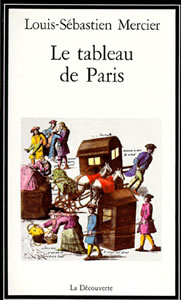 Louis Sébastien Mercier (6 juni 1740 - 25 april 1814)
Cover
De Engelse schrijfster Lesley Blanch werd geboren op 6 juni 1904 in Londen geboren. Zie ook alle tags voor Lesley Blanch op dit blog.
Uit: Journey into the Mind's Eye
"The contrôleur arrived to punch our tickets and worked himself into one of those legendary Gallic uproars over the presence of a dog in the compartment. The animal had no ticket and, in any case, must travel in the luggage van, he said. A furious scene ensued.
Although Russian invective is held to be of an unimaginable violence, I observed that in moments of fury the Traveller held to his opinion that the French language best expressed hatred. Sometimes however, he had recourse to those homely English phrases he so much enjoyed acquiring. Now, after a tirade in his mother-tongue which left his family gasping, and which the contrôleur, at last stung beyond officialdom, countered with the more homely 'Foutez-moi la paix!' the Traveller capped it with 'and the same to you with knobs on'. Although this phrase was no doubt incomprehensible to him the contrôleur grew even more livid, lost all semblance of control, and striking an attitude worthy of Talma hissed: 'Mes compliments à Mademoiselle votre mère!'
The Traveller had now worked up to a histrionic degree of rage and, being almost asphyxiated by the fumes of garlic which the contrôleur diffused about the compartment, threatened to open the outside door and fling himself or the contrôleur on to the line if a hair of the dog's head was touched. A rush of air, soot, sparks and noise overwhelmed us."

Lesley Blanch (6 juni 1904 - 6 mei 2007)
De Poolse schrijfster Eliza Orzeszkowa werd geboren op 6 juni 1842 in Hrodna in het gouvernement Grodno (tegenwoordig Belarus). Zie ook alle tags voor Eliza Orzeszkowa op dit blog.
Uit: An Obscure Apostle (Vertaald door C. S. De Soissons)
"In this market-place after a week of transactions by the people of the vicinity, there remains an inconceivable quantity of dirt and sweepings, and here is also the high, dusky, strangely-shaped meeting house.
This building is one of the specimens, rare to-day, of Hebrew architecture. A painter and an archeologist would look upon it with an equal amount of interest. At first glance it can be easily seen that it is a synagogue, although it does not look like other churches. Its four thick walls form a monotonous quadrangle, and its brown colour gives it a touch of dignity, sadness, and antiquity.
These walls must be very old indeed, for they are covered with green strips of moss. The higher parts of the walls are cut with a row of long, narrow, deeply-set windows, recalling, by their shape, the loop-holes of a fortress. The whole building is covered by a roof whose three large heavy turrets, built one upon the other, look like three moss-covered gigantic mushrooms.
Every gathering, whether of greater importance or of common occurrence, was held here, sheltered beneath the brown walls and mushroom-like roof of the temple. Here in the large round courtyard are the heders (Hebrew schools), where the kahals (church committees) gather. Here stands a low black house with two windows, a real mud hovel, inhabited for several centuries and for many generations by Rabbis of the family of Todros, famous in the community and even far beyond it."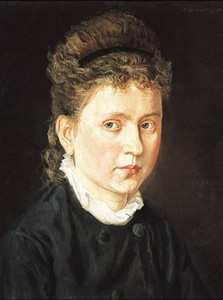 Eliza Orzeszkowa (6 juni 1842 – 18 mei 1910)
Portret door Kazimierz Pochwalski , z.j.
De Tsjechische dichter Adolf Heyduk werd geboren op 6 juni 1836 in Rychmburk.Zie ook alle tags voor Adolf Heyduk op dit blog.
Uit: Gypsy Songs
Songs my mother taught me,
In the days long vanished;
Seldom from her eyelids
Were the teardrops banished.
Now I teach my children,
Each melodious measure.
Oft the tears are flowing,
Oft they flow from my memory's treasure.
Vertaald door Natalia Macfarren
My song of love rings through the dusk,
just as the day is fading,
as pearls of dew upon the grass
are braided into its hair.
My song rings out with longing
as I wander through the world,
but once I'm in my native land
my song sounds clear and strong.
My song rings out in joy and love,
when storms whip across the plains,
when from earth's grasp
my brother is released by death.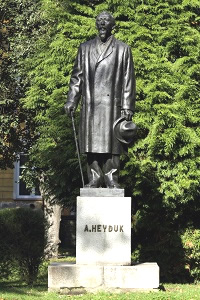 Adolf Heyduk (6 juni 1835 – 6 februari 1923)
Monument in Pisek
De Zuidtiroolse schrijver en germanist Ignaz Vinzenz Zingerle werd geboren op 6 juni 1825 in Meran. Zie ook alle tags voor Ignaz Vinzenz Zingerle op dit blog.
Uit: Sagen aus Tirol
"St. Oswald
A.
Der h. Oswald, der ein christlicher König im Etschlande war, wurde von Heiden und anderen bösen Leuten des Thrones beraubt und vertrieben. Da flüchtete er sich zum Isinger hinauf und wohnte dort,bis er selig im Herrn starb. So lange König St. Oswald regierte, waren die guten Zeiten, denn dagab es weder Hunger, noch Theurung, weder Krieg noch Pest. Die Äcker und Wiesen trugen wenigstensnoch soviel, als heuzutage. Selbst der Arme hatte mehr als genug und mußte sich das Brot nichtsauer verdienen. Friede und Recht herrschten, solange der h. König auf dem Throne saß.
B.
Der h. Oswald hat immer einen Raben bei sich und ist der gewaltigste Wetterherr. Wenn er nicht in geziemender Weise verehrt wird, sendet er Hagel und Regen, daß alles Getreide zu Boden geschlagen wird undverdirbt. Um den mächtigen Herrn zu verehren, ziehen am 5. August die Bauern von Schenna und Haflingin Prozession zur Oswaldkapelle am Isinger hinauf. Von dieser, die nahe am Junkbrunnen steht,wird folgende Legende erzählt: In uralter Zeit, wo der Holzwuchs noch weiter hinaufgieng, war dieStelle der Kapelle dicht von Alpenrosenstauden bewachsen. Im Gesträuche fanden Hirten ein Bild des h.Oswald. Sie trugen es nach dem Dorfe Schenna hinunter und stellten es in der dortigen Kirche auf. Dochsiehe, kaum war die Nacht angebrochen und herrschte ringsum Dunkel, stieg der h. Oswald lichtstrahlendaus der geschlossenen Kirche empor und ritt dem Isinger zu, wo man ihn am folgenden Tag unter denAlpenrosen fand. Man brachte ihn noch öfters nach Schenna, aber jedesmal ritt er, sobald es dunkelward, strahlend auf und davon, denn er wollte nur beim Junkbrunnen am Isinger wohnen. – Weil St. Oswaldunter Alpenrosen gefunden wurde, heißen sie heutzutage noch bei Hafling Oswaldstauden. DerHeilige soll daran großes Wohlgefallen haben. (Meran.)"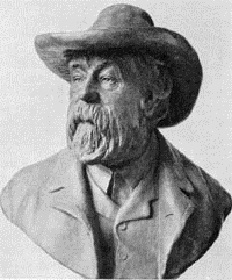 Ignaz Vinzenz Zingerle (6 juni 1825 – 17 september 1892)
06-06-2015 om 12:15 geschreven door Romenu

Tags:Henry Newbolt, Annie Fields, Louis Sébastien Mercier, Lesley Blanch, Eliza Orzeszkowa, Adolf Heyduk, Ignaz Vinzenz Zingerle, Romenu