E-mail mij


Druk op onderstaande knop om mij te e-mailen.


Romenu


Romenu is een blog over gedichten, literatuur en kunst Maar Romenu is ook een professionele freelance vertaler
Du-Ne en Ne-Du http://www.romenu.nl.


Huur eens een (vakantie)huis in een natuurgebied, dichtbij het centrum van Nijmegen


Google


Georg Trakl

Georg Trakl werd op 3 februari 1887 in het conducteurshuis aan de Waagplatz 2 in Salzburg geboren. Zijn vader, Tobias Trakl, was een handelaar in ijzerwaren en zijn moeder, die ook psychische problemen had, was Maria Catharina Trakl, (meisjesnaam Halik). Voorts had hij nog drie broers en drie zussen. Margarethe (doorgaans Grethe genoemd) stond hem het naast, zelfs zodanig dat sommigen een incestueuze verhouding vermoeden. Zijn jeugd bracht hij door in Salzburg. Vervolgens bezocht hij van 1897 tot 1905 het humanistische gymnasium. Om toch een academische opleiding te kunnen volgen, werkte hij tot 1908 in de praktijk bij een apotheker. Sommigen vermoedden dat hij dit vooral deed om zichzelf opiaten te kunnen verschaffen. Bij het uitbreken van WO I werd Trakl als medicus naar het front in Galicië (heden ten dage in Oekraïne en Polen) gestuurd. Zijn gemoedsschommelingen leidden tot geregelde uitbraken van depressie, die verergerd werden door de afschuw die hij voelde voor de verzorging van de ernstig verwonde soldaten. De spanning en druk dreven hem ertoe een suïcidepoging te ondernemen, welke zijn kameraden nochtans verhinderden. Hij werd in een militair ziekenhuis opgenomen in Kraków, alwaar hij onder strikt toezicht geplaatst werd.Trakl verzonk daar in nog zwaardere depressies en schreef Ficker om advies. Ficker overtuigde hem ervan dat hij contact moest opnemen met Wittgenstein, die inderdaad op weg ging na Trakls bericht te hebben ontvangen. Op 4 november 1914, drie dagen voordat Wittgenstein aan zou komen, overleed hij echter aan een overdosis cocaïne


Paul Celan

Paul Celan werd onder de naam Paul Antschel op 23 november 1920 geboren in Czernowitz, toentertijd de hoofdstad van de Roemeense Boekovina, nu behorend bij de Oekraïne. Paul Celans ouders waren Duitssprekende joden die hun zoon joods opvoedden en hem naar Duitse christelijke scholen stuurden. In 1942 werden Celans ouders door de Duitse bezetter naar een werkkamp gedeporteerd en daar vermoord. Hijzelf wist aanvankelijk onder te duiken, maar moest vanaf juli 1942 in een werkkamp dwangarbeid verrichten. Celan overleefde de oorlog. Via Boekarest en Wenen vestigde Celan zich in 1948 in Parijs. Daar was hij werkzaam als dichter, vertaler en doceerde hij aan de prestigieuze Ecole Normale Supérieure. Vermoedelijk op 20 april 1970 beëindigde hij zijn leven zelf door in de Seine te springen.


Gerard Reve

Gerard Reve over: Medearbeiders "God is in de mensen, de dieren, de planten en alle dingen - in de schepping, die verlost moet worden of waaruit God verlost moet worden, door onze arbeid, aangezien wij medearbeiders van God zijn." Openbaring "Tja, waar berust elk godsbegrip op, elke vorm van religie? Op een openbaring, dat wil zeggen op een psychische ervaring van zulk een dwingende en onverbiddelijke kracht, dat de betrokkene het gevoel heeft, niet dat hij een gedachte of een visioen heeft, maar dat een gedachte gedachte of visioen hem bezit en overweldigt."


Simon Vestdijk
Simon Vestdijk (Harlingen, 17 oktober 1898 – Utrecht, 23 maart 1971) was een Nederlands romancier, dichter, essayist en vertaler. Zijn jeugd te Harlingen en Leeuwarden beschreef hij later in de Anton Wachter-cyclus. Van jongs af aan logeerde hij regelmatig bij zijn grootouders in Amsterdam, waar hij zich in 1917 aan de Universiteit van Amsterdam inschrijft als student in de medicijnen. Tijdens zijn studie die van 1917 tot 1927 duurde, leerde hij Jan Slauerhoff kennen.Tot 1932 is hij als arts in praktijken door heel Nederland werkzaam. In 1932 volgt zijn officiële schrijversdebuut met de uitgave van de bundel Verzen in De Vrije Bladen. Doorslaggevend voor Vestdijks uiteindelijke keuze voor de literatuur is zijn ontmoeting in 1932 met Eddy Du Perron en Menno ter Braak. Deze ontmoeting had tot resultaat dat hij redactielid werd van het tijdschrift Forum Kort daarop, in 1933, wordt zijn eerste novelle, De oubliette, uitgegeven. In hetzelfde jaar schrijft hij Kind tussen vier vrouwen, dat, eerst geweigerd door de uitgever, later de basis zal vormen voor de eerste drie delen van de Anton Wachter-romans. In 1951 ontvangt Vestdijk de P.C. Hooftprijs voor zijn in 1947 verschenen roman De vuuraanbidders. In 1957 wordt hij voor het eerst door het PEN-centrum voor Nederland voorgedragen voor de Nobelprijs voor de Literatuur, die hij echter nooit zal krijgen. Op 20 maart 1971 wordt hem de Prijs der Nederlandse Letteren toegekend, maar voor hij deze kan ontvangen overlijdt hij op 23 maart te Utrecht op 72-jarige leeftijd. Vestdijk was auteur van ca. 200 boeken. Vanwege deze enorme productie noemde de dichter Adriaan Roland Holst hem 'de man die sneller schrijft dan God kan lezen'. Andere belangrijke boeken van Simon Vestdijk zijn: "Kind van stad en land" (1936), "Meneer Visser's hellevaart" (1936), "Ierse nachten" (1946), "De toekomst de religie" (1947), "Pastorale 1943" (1948), "De koperen tuin" (1950), "Ivoren wachters" (1951), "Essays in duodecimo" (1952) en "Het genadeschot" (1964).


K.P. Kavafis

K.P. Kavafis werd als kind van Griekse ouders, afkomstig uit Konstantinopel, geboren in 1863 in Alexandrië (tot vandaag een Griekse enclave) waar hij ook het grootste deel van zijn leven woonde en werkte. Twee jaar na de dood van zijn vader verhuist het gezin in 1872 naar Engeland om na een verblijf van vijf jaar naar Alexandrië terug te keren. Vanwege ongeregeldheden in Egypte vlucht het gezin in 1882 naar Konstantinopel, om na drie jaar opnieuw naar Alexandrië terug te gaan. In de jaren die volgen maakt Kavafis reizen naar Parijs, Londen en in 1901 zijn eerste reis naar Griekenland, in latere jaren gevolgd door nog enkele bezoeken. Op de dag van zijn zeventigste verjaardag, in 1933 sterft Kavafis in Alexandrië. De roem kwam voor Kavafis pas na zijn dood, dus postuum. Deels is dat toe te schrijven aan zijn eigen handelswijze. Hij was uiterst terughoudend met de publicatie van zijn gedichten, liet af en toe een enkel gedicht afdrukken in een literair tijdschrift, gaf in eigen beheer enkele bundels met een stuk of twintig gedichten uit en het merendeel van zijn poëzie schonk hij op losse bladen aan zijn beste vrienden.


Thomas Mann


Thomas Mann, de jongere broer van Heinrich Mann, werd geboren op 6 juni 1875 in Lübeck. Hij was de tweede zoon van de graankoopman Thomas Johann Heinrich Mann welke later één van de senatoren van Lübreck werd. Zijn moeder Julia (geboren da Silva-Bruhns) was Duits-Braziliaans van Portugees Kreoolse afkomst. In 1894 debuteerde Thomas Mann met de novelle "Gefallen". Toen Thomas Mann met 21 jaar eindelijk volwassen was en hem dus geld van zijn vaders erfenis toestond - hij kreeg ongeveer 160 tot 180 goldmark per jaar - besloot hij dat hij genoeg had van al die scholen en instituties en werd onafhankelijk schrijver. Kenmerkend voor zijn stijl zijn de ironie, de fenomenale taalbeheersing en de minutieuze detailschildering. Manns reputatie in Duitsland was sterk wisselend. Met zijn eerste roman, Buddenbrooks (1901), had hij een enorm succes, maar door zijn sceptische houding tegenover Duitsland na de Eerste Wereldoorlog veranderde dit volledig. Stelde hij zich tot aan de jaren twintig apolitiek op (Betrachtungen eines Unpolitischen, 1918), meer en meer raakte hij bij het Politiek gebeuren betrokken. Zijn afkeer van het nationaal socialisme groeide, zijn waarschuwingen werden veelvuldiger en heftiger. In 1944 accepteerde hij het Amerikaanse staatsburgerschap. Tussen 1943 en 1947 schreef Mann Doktor Faustus (zie Faust), de roman van de 'Duitse ziel' in de gecamoufleerd geschilderde omstandigheden van de 20ste eeuw. In 1947 bezocht hij voor het eerst sinds de Oorlog Europa, twee jaar later pas Duitsland. In 1952 vertrok hij naar Zwitserland. Op 12 augustus 1955 stierf hij in Zürich. Twintig jaar na zijn dood, in aug. 1975, is zijn literaire nalatenschap geopend: dagboekaantekeningen van 15 maart 1933 tot 29 juli 1955, alsmede notities uit de jaren 1918 tot en met 1921.Belangrijke werken zijn: Der Zauberberg, Der Tod in Venedig, Dokter Faustus , Joseph und seine Brüder en Die Bekenntnisse des Hochstaplers Felix Krull.


Rainer Maria Rilke

Rilke werd op 4 december 1875 geboren in Praag. Hij had al naam gemaakt als dichter met zijn bundels Das Stundenbuch en Das Buch der Bilder, toen hij de literaire wereld versteld deed staan en wereldfaam verwierf met de publicatie van zijn twee delen Neue Gedichte in 1907 en 1908. Hij verzamelde daarin het beste werk uit een van zijn vruchtbaarste periodes, die hij grotendeels doorbracht in Parijs. Rilke was daar diep onder de indruk gekomen van Rodin, bij wie hij een tijdlang in dienst was als particulier secretaris. Rodin, zei hij later, had hem leren kijken. Dit kijken kwam neer op intense concentratie, om het mysterie te kunnen zien 'achter de schijnbare werkelijkheid'. Latere en rijpere werken als Duineser Elegien (1912-1923) en het ronduit schitterende Die Sonette an Orfeus (1924) illustreren Rilkes metafysische visie op het onzegbare, dat haar verwoording vindt in een hermetische muzikale taal. Op 29 december 1926 overlijdt Rilke in het sanatorium in Val-Mont aan de gevolgen van leukemie. Enkele dagen later wordt hij, overeenkomstig zijn wens, begraven op het kerkhof van Raron.


* * * * * * * * * * * * * * * *

| | |
| --- | --- |
| | Over literatuur, gedichten, kunst en cultuur |

24-01-2011

E. Th. A. Hoffmann, Ivan Ivanji, Eugen Roth, Vicky Baum, Ulrich Holbein
De Duitse dichter en schrijver Ernst Theodor Amadeus Hoffmann werd geboren in Koningsbergen op 24 januari 1776. Zie ook mijn blog van 24 januari 2007 en ook mijn blog van 24 januari 2008 en ook mijn blog van 24 januari 2009 en ook mijn blog van 24 januari 2010.
Uit: Die Bergwerke zu Falun
"An einem heitern sonnenhellen Juliustag hatte sich alles Volk zu Göthaborg auf der Reede versammelt. Ein reicher Ostindienfahrer, glücklich heimgekehrt aus dem fernen Lande, lag im Klippahafen vor Anker und ließ die langen Wimpel, die schwedischen Flaggen, lustig hinauswehen in die azurblaue Luft, während hunderte von Fahrzeugen, Booten, Kähnen, vollgepfropft mit jubelnden Seeleuten, auf den spiegelblanken Wellen der Göthaelf hin und her schwammen und die Kanonen von Masthuggetorg ihre weithallenden Grüße hinüberdonnerten in das weite Meer. Die Herren von der ostindischen Kompanie wandelten am Hafen auf und ab und berechneten mit lächelnden Gesichtern den reichen Gewinn, der ihnen geworden, und hatten ihre Herzensfreude daran, wie ihr gewagtes Unternehmen nun mit jedem Jahr mehr und mehr gedeihe und das gute Göthaborg im schönsten Handelsflor immer frischer und herrlicher emporblühe. Jeder sah auch deshalb die wackeren Herrn mit Lust und Vergnügen an und freute sich mit ihnen, denn mit ihrem Gewinn kam ja Saft und Kraft in das rege Leben der ganzen Stadt.
Die Besatzung des Ostindienfahrers, wohl an die hundertundfünfzig Mann stark, landete in vielen Booten, die dazu ausgerüstet, und schickte sich an ihren Hönsning zu halten. So ist nämlich das Fest geheißen, das bei derlei Gelegenheit von der Schiffsmannschaft gefeiert wird, und das oft mehrere Tage dauert. Spielleute in wunderlicher Tracht zogen vorauf mit Geigen, Pfeifen, Oboen und Trommeln, die sie wacker rührten, während andere allerlei lustige Lieder dazu absangen. Ihnen folgten die Matrosen zu Paar und Paar. Einige mit buntbebänderten Jacken und Hüten schwangen flatternde Wimpel, andere tanzten und sprangen, und alle jauchzten und jubelten, daß das helle Getöse weit in den Lüften erhallte.
So ging der fröhliche Zug fort über die Werfte - durch die Vorstädte bis nach der Hagavorstadt, wo in einem Gästgifvaregard tapfer geschmaust und gezecht werden sollte.
Da floß nun das schönste Öl in Strömen, und Bumper auf Bumper wurde geleert. Wie es denn nun bei Seeleuten, die heimkehren von weiter Reise, nicht anders der Fall ist, allerlei schmucke Dirnen gesellten sich alsbald zu ihnen, der Tanz begann, und wilder und wilder wurde die Lust und lauter und toller der Jubel."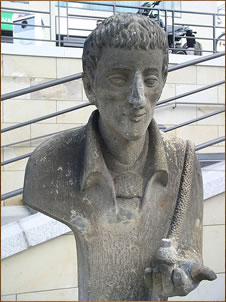 E. Th. A. Hoffmann (24 januari 1776 - 25 juni 1822)
Buste onder de Liebknechtbrücke, Berlijn
De Oostenrijkse schrijfster Vicky Baum werd op 24 januari 1888 in Wenen geboren. Zie ook mijn blog van 24 januari 2007 en ook mijn blog van 24 januari 2009 en ook mijn blog van 24 januari 2010.
Uit: Shanghai 1937
"At about midnight they were in Wing On's establishment. A house of Chinese entertainment, with jugglers, conjurers and dancing girls, and many little stages on which coarse farces were played with much chirping and screaming to the accompaniment of wooden instruments and varied and powerful stenches. The Chinese stood crowded in front of it, bursting with laughter. Paper flowers, lanterns, banners, letters of red and gold and an air so thick it exceeded anything the Russells had hitherto endured. They recovered in a smart little night club in the Settlement where the Chinese, Korean and Japanese girls twirled their partners on a lighted floor of glass. At one o'clock they were in a shabby place not far from the Bund where French sailors danced with Russian girls and Japanese imitations of American drinks were gulped down. At two they were leaving a Chinese hotel where the native crooks took their pleasure, where yellow-skinned gangsters, blackmailers and leaders of thieving gangs with their exceedingly beautiful girls danced the rumba to a Philippine orchestra. Somewhat later they were walking down Foochow Road, Bobbie maintaining himself in a perpendicular position between them with extraordinary ingenuity. Bobbie's condition had its well-marked ups and downs, mountains and valleys of exhilaration and melancholy. Now he had become obstinate and refused to go home. Inebriation produced an urge to self-annihilation in him: he wanted to press on deeper and deeper into the dirt and corruption to which whole quarters of this city were given up."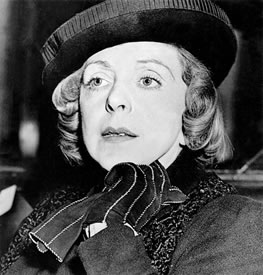 Vicky Baum (24 januari 1888 - 29 augustus 1960)
De Joegoslavische schrijver, vertaler, diplomaat en journalist Ivan Ivanji werd geboren op 24 januari 1929 in Zrenjanin. Zie ook mijn blog van 24 januari 2008 en ook mijn blog van 24 januari 2009 en ook mijn blog van 24 januari 2010.
Uit: Buchenwald, ich kann dich nicht vergessen
"Seither war ich fast jedes Jahr in Weimar. Die Bildergalerie zwischen der Eingangshalle und den Salons und Speisesälen im "Elephanten" ist verschwunden, sie hat einer Reihe von Vitrinen mit schönen und teuren kaufbaren Gegenständen Platz gemacht. Die Porträts einiger Dichter, die in diesem Hotel gewohnt haben, aber keines einzigen Politikers, natürlich wieder Thomas Mann, aber auch Imre Kertész und William Faulkner, sind in die Lobby umgezogen. Suiten tragen die Namen berühmter Künstler.
Meine Besuche in Weimar waren immer mit Buchenwald und der Gedenkstätte verbunden. Ich hatte keine Angst mehr vor dem Ettersberg. Und ich weiß nicht, ob das unlogisch ist, was Sigmund Freud dazu sagen würde, aber ich darf feststellen: Meine Frau und ich sind gerne in Weimar. Wir lieben viele Orte in dieser schönen, kleinen Stadt. Wir haben in vielen ihrer Hotels gewohnt. Wir haben hier in den berühmtesten großen und auch in kleinen Restaurants und Gaststätten gegessen. Und es bedeutet für mich einiges, am Frauenplan vorbeizugehen und mir Goethe vorzustellen, der sicher ein unangenehmer Mensch war, aber für mich der größte Dichter aller Zeiten.
Adolf Hitler - jetzt will ich seinen Namen aussprechen - liebte nicht nur die Oper, vor allem Richard Wagner, sondern als gebürtiger Österreicher, was er nie ganz verleugnen konnte, auch die Operette. Deshalb glaubte der österreichische Librettist, Schlagertexter und Schriftsteller Fritz Löhner-Beda, er könne auch nach dem "Anschluss" Österreichs an Deutschland ruhig schlafen, er hatte ja gemeinsam mit dem Komponisten Franz Lehár und dem Sänger Richard Tauber unter anderem das "Land des Lächelns" geschrieben. Aber Löhner-Beda irrte. Mit dem ersten Transport aus Wien wurde er ins Konzentrationslager Dachau geschickt. Dort stieß er auf einen alten Freund und Bekannten, den Liederkomponisten Hermann Leopoldi."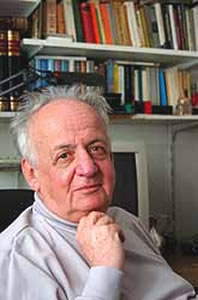 Ivan Ivanji (Zrenjanin, 24 januari 1929)
De Duitse dichter Eugen Roth werd op 24 januari 1895 in München geboren. Zie ook mijn blog van 24 januari 2007 en ook mijn blog van 24 januari 2009 en ook mijn blog van 24 januari 2010.
Die guten Bekannten

Ein Mensch begegnet einem zweiten.
Sie wechseln Förm- und Herzlichkeiten,
Sie zeigen Wiedersehensglück
Und gehn zusammen gar ein Stück.
Und während sie die Stadt durchwandern
Sucht einer heimlich von dem andern
Mit ungeheurer Hinterlist
Herauszubringen, wer er ist.
Das sie sich kennen, das steht fest,
Doch äußerst dunkel bleibt der Rest.
Das Wo und Wann, das Wie und Wer,
Das wissen alle zwei nicht mehr.
Doch sind sie, als sie nun sich trennen,
Zu feig, die Wahrheit zu bekennen.
Sie freun sich, dass sie sich getroffen;
Jedoch im Herzen beide hoffen,
Indes sie ihren Abschied segnen,
Einander nie mehr zu begegnen.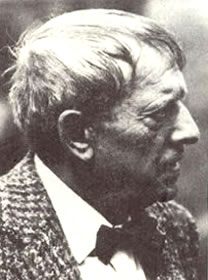 Eugen Roth (24 januari 1895 – 28 april 1976)
De Duitse schrijver Ulrich Holbein werd op 24 januari 1953 in Erfurt geboren. Zie ook mijn blog van 24 januari 2007 en ook mijn blog van 24 januari 2009 en ook mijn blog van 24 januari 2010.
Uit: Dies Meer hat keine Ufer
"Der Prophet hat gesagt: »Gar mancher Zerzauste, Staubbe­deckte, mit zwei Fetzen Bekleidete, würde er Allah beschwö­ren, so erfüllte Allah seinen Schwur. Al-Bara' ist einer von ihnen.«
Sarradsch in seinem Kapitel »Widerlegung derer, die behaupten, die Sufis seien unwissende Leute und es gebe für die sufische Wissenschaft keinen Beweis aus dem heiligen Buch und der Überlieferung«, Kapitel 7 seines Werks »Kitab al-luma«
Wer mich im Traum sieht, sieht mich tatsächlich; denn der Teufel nimmt nicht meine Gestalt an.
Allah schuf die Engel, damit die Vernunft auf ihnen reite.
Ich habe Stunden, wo mich weder ein Engel fasst noch ein Cherub.
Wir haben den äußeren Feind besiegt, aber in uns wohnt ein viel schlimmerer Feind.
Die Tinte des Gelehrten ist heiliger als das Blut des Märtyrers.
Wenn ihr wüsstet, was ich weiß, ihr würdet viel weinen und wenig lachen.
Weint, und wenn ihr nicht weint, dann verhaltet euch wie Weinende.
Wer immer von euch Isa ibn Maryam (Jesus, den Sohn der Maria) trifft, soll ihm meine Grüße ausrichten.
Hadith
Schmähe nicht den Gockelhahn, denn er ruft dich zum Gebet!
Allah hat mir befohlen, den Schnurrbart zu stutzen und den Bart wachsen zu lassen."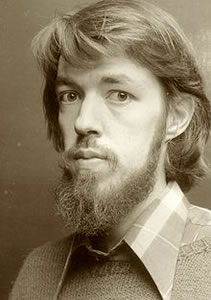 Ulrich Holbein (Erfurt, 24 januari 1953)


Zie voor nog meer schrijvers van de 24e januari ook mijn vorige blog van vandaag en eveneens mijn eerste blog van vandaag.

24-01-2011 om 19:27 geschreven door Romenu

Tags:E. Th. A. Hoffmann, Ivan Ivanji, Eugen Roth, Vicky Baum, Ulrich Holbein, Romenu



Edith Wharton, Stanisław Grochowiak, Wolf von Niebelschütz, Albin Zollinger, Maxime Alexandre
De Amerikaanse schrijfster Edith Wharton werd geboren op 24 januari 1862 in New York. Zie ook mijn blog van 24 januari 2007 en ook mijn blog van 24 januari 2009 en ook mijn blog van 24 januari 2010.
Uit: Ethan Frome
"The village lay under two feet of snow, with drifts at the windy corners. In a sky of iron the points of the Dipper hung like icicles and Orion flashed his cold fires. The moon had set, but the night was so transparent that the white house-fronts between the elms looked gray against the snow, clumps of bushes made black stains on it, and the basement windows of the church sent shafts of yellow light far across the endless undulations. Young Ethan Frome walked at a quick pace along the deserted street, past the bank and Michael Eady's new brick store and Lawyer Varnum's house with the two black Norway spruces at the gate. Opposite the Varnum gate, where the road fell away toward the Corbury valley, the church reared its slim white steeple and narrow peristyle. As the young man walked toward it the upper windows drew a black arcade along the side wall of the building, but from the lower openings, on the side where the ground sloped steeply down to the Corbury road, the light shot its long bars, illuminating many fresh furrows in the track leading to the basement door, and showing, under an adjoining shed, a line of sleighs with heavily blanketed horses.
The night was perfectly still, and the air so dry and pure that it gave little sensation of cold. The effect produced on Frome was rather of a complete absence of atmosphere, as though nothing less tenuous than ether intervened between the white earth under his feet and the metallic dome overhead. "It's like being in an exhausted receiver," he thought. Four or five years earlier he had taken a year's course at a technological college at Worcester, and dabbled in the laboratory with a friendly professor of physics; and the images supplied by that experience still cropped up, at unexpected moments, through the totally different associations of thought in which he had since been living. His father's death, and the misfortunes following it, had put a premature end to Ethan's studies; but though they had not gone far enough to be of much practical use they had fed his fancy and made him aware of huge cloudy meanings behind the daily face of things."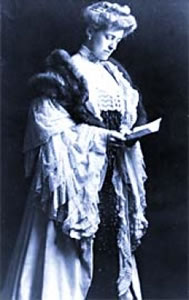 Edith Wharton (24 januari 1862 – 11 augustus 1937)
De Poolse dichter en schrijver Stanisław Grochowiak werd geboren op 24 januari 1934 in Leszno. Zie ook mijn blog van 24 januari 2009 en ook mijn blog van 24 januari 2010.
Killing Fish
What's she crying about—this old crone eaten away by salt,
This poor sick woman with a petunia in her at two?
And why's this fish doing somersaults
Amid fragile lipsticks and scattered rouge?
And why does she keep staring at the fish like that,
What's its sickly mouth trying to tell her?
Why are old lipsticks fragile and cracked,
And powdered rouge paler and paler?
Vertaald door Leo Yankevich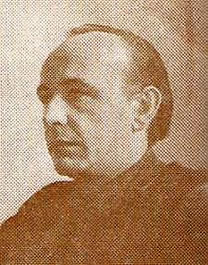 Stanisław Grochowiak (24 januari 1934 – 2 september 1976)
De Duitse schrijver en historicus Wolf von Niebelschütz werd geboren op 24 januari 1914 in Berlijn. Zie ook mijn blog van 24 januari 2009 en ook mijn blog van 24 januari 2010.
Uit: Der blaue Kammerherr
"Die Liebe – was ist es mit ihr? Sie ergreift den Menschen gleich einem Taifun, ergreift ihn, wie er auch um sich schlägt, und fliegt mit ihm auf und davon. Wohin sie freilich mit ihm fliegen wird, das ist ganz unsicher. Mancher fällt in das tiefe Meer, um den einsamen und entsetzlichen Tod des Ertrinkens zu sterben, weil der, den man liebt, sich schon entfernt hat-te, als der Wirbelsturm kam. Anderen sind, nach glatter und angenehmer Reise, die Paradie-se vorbehalten, als müsste das so sein, da senken sie sich hinab mit der Leichtigkeit eines Falterpaares, finden zwar nichts als Nectar und Blütenstaub, durchsonnten Aether über be-tauten Wiesen, aber, bei den Freunden Aphrodites: sie werden satt daran auf ihre Weise, es ist ein süßer, schwebender Taumel. Wieder Andere erwachen auf einer Insel im wilden Ocean, ringsum Verderben und tosende Brandung, meerumschlossene Einöde gleichsam, und nirgends ein Weg zurück zu ihm, der Erwählten, der jenseits, unter höhnischem Winken, am Ufer steht. Es gibt Tausende solcher Inseln, teils von Damen bevölkert, teils auch von Herren, und überhaupt: tausende Specien Liebe – unmöglich, sie aufzuzählen. Aber die Un-terlegenen sind, in jedem Fall, die gewaltige Übermacht, eine gewaltige Collection von Seuf-zern und Tränen, Sehnsucht und verratener Treue, Frivolität und Hysterie. Und wie ganz sel-ten vollends geschieht es, dass eine Venus hienieden neuerlich ihren Auftritt nimmt. Denn wieder Andere trägt der Sturm durch unendliche Himmel, an denen die Sterne glänzen, trägt sie auf Wolkenbahnen dahin, hoch über den Menschen und nahe den seligen Göttern, unten in der Dämmerung liegt fern und fremd das feste Land, das sie, einmal erwacht, für immer verließen, es lockt sie die eisige Klarheit der Sphaeren so wenig wie der Dunstkreis der Erde, sie fliegen auf den Fittichen der Kühnheit, allem niedrigen Zufall ewig überlegen, ein Göttli-ches scheint ihre Seele mit so aphrodisischem Schmelz zu durchtränken, dass sie jedem, der ihrer ansichtig wird, eine Tröstung, ein Glück, ein nie ganz erreichbares Geheimnis werden und auch, wenn sie keinen erhören, doch immer das träumerische Bild der Liebe bleiben, die fern an den Himmeln auf ihrer Wolke dahinsegelt."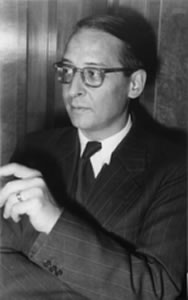 Wolf von Niebelschütz (24 januari 1913 – 22 juli 1960)
De Zwitserse dichter en schrijver Albin Zollinger werd geboren op 24 januari 1895 in Zürich. Zie ook mijn blog van 24 januari 2010.
Rapt


Lorsque je suis obscurément touché
Est-ce que ce sont les rêves oubliés de nuits oubliées?
Soudain par magie enlevé
Je plonge dans des couches de légendes enchantées.
De même que de l'eau, le fond,
Par réfraction, scintille,
C'est l'éternité qui répond
Roulée autour des choses comme une sibylle.
Tout est éphémère,
L'invisible seul
Est pareil à l'oeil
Clair de la licorne cachée dans les fougères.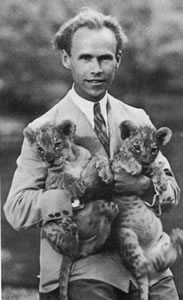 Albin Zollinger (24 januari 1895 – 7 november 1941)
De Elzasser dichter en schrijver Maxime Alexandre werd geboren op 24 januari 1899 in Wolfisheim. Zie ook mijn blog van 24 januari 2010.
Mesure de la terre
J'ai rencontré des voleurs tristes
Et leurs compagnons en robe de deuil
J'ai vu des oiseaux sur 1'arbre de minuit
Et puis j'ai vu de pauvres hommes.
J'ai préféré le visage d'un enfant
Sortant du brouillard a 1'heure juste
Pour servir d'exemple aujourd'hui et toujours
J'ai rêvé d'un enfant qui mangeait son pain
C'était un enfant au cœur fragile
Au mois des caresses et du silence
Les passants fermaient les yeux
Cherchant leur route parmi les pierres humides.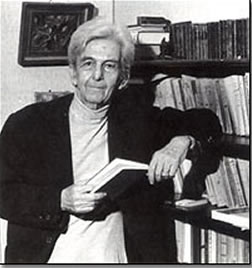 Maxime Alexandre (24 januari 1899 – 12 september 1976)

24-01-2011 om 19:17 geschreven door Romenu

Tags:Edith Wharton, Stanisł,aw Grochowiak, Wolf von Niebelschütz, Albin Zollinger, Maxime Alexandre, Romenu



De Beaumarchais, Charles Sackville, John Donne, Frances Brooke, William Congreve
De Franse toneelschrijver Pierre Augustin Caron de Beaumarchais werd geboren op 24 januari 1732 in Parijs. Zie ook mijn blog van 24 januari 2007 en ook mijn blog van 24 januari 2009 en ook mijn blog van 24 januari 2010.
Uit: Le Mariage de Figaro
"Scène 2
FIGARO, seul
La charmante fille ! toujours riante, verdissante, pleine de gaieté, d'esprit, d'amour et de délices ! mais sage ! (Il marche vivement en se frottant les mains.) Ah ! Monseigneur ! mon cher Monseigneur ! vous voulez m'en donner... à garder. Je cherchais aussi pourquoi m'ayant nommé concierge, il m'emmène à son ambassade, et m'établit courrier de dépêches. J'entends, monsieur le Comte ; trois promotions à la fois : vous, compagnon ministre ; moi, casse-cou politique, et Suzon, dame du lieu, l'ambassadrice de poche, et puis, fouette courrier ! Pendant que je galoperais d'un côté, vous feriez faire de l'autre à ma belle un joli chemin ! Me crottant, m'échinant pour la gloire de votre famille ; vous, daignant concourir à l'accroissement de la mienne ! Quelle douce réciprocité ! Mais, Monseigneur, il y a de l'abus. Faire à Londres, en même temps, les affaires de votre maître et celles de votre valet ! représenter à la fois le Roi et moi dans une Cour étrangère, c'est trop de moitié, c'est trop.
- Pour toi, BAZILE ! fripon, mon cadet ! je veux t'apprendre à clocher devant les boiteux ; je veux... Non, dissimulons avec eux, pour les enferrer l'un par l'autre. Attention sur la journée, monsieur Figaro ! D'abord avancer l'heure de votre petite tête, pour épouser plus sûrement ; écarter une Marceline qui de vous est friande en diable ; empocher l'or et les présents ; donner le change aux petites passions de monsieur le Comte ; étriller rondement monsieur du BAZILE, et..."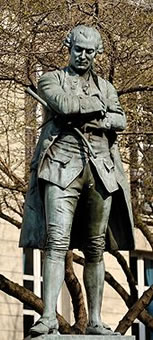 De Beaumarchais (24 januari 1732 - 18 mei 1799)
Standbeeld van Louis Clausade in Parijs
De Engelse dichter en edelman Charles Sackville werd geboren op 24 januari 1638. Zie ook mijn blog van 24 januari 2007 en ook mijn blog van 24 januari 2009 en ook mijn blog van 24 januari 2010.
Sylvia, Methinks You Are Unfit
Sylvia, methinks you are unfit
For your great Lord's embrace;
For tho' we all allow you wit,
We can't a handsome face.
Then where's the pleasure, where's the good
Of spending time and cost?
For if your wit ben't understood,
Your keeper's bliss is lost.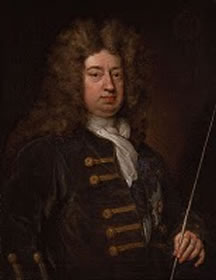 Charles Sackville (24 januari 1638 – 29 januari 1706)
De Engelse dichter John Donne werd ergens tussen 24 januari en 19 juni 1572 geboren in Londen. Zie ook mijn blog van 24 januari 2007 en ook mijn blog van 24 januari 2008 en ook mijn blog van 24 januari 2009 en ook mijn blog van 24 januari 2010.
Holy Sonnet II: As Due by Many Titles
As due by many titles I resigne
My selfe to thee, O God, first I was made
By thee, and for thee, and when I was decay'd
Thy blood bought that, the which before was thine;
I am thy sonne, made with thy selfe to shine,
Thy servant, whose paines thou hast still repaid,
Thy sheepe, thine Image, and, till I betray'd
My selfe, a temple of thy Spirit divine;
Why doth the devill then usurpe on mee?
Why doth he steale, nay ravish that's thy right?
Except thou rise and for thine own worke fight,
Oh I shall soone despaire, when I doe see
That thou lov'st mankind well, yet wilt'not chuse me,
And Satan hates mee, yet is loth to lose me.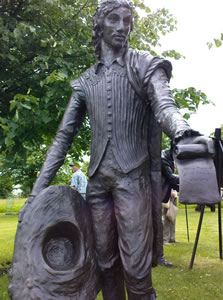 John Donne (24 januari 1572 – 31 maart 1631)
Standbeeld van John Poole in Stratford-upon-Avon
De Engelse schrijfster Frances Moore Brooke werd geboren op 24 januari 1724 in Claypole, Lincolnshire. Zie ook mijn blog van 24 januari 2009 en ook mijn blog van 24 januari 2010.
Uit: The History of Emily Montague
"On approaching the coast of America, I felt a kind of religious veneration, on seeing rocks which almost touch'd the clouds, cover'd with tall groves of pines that seemed coeval with the world itself: to
which veneration the solemn silence not a little contributed; from Cape Rosieres, up the river St. Lawrence, during a course of more than two hundred miles, there is not the least appearance of a human footstep; no objects meet the eye but mountains, woods, and numerous rivers, which seem to roll their waters in vain.
It is impossible to behold a scene like this without lamenting the madness of mankind, who, more merciless than the fierce inhabitants of the howling wilderness, destroy millions of their own species in the wild contention for a little portion of that earth, the far greater part of which remains yet unpossest, and courts the hand of labour for cultivation.
The river itself is one of the noblest in the world; its breadth is ninety miles at its entrance, gradually, and almost imperceptibly, decreasing; interspers'd with islands which give it a variety infinitely pleasing, and navigable near five hundred miles from the sea."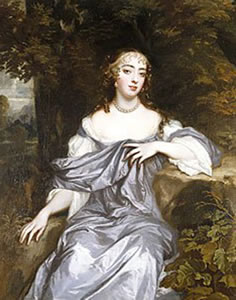 Frances Brooke (12 januari 1724 – 23 januari 1789)
De Engelse dichter en toneelschrijver William Congreve werd geboren in Bardsey op 24 januari 1670. Zie ook mijn blog van 24 januari 2010.
False though she be
False though she be to me and love,
I'll ne'er pursue revenge;
For still the charmer I approve,
Though I deplore her change.
In hours of bliss we oft have met:
They could not always last;
And though the present I regret,
I'm grateful for the past.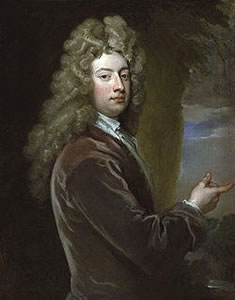 William Congreve (24 januari 1670 – 19 januari 1729)

24-01-2011 om 19:10 geschreven door Romenu

Tags:De Beaumarchais, Charles Sackville, John Donne, Frances Brooke, William Congreve, Romenu



| | |
| --- | --- |
| | |



Inhoud blog


| | |
| --- | --- |
| | Dolce far niente, Tom van Deel, Anneke Brassinga, Etgar Keret, James Rollins, Clemens Meyer, Arno Surminski |
| | Maren Winter, Charles de Coster, Edgar Guest, Tarjei Vesaas, Salvatore Quasimodo, Colin MacInnes |
| | Sylvie Richterová, Ernst-Jürgen Dreyer, Boleslaw Prus, Menno Lievers, Vasili Aksjonov, Jacqueline Susann |
| | Mies Bouhuys, Jonathan Coe, Li-Young Lee, Frederik Lucien De Laere, Louis Th. Lehmann, Ogden Nash, Frank McCourt |
| | Marion Pauw, John Dryden, Samuel Richardson, Jerzy Andrzejewski, James Gould Cozzens, Claude Gauvreau, Inigo de Mendoza |
| | Dolce far niente, Hans Andreus, Ulrich Woelk, Marc Degens, Luciano de Crescenzo, Alain Robbe-Grillet, Idea Vilariño |
| | Dolce far niente, Simon Vestdijk, Ted Hughes, V. S. Naipaul, Nis-Momme Stockmann, Jonathan Franzen, Jan Emmens |
| | Dolce far niente, Willen van Toorn, Charles Bukowski, Reiner Kunze, Moritz Rinke, Ferenc Juhász, Justus van Maurik |
| | Dolce far niente, Nescio, Guillaume van der Graft, Mary Jo Salter, Leonie Ossowski, Daan Zonderland, Jan Campert |
| | Kees Fens, Wolf Wondratschek, Danielle Steel, Erwin Strittmatter, Sir Walter Scott, Thusnelda Kühl |
| | Adriaan Roland Holst, antoine de kom, Atte Jongstra, Amélie Nothomb, Nikolaus Lenau, Tom Perrotta |
| | Justus van Maurik, Thomas Mann, Hans-Ulrich Treichel, Stefano Benni, Marcellus Emants, Naoki Higashida |
| | Remco Campert, Hugh MacDiarmid, Ernst Stadler, Yoshikawa Eiji, Fernando Arrabal, Andre Dubus |
| | Kees van Kooten, Alfred Döblin, Moses Isegawa, Mark Doty, Jerzy Pilch, Elvis Peeters, Michail Zostsjenko, Piet Bakker, René Crevel |
| | Luuk Gruwez, Philip Larkin, Gerrit Kouwenaar, Henk Romijn Meijer, Linn Ullmann, P. L. Travers, Pierre Klossowski, Daniel Keyes, Leonid Andreyev |
| | Jostein Gaarder, Klaus Ebner, Birgit Vanderbeke, Gernot Wolfram, Hieronymus van Alphen, André Demedts, Sara Teasdale, Donald Davidson, Lotte Lentes |
| | John Birmingham, Cees Buddingh', Diana Ozon, Vladimir Sorokin, Michael Roes, Joachim Ringelnatz, Garrison Keillor, Dieter Schlesak, Othon III de Grandson |
| | Dolce far niente, Jason O. Gilbert, Alfred Tennyson |
| | Dolce far niente,Tom Lanoye, Cees van der Pluijm, Pier Paolo Pasolini, Martin Piekar |
| | Hendrik Marsman, Rutger Kopland, Rudi van Dantzig, Percy Bysshe Shelley, Liao Yiwu, Pierre Jarawan |
| | Jan Campert, Rupert Brooke, Radek Knapp, P. D. James, Marica Bodrozic, Mirko Wenig |
| | Jussi Adler-Olsen, James Baldwin, Isabel Allende, Kristine Bilkau, Philippe Soupault, Ernest Dowson, Zoltán Egressy, Caleb Carr, Félix Leclerc |
| | Gerrit Krol, Frans Pointl, Mehis Heinsaar, Ko Un, Edward van de Vendel, Jim Carroll, Juan Filloy, Anne Hébert, Herman Melville |
| | Cees Nooteboom, Wouter Godijn, Grand Corps Malade, Joanne Rowling, Alain Nadaud, Daniel Bielenstein, Hans-Eckardt Wenzel, Ahmed Zitouni, Munshi Premchand |
| | Frans Budé, Patrick Modiano, Maja Lunde, Emily Brontë, Cherie Priest, Pauline van der Lans |
| | Harry Mulisch, Chang-Rae Lee, Thomas Rosenlöcher, Guillermo Martínez, Marja Brouwers, Wolfgang Bittner |
| | Stanley Kunitz, Sten Nadolny, Eyvind Johnson, August Stramm, Walter van den Berg |
| | Remco Campert, Malcolm Lowry, Herman Stevens, Gerard Manley Hopkins, Stephan Sanders, Angélica Gorodischer, Shahyar Ghanbari, John Ashbery, Drew Karpyshyn |
| | Michael Longley, Marijke Höweler, Theodore Dreiser, Hilde Domin, Julien Gracq, Hilaire Belloc, Vladimir Korolenko, Eimear McBride, Graeme C. Simsion |
| | Arthur Japin, Gregoire Delacourt, Anne Provoost, Yves Petry, Aldous Huxley, Nicholas Evans, Chairil Anwar, George Bernard Shaw, Hanya Yanagihara |
| | Lieke Marsman, Sytze van der Zee, Elias Canetti, Max Dauthendey, Jovica Tasevski – Eternijan, Annette Pehnt, Ottokar Kernstock, Albert Knapp, Louise Boege |
| | Robert Graves, Johan Andreas der Mouw, Banana Yoshimoto, Rosemarie Schuder, Katia Mann, Junichirō Tanizaki, Frank Wedekind, Alexandre Dumas père, Betje Wolff |
| | Wilfried de Jong, Mohsin Hamid, Lauren Groff, Frans Erens, Kai Meyer, Thea Dorn, Irina Liebmann |
| | Lisa Alther, Hubert Selby jr., Raymond Chandler, Matthias Spiegel, Tim Reus |
| | Arno Geiger, Susan Hinton, Manu Joseph, Stephen Vincent Benét, Tom Robbins |
| | Maria Janitschek, Oskar Maria Graf, Emma Lazarus, Per Hojholt, Jakob Lorber |
| | Frouke Arns, Ernest Hemingway, Belcampo, Boris Dittrich , Hans Fallada, David Boerljoek |
| | Hans Lodeizen, Henk Hofland, Arie Storm, Uwe Johnson, Simin Behbahāni, Francesco Petrarca, Maurice Gilliams, Erik Axel Karlfeldt, Cormac McCarthy |
| | Otto Julius Bierbaum, Anna Enquist, Gottfried Keller, Lucas Malan, Miltos Sachtouris, Jean-Pierre Faye |
| | Simon Vinkenoog, Steffen Popp, Per Petterson, Elizabeth Gilbert, Alicia Steimberg, Jevgeni Jevtoesjenko, Aad Nuis, William M. Thackeray, Nathalie Sarraute |
| | Martin R. Dean, Rainer Kirsch, Eelke de Jong, Alie Smeding, Paul Lomami Tshibamba, James Purdy, Roger Garaudy, Clara Viebig, Lilian Loke |
| | In Memoriam Anne Golon |
| | Reinaldo Arenas, Georges Rodenbach, Tony Kushner, Anita Brookner, Jörg Fauser |
| | Dag Solstad, Bernard Dimey, Andrea Wolfmayr, Pierre Benoit, Franz Nabl |
| | Ann De Craemer, Jean Christophe Grangé, Driss Chraïbi, Iris Murdoch, Richard Russo, Jacques Rivière, Rira Abbasi |
| | Robert Wohlleben, Heinrich Peuckmann, Walter Benjamin, Clive Cussler, Jacques Derrida, Hammond Innes, Kunikida Doppo |
| | Irving Stone, Volker Kaminski, Natalia Ginzburg, Jacques de Lacretelle, Gavrila Derzjavin, Béatrix Beck, Arthur Laurents, Owen Wister, Willard Motley |
| | Boris Pasternak, Wole Soyinka, Isaak Babel |
| | Hugo von Hofmannsthal, Kees 't Hart, Carla Bogaards, Elias Khoury, Stefan George |
| | Nikolaus Lenau, Jhumpa Lahir, Jane Gardam |


Gastenboek


Druk op onderstaande knop om een berichtje achter te laten in mijn gastenboek