E-mail mij


Druk op onderstaande knop om mij te e-mailen.


Romenu


Romenu is een blog over gedichten, literatuur en kunst Maar Romenu is ook een professionele freelance vertaler
Du-Ne en Ne-Du http://www.romenu.nl.


Huur eens een (vakantie)huis in een natuurgebied, dichtbij het centrum van Nijmegen


Google


Georg Trakl

Georg Trakl werd op 3 februari 1887 in het conducteurshuis aan de Waagplatz 2 in Salzburg geboren. Zijn vader, Tobias Trakl, was een handelaar in ijzerwaren en zijn moeder, die ook psychische problemen had, was Maria Catharina Trakl, (meisjesnaam Halik). Voorts had hij nog drie broers en drie zussen. Margarethe (doorgaans Grethe genoemd) stond hem het naast, zelfs zodanig dat sommigen een incestueuze verhouding vermoeden. Zijn jeugd bracht hij door in Salzburg. Vervolgens bezocht hij van 1897 tot 1905 het humanistische gymnasium. Om toch een academische opleiding te kunnen volgen, werkte hij tot 1908 in de praktijk bij een apotheker. Sommigen vermoedden dat hij dit vooral deed om zichzelf opiaten te kunnen verschaffen. Bij het uitbreken van WO I werd Trakl als medicus naar het front in Galicië (heden ten dage in Oekraïne en Polen) gestuurd. Zijn gemoedsschommelingen leidden tot geregelde uitbraken van depressie, die verergerd werden door de afschuw die hij voelde voor de verzorging van de ernstig verwonde soldaten. De spanning en druk dreven hem ertoe een suïcidepoging te ondernemen, welke zijn kameraden nochtans verhinderden. Hij werd in een militair ziekenhuis opgenomen in Kraków, alwaar hij onder strikt toezicht geplaatst werd.Trakl verzonk daar in nog zwaardere depressies en schreef Ficker om advies. Ficker overtuigde hem ervan dat hij contact moest opnemen met Wittgenstein, die inderdaad op weg ging na Trakls bericht te hebben ontvangen. Op 4 november 1914, drie dagen voordat Wittgenstein aan zou komen, overleed hij echter aan een overdosis cocaïne


Paul Celan

Paul Celan werd onder de naam Paul Antschel op 23 november 1920 geboren in Czernowitz, toentertijd de hoofdstad van de Roemeense Boekovina, nu behorend bij de Oekraïne. Paul Celans ouders waren Duitssprekende joden die hun zoon joods opvoedden en hem naar Duitse christelijke scholen stuurden. In 1942 werden Celans ouders door de Duitse bezetter naar een werkkamp gedeporteerd en daar vermoord. Hijzelf wist aanvankelijk onder te duiken, maar moest vanaf juli 1942 in een werkkamp dwangarbeid verrichten. Celan overleefde de oorlog. Via Boekarest en Wenen vestigde Celan zich in 1948 in Parijs. Daar was hij werkzaam als dichter, vertaler en doceerde hij aan de prestigieuze Ecole Normale Supérieure. Vermoedelijk op 20 april 1970 beëindigde hij zijn leven zelf door in de Seine te springen.


Gerard Reve

Gerard Reve over: Medearbeiders "God is in de mensen, de dieren, de planten en alle dingen - in de schepping, die verlost moet worden of waaruit God verlost moet worden, door onze arbeid, aangezien wij medearbeiders van God zijn." Openbaring "Tja, waar berust elk godsbegrip op, elke vorm van religie? Op een openbaring, dat wil zeggen op een psychische ervaring van zulk een dwingende en onverbiddelijke kracht, dat de betrokkene het gevoel heeft, niet dat hij een gedachte of een visioen heeft, maar dat een gedachte gedachte of visioen hem bezit en overweldigt."


Simon Vestdijk
Simon Vestdijk (Harlingen, 17 oktober 1898 – Utrecht, 23 maart 1971) was een Nederlands romancier, dichter, essayist en vertaler. Zijn jeugd te Harlingen en Leeuwarden beschreef hij later in de Anton Wachter-cyclus. Van jongs af aan logeerde hij regelmatig bij zijn grootouders in Amsterdam, waar hij zich in 1917 aan de Universiteit van Amsterdam inschrijft als student in de medicijnen. Tijdens zijn studie die van 1917 tot 1927 duurde, leerde hij Jan Slauerhoff kennen.Tot 1932 is hij als arts in praktijken door heel Nederland werkzaam. In 1932 volgt zijn officiële schrijversdebuut met de uitgave van de bundel Verzen in De Vrije Bladen. Doorslaggevend voor Vestdijks uiteindelijke keuze voor de literatuur is zijn ontmoeting in 1932 met Eddy Du Perron en Menno ter Braak. Deze ontmoeting had tot resultaat dat hij redactielid werd van het tijdschrift Forum Kort daarop, in 1933, wordt zijn eerste novelle, De oubliette, uitgegeven. In hetzelfde jaar schrijft hij Kind tussen vier vrouwen, dat, eerst geweigerd door de uitgever, later de basis zal vormen voor de eerste drie delen van de Anton Wachter-romans. In 1951 ontvangt Vestdijk de P.C. Hooftprijs voor zijn in 1947 verschenen roman De vuuraanbidders. In 1957 wordt hij voor het eerst door het PEN-centrum voor Nederland voorgedragen voor de Nobelprijs voor de Literatuur, die hij echter nooit zal krijgen. Op 20 maart 1971 wordt hem de Prijs der Nederlandse Letteren toegekend, maar voor hij deze kan ontvangen overlijdt hij op 23 maart te Utrecht op 72-jarige leeftijd. Vestdijk was auteur van ca. 200 boeken. Vanwege deze enorme productie noemde de dichter Adriaan Roland Holst hem 'de man die sneller schrijft dan God kan lezen'. Andere belangrijke boeken van Simon Vestdijk zijn: "Kind van stad en land" (1936), "Meneer Visser's hellevaart" (1936), "Ierse nachten" (1946), "De toekomst de religie" (1947), "Pastorale 1943" (1948), "De koperen tuin" (1950), "Ivoren wachters" (1951), "Essays in duodecimo" (1952) en "Het genadeschot" (1964).


K.P. Kavafis

K.P. Kavafis werd als kind van Griekse ouders, afkomstig uit Konstantinopel, geboren in 1863 in Alexandrië (tot vandaag een Griekse enclave) waar hij ook het grootste deel van zijn leven woonde en werkte. Twee jaar na de dood van zijn vader verhuist het gezin in 1872 naar Engeland om na een verblijf van vijf jaar naar Alexandrië terug te keren. Vanwege ongeregeldheden in Egypte vlucht het gezin in 1882 naar Konstantinopel, om na drie jaar opnieuw naar Alexandrië terug te gaan. In de jaren die volgen maakt Kavafis reizen naar Parijs, Londen en in 1901 zijn eerste reis naar Griekenland, in latere jaren gevolgd door nog enkele bezoeken. Op de dag van zijn zeventigste verjaardag, in 1933 sterft Kavafis in Alexandrië. De roem kwam voor Kavafis pas na zijn dood, dus postuum. Deels is dat toe te schrijven aan zijn eigen handelswijze. Hij was uiterst terughoudend met de publicatie van zijn gedichten, liet af en toe een enkel gedicht afdrukken in een literair tijdschrift, gaf in eigen beheer enkele bundels met een stuk of twintig gedichten uit en het merendeel van zijn poëzie schonk hij op losse bladen aan zijn beste vrienden.


Thomas Mann


Thomas Mann, de jongere broer van Heinrich Mann, werd geboren op 6 juni 1875 in Lübeck. Hij was de tweede zoon van de graankoopman Thomas Johann Heinrich Mann welke later één van de senatoren van Lübreck werd. Zijn moeder Julia (geboren da Silva-Bruhns) was Duits-Braziliaans van Portugees Kreoolse afkomst. In 1894 debuteerde Thomas Mann met de novelle "Gefallen". Toen Thomas Mann met 21 jaar eindelijk volwassen was en hem dus geld van zijn vaders erfenis toestond - hij kreeg ongeveer 160 tot 180 goldmark per jaar - besloot hij dat hij genoeg had van al die scholen en instituties en werd onafhankelijk schrijver. Kenmerkend voor zijn stijl zijn de ironie, de fenomenale taalbeheersing en de minutieuze detailschildering. Manns reputatie in Duitsland was sterk wisselend. Met zijn eerste roman, Buddenbrooks (1901), had hij een enorm succes, maar door zijn sceptische houding tegenover Duitsland na de Eerste Wereldoorlog veranderde dit volledig. Stelde hij zich tot aan de jaren twintig apolitiek op (Betrachtungen eines Unpolitischen, 1918), meer en meer raakte hij bij het Politiek gebeuren betrokken. Zijn afkeer van het nationaal socialisme groeide, zijn waarschuwingen werden veelvuldiger en heftiger. In 1944 accepteerde hij het Amerikaanse staatsburgerschap. Tussen 1943 en 1947 schreef Mann Doktor Faustus (zie Faust), de roman van de 'Duitse ziel' in de gecamoufleerd geschilderde omstandigheden van de 20ste eeuw. In 1947 bezocht hij voor het eerst sinds de Oorlog Europa, twee jaar later pas Duitsland. In 1952 vertrok hij naar Zwitserland. Op 12 augustus 1955 stierf hij in Zürich. Twintig jaar na zijn dood, in aug. 1975, is zijn literaire nalatenschap geopend: dagboekaantekeningen van 15 maart 1933 tot 29 juli 1955, alsmede notities uit de jaren 1918 tot en met 1921.Belangrijke werken zijn: Der Zauberberg, Der Tod in Venedig, Dokter Faustus , Joseph und seine Brüder en Die Bekenntnisse des Hochstaplers Felix Krull.


Rainer Maria Rilke

Rilke werd op 4 december 1875 geboren in Praag. Hij had al naam gemaakt als dichter met zijn bundels Das Stundenbuch en Das Buch der Bilder, toen hij de literaire wereld versteld deed staan en wereldfaam verwierf met de publicatie van zijn twee delen Neue Gedichte in 1907 en 1908. Hij verzamelde daarin het beste werk uit een van zijn vruchtbaarste periodes, die hij grotendeels doorbracht in Parijs. Rilke was daar diep onder de indruk gekomen van Rodin, bij wie hij een tijdlang in dienst was als particulier secretaris. Rodin, zei hij later, had hem leren kijken. Dit kijken kwam neer op intense concentratie, om het mysterie te kunnen zien 'achter de schijnbare werkelijkheid'. Latere en rijpere werken als Duineser Elegien (1912-1923) en het ronduit schitterende Die Sonette an Orfeus (1924) illustreren Rilkes metafysische visie op het onzegbare, dat haar verwoording vindt in een hermetische muzikale taal. Op 29 december 1926 overlijdt Rilke in het sanatorium in Val-Mont aan de gevolgen van leukemie. Enkele dagen later wordt hij, overeenkomstig zijn wens, begraven op het kerkhof van Raron.


* * * * * * * * * * * * * * * *

| | |
| --- | --- |
| | Over literatuur, gedichten, kunst en cultuur |

08-05-2011

Thomas Pynchon, Roddy Doyle, Gertrud Fussenegger, Pat Barker
De Amerikaanse schrijver Thomas Pynchon werd op 8 mei 1937 geboren in Glen Cove, Long Island, New York.
Uit:Gegen den Tag (Vertaald door Dirk van Gunsteren Nikolaus Stingl)
"Vorspring und Achterleine loswerfen!»
«Frischauf jetzt … langsam und vorsichtig … sehr schön! Fertig machen zum Ablegen!»
«Windy City, wir kommen!»
«Hurra! Wir fliegen!»
Unter derlei lebhaften Ausrufen stieg das wasserstoffbetriebene Luftschiff Inconvenience, seine Gondel mit patriotischen Fähnchen geschmückt, an Bord eine fünfköpfige Besatzung – allesamt Mit-
glieder jenes berühmten, unter dem Namen Freunde der Fährnis bekannten aeronautischen Clubs –, zügig in den Morgen auf und wurde alsbald vom Südwind erfasst.
Nachdem das Schiff Reiseflughöhe erreicht hatte und alles, was an Erscheinungen auf dem Boden zurückgeblieben, auf beinahe mikroskopische Größe zusammengeschrumpft war, verkündete Randolph St. Cosmo, der Schiffskommandant: «Wegtreten von Manöverstation», und die Jungs, jeder in der schmucken, aus rotweiß gestreiftem Blazer und himmelblauer Hose bestehenden Sommeruniform, gehorchten munter.
Ihr Ziel an diesem Tag war die Stadt Chicago und die jüngst dort eröffnete Weltausstellung. Seit ihre Befehle eingegangen waren, hat-
te das «Gemunkel» unter den aufgeregten und neugierigen Mannschaften wenig anderes zum Gegenstand gehabt als die sagenhafte «Weiße Stadt», ihr gewaltiges Riesenrad, ihre alabasternen Tempel des Handels und der Industrie, ihre funkelnden Lagunen und die tausend anderen vergleichbaren Wunder wissenschaftlicher wie künstlerischer Art, die ihrer dort harrten.
«Junge, Junge!», rief Darby Suckling, während er sich über die Halteleinen beugte und zusah, wie sich der weite Bogen des amerikanischen Herzlandes tief unten in einem verschwimmenden Wirbel von Grün hinzog, sodass seine flachsblonden Locken im Wind an der Gondel entlangflogen wie ein leewärts flatterndes Banner."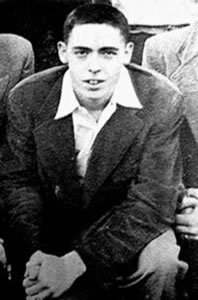 Thomas Pynchon (Glen Cove, 8 mei 1937)
De Ierse schrijver Roddy Doyle werd geboren in Dublin op 8 mei 1958.
Uit: Not Just for Christmas
"Danny Murphy was going to meet his brother. He wrote in his notebook: "Meeting my brother at 8 o'clock." He knew it looked silly. "My brother" instead of "Jimmy", his brother's name.
When he spoke to Jimmy on the phone, two days ago, Jimmy had called himself "Jim". And their mother still called him James. Jimmy or Jim or James. Danny didn't know what to call him.
He hadn't seen or heard from Jimmy in twenty years. More. Twenty-one years. But then, two days ago, the phone rang. 1 "Dad?" His son, Little Dan, shouted from the hall downstairs. "Yes?" said Danny.
He was upstairs, shaving.
"Jim wants you," said Little Dan.
Danny wiped his face with a towel as he went down the stairs. He knew a few men called Jim. So he didn't know who he'd be talking to when he picked up the phone.
"Hello?"
"Danny?"
"Yes?"
"It's Jim." Danny waited for more. He didn't know the voice. "Jim, your brother." "Oh." That was all. "Oh." Danny could think of nothing else to say. No other words came to him.
His brother spoke again. RODDY DOYLE 2 "How are you?" he asked. "Fine," said Danny. "Yourself?" "Grand." "Good," said Danny.
"So. Do you want to meet?"
"OK," said Danny."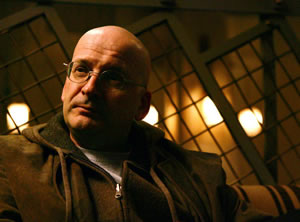 Roddy Doyle (Dublin, 8 mei 1958)
De Oostenrijkse schrijfster Gertrud Fussenegger werd geboren op 8 mei 1912 in Pilsen. Gertrud Fussenegger overleed op 19 maart van dit jaar op 96-jarige leeftijd.
Uit: Berliner Notizen
"Ich fahre nach Berlin; es ist nicht zum erstenmal nach dem Krieg. Doch es ist zum erstenmal nach der Errichtung der Mauer. Der M A U E R -
Ich schreibe dieses Wort nieder und erschrecke davor. Es ist seit dem 13. August des vorigen Jahres nicht mehr nur ein beliebiges Wort unserer Sprache. Es hat uns aus unserer Ruhe aufgeschreckt. Wochen und Monate zitterten wir in schlaflosen Nächten unter seinem wachsenden Gewicht. Wie sahen die Bedrohungen unserer Welt dahinter aufziehen. Groß wie ein Menetekel in den dunklen Hintergrund unseres Jahrhunderts geschrieben, dröhnt dieses Wort von Schicksal, von einer Unsumme von Schicksalen: in ihm dröhnen die Gewichte unserer unverständigten Welt gegeneinander. Ich schäme mich beinahe, es niederzuschreiben: Ich fahre nach Berlin, um die Mauer zu sehen. Ich glaube, sie zwar schon zu kennen: Presse, Wochenschau und Fernsehen haben sie uns gezeigt. Die Mauer ist eine Sehenswürdigkeit ersten Ranges geworden. Ich werde - wie Hunderttausende andere - vor ihr stehen, kopfschüttelnd und von Unbegreiflichem, Nie-für-möglich-Gehaltenem reden. Wird das alles sein? Wahrscheinlich. Trotzdem fahre ich.
Wie war es damals, vor sechs Jahren, als ich zum erstenmal nach Kriegsende nach Berlin fuhr? Ich reiste mit dem Nachtzug von München in einem überfüllten Liegewagen des Interzonenzuges und konnte nicht schlafen. Nicht nur, daß uns die Kontrollen immer wieder aufstörten, auch die Mitreisenden hörten nicht auf, miteinander zu tuscheln, miteinander zu beratschlagen. Ein alter Mann, der seine Tochter in Jena besuchen will, bangt vor Schwierigkeiten. Jedermann sucht Rat bei jedermann: "Ich habe fünfzig Zigaretten mit. Werde ich sie durchbringen?" - "Mein Mann ist ´49 aus der Zone geflüchtet. Ob sie mich deshalb verhaften werden?" Und immer wieder Warnungen: "Haben Sie wohl keine Zeitung bei sich?" Ich bin Ausländerin und darf mich als solche etwas sicherer fühlen. Noch habe ich kein Visum. Ich kann es im Zug erwerben, es kostet zehn Mark."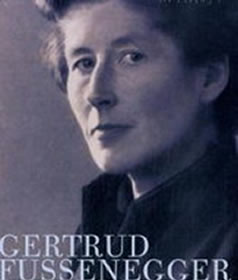 Gertrud Fussenegger (8 mei 1912 – 19 maart 2009)
De Engelse schrijfster Pat Barker werd geboren in Thornaby-on-Tees op 8 mei 1943.
Uit: Double Vision
"People had glutted themselves on food and sociability over Christmas and New Year and wanted their own firesides, so the first few evenings of January were spent alone. But then Lorna and Michael Bradley asked her to their anniversary party and, though she was enjoying the almost monastic rhythm of her present life, she accepted. Since Ben's death that had been her only rule: to refuse no invitation, to acknowledge and return any small act of kindness—and it was working, she was getting through, she was surviving.
Once there, she enjoyed the evening, in spite of having restricted herself to just two glasses of wine, and by eleven was driving back along the forest road, her headlights revealing the pale trunks of beech trees, muscled like athletes stripped off for a race. She was leaving a stretch of deciduous forest and entering Forestry Commission land, acres of closely planted trees, rank upon rank of them, a green army marching down the hill. Her headlights scarcely pierced the darkness between the pines, though here and there she glimpsed a tangle of dead wood and debris on the forest floor. She kept the windows closed, a fug of warmth and music sealing her off from the outside world. The lighted car travelled along the road between the thickly crowding trees like a blood corpuscle passing along a vein. Somewhere in the heart of the wood an antlered head turned to watch her pass. Almost no traffic—she overtook a white van near the crossroads, but after that saw no other cars. The road dipped and rose, and then, no more than 400 yards from her home, where a stream overflowing in the recent heavy rains had run across the road forming a slick of black ice, the car left the road."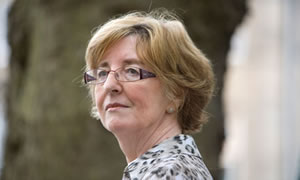 Pat Barker (Thornaby-on-Tees, op 8 mei 1943)



Zie voor alle bovenstaande schrijvers ook

mijn blog van 8 mei 2007

en ook

mijn blog van 8 mei 2008

en ook mijn blog van 8 mei 2009

en ook

mijn blog van 8 mei 2010.

Zie voor nog meer schrijvers van de 7e mei ook
mijn vorige blog van vandaag
en eveneens
mijn eerste blog van vandaag
.
08-05-2011 om 19:49 geschreven door Romenu

Tags:Thomas Pynchon, Roddy Doyle, Gertrud Fussenegger, Pat Barker, Romenu



Gary Snyder, Romain Gary, Edmund Wilson, Peter Benchley
De Amerikaanse dichter Gary Snyder werd geboren op 8 mei 1930 in San Francisco.
Robin
I always miss you–
last fall, back from the mountains
you'd left San Francisco
now I'm going north again
as you go south.
I sit by a fire at the ocean.
How many times I've
hitchhiked away;
the same pack on my back.
Rain patters on the rhododendron
cloud sweeps in from the sea over sand dunes
and stoopt lodgepole pine.
Thinking of the years since we parted.
last week I dreamed of you–
buying a bag of groceries
for Hatch.
Pine tree tops
In the blue night
frost haze, the sky glows
with the moon
pine tree tops
bend snow-blue, fade
into sky, frost, starlight.
The creak of boots.
Rabbit tracks, deer tracks,
what do we know.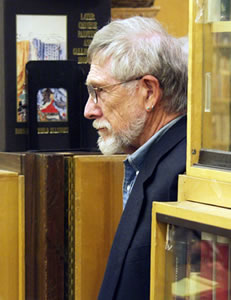 Gary Snyder (San Francisco, 8 mei 1930)



De Franse schrijver, vertaler regisseur en diplomaat Romain Gary werd geboren op 8 mei 1914 in Vilnius, Litouwen.

Uit : La vie devant soi (als Emile Ajar)


"Au début je ne savais pas que je n'avais pas de mère et je ne savais même pas qu'il en fallait une. Madame Rosa évitait de m'en parler pour ne pas me donner des idées. On était tantôt six ou sept tantôt même plus là-dedans. Il y avait chez nous pas mal de mères qui venaient une ou deux fois par semaine mais c'était toujours pour les autres.
Nous étions presque tous des enfants de putes chez madame Rosa, et quand elles partaient plusieurs mois en province pour se défendre là-bas, elles venaient voir leur môme avant et après. Il me semblait que tout le monde avait une mère sauf moi. J'ai commencé à avoir des crampes d'estomac et des convulsions pour la faire venir.
Une nuit j'ai entendu que Madame Rosa gueulait dans son rêve, ça m'a réveillé et j'ai vu qu'elle se levait. Elle avait la tête qui tremblait et des yeux comme si elle voyait quelque chose. Puis elle est sortie du lit, elle a mis son peignoir et une clé qui était cachée sous l'armoire. Elle est allée dans l'escalier et elle l'a descendu. Je l'ai suivie. Je ne savais pas du tout ce qui se passait, encore moins que d'habitude, et ça fait toujours encore plus peur. J'avais les genoux qui tremblaient et c'était terrible de voir cette Juive qui descendait les étages avec des ruses de Sioux comme si c'était plein d'ennemis et encore pire. Quand madame Rosa a pris l'escalier de la cave, j'ai cru vraiment qu'elle était devenue macaque et j'ai voulu courir réveiller le docteur Katz. Mais j'ai continué de la suivre. La cave était divisée en plusieurs et une des portes était ouverte. J'ai regardé. Il y avait au milieu un fauteuil rouge complètement enfoncé, crasseux et boiteux, et Madame Rosa était assise dedans. Les murs, c'était que des pierres qui sortaient comme des dents et ils avaient l'air de se marrer.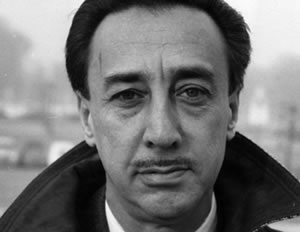 Romain Gary (9 mei 1914 – 2 december 1980)
De Amerikaanse schrijver en criticus Edmund Wilson werd geboren op 8 mei 1895 in Red Bank, New Jersey.
Uit: The Fifties
"Today is my birthday, I am 68. Tax difficulties are more or less solved, my lower jaw will soon be rebuilt, my gout has nearly disappeared and my heart is very much better -- hardly being able to eat on account of not having my lower teeth has been beneficial in making me thinner -- and we now count on getting to Europe. I have been hung up and not very productive all during the last year. Now perhaps, as Cyril Connolly said when I last saw him in England (though without results in his case, so far as I could see), "the old scow is off the mud." In Europe, Autumn 1963
Paris, I find, has no longer much glamour for me. In some ways it seems quite commonplace. The excitement of my visits at the end of the First World War, when I stayed at the American University Club in the Rue de Richelieu and went to the Guitry theater, or in 1922(?) when Edna Millay was here and we had our little scene in the Bois de Boulogne, or in the autumn of 1935, on my way back from Russia, when I met Malraux and the Joyces, or even coming back with Elena and meeting her Russian relatives as well as seeing Mamaine when she had just been divorced from [ Arthur ] Koestler just before her death -- I remembered all these but they had now fallen back into the map of a much flatter world.
Reading: After having had to read so many mediocre books in connection with the Civil War and Canada, it is a pleasure to get back for a while to really well-written ones: Smollett's "Travels Through France and Italy," Auden's excellent anthology of Walter de la Mare's poetry, Saintsbury's miscellaneous essays. Saintsbury at his best, in his middle period: 1892 -- a masterly essay on the differences between French and English literature and delightful little studies of minor French writers. Also, essays on the development of English prose, which contain the germ of his later long work on the history of English prose rhythm. If these essays were ever read by the Partisan Review boys and the other New York writers of the same breed, they would either not understand them or, if they did, be reduced to despair. Middletown, Conn., Spring 1965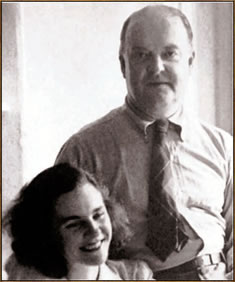 Edmund Wilson (8 mei 1895 – 14 juni 1972)
Hier met Mary McCarthy in 1942.
Zie voor alle bovenstaande schrijvers ook mijn blog van 8 mei 2007 en ook mijn blog van 8 mei 2008 en ook mijn blog van 8 mei 2009 en ook mijn blog van 8 mei 2010.
De Amerikaanse schrijver Peter Benchley werd geboren in New York City op 8 mei 1940. Zie ook mijn blog van 8 mei 2010.
Uit: Jaws
'At first, the woman thought she had snagged her leg on a rock or a piece of floating wood. There was no initial pain, only one violent tug on her right leg. She reached down to touch her foot, treading water with her left leg to keep her head up, feeling in the blackness with her left hand. She could not find her foot. She reached higher on her leg, and then she was overcome by a rush of nausea and dizziness. Her groping finger had found a nub of bone and tattered flesh. She knew that the warm, pulsing flow over her fingers in the chill water was her own blood.
Pain and panic struck together. The woman threw her head back and screamed a guttural cry of terror.'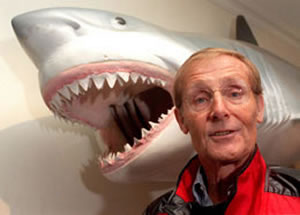 Peter Benchley (8 mei 1940 - 11 februari 2006)

08-05-2011 om 19:17 geschreven door Romenu

Tags:Gary Snyder, Romain Gary, Edmund Wilson, Peter Benchley, Romenu



Alain-René Lesage, J. Meade Falkner, Johann von Besser, Sophus Schandorph, Sloan Wilson, Otto Zierer
De Franse schrijver Alain-René Lesage werd geboren op 8 mei 1668 in Sarzeau. Zie ook mijn blog van 8 mei 2009 en ook mijn blog van 8 mei 2010.
Uit: Histoire de Gil Blas de Santillane
"Blas de Santillane, mon père, après avoir longtemps porté les armes pour le service de la monarchie espagnole, se retira dans la ville où il avait pris naissance. Il y épousa une petite bourgeoise qui n'était plus de sa première jeunesse, et je vins au monde dix mois après leur mariage. Ils allèrent ensuite demeurer à Oviédo, où ma mère se mit femme de chambre, et mon père écuyer. Comme ils n'avaient pour tout bien que leurs gages, j'aurais couru risque d'être assez mal élevé, si je n'eusse pas eu dans la ville un oncle chanoine. Il se nommait Gil Perez. Il était frère aîné de ma mère et mon parrain. Représentez-vous un petit homme haut de trois pieds et demi, extraordinairement gros, avec une tête enfoncée entre les deux épaules : voilà mon oncle. Au reste, c'était un ecclésiastique qui ne songeait qu'à bien vivre, c'est-à-dire qu'à faire bonne chère ; et sa prébende, qui n'était pas mauvaise, lui en fournissait les moyens.
Il me prit chez lui dès mon enfance, et se chargea de mon éducation. Je lui parus si éveillé, qu'il résolut de cultiver mon esprit. Il m'acheta un alphabet, et entreprit de m'apprendre lui-même à lire ; ce qui ne lui fut pas moins utile qu'à moi ; car, en me faisant connaître mes lettres, il se remit à la lecture, qu'il avait toujours fort négligée, et, à force de s'y appliquer, il parvint à lire couramment son bréviaire, ce qu'il n'avait jamais fait auparavant."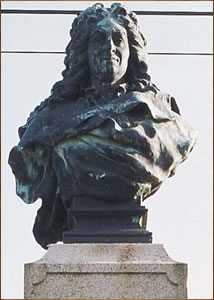 Alain-René Lesage (8 mei 1668 – 17 november 1747)
Borstbeeld in Vannes





De Engelse dichter en schrijver John Meade Falkner werd geboren op 8 mei 1858 in Manningford Bruce, Wiltshire. Zie ook mijn blog van 8 mei 2009 en ook mijn blog van 8 mei 2010.
Uit: Moonfleet
"So I gave up reading and stepped out into the street. It was a poor street at best, though once, no doubt, it had been finer. Now, there were not two hundred souls in Moonfleet, and yet the houses that held them straggled sadly over half a mile, lying at intervals along either side of the road.
Nothing was ever made new in the village; if a house wanted repair badly, it was pulled down, and so there were toothless gaps in the street, and overrun gardens with broken-down walls, and many of the houses that yet stood looked as though they could stand but little longer.
The sun had set; indeed, it was already so dusk that the lower or sea-end of the street was lost from sight. There was a little fog or smoke-wreath in the air, with an odour of burning weeds, and that first
frosty feeling of the autumn that makes us think of glowing fires and the comfort of long winter evenings to come. All was very still, but I could hear the tapping of a hammer farther down the street, and walked to see what was doing, for we had no trades in Moonfleet save that of fishing. It was Ratsey the sexton at work in a shed which opened on the street, lettering a tombstone with a mallet and graver. He had been mason before he became fisherman, and was handy with his tools; so that
if anyone wanted a headstone set up in the churchyard, he went to Ratsey to get it done. I lent over the half-door and watched him a minute, chipping away with the graver in a bad light from a lantern; then he looked up, and seeing me, said:
'Here, John, if you have nothing to do, come in and hold the lantern for me, 'tis but a half-hour's job to get all finished.'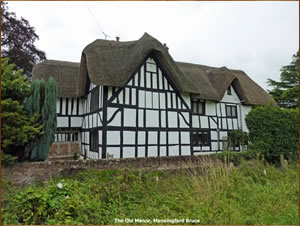 J. Meade Falkner (8 mei 1858 – 22 juli 1932)
The Old Manor uit 1635 in Manningford Bruce
De Duitse dichter Johann von Besser werd geboren op 8 mei 1654 in Frauenburg (tegenwoordig Saldus in Letland). Zie en ook mijn blog van 8 mei 2009 en ook mijn blog van 8 mei 2010.
Ruhestatt der Liebe
oder: Die Schooß der Geliebten (Fragment)
Bey diesen brennenden und schwülen sommer-tagen
Ließ Chloris sich einmahl in ihren garten tragen /
Und suchte für den brand der sonnen eine klufft /
Von kühler witterung und schattenreicher lufft.
Sie setzte sich erhizt bey einem baume nieder /
Und streckte bald darauff die perlen-volle glieder
In das noch frische gras / geruhiger zu seyn /
Und schlieff auch / wie sie lag / halb von der seiten ein.
Ihr alabaster-leib war nur mit flor bekleidet /
Und weilen man den zwang nicht bey der hitze leidet /
Ward ihre blosse brust im grünen klee gespürt /
Die zur gemächlichkeit sie eben auffgeschnürt.
Der sanffte westen-wind / bereit sie abzukühlen /
Ließ seinen othem gleich auff diese wellen spielen /
Und bließ mit stillem hauch bey ihrer süssen ruh
Ihr aus der Floren hand die weichsten blumen zu.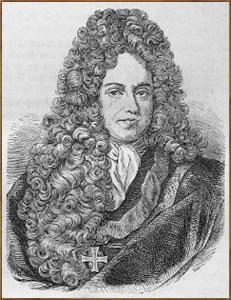 Johann von Besser (8 mei 1654 – 10 februari 1729)
De Deense schrijver Sophus Schandorph werd geboren op 8 mei 1836 in Ringstedt. Zie ook mijn blog van 8 mei 2007 en ook mijn blog van 8 mei 2009 en ook mijn blog van 8 mei 2010.
Uit: Stina Becomes a Farmer's Wife (vertaald door Sally Ryan)
"A little later she was overtaken by a butcher in his one-horse cart. Whoop-la! What a wild gallop, zigzag from one side of the road to the other, the wheels just escaping the ditches on either side, the springs bouncing and clanging! The butcher was alone in his cart. He was wearing a striped blue and white linen coat, soiled with brownish blood stains, and was lustily whistling "Oh, Susannah." His straw hat was pushed back over his fiery-red, perspiring forehead. In the back of the cart, behind the seat, were two lambs, bleating indolently, as if only fulfilling an official duty. Without stopping, the butcher shouted to Stina, "Hey, lady, will you ride with me through the course of life? Hey?"
Stina did not respond to this address with so much as a glance. She said to herself, "Butchers always talk so silly."
Wrapped in a new cloud of dust, she sneezed again, patiently wiped her nose with the back of her cotton glove, then wiped the glove on her dress in the hollow of her arm.
From a distance she heard the noise of a third vehicle, but did not turn to look. It was a long time coming, and, judging by the sound, the horses were ambling. At last it overtook her. It was a small two-horse spring-cart with only one seat. This seat was occupied by a middle-aged man who looked well fed without being exactly stout. He wore a coat of thick black broadcloth with pockets and edges bound in wide wool braid. His head was covered by a light gray cloth cap, trimmed with numerous small buttons which were faded yellow and displayed their wooden skeletons under the threadbare cloth covering. A short pipe with a big wooden head lay thrust in a corner of the seat. After spitting in the opposite direction from Stina, the man stopped his horses with a soft "Whoa!" and said slowly in the broadest Zealand dialect, "Maybe that girl would like a lift?" "Many thanks," answered Stina.
She took hold of the dash-board, stepped on the whipple-tree so heavily that it swung way out to the side, and let herself down on the seat with a thump that made the springs resound."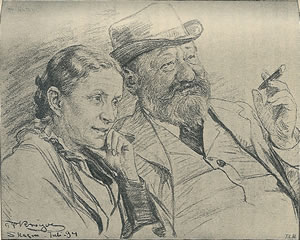 Sophus Schandorph (8 mei 1836 - 1 januari 1901)
Sophus Schandorph en vrouw, getekend door P.S. Krøyer uit 1894.
Zie voor onderstaande schrijver ook mijn blog van 8 mei 2010.
De Amerikaanse schrijver Sloan Wilson werd geboren op 8 mei 1920 in Norwalk, Connecticut. Zie ook mijn blog van 8 mei 2007 en ook mijn blog van 8 mei 2009.
Zie voor onderstaande schrijver ook mijn blog van 8 mei 2009.
De Duitse schrijver Otto Zierer werd geboren op 8 mei 1909 in Bamberg.

08-05-2011 om 19:08 geschreven door Romenu

Tags:J. Meade Falkner, Alain-René Lesage, Johann von Besser, Sophus Schandorph, Sloan Wilson, Otto Zierer, Romenu



James Worthy
Onafhankelijk van geboortedata:


De Nederlandse schrijver James Worthy werd geboren in Amsterdam in 1980.Hij studeerde vanaf 1999 o.a. Communicatiesystemen in Utrecht en vanaf 2003 Media & Cultuur in Amsterdam (UvA). Schrijven deed James op jonge leeftijd al veel. Hij stotterde aanzienlijk. Op papier kon hij echter wel goed uit zijn woorden komen. Op zijn veertiende schreef je al eens een boek. Later begon hij stukjes te schrijven voor Nalden.net en werd hij verslaggever voor State Magazine. Ook schreef hij voor bladen als Flair en Fancy, Viva en de Cosmopolitan, sinds 2009 ook voor Nieuwe Revu. Daarnaast schreef hij vanaf 2010 zijn blog "Wat een leven". Op 29 april 2011 verscheen bij uitgeverij Lebowski zijn debuutroman "James Worthy".
Uit: James Worthy
"Polly doet de deur open in mijn badjas, het is halfvijf in de ochtend dus ze kijkt verre van tevreden.
'Ik heb net een kolibrie geneukt,' zeg ik.
Ze zucht.
'Ja, nee, ik bedoel, ik snap je nu. In onze relatie zocht jij altijd naar vooruitgang terwijl ik steevast achteruit fladderde. Polly, ik ben een kolibrie.'
Ze zucht nog een keer. 'James, je bent een schijtlijster. Laat me met rust, ik wil je vergeten.' Pete is achter haar gaan staan. Hij krabt aan zijn ballen en heeft zijn T-shirt verkeerdom aan. Oké, ik heb een bierbuik, mijn haar wordt steeds dunner en mijn persoonlijke hygiëne laat de laatste tijd te wensen over, maar Pete slaat alles.
'Ik ga even peuken halen bij het tankstation,' zegt de treurwilg van een vent.
'James, ga je mee?' Hij plukt een lange jas van de kapstok, trekt een paar afgetrapte cowboylaarzen aan en stapt de Amsterdamse ochtend in.
'Moet je geen broek aan of zo?' vraag ik terwijl ik vol ongeloof Polly aangaap.
Ze lacht. 'Zo is Pete, hij heeft maling aan alles. Heerlijk toch?'
'Heb je nog zo'n jas?' vraag ik terwijl ik Pete's arm vastpak.
Pete knikt, ik trek mijn broek uit.
Als twee volleerde potloodventers lopen Pete en ik even later door een broeierig Amsterdam. Een vadsige Duitse toerist kotst in de gracht, politiebusjes rijden af en aan terwijl het tuig van de richel probeert te ontkomen door op een uitgekookte manier achter bomen te schuilen."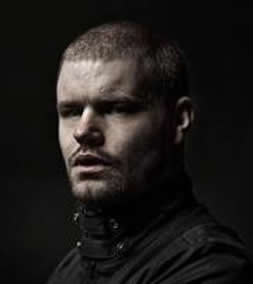 James Worthy (Amsterdam. 1980)
08-05-2011 om 00:00 geschreven door Romenu

Tags:James Worthy, Romenu



| | |
| --- | --- |
| | |



Inhoud blog


| | |
| --- | --- |
| | Donald Hall, Javier Marías, Cyriel Buysse, Upton Sinclair, Joseph Breitbach, Adolf Endler, Henry Arthur Jones, Stevie Smith, Hanns Cibulka |
| | Crauss, Patrick Marber, William Golding, Ingrid Jonker, Orlando Emanuels, Jean-Claude Carrière, Stefanie Zweig, Mika Waltari, Hartley Coleridge |
| | Michaël Zeeman, Armando, Ton Anbeek, Stephan Sarek, Omer Karel De Laey, Michael Deak, Einar Már Gudmundsson, Gerrit Borgers |
| | Nicolien Mizee |
| | H.H. ter Balkt, Piet Gerbrandy, William Carlos Williams, Ken Kesey, Abel Herzberg, Dilip Chitre, Ludwig Roman Fleischer, Albertine Sarrazin, Mary Stewart |
| | Breyten Breytenbach, Alfred Schaffer, Frans Kusters, Michael Nava, Justin Haythe |
| | James Alan McPherson, Hans Arp, Andreas Neumeister, Anna Bosboom - Toussaint, Frans Eemil Sillanpää |
| | Lucebert, Jan Slauerhoff, Sergio Esteban Vélez, Chimamanda Ngozi Adichie, Agatha Christie, Orhan Kemal, Gunnar Ekelöf, James Fenimore Cooper, Claude McKay |
| | Dolce far niente, Eugen Roth, Hans Faverey, Theodor Storm, Leo Ferrier, Corly Verlooghen, Bernard MacLaverty, Ivan Klíma |
| | Tõnu Õnnepalu, Roald Dahl, Janusz Glowacki, Jac. van Looy, Nicolaas Beets, Marie von Ebner-Eschenbach, Otokar Březina, Julian Tuwim, Muus Jacobse |
| | Michael Ondaatje, James Frey, Chris van Geel, Louis MacNeice, Hannes Meinkema, Eduard Elias, Jan Willem Schulte Nordholt, Werner Dürrson, Gust Van Brussel |
| | Constantijn Huygens-prijs 2017 voor Hans Tentije |
| | David van Reybrouck, Murat Isik, D.H. Lawrence, Eddy van Vliet, Andre Dubus III, Tomas Venclova, Merrill Moore, Barbara Bongartz, Adam Asnyk |
| | Edmund de Waal, Andreï Makine, Franz Werfel, Paweł Huelle, Mary Oliver |
| | Eddy Pinas, Jeppe Aakjær, Viktor Paskov, Hilda Doolittle, Reinhard Lettau, George Bataille |
| | C. O. Jellema, Wim Huijser, Cesare Pavese, Leo Tolstoj, Gentil Th. Antheunis, Gaston Durnez, Edward Upward, Hana Androníková, Bas Jongenelen |
| | Siegfried Sassoon, Anthonie Donker, Clemens Brentano, Wilhelm Raabe, Eduard Mörike, Franz Hellens, Frederic Mistral, Grace Metalious |
| | Merijn de Boer, Anton Haakman, Edith Sitwell, Willem Bilderdijk, Michael Guttenbrunner, Jenny Aloni, Margaret Landon, Henry Morton Robinson |
| | Christopher Brookmyre, Jennifer Egan, Aart G. Broek, Amelie Fried, Jessica Durlacher, Alice Sebold, Julien Green, Willem Brandt, Carmen Laforet |
| | 250 jaar August Wilhelm Schlegel, Marcel Möring, Herman Koch, Jos Vandeloo, Margaretha Ferguson, Ward S. Just, Heimito von Doderer, Rachid Boudjedra, Peter Winnen |
| | Helga Ruebsamen, Antonin Artaud, René de Chateaubriand, Constantijn Huygens, Richard Wright, Mary Renault, Marijn Sikken, Femke Brockhus, Dik van der Meulen |
| | In memoriam Theo Sontrop |
| | In Memoriam John Ashbery |
| | Jacq Firmin Vogelaar, Fritz J. Raddatz, Eduardo Galeano, Alison Lurie, Sergej Dovlatov, Kiran Desai, Ernst Meister, Lino Wirag, Doğan Akhanlı |
| | Willem de Mérode, Eric de Kuyper, R.A. Basart, Chris Kuzneski, Johan Daisne, Robert Habeck, Pierre Huyskens |
| | Joseph Roth, Johann Georg Jacobi, Manfred Böckl, Paul Bourget, Paul Déroulède, Giovanni Verga, Richard Voß |
| | W. F. Hermans, Hubert Lampo, Blaise Cendrars, Edgar Rice Burroughs, Sabine Scho, Peter Adolphsen, Lenrie Peters, J. J. Cremer |
| | William Saroyan, Éric Zemmour, Wolfgang Hilbig, Elizabeth von Arnim, Théophile Gautier, Raymond P. Hammond |
| | Dolce far niente, James Whitcomb Riley, Charles Reznikoff, François Cheng, Jiři Orten, Libu¨e Moníková, Mary Wollstonecraft Shelley |
| | Dolce far niente, Jennifer Grotz, Hugo Brandt Corstius, Elma van Haren, John Edward Williams, Maurice Maeterlinck, Thom Gunn |
| | Dolce far niente, Friedrich Hebbel, Johann Wolfgang von Goethe, Maria Barnas, A. Moonen, C. J. Kelk, Frederick Kesner |
| | Rainer Kirsch, Tom Lanoye, Kristien Hemmerechts, Paul Verhuyck, Jeanette Winterson |
| | Lolita Pille, David Rowbotham, Norah Lofts, Cecil Scott Forester, Lernert Engelberts |
| | Christopher Isherwood, Laura van der Haar, C. B. Vaandrager, Paula Hawkins, Joachim Helfer, Guillaume Apollinaire, Rashid Al-Daif |
| | Jules Romains, Julio Cortázar, Walter Helmut Fritz, Joachim Zelter, Jürgen Kross, Ludwig Aurbacher, Boris Pahor |
| | Martin Amis, Kees Stip, Howard Jacobson, Charles Wright, Maxim Biller, Frederick Forsyth, Jògvan Isaksen, Johann Gottfried von Herder, Thea Astley |
| | John Green, Drs. P, Marion Bloem, Pepijn Lanen, Stephen Fry, Jorge Luis Borges, A. S. Byatt, Sascha Anderson, Johan Fabricius |
| | Dolce far niente, Victor Vroomkoning, Charles Busch, Curtis Sittenfeld, Koos Dijksterhuis, Albert Alberts, Ilija Trojanow |
| | Dolce far niente, Jacob Israël de Haan, Griet Op de Beeck, Jeroen Theunissen, Annie Proulx, Krijn Peter Hesselink, Willem Arondeus |
| | Alfred Wellm |
| | Dolce far niente, Martin Bril, Rogi Wieg, X.J. Kennedy, Robert Stone, Aubrey Beardsley, Frédéric Mitterrand |
| | Dolce far niente, Tom van Deel, Anneke Brassinga, Etgar Keret, James Rollins, Clemens Meyer, Arno Surminski |
| | Maren Winter, Charles de Coster, Edgar Guest, Tarjei Vesaas, Salvatore Quasimodo, Colin MacInnes |
| | Sylvie Richterová, Ernst-Jürgen Dreyer, Boleslaw Prus, Menno Lievers, Vasili Aksjonov, Jacqueline Susann |
| | Alfred Birney |
| | Mies Bouhuys, Jonathan Coe, Li-Young Lee, Frederik Lucien De Laere, Louis Th. Lehmann, Ogden Nash, Frank McCourt |
| | Marion Pauw, John Dryden, Samuel Richardson, Jerzy Andrzejewski, James Gould Cozzens, Claude Gauvreau, Inigo de Mendoza |
| | Dolce far niente, Hans Andreus, Ulrich Woelk, Marc Degens, Luciano de Crescenzo, Alain Robbe-Grillet, Idea Vilariño |
| | Dolce far niente, Simon Vestdijk, Ted Hughes, V. S. Naipaul, Nis-Momme Stockmann, Jonathan Franzen, Jan Emmens |
| | Dolce far niente, Willen van Toorn, Charles Bukowski, Reiner Kunze, Moritz Rinke, Ferenc Juhász, Justus van Maurik |


Gastenboek


Druk op onderstaande knop om een berichtje achter te laten in mijn gastenboek