De Engelse dichter en schrijver Mario Petrucci werd geboren op 29 november 1958 in Londen. Zie ook alle tags voor Mario Petrucci op dit blog.
BREAD
(Southwell Workhouse)
We're men half-
baked – swinging
lead-heavy sledges

over our heads
on elbowy sticks
of bread. Hour

by hour: men
of flour. Saved by
a pinch of salt.

Here because
we ought to use
our loaf. Because

men of fire eat
iron. Rust. Entire
nations. But we

float through days
on crusts. Dawn
to dusk each raft

the same. Like
us. Each slice we
are – adrift on

a basin of gruel.
Breakfast. Dinner.
Supper. One fuel.

And when at last
we rise to heaven
then I suppose

we'll be made
to mow His fields
divine with wheat –

move mountains
of holy yeast – and
reach back down

to knead (one
by one) each grey
cloud of dough.
Ukritye
(Chernobyl, 1986)
Even the robots refuse. Down tools. Jerk up
their blocked heads, shiver in invisible hail. Helicopters

spin feet from disaster, caught in that upwards cone
of technicide – then ditch elsewhere, spill black running guts.

Not the Firemen. In rubber gloves and leather boots
they walk upright, silent as brides. Uppers begin

to melt. Soles grow too hot for blood. Still they shovel
the graphite that is erasing marrow, spine, balls –

that kick-starts their DNA to black and purple liquid life.
Then the Soldiers. Nervous as children. They re-make it –

erect slabs with the wide stare of the innocent, crosshatch
the wreck roughly with steel, fill it in with that grey

crayon of State Concrete. In soiled beds, in the dreams
of their mothers, they liquefy. Yet Spring still chooses

this forest, where no deer graze and roots strike upwards.
Fissures open in the cement – rain finds them. They grow:

puff spores of poison. Concrete and lead can only take
so much. What remains must be done by flesh.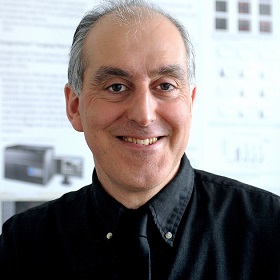 Mario Petrucci (Londen, 29 november 1958)
De Algerijnse, Franstalige, dichter en schrijver Jean Senac werd geboren op 29 november 1926 in Beni Saf in de regio Oran. Zie ook alle tags voor Jean Senac op dit blog.
QUARTIER BLANC
à R.P.
Si tu viens un jour
je ferme les yeux
je laisse les yeux
je laisse le bleu
mordre
Mais tous les printemps
ne sont pas présents
dans une seule
vie
Toi tu prends le marbre
l'or les églantiers
moi je garde dans mes plaies
le sable
Un jour si tu rentres
dans le jardin clos
tu verras mes os
fleurir
Le lilas griffer
la rose blanchir
et les orties tordre
l'été.
The Sleepers
1
Here silence is called for
where the night rumbles and the sea wears it away
where only children's hoops cry out
death heavy on their backs.
Clear-headed men walk quickly
their ideas speed round
the sun and love,
but freedom's flower grows slow
Patient land. Land worthy of love.
Beneath their eyelids, the humiliated tend
their hives, branding irons
and looks that frighten away the hyena and lion
Yes, here silence is called for
where only the child's pain cuts deep
the sleepers drunk on the temperate wind
Beware of the green morning.
Vertaald door David Bergman en Katia Sainson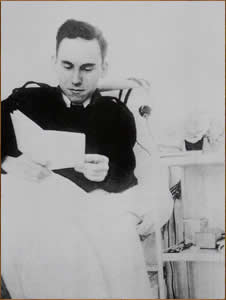 Jean Senac (29 november 1926 – 30 augustus 1973)
De Italiaanse schrijver, schilder, arts en politicus Carlo Levi werd geboren op 29 november 1902 in Turijn. Zie ook alle tags voor Carlo Levi op dit blog.
Uit:Christus kwam niet verder dan Eboli (Vertaald door Margriet Agricola)
"Er was voor datzelfde doel ook een versje waarin poëtische woorden abrupt worden afgewisseld met absurde heksentaal, geheel volgens de regelen der toverkunst. Het ging zo:
Sterre, van verre zie ik je en van dichtbij groet ik je
Over je gezicht loop ik en bespugen moet ik je
Sterre, maak dat hij niet sterven zal
Maak dat hij terugkeert van overal
En zorg dat hij
wil blijven bij mij
Als je het opzegt moet je 's nachts op de drempel van je huis staan, en blijven kijken naar de ster die je aanroept. Ik heb het af en toe geprobeerd, maar mij heeft het niet geholpen. Ik stond in de deuropening geleund met Barone aan mijn voeten en keek naar de hemel. Oktober was voorbij, en in de zwarte lucht fonkelden de sterren van mijn geboorteteken, de koude heldere sterren van de Boogschutter."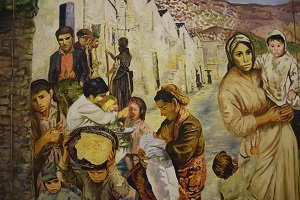 Carlo Levi (29 november 1902 – 4 januari 1975)
Muurschildering in de Carlo Levi kamer in het Museo Palazzo Lanfranchi in Matera (detail)
De Belgische schrijver Jean-Philippe Toussaint werd op 29 november 1957 geboren in Brussel. Zie ook alle tags voor Jean-Philippe Toussaint op dit blog.
Uit: The Bathroom (Vertaald door Nancy Amphoux en Paul De Angelis)
"9.I dressed very simply: tan cotton trousers, a blue shirt, and a solid tie.
The fabric fit my body so becomingly that, fully dressed, I looked powerfully, elegantly muscular. I lay down, relaxed, eyes shut. I thought about a White Lady—the dessert—a scoop of vanilla ice cream with a coat of scalding chocolate poured over. I'd been thinking about it forsome weeks. From a scientific point of view (I'm not a food enthusiast),
I saw this combination as a glimpse of perfection. A Mondrian,
Unctuous chocolate on iced vanilla, hot and cold, substance and fluidity. Imbalance and rigor, exactitude. Chicken, despite my deep affection for it, cannot compare. No. And I was just about to fall asleep when Edmondsson came into the bathroom, spun around, and held out two letters. One of them was from the Austrian embassy. I opened it with a comb. Edmondsson, who was reading over my shoulder, pointed to my name on the invitation. Knowing neither Austrians nor diplomats, I said it was probably a mistake."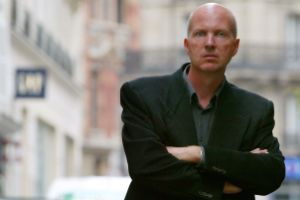 Jean-Philippe Toussaint (Brussel, 29 november 1957)
De Ierse schrijver C.S. Lewis werd geboren op 29 november 1898 in Belfast. Zie ook alle tags voor C. S. Lewis en de overige tags voor C, S. Lewis op dit blog.
Uit: Mere Christianity
"Your real, new self (which is Christ's and also yours, and yours just because it is His) will not come as long as you are looking for it. It will come when you are looking for Him. Does that sound strange? The same principle holds, you know, for more everyday matters. Even in social life, you will never make a good impression on other people until you stop thinking about what sort of impression you are making. Even in literature and art, no man who bothers about originality will ever be original whereas if you simply try to tell the truth (without caring twopence how often it has been told before) you will, nine times out of ten, become original without ever having noticed it. The principle runs through all life from top to bottom, Give up yourself, and you will find your real self. Lose your life and you will save it. Submit to death, death of your ambitions and favourite wishes every day and death of your whole body in the end submit with every fibre of your being, and you will find eternal life. Keep back nothing. Nothing that you have not given away will be really yours. Nothing in you that has not died will ever be raised from the dead. Look for yourself, and you will find in the long run only hatred, loneliness, despair, rage, ruin, and decay. But look for Christ and you will find Him, and with Him everything else thrown in."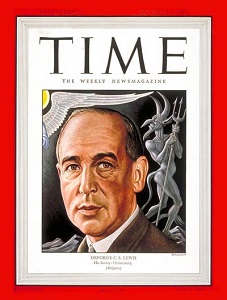 C.S. Lewis (29 november 1898 – 22 november 1963)
TIME Magazine cover – september 1947
De Duitse dichter en schrijver Wilhelm Hauff werd geboren inStuttgart op 29 november 1802. Zie ook alle tags voor Wilhelm Hauff op dit blog.
Uit: Mitteilungen aus den Memoiren des Satan
"Mundus vult decipi, d.i. die Leute lesen Memoiren; was hält mich ab, denselben auch ein solches Gericht »Gerngesehen« vorzusetzen?
Man wendet vielleicht ein, »der Schuster bleibe bei seinem Leisten, der Satan hat sich nicht mit Memoirenschreiben abzugeben«. Ei! wirklich? Und wenn nun dieser Satan doch einen Beruf hätte, Memoiren in die Welt zu streuen, wenn er doch so viel oder noch mehr gesehen hätte, als jene kriegerischen Diplomaten oder diplomatischen Krieger, welche die Welt mit ihrem literarischen Ruhme anfüllen, nachdem die Bulletins ihrer Siege zu erwähnen aufgehört haben; wenn nun dieser arme Teufel einen Drang in sich fühlte, auch für einen homo literatus zu gelten?
Ja, ich gestehe es mit Erröten, je länger ich mich in meinem lieben Deutschland umhertreibe, desto unwiderstehlicher reißt es mich hin, zu schriftstellern; und wenn es den Damen erlaubt ist, die Finger mit Dinte zu beschmutzen, so wird es doch dem Teufel auch noch erlaubt sein?
Und da komme ich auf einen zweiten Punkt; man sagt vielleicht gegen meine schriftstellerischen Versuche, ich sei kein Literatus, kein Mann vom Gewerbe etc. Aber fürs erste habe ich soeben die Damen, welche, wenn sie noch so gelehrt, doch keine Gelehrte von Profession sind, anzuführen die Ehre gehabt; so dann berufe ich mich auf jene Söhne des Lagers, die unter Gefahren groß geworden, unter Strapazen ergraut, keine Zeit hatten, Humaniora zu studieren, und dennoch so glänzende Memoiren schreiben; ich behaupte drittens, daß das Vorurteil, ich sei ein unstudierter Teufel, ganz falsch ist, denn ich bin in optima forma Doktor der Philosophie geworden, wie aus meinen Memoiren zu ersehen, und kann das Diplom schwarz auf weiß aufweisen.
Der Erzengel Gabriel, als ich ihn mit dem Plan meine Memoiren auszuarbeiten bekannt machte, warnte mich mit bedenklicher Miene vor den sogenannten Rezensenten. Er gab mir zu verstehen, daß ich übel wegkommen könnte, indem solche niemand schonen, ja sogar neuerdings selbst Doktoren der Theologie in Berlin, Halle und Leipzig hart mitgenommen haben."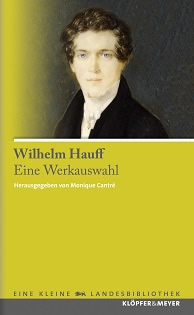 Wilhelm Hauff (29 november 1802 - 18 november 1827)
Cover
De Amerikaanse schrijfster Louisa May Alcott werd geboren op 29 november 1832 in Germantown, Pennylvania. Zie ook alle tags voor Louisa May Alcott op dit blog.
Uit: Onder moedervleugels (Vertaald door Wilhelmina Doedes-Clarisse en Aleida Doedes)
'Ik was van plan mijn geld te besteden aan nieuwe muziek,' zeide Betsy, met een zuchtje, dat echter door niemand gehoord werd.
'Ik zal een mooi doosje met Faber's teekenpotlooden koopen; ik heb ze bepaald noodig,' zeide Amy vastbesloten.
'Moeder heeft niets gezegd van ons eigen geld, en zij zal niet verlangen, dat wij alles opgeven. Laten wij ieder iets koopen, dat wij graag willen hebben, en wat pret maken; wij zwoegen waarlijk hard genoeg om het te verdienen,' riep Jo, terwijl zij de hakken van hare laarzen op jongensmanier bekeek.
'Ik ten minste wel, - die elken dag die gruwelijke kinderen moet leeren, terwijl ik er naar snak prettig thuis te zijn,' begon Meta weêr op klagenden toon.
'Gij hebt het niet half zoo hard als ik,' zeide Jo. 'Hoe zoudt gij het vinden uren lang opgesloten te zijn met eene zenuwachtige zeurige oude dame, die je al maar heen en weêr laat loopen, nooit tevreden is, en je plaagt, totdat je in staat zoudt zijn het raam uit te vliegen, of haar een oorveeg te geven?'
'Het is slecht om ontevreden te zijn, - maar ik geloof, dat borden wasschen en alles netjes houden het naarste werk van de wereld is. Het maakt mij knorrig, en mijne handen worden zoo stijf, ik kan haast niet studeeren.' En Betsy keek naar hare ruwe handen met een zucht, die ditmaal zeer goed te hooren was.
'Ik geloof niet, dat een van allen het zoo erg heeft als ik,' riep Amy, 'want jullie behoeven niet naar school te gaan met nuffen, die iemand plagen, als hij zijne lessen niet kent, of uitlachen om zijne kleêren, en met "étain" op iemands vader neêrzien, als hij niet rijk is, en iemand beleedigen, als hij geen mooien neus heeft.'
'Als je "dédain" bedoelt, dan moest je het zeggen en niet over "étain" praten, alsof pa een tinnen peperbus was,' zeide Jo lachend."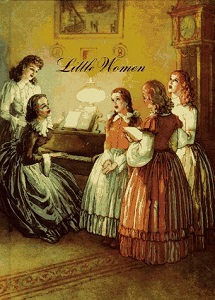 Louisa May Alcott (29 november 1832 – 6 maart 1888
Cover
De Oostenrijkse dichter en schrijver Franz Stelzhamer werd geboren in Großpiesenham op 29 november 1802. Zie ook mijn blog van 29 november 2008 en ook mijn blog van 29 november 2009.
Uit: Ein Himmelsmärlein
"Schwül war der Tag. Die Blumen des Feldes lechzen und die Gräser der Heide beugen sich vom Staub gedrückt. Tiefaufathmet das regsame Schnittervolk und wischt sich den Schweiß vom braunen Angesicht; im lassen Wandel fördert sich der Wanderer und sehnt sich inniger denn je nach der fernen Heimat, wo sein friedliches Haus zwischen schattenreichen Bäumen steht. – Das größere Vieh auf der Huth liegt käuend im Buschwerk hingestreckt und wehrt emsig den unersättlichen Fliegenschwarm ab; sich selbst beschattend lechzen die Lämmer auf offenem Plan; der Chor der Vögel ist verstummt, und öd' und schmachtend wie ein ausgebrannter Tempel liegt das Land weitum.
Doch tröstlich, ihr Thierlein, tröstlich, ihr Blumen und Gräser, und ihr duldenden Menschen allzumal! Tröstlich! denn seht, wie es im Westen dort gleich einem mächtigen Wolkengebirge sich thürmt; leuchtend ist der Saum seines Gipfels, tiefblau und dunkel seine Mitte und der Grund, worauf es steht, ist schwarz. Oder ist es in düsterer Vermummung ein zürnender Titan der Urzeit?! Ha, wie er wächst, der finstere Riese, wie unverzagt sein geharnischt Haupt den Pfeilen der Sonne entgegen trotzet, wie sein bleigrauer Mantel sich dehnt durch die Himmelsbläue – wie er funkelnde Blicke schießt, wie sein grollendes Wort, sein mächtiger Fußtritt dumpf hallet durch das weite Himmelsgewölbe! Seht, schon kämpft er mit Phöbus, dem Lichtgebornen, dessen flammende Pfeile scharf niederhageln auf sein Schlachtgewand; sein Helmbusch lodert in heller Gluth, entzündet vom Flammenschild des raschen Sonnengottes; doch vergebens; – mit hochgeschwungener Keule zertrümmert der Furchtbare das Gottesschild, daß Himmel und Erde aufleuchtet in jähem Gewitterschein; zahllos wachsen des schwarzen Würgers Schaaren aus dem Grunde des Meeres empor; ihre Rosse dampfen und stampfen, daß die Lüfte dröhnen und die Bäume des Waldes erbeben; die goldbepanzerten Reitet des Gottes werden überwältigt und sinken; nur ein Restchen entfliehet in eiligem Jagen ostwärts nach der flammenden Sonnenburg – die Schwarzen verfolgend nach mit wildem Rasen, daß die zertretenen Lüfte heulen, daß der schlummernde See aufschäumt und die friedliche Waldung wimmert!"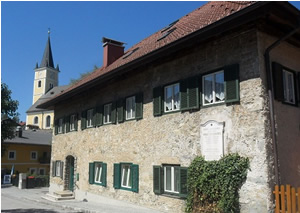 Franz Stelzhamer (29 november 1802 – 14 juni 1874)
Stelzhamers woonhuis in Henndorf
Zie voor nog meer schrijvers van de 29e november ook mijn vorige blog van vandaag.
29-11-2015 om 12:36 geschreven door Romenu

Tags:Mario Petrucci, Jean Senac, Carlo Levi, Jean-Philippe Toussaint, C.S. Lewis, Wilhelm Hauff, Louisa May Alcott, Franz Stelzhamer, Romenu