E-mail mij


Druk op onderstaande knop om mij te e-mailen.


Romenu


Romenu is een blog over gedichten, literatuur en kunst Maar Romenu is ook een professionele freelance vertaler
Du-Ne en Ne-Du http://www.romenu.nl.


Huur eens een (vakantie)huis in een natuurgebied, dichtbij het centrum van Nijmegen


Google


Georg Trakl

Georg Trakl werd op 3 februari 1887 in het conducteurshuis aan de Waagplatz 2 in Salzburg geboren. Zijn vader, Tobias Trakl, was een handelaar in ijzerwaren en zijn moeder, die ook psychische problemen had, was Maria Catharina Trakl, (meisjesnaam Halik). Voorts had hij nog drie broers en drie zussen. Margarethe (doorgaans Grethe genoemd) stond hem het naast, zelfs zodanig dat sommigen een incestueuze verhouding vermoeden. Zijn jeugd bracht hij door in Salzburg. Vervolgens bezocht hij van 1897 tot 1905 het humanistische gymnasium. Om toch een academische opleiding te kunnen volgen, werkte hij tot 1908 in de praktijk bij een apotheker. Sommigen vermoedden dat hij dit vooral deed om zichzelf opiaten te kunnen verschaffen. Bij het uitbreken van WO I werd Trakl als medicus naar het front in Galicië (heden ten dage in Oekraďne en Polen) gestuurd. Zijn gemoedsschommelingen leidden tot geregelde uitbraken van depressie, die verergerd werden door de afschuw die hij voelde voor de verzorging van de ernstig verwonde soldaten. De spanning en druk dreven hem ertoe een suďcidepoging te ondernemen, welke zijn kameraden nochtans verhinderden. Hij werd in een militair ziekenhuis opgenomen in Kraków, alwaar hij onder strikt toezicht geplaatst werd.Trakl verzonk daar in nog zwaardere depressies en schreef Ficker om advies. Ficker overtuigde hem ervan dat hij contact moest opnemen met Wittgenstein, die inderdaad op weg ging na Trakls bericht te hebben ontvangen. Op 4 november 1914, drie dagen voordat Wittgenstein aan zou komen, overleed hij echter aan een overdosis cocaďne


Paul Celan

Paul Celan werd onder de naam Paul Antschel op 23 november 1920 geboren in Czernowitz, toentertijd de hoofdstad van de Roemeense Boekovina, nu behorend bij de Oekraďne. Paul Celans ouders waren Duitssprekende joden die hun zoon joods opvoedden en hem naar Duitse christelijke scholen stuurden. In 1942 werden Celans ouders door de Duitse bezetter naar een werkkamp gedeporteerd en daar vermoord. Hijzelf wist aanvankelijk onder te duiken, maar moest vanaf juli 1942 in een werkkamp dwangarbeid verrichten. Celan overleefde de oorlog. Via Boekarest en Wenen vestigde Celan zich in 1948 in Parijs. Daar was hij werkzaam als dichter, vertaler en doceerde hij aan de prestigieuze Ecole Normale Supérieure. Vermoedelijk op 20 april 1970 beëindigde hij zijn leven zelf door in de Seine te springen.


Gerard Reve

Gerard Reve over: Medearbeiders "God is in de mensen, de dieren, de planten en alle dingen - in de schepping, die verlost moet worden of waaruit God verlost moet worden, door onze arbeid, aangezien wij medearbeiders van God zijn." Openbaring "Tja, waar berust elk godsbegrip op, elke vorm van religie? Op een openbaring, dat wil zeggen op een psychische ervaring van zulk een dwingende en onverbiddelijke kracht, dat de betrokkene het gevoel heeft, niet dat hij een gedachte of een visioen heeft, maar dat een gedachte gedachte of visioen hem bezit en overweldigt."


Simon Vestdijk
Simon Vestdijk (Harlingen, 17 oktober 1898 – Utrecht, 23 maart 1971) was een Nederlands romancier, dichter, essayist en vertaler. Zijn jeugd te Harlingen en Leeuwarden beschreef hij later in de Anton Wachter-cyclus. Van jongs af aan logeerde hij regelmatig bij zijn grootouders in Amsterdam, waar hij zich in 1917 aan de Universiteit van Amsterdam inschrijft als student in de medicijnen. Tijdens zijn studie die van 1917 tot 1927 duurde, leerde hij Jan Slauerhoff kennen.Tot 1932 is hij als arts in praktijken door heel Nederland werkzaam. In 1932 volgt zijn officiële schrijversdebuut met de uitgave van de bundel Verzen in De Vrije Bladen. Doorslaggevend voor Vestdijks uiteindelijke keuze voor de literatuur is zijn ontmoeting in 1932 met Eddy Du Perron en Menno ter Braak. Deze ontmoeting had tot resultaat dat hij redactielid werd van het tijdschrift Forum Kort daarop, in 1933, wordt zijn eerste novelle, De oubliette, uitgegeven. In hetzelfde jaar schrijft hij Kind tussen vier vrouwen, dat, eerst geweigerd door de uitgever, later de basis zal vormen voor de eerste drie delen van de Anton Wachter-romans. In 1951 ontvangt Vestdijk de P.C. Hooftprijs voor zijn in 1947 verschenen roman De vuuraanbidders. In 1957 wordt hij voor het eerst door het PEN-centrum voor Nederland voorgedragen voor de Nobelprijs voor de Literatuur, die hij echter nooit zal krijgen. Op 20 maart 1971 wordt hem de Prijs der Nederlandse Letteren toegekend, maar voor hij deze kan ontvangen overlijdt hij op 23 maart te Utrecht op 72-jarige leeftijd. Vestdijk was auteur van ca. 200 boeken. Vanwege deze enorme productie noemde de dichter Adriaan Roland Holst hem 'de man die sneller schrijft dan God kan lezen'. Andere belangrijke boeken van Simon Vestdijk zijn: "Kind van stad en land" (1936), "Meneer Visser's hellevaart" (1936), "Ierse nachten" (1946), "De toekomst de religie" (1947), "Pastorale 1943" (1948), "De koperen tuin" (1950), "Ivoren wachters" (1951), "Essays in duodecimo" (1952) en "Het genadeschot" (1964).


K.P. Kavafis

K.P. Kavafis werd als kind van Griekse ouders, afkomstig uit Konstantinopel, geboren in 1863 in Alexandrië (tot vandaag een Griekse enclave) waar hij ook het grootste deel van zijn leven woonde en werkte. Twee jaar na de dood van zijn vader verhuist het gezin in 1872 naar Engeland om na een verblijf van vijf jaar naar Alexandrië terug te keren. Vanwege ongeregeldheden in Egypte vlucht het gezin in 1882 naar Konstantinopel, om na drie jaar opnieuw naar Alexandrië terug te gaan. In de jaren die volgen maakt Kavafis reizen naar Parijs, Londen en in 1901 zijn eerste reis naar Griekenland, in latere jaren gevolgd door nog enkele bezoeken. Op de dag van zijn zeventigste verjaardag, in 1933 sterft Kavafis in Alexandrië. De roem kwam voor Kavafis pas na zijn dood, dus postuum. Deels is dat toe te schrijven aan zijn eigen handelswijze. Hij was uiterst terughoudend met de publicatie van zijn gedichten, liet af en toe een enkel gedicht afdrukken in een literair tijdschrift, gaf in eigen beheer enkele bundels met een stuk of twintig gedichten uit en het merendeel van zijn poëzie schonk hij op losse bladen aan zijn beste vrienden.


Thomas Mann


Thomas Mann, de jongere broer van Heinrich Mann, werd geboren op 6 juni 1875 in Lübeck. Hij was de tweede zoon van de graankoopman Thomas Johann Heinrich Mann welke later één van de senatoren van Lübreck werd. Zijn moeder Julia (geboren da Silva-Bruhns) was Duits-Braziliaans van Portugees Kreoolse afkomst. In 1894 debuteerde Thomas Mann met de novelle "Gefallen". Toen Thomas Mann met 21 jaar eindelijk volwassen was en hem dus geld van zijn vaders erfenis toestond - hij kreeg ongeveer 160 tot 180 goldmark per jaar - besloot hij dat hij genoeg had van al die scholen en instituties en werd onafhankelijk schrijver. Kenmerkend voor zijn stijl zijn de ironie, de fenomenale taalbeheersing en de minutieuze detailschildering. Manns reputatie in Duitsland was sterk wisselend. Met zijn eerste roman, Buddenbrooks (1901), had hij een enorm succes, maar door zijn sceptische houding tegenover Duitsland na de Eerste Wereldoorlog veranderde dit volledig. Stelde hij zich tot aan de jaren twintig apolitiek op (Betrachtungen eines Unpolitischen, 1918), meer en meer raakte hij bij het Politiek gebeuren betrokken. Zijn afkeer van het nationaal socialisme groeide, zijn waarschuwingen werden veelvuldiger en heftiger. In 1944 accepteerde hij het Amerikaanse staatsburgerschap. Tussen 1943 en 1947 schreef Mann Doktor Faustus (zie Faust), de roman van de 'Duitse ziel' in de gecamoufleerd geschilderde omstandigheden van de 20ste eeuw. In 1947 bezocht hij voor het eerst sinds de Oorlog Europa, twee jaar later pas Duitsland. In 1952 vertrok hij naar Zwitserland. Op 12 augustus 1955 stierf hij in Zürich. Twintig jaar na zijn dood, in aug. 1975, is zijn literaire nalatenschap geopend: dagboekaantekeningen van 15 maart 1933 tot 29 juli 1955, alsmede notities uit de jaren 1918 tot en met 1921.Belangrijke werken zijn: Der Zauberberg, Der Tod in Venedig, Dokter Faustus , Joseph und seine Brüder en Die Bekenntnisse des Hochstaplers Felix Krull.


Rainer Maria Rilke

Rilke werd op 4 december 1875 geboren in Praag. Hij had al naam gemaakt als dichter met zijn bundels Das Stundenbuch en Das Buch der Bilder, toen hij de literaire wereld versteld deed staan en wereldfaam verwierf met de publicatie van zijn twee delen Neue Gedichte in 1907 en 1908. Hij verzamelde daarin het beste werk uit een van zijn vruchtbaarste periodes, die hij grotendeels doorbracht in Parijs. Rilke was daar diep onder de indruk gekomen van Rodin, bij wie hij een tijdlang in dienst was als particulier secretaris. Rodin, zei hij later, had hem leren kijken. Dit kijken kwam neer op intense concentratie, om het mysterie te kunnen zien 'achter de schijnbare werkelijkheid'. Latere en rijpere werken als Duineser Elegien (1912-1923) en het ronduit schitterende Die Sonette an Orfeus (1924) illustreren Rilkes metafysische visie op het onzegbare, dat haar verwoording vindt in een hermetische muzikale taal. Op 29 december 1926 overlijdt Rilke in het sanatorium in Val-Mont aan de gevolgen van leukemie. Enkele dagen later wordt hij, overeenkomstig zijn wens, begraven op het kerkhof van Raron.


* * * * * * * * * * * * * * * *

| | |
| --- | --- |
| | Over literatuur, gedichten, kunst en cultuur |

29-11-2015

Advent Hymn (Ada Cambridge)
Bij de eerste zondag van de Advent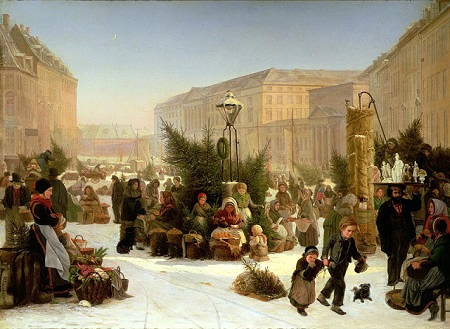 De verkoop van kerstbomen door David Jacobson (1818-1891)
Advent Hymn
Another mile—a year
Pass'd by for ever! And the warnings swell
From upper heaven to darkest depths of hell,—
O we are drawing near!
All through the waiting lands
Dim signs and tokens, if unheeded, throng;
We feel them thickening as we pass along,
Holding out fearful hands.
Light! which in love sent down
That tender gleam on Eden's darken'd bowers,
When sin had breathed the blight upon the flowers
Whereof death made his crown:—
Light! which did deign to stamp
The tables on that Arab mountain-crest;—
Light! which, in shrouded glory, once did rest
On Israelitish camp:—
O day! whose dawn was spread,
Golden and clear, on Judaea's terraced hills,—
O shining noon! whose waxèd beauty thrills
Earth and her quick and dead:—
Come to our hearts, we pray!
Through open doors let gracious gleams come in;
Fill us with light and life, and let the sin
And darkness pass away.
Lord, waken us who sleep,
Strengthen the feeble knees and weak hands now;
Teach us, with prayer and work, to measure how
The stealthy minutes creep.
Let not our lamp be dim
When in the night we hear the footsteps fall
Upon our threshold,—let death find us all
Watching in peace for him.
Let us lie down to rest
In surest hope of endless life in store,
With happy reverent hands, that strive no more,
Folded across our breast.
And when the angels come,
And the sharp echo of the herald's cry
Pierces the dark and stillness where we lie
Cold in our sleep, and dumb,—
May we arise, O King!
In bridal garments, beautiful and white;
And do Thou, coming in Thy godly might,
Our crown of glory bring.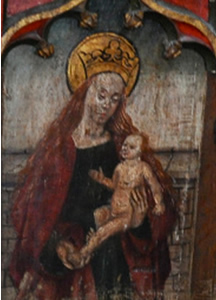 Ada Cambridge (21 november 1844 - 19 juli 1926)
Maria en kind op de lambrizering in St Mary the Virgin's Church in Wiggenhall St Germans.
Ada Cambridge werd geboren in Wiggenhall St Germans
Zie voor de schrijvers van de 29e november ook mijn vorige twee blogs van vandaag.
29-11-2015 om 12:37 geschreven door Romenu

Tags:Ada Cambridge, Advent, Romenu



Mario Petrucci, Jean Senac, Carlo Levi, Jean-Philippe Toussaint, C.S. Lewis, Wilhelm Hauff, Louisa May Alcott, Franz Stelzhamer
De Engelse dichter en schrijver Mario Petrucci werd geboren op 29 november 1958 in Londen. Zie ook alle tags voor Mario Petrucci op dit blog.
BREAD
(Southwell Workhouse)
We're men half-
baked – swinging
lead-heavy sledges

over our heads
on elbowy sticks
of bread. Hour

by hour: men
of flour. Saved by
a pinch of salt.

Here because
we ought to use
our loaf. Because

men of fire eat
iron. Rust. Entire
nations. But we

float through days
on crusts. Dawn
to dusk each raft

the same. Like
us. Each slice we
are – adrift on

a basin of gruel.
Breakfast. Dinner.
Supper. One fuel.

And when at last
we rise to heaven
then I suppose

we'll be made
to mow His fields
divine with wheat –

move mountains
of holy yeast – and
reach back down

to knead (one
by one) each grey
cloud of dough.
Ukritye
(Chernobyl, 1986)
Even the robots refuse. Down tools. Jerk up
their blocked heads, shiver in invisible hail. Helicopters

spin feet from disaster, caught in that upwards cone
of technicide – then ditch elsewhere, spill black running guts.

Not the Firemen. In rubber gloves and leather boots
they walk upright, silent as brides. Uppers begin

to melt. Soles grow too hot for blood. Still they shovel
the graphite that is erasing marrow, spine, balls –

that kick-starts their DNA to black and purple liquid life.
Then the Soldiers. Nervous as children. They re-make it –

erect slabs with the wide stare of the innocent, crosshatch
the wreck roughly with steel, fill it in with that grey

crayon of State Concrete. In soiled beds, in the dreams
of their mothers, they liquefy. Yet Spring still chooses

this forest, where no deer graze and roots strike upwards.
Fissures open in the cement – rain finds them. They grow:

puff spores of poison. Concrete and lead can only take
so much. What remains must be done by flesh.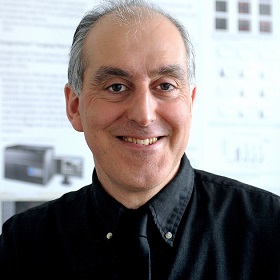 Mario Petrucci (Londen, 29 november 1958)
De Algerijnse, Franstalige, dichter en schrijver Jean Senac werd geboren op 29 november 1926 in Beni Saf in de regio Oran. Zie ook alle tags voor Jean Senac op dit blog.
QUARTIER BLANC
à R.P.
Si tu viens un jour
je ferme les yeux
je laisse les yeux
je laisse le bleu
mordre
Mais tous les printemps
ne sont pas présents
dans une seule
vie
Toi tu prends le marbre
l'or les églantiers
moi je garde dans mes plaies
le sable
Un jour si tu rentres
dans le jardin clos
tu verras mes os
fleurir
Le lilas griffer
la rose blanchir
et les orties tordre
l'été.
The Sleepers
1
Here silence is called for
where the night rumbles and the sea wears it away
where only children's hoops cry out
death heavy on their backs.
Clear-headed men walk quickly
their ideas speed round
the sun and love,
but freedom's flower grows slow
Patient land. Land worthy of love.
Beneath their eyelids, the humiliated tend
their hives, branding irons
and looks that frighten away the hyena and lion
Yes, here silence is called for
where only the child's pain cuts deep
the sleepers drunk on the temperate wind
Beware of the green morning.
Vertaald door David Bergman en Katia Sainson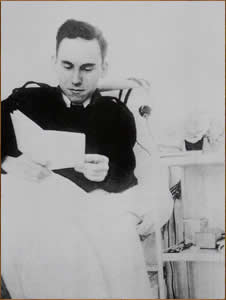 Jean Senac (29 november 1926 – 30 augustus 1973)
De Italiaanse schrijver, schilder, arts en politicus Carlo Levi werd geboren op 29 november 1902 in Turijn. Zie ook alle tags voor Carlo Levi op dit blog.
Uit:Christus kwam niet verder dan Eboli (Vertaald door Margriet Agricola)
"Er was voor datzelfde doel ook een versje waarin poëtische woorden abrupt worden afgewisseld met absurde heksentaal, geheel volgens de regelen der toverkunst. Het ging zo:
Sterre, van verre zie ik je en van dichtbij groet ik je
Over je gezicht loop ik en bespugen moet ik je
Sterre, maak dat hij niet sterven zal
Maak dat hij terugkeert van overal
En zorg dat hij
wil blijven bij mij
Als je het opzegt moet je 's nachts op de drempel van je huis staan, en blijven kijken naar de ster die je aanroept. Ik heb het af en toe geprobeerd, maar mij heeft het niet geholpen. Ik stond in de deuropening geleund met Barone aan mijn voeten en keek naar de hemel. Oktober was voorbij, en in de zwarte lucht fonkelden de sterren van mijn geboorteteken, de koude heldere sterren van de Boogschutter."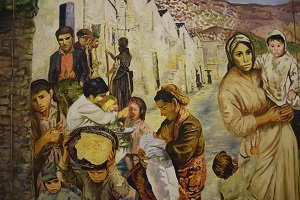 Carlo Levi (29 november 1902 – 4 januari 1975)
Muurschildering in de Carlo Levi kamer in het Museo Palazzo Lanfranchi in Matera (detail)
De Belgische schrijver Jean-Philippe Toussaint werd op 29 november 1957 geboren in Brussel. Zie ook alle tags voor Jean-Philippe Toussaint op dit blog.
Uit: The Bathroom (Vertaald door Nancy Amphoux en Paul De Angelis)
"9.I dressed very simply: tan cotton trousers, a blue shirt, and a solid tie.
The fabric fit my body so becomingly that, fully dressed, I looked powerfully, elegantly muscular. I lay down, relaxed, eyes shut. I thought about a White Lady—the dessert—a scoop of vanilla ice cream with a coat of scalding chocolate poured over. I'd been thinking about it forsome weeks. From a scientific point of view (I'm not a food enthusiast),
I saw this combination as a glimpse of perfection. A Mondrian,
Unctuous chocolate on iced vanilla, hot and cold, substance and fluidity. Imbalance and rigor, exactitude. Chicken, despite my deep affection for it, cannot compare. No. And I was just about to fall asleep when Edmondsson came into the bathroom, spun around, and held out two letters. One of them was from the Austrian embassy. I opened it with a comb. Edmondsson, who was reading over my shoulder, pointed to my name on the invitation. Knowing neither Austrians nor diplomats, I said it was probably a mistake."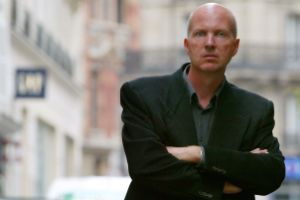 Jean-Philippe Toussaint (Brussel, 29 november 1957)
De Ierse schrijver C.S. Lewis werd geboren op 29 november 1898 in Belfast. Zie ook alle tags voor C. S. Lewis en de overige tags voor C, S. Lewis op dit blog.
Uit: Mere Christianity
"Your real, new self (which is Christ's and also yours, and yours just because it is His) will not come as long as you are looking for it. It will come when you are looking for Him. Does that sound strange? The same principle holds, you know, for more everyday matters. Even in social life, you will never make a good impression on other people until you stop thinking about what sort of impression you are making. Even in literature and art, no man who bothers about originality will ever be original whereas if you simply try to tell the truth (without caring twopence how often it has been told before) you will, nine times out of ten, become original without ever having noticed it. The principle runs through all life from top to bottom, Give up yourself, and you will find your real self. Lose your life and you will save it. Submit to death, death of your ambitions and favourite wishes every day and death of your whole body in the end submit with every fibre of your being, and you will find eternal life. Keep back nothing. Nothing that you have not given away will be really yours. Nothing in you that has not died will ever be raised from the dead. Look for yourself, and you will find in the long run only hatred, loneliness, despair, rage, ruin, and decay. But look for Christ and you will find Him, and with Him everything else thrown in."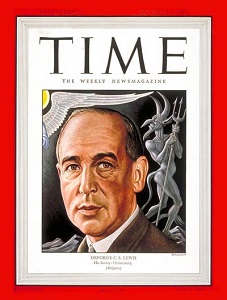 C.S. Lewis (29 november 1898 – 22 november 1963)
TIME Magazine cover – september 1947
De Duitse dichter en schrijver Wilhelm Hauff werd geboren inStuttgart op 29 november 1802. Zie ook alle tags voor Wilhelm Hauff op dit blog.
Uit: Mitteilungen aus den Memoiren des Satan
"Mundus vult decipi, d.i. die Leute lesen Memoiren; was hält mich ab, denselben auch ein solches Gericht »Gerngesehen« vorzusetzen?
Man wendet vielleicht ein, »der Schuster bleibe bei seinem Leisten, der Satan hat sich nicht mit Memoirenschreiben abzugeben«. Ei! wirklich? Und wenn nun dieser Satan doch einen Beruf hätte, Memoiren in die Welt zu streuen, wenn er doch so viel oder noch mehr gesehen hätte, als jene kriegerischen Diplomaten oder diplomatischen Krieger, welche die Welt mit ihrem literarischen Ruhme anfüllen, nachdem die Bulletins ihrer Siege zu erwähnen aufgehört haben; wenn nun dieser arme Teufel einen Drang in sich fühlte, auch für einen homo literatus zu gelten?
Ja, ich gestehe es mit Erröten, je länger ich mich in meinem lieben Deutschland umhertreibe, desto unwiderstehlicher reißt es mich hin, zu schriftstellern; und wenn es den Damen erlaubt ist, die Finger mit Dinte zu beschmutzen, so wird es doch dem Teufel auch noch erlaubt sein?
Und da komme ich auf einen zweiten Punkt; man sagt vielleicht gegen meine schriftstellerischen Versuche, ich sei kein Literatus, kein Mann vom Gewerbe etc. Aber fürs erste habe ich soeben die Damen, welche, wenn sie noch so gelehrt, doch keine Gelehrte von Profession sind, anzuführen die Ehre gehabt; so dann berufe ich mich auf jene Söhne des Lagers, die unter Gefahren groß geworden, unter Strapazen ergraut, keine Zeit hatten, Humaniora zu studieren, und dennoch so glänzende Memoiren schreiben; ich behaupte drittens, daß das Vorurteil, ich sei ein unstudierter Teufel, ganz falsch ist, denn ich bin in optima forma Doktor der Philosophie geworden, wie aus meinen Memoiren zu ersehen, und kann das Diplom schwarz auf weiß aufweisen.
Der Erzengel Gabriel, als ich ihn mit dem Plan meine Memoiren auszuarbeiten bekannt machte, warnte mich mit bedenklicher Miene vor den sogenannten Rezensenten. Er gab mir zu verstehen, daß ich übel wegkommen könnte, indem solche niemand schonen, ja sogar neuerdings selbst Doktoren der Theologie in Berlin, Halle und Leipzig hart mitgenommen haben."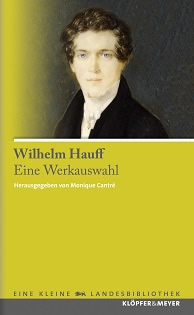 Wilhelm Hauff (29 november 1802 - 18 november 1827)
Cover
De Amerikaanse schrijfster Louisa May Alcott werd geboren op 29 november 1832 in Germantown, Pennylvania. Zie ook alle tags voor Louisa May Alcott op dit blog.
Uit: Onder moedervleugels (Vertaald door Wilhelmina Doedes-Clarisse en Aleida Doedes)
'Ik was van plan mijn geld te besteden aan nieuwe muziek,' zeide Betsy, met een zuchtje, dat echter door niemand gehoord werd.
'Ik zal een mooi doosje met Faber's teekenpotlooden koopen; ik heb ze bepaald noodig,' zeide Amy vastbesloten.
'Moeder heeft niets gezegd van ons eigen geld, en zij zal niet verlangen, dat wij alles opgeven. Laten wij ieder iets koopen, dat wij graag willen hebben, en wat pret maken; wij zwoegen waarlijk hard genoeg om het te verdienen,' riep Jo, terwijl zij de hakken van hare laarzen op jongensmanier bekeek.
'Ik ten minste wel, - die elken dag die gruwelijke kinderen moet leeren, terwijl ik er naar snak prettig thuis te zijn,' begon Meta weêr op klagenden toon.
'Gij hebt het niet half zoo hard als ik,' zeide Jo. 'Hoe zoudt gij het vinden uren lang opgesloten te zijn met eene zenuwachtige zeurige oude dame, die je al maar heen en weêr laat loopen, nooit tevreden is, en je plaagt, totdat je in staat zoudt zijn het raam uit te vliegen, of haar een oorveeg te geven?'
'Het is slecht om ontevreden te zijn, - maar ik geloof, dat borden wasschen en alles netjes houden het naarste werk van de wereld is. Het maakt mij knorrig, en mijne handen worden zoo stijf, ik kan haast niet studeeren.' En Betsy keek naar hare ruwe handen met een zucht, die ditmaal zeer goed te hooren was.
'Ik geloof niet, dat een van allen het zoo erg heeft als ik,' riep Amy, 'want jullie behoeven niet naar school te gaan met nuffen, die iemand plagen, als hij zijne lessen niet kent, of uitlachen om zijne kleêren, en met "étain" op iemands vader neêrzien, als hij niet rijk is, en iemand beleedigen, als hij geen mooien neus heeft.'
'Als je "dédain" bedoelt, dan moest je het zeggen en niet over "étain" praten, alsof pa een tinnen peperbus was,' zeide Jo lachend."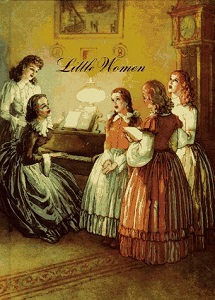 Louisa May Alcott (29 november 1832 – 6 maart 1888
Cover
De Oostenrijkse dichter en schrijver Franz Stelzhamer werd geboren in Großpiesenham op 29 november 1802. Zie ook mijn blog van 29 november 2008 en ook mijn blog van 29 november 2009.
Uit: Ein Himmelsmärlein
"Schwül war der Tag. Die Blumen des Feldes lechzen und die Gräser der Heide beugen sich vom Staub gedrückt. Tiefaufathmet das regsame Schnittervolk und wischt sich den Schweiß vom braunen Angesicht; im lassen Wandel fördert sich der Wanderer und sehnt sich inniger denn je nach der fernen Heimat, wo sein friedliches Haus zwischen schattenreichen Bäumen steht. – Das größere Vieh auf der Huth liegt käuend im Buschwerk hingestreckt und wehrt emsig den unersättlichen Fliegenschwarm ab; sich selbst beschattend lechzen die Lämmer auf offenem Plan; der Chor der Vögel ist verstummt, und öd' und schmachtend wie ein ausgebrannter Tempel liegt das Land weitum.
Doch tröstlich, ihr Thierlein, tröstlich, ihr Blumen und Gräser, und ihr duldenden Menschen allzumal! Tröstlich! denn seht, wie es im Westen dort gleich einem mächtigen Wolkengebirge sich thürmt; leuchtend ist der Saum seines Gipfels, tiefblau und dunkel seine Mitte und der Grund, worauf es steht, ist schwarz. Oder ist es in düsterer Vermummung ein zürnender Titan der Urzeit?! Ha, wie er wächst, der finstere Riese, wie unverzagt sein geharnischt Haupt den Pfeilen der Sonne entgegen trotzet, wie sein bleigrauer Mantel sich dehnt durch die Himmelsbläue – wie er funkelnde Blicke schießt, wie sein grollendes Wort, sein mächtiger Fußtritt dumpf hallet durch das weite Himmelsgewölbe! Seht, schon kämpft er mit Phöbus, dem Lichtgebornen, dessen flammende Pfeile scharf niederhageln auf sein Schlachtgewand; sein Helmbusch lodert in heller Gluth, entzündet vom Flammenschild des raschen Sonnengottes; doch vergebens; – mit hochgeschwungener Keule zertrümmert der Furchtbare das Gottesschild, daß Himmel und Erde aufleuchtet in jähem Gewitterschein; zahllos wachsen des schwarzen Würgers Schaaren aus dem Grunde des Meeres empor; ihre Rosse dampfen und stampfen, daß die Lüfte dröhnen und die Bäume des Waldes erbeben; die goldbepanzerten Reitet des Gottes werden überwältigt und sinken; nur ein Restchen entfliehet in eiligem Jagen ostwärts nach der flammenden Sonnenburg – die Schwarzen verfolgend nach mit wildem Rasen, daß die zertretenen Lüfte heulen, daß der schlummernde See aufschäumt und die friedliche Waldung wimmert!"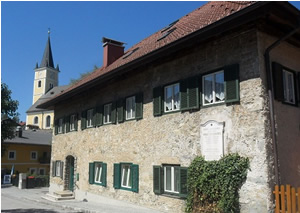 Franz Stelzhamer (29 november 1802 – 14 juni 1874)
Stelzhamers woonhuis in Henndorf
Zie voor nog meer schrijvers van de 29e november ook mijn vorige blog van vandaag.
29-11-2015 om 12:36 geschreven door Romenu

Tags:Mario Petrucci, Jean Senac, Carlo Levi, Jean-Philippe Toussaint, C.S. Lewis, Wilhelm Hauff, Louisa May Alcott, Franz Stelzhamer, Romenu



Ludwig Anzengruber, Maurice Genevoix, Antanas ¦kėma, Madeleine L'Engle, Silvio Rodríguez, Andrés Bello
De Oostenrijkse schrijver Ludwig Anzengruber werd geboren op 29 november 1839 in Wenen. Zie ook alle tags voor Ludwig Anzengruber op dit blog.
Uit: Wie mit dem Herrgott umgegangen wird. Eine Geschichte mit einigen »Merks«
"Es ist eine arge Welt, einer macht's dem andern und der liebe Gott allen zusammen nie recht. Es ist eine hübsche Sache um die Frömmigkeit, aber wenn einer um Sonnenschein und der andere auf dem nämlichen Fleck um Regen betet, da möcht' ich wohl einen dritten zum Herrgott machen und zusehen, was der bei all seiner Allmacht anfinge, um es mit keinem von den beiden zu verderben.
Im Norden sind die Menschen etwas kühler und nehmen's nicht gleich übel, wenn er sich etwas schwerhörig stellt, aber im Süden da sind sie heißblütig und werden sehr ungehalten: da ist es denn für dort eine ganz gute Einrichtung, daß man zwischen Gott und die aufdringlichen Beter die lieben Heiligen eingeschoben hat, die nun freilich für jede unerfüllte Bitte aufkommen müssen.
Wahrhaftig, so ein Heiliger ist nicht zu beneiden und ich möcht' keiner werden; denn abgesehen davon, daß die Erreichung einer solchen hohen Stelle auf der Erde mit manchen Unannehmlichkeiten und Umständlichkeiten verknüpft ist, so muß ja einer im Himmel ganz höllisch aufpassen, daß er tagüber keine Anrufung vergißt, so daß ihm fast keine Zeit bleibt, sich der ewigen Seligkeit zu erfreuen, höchstens zur Nachtzeit, aber solche übernächtige Seligkeit verträgt sich wieder tags darauf spottschlecht mit den Berufsgeschäften, wie manche gar wohl wissen, die gerade keine Heiligen sind.
Ja, es ist eine hübsche Sache um die Frömmigkeit, wenn es nur nicht manche so weit versehen möchten, daß ihr Gebet einer Lästerung auf ein Haar gleicht. Da war einmal eine öffentliche Dirne, die hat einen jungen Menschen zu berücken gewußt, daß er eine Zeitlang zu ihr gehalten hat; nun sind ihm denn doch endlich die Augen aufgegangen und das war ein Glück für ihn, sonst wäre er ja ein verlorener Mensch gewesen, und er hat das Weibsbild verlassen. Aber die Allerweltsliebste war darüber gar sehr betrübt und was thut sie? In die Kirche geht sie und betet zur »allerreinsten Jungfrau Maria«, dieselbe möge ihr das Herz ihres Buhlen wieder zuwenden, damit die unsaubere Liebschaft ihren Fortgang haben könne. Wenn das nicht gelästert ist, dann weiß ich überhaupt nicht, was Beten heißt und sein soll.
Ueber das Stück lacht wohl keiner, dazu ist's nicht angethan und steht nur da, damit man sieht, was manche für Anliegen vor die Heiligen bringen, denn es ist eine wahrhaftige Thatsache und nicht erfunden. Was aber den Heiligen in Welschland begegnen kann, das will auch erzählt werden und darüber könnten sie selber lachen, falls sie es im Himmel nicht verlernt haben."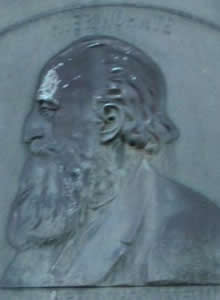 Ludwig Anzengruber (29 november 1839 – 10 december 1889)
Gedenksteen in Wenen (detail)
De Franse schrijver Maurice Genevoix werd geboren op 29 november 1890 in Decize (Nièvre). Zie ook alle tags voor Maurice Genevoix op dit blog en ook mijn blog van 29 november 2009.
Uit: Au seuil des guitounes
« Les Allemands sont tout proches. Des soldats français, mutilés, terrorisés, se replient dans le désordre. Le lieutenant Genevoix tente de rassembler ses hommes pour donner l'assaut.
Ligne de sections par quatre, sous bois, gravissant la pente. Je réagis mal contre l'inquiétude que m'inspire la nervosité des soldats. J'ai confiance en eux, en moi; mais je redoute, malgré que j'en aie, quelque chose d'impossible à prévoir, l'affolement, la panique, est-ce que je sais?
Comme nous montons lentement! Mes artères battent, ma tête s'échauffe.
Ah! ...
Violente, claquante, frénétique, la fusillade a jailli vers nous comme nous arrivions au sommet. Les hommes, d'un seul mouvement impulsif, se sont jetés à terre.
«Debout, nom d'un chien! Regnard, Lauche, tous les gradés, vous n'avez pas honte? Faites-les lever!»
Nous ne sommes pas encore au feu meurtrier. Quelques balles seulement viennent nous chercher, et coupent des branches au-dessus de nous. Je dis, très haut:
«C'est bien compris? Je veux que les gradés tiennent la main à ce que personne ne perde la ligne. Nous allons peut-être entrer au taillis, où l'on s'égare facilement. Il faut avoir l'oeil partout.»
Là-bas, dans le layon que nous suivons, deux hommes ont surgi. Ils viennent vers nous, très vite, à une allure de fuite. Et petit à petit je discerne leur face ensanglantée, que nul pansement ne cache et qu'ils vont montrer aux miens. Ils approchent; les voici; et le premier crie vers nous:
«Rangez-vous! Y en a d'autres qui viennent derrière!»
Il n'a plus de nez. A la place, un trou qui saigne, qui saigne..."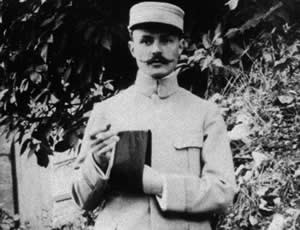 Maurice Genevoix (29 november 1890 - 8 september 1980)
Tijdens WO I
De Litouwse dichter en schrijver Antanas Škėma werd op 29 november 1910 geboren in Lodz in Polen. Zie ook alle tags voor Antanas Škėma op dit blog en ook mijn blog van 29 november 2009 en ook mijn blog van 29 november 2010.
Uit: Steps And Stairs (Vertaald door Kęstutis Girnius)
« Advertisements for soap, candy, suits, and savings accounts would light up atop skyscrapers. Among the skyscrapers swayed an amorphous mist, like a fisherman's net from the shores of the Mius. Like the tiny epicurean dogs of spinsters, the goldfish in the aquariums of restaurants and movie theaters swam proudly and lazily through the green paths of the glassy water, inviting the hungry and the dumb into the heaven of mechanized food and visions.
The several dozen steps to the bank would return the Ukrainian into a blue past, into clear air which, like a splattered mirror, glowed in a frame of acacias swooning from thirst, into the death throes of great fish with rolled eyes, into breaking reeds, into the death struggle of mighty and white tails in the mud of the riverbank. Into the single ecstasy of his youth, an early morning when taut muscles, wet clothes, and the breathing of a distant God intertwined with life's syncopated rhythm, and the gigantic explosion of flying forms and very real happiness. Several dozen steps to the future, a million steps to a lost past. The Ukrainian was born on the shores of the fertile Mius River. Eighty versts from Taganrog, the port on the Azov Sea.
One night he was washing lampshades on 105th Street. Seven shades, like seven upturned Chinese hats, swayed below his dirty hands. He stood on an extension ladder. One leg leaned against a stair step, the other against accounting books. He had borrowed the books from a bookshelf, for the seventh shade hung above the steps leading to the room with the safe. This shade was particularly dusty, and the Ukrainian was cleaning the top of it with a damp rag. The boundaries between the dirt and the enamel arranged themselves like scythe-paths in a wheat field. It was a clever deception. The light from the neighboring lamp covered the last hat with a golden hue, and the little round world shrunk like in a Medieval etching. The Ukrainian stuck out his head, like that monk who found the horizon and surveyed the turning of the spokes and wheels of the universe. However, he only saw a field of wheat."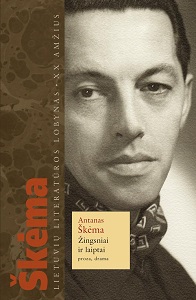 Antanas Škėma (29 november 1910 – 11 augustus 1961)
Cover
De Amerikaanse schrijfster Madeleine L'Engle werd geboren in New York op 29 november 1918. Zie ook alle tags voor Madeleine L'Engle op dit blog en ook mijn blog van 29 november 2009 en ook mijn blog van 29 november 2010.
Uit: A Wrinkle In TIme
"It was true that Charles Wallace seldom spoke when anybody was around, so that many people thought he'd never learned to talk. And it was true that he hadn't talked at all until he was almost four. Meg would turn white with fury when people looked at him and clucked, shaking their heads sadly.
"Don't worry about Charles Wallace, Meg," her father had once told her. Meg remembered it very clearly because it was shortly before he went away. "There's nothing the matter with his mind. He just does things in his own way and in his own time."
"I don't want him to grow up to be dumb like me," Meg had said.
"Oh, my darling, you're not dumb," her father answered. "You're like Charles Wallace. Your development has to go at its own pace. It just doesn't happen to be the usual pace."
"How do you know?" Meg had demanded. "How do you know I'm not dumb? Isn't it just because you love me?"
"I love you, but that's not what tells me. Mother and I've given you a number of tests, you know."
Yes, that was true. Meg had realized that some of the "games" her parents played with her were tests of some kind, and that there had been more for her and Charles Wallace than for the twins. "IQ tests, you mean?"
"Yes, some of them."
"Is my IQ okay?"
"More than okay."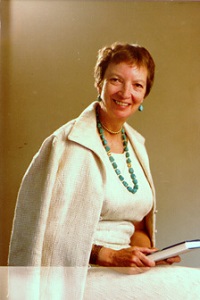 Madeleine L'Engle (29 november 1918 – 6 september 2007)
De Cubaanse dichter en singer-songwriter Silvio Rodríguez Domínguez werd geboren in San Antonio de Los Baños op 29 november 1946. Zie ook alle tags voor Silvio Rodriguez op dit blog en ook mijn blog van 29 november 2009.
In search of a dream
In search of a dream
This young man comes closer
Whole generations go on
In search of a dream
In search of a beautiful
And rebellious dream
In search of a dream
That wins and that loses
In search of a dream
Made of beautiful madness
In search of a dream
That can kill and can heal
In search of a dream,
Cyclones come undone
How many illusions there are
In search of a dream?
In search of a dream
The rives flow
In search of a dream
People jump into emptiness
In search of a dream
A lover embraces
In search of a dream
The trickster feigns
In search of a dream
The stones were sculpted
In search of a dream
God came to earth
In search of a dream
I started my day
In search of a dream
That has yet to be.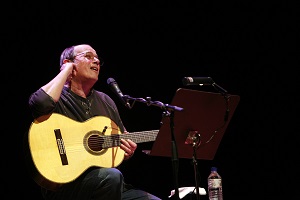 Silvio Rodríguez (San Antonio de Los Baños, 29 november 1946)
De Chileens-Venezolaanse dichter, wetgever, filosoof, politicus, diplomaat, wetenschapper, humanist en taalkundige Andrés Bello werd geboren in Caracas, Venezuela, op 29 november 1781. Zie ook alle tags voor Andrés Bello op dit blog en ook mijn blog van 29 november 2009.
Allocution to Poetry (Fragment)
Will you too go there with the courtesan crowd
to oflfer the foolish incense of servile flattery?
You were not thus in your most beauteous days,
when in the infancy of humankind,
teacher of peoples and of kings,
you sang its first laws to the world.
Oh goddess, do not stay
in that region of wretchedness and light,
where your ambitious rival, Philosophy,
subjecting virtue to calculation,
stripped you of mortals' worship,
where the crowned hydra mena'ces,
bringing anew to enslaved thought
the old night of savagery and crime;
where freedom is called vain delirium,
faith servility, and pomp greatness,
and corruption bears the name of culture.
Take from the rotted oak your golden lyre
with which you sweetly sang to spellbound men
of meadows and flowers, of the whisper
of the dark forest, the tranquil murmur
of the transparent stream,
and innocent Nature's fresh allure.
Spreading your diaphanous wings,
over the vast Atlantic go,
to other heavens, other folk, another world,
where earth still wears its ancient dress,
and man has scarcely conquered it;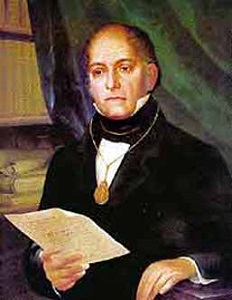 Andrés Bello (29 november 1781 - 10 oktober 1865)
29-11-2015 om 12:32 geschreven door Romenu

Tags:Ludwig Anzengruber, Maurice Genevoix, Antanas ¦kė,ma, Madeleine L',Engle, Silvio Rodríguez, Andrés Bello, Romenu



George Szirtes
De Britse dichter en schrijver George Szirtes werd geboren op 29 november 1948) in Boedapest. Szirtes kwam in 1956 als vluchteling naar Engeland op de leeftijd van 8 jaar. Na een paar dagen in een legerkamp, ​​gevolgd door drie maanden in een off-season pension aan de kust van Kent, samen met andere Hongaarse vluchtelingen, verhuisde zijn familie naar Londen, waar hij werd opgevoed en naar school ging. Hij studeerde vervolgens Fine Art in Londen en Leeds. Tot zijn docenten op Leeds behoorde de dichter Martin Bell. Zijn gedichten begonnen in nationale tijdschriften te verschijnen in 1973 en zijn eerste boek "The Slant Door" werd gepubliceerd in 1979. Het won een jaar later de Geoffrey Faber Memorial Prize. Szirtes heeft diverse prijzen gekregen voor zijn werk, meest recentelijk in 2004 de TS Eliot Prize, voor zijn verzameling "Reel" en de Bess Hokin Prize voor gedichten in Poetry magazine in 2008. Voor zijn vertalingen van Hongaarse poëzie, fictie en drama ontving hij ook vele prijzen. Szirtes woont in Wymondham, Norfolk, na zijn vertrek uit het het onderwijs aan de Universiteit van East Anglia in 2013. Hij is getrouwd met de kunstenaar Clarissa Upchurch, met wie hij The Starwheel Press leidde en die verantwoordelijk is geweest voor het grootste deel van zijn boekcovers.
Water
The hard beautiful rules of water are these:
That it shall rise with displacement as a man
does not, nor his family. That it shall have no plan
or subterfuge. That in the cold, it shall freeze;
in the heat, turn to steam. That it shall carry disease
and bright brilliant fish in river and ocean.
That it shall roar or meander through metropolitan
districts whilst reflecting skies, buildings and trees.

And it shall clean and refresh us even as we slave
over stone tubs or cower in a shelter or run
into the arms of a loved one in some desperate quarter
where the rats too are running. That it shall have
dominion. That it shall arch its back in the sun
only according to the hard rules of water.
Chairs
It was the empty chairs he feared,
not those with a proper behind rammed into them,
not those littered with stray bits of food or waste paper.

It was the voices that did not speak,
the wheezes and creaks the chairs didn't make.
The kicking over, the collapse,
the broken legs of chairs, the everyday business.

To see them ranged about a table
turned in on themselves as for a ritual,
that was the unsettling thing, and that one there,
yes, that one with its open arms
and its invitation to sit,
its somnolence, its stab at dignity
its emptiness, was the very devil.
The cloud's hair
Which can be brushed out long and fine
to lie across a pillow
or bunched and scrunched into an angry
knot of rain before it is undone,
when long hanks of it hang
over the horizon like curtains,
the whole sky shaking
its beautiful dense head.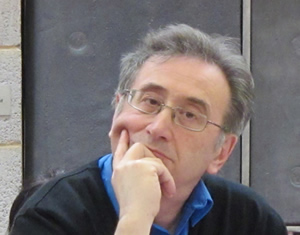 George Szirtes (Boedapest, 29 november 1948)
29-11-2015 om 00:00 geschreven door Romenu

Tags:George Szirtes, Romenu



| | |
| --- | --- |
| | |



Inhoud blog


| | |
| --- | --- |
| | The Throstler (Alfred Tennyson) |
| | Ad Zuiderent, Leo Pleysier, Adriaan Bontebal, Guntram Vesper, Frank Schätzing |
| | Maeve Binchy, Sjoerd Leiker, Vladislav Chodasevitsj, Thomas Moore, Ian Fleming, Maximilian Voloshin |
| | Niels 't Hooft, Jan Blokker, Linda Pastan, Louis-Ferdinand Céline, Georges Eekhoud, Said, John Cheever, John Barth |
| | Max Brod, Kaur Kender, Adriaan Venema, Arnold Bennett, Richard Schaukal, Ferdynand Ossendowski, M. A. von Thümmel, Herman Wouk, Dashiell Hammett |
| | Alan Hollinghurst, Radwa Ashour, Hugo Raes, Vítězslav Nezval, Ivan O. Godfroid, Maxwell Bodenheim, Isabella Nadolny, Edmond De Goncourt |
| | Hemelvaart (Gabriël Smit) |
| | Egyd Gstättner, Claire Castillon, Friedrich Dieckmann, Eve Ensler, Raymond Carver, Jamaica Kincaid, Robert Ludlum, Theodore Roethke, W. P. Kinsella |
| | Joseph Brodsky, Michael Chabon, Bob Dylan, Henri Michaux, William Trevor, Tobias Falberg, Arnold Wesker, George Tabori, Rainald Goetz |
| | Adriaan Roland Holst, Maarten Biesheuvel, Lydia Rood, Jane Kenyon, Susan Cooper, Michaël Vandebril, Jack McCarthy, Mitchell Albom, Pär Fabian Lagerkvist |
| | Erik Spinoy, Arthur Conan Doyle, Ahmed Fouad Negm, Anne de Vries, Johannes R. Becher, Kees Winkler, Gérard de Nerval, Robert Neumann, Catulle Mendčs |
| | Takis Würger |
| | Gabriele Wohmann, Amy Waldman, Maria Semple, Urs Widmer, Emile Verhaeren, Robert Creeley, Alexander Pope, Tudor Arghezi, Suzanne Lilar |
| | Tommy Wieringa, Auke Hulst, Ellen Deckwitz, Jeroen Thijssen, Maurits de Bruijn, Gerrit Achterberg, Annie M.G. Schmidt, Sky du Mont |
| | Honoré de Balzac, William Michaelian, Wolfgang Borchert, Hector Malot, Ingvar Ambjřrnsen, A.C. Cirino, Hanna Krall, Sigrid Undset |
| | Constantin Göttfert, Karel van het Reve, Simone van Saarloos, Gijs IJlander, Thera Coppens, H.W.J.M. Keuls, Jodi Picoult, Yahya Hassan, Ruskin Bond |
| | Markus Breidenich, W.G. Sebald, Yi Mun-yol, François Nourissier, Gunnar Gunnarsson, Omar Khayyam, Ernst Wiechert, Franziska zu Reventlow, John Wilson |
| | Lars Gustafsson, Peter Hřeg, Gary Paulsen, Henri Barbusse, Virginie Loveling, Dennis Potter, Cor Bruijn, Dorothy Richardson, Mischa Andriessen |
| | Adrienne Rich, Paul Gellings, Friedrich Rückert, Jakob van Hoddis, Juan Rulfo, Olga Berggolts, Lothar Baier, Rens van der Knoop, Naomi Rebekka Boekwijt, Olaf J. de Landell |
| | Albert Verwey, Arthur Schnitzler, Pem Sluijter, W.J.M. Bronzwaer, Frits van Oostrom, Michael Lentz, Max Frisch, Judith Hermann, Peter Shaffer |
| | Mary Wortley Montagu |
| | Moeder (Gerrit Achterberg) |
| | Jo Gisekin, Karl-Markus Gauß, Eoin Colfer, Gaby Hauptmann, Wilma Vermaat, Frans Bastiaanse |
| | Dante Alighieri, Krister Axel, Jens Sparschuh, Evelyn Sanders, Kasper Peters, Walter E. Richartz, Karin Struck |
| | Jan Lauwereyns, Reinout Verbeke, Bruce Chatwin, Daphne du Maurier, Kathleen Jamie, Armistead Maupin, Alphonse Daudet, Kōji Suzuki |
| | Gregor von Rezzori, Theo van Baaren, Reinhold Schneider, Jacob Haafner, Adolf Muschg, Roch Carrier, Franz Michael Felder |
| | Hagar Peeters, Bertus Aafjes, August Vermeylen, Andrej Voznesensky, Sabine Imhof, Dante Gabriel Rossetti, Nicolaas Anslijn, Eva Demski, Farley Mowat |
| | J. H. Leopold, Ida Gerhardt, Eugen O. Chirovici, Andre Rudolph, Rubem Fonseca, Henning Boëtius, Camilo José Cela, Rachel Billington, Carl Hauptmann |
| | J.C. Bloem, Herman Leenders, Didi de Paris, Ralf Rothmann, Jeremy Gable, Petra Hammesfahr, Roberto Cotroneo, Antonine Maillet, Johann Peter Hebel |
| | Pieter Boskma, Charles Simic, Jotie T'Hooft, Jan Drees, Leopold Andrian, Alan Bennett, Lucian Blaga, Richard Adams, James Barrie |
| | Libris Literatuur Prijs 2017 voor Alfred Birney |
| | Luuk Wojcik |
| | Roddy Doyle, Thomas Pynchon, Pat Barker, Gary Snyder, Gertrud Fussenegger, Edmund Wilson, Romain Gary, Alain-René Lesage, Sophus Schandorph |
| | Willem Elsschot, Almudena Grandes, Christoph Marzi, Edgar Cairo, Volker Braun, Robert Browning, Peter Carey, Archibald MacLeish, Rabindranath Tagore |
| | Horst Bienek, Joseph Joubert, Stanisław Przybyszewski, Karl Gustav Vollmőller, A. E. W. Mason, Therese Huber, Dorit Zinn, Angela Carter, André du Bouchet |
| | Am dritten Sonntage nach Ostern (Annette von Droste-Hülshoff) |
| | Willem Kloos, Hélčne Gelčns, Sasja Janssen, Ariel Dorfman, Erich Fried, Yasushi Inoue, Harry Martinson, Christian Morgenstern, Carl Ludwig Börne |
| | Ferdinand Sauter, Eugčne Labiche, Gaston Leroux, Júlio César de Mello e Souza, Marie-Aude Murail, Paul Alverdes, Erik Bindervoet, Simon Mulder |
| | Vrijheid (Marion Bloem) |
| | Miklós Radnóti, Roni Margulies, Petra Else Jekel, Morton Rhue, Christopher Morley, George Albert Aurier, Henryk Sienkiewicz, Richard Watson Dixon, Catullus |
| | Stad (Willem van Toorn) |
| | Cola Debrot, Christiaan Weijts, Amos Oz, Monika van Paemel, Graham Swift, David Guterson, Jan Mulder, Werner Fritsch, Jacques Lanzmann |
| | Erik Lindner, Jehuda Amichai, Johan de Boose, Paul Bogaert, Marc Dugain, Ben Elton, Jens Wonneberger, Klaus Modick, Agnčs Desarthe |
| | Esther Freud, Wytske Versteeg, Rob Waumans, Tilman Rammstedt, James Holmes, Jef Last, Gottfried Benn, Novalis, Jurgis Baltru¨aitis |
| | Die Arbeiter (Alfons Petzold) |
| | Guido Gezelle, Johano Strasser, Yasmina Reza, Joseph Heller, Yánnis Rítsos, Antal Szerb, Ignazio Silone, Aleksander Wat, Reinier van Genderen Stort |
| | John Greenleaf Whittier, Jeroen Brouwers, Alexander Osang, Ulla Hahn, Luise Rinser, John Boyne |
| | Konstantínos Petros Kaváfis, Rod McKuen, Bernhard Setzwein, Monika Rinck, Alejandra Pizarnik, Walter Kempowski, Bjarne Reuter, Kurt Pinthus, Humphrey Carpenter |
| | Zia Haider Rahman, Wim Hazeu, Roberto Bolańo, Gerhard Henschel, Harper Lee, Joop Waasdorp, Karl Kraus, Ğabdulla Tuqay, Charles Cotton |
| | De koning had geen zin (Annie M.G. Schmidt) |


Gastenboek


Druk op onderstaande knop om een berichtje achter te laten in mijn gastenboek