De Duitse schrijver Andreas Neumeister werd geboren op 16 september 1959 in Starnberg. Zie ook mijn blog van 16 september 2009.
Uit: Könnte Köln sein
"Wenn alle Wege nach Rom führen, dann müssten erst recht auch sämtliche Autobahnen nach Rom führen.
Immerhin zwei der fünf vom am nördlichen Fuß der Alpen gelegenen Basislager in fünf Windrichtungen strebenden Autobahnen führen letztendlich über Brenner und Alpen auf direktem Weg nach Rom Von verschiedenen Moränenhügeln aus den Bau der Garmischer Autobahn mitverfolgt. Bei Exkursionen zu Baustellen immer gerne mit dabei. Operation am offenen Herzen einer bewegten Landschaft. Baustelle mit Alpenblick: Immerhin ist Vater Ingenieur beim Bau der Autobahnbrücke über Loisach und Loisach-Moos gewesen.
Immerhin ist die Ohlstätter Brücke Vaters Lieblingsbaustelle gewesen. (Spannbeton – es kommt darauf an, was man daraus macht.) Karin-Stoiber-Tunnel bei Farchant. Einschlägige Bauten, Olympiade 1936. Garmisch bleibt rechts liegen. Garmisch kann uns gestohlen bleiben. Mittenwald wird aufgeständert umgangen. Kasernen im Heimatschutzstil, Jäger, Gebirgsjäger alles aus der Guten Alten Zeit Großkampfstätten des Wintersports: a.) Garmisch b.) Innsbruck. Die Isar als Wildbach verschwindet unter einer Brücke nach rechts. Seefeld schon auf der Höhe vom Brenner. Der Zirlerberg führt hinunter in den Abgrund.
Vom Seefelder Sattel hinunter nach Innsbruck am Inn. Energieverschwendung. Eine Stadt, die ich als Kind gerne verfluchte. Das Goldene Dachl. Städte in tief eingeschnittenen Tälern gehören verboten. Zum Wohl und Schutz ihrer Bewohner. Die Stadt, ein Flughafen zwischen Inntalautobahn und Brennerautobahnzubringer gequetscht. Die neue Hungerburgbahn: irakische Architektin!"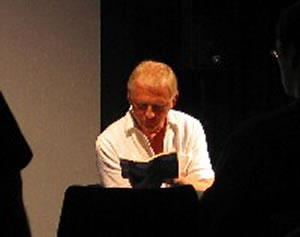 Andreas Neumeister (Starnberg, 16 september 1959)

De Nederlandse schrijfster Anna Bosboom - Toussaint werd geboren op 16 september 1912 te Alkmaar. Zie ook mijn blog van 16 september 2006. Zie ook mijn blog van 16 september 2008 en ook mijn blog van 16 september 2009.
Uit: De Alkmaarsche wees
"Met eene gewaarwording van vroolijke voldoening, doch door weemoed getemperd, zet ik dien titel boven hetgeen ik ga nederschrijven. Voldoening, omdat ik spreken mag van dien eerbiedwaardigen karaktertrek onzer vaderen: zorge en liefde voor het verlatene; trouwe en teêrheid voor het weeskind. Weemoed, omdat de instelling, die ook in onze stad van dien karaktertrek getuigde in mijn tijd heeft opgehouden te bestaan, voor onze Protestantsche weezen; omdat ik niet zonder een blik van benijding en van bewondering, die ik gaarne wil uitspreken, mijne Katholieke stadgenooten uit eigen fondsen en ten koste van welke offers dan ook, zich dat voorrecht zie verzekeren, waarop het menschelijk hart en het vaderlandsch gevoel grooteren prijs hadden behooren te stellen dan zij getoond hebben te doen, die zulke offers te groot hebben geacht. Hunne redenen te wegen of te doorgronden is noodeloos en hier niet oorbaar; maar de klachte, die mij op 't harte lag, moest ik lucht geven: Geen Gereformeerd weeshuis meer in dàt Alkmaar, dat zich toch niet de mindere toont, als er beroep wordt gedaan op hare goeddadigheid, en dat eene der bloeiendste wordt geacht onder de zeven Westfriesche steden! Dat was het reeds in 1611, als men Schagen en anderen gelooven mag, en .... wat voor ons zijne belangrijkheid heeft, toen bestond er een weeshuis.
Het was Zondag: er is iets eigenaardig aandoenlijks in, op zulken heiligen dag des Heeren, de weezen te zien opgaan naar het huis van Hem, die het gezegd heeft, dat Hij hun Vader wil zijn; er is iets liefelijks in hen te zien komen en gaan in lange statige rij, allen ordelijk en stemmig voortgaande, twee
aan twee, de kleinsten vooruit, soms nog wel aan de hand geleid, de grooteren volgende, de plaatsvervangende vader en moeder met de leermeesteressen den trein sluitende: het geeft u zoo goed een denkbeeld van de stilheid, de aandacht en orde, die de vrome godsdienstige zin met zich brengt."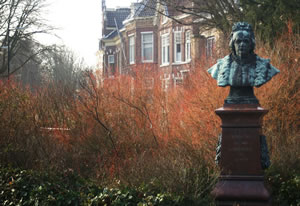 Anna Bosboom – Toussaint (16 september 1812 – 13 april 1886)
Buste in Alkmaar
De Amerikaanse schrijver Justin Haythe werd geboren op 16 september 1973 in Londen. Zie ook mijn blog van 16 september 2008.
Uit: The Honeymoon
"She had met Marcel somewhere else, in another European city I was too young to remember. That's what he told me when we met. We stood in the front hallway of his apartment and shook hands. 'We've met before,' he said. 'You were small.' He kissed Maureen on both cheeks and then held her by the shoulders. He said, 'Look at you.' She stepped back out of his grasp so that we could look at her. 'You have a beautiful mother,' he told me.
This was June of 1980. I was eleven years old and he was leaving for the summer. I have often wondered if he and my mother were sleeping together. He was twenty years older than she was, heavy-set, with a thick moustache. On the train into Paris, Maureen had assured me that Marcel was, in some ways, a great man. But I cannot help remembering his hands on her body, on her clothes where he could feel what she wore underneath.
He showed us to our rooms. He put Maureen in the large bedroom where he slept, where the bed was still unmade, and showed me into the guest room that had once belonged to his daughter, Claudia. There was a single bed, a hand-painted child's desk and dark carpet. He showed Maureen the priceless artefacts on the shelves that could not be replaced if broken and the wine in the cupboard that had survived both wars and was too precious to be drunk.
Maureen and I sat opposite Marcel at lunch. He gripped the bottle of white wine by the neck, and plunged it back into the ice bucket when the glasses were full. Without turning his head, he gestured out towards the street behind him and said the best shopping in Paris was just a few streets away.
'I have no interest in shopping,' she told him. 'And besides, I can't afford it, as you well know.' He laughed as if she had said exactly what he had expected her to say."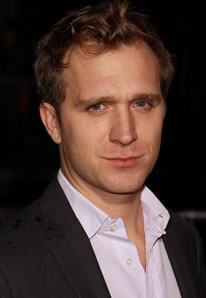 Justin Haythe (Londen, 16 september 1973)
De Finse schrijver en Nobelprijswinnaar Frans Eemil Sillanpää werd geboren in Hämeenkyrö op 16 september 1888. Zie ook mijn blog van 16 september 2006.
Uit: People in the Summer Night (Vertaald door Alan Blair)
"There is almost no summer night in the north; only a lingering evening, darkening slightly as it lingers, but even this darkening has its ineffable clarity. It is the approaching presentiment of the summer morning. When the music of late evening has sunk to a violet, dusky pianissimo, so delicate that it lenghtens into a brief rest, then the first violin awakens with a soft, high cadence in which the cello soon joins, and this inwardly perceived tone picture is supported outwardly by a thousand-tongued accompaniment twittering from a myriad of branches and from the heights of the air. It is already morning, yet a moment ago it was still evening."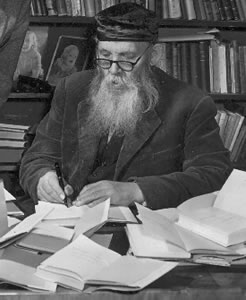 Frans Eemil Sillanpää (16 september 1888 – 3 juni 1964)
16-09-2010 om 17:47 geschreven door Romenu

Tags:Andreas Neumeister, Anna Bosboom – Toussaint, Justin Haythe, Frans Eemil Sillanpää, Romenu