E-mail mij


Druk op onderstaande knop om mij te e-mailen.


Romenu


Romenu is een blog over gedichten, literatuur en kunst Maar Romenu is ook een professionele freelance vertaler
Du-Ne en Ne-Du http://www.romenu.nl.


Huur eens een (vakantie)huis in een natuurgebied, dichtbij het centrum van Nijmegen


Google


Georg Trakl

Georg Trakl werd op 3 februari 1887 in het conducteurshuis aan de Waagplatz 2 in Salzburg geboren. Zijn vader, Tobias Trakl, was een handelaar in ijzerwaren en zijn moeder, die ook psychische problemen had, was Maria Catharina Trakl, (meisjesnaam Halik). Voorts had hij nog drie broers en drie zussen. Margarethe (doorgaans Grethe genoemd) stond hem het naast, zelfs zodanig dat sommigen een incestueuze verhouding vermoeden. Zijn jeugd bracht hij door in Salzburg. Vervolgens bezocht hij van 1897 tot 1905 het humanistische gymnasium. Om toch een academische opleiding te kunnen volgen, werkte hij tot 1908 in de praktijk bij een apotheker. Sommigen vermoedden dat hij dit vooral deed om zichzelf opiaten te kunnen verschaffen. Bij het uitbreken van WO I werd Trakl als medicus naar het front in Galicië (heden ten dage in Oekraïne en Polen) gestuurd. Zijn gemoedsschommelingen leidden tot geregelde uitbraken van depressie, die verergerd werden door de afschuw die hij voelde voor de verzorging van de ernstig verwonde soldaten. De spanning en druk dreven hem ertoe een suïcidepoging te ondernemen, welke zijn kameraden nochtans verhinderden. Hij werd in een militair ziekenhuis opgenomen in Kraków, alwaar hij onder strikt toezicht geplaatst werd.Trakl verzonk daar in nog zwaardere depressies en schreef Ficker om advies. Ficker overtuigde hem ervan dat hij contact moest opnemen met Wittgenstein, die inderdaad op weg ging na Trakls bericht te hebben ontvangen. Op 4 november 1914, drie dagen voordat Wittgenstein aan zou komen, overleed hij echter aan een overdosis cocaïne


Paul Celan

Paul Celan werd onder de naam Paul Antschel op 23 november 1920 geboren in Czernowitz, toentertijd de hoofdstad van de Roemeense Boekovina, nu behorend bij de Oekraïne. Paul Celans ouders waren Duitssprekende joden die hun zoon joods opvoedden en hem naar Duitse christelijke scholen stuurden. In 1942 werden Celans ouders door de Duitse bezetter naar een werkkamp gedeporteerd en daar vermoord. Hijzelf wist aanvankelijk onder te duiken, maar moest vanaf juli 1942 in een werkkamp dwangarbeid verrichten. Celan overleefde de oorlog. Via Boekarest en Wenen vestigde Celan zich in 1948 in Parijs. Daar was hij werkzaam als dichter, vertaler en doceerde hij aan de prestigieuze Ecole Normale Supérieure. Vermoedelijk op 20 april 1970 beëindigde hij zijn leven zelf door in de Seine te springen.


Gerard Reve

Gerard Reve over: Medearbeiders "God is in de mensen, de dieren, de planten en alle dingen - in de schepping, die verlost moet worden of waaruit God verlost moet worden, door onze arbeid, aangezien wij medearbeiders van God zijn." Openbaring "Tja, waar berust elk godsbegrip op, elke vorm van religie? Op een openbaring, dat wil zeggen op een psychische ervaring van zulk een dwingende en onverbiddelijke kracht, dat de betrokkene het gevoel heeft, niet dat hij een gedachte of een visioen heeft, maar dat een gedachte gedachte of visioen hem bezit en overweldigt."


Simon Vestdijk
Simon Vestdijk (Harlingen, 17 oktober 1898 – Utrecht, 23 maart 1971) was een Nederlands romancier, dichter, essayist en vertaler. Zijn jeugd te Harlingen en Leeuwarden beschreef hij later in de Anton Wachter-cyclus. Van jongs af aan logeerde hij regelmatig bij zijn grootouders in Amsterdam, waar hij zich in 1917 aan de Universiteit van Amsterdam inschrijft als student in de medicijnen. Tijdens zijn studie die van 1917 tot 1927 duurde, leerde hij Jan Slauerhoff kennen.Tot 1932 is hij als arts in praktijken door heel Nederland werkzaam. In 1932 volgt zijn officiële schrijversdebuut met de uitgave van de bundel Verzen in De Vrije Bladen. Doorslaggevend voor Vestdijks uiteindelijke keuze voor de literatuur is zijn ontmoeting in 1932 met Eddy Du Perron en Menno ter Braak. Deze ontmoeting had tot resultaat dat hij redactielid werd van het tijdschrift Forum Kort daarop, in 1933, wordt zijn eerste novelle, De oubliette, uitgegeven. In hetzelfde jaar schrijft hij Kind tussen vier vrouwen, dat, eerst geweigerd door de uitgever, later de basis zal vormen voor de eerste drie delen van de Anton Wachter-romans. In 1951 ontvangt Vestdijk de P.C. Hooftprijs voor zijn in 1947 verschenen roman De vuuraanbidders. In 1957 wordt hij voor het eerst door het PEN-centrum voor Nederland voorgedragen voor de Nobelprijs voor de Literatuur, die hij echter nooit zal krijgen. Op 20 maart 1971 wordt hem de Prijs der Nederlandse Letteren toegekend, maar voor hij deze kan ontvangen overlijdt hij op 23 maart te Utrecht op 72-jarige leeftijd. Vestdijk was auteur van ca. 200 boeken. Vanwege deze enorme productie noemde de dichter Adriaan Roland Holst hem 'de man die sneller schrijft dan God kan lezen'. Andere belangrijke boeken van Simon Vestdijk zijn: "Kind van stad en land" (1936), "Meneer Visser's hellevaart" (1936), "Ierse nachten" (1946), "De toekomst de religie" (1947), "Pastorale 1943" (1948), "De koperen tuin" (1950), "Ivoren wachters" (1951), "Essays in duodecimo" (1952) en "Het genadeschot" (1964).


K.P. Kavafis

K.P. Kavafis werd als kind van Griekse ouders, afkomstig uit Konstantinopel, geboren in 1863 in Alexandrië (tot vandaag een Griekse enclave) waar hij ook het grootste deel van zijn leven woonde en werkte. Twee jaar na de dood van zijn vader verhuist het gezin in 1872 naar Engeland om na een verblijf van vijf jaar naar Alexandrië terug te keren. Vanwege ongeregeldheden in Egypte vlucht het gezin in 1882 naar Konstantinopel, om na drie jaar opnieuw naar Alexandrië terug te gaan. In de jaren die volgen maakt Kavafis reizen naar Parijs, Londen en in 1901 zijn eerste reis naar Griekenland, in latere jaren gevolgd door nog enkele bezoeken. Op de dag van zijn zeventigste verjaardag, in 1933 sterft Kavafis in Alexandrië. De roem kwam voor Kavafis pas na zijn dood, dus postuum. Deels is dat toe te schrijven aan zijn eigen handelswijze. Hij was uiterst terughoudend met de publicatie van zijn gedichten, liet af en toe een enkel gedicht afdrukken in een literair tijdschrift, gaf in eigen beheer enkele bundels met een stuk of twintig gedichten uit en het merendeel van zijn poëzie schonk hij op losse bladen aan zijn beste vrienden.


Thomas Mann


Thomas Mann, de jongere broer van Heinrich Mann, werd geboren op 6 juni 1875 in Lübeck. Hij was de tweede zoon van de graankoopman Thomas Johann Heinrich Mann welke later één van de senatoren van Lübreck werd. Zijn moeder Julia (geboren da Silva-Bruhns) was Duits-Braziliaans van Portugees Kreoolse afkomst. In 1894 debuteerde Thomas Mann met de novelle "Gefallen". Toen Thomas Mann met 21 jaar eindelijk volwassen was en hem dus geld van zijn vaders erfenis toestond - hij kreeg ongeveer 160 tot 180 goldmark per jaar - besloot hij dat hij genoeg had van al die scholen en instituties en werd onafhankelijk schrijver. Kenmerkend voor zijn stijl zijn de ironie, de fenomenale taalbeheersing en de minutieuze detailschildering. Manns reputatie in Duitsland was sterk wisselend. Met zijn eerste roman, Buddenbrooks (1901), had hij een enorm succes, maar door zijn sceptische houding tegenover Duitsland na de Eerste Wereldoorlog veranderde dit volledig. Stelde hij zich tot aan de jaren twintig apolitiek op (Betrachtungen eines Unpolitischen, 1918), meer en meer raakte hij bij het Politiek gebeuren betrokken. Zijn afkeer van het nationaal socialisme groeide, zijn waarschuwingen werden veelvuldiger en heftiger. In 1944 accepteerde hij het Amerikaanse staatsburgerschap. Tussen 1943 en 1947 schreef Mann Doktor Faustus (zie Faust), de roman van de 'Duitse ziel' in de gecamoufleerd geschilderde omstandigheden van de 20ste eeuw. In 1947 bezocht hij voor het eerst sinds de Oorlog Europa, twee jaar later pas Duitsland. In 1952 vertrok hij naar Zwitserland. Op 12 augustus 1955 stierf hij in Zürich. Twintig jaar na zijn dood, in aug. 1975, is zijn literaire nalatenschap geopend: dagboekaantekeningen van 15 maart 1933 tot 29 juli 1955, alsmede notities uit de jaren 1918 tot en met 1921.Belangrijke werken zijn: Der Zauberberg, Der Tod in Venedig, Dokter Faustus , Joseph und seine Brüder en Die Bekenntnisse des Hochstaplers Felix Krull.


Rainer Maria Rilke

Rilke werd op 4 december 1875 geboren in Praag. Hij had al naam gemaakt als dichter met zijn bundels Das Stundenbuch en Das Buch der Bilder, toen hij de literaire wereld versteld deed staan en wereldfaam verwierf met de publicatie van zijn twee delen Neue Gedichte in 1907 en 1908. Hij verzamelde daarin het beste werk uit een van zijn vruchtbaarste periodes, die hij grotendeels doorbracht in Parijs. Rilke was daar diep onder de indruk gekomen van Rodin, bij wie hij een tijdlang in dienst was als particulier secretaris. Rodin, zei hij later, had hem leren kijken. Dit kijken kwam neer op intense concentratie, om het mysterie te kunnen zien 'achter de schijnbare werkelijkheid'. Latere en rijpere werken als Duineser Elegien (1912-1923) en het ronduit schitterende Die Sonette an Orfeus (1924) illustreren Rilkes metafysische visie op het onzegbare, dat haar verwoording vindt in een hermetische muzikale taal. Op 29 december 1926 overlijdt Rilke in het sanatorium in Val-Mont aan de gevolgen van leukemie. Enkele dagen later wordt hij, overeenkomstig zijn wens, begraven op het kerkhof van Raron.


* * * * * * * * * * * * * * * *

| | |
| --- | --- |
| | Over literatuur, gedichten, kunst en cultuur |

16-09-2010

Breyten Breytenbach, James Alan McPherson Michael Nava, Hans Arp
De Zuid-Afrikaanse schrijver en dichter Breyten Breytenbach werd geboren op 16 september 1936 in Bonnievale. Zie ook mijn blog van 16 september 2006 en ook mijn blog van 16 september 2007 en ook mijn blog van 16 september 2008 en ook mijn blog van 16 september 2009.
Uit: Intimate Stranger
"Poetry is the breath of awareness
However much you feed a wolf, it always looks to the forest. We are all wolves in the dense forest of Eternity." This was written by the Russian poet Marina Tsvetaeva, the man said softly as he stroked the silver fur of the animal crouched in his arms. The animal pricked up its ears, then strained to look back at the dark copse of trees where shadows moved as if alive. As if alive and waiting to move out into the open.
Listen, this process called poetry is an exercise in imagining memory, and then having that memory snare and cherish imagination. Yet, every poem is and will be a capsule of territory in the perpetual present tense, a vessel taking on the ever-changing colors of the sea.
Poetry is the breath of awareness and the breathing thereof. I even mean this literally, for underlying the flow and the fall of verses are 'natural units' of consciousness sculpted by rhythm, by recall, by movement reaching for the edges of meaning and of darkness. One could illustrate by averring that the poem is a membrane, rippling, thrumming; reminding us that we are breathing organisms continually translating the space around us, continually translating ourselves into spaces of the known and thus drawing circumferences around locations of the unknown. From this one could extrapolate that the practice and process of remembering /evoking /awakening events and our selves lead quite naturally to questioning the polarities of other and I, to writing (and un-writing) the self, and toward rewriting the world. The boat changes the water.
Poetry is also the wind of time and thus the movement and singing of being. An old poet friend of mine – now coming to the end of his life and cold to dying, the earth lurching under his unsteady tread as he hides his eyes behind tinted glasses to soften the glaring (maybe the gloating) look of Dog Death sniffing closer – told me the other day that whatever memory and understanding he has of himself, of the route and the roads traveled, of seas navigated, of big H history, he knows through the resonance of a clutch of poems."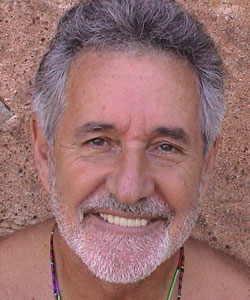 Breyten Breytenbach (Bonnievale, 16 september 1936)
De Amerikaanse schrijver James Alan McPherson werd geboren op 16 september 1943 in Savannah, Georgia. Zie ook mijn blog van 16 september 2009.
Uit: A Loaf of Bread
"It was one of those obscene situations, pedestrian to most people, but invested with meaning for a few poor folk whose lives are usually spent outside the imaginations of their fellow citizens. A grocer named Harold Green was caught red-handed selling to one group of people the very same goods he sold at lower prices at similar outlets in better neighborhoods. He had been doing this for many years, and at first he could not understand the outrage heaped upon him. He acted only from habit, he insisted, and had nothing personal against the people whom he served. They were his neighbors. Many of them he had carried on the cuff during hard times. Yet, through some mysterious access to a television station, the poor folk were now empowered to make grand denunciations of the grocer. Green's children now saw their father's business being picketed on the Monday evening news.
No one could question the fact that the grocer had been overcharging the people. On the news even the reporter grimaced distastefully while reading the statistics. His expression said, "It is my job to report the news, but sometimes even I must disassociate myself from it to protect my honor." This, at least, was the impression the grocer's children seemed to bring away from the television. Their father's name had not been mentioned, but there was a close-up of his store with angry black people, and a few outraged whites, marching in groups of three in front of it. There was also a close-up of his name. After seeing this, they were in no mood to watch cartoons. At the dinner table, disturbed by his children's silence, Harold Green felt compelled to say, "I am not a dishonest man." Then he felt ashamed. The children, a boy and his older sister, immediately left the table, leaving Green alone with his wife. "Ruth, I am not dishonest," he repeated to her.
Ruth Green did not say anything. She knew, and her husband did not, that the outraged people had also picketed the school attended by their children. They had threatened to return each day until Green lowered his prices. When they called her at home to report this, she had promised she would talk with him. Since she could not tell him this, she waited for an opening. She looked at her husband across the table."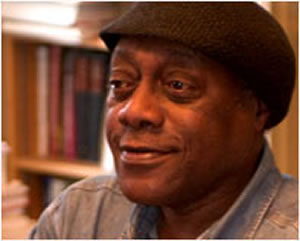 James Alan McPherson (Savannah, 16 september 1943)
De Amerikaanse schrijver Michael Nava werd geboren op 16 september 1954 in Stockton, Calefornië. Zie ook mijn blog van 16 september 2009.
Uit: How Town
"The road to my sister's house snaked through the hills above Oakland, revealing at each curve a brief view of the bay in the glitter of the summer morning. Along the road, houses stood on small woodsy lots. The houses were rather woodsy themselves, of the post and beam school, more like natural outcroppings than structures. Wild roses dimpled the hillsides, small, blowsy flowers stirring faintly in the trail wind of my car. Otherwise, there was no movement. The sky was cloudless, the weather calm and the road ahead of me clear.
Earlier, coming off the Bay bridge I'd taken a wrong turn and found myself in a neighborhood of small pastel houses. Grafitti-gashed walls and a preternatural calm marked it as gang turf. The papers had been full of gang killings that month. When I drove past, a child walking by herself flinched, ready to take cover. None of that was visible from these heights.
This was like living in a garden, I thought, and other associations came to mind: Eden, paradise, a line from "Sunday Morning" that I murmured aloud: "Is there no change in paradise?" I couldn't remember the rest. Elena would know. And she would appreciate the irony. She and I had grown up in a neighborhood called Paradise Slough in a town called Los Robles about an hour's drive from here.
There had been little about our childhood that could be described as paradisiacal. Our alcoholic father was either brutal or sullenly withdrawn. Our mother retaliated with religious fanaticism. As she knelt before plaster images of saints, in the flicker of votive candles, her furious mutter was more like invective than prayer. Their manias kept my parents quite busy, and Elena and I were more or less left to raise ourselves."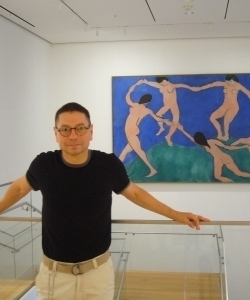 Michael Nava (Stockton, 16 september 1954)
De Frans-Zwitserse kunstenaar, dichter en schrijver Hans (Jean) Arp werd geboren op 16 september 1886 in Straatsburg. Zie ook mijn blog van 16 september 2006. Zie ook mijn blog van 16 september 2008 en ook mijn blog van 16 september 2009.
kaspar ist tot
weh unser guter kaspar ist tot
wer trägt nun die brennende fahne im wolkenzopf verborgen täglich zum schwarzen schnippchen schlagen
wer dreht nun die kaffeemühle im urfass
wer lockt nun das idyllische reh aus der versteinerten tüte
wer verwirrt nun auf dem meere die schiffe mit der anrede parapluie und die winde mit dem zuruf bienenvater ozonspindel euer hochwohlgeboren
weh weh weh unser guter kaspar ist tot. heiliger bimbam kaspar ist tot.
die heufische klappern herzzerreissend vor leid in den glockenscheunen wenn man seinen vornamen ausspricht. darum seufze ich weiter seinen familiennamen kaspar kaspar kaspar.
warum hast du uns verlassen. in welche gestalt ist nun deine schöne grosse seele gewandert. bis du ein stern geworden oder eine kette aus wasser an einem heissen wirbelwind oder ein euter aus schwarzem licht oder ein durchsichtiger ziegel an der stöhnenden trommel des felsigen wesens.
jetzt vertrocknen unsere scheitel und sohlen und die feen liegen halbverkohlt auf dem scheiterhaufen.
jetzt donnert hinter der sonne die schwarze kegelbahn und keiner zieht mehr die kompasse und die räder der schiebkarren auf.
wer isst nun mit der phosphoreszierenden ratte am einsamen barfüssigen tisch.
wer verjagt nun den sirokkoko teufel wenn er die pferde verführen will.
wer erklärt uns die monogramme in den sternen
seine büste wird die kamine aller wahrhaft edlen menschen zieren doch das ist kein trost und schnupftabak für einen totenkopf.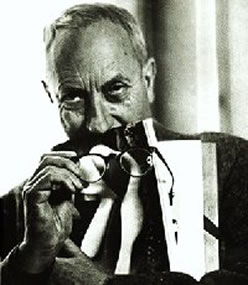 Hans Arp (16 september 1886 - 7 juni 1966)


Zie voor nog meer schrijvers van de 16e september ook
mijn vorige blog van vandaag.
16-09-2010 om 17:53 geschreven door Romenu

Tags:Breyten Breytenbach, James Alan McPherson Michael Nava, Hans Arp, Romenu



Andreas Neumeister, Anna Bosboom - Toussaint, Justin Haythe, Frans Eemil Sillanpää
De Duitse schrijver Andreas Neumeister werd geboren op 16 september 1959 in Starnberg. Zie ook mijn blog van 16 september 2009.
Uit: Könnte Köln sein
"Wenn alle Wege nach Rom führen, dann müssten erst recht auch sämtliche Autobahnen nach Rom führen.
Immerhin zwei der fünf vom am nördlichen Fuß der Alpen gelegenen Basislager in fünf Windrichtungen strebenden Autobahnen führen letztendlich über Brenner und Alpen auf direktem Weg nach Rom Von verschiedenen Moränenhügeln aus den Bau der Garmischer Autobahn mitverfolgt. Bei Exkursionen zu Baustellen immer gerne mit dabei. Operation am offenen Herzen einer bewegten Landschaft. Baustelle mit Alpenblick: Immerhin ist Vater Ingenieur beim Bau der Autobahnbrücke über Loisach und Loisach-Moos gewesen.
Immerhin ist die Ohlstätter Brücke Vaters Lieblingsbaustelle gewesen. (Spannbeton – es kommt darauf an, was man daraus macht.) Karin-Stoiber-Tunnel bei Farchant. Einschlägige Bauten, Olympiade 1936. Garmisch bleibt rechts liegen. Garmisch kann uns gestohlen bleiben. Mittenwald wird aufgeständert umgangen. Kasernen im Heimatschutzstil, Jäger, Gebirgsjäger alles aus der Guten Alten Zeit Großkampfstätten des Wintersports: a.) Garmisch b.) Innsbruck. Die Isar als Wildbach verschwindet unter einer Brücke nach rechts. Seefeld schon auf der Höhe vom Brenner. Der Zirlerberg führt hinunter in den Abgrund.
Vom Seefelder Sattel hinunter nach Innsbruck am Inn. Energieverschwendung. Eine Stadt, die ich als Kind gerne verfluchte. Das Goldene Dachl. Städte in tief eingeschnittenen Tälern gehören verboten. Zum Wohl und Schutz ihrer Bewohner. Die Stadt, ein Flughafen zwischen Inntalautobahn und Brennerautobahnzubringer gequetscht. Die neue Hungerburgbahn: irakische Architektin!"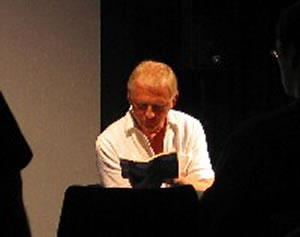 Andreas Neumeister (Starnberg, 16 september 1959)

De Nederlandse schrijfster Anna Bosboom - Toussaint werd geboren op 16 september 1912 te Alkmaar. Zie ook mijn blog van 16 september 2006. Zie ook mijn blog van 16 september 2008 en ook mijn blog van 16 september 2009.
Uit: De Alkmaarsche wees
"Met eene gewaarwording van vroolijke voldoening, doch door weemoed getemperd, zet ik dien titel boven hetgeen ik ga nederschrijven. Voldoening, omdat ik spreken mag van dien eerbiedwaardigen karaktertrek onzer vaderen: zorge en liefde voor het verlatene; trouwe en teêrheid voor het weeskind. Weemoed, omdat de instelling, die ook in onze stad van dien karaktertrek getuigde in mijn tijd heeft opgehouden te bestaan, voor onze Protestantsche weezen; omdat ik niet zonder een blik van benijding en van bewondering, die ik gaarne wil uitspreken, mijne Katholieke stadgenooten uit eigen fondsen en ten koste van welke offers dan ook, zich dat voorrecht zie verzekeren, waarop het menschelijk hart en het vaderlandsch gevoel grooteren prijs hadden behooren te stellen dan zij getoond hebben te doen, die zulke offers te groot hebben geacht. Hunne redenen te wegen of te doorgronden is noodeloos en hier niet oorbaar; maar de klachte, die mij op 't harte lag, moest ik lucht geven: Geen Gereformeerd weeshuis meer in dàt Alkmaar, dat zich toch niet de mindere toont, als er beroep wordt gedaan op hare goeddadigheid, en dat eene der bloeiendste wordt geacht onder de zeven Westfriesche steden! Dat was het reeds in 1611, als men Schagen en anderen gelooven mag, en .... wat voor ons zijne belangrijkheid heeft, toen bestond er een weeshuis.
Het was Zondag: er is iets eigenaardig aandoenlijks in, op zulken heiligen dag des Heeren, de weezen te zien opgaan naar het huis van Hem, die het gezegd heeft, dat Hij hun Vader wil zijn; er is iets liefelijks in hen te zien komen en gaan in lange statige rij, allen ordelijk en stemmig voortgaande, twee
aan twee, de kleinsten vooruit, soms nog wel aan de hand geleid, de grooteren volgende, de plaatsvervangende vader en moeder met de leermeesteressen den trein sluitende: het geeft u zoo goed een denkbeeld van de stilheid, de aandacht en orde, die de vrome godsdienstige zin met zich brengt."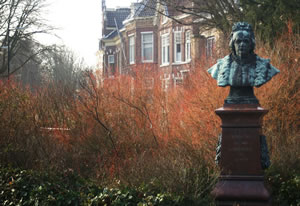 Anna Bosboom – Toussaint (16 september 1812 – 13 april 1886)
Buste in Alkmaar
De Amerikaanse schrijver Justin Haythe werd geboren op 16 september 1973 in Londen. Zie ook mijn blog van 16 september 2008.
Uit: The Honeymoon
"She had met Marcel somewhere else, in another European city I was too young to remember. That's what he told me when we met. We stood in the front hallway of his apartment and shook hands. 'We've met before,' he said. 'You were small.' He kissed Maureen on both cheeks and then held her by the shoulders. He said, 'Look at you.' She stepped back out of his grasp so that we could look at her. 'You have a beautiful mother,' he told me.
This was June of 1980. I was eleven years old and he was leaving for the summer. I have often wondered if he and my mother were sleeping together. He was twenty years older than she was, heavy-set, with a thick moustache. On the train into Paris, Maureen had assured me that Marcel was, in some ways, a great man. But I cannot help remembering his hands on her body, on her clothes where he could feel what she wore underneath.
He showed us to our rooms. He put Maureen in the large bedroom where he slept, where the bed was still unmade, and showed me into the guest room that had once belonged to his daughter, Claudia. There was a single bed, a hand-painted child's desk and dark carpet. He showed Maureen the priceless artefacts on the shelves that could not be replaced if broken and the wine in the cupboard that had survived both wars and was too precious to be drunk.
Maureen and I sat opposite Marcel at lunch. He gripped the bottle of white wine by the neck, and plunged it back into the ice bucket when the glasses were full. Without turning his head, he gestured out towards the street behind him and said the best shopping in Paris was just a few streets away.
'I have no interest in shopping,' she told him. 'And besides, I can't afford it, as you well know.' He laughed as if she had said exactly what he had expected her to say."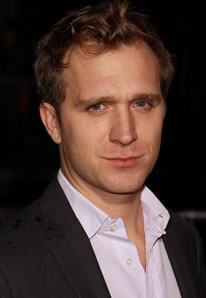 Justin Haythe (Londen, 16 september 1973)
De Finse schrijver en Nobelprijswinnaar Frans Eemil Sillanpää werd geboren in Hämeenkyrö op 16 september 1888. Zie ook mijn blog van 16 september 2006.
Uit: People in the Summer Night (Vertaald door Alan Blair)
"There is almost no summer night in the north; only a lingering evening, darkening slightly as it lingers, but even this darkening has its ineffable clarity. It is the approaching presentiment of the summer morning. When the music of late evening has sunk to a violet, dusky pianissimo, so delicate that it lenghtens into a brief rest, then the first violin awakens with a soft, high cadence in which the cello soon joins, and this inwardly perceived tone picture is supported outwardly by a thousand-tongued accompaniment twittering from a myriad of branches and from the heights of the air. It is already morning, yet a moment ago it was still evening."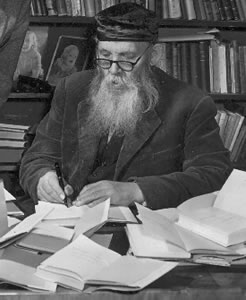 Frans Eemil Sillanpää (16 september 1888 – 3 juni 1964)
16-09-2010 om 17:47 geschreven door Romenu

Tags:Andreas Neumeister, Anna Bosboom – Toussaint, Justin Haythe, Frans Eemil Sillanpää, Romenu



| | |
| --- | --- |
| | |



Inhoud blog


| | |
| --- | --- |
| | Leonard Cohen, Stephen King, Frédéric Beigbeder, Xavier Roelens, Fannie Flag, H.G. Wells, Johann Peter Eckermann, Max Porter, Paul Ewen |
| | Donald Hall, Javier Marías, Cyriel Buysse, Upton Sinclair, Joseph Breitbach, Adolf Endler, Henry Arthur Jones, Stevie Smith, Hanns Cibulka |
| | Crauss, Patrick Marber, William Golding, Ingrid Jonker, Orlando Emanuels, Jean-Claude Carrière, Stefanie Zweig, Mika Waltari, Hartley Coleridge |
| | Michaël Zeeman, Armando, Ton Anbeek, Stephan Sarek, Omer Karel De Laey, Michael Deak, Einar Már Gudmundsson, Gerrit Borgers |
| | Nicolien Mizee |
| | H.H. ter Balkt, Piet Gerbrandy, William Carlos Williams, Ken Kesey, Abel Herzberg, Dilip Chitre, Ludwig Roman Fleischer, Albertine Sarrazin, Mary Stewart |
| | Breyten Breytenbach, Alfred Schaffer, Frans Kusters, Michael Nava, Justin Haythe |
| | James Alan McPherson, Hans Arp, Andreas Neumeister, Anna Bosboom - Toussaint, Frans Eemil Sillanpää |
| | Lucebert, Jan Slauerhoff, Sergio Esteban Vélez, Chimamanda Ngozi Adichie, Agatha Christie, Orhan Kemal, Gunnar Ekelöf, James Fenimore Cooper, Claude McKay |
| | Dolce far niente, Eugen Roth, Hans Faverey, Theodor Storm, Leo Ferrier, Corly Verlooghen, Bernard MacLaverty, Ivan Klíma |
| | Tõnu Õnnepalu, Roald Dahl, Janusz Glowacki, Jac. van Looy, Nicolaas Beets, Marie von Ebner-Eschenbach, Otokar Březina, Julian Tuwim, Muus Jacobse |
| | Michael Ondaatje, James Frey, Chris van Geel, Louis MacNeice, Hannes Meinkema, Eduard Elias, Jan Willem Schulte Nordholt, Werner Dürrson, Gust Van Brussel |
| | Constantijn Huygens-prijs 2017 voor Hans Tentije |
| | David van Reybrouck, Murat Isik, D.H. Lawrence, Eddy van Vliet, Andre Dubus III, Tomas Venclova, Merrill Moore, Barbara Bongartz, Adam Asnyk |
| | Edmund de Waal, Andreï Makine, Franz Werfel, Paweł Huelle, Mary Oliver |
| | Eddy Pinas, Jeppe Aakjær, Viktor Paskov, Hilda Doolittle, Reinhard Lettau, George Bataille |
| | C. O. Jellema, Wim Huijser, Cesare Pavese, Leo Tolstoj, Gentil Th. Antheunis, Gaston Durnez, Edward Upward, Hana Androníková, Bas Jongenelen |
| | Siegfried Sassoon, Anthonie Donker, Clemens Brentano, Wilhelm Raabe, Eduard Mörike, Franz Hellens, Frederic Mistral, Grace Metalious |
| | Merijn de Boer, Anton Haakman, Edith Sitwell, Willem Bilderdijk, Michael Guttenbrunner, Jenny Aloni, Margaret Landon, Henry Morton Robinson |
| | Christopher Brookmyre, Jennifer Egan, Aart G. Broek, Amelie Fried, Jessica Durlacher, Alice Sebold, Julien Green, Willem Brandt, Carmen Laforet |
| | 250 jaar August Wilhelm Schlegel, Marcel Möring, Herman Koch, Jos Vandeloo, Margaretha Ferguson, Ward S. Just, Heimito von Doderer, Rachid Boudjedra, Peter Winnen |
| | Helga Ruebsamen, Antonin Artaud, René de Chateaubriand, Constantijn Huygens, Richard Wright, Mary Renault, Marijn Sikken, Femke Brockhus, Dik van der Meulen |
| | In memoriam Theo Sontrop |
| | In Memoriam John Ashbery |
| | Jacq Firmin Vogelaar, Fritz J. Raddatz, Eduardo Galeano, Alison Lurie, Sergej Dovlatov, Kiran Desai, Ernst Meister, Lino Wirag, Doğan Akhanlı |
| | Willem de Mérode, Eric de Kuyper, R.A. Basart, Chris Kuzneski, Johan Daisne, Robert Habeck, Pierre Huyskens |
| | Joseph Roth, Johann Georg Jacobi, Manfred Böckl, Paul Bourget, Paul Déroulède, Giovanni Verga, Richard Voß |
| | W. F. Hermans, Hubert Lampo, Blaise Cendrars, Edgar Rice Burroughs, Sabine Scho, Peter Adolphsen, Lenrie Peters, J. J. Cremer |
| | William Saroyan, Éric Zemmour, Wolfgang Hilbig, Elizabeth von Arnim, Théophile Gautier, Raymond P. Hammond |
| | Dolce far niente, James Whitcomb Riley, Charles Reznikoff, François Cheng, Jiři Orten, Libu¨e Moníková, Mary Wollstonecraft Shelley |
| | Dolce far niente, Jennifer Grotz, Hugo Brandt Corstius, Elma van Haren, John Edward Williams, Maurice Maeterlinck, Thom Gunn |
| | Dolce far niente, Friedrich Hebbel, Johann Wolfgang von Goethe, Maria Barnas, A. Moonen, C. J. Kelk, Frederick Kesner |
| | Rainer Kirsch, Tom Lanoye, Kristien Hemmerechts, Paul Verhuyck, Jeanette Winterson |
| | Lolita Pille, David Rowbotham, Norah Lofts, Cecil Scott Forester, Lernert Engelberts |
| | Christopher Isherwood, Laura van der Haar, C. B. Vaandrager, Paula Hawkins, Joachim Helfer, Guillaume Apollinaire, Rashid Al-Daif |
| | Jules Romains, Julio Cortázar, Walter Helmut Fritz, Joachim Zelter, Jürgen Kross, Ludwig Aurbacher, Boris Pahor |
| | Martin Amis, Kees Stip, Howard Jacobson, Charles Wright, Maxim Biller, Frederick Forsyth, Jògvan Isaksen, Johann Gottfried von Herder, Thea Astley |
| | John Green, Drs. P, Marion Bloem, Pepijn Lanen, Stephen Fry, Jorge Luis Borges, A. S. Byatt, Sascha Anderson, Johan Fabricius |
| | Dolce far niente, Victor Vroomkoning, Charles Busch, Curtis Sittenfeld, Koos Dijksterhuis, Albert Alberts, Ilija Trojanow |
| | Dolce far niente, Jacob Israël de Haan, Griet Op de Beeck, Jeroen Theunissen, Annie Proulx, Krijn Peter Hesselink, Willem Arondeus |
| | Alfred Wellm |
| | Dolce far niente, Martin Bril, Rogi Wieg, X.J. Kennedy, Robert Stone, Aubrey Beardsley, Frédéric Mitterrand |
| | Dolce far niente, Tom van Deel, Anneke Brassinga, Etgar Keret, James Rollins, Clemens Meyer, Arno Surminski |
| | Maren Winter, Charles de Coster, Edgar Guest, Tarjei Vesaas, Salvatore Quasimodo, Colin MacInnes |
| | Sylvie Richterová, Ernst-Jürgen Dreyer, Boleslaw Prus, Menno Lievers, Vasili Aksjonov, Jacqueline Susann |
| | Alfred Birney |
| | Mies Bouhuys, Jonathan Coe, Li-Young Lee, Frederik Lucien De Laere, Louis Th. Lehmann, Ogden Nash, Frank McCourt |
| | Marion Pauw, John Dryden, Samuel Richardson, Jerzy Andrzejewski, James Gould Cozzens, Claude Gauvreau, Inigo de Mendoza |
| | Dolce far niente, Hans Andreus, Ulrich Woelk, Marc Degens, Luciano de Crescenzo, Alain Robbe-Grillet, Idea Vilariño |
| | Dolce far niente, Simon Vestdijk, Ted Hughes, V. S. Naipaul, Nis-Momme Stockmann, Jonathan Franzen, Jan Emmens |


Gastenboek


Druk op onderstaande knop om een berichtje achter te laten in mijn gastenboek