70 Jaar Bob Dylan
De Amerikaanse zanger, songwriter en dichter Bob Dylan werd geboren als Robert Allen Zimmerman op 24 mei 1941 in Duluth, Minnesota. Zie ook mijn blog van 24 mei 2009 en ook mijn blog van 24 mei 2010. Bob Dylan viert vandaag zijn 70e verjaardag.
Blowing In The Wind
How many roads must a man walk down,
before you call him a man?
How many seas must a white dove fly,
before she sleeps in the sand?
And how many times must a cannon ball fly,
before they're forever banned?
The answer my friend is blowing in the wind,
the answer is blowing in the wind.
How many years can a mountain exist,
before it is washed to the sea?
How many years can some people exist,
before they're allowed to be free?
And how many times can a man turn his head,
and pretend that he just doesn't see?
The answer my friend is blowing in the wind,
the answer is blowing in the wind.
How many times must a man look up,
before he sees the sky?
And how many ears must one man have,
before he can hear people cry ?
And how many deaths will it take till we know,
that too many people have died?
The answer my friend is blowing in the wind,
the answer is blowing in the wind.
The answer my friend is blowing in the wind,
the answer is blowing in the wind.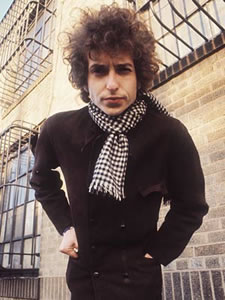 Bob Dylan (Duluth, 24 mei 1941)
De Russisch-Amerikaanse dichter Joseph Brodsky werd op 24 mei 1940 in Leningrad (het huidige St.Petersburg) geboren als Iosif Brodski. Zie ook mijn blog van 24 mei 2010 en eveneens alle tags voor Joseph Brodsky op dit blog.
I Sit By The Window
I said fate plays a game without a score,
and who needs fish if you've got caviar?
The triumph of the Gothic style would come to pass
and turn you on--no need for coke, or grass.
I sit by the window. Outside, an aspen.
When I loved, I loved deeply. It wasn't often.
I said the forest's only part of a tree.
Who needs the whole girl if you've got her knee?
Sick of the dust raised by the modern era,
the Russian eye would rest on an Estonian spire.
I sit by the window. The dishes are done.
I was happy here. But I won't be again.
I wrote: The bulb looks at the flower in fear,
and love, as an act, lacks a verb; the zer-
o Euclid thought the vanishing point became
wasn't math--it was the nothingness of Time.
I sit by the window. And while I sit
my youth comes back. Sometimes I'd smile. Or spit.
I said that the leaf may destory the bud;
what's fertile falls in fallow soil--a dud;
that on the flat field, the unshadowed plain
nature spills the seeds of trees in vain.
I sit by the window. Hands lock my knees.
My heavy shadow's my squat company.
My song was out of tune, my voice was cracked,
but at least no chorus can ever sing it back.
That talk like this reaps no reward bewilders
no one--no one's legs rest on my sholders.
I sit by the window in the dark. Like an express,
the waves behind the wavelike curtain crash.
A loyal subject of these second-rate years,
I proudly admit that my finest ideas
are second-rate, and may the future take them
as trophies of my struggle against suffocation.
I sit in the dark. And it would be hard to figure out
which is worse; the dark inside, or the darkness out.
Part Of Speech
...and when "the future" is uttered, swarms of mice
rush out of the Russian language and gnaw a piece
of ripened memory which is twice
as hole-ridden as real cheese.
After all these years it hardly matters who
or what stands in the corner, hidden by heavy drapes,
and your mind resounds not with a seraphic "doh",
only their rustle. Life, that no one dares
to appraise, like that gift horse's mouth,
bares its teeth in a grin at each
encounter. What gets left of a man amounts
to a part. To his spoken part. To a part of speech.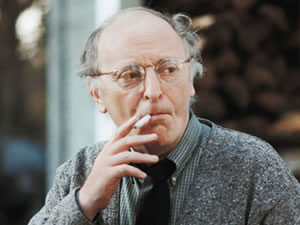 Joseph Brodsky (24 mei 1940 – 28 januari 1996)
De Amerikaanse schrijver Michael Chabon werd geboren op 24 mei 1963 in Washington. Zie ook mijn blog van 24 mei 2009 en ook mijn blog van 24 mei 2010
Uit: Manhood for Amateurs: The Wilderness of Childhood
"When I was growing up, our house backed onto woods, a thin two-acre remnant of a once-mighty wilderness. This was in a Maryland city where the enlightened planners had provided a number of such lingering swaths of green. They were tame as can be, our woods, and yet at night they still filled with unfathomable shadows. In the winter they lay deep in snow and seemed to absorb, to swallow whole, all the ordinary noises of your body and your world. Scary things could still be imagined to take place in those woods. It was the place into which the bad boys fled after they egged your windows on Halloween and left your pumpkins pulped in the driveway. There were no Indians in those woods, but there had been once. We learned about them in school. Patuxent Indians, they'd been called. Swift, straight-shooting, silent as deer. Gone but for their lovely place names: Patapsco, Wicomico, Patuxent.
A minor but undeniable aura of romance was attached to the history of Maryland, my home state: refugee Catholic Englishmen, cavaliers in ringlets and ruffs, pirates, battles, the sack of Washington, "The Star-Spangled Banner," Harriet Tubman, Antietam. And when you went out into those woods behind our house, you could feel all that history, those battles and dramas and romances, those stories. You could work it into your games, your imaginings, your lonely flights from the turmoil or torpor of your life at home. My friends and I spent hours there, braves, crusaders, commandos, blues and grays."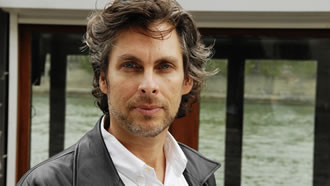 Michael Chabon (Washington, 24 mei 1963)
De Franse schrijver, dichter en schilder Henri Michaux werd geboren op 24 mei 1899 in Namur in België. Zie ook mijn blog van 24 mei 2007 ook mijn blog van 24 mei 2008 en ook mijn blog van 24 mei 2009 en ook mijn blog van 24 mei 2010
Ma vie
Tu t'en vas sans moi, ma vie.
Tu roules.
Et moi j'attends encore de faire un pas.
Tu portes ailleurs la bataille.
Tu me désertes ainsi.
Je ne t'ai jamais suivie.
Je ne vois pas clair dans tes offres.
Le petit peu que je veux, jamais tu ne l'apportes.
A cause de ce manque, j'aspire à tant.
A tant de choses, à presque l'infini...
A cause de ce peu qui manque, que jamais tu n'apportes.
Rêve de moore
…Et voyageant ainsi qu'on fait en rêve, elle arrive au milieu d'une peuplade de nègres.
Et là, suivant la coutume qui s'attache aux fils de roi, l'enfant royal est nourri par la mère et par la nourrice. Mais à la nourriture on ne laisse qu'un sein. L'autre est sectionné et la poitrine est plate comme celle d'un Homme (sauf le nœud de la cicatrice).
La voyageuse, voyant cela, s'étonne.
Alors le vice-roi : « Vous avez bien remarqué comme tout le monde, n'est-ce pas, que quand l'enfant tette, l'autre mamelle, il la touche constamment et la caresse. C'est ainsi que ça va le mieux.
« Or la nourrice nous en coupons une pour que l'enfant apprenne plus vite à parler. En effet, ce sein absent l'intrigue tellement qu'il n'a de cesse qu'il n'ait pu composer un mot et interroger là-dessus son entourage.
« Et le premier mot qui vient, c'est toujours : abricot. »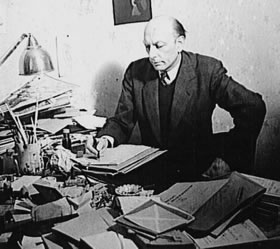 Henri Michaux (24 mei 1899 – 19 oktober 1984)
De Ierse schrijver William Trevor werd geboren op 24 mei 1928 in Mitchelstown, County Cork. Zie ook mijn blog van 24 mei 2009 en ook mijn blog van 24 mei 2010
Uit: Cheating at Canasta: The Dressmaker's Child
"Cahal sprayed WD-40 on to the only bolt his spanner wouldn't shift. All the others had come out easily enough but this one was rusted in, the exhaust unit trailing from it. He had tried to hammer it out, he had tried wrenching the exhaust unit this way and that in the hope that something would give way, but nothing had. Half five, he'd told Heslin, and the bloody car wouldn't be ready.
The lights of the garage were always on because shelves had been put up in front of the windows that stretched across the length of the wall at the back. Abandoned cars, kept for their parts, and cars and motorcycles waiting for spares, and jacks that could be wheeled about, took up what space there was on either side of the small wooden office, which was at the back also. There were racks of tools, and workbenches with vices along the back wall, and rows of new and reconditioned tyres, and drums of grease and oil. In the middle of the garage there were two pits, in one of which Cahal's father was at the moment, putting in a clutch. There was a radio on which advice was being given about looking after fish in an aquarium. "Will you turn that stuff off?" Cahal's father shouted from under the car he was working on, and Cahal searched the wavebands until he found music of his father's time.
He was an only son in a family of girls, all of them older, all of them gone from the town -- three to England, another in Dunne's in Galway, another married in Nebraska. The garage was what Cahal knew, having kept his father company there since childhood, given odd jobs to do as he grew up. His father had had help then, an old man who was related to the family, whose place Cahal eventually took."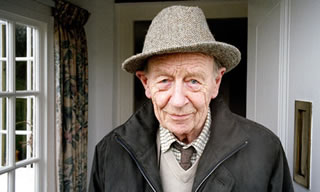 William Trevor (Mitchelstown, 24 mei 1928)



Zie voor nog meer schrijvers van de 24e mei ook
mijn vorige blog van vandaag
.
24-05-2011 om 19:48 geschreven door Romenu

Tags:Bob Dylan, Joseph Brodsky, Michael Chabon, Henri Michaux, William Trevor, Romenu