E-mail mij


Druk op onderstaande knop om mij te e-mailen.


Romenu


Romenu is een blog over gedichten, literatuur en kunst Maar Romenu is ook een professionele freelance vertaler
Du-Ne en Ne-Du http://www.romenu.nl.


Huur eens een (vakantie)huis in een natuurgebied, dichtbij het centrum van Nijmegen


Google


Georg Trakl

Georg Trakl werd op 3 februari 1887 in het conducteurshuis aan de Waagplatz 2 in Salzburg geboren. Zijn vader, Tobias Trakl, was een handelaar in ijzerwaren en zijn moeder, die ook psychische problemen had, was Maria Catharina Trakl, (meisjesnaam Halik). Voorts had hij nog drie broers en drie zussen. Margarethe (doorgaans Grethe genoemd) stond hem het naast, zelfs zodanig dat sommigen een incestueuze verhouding vermoeden. Zijn jeugd bracht hij door in Salzburg. Vervolgens bezocht hij van 1897 tot 1905 het humanistische gymnasium. Om toch een academische opleiding te kunnen volgen, werkte hij tot 1908 in de praktijk bij een apotheker. Sommigen vermoedden dat hij dit vooral deed om zichzelf opiaten te kunnen verschaffen. Bij het uitbreken van WO I werd Trakl als medicus naar het front in Galicië (heden ten dage in Oekraïne en Polen) gestuurd. Zijn gemoedsschommelingen leidden tot geregelde uitbraken van depressie, die verergerd werden door de afschuw die hij voelde voor de verzorging van de ernstig verwonde soldaten. De spanning en druk dreven hem ertoe een suïcidepoging te ondernemen, welke zijn kameraden nochtans verhinderden. Hij werd in een militair ziekenhuis opgenomen in Kraków, alwaar hij onder strikt toezicht geplaatst werd.Trakl verzonk daar in nog zwaardere depressies en schreef Ficker om advies. Ficker overtuigde hem ervan dat hij contact moest opnemen met Wittgenstein, die inderdaad op weg ging na Trakls bericht te hebben ontvangen. Op 4 november 1914, drie dagen voordat Wittgenstein aan zou komen, overleed hij echter aan een overdosis cocaïne


Paul Celan

Paul Celan werd onder de naam Paul Antschel op 23 november 1920 geboren in Czernowitz, toentertijd de hoofdstad van de Roemeense Boekovina, nu behorend bij de Oekraïne. Paul Celans ouders waren Duitssprekende joden die hun zoon joods opvoedden en hem naar Duitse christelijke scholen stuurden. In 1942 werden Celans ouders door de Duitse bezetter naar een werkkamp gedeporteerd en daar vermoord. Hijzelf wist aanvankelijk onder te duiken, maar moest vanaf juli 1942 in een werkkamp dwangarbeid verrichten. Celan overleefde de oorlog. Via Boekarest en Wenen vestigde Celan zich in 1948 in Parijs. Daar was hij werkzaam als dichter, vertaler en doceerde hij aan de prestigieuze Ecole Normale Supérieure. Vermoedelijk op 20 april 1970 beëindigde hij zijn leven zelf door in de Seine te springen.


Gerard Reve

Gerard Reve over: Medearbeiders "God is in de mensen, de dieren, de planten en alle dingen - in de schepping, die verlost moet worden of waaruit God verlost moet worden, door onze arbeid, aangezien wij medearbeiders van God zijn." Openbaring "Tja, waar berust elk godsbegrip op, elke vorm van religie? Op een openbaring, dat wil zeggen op een psychische ervaring van zulk een dwingende en onverbiddelijke kracht, dat de betrokkene het gevoel heeft, niet dat hij een gedachte of een visioen heeft, maar dat een gedachte gedachte of visioen hem bezit en overweldigt."


Simon Vestdijk
Simon Vestdijk (Harlingen, 17 oktober 1898 – Utrecht, 23 maart 1971) was een Nederlands romancier, dichter, essayist en vertaler. Zijn jeugd te Harlingen en Leeuwarden beschreef hij later in de Anton Wachter-cyclus. Van jongs af aan logeerde hij regelmatig bij zijn grootouders in Amsterdam, waar hij zich in 1917 aan de Universiteit van Amsterdam inschrijft als student in de medicijnen. Tijdens zijn studie die van 1917 tot 1927 duurde, leerde hij Jan Slauerhoff kennen.Tot 1932 is hij als arts in praktijken door heel Nederland werkzaam. In 1932 volgt zijn officiële schrijversdebuut met de uitgave van de bundel Verzen in De Vrije Bladen. Doorslaggevend voor Vestdijks uiteindelijke keuze voor de literatuur is zijn ontmoeting in 1932 met Eddy Du Perron en Menno ter Braak. Deze ontmoeting had tot resultaat dat hij redactielid werd van het tijdschrift Forum Kort daarop, in 1933, wordt zijn eerste novelle, De oubliette, uitgegeven. In hetzelfde jaar schrijft hij Kind tussen vier vrouwen, dat, eerst geweigerd door de uitgever, later de basis zal vormen voor de eerste drie delen van de Anton Wachter-romans. In 1951 ontvangt Vestdijk de P.C. Hooftprijs voor zijn in 1947 verschenen roman De vuuraanbidders. In 1957 wordt hij voor het eerst door het PEN-centrum voor Nederland voorgedragen voor de Nobelprijs voor de Literatuur, die hij echter nooit zal krijgen. Op 20 maart 1971 wordt hem de Prijs der Nederlandse Letteren toegekend, maar voor hij deze kan ontvangen overlijdt hij op 23 maart te Utrecht op 72-jarige leeftijd. Vestdijk was auteur van ca. 200 boeken. Vanwege deze enorme productie noemde de dichter Adriaan Roland Holst hem 'de man die sneller schrijft dan God kan lezen'. Andere belangrijke boeken van Simon Vestdijk zijn: "Kind van stad en land" (1936), "Meneer Visser's hellevaart" (1936), "Ierse nachten" (1946), "De toekomst de religie" (1947), "Pastorale 1943" (1948), "De koperen tuin" (1950), "Ivoren wachters" (1951), "Essays in duodecimo" (1952) en "Het genadeschot" (1964).


K.P. Kavafis

K.P. Kavafis werd als kind van Griekse ouders, afkomstig uit Konstantinopel, geboren in 1863 in Alexandrië (tot vandaag een Griekse enclave) waar hij ook het grootste deel van zijn leven woonde en werkte. Twee jaar na de dood van zijn vader verhuist het gezin in 1872 naar Engeland om na een verblijf van vijf jaar naar Alexandrië terug te keren. Vanwege ongeregeldheden in Egypte vlucht het gezin in 1882 naar Konstantinopel, om na drie jaar opnieuw naar Alexandrië terug te gaan. In de jaren die volgen maakt Kavafis reizen naar Parijs, Londen en in 1901 zijn eerste reis naar Griekenland, in latere jaren gevolgd door nog enkele bezoeken. Op de dag van zijn zeventigste verjaardag, in 1933 sterft Kavafis in Alexandrië. De roem kwam voor Kavafis pas na zijn dood, dus postuum. Deels is dat toe te schrijven aan zijn eigen handelswijze. Hij was uiterst terughoudend met de publicatie van zijn gedichten, liet af en toe een enkel gedicht afdrukken in een literair tijdschrift, gaf in eigen beheer enkele bundels met een stuk of twintig gedichten uit en het merendeel van zijn poëzie schonk hij op losse bladen aan zijn beste vrienden.


Thomas Mann


Thomas Mann, de jongere broer van Heinrich Mann, werd geboren op 6 juni 1875 in Lübeck. Hij was de tweede zoon van de graankoopman Thomas Johann Heinrich Mann welke later één van de senatoren van Lübreck werd. Zijn moeder Julia (geboren da Silva-Bruhns) was Duits-Braziliaans van Portugees Kreoolse afkomst. In 1894 debuteerde Thomas Mann met de novelle "Gefallen". Toen Thomas Mann met 21 jaar eindelijk volwassen was en hem dus geld van zijn vaders erfenis toestond - hij kreeg ongeveer 160 tot 180 goldmark per jaar - besloot hij dat hij genoeg had van al die scholen en instituties en werd onafhankelijk schrijver. Kenmerkend voor zijn stijl zijn de ironie, de fenomenale taalbeheersing en de minutieuze detailschildering. Manns reputatie in Duitsland was sterk wisselend. Met zijn eerste roman, Buddenbrooks (1901), had hij een enorm succes, maar door zijn sceptische houding tegenover Duitsland na de Eerste Wereldoorlog veranderde dit volledig. Stelde hij zich tot aan de jaren twintig apolitiek op (Betrachtungen eines Unpolitischen, 1918), meer en meer raakte hij bij het Politiek gebeuren betrokken. Zijn afkeer van het nationaal socialisme groeide, zijn waarschuwingen werden veelvuldiger en heftiger. In 1944 accepteerde hij het Amerikaanse staatsburgerschap. Tussen 1943 en 1947 schreef Mann Doktor Faustus (zie Faust), de roman van de 'Duitse ziel' in de gecamoufleerd geschilderde omstandigheden van de 20ste eeuw. In 1947 bezocht hij voor het eerst sinds de Oorlog Europa, twee jaar later pas Duitsland. In 1952 vertrok hij naar Zwitserland. Op 12 augustus 1955 stierf hij in Zürich. Twintig jaar na zijn dood, in aug. 1975, is zijn literaire nalatenschap geopend: dagboekaantekeningen van 15 maart 1933 tot 29 juli 1955, alsmede notities uit de jaren 1918 tot en met 1921.Belangrijke werken zijn: Der Zauberberg, Der Tod in Venedig, Dokter Faustus , Joseph und seine Brüder en Die Bekenntnisse des Hochstaplers Felix Krull.


Rainer Maria Rilke

Rilke werd op 4 december 1875 geboren in Praag. Hij had al naam gemaakt als dichter met zijn bundels Das Stundenbuch en Das Buch der Bilder, toen hij de literaire wereld versteld deed staan en wereldfaam verwierf met de publicatie van zijn twee delen Neue Gedichte in 1907 en 1908. Hij verzamelde daarin het beste werk uit een van zijn vruchtbaarste periodes, die hij grotendeels doorbracht in Parijs. Rilke was daar diep onder de indruk gekomen van Rodin, bij wie hij een tijdlang in dienst was als particulier secretaris. Rodin, zei hij later, had hem leren kijken. Dit kijken kwam neer op intense concentratie, om het mysterie te kunnen zien 'achter de schijnbare werkelijkheid'. Latere en rijpere werken als Duineser Elegien (1912-1923) en het ronduit schitterende Die Sonette an Orfeus (1924) illustreren Rilkes metafysische visie op het onzegbare, dat haar verwoording vindt in een hermetische muzikale taal. Op 29 december 1926 overlijdt Rilke in het sanatorium in Val-Mont aan de gevolgen van leukemie. Enkele dagen later wordt hij, overeenkomstig zijn wens, begraven op het kerkhof van Raron.


* * * * * * * * * * * * * * * *

| | |
| --- | --- |
| | Over literatuur, gedichten, kunst en cultuur |

10-01-2016

Antonio Muñoz Molina, Annette von Droste-Hülshoff, Dennis Cooper, Saskia Stehouwer, Adrian Kasnitz, Mies Bouhuys, Harrie Geelen
De Spaanse schrijver Antonio Muñoz Molina werd geboren op 10 januari 1956 in Úbeda in de provincie Jaén. Zie ook alle tags voor Antonio Muñoz Molina op dit blog.
Uit: Die Nacht der Erinnerungen (Vertaald doorWilli Zurbrüggen)
"Ich habe ihn immer deutlicher gesehen, wie er aus dem Nichts auftauchte, aus dem Nirgendwo kommend wie aus einem Gedankenblitz heraus, mit dem Koffer in der Hand und ermüdet vom Hinaufeilen der von den schrägen Schatten der Marmorsäulen schraffierten Treppe, benommen von der maßlosen Weite, in die er eintritt und in der rechtzeitig seinen Zug finden zu können er sich nicht ganz sicher ist. Ich habe ihn unter all den anderen erkannt, unter denen er nicht auffällt in seinem dunklen Anzug, dem gleichfalls dunklen Regenmantel und Hut. Seine Kleidung ist europäischen Schnitts und für die Stadt und die Jahreszeit vielleicht etwas zu formell, genau wie der Koffer in seiner Hand, solide und teuer, aus Leder, doch ziemlich abgenutzt schon nach all dem Reisen, mit Aufklebern von Hotels und Reedereien, mit Kreideresten von Zollabfertigungen; ein Koffer, der schwer in seiner vom Umklammern des Tragegriffs schmerzenden Hand hängt und für eine so lange Reise dennoch unzureichend scheint. Mit der Präzision eines Polizeiberichts oder eines Traums nehme ich alle Einzelheiten der Wirklichkeit wahr.
Ich sehe sie in dem Moment vor mir auftauchen und Gestalt annehmen, als Ignacio Abel mitten im Geschiebe der Menge einen Augenblick stehen bleibt und sich umdreht wie einer, der gehört hat, dass man seinen Namen ruft. Vielleicht hat ihn jemand gesehen und sagt oder ruft seinen Namen, um über dem Tumult gehört zu werden, der von Marmorwänden und Eisengewölben widerhallt, über dem tönenden Wirrwarr von Stimmen, Schritten, kreischenden Lokomotiven, vibrierenden Böden, dem blechernen Echo der Lautsprecherdurchsagen und den Rufen der Zeitungsverkäufer, die die Abendblätter feilbieten. Ich erforsche seine Gedanken genauso wie seine Taschen und das Innere seines Koffers. Ignacio Abel betrachtet die Titelseiten der Zeitungen stets in der Erwartung und der Furcht, eine Schlagzeile zu lesen, in der das Wort Spanien, das Wort Krieg oder der Name Madrid auftaucht."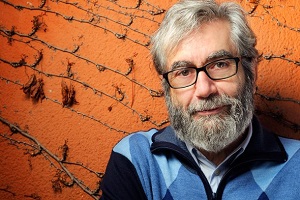 Antonio Muñoz Molina (Úbeda, 10 januari 1956)
De Duitse dichteres en schrijfster Annette von Droste-Hülshoff werd op 10 januari 1797 op het slot Hülshoff in Westfalen geboren. Zie ook alle tags voor Annette von Droste-Hülshoff op dit blog.
Am ersten Sonntage nach Heilige Drei Könige
Und sieh, ich habe dich gesucht mit Schmerzen,
Mein Herr und Gott, wo werde ich dich finden?
Ach, nicht im eignen ausgestorbnen Herzen,
Wo längst dein Ebenbild erlosch in Sünden:
Da tönt aus allen Winkeln, ruf' ich dich,
Mein eignes Echo wie ein Spott um mich.
Wer einmal hat dein göttlich Bild verloren,
Was ihm doch eigen war, wie seine Seele,
Mit dem hat sich die ganze Welt verschworen,
Daß sie dein heilig Antlitz ihm verhehle;
Und wo der Fromme dich auf Tabor schaut,
Da hat er sich im Tal sein Haus gebaut.
So muß ich denn zu meinem Graun erfahren
Das Rätsel, das ich nimmer konnte lösen,
Als mir in meinen hellen Unschuldsjahren
Ganz unbegreiflich schien, was da vom Bösen,
Daß eine Seele, wo dein Bild geglüht,
Dich gar nicht mehr erkennt, wenn sie dich sieht.
Rings um mich tönt der klare Vogelreigen:
"Horch auf, die Vöglein singen seinem Ruhme!"
Und will ich mich zu einer Blume neigen:
"Sein mildes Auge schaut aus jeder Blume."
Ich habe dich in der Natur gesucht,
Und weltlich Wissen war die eitle Frucht.
Und muß ich schauen in des Schicksals Gange,
Wie oft ein gutes Herz in diesem Leben
Vergebens zu dir schreit aus seinem Drange,
Bis es verzweifelnd sich der Sünd' ergeben:
Dann scheint mir alle Liebe wie ein Spott,
Und keine Gnade fühl' ich, keinen Gott.
Und schlingen sich so wunderbar die Knoten,
Daß du in Licht erscheinst dem treuen Blicke:
Da hat der Böse seine Hand geboten
Und baut dem Zweifel eine Nebelbrücke,
Und mein Verstand, der nur sich selber traut,
Der meint gewiß, sie sei von Gold gebaut.
Ich weiß es, daß du bist, ich muß es fühlen,
Wie eine schwere kalte Hand mich drücken,
Daß einst ein dunkles Ende diesen Spielen,
Daß jede Tat sich ihre Frucht muß pflücken;
Ich fühle der Vergeltung mich geweiht,
Ich fühle dich, doch nicht mit Freudigkeit.
Wo find ich dich in Hoffnung und in Lieben!
Denn jene ernste Macht, die ich erkoren,
Das ist der Schatten nur, der mir geblieben
Von deinem Bilde, da ich es verloren.
O Gott, du bist so mild und bist so licht!
Ich suche dich in Schmerzen, birg dich nicht!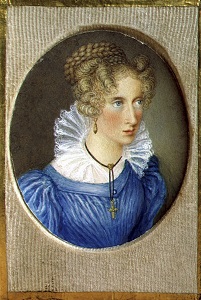 Annette von Droste-Hülshoff (10 januari 1797 – 24 mei 1848)
De Amerikaanse dichter en schrijver Dennis Cooper werd geboren op 10 januari 1953 in Arcadia, Californië. Zie ook alle tags voor Dennis Cooper op dit blog.
The Body
Not the kid who dreamt it would be a magician. Not the kid
who thought it could survive anywhere like an astronaut.
Not the kid who would pass out on sidewalks like it was
his sleeping bag. Not the kid who would drug it and try to
escape like its hostage. Not the kid who would plant it in
front of my TV for days at a time like he was a piece of my
furniture. Not the kid who said if he disappeared I wouldn't
even notice like it was a magician. Not the kid whose dead
body was so unbelievable that I yelled at it, How the fuck
could you do that?
Pair
His neck was stiff
from cruising any
driver old enough
to buy him. I came
by around 4 AM
"Nothing?" "I've
been nothing all
night," he said. I
couldn't see why.
He seemed blond
and maybe twenty
with eyes he could
have stolen. Not
like the types on
other corners—
whores so bored
they expect to be
beaten. I would
have paid, but
he needed more
than I had for less
than I wanted. We
waited and waited
until the sunlight
crept up on our
real, ugly bodies.
When cars did-
n't slow and the
heads wouldn't
turn, we turned
and walked home
to our darkness.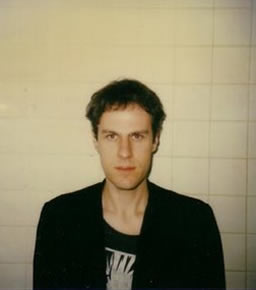 Dennis Cooper (Arcadia, 10 januari 1953)
In 1984
De Nederlandse dichteres Saskia Stehouwer werd geboren op 10 januari 1975 in Alkmaar. Zie ook alle tags voor Saskia Stehouwer op dit blog.
inkt
na twee ontsnappingspogingen
liet het huis zijn hoofd hangen
en weigerde te spreken
een theekop de enige getuige
van een traag uitgebraakt lied
rond middernacht
stop voor je de laatste druppel
uit je sinaasappels hebt geperst
en ga zitten
het glijdt door het gras naar je toe
flard verhaal
vliegtuig dat een trein kruist
in de lucht tussen jou en je opdracht
regen tikt mensen aan
die het niet verdienen
je valt in slaap
een wang in de lucht
de ander moeizaam op zoek
naar zijn contouren
ze vonden hem langs de kant
van de weg
diep in gesprek
het was een vuile winter
vol bevroren schapen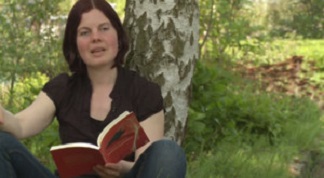 Saskia Stehouwer (Alkmaar, 10 januari 1975)
De Duitse dichter en schrijver Adrian Kasnitz werd geboren op 10 januari 1974 in Orneta, Polen. Zie ook alle tags voor Adrian Kasnitz op dit blog.
bremerhaven 2
der wind trägt den ton fort
ein sirren von der hafenanlage
in lichtkegeln
die gesamte stadt an kurz
werdenden tagen - lichterketten
nach außen gekehrt
um die dunkelheit zu vertreiben
(als ob sie dort wohnte!)
die container wagen sich
mehr und mehr an die dörfer
kräne bugsieren sie dorthin
der deich hält
das bier kalt wie luft
nur die bedienung an der bar
verspricht trost in ihrem ausschnitt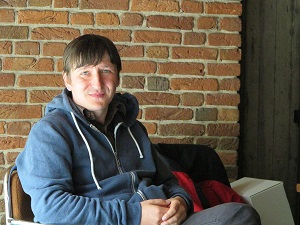 Adrian Kasnitz (Ometa, 10 januari 1974)
De Nederlandse dichteres en schrijfster Mies Bouhuys werd geboren op 10 januari 1927 in Weesp. Zie ook alle tags voor Mies Bouhuys op dit blog.
Point of no return
En ook als het zou kunnen
- de wind mee, een begaanbaar pad -,
loont het dan wel de moeite
uit de woestijn - want dat bezweer ik je,
dat was het - nieuwe woestijnen in te gaan?
O, ik geef toe, ik heb als iedereen
die tussen buitenlanders leeft...
Leeft? Het woord ontvalt me: verblijft. Verblijven moet.
Hoogstens gedoogd als onkruid tussen stenen -.
geloofd dat het zou kunnen,
dat er een overkant bestaat.
't Was goed er onder het werk - en wie erbij was
weet wat voor werk - over te dromen:
wat of je mee zou nemen,
wie er nog meer zou gaan.
Hoe je zou zingen in je eigen taal
en of het zijn zou zoals je het voor ogen had.
Het maakte de wereld van dwangarbeid
en koppelbazen, van steen op steen
en toch nooit grond onder de voeten,
die meer woestijn is dan woestijn kan zijn,
bij ogenblikken leefbaar.
Maar nu, op het moment dat ik zou moeten zingen,
dronken van vrijheid zijn,
ben ik een niemand. Voel ik niets,
vraag ik me af of ik niet beter
naamloos, zoals ik naamloos heb gezwoegd,
verduurd heb, uitgebuit ben en ben weggetrokken,
een naamloos graf had kunnen vinden
in vreemde grond.
Er hebben teveel voeten over mij gelopen
en teveel ogen mij niet gezien.
De harde woorden die gezegd zijn
blijven mij achtervolgen: ruiters te paard.
Horden. Hoog boven ons. Wij onder. Altijd.
Zolang dat voortduurt zullen wij, waar ook
woestijn temidden van woestijnen zijn,
wachtend op brood dat uit de lucht komt vallen,
wachtend op water. Oerwater
dat alle horden toe zou dekken
en in de diepte dalen doet als steen.
Zolang, zeg ik je
is er geen omkeer.
Geen overkant.

Mies Bouhuys (10 januari 1927 – 30 juni 2008)
De Nederlandse schrijver, dichter, tekenaar, illustrator, regisseur, animator, en vertaler Harrie Geelen werd geboren in Heerlen op 10 januari 1939. Zie ook alle tags voor Harrie Geelen op dit blog.
Als ik kon tekenen wat ik wou (Fragment)
Als ik kon tekenen wat ik wou
dan wist ik wel wat ik deed.
Ik tekende hoe het maanlicht 's avonds
laat door het raam thuis binnen gleed.
Als ik kon schilderen, wist ik wel hoe grauw
het plein was als de regen zweeg.
Als ik dan buiten kwam op weg naar jou
leek heel de stad leeg.
Ik kan het gras dat om het huis heen staat
nog horen groeien en ik weet nog waar
ik van de bakker broodjes kreeg
en spelen mocht met lapjes deeg.
Als ik kon tekenen, denk ik, begon ik daar…
Maar ik kan denken wat ik denk
en ik kan voelen wat ik voel.
Ik kan een heel klein beetje zeggen
en bedoel een heleboel.
Maar verder kan ik niet…
Daar houdt het op…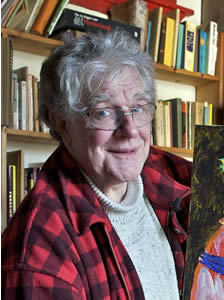 Harrie Geelen (Heerlen, 10 januari 1939)
Zie voor nog meer schrijvers van de 10e januari ook mijn vorige twee blogs van vandaag.
10-01-2016 om 13:23 geschreven door Romenu

Tags:Antonio Muñoz Molina, Annette von Droste-Hülshoff, Dennis Cooper, Saskia Stehouwer, Adrian Kasnitz, Mies Bouhuys, Harrie Geelen, Romenu



Jared Carter, Yasmina Khadra, Jutta Treiber, Franz Kain, Philip Levine, Renate Schostack, Ingeborg Drewitz
De Amerikaanse dichter Jared Carter werd geboren op 10 januari 1939 in Elwood, een dorpje in Indiana, VS. Zie ook alle tags voor Jared Carter op dit blog.
Dark Transit
Always the passing of trains in the night,
The sound becoming a part of sleep, unnoticed,
Until one night you hear the call, and know
That a certain train has come for you at last.

The cars illumined with strange empty light,
The dining room with its starched tablecloths,
Its gleaming chairs, the lanterns swinging
In time with the headlong surge of the wheels.

Diesel engine, steam engine, wood-burner,
It does not matter, it is slowing down now,
And it has come for you, already you can see
How it glides to a stop in the empty station.

The stationmaster waves his yellow lantern
And confers with the conductor. It is time.
The train has arrived. You must go forward.
Passengers peer from the clouded windows.

The conductor folds down the steps, he beckons,
It is time, it is time, the whistle calls, the engine
Lets off steam, steam roiling and billowing
Far down the edge of the long dark platform.
Snow
At every hand there are moments we
cannot quite grasp or understand. Free
to decide, to interpret, we watch rain
streaking down the window, the drain
emptying, leaves blown by a cold wind.
At least we sense a continuity in
such falling away. But not with snow.
It is forgetfulness, what does not know,
has nothing to remember in the first place.
Its purpose is to cover, to leave no trace…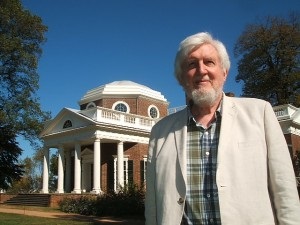 Jared Carter (Elwood, 10 januari 1939)
De Algerijnse schrijver Yasmina Khadra (pseudoniem van Mohammed Moulessehoul) werd geboren op 10 januari 1955 in Kenadsa. Zie ook alle tags voor Yasmina Khadra op dit blog.
Uit: The Swallows of Kabul (Vertaald door John Cullen)
"Where have you been?" thunders a large-bellied, bearded man stroking a Kalashnikov. "I sent someone to fetch you an hour ago."
Without slackening his gait, Atiq says, "I beg your pardon, Qassim Abdul Jabbar. I wasn't home." Then, in a resentful voice, he adds, "I was at the hospital. I had to take my wife. It was an emergency."
Qassim Abdul Jabbar grumbles, not at all convinced, and puts a finger on the face of his watch, indicating to Atiq that everyone's growing impatient, and all because of him. Atiq hunches his shoulders and heads toward the building, where armed men waiting for him are squatting on either side of the main door. One of them stands up, dusts off his behind, walks over to a pickup truck parked about sixty feet away, climbs inside, guns the motor, and backs up to the prison entrance.
Atiq Shaukat extracts a ring of keys from under his long vest and rushes into the jail, followed by two militiawomen hidden inside their burqas. In a corner of the cell, in a pool of light directly under a small window, a veiled woman has just finished her prayers. The other two women, the ones from the militia, ask the prison guard to withdraw. Once they are alone, they wait for the prisoner to rise to her feet. Then they approach her, unceremoniously command her to keep still, and begin to bind her tightly, pinioning her arms to her sides and trussing her legs together at midthigh. Having verified that the cords are pulled taut and solidly knotted, they envelop the woman in a large sack of heavy cloth and push her ahead of them into the corridor. Atiq, who is waiting at the door, signals to Qassim Abdul Jabbar that the militiawomen are coming. He, in turn, tells the men in front of the jail to move away. Intrigued by the proceedings, a few onlookers form a silent group at some distance from the building. The two militiawomen step out into the street, seize the prisoner by her armpits, push and haul her up into the back of the truck, load her onto the bench, and sit beside her, so close that she's pinned between them."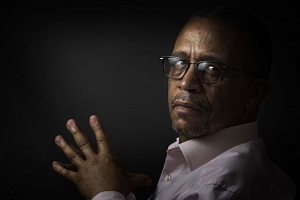 Yasmina Khadra (Kenadsa, 10 januari 1955)
De Oostenrijkse dichteres en schrijfster Jutta Treiber werd geboren op 10 januari 1949 in Oberpullendorf. Zie ook alle tags voor Jutta Treiber op dit blog.
Uit: Liebe und andere Ungereimtheiten
Ich möchte
ehe es zu spät ist
noch einmal etwas
ganz Verrücktes tun
noch einmal über
Licht und Schatten springen
noch einmal laute
Feuerlieder singen
möcht einmal nicht
den Zeigefinger
gegen mich erheben
möcht einen bunten
Lebensteppich weben
noch einmal
über goldne Wasser
schweben
und mich dem Rausch
des schwarzen Lorbeerbaums
hingeben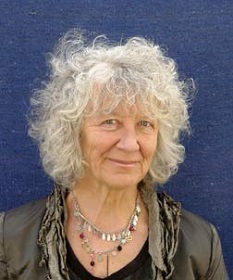 Jutta Treiber (Oberpullendorf, 10 januari 1949)
De Oostenrijkse schrijver, journalist en politicus Franz Kain werd geboren op 10 januari 1922 in Goisern, het huidige Bad Goisern. Zie ook alle tags voor Franz Kain op dit blog.
Uit: Auf dem Taubenmarkt
"Statt Milch wurde dem Grieß in der Pfanne süßer Rahm aufgegossen und als Fett durfte nur reine Butter genommen werden. Dadurch wurde der Grieß flaumig und weich. Damit das Gericht eine goldgelbe Farbe bekam, wurden einige Fädchen Safran darüber gestreut. Diese Speise, die am Hochzeitsmorgen zum Frühstück gegessen wird, braucht soviel Butter, daß sie wie Grundwasser unter dem Löffelstich liegt. Diese überreichliche Fettzugabe wurde auch deshalb praktiziert, damit die vielen Gäste nicht gleich einen ganzen Weidling voll fressen können. Er hatte von der Bäuerin das Hochzeitskoch als Belohnung bekommen, weil er das lange Gedicht »dö heilig' Nocht« aufgesagt hatte, ohne auch nur ein einzigesmal stecken zu bleiben. Als er den Satz rezitierte

»Und waun i stoanold wia,
Dö Nocht vagis i mei Löbtag nia!«

war es auf einmal ganz still in der Bauernstube. Die Bäuerin schluchzte vor Rührung laut auf und die Mutter hatte vor Stolz auf das Gedächtnis des Knaben nasse Augen.
Die Bäuerin war eine bekannte »Zauberin«. Sie murmelte oft unverständliche Sätze und dabei wurde ihr verschmitztes Gesicht böse und drohend. Obwohl evangelisch, hatte sie stets Sehnsucht nach dem Mystischen der Katholiken und Weihwasser hielt sie für ein wirkliches Zaubermittel. Ständig mußte die Mutter Weihbrunn beschaffen, wobei der Vater ganz einfach beim Brunnen eine Bierflasche vollaufen ließ. Wenn die Mutter gegen diesen Betrug aufbegehrte, sagte der Vater nur: Hier gilt das Wort, Weib, dein Glaube hat dir geholfen. Wenn im Dorf von dem kleinen Anwesen, das etwa tausend Meter hoch lag, mit dem Blick auf den Dachsteingletscher und den schwarzen Hallstättersee, die Rede war, wurde stets nur der Name der Bäuerin, nie der ihres Mannes genannt. Der saß meist in der Stube und spaltete aus eingeweichtem Fichtenholz Späne. Der Knabe schaute ihm dabei genau zu, ein wenig ängstlich, denn der alte Mann hatte ein »ausgeronnenes« Auge mit einem weißen Augapfel. Der uralte Mann sprach stets von noch älteren Zeiten."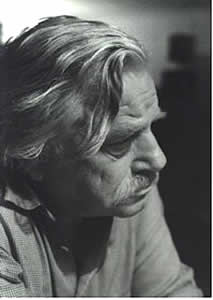 Franz Kain (10 januari 1922 – 27 oktober 1997)

De Amerikaanse dichter Philip Levine werd geboren op 10 januari 1928 in Detroit, Michigan. Zie ook alle tags voor Philip Levine op dit blog.
The End Of Your Life
First light. This misted field
is the world, that man
slipping the greased bolt
back and forth, that man
tunneled with blood
the dark smudges of whose eyes
call for sleep, calls
for quiet, and the woman
down your line,
the woman who screamed the loudest,
will be quiet.
The rushes, the grassless shale,
the dust, whiten like droppings.
One blue
grape hyacinth whistles
in the thin and birdless air
without breath.
Ten minutes later
a lost dog poked
for rabbits, the stones
slipped, a single blade
of grass stiffened in sun;
where the wall
broke a twisted fig
thrust its arms ahead
like a man
in full light blinded.
In the full light the field
your eyes held
became grain by grain
the slope of father mountain,
one stone of earth
set in the perfect blackness.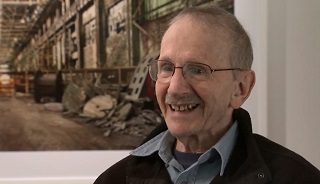 Philip Levine (10 januari 1928 – 14 februari 2015)
De Duitse schrijfster en journaliste Renate Schostack werd geboren op 10 januari 1938 in Pforzheim. Zie ook alle tags voor Renate Schostack op dit blog.
Uit: Der Chello
"Seine Geschwister, welche die Metzgerei nicht weiterführten, hatten sich von ihm losgesagt. Die Eltern waren tot. An diese erinnere ich mich gut. Sie galten als "bhäb". Ein unübersetzbares schwäbisches Wort: geizig, engherzig, von kleinlichem Wesen in jedwedem Sinn. Als Kind hatte ich bei den Mürles Leber- und Schinkenwurst gekauft und zugesehen, wie die Metzgerin dicht an den Fingerkuppen die Stücke abschnitt. Oft trugen ihre Hände einen Verband. Sie hatte ein hartes Gesicht mit eingezogenen Lippen. Dass sie lachte, konnte man sich nicht vorstellen. Ganz anders die Tante Emma, die ebenfalls im Laden stand. Eine unverheiratete dralle Blondine mit roten Backen, blauen Augen und fast immer einem Lächeln auf den Lippen.
Der Chello wohnte in der ehemaligen Wurstküche im Hof seines Elternhauses. Es war ein Raum ohne Fenster, spärlichst möbliert, mit einer Glühbirne an der Decke. Betonfußboden und gekachelte Wände. Manchmal verschwand er für einige Tage. Er hatte Geld gespart, das er bei nächtlichen Streifzügen in den Vergnügungsvierteln der nahen Großstädte durchbrachte. Auf einen Tausender mehr oder weniger in einer Nacht kam es ihm nicht an. All dies weiß ich von seinem Betreuer, den er sich in späteren Jahren erwählte: seinem Hausarzt, den er von Kinder- und Schultagen her kannte. Die Praxis lag neben der früheren Metzgerei. Jeden Morgen erschien der Chello am Empfang mit einem heiseren "Mädle, wie geht's euch?" Er fragte nach dem Chef, erkundigte sich, was es zu tun gebe. Er leerte den Briefkasten, versah die Gänge zum Postamt, zur Apotheke, stellte die Mülleimer vor die Tür, besorgte er dem Praxisteam den Wurstweck fürs zweite Frühstück. Dass dabei ein Leberwurstbrötchen oder eine Butterbretzel auch für ihn abfiel, nahm er gern an. Aber es war nicht die Bedingung für seine Hilfe. Er wollte unter den Leuten sein, einen Schwatz machen."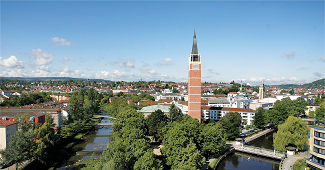 Renate Schostack (Pforzheim, 10 januari 1938)
Pforzheim
De Duitse schrijfster Ingeborg Drewitz werd geboren op 10 januari 1923 in Berlijn. Zie ook alle tags voor Ingeborg Drewitz op dit blog.
Uit: Gestern war Heute - Hundert Jahre Gegenwart
"Das Mädchen lässt sie allein. Sie hört Stimmen, sitzt auf der Kiste. Ihr ist elend. Sie würde sich gern waschen. Sie würde gern das Fenster aufklinken, dahinter ein Baum, hellgrüne Blätter. Lächerlicher Wunsch, aufzuräumen: die leeren Konservendosen, die als Aschenbecher dienen, die Zeitungsstapel, die geknäulten Decken auf den Feldbetten und Liegen, die herumstehenden Schuhe, Wäschebündel.
Jemand kommt ins Zimmer, grüßt nicht, greift ein paar Zeitungen, geht. Geflickte Bluejeans, schiefgetretene Ab-sätze, lange, lockige Haare, der Pullover hängt ausgeleiert über dem Hosenbund. Die hier wohnen, haben sicher alle ein Zuhause mit Bett oder Couch, mit Badezimmer, mit Teppichen, Stühlen, Tischen, haben Mütter, die für ihre Wäsche gesorgt haben, ihre Schuhe zum Besohlen gebracht haben. Dasitzen, warten, Fragen stellen, ohne Antworten zu wissen.
Als Renate vor ihr steht, zuckt sie zusammen, hat sie, barfuß, nicht kommen hören. Sie will ihr die Hand geben, aber Renate hat keine Hand bereit. Sie bückt sich, um die Veil-chen aus dem Zeitungspapier zu wickeln. Ich hab da was,Veilchen, die magst du doch. Lass die mal drin, sagt Renate.
Und hier ein bisschen was - für euch alle. Wir brauchen keine Geschenke, sagt Renate.
Dasitzen. Die Plastiktüte wieder abstellen, die Veilchen nicht wieder einwickeln.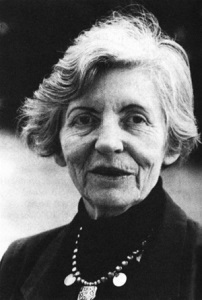 Ingeborg Drewitz (10 januari 1923 – 26 november 1986)
Zie voor nog meer schrijvers van de 10e januari ook mijn vorige blog van vandaag.
10-01-2016 om 13:21 geschreven door Romenu

Tags:Jared Carter, Yasmina Khadra, Jutta Treiber, Franz Kain, Philip Levine, Renate Schostack, Ingeborg Drewitz, Romenu



Robinson Jeffers, Giselher Werner Hoffmann, Jan H. Eekhout, Vicente Huidobro, Aubrey Thomas de Vere, Alexei Tolstoy
De Amerikaanse dichter en schrijver John Robinson Jeffers werd geboren op 10 januari 1887 in Allegheny, nu Pittsburgh, Pennsylvania. Zie ook ook alle tags voor Robinson Jeffers op dit blog.
Hurt Hawks
I
The broken pillar of the wing jags from the clotted shoulder,
The wing trails like a banner in defeat,
No more to use the sky forever but live with famine
And pain a few days: cat nor coyote
Will shorten the week of waiting for death, there is game without talons.
He stands under the oak-bush and waits
The lame feet of salvation; at night he remembers freedom
And flies in a dream, the dawns ruin it.
He is strong and pain is worse to the strong, incapacity is worse.
The curs of the day come and torment him
At distance, no one but death the redeemer will humble that head,
The intrepid readiness, the terrible eyes.
The wild God of the world is sometimes merciful to those
That ask mercy, not often to the arrogant.
You do not know him, you communal people, or you have forgotten him;
Intemperate and savage, the hawk remembers him;
Beautiful and wild, the hawks, and men that are dying, remember him.

II
I'd sooner, except the penalties, kill a man than a hawk;
but the great redtail
Had nothing left but unable misery
From the bone too shattered for mending, the wing that trailed under his talons when he moved.
We had fed him six weeks, I gave him freedom,
He wandered over the foreland hill and returned in the evening, asking for death,
Not like a beggar, still eyed with the old
Implacable arrogance.
I gave him the lead gift in the twilight.
What fell was relaxed, Owl-downy, soft feminine feathers; but what
Soared: the fierce rush: the night-herons by the flooded river cried fear at its rising
Before it was quite unsheathed from reality.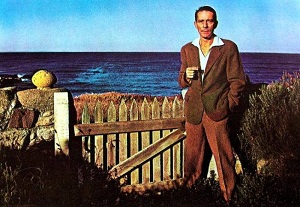 Robinson Jeffers (10 januari 1887 – 20 januari 1962)

De Duitstalige, uit Namibië stammende, schrijver Giselher Werner Hoffmann werd geboren op 10 januari 1958 in Windhoek. Zie ook alle tags voor Giselher Werner Hoffmann op dit blog.
Uit: Schattenjäger
"Als es Abend wurde, bog Kondjoura vom Elefantenpfad in den angrenzenden Mopanewald ab. Er schlängelte sich an den knorrigen, im Schatten ruhenden Stämmen vorüber und stieß hinter dem schmalen Laubgürtel auf den Kunene. Frische Rinderfährten und die Spuren von Hirten führten zum Ufer hinunter, und in der Mitte des Grenzflusses zwischen Namibia und Angola strömte das Wasser gurgelnd über eine Felsenbank. Der Kunene war an dieser Stelle nicht mehr als siebzig Schritte breit. Kondjoura legte den Hirtenstab fort, löste den Knoten in seinem Leibriemen, ließ ihn samt den beiden schwarzen, kalbsledernen Lendenschurzen und dem Tragebeutel auf den Boden fallen und schleuderte die Sandalen aus Giraffenleder von seinen Füßen. Dann näherte er sich dem Fluß. Das Ufer war mit rundgeschliffenen Steinen übersät, so daß er sich an dem mannshohen Schilf festhalten mußte. Kaum hatte er einen Schritt in das milchiggrüne Wasser getan, begann der Strom an seinen Beinen zu zerren. Er hockte sich zwischen zwei Felsen und schloß die Augen. Der Fluß belebte ihn, so wie er auch seine Urahnen belebt hatte, als die Herero zu Beginn des 16. Jahrhunderts aus der angolanischen Provinz Mocamedes gen Süden gezogen, den Kunene überquert und ihn auf ihrer Wanderung in das nordwestliche Grenzgebiet des heutigen Namibias zu ihrer Rechten - okunene - gelassen hatten."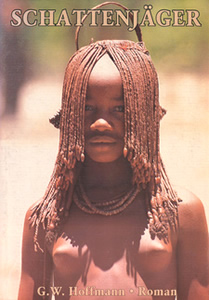 Giselher Werner Hoffmann (Windhoek, 10 januari 1958)
De Nederlandse dichter en schrijver Jan H. Eekhout werd geboren op 10 januari 1900 in Sluis. Zie ook alle tags voor Jan H. Eekhout op dit blog en alle tags voor Jan Eekhout op dit blog.
Bekentenis
Heer, Heer, den dag lang hijgen onze tochten
voorbij aan U, Die eens ons oogen zochten.

Heer, U voorbij vermoedt ons wringend denken,
in armelijken waan, een groot doel wenken.

Heer, elk van ons aanschouwt een ijdel wonder
en drijft zichzelven blindelings ten onder.

En Gij, Gij zijt in eind'loos droef bezinnen
en huivert, God, om machteloos beminnen.

Doch strekkend, Heer, de moegejaagde leden
richt menig onzer nog tot U zijn beden.

Gij weet, o God, hun saamgekrampte handen
en bin hun eenzaam hart dat schroeiend branden.

Want als de nachtwind ruizelt door het loover
buigt Gij U zacht, Heer, tot mijn leven over.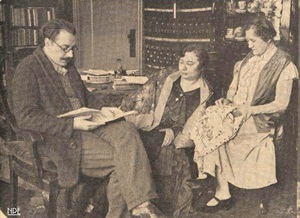 Jan H. Eekhout (10 januari 1900 – 6 maart 1978)
Hier met echtgenote en schoonmoeder
De Chileense dichter Vicente García-Huidobro Fernández werd op 10 januari 1893 geboren in Santiago. Zie ook alle tags voor Vincente Huidobro op dit blog.
Storm
Stormy night
The darkness bites my head
The devils
who drive the thunder
are having their vacation
No one goes by in the street
She hasn't come
Something
fell in the corner
The clock
stopped

Hours
A small town
A train stopped on the plain
Deaf stars sleep
in every puddle
And the water trembles
Curtains to the wind
Night hangs in the grove
A lively drizzle
From the flower-covered steeple
Bleeds the stars
Now and then
Ripe hours
Drop on life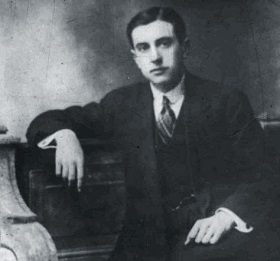 Vicente Huidobro (10 januari 1893 – 2 januari 1948)
De Ierse dichter en criticus Aubrey Thomas de Vere werd geboren in Adare, County Limerick, op 10 januari 1814. Zie ook alle tags voor Aubrey Thomas de Vere op dit blog.
The 'Washing Of The Feet,' On Holy Thursday, In St. Peter's
Once more the temple-gates lie open wide:
Onward, once more,
Advance the Faithful, mounting like a tide
That climbs the shore.
What seek they? Blank the altars stand today,
As tombstones bare:
Christ of his raiment was despoiled; and they
His livery wear.
Today the puissant and the proud have heard
The 'mandate new':
That which He did, their Master and their Lord,
They also do.
Today the mitred foreheads, and the crowned,
In meekness bend:
New tasks today the sceptred hands have found;
The poor they tend.
Today those feet which tread in lowliest ways,
Yet follow Christ,
Are by the secular lords of power and praise
Both washed and kissed.
Hail, ordinance sage of hoar antiquity,
Which She retains,
That Church who teaches man how meek should be
The head that reigns!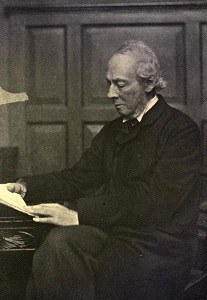 Aubrey Thomas de Vere (10 januari 1814 - 20 januari 1902)

De Russische schrijver Alexei Tolstoy werd geboren op 10 januari 1883 in Sosnovka. Zie ook alle tags voor Alexei Tolstoy op dit blog.
Uit:Ordeal (Vertaald door Ivy en Tatiana Litinov)
"...We are faced with the necessity of carrying out a revolu-tionary socialist task, and there are enormous difficulties in our way. Our epoch is one of bitter Civil War... It is only by defeating the counter-revolution, by pursuing a socialist policy in regard to famine, and by the struggle against it, that we shall conquer both famine and the counter-revolutionaries exploiting famine..."
One of his hands flew out of the armhole of his waistcoat, as if to annihilate an invisible foe, and remained suspended over the audience.
"...When the workers, their wits fuddled by the slogans of the profiteers, clamour for the unrestricted sale of grain, the import of motor lorries and other transport machinery, we reply to them that this means to go to the aid of the kulaks... We will never take that path... We will seek the support of the workers, with whom we gained the victory in October, we will carry our decisions through only by means of imposing proletarian discipline upon all sections of workers. We are faced with a historic task. And we will fulfil it... The most fundamental of all questions - that of bread - is dealt with in the latest decrees. These are all based upon three ruling principles. The first is the principle of centrali-sation, or the combining of all for a single, common task under guidance from the centre... There are many who point out to us that the grain monopoly is being thwarted at every step by private buyers and profiteers. Intellectuals keep saying that the profiteers are doing them a great service, are keeping them alive... Yes, that is so... But the private traders are doing it in the kulak way, the way that will lead to the consolidation, the establishment, the perpetuation of kulak power..."
The hand, with sweeping gesture, wiped out a situation that would never again be tolerated.
"Our second slogan is the unity of the workers. It is they who will rescue Russia from the desperate, stupendous difficulties in which she finds herself. We will call to our aid the organisations of workers' food detachments, of the starving people from the non-agricultural famine areas, it is to them that our Commissariat for Supplies will address itself, and upon them that we will call to join our crusade for bread!"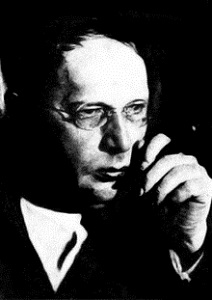 Alexei Tolstoy (10 januari 1883 – 23 februari 1945)
10-01-2016 om 13:17 geschreven door Romenu

Tags:Robinson Jeffers, Giselher Werner Hoffmann, Jan H. Eekhout, Vicente Huidobro, Aubrey Thomas de Vere, Alexei Tolstoy, Romenu



| | |
| --- | --- |
| | |



Inhoud blog


| | |
| --- | --- |
| | Andrea De Carlo, Naguib Mahfouz, Marie Kessels, J.C. van Schagen, Paul Rigolle, Ludwig Laher, Helene Uri, Birago Diop, Janko Ferk |
| | St. Peter and the Angel (Denise Levertov) |
| | Emily Dickinson, Karl Heinrich Waggerl, Reinhard Kaiser Mühlecker, Jorge Semprún, Gertrud Kolmarm, Jacquelyn Mitchard, Nelly Sachs, Cornelia Funke |
| | Carolyn Kizer, Pierre Louÿs, Clarice Lispector, Thomas Lux, Ara Baliozian, Christine Brückner, Rumer Godden |
| | Thomas Verbogt, Eileen Myles, Michael Krüger, Gioconda Belli, Joe McGinniss, Wolfgang Hildesheimer, Anna Gavalda |
| | Ödön von Horváth, John Milton, Jan Křesadlo, Maksim Bahdanovič, Dalton Trumbo |
| | Jamal Ouariachi, Louis de Bernières, Mary Gordon, Bill Bryson, Delmore Schwartz, Jim Morrison, Georges Feydeau, Horatius, Hervey Allen |
| | Tatamkhulu Afrika, Dirk Stermann, Johann Nestroy, Joyce Cary, Gabriel Marcel, Willa Cather, Noam Chomsky, Friedrich Schlögl, Samuel Gottlieb Bürde |
| | Karl Ove Knausgård, Peter Handke, Rafał Wojaczek, Henk van Woerden, Alfred Joyce Kilmer, Dirk Dobbrow, Sophie von La Roche, Baldassare Castiglione, Paul Adam |
| | Charlotte Wood |
| | A Ballad Of Santa Claus (Henry van Dyke) |
| | Hanif Kureishi, Alois Brandstetter, Joan Didion, Christina Rossetti, Fjodor Tjoettsjev, Calvin Trillin, Afanasy Fet, Hans Helmut Kirst, Eugenie Marlitt |
| | In Memoriam Jean d'Ormesson |
| | Rainer Maria Rilke, Geert Mak, Pat Donnez, Feridun Zaimoglu, Nikoloz Baratashvili, Emil Aarestrup, Nikolay Nekrasov, Trudi Guda, Thomas Carlyle |
| | Ready for Silence (Madeleine L' Engle) |
| | Hendrik Conscience, Joseph Conrad, Herman Heijermans, Grace Andreacchi, Ugo Riccarelli |
| | France Preseren, F. Sionil José, Franz Josef Degenhardt, Jules Claretie, Ludvig Holberg |
| | Frédéric Leroy, Ann Patchett, Hein Boeken, T. C. Boyle, George Saunders, Botho Strauß, Jacques Lacarrière, Iakovos Kampanellis, Eric L. Harry |
| | Pierre Kemp, Arthur Sze, Natasza Tardio, Daniel Pennac, Tahar Ben Jelloun, Billy Childish, Ernst Toller, Mihály Vörösmarty, Valery Bryusov |
| | Herinnering aan Ramses Shaffy |
| | Dennis Gaens, Christophe Vekeman, James Worthy, Y.M. Dangre, Reinier de Rooie, David Nicholls, Yasmine Allas, Jan G. Elburg, Jesús Carrasco |
| | Mario Petrucci, George Szirtes, Jean Senac, Carlo Levi, Jean-Philippe Toussaint, C.S. Lewis, Wilhelm Hauff, Louisa May Alcott, Franz Stelzhamer |
| | Erwin Mortier, Alberto Moravia, Hugo Pos, Stefan Zweig, Sherko Fatah, Philippe Sollers, William Blake, Alexander Blok, Rita Mae Brown |
| | Navid Kermani, Nicole Brossard, Han Kang, Philippe Delerm, James Agee, Jos. Habets, Friedrich von Canitz, Jacques Godbout, Klara Blum |
| | Jesus Christus herrscht als König (Philipp Friedrich Hiller) |
| | Luisa Valenzuela, Eugène Ionesco, Marilynne Robinson, Louis Verbeeck, Mihály Babits |
| | Herman Gorter, William Cowper, Theophilus Cibber, Alyosha Brell, Mohamed Al-Harthy, René Becher |
| | Maarten 't Hart, Connie Palmen, Abdelkader Benali, Arturo Pérez-Reverte, Ba Jin, Augusta de Wit |
| | Joseph Zoderer, Alexis Wright, Isaac Rosenberg, José Eça de Queiroz, Lope de Vega |
| | Jules Deelder, Wanda Reisel, Marlon James, Einar Kárason, Ahmadou Kourouma, Thomas Kohnstamm, Wen Yiduo, Laurence Sterne, Cissy van Marxveldt |
| | Paul Celan, Marcel Beyer, Max Goldt, Jennifer Michael Hecht, Sipko Melissen, Henri Borel, Sait Faik Abasıyanık, Nirad C. Chaudhuri, Jeroen Olyslaegers |
| | André Gide, George Eliot, Dirk van Weelden, Christian Filips, Suresh en Jyoti Guptara, Viktor Pelevin, Endre Ady, William Kotzwinkle, Elisabeth Maria Post |
| | Margriet de Moor, Gerard Koolschijn, Isaac Bashevis Singer, Wouter Steyaert, Marilyn French, Freya North, Carl-Henning Wijkmark, Voltaire, Garth Risk Hallberg |
| | Don DeLillo, Viktoria Tokareva, Sheema Kalbasi, Nadine Gordimer, Thomas Chatterton, Zinaida Hippius, Selma Lagerlöf, Ursula Ziebarth, Ferdinand von Schirach |
| | Jordi Lammers |
| | Am fünfundzwanzigsten Sonntage nach Pfingsten (Annette von Droste-Hülshoff) |
| | Scott Cairns, Sharon Olds, Mark Harris, Karel van den Oever, Christoph Wilhelm Aigner |
| | Alan Tate, Anna Seghers, Elise Bürger, Girolamo de Rada, Veronika Aydin |
| | Joost Zwagerman, Toon Tellegen, Joost Oomen, Thomas Möhlmann, Pauline Genee, Klaus Mann, Eugenio Montejo |
| | Margaret Atwood, Seán Mac Falls, Jaap Meijer, Richard Dehmel, William Gilbert, Hans Reimann, Mireille Cottenjé |
| | Joost van den Vondel, Guido van Heulendonk, Pierre Véry, Auberon Waugh, Dahlia Ravikovitch, Rebecca Walker, Christopher Paolini, Archibald Lampman, Max Barthel |
| | Jelko Arts |
| | Anton Koolhaas, Chinua Achebe, José Saramago, Renate Rubinstein, Craig Arnold, Danny Wallace, Frits van der Meer, Jónas Hallgrímsson, Hugo Dittberner |
| | Clemens J. Setz, Jan Terlouw, Wolf Biermann, Ted Berrigan, J. G. Ballard, Gerhart Hauptmann, Liane Dirks, Lucien Rebatet, Marianne Moore |
| | Norbert Krapf, Jonathan van het Reve, Olga Grjasnowa, Astrid Lindgren, René de Clercq, Chloe Aridjis, P.J. O'Rourke, Jurga Ivanauskaitė, Peter Orner |
| | Christine Otten, Inez van Dullemen, Frank Westerman, Timo Berger, Hadjar Benmiloud, Nico Scheepmaker, José Carlos Somoza, Peter Härtling, Stanisław Barańczak |
| | Am vierundzwanzigsten Sonntage nach Pfingsten (Annette von Droste-Hülshoff) |
| | Daniël Dee, Lize Spit, Lucia Berlin, Frank Witzel, Johnny van Doorn, Cristina Peri Rossi, Naomi Wolf, Malcolm Guite |
| | Hans Werner Richter, Michael Ende, Roland Barthes, Jacobus Bellamy, A.J.D. van Oosten, Carl Busse, Oskar Panizza, Juana Inés de la Cruz |
| | St. Martin and the Beggar (Thom Gunn) |


Gastenboek


Druk op onderstaande knop om een berichtje achter te laten in mijn gastenboek