E-mail mij


Druk op onderstaande knop om mij te e-mailen.


Romenu


Romenu is een blog over gedichten, literatuur en kunst Maar Romenu is ook een professionele freelance vertaler
Du-Ne en Ne-Du http://www.romenu.nl.


Huur eens een (vakantie)huis in een natuurgebied, dichtbij het centrum van Nijmegen


Google


Georg Trakl

Georg Trakl werd op 3 februari 1887 in het conducteurshuis aan de Waagplatz 2 in Salzburg geboren. Zijn vader, Tobias Trakl, was een handelaar in ijzerwaren en zijn moeder, die ook psychische problemen had, was Maria Catharina Trakl, (meisjesnaam Halik). Voorts had hij nog drie broers en drie zussen. Margarethe (doorgaans Grethe genoemd) stond hem het naast, zelfs zodanig dat sommigen een incestueuze verhouding vermoeden. Zijn jeugd bracht hij door in Salzburg. Vervolgens bezocht hij van 1897 tot 1905 het humanistische gymnasium. Om toch een academische opleiding te kunnen volgen, werkte hij tot 1908 in de praktijk bij een apotheker. Sommigen vermoedden dat hij dit vooral deed om zichzelf opiaten te kunnen verschaffen. Bij het uitbreken van WO I werd Trakl als medicus naar het front in Galicië (heden ten dage in Oekraïne en Polen) gestuurd. Zijn gemoedsschommelingen leidden tot geregelde uitbraken van depressie, die verergerd werden door de afschuw die hij voelde voor de verzorging van de ernstig verwonde soldaten. De spanning en druk dreven hem ertoe een suïcidepoging te ondernemen, welke zijn kameraden nochtans verhinderden. Hij werd in een militair ziekenhuis opgenomen in Kraków, alwaar hij onder strikt toezicht geplaatst werd.Trakl verzonk daar in nog zwaardere depressies en schreef Ficker om advies. Ficker overtuigde hem ervan dat hij contact moest opnemen met Wittgenstein, die inderdaad op weg ging na Trakls bericht te hebben ontvangen. Op 4 november 1914, drie dagen voordat Wittgenstein aan zou komen, overleed hij echter aan een overdosis cocaïne


Paul Celan

Paul Celan werd onder de naam Paul Antschel op 23 november 1920 geboren in Czernowitz, toentertijd de hoofdstad van de Roemeense Boekovina, nu behorend bij de Oekraïne. Paul Celans ouders waren Duitssprekende joden die hun zoon joods opvoedden en hem naar Duitse christelijke scholen stuurden. In 1942 werden Celans ouders door de Duitse bezetter naar een werkkamp gedeporteerd en daar vermoord. Hijzelf wist aanvankelijk onder te duiken, maar moest vanaf juli 1942 in een werkkamp dwangarbeid verrichten. Celan overleefde de oorlog. Via Boekarest en Wenen vestigde Celan zich in 1948 in Parijs. Daar was hij werkzaam als dichter, vertaler en doceerde hij aan de prestigieuze Ecole Normale Supérieure. Vermoedelijk op 20 april 1970 beëindigde hij zijn leven zelf door in de Seine te springen.


Gerard Reve

Gerard Reve over: Medearbeiders "God is in de mensen, de dieren, de planten en alle dingen - in de schepping, die verlost moet worden of waaruit God verlost moet worden, door onze arbeid, aangezien wij medearbeiders van God zijn." Openbaring "Tja, waar berust elk godsbegrip op, elke vorm van religie? Op een openbaring, dat wil zeggen op een psychische ervaring van zulk een dwingende en onverbiddelijke kracht, dat de betrokkene het gevoel heeft, niet dat hij een gedachte of een visioen heeft, maar dat een gedachte gedachte of visioen hem bezit en overweldigt."


Simon Vestdijk
Simon Vestdijk (Harlingen, 17 oktober 1898 – Utrecht, 23 maart 1971) was een Nederlands romancier, dichter, essayist en vertaler. Zijn jeugd te Harlingen en Leeuwarden beschreef hij later in de Anton Wachter-cyclus. Van jongs af aan logeerde hij regelmatig bij zijn grootouders in Amsterdam, waar hij zich in 1917 aan de Universiteit van Amsterdam inschrijft als student in de medicijnen. Tijdens zijn studie die van 1917 tot 1927 duurde, leerde hij Jan Slauerhoff kennen.Tot 1932 is hij als arts in praktijken door heel Nederland werkzaam. In 1932 volgt zijn officiële schrijversdebuut met de uitgave van de bundel Verzen in De Vrije Bladen. Doorslaggevend voor Vestdijks uiteindelijke keuze voor de literatuur is zijn ontmoeting in 1932 met Eddy Du Perron en Menno ter Braak. Deze ontmoeting had tot resultaat dat hij redactielid werd van het tijdschrift Forum Kort daarop, in 1933, wordt zijn eerste novelle, De oubliette, uitgegeven. In hetzelfde jaar schrijft hij Kind tussen vier vrouwen, dat, eerst geweigerd door de uitgever, later de basis zal vormen voor de eerste drie delen van de Anton Wachter-romans. In 1951 ontvangt Vestdijk de P.C. Hooftprijs voor zijn in 1947 verschenen roman De vuuraanbidders. In 1957 wordt hij voor het eerst door het PEN-centrum voor Nederland voorgedragen voor de Nobelprijs voor de Literatuur, die hij echter nooit zal krijgen. Op 20 maart 1971 wordt hem de Prijs der Nederlandse Letteren toegekend, maar voor hij deze kan ontvangen overlijdt hij op 23 maart te Utrecht op 72-jarige leeftijd. Vestdijk was auteur van ca. 200 boeken. Vanwege deze enorme productie noemde de dichter Adriaan Roland Holst hem 'de man die sneller schrijft dan God kan lezen'. Andere belangrijke boeken van Simon Vestdijk zijn: "Kind van stad en land" (1936), "Meneer Visser's hellevaart" (1936), "Ierse nachten" (1946), "De toekomst de religie" (1947), "Pastorale 1943" (1948), "De koperen tuin" (1950), "Ivoren wachters" (1951), "Essays in duodecimo" (1952) en "Het genadeschot" (1964).


K.P. Kavafis

K.P. Kavafis werd als kind van Griekse ouders, afkomstig uit Konstantinopel, geboren in 1863 in Alexandrië (tot vandaag een Griekse enclave) waar hij ook het grootste deel van zijn leven woonde en werkte. Twee jaar na de dood van zijn vader verhuist het gezin in 1872 naar Engeland om na een verblijf van vijf jaar naar Alexandrië terug te keren. Vanwege ongeregeldheden in Egypte vlucht het gezin in 1882 naar Konstantinopel, om na drie jaar opnieuw naar Alexandrië terug te gaan. In de jaren die volgen maakt Kavafis reizen naar Parijs, Londen en in 1901 zijn eerste reis naar Griekenland, in latere jaren gevolgd door nog enkele bezoeken. Op de dag van zijn zeventigste verjaardag, in 1933 sterft Kavafis in Alexandrië. De roem kwam voor Kavafis pas na zijn dood, dus postuum. Deels is dat toe te schrijven aan zijn eigen handelswijze. Hij was uiterst terughoudend met de publicatie van zijn gedichten, liet af en toe een enkel gedicht afdrukken in een literair tijdschrift, gaf in eigen beheer enkele bundels met een stuk of twintig gedichten uit en het merendeel van zijn poëzie schonk hij op losse bladen aan zijn beste vrienden.


Thomas Mann


Thomas Mann, de jongere broer van Heinrich Mann, werd geboren op 6 juni 1875 in Lübeck. Hij was de tweede zoon van de graankoopman Thomas Johann Heinrich Mann welke later één van de senatoren van Lübreck werd. Zijn moeder Julia (geboren da Silva-Bruhns) was Duits-Braziliaans van Portugees Kreoolse afkomst. In 1894 debuteerde Thomas Mann met de novelle "Gefallen". Toen Thomas Mann met 21 jaar eindelijk volwassen was en hem dus geld van zijn vaders erfenis toestond - hij kreeg ongeveer 160 tot 180 goldmark per jaar - besloot hij dat hij genoeg had van al die scholen en instituties en werd onafhankelijk schrijver. Kenmerkend voor zijn stijl zijn de ironie, de fenomenale taalbeheersing en de minutieuze detailschildering. Manns reputatie in Duitsland was sterk wisselend. Met zijn eerste roman, Buddenbrooks (1901), had hij een enorm succes, maar door zijn sceptische houding tegenover Duitsland na de Eerste Wereldoorlog veranderde dit volledig. Stelde hij zich tot aan de jaren twintig apolitiek op (Betrachtungen eines Unpolitischen, 1918), meer en meer raakte hij bij het Politiek gebeuren betrokken. Zijn afkeer van het nationaal socialisme groeide, zijn waarschuwingen werden veelvuldiger en heftiger. In 1944 accepteerde hij het Amerikaanse staatsburgerschap. Tussen 1943 en 1947 schreef Mann Doktor Faustus (zie Faust), de roman van de 'Duitse ziel' in de gecamoufleerd geschilderde omstandigheden van de 20ste eeuw. In 1947 bezocht hij voor het eerst sinds de Oorlog Europa, twee jaar later pas Duitsland. In 1952 vertrok hij naar Zwitserland. Op 12 augustus 1955 stierf hij in Zürich. Twintig jaar na zijn dood, in aug. 1975, is zijn literaire nalatenschap geopend: dagboekaantekeningen van 15 maart 1933 tot 29 juli 1955, alsmede notities uit de jaren 1918 tot en met 1921.Belangrijke werken zijn: Der Zauberberg, Der Tod in Venedig, Dokter Faustus , Joseph und seine Brüder en Die Bekenntnisse des Hochstaplers Felix Krull.


Rainer Maria Rilke

Rilke werd op 4 december 1875 geboren in Praag. Hij had al naam gemaakt als dichter met zijn bundels Das Stundenbuch en Das Buch der Bilder, toen hij de literaire wereld versteld deed staan en wereldfaam verwierf met de publicatie van zijn twee delen Neue Gedichte in 1907 en 1908. Hij verzamelde daarin het beste werk uit een van zijn vruchtbaarste periodes, die hij grotendeels doorbracht in Parijs. Rilke was daar diep onder de indruk gekomen van Rodin, bij wie hij een tijdlang in dienst was als particulier secretaris. Rodin, zei hij later, had hem leren kijken. Dit kijken kwam neer op intense concentratie, om het mysterie te kunnen zien 'achter de schijnbare werkelijkheid'. Latere en rijpere werken als Duineser Elegien (1912-1923) en het ronduit schitterende Die Sonette an Orfeus (1924) illustreren Rilkes metafysische visie op het onzegbare, dat haar verwoording vindt in een hermetische muzikale taal. Op 29 december 1926 overlijdt Rilke in het sanatorium in Val-Mont aan de gevolgen van leukemie. Enkele dagen later wordt hij, overeenkomstig zijn wens, begraven op het kerkhof van Raron.


* * * * * * * * * * * * * * * *

| | |
| --- | --- |
| | Over literatuur, gedichten, kunst en cultuur |

27-09-2015

Irvine Welsh, Ignace Schretlen, Ko de Laat, Kay Ryan, Josef ¦kvorecký, Esther Verhoef
De Schotse schrijver Irvine Welsh werd geboren op 27 september 1958 in Leith, Edinburgh. Zie ook mijn blog van 27 september 2010 en eveneens alle tags voor Irvine Welsh op dit blog.
Uit: Trainspotting
"– Ah wisnae ... ah protested.– Fling yir fuckin jaykit oan well!
At the Fit ay the Walk thir wir nae taxis. They only congregated here when ye didnae need
them. Supposed tae be August, but ah'm fuckin freezing ma baws oaf here. Ah'm no sick yet, but it's in the fuckin post, that's fir sure.
– Supposed tae be a rank. Supposed tae be a fuckin taxi rank. Nivir fuckin git one in the summer. Up cruising fat, rich festival cunts too fuckin lazy tae walk a hundred fuckin yards fae one poxy church hall tae another fir thir fuckin show. Taxi drivers. Money–grabbin bastards ... Sick Boy muttered deliriously and breathlessly tae hissel, eyes bulging and sinews in his neck straining as his heid craned up Leith Walk.
At last one came. There were a group ay young guys in shellsuits n bomber jaykits whae'd been standin thair longer than us. Ah doubt if Sick Boy even saw them. He charged straight oot intae
the middle ay the Walk screaming: – TAXI!
Hi! Whit's the fuckin score? One guy in a black, purple and aqua shell–suit wi a flat–top asks.
Git tae fuck. We wir here first, Sick Boy sais, opening the taxi door. – Thir's another yin comin. He gestured up the Walk at an advancing black cab.
– Lucky fir youse. Smart cunts,
– Fuck off, ya plukev–faced wee hing oot. Git a fuckin ride! Sick Boy snarled as we piled intae the taxi.
– Tollcross mate, ah sais tae the driver as gob splattered against the side windae.
– Square go then smart cunt! C'moan ya crappin bastards! the shell–suit shouted. The taxi driver wisnae amused. He looked a right cunt. Maist ay them do. The stamp–peyin self–employed ur truly the lowest form ay vermin oan god's earth."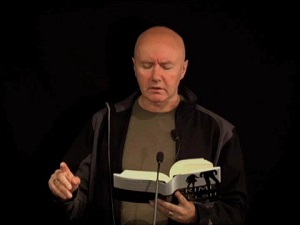 Irvine Welsh (Edinburg, 27 september 1958)
De Nederlandse dichter, schrijver, kunstenaar en huisarts Ignace Schretlen werd geboren in Tilburg op 27 september 1952. Zie eveneens alle tags voor Ignace Schretlen op dit blog.
Schaduwen zien oorlogen

Schaduwen zien oorlogen
als vermakelijk spel met

de Westhoek als toppunt
van vrolijk vermaak

lijf tegen lijf, ingebed,
als asgrijze liefdesdaad

een bajonet scheert als
een schichtige zwaluw

vlekken zwarte melk
vloeien in elkaar over

en smelten samen met
de modderige nacht

ongestoord door gekraai
van duizenden hanen

maar nu weer ontwaakt
door gekwetter van verre.
Vijf jaar joeg een uil

Vijf jaar joeg een uil
droefheid door de kale
bomen tot het raam,
klonk door de muur
gekerm van de buren,
hing in de kamer de
geur van zinloos zaad

wakker gebeld door
de telefoon, vast een
spoedgeval, zoals vaker
is in de vroege uren
een dode ontdekt,
maar neen, ik had meer
moeten drinken, vergeten,
vergeten moeten zijn

nevel dekt de keien
in de straat, waarheen
zijn we weggedreven?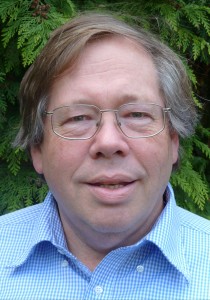 Ignace Schretlen (Tilburg, 27 september 1952)
De Nederlandse dichter, performer, journalist en toneelschrijver Ko de Laat werd geboren op 27 september 1969 in Goirle. Zie ook alle tags voor Ko de Laat op dit blog.
Would be or not would be

Meisje-op-de-kermis dat er net niet bij hoort
Meisje-op-de-kermis dat 't net niet heeft
Ach, wat wil ze graag uitdagend overkomen
En ze heeft er zo intens naar toe geleefd

Elke kermismodegolf houdt zij in ere
Maar ze is te mollig voor zo'n blote buik
Van 'n navelpiercing gaat haar navel zweren
Ieder kapsel wordt bij haar 'n dorre struik
Loopt ze met 'n blote rug of blote schouder
Hoopt ze dat het volk d'r bruine vel goed ziet
Doen die witte sporen van haar bustehouder
Heel het sensuele plaatje weer teniet

Meisje-op-de-kermis dat er net niet bij hoort
Meisje-op-de-kermis dat 't net niet heeft
Ach, wat wil ze graag uitdagend overkomen
En ze had er zo intens naar toe geleefd

Meisje-op-de-kermis dat er net niet bij hoort
Elke avond doet het weer een beetje pijn
Ach, wat zij wil zijn, zal zij vanzelf ontgroeien
Als ze ooit zal durven om zichzelf te zijn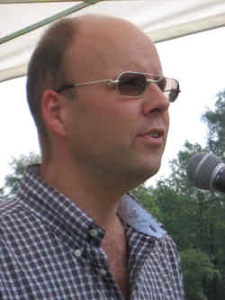 Ko de Laat (Goirle, 27 september 1969)
De Amerikaanse dichteres Kay Ryan werd geboren op 27september 1945 in San Jose, California. Zie ook mijn blog van 27 september 2010 en eveneens alle tags voor Kay Ryan op dit blog.
Nothing Ventured
Nothing exists as a block
and cannot be parceled up.
So if nothing's ventured
it's not just talk;
it's the big wager.
Don't you wonder
how people think
the banks of space
and time don't matter?
How they'll drain
the big tanks down to
slime and salamanders
and want thanks?

The Niagara River
As though
the river were
a floor, we position
our table and chairs
upon it, eat, and
have conversation.
As it moves along,
we notice—as
calmly as though
dining room paintings
were being replaced—
the changing scenes
along the shore. We
do know, we do
know this is the
Niagara River, but
it is hard to remember
what that means.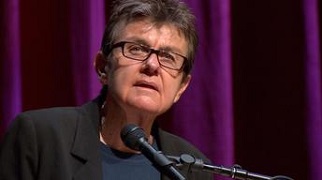 Kay Ryan (San Jose, 27 september 1945)
De Tsjechische schrijver en uitgever Josef Škvorecký werd geboren op 27 september 1924 in Náchod. Zie ook mijn blog van 27 september 2010 en eveneens alle tags voor Josef Škvorecký op dit blog.
Uit: When Eve Was Naked
"The pain soon faded, but unfortunately Father also had another punishment for me: in his righteous indignation he reduced my allowance by half, from one crown to a mere fifty hellers a week. This created a surplus in the family budget, which he immediately decided to pass on to my sister, Blanche, giving her the extra fifty hellers because during a visit to her gym class the superintendent of schools had praised her for beautifully vaulting over a vaulting-horse. But, even though the price I paid was very high, I did achieve my goal: Father did not forbid Mother to read stories to me, and I still didn't learn to read.
Soon spring arrived. A paunchy black gentleman appeared at the Julius Meinl Delicatessen, the same gentleman who at Christmas brewed various kinds of coffee on the premises and offered them to the customers in tiny cups. Father, Mother, and my brother Peter, who was sixteen, all tried the coffee. I wasn't allowed to because I was too young. They couldn't agree on which was the best brand of coffee and they sampled so many tiny cups that Mother suddenly began to experience heart palpitations. Father bought 100 grams of the house brand and took her home.
However, it was now spring, and the paunchy black gentleman wasn't brewing coffee this time. He was offering a new American beverage, and he could also be seen in an advertising poster hanging in front of Meinl's, in which he was holding a large cup of golden liquid full of silver bubbles. In the poster, the black man and his cup were encircled by a slogan printed in red-white-and-blue-striped letters, but I could only read the part that said "1 Kc." I had learned how to read numbers, because there weren't any numbers in the fairy tales, but of course I couldn't read anything else, so Mother had to continue reading to me. I figured the numbers meant the golden drink cost one crown, which I could have afforded if Father hadn't cut my allowance."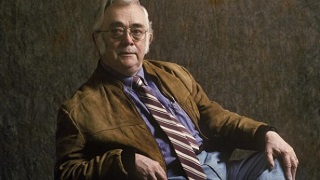 Josef Škvorecký (Náchod, 27 september 1924)
De Nederlandse schrijfster Esther Verhoef-Verhallen werd geboren in 's-Hertogenbosch op 27 september 1968. Zie ook mijn blog van 27 september 2010 en eveneens alle tags voor Esther Verhoef op dit blog.
Uit: De kraamhulp
"'Dus hier woon je.' Miriam fluisterde het zachtjes voor zich uit. Haar vingers omklemden het stuur van haar Peugeot. Ze waren een beetje vochtig geworden en tot haar ergernis merkte ze dat ze sneller was gaan ademen. Tijdens het werk overkwam dit haar zelden. Wat er ook gebeurde en hoe bedreigend een situatie soms ook was, ze liet zich niet meeslepen, bleef koel en professioneel. Ze wist dat ze altijd kon terugvallen op haar opleiding, ervaring en collega's.
Maar nu was ze niet aan het werk.
Ze deed dit alleen.
Ze boog naar voren en keek omhoog langs de strakke gevel van de woontoren. Het glas glinsterde in de herfstzon. Het gebouw zag er ongenaakbaar uit. Alsof hier mensen woonden die zich ver verheven voelden boven de rest van de wereld. In letterlijke zin waren ze dat ook. Het uitzicht daarboven moest wel adembenemend zijn. Je zou heel Rotterdam moeten kunnen overzien, de havens en de Maas.
Hoeveel verdiepingen had dit gebouw eigenlijk? Miriam begon te tellen. Ze moest ermee stoppen toen ze bij vijfentwintig was aanbeland.
Achter haar werd driftig geclaxonneerd. Via de binnenspiegel keek ze in het verhitte gezicht van de chauffeur. Hij hief zijn handen, gebaarde naar haar. Miriam onderdrukte de impuls om uit te stappen, hem haar politielegitimatie te laten zien en naar zijn papieren te vragen. Die man had gewoon gelijk, ze hield het verkeer op."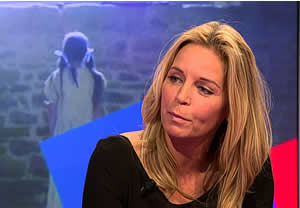 Esther Verhoef ('s-Hertogenbosch, 27 september 1968)
Zie voor nog meer schrijvers van de 27e september ook mijn vorige twee blogs van vandaag.


27-09-2015 om 13:59 geschreven door Romenu

Tags:Irvine Welsh, Ignace Schretlen, Ko de Laat, Kay Ryan, Josef ¦kvorecký, Esther Verhoef, Romenu



Christian Schloyer, Louis Auchincloss, William Empson, Bernat Manciet, Edvard Kocbek
De Duitse dichter en schrijver Christian Schloyer werd geboren op 27 september 1976 in Erlangen. Zie ook mijn blog van 27 september 2010 en eveneens alle tags voor Christian Schloyer op dit blog.
sich spurlos in ein bild [hǽken]
an deinen lippen hängt ein wasserspeier

falls du den bildausschnitt
verschiebst & irgendwo ein echtes

rot das bild verlässt
von deinen lippen springt · er dann wie

von einem sims mit schwerem lid
schlag (am rande deines körpersinns) & stürzt

sich in die gegenwelt wo keine stirn je
aufschlägt wo der grund

so weich
gezeichnet als hätte jeder farbton

sein eigenes gewicht
vergessen · jedes wort! so
geh doch! · nicht so planvoll vor sei

absichtslos
wir kommen wieder · nicht vom fleck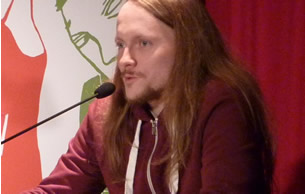 Christian Schloyer (Erlangen, 27 september 1976)
De Amerikaanse schrijver Louis Stanton Auchincloss werd geboren op 27 september 1917 in Lawrence, New York.Louis Auchincloss overleed op 26 januari van dit jaar op 92-jarige leeftijd. Zie ook mijn blog van 27 september 2009 en ook mijn blog van 27 september 2010.
Uit: The Young Apollo and Other Stories
« My own "sacred circle," as some envious folk have described it, came through without a scratch. How shall I describe the circle? It consists of a small group of individuals, more or less prominent in the arts — writing, sculpture, painting — all of whom live in Washington without being native to the city, and none of whom, with the notable exception of George Manning, has the least connection with government. All are old, of course, and none hail from the kind of background that might be expected to produce great art. Ella Robinson, the novelist, for example, was born of Boston Brahmins; Elihu Tweed, the sculptor, was the son of a New York governor; and my own father, siring a historian, was a United States Supreme Court justice.
We used to fancy that we represented a kind of American renaissance. In the two decades preceding the war, our country was emerging from its long dependence on European culture. The notorious low value that Henry James accorded the subject material which America offered to the writer of fiction had been totally revised; we now claimed equal rights, so to speak, on Parnassus. And the young man whom we all held as our joint heir apparent, who was going to be the great poet of the future, to whom we were all more or less John the Baptists, was Lion Manning.
Why does George Manning not write the life of his own son? I have never much liked George. He is as deeply conservative as a Republican senator from Rhode Island can get; he is shrewd, raspingly sarcastic, and basically mean. But he exercises a hefty political influence, and he purports to be a stout supporter of the arts. He had no patience with Lion's ambition to be a poet, however. He wanted him to become a lawyer, a statesman, a great man. He adored the boy but never understood him and lectured him constantly on his duty to follow in the paternal footsteps. Lion simply grinned and didn't listen. He could always wind the old man around his little finger. Yet I know he deeply loved his father. And I think the reason the senator wouldn't write the book himself may have been that he was a bit scared of the boy and would have fancied him looking over his shoulder as he wrote."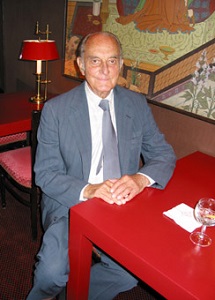 Louis Auchincloss (27 september 1917 – 26 januari 2010)
De Engelse dichter en criticus William Empson werd geboren op 27 september 1906 in Howden, Yorkshire. Zie ook mijn blog van 27 september 2009 en ook mijn blog van 27 september 2010.
Villanelle
It is the pain, it is the pain endures.
Your chemic beauty burned my muscles through.
Poise of my hands reminded me of yours.
What later purge from this deep toxin cures?
What kindness now could the old salve renew?
It is the pain, it is the pain endures.
The infection slept (custom or changes inures)
And when pain's secondary phase was due
Poise of my hands reminded me of yours.
How safe I felt, whom memory assures,
Rich that your grace safely by heart I knew.
It is the pain, it is the pain endures.
My stare drank deep beauty that still allures.
My heart pumps yet the poison draught of you.
Poise of my hands reminded me of yours.
You are still kind whom the same shape immures.
Kind and beyond adieu. We miss our cue.
It is the pain, it is the pain endures.
Poise of my hands reminded me of yours.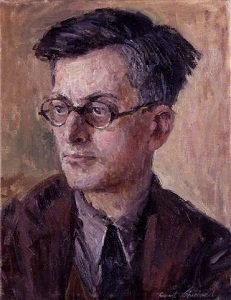 William Empson (27 september 1906 - 15 april 1984)
Portret door Rupert Shephard, rond 1944
De Occitaanse dichter en schrijver Bernat Manciet werd geboren op 27 september 1923 in Sabres. Zie ook mijn blog van 27 september 2009 en ook mijn blog van 27 september 2010.
Uit: LITURGY: The Mystery of Glory
ASSUMPTA EST
Uzeste, August 1998
I
horse steps through stone
silences in the stone
clams & knives
& ferns & frost flowers
fires in the holy stone
deep glory within the rock
fire frozen in the lithostrata
fire safe fire that speaks
boulder heart Our Lady

you kept it all to yourself
they burn in your heart
you sleep & cannot sleep
temblored by springs
immaculatest architecture
impatience of live dew
of constrained power
cloistered fire enisles you
to sing exacts you
to nighten disperses you
to humble yourself exalts you
& you reach like a branch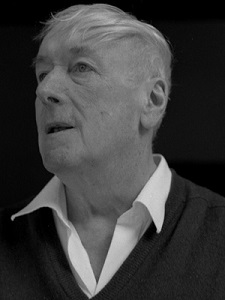 Bernat Manciet (27 september 1923 – 3 juni 2005)
De Sloveense dichter, schrijver en essayist Edvard Kocbek werd in Sloveens Stiermarken geboren op 27 september 1904. Zie ook mijn blog van 27 september 2010 en eveneens alle tags voor Edward Kocbek op dit blog
All Doors Are Open
The world is full of blood-thirsty persecutors,
but the worst persecution is
when you are not hunted,
but still act like a lost wild animal
tracked by an invisible hunter: when
you sit in your studio drinking coffee
or stretching bored in the office,
when even the fanciest cigar in your mouth
cannot relieve you from a dreadful sense of guilt
as if someone has a grip on you, making you
perspire with deadly fear, wishing, either you
didn't know who you were or could
throw yourself from the ninth floor.
This persecution is the most horrifying flight
from oneself, the most fatal capture.
Nothing helps, even though all doors are open
and all guns at your disposal, when you sit
amid black night or clear day
unable to move from the deadly fear
of an unknown, ineffable guilt.
Primeval Mother
Where are you, oblivion? Where are you, transient winds?
Everything passes but my sad punishment,
look at me revered lo the highest mountain,
] am the oldest and closest to the beginning.

I no longer know to whom I call, who I beseech,
I am crazed by horror, singing from sorrow;
shouting and weeping blend into a melody
I've swung the angst of man since times immemorial.

I rock him with ineffable movements,
precipices amass in my blindness,
clear waterfalls storm through my deafness —
my story is older than darkness.

In my long ritual toga
I am the world's oldest sorrow,
torn apart by pain on the mountaintop
I cradle lost man in my arms.
Vertaald door Sonja Kravanja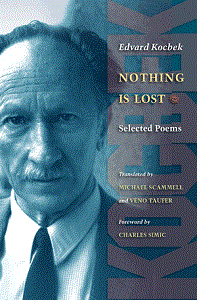 Edvard Kocbek (27 september 1904 – 3 november 1981)
Cover
Zie voor nog meer schrijvers van de 27e september ook mijn vorige blog van vandaag.
27-09-2015 om 13:47 geschreven door Romenu

Tags:Christian Schloyer, Louis Auchincloss, William Empson, Bernat Manciet, Edvard Kocbek, Romenu



Tanja Kinkel, Wacław Rolicz-Lieder, Henri-Frédéric Amiel, Grazia Deledda, Michael Denis
De Duitse schrijfster Tanja Kinkel werd geboren op 27 september 1969 in Bamberg. Zie ook mijn blog van 27 september 2010 en eveneens alle tags voor Tanja Kinkel op dit blog.
Uit: Die Löwin von Aquitanien
"An dem Abend, als die zukünftige Erbin von Aquitanien gezeugt wurde, gab es weder Gewitter, seltsame Vogelflüge noch sonstige ausdeutbare Vorzeichen. Man könnte allerdings einen äußerst heftigen Zomesausbruch ihres Großvaters dafür in Anspruch nehmen. Doch die Höflinge um Guillaume IX waren seine Wutanfälle ebenso gewohnt wie sein schallendes Lachen, seinen funkelnden Witz oder seine Lieder. So sahen sie auch jetzt nicht beunruhigt, sondern milde belustigt zu, wie der Herzog von Aquitanien, Herr über die Gascogne, das Poitou, die Auvergne, Angouléme und Dutzende weitere Domänen, auf seinen ältesten Sohn und Erben einschrie, der den gleichen Namen trug.
Hölle und Teufel, Guillaume, ich werde mir das nicht länger anhören! Was ich tue und mit wem ich ins Bett gehe, entscheide alleine ich!«
Guillaume der Jüngere sah unglücklich drein. Er besaß die riesige Gestalt seines Vaters, doch längst nicht dessen hitziges Gemüt, und obgleich ihm niemand mangelnde Tapferkeit nachsagen hätte können, haßte er im Grunde seines Wesens Streitereien. Gleichzeitig war er bei aller Friedfertigkeit aber auch halsstarrig, und wenn er sich etwas in den Kopf gesetzt hatte, hielt er mit der Zähigkeit eines unbeweglichen Menschen daran fest.
Euer Gnaden«, entgegnete er nun, »es geht mir nur darum, daß Ihr sie behandelt, als wäre sie die Herzogin selbst und dadurch meine Stiefmutter. Unser ganzes Haus wird beschämt.«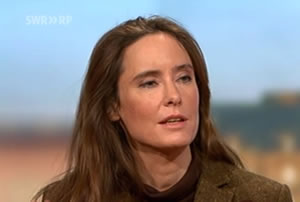 Tanja Kinkel (Bamberg, 27 september 1969)
De Poolse dichter en vertaler Wacław Koźma Damian Lieder, ook: Rolicz-Lieder werd geboren op 27 september 1866 in Warschau. Zie ook alle tags voor Wacław Rolicz-Lieder op dit blogen ook mijn blog van 27 september 2010
Die Zauberin
Warum · geheimnisvolle herrin · führst du
Mich und verbirgst mir rätselhaft die wege?
Von deiner stirne strahlen engelslichter ·
Wohin du schreitest ist ein sonnen-land.
Wie der ernährerin ein zartes lamm
Aufmerksam nachläuft also folg ich dir ·
Gleich einem irrlicht auf verstreuten sümpfen
Verlockst du mich und lächelst zauberisch.
Bist du das märchen wol der berges-grüne
Von dem ich seit den kinderjahren träume?
Bist du nicht sie die auf planeten herrscht?
Dem ritter aus den grauen zeiten gleich
Irr ich dir nach · o Melusine · träumend.
Doch wohin führst du mich? ins land der trauer.
Wahlspruch

Wozu der stolz auf den besitz der gefühle?
Wozu dich rühmen deiner gedanken und taten?
Bist du nicht geschaffen aus einer handvoll erde
Vermischt mit einigen tropfen bittren wassers? -
Ja - doch ich trage mein haupt so hoch erhoben
Und so hoch streben seine wünsche und pläne
Dass dieser turban womit es sich decke nur einzig
Gefüttert sein kann mit den sternen des himmels.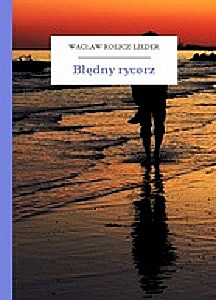 Wacław Rolicz-Lieder (27 september 1866 – 25 april 1912)
Cover
De Franstalige Zwitserse schrijver en filosoof Henri-Frédéric Amiel werd geboren op 27 september 1821 in Genève. Zie ook alle tags voor Henri-Frédéric Amiel op dit blog en ook mijn blog van 27 september 2010
Uit: Journal (Vertaald door Mrs. Humphrey Ward)
« April 6, 1851,
Life, is it essentially the education of the mind and intelligence, or that of the will? And does will show itself in strength or in resignation? If the aim of life is to teach us renunciation, then welcome sickness, hindrances, sufferings of every kind! But if its aim is to produce the perfect man, then one must watch over one's integrity of mind and body. To court trial is to tempt God. At bottom, the God of justice veils from me the God of love. I tremble instead of trusting.
Whenever conscience speaks with a divided, uncertain, and disputed voice, it is not yet the voice of God. Descend still deeper into yourself, until you hear nothing but a clear and undivided voice, a voice which does away with doubt and brings with it persuasion, light and serenity. … This inner identity, this unity of conviction, is all the more difficult the more the mind analyzes, discriminates, and foresees. It is difficult, indeed, for liberty to return to the frank unity of instinct.
Alas! we must then re-climb a thousand times the peaks already scaled, and reconquer the points of view already won, we must fight the fight! The human heart, like kings, signs mere truces under a pretense of perpetual peace. The eternal life is eternally to be re-won. Alas, yes! peace itself is a struggle, or rather it is struggle and activity which are the law. We only find rest in effort, as the flame only finds existence in combustion. O Heraclitus! the symbol of happiness is after all the same as that of grief; anxiety and hope, hell and heaven, are equally restless. The altar of Vesta and the sacrifice of Beelzebub burn with the same fire. Ah, yes, there you have life — life double-faced and double-edged. The fire which enlightens is also the fire which consumes; the element of the gods may become that of the accursed."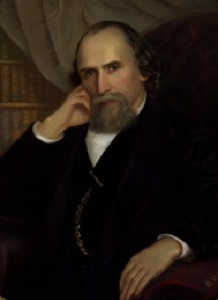 Henri-Frédéric Amiel (27 september 1821 – 11 mei 1881)
Portret door Berthe Vadier, 1878
De Italiaanse schrijfster Grazia Deledda werd geboren op 27 september 1871 in Nuoro op Sardinië. Zie ook mijn blog van 27 september 2010 en eveneens alle tags voor Grazia Deledda op dit blog.
Uit Marianna Sirca (Vertaald door Cathy Vignale)
"Well then, are you praying?" he said passing in front of her.--Come on, cheer up because tonight we're staying up. They are coming up.
"Who, who?" she said, stirring.
"Sebastiano with someone else; I'm going to start the fire. If Sebastiano asks you how much they offered you for the cork," he added turning back, tell him 1000 scudi. Quiet! Obey someone who loves you."
Marianna was ready to obey even this innocent vanity of his, which doubled her income; even more so that her relation Sebastiano was coming on account of certain dealers who wanted to purchase the cork from her woods: and without getting up she sharpened her gaze, thinking about this second cousin of hers, neither young nor old, neither rich nor poor, widowed and alone, who among so many needy relatives that harbored rancor for her uncle's inheritance, was the only one to show her a bit of disinterested attachment.
At times she doubted that Sebastiano loved her for love; but she rejected with disgust the idea of ending up the wife of a relative, widowed and no longer young. Here he was arriving on horseback, wearing the widower's mourning coat; even from far off, the black velvet of the heavy coat made the yellowish pallor of his lean face stand out surrounded by a sparse dark pointy beard."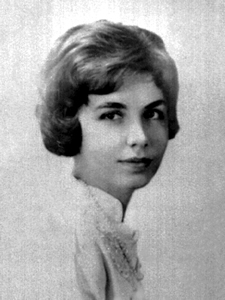 Grazia Deledda (27 september 1871 – 15 augustus 1936)
De Oostenrijkse dichter, bibliograaf, bibliothecaris en vertaler Johann Nepomuk Cosmas Michael Denis werd geboren in Schärding op 27 september 1729. Zie ook alle tags voor Michael Denis op dit blog en ook mijn blog van 27 september 2010
Wiegenlied
Sey willkommen, holder Engel!
In der ersten Lebensblüthe.
Kleines, allerliebstes Wesen!
Sey dem Freunde deines Vaters
Tausend, tausendmal willkommen!
Edler Hauch der Gottheit! lerne
Deiner zarten Körperhülle
Nach und nach dich zu gewöhnen!
Blicke bald nach deiner Mutter,
Die auf deinen Wangen lächelt:
Blicke bald nach deinem Vater,
Der in deinem Auge lebet;
Schmiege dich bald an den weichen
Busen, dem du dich entwandest,
Und umschling mit frohem Stammeln
Deiner Mutter sanften Nacken.
Wann nun dein bemühter Vater
Dem Gedränge seiner Pflichten
Auf ein Weilchen nur entschlüpfet,
Und sich deiner Mutter nahend
Dich von ihrem Halse fodert,
Damal sträube dich ein wenig
(Denn dieß müßen junge Schönen),
Bis er mit Gewalt dich raubet.
Aber dann, o Engel! küß' ihm
Seine männlichbraunen Wangen,
Küß' ihm weg den Philosophen,
Küß' ihm weg den Staatsgelehrten,
Küß' ihm alles aus der Seele,
Was ihm noch vom Krieger anhängt,
Daß er nichts als Vater bleibe. –
Doch ich singe schon zu lange.
Du beginnest einzuschlummern.
Sollte dieß mein Liedchen wirken? –
Ja! dieß wirken manche Lieder. –
Schlumm're süß, mein holder Engel!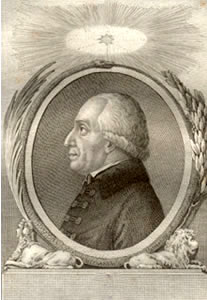 Michael Denis (27 september 1729 - 29 september 1800)
27-09-2015 om 13:46 geschreven door Romenu

Tags:Tanja Kinkel, Wacł,aw Rolicz-Lieder, Henri-Frédéric Amiel, Grazia Deledda, Michael Denis, Romenu



| | |
| --- | --- |
| | |



Inhoud blog


| | |
| --- | --- |
| | Martinus Nijhoff, Jan Cremer, Jean Pierre Rawie, Marieke Lucas Rijneveld, Sebastian Faulks, Jozef Deleu, Steve Erickson, Arto Paasilinna, Michel Leiris |
| | Martin Michael Driessen, Marjoleine de Vos, Manuel Bandeira, n. c. kaser, Veniamin Kaverin, Louis Amédée Achard, Pierre-Jean de Béranger, Gudrun Reinboth, Werner Rohner |
| | Wam de Moor, Bas Belleman, Roos van Rijswijk, Hanane Aad, Clara Eggink, Kathy Acker, Joy Davidman, Henry Kendall, Katharina Schwanbeck |
| | Antoon Coolen, Vincent Corjanus, Nick Hornby, Ida Boy-Ed, Thornton Wilder, David Wagner, R.J. Pineiro, Helen Meier, Karen Blixen |
| | Sarah Kirsch, Thomas Olde Heuvelt, Kingsley Amis, Patricia De Martelaere, Tristan Tzara, Ewald Vanvugt, Sibylle Lewitscharoff, Jan Luyken, Anatole France |
| | Emmaüs (Felix Timmermans) |
| | Tomas Tranströmer, Daniël Samkalden, Jérôme Lambert, Patrick Bernauw, Benjamin Zephaniah, Henry James, Wilhelm Busch, Ina Boudier-Bakker |
| | Bliss Carman, Beate Morgenstern, Jeffrey Archer, Bernhard Lassahn, Erich Arendt, Pol De Mont, Staf Weyts, Hans Egon Holthusen |
| | Péter Esterházy, Alexandre Jardin, Tjitse Hofman, Landolf Scherzer, Charles Lewinsky, Roman Graf |
| | Roberto Schopflocher, Martin Kessel, Gabriele Stötzer, Helene Hübener, Gerhard Rohlfs |
| | Nachoem Wijnberg, K. Michel, Alexander Münninghoff, Michel Faber, Jean-Marie Gustave Le Clézio, Samuel Beckett, Seamus Heaney, Tim Krabbé, Eudora Welty |
| | Antje Rávic Strubel, Alan Ayckbourn, Scott Turow, Tom Clancy, Agnes Sapper, Edward de Vere, José Gautier Benítez, Alexander Ostrovski, Guillaume-Thomas Raynal |
| | Leonard Nolens, Mark Strand, Silvia Avallone, Walid Soliman, Dorothy Allison, Hubert Nyssen, Rolf Schilling, Glenway Wescott, Claude Tillier |
| | Leo Vroman, Jan van Mersbergen, Paul Theroux, Claudio Magris, Bella Akhmadulina, Stefan Heym, Richard Wagner, Marcel van Maele, Eric Knight |
| | Charles Baudelaire, Jelle Brandt Corstius, Karel Jonckheere, Joolz Denby, Albert von Schirnding, Johannes Bobrowski, Bernard-Marie Koltès, Arnold Stadler, Yaël Vinckx |
| | Thomas (Jan Willem Schulte Nordholt) |
| | Herinnering aan Gerard Reve, Hanz Mirck, Christoph Hein, Judith Koelemeijer, Nnedi Okorafor, Barbara Kingsolver |
| | John Fante, Johann Christian Günther, Glendon Swarthout, Martin Grzimek, Hégésippe Moreau, Robert Askins |
| | Den Haag (Paul Rodenko) |
| | Juliana Spahr, William Wordsworth, Özcan Akyol, Gabriela Mistral |
| | Kazim Ali, Annejet van der Zijl, John Pepper Clark, Jakob Ejersbo, Günter Herburger, Uljana Wolf, Brigitte Schwaiger, Julien Torma, Nicolas Chamfort |
| | Iulian Ciocan |
| | Hugo Claus, Martin Reints, Mieke van Zonneveld, Vítězslav Hálek, Algernon Swinburne, Bora Ćosić,, Werner J. Egli, Michael Georg Conrad, Marente de Moor |
| | Maya Angelou, Hanneke Hendrix, Marko Klomp, Marcel Vaarmeijer, E. L. James, Marguerite Duras, Robert Schindel, Michiel van Kempen, Bettina von Arnim |
| | Charles Ducal, Adriaan Jaeggi, Frederik van Eeden, Bert Bakker, Peter Huchel, Arlette Cousture, Pieter Aspe, Karel N.L. Grazell, Washington Irving |
| | Die Sonne geht im Osten auf (Christian Morgenstern) |
| | Thomas Glavinic, Jay Parini, Anneke Claus, Klaus Ender, Konrad Merz, Ed Dorn, Émile Zola |
| | György Konrád, Anne Waldman, Casanova, Hans Christian Andersen, Roberto Arlt, Edgar Hilsenrath, George Fraser |
| | Hoffmann von Fallersleben, Johann Gleim, Pierre Zaccone, Pietro della Valle, Zwier van Haren, Joanna Chmielewska, Brigitte Struzyk |
| | Preis dem Todesüberwinder! (Friedrich Klopstock) |
| | Milan Kundera, Sandro Veronesi, Nikolaj Gogol, Arnold Aletrino, Max Nord, Urs Allemann, Rolf Hochhuth, John Wilmot, Deborah Feldman |
| | Maria Polydouri, Edgar Wallace, Carl Sternheim, Edmond Rostand, Armel Guerne, Friedrich Güll, Antoine Prévost, Josep de Maistre |
| | Litanie van een wachter bij het graf (Willem Jan Otten) |
| | Stefan Hertmans, Octavio Paz, Asis Aynan, Martijn Teerlinck, Marga Minco, Enrique Vila-Matas |
| | Rob Boudestein, Kornej Tsjoekovski, Andrew Lang, Nichita Stănescu, Hartmut Lange, Marge Piercy |
| | Angela Kreuz, Judith Rossner, Andrew Marvell, John Fowles, Edward FitzGerald, Robert Brasillach, Peter Motte |
| | Golgotha (Theo Thijssen) |
| | Gerrit Komrij, Paul Verlaine, Milton Acorn, Erika Mitterer, Uwe Timm, Tom Sharpe, Gert Heidenreich, Theo Breuer, Luise Hensel |
| | Gethsemane (Jacqueline van der Waals) |
| | Geert van Istendael, Wim Brands, Ernst Jünger, Eric Walz, Georg Klein, Yvan Goll, R. S. Thomas, Jacques Brault, Denton Welch |
| | Walter van den Broeck, Joost de Vries, Mario Vargas Llosa, Chrétien Breukers, Steye Raviez, Nelson Algren, Marianne Frederiksson, Russell Banks, Léon-Gontran Damas |
| | Heinrich Mann, Shusaku Endo, Carolina Trujillo, Golo Mann, Patrick McCabe, Bob den Uyl, Dubravka Ugresić, Francis Ponge, Alfred de Vigny |
| | Tennessee Williams, Gregory Corso, Hwang Sun-won, Martin McDonagh, Robert Frost, Patrick Süskind, A. E. Housman, Bettina Galvagni, Erica Jong |
| | Jezus intrede in Jeruzalem (Nicolaas Beets) |
| | Pol Hoste, Menno Van der Beek, Jung Chang, Paul Meeuws, Flannery O'Connor, Jaime Sabines, Peter Van Straaten, Toni Cade Bambara |
| | Antonio Fogazzaro, Jacques Bens, Jacques Audiberti, Filip De Pillecyn, Erica Pedretti, Evliya Çelebi, Anne Fanshawe, Daniel Schiebeler, Mary Webb |
| | Peter Bichsel, Joy Ladin, Martin Walser, Dario Fo, Lawrence Ferlinghetti, Jacob van Lennep, Jeroen Mettes, Harry Prenen, Willem van Iependaal |
| | Top Naeff, Robert Hamerling, Fanny Lewald, Christian Schubart, Gabriele von Baumberg, Olive Schreiner, William Morris, Richard Leising |
| | Cri Stellweg, Jonathan Ames, Yōko Tawada, Gary Whitehead, Mitch Cullin, Roger Martin du Gard, Madison Cawein, Nils-Aslak Valkeapää, Federica de Cesco |
| | Billy Collins, Theo Kars, Eveline Hasler, Érik Orsenna, Arnold Sauwen, Wolfgang Bächler, Ilse Kleberger, Léon Deubel, Karel Poláček |


Gastenboek


Druk op onderstaande knop om een berichtje achter te laten in mijn gastenboek