E-mail mij


Druk op onderstaande knop om mij te e-mailen.


Romenu


Romenu is een blog over gedichten, literatuur en kunst Maar Romenu is ook een professionele freelance vertaler
Du-Ne en Ne-Du http://www.romenu.nl.


Huur eens een (vakantie)huis in een natuurgebied, dichtbij het centrum van Nijmegen


Google


Georg Trakl

Georg Trakl werd op 3 februari 1887 in het conducteurshuis aan de Waagplatz 2 in Salzburg geboren. Zijn vader, Tobias Trakl, was een handelaar in ijzerwaren en zijn moeder, die ook psychische problemen had, was Maria Catharina Trakl, (meisjesnaam Halik). Voorts had hij nog drie broers en drie zussen. Margarethe (doorgaans Grethe genoemd) stond hem het naast, zelfs zodanig dat sommigen een incestueuze verhouding vermoeden. Zijn jeugd bracht hij door in Salzburg. Vervolgens bezocht hij van 1897 tot 1905 het humanistische gymnasium. Om toch een academische opleiding te kunnen volgen, werkte hij tot 1908 in de praktijk bij een apotheker. Sommigen vermoedden dat hij dit vooral deed om zichzelf opiaten te kunnen verschaffen. Bij het uitbreken van WO I werd Trakl als medicus naar het front in Galicië (heden ten dage in Oekraïne en Polen) gestuurd. Zijn gemoedsschommelingen leidden tot geregelde uitbraken van depressie, die verergerd werden door de afschuw die hij voelde voor de verzorging van de ernstig verwonde soldaten. De spanning en druk dreven hem ertoe een suïcidepoging te ondernemen, welke zijn kameraden nochtans verhinderden. Hij werd in een militair ziekenhuis opgenomen in Kraków, alwaar hij onder strikt toezicht geplaatst werd.Trakl verzonk daar in nog zwaardere depressies en schreef Ficker om advies. Ficker overtuigde hem ervan dat hij contact moest opnemen met Wittgenstein, die inderdaad op weg ging na Trakls bericht te hebben ontvangen. Op 4 november 1914, drie dagen voordat Wittgenstein aan zou komen, overleed hij echter aan een overdosis cocaïne


Paul Celan

Paul Celan werd onder de naam Paul Antschel op 23 november 1920 geboren in Czernowitz, toentertijd de hoofdstad van de Roemeense Boekovina, nu behorend bij de Oekraïne. Paul Celans ouders waren Duitssprekende joden die hun zoon joods opvoedden en hem naar Duitse christelijke scholen stuurden. In 1942 werden Celans ouders door de Duitse bezetter naar een werkkamp gedeporteerd en daar vermoord. Hijzelf wist aanvankelijk onder te duiken, maar moest vanaf juli 1942 in een werkkamp dwangarbeid verrichten. Celan overleefde de oorlog. Via Boekarest en Wenen vestigde Celan zich in 1948 in Parijs. Daar was hij werkzaam als dichter, vertaler en doceerde hij aan de prestigieuze Ecole Normale Supérieure. Vermoedelijk op 20 april 1970 beëindigde hij zijn leven zelf door in de Seine te springen.


Gerard Reve

Gerard Reve over: Medearbeiders "God is in de mensen, de dieren, de planten en alle dingen - in de schepping, die verlost moet worden of waaruit God verlost moet worden, door onze arbeid, aangezien wij medearbeiders van God zijn." Openbaring "Tja, waar berust elk godsbegrip op, elke vorm van religie? Op een openbaring, dat wil zeggen op een psychische ervaring van zulk een dwingende en onverbiddelijke kracht, dat de betrokkene het gevoel heeft, niet dat hij een gedachte of een visioen heeft, maar dat een gedachte gedachte of visioen hem bezit en overweldigt."


Simon Vestdijk
Simon Vestdijk (Harlingen, 17 oktober 1898 – Utrecht, 23 maart 1971) was een Nederlands romancier, dichter, essayist en vertaler. Zijn jeugd te Harlingen en Leeuwarden beschreef hij later in de Anton Wachter-cyclus. Van jongs af aan logeerde hij regelmatig bij zijn grootouders in Amsterdam, waar hij zich in 1917 aan de Universiteit van Amsterdam inschrijft als student in de medicijnen. Tijdens zijn studie die van 1917 tot 1927 duurde, leerde hij Jan Slauerhoff kennen.Tot 1932 is hij als arts in praktijken door heel Nederland werkzaam. In 1932 volgt zijn officiële schrijversdebuut met de uitgave van de bundel Verzen in De Vrije Bladen. Doorslaggevend voor Vestdijks uiteindelijke keuze voor de literatuur is zijn ontmoeting in 1932 met Eddy Du Perron en Menno ter Braak. Deze ontmoeting had tot resultaat dat hij redactielid werd van het tijdschrift Forum Kort daarop, in 1933, wordt zijn eerste novelle, De oubliette, uitgegeven. In hetzelfde jaar schrijft hij Kind tussen vier vrouwen, dat, eerst geweigerd door de uitgever, later de basis zal vormen voor de eerste drie delen van de Anton Wachter-romans. In 1951 ontvangt Vestdijk de P.C. Hooftprijs voor zijn in 1947 verschenen roman De vuuraanbidders. In 1957 wordt hij voor het eerst door het PEN-centrum voor Nederland voorgedragen voor de Nobelprijs voor de Literatuur, die hij echter nooit zal krijgen. Op 20 maart 1971 wordt hem de Prijs der Nederlandse Letteren toegekend, maar voor hij deze kan ontvangen overlijdt hij op 23 maart te Utrecht op 72-jarige leeftijd. Vestdijk was auteur van ca. 200 boeken. Vanwege deze enorme productie noemde de dichter Adriaan Roland Holst hem 'de man die sneller schrijft dan God kan lezen'. Andere belangrijke boeken van Simon Vestdijk zijn: "Kind van stad en land" (1936), "Meneer Visser's hellevaart" (1936), "Ierse nachten" (1946), "De toekomst de religie" (1947), "Pastorale 1943" (1948), "De koperen tuin" (1950), "Ivoren wachters" (1951), "Essays in duodecimo" (1952) en "Het genadeschot" (1964).


K.P. Kavafis

K.P. Kavafis werd als kind van Griekse ouders, afkomstig uit Konstantinopel, geboren in 1863 in Alexandrië (tot vandaag een Griekse enclave) waar hij ook het grootste deel van zijn leven woonde en werkte. Twee jaar na de dood van zijn vader verhuist het gezin in 1872 naar Engeland om na een verblijf van vijf jaar naar Alexandrië terug te keren. Vanwege ongeregeldheden in Egypte vlucht het gezin in 1882 naar Konstantinopel, om na drie jaar opnieuw naar Alexandrië terug te gaan. In de jaren die volgen maakt Kavafis reizen naar Parijs, Londen en in 1901 zijn eerste reis naar Griekenland, in latere jaren gevolgd door nog enkele bezoeken. Op de dag van zijn zeventigste verjaardag, in 1933 sterft Kavafis in Alexandrië. De roem kwam voor Kavafis pas na zijn dood, dus postuum. Deels is dat toe te schrijven aan zijn eigen handelswijze. Hij was uiterst terughoudend met de publicatie van zijn gedichten, liet af en toe een enkel gedicht afdrukken in een literair tijdschrift, gaf in eigen beheer enkele bundels met een stuk of twintig gedichten uit en het merendeel van zijn poëzie schonk hij op losse bladen aan zijn beste vrienden.


Thomas Mann


Thomas Mann, de jongere broer van Heinrich Mann, werd geboren op 6 juni 1875 in Lübeck. Hij was de tweede zoon van de graankoopman Thomas Johann Heinrich Mann welke later één van de senatoren van Lübreck werd. Zijn moeder Julia (geboren da Silva-Bruhns) was Duits-Braziliaans van Portugees Kreoolse afkomst. In 1894 debuteerde Thomas Mann met de novelle "Gefallen". Toen Thomas Mann met 21 jaar eindelijk volwassen was en hem dus geld van zijn vaders erfenis toestond - hij kreeg ongeveer 160 tot 180 goldmark per jaar - besloot hij dat hij genoeg had van al die scholen en instituties en werd onafhankelijk schrijver. Kenmerkend voor zijn stijl zijn de ironie, de fenomenale taalbeheersing en de minutieuze detailschildering. Manns reputatie in Duitsland was sterk wisselend. Met zijn eerste roman, Buddenbrooks (1901), had hij een enorm succes, maar door zijn sceptische houding tegenover Duitsland na de Eerste Wereldoorlog veranderde dit volledig. Stelde hij zich tot aan de jaren twintig apolitiek op (Betrachtungen eines Unpolitischen, 1918), meer en meer raakte hij bij het Politiek gebeuren betrokken. Zijn afkeer van het nationaal socialisme groeide, zijn waarschuwingen werden veelvuldiger en heftiger. In 1944 accepteerde hij het Amerikaanse staatsburgerschap. Tussen 1943 en 1947 schreef Mann Doktor Faustus (zie Faust), de roman van de 'Duitse ziel' in de gecamoufleerd geschilderde omstandigheden van de 20ste eeuw. In 1947 bezocht hij voor het eerst sinds de Oorlog Europa, twee jaar later pas Duitsland. In 1952 vertrok hij naar Zwitserland. Op 12 augustus 1955 stierf hij in Zürich. Twintig jaar na zijn dood, in aug. 1975, is zijn literaire nalatenschap geopend: dagboekaantekeningen van 15 maart 1933 tot 29 juli 1955, alsmede notities uit de jaren 1918 tot en met 1921.Belangrijke werken zijn: Der Zauberberg, Der Tod in Venedig, Dokter Faustus , Joseph und seine Brüder en Die Bekenntnisse des Hochstaplers Felix Krull.


Rainer Maria Rilke

Rilke werd op 4 december 1875 geboren in Praag. Hij had al naam gemaakt als dichter met zijn bundels Das Stundenbuch en Das Buch der Bilder, toen hij de literaire wereld versteld deed staan en wereldfaam verwierf met de publicatie van zijn twee delen Neue Gedichte in 1907 en 1908. Hij verzamelde daarin het beste werk uit een van zijn vruchtbaarste periodes, die hij grotendeels doorbracht in Parijs. Rilke was daar diep onder de indruk gekomen van Rodin, bij wie hij een tijdlang in dienst was als particulier secretaris. Rodin, zei hij later, had hem leren kijken. Dit kijken kwam neer op intense concentratie, om het mysterie te kunnen zien 'achter de schijnbare werkelijkheid'. Latere en rijpere werken als Duineser Elegien (1912-1923) en het ronduit schitterende Die Sonette an Orfeus (1924) illustreren Rilkes metafysische visie op het onzegbare, dat haar verwoording vindt in een hermetische muzikale taal. Op 29 december 1926 overlijdt Rilke in het sanatorium in Val-Mont aan de gevolgen van leukemie. Enkele dagen later wordt hij, overeenkomstig zijn wens, begraven op het kerkhof van Raron.


* * * * * * * * * * * * * * * *

| | |
| --- | --- |
| | Over literatuur, gedichten, kunst en cultuur |

14-10-2012

E. E. Cummings, Péter Nádas, Katha Pollitt, Daniël Rovers
De Amerikaanse dichter en schrijver Edward Estlin Cummings werd geboren in Cambridge, Massachusetts op 14 oktober 1894. Zie ook mijn blog van 14 oktober 2010 en eveneens alle tags voor E. E. Cummings op dit blog.
if you like my poems let them
if you like my poems let them
walk in the evening,a little behind you

then people will say
"Along this road i saw a princess pass
on her way to meet her lover(it was
toward nightfall)with tall and ignorant servants."
my father moved through dooms of love

my father moved through dooms of love
through sames of am through haves of give,
singing each morning out of each night
my father moved through depths of height

this motionless forgetful where
turned at his glance to shining here;
that if(so timid air is firm)
under his eyes would stir and squirm

newly as from unburied which
floats the first who,his april touch
drove sleeping selves to swarm their fates
woke dreamers to their ghostly roots

and should some why completely weep
my father's fingers brought her sleep:
vainly no smallest voice might cry
for he could feel the mountains grow.

Lifting the valleys of the sea
my father moved through griefs of joy;
praising a forehead called the moon
singing desire into begin

joy was his song and joy so pure
a heart of star by him could steer
and pure so now and now so yes
the wrists of twilight would rejoice

keen as midsummer's keen beyond
conceiving mind of sun will stand,
so strictly(over utmost him
so hugely) stood my father's dream

his flesh was flesh his blood was blood:
no hungry man but wished him food;
no cripple wouldn't creep one mile
uphill to only see him smile.

Scorning the Pomp of must and shall
my father moved through dooms of feel;
his anger was as right as rain
his pity was as green as grain

septembering arms of year extend
yes humbly wealth to foe and friend
than he to foolish and to wise
offered immeasurable is

proudly and(by octobering flame
beckoned)as earth will downward climb,
so naked for immortal work
his shoulders marched against the dark

his sorrow was as true as bread:
no liar looked him in the head;
if every friend became his foe
he'd laugh and build a world with snow.

My father moved through theys of we,
singing each new leaf out of each tree
(and every child was sure that spring
danced when she heard my father sing)

then let men kill which cannot share,
let blood and flesh be mud and mire,
scheming imagine,passion willed,
freedom a drug that's bought and sold

giving to steal and cruel kind,
a heart to fear,to doubt a mind,
to differ a disease of same,
conform the pinnacle of am

though dull were all we taste as bright,
bitter all utterly things sweet,
maggoty minus and dumb death
all we inherit,all bequeath

and nothing quite so least as truth
--i say though hate were why men breathe--
because my Father lived his soul
love is the whole and more than all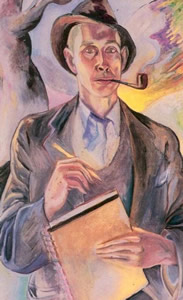 E. E. Cummings (14 oktober 1894 - 3 september 1962)
Self-portrait with sketchpad, 1939
De Hongaarse schrijver Péter Nádas werd geboren op 14 oktober 1942 in Boedapest. Zie ook mijn blog van 14 oktober 2010 en eveneens alle tags voor Péter Nádas op dit blog.
Uit: Parallel Stories (Vertaald door Imre Goldstein)

"No one could have said that Klára Vay, with her towering coiffure and enormous eyes, her rounded lips thickly coated in lipstick, her mink coat and, even more, her gesture as she tossed it carelessly off her shoulder, her revealing décolletage and glaring white skin, her skin-tight dress so short it scared off whoever looked at it, in her inordinately high-heeled and pointed shoes, was not an apparition to attract the eye. There were her shapely calves, her figure which on the whole made a girlish impression, her strong hips, powerful thighs: the contradictions or disharmony of her anatomy. As soon as they entered Kristóf sensed the discomfort of the challenge her appearance represented and was mindful of being seen by strangers with such an ostentatious apparition. His skin itched with the awareness that Klára's beauty and impermissible elegance rendered him ridiculous.
He turned into a little shit.
And, pathetically, he was supposed to be proud, too.
For a little shit to have such a woman. As though he had been her page boy, her escort, her secret lover for years. Or indeed, had any chance of ever being her lover.
It was wrong to let Klára see that he was overawed the first time they went out together. He had to put on the most neutral face and looks possible, to prevent those others reading from his face just how desperate he was, the ultimate failure and disaster that he had so successfully evaded up till now.
They both managed to hit the right note, too.
They were not scandalous enough to attract those eyes for very long, the gazes peeled off, one by one. For themselves they remained scandalous and intolerable. The visible age gap had also lost its weight as a possible factor in an apparent drama of broken love. The only thing that must have been intolerable was the awareness that these two will not manage without each other and they were clearly unable to account for this awareness to themselves. They held their champagne flutes in their free hand and as though these glasses were stopping them from touching each other, their coats hung limply off the high bar stools. Bodily silence, or the total lack of the wish to talk had cut them off from other people. There was little you could subtract from what had gone before, and nothing from their presence."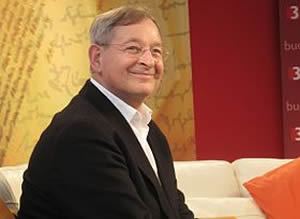 Péter Nádas (Boedapest,14 oktober 1942)



De Amerikaanse dichteres, essayiste, critica en feministe Katha Pollitt werd geboren op 14 oktober 1949 in New York. Zie ook mijn blog van 14 oktober 2010 en eveneens alle tags voor Katha Pollit op dit blog.
Night Subway
The nurse coming off her shift at the psychiatric ward
nodding over the Post, her surprisingly delicate legs
shining darkly through the white hospital stockings,
and the Puerto Rican teens, nuzzling, excited
after heavy dates in Times Square, the girl with green hair,
the Hasid from the camera store, who mumbles
over his prayerbook the nameless name of God,
sitting separate, careful no woman should touch him,
even her coat, even by accident,
the boy who squirms on his seat to look out the window
where signal lights wink and flash like the eyes of dragons
while his mother smokes, each short, furious drag
meaning Mens no good they tell you anything –
How not think of Xerxes, how he reviewed his troops
and wept to think that of all those thousands of men
in their brilliant armour, their spearpoints bright in the sun,
not one would be alive in a hundred years?
O sleepers above us, river
rejoicing in the moon, and the clouds passing over the moon.
Lunaria
Now that I am
all done with spring
rampant in purple
and ragged leaves

and summer too
its great green moons
rising through
the breathless air
pale dusted like
the Luna's wings
I'd like to meet
October's chill

like the silver moonplant
Honesty
that bears toward winter
its dark seeds

a paper lantern
lit within
and shining in
the fallen leaves.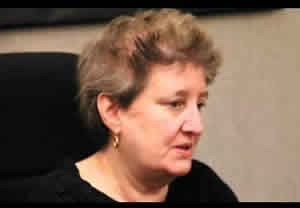 Katha Pollitt (New York,14 oktober 1949)



De Nederlandse schrijver Daniël Rovers werd geboren in Zelhem op 14 oktober 1975. Zie ook mijn blog van 14 oktober 2010 en eveneens alle tags voot Daniël Rovers op dit blog.
Uit: In de walvis
"Het geluid van de elektromotor zwelt aan, zittingen zuigen aan bezwete ruggen, het perron schiet weg achter de met geslepen schroevendraaiers bewerkte ruiten; je staart naar buiten en ziet niets dan beroete buizen, leidingen en je eigen gezicht; tegenover je neemt een reclameblond jongetje plaats, zijn benen reiken niet eens tot aan de grond, zijn handen zoeken steun op de zitting. Een kleine dikke vrouw snelt op de open deuren toe, twee volle plastic supermarkttassen in haar handen, het vertreksignaal klinkt, houdt lang aan, de metrobestuurder moet de vrouw hebben opgemerkt, en ze bereikt ook op tijd de deuren, haar hoofd vooruitgestoken als bij een foto-finish, maar precies op dat moment houdt ze in, bang om de drempel te nemen, en het signaal klinkt nog een keer, dit keer langer en dreigender, waarna de deuren alsnog in beweging komen en dichtslaan. Geschreeuw. Twee dames die bij de deuren staan sjorren aan de stalen hendels, en het duurt een volle seconde tot de deuren weer opengaan – om meteen daarna weer dicht te klappen. De vrouw staat nog altijd op het perron, een van haar boodschappentassen is gevallen, ze wrijft met de palm van haar rechterhand over haar hoofd, en omdat de andere plastic zak nog in de winkelhaak van rechterwijsvinger en duim hangt slaat dat zakje nu tegen haar gezicht en schouders; de vrouw grijnst en blijft ondertussen met haar hand over haar hoofd wrijven, alsof zo de pijn uit haar schedel zal verdwijnen. De stuurse blik, die vertraagde manier van bewegen: de metropassagiers kijken naar buiten en zwijgen, delen de schaamte over wat de meeste van hen gezien moeten hebben: er staat een hulpeloos kind van vijftig jaar oud op het perron."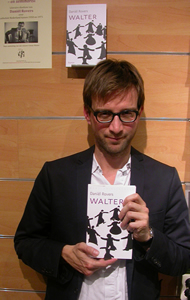 Daniël Rovers (Zelhem, 14 oktober 1975)
Zie voor nog meer schrijvers van de 14e oktober ook mijn vorige blog van vandaag.

14-10-2012 om 19:31 geschreven door Romenu

Tags:E. E. Cummings, Péter Nádas, Katha Pollitt, Daniël Rovers, Romenu



Katherine Mansfield, Margarete Susman, Stefan Żeromski
De Nieuw-Zeelandse schrijfster Katherine Mansfield werd geboren op 14 oktober 1888 in Wellington. Zie ook mijn blog van 14 oktober 2010 en eveneens alle tags voor Katherine Mansfield op dit blog.
Uit: Bliss (The Man Without A Temperament)
"He stood at the hall door turning the ring, turning the heavy signet ring upon his little finger while his glance travelled coolly, deliberately, over the round tables and basket chairs scattered about the glassed-in veranda. He pursed his lips–he might have been going to whistle–but he did not whistle–only turned the ring–turned the ring on his pink, freshly washed hands.
Over in the corner sat The Two Topknots, drinking a decoction they always drank at this hour–something whitish, greyish, in glasses, with little husks floating on the top–and rooting in a tin full of paper shavings for pieces of speckled biscuit, which they broke, dropped into the glasses and fished for with spoons. Their two coils of knitting, like two snakes, slumbered beside the tray.
The American Woman sat where she always sat against the glass wall, in the shadow of a great creeping thing with wide open purple eyes that pressed–that flattened itself against the glass, hungrily watching her. And she knoo it was there–she knoo it was looking at her just that way. She played up to it; she gave herself little airs. Sometimes she even pointed at it, crying: "Isn't that the most terrible thing you've ever seen! Isn't that ghoulish!" It was on the other side of the veranda, after all . . . and besides it couldn't touch her, could it, Klaymongso? She was an American Woman, wasn't she, Klaymongso, and she'd just go right away to her Consul. Klaymongso, curled in her lap, with her torn antique brocade bag, a grubby handkerchief, and a pile of letters from home on top of him, sneezed for reply.
The other tables were empty. A glance passed between the American and the Topknots. She gave a foreign little shrug; they waved an understanding biscuit. But he saw nothing. Now he was still, now from his eyes you saw he listened. "Hoo-e-zip-zoo-oo!" sounded the lift. The iron cage clanged open. Light dragging steps sounded across the hall, coming towards him. A hand, like a leaf, fell on his shoulder. A soft voice said: "Let's go and sit over there–where we can see the drive. The trees are so lovely." And he moved forward with the hand still on his shoulder, and the light, dragging steps beside his. He pulled out a chair and she sank into it, slowly, leaning her head against the back, her arms falling along the sides."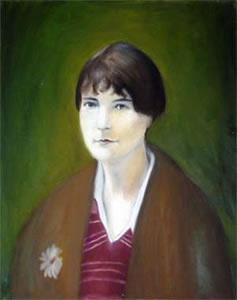 Katherine Mansfield (14 oktober 1888 – 9 januari 1923)
Portret door Shoshana Kertesz
De Duitse dichteres, schrijfster en filosofe Margarete Susman werd geboren op 14 oktober 1872 in Hamburg. Zie ook mijn blog van 14 oktober 2010 en eveneens alle tags voor Margarete Susman op dit blog.
Uit: Ich habe viele Leben gelebt. Erinnerungen
Diesem Wissen entspricht ein fast gleichzeitiges Erlebnis: Ich stehe an einem der hohen Fenster unseres Kinderzimmers, an das mir – da ich es bald verlassen mußte – gewiß keine Erinnerung geblieben wäre, wenn nicht dieses frühe starke Erlebnis es für immer in mein Bewußtsein eingegraben hätte. Ich sehe die schwarzen Vorhänge mit den großen roten Blumen, die längliche Form des hohen Zimmers, an dessen einem Fenster ich stand, und ich fühle noch heute das bittere Elend, das damals mein Kinderherz erfüllte. Ich hatte eben vorher in einem Streit meine Schwester mit einer Puppe an den Kopf geschlagen, und nun stand sie im Zimmer hinter mir und weinte, und meine Mutter tröstete sie zärtlich. Ich fühlte mich trostlos und verlassen, und aus diesem schmerzlichen Verlassensein stieg die Frage in mir auf: "Ist das, was jetzt in mir ist, wohl Mitleid?" – eine Frage, die ich – da sie nach dem Wesen einer mir nahen doch verborgenen Wahrheit fragte – vielleicht die erste philosophische Frage meines Lebens nennen möchte. Dieses Elend war natürlich nicht Mitleid, sondern Reue und das Gefühl des Ausgestoßenseins. Aber das Wort Mitleid, das ich damals noch nicht verstand, mußte mich schon oft aus Gesprächen der Erwachsenen getroffen haben, und dies ist sicher kein Zufall gewesen. Denn auch heute noch erscheint mir das Mitleid als eines der schwersten
Probleme des Menschenlebens, sowohl im Einzelnen wie im Sozialen. Denn so sicher das Wort Mitleid zu unserem Leben gehört, ist es doch das Seltenste und Schwerste, weil es nur da ganz wirklich ist, wo ein Mensch ganz in das Leben eines anderen einkehrt, während ihm doch durch sein eigenes Dasein eine unüberschreitbare Grenze gesetzt ist. Dies alles wußte ich damals noch nicht, aber durch den frühen Schmerz streifte ich an eine der Wurzeln meines Lebens, die des Mitlebens überhaupt.
Eine zweite Erinnerung stammt aus einer um wenige Jahre späteren Zeit. Sie führt mich in ein anderes Zimmer, das mir auch nur durch die Stärke eines Erlebnisses im Gedächtnis geblieben ist. Es war dunkel um uns; nur die große hellgedeckte Platte des Tisches war durch die Lampe über ihr aus dem Dunkel herausgeschnitten. Wir hatten eben mit unseren Eltern, wie immer nach deutschem Brauch, Weihnachten gefeiert, und nun saßen wir vor dem Abendessen mit dem Kinderfräulein, an dessen große dunkle Augen ich mich heute noch erinnere – ich weiß auch noch, daß sie Amanda hieß –, an diesem Tisch, wo sie uns Geschichten erzählte. In meinem Herzen brannte noch der hohe
Christbaum mit seinen vielen hellen Lichtern, die den großen Saal durchstrahlten.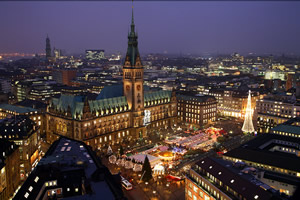 Margarete Susman (14 oktober 1872 - 16 januari 1966)
Hamburg in kersttijd

De Poolse schrijver Stefan Żeromski werd geboren op 14 oktober 1864 in Strawczyn in de buurt van Kielce. Zie ook mijn blog van 14 oktober 2010 en eveneens alle tags voor Stefan Żeromski op dit blog.
Uit: Forebodings (Vertaald door Marie Busch)
"In the darkest corner of the ward, in the bed marked number twenty-four, a farm labourer of about thirty years of age had been lying for several months. A black wooden tablet, bearing the words
'Caries tuberculosa', hung at the head of the bed, and shook at each movement of the patient. The poor fellow's leg had had to be amputated above the knee, the result of a tubercular decay of the bone. He was a peasant, a potato-grower, and his forefathers had grown potatoes before him. He was now on his own, after having been in two situations; had been married for three years and had a baby son with a tuft of flaxen hair. Then suddenly, from no cause that he could tell, his knee had pained him, and small ulcers had formed. He had afforded himself a carriage to the town, and there he had been handed over to the hospital at the expense of the parish.
He remembered distinctly how on that autumn afternoon he had driven in the splendid, cushioned carriage with his young wife, how they had both wept with fright and grief, and when they had finished crying had eaten hard-boiled eggs: but what had happened after that had all become blurred--indescribably misty. Yet only partially so.
Of the days in the hospital with their routine and monotony, creating an incomprehensible break in his life, his memory retained nothing; but the unchanging grief, weighing like a slab of stone on a grave, was ever present in his soul with inexorable and brutal force during these many months. He only half recalled the strange wonders that had been worked on him: bathing, feeding, probing into the wound, and later on the operation. He had been carried into a room full of gentlemen wearing aprons spotted with blood; he was conscious also of the mysterious, intrepid courage which, like a merciful hand, had supported him from that hour."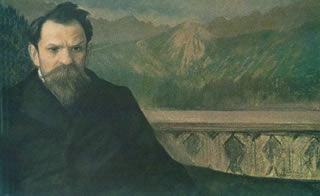 Stefan Żeromski (14 oktober 1864 - 20 november 1925)
Portret door Leona Wyczółkowskiego
14-10-2012 om 19:24 geschreven door Romenu

Tags:Katherine Mansfield, Margarete Susman, Stefan Ż,eromski, Romenu



| | |
| --- | --- |
| | |



Inhoud blog


| | |
| --- | --- |
| | The Throstler (Alfred Tennyson) |
| | Ad Zuiderent, Leo Pleysier, Adriaan Bontebal, Guntram Vesper, Frank Schätzing |
| | Maeve Binchy, Sjoerd Leiker, Vladislav Chodasevitsj, Thomas Moore, Ian Fleming, Maximilian Voloshin |
| | Niels 't Hooft, Jan Blokker, Linda Pastan, Louis-Ferdinand Céline, Georges Eekhoud, Said, John Cheever, John Barth |
| | Max Brod, Kaur Kender, Adriaan Venema, Arnold Bennett, Richard Schaukal, Ferdynand Ossendowski, M. A. von Thümmel, Herman Wouk, Dashiell Hammett |
| | Alan Hollinghurst, Radwa Ashour, Hugo Raes, Vítězslav Nezval, Ivan O. Godfroid, Maxwell Bodenheim, Isabella Nadolny, Edmond De Goncourt |
| | Hemelvaart (Gabriël Smit) |
| | Egyd Gstättner, Claire Castillon, Friedrich Dieckmann, Eve Ensler, Raymond Carver, Jamaica Kincaid, Robert Ludlum, Theodore Roethke, W. P. Kinsella |
| | Joseph Brodsky, Michael Chabon, Bob Dylan, Henri Michaux, William Trevor, Tobias Falberg, Arnold Wesker, George Tabori, Rainald Goetz |
| | Adriaan Roland Holst, Maarten Biesheuvel, Lydia Rood, Jane Kenyon, Susan Cooper, Michaël Vandebril, Jack McCarthy, Mitchell Albom, Pär Fabian Lagerkvist |
| | Erik Spinoy, Arthur Conan Doyle, Ahmed Fouad Negm, Anne de Vries, Johannes R. Becher, Kees Winkler, Gérard de Nerval, Robert Neumann, Catulle Mendès |
| | Takis Würger |
| | Gabriele Wohmann, Amy Waldman, Maria Semple, Urs Widmer, Emile Verhaeren, Robert Creeley, Alexander Pope, Tudor Arghezi, Suzanne Lilar |
| | Tommy Wieringa, Auke Hulst, Ellen Deckwitz, Jeroen Thijssen, Maurits de Bruijn, Gerrit Achterberg, Annie M.G. Schmidt, Sky du Mont |
| | Honoré de Balzac, William Michaelian, Wolfgang Borchert, Hector Malot, Ingvar Ambjørnsen, A.C. Cirino, Hanna Krall, Sigrid Undset |
| | Constantin Göttfert, Karel van het Reve, Simone van Saarloos, Gijs IJlander, Thera Coppens, H.W.J.M. Keuls, Jodi Picoult, Yahya Hassan, Ruskin Bond |
| | Markus Breidenich, W.G. Sebald, Yi Mun-yol, François Nourissier, Gunnar Gunnarsson, Omar Khayyam, Ernst Wiechert, Franziska zu Reventlow, John Wilson |
| | Lars Gustafsson, Peter Høeg, Gary Paulsen, Henri Barbusse, Virginie Loveling, Dennis Potter, Cor Bruijn, Dorothy Richardson, Mischa Andriessen |
| | Adrienne Rich, Paul Gellings, Friedrich Rückert, Jakob van Hoddis, Juan Rulfo, Olga Berggolts, Lothar Baier, Rens van der Knoop, Naomi Rebekka Boekwijt, Olaf J. de Landell |
| | Albert Verwey, Arthur Schnitzler, Pem Sluijter, W.J.M. Bronzwaer, Frits van Oostrom, Michael Lentz, Max Frisch, Judith Hermann, Peter Shaffer |
| | Mary Wortley Montagu |
| | Moeder (Gerrit Achterberg) |
| | Jo Gisekin, Karl-Markus Gauß, Eoin Colfer, Gaby Hauptmann, Wilma Vermaat, Frans Bastiaanse |
| | Dante Alighieri, Krister Axel, Jens Sparschuh, Evelyn Sanders, Kasper Peters, Walter E. Richartz, Karin Struck |
| | Jan Lauwereyns, Reinout Verbeke, Bruce Chatwin, Daphne du Maurier, Kathleen Jamie, Armistead Maupin, Alphonse Daudet, Kōji Suzuki |
| | Gregor von Rezzori, Theo van Baaren, Reinhold Schneider, Jacob Haafner, Adolf Muschg, Roch Carrier, Franz Michael Felder |
| | Hagar Peeters, Bertus Aafjes, August Vermeylen, Andrej Voznesensky, Sabine Imhof, Dante Gabriel Rossetti, Nicolaas Anslijn, Eva Demski, Farley Mowat |
| | J. H. Leopold, Ida Gerhardt, Eugen O. Chirovici, Andre Rudolph, Rubem Fonseca, Henning Boëtius, Camilo José Cela, Rachel Billington, Carl Hauptmann |
| | J.C. Bloem, Herman Leenders, Didi de Paris, Ralf Rothmann, Jeremy Gable, Petra Hammesfahr, Roberto Cotroneo, Antonine Maillet, Johann Peter Hebel |
| | Pieter Boskma, Charles Simic, Jotie T'Hooft, Jan Drees, Leopold Andrian, Alan Bennett, Lucian Blaga, Richard Adams, James Barrie |
| | Libris Literatuur Prijs 2017 voor Alfred Birney |
| | Luuk Wojcik |
| | Roddy Doyle, Thomas Pynchon, Pat Barker, Gary Snyder, Gertrud Fussenegger, Edmund Wilson, Romain Gary, Alain-René Lesage, Sophus Schandorph |
| | Willem Elsschot, Almudena Grandes, Christoph Marzi, Edgar Cairo, Volker Braun, Robert Browning, Peter Carey, Archibald MacLeish, Rabindranath Tagore |
| | Horst Bienek, Joseph Joubert, Stanisław Przybyszewski, Karl Gustav Vollmõller, A. E. W. Mason, Therese Huber, Dorit Zinn, Angela Carter, André du Bouchet |
| | Am dritten Sonntage nach Ostern (Annette von Droste-Hülshoff) |
| | Willem Kloos, Hélène Gelèns, Sasja Janssen, Ariel Dorfman, Erich Fried, Yasushi Inoue, Harry Martinson, Christian Morgenstern, Carl Ludwig Börne |
| | Ferdinand Sauter, Eugène Labiche, Gaston Leroux, Júlio César de Mello e Souza, Marie-Aude Murail, Paul Alverdes, Erik Bindervoet, Simon Mulder |
| | Vrijheid (Marion Bloem) |
| | Miklós Radnóti, Roni Margulies, Petra Else Jekel, Morton Rhue, Christopher Morley, George Albert Aurier, Henryk Sienkiewicz, Richard Watson Dixon, Catullus |
| | Stad (Willem van Toorn) |
| | Cola Debrot, Christiaan Weijts, Amos Oz, Monika van Paemel, Graham Swift, David Guterson, Jan Mulder, Werner Fritsch, Jacques Lanzmann |
| | Erik Lindner, Jehuda Amichai, Johan de Boose, Paul Bogaert, Marc Dugain, Ben Elton, Jens Wonneberger, Klaus Modick, Agnès Desarthe |
| | Esther Freud, Wytske Versteeg, Rob Waumans, Tilman Rammstedt, James Holmes, Jef Last, Gottfried Benn, Novalis, Jurgis Baltru¨aitis |
| | Die Arbeiter (Alfons Petzold) |
| | Guido Gezelle, Johano Strasser, Yasmina Reza, Joseph Heller, Yánnis Rítsos, Antal Szerb, Ignazio Silone, Aleksander Wat, Reinier van Genderen Stort |
| | John Greenleaf Whittier, Jeroen Brouwers, Alexander Osang, Ulla Hahn, Luise Rinser, John Boyne |
| | Konstantínos Petros Kaváfis, Rod McKuen, Bernhard Setzwein, Monika Rinck, Alejandra Pizarnik, Walter Kempowski, Bjarne Reuter, Kurt Pinthus, Humphrey Carpenter |
| | Zia Haider Rahman, Wim Hazeu, Roberto Bolaño, Gerhard Henschel, Harper Lee, Joop Waasdorp, Karl Kraus, Ğabdulla Tuqay, Charles Cotton |
| | De koning had geen zin (Annie M.G. Schmidt) |


Gastenboek


Druk op onderstaande knop om een berichtje achter te laten in mijn gastenboek