De Nederlandse dichter Leo Vroman werd op 10 april 1915 in Gouda geboren. Zie ook mijn blog van 10 april 2007 en ook mijn blog van 10 april 2008 en ook mijn blog van 10 april 2009 en ook mijn blog van 10 april 2010.
Regeneratie
Ieder gedicht
dat ik schrijf
is het laatste,
is mijn dood.

Dan smelt mijn gezicht
bijzonder groot
uit mijn lijf,
in mijn schoot.

Als ik wegloop
mors ik een hoop
dode manen
en kruip-organen,

en ikzelf dool,
zo dun dan
zo fijn van vrees
als een Chinees
symbool
voor 'man',

(een lijn
voor gebaar,
en een voor voet,
waaruit bij mij
nog wat inkt bloedt)

heen.

Schaamte: het oor
groeit het eerst weer aan,
spitst, st:leest iemand dit voor
Dan zwelt een oogbal,

ontluikt en tuurt: weent iemand al?
En dan spruit bang mijn ellendige
bonzende inwendige uit.

Om zich te bevredigen
staat daar dan
vlak achter de lezende
een geheel volledige
dodelijk vrezende
Vroman.
De oorlog
Het is een heldere zomermorgen
Door een heldhaftig mens
is het leventeken gegeven,
en zijn troepen trekken even
over de grens.

Overal op straat en
achter deuren, onder stoelen
worden de vijanden gevonden.
De halfslachtende soldaten
slaan vreemde mannen op hun smoelen,
griezelen even van hun wonden
en door de gebroken ruiten
storten zij zich weer naar buiten.
Steen
Drie stenen zitten op een steen.
Acht stenen liggen er om heen.
Daar onder liggen er nog negen.
Andere daar naast en tegen.
Een steen steekt half uit het zand naar buiten
om zich nog eventjes te uiten.
Leert, kinderen, dit uit zijnen mond:
houdt steeds een vuist boven de grond.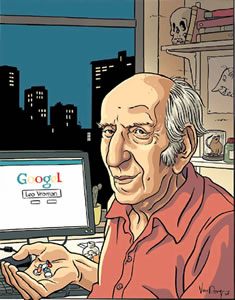 Leo Vroman (Gouda, 10 april 1915)
Getekend door Peter van Dongen
De Amerikaanse schrijver Paul Edward Theroux werd geboren op 10 april 1941 in Medford, Massachusetts. Zie ook mijn blog van 10 april 2007 en ook mijn blog van 10 april 2008 en ook mijn blog van 10 april 2009 en ook mijn blog van 10 april 2010.

Uit: The Old Patagonian Express
"One of us on that sliding subway train was clearly not heading for work. You would have known it immediately by the size of his bag. And you can always tell a fugitive by his vagrant expression of smugness; he seems to have a secret in his mouth – he looks as if he is about to blow a bubble.
But why be coy? I had woken in my old bedroom, in the house where I had spent the best part of my life. The snow lay deep around the house, and there were frozen footprints across the yard to the garbage can. A blizzard had just visited, another was expected to blow in soon. I had dressed and tied my shoes with more than usual care, and left the stubble on my upper lip for a moustache I planned to grow. Slapping my pockets to make sure my ballpoint and passport were safe, I went downstairs, past my mother's hiccuping cuckoo clock, and then to Wellington Circle to catch the train. It was a morning of paralysing frost, the perfect day to leave for South America.
For some, this was the train to Sullivan Square, or Milk Street, or at the very most Orient Heights; for me, it was the train to Patagonia. Two men using a foreign language spoke in low voices; there were others with lunch-boxes and valises and briefcases, and one lady with the sort of wrinkled department store bag that indicated she was going to return or exchange an unwanted item (the original bag lending veracity to the awkward operation).
The freezing weather had altered the faces in the multi-racial car: the whites cheeks looked rubbed with pink chalk, the Chinese were bloodless, the blacks ashen or yellow-grey. At dawn it had been 12F, by mid-morning it was 9F, and the temperature was still dropping. The cold wind gusted through the car as the doors opened at Haymarket, and it had the effect of silencing the muttering foreigners."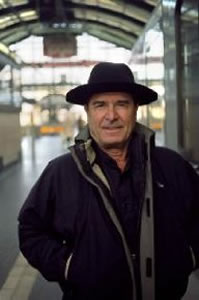 Paul Theroux (Medford, 10 april 1941)
De Italiaanse schrijver en vertaler Claudio Magris werd geboren op 10 april 1939 in Triëst. Zie ook mijn blog van 10 april 2009 en ook mijn blog van 10 april 2010.
Uit: Ein Nilpferd in Lund (Vertaald door Karin Krieger)
"In den Räumen des Klosters Santa Maria de Pedralbes in Barcelona – einem großartigen Bauwerk der katalanischen Gotik –, in denen sich eine Dependance der Sammlung Thyssen-Bornemisza befindet, fällt unter den wenigen Besuchern ein Paar auf, Vater und Sohn. Der Ältere ist ein adretter kleiner Herr von etwa fünfundsiebzig Jahren, der gelassen wirkt. Er hält den Jüngeren an der Hand, der offenbar am Down-Syndrom leidet oder, wie man oft fälschlicherweise sagt, mongoloid ist.
Die beiden vor mir bleiben vor jedem Gemälde stehen, und der Vater erläutert dem Sohn, den er fortwährend an der Hand hält, die Vergine dell'umiltà des Beato Angelico, ein Lieblingsmotiv der Bettelorden, dann den Schatten, aus dem Tizians Porträt des Antonio Anselmi tritt, und den Kanarienvogel, der auf dem Porträt einer Dame von Pietro Longhi aus seinem Käfi g fl ieht. Der Sohn hört zu, nickt, murmelt hin und wieder etwas. Er mag vierzig oder fünfzig Jahre alt sein, hat jedoch vor allem das undefi nierbare Alter eines welken Kindes. Der Vater sagt etwas zu ihm, hört
ihm zu, antwortet ihm. Wahrscheinlich tut er das schon ein Leben lang, und er wirkt weder müde noch besorgt dabei, sondern froh darüber, seinem Sohn die großen Meister nahebringen zu können.
Als er vor dem Porträt der Maria Anna von Österreich, Königin von Spanien angekommen ist, beugt er sich vor, um den 55 Namen des Künstlers zu lesen, richtet sich ruckartig wieder auf und sagt etwas zu laut zu seinem Sohn: »Velázquez!« Dann zieht er den Hut, so hoch wie irgend möglich. Das Kreuz, das ihm mit der Behinderung seines Sohnes durch eine unverzeihliche Ungerechtigkeit auferlegt wurde, hat seinen Rücken nicht gekrümmt, hat ihn nicht niedergebeugt und ihn auch nicht verbittern lassen, hat ihm nicht die Freude genommen, Größe anzuerkennen, ihr Ehre zu erweisen und einen Menschen daran teilhaben zu lassen, für den er allem Anschein nach lebt: seinen Sohn."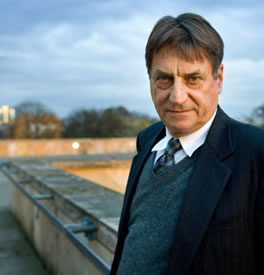 Claudio Magris (Triëst, 10 april 1939)
De Russische dichteres Bella Akhmadulina werd geboren op 10 April 1937 in Moskou. Zie ook mijn blog van 10 april 2009 en ook mijn blog van 10 april 2010.
The Flowers (fragment)
They grew inside a warming-house,
under the guidance of a cell,
their roots were sunk in fat and nourish,
and petals – always thin and well.
. . . . . . . . . . . . . . . . . . . .
Warm was the house they did sit in.
They gave them water, soil and light:
not for the reason of a pity
or wishing them a long-long life.
They are the gay gifts – to remember.
But bad a fate to wait them in,
because they never will be able
to smell like their garden kin.
They would not stay the red lips middle,
they would not sway the golden bee,
they would not ever solve the riddle
whatever the wet earth could be.
"Oh, Trees!..."
Oh, trees! You are brothers of mine.
'Twas dark'ning, but my eyes defined,
For sure – to the heaven, so starry –
That you, for your night rest, have hurried,
Like someone – a farmer, a sailor –
Who's tired of his heavy labor.
Away, in the morn I shall go,
But, ere that, leave you my all store:
The star, the sunrise, and the snow –
Which life has me kindly bestowed.
I thank you, my brotherly wizards,
For sedative songs of your blizzards,
For leafage's rustle and cool hue,
For that I shall – before you…
Vertaald door Yevgeni Bonver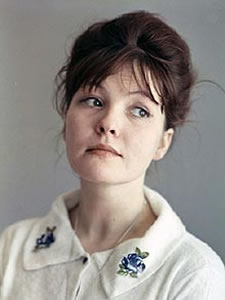 Bella Akhmadulina (Moskou, 10 April 1937)
De Duitse schrijver Stefan Heym (eig. Hellmuth Flieg) werd geboren op 10 april 1913 in Chemnitz. Zie ook mijn blog van 10 april 2007 en ook mijn blog van 10 april 2008 en ook mijn blog van 10 april 2009 en ook mijn blog van 10 april 2010.


Uit: Pargfrider
"Das erste Mal hörte ich von Pargfrider durch den Leutnant Wladimir Dawydowitsch Grinberg, der bei den Sowjets in Wien in einer ganz ähnlichen Funktion arbeitete wie ich bei den Amerikanern in Westdeutschland: er übermittelte den Zeitungen, die in der russischen Besatzungszone Österreichs für die einheimische Bevölkerung herausgegeben wurden, ihre Direktiven und beaufsichtigte deren Durchführung.
Ich war auf abenteuerliche Weise von unserm Hauptquartier in Bad Nauheim in einem offenen Zweisitzer nach Wien geflogen worden, um mit unsern Leuten dort ein paar Dinge bezüglich eines gemeinsamen Pressedienstes zu koordinieren. Aber da die Österreicher nicht wie die Deutschen besiegt, sondern, wie es offiziell verlautete, durch die Alliierten befreit worden waren, bestand in Wien zwischen dem Personal der Besatzungsmächte ein etwas herzlicheres Verhältnis als etwa in Berlin; schon die Militärpolizeipatrouillen, bei denen auf den Jeeps je ein Soldat der vier verschiedenen Armeen saß, demonstrierten eine gewisse Gemeinsamkeit der Sieger, ganz abgesehen von den Parties, auf welchen, wenn auch nicht allzu häufig, Offiziere verwandter Dienste der Verbündeten zusammenkamen.
Auf einer dieser Parties, die in der kurzen Zeit meines Wiener Aufenthalts stattfand, begegnete ich dem Leutnant Grinberg, und ob es nun die parallelen Interessen waren, erzeugt durch unser beider gleiche quasi-journalistische Arbeit in den jeweiligen Streitkräften, oder ein persönlicher Sympatico, oder der Alkohol, bald fraternisierten wir miteinander, ich war Stjepan und er Wolodja, und als er gar erfuhr, daß ich in Amerika einen Roman geschrieben hatte über den Widerstand gegen die Nazis in Prag, der in russischer Übersetzung in einer Moskauer litera- rischen Zeitschrift erschienen war, zeigte sich bei ihm jenes Ehr- furchtssyndom, das sich in dem intensiven Wunsche äußert, dem verehrten Autor das Thema für sein nächstes Buch aufzu- drängen, frei und gratis selbstverständlich."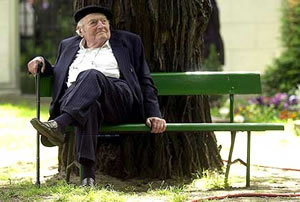 Stefan Heym (10 april 1913 – 16 december 2001)

De Duitse schrijver Richard Wagner werd geboren op 10 april 1952 in Lowrin, in Roemenië. Zie ook mijn blog van 10 april 2007 en ook mijn blog van 10 april 2008 en ook mijn blog van 10 april 2009 en ook mijn blog van 10 april 2010.

Uit: Ausreiseantrag. Begrüßungsgeld
"Schreiben, was war das noch? Stirmer gehörte zu den geduldeten Autoren, nicht verboten, geduldet. Das hieß, man konnte ab und zu noch etwas veröffentlichen. Vielleicht auch nur, um es dem Ausland zu zeigen. Seht, wir drucken sie. Sie sind nicht verfolgt. Wir drucken auch so was. Wir sind zwar nicht froh damit, aber es kann erscheinen. Seine beiden letzten Bücher waren schmal, die Texte zusammengedrängt auf schlechtem Papier. Er wußte nicht einmal, wieviel Exemplare gedruckt worden waren. Die Auflagen standen seit Jahren nicht mehr in den Büchern, damit man nicht sah, wie niedrig sie waren. Was in den Verträgen stand, war sowieso unverbindlich, und die Verleger gaben ausweichende Antworten. Die Texte wurden fortlaufend gedruckt. Ein einziges Gedicht auf einer Seite galt nach Ermessen der Kulturministerin, einer ehemaligen Textilarbeiterin, als Papierverschwendung. Das hieß aber nicht, daß nicht auch weiterhin einzelne Gedichte auf einer Buchseite erschienen: patriotische Verse, die schreibenden Apparatschiks, die Dichter mit den nötigen Beziehungen. Alles Leute, gegen die die Staatssicherheit nichts einzuwenden hatte. Die rumänischen Autoren schleppten Flaschen in die Druckereien, die Drucker zogen dann etliche Exemplare mehr ab, wie sie sich ausdrückten. Die waren für den Privatgebrauch des Autors bestimmt. Die Schriftsteller gingen mit ihren Lektoren in teure Restaurants und teilten mit ihnen das Honorar. Denn mit dem Honorar verhielt es sich so: es konnte zwischen Minimum und Maximum gezahlt werden. Die Spanne war ziemlich groß. Den Honorarvorschlag machte der Lektor aufgrund der Qualitäten des Buches. Also schlug er das Maximum vor, und das Honorar wurde geteilt. Auch verkürzte sich durch diesen Konsensus die Wartezeit. Das Honorar war ja nun auch das Geld des Lektors. Es gab Manuskripte, die jahrelang in den Schränken der Verlage ruhten."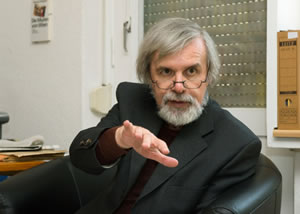 Richard Wagner (Lowrin, 10 april 1952)



Zie voor nog meer schrijvers van de 10e april ook
mijn vorige blog van vandaag.
10-04-2011 om 20:30 geschreven door Romenu

Tags:Leo Vroman, Paul Theroux, Claudio Magris, Bella Akhmadulina, Stefan Heym, Richard Wagner, Romenu