E-mail mij


Druk op onderstaande knop om mij te e-mailen.


Romenu


Google


Georg Trakl

Georg Trakl werd op 3 februari 1887 in het conducteurshuis aan de Waagplatz 2 in Salzburg geboren. Zijn vader, Tobias Trakl, was een handelaar in ijzerwaren en zijn moeder, die ook psychische problemen had, was Maria Catharina Trakl, (meisjesnaam Halik). Voorts had hij nog drie broers en drie zussen. Margarethe (doorgaans Grethe genoemd) stond hem het naast, zelfs zodanig dat sommigen een incestueuze verhouding vermoeden. Zijn jeugd bracht hij door in Salzburg. Vervolgens bezocht hij van 1897 tot 1905 het humanistische gymnasium. Om toch een academische opleiding te kunnen volgen, werkte hij tot 1908 in de praktijk bij een apotheker. Sommigen vermoedden dat hij dit vooral deed om zichzelf opiaten te kunnen verschaffen. Bij het uitbreken van WO I werd Trakl als medicus naar het front in Galicië (heden ten dage in Oekraïne en Polen) gestuurd. Zijn gemoedsschommelingen leidden tot geregelde uitbraken van depressie, die verergerd werden door de afschuw die hij voelde voor de verzorging van de ernstig verwonde soldaten. De spanning en druk dreven hem ertoe een suïcidepoging te ondernemen, welke zijn kameraden nochtans verhinderden. Hij werd in een militair ziekenhuis opgenomen in Kraków, alwaar hij onder strikt toezicht geplaatst werd.Trakl verzonk daar in nog zwaardere depressies en schreef Ficker om advies. Ficker overtuigde hem ervan dat hij contact moest opnemen met Wittgenstein, die inderdaad op weg ging na Trakls bericht te hebben ontvangen. Op 4 november 1914, drie dagen voordat Wittgenstein aan zou komen, overleed hij echter aan een overdosis cocaïne


Paul Celan

Paul Celan werd onder de naam Paul Antschel op 23 november 1920 geboren in Czernowitz, toentertijd de hoofdstad van de Roemeense Boekovina, nu behorend bij de Oekraïne. Paul Celans ouders waren Duitssprekende joden die hun zoon joods opvoedden en hem naar Duitse christelijke scholen stuurden. In 1942 werden Celans ouders door de Duitse bezetter naar een werkkamp gedeporteerd en daar vermoord. Hijzelf wist aanvankelijk onder te duiken, maar moest vanaf juli 1942 in een werkkamp dwangarbeid verrichten. Celan overleefde de oorlog. Via Boekarest en Wenen vestigde Celan zich in 1948 in Parijs. Daar was hij werkzaam als dichter, vertaler en doceerde hij aan de prestigieuze Ecole Normale Supérieure. Vermoedelijk op 20 april 1970 beëindigde hij zijn leven zelf door in de Seine te springen.


Gerard Reve

Gerard Reve over: Medearbeiders "God is in de mensen, de dieren, de planten en alle dingen - in de schepping, die verlost moet worden of waaruit God verlost moet worden, door onze arbeid, aangezien wij medearbeiders van God zijn." Openbaring "Tja, waar berust elk godsbegrip op, elke vorm van religie? Op een openbaring, dat wil zeggen op een psychische ervaring van zulk een dwingende en onverbiddelijke kracht, dat de betrokkene het gevoel heeft, niet dat hij een gedachte of een visioen heeft, maar dat een gedachte gedachte of visioen hem bezit en overweldigt."


Simon Vestdijk
Simon Vestdijk (Harlingen, 17 oktober 1898 – Utrecht, 23 maart 1971) was een Nederlands romancier, dichter, essayist en vertaler. Zijn jeugd te Harlingen en Leeuwarden beschreef hij later in de Anton Wachter-cyclus. Van jongs af aan logeerde hij regelmatig bij zijn grootouders in Amsterdam, waar hij zich in 1917 aan de Universiteit van Amsterdam inschrijft als student in de medicijnen. Tijdens zijn studie die van 1917 tot 1927 duurde, leerde hij Jan Slauerhoff kennen.Tot 1932 is hij als arts in praktijken door heel Nederland werkzaam. In 1932 volgt zijn officiële schrijversdebuut met de uitgave van de bundel Verzen in De Vrije Bladen. Doorslaggevend voor Vestdijks uiteindelijke keuze voor de literatuur is zijn ontmoeting in 1932 met Eddy Du Perron en Menno ter Braak. Deze ontmoeting had tot resultaat dat hij redactielid werd van het tijdschrift Forum Kort daarop, in 1933, wordt zijn eerste novelle, De oubliette, uitgegeven. In hetzelfde jaar schrijft hij Kind tussen vier vrouwen, dat, eerst geweigerd door de uitgever, later de basis zal vormen voor de eerste drie delen van de Anton Wachter-romans. In 1951 ontvangt Vestdijk de P.C. Hooftprijs voor zijn in 1947 verschenen roman De vuuraanbidders. In 1957 wordt hij voor het eerst door het PEN-centrum voor Nederland voorgedragen voor de Nobelprijs voor de Literatuur, die hij echter nooit zal krijgen. Op 20 maart 1971 wordt hem de Prijs der Nederlandse Letteren toegekend, maar voor hij deze kan ontvangen overlijdt hij op 23 maart te Utrecht op 72-jarige leeftijd. Vestdijk was auteur van ca. 200 boeken. Vanwege deze enorme productie noemde de dichter Adriaan Roland Holst hem 'de man die sneller schrijft dan God kan lezen'. Andere belangrijke boeken van Simon Vestdijk zijn: "Kind van stad en land" (1936), "Meneer Visser's hellevaart" (1936), "Ierse nachten" (1946), "De toekomst de religie" (1947), "Pastorale 1943" (1948), "De koperen tuin" (1950), "Ivoren wachters" (1951), "Essays in duodecimo" (1952) en "Het genadeschot" (1964).


K.P. Kavafis

K.P. Kavafis werd als kind van Griekse ouders, afkomstig uit Konstantinopel, geboren in 1863 in Alexandrië (tot vandaag een Griekse enclave) waar hij ook het grootste deel van zijn leven woonde en werkte. Twee jaar na de dood van zijn vader verhuist het gezin in 1872 naar Engeland om na een verblijf van vijf jaar naar Alexandrië terug te keren. Vanwege ongeregeldheden in Egypte vlucht het gezin in 1882 naar Konstantinopel, om na drie jaar opnieuw naar Alexandrië terug te gaan. In de jaren die volgen maakt Kavafis reizen naar Parijs, Londen en in 1901 zijn eerste reis naar Griekenland, in latere jaren gevolgd door nog enkele bezoeken. Op de dag van zijn zeventigste verjaardag, in 1933 sterft Kavafis in Alexandrië. De roem kwam voor Kavafis pas na zijn dood, dus postuum. Deels is dat toe te schrijven aan zijn eigen handelswijze. Hij was uiterst terughoudend met de publicatie van zijn gedichten, liet af en toe een enkel gedicht afdrukken in een literair tijdschrift, gaf in eigen beheer enkele bundels met een stuk of twintig gedichten uit en het merendeel van zijn poëzie schonk hij op losse bladen aan zijn beste vrienden.


Thomas Mann


Thomas Mann, de jongere broer van Heinrich Mann, werd geboren op 6 juni 1875 in Lübeck. Hij was de tweede zoon van de graankoopman Thomas Johann Heinrich Mann welke later één van de senatoren van Lübreck werd. Zijn moeder Julia (geboren da Silva-Bruhns) was Duits-Braziliaans van Portugees Kreoolse afkomst. In 1894 debuteerde Thomas Mann met de novelle "Gefallen". Toen Thomas Mann met 21 jaar eindelijk volwassen was en hem dus geld van zijn vaders erfenis toestond - hij kreeg ongeveer 160 tot 180 goldmark per jaar - besloot hij dat hij genoeg had van al die scholen en instituties en werd onafhankelijk schrijver. Kenmerkend voor zijn stijl zijn de ironie, de fenomenale taalbeheersing en de minutieuze detailschildering. Manns reputatie in Duitsland was sterk wisselend. Met zijn eerste roman, Buddenbrooks (1901), had hij een enorm succes, maar door zijn sceptische houding tegenover Duitsland na de Eerste Wereldoorlog veranderde dit volledig. Stelde hij zich tot aan de jaren twintig apolitiek op (Betrachtungen eines Unpolitischen, 1918), meer en meer raakte hij bij het Politiek gebeuren betrokken. Zijn afkeer van het nationaal socialisme groeide, zijn waarschuwingen werden veelvuldiger en heftiger. In 1944 accepteerde hij het Amerikaanse staatsburgerschap. Tussen 1943 en 1947 schreef Mann Doktor Faustus (zie Faust), de roman van de 'Duitse ziel' in de gecamoufleerd geschilderde omstandigheden van de 20ste eeuw. In 1947 bezocht hij voor het eerst sinds de Oorlog Europa, twee jaar later pas Duitsland. In 1952 vertrok hij naar Zwitserland. Op 12 augustus 1955 stierf hij in Zürich. Twintig jaar na zijn dood, in aug. 1975, is zijn literaire nalatenschap geopend: dagboekaantekeningen van 15 maart 1933 tot 29 juli 1955, alsmede notities uit de jaren 1918 tot en met 1921.Belangrijke werken zijn: Der Zauberberg, Der Tod in Venedig, Dokter Faustus , Joseph und seine Brüder en Die Bekenntnisse des Hochstaplers Felix Krull.


Rainer Maria Rilke

Rilke werd op 4 december 1875 geboren in Praag. Hij had al naam gemaakt als dichter met zijn bundels Das Stundenbuch en Das Buch der Bilder, toen hij de literaire wereld versteld deed staan en wereldfaam verwierf met de publicatie van zijn twee delen Neue Gedichte in 1907 en 1908. Hij verzamelde daarin het beste werk uit een van zijn vruchtbaarste periodes, die hij grotendeels doorbracht in Parijs. Rilke was daar diep onder de indruk gekomen van Rodin, bij wie hij een tijdlang in dienst was als particulier secretaris. Rodin, zei hij later, had hem leren kijken. Dit kijken kwam neer op intense concentratie, om het mysterie te kunnen zien 'achter de schijnbare werkelijkheid'. Latere en rijpere werken als Duineser Elegien (1912-1923) en het ronduit schitterende Die Sonette an Orfeus (1924) illustreren Rilkes metafysische visie op het onzegbare, dat haar verwoording vindt in een hermetische muzikale taal. Op 29 december 1926 overlijdt Rilke in het sanatorium in Val-Mont aan de gevolgen van leukemie. Enkele dagen later wordt hij, overeenkomstig zijn wens, begraven op het kerkhof van Raron.


* * * * * * * * * * * * * * * *

| | |
| --- | --- |
| | Over literatuur, gedichten, kunst en cultuur |

06-03-2016

Patrick deWitt, Gabriel García Márquez, Jeremy Reed, Marijke Hanegraaf, Günter Kunert, Clark Accord
De Canadese schrijver en scenarist Patrick deWitt werd geboren op 6 maart 1975 op Vancouver Island. Zie ook alle tags voor Patrick deWitt op dit blog.
Uit: Undermajordomo Minor
"On the morning of the guests' arrival, Mr Olderglough had taken Lucy aside and told him, "I will look after the Duke and Duchess, and you will mind the Count and Countess. Is that quite all right with you, boy?"
Lucy answered that it was, but it struck him as curious, for Mr Olderglough had never positioned an instruction in so accommodating a manner before. "May I ask why you prefer the Duke and Duchess to the Count and Countess?" he said.
Here Mr Olderglough nodded, as if he had been found out. "We have been through a good deal together, you and I, and so I feel I can speak to you in confidence, and as a peer. Are you comfortable with that?"
"Of course, sir."
"Very good. Well, boy, if I'm to address the truth of the matter, none of the coming guests is what might be called desirable company. Actually, I have in the past found them to be distinctly undesirable."
"In what way, sir?"
"In many ways which you will, I fear, discover for yourself. But your question, if I understand correctly, is to wonder which of the two parties is the worse, isn't that right?"
"I suppose so, sir."
"Then I must tell you that the Count and Countess merit that prize, handily. And while I feel on the one hand duty-bound to take the heavier burden unto myself, I must also recognize that I simply haven't the capacities I once did. To look after people such as those who are coming to stay with us is a young man's game, and I am not young any longer, and so I take the simpler path, though you may rest assured that when I say simpler, I do not mean simple. The Duke and Duchess are no stroll in the park, and I can attest to that personally, and at length." Mr Olderglough stepped closer, his eyes filled with ugly memories. "Be on your guard with these people, boy. They answer to no one. They never have, and they never will."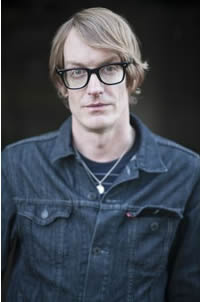 Patrick deWitt (Vancouver Island, 6 maart 1975)
De Colombiaanse schrijver Gabriel García Márquez werd op 6 maart 1928 in de kustplaats Aracataca geboren. Zie ook alle tags voor Gabriel García Márquez op dit blog.
Uit: One Hundred Years of Solitude (Vertaald door Gregory Rabassa)
"In spite of the fact that a trip to the capital was little less than impossible at that time, José Arcadio Buendía promised to undertake it as soon as the government ordered him to so that he could put on some practical demonstrations of his invention for the military authorities and could train them himself in the complicated art of solar war. For several years he waited for an answer. Finally, tired of waiting, he bemoaned to Melquíades the failure of his project and the gypsy then gave him a convincing proof of his honesty: he gave him back the doubloons in exchange for the magnifying glass, and he left him in addition some Portugues maps and several instruments of navigation. In his own handwriting he set down a concise synthesis of the studies by Monk Hermann, which he left José Arcadio so that he would be able to make use of the astrolabe, the compass, and the sextant. José Arcadio Buendía spent the long months of the rainy season shut up in a small room that he had built in the rear of the house so that no one would disturb his experiments. Having completely abandoned his domestic obligations, he spent entire nights in the courtyard watching the course of the stars and he almost contracted sunstroke from trying to establish an exact method to ascertain noon. When he became an expert in the use and manipulation of his instruments, he conceived a notion of space that allowed him to navigate across unknown seas, to visit uninhabited territories, and to establish relations with splendid beings without having to leave his study. That was the period in which he acquired the habit of talking to himself, of walking through the house without paying attention to anyone, as Úrsula and the children broke their backs in the garden, growing banana and caladium, cassava and yams, ahuyama roots and eggplants."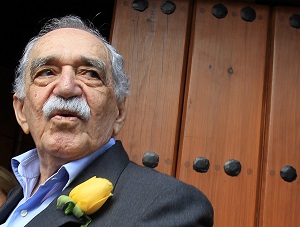 Gabriel García Márquez (6 maart 1928 - 17 april 2014)
De Engelse dichter en schrijver Jeremy Reed werd geboren op 6 maart 1951 op Jersey. Zie ook alle tags voor Jeremy Reed op dit blog.
William S Burroughs
Bullet holes pepper the shotgun painting-
a yellow shrine with a black continent
patched up on wood.
he sit's impeccable, no lazy tie,
the knot perfect between blue collar points,
a grey felt has tilted back off the head,
the face vulterine, eyes which have stepped in
to live with mental space and monitor

all drifting fractal implosions;
the man is easy in his Kansas yard,
his GHQ since 1982,
the New York bunker left behind, and cats
flopping around his feet, finding the sun,
picking up on psi energies.

He's waiting for extraterrestials,
psychic invasion; we can bypass death
by shooting interplanetary serum.
Some of us are the deathless ones. He pours
a cripplig slug of Jack Daniels.
The body can't function without toxins
or wierd metabolic fluctuations.
He's waiting for the big event.

And he has become a legend, now a myth,
a cellular mythology.
His double pressure-locked in the psyche,
for fear he blows a fuse, goes out on leave
and kills. He is invaded by Genet,
his presence asks for love, for completion.
The man wanders to his tomatoe patch;
his amanuensis snatches a break.
The light is hazy gold. He'll outlive death,
be here when when there's no longer a planet.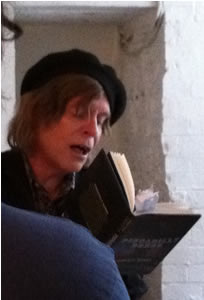 Jeremy Reed (Jersey, 6 maart 1951)
De Nederlandse dichteres Marijke Hanegraaf werd op 6 maart 1946 geboren in Tilburg. Zie ook alle tags voor Marijke Hanegraaf op dit blog.
Kapmeeuw
Vroeg in de ochtend zit op de rand
van de steiger een meeuw.
Hij slaapt, ogen dicht, poten in.
Maar te stil en te lang.

Is hij dood? Hij is dood.
Zit toch of hij slaapt.
En de kop van de kapmeeuw is heel.
Is de nek van de kapmeeuw geknakt?

Vloog hij tegen een ruit? En dan
dreef hij lam van de ruit naar de dood
is nog net op de steiger geland.
Is het ver van een ruit naar de dood?

Iets in de meeuw duurt een dag.

Op de eerste dag van de dood
komt geen eend in zijn buurt
maar de dag erna schuiven ze aan.
Zijn kop hangt nu over de rand.
Agenda
Jan zeventien jaar dood schrijf ik
in mijn nieuwe agenda bij tweeëntwintig april
en ik weet weer hoe je stierf en hoe
ik het moeder vertelde, hoe ze toen zat en keek.

Ieder jaar opnieuw schrijf ik het op.
Ieder jaar wordt je dood ouder.

Als ik het opschrijf is de dag nog leeg.
Lees ik het later dan sta je tussen afspraken,

nog stiller dan je was, maar minder broos.
Ik schrijf ook op wanneer je jarig was.

De achtenveertig jaar tussen je geboorte en je dood
liggen in mijn agenda dicht bij elkaar.

Eerst sterf je. Daarna word je geboren.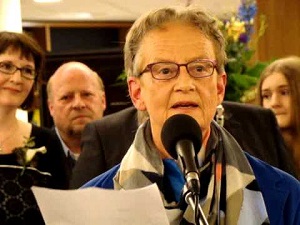 Marijke Hanegraaf (Tilburg, 6 maart 1946)
De Duitse dichter en schrijver Günter Kunert werd geboren op 6 maart 1929 in Berlijn. Zie ook alle tags voor Günter Kunert op dit blog.
Lautlose Stimme
Vor fünfzig Millionen Jahren gelebt,
bin ich jetzt nichts als Stein.
Namenlos über Sümpfen geschwebt,
muß ich nun Archäopterix sein.
Meine Eleganz ist nicht zu beweisen,
werde plump geheißen und gierig nach Beute.
Und segelte doch in seligen Kreisen
über ein Gestern wahrer als heute.
Menschen leben nicht unter mir -
Bestien ferner Gegenwart.
Gegen sie war ich ein friedliches Tier -
zu bald von Natur verscharrt.
Für mehr als mich
Ich bin ein Sucher
Eines Weges
Der breiter ist
Als ich.
Nicht zu schmal.
Kein Ein-Mann-Weg.
Aber auch keine
Staubige, tausendmal
überlaufene Bahn.
Ich bin ein Sucher
Eines Weges.
Sucher eines Weges
Für mehr
Als mich.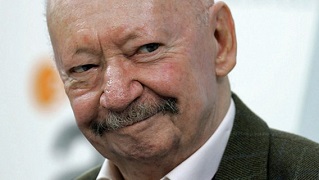 Günter Kunert (Berlijn, 6 maart 1929)
De Surinaamse schrijver Clark Accord werd op 6 maart 1961 geboren in de Surinaamse hoofdstad Paramaribo. Zie ook alle tags voor Clark Accord op dit blog.
Uit: The Queen From Paramaribo (Vertaald door Susan Massotty)
"The Buick slowly inched its way through the crowd. People only moved over when the car was practically on top of them. Anonymous faces peered in, hoping to catch a glimpse of the passenger. Betsy listened with satisfaction and pride to the cries of admiration that reached her in snatches through the rolled-down window. She wrapped her fingers tightly around the jade handle of her feather fan – all her tension seemed to be concentrated in her hands. The fan provided a welcome breeze on this hot and sultry April evening. The usual wind wasn't blowing in from the Surinam River, and the oppressive heat had driven people out of their houses. They swarmed over the road like ants on an anthill.
She had been looking forward to this evening for months. The birthday of Crown Princess Juliana was going to be celebrated in style – dancers were even coming from the Demerara!
"So, are you a little nervous about tonight?" the driver asked, flicking his eyes towards the rear-view mirror to watch her reaction.
"What's there to be scared of?"
She tried to keep the irritation out ofher voice, though she was fed up with his stares. It was all she could do to stay calm before the big event, and here he was, doing his best to rattle her. For all she knew he was a friend of one of the other girls who was going to dance tonight.
"Just think," he said, "in a few hours you'll be dancing with the Demerara'sfamous Black Bottom specialist. That's what I call a real honor!"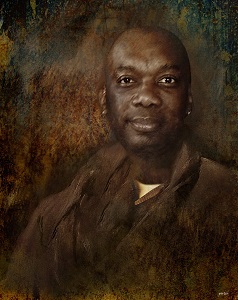 Clark Accord (6 maart 1961 – 11 mei 2011)
Portret door Nicolaas Porter, z.j.
Zie voor nog meer schrijvers van de 6e maart ook mijn vorige twee blogs van vandaag.
06-03-2016 om 11:57 geschreven door Romenu

Tags:Patrick deWitt, Gabriel García Márquez, Jeremy Reed, Marijke Hanegraaf, Günter Kunert, Clark Accord, Romenu



Elizabeth Barrett Browning, Stéphane Hoffmann, Michelangelo, Teru Miyamoto, Nicolas Bouvier, Jan Kjærstad
De Engelse dichteres Elizabeth Barrett Browning werd op 6 maart 1806 geboren in Durham, Engeland. Zie ook alle tags voor Elizabeth Barrett Browning op dit blog.
A Dead Rose
O Rose! who dares to name thee?
No longer roseate now, nor soft, nor sweet;
But pale, and hard, and dry, as stubble-wheat,---
Kept seven years in a drawer---thy titles shame thee.
The breeze that used to blow thee
Between the hedgerow thorns, and take away
An odour up the lane to last all day,---
If breathing now,---unsweetened would forego thee.
The sun that used to smite thee,
And mix his glory in thy gorgeous urn,
Till beam appeared to bloom, and flower to burn,---
If shining now,---with not a hue would light thee.
The dew that used to wet thee,
And, white first, grow incarnadined, because
It lay upon thee where the crimson was,---
If dropping now,---would darken where it met thee.
The fly that lit upon thee,
To stretch the tendrils of its tiny feet,
Along thy leaf's pure edges, after heat,---
If lighting now,---would coldly overrun thee.
The bee that once did suck thee,
And build thy perfumed ambers up his hive,
And swoon in thee for joy, till scarce alive,---
If passing now,---would blindly overlook thee.
The heart doth recognise thee,
Alone, alone! The heart doth smell thee sweet,
Doth view thee fair, doth judge thee most complete,---
Though seeing now those changes that disguise thee.
Yes, and the heart doth owe thee
More love, dead rose! than to such roses bold
As Julia wears at dances, smiling cold!---
Lie still upon this heart---which breaks below thee!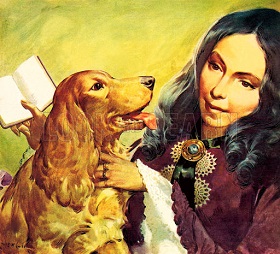 Elizabeth Barrett Browning (6 maart 1806 – 29 juni 1861)
Elizabeth Barrett Browning en haar cocker spaniel, Flush. Illustratie door James E. McConnell
De Franse schrijver Stéphane Hoffmann werd geboren op 6 maart 1958 in Saint-Nazaire. Zie ook alle tags voor Stéphane Hoffmann op dit blog.
Uit: Les autos tamponneuses
"Je réussis une seule chose, au cours de ces semaines, un rituel : dix-neuf heures, champagne. Tous les jours. Tous les jours une bouteille nouvelle, une seule, au gré de notre cave. II y a des gens qui visitent les châteaux de la Loire, nous visitons la Champagne par ce qu'elle fait de mieux : ses vins. Et nous buvons en silence, seul le pétillement, sans nous permettre de ces commentaires que les amateurs se croient tenus de faire, ce qui m'a toujours paru aussi grossier que de parler pendant un concert. Hélène et moi nous livrons au vin de Champagne, qu'un seul mot transformerait en infecte bibine. J'aimerais alors lui parler des enfants, mais je n'ose pas. Pas encore. C'est trop tôt. Notre façon de nous retrouver, désormais : nous griser en silence. Voilà le mariage : des roses par douzaines, puis cirrhose
(…)
Pour me ressaisir, je me dis que, autant le champagne, cette légèreté qui électrise, va bien à Hélène, autant l'engourdissement du rhum semble convenir à Natalie, abandonnée à l'humeur du moment et n'y accordant pas plus d'importance qu'à celle qui va suivre. « Qu'est-ce donc que des jours pour valoir qu'on les pleure ? Un soleil, un soleil. Une heure, et puis une heure. » Ces vers de Lamartine, version 1830 de l'Ecclésiaste, ont toujours été ma pratique. Voilà pourquoi, sans doute, je ne ferai rien de ma vie. J'y ai juste tenu ma place, comme Natalie parmi les yachtmen, tout à l'heure, à la demande de son mari.
- Votre mari, c'est Lawton, c'est ça ? Jean-Charles Lawton ? Le pharmacien ?
Ce brave Dédé, toujours lourdingue. Le visage de Natalie se défait comme un pare-brise qui se fendille. C'est assez marrant à voir, on voudrait un ralenti. Elle approche la main du verre que je remplis en hâte, boit une longue gorgée."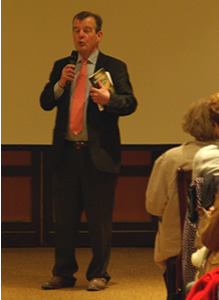 Stéphane Hoffmann (Saint-Nazaire, 6 maart 1958)
De Italiaanse beeldhouwer, schilder, architect en dichter Michelangelo werd geboren op 6 maart 1475 in Caprese. Zie ook alle tags voor Michelangelo op dit blog.
On The Brink Of Death
Like a frail bark reached that wide port where all
Are bidden, ere the final reckoning fall
Of good and evil for eternity.
Now know I well how that fond phantasy
Which made my soul the worshiper and thrall
Of earthly art, is vain; how criminal
Is that which all men seek unwillingly.
Those amorous thoughts which were so lightly dressed,
What are they when the double death is nigh?
The one I know for sure, the other dread.
Painting nor sculpture now can lull to rest
My soul that turns to His great love on high,
Whose arms to clasp us on the cross were spread.

Vertaald door John Addington Symonds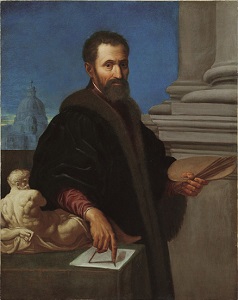 Michelangelo (6 maart 1475 – 18 februari 1564)
Portret door Domenico Cresti (Il Passignano), begin 17e eeuw
De Japanse schrijver Teru Miyamoto werd geboren op 6 maart 1947 in Kobe. Zie ook alle tags voor Tery Miyamoto op dit blog.
Uit: Kinshu: Autumn Brocade (Vertaald door Roger K Thomas)
"At length you glanced in my direction, then turned again to the scenery outside the window. Then you looked at me once more, your eyes wide with amazement. It seems as if we stared at each other for an eternity. I thought I should say something, but words failed me. I finally managed to say, "It's been a long time, hasn't it?" After responding, "Yes, it has," you looked at Kiyotaka with a blank expression and asked, "Is this your boy?" It was all I could do to answer in the affirmative, in a voice that was almost trembling. The clusters of trees with scarlet leaves flowing past both sides of the gondola were reflected indifferently in my eyes. How often have I been asked, "Is this your boy?" When Kiyotaka was smaller, with disabled limbs and a face that clearly revealed his mental retardation, some people would ask the question with an obvious look of pity, while others would contrive a sort of vacuity. Each time I would muster all my energy, look the person straight in the eye, and proudly answer, "Yes." Yet when you asked, "Is this your boy?" I was overcome by shame of a sort I had never experienced before, and replied hesitantly, in a weak voice. The gondola proceeded slowly up the mountain toward the landing platform by Dokko Pond. The Asahi Range was coming into view in the distance, while in a fold in the mountain below, the roofs of buildings in the resort town were minuscule points of reflected light. On the mountain slope, the lone red roof of a hotel, set apart from the others, appeared intermittently through gaps in the trees. I distinctly recall even now that for some reason it reminded me of a scroll painting from the Kamakura period depicting the flames of hell. Why did it make me think of something like that? Perhaps my nervousness and mental agitation had put me in a strange state of mind as the gondola swayed along. I should have been able to talk about all sorts of things with you during the twenty-minute ride, but I just sat in stony silence, thinking only of how soon we could arrive before I could get off. It was exactly the same as when we parted ten years ago."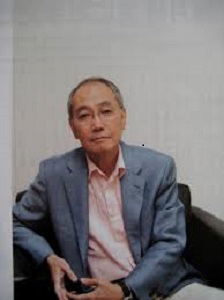 Teru Miyamoto (Kobe, 6 maart 1947)
De Zwitserse schrijver, fotograaf en journalist Nicolas Bouvier werd geboren op 6 maart 1929 in Lancy. Zie ook alle tags voor Nicolas Bouvier op dit blog.
Uit: L'Usage du Monde
"L'air de septembre est transparent, la vue porte loin, et ce qui domine c'est le vif brun montagnard tranché çà et là par un vol de perdrix, un bouquet de peupliers dont chaque feuille se dessine, les fumées d'un village. Aux endroits où l'eau le permet, des arbres rabougris bordent la route ; on roule alors sur un tapis de nèfles, de petites poires jaunies qu'on écrase, qui sentent, et dont l'odeur véhémente suffit pour transformer ces solitudes en campagne.
Solitudes ? Pas absolument. On y sent l'homme après la nature, mais une heure ne passe pas sans qu'on croise un de ces hauts camions vernis comme un jouet en bleu pervenche, en vert pistache, qui brille dans tout ce brun. Un paysan sur son âne, une faucille chaude de soleil sous le bras. Un porc-épic. Ou une troupe de romanichels koutchi installés sous un saule avec leurs ours, leurs perruches, deux singes vêtus de gilets rouges cousus de grelots, tandis que les femmes – de grandes garces vociférantes – s'affairent autour d'un feu qui prend mal. On s'arrête, on s'amuse d'eux autant qu'ils s'amusent de vous, on repart.
(…)
A ce train-là, il se peut bien, le soir venu, qu'on n'ait fait qu'un seul petit col. Mais on n'a que lui en tête. C'est devenu une sorte de propriété. Au dîner on en reparle. On s'endort dessus, on en rêve. En pleine nuit la caravane dépassée à la montée rejoint l'étape, débâte dans un remue-ménage de lanternes et de voix qui vous réveillent : c'est encore du col qu'il s'agit. Pourtant il ne mérite pas même une mention sur la carte et les montagnes dignes de ce nom sont encore loin au nord. Ce n'est qu'une quarantaine de rampes au cœur d'alpages jaunis, et au sommet, une mosquée de pierres sèches dont l'étendard vert claque comme un mousquet dans le vent. On aura tout de même employé la journée à l'atteindre, le franchir et se l'approprier. Ici, prendre son temps est le meilleur moyen de n'en pas perdre."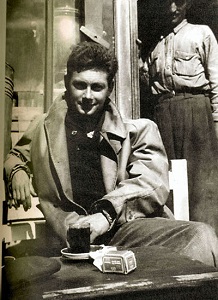 Nicolas Bouvier (6 maart 1929 – 17 februari 1998)


De Noorse schrijver Jan Kjærstad werd geboren op 6 maart 1953 in Oslo. Zie ook alle tags voor Jan Kjærstad op dit blog.
Uit: The Discoverer (Vertaald door Barbara Haveland)
"Yet he hangs there, rigid. Still holding his breath. Or am I wrong? Does he bend down ever so slightly? I think — I know it sounds strange, but I almost believe he is trying to kneel.
One hand fumbles with the knot, as if he means to undo himself from the rope. "Sit!" I call sharply. "Don't look down." But he goes on staring, seeming more mesmerized than frightened now. Or infuriated perhaps, contemptuous. As if this were a set-to with Norway itself, a confrontation for which he has waited years — to stand on the edge of an abyss, without a safety net. I can see temptation written large on his face. He could let himself fall. He could realize the cliché which will forever be attached to his story: that of his downfall. The final, glorious headline.
"You're perfectly safe," I shout. "It's all in your head." I'm jittery too now, I check that the coil of rope is securely fixed around the sharp rock next to me. I know I can trust Martin, who has led the way, hammering in pitons at regular intervals, and is now out of sight behind some large boulders, a short rope-length from the bottom of the chimney. Martin has climbed everything from the Bonatti pillar to Ama Dablam. But never with such a partner, a man who — according to the newspapers — lost his head and shot a woman straight through the heart. I am uneasy. The uncertainty of the figure huddled against the rock face radiates towards me. I may have miscalculated. Perhaps I should have said no after all. Then he turns to me. His face is calm. I can see that he is breathing, drawing the cool mountain air deep into his lungs, hungrily. He smiles, even raises his hand in a wave, traverses onwards.
Behold this man. Behold this man, the bearer of a mystery."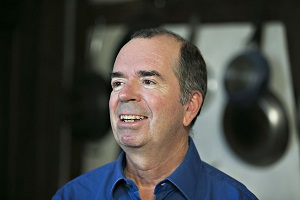 Jan Kjærstad (Oslo, 6 maart 1953)
Zie voor nog meer schrijvers van de 6e maart ook mijn vorige blog van vandaag.
06-03-2016 om 11:56 geschreven door Romenu

Tags:Elizabeth Barrett Browning, Stéphane Hoffmann, Michelangelo, Teru Miyamoto, Nicolas Bouvier, Jan Kjærstad, Romenu



Cyrano de Bergerac, Elisabeth Castonier, Johan Bojer, Stanisław Jerzy Lec , Victoria Benedictsson, Luigi Alamanni
De Franse schrijver Savinien Cyrano de Bergerac werd geboren op 6 maart 1619 in Parijs. Zie ook alle tags voor Cyrano de Bergerac op dit blog.
Uit: Voyage dans la lune
"L'épouvantable horreur dont je fus consterné ne renversa point tellement les facultés de mon âme, que je ne me sois souvenu depuis de tout ce qui m'arriva dans cet instant. Vous saurez donc que la flamme ayant dévoré un rang de fusées (car on les avait disposées six à six, par le moyen d'une amorce qui bordait chaque demi-douzaine) un autre étage s'embrasait, puis un autre, en sorte que le salpêtre embrasé éloignait le péril en le croissant. La matière toutefois étant usée fit que l'artifice manqua ; et lorsque je ne songeais plus qu'à laisser ma tête sur celle de quelque montagne, je sentis (sans que je remuasse aucunement) mon élévation continuer, et ma machine prenant congé de moi, je la vis retomber vers la terre. Cette aventure extraordinaire me gonfla d'une joie si peu commune que, ravi de me voir délivré d'un danger assuré, j'eus l'impudence de philosopher dessus. Comme donc je cherchais des yeux et de la pensée ce qui pouvait être la cause de ce miracle, j'aperçus ma chair boursouflée, et grasse encore de la moelle dont je m'étais enduit pour les meurtrissures de mon trébuchement ; je connus qu'étant alors en décours, et la lune pendant ce quartier ayant accoutumé de sucer la moelle des animaux, elle buvait celle dont je m'étais enduit avec d'autant plus de force que son globe était plus proche de moi, et que l'interposition des nuées n'en affaiblissait point la vigueur."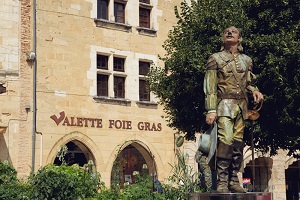 Cyrano de Bergerac (6 maart 1619 – 28 juli 1655)
Standbeeld in Bergerac
De Duitse schrijfster Elisabeth Castonier werd geboren op 6 maart 1894 in Dresden. Zie ook alle tags voor Elisabeth Castinier op dit blog.
Uit: Exil im Nebelland. Briefe an Mary Tucholsky
"Great Bedwyn
Wiltshire 23.2.1959
Liebe Tucholska,
ich hoffe, Sie sind noch immer so krägel, wie ich Sie zuletzt sah – mit Bersaglieri-Hütchen und überhaupts. Bald bekommen Sie mein neues Buch - und im Rundfunk können Sie mancherlei von mir hören, falls Sie jemals aufdrehen sollten. Bildet man in Rottach schon wieder Nazi-Standarten? Es geht ja wieder zu wie einst im Appprill, warum auch nicht, warum sollte sich was ändern? Ich hoffe Sie sind dann nicht etwa Führerin der Ortsgruppe, denn dann esse ich keine Würstchen niemals nie nicht mehr mit Ihnen ! ! ! ! Das dürfte Sie abschrecken.
Ich, bin noch immer im Metallgestell eingespannt, ad infinitum, kann mich absolut nicht erholen. Muss eine strenge Entfettungskur machen, tu es auch, aber die Waage nimmt keine Notiz davon. – Wir sitzen im Nebel, Macmillan macht Unsinn in Moskau, die Königin niest in einem fort, weil sie's wie alle Königlichen auf dem Beuschel hat, der fette zukünftige König bricht sich teils d'Füass, teils liegt er danieder und Philipp amüsiert sich im Osten, der Schlimme. Soweit von der Politik.
Ich habe statt dessen einen abessynischen Kater und wer das nicht kennt, ahnt nicht, wie süss es ist. - Meine älteste Katze Nana rollt sich nach dem Kater, obzwar sie längst kastriert ist, unsere Hündin trägt jetzt N ylonhöschen im Haus, die Tauben tanzen wie närrisch, die alten Hühner tun es mit Rigoletto, dem Hahn, die Schneeglöckchen blühen seit 2 Wochen und eine Rose versuchte neulich mal zu blühen, tat ihr aber leid - soviel vom F riehlink auf Nebelland.
Meine Freundin ist eifrig bemüht, viele Erdbeeren zu züchten, der Garten wird wieder eine preisgekrönte Herrlichkeit sein. Und hier ist eine kleine Leseprobe aus dem 2. Band, der 1960 erscheint. Der erste, den Sie bald kriegen, erscheint zu meinem ich sage es unverholen. Dasallein ist schon traurig. Man muss versuchen, drüber zu lachen. Und somit, wie stets
Ihre EC.}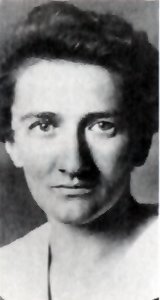 Elisabeth Castonier (6 maart 1894 – 24 september 1975)
De Noorse schrijver Johan Bojer werd geboren op 6 maart 1872 in Orkdal. Zie ook alle tags voor Johan Bojer op dit blog en ook alle tags voor J. Bojer.
Uit: The Last of the Vikings (Vertaald door Jessie Muir)
"Such things happen every year in the north of Norway, and for a day or two afterward the men talk about it; and then they go out on the same sea and begin fishing again.
The shop was full of men, all talking at once. Some of them had been on their way landward when the storm broke, and had got in safely; others had been brought in by the lifeboat, but some had only just come in after having been out in the storm all night.
One small, fair man in a yellow sou'wester was talking louder than all the others, and people were looking at him in surprise. Quite by chance he had been on shore the day before, and the boat he belonged to had gone down with all hands on board. It was evident that it had been so ordained, and that he was not meant to be with them that day. God's ways were wonderful!
It was calm to-day, but cold. Men were standing out on the islands watching for boats that had not yet come in. The chief inspector had sent steamers out to look for any that had capsized. A great number of boats from fishing-stations many miles away had come in during the night, and they were now setting sail for their own stations in good weather.
Later in the day a steamer had come across a strange boat in the middle of the West Fiord. It was a Nordland boat, and her sail was closereeled, although there was little wind.
The steamer hove to, and found that the head-man at the helm was half dead, and that the other three men, who were sitting and holding on to the thwart, were frozen to death.
Spray had turned to ice in their hair and beards and upon their clothes, and they were staring straight before them with wide-open, glassy eyes.
Peter Suzansa that night had come safely in to Hammaroy, and it was with a heavy heart that he now sailed back across the West Fiord. He did not know how many men he knew might have been drowned, and he could not bear to think of Kristéver Myran and his men."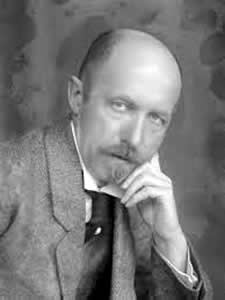 Johan Bojer (6 maart 1872 – 3 juli 1959)
De Poolse dichter en aforist Stanisław Jerzy Lec werd geboren op 6 maart 1909 in Lemberg. Zie ook alle tags voor Stanislaw Jerzy Lec op dit blog.
Uit: Unkempt Thoughts (Vertaald door Jacek Galazka)
"All is in the hands of Man. Therefore you should wash them often."
"Do not ask God the way to heaven; he will show you the hardest one."
"Thoughts, like fleas, jump from man to man, but they don't bite everybody."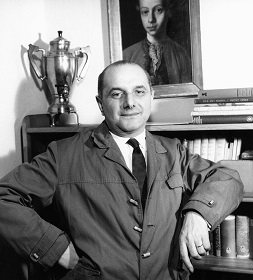 Stanisław Jerzy Lec (6 maart 1909 – 7 mei 1966)
De Zweedese schrijfster Victoria Maria Benedictsson werd geboren op 6 maart 1850 in Schonen. Zie ook alle tags voor Victoria Benedictsson op dit blog.
Uit: The Big Book (Vertaald door Verne Moberg)
"The rigid look of horror on her face gripped me so, I trembled deep in my soul. I had never before seen how repulsive and hideous this was.
I saw it now in this young face with its composed seriousness, its heavy sorrow, its tearless gaze. She looked as if life's happiness had passed her by and was now going far, far away, never to return. Only when I saw this warm, young full-blooded woman shrink back in the presence of this thing did I realize to my horror what it was: to drag one's best, most human feelings through the mud and then offer them up to the one person who has kept her own living clean. He had turned away from this wholesome young woman, for whom his feeling had begun to waken, and had gone to the sad gray sirens of the streets; he had touched them with his hands, and now he reached out these same hands to my child, for her to put her whole life into them, her whole world of feeling. And people don't call this arrogance! For me it was upsetting, frighteningly hideous. I asked if she would still think of him with the same feeling.
Yes, She couldn't feel anything but cold disgust.
Was it over Anna Whitlock or the other?
It was the other. She could not understand how -- after he'd already begun showing her attention -- it had been possible for him to go to the others. It was so disgusting.
I was afraid. A whole spider's nest of self-reproach was overturned upon me. Of course, I had known or at least surmised about his life, and not thought it was anything special: he'd lived like the others, and I hadn't felt repulsed by that, I could have kept them from getting together but had not done so.
I said that if she felt indifferent to him now, then she shouldn't keep from putting an end to it because of what people would say."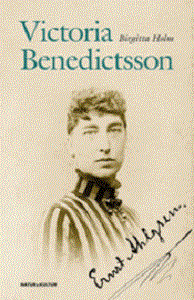 Victoria Benedictsson (6 maart 1850 – 21 juni 1888)
Cover
De Italiaanse dichter Luigi Alamanni werd geboren op 6 maart 1495 in Florence. Zie ook alle tags voor Luigi Alamanni op dit blog.
Petrarca's Retreat
Vaucluse, ye hills and glades and shady vale,
So long the noble Tuscan bard's retreat,
When warm his heart for cruel Laura beat,
As lone he wandered in thy beauteous dale !
Ye flowers, which heard him oft his pains bewail
In tones of love and sorrow, sad, but sweet !
Ye dells and rocks, whose hollow sides repeat,
Even yet, his ancient passion's moving tale !
Fountain, which pourcst out thy waters green
In ever-flowing streams the Sorgue to fill,
Whose charms the lovely Arno's emulate !
How deeply I revere your holy scene,
Which breathes throughout the immortal poet still,
Whom I, perchance all vainly, imitate !

Vertaald door Sara Agnes Ryan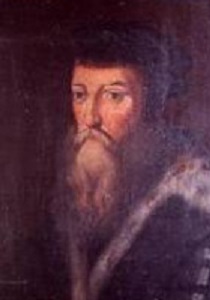 Luigi Alamanni (6 maart 1495 – 18 april 1556)
06-03-2016 om 11:54 geschreven door Romenu

Tags:Elisabeth Castonier, Johan Bojer, Stanisł,aw Jerzy Lec , Victoria Benedictsson, Cyrano de Bergerac, Luigi Alamanni, Romenu



Thomas Acda
De Nederlandse cabaretier, acteur, schrijver en zanger Thomas Acda werd geboren in Amsterdam op 6 maart 1967. Acda groeide op in het Noord-Hollandse dorp De Rijp. Na de havo ging hij eerst naar de toneelacademie, maar hij stapte al snel over naar de Kleinkunstacademie in Amsterdam. Daar maakte hij voor het eerst kennis met Paul de Munnik. Ze studeerden in 1993 af met een gezamenlijke productie waarvoor ze de Pisuisse-aanmoedigingsprijs kregen. Daarna gingen ze eerst weer even ieder hun eigen weg. Acda trad een tijdje op met de band Herman en Ik. In 1995 kwamen Acda en De Munnik weer bij elkaar om samen een theatershow te maken met de naam Zwerf'On. Hun eerste cd 'Acda & De Munnik´ stond ruim 100 weken in de album top 100. In 2014 maakte het tweetal bekend te stoppen. Acda werd na zijn afstuderen naast zingen ook actief op verschillende andere terreinen. Hij speelde een gastrol in de televisieserie In voor en tegenspoed en zat een tijdje in de cabaretredactie van het programma Spijkers (later: Kopspijkers). Ook was hij tijdens de eerste zes seizoenen te zien in het panel van Dit was het nieuws. In het voorjaar van 2011 nam hij zijn rol als panellid weer op zich. Vanaf 1997 speelde hij in een aantal films, waaronder All stars, The missing link en Lek. De film All Stars was zo'n succes dat de serie All Stars volgde, waarin Acda wederom de rol van keeper Willem speelde. In 2004 speelde hij wederom in een film over voetbal getiteld In Oranje. Hij speelde ook in verschillende afleveringen van Flikken Maastricht. Voor zijn rol in Alles is Liefde uit 2007 ontving hij een Rembrandt in 2008. In 2014 speelde hij de hoofdrol in de televisieserie Jeuk. In 2015 debuteerde Thomas Acda als romanschrijver met het boek "Onderweg met Roadie."
Uit: Onderweg met Roadie
"Nu ben je een van de twaalf!' De enorme zwarte vrouw schreeuwt het vanaf haar krukje bij de uitgang tegen iedereen die haar passeert. En dan neem ik voor het gemak aan dat er ergens onder die rollen en bulten een kruk staat, of deze vrouw moet over getrainde buikspieren beschikken.
'Sorry?'
'Slechts twaalf mensen zijn op de maan geweest. En jij bent er een van!' En of ik door wil lopen, maar dat laatste zegt ze met een wenk van haar ogen die mij dwingend naar buiten zwiept. Een grote hoeveelheid lillend vlees schiet langs haar ogen, die even trillend blijft hangen en dan al fibrillerend aan de terugweg begint. Ik heb niks tegen dikke mensen, laat dat duidelijk zijn. Als ik mocht kiezen verbleef ik het liefst in de buurt van Noord-Amerikanen uit de zuidelijke staten. Nu ben ik zelf toevallig slank, of nou, slank-ish, maar ook toen ik met heel mijn 125 kilo in New York van de boot stapte, voelde ik me in vergelijking met die Amerikaanse dikkerds meteen een stuk gezonder. Iedereen is hier gigantisch. Dat krijg je ervan als een paprika hetzelfde kost als zes cheeseburgers. Maar goed, eerst deze over de kruk gezakte appeltaart fileren.
Slechts twaalf mensen? Plus ikzelf dus. Kom ik op dertien, volgens de laatste gangbare telmechanismen. Als een sportman schiet ik in de juiste modus: de bal komt op me af en alles in mij reageert zoals ik het al jaren gewend ben. Ik blijf dramatisch staan en kijk omhoog. Boven de deur staan twaalf namen. Armstrong voorop, uiteraard. Even de lijst scannen, op zo'n manier dat ze mijn ogen gaat volgen... Ik draai me gespeeld teleurgesteld om. Mijn naam staat er niet bij. Dat komt natuurlijk omdat ik niet echt op de maan geweest ben, maar in een soort veredelde schuur sta die ze het New Mexico Museum of Space History durven te noemen. Een donkere hal waarin een hoop zand ligt dat verrassend veel lijkt op het zand buiten waar ik de auto en de hond heb achtergelaten. Bovendien zijn er vandaag al minstens honderddertig bezoekers geweest, die allemaal 'Nu ben jij een van de twaalf' uit een spelonk van Jabba de Hutt op zich af hebben horen vuren. Achter mij nog minstens zesentwintig man die eenzelfde lot te wachten staat."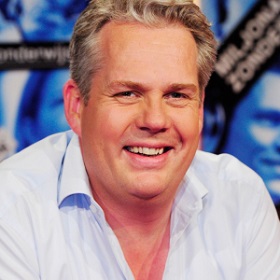 Thomas Acda (Amsterdam, 6 maart 1967)
06-03-2016 om 00:00 geschreven door Romenu

Tags:Thomas Acda, Romenu



| | |
| --- | --- |
| | |



Inhoud blog


| | |
| --- | --- |
| | Alan Hollinghurst, Radwa Ashour, Hugo Raes, Vítězslav Nezval, Ivan O. Godfroid, Maxwell Bodenheim, Isabella Nadolny, Edmond De Goncourt |
| | Egyd Gstättner, Madeleine Thien, Claire Castillon, Friedrich Dieckmann, Eve Ensler, Raymond Carver, Jamaica Kincaid, Robert Ludlum, Theodore Roethke |
| | Joseph Brodsky, Michael Chabon, Bob Dylan, Henri Michaux, William Trevor, Tobias Falberg, Arnold Wesker, Rainald Goetz, Louis Fürnberg |
| | Adriaan Roland Holst, Maarten Biesheuvel, Lydia Rood, Jane Kenyon, Susan Cooper, Michaël Vandebril, Jack McCarthy, Mitchell Albom, Pär Fabian Lagerkvist |
| | In Memoriam Philip Roth |
| | Erik Spinoy, Arthur Conan Doyle, Ahmed Fouad Negm, Anne de Vries, Johannes R. Becher, Kees Winkler, Gérard de Nerval, Catulle Mendès, Takis Würger |
| | Pinksteren II (Willem de Mérode) |
| | Gabriele Wohmann, Amy Waldman, Maria Semple, Urs Widmer, Emile Verhaeren, Robert Creeley, Alexander Pope, Tudor Arghezi, Suzanne Lilar |
| | Pinksteren I (Willem de Mérode) |
| | Tommy Wieringa, Auke Hulst, Ellen Deckwitz, Jeroen Thijssen, Maurits de Bruijn, Gerrit Achterberg, Annie M.G. Schmidt, Sky du Mont |
| | Honoré de Balzac, William Michaelian, Wolfgang Borchert, Hector Malot, Ingvar Ambjørnsen, A.C. Cirino, Hanna Krall, Sigrid Undset |
| | Constantin Göttfert, Simone van Saarloos, Karel van het Reve, Gijs IJlander, Thera Coppens, H.W.J.M. Keuls, Jodi Picoult |
| | Ruskin Bond, Yahya Hassan, Fritz Rudolf Fries, Lorraine Hansberry, Rahel Varnhagen, Anna Jameson |
| | Yi Mun-yol, W.G. Sebald, Markus Breidenich, François Nourissier, Gunnar Gunnarsson, Omar Khayyam, Ernst Wiechert, Franziska zu Reventlow, John Wilson |
| | Lars Gustafsson, Peter Høeg, Eva Schmidt, Gary Paulsen, Henri Barbusse, Virginie Loveling, Dennis Potter, Cor Bruijn, Dorothy Richardson |
| | Paul Gellings, Adrienne Rich, Friedrich Rückert, Jakob van Hoddis, Juan Rulfo, Olaf J. de Landell, Olga Berggolts, Lothar Baier, Rens van der Knoop |
| | Mai (Johann Wolfgang von Goethe) |
| | Albert Verwey, Arthur Schnitzler, Pem Sluijter, W.J.M. Bronzwaer, Frits van Oostrom, Michael Lentz, Max Frisch, Judith Hermann, Mary Wortley Montagu |
| | In Memoriam Tom Wolfe |
| | Jo Gisekin, Karl-Markus Gauß, Eoin Colfer, Gaby Hauptmann, Wilma Vermaat, Frans Bastiaanse, Dante Alighieri, Krister Axel, Jens Sparschuh |
| | Moeder (M. Vasalis) |
| | Johannes (Willem de Mérode) |
| | Jan Lauwereyns, Reinout Verbeke, Bruce Chatwin, Daphne du Maurier, Kathleen Jamie, Armistead Maupin, Alphonse Daudet, Kōji Suzuki |
| | Theo van Baaren, Gregor von Rezzori, Reinhold Schneider, Jacob Haafner, Adolf Muschg, Roch Carrier, Franz Michael Felder |
| | Hagar Peeters, Bertus Aafjes, August Vermeylen, Andrej Voznesensky, Sabine Imhof, Dante Gabriel Rossetti |
| | Nicolaas Anslijn, Eva Demski, Farley Mowat, Werner Bräunig, Cäsar Flaischlen |
| | Edward Lear, Diana Raznovich, Andrej Amalrik, Maurice Carême, Massimo Bontempelli |
| | J. H. Leopold, Ida Gerhardt, Eva Menasse, Eugen O. Chirovici, Andre Rudolph, Rubem Fonseca, Henning Boëtius, Camilo José Cela, Rachel Billington |
| | De hemelvaart (Nicolaas Beets) |
| | J.C. Bloem, Herman Leenders, Didi de Paris, Ralf Rothmann, Jeremy Gable, Petra Hammesfahr, Roberto Cotroneo, Antonine Maillet, Johann Peter Hebel |
| | Jayne Cortez, Barbara Taylor Bradford, Benito Pérez Galdós, Ivan Cankar, Martin Boelitz, Ariel Durant, Fritz von Unruh, Leonard Buyst |
| | My Computer Ate My Homework 3, Dolce far niente, Gene Ziegler, Pieter Boskma, Jorie Graham, Luuk Wojcik |
| | Roddy Doyle, Thomas Pynchon, Pat Barker, Gary Snyder, Gertrud Fussenegger, Edmund Wilson, Alain-René Lesage, Sophus Schandorph, Romain Gary |
| | Libris Literatuurprijs 2018 voor Murat Isik |
| | Willem Elsschot, Almudena Grandes, Christoph Marzi, Edgar Cairo, Volker Braun, Robert Browning, Peter Carey, Archibald MacLeish, Rabindranath Tagore |
| | In Memoriam Renate Dorrestein |
| | Beloved, let us love one another,' says St. John (Christina Rossetti) |
| | Willem Kloos, Hélène Gelèns, Sasja Janssen, Ariel Dorfman, Erich Fried, Yasushi Inoue, Harry Martinson, Christian Morgenstern, Carl Ludwig Börne |
| | Ferdinand Sauter, Eugène Labiche, Gaston Leroux, Júlio César de Mello e Souza, Marie-Aude Murail, Paul Alverdes, Erik Bindervoet, Simon Mulder |
| | Als je de vrijheid tegenkomt (Ankie Peypers) |
| | Roni Margulies, Miklós Radnóti, Petra Else Jekel, Morton Rhue, Christopher Morley, George Albert Aurier |
| | Henryk Sienkiewicz, Richard Watson Dixon, Hans Werner Kolben, Christian Friedrich Scherenberg, Catullus |
| | Oorlog (Rutger Kopland) |
| | Christiaan Weijts, Amos Oz, J.W.F. Werumeus Buning, Cola Debrot, Graham Swift, Monika van Paemel, David Guterson, Jan Mulder, Werner Fritsch |
| | Erik Lindner, Jehuda Amichai, Johan de Boose, Paul Bogaert, Marc Dugain, Ben Elton, Klaus Modick, Agnès Desarthe, Juan Gelman |
| | Esther Freud, Wytske Versteeg, Rob Waumans, Tilman Rammstedt, James Holmes, Theo Sontrop, Jef Last, Gottfried Benn, Novalis |
| | What Work Is (Philip Levine) |
| | Guido Gezelle, Johano Strasser, Yasmina Reza, Joseph Heller, Yánnis Rítsos, Antal Szerb, Ignazio Silone, Aleksander Wat, Reinier van Genderen Stort |
| | Jeroen Brouwers, Alexander Osang, Ulla Hahn, Luise Rinser, John Boyne, Annie Dillard, Jaroslav Hasek, Jacob Hiegentlich, Kno'Ledge Cesare |
| | Der Weinstock und die Reben (Julie Hausmann) |


Gastenboek


Druk op onderstaande knop om een berichtje achter te laten in mijn gastenboek