E-mail mij


Druk op onderstaande knop om mij te e-mailen.


Romenu


Romenu is een blog over gedichten, literatuur en kunst Maar Romenu is ook een professionele freelance vertaler
Du-Ne en Ne-Du http://www.romenu.nl.


Huur eens een (vakantie)huis in een natuurgebied, dichtbij het centrum van Nijmegen


Google


Georg Trakl

Georg Trakl werd op 3 februari 1887 in het conducteurshuis aan de Waagplatz 2 in Salzburg geboren. Zijn vader, Tobias Trakl, was een handelaar in ijzerwaren en zijn moeder, die ook psychische problemen had, was Maria Catharina Trakl, (meisjesnaam Halik). Voorts had hij nog drie broers en drie zussen. Margarethe (doorgaans Grethe genoemd) stond hem het naast, zelfs zodanig dat sommigen een incestueuze verhouding vermoeden. Zijn jeugd bracht hij door in Salzburg. Vervolgens bezocht hij van 1897 tot 1905 het humanistische gymnasium. Om toch een academische opleiding te kunnen volgen, werkte hij tot 1908 in de praktijk bij een apotheker. Sommigen vermoedden dat hij dit vooral deed om zichzelf opiaten te kunnen verschaffen. Bij het uitbreken van WO I werd Trakl als medicus naar het front in Galicië (heden ten dage in Oekraïne en Polen) gestuurd. Zijn gemoedsschommelingen leidden tot geregelde uitbraken van depressie, die verergerd werden door de afschuw die hij voelde voor de verzorging van de ernstig verwonde soldaten. De spanning en druk dreven hem ertoe een suïcidepoging te ondernemen, welke zijn kameraden nochtans verhinderden. Hij werd in een militair ziekenhuis opgenomen in Kraków, alwaar hij onder strikt toezicht geplaatst werd.Trakl verzonk daar in nog zwaardere depressies en schreef Ficker om advies. Ficker overtuigde hem ervan dat hij contact moest opnemen met Wittgenstein, die inderdaad op weg ging na Trakls bericht te hebben ontvangen. Op 4 november 1914, drie dagen voordat Wittgenstein aan zou komen, overleed hij echter aan een overdosis cocaïne


Paul Celan

Paul Celan werd onder de naam Paul Antschel op 23 november 1920 geboren in Czernowitz, toentertijd de hoofdstad van de Roemeense Boekovina, nu behorend bij de Oekraïne. Paul Celans ouders waren Duitssprekende joden die hun zoon joods opvoedden en hem naar Duitse christelijke scholen stuurden. In 1942 werden Celans ouders door de Duitse bezetter naar een werkkamp gedeporteerd en daar vermoord. Hijzelf wist aanvankelijk onder te duiken, maar moest vanaf juli 1942 in een werkkamp dwangarbeid verrichten. Celan overleefde de oorlog. Via Boekarest en Wenen vestigde Celan zich in 1948 in Parijs. Daar was hij werkzaam als dichter, vertaler en doceerde hij aan de prestigieuze Ecole Normale Supérieure. Vermoedelijk op 20 april 1970 beëindigde hij zijn leven zelf door in de Seine te springen.


Gerard Reve

Gerard Reve over: Medearbeiders "God is in de mensen, de dieren, de planten en alle dingen - in de schepping, die verlost moet worden of waaruit God verlost moet worden, door onze arbeid, aangezien wij medearbeiders van God zijn." Openbaring "Tja, waar berust elk godsbegrip op, elke vorm van religie? Op een openbaring, dat wil zeggen op een psychische ervaring van zulk een dwingende en onverbiddelijke kracht, dat de betrokkene het gevoel heeft, niet dat hij een gedachte of een visioen heeft, maar dat een gedachte gedachte of visioen hem bezit en overweldigt."


Simon Vestdijk
Simon Vestdijk (Harlingen, 17 oktober 1898 – Utrecht, 23 maart 1971) was een Nederlands romancier, dichter, essayist en vertaler. Zijn jeugd te Harlingen en Leeuwarden beschreef hij later in de Anton Wachter-cyclus. Van jongs af aan logeerde hij regelmatig bij zijn grootouders in Amsterdam, waar hij zich in 1917 aan de Universiteit van Amsterdam inschrijft als student in de medicijnen. Tijdens zijn studie die van 1917 tot 1927 duurde, leerde hij Jan Slauerhoff kennen.Tot 1932 is hij als arts in praktijken door heel Nederland werkzaam. In 1932 volgt zijn officiële schrijversdebuut met de uitgave van de bundel Verzen in De Vrije Bladen. Doorslaggevend voor Vestdijks uiteindelijke keuze voor de literatuur is zijn ontmoeting in 1932 met Eddy Du Perron en Menno ter Braak. Deze ontmoeting had tot resultaat dat hij redactielid werd van het tijdschrift Forum Kort daarop, in 1933, wordt zijn eerste novelle, De oubliette, uitgegeven. In hetzelfde jaar schrijft hij Kind tussen vier vrouwen, dat, eerst geweigerd door de uitgever, later de basis zal vormen voor de eerste drie delen van de Anton Wachter-romans. In 1951 ontvangt Vestdijk de P.C. Hooftprijs voor zijn in 1947 verschenen roman De vuuraanbidders. In 1957 wordt hij voor het eerst door het PEN-centrum voor Nederland voorgedragen voor de Nobelprijs voor de Literatuur, die hij echter nooit zal krijgen. Op 20 maart 1971 wordt hem de Prijs der Nederlandse Letteren toegekend, maar voor hij deze kan ontvangen overlijdt hij op 23 maart te Utrecht op 72-jarige leeftijd. Vestdijk was auteur van ca. 200 boeken. Vanwege deze enorme productie noemde de dichter Adriaan Roland Holst hem 'de man die sneller schrijft dan God kan lezen'. Andere belangrijke boeken van Simon Vestdijk zijn: "Kind van stad en land" (1936), "Meneer Visser's hellevaart" (1936), "Ierse nachten" (1946), "De toekomst de religie" (1947), "Pastorale 1943" (1948), "De koperen tuin" (1950), "Ivoren wachters" (1951), "Essays in duodecimo" (1952) en "Het genadeschot" (1964).


K.P. Kavafis

K.P. Kavafis werd als kind van Griekse ouders, afkomstig uit Konstantinopel, geboren in 1863 in Alexandrië (tot vandaag een Griekse enclave) waar hij ook het grootste deel van zijn leven woonde en werkte. Twee jaar na de dood van zijn vader verhuist het gezin in 1872 naar Engeland om na een verblijf van vijf jaar naar Alexandrië terug te keren. Vanwege ongeregeldheden in Egypte vlucht het gezin in 1882 naar Konstantinopel, om na drie jaar opnieuw naar Alexandrië terug te gaan. In de jaren die volgen maakt Kavafis reizen naar Parijs, Londen en in 1901 zijn eerste reis naar Griekenland, in latere jaren gevolgd door nog enkele bezoeken. Op de dag van zijn zeventigste verjaardag, in 1933 sterft Kavafis in Alexandrië. De roem kwam voor Kavafis pas na zijn dood, dus postuum. Deels is dat toe te schrijven aan zijn eigen handelswijze. Hij was uiterst terughoudend met de publicatie van zijn gedichten, liet af en toe een enkel gedicht afdrukken in een literair tijdschrift, gaf in eigen beheer enkele bundels met een stuk of twintig gedichten uit en het merendeel van zijn poëzie schonk hij op losse bladen aan zijn beste vrienden.


Thomas Mann


Thomas Mann, de jongere broer van Heinrich Mann, werd geboren op 6 juni 1875 in Lübeck. Hij was de tweede zoon van de graankoopman Thomas Johann Heinrich Mann welke later één van de senatoren van Lübreck werd. Zijn moeder Julia (geboren da Silva-Bruhns) was Duits-Braziliaans van Portugees Kreoolse afkomst. In 1894 debuteerde Thomas Mann met de novelle "Gefallen". Toen Thomas Mann met 21 jaar eindelijk volwassen was en hem dus geld van zijn vaders erfenis toestond - hij kreeg ongeveer 160 tot 180 goldmark per jaar - besloot hij dat hij genoeg had van al die scholen en instituties en werd onafhankelijk schrijver. Kenmerkend voor zijn stijl zijn de ironie, de fenomenale taalbeheersing en de minutieuze detailschildering. Manns reputatie in Duitsland was sterk wisselend. Met zijn eerste roman, Buddenbrooks (1901), had hij een enorm succes, maar door zijn sceptische houding tegenover Duitsland na de Eerste Wereldoorlog veranderde dit volledig. Stelde hij zich tot aan de jaren twintig apolitiek op (Betrachtungen eines Unpolitischen, 1918), meer en meer raakte hij bij het Politiek gebeuren betrokken. Zijn afkeer van het nationaal socialisme groeide, zijn waarschuwingen werden veelvuldiger en heftiger. In 1944 accepteerde hij het Amerikaanse staatsburgerschap. Tussen 1943 en 1947 schreef Mann Doktor Faustus (zie Faust), de roman van de 'Duitse ziel' in de gecamoufleerd geschilderde omstandigheden van de 20ste eeuw. In 1947 bezocht hij voor het eerst sinds de Oorlog Europa, twee jaar later pas Duitsland. In 1952 vertrok hij naar Zwitserland. Op 12 augustus 1955 stierf hij in Zürich. Twintig jaar na zijn dood, in aug. 1975, is zijn literaire nalatenschap geopend: dagboekaantekeningen van 15 maart 1933 tot 29 juli 1955, alsmede notities uit de jaren 1918 tot en met 1921.Belangrijke werken zijn: Der Zauberberg, Der Tod in Venedig, Dokter Faustus , Joseph und seine Brüder en Die Bekenntnisse des Hochstaplers Felix Krull.


Rainer Maria Rilke

Rilke werd op 4 december 1875 geboren in Praag. Hij had al naam gemaakt als dichter met zijn bundels Das Stundenbuch en Das Buch der Bilder, toen hij de literaire wereld versteld deed staan en wereldfaam verwierf met de publicatie van zijn twee delen Neue Gedichte in 1907 en 1908. Hij verzamelde daarin het beste werk uit een van zijn vruchtbaarste periodes, die hij grotendeels doorbracht in Parijs. Rilke was daar diep onder de indruk gekomen van Rodin, bij wie hij een tijdlang in dienst was als particulier secretaris. Rodin, zei hij later, had hem leren kijken. Dit kijken kwam neer op intense concentratie, om het mysterie te kunnen zien 'achter de schijnbare werkelijkheid'. Latere en rijpere werken als Duineser Elegien (1912-1923) en het ronduit schitterende Die Sonette an Orfeus (1924) illustreren Rilkes metafysische visie op het onzegbare, dat haar verwoording vindt in een hermetische muzikale taal. Op 29 december 1926 overlijdt Rilke in het sanatorium in Val-Mont aan de gevolgen van leukemie. Enkele dagen later wordt hij, overeenkomstig zijn wens, begraven op het kerkhof van Raron.


* * * * * * * * * * * * * * * *

| | |
| --- | --- |
| | Over literatuur, gedichten, kunst en cultuur |

30-11-2013

David Nicholls, Christophe Vekeman, Yasmine Allas, Y.M. Dangre, Reinier de Rooie, Jan G. Elburg
De Engelse schrijver David Nicholls werd geboren op 30 november 1966 in Eastleigh, Hampshire. Zie ook alle tags voor David Nicholls op dit blog.
Uit: Starter For Ten
"I want to be able to listen to recording of piano sonatas and know who's playing. I want to go to classical concerts and know when you're meant to clap. I want to be able to 'get' modern jazz without it all sounding like this terrible mistake, and I want to know who the Velvet Underground are exactly. I want to be fully engaged in the World of Ideas, I want to understand complex economics, and what people see in Bob Dylan. I want to possess radical but humane and well-informed political ideals, and I want to hold passionate but reasoned debates round wooden kitchen tables, saying things like 'define your terms!' and 'your premise is patently specious!' and then suddenly to discover that the sun's come up and we've been talking all night. I want to use words like 'eponymous' and 'solipsistic' and 'utilitarian' with confidence. I want to learn to appreciate fine wines, and exotic liquers, and fine single malts, and learn how to drink them without turning into a complete div, and to eat strange and exotic foods, plovers' eggs and lobster thermidor, things that sound barely edible, or that I can't pronounce...Most of all I want to read books; books thick as brick, leather-bound books with incredibly thin paper and those purple ribbons to mark where you left off; cheap, dusty, second-hand books of collected verse, incredibly expensive, imported books of incomprehensible essays from foregin universities."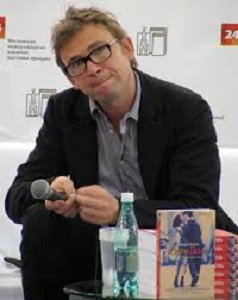 David Nicholls (Hampshire, 30 november 1966)
De Vlaamse schrijver, dichter en performer Christophe Vekeman werd geboren in Temse op 30 november 1972. Zie ook alle tags voor Christophe Vekeman op dit blog.
DE ROZEN
Je werd ziek toen je de sneeuw in liep om in de stad de rozen te tellen
De dokter was stomdronken, niet in staat om een diagnose te stellen
Hij hijgde en hij proestte en stal al mijn medicijnen
Hij legde mij het zwijgen op, zei dat ik woorden zoeken moest en noemde jou de zijne
'Het leven is vallen en opstaan en ten slotte blijven liggen,'
Zo las de dokter lallend voor uit één van mijn nieuwste liefdesgedichten
Je huilde van ontroering en je keek hem vol bewondering aan
Toen hij bij jou in bed kruipend kreunde: 'Ik ben klaar om dood te gaan'
Terstond kreeg hij de stuipen en jij steigerde, brullend als een leeuwin
Voor de laatste keer vulde de dokter zijn glas en stuurde mij vervolgens de sneeuw in
Daar liep ik dan in eenzaamheid, daar liep ik vele uren
Ik wist hoe sterk zijn lichaam was, en dat zijn doodsstrijd heel lang kon duren
De dokter was niet te bekennen toen ik eindelijk weer de deur achter mij dichttrok
Ik klopte de sneeuw van mijn kleren en droogde mijn natte gezicht aan je rok
Je zei: 'De man is gestorven', ik zuchtte: 'Het spijt mij, maar dat is gelogen'
Je deed je best te geeuwen, maar je hapte naar lucht als een vis op het droge
Toen je begon te schreien, kreeg ik toch weer medelijden
Je vroeg je luidkeels af hoe je jezelf van je ziekte zou kunnen bevrijden
Ik schreeuwde: 'Kijk, ik ben geen dokter, maar ik kan je wel het antwoord vertellen!'
Terwijl jij de sneeuw in liep om in de stad de rozen te tellen

Christophe Vekeman (Temse, 30 november 1972)
De Nederlandse schrijfster en actrice Yasmine Allas werd geboren op 30 november 1967 in Mogadishu in Somalië. Zie ook alle tags voor Yasmine Allas op dit blog.
Uit: Idil, een meisje
'Idil, ze zijn mooi geworden. Je vader heeft wel smaak.' Zade stond met de uitnodiging in zijn handen. 'Kijk, nog een paar dagen en dan ben je helemaal van mij. Er komen heel veel gasten, iedereen zal jaloers op ons zijn. We passen zo goed bij elkaar.'
Droom maar, Zade, droom maar.
'We houden van elkaar. Het is een eer om samen met jou die zaal binnen te komen, waar al die belangrijke mensen zitten.'
IJl maar, Zade, ijl maar.
'Zie je het voor je? Ik wel. Een heel grote zaal, helemaal vol met mensen die alleen voor ons zijn gekomen. En dan kom ik met jou binnen, met je mooie witte jurk. Dan gaan we zitten, iedereen komt ons feliciteren. Er wordt gegeten, gedanst en dan zie ik al die mannen denken: zat ik maar naast dat jonge, mooie, intelligente meisje,'
Kwijl maar, Zade, kwijl maar.
'En dan is het moment aangebroken dat we naar huis gaan, het moment waarop ik zo lang heb moeten wachten. Het moment waarop ik mijn rijpe vrucht kan plukken.'
De gedachte aan het moment dat hij zo verheerlijkte, maakte me bang. 'Jullie doen het maar zoals jullie willen, aan mij wordt toch niks gevraagd.' Ik schrok van mijn eigen felheid en liep weg.
'Mooi, jong, intelligent en vurig', lachte Zade."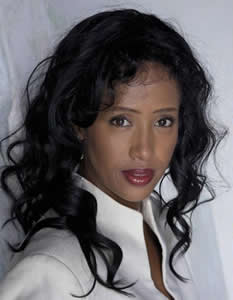 Yasmine Allas (Mogadishu, 30 november 1967)
De Vlaamse dichter en schrijver Y.M. (Yannick) Dangre werd op 30 november 1987 geboren in Kapellen. Zie ook alle tags voor Y.M. Dangre op dit blog.
De verstomming VI
Zwijgen. Roepen. Zwijgen.
Vitten omdat we al tijden en
minnaars lang niet meer aan
elkaar zitten, niet meer passen
op beloftes als op de kinderen
van vroeger.
Zwijgen.
Wij kruisen armen, degens,
bleke stiltes, maar geen
blikken. Wij kijken door elkaar
als door kapotte brillen
en boeien klinken zacht
de gezamenlijke dag aan
onze enkels. Wij
zwijgen om bijeen te blijven.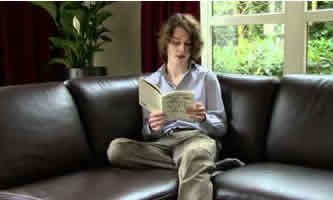 Y.M. Dangre (Kapellen, 30 november 1987)
De Nederlandse dichter Reinier de Rooie werd geboren op 30 november 1961 in Hengelo. Zie ook alle tags voor Reinier de Rooie op dit blog.
Ballade van de oproerkraaier
saaie burgers kwaaie vrouwen
het zal u twee jaar lang berouwen
mij te kiezen om een lied
van hengelo wel of hengelo niet
met mijn voeten schop ik gaten
in de stilte van uw straten
met mijn fikken steek ik hens
in uw allerdiepste wens
met mijn ogen zal ik draaien
alle winden die hier waaien
in het schelpje van mijn oor
gaat uw jammerklacht teloor
ik zal dichters naar u zenden
die de achtste hel verkenden
en mijn prinsen op een paard
zijn uw dochters zelden waard
ook zal ik uw nachten braken
en uw honden doen ontwaken
zit u 's ochtends in de kerk
ben ik slapend aan het werk
ja dan schep ik nieuwe verzen
met de zoete smaak van kersen
ach dan droom ik van wat is
en het toch zo node mis
envoi
saaie burgers kwaaie vrouwen
wilt u vredig huisjes bouwen
en u wármen aan een lied:
kies mij niet!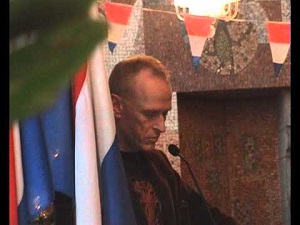 Reinier de Rooie (Hengelo, 30 november 1961)
De Nederlandse dichter en schrijver Jan G. Elburg werd geboren op 30 november 1919 te Wemeldinge. Zie ook alle tags voor Jan G. Elburg op dit blog.
Zomer
Met twee linkerhanden boetseert de zon
de aarde. alles gaat scheef door het lachen
der lichamen. ik ben veel te blauw
van binnen. mijn ingewand zamelt te veel
liefde en luide kreten.
o de snaakse waardigheid van de dagen.
o de aardigheden van het aambeeld water.
wij moeten wel jongen. van grote liefde
een huis werpen uit schelpen en zand.
een naakt klateren.
nu dommelt de grote blonde vrouw nog met garnalenvuur.
nu zondert het havergroen gras zich nog af
in de zomer.
wij zouden wonen kunnen in stokrozen. in onze stem:
gewone boomrovers. loverkielen
met een rood lachend hoofd er boven.
elke struik een tuin.
wij willen buiten muiten
uit zijn
met aarde de witte wolken betalen.
er is een getij als een glimlachend afrika
over dalen en glasdaken van warmte.

Opnieuw
Grond worden,
gras, kever, ochtendnevel
smaak aan de tong van het grazend
vee en vlees zijn, weer
mest en molshoop worden,
bliksemvis in de sloot,
maar zo mogelijk
volle aar, zwellende korrel;
en gegeten worden
om man te zijn, vrouw te zijn,
ja vooral opnieuw mens te zijn
en zichzelf in liefde te verzamelen.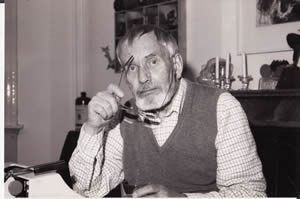 Jan G. Elburg (30 november 1919 – 13 augustus 1992)
Zie voor nog meer schrijvers van de 30e november ook mijn vorige blog van vandaag en eveneens mijn eerste blog van vandaag.
30-11-2013 om 15:10 geschreven door Romenu

Tags:David Nicholls, Christophe Vekeman, Yasmine Allas, Y.M. Dangre, Reinier de Rooie, Jan G. Elburg, Romenu



Mark Twain, Lee Klein, Adeline Yen Mah, John McCrae, Jonathan Swift, Philip Sidney
De Amerikaanse schrijver Mark Twain (pseudoniem van Samuel Langhorne Clemens) werd geboren op 30 november 1835 te Florida. Zie ook alle tags voor Mark Twain op dit blog.
Uit:The Adventures of Huckleberry Finn
"If you are with the quality, or at a funeral, or trying to go to sleep when you ain't sleepy—if you are anywheres where it won't do for you to scratch, why you will itch all over in upwards of a thousand places. Pretty soon Jim says:
"Say, who is you? Whar is you? Dog my cats ef I didn' hear sumf'n. Well, I know what I's gwyne to do: I's gwyne to set down here and listen tell I hears it agin."
So he set down on the ground betwixt me and Tom. He leaned his back up against a tree, and stretched his legs out till one of them most touched one of mine. My nose begun to itch. It itched till the tears come into my eyes. But I dasn't scratch. Then it begun to itch on the inside. Next I got to itching underneath. I didn't know how I was going to set still. This miserableness went on as much as six or seven minutes; but it seemed a sight longer than that. I was itching in eleven different places now. I reckoned I couldn't stand it more'n a minute longer, but I set my teeth hard and got ready to try. Just then Jim begun to breathe heavy; next he begun to snore—and then I was pretty soon comfortable again."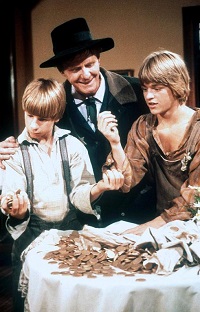 Mark Twain (30 november 1835 – 21 april 1910)
Scene uit de film Huckleberry Finn and His Friends, 1979
De Amerikaanse dichter, schrijver en essayist Lee Klein werd geboren op 30 november 1965 in New York. Zie ook alle tags voor Lee Klein op dit blog.
THE SHOPPPINGTOWN DOWN UNDER (Fragment)
Double Decker down under domestic doppelgangers
Continents we would reinvent-chewing on the concrete hive
But sitting at the mall to go onto the net
A sliding glass door through a parquet meridian
There is still time left to
To back out
Back out from a blackout
Two porous gauzy starfish like cloud formations
Light goes out in one in a flash
Black
The other one white
The ground below
A parched tan canvas
There is still time left to back out
Back out from a blackout
How about a sub-moutainous McDonald's
Built upon an historic site
And serving as it's de facto marker
With the shrine/photo gallery just by the bathrooms
William Frederick Paddington
Perhaps the most famous policeman in Colonial Australia
Here after missing his coach a the inn
ran after it
and caught it
but then got caught on it
it being the coach's door
caught on it was his jacket's interior breast pocket
which held his service revolver within
which then dislodged
he suffered for weeks
and finally died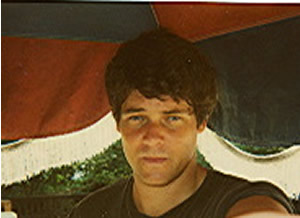 Lee Klein (New York, 30 november 1965)
De Chinese schrijfster Adeline Yen Mah werd geboren op 30 november 1937 in Tianjin. Zie ook alle tags voor Adeline Yen Mah op dit blog.
Uit: Chinese Cinderella
"As she closed the lid, an old photograph fell out. I picked up the faded picture and saw a solemn young man and woman, both dressed in old-fashioned Chinese robes. The man looked rather familiar.
"Is this a picture of my father and dead mama?" I asked.
"No. This is the wedding picture of your grandparents. Your Ye Ye was twenty-six and your Nai Nai was only fifteen." She quickly took the photo from me and locked it into her box.
"Do you have a picture of my dead mama?"
She avoided my eyes. "No. But I have wedding pictures of your father and your stepmother, Niang. You were only one year old when they married. Do you want to see them?"
"No. I've seen those before. I just want to see one of my own mama. Do I look like her?" Aunt Baba did not reply, but busied herself with putting the safe-deposit box back into her closet. After a while I said, "When did my mama die?"
"Your mother came down with a high fever three days after you were born. She died when you were two weeks old. . . ." She hesitated for a moment, then exclaimed suddenly, "How dirty your hands are! Have you been playing in that sandbox at school again? Go wash them at once! Then come back and do your homework!"
I did as I was told. Though I was only four years old, I understood I should not ask Aunt Baba too many questions about my dead mama. Big Sister once told me, "Aunt Baba and Mama used to be best friends. A long time ago, they worked together in a bank in Shanghai owned by our grandaunt, the youngest sister of Grandfather Ye Ye. But then Mama died giving birth to you. If you had not been born, Mama would still be alive. She died because of you. You are bad luck."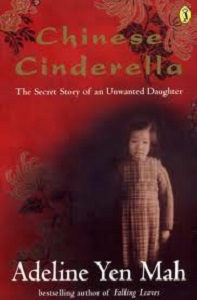 Adeline Yen Mah (Tianjin, 30 november 1937)
Cover
De Canadese dichter, arts, auteur, kunstenaar, militair John Alexander McCrae werd geboren in Guelph (Ontario) op 30 november 1872. Zie ook alle tags voor John McCrae op dit blog.
The Hope Of My Heart
"Delicta juventutis et ignorantius ejus, quoesumus ne memineris, Domine."
I left, to earth, a little maiden fair,
With locks of gold, and eyes that shamed the light;
I prayed that God might have her in His care
And sight.
Earth's love was false; her voice, a siren's song;
(Sweet mother-earth was but a lying name)
The path she showed was but the path of wrong
And shame.
"Cast her not out!" I cry. God's kind words come --
"Her future is with Me, as was her past;
It shall be My good will to bring her home
At last."
Then And Now
Beneath her window in the fragrant night
I half forget how truant years have flown
Since I looked up to see her chamber-light,
Or catch, perchance, her slender shadow thrown
Upon the casement; but the nodding leaves
Sweep lazily across the unlit pane,
And to and fro beneath the shadowy eaves,
Like restless birds, the breath of coming rain
Creeps, lilac-laden, up the village street
When all is still, as if the very trees
Were listening for the coming of her feet
That come no more; yet, lest I weep, the breeze
Sings some forgotten song of those old years
Until my heart grows far too glad for tears.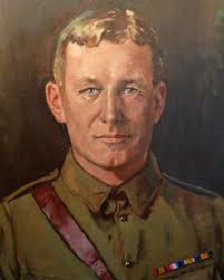 John McCrae (30 november 1872 - 28 januari 1918)
De Engelse schrijver Jonathan Swift werd op 30 november 1667 in Dublin geboren uit Engelse ouders. Zie ook alle tags alle tags voor Jonathan Swift op dit blog.
Uit: Gulliver's Travels
"But the creatures ran off a second time, before I could seize them; whereupon there was a great shout in a very shrill accent, and after it ceased I heard one of them cry aloud TOLGO PHONAC; when in an instant I felt above a hundred arrows discharged on my left hand, which, pricked me like so many needles; and besides, they shot another flight into the air, as we do bombs in Europe, whereof many, I suppose, fell on my body, (though I felt them not), and some on my face, which I immediately covered with my left hand. When this shower of arrows was over, I fell a groaning with grief and pain; and then striving again to get loose, they discharged another volley larger than the first, and some of them attempted with spears to stick me in the sides; but by good luck I had on a buff jerkin, which they could not pierce. I thought it the most prudent method to lie still, and my design was to continue so till night, when, my left hand being already loose, I could easily free myself: and as for the inhabitants, I had reason to believe I might be a match for the greatest army they could bring against me, if they were all of the same size with him that I saw. But fortune disposed otherwise of me. When the people observed I was quiet, they discharged no more arrows; but, by the noise I heard, I knew their numbers increased; and about four yards from me, over against my right ear, I heard a knocking for above an hour, like that of people at work; when turning my head that way, as well as the pegs and strings would permit me, I saw a stage erected about a foot and a half from the ground, capable of holding four of the inhabitants, with two or three ladders to mount it: from whence one of them, who seemed to be a person of quality, made me a long speech, whereof I understood not one syllable."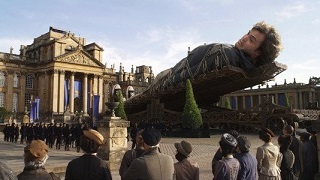 Jonathan Swift (30 november 1667 – 19 oktober 1745)
Scene uit de film Gulliver's Travels, 2010

De Engelse schrijver Sir Philip Sidney werd geboren op 30 november 1554 in het kasteel van Penshurst in het graafschap Kent. Zie ook alle tags voor Sir Philip Sidney op dit blog.
Fair Eyes, Sweet Lips
Fair eyes, sweet lips, dear heart, that foolish I
Could hope by Cupid's help on you to prey;
Since to himself he doth your gifts apply,
As his main force, choice sport, and easeful stay.
For when he will see who dare him gainsay,
Then with those eyes he looks, lo by and by
Each soul doth at Love's feet his weapons lay,
Glad if for her he give them leave to die.
When he will play, then in her lips he is,
Where blushing red, that Love's self them doth love,
With either lip he doth the other kiss:
But when he will for quiet's sake remove
From all the world, her heart is then his room
Where well he knows, no man to him can come.
My Words, I Know Do Well
My words I know do well set forth my mind,
My mind bemoans his sense of inward smart;
Such smart may pity claim of any heart,
Her heart, sweet heart, is of no tiger's kind:
And yet she hears, yet I no pity find;
But more I cry, less grace she doth impart,
Alas, what cause is there so overthwart,
That nobleness itself makes thus unkind?
I much do guess, yet find no truth save this:
That when the breath of my complaints doth touch
Those dainty doors unto the court of bliss,
The heav'nly nature of that place is such,
That once come there, the sobs of mine annoys
Are metamorphos'd straight to tunes of joys.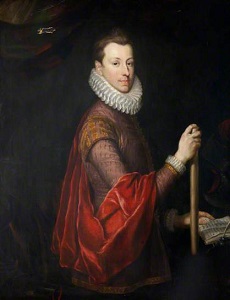 Philip Sidney (30 november 1554 – 17 oktober 1586)
Portret doorGeorge Knapton(naar Isaac Oliver), 1739
Zie voor nog meer schrijvers van de 30e november ook mijn vorige blog van vandaag.
30-11-2013 om 14:47 geschreven door Romenu

Tags:Mark Twain, Lee Klein, Adeline Yen Mah, John McCrae, Jonathan Swift, Philip Sidney, Romenu



Winston Churchill, Lucy Maud Montgomery, Rudolf Lavant, John Bunyan,Sergio Badilla Castillo, David Mamet, Wil Mara
De Britse staatsman en schrijver Sir Winston Leonard Spencer Churchill werd geboren in Woodstock op 30 november 1874. Zie ook alle tags voor Winston Churchill op dit blog.
Uit: The Crossing
"I was born under the Blue Ridge, and under that side which is blue in the evening light, in a wild land of game and forest and rushing waters. There, on the borders of a creek that runs into the Yadkin River, in acabin that was chinked with red mud, I came into the world a subject ofKing George the Third, in that part of his realm known as the province ofNorth Carolina.
The cabin reeked of corn-pone and bacon, and the odor of pelts. It had two shakedowns, on one of which I slept under a bearskin. A rough stone chimney was reared outside, and the fireplace was as long as my father was tall. There was a crane in it, and a bake kettle; and over it great buckhorns held my father's rifle when it was not in use. On other horns hung jerked bear's meat and venison hams, and gourds for drinking cups, and bags of seed, and my father's best hunting shirt; also, in a neglected corner, several articles of woman's attire from pegs. These once belonged to my mother. Among them was a gown of silk, of a fine, faded pattern, over which I was wont to speculate. The women at the Cross-Roads, twelve miles away, were dressed in coarse butternut wool and huge sunbonnets. But when I questioned my father on these matters he would give me no answers.
My father was--how shall I say what he was? To this day I can only surmise many things of him. He was a Scotchman born, and I know now that he had a slight Scotch accent. At the time of which I write, my early childhood, he was a frontiersman and hunter. I can see him now, with his hunting shirt and leggings and moccasins; his powder horn, engraved with wondrous scenes; his bullet pouch and tomahawk and hunting knife. He was a tall, lean man with a strange, sad face. And he talked little save when he drank too many "horns," as they were called in that country."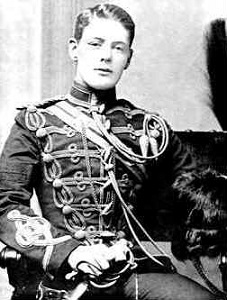 Winston Churchill (30 november 1874 - 24 januari 1965)
In 1895
De Canadese schrijfster Lucy Maud Montgomery werd geboren in Clifton op 30 november 1874. Zie ook alle tags voor Lucy Maud Montgomery op dit blog.
Uit: Anne Of Green Gables
"She was sitting there one afternoon in early June. The sun was coming in at the window warm and bright; the orchard on the slope below the house was in a bridal flush of pinky-white bloom, hummed over by a myriad of bees. Thomas Lynde-- a meek little man whom Avonlea people called "Rachel Lynde's husband"--was sowing his late turnip seed on the hill field beyond the barn; and Matthew Cuthbert ought to have been sowing his on the big red brook field away over by Green Gables. Mrs. Rachel knew that he ought because she had heard him tell Peter Morrison the evening before in William J. Blair's store over at Carmody that he meant to sow his turnip seed the next afternoon. Peter had asked him, of course, for Matthew Cuthbert had never been known to volunteer information about anything in his whole life.
And yet here was Matthew Cuthbert, at half-past three on the afternoon of a busy day, placidly driving over the hollow and up the hill; moreover, he wore a white collar and his best suit of clothes, which was plain proof that he was going out of Avonlea; and he had the buggy and the sorrel mare, which betokened that he was going a considerable distance. Now, where was Matthew Cuthbert going and why was he going there?"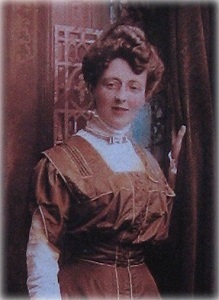 Lucy Maud Montgomery (30 november 1874 – 24 april 1942)
De Duitse dichter en schrijver Rudolf Lavant (eig. Richard Cramer) werd geboren op 30 november 1844 in Leipzig. Zie ook alle tags voor Rudolf Lavant op dit blog.
Heißer Wunsch

Ein schönes Alter wurde mir beschieden,
Auf das zu hoffen niemals ich gewagt;
Doch sehnt man sich nach Ruhe und nach Frieden,
Da man der Hoffnung ohnehin entsagt.

Nun würgt es mich, den Müden, an der Kehle,
Da ich so fest an meinen Traum geglaubt —
Es wurde mir das Gleichgewicht der Seele,
Der Nächte Schlummer wurde mir geraubt.
Ich sah vor mir zerfahren und zerrinnen,
Was seit den Kinderjahren ich geliebt;
Ich muss mich immer mühsam erst besinnen,
Dass so etwas wie Freude es noch gibt.

Und dennoch möchte ich nicht vom Leben scheiden,
Bis uns ein Retter aus der Not erstand,
Bis nach des Weltkampfs grauenhaften Leiden
Erschüttert man den Mut zum Frieden fand.
Bis über sich nach schreckerfüllten Tagen
Den schönsten Sieg Europas Rat gewann,
Bis das Geschlecht als einz'ge Frucht der Klagen
Sich auf die Menschlichkeit zurückbesann.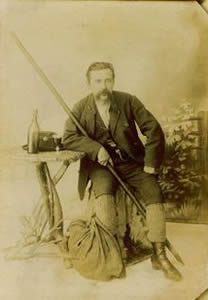 Rudolf Lavant (30 november 1844 – 6 december 1915)
De Engelse dichter en schrijver John Bunyan werd geboren op 30 november 1628 in Harrowden bij Bedford. Zie ook alle tags voor John Bunyan op dit blog.
The Shepherd Boy sings in the Valley of Humiliation
HE that is down needs fear no fall,
He that is low, no pride;
He that is humble ever shall
Have God to be his guide.
I am content with what I have,
Little be it or much:
And, Lord, contentment still I crave,
Because Thou savest such.
Fullness to such a burden is
That go on pilgrimage:
Here little, and hereafter bliss,
Is best from age to age.
Upon The Lord's Prayer
Our Father which in heaven art,
Thy name be always hallowed;
Thy kingdom come, thy will be done;
Thy heavenly path be followed
By us on earth as 'tis with thee,
We humbly pray;
And let our bread us given be,
From day to day.
Forgive our debts as we forgive
Those that to us indebted are:
Into temptation lead us not,
But save us from the wicked snare.
The kingdom's thine, the power too,
We thee adore;
The glory also shall be thine
For evermore.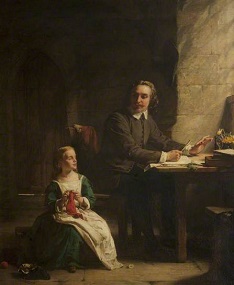 John Bunyan (30 november 1628 - 31 augustus 1688)
John Bunyan in de gevangenis van door Alexander Johnston, eind 19e eeuw
De Chileense dichter en schrijver Sergio Badilla Castillo werd geboren in Valparaíso op 30 november 1947. Zie ook alle tags voor Sergio Badilla Castillo op dit blog.
THE MAN FROM CARTHAGE

The crowd with spontaneous anxiety fossilizes itself in this anchorage
I came here to hide myself like an old elephant
looking for a place to die
the city I've always loved as if it was my woman.
Although she distanced herself for more than 30 years .
The overseer makes fun of the globetrotter's return
despicable gawky still with his European mind
with phlegmatic manners of a English gentleman
overwhelmed by secret enemies:
It is old Strindberg walking in Karlavägen under the snow
or perhaps myself at noon in the coastal promenade,
wandering around aimlessly to recover the lost tracks
on the pavement.
Mathematical confusions explain my ominous years.
I remain perplex when an imprudent lady consults about my
mother's health and then I think I'm still transcendent
behind all the skylights and inner doors.
The exile /at heart/ was more a lack of affection than expatriation
and perhaps not what I expect from this return.
The light of a lamppost partly obstructs / my eyes' obstinate
glance with sincere restlessness. The sea is there and escapes in the horizon of the prospect of my gaze
August Strindberg /decayed and bearded/ has returned to Stockholm
He reads a volume /at the blue tower of Drottninggatan/ about a solitary man in front of the sea in Carthage.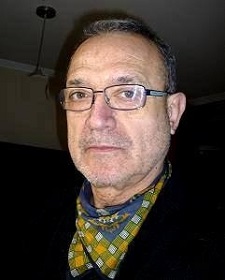 Sergio Badilla Castillo (Valparaíso, 30 november 1947)
De Amerikaanse toneelschrijver en filmregisseur David Mamet werd geboren op 30 november 1947 in Chicago. Zie ook alle tags voor David Mamet op dit blog.
Uit: Why I Am No Longer a 'Brain-Dead Liberal'
"These cherished precepts had, over the years, become ingrained as increasingly impracticable prejudices. Why do I say impracticable? Because although I still held these beliefs, I no longer applied them in my life. How do I know? My wife informed me. We were riding along and listening to NPR. I felt my facial muscles tightening, and the words beginning to form in my mind: Shut the fuck up. "?" she prompted. And her terse, elegant summation, as always, awakened me to a deeper truth: I had been listening to NPR and reading various organs of national opinion for years, wonder and rage contending for pride of place. Further: I found I had been—rather charmingly, I thought—referring to myself for years as "a brain-dead liberal," and to NPR as "National Palestinian Radio."
This is, to me, the synthesis of this worldview with which I now found myself disenchanted: that everything is always wrong.
But in my life, a brief review revealed, everything was not always wrong, and neither was nor is always wrong in the community in which I live, or in my country. Further, it was not always wrong in previous communities in which I lived, and among the various and mobile classes of which I was at various times a part.
And, I wondered, how could I have spent decades thinking that I thought everything was always wrong at the same time that I thought I thought that people were basically good at heart?"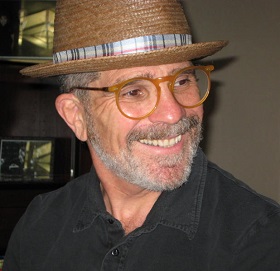 David Mamet (Chicago, 30 november 1947)
De Amerikaanse schrijver Wil Mara werd geboren op 30 november 1966 in de buurt van Long Beach Island, New Jersey. Zie ook alle tags voor Wil Mara op dit blog.
Uit: Blown Away!


"She went up to Jewel and petted her nose. Jewel seemed to like it. "Excuse me. I couldn't help overhearing. I love mules, as you can probably tell. And this one is pretty, and sweet, too." The girl's long red hair, which was held back with a white headband, reminded me of Rudy's tail. I felt a bit ashamed when the thought crossed my mind; comparing a girl's hair to a dog's tail wasn't very nice. But Rudy's tail was beautiful -- long and silky -- and the girl's hair, which fell to her waist, was long and silky too.
"I was to meet my aunt Edith here, but she's late. Can you tell me how to find Edith Kraynanski's house?" she asked.
Dad and I looked at each other in surprise. Edith Kraynanski was a Polish lady who had lived alone in her tidy little house for as long as I could remember. She was known for the delicious Polish food that she often shared with her neighbors. We never knew she had any family. "I'll show you where she lives," I offered. "But first I should help Sharkey with the mule and the dog."
"I'll give Sharkey a hand," Dad offered. "After you take..." He paused.
"Mara," the girl said, holding out her hand. "Mara Lynn Kraynanski."
"How do you do, Mara," Dad said, shaking her hand. "I'm Doug Pitney, and this is my son, Jake. We live at the general store down the road apiece, and your aunt Edith lives near us." He turned to me. "Jake, take Mara's suitcase and show her to Miss Edith's place. I'll help with the mule until you can get back to Sharkey's."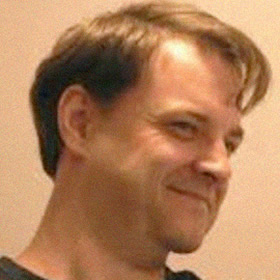 Wil Mara (Long Beach Island, 30 november 1966)
30-11-2013 om 14:23 geschreven door Romenu

Tags:Winston Churchill, Lucy Maud Montgomery, Rudolf Lavant, John Bunyan,Sergio Badilla Castillo, David Mamet, Wil Mara, Romenu



| | |
| --- | --- |
| | |



Inhoud blog


| | |
| --- | --- |
| | Pinksteren II (Willem de Mérode) |
| | Gabriele Wohmann, Amy Waldman, Maria Semple, Urs Widmer, Emile Verhaeren, Robert Creeley, Alexander Pope, Tudor Arghezi, Suzanne Lilar |
| | Pinksteren I (Willem de Mérode) |
| | Tommy Wieringa, Auke Hulst, Ellen Deckwitz, Jeroen Thijssen, Maurits de Bruijn, Gerrit Achterberg, Annie M.G. Schmidt, Sky du Mont |
| | Honoré de Balzac, William Michaelian, Wolfgang Borchert, Hector Malot, Ingvar Ambjørnsen, A.C. Cirino, Hanna Krall, Sigrid Undset |
| | Constantin Göttfert, Simone van Saarloos, Karel van het Reve, Gijs IJlander, Thera Coppens, H.W.J.M. Keuls, Jodi Picoult |
| | Ruskin Bond, Yahya Hassan, Fritz Rudolf Fries, Lorraine Hansberry, Rahel Varnhagen, Anna Jameson |
| | Yi Mun-yol, W.G. Sebald, Markus Breidenich, François Nourissier, Gunnar Gunnarsson, Omar Khayyam, Ernst Wiechert, Franziska zu Reventlow, John Wilson |
| | Lars Gustafsson, Peter Høeg, Eva Schmidt, Gary Paulsen, Henri Barbusse, Virginie Loveling, Dennis Potter, Cor Bruijn, Dorothy Richardson |
| | Paul Gellings, Adrienne Rich, Friedrich Rückert, Jakob van Hoddis, Juan Rulfo, Olaf J. de Landell, Olga Berggolts, Lothar Baier, Rens van der Knoop |
| | Mai (Johann Wolfgang von Goethe) |
| | Albert Verwey, Arthur Schnitzler, Pem Sluijter, W.J.M. Bronzwaer, Frits van Oostrom, Michael Lentz, Max Frisch, Judith Hermann, Mary Wortley Montagu |
| | In Memoriam Tom Wolfe |
| | Jo Gisekin, Karl-Markus Gauß, Eoin Colfer, Gaby Hauptmann, Wilma Vermaat, Frans Bastiaanse, Dante Alighieri, Krister Axel, Jens Sparschuh |
| | Moeder (M. Vasalis) |
| | Johannes (Willem de Mérode) |
| | Jan Lauwereyns, Reinout Verbeke, Bruce Chatwin, Daphne du Maurier, Kathleen Jamie, Armistead Maupin, Alphonse Daudet, Kōji Suzuki |
| | Theo van Baaren, Gregor von Rezzori, Reinhold Schneider, Jacob Haafner, Adolf Muschg, Roch Carrier, Franz Michael Felder |
| | Hagar Peeters, Bertus Aafjes, August Vermeylen, Andrej Voznesensky, Sabine Imhof, Dante Gabriel Rossetti |
| | Nicolaas Anslijn, Eva Demski, Farley Mowat, Werner Bräunig, Cäsar Flaischlen |
| | Edward Lear, Diana Raznovich, Andrej Amalrik, Maurice Carême, Massimo Bontempelli |
| | J. H. Leopold, Ida Gerhardt, Eva Menasse, Eugen O. Chirovici, Andre Rudolph, Rubem Fonseca, Henning Boëtius, Camilo José Cela, Rachel Billington |
| | De hemelvaart (Nicolaas Beets) |
| | J.C. Bloem, Herman Leenders, Didi de Paris, Ralf Rothmann, Jeremy Gable, Petra Hammesfahr, Roberto Cotroneo, Antonine Maillet, Johann Peter Hebel |
| | Jayne Cortez, Barbara Taylor Bradford, Benito Pérez Galdós, Ivan Cankar, Martin Boelitz, Ariel Durant, Fritz von Unruh, Leonard Buyst |
| | My Computer Ate My Homework 3, Dolce far niente, Gene Ziegler, Pieter Boskma, Jorie Graham, Luuk Wojcik |
| | Roddy Doyle, Thomas Pynchon, Pat Barker, Gary Snyder, Gertrud Fussenegger, Edmund Wilson, Alain-René Lesage, Sophus Schandorph, Romain Gary |
| | Libris Literatuurprijs 2018 voor Murat Isik |
| | Willem Elsschot, Almudena Grandes, Christoph Marzi, Edgar Cairo, Volker Braun, Robert Browning, Peter Carey, Archibald MacLeish, Rabindranath Tagore |
| | In Memoriam Renate Dorrestein |
| | Beloved, let us love one another,' says St. John (Christina Rossetti) |
| | Willem Kloos, Hélène Gelèns, Sasja Janssen, Ariel Dorfman, Erich Fried, Yasushi Inoue, Harry Martinson, Christian Morgenstern, Carl Ludwig Börne |
| | Ferdinand Sauter, Eugène Labiche, Gaston Leroux, Júlio César de Mello e Souza, Marie-Aude Murail, Paul Alverdes, Erik Bindervoet, Simon Mulder |
| | Als je de vrijheid tegenkomt (Ankie Peypers) |
| | Roni Margulies, Miklós Radnóti, Petra Else Jekel, Morton Rhue, Christopher Morley, George Albert Aurier |
| | Henryk Sienkiewicz, Richard Watson Dixon, Hans Werner Kolben, Christian Friedrich Scherenberg, Catullus |
| | Oorlog (Rutger Kopland) |
| | Christiaan Weijts, Amos Oz, J.W.F. Werumeus Buning, Cola Debrot, Graham Swift, Monika van Paemel, David Guterson, Jan Mulder, Werner Fritsch |
| | Erik Lindner, Jehuda Amichai, Johan de Boose, Paul Bogaert, Marc Dugain, Ben Elton, Klaus Modick, Agnès Desarthe, Juan Gelman |
| | Esther Freud, Wytske Versteeg, Rob Waumans, Tilman Rammstedt, James Holmes, Theo Sontrop, Jef Last, Gottfried Benn, Novalis |
| | What Work Is (Philip Levine) |
| | Guido Gezelle, Johano Strasser, Yasmina Reza, Joseph Heller, Yánnis Rítsos, Antal Szerb, Ignazio Silone, Aleksander Wat, Reinier van Genderen Stort |
| | Jeroen Brouwers, Alexander Osang, Ulla Hahn, Luise Rinser, John Boyne, Annie Dillard, Jaroslav Hasek, Jacob Hiegentlich, Kno'Ledge Cesare |
| | Der Weinstock und die Reben (Julie Hausmann) |
| | Konstantínos Petros Kaváfis, Rod McKuen, Bernhard Setzwein, Monika Rinck, Alejandra Pizarnik, Walter Kempowski, Bjarne Reuter, Kurt Pinthus, Humphrey Carpenter |
| | Wim Hazeu, Gerbrand Bakker, Zia Haider Rahman, Roberto Bolaño, Gerhard Henschel, Harper Lee, Joop Waasdorp |
| | Karl Kraus, Ğabdulla Tuqay, Charles Cotton, Nezahualcóyotl, Auguste Barbier, Bruno Apitz |
| | Astrid Roemer, Robert Anker, André Schinkel, Didier Daeninckx, Hovhannes Shiraz, August Wilson, Edwin Morgan, Jules Lemaître, Cecil Day Lewis |
| | Als ik koning was (Michel van der Plas) |
| | Bernard Malamud, Vincente Alexandre, Carl-Christian Elze, Hannelies Taschau, Theun de Vries, Hertha Kräftner, Johann Uhland, Margreet van Hoorn, Leo Stilma |


Gastenboek


Druk op onderstaande knop om een berichtje achter te laten in mijn gastenboek