E-mail mij


Druk op onderstaande knop om mij te e-mailen.


Romenu


Romenu is een blog over gedichten, literatuur en kunst Maar Romenu is ook een professionele freelance vertaler
Du-Ne en Ne-Du http://www.romenu.nl.


Huur eens een (vakantie)huis in een natuurgebied, dichtbij het centrum van Nijmegen


Google


Georg Trakl

Georg Trakl werd op 3 februari 1887 in het conducteurshuis aan de Waagplatz 2 in Salzburg geboren. Zijn vader, Tobias Trakl, was een handelaar in ijzerwaren en zijn moeder, die ook psychische problemen had, was Maria Catharina Trakl, (meisjesnaam Halik). Voorts had hij nog drie broers en drie zussen. Margarethe (doorgaans Grethe genoemd) stond hem het naast, zelfs zodanig dat sommigen een incestueuze verhouding vermoeden. Zijn jeugd bracht hij door in Salzburg. Vervolgens bezocht hij van 1897 tot 1905 het humanistische gymnasium. Om toch een academische opleiding te kunnen volgen, werkte hij tot 1908 in de praktijk bij een apotheker. Sommigen vermoedden dat hij dit vooral deed om zichzelf opiaten te kunnen verschaffen. Bij het uitbreken van WO I werd Trakl als medicus naar het front in Galicië (heden ten dage in Oekraďne en Polen) gestuurd. Zijn gemoedsschommelingen leidden tot geregelde uitbraken van depressie, die verergerd werden door de afschuw die hij voelde voor de verzorging van de ernstig verwonde soldaten. De spanning en druk dreven hem ertoe een suďcidepoging te ondernemen, welke zijn kameraden nochtans verhinderden. Hij werd in een militair ziekenhuis opgenomen in Kraków, alwaar hij onder strikt toezicht geplaatst werd.Trakl verzonk daar in nog zwaardere depressies en schreef Ficker om advies. Ficker overtuigde hem ervan dat hij contact moest opnemen met Wittgenstein, die inderdaad op weg ging na Trakls bericht te hebben ontvangen. Op 4 november 1914, drie dagen voordat Wittgenstein aan zou komen, overleed hij echter aan een overdosis cocaďne


Paul Celan

Paul Celan werd onder de naam Paul Antschel op 23 november 1920 geboren in Czernowitz, toentertijd de hoofdstad van de Roemeense Boekovina, nu behorend bij de Oekraďne. Paul Celans ouders waren Duitssprekende joden die hun zoon joods opvoedden en hem naar Duitse christelijke scholen stuurden. In 1942 werden Celans ouders door de Duitse bezetter naar een werkkamp gedeporteerd en daar vermoord. Hijzelf wist aanvankelijk onder te duiken, maar moest vanaf juli 1942 in een werkkamp dwangarbeid verrichten. Celan overleefde de oorlog. Via Boekarest en Wenen vestigde Celan zich in 1948 in Parijs. Daar was hij werkzaam als dichter, vertaler en doceerde hij aan de prestigieuze Ecole Normale Supérieure. Vermoedelijk op 20 april 1970 beëindigde hij zijn leven zelf door in de Seine te springen.


Gerard Reve

Gerard Reve over: Medearbeiders "God is in de mensen, de dieren, de planten en alle dingen - in de schepping, die verlost moet worden of waaruit God verlost moet worden, door onze arbeid, aangezien wij medearbeiders van God zijn." Openbaring "Tja, waar berust elk godsbegrip op, elke vorm van religie? Op een openbaring, dat wil zeggen op een psychische ervaring van zulk een dwingende en onverbiddelijke kracht, dat de betrokkene het gevoel heeft, niet dat hij een gedachte of een visioen heeft, maar dat een gedachte gedachte of visioen hem bezit en overweldigt."


Simon Vestdijk
Simon Vestdijk (Harlingen, 17 oktober 1898 – Utrecht, 23 maart 1971) was een Nederlands romancier, dichter, essayist en vertaler. Zijn jeugd te Harlingen en Leeuwarden beschreef hij later in de Anton Wachter-cyclus. Van jongs af aan logeerde hij regelmatig bij zijn grootouders in Amsterdam, waar hij zich in 1917 aan de Universiteit van Amsterdam inschrijft als student in de medicijnen. Tijdens zijn studie die van 1917 tot 1927 duurde, leerde hij Jan Slauerhoff kennen.Tot 1932 is hij als arts in praktijken door heel Nederland werkzaam. In 1932 volgt zijn officiële schrijversdebuut met de uitgave van de bundel Verzen in De Vrije Bladen. Doorslaggevend voor Vestdijks uiteindelijke keuze voor de literatuur is zijn ontmoeting in 1932 met Eddy Du Perron en Menno ter Braak. Deze ontmoeting had tot resultaat dat hij redactielid werd van het tijdschrift Forum Kort daarop, in 1933, wordt zijn eerste novelle, De oubliette, uitgegeven. In hetzelfde jaar schrijft hij Kind tussen vier vrouwen, dat, eerst geweigerd door de uitgever, later de basis zal vormen voor de eerste drie delen van de Anton Wachter-romans. In 1951 ontvangt Vestdijk de P.C. Hooftprijs voor zijn in 1947 verschenen roman De vuuraanbidders. In 1957 wordt hij voor het eerst door het PEN-centrum voor Nederland voorgedragen voor de Nobelprijs voor de Literatuur, die hij echter nooit zal krijgen. Op 20 maart 1971 wordt hem de Prijs der Nederlandse Letteren toegekend, maar voor hij deze kan ontvangen overlijdt hij op 23 maart te Utrecht op 72-jarige leeftijd. Vestdijk was auteur van ca. 200 boeken. Vanwege deze enorme productie noemde de dichter Adriaan Roland Holst hem 'de man die sneller schrijft dan God kan lezen'. Andere belangrijke boeken van Simon Vestdijk zijn: "Kind van stad en land" (1936), "Meneer Visser's hellevaart" (1936), "Ierse nachten" (1946), "De toekomst de religie" (1947), "Pastorale 1943" (1948), "De koperen tuin" (1950), "Ivoren wachters" (1951), "Essays in duodecimo" (1952) en "Het genadeschot" (1964).


K.P. Kavafis

K.P. Kavafis werd als kind van Griekse ouders, afkomstig uit Konstantinopel, geboren in 1863 in Alexandrië (tot vandaag een Griekse enclave) waar hij ook het grootste deel van zijn leven woonde en werkte. Twee jaar na de dood van zijn vader verhuist het gezin in 1872 naar Engeland om na een verblijf van vijf jaar naar Alexandrië terug te keren. Vanwege ongeregeldheden in Egypte vlucht het gezin in 1882 naar Konstantinopel, om na drie jaar opnieuw naar Alexandrië terug te gaan. In de jaren die volgen maakt Kavafis reizen naar Parijs, Londen en in 1901 zijn eerste reis naar Griekenland, in latere jaren gevolgd door nog enkele bezoeken. Op de dag van zijn zeventigste verjaardag, in 1933 sterft Kavafis in Alexandrië. De roem kwam voor Kavafis pas na zijn dood, dus postuum. Deels is dat toe te schrijven aan zijn eigen handelswijze. Hij was uiterst terughoudend met de publicatie van zijn gedichten, liet af en toe een enkel gedicht afdrukken in een literair tijdschrift, gaf in eigen beheer enkele bundels met een stuk of twintig gedichten uit en het merendeel van zijn poëzie schonk hij op losse bladen aan zijn beste vrienden.


Thomas Mann


Thomas Mann, de jongere broer van Heinrich Mann, werd geboren op 6 juni 1875 in Lübeck. Hij was de tweede zoon van de graankoopman Thomas Johann Heinrich Mann welke later één van de senatoren van Lübreck werd. Zijn moeder Julia (geboren da Silva-Bruhns) was Duits-Braziliaans van Portugees Kreoolse afkomst. In 1894 debuteerde Thomas Mann met de novelle "Gefallen". Toen Thomas Mann met 21 jaar eindelijk volwassen was en hem dus geld van zijn vaders erfenis toestond - hij kreeg ongeveer 160 tot 180 goldmark per jaar - besloot hij dat hij genoeg had van al die scholen en instituties en werd onafhankelijk schrijver. Kenmerkend voor zijn stijl zijn de ironie, de fenomenale taalbeheersing en de minutieuze detailschildering. Manns reputatie in Duitsland was sterk wisselend. Met zijn eerste roman, Buddenbrooks (1901), had hij een enorm succes, maar door zijn sceptische houding tegenover Duitsland na de Eerste Wereldoorlog veranderde dit volledig. Stelde hij zich tot aan de jaren twintig apolitiek op (Betrachtungen eines Unpolitischen, 1918), meer en meer raakte hij bij het Politiek gebeuren betrokken. Zijn afkeer van het nationaal socialisme groeide, zijn waarschuwingen werden veelvuldiger en heftiger. In 1944 accepteerde hij het Amerikaanse staatsburgerschap. Tussen 1943 en 1947 schreef Mann Doktor Faustus (zie Faust), de roman van de 'Duitse ziel' in de gecamoufleerd geschilderde omstandigheden van de 20ste eeuw. In 1947 bezocht hij voor het eerst sinds de Oorlog Europa, twee jaar later pas Duitsland. In 1952 vertrok hij naar Zwitserland. Op 12 augustus 1955 stierf hij in Zürich. Twintig jaar na zijn dood, in aug. 1975, is zijn literaire nalatenschap geopend: dagboekaantekeningen van 15 maart 1933 tot 29 juli 1955, alsmede notities uit de jaren 1918 tot en met 1921.Belangrijke werken zijn: Der Zauberberg, Der Tod in Venedig, Dokter Faustus , Joseph und seine Brüder en Die Bekenntnisse des Hochstaplers Felix Krull.


Rainer Maria Rilke

Rilke werd op 4 december 1875 geboren in Praag. Hij had al naam gemaakt als dichter met zijn bundels Das Stundenbuch en Das Buch der Bilder, toen hij de literaire wereld versteld deed staan en wereldfaam verwierf met de publicatie van zijn twee delen Neue Gedichte in 1907 en 1908. Hij verzamelde daarin het beste werk uit een van zijn vruchtbaarste periodes, die hij grotendeels doorbracht in Parijs. Rilke was daar diep onder de indruk gekomen van Rodin, bij wie hij een tijdlang in dienst was als particulier secretaris. Rodin, zei hij later, had hem leren kijken. Dit kijken kwam neer op intense concentratie, om het mysterie te kunnen zien 'achter de schijnbare werkelijkheid'. Latere en rijpere werken als Duineser Elegien (1912-1923) en het ronduit schitterende Die Sonette an Orfeus (1924) illustreren Rilkes metafysische visie op het onzegbare, dat haar verwoording vindt in een hermetische muzikale taal. Op 29 december 1926 overlijdt Rilke in het sanatorium in Val-Mont aan de gevolgen van leukemie. Enkele dagen later wordt hij, overeenkomstig zijn wens, begraven op het kerkhof van Raron.


* * * * * * * * * * * * * * * *

| | |
| --- | --- |
| | Over literatuur, gedichten, kunst en cultuur |

12-04-2015

Am ersten Sonntage nach Ostern (Annette von Droste-Hülshoff)
Bij Beloken Pasen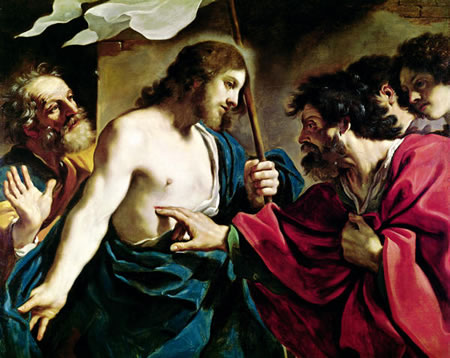 Het Ongeloof van Sint Thomas door Guercino, 1621
Am ersten Sonntage nach Ostern
Evang.: Jesus geht durch verschlossene Türen
und spricht: "Der Friede sei mit Euch!"

Und hast du deinen Frieden denn gegeben
An Alle, die dich sehnen um dein Heil,
So will ich meine Stimme auch erheben:
Hier bin ich, Vater, gib mir auch mein Teil!
Warum sollt' ich, ein ausgeschloßnes Kind,
Allein verschmachtend um mein Erbe weinen?
Warum nicht sollte deine Sonne scheinen,
Wo doch im Boden gute Keime sind?

Oft mein' ich zwar, zum Beten sei genommen
Mir alles Recht, da es so trüb und lau;
Mir könne nur geduldig Harren frommen
Und starrer Aufblick zu des Himmels Blau:
Doch Herr, der du dem Zöllner dich gesellt,
O laß nicht zu, daß ich in Nacht verschwimme;
Dem irren Lamme ruft ja deine Stimme,
Und um den Sünder kamst du in die Welt.

Wohl weiß ich, wie es steht in meiner Seelen,
Wie glaubensarm, wie trotzig und verwirrt,
Wohl weiß ich, daß sich manches mochte hehlen;
Ich fühle, wie es durch die Nerven schwirrt,
Und kraftlos folg' ich seiner trüben Spur.
Mein Helfer, was ich nimmer mag ergründen,
Du kennst es wohl, du weißt es wohl zu finden,
Du bist der Arzt, ich bin der Kranke nur.

Und hast du tief geschaut in meine Sünden,
Wie nicht ein Menschenauge schauen kann;
Hast du gesehn, wie in den tiefsten Gründen
Noch schlummert mancher wüste, dunkle Wahn:
Doch weiß ich auch, daß keine Trän' entschleicht,
Die Deine treue Hand nicht hat gewogen,
Und daß kein Seufzer dieser Brust entflogen,
Der dein barmherzig Ohr nicht hat erreicht.

Du, der verschloßne Türen kann durchdringen,
Sieh, meine Brust ist ein verschloßnes Tor.
Zu matt bin ich, die Riegel zu bezwingen;
Doch siehst du, wie ich angstvoll steh' davor.
Brich ein, brich ein! O komm mit deiner Macht,
Laß Liebe gelten, da gering der Glaube,
O laß mich schauen deine Friedenstaube,
Laß fallen deinen Strahl in meine Nacht!

Nicht weich' ich, eh' ich einen Schein gesehen,
Und wär' er schwach wie Wurmes Flimmer auch;
Und nicht von dieser Schwelle will ich gehen,
Bis ich vernommen deiner Stimme Hauch.
So sprich, mein Vater, sprich denn auch zu mir
Mit jener Stimme, die Maria nannte,
Als sie verkennend, weinend ab sich wandte,
O sprich: "Mein Kind, der Friede sei mit dir!"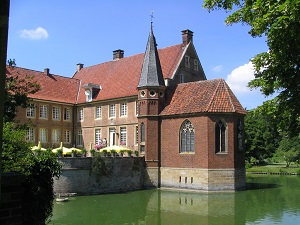 Annette von Droste-Hülshoff (10 januari 1797 – 24 mei 1848)
Slot Hülshoff met de kapel
Zie voor de schrijvers van de 12e april ook mijn vorige twee blogs van vandaag.
12-04-2015 om 12:44 geschreven door Romenu

Tags:Annette von Droste-Hülshoff, Pasen, Beloken Pasen, Romenu



Antje Rávic Strubel, Alan Ayckbourn, Scott Turow, Tom Clancy, Agnes Sapper
De Duitse schrijfster Antje Rávic Strubel werd geboren op 12 april 1974 in Potsdam. Zie ook alle tags voor Antje Rávic Strubel op dit blog.
Uit: Sturz der Tage in die Nacht
"Es ist dieser Herbst gewesen, in dem alles begonnen hat, dieser nördliche Herbst mit seiner schneelosen Kälte, mit seiner erstickend frühen Dunkelheit, dieser Herbst mit seinem grau aufschäumenden Meer und den windgepeitschten Felsen. Es begann in der Nacht, in der es mich hinaus auf die Klippe trieb, die fünfzig, sechzig Meter über der Ostsee aufragt, in der ich dort oben stand und daran dachte, es zu tun, es mit derselben Leichtigkeit, mit demselben instinktiven Vertrauen zu tun wie die Vögel, die sich im Juni von den Felsen stürzen, denn ich war reich, und dieses Gefühl war grenzenlos, und ich wusste, dass es nicht über den Moment hinaus dauern würde, nicht länger andauerte als diese Minuten, in denen ich hier oben stand und der Wind so eisig war, dass mein Gesicht taub wurde und es mir den Atem zurück in die Lunge drückte. Ich wusste, dass es das war, was mich bis an die Kante der Felsen trieb, nicht Verzweiflung, nicht der Gedanke, entdeckt zu werden, oder die Angst vor dem, was dieser Entdeckung folgte. Wenn ich mich da oben nicht umgedreht hätte zum rotierenden Leuchtfeuer, wenn ich nicht zurückgeschaut und mir vorgestellt hätte, wie sie da lag mit den über die Schultern gerutschten Trägern ihres dünnen Nachthemdes, sondern wenn ich weitergegangen wäre, noch einen Schritt über den Rand der Klippe hinaus, dann wäre dieser Reichtum in mir für immer in der eisigen Kälte aufgehoben gewesen.
»Inez. Betonung auf dem e.«
»Das gefällt mir. Klingt spanisch.«
Der Herbst, nicht der Sommer war es, der mich so ausgeglüht hat, dass ich das Gefühl haben werde, richtungslos über den Asphalt zu treiben, wenn die Fähre mich in einer Stunde in dem verödeten Hafen von Klintehamn absetzen wird, von dem aus ich im Juni aufgebrochen war.
Ich hatte eine Woche auf Gotland verbracht. Ich hatte mir die Stadtmauer von Visby angesehen und das Klostertheater in Roma, ich war nach Fårö, Gotlands nördlicher Spitze, gefahren, die bis vor wenigen Jahren noch militärisches Sperrgebiet gewesen war. An Fårös Stränden ragen Kalksteinsäulen auf. Sie sind schlank und porös und wirken im Nebel wie steif aufgerichtete Leichname. Abends saß ich vor meinem Zelt und sah die Mücken tanzen. Es wurde nicht dunkel. Die Sonne verschwand nur für zwei Stunden hinter dem Horizont, der bis zum Morgen nachglühte. Ich schlief schlecht."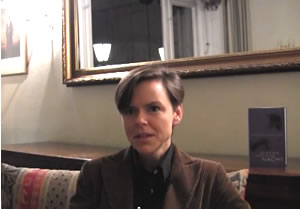 Antje Rávic Strubel (Potsdam, 12 april 1974)
De Britse blijspelauteur Alan Ayckbourn werd geboren op 12 april 1939 in Londen. Zie ook alle tags voor Alan Ayckbourn op dit blog.
Uit: Confusions
« Lucy: Would you care for a drink or something?
Rosemary: A drink? Oh – well – what's the time? Well – I don't know if I should. Half past – oh yes, well – why not? Yes, please. Why not? A little one.
Lucy: Orange or lemon?
Rosemary: I beg your pardon?
Lucy: Orange juice or lemon juice? Or you can have milk.
Rosemary: Oh, I see. I thought you meant...
Lucy: Come on. Orange or lemon? I'm waiting.
Rosemary: Is there a possibility for some coffee?
Lucy: No.
Rosemary Oh.
Lucy: It'll keep you awake. I'll get you an orange, it's better for you.
Rosemary: Oh..."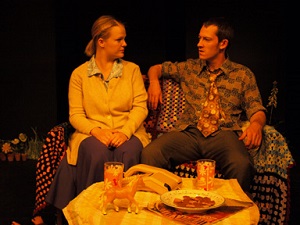 Alan Ayckbourn (Londen, 12 april 1939)
Scene uit "Confusions", Union Theatre, Londen, 2009
De Amerikaanse schrijver en jurist Scott Turow werd geboren op 12 april 1949 in Chicago. Zie ook alle tags voor Scott Turow op dit blog.
Uit: Personal Injuries
"Feaver had heard out the agents in his living room. He was perched on a camelback sofa smartly upholstered in bleached silk, trying to contain himself. To smile. Stay slick. He opened his mouth to speak but was interrupted by the unexpected sensation of a single cold rill of his own sweat tracking the length of his side until it was absorbed in the elastic waistband of his boxers.
And the good news? he asked on second effort.
They were getting to that, the agent said. The good news was that Robbie had an opportunity. Maybe there was something he could do for himself. Something that a person with his family situation ought to consider.
The agent then walked across the marble foyer and opened the front door. The United States Attorney, Stan Sennett, was standing on Robbie's doorstep. Feaver recognized him from TV, a short man, slender, kempt with a compulsive orderliness. A few gnats zagged madly under the light above the careful part in Sennett's head. He greeted Feaver with his in-court expression, humorless as a hatchet blade.
Robbie had never practiced a day of criminal law, but he knew what it meant that the United States Attorney was standing in person on his front stoop late at night. It meant the biggest gun was pointed straight at him. It meant they wanted to make him an example. It meant he'd never get away.
In his terror, Robbie Feaver found a single useful thought.
I want a lawyer, he said.
He was entitled, Sennett finally responded. But perhaps Robbie should listen to him first. As soon as Sennett set a polished brogan across the threshold, Robbie repeated himself."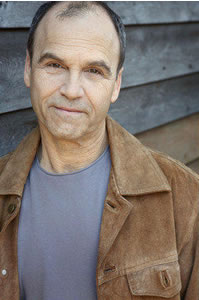 Scott Turow (Chicago, 12 april 1949)
De Amerikaanse schrijver Tom Clancy werd geboren op 12 april 1947 in Baltimore County, Maryland. Zie ook alle tags voor Tom Clancy op dit blog.
Uit: The Teeth of The Tiger
"Lessons learned?" Broughton asked.
"There is no such thing as too much training, sir, or being in too good a shape. The real thing is a lot messier than exercises. Like I said, the Afghans are brave enough, but they are not trained. And you can never know which ones are going to slug it out, and which ones are going to cave. They taught us at Quantico that you have to trust your instincts, but they don't issue instincts to you, and you can't always be sure if you're listening to the right voice or not." Caruso shrugged, but he just went ahead and spoke his mind. "I guess it worked out okay for me and my Marines, but I can't really say I know why."
"Don't think too much, Captain. When the shit hits the fan, you don't have time to think it all the way through. You think beforehand. It's in how you train your people, and assign responsibilities to them. You prepare your mind for action, but you never think you know what form the action is going to take. In any case, you did everything pretty well. You impressed this Hardesty guy—and by the way, he is a fairly serious customer. That's how this happened," Broughton concluded.
"Excuse me, sir?"
"The Agency wants to talk to you," the M-2 announced. "They're doing a talent hunt, and your name came up."
"To do what, sir?"
"Didn't tell me that. They're looking for people who can work in the field. I don't think it's espionage. Probably the paramilitary side of the house. I'd guess that's the new counter-terror shop. I can't say I'm pleased to lose a promising young Marine. However, I have no say in the matter. You are free to decline the offer, but you do have to go up and talk to them beforehand."
"I see." He didn't, really.
"Maybe somebody reminded them of another ex-Marine who worked out fairly well up there..." Broughton half observed."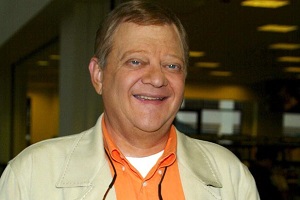 Tom Clancy (12 april 1947- 1 oktober 2013)
De Duitse schrijfster Agnes Sapper werd geboren op 12 april 1852 in München. Zie ook alle tags voor Agnes Sapper op dit blog.
Uit: Die Familie Pfäffling. Eine deutsche Wintergeschichte
"Ihr wollt die Familie Pfäffling kennen lernen? Da muß ich euch weit hinausführen bis ans Ende einer größeren süddeutschen Stadt, hinaus in die äußere Frühlingsstraße. Wir kommen ganz nahe an die Infanteriekaserne, sehen den umzäunten Kasernenhof und Exerzierplatz. Aber vor diesem, etwas zurück von der Straße, steht noch ein letztes Haus und dieses geht uns an. Es gehört dem Schreiner Hartwig, bei dem der Musiklehrer Pfäffling mit seiner großen Familie in Miete wohnt.
Um das Haus herum, bis an den Kasernenhof, erstreckt sich ein Lagerplatz für Balken und Bretter, auf denen Knaben und Mädchen fröhlich herumklettern, turnen und schaukeln. Meistens sind es junge Pfäfflinge, die da ihr Wesen treiben, manchmal sind es auch ihre Kameraden, aber der eine Kleine, den man täglich auf den obersten Brettern sitzen und dabei die Ziehharmonika spielen sieht, das ist sicher kein anderer als Frieder Pfäffling.
Um die Zeit, da unsere Geschichte beginnt, ist übrigens der Hof verlassen und niemand auf dem weiten Platz zu sehen. Heute ist, nach den langen Sommerferien, wieder der erste Schultag. Der Musiklehrer Pfäffling, der schlanke Mann, der noch immer ganz jugendlich aussieht, war schon frühzeitig mit langen Schritten den gewohnten Weg nach der Musikschule gegangen, um dort Unterricht zu geben. Sechs von seinen sieben Kindern hatten zum erstenmal wieder ihre Bücher und Hefte zusammengesucht und sich auf den Schulweg gemacht. Die lange Frühlingsstraße mußten sie alle hinunterwandern, aber dann trennten sich die Wege; die drei ältesten suchten weit drinnen in der Stadt das alte Gymnasiumsgebäude auf, die zwei Schwestern hatten schon etwas näher in die Töchterschule und Frieder, der noch in die Volksschule ging, hätte sein Ziel am schnellsten erreichen können, aber das kleine runde Kerlchen pflegte in Gedanken verloren dahinzugehen und sich mehr Zeit zu lassen als die andern."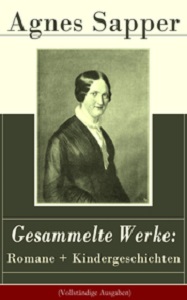 Agnes Sapper (12 april 1852 – 19 maart 1929)
Cover
Zie voor nog meer schrijvers van de 12e april ook mijn vorige blog van vandaag.
12-04-2015 om 12:40 geschreven door Romenu

Tags:Antje Rávic Strubel, Alan Ayckbourn, Scott Turow, Tom Clancy, Agnes Sapper, Romenu



Edward de Vere, José Gautier Benítez, Alexander Ostrovski, Guillaume-Thomas Raynal
De Engelse hoveling, dichter en toneelschrijver Edward de Vere, 17e graaf van Oxford, werd geboren op 12 april 1550 in Castle Hedingham. Zie ook alle tags voor Edward de Vere op dit blog.
Even as the wax doth melt, or dew consume away
Even as the wax doth melt, or dew consume away
Before the sun, so I, behold, through careful thoughts decay;
For my best luck leads me to such sinister state,
That I do waste with others' love, that hath myself in hate.
And he that beats the bush the wished bird not gets,
But such, I see, as sitteth still and holds the fowling nets.

The drone more honey sucks, that laboureth not at all,
Than doth the bee, to whose most pain least pleasure doth befall:
The gard'ner sows the seeds, whereof the flowers do grow,
And others yet do gather them, that took less pain I trow.
So I the pleasant grape have pulled from the vine,
And yet I languish in great thirst, while others drink the wine.

Thus like a woeful wight I wove the web of woe,
The more I would weed out my cares, the more they seemed to grow:
The which betokeneth, forsaken is of me,
That with the careful culver climbs the worn and withered tree,
To entertain my thoughts, and there my hap to moan,
That never am less idle, lo! than when I am alone.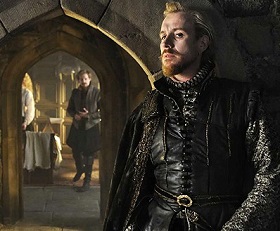 Edward de Vere (12 april 1550 – 24 juni 1604)
Rhys Ifans als Edward De Vere in de film Anonymous uit 2011.
De Puertoricaanse dichter José Gautier Benítez werd geboren op 12 april 1848 in Caguas. Zie ook alle tags voorJosé Gautier Benítez op dit blog.
To My Friends
Oh, my friends, when I die, plant a willow on my grave
When in the glass of my brief day
The sand runs out, and to my rest,
Where sleep the dead, I'm borne away,
Remember this my last behest.
Thrust my remains in none of those
Grim vaults that line the sullen walls,
In whose dread chambers, dark and close,
Our glorious sunlight never falls.
Seek me an open space below:
There, neath the sward make ye my bed,
Where sunbeams play, and breezes blow;
And flowers and shrubs there fragrance spread.
That I may feel - while time rolls on -
Around, above me, ever near,
The warm rays of my country's sun,
The sod of my Borinquen dear!

Vertaald door Francis J. Amy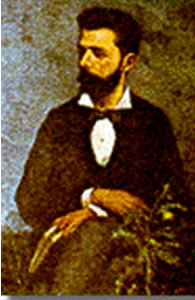 José Gautier Benítez (12 april 1848 – 24 januari 1880)
De Russische toneelschrijver Alexander Nikolajewitsj Ostrovski werd geboren op 12 april 1823 in Moskou. Zie ook alle tags voorAlexander Ostrovski op dit blog.
Uit:The Storm (Vertaald door Constance Garnett)
"KULIGIN. Then there's no doubt, sir, you'll never see your fortune.
BORIS. No, but that's not all, Kuligin! First he finds fault with us to his heart's content, and ends none the less with giving us nothing, or some tiny dole. And then he'll go making out that it's a great favour, and that he ought not to have done even that.
KUDRIASH. That's just the way the merchants go on among us. Besides, if you were ever so respectful to him, who's to hinder him from saying you're disrespectful?
BORIS. To be sure. And indeed he sometimes will say: I've children of my own, why should I give money away to outsiders? Am I to wrong my own like that?
KULIGIN. It's plain, sir, you're not in luck's way.
BORIS. If it were only me, I wouldn't care! I'd throw it all up and go away. But I'm sorry for my sister. He did write for her to come too, but mother's relations wouldn't let her, they wrote she wasn't well. It frightens me to think what the life here would be for her.
KUDRIASH. Of course. The master's no decent manners at all.
KULIGIN. In what capacity do you live with him, sir; what arrangement has he made with you?
BORIS. Why, none whatever; "you live with me," he says, "and do what you're told, and your pay shall be what I give you," that's to say, in a year's time he'll settle up with me as he thinks fit.
KUDRIASH. That's just his way. Not one of us dare as much as hint at a salary, or he storms till he's black in the face. "How do you know," he'll say, "what I have in my mind to do? Do you suppose you can see into my heart? Maybe, I shall be so disposed as to give you five thousand." It's no use talking to him! Only you may be pretty sure he's never been disposed that way in his life.
KULIGIN. It's a hard case, sir! You must try and get the right side of him somehow. "
BORIS. But the point is, Kuligin, that it's impossible. Why, even his own children can never do anything to please him; so it's hardly likely I could! »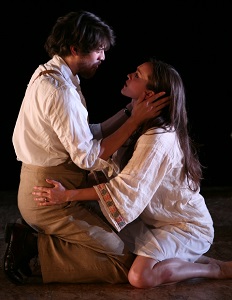 Alexander Ostrovski (12 april 1823 – 14 juni 1886)
Scene uit een opvoering in New York, 2009
De Franse schrijver Guillaume-Thomas Raynal (Abbé Raynal ) werd geboren op 12 april 1713 in Lapanouse de Séverac. Zie ook alle tags voor Guillaume-Thomas Raynal op dit blog.
Uit: On Oppression & the Rise of Black Leadership (Vertaald door Lynn Hunt)
"In all parts the name of the hero, who shall have restored the rights of the human species will be blest; in all parts trophies will be erected to his glory. Then will the black code [each country had its own code of laws regarding slaves or blacks] be no more; and the white code will be a dreadful one, if the conqueror only regards the right of reprisals.
Till this revolution shall take place, the Negroes groan under the oppression of labor, the description of which cannot but interest us more and more in their destiny.
*The author has in mind the fugitive slaves in Jamaica and Dutch Surinam, but almost every colony in the Americas with slaves had its runaway slave societies. The largest ones could be found in the Caribbean and in the interior of the western South American coast."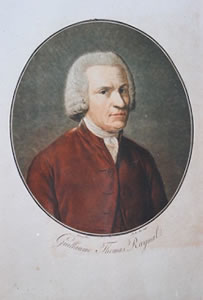 Guillaume-Thomas Raynal (12 april 1713 – 6 maart 1796)
12-04-2015 om 12:32 geschreven door Romenu

Tags:Edward de Vere, José Gautier Benítez, Alexander Ostrovski, Guillaume-Thomas Raynal, Romenu



| | |
| --- | --- |
| | |



Inhoud blog


| | |
| --- | --- |
| | Bernard Malamud, Vincente Alexandre, Carl-Christian Elze, Hannelies Taschau, Theun de Vries, Hertha Kräftner, Johann Uhland, Margreet van Hoorn, Leo Stilma |
| | Erik Menkveld, Ted Kooser, James Fenton, Walter de la Mare, Richard Anders, William Temple, John Keble, Ross Franklin Lockridge Jr., Leopoldo Alas |
| | Frans Coenen, Eric Bogosian, Robert Penn Warren, George Oppen, Sue Grafton, Carl Spitteler, Anthony Trollope, Michael Schaefer, Marcus Clarke |
| | William Shakespeare, Roman Helinski, Pascal Quignard, Peter Horst Neumann, Andrey Kurkov, Halldór Laxness, Christine Busta, Adelheid Duvanel, Richard Huelsenbeck |
| | The Good Shepherd (Stanley Moss) |
| | Giorgio Fontana, Jan de Hartog, Björn Kern, Vladimir Nabokov, Chetan Bhagat, Peter Weber, Jos de Haes, Thommie Bayer, Madame de Staël |
| | Ana María Shua, Louise Glück, Robert Choquette, James Philip Bailey, Henry Fielding, Michael Schulte, Cabrera Infante, Ludwig Renn |
| | The Enkindled Spring (D. H. Lawrence) |
| | Charlotte Brontë, Patrick Rambaud, John Mortimer, Charles den Tex, Ahmed Arif, Michael Mann |
| | Peter Schneider, Meira Delmar, Alistair MacLean, Gerrit Wustmann, Népomucčne Lemercier |
| | Prijs der Nederlandse Letteren voor Judith Herzberg |
| | Martinus Nijhoff, Jan Cremer, Jean Pierre Rawie, Marieke Lucas Rijneveld, Sebastian Faulks, Jozef Deleu, Steve Erickson, Arto Paasilinna, Michel Leiris |
| | Martin Michael Driessen, Marjoleine de Vos, Manuel Bandeira, n. c. kaser, Veniamin Kaverin, Louis Amédée Achard, Pierre-Jean de Béranger, Gudrun Reinboth, Werner Rohner |
| | Wam de Moor, Bas Belleman, Roos van Rijswijk, Hanane Aad, Clara Eggink, Kathy Acker, Joy Davidman, Henry Kendall, Katharina Schwanbeck |
| | Antoon Coolen, Vincent Corjanus, Nick Hornby, Ida Boy-Ed, Thornton Wilder, David Wagner, R.J. Pineiro, Helen Meier, Karen Blixen |
| | Sarah Kirsch, Thomas Olde Heuvelt, Kingsley Amis, Patricia De Martelaere, Tristan Tzara, Ewald Vanvugt, Sibylle Lewitscharoff, Jan Luyken, Anatole France |
| | Emmaüs (Felix Timmermans) |
| | Tomas Tranströmer, Daniël Samkalden, Jérôme Lambert, Patrick Bernauw, Benjamin Zephaniah, Henry James, Wilhelm Busch, Ina Boudier-Bakker |
| | Bliss Carman, Beate Morgenstern, Jeffrey Archer, Bernhard Lassahn, Erich Arendt, Pol De Mont, Staf Weyts, Hans Egon Holthusen |
| | Péter Esterházy, Alexandre Jardin, Tjitse Hofman, Landolf Scherzer, Charles Lewinsky, Roman Graf |
| | Roberto Schopflocher, Martin Kessel, Gabriele Stötzer, Helene Hübener, Gerhard Rohlfs |
| | Nachoem Wijnberg, K. Michel, Alexander Münninghoff, Michel Faber, Jean-Marie Gustave Le Clézio, Samuel Beckett, Seamus Heaney, Tim Krabbé, Eudora Welty |
| | Antje Rávic Strubel, Alan Ayckbourn, Scott Turow, Tom Clancy, Agnes Sapper, Edward de Vere, José Gautier Benítez, Alexander Ostrovski, Guillaume-Thomas Raynal |
| | Leonard Nolens, Mark Strand, Silvia Avallone, Walid Soliman, Dorothy Allison, Hubert Nyssen, Rolf Schilling, Glenway Wescott, Claude Tillier |
| | Leo Vroman, Jan van Mersbergen, Paul Theroux, Claudio Magris, Bella Akhmadulina, Stefan Heym, Richard Wagner, Marcel van Maele, Eric Knight |
| | Charles Baudelaire, Jelle Brandt Corstius, Karel Jonckheere, Joolz Denby, Albert von Schirnding, Johannes Bobrowski, Bernard-Marie Koltčs, Arnold Stadler, Yaël Vinckx |
| | Thomas (Jan Willem Schulte Nordholt) |
| | Herinnering aan Gerard Reve, Hanz Mirck, Christoph Hein, Judith Koelemeijer, Nnedi Okorafor, Barbara Kingsolver |
| | John Fante, Johann Christian Günther, Glendon Swarthout, Martin Grzimek, Hégésippe Moreau, Robert Askins |
| | Den Haag (Paul Rodenko) |
| | Juliana Spahr, William Wordsworth, Özcan Akyol, Gabriela Mistral |
| | Kazim Ali, Annejet van der Zijl, John Pepper Clark, Jakob Ejersbo, Günter Herburger, Uljana Wolf, Brigitte Schwaiger, Julien Torma, Nicolas Chamfort |
| | Iulian Ciocan |
| | Hugo Claus, Martin Reints, Mieke van Zonneveld, Vítězslav Hálek, Algernon Swinburne, Bora Ćosić,, Werner J. Egli, Michael Georg Conrad, Marente de Moor |
| | Maya Angelou, Hanneke Hendrix, Marko Klomp, Marcel Vaarmeijer, E. L. James, Marguerite Duras, Robert Schindel, Michiel van Kempen, Bettina von Arnim |
| | Charles Ducal, Adriaan Jaeggi, Frederik van Eeden, Bert Bakker, Peter Huchel, Arlette Cousture, Pieter Aspe, Karel N.L. Grazell, Washington Irving |
| | Die Sonne geht im Osten auf (Christian Morgenstern) |
| | Thomas Glavinic, Jay Parini, Anneke Claus, Klaus Ender, Konrad Merz, Ed Dorn, Émile Zola |
| | György Konrád, Anne Waldman, Casanova, Hans Christian Andersen, Roberto Arlt, Edgar Hilsenrath, George Fraser |
| | Hoffmann von Fallersleben, Johann Gleim, Pierre Zaccone, Pietro della Valle, Zwier van Haren, Joanna Chmielewska, Brigitte Struzyk |
| | Preis dem Todesüberwinder! (Friedrich Klopstock) |
| | Milan Kundera, Sandro Veronesi, Nikolaj Gogol, Arnold Aletrino, Max Nord, Urs Allemann, Rolf Hochhuth, John Wilmot, Deborah Feldman |
| | Maria Polydouri, Edgar Wallace, Carl Sternheim, Edmond Rostand, Armel Guerne, Friedrich Güll, Antoine Prévost, Josep de Maistre |
| | Litanie van een wachter bij het graf (Willem Jan Otten) |
| | Stefan Hertmans, Octavio Paz, Asis Aynan, Martijn Teerlinck, Marga Minco, Enrique Vila-Matas |
| | Rob Boudestein, Kornej Tsjoekovski, Andrew Lang, Nichita Stănescu, Hartmut Lange, Marge Piercy |
| | Angela Kreuz, Judith Rossner, Andrew Marvell, John Fowles, Edward FitzGerald, Robert Brasillach, Peter Motte |
| | Golgotha (Theo Thijssen) |
| | Gerrit Komrij, Paul Verlaine, Milton Acorn, Erika Mitterer, Uwe Timm, Tom Sharpe, Gert Heidenreich, Theo Breuer, Luise Hensel |
| | Gethsemane (Jacqueline van der Waals) |


Gastenboek


Druk op onderstaande knop om een berichtje achter te laten in mijn gastenboek