De Duitse dichter en schrijver Wolf Wondratschek werd geboren op 14 augustus 1943 in Rudolstadt. Zie ook mijn blog van 14 augustus 2008. en ook mijn blog van 14 augustus 2009.
In einem kleinen Zimmer in Paris

In einem kleinen Zimmer in Paris,
wo ich den Kopf vor Sehnsucht gegen alle Wände stieß
und deinen Namen leise in die Spiegel schrie,
doch keiner kam und niemand nahm mich in den Arm
wie du, der mich verließ.
Und als du gingst, hast du gesagt:
"Du machst das schon, mein Kleines, irgendwie!"
Oh ja, mein Mann! Ich mach das schon.
Ich weine ohne Träne jede Nacht,
ich liebe dich, auch wenn es einsam macht,
ich sterbe so dahin
und frag nicht mehr nach einem Sinn
in diesem kleinen Zimmer hier,
wo Gaukler wohnten, Trinker, Diebe,
es war umsonst, denn es war Liebe.

Die Liebe mit dem Leben büßen
Warten, bis das Leben dich vergisst
Jede Nacht, sie bleibt in mir
Auch wenn es Tag geworden ist.

Dann war es still.
Dann gingen viele Jahre hin
und ich blieb hier,
in diesem kleinen Zimmer in Paris
und trank mit Trinkern auf ihr Glück
und sang mit Gauklern Liebeslieder
und morgens kamen auch die Diebe wieder,
nur du kamst nie zurück.
Fliehende sind wir
"Ungleiches Paar, beide
kalt genug für das kälteste Unglück
Gegner, die auf keine zweite
Chance warten -

solche Gegner gehen niemal einen Schritt zurück
und bleiben doch einander unnahbar bis in ihr Schweigen
in dem, was einmal Feuer war und Liebesglück
ausglüht zu Asche

Und wie auf Gesichtern von Toten
siehst du ihr letztes Erstaunen erkalten
Fliehende sind wir, die sich festhalten

Reisende durch leere Zimmer
Gleichgültig schluchzen die Geigen noch immer
Sterbende betteln um Dollarnoten"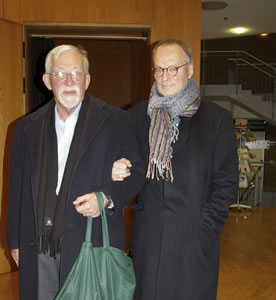 Wolf Wondratschek (Rudolstadt, 14 augustus 1943)
Hier met de Zweedse dichter Lars Gustafsson (links)
De Amerikaanse schrijfster Danielle Steel werd geboren in New York op 14 augustus 1947. Zie ook mijn blog van 14 augustus 2008 en ook mijn blog van 14 augustus 2009.
Uit: H. R. H.
"Christianna stood at her bedroom window, looking down at the hillside in the pouring rain. She was watching a large white dog, soaking wet with matted hair, digging excitedly in the mud. Every now and then he would look up at her and wag his tail, and then return to digging again. He was the Great Pyrenees her father had given her eight years before. His name was Charles, and in many ways he was her best friend. She laughed as she watched him chase a rabbit that eluded him and promptly disappeared. Charles barked frantically and then splashed happily through the mud again, looking for something else to pursue. He was having a great time, as Christianna was, watching him. It was the last of summer and the weather was still warm. She had returned to Vaduz in June, after four years of college in Berkeley. Coming home had been something of a shock, and so far the best thing about her homecoming was Charles. Other than her cousins in England and Germany, and acquaintances throughout Europe, her only friend was Charles. She led a sheltered and isolated life, and always had. It seemed unlikely she would see her Berkeley friends again.
As she watched the dog disappear toward the stables, Christianna hurried out of her room, intent on going outside and following him. She grabbed her riding slicker and a pair of rubber boots she used to muck out her horse's stall, and ran down the back stairs. She was grateful that no one noticed her, and a moment later she was outside, sliding through the mud and running after the big white dog. She called his name, and in an instant he bounded up to her, nearly knocking her down. He wagged his tail, splashing water everywhere, put a muddy paw on her, and when she bent to stroke him, he reached up and licked her face, and then ran away again as she laughed. Together, they ran side by side along the bridle path. It was too wet today to ride".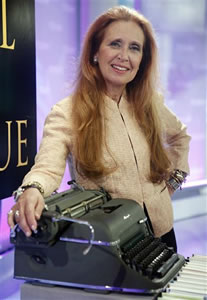 Danielle Steel (New York, 14 augustus 1947)
De Duitse schrijver Erwin Strittmatter werd geboren op 14 augustus 1912 in Spremberg. Zie ook mijn blog van 14 augustus 2008 en ook mijn blog van 14 augustus 2009.
Uit: Kalender ohne Anfang und Ende
NÄCHSTES JAHR nehmen wir Einzelzimmer, sagte meine Geliebte im Vorjahr. Ein guter Einfall, sagte ich, da muß ich nicht mehr fürchten, daß ich dich störe, wenn ich meinem kleinen Taschentonband etwas einsage, muß nicht mehr hinaus in den Park, wenn es gar zuviel ist, was ich auf dieses Zelluloid- oder Plasteband einzureden habe, muß nicht, wenn meine auszementierte Diktierbahn unter dem Damm bei Regenwetter von Liebespaaren besetzt ist, hinauf auf den Damm, wo der Váh-Wind mich packt und wo die Kälte mich trotz meiner Lederjacke zu fassen bekommt und mir bis unter die Haut kriecht. Nicht zu vergessen, daß du mich nachts nicht mehr stören wirst, sagte meine Geliebte, wenn du bei halber Nacht das Licht einschaltest und liest bis zum Morgen. Du vergißt, sagte ich, daß ich aufwach, weil du schnarchst, und daß ich lange wach lieg, ehe ich mich entschließen kann, dich zu wecken, aber dann tue ich es. Ja, und dann bin ich wach, sagte meine Geliebte, und du schläfst ein und schnarchst.
Also, es blieb dabei, wir nahmen Einzelzimmer, und nun haben wir sie. Das hat seine Romantik und macht mein Piest'anyer Märchen noch märchenhafter. Ich darf tatsächlich diktieren, wann ich will oder wann mir danach ist, und ich platze nicht in den Essay hinein, den meine Geliebte über eine gemeinsame Freundin in Ungarn, über eine Malerin, schreibt. Wir wissen weniger voneinander. Eines weiß die Badezeiten des anderen nur dunkel, und wir lassen auch im finstern, wann wer zur Massage geht, aber wir haben eine neue Aufgabe, ich jedenfalls, eine romantische Aufgabe. Das beschäftigt mich ziemlich, fast kriminalistisch, aber mindestens so arg wie einen jungen eifersüchtigen Liebhaber, festzustellen, wo meine Geliebte sich in dieser oder jener Stunde befindet, und sie aufzuspüren. Oft ist es dann so, als ob wir uns in der großen Welt zum ersten Mal träfen, und das hat seinen Reiz, das übt seine Macht aus auf unser Zueinander.
Aber an manchen Abenden, wenn jedes von uns seinen Zimmerschlüssel aus der Tasche zieht, seine eigene Tür aufschließt, und wenn durchs mondhelle Zimmer hindurch in den blühenden Kastanien von gegenüber die Nachtigall ihre Roller und Schleifer, ihr gar nicht so sanftes Getön, sondern ihren harten, fordernden Schlag (nein nicht) in die Nacht hinausläßt, sondern hinausstößt, sagt meine Geliebte, das machen wir aber nie wieder.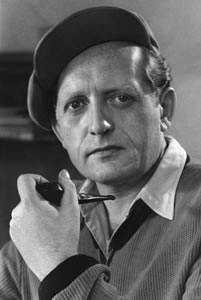 Erwin Strittmatter (14 augustus 1912 – 31 januari 1994)
De Duitse schrijfster Carola Herbst werd geboren op 14 augustus 1960 in Rostock. Zie ook mijn blog van 14 augustus 2008 en ook mijn blog van 14 augustus 2009.
Uit: Weiße Geheimnisse
"Wenn man in Rostock geboren und aufgewachsen ist, glaubt man lange Zeit, man könne dieser Stadt niemals den Rücken zukehren.
Vom Küchenfenster unserer Neubauwohnung aus konnte ich an Sonntagen die alten Glocken schlagen hören, und ich lauschte andächtig.
Irgendwann begannen meine Freundinnen und ich, die alten Gemäuer der Stadt auf eigene Faust zu erkunden und stießen auf viele freundliche Leute, die uns, wohl verwundert über das eher ungewöhnliche Interesse einiger Backfische, bereitwillig Kirchenportale öffneten und uns sogar hinter schmiedeeiserne Türen geheimnisvoller Grabkapellen schauen ließen. Überall spürte ich den Atem der Geschichte.
Doch nichts berührte mich mehr, als ein riesiges Ölgemälde, es hing damals im Ostchor der Marienkirche. Ich stand davor und begriff plötzlich, in einer Zeit leben zu dürfen, in der die den Kriegskindern nachfolgende Generation Krieg und Zerstörung, zumindest im Herzen Europas, nicht durch eigenes Erleben würde kennen lernen müssen und ich bin dankbar dafür.
Der Künstler war vogelgleich über St. Marien geschwebt und hatte auf die unversehrt wirkende Kirche geschaut, die inmitten eines gewaltigen Trümmerfeldes wie ein unzerstörbares Bollwerk aufragte. Wir haben ein Geschenk erhalten, denn St. Jacobi und St. Petri brannten in den Bombennächten von 1942, ganze Stadtquartiere fielen in Schutt und Asche.
Die Wunden der Vergangenheit sind vernarbt, vieles, was unwiederbringlich verloren ging, lebt in Erinnerungen, in alten Fotos, alten Kupferstichen und Gemälden weiter und wenn man ganz genau hinschaut, dann entdeckt man die Straßen, Wege und Plätze, auf denen Franz den Spuren seines Bruders folgte."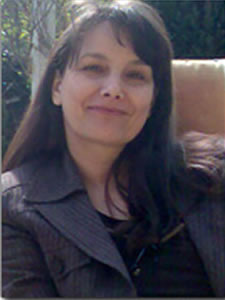 Carola Herbst (Rostock, 14 augustus 1960)

De Schotse dichter en schrijver Sir Walter Scott werd geboren in Edinburgh op 14 augustus 1771. Zie ook mijn blog van 14 augustus 2008 en ook mijn blog van 14 augustus 2009.
Uit: Waverley Or t' Is Sixty Years Since
"It is, then, sixty years since Edward Waverley, the hero of the following pages, took leave of his family, to join the regiment of dragoons in which he had lately obtained a commission. It was a melancholy day at Waverley-Honour when the young officer parted with Sir Everard, the affectionate old uncle to whose title and estate he was presumptive heir.
A difference in political opinions had early separated the Baronet from his younger brother Richard Waverley, the father of our hero. Sir Everard had inherited from his sires the whole train of Tory or High-Church predilections and prejudices which had distinguished the house of Waverley since the Great Civil War. Richard, on the contrary, who was ten years younger, beheld himself born to the fortune of a second brother, and anticipated neither dignity nor entertainment in sustaining the character of Will Wimble. He saw early that, to succeed in the race of life, it was necessary he should carry as little weight as possible.
Painters talk of the difficulty of expressing the existence of compound passions in the same features at the same moment; it would be no less difficult for the moralist to analyse the mixed motives which unite to form the impulse of our actions. Richard Waverley read and satisfied himself from history and sound argument that, in the words of the old song,
Passive obedience was a jest,
And pshaw! was non-resistance;
yet reason would have probably been unable to combat and remove hereditary prejudice could Richard have anticipated that his elder brother, Sir Everard, taking to heart an early disappointment,
would have remained a bachelor at seventy-two. The prospect of succession, however remote, might in that case have led him to endure dragging through the greater part of his life as 'Master Richard at the Hall, the Baronet's brother,' in the hope that ere its conclusion he should be distinguished as Sir Richard Waverley of Waverley-Honour, successor to a princely estate, and to extended political connections as head of the county interest in the shire where it lay."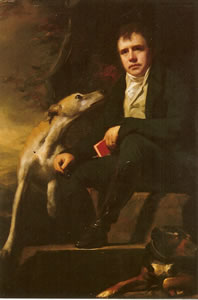 Sir Walter Scott (14 augustus 1771 - 21 september 1832)
Portret door Sir Henry Raeburn
De moeder van (o.a.) de Duitse schrijvers Heinrich en Thomas Mann, Julia Mann-da Silva-Bruhns werd geboren op 14 augustus 1851 in Paraty in Brazilië. Zie ook mijn blog van 14 augustus 2008.en ook mijn blog van 14 augustus 2009.
Uit: Der Flügelschlag eines brasilianischen Schmetterlings
(Bespreking Thomas Manns roman Felix Krull door Martin R. Dean in NNZ Online)
"Verfolgt man den Familienstammbaum rückwärts, entdeckt man die Rückseite dieser Weltläufigkeit in der Entwurzelungserfahrung seiner Mutter Julia. Denn die ersten Tropfen seines Weltbürgertums nimmt der Lübecker mit der Muttermilch ein: «Meine Mutter», schreibt Mann, «stammte aus Rio de Janeiro, hatte aber einen deutschen Vater, so dass nur zum vierten Teil unser Blut mit lateinamerikanischem gemischt ist. Uns Kindern erzählte sie von der paradiesischen Schönheit der Bucht von Rio, von Giftschlangen, die sich auf der Pflanzung ihres Vaters zeigten und von Negersklaven mit Stöcken erschlagen wurden. Mit sieben Jahren fand sie sich nach Lübeck verpflanzt - den ersten Schnee, den sie sah, hielt sie für Zucker.» Man wundert sich hier vielleicht über das «nur», mit dem Thomas Mann den Anteil brasilianischen Blutes qualifiziert, was er in der Folge kaum mehr zu würdigen sich genötigt sah.
Nach dem Tod ihrer Mutter Maria da Silva wird Julia 1885 ins deutsche Lübeck verpflanzt. Dort lebt sie mit ihrem Vater und den Geschwistern und wird, in der Entourage ihres schwarzen Kindermädchens Anna, schnell zur auffälligen Exotin. Julia Mann ist hübsch, lebenssüchtig und geniesst das Leben sorglos wie ein Schmetterling. Nach dem Tod ihres Mannes wird sie von der Stadt Lübeck entmündigt und muss nach München umsiedeln, um ihre persönliche Freiheit wieder zu gewinnen. Ihre beiden Söhne Thomas und Heinrich aber werden dieses Gefühl der Entwurzelung, das sich im Familienkörper ausbreitet, nicht verdrängen können. Der Flügelschlag des tropischen Schmetterlings bewegt die Familie selbst noch im kalten und fernen Norden."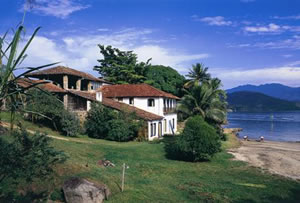 Julia Mann - da Silva-Bruhns (14 augustus 1851 – 11 maart 1923)
Villa Boa Vista in Paraty, ouderlijk huis van Julia Mann



Zie voor nog meer schrijvers van de 14e augustus ook

mijn vorige blog van vandaag.
14-08-2010 om 20:07 geschreven door Romenu

Tags:Wolf Wondratschek, Danielle Steel, Erwin Strittmatter, Carola Herbst, Sir Walter Scott, Julia Mann - da Silva-Bruhns, Romenu