E-mail mij


Druk op onderstaande knop om mij te e-mailen.


Romenu


Romenu is een blog over gedichten, literatuur en kunst Maar Romenu is ook een professionele freelance vertaler
Du-Ne en Ne-Du http://www.romenu.nl.


Huur eens een (vakantie)huis in een natuurgebied, dichtbij het centrum van Nijmegen


Google


Georg Trakl

Georg Trakl werd op 3 februari 1887 in het conducteurshuis aan de Waagplatz 2 in Salzburg geboren. Zijn vader, Tobias Trakl, was een handelaar in ijzerwaren en zijn moeder, die ook psychische problemen had, was Maria Catharina Trakl, (meisjesnaam Halik). Voorts had hij nog drie broers en drie zussen. Margarethe (doorgaans Grethe genoemd) stond hem het naast, zelfs zodanig dat sommigen een incestueuze verhouding vermoeden. Zijn jeugd bracht hij door in Salzburg. Vervolgens bezocht hij van 1897 tot 1905 het humanistische gymnasium. Om toch een academische opleiding te kunnen volgen, werkte hij tot 1908 in de praktijk bij een apotheker. Sommigen vermoedden dat hij dit vooral deed om zichzelf opiaten te kunnen verschaffen. Bij het uitbreken van WO I werd Trakl als medicus naar het front in Galicië (heden ten dage in Oekraïne en Polen) gestuurd. Zijn gemoedsschommelingen leidden tot geregelde uitbraken van depressie, die verergerd werden door de afschuw die hij voelde voor de verzorging van de ernstig verwonde soldaten. De spanning en druk dreven hem ertoe een suïcidepoging te ondernemen, welke zijn kameraden nochtans verhinderden. Hij werd in een militair ziekenhuis opgenomen in Kraków, alwaar hij onder strikt toezicht geplaatst werd.Trakl verzonk daar in nog zwaardere depressies en schreef Ficker om advies. Ficker overtuigde hem ervan dat hij contact moest opnemen met Wittgenstein, die inderdaad op weg ging na Trakls bericht te hebben ontvangen. Op 4 november 1914, drie dagen voordat Wittgenstein aan zou komen, overleed hij echter aan een overdosis cocaïne


Paul Celan

Paul Celan werd onder de naam Paul Antschel op 23 november 1920 geboren in Czernowitz, toentertijd de hoofdstad van de Roemeense Boekovina, nu behorend bij de Oekraïne. Paul Celans ouders waren Duitssprekende joden die hun zoon joods opvoedden en hem naar Duitse christelijke scholen stuurden. In 1942 werden Celans ouders door de Duitse bezetter naar een werkkamp gedeporteerd en daar vermoord. Hijzelf wist aanvankelijk onder te duiken, maar moest vanaf juli 1942 in een werkkamp dwangarbeid verrichten. Celan overleefde de oorlog. Via Boekarest en Wenen vestigde Celan zich in 1948 in Parijs. Daar was hij werkzaam als dichter, vertaler en doceerde hij aan de prestigieuze Ecole Normale Supérieure. Vermoedelijk op 20 april 1970 beëindigde hij zijn leven zelf door in de Seine te springen.


Gerard Reve

Gerard Reve over: Medearbeiders "God is in de mensen, de dieren, de planten en alle dingen - in de schepping, die verlost moet worden of waaruit God verlost moet worden, door onze arbeid, aangezien wij medearbeiders van God zijn." Openbaring "Tja, waar berust elk godsbegrip op, elke vorm van religie? Op een openbaring, dat wil zeggen op een psychische ervaring van zulk een dwingende en onverbiddelijke kracht, dat de betrokkene het gevoel heeft, niet dat hij een gedachte of een visioen heeft, maar dat een gedachte gedachte of visioen hem bezit en overweldigt."


Simon Vestdijk
Simon Vestdijk (Harlingen, 17 oktober 1898 – Utrecht, 23 maart 1971) was een Nederlands romancier, dichter, essayist en vertaler. Zijn jeugd te Harlingen en Leeuwarden beschreef hij later in de Anton Wachter-cyclus. Van jongs af aan logeerde hij regelmatig bij zijn grootouders in Amsterdam, waar hij zich in 1917 aan de Universiteit van Amsterdam inschrijft als student in de medicijnen. Tijdens zijn studie die van 1917 tot 1927 duurde, leerde hij Jan Slauerhoff kennen.Tot 1932 is hij als arts in praktijken door heel Nederland werkzaam. In 1932 volgt zijn officiële schrijversdebuut met de uitgave van de bundel Verzen in De Vrije Bladen. Doorslaggevend voor Vestdijks uiteindelijke keuze voor de literatuur is zijn ontmoeting in 1932 met Eddy Du Perron en Menno ter Braak. Deze ontmoeting had tot resultaat dat hij redactielid werd van het tijdschrift Forum Kort daarop, in 1933, wordt zijn eerste novelle, De oubliette, uitgegeven. In hetzelfde jaar schrijft hij Kind tussen vier vrouwen, dat, eerst geweigerd door de uitgever, later de basis zal vormen voor de eerste drie delen van de Anton Wachter-romans. In 1951 ontvangt Vestdijk de P.C. Hooftprijs voor zijn in 1947 verschenen roman De vuuraanbidders. In 1957 wordt hij voor het eerst door het PEN-centrum voor Nederland voorgedragen voor de Nobelprijs voor de Literatuur, die hij echter nooit zal krijgen. Op 20 maart 1971 wordt hem de Prijs der Nederlandse Letteren toegekend, maar voor hij deze kan ontvangen overlijdt hij op 23 maart te Utrecht op 72-jarige leeftijd. Vestdijk was auteur van ca. 200 boeken. Vanwege deze enorme productie noemde de dichter Adriaan Roland Holst hem 'de man die sneller schrijft dan God kan lezen'. Andere belangrijke boeken van Simon Vestdijk zijn: "Kind van stad en land" (1936), "Meneer Visser's hellevaart" (1936), "Ierse nachten" (1946), "De toekomst de religie" (1947), "Pastorale 1943" (1948), "De koperen tuin" (1950), "Ivoren wachters" (1951), "Essays in duodecimo" (1952) en "Het genadeschot" (1964).


K.P. Kavafis

K.P. Kavafis werd als kind van Griekse ouders, afkomstig uit Konstantinopel, geboren in 1863 in Alexandrië (tot vandaag een Griekse enclave) waar hij ook het grootste deel van zijn leven woonde en werkte. Twee jaar na de dood van zijn vader verhuist het gezin in 1872 naar Engeland om na een verblijf van vijf jaar naar Alexandrië terug te keren. Vanwege ongeregeldheden in Egypte vlucht het gezin in 1882 naar Konstantinopel, om na drie jaar opnieuw naar Alexandrië terug te gaan. In de jaren die volgen maakt Kavafis reizen naar Parijs, Londen en in 1901 zijn eerste reis naar Griekenland, in latere jaren gevolgd door nog enkele bezoeken. Op de dag van zijn zeventigste verjaardag, in 1933 sterft Kavafis in Alexandrië. De roem kwam voor Kavafis pas na zijn dood, dus postuum. Deels is dat toe te schrijven aan zijn eigen handelswijze. Hij was uiterst terughoudend met de publicatie van zijn gedichten, liet af en toe een enkel gedicht afdrukken in een literair tijdschrift, gaf in eigen beheer enkele bundels met een stuk of twintig gedichten uit en het merendeel van zijn poëzie schonk hij op losse bladen aan zijn beste vrienden.


Thomas Mann


Thomas Mann, de jongere broer van Heinrich Mann, werd geboren op 6 juni 1875 in Lübeck. Hij was de tweede zoon van de graankoopman Thomas Johann Heinrich Mann welke later één van de senatoren van Lübreck werd. Zijn moeder Julia (geboren da Silva-Bruhns) was Duits-Braziliaans van Portugees Kreoolse afkomst. In 1894 debuteerde Thomas Mann met de novelle "Gefallen". Toen Thomas Mann met 21 jaar eindelijk volwassen was en hem dus geld van zijn vaders erfenis toestond - hij kreeg ongeveer 160 tot 180 goldmark per jaar - besloot hij dat hij genoeg had van al die scholen en instituties en werd onafhankelijk schrijver. Kenmerkend voor zijn stijl zijn de ironie, de fenomenale taalbeheersing en de minutieuze detailschildering. Manns reputatie in Duitsland was sterk wisselend. Met zijn eerste roman, Buddenbrooks (1901), had hij een enorm succes, maar door zijn sceptische houding tegenover Duitsland na de Eerste Wereldoorlog veranderde dit volledig. Stelde hij zich tot aan de jaren twintig apolitiek op (Betrachtungen eines Unpolitischen, 1918), meer en meer raakte hij bij het Politiek gebeuren betrokken. Zijn afkeer van het nationaal socialisme groeide, zijn waarschuwingen werden veelvuldiger en heftiger. In 1944 accepteerde hij het Amerikaanse staatsburgerschap. Tussen 1943 en 1947 schreef Mann Doktor Faustus (zie Faust), de roman van de 'Duitse ziel' in de gecamoufleerd geschilderde omstandigheden van de 20ste eeuw. In 1947 bezocht hij voor het eerst sinds de Oorlog Europa, twee jaar later pas Duitsland. In 1952 vertrok hij naar Zwitserland. Op 12 augustus 1955 stierf hij in Zürich. Twintig jaar na zijn dood, in aug. 1975, is zijn literaire nalatenschap geopend: dagboekaantekeningen van 15 maart 1933 tot 29 juli 1955, alsmede notities uit de jaren 1918 tot en met 1921.Belangrijke werken zijn: Der Zauberberg, Der Tod in Venedig, Dokter Faustus , Joseph und seine Brüder en Die Bekenntnisse des Hochstaplers Felix Krull.


Rainer Maria Rilke

Rilke werd op 4 december 1875 geboren in Praag. Hij had al naam gemaakt als dichter met zijn bundels Das Stundenbuch en Das Buch der Bilder, toen hij de literaire wereld versteld deed staan en wereldfaam verwierf met de publicatie van zijn twee delen Neue Gedichte in 1907 en 1908. Hij verzamelde daarin het beste werk uit een van zijn vruchtbaarste periodes, die hij grotendeels doorbracht in Parijs. Rilke was daar diep onder de indruk gekomen van Rodin, bij wie hij een tijdlang in dienst was als particulier secretaris. Rodin, zei hij later, had hem leren kijken. Dit kijken kwam neer op intense concentratie, om het mysterie te kunnen zien 'achter de schijnbare werkelijkheid'. Latere en rijpere werken als Duineser Elegien (1912-1923) en het ronduit schitterende Die Sonette an Orfeus (1924) illustreren Rilkes metafysische visie op het onzegbare, dat haar verwoording vindt in een hermetische muzikale taal. Op 29 december 1926 overlijdt Rilke in het sanatorium in Val-Mont aan de gevolgen van leukemie. Enkele dagen later wordt hij, overeenkomstig zijn wens, begraven op het kerkhof van Raron.


* * * * * * * * * * * * * * * *

| | |
| --- | --- |
| | Over literatuur, gedichten, kunst en cultuur |

05-06-2015

Federico García Lorca, Adriaan Morriën, Ken Follett, Margo Lanagan, Carel Peeters
De Spaanse dichter en toneelschrijver Federico Garcia Lorca werd geboren op 5 juni 1898 in Fuente Vaqueros, Granada. Zie ook alle tags voor Federico Garcia Lorca op dit blog.
De gitaar
Aanvangt de klaagzang van de gitaar.
Breken doen de bekers van de ochtend.
Aanvangt de klaagzang van de gitaar.
Hem smoren is nutteloos.
Hem smoren is onmogelijk.
Hij huilt eentonig zoals het water huilt,
zoals de wind huilt over de sneeuwvlakte.
Hem smoren is nutteloos.
Hem smoren is onmogelijk.
Hij huilt om dingen ver.
Heet zand uit het zuiden
snakt naar witte camelia's.
Hij huilt om de pijl zonder doel,
om de avond zonder ochtend
en om de eerste vogel dood
op de tak.
O gitaar!
Hart door vijf zwaarden zwaargewond.
Processiebeeld
Maad met hoepelrok,
Maagd der Verlatenheid,
open als een onmetelijke
Op je lichtende schip
klief je
door het hoogwater
van de stad,
tussen roezige saeta's
en kristalsterren.
Maagd met hoepelrok
jij klieft
door de straatrivier
tot in zee!
Vertaald door Bart Vonck
De zigeunernon
Voor José Moreno Villa
Stilte van witkalk en mirte.
Kaasjeskruid in de kruidentuin.
De non borduurt violieren
op een strogeel doek.
In de grijze luchter vliegen
zeven vogels van het prisma.
In de verte gromt de kerk
als een beer op zijn rug.
Wat borduurt zij mooi! Hoe fraai!
Op het strogele doek
wil zij de bloemen
van haar fantasie borduren.
Wat een zonnebloem! Wat een magnolia
van pailletten en linten.
Wat een saffraantjes, wat een maantjes
op de altaardwaal!
Vijf pompelmoezen versuikeren
vlakbij in de keuken.
De vijf wonden van Christus
in Alméria geoogst.
In de ogen van de non
galopperen twee ruiters.
Een verre gesmoorde zucht
maakt haar hemd los,
en terwijl ze in verstarde verten
naar wolken en bergen staart,
breekt haar hart
van suiker en citroenverbena.
O, wat een steile vlakte
met twintig zonnen erboven.
Wat een rechtopstaande stromen
dagen in haar fantasie!
Toch gaat zij verder met haar bloemen,
terwijl rechtop, in de bries,
het licht schaakspeelt
hoog in het zonnescherm.
Vertaald door Lepus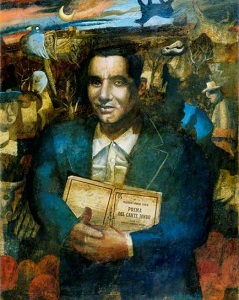 Federico García Lorca (5 juni 1898 – 19 augustus 1936)
Portret door Mick Rooney, 1990-95
De Nederlandse dichter en schrijver Adriaan Morriën werd geboren op 5 juni 1912 in Amsterdam. Zie ook alle tags voor Adriaan Morriën op dit blog.
Spijsvertering
Vergeet je maag niet op een blauwe zomermorgen,
Gevuld met louter aangename dingen:
Sinaasappelsap, bruin brood en yoghurt.
De zuivere nasmaak duurt tot aan de koffie.
Je lichaam is als een tevreden kind,
Verdiept in 't hoge spel der spijsvertering.
Je mond is niet te droog en niet te vochtig.
Je zou nu kunnen praten als er iemand was.
Maar je kunt denken en een droom beginnen.
Je raam staat open en de wereld fladdert binnen.
Zij luistert als een vogel in het pasgemaaide gras.

Terugkeer
Alle revoluties wissen de dood
van mijn moeder niet uit.
En alle vooruitgang hindert niet
dat ik mijn vader heb gehaat.

Ik doe nog altijd, te laat van school,
de stap naar de keukendeur
en licht de klink op, bang
dat de deur weer te hard kraakt.

Alles is mogelijk: mijn vader zwijgt
of leest mij met strenge ogen de les;
mijn moeder glimlacht of kijkt
met een stil gezicht op haar bord.

Ik schik aan tafel aan
en reik, dwars door de verleden tijd
met een hand die weer kinderlijk wordt,
naar de dampende aardappelschaal.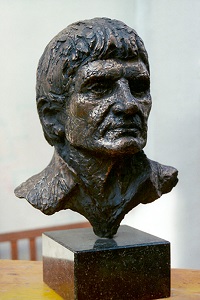 Adriaan Morriën (5 juni 1912 – 7 juni 2002)
Borstbeeld door Hans Sassen in het Letterkundig Museum
De Engelse schrijver Ken Follett werd geboren op 5 juni 1949 in Cardiff, Wales. Zie ook alle tags voor Ken Follett op dit blog.
Uit:Edge Of Eternity
"Rebecca Hoffmann was summoned by the secret police on a rainy Monday in 1961.
It began as an ordinary morning. Her husband drove her to work in his tan Trabant 500. The graceful old streets of central Berlin still had gaps from wartime bombing, except where new concrete buildings stood up like ill-matched false teeth. Hans was thinking about his job as he drove. "The courts serve the judges, the lawyers, the police, the government—everyone except the victims of crime," he said. "This is to be expected in Western capitalist countries, but under Communism the courts ought surely to serve the people. My colleagues don't seem to realize that." Hans worked for the Ministry of Justice.
"We've been married almost a year, and I've known you for two, but I've never met one of your colleagues," Rebecca said.
"They would bore you," he said immediately. "They're all lawyers." "Any women among them?"
"No. Not in my section, anyway." Hans's job was administration: appointing judges, scheduling trials, managing courthouses.
"I'd like to meet them, all the same."
Hans was a strong man who had learned to rein himself in. Watching him, Rebecca saw in his eyes a familiar flash of anger at her insistence. He controlled it by an effort of will. "I'll arrange something," he said. "Perhaps we'll all go to a bar one evening."
Hans had been the first man Rebecca met who matched up to her father. He was confident and authoritative, but he always listened to her. He had a good job—not many people had a car of their own in East Germany—and men who worked in the government were usually hard-line Communists, but Hans, surprisingly, shared Rebecca's political skepticism. Like her father he was tall, handsome, and well dressed. He was the man she had been waiting for."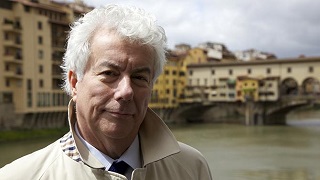 Ken Follett (Cardiff, 5 juni 1949)
De Australische schrijfster Margo Lanagan werd geboren op 5 juni 1960 in Waratah, New South Wales. Zie ook alle tags voor Margo Lanagan op dit blog.
Uit: Singing My Sister Down
"We all went down to the tar-pit, with mats to spread our weight.
Ikky was standing on the bank, her hands in a metal twin-loop behind her. She'd stopped sulking; now she looked, more, stare-y and puzzled.
Chief Barnarndra pointed to the pit. Out you go then, girl. You must walk on out there to the middle and stand. When you picked a spot, your people can join you.
So Ik stepped out, very ordinary. She walked out. I thought—hoped, even—she might walk right across and into the thorns the other side; at the same time, I knew she wouldn't do that.
She walked the way you walk on the tar, except without the arms balancing. She nearly fell from a stumble once, but Mumma hulloo'd to her, and she straightened and walked a straight upright line out to the very middle, where she slowed and stopped, not looking back.
Mumma didn't look to the chief, but all us kids and the rest did. Right, then, he said.
Mumma stepped straight out, as if she'd just herself that moment happened to decide to. We went after her—only us, Ik's family, which was like us being punished too, everyone watching us walk out to that girl who was our shame.
In the winter you come to the pit to warm your feet in the tar. You stand long enough to sink as far as your ankles—the littler you are, the longer you can stand. You soak the heat in for as long as the tar doesn't close over your feet and grip, and it's as good as warmed boots wrapping your feet. But in summer, like this day, you keep away from the tar, because it makes the air hotter and you mind about the stink.
But today we had to go out, and everyone had to see us go.
Ikky was tall, but she was thin and light from all the worry and prison; she was going to take a long time about sinking. We got our mats down, all the food-parcels and ice-baskets and instruments and such spread out evenly on the broad planks Dash and Felly had carried out."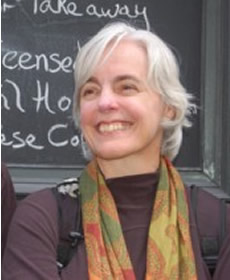 Margo Lanagan (Waratah, 5 juni 1960)
De Nederlandse literair criticus Carel Peeters werd geboren in Nijmegen op 5 juni 1944. Zie ook alle tags voor Carel Peeters op dit blog.
Uit: Kan het licht aanblijven?
"Dat de achttiende eeuw de eeuw van de Verlichting en de kritiek was, zoals Kant in de inleiding van zijn Kritik der reinen Vernunft schreef, en dat de Verlichting als filosofie de bedoeling had mensen 'mondig' te maken, zoals Kant antwoordde op de vraag 'Was ist Aufklärung?' - dat is kennis die weer in herinnering gebracht schijnt te moeten worden, want al wat ik hoor zijn schimpscheuten op de Verlichting. De eeuw van de rede zou de bakermat van de huidige ellende zijn, van de illusoire vooruitgangsgedachte, van staatsbemoeienis, van het verpesten van de natuur en de ongebreidelde woekering van de technologie. Kortom: Der Traum der Vernunft: Vom Elend der Aufklärung, zoals de titel luidde van een reeks lezingen gedurende bijna een jaar lang in 1984-1985 aan de Akademie der Künste in Berlijn.
Tijdens die reeks lezingen waren er ook sprekers als Günter Grass en Oskar Negt die zich niet lieten meeslepen door het enthousiasme de filosofie van de Verlichting om zeep te helpen. Dat is niet zo verbazingwekkend: zelfkritiek is in de Verlichting ingebakken, al ziet men dat graag over het hoofd. 'Sapere aude!', de aansporing voor zichzelf te denken die Kant deed, nodigt uit tot een terugkerende 'Selbstaufklärung der Aufklärung', zoals de Duitsers dat zo kernachtig kunnen uitdrukken. Maar deze zelfkritiek schijnt niet groot genoeg te zijn geweest, anders zou de Verlichting niet door de Frankfurter Schule, het structuralisme, alle religieuze bewegingen en het postmodernisme zijn aangevallen. Dat zou men kunnen denken, maar alle bijzondere aandacht voor de Verlichting is het gevolg van een gemakzuchtige fixatie. Door de nadruk op de rede en het rationalisme heeft de Verlichting onder meer de industrialisatie voortgebracht, en daarna de technologie en daarmee het misbruik van de technologie. De technologie, in haar vreedzame én verwoestende gedaante, is het meest in het oog lopende gevolg van de Verlichting, en daar richt zich de meeste kritiek op.
De Verlichting heeft niet alleen de technologie voortgebracht, zij heeft ook een rationele instelling tegenover allerlei menselijke en maatschappelijke verschijnselen aangekweekt die men niet met het technologische barbarisme gelijk kan stellen. Wie dat wel doet is als die goudzoeker die zo verblind werd door de glinsteringen van het zand in zijn handen dat hij alles weggooide, ook het goud."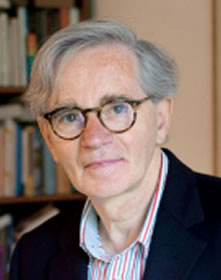 Carel Peeters (Nijmegen, 5 juni 1944)
Zie voor nog meer schrijvers van de 5e juni ook mijn twee vorige blogs van vandaag.
05-06-2015 om 14:39 geschreven door Romenu

Tags:Federico García Lorca, Adriaan Morriën, Ken Follett, Margo Lanagan, Carel Peeters, Romenu



Margaret Drabble, Kristin Gore, Thomas Kling, Hélène Cixous, Spalding Gray
De Engelse schrijfster Margaret Drabble werd geboren op 5 juni 1939 in Sheffield, Yorkshire. Zie ook alle tags voor Margaret Drabble op dit blog.
Uit: The Millstone
"When, some years after the Hamish episode, I found that I was pregnant, I went through slightly more than the usual degrees of incredulity and shock, for reasons which I doubtless shall be unable to restrain myself from recounting: there was nobody to tell, nobody to ask, so I was obliged once more to fall back on the dimly reported experiences of friends and information I had gleaned through the years from cheap fiction. I never at any point had any intention of going to a doctor: I had not been ill for so many years that I was unaware even of the procedure for visiting one, and felt that even if I did get round to it I would be reprimanded like a school child for my state. I did not feel much in the mood for reproof. So I kept it to myself, and thought that I would try at least to deal with it by myself. It took me some time to summon up the courage: I sat for a whole day in the British Museum, damp with fear, staring blankly at the open pages of Samuel Daniel, and thinking about gin. I knew vaguely about gin, that it was supposed to do something or other to the womb, quinine or something, I believe, and that combined with a hot bath it sometimes works, so I decided that other girls had gone through with it, so why not me. One might be lucky. I had no idea how much gin one was supposed to consume, but I had a nasty feeling that it was a whole bottle: the prospect of this upset me both physically and financially. I grudged the thought of two pounds on a bottle of gin, just to make myself ill. However, I couldn't pretend that I couldn't afford it, and it was relatively cheap compared with other methods, so I grimly turned the pages of Daniel and decided that I would give it a try. As I turned the pages, a very handy image, thesis-wise, caught my attention, and I noted it down. Lucky in work, unlucky in love. Love is of man's life a thing apart, 'tis woman's whole existence, as Byron mistakenly remarked."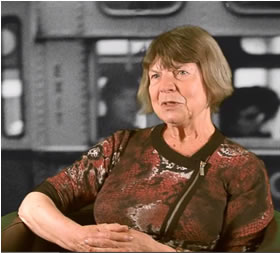 Margaret Drabble (Sheffield, 5 juni 1939)
De Amerikaanse schrijfster Kristin Carlson Gore werd geboren op 5 juni 1977 in Carthage, Tennessee Zie ook alle tags voor Kristin Gore op dit blog.
Uit: Sammy's House
"Just what is this all about?" he demanded fiercely, painfully aware of all the photos that had already been taken. There wasn't any press aboard; the cruise was for staff only. But though everyone was ostensibly loyally intent on protecting the administration from unnecessary scandal, it was hard to keep a story like this from getting out. I myself could think of five people I planned to regale immediately with this sordid tale. It wasn't often that one attended an office function and got entertained by a scantily clad exhibitionist inked with dancing fantasy creatures. It would be selfish to keep this to myself. "I'm a gift from the Exterminators," the stripper answered. "They say congratulations for making it this far. They didn't think you had it in you." I watched Harry's jawline stiffen. When he got angry, which was distressingly often, he looked like he'd had steel cheek implants. I'd met few people more ripe for a hernia. "Thank you, that will be all," he ground out through clenched teeth.
Harry and a couple Secret Service agents ushered the woman through the still-stunned crowd toward the caterers' station. The hushed silence that had accompanied her performance exploded into the sounds of a hundred and seventy-five people talking at once. The Exterminators were a very disgruntled band of former officials from the previous administration. Most of them had stayed in D.C. to form an opposition think tank, and nothing seemed to please them more than perpetrating juvenile pranks while they worked very seriously to sabotage every policy change we tried to make. They hadn't named their think tank the Exterminators. That particular moniker derived from one of the many vindictive stunts they'd pulled on their way out of the West Wing, which they had vandalized to the best of their abilities in a rage against their ouster. In addition to rigging booby traps and carving their initials into various pieces of furniture, they had also taken the time to enact a much more elaborate and dastardly scheme."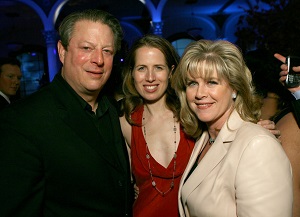 Kristin Gore (Carthage, 5 juni 1977)
Hier te midden van vader Al Gore en moeder Tipper



De Duitse dichter en schrijver Thomas Kling werd geboren op 5 juni 1957 in Bingen. Zie ook alle tags voor Thomas Kling op dit blog.
Mailand. Ambrosianische Litanei 2
auf eine halbsäule hin gemalt
steht ein junger mann: lebensgroßer
melancholiker – typ aus untersicht gesehen.
athlet, der auf die zweiten blicke sich entpuppt.
betrachten ist schmerzforschung.
kahlheit nackter bildprogramme.
sirrendes, singendes, zuletzt ein
stummgemachtes fleisch.
dies ist der heilige mit der eignen haut (attribut);
in kniehöhe sein schopf: dort
baumelt die apostelhülle, struppig,
ein ziemlich totes angesicht.
so stehen dulder. ein geschundenes bild.
der haut entkleidet. mit rosigem kopf: ein
bartholomäus, die haut überm arm wie
regenhaut. dazu die patientenglatze – sieht aus
wie von der chemotherapie.
die vorgewiesenen attribute: ein messer, keine spritze.
und muß mit links, mit eleganz, sein lebensgroßes hautbild
halten, den lebensnahen, totengrauen skalp.
der aderzeichen zeigt: das bild das ihm
sonst runterrutschen würde von der schulter.
der nimmt das hin; ist schinderwerk.
ein bildprogramm, termingerecht geliefert –
ein sonderbarer heiliger, seitlich angebracht.
ein weihrauch-echo. (fresko)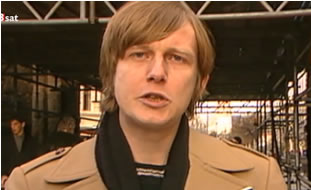 Thomas Kling (5 juni 1957 - 1 april 2005)
De Franse feministische schrijfster, dichteres, professor, filosoof, literair criticus en historica Hélène Cixous werd geboren in Oran, Algerije, op 5 juni 1937. Zie ook alle tags voor Hélène Cixous op dit blog.
Uit: Si près
«Je connais un poète qui est mort dans l'escalier, le jour où il partait dans un pays où il n'était plus plus jamais revenu. Tous ces pays dont on ne revient pas où on ne revient pas où on va revenir où on revient tellement en pensée qu'il est difficile de faire la différence entre aller, ne pas aller, et aller ne pas aller, on passe des années dans la lumière lunaire de l'aéroport. On y est attaché par le pacte le plus antique et le bien moins connu, le pacte d'être un né ou un mort de ce pays. Il n'y a pas d'explication. Il y a un cordon ombilical. C'est une ombre de cordon, un cordon immatériel dont on sent l'effet planté dans le cervelet. Nous sommes des conséquences. Il y a les cellules, dit mon aimé. Moi, je songe à aller à Alger depuis une dizaine d'années. Par précaution j'utilise le verbe " aller". Mes cellules ne suivent pas. Elles font comme si je disais : "retourner". J'attends.
(…)
Il fut un temps. Ce temps je le sais d'un savoir désaffecté. J'ai voulu arriver en Algérie, il aurait peut-être mieux valu moi que j'y atteigne, mais c'était impossible. Si bien que j'ai atteint l'impossibilité et cela sans l'avoir calculé.(...) "Atteindre l'impossibilité" n'est ni un but, ni une possibilité, c'est une impossibilité délivrée en notre absence. Ai-je jamais cru, espéré, décrocher le faîte du désir ? (...) il se peut qu'ai couvé en moi l'ombre d'une sensation de vanité, une de ces formes furtives de pressentiment que l'on chasse d'un souffle(...) Ces retropressentiments de fatalité, je leur ai accordé une importance décisive en 1993, l'année où je n'ai plus réussi à faire obstacle à l'entrée de la Chose Algérie dans mes livres. Reconnaître que je n'avais jamais crû arriver un jour en Algérie, en vérité, et tenter de m'approcher de la Chose par les puissants moyens de la littérature, les deux faits se sont produits à la même époque."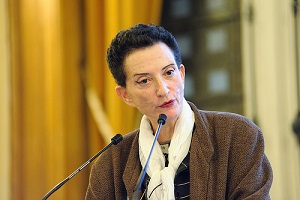 Hélène Cixous (Oran, 5 juni 1937)
De Amerikaanse schrijver en acteur Spalding Gray werd geboren op 5 juni 1941 in Barrington, Rhode Island. Zie ook alle tags voor Spalding Gray op dit blog.
Uit:Swimming to Cambodia
"This bombing went on for five years. The Supreme Court never passed any judgment on it and the military speaks with pride today that five years of the bombing of Cambodia killed 16,000 of the so-called enemy. That's 25% killed, and there's a military ruling that says you cannot kill more than 10% of the enemy without causing irreversible, psychological damage. So, five years of bombing, a diet of bark, bugs, lizards and leaves up in the Cambodian jungles, uh, an education in Paris environs in a strict Maoist doctrine with a touch of Rousseau, and other things that we will probably never know about in our lifetime -- including, perhaps, an invisible cloud of evil that circles the Earth and lands at random in places like Iran, Beirut, Germany, Cambodia, America -- set the Khymer Rouge out to carry out the worst auto-homeo genocide in modern history.
(…)
What a fantastic land it was, how it was Shangri-La before it was colonized... Thailand was a Nordic country compared to Cambodia, and they're right next to each other. And he said 90% of the land was owned by the people; it was earth, it was dirt, but it was THEIRS, and it was good. And-and they knew how to have a good time. They knew how to have a good time. They knew how to have a good time getting born, a good time growing up, a good time going through puberty, a good time falling in love, a good time staying in love, a good time getting married, a good time staying married, a good time having children, a good time raising children, a good time growing old, a good time dying... they even knew how to have a good time on NEW YEAR'S EVE! I couldn't believe it!"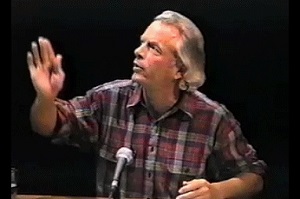 Spalding Gray (5 juni 1941 – 10 januari 2004)
Zie voor nog meer schrijvers van de 5e juni ook mijn vorige blog van vandaag.
05-06-2015 om 14:29 geschreven door Romenu

Tags:Margaret Drabble, Kristin Gore, Thomas Kling, Hélène Cixous, Spalding Gray, Romenu



Christy Brown, David Hare, Alifa Rifaat, Otto F. Walter, Ivy Compton-Burnett
De Ierse dichter, schrijver en schilder Christy Brown werd geboren op 5 juni 1932 in Dublin. Zie ook alle tags voor Christy Brown op dit blog.
Uit:My Left Foot
"I was born in the Rotunda Hospital, on June 5th, 1932. There were nine children before me and twelve after me, so I myself belong to the middle group. Out of this total of twenty-two, seventeen lived, but four died in infancy, leaving thirteen still to hold the family fort.
Mine was a difficult birth, I am told. Both mother and son almost died. A whole army of relations queued up outside the hospital until the small hours of the morning, waiting for news and praying furiously that it would be good.
After my birth Mother was sent to recuperate for some weeks and I was kept in the hospital while she was away. I remained there for some time, without name, for I wasn't baptized until my mother was well enough to bring me to church.
It was Mother who first saw that there was something wrong with me. I was about four months old at the time. She noticed that my head had a habit of falling backward whenever she tried to feed me. She attempted to correct this by placing her hand on the back of my neck to keep it steady. But when she took it away, back it would drop again. That was the first warning sign. Then she became aware of other defects as I got older. She saw that my hands were clenched nearly all of the time and were inclined to twine behind my back; my mouth couldn't grasp the teat of the bottle because even at that early age my jaws would either lock together tightly, so that it was impossible for her to open them, or they would suddenly become limp and fall loose, dragging my whole mouth to one side. At six months I could not sit up without having a mountain of pillows around me. At twelve months it was the same."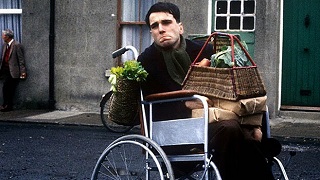 Christy Brown (5 juni 1932 – 6 september 1981)
Daniel Day-Lewis als Christy in de film "My Left Foot" uit 1989
De Britse schrijver, dramaturg en regisseur David Hare werd geboren op 5 juni 1947 in Sussex. Zie ook alle tags voor David Hare op dit blog.
Uit: Wall: A Monologue
« Except, of course, they don't call it a wall. They call it a fence.
It's one of those things, there seem to be so many, don't there?—I'm thinking of abortion, or armed revolt—where the words you use—pro-life/pro-choice, terrorist/freedom fighter—tell the world which way you think. Words become flags, they announce which side you're on. In this case, literally. The Israelis call it the gader ha'harfrada, which in Hebrew means "separation fence." The Palestinians don't call it that. Not at all. They call it jidar al-fasl al-'unsuri, which in Arabic means "racial segregation wall."
OK, let's go coolly into this, shall we? If I use one word or the other, forgive me, it does not imply I am partisan. I have acquaintances on both sides of the fence and on both sides of the wall. "I hate the wall," say my Israeli friends. "I regret it." "I'm ashamed of the wall." "I drive for miles so that I don't have to see it. But it works. 80 percent of terrorist attacks against Israel have stopped. Have been stopped. Am I not meant to be pleased about that?"
Very well. I shall seek to describe the history of the wall."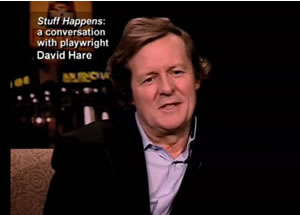 David Hare (Sussex, 5 juni 1947)
De Egyptische schrijfster Alifa Rifaat werd op 5 juni 1930 in Caïro geboren. Zie voor onderstaande schrijfster ook alle tags voor Ailfa Rifaat op dit blog.
Uit: Another Evening at the Club
"In a state of tension. she awaited the return of her husband. At a loss to predict what would happen between them, she moved herself back and forth in the rocking chair on the wide wooden verandah that ran along the bank and occupied part of the river itself. its supports being fixed in the river bed. while around it grew grasses and reeds. As though to banish her apprehension, she passed her fingers across her hair. The spectres of the eucalyptus trees ranged along the garden fence rocked before her gaze. with white egrets slumbering on their high branches like huge white flowers among the thin leaves.
The crescent moon rose from behind the eastern mountains and the peaks of the gently stirring waves glistened in its feeble rays, intermingled with threads of light leaking from the houses of Manfalout scattered along the opposite bank. The coloured bulbs fixed to the trees in the garden of the club at the far end of the town stood out against the surrounding darkness. Somewhere over there her husband now sat, most likely engrossed in agame of chess.
It was only a few years ago that she had first laid eyes on him at her father's house, meeting his gaze that weighed up her beauty and priced it before offering the dowry. She had noted his eyes ranging over her as she presented him with the coffee in the Japanese cups that were kept safely locked away in the cupboard for important guests."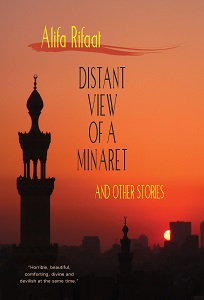 Alifa Rifaat (5 juni 1930 - 4 januari 1996)
Cover (geen portret beschikbaar)
De Zwitserse schrijver en uitgever Otto Friedrich Walter werd geboren op 5 juni 1928 in Rickenbach. Zie ook alle tags voor Otto. F. Walter op dit blog.
Uit: Herr Tourel
"Den Kopf kann ich auf meine Tasche legen; hinter mir, mit der Hand von hier aus eben noch zu erreichen, die Eingangstür. Da oben die Dachpappe über den angefaulten Balken, darüber, soviel ich gestern noch feststellen konnte, noch immer die aufgeschlitzten, flachgetrampelten und festgenagelten Teerfässer, verbeulte Blechstücke, schwarzrot. So waren sie schon damals, als wir da drüben am linken Aareufer noch badeten, vor, nun, fünfundzwanzig Jahre mögens her sein. Da hört mich niemand. Aber also mit einem Wort: ich bin zurückgekommen, zufällig, ich bin gestern zufällig wieder in die Gegend gekommen. Vielleicht muß ich kurz vorausschicken: ich habe hier in Jammers meine frühe Kindheit verbracht, wie man so sagt. Oben in der Stadt, in einem der alten Ringmauerhäuser. Mit elf Jahren kam ich fort, zunächst in die Klosterschule der Zisterzienser nach Sankt Leonhard, später habe ich bei Zoller & Co. in Fahris drüben während vier Jahren Photographie gelernt. Für ein Jahr war ich danach als Volontär und mit der Absicht, Französisch zu lernen, bei Auquier, Photogeschäft, in Aubonne, nordwestlich von Lausanne. Anschließend verbrachte ich ein halbes Jahr in dem, was wir hierzulande als Rekrutenschule bezeichnen.
Schon nach drei Monaten führte ich eine Gruppe. Tourel, pflegte unser Leutnant zu mir zu sagen, Sie sollten unbedingt Offizier werden. Aber ich lehnte ab. Ich kehrte als Angestellter zu meinem ehemaligen Chef nach Fahris zurück. Dort bin ich zwölf Jahre lang geblieben, und ich darf sagen, zunächst als zweiter, dann als erster Angestellter habe ich mir eine weithin geachtete Position erarbeitet. Herr Zoller senior ist jederzeit bereit, das zu bestätigen. Er hat mir ein entsprechend hervorragendes Zeugnis mitgegeben, und ich kann nur erneut erklären, daß es sich bei den meinen Wegzug von Fahris betreffenden Gerüchten um eigentliche Verleumdungen handelt."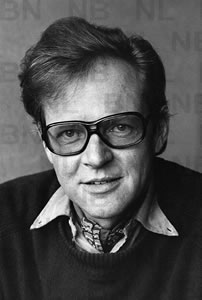 Otto F. Walter (5 juni 1928 – 24 september 1994)
De Engelse schrijfster Ivy Compton-Burnett werd geboren op 5 juni 1884. Zie ook alle tags voor Ivy Compton-Burnett op dit blog.
Uit: A House and Its Head
"Duncan stood in the hall, with hat and book, in an attitude of being on the point of leaving the house. The young people stood about, still and silent, until Grant and Nance met each other's eyes and broke into laughter.
Duncan breathed more audibly and maintained his position, but as the laughter increased, he dropped his book, and signed sharply to Grant to retrieve it. Grant took a moment to follow, and Sibyl was before him; and Duncan idly dropped it again, and motioned his nephew to obedience.
Ellen came hurrying down the stairs, her avoidable haste acting in its normal way upon her husband. He remained as he was, until she came up, and then without turning his eyes upon her, walked from the house."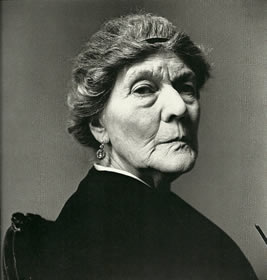 Ivy Compton-Burnett (5 juni 1884 - 27 augustus 1969)
05-06-2015 om 14:20 geschreven door Romenu

Tags:Christy Brown, David Hare, Alifa Rifaat, Otto F. Walter, Ivy Compton-Burnett, Romenu



Robert Franquinet
De Nederlandse dichter, schrijver en schilder Robert Marie Philmain Joseph Franquinet werd geboren in Amby (bij Maastricht) op 5 juni 1915. Franquinet debuteerde in 1933 als jong katholiek dichter met de bundel Het vroege uur. De barokke taal in die eersteling heeft hem zijn leven lang niet meer verlaten. Na een fervent belijden van het katholicisme werd hij steeds kritischer en nam hij afstand van zijn katholieke tijdgenoten. Hij publiceerde regelmatig in het tijdschrift Forum en ontwikkelde zich als essayist en romanschrijver. WO II, waarvan hij een jaar in de gevangenis doorbracht, is de breuk in zijn leven: alle romans en poëzie van na deze tijd cirkelen rond het thema van geweld en zijn tegenstrevers liefde en erotiek. Na de oorlog vestigde hij zich in Parijs en verdween hij langzaam van het literaire toneel, ondanks het feit dat hij door Marsman, Greshoff en Vestdijk tot de belangrijke auteurs werd gerekend. Met zijn roman "Drijfzand" (1977) begon echter een herwaardering van Franquinet.
Uit: Drijfzand
""Wanneer is onder mijn schedel het ruisen begonnen? Herinneringen zijn ontastbare obstakels geworden. Valt er ooit nog stilte over het woud van verminkingen? Wie ben ik geworden? Een schrale boom in de mist. Een bed in een uitdragerszaak. Een drijvend ding in het schuim van afvoerwater. Lang voordat de schimmels van de weemoed woekerden. Afscheid? Dit en dat moesten we nog doen. Een val in de kale ruimteloosheid spannen van wat nog zelfverdediging genoemd kan worden. Hebben we geen feilloze kennis van elkaar? We beminden als ongekooide honden. Een langspeelplaat die altijd draait is als de vorm van iemands handen die in troebel water zijn omtrek verliest. In de wulpsheid van je vlees hoor ik de stem van de gevangene jammerend schreeuwen. Wie van jullie heeft de straf bedacht? Het plat van zijn voeten wordt opengesneden, het vel gesperd, gevuld met kleine spijkers en daarna weer dichtgenaaid. Hij wordt naar de woestijn gebracht, ver van het dorp. Hij wordt aan zijn lot overgelaten, gillend van de pijn wanneer hij staan of gaan wil. Woestijngieren laten een kadaver de tijd niet om uit te drogen in de brandende sirocco.
De man heeft een parkiet gestolen.
'En jij opent je ogen en blijft glimlachend liggen.'
'Je moet bij zulke dingen niet teveel nadenken,' zeg je.
'Je kijkt naar de muur aan de overkant alsof daar de verloren tijd staat aangetekend. Het irriteert me dat ik je over de dingen-achter-de-dingen moet spreken.'
'Nee, geen uitleg. Waarom? Dat vogeltje is een turkooiskleurige schaduw, maar men kan het liefhebben.'
'Doe niet belachelijk.'
En ik bedroefd: 'de eerste keer in Normandië.'
Er komt een nuance in de plooi van je mondhoek. Ik huiver om de koelte van je ogen en raak met een vinger de rand van je mond aan. En je trilt als het wateroppervlak tegen mijn lichaam voor dat onze monden hun vocht mengen. Nou, ja, wat doe ik met mijn onuitgesproken minachting? Zo gaat het altijd. De werkelijkheid is sneller dan de onwerkelijkheid. Afstand? Veel later. Maar de tijd krimpt als een overwinterde appel."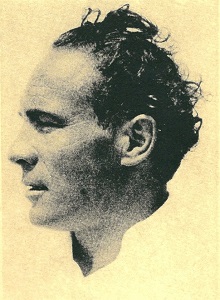 Robert Franquinet (5 juni 1915 - 30 mei 1979)


05-06-2015 om 00:00 geschreven door Romenu

Tags:Robert Franquinet, Romenu



| | |
| --- | --- |
| | |



Inhoud blog


| | |
| --- | --- |
| | Mies Bouhuys, Jonathan Coe, Li-Young Lee, Frederik Lucien De Laere, Louis Th. Lehmann, Ogden Nash, Frank McCourt |
| | Marion Pauw, John Dryden, Samuel Richardson, Jerzy Andrzejewski, James Gould Cozzens, Claude Gauvreau, Inigo de Mendoza |
| | Dolce far niente, Hans Andreus, Ulrich Woelk, Marc Degens, Luciano de Crescenzo, Alain Robbe-Grillet, Idea Vilariño |
| | Dolce far niente, Simon Vestdijk, Ted Hughes, V. S. Naipaul, Nis-Momme Stockmann, Jonathan Franzen, Jan Emmens |
| | Dolce far niente, Willen van Toorn, Charles Bukowski, Reiner Kunze, Moritz Rinke, Ferenc Juhász, Justus van Maurik |
| | Dolce far niente, Nescio, Guillaume van der Graft, Mary Jo Salter, Leonie Ossowski, Daan Zonderland, Jan Campert |
| | Kees Fens, Wolf Wondratschek, Danielle Steel, Erwin Strittmatter, Sir Walter Scott, Thusnelda Kühl |
| | Adriaan Roland Holst, antoine de kom, Atte Jongstra, Amélie Nothomb, Nikolaus Lenau, Tom Perrotta |
| | Justus van Maurik, Thomas Mann, Hans-Ulrich Treichel, Stefano Benni, Marcellus Emants, Naoki Higashida |
| | Remco Campert, Hugh MacDiarmid, Ernst Stadler, Yoshikawa Eiji, Fernando Arrabal, Andre Dubus |
| | Kees van Kooten, Alfred Döblin, Moses Isegawa, Mark Doty, Jerzy Pilch, Elvis Peeters, Michail Zostsjenko, Piet Bakker, René Crevel |
| | Luuk Gruwez, Philip Larkin, Gerrit Kouwenaar, Henk Romijn Meijer, Linn Ullmann, P. L. Travers, Pierre Klossowski, Daniel Keyes, Leonid Andreyev |
| | Jostein Gaarder, Klaus Ebner, Birgit Vanderbeke, Gernot Wolfram, Hieronymus van Alphen, André Demedts, Sara Teasdale, Donald Davidson, Lotte Lentes |
| | John Birmingham, Cees Buddingh', Diana Ozon, Vladimir Sorokin, Michael Roes, Joachim Ringelnatz, Garrison Keillor, Dieter Schlesak, Othon III de Grandson |
| | Dolce far niente, Jason O. Gilbert, Alfred Tennyson |
| | Dolce far niente,Tom Lanoye, Cees van der Pluijm, Pier Paolo Pasolini, Martin Piekar |
| | Hendrik Marsman, Rutger Kopland, Rudi van Dantzig, Percy Bysshe Shelley, Liao Yiwu, Pierre Jarawan |
| | Jan Campert, Rupert Brooke, Radek Knapp, P. D. James, Marica Bodrozic, Mirko Wenig |
| | Jussi Adler-Olsen, James Baldwin, Isabel Allende, Kristine Bilkau, Philippe Soupault, Ernest Dowson, Zoltán Egressy, Caleb Carr, Félix Leclerc |
| | Gerrit Krol, Frans Pointl, Mehis Heinsaar, Ko Un, Edward van de Vendel, Jim Carroll, Juan Filloy, Anne Hébert, Herman Melville |
| | Cees Nooteboom, Wouter Godijn, Grand Corps Malade, Joanne Rowling, Alain Nadaud, Daniel Bielenstein, Hans-Eckardt Wenzel, Ahmed Zitouni, Munshi Premchand |
| | Frans Budé, Patrick Modiano, Maja Lunde, Emily Brontë, Cherie Priest, Pauline van der Lans |
| | Harry Mulisch, Chang-Rae Lee, Thomas Rosenlöcher, Guillermo Martínez, Marja Brouwers, Wolfgang Bittner |
| | Stanley Kunitz, Sten Nadolny, Eyvind Johnson, August Stramm, Walter van den Berg |
| | Remco Campert, Malcolm Lowry, Herman Stevens, Gerard Manley Hopkins, Stephan Sanders, Angélica Gorodischer, Shahyar Ghanbari, John Ashbery, Drew Karpyshyn |
| | Michael Longley, Marijke Höweler, Theodore Dreiser, Hilde Domin, Julien Gracq, Hilaire Belloc, Vladimir Korolenko, Eimear McBride, Graeme C. Simsion |
| | Arthur Japin, Gregoire Delacourt, Anne Provoost, Yves Petry, Aldous Huxley, Nicholas Evans, Chairil Anwar, George Bernard Shaw, Hanya Yanagihara |
| | Lieke Marsman, Sytze van der Zee, Elias Canetti, Max Dauthendey, Jovica Tasevski – Eternijan, Annette Pehnt, Ottokar Kernstock, Albert Knapp, Louise Boege |
| | Robert Graves, Johan Andreas der Mouw, Banana Yoshimoto, Rosemarie Schuder, Katia Mann, Junichirō Tanizaki, Frank Wedekind, Alexandre Dumas père, Betje Wolff |
| | Wilfried de Jong, Mohsin Hamid, Lauren Groff, Frans Erens, Kai Meyer, Thea Dorn, Irina Liebmann |
| | Lisa Alther, Hubert Selby jr., Raymond Chandler, Matthias Spiegel, Tim Reus |
| | Arno Geiger, Susan Hinton, Manu Joseph, Stephen Vincent Benét, Tom Robbins |
| | Maria Janitschek, Oskar Maria Graf, Emma Lazarus, Per Hojholt, Jakob Lorber |
| | Frouke Arns, Ernest Hemingway, Belcampo, Boris Dittrich , Hans Fallada, David Boerljoek |
| | Hans Lodeizen, Henk Hofland, Arie Storm, Uwe Johnson, Simin Behbahāni, Francesco Petrarca, Maurice Gilliams, Erik Axel Karlfeldt, Cormac McCarthy |
| | Otto Julius Bierbaum, Anna Enquist, Gottfried Keller, Lucas Malan, Miltos Sachtouris, Jean-Pierre Faye |
| | Simon Vinkenoog, Steffen Popp, Per Petterson, Elizabeth Gilbert, Alicia Steimberg, Jevgeni Jevtoesjenko, Aad Nuis, William M. Thackeray, Nathalie Sarraute |
| | Martin R. Dean, Rainer Kirsch, Eelke de Jong, Alie Smeding, Paul Lomami Tshibamba, James Purdy, Roger Garaudy, Clara Viebig, Lilian Loke |
| | In Memoriam Anne Golon |
| | Reinaldo Arenas, Georges Rodenbach, Tony Kushner, Anita Brookner, Jörg Fauser |
| | Dag Solstad, Bernard Dimey, Andrea Wolfmayr, Pierre Benoit, Franz Nabl |
| | Ann De Craemer, Jean Christophe Grangé, Driss Chraïbi, Iris Murdoch, Richard Russo, Jacques Rivière, Rira Abbasi |
| | Robert Wohlleben, Heinrich Peuckmann, Walter Benjamin, Clive Cussler, Jacques Derrida, Hammond Innes, Kunikida Doppo |
| | Irving Stone, Volker Kaminski, Natalia Ginzburg, Jacques de Lacretelle, Gavrila Derzjavin, Béatrix Beck, Arthur Laurents, Owen Wister, Willard Motley |
| | Boris Pasternak, Wole Soyinka, Isaak Babel |
| | Hugo von Hofmannsthal, Kees 't Hart, Carla Bogaards, Elias Khoury, Stefan George |
| | Nikolaus Lenau, Jhumpa Lahir, Jane Gardam |
| | E.B. White |
| | Ann De Craemer |
| | Marcel Proust, Erik Jan Harmens, Alice Munro, J.C. Noordstar, Hermann Burger, Salvador Espriu, Gerhard L. Durlacher, Jürgen Becker, Nicolás Guillén |


Gastenboek


Druk op onderstaande knop om een berichtje achter te laten in mijn gastenboek