De Amerikaanse dichter, schrijver, essayist en criticus Wendell Berry werd geboren op 5 augustus 1934 in Henry County, Kentucky. Zie ook mijn blog van 5 augustus 2007 en ook mijn blog van 5 augustus 2008 en ook mijn blog van 5 augustus 2009.
A Timbered Choir
Even while I dreamed I prayed that what I saw was only fear and no foretelling,
for I saw the last known landscape destroyed for the sake
of the objective, the soil bludgeoned, the rock blasted.
Those who had wanted to go home would never get there now.
I visited the offices where for the sake of the objective the planners planned
at blank desks set in rows. I visited the loud factories
where the machines were made that would drive ever forward
toward the objective. I saw the forest reduced to stumps and gullies; I saw
the poisoned river, the mountain cast into the valley;
I came to the city that nobody recognized because it looked like every other city.
I saw the passages worn by the unnumbered
footfalls of those whose eyes were fixed upon the objective.
Their passing had obliterated the graves and the monuments
of those who had died in pursuit of the objective
and who had long ago forever been forgotten, according
to the inevitable rule that those who have forgotten forget
that they have forgotten. Men, women, and children now pursued the objective
as if nobody ever had pursued it before.
The races and the sexes now intermingled perfectly in pursuit of the objective.
the once-enslaved, the once-oppressed were now free
to sell themselves to the highest bidder
and to enter the best paying prisons
in pursuit of the objective, which was the destruction of all enemies,
which was the destruction of all obstacles, which was the destruction of all objects,
which was to clear the way to victory, which was to clear the way to promotion, to salvation, to progress,
to the completed sale, to the signature
on the contract, which was to clear the way
to self-realization, to self-creation, from which nobody who ever wanted to go home
would ever get there now, for every remembered place
had been displaced; the signposts had been bent to the ground and covered over.
Every place had been displaced, every love
unloved, every vow unsworn, every word unmeant
to make way for the passage of the crowd
of the individuated, the autonomous, the self-actuated, the homeless
with their many eyes opened toward the objective
which they did not yet perceive in the far distance,
having never known where they were going,
having never known where they came from.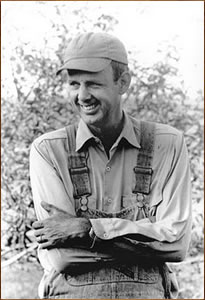 Wendell Berry (Henry County, 5 augustus 1934)
De Franse schrijver Guy de Maupassant is geboren op 5 augustus 1850 in kasteel Miromesnil bij Dieppe. Zie ook mijn blog van 5 augustus 2006 en ook mijn blog van 5 augustus 2007 en ook mijn blog van 5 augustus 2008 en ook mijn blog van 5 augustus 2009.
Uit: Bel Ami
"Quand la caissière lui eut rendu la monnaie de sa pièce de cent sous, Georges Duroy sortit du restaurant.
Comme il portait beau par nature et par pose d'ancien sous-officier, il cambra sa taille, frisa sa moustache d'un geste militaire et familier, et jeta sur les dîneurs attardés un regard rapide et circulaire, un de ces regards de joli garçon, qui s'étendent comme des coups d'épervier.
Les femmes avaient levé la tête vers lui, trois petites ouvrières, une maîtresse de musique entre deux âges, mal peignée, négligée, coiffée d'un chapeau toujours poussiéreux et vêtue toujours d'une robe de travers, et deux bourgeoises avec leurs maris, habituées de cette gargote à prix fixe.
Lorsqu'il fut sur le trottoir, il demeura un instant immobile, se demandant ce qu'il allait faire. On était au 28 juin, et il lui restait juste en poche trois francs quarante pour finir le mois. Cela représentait deux dîners sans déjeuners, ou deux déjeuners sans dîners, au choix. Il réfléchit que les repas du matin étant de vingt-deux sous, au lieu de trente que coûtaient ceux du soir, il lui resterait, en se contentant des déjeuners, un franc vingt centimes de boni, ce qui représentait encore deux collations au pain et au saucisson, plus deux bocks sur le boulevard. C'était là sa grande dépense et son grand plaisir des nuits ; et il se mit à descendre la rue Notre-Dame-de-Lorette.
Il marchait ainsi qu'au temps où il portait l'uniforme des hussards, la poitrine bombée, les jambes un peu entrouvertes comme s'il venait de descendre de cheval ; et il avançait brutalement dans la rue pleine de monde, heurtant les épaules, poussant les gens pour ne point se déranger de sa route. Il inclinait légèrement sur l'oreille son chapeau à haute forme assez défraîchi, et battait le pavé de son talon. Il avait l'air de toujours défier quelqu'un, les passants, les maisons, la ville entière, par chic de beau soldat tombé dans le civil."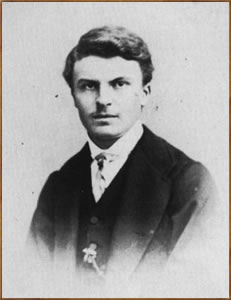 Guy de Maupassant (5 augustus 1850 – 6 juli 1893)
De Amerikaanse dichter Ron Silliman werd geboren op 5 augustus 1946 in Pasco, Washington. Zie ook mijn blog van 5 augustus 2007 en ook mijn blog van 5 augustus 2008.en en ook mijn blog van 5 augustus 2009.
the nose of kim darby's double (Fragment)
The form of the flower
exfoliating
petals dropping away
to reveal a new, further flower
now red, now blue
each shape a perpetual
revision, this
leaf thick and milky, this
spiky, hard, this
covered with the finest fuzz
blossoms

In his dream the boy
has dug a maze through the snow
complex, magnificent
that his parents want to dig up
(At four, to identify
the tension of generations

Glow threading
thru the woods at night,
headlights from an auto

Gamuk is kissing Ganuganuga

Resolution protocol:
song of a dot matrix printer

Casting text
across the listserv,
I write
until the first sight of sun
triggers morning's hunger,
voices echo elsewhere in the house

Stool
in the form of
a sheep, black,
Dinosaur constructed
from wire and beads

A pennywhistle lies on the rug

Thru the poplars
just enough light
to cast the first silhouette.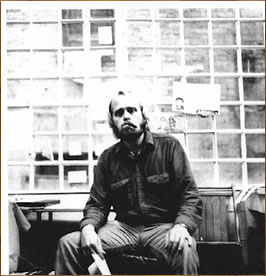 Ron Silliman (Pasco, 5 augustus 1946)
De Duitse dichter en schrijver Christian Wagner werd geboren op 5 augustus 1835 in Warmbronn. Zie ook mijn blog van 5 augustus 2007.
Uit: Die Wirtsbuben
"Fürwahr, es ist in der Nachbarschaft nie mehr so urgemütlich geworden, wie in den fünfziger und sechziger Jahren. Ein Blick zum Küchenfenster hinaus auf die gegenüberliegende Staffel zeigte uns den Jakoble in seinen lotterigen Lederhöselein mit herabhängenden Strümpfen – ich habe ihn nie anders gesehen –, sein Pfeifchen in urgemütlichem Behagen rauchend. Neben ihm saß als ständiger Gesellschafter der alte Philipple, ebenfalls mit der Pfeife im Maul und beständig mit dem Kopfe wackelnd. Denn der Jakoble war tags zuvor mit einem Wägelchen Holz in Stuttgart gewesen und erzählte nun dem Philipple wahre Wunderdinge, die sich gestern und vorgestern dort zugetragen haben sollten. So zum Beispiel, daß gestern in der Hauptstätter Straße ein vierspänniger Wagen voll Salat fürs Wildbad geladen worden sei.
Der alte Mundinger, Vater der Wirtsbuben, war früher auf dem »Adler« gewesen, jetzt wohnten mein Vater und ein Schmied in dem Haus. Als der Alte starb, war bei den Kindern, den Wirtsbuben, vollends kein Aufhalten. Noch zweimal nahmen sie Draufgeld und erhandelten zuletzt das Häuslein des Schneiders Schäufele, in dem sie bis zu ihrem teils seligen, teils unseligen Ende verblieben.
Vom Garten lief ein Fußpfad an der Hinterfront der Scheunen entlang zum Magstadter Weg, der direkt zum Magstadter Wald führte. Mit der Regelmäßigkeit einer Uhr sah man um drei Viertel auf elf, der Zeit des baldigen Heimgehens zum Mittagessen, die vier Geschwister daherkommen, doch jedes einzeln, etwa hundert Schritt vom anderen entfernt. Voraus Hannes, eine feste, gedrungene Gestalt im blauen Fuhrmannshemd, der rechte Backen wie geschwollen, da er beständig Tabak kaute. Er war der Bahnbrecher. Dann kam der Jakoble, etwas lotterig, wie immer mit herabhängenden Strümpfen und dem Pfeifchen im Maul. Dann der Christian, der stolzeste der Gebrüder; er war bei der Post gewesen und wurde unwillig, wenn man ihn, wie seine Stuttgarter Kollegen, Heckenbeerle und nicht, wie sich's geziemt hätte, Stangenreiter nannte. Dann eine ältere Schwester Meile (Marie), Olga von ihnen geheißen."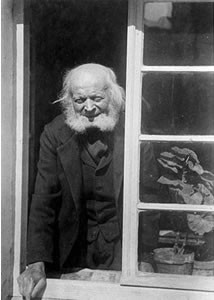 Christian Wagner (5 augustus 1835 – 15 februari 1918)

05-08-2010 om 19:53 geschreven door Romenu

Tags:Wendell Berry, Guy de Maupassant, Ron Silliman, Christian Wagner, Romenu