E-mail mij


Druk op onderstaande knop om mij te e-mailen.


Romenu


Romenu is een blog over gedichten, literatuur en kunst Maar Romenu is ook een professionele freelance vertaler
Du-Ne en Ne-Du http://www.romenu.nl.


Huur eens een (vakantie)huis in een natuurgebied, dichtbij het centrum van Nijmegen


Google


Georg Trakl

Georg Trakl werd op 3 februari 1887 in het conducteurshuis aan de Waagplatz 2 in Salzburg geboren. Zijn vader, Tobias Trakl, was een handelaar in ijzerwaren en zijn moeder, die ook psychische problemen had, was Maria Catharina Trakl, (meisjesnaam Halik). Voorts had hij nog drie broers en drie zussen. Margarethe (doorgaans Grethe genoemd) stond hem het naast, zelfs zodanig dat sommigen een incestueuze verhouding vermoeden. Zijn jeugd bracht hij door in Salzburg. Vervolgens bezocht hij van 1897 tot 1905 het humanistische gymnasium. Om toch een academische opleiding te kunnen volgen, werkte hij tot 1908 in de praktijk bij een apotheker. Sommigen vermoedden dat hij dit vooral deed om zichzelf opiaten te kunnen verschaffen. Bij het uitbreken van WO I werd Trakl als medicus naar het front in Galicië (heden ten dage in Oekraïne en Polen) gestuurd. Zijn gemoedsschommelingen leidden tot geregelde uitbraken van depressie, die verergerd werden door de afschuw die hij voelde voor de verzorging van de ernstig verwonde soldaten. De spanning en druk dreven hem ertoe een suïcidepoging te ondernemen, welke zijn kameraden nochtans verhinderden. Hij werd in een militair ziekenhuis opgenomen in Kraków, alwaar hij onder strikt toezicht geplaatst werd.Trakl verzonk daar in nog zwaardere depressies en schreef Ficker om advies. Ficker overtuigde hem ervan dat hij contact moest opnemen met Wittgenstein, die inderdaad op weg ging na Trakls bericht te hebben ontvangen. Op 4 november 1914, drie dagen voordat Wittgenstein aan zou komen, overleed hij echter aan een overdosis cocaïne


Paul Celan

Paul Celan werd onder de naam Paul Antschel op 23 november 1920 geboren in Czernowitz, toentertijd de hoofdstad van de Roemeense Boekovina, nu behorend bij de Oekraïne. Paul Celans ouders waren Duitssprekende joden die hun zoon joods opvoedden en hem naar Duitse christelijke scholen stuurden. In 1942 werden Celans ouders door de Duitse bezetter naar een werkkamp gedeporteerd en daar vermoord. Hijzelf wist aanvankelijk onder te duiken, maar moest vanaf juli 1942 in een werkkamp dwangarbeid verrichten. Celan overleefde de oorlog. Via Boekarest en Wenen vestigde Celan zich in 1948 in Parijs. Daar was hij werkzaam als dichter, vertaler en doceerde hij aan de prestigieuze Ecole Normale Supérieure. Vermoedelijk op 20 april 1970 beëindigde hij zijn leven zelf door in de Seine te springen.


Gerard Reve

Gerard Reve over: Medearbeiders "God is in de mensen, de dieren, de planten en alle dingen - in de schepping, die verlost moet worden of waaruit God verlost moet worden, door onze arbeid, aangezien wij medearbeiders van God zijn." Openbaring "Tja, waar berust elk godsbegrip op, elke vorm van religie? Op een openbaring, dat wil zeggen op een psychische ervaring van zulk een dwingende en onverbiddelijke kracht, dat de betrokkene het gevoel heeft, niet dat hij een gedachte of een visioen heeft, maar dat een gedachte gedachte of visioen hem bezit en overweldigt."


Simon Vestdijk
Simon Vestdijk (Harlingen, 17 oktober 1898 – Utrecht, 23 maart 1971) was een Nederlands romancier, dichter, essayist en vertaler. Zijn jeugd te Harlingen en Leeuwarden beschreef hij later in de Anton Wachter-cyclus. Van jongs af aan logeerde hij regelmatig bij zijn grootouders in Amsterdam, waar hij zich in 1917 aan de Universiteit van Amsterdam inschrijft als student in de medicijnen. Tijdens zijn studie die van 1917 tot 1927 duurde, leerde hij Jan Slauerhoff kennen.Tot 1932 is hij als arts in praktijken door heel Nederland werkzaam. In 1932 volgt zijn officiële schrijversdebuut met de uitgave van de bundel Verzen in De Vrije Bladen. Doorslaggevend voor Vestdijks uiteindelijke keuze voor de literatuur is zijn ontmoeting in 1932 met Eddy Du Perron en Menno ter Braak. Deze ontmoeting had tot resultaat dat hij redactielid werd van het tijdschrift Forum Kort daarop, in 1933, wordt zijn eerste novelle, De oubliette, uitgegeven. In hetzelfde jaar schrijft hij Kind tussen vier vrouwen, dat, eerst geweigerd door de uitgever, later de basis zal vormen voor de eerste drie delen van de Anton Wachter-romans. In 1951 ontvangt Vestdijk de P.C. Hooftprijs voor zijn in 1947 verschenen roman De vuuraanbidders. In 1957 wordt hij voor het eerst door het PEN-centrum voor Nederland voorgedragen voor de Nobelprijs voor de Literatuur, die hij echter nooit zal krijgen. Op 20 maart 1971 wordt hem de Prijs der Nederlandse Letteren toegekend, maar voor hij deze kan ontvangen overlijdt hij op 23 maart te Utrecht op 72-jarige leeftijd. Vestdijk was auteur van ca. 200 boeken. Vanwege deze enorme productie noemde de dichter Adriaan Roland Holst hem 'de man die sneller schrijft dan God kan lezen'. Andere belangrijke boeken van Simon Vestdijk zijn: "Kind van stad en land" (1936), "Meneer Visser's hellevaart" (1936), "Ierse nachten" (1946), "De toekomst de religie" (1947), "Pastorale 1943" (1948), "De koperen tuin" (1950), "Ivoren wachters" (1951), "Essays in duodecimo" (1952) en "Het genadeschot" (1964).


K.P. Kavafis

K.P. Kavafis werd als kind van Griekse ouders, afkomstig uit Konstantinopel, geboren in 1863 in Alexandrië (tot vandaag een Griekse enclave) waar hij ook het grootste deel van zijn leven woonde en werkte. Twee jaar na de dood van zijn vader verhuist het gezin in 1872 naar Engeland om na een verblijf van vijf jaar naar Alexandrië terug te keren. Vanwege ongeregeldheden in Egypte vlucht het gezin in 1882 naar Konstantinopel, om na drie jaar opnieuw naar Alexandrië terug te gaan. In de jaren die volgen maakt Kavafis reizen naar Parijs, Londen en in 1901 zijn eerste reis naar Griekenland, in latere jaren gevolgd door nog enkele bezoeken. Op de dag van zijn zeventigste verjaardag, in 1933 sterft Kavafis in Alexandrië. De roem kwam voor Kavafis pas na zijn dood, dus postuum. Deels is dat toe te schrijven aan zijn eigen handelswijze. Hij was uiterst terughoudend met de publicatie van zijn gedichten, liet af en toe een enkel gedicht afdrukken in een literair tijdschrift, gaf in eigen beheer enkele bundels met een stuk of twintig gedichten uit en het merendeel van zijn poëzie schonk hij op losse bladen aan zijn beste vrienden.


Thomas Mann


Thomas Mann, de jongere broer van Heinrich Mann, werd geboren op 6 juni 1875 in Lübeck. Hij was de tweede zoon van de graankoopman Thomas Johann Heinrich Mann welke later één van de senatoren van Lübreck werd. Zijn moeder Julia (geboren da Silva-Bruhns) was Duits-Braziliaans van Portugees Kreoolse afkomst. In 1894 debuteerde Thomas Mann met de novelle "Gefallen". Toen Thomas Mann met 21 jaar eindelijk volwassen was en hem dus geld van zijn vaders erfenis toestond - hij kreeg ongeveer 160 tot 180 goldmark per jaar - besloot hij dat hij genoeg had van al die scholen en instituties en werd onafhankelijk schrijver. Kenmerkend voor zijn stijl zijn de ironie, de fenomenale taalbeheersing en de minutieuze detailschildering. Manns reputatie in Duitsland was sterk wisselend. Met zijn eerste roman, Buddenbrooks (1901), had hij een enorm succes, maar door zijn sceptische houding tegenover Duitsland na de Eerste Wereldoorlog veranderde dit volledig. Stelde hij zich tot aan de jaren twintig apolitiek op (Betrachtungen eines Unpolitischen, 1918), meer en meer raakte hij bij het Politiek gebeuren betrokken. Zijn afkeer van het nationaal socialisme groeide, zijn waarschuwingen werden veelvuldiger en heftiger. In 1944 accepteerde hij het Amerikaanse staatsburgerschap. Tussen 1943 en 1947 schreef Mann Doktor Faustus (zie Faust), de roman van de 'Duitse ziel' in de gecamoufleerd geschilderde omstandigheden van de 20ste eeuw. In 1947 bezocht hij voor het eerst sinds de Oorlog Europa, twee jaar later pas Duitsland. In 1952 vertrok hij naar Zwitserland. Op 12 augustus 1955 stierf hij in Zürich. Twintig jaar na zijn dood, in aug. 1975, is zijn literaire nalatenschap geopend: dagboekaantekeningen van 15 maart 1933 tot 29 juli 1955, alsmede notities uit de jaren 1918 tot en met 1921.Belangrijke werken zijn: Der Zauberberg, Der Tod in Venedig, Dokter Faustus , Joseph und seine Brüder en Die Bekenntnisse des Hochstaplers Felix Krull.


Rainer Maria Rilke

Rilke werd op 4 december 1875 geboren in Praag. Hij had al naam gemaakt als dichter met zijn bundels Das Stundenbuch en Das Buch der Bilder, toen hij de literaire wereld versteld deed staan en wereldfaam verwierf met de publicatie van zijn twee delen Neue Gedichte in 1907 en 1908. Hij verzamelde daarin het beste werk uit een van zijn vruchtbaarste periodes, die hij grotendeels doorbracht in Parijs. Rilke was daar diep onder de indruk gekomen van Rodin, bij wie hij een tijdlang in dienst was als particulier secretaris. Rodin, zei hij later, had hem leren kijken. Dit kijken kwam neer op intense concentratie, om het mysterie te kunnen zien 'achter de schijnbare werkelijkheid'. Latere en rijpere werken als Duineser Elegien (1912-1923) en het ronduit schitterende Die Sonette an Orfeus (1924) illustreren Rilkes metafysische visie op het onzegbare, dat haar verwoording vindt in een hermetische muzikale taal. Op 29 december 1926 overlijdt Rilke in het sanatorium in Val-Mont aan de gevolgen van leukemie. Enkele dagen later wordt hij, overeenkomstig zijn wens, begraven op het kerkhof van Raron.


* * * * * * * * * * * * * * * *

| | |
| --- | --- |
| | Over literatuur, gedichten, kunst en cultuur |

26-12-2013

Christmas Bells (Henry Longfellow)
Aan alle bezoekers en mede-bloggers een Prettig Kerstfeest!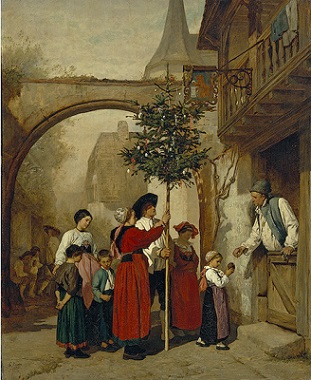 Les chanteurs de Noël door Gustave Brion, 1858
Christmas Bells
I heard the bells on Christmas Day
Their old familiar carols play,
And wild and sweet
The words repeat
Of peace on earth, good-will to men!
And thought how, as the day had come,
The belfries of all Christendom
Had rolled along
The unbroken song
Of peace on earth, good-will to men!
Till, ringing, singing on its way,
The world revolved from night to day,
A voice, a chime
A chant sublime
Of peace on earth, good-will to men!
Then from each black accursed mouth
The cannon thundered in the South,
And with the sound
The carols drowned
Of peace on earth, good-will to men!
It was as if an earthquake rent
The hearth-stones of a continent,
And made forlorn
The households born
Of peace on earth, good-will to men!
And in despair I bowed my head;
"There is no peace on earth," I said;
"For hate is strong,
And mocks the song
Of peace on earth, good-will to men!"
Then pealed the bells more loud and deep:
"God is not dead; nor doth he sleep!
The Wrong shall fail,
The Right prevail,
With peace on earth, good-will to men!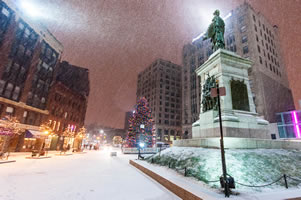 Henry Longfellow (27 februari 1807 - 24 maart 1882)
Portland. Henry Longfellow werd geboren in Portland.
Zie voor de schrijvers van de 26e december ook mijn vier vorige blogs van vandaag.
26-12-2013 om 11:09 geschreven door Romenu

Tags:Kerstmis, Henry Longfellow, Romenu



David Sedaris, Elizabeth Kostova, Henry Miller, Rainer Malkowski
De Amerikaanse schrijver David Sedaris werd geboren in Binghamton, New York, op 26 december 1956. Zie ook alle tags voor David Sedaris op dit blog.
Uit: Holidays on Ice
"In a parade, maybe, but not on the streets. I figure that at least as an elf I will have a place; I'll be in Santa's Village with all the other elves. We will reside in a fluffy wonderland surrounded by candy canes and gingerbread shacks. It won't be quite as sad as standing on some street corner dressed as a french fry.
I am trying to look on the bright side. I arrived in New York three weeks ago with high hopes, hopes that have been challenged. In my imagination I'd go straight from Penn Station to the offices of "One Life to Live," where I would drop off my bags and spruce up before heading off for drinks with Cord Roberts and Victoria Buchannon, the show's greatest stars. We'd sit in a plush booth at a tony cocktail lounge where my new celebrity friends would lift their frosty glasses in my direction and say, "A toast to David Sedaris, the best writer this show has ever had!!!"
I'd say, "You guys, cut it out." It was my plan to act modest.
People at surrounding tables would stare at us, whispering, "Isn't that … ? Isn't that … ?"
I might be distracted by their enthusiasm and Victoria Buchannon would lay her hand over mineand tell me that I'd better get used to being the center of attention.
But instead I am applying for a job as an elf. Even worse than applying is the very real possibility that I will not be hired, that I couldn't even find work as an elf. That's when you know you're a failure.
This afternoon I sat in the eighth-floor SantaLand office and was told, "Congratulations, Mr. Sedaris. You are an elf.
In order to become an elf I filled out ten pages' worth of forms, took a multiple choice personality test, underwent two interviews, and submitted urine for a drug test. The first interview was general, designed to eliminate the obvious sociopaths."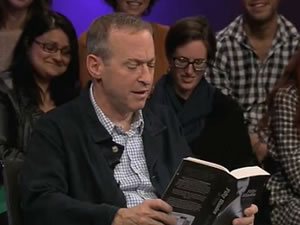 David Sedaris (Binghamton, 26 december 1956)
De Amerikaanse schrijfster Elizabeth Kostova werd geboren op 26 december 1964 in New London, Connecticut. Zie ook alle tags voor Elizabeth Kostova op dit blog.
Uit: The Historian
"My father's library had probably once been a sitting room, but he sat down only to read, and he considered a large library more important than a large living room. He had long since given me free run of his collection. During his absences, I spent hours doing my homework at the mahogany desk or browsing the shelves that lined every wall. I understood later that my father had either half forgotten what was on one of the top shelves or-more likely-assumed I would never be able to reach it; late one night I took down not only a translation of the Kama Sutra but also a much older volume and an envelope of yellowing papers.
I can't say even now what made me pull them down. But the image I saw at the center of the book, the smell of age that rose from it, and my discovery that the papers were personal letters all caught my attention forcibly. I knew I shouldn't examine my father's private papers, or anyone's, and I was also afraid that Mrs. Clay might suddenly come in to dust the dustless desk-that must have been what made me look over my shoulder at the door. But I couldn't help reading the first paragraph of the topmost letter, holding it for a couple of minutes as I stood near the shelves."

Elizabeth Kostova (New London, 26 december 1964)
De Amerikaanse schrijver Henry Miller werd geboren op 26 december 1891 In New York. Zie ook alle tags voor Henry Miller op dit blog.
Uit: Sexus
"If there is no realization there is no purpose or advantage in substituting the imaginative life for the purely adventurous one of reality. Everyone who lifts himself above the activities of the daily round does so not only in the hope of enlarging his field of experience, or even of enriching it, but of quickening it. Only in this sense does struggle have any meaning. Accept this view, and the distinction between failure and success is nil. And this is what every great artist comes to learn en route- that the process in which he is involved has to do with another dimension of life, that by identifying himself with this process he augments life. In this view of things he is permanently removed- and protected- from the insidious death which seems to triumph all about him. He divines that the great secret will never be apprehended but incorporated in his very substance. He has to make himself a part of the mystery, live in it as well as with it. Acceptance is the solution: it is an art, not an egotistical performance on the part of the intellect. Through art, then, one finally establishes contact with reality: that is the great discovery. Here all is play and invention; there is no solid foothold from which to launch projectiles which will pierce the miasma of folly, ignorance and greed. The world has not to be put in order: the world is order incarnate. It is for us to put ourselves in unison with this order, to know what is the world order in contradistinction to the wishful-thinking orders which we seek to impose on one another."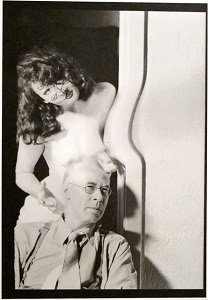 Henry Miller (26 december 1891 – 7 juni 1980)
Portret door Man Ray, 1945
De Duitse dichter Rainer Malkowski werd geboren op 26 december 1939 in Berlijn-Tempelhof. Zie ook alle tags voor Rainer Malkowski op dit blog.
Epitaph für einen leisen Erzieher
Du hast etwas
von mir erwartet,
Aber ich wusste nicht, was.
Irgendetwas
hast du geglaubt,
wird deutlich geschehen.
Eine Zeit später
begann ich,
danach zu suchen.
Mittag im Süden
Ein Rolladen aus Blech
vor dem einzigen Geschäft
am Dorfplatz.
Ein Brunnen,
daneben ein roter Klappstuhl.
Nach langer Zeit
ein Ruf,
irgendwo
in den tiefer liegenden Gassen
Der verrückte, verrückte
Sekundenzeiger
meiner Armbanduhr.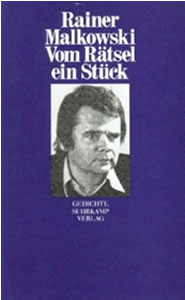 Rainer Malkowski (26 december 1939 – 1 september 2003)
Cover
Zie voor nog meer schrijvers van de 26e december ook mijn vorige drie blogs van vandaag.
26-12-2013 om 11:07 geschreven door Romenu

Tags:David Sedaris, Elizabeth Kostova, Henry Miller, Rainer Malkowski, Romenu



Mani Beckmann, Alejo Carpentier, Hans Brinkmann, Jean Toomer, Willy Corsari
De Duitse schrijver Mani Beckmann (pseudoniem Tom Finnek) werd geboren op 26 december 1965 in Alstätte/Westfalen. Zie ook alle tags voor Mani Beckmann op dit blog.
Uit: Sodom und Gomera
"Ich schaute mich hilflos und suchend im Flughafengebäude um und beneidete die anderen Fluggäste, die genau zu wissen schienen, wohin sie wollten und wie sie dorthin gelangten. Zwar hatte ich mir am Vorabend einen Reiseführer besorgt und ihn sogleich in die Innentasche meiner
Lederjacke gesteckt, um ihn auf keinen Fall zu vergessen und im Flugzeug zur ersten Recherche zur Hand zu haben.
Doch leider hatte ich mich heute morgen entschieden, statt der winterlichen Leder- die sommerliche Jeansjacke mitzunehmen, und so ruhte der Reiseführer wohlbehalten in meiner Wohnung, während ich einigermaßen orientierungslos im sonnigen Süden gelandet war. Zu allem Überfluss war ich des Spanischen nicht mächtig und beherrschte außer den Titeln einiger spanischer Spielfilme wenig mehr als die Namen diverser karibischer Cocktails.
»Deutsch reicht da unten völlig«, hatte Ute am Sonntag gemeint, als wir uns in einem Café in der Nähe des Kreuzberger Victoriaparks zu einem französischen Frühstück getroffen hatten. »Gomera ist genau wie Mallorca, nur ganz anders.« Dann hatte sie meine Hand genommen und mich traurig lächelnd angeschaut. »Würdest du das wirklich für mich tun?«
»Für dich würde ich alles tun«, hatte ich scherzhaft geantwortet und ihr dabei nicht in die Augen geschaut, um ihr nicht zu erkennen zu geben, dass ich es keineswegs nur als Scherz gemeint hatte."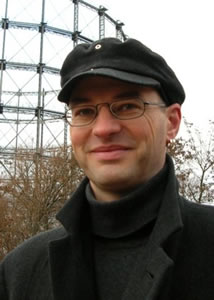 Mani Beckmann (Alstätte, 26 december 1965)
De Cubaanse schrijver, essayist en musicoloog Alejo Carpentier werd geboren in Havana op 26 december 1904. Zie ook alle tags voor Alejo Carpentier op dit blog.
Uit: The Kingdom of This World (Vertaald door Harriet de Onís)
"Toward the end of 1943, I had the good fortune to visit the kingdom of Henri Christophe --the poetic ruins of Sans-Souci, the massive citadel of La Ferriere, imposingly intact despite lightning bolts and earthquakes--- and to acquaint myself with the still-Norman Cap-Haitien (the Cap Français of the former colony) where a street lined with long balconies leads to the cut-stone palace once inhabited by Pauline Bonaparte.
After having felt the undeniable enchantment of this Haitian earth, after having discerned magical warnings on the red roads of the Central Plateau, after having heard the drums of Petro and Rada, I was moved to compare the marvelous reality I'd just experienced with the tiresomsome attempts to arouse the marvelous that has characterized certain European literatures for last thirty years. The marvelous, sought for in the old clichés of the Forest of Broceliande, the Knights of the Round Table, Merlin the Magician, and the Arthurian cycle. The marvelous, pathetically evoked by the antics and deformities of sideshow characters--will the young poets of France never get tired of the freaks and clowns of the féte foraine, which Rimbaud dismissed long ago in his Alchemie du verbe? "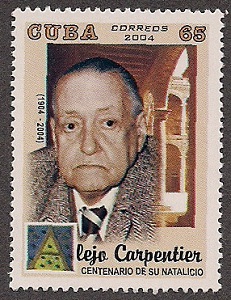 Alejo Carpentier (26 december 1904 - 24 april 1980)
De Duitse dichter, schrijver en criticus Hans Brinkmann werd geboren op 26 december 1956 in Freiberg in Sachsen. Zie ook alle tags voor Hans Brinkmann op dit blog.
Fragment wovon?
Mitten im Leben stehe ich im Wald.
Vor lauter Bäumen stehe ich, die Vöglein schweigen.
Das Holz ist tot. Papier geduldig. Tinte kalt.
Der Wald heißt Himmelarsch und großes Meinungsgeigen.
Hier schreite durch, wer Fäuste in der Tasche ballt.
Muss denn das Trüffelschwein sich vor dem Moos verneigen?
Im Lodenmantel liegt Natur im Hinterhalt,
um plötzlich ihren Jagdschein vorzuzeigen.
Die aus dem Boden Geschossene grient.
Dass ich mir kein'n grünen Zweig um die Stirn winde,
scheint irre, weil gleichwohl fast militant. – Ach:
Wer sich eignen Verstandes noch gerne bedient,
kämpft um jeden Quadratzentimeter Hirnrinde
wie um einen Fußbreit Land.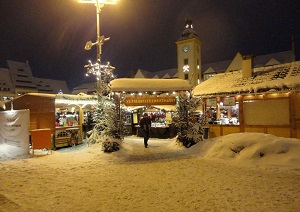 Hans Brinkmann (Freiberg, 26 december 1956)
Freiberg, kerstmarkt
De Amerikaanse dichter en schrijver Jean Toomer werd geboren op 26 december 1894 in Washington, D.C. Zie ook alle tags voor Jean Toomer op dit blog.
People
To those fixed on white,
White is white,
To those fixed on black,
It is the same,
And red is red,
Yellow, yellow-
Surely there are such sights
In the many colored world,
Or in the mind.
The strange thing is that
These people never see themselves
Or you, or me.
Are they not in their minds?
Are we not in the world?
This is a curious blindness
For those that are color blind.
What queer beliefs
That men who believe in sights
Disbelieve in seers.
O people, if you but used
Your other eyes
You would see beings.
Unsuspecting
There is a natty kind of mind
That slicks its thoughts,
Culls its oughts,
Trims its views,
Prunes its trues,
And never suspects it is a rind.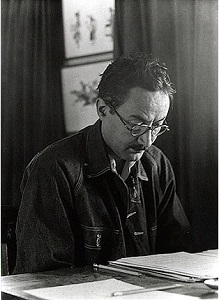 Jean Toomer (26 december 1894 – 30 maart 1967)
De Nederlandse schrijfster Willy Corsari (pseudoniem van Wilhelmina Angela Douwes-Schmidt) werd geboren in Sint-Pieters-Jette, Brussel, op 26 december 1897. Zie ook alle tags voor Willy Corsari op dit blog.
Toen je voor 't eerst mij leerde kennen (Fragment)
Nu vind je alles even aardig
Je kust de grond waarop ik ga
Je lacht omdat ik niet kan koken
Onhandig in de keuken sta
Maar als je later van je werk kwam
Het eten was weer aangebrand
En ik kon je kleren niet verstellen
De kamers waren niet aan kant
En ik liep door het huis te zingen
Dacht niet aan huishouden of jou
Ik ben niet zeker, lieve jongen
Dat je dan ook nog lachen zou

Misschien deed je me dan verwijten
Een bitter woord is gauw gezegd
En 't mooie tussen ons zou sterven
Al wordt een twist ook bijgelegd
Dan was het uit met onze dromen
Als rook, vervlogen in de wind
Hoe wou jij door het leven komen
Met mij, met zo'n zigeunerkind

En daarom: Liefste, laat het uit zijn
Het is het leven dat ons scheidt
Over een poosje zul je lachen
Om deze hele dwaze tijd
Misschien word jij nu ook wel bitter
En noemt me harteloos en koud
Ach, 't is maar beter dat je niet weet
Hoeveel ik eigenlijk van je houd
Maar als je over een paar jaren
Tevreden leeft in je gezin
Misschien denk je dan nog eens
Dankbaar terug aan je zigeunerin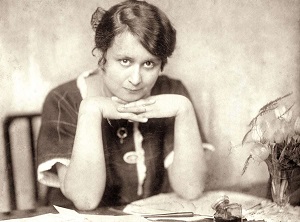 Willy Corsari (26 december 1897 – 11 mei 1998)
In 1921
Zie voor nog meer schrijvers van de 26e december ook mijn vorige twee blogs van vandaag.


26-12-2013 om 11:06 geschreven door Romenu

Tags:Mani Beckmann, Alejo Carpentier, Hans Brinkmann, Jean Toomer, Willy Corsari, Romenu



Alfred Huggenberger, René Bazin, Julien Benda, Jean Galtier-Boissière
De Zwitserse dichter en schrijver Alfred Huggenberger werd geboren op 26 december 1867 in Bewangen nabij Bertschikon. Zie ook alle tags voor Alfred Huggenbergerop dit blog.
Chrischtbäumli
's hät nid vill Chrömli am mim Baum,
kei Silberchugle gseht me dra,
defür denn Öpfel, gäl und rot,
düer Bire, was nu hange cha.
I weiss, dass d'Muetter briegget hät,
i weiss, i hett's nid sölle gseh.
Si hett mer, wenn's hett chöne si,
di schönschte, türschte Sache g'gäh.
Wenn z'Obed d'Liechtli brenne tüend,
so sitz i ufem Ofetritt
und luege halt mis Bäumli a, –
öb's uf der Welt e schöners git?
Emol, do hät's mi heimli quält,
ha lisli d'Chuchitür ufto,
hett gern der Muetter alles gseit –
si lächlet: Hescht, i weiss es scho! ...

Rosen am Weg
Zwischen Dorn und Disteln liegen
Rote Rosen hingestreut:
Kleine Freuden, die das Leben
Jedem zeigt und allen beut.
Geh nicht achtlos dran vorüber,
Nütz' die Augenblicke aus!
Von der Fahrt nach grossem Glücke
Kehrt so mancher leer nach Haus.
O, der Strauss, am Weg gebunden,
Wird dir noch zum Kleinod wert!
Gott versagt, was wir erflehen,
Schenkt uns vieles unbegehrt.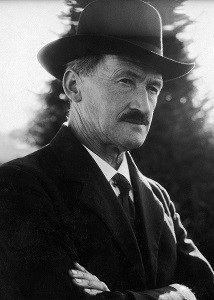 Alfred Huggenberger (26 december 1867 – 14 februari 1960)
De Franse schrijver René Bazin werd geboren op 26 december 1853 in Angers. Zie ook alle tags voor René Bazin op dit blog.
Uit: Les Noëllet
À sa gauche, la pente roide du coteau, l'Èvre tordant ses rives plantées d'aunes autour d'un mamelon boisé, des prairies au delà, puis l'autre coteau qui remonte, couronné, comme d'une aigrette, par le château blanc du Vigneau. À droite, au contraire, les champs s'élèvent en courbes régulières, par longues bandes de cultures diverses, et dont les tons se fondent à mesure que la lumière décroît. Pierre connaît leurs maîtres, celui de ces chaumes où filent deux rangs de pommiers, celui de ces grands choux où des perdrix rappellent, et de ce guéret d'où monte l'haleine des terres fraîchement remuées. En apprenti qui commence à juger les choses, il songe que la métairie paternelle est mieux cultivée, mieux fumée, reconnaissable entre toutes à la hardiesse de ses labours, à la beauté de ses moissons. Et ce n'est pas étonnant : les voisins sont tous plus ou moins gênés, ils travaillent pour d'autres, écrasés de leurs lourds fermages, tandis que le père !…
Voici justement le premier champ de la Genivière. L'horizon s'élargit démesurément. On voit, à présent, par l'ouverture de la vallée, la succession lointaine des collines, jusqu'à Gesté, jusqu'à Saint-Philbert-en-Mauges, des clochers fins sur le ciel, des futaies comme des brumes violettes. Oh ! tous ces petits villages aux toits de tuiles gaufrées, qu'anime un dernier rayon de jour ! Des bruits se croisent : appels des coqs dans les fermes et des merles dans les fossés, roulements de chariots, jappements des chiens qu'on détache, voix qui partent des maisons vers les hommes attardés au loin, un pas qui sonne on ne sait où et que bientôt l'herbe étouffe. Et les étoiles s'allument là-haut, d'où descend par degrés, sur la terre de Vendée, le calme immense de la nuit.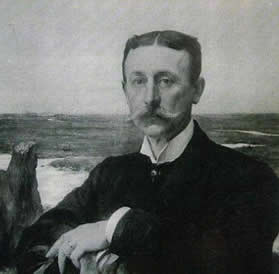 René Bazin (26 december 1853 – 19 juli 1932)
De Franse schrijver en filosoof Julien Benda werd geboren op 26 december 1867 in Parijs. Zie ook alle tags voor Julien Benda op dit blog.
Uit: The Treason of the Intellectuals (Vertaald door Richard Aldington)
"Peace, it must be repeated after so many others have said this, is only possible if men cease to place their happiness in the possession of things "which cannot be shared," and if they raise themselves to a point where they adopt an abstract principle superior to their egotisms. In other words, it can only be obtained by a betterment of human morality. But, as I have pointed out above, not only do men to-day steel themselves entirely against this, but the very first condition of peace, which is to recognize the necessity for this progress of the soul, is seriously menaced. A school arose in the nineteenth century which told men to expect peace from enlightened self-interest, from the belief that a war, even when victorious, is disastrous, especially to economic transformations, to "the evolution of production," in a phrase, to factors totally foreign to their moral improvement, from which, these thinkers say, it would be frivolous to expect anything. So that humanity, even if it had any desire for peace, is exhorted to neglect the one effort which might procure it, an effort it is delighted not to make. The cause of peace, which is always surrounded with adverse factors, in our days has one more against it—the pacifism which pretends to be scientific."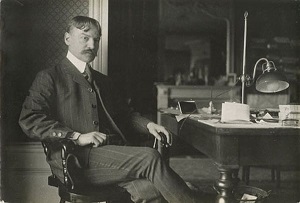 Julien Benda (26 december 1867 – 7 juni 1956)
De Franse schrijver, polemist en journalist Jean Galtier-Boissière werd geboren op 26 december 1891 in Parijs. Zie ook alle tags voor Jean Galtier-Boissière op dit blog.
Uit: Mémoires d'un Parisien (Nos amours de jeunesse)
"En faisant beaucoup de frais, il a prouvé que l'ardeur et l'empressement font aisément oublier un certain manque de régularité dans les traits; les femmes se moquent du profil grec, archaïque ou classique; le timbre de voix a beaucoup plus d'importance que la courbe du nez, et Gabriel put aligner un lot fort honorable de belles personnes.
Le premier atout de mon ami Jean, c'était un aimable minois avec un air passablement effronté; le second, son don de raconter gaiement des histoires, de lancer des mots cocasses et des reparties plaisantes. Les Parisiennes, aussi bien que les étrangères, prisent le garçon avec lequel elles sont sûres de ne jamais s'ennuyer et, pour s'assurer sa présence assidue, sont prêtes à tout lui accorder.
Le tableau de chasse de mon ami Jean fut donc copieux et varié. Je ne dirai pas qu'il n'est jamais tombé sur un bec, ce ne serait pas vraisemblable. Mais il avait mis au point une parade assez particulière: lorsqu'il s'était vu rabroué, il s'attachait à déceler le menu défaut physique de la rebelle. La perfection n'est pas de ce monde."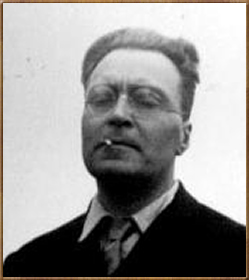 Jean Galtier-Boissière (26 december 1891 – 22 januari 1966)
Zie voor nog meer schrijvers van de 26e december ook mijn vorige blog van vandaag.
26-12-2013 om 11:04 geschreven door Romenu

Tags:Alfred Huggenberger, René Bazin, Julien Benda, Jean Galtier-Boissière, Romenu



Thomas Gray, Ernst Moritz Arndt, Johann Gaudenz von Salis-Seewis, E. D. E. N. Southworth, Jean-François de Saint-Lambert
De Engelse dichter en geleerde Thomas Gray werd geboren op 26 december 1716 in Londen. Zie ook alle tags voor Thomas Gray op dit blog.
The Fatal Sisters (Fragment)
Now the storm begins to lower,
(Haste, the loom of Hell prepares!)
Iron-sleet of arrowy shower
Hurtles in the darkened air.
Glittering lances are the loom,
Where the dusky warp we strain,
Weaving many a soldier's doom,
Orkney's woe and Randver's bane.
See the grisly texture grow,
('Tis of human entrails made!)
And the weights that play below,
Each a gasping warrior's head.
Shafts for shuttles, dipped in gore,
Shoot the trembling cords along.
Sword, that once a monarch bore,
Keep the tissue close and strong.
Mista, black, terrific maid,
Sangrida, and Hilda, see,
Join the wayward work to aid;
'Tis the woof of victory.
Ere the ruddy sun be set,
Pikes must shiver, javelins sing,
Blade with clattering buckler meet,
Hauberk crash, and helmet ring.
(Weave the crimson web of war!)
Let us go, and let us fly
Where our friends the conflict share,
Where they triumph, where they die.
As the paths of fate we tread,
Wading through the ensanguined field,
Gondula and Geira, spread
O'er the youthful king your shield.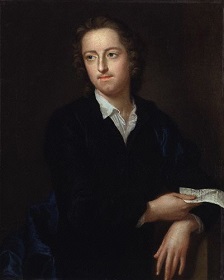 Thomas Gray (26 december 1716 – 30 juli 1771)
Portret door John Giles Eccart, 1747-1748
De Duitse dichter en schrijver Ernst Moritz Arndt werd op 26 december 1769 in Groß-Schoritz geboren op het eiland Rügen. Zie ook alle tags voor Ernst Moritz Arndt op dit blog.
Gottes Geist
O Gottes Geist und Christi Geist,
Der uns den Weg zum Himmel weist,
Der uns die dunkle Erdennacht
Durch seine Lichter helle macht.
Du Hauch, der durch das Weltall weht
Als Gottes stille Majestät,
Du, aller Lichter reinstes Licht,
Erleucht' uns Herz und Angesicht.
Komm, leuchte mit dem Gnadenschein
Hell in die weite Welt hinein,
Komm, mach' uns in der Finsternis
Des lichten Himmelswegs gewiß.
Ach! Hier ist alles Staub und Nacht,
Die Wahn und Sünde trübe macht,
Ach! Hier ist alles Not und Tod,
Geht uns nicht auf dein Morgenrot.
Das Morgenrot der bessern Welt,
Das wie ein Strahl vom Himmel fällt,
Als Gottes Macht und Gottes Lust
Durchblitzt die kranke Menschenbrust.
O Gottes Geist und Christi Geist,
Der uns wie Kinder beten heißt,
Der uns wie Kinder glauben heißt,
O komm! o komm, du Heil'ger Geist!
Komm, Gottes Frieden, Gottes Mut!
Komm, stille Kraft, die nimmer ruht!
Komm, gieße deinen Gnadenschein
In Seele, Sinn und Herz mir ein.
Dann wandl' ich wie ein Kind des Lichts
Im Glanze deines Angesichts
Schon meinen kurzen Erdenlauf
Stets himmelein und himmelauf.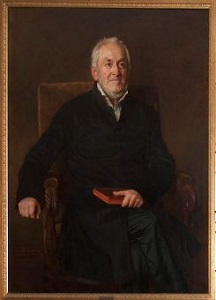 Ernst Moritz Arndt (26 december 1769 – 29 januari 1860)
Portret door Julius Roeting, 1859
De Zwitserse dichter en schrijver Freiherr Johann Gaudenz von Salis-Seewis werd geboren op 26 december 1762 op slot Bothmar bei Malans. Zie ook alle tags voor Johann Gaudenz von Salis-Seewis op dit blog.
Mit vielen teile deine Freuden
Mit vielen teile deine Freuden,
Mit allen Munterkeit und Scherz,
Mit wenig Edlen deine Leiden,
Und Auserwählten nur dein Herz.

Der schönste Augenblick
Schön ist´s wenn zwei Sterne
Nah sich stehn am Firmament.
Schön, wenn zweier Rosen
Röte ineinander brennt.
Doch in Wahrheit! Immer
Ist´s am schönsten anzusehn;
Wie zwei, so sich lieben,
Selig beieinander stehn.

Die Rose
Weiß war die Rose zuerst. Die Mädchen und Jünglinge priesen
Ihren reinen Glanz, ihren unschuldigen Schmuck.
Schnell umfloß sie die steigende Röte bescheidenen Schämens,
Und sie glühet zeither reizender noch als zuvor.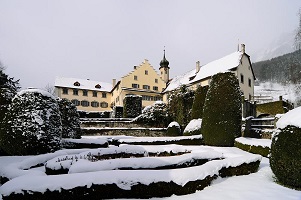 Johann Gaudenz von Salis-Seewis (26 december 1762 – 29 januari 1834)
Malans, slot Bothmar
De Amerikaanse schrijfster Emma Dorothy Eliza Nevitte Southworth werd geboren op 26 december 1819 in Washington, D.C. Zie ook alle tags voor E. D. E. N. Southworth op dit blog.
Uit: Ishmael or In The Depths
"Well, if there be any truth in the old adage, young Herman Brudenell will have a prosperous life; for really this is a lovely day for the middle of April—the sky is just as sunny and the air as warm as if it were June," said Hannah Worth, looking out from the door of her hut upon a scene as beautiful as ever shone beneath the splendid radiance of an early spring morning.
"And what is that old adage you talk of, Hannah?" inquired her younger sister, who stood braiding the locks of her long black hair before the cracked looking-glass that hung above the rickety chest of drawers.
"Why, la, Nora, don't you know? The adage is as old as the hills and as true as the heavens, and it is this, that a man's twenty-first birthday is an index to his after life:—if it be clear, he will be fortunate; if cloudy, unfortunate."
"Then I should say that young Mr. Brudenell's fortune will be a splendid one; for the sun is dazzling!" said Nora, as she wound the long sable plait of hair around her head in the form of a natural coronet, and secured the end behind with—a thorn! "And, now, how do I look? Aint you proud of me?" she archly inquired, turning with "a smile of conscious beauty born" to the inspection of her elder sister."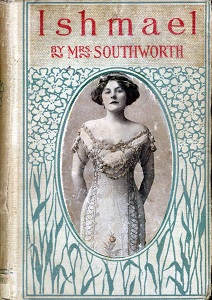 E. D. E. N. Southworth (26 december 1819 – 30 juni 1899)
Cover
De Franse dichter, schrijver en filosoof Jean-François de Saint-Lambert werd geboren op 26 december 1716 in Nancy. Zie ook alle tags voor Jean-François de Saint-Lambert op dit blog.
L'Hiver (Fragment)
QUEL bruit s'est élevé des forêts ébranlées,
Du rivage des mers, & du fond des vallées ?
Pourquoi ces sons affreux, ces longs rugissements,
Ce tumulte confus, ce choc des éléments ?
O puissance féconde ! ô nature immortelle !
Des êtres animés, mère tendre & cruelle !
Faut-il donc qu'aux faveurs dont tu les as comblés
Succèdent les fléaux dont ils sont accablés ?
Le fougueux aquilon déchaîné sur nos têtes,
Sous un ciel sans clarté promene les tempêtes ;
Il mugit dans les bois, & sur les monts déserts ;
En tourbillon rapide il tourne sur les mers ;
Il étend, il resserre, il fait fondre les nues ;
Les champs ont disparu sous des mers inconnues ;
Sur les eaux qui tomboient le ciel verse des eaux ;
Les torrents sont pressés par des torrents nouveaux.
Ce fleuve qui s'élance & franchit la prairie,
Porte au penchant des monts son onde, & sa furie ;
Et des arbres tombés, des hameaux renversés,
Il roule dans son sein les débris dispersés.
Quel ravage effrayant des asyles champêtres !
Quel désordre étendu regne sur tous les êtres !
Le monde est menacé du retour du cahos,
Et l'humide élément vainqueur de ses rivaux,
Vainqueur du dieu du jour, dans la nature entière
Semble éteindre aujourd'hui la vie & la lumière.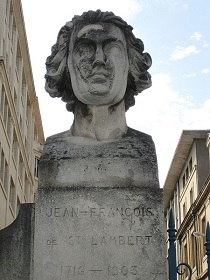 Jean-François de Saint-Lambert (26 december 1716 – 9 februari 1803)
Borstbeeld in Nancy


26-12-2013 om 11:03 geschreven door Romenu

Tags:Thomas Gray, Ernst Moritz Arndt, Johann Gaudenz von Salis-Seewis, E. D. E. N. Southworth, Jean-François de Saint-Lambert, Romenu



| | |
| --- | --- |
| | |



Inhoud blog


| | |
| --- | --- |
| | William Shakespeare, Roman Helinski, Pascal Quignard, Peter Horst Neumann, Andrey Kurkov, Halldór Laxness, Christine Busta, Adelheid Duvanel, Richard Huelsenbeck |
| | The Good Shepherd (Stanley Moss) |
| | Giorgio Fontana, Jan de Hartog, Björn Kern, Vladimir Nabokov, Chetan Bhagat, Peter Weber, Jos de Haes, Thommie Bayer, Madame de Staël |
| | Ana María Shua, Louise Glück, Robert Choquette, James Philip Bailey, Henry Fielding, Michael Schulte, Cabrera Infante, Ludwig Renn |
| | The Enkindled Spring (D. H. Lawrence) |
| | Charlotte Brontë, Patrick Rambaud, John Mortimer, Charles den Tex, Ahmed Arif, Michael Mann |
| | Peter Schneider, Meira Delmar, Alistair MacLean, Gerrit Wustmann, Népomucène Lemercier |
| | Prijs der Nederlandse Letteren voor Judith Herzberg |
| | Martinus Nijhoff, Jan Cremer, Jean Pierre Rawie, Marieke Lucas Rijneveld, Sebastian Faulks, Jozef Deleu, Steve Erickson, Arto Paasilinna, Michel Leiris |
| | Martin Michael Driessen, Marjoleine de Vos, Manuel Bandeira, n. c. kaser, Veniamin Kaverin, Louis Amédée Achard, Pierre-Jean de Béranger, Gudrun Reinboth, Werner Rohner |
| | Wam de Moor, Bas Belleman, Roos van Rijswijk, Hanane Aad, Clara Eggink, Kathy Acker, Joy Davidman, Henry Kendall, Katharina Schwanbeck |
| | Antoon Coolen, Vincent Corjanus, Nick Hornby, Ida Boy-Ed, Thornton Wilder, David Wagner, R.J. Pineiro, Helen Meier, Karen Blixen |
| | Sarah Kirsch, Thomas Olde Heuvelt, Kingsley Amis, Patricia De Martelaere, Tristan Tzara, Ewald Vanvugt, Sibylle Lewitscharoff, Jan Luyken, Anatole France |
| | Emmaüs (Felix Timmermans) |
| | Tomas Tranströmer, Daniël Samkalden, Jérôme Lambert, Patrick Bernauw, Benjamin Zephaniah, Henry James, Wilhelm Busch, Ina Boudier-Bakker |
| | Bliss Carman, Beate Morgenstern, Jeffrey Archer, Bernhard Lassahn, Erich Arendt, Pol De Mont, Staf Weyts, Hans Egon Holthusen |
| | Péter Esterházy, Alexandre Jardin, Tjitse Hofman, Landolf Scherzer, Charles Lewinsky, Roman Graf |
| | Roberto Schopflocher, Martin Kessel, Gabriele Stötzer, Helene Hübener, Gerhard Rohlfs |
| | Nachoem Wijnberg, K. Michel, Alexander Münninghoff, Michel Faber, Jean-Marie Gustave Le Clézio, Samuel Beckett, Seamus Heaney, Tim Krabbé, Eudora Welty |
| | Antje Rávic Strubel, Alan Ayckbourn, Scott Turow, Tom Clancy, Agnes Sapper, Edward de Vere, José Gautier Benítez, Alexander Ostrovski, Guillaume-Thomas Raynal |
| | Leonard Nolens, Mark Strand, Silvia Avallone, Walid Soliman, Dorothy Allison, Hubert Nyssen, Rolf Schilling, Glenway Wescott, Claude Tillier |
| | Leo Vroman, Jan van Mersbergen, Paul Theroux, Claudio Magris, Bella Akhmadulina, Stefan Heym, Richard Wagner, Marcel van Maele, Eric Knight |
| | Charles Baudelaire, Jelle Brandt Corstius, Karel Jonckheere, Joolz Denby, Albert von Schirnding, Johannes Bobrowski, Bernard-Marie Koltès, Arnold Stadler, Yaël Vinckx |
| | Thomas (Jan Willem Schulte Nordholt) |
| | Herinnering aan Gerard Reve, Hanz Mirck, Christoph Hein, Judith Koelemeijer, Nnedi Okorafor, Barbara Kingsolver |
| | John Fante, Johann Christian Günther, Glendon Swarthout, Martin Grzimek, Hégésippe Moreau, Robert Askins |
| | Den Haag (Paul Rodenko) |
| | Juliana Spahr, William Wordsworth, Özcan Akyol, Gabriela Mistral |
| | Kazim Ali, Annejet van der Zijl, John Pepper Clark, Jakob Ejersbo, Günter Herburger, Uljana Wolf, Brigitte Schwaiger, Julien Torma, Nicolas Chamfort |
| | Iulian Ciocan |
| | Hugo Claus, Martin Reints, Mieke van Zonneveld, Vítězslav Hálek, Algernon Swinburne, Bora Ćosić,, Werner J. Egli, Michael Georg Conrad, Marente de Moor |
| | Maya Angelou, Hanneke Hendrix, Marko Klomp, Marcel Vaarmeijer, E. L. James, Marguerite Duras, Robert Schindel, Michiel van Kempen, Bettina von Arnim |
| | Charles Ducal, Adriaan Jaeggi, Frederik van Eeden, Bert Bakker, Peter Huchel, Arlette Cousture, Pieter Aspe, Karel N.L. Grazell, Washington Irving |
| | Die Sonne geht im Osten auf (Christian Morgenstern) |
| | Thomas Glavinic, Jay Parini, Anneke Claus, Klaus Ender, Konrad Merz, Ed Dorn, Émile Zola |
| | György Konrád, Anne Waldman, Casanova, Hans Christian Andersen, Roberto Arlt, Edgar Hilsenrath, George Fraser |
| | Hoffmann von Fallersleben, Johann Gleim, Pierre Zaccone, Pietro della Valle, Zwier van Haren, Joanna Chmielewska, Brigitte Struzyk |
| | Preis dem Todesüberwinder! (Friedrich Klopstock) |
| | Milan Kundera, Sandro Veronesi, Nikolaj Gogol, Arnold Aletrino, Max Nord, Urs Allemann, Rolf Hochhuth, John Wilmot, Deborah Feldman |
| | Maria Polydouri, Edgar Wallace, Carl Sternheim, Edmond Rostand, Armel Guerne, Friedrich Güll, Antoine Prévost, Josep de Maistre |
| | Litanie van een wachter bij het graf (Willem Jan Otten) |
| | Stefan Hertmans, Octavio Paz, Asis Aynan, Martijn Teerlinck, Marga Minco, Enrique Vila-Matas |
| | Rob Boudestein, Kornej Tsjoekovski, Andrew Lang, Nichita Stănescu, Hartmut Lange, Marge Piercy |
| | Angela Kreuz, Judith Rossner, Andrew Marvell, John Fowles, Edward FitzGerald, Robert Brasillach, Peter Motte |
| | Golgotha (Theo Thijssen) |
| | Gerrit Komrij, Paul Verlaine, Milton Acorn, Erika Mitterer, Uwe Timm, Tom Sharpe, Gert Heidenreich, Theo Breuer, Luise Hensel |
| | Gethsemane (Jacqueline van der Waals) |
| | Geert van Istendael, Wim Brands, Ernst Jünger, Eric Walz, Georg Klein, Yvan Goll, R. S. Thomas, Jacques Brault, Denton Welch |
| | Walter van den Broeck, Joost de Vries, Mario Vargas Llosa, Chrétien Breukers, Steye Raviez, Nelson Algren, Marianne Frederiksson, Russell Banks, Léon-Gontran Damas |
| | Heinrich Mann, Shusaku Endo, Carolina Trujillo, Golo Mann, Patrick McCabe, Bob den Uyl, Dubravka Ugresić, Francis Ponge, Alfred de Vigny |


Gastenboek


Druk op onderstaande knop om een berichtje achter te laten in mijn gastenboek