De Bulgaarse schrijver en musicus Viktor Markos Paskov werd geboren in Sofia op 10 september 1949. Zie ook mijn blog van 10 september 2010
Uit: Autopsie (Vertaald door Alexander Sitzmann)
"Aufwachen um fünf.
Schon seit Wochen wache ich um fünf auf.
Das bedeutet, ich habe ungefähr vier Stunden den unruhigen Schlaf eines Tresorknackers geschlafen.
Ich stehe auf, stoße gegen den Stuhl, dann gegen den Schreibtisch.
Zu meinen Füßen kullert mit leisem Klirren eine fast leere Flasche herum. Ich sage »fast«, weil in ihr
eine bräunliche Flüssigkeit schwappt, ungefähr eineinhalb Schlucke. Kurz darauf ist die Flasche ganz
leer, und ich habe Rochen im Bauch. Ich gehe in Unterhosen hinaus auf den Balkon.
Draußen ist es finster, warm und klebrig. Von der Baustelle des »Philip Johnson House« dringt Lärm herüber. Kleine Gestalten, türkische, griechische und bulgarische Gastarbeiter in gelben Overalls, mit Schutzmasken vor dem Gesicht, laufen hin und her, übergossen von orangem Licht, wie unter dem
Deckel eines riesigen Aquariums irgendwo auf dem Mars.
Sie arbeiten Tag und Nacht.
Sie arbeiten samstags und sonntags. Sie wühlen in einem riesigen Loch herum, das von eisernen Konstruktionen durchzogen ist, und unter ihren Händen leuchten die Flammen von Schweißgeräten auf: weiß, bläulich und grün.
Mister Johnson ist ein amerikanischer Architekt, ein Bastard von zweiundneunzig Jahren.
Zwischen die Zähne seines grinsenden Porträts ge genüber hat jemand mit roter Sprühfarbe einen fetten Penis gemalt: ein Gruß der Arbeiterklasse.
Der Alte, oder genauer seine Mannschaft, hat beschlossen, seinen idiotischen Wolkenkratzer direkt
vor meiner Nase in die Höhe zu ziehen, hier, wo sich früher ebenes Feld erstreckte und ich eine Aussicht bis zum Checkpoint Charlie hatte.
Ich gehe zurück ins Bett."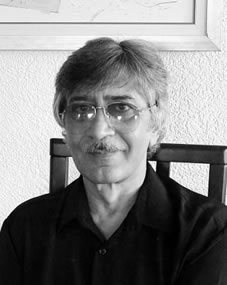 Viktor Paskov (10 september 1949 - 16 april 2009)

De Amerikaanse dichteres en schrijfster Hilda Doolittle werd geboren in Bethlehem, Pennsylvania, op 10 september 10 1886. Zie ook mijn blog van 10 september 2010 en eveneens alle tags voor Hilda Doolittle op dit blog.
Lethe
Nor skin nor hide nor fleece
Shall cover you,
Nor curtain of crimson nor fine
Shelter of cedar-wood be over you,
Nor the fir-tree
Nor the pine.
Nor sight of whin nor gorse
Nor river-yew,
Nor fragrance of flowering bush,
Nor wailing of reed-bird to waken you,
Nor of linnet,
Nor of thrush.
Nor word nor touch nor sight
Of lover, you
Shall long through the night but for this:
The roll of the full tide to cover you
Without question,
Without kiss.
Pear Tree
Silver dust
lifted from the earth,
higher than my arms reach,
you have mounted,
O silver,
higher than my arms reach
you front us with great mass;
no flower ever opened
so staunch a white leaf,
no flower ever parted silver
from such rare silver;
O white pear,
your flower tufts,
thick on the branch,
bring summer and ripe fruits
in their purple hearts.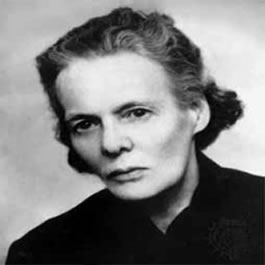 Hilda Doolittle (10 september 1886 – 21 september 1961)
De Duits-Amerikaanse schrijver Reinhard Lettau werd geboren op 10 september 1929 in Erfurt. Zie ook mijn blog van 10 september 2010
Uit: Auftritt Manigs
"Wer ist Manig? Schlechten Gewissens sage ich: ein Strichmännchen.
Schlechten Gewissens; denn Manig ist keine Karikatur, er ist Abkürzung eines Dämons.
Manig scheint aus Tusche zu sein, so behend, so leicht ist er aufs Papier gesetzt. Manig will nicht stillhalten. Manig hüpft, er huscht, er wetzt über Seiten. Festhalten läßt er sich nicht, an Definition ist nicht zu denken. Von Satz zu Satz verwandelt er sich. Selbst mit seinem Namen hat es eine Bewandtnis. "Ein Herr in voller Ausrüstung betritt das Zimmer. Er lüftet den Hut, und schon hat er sich wesentlich verändert." 25 Zeilen weiter "ist es ein ganz anderer Herr. Vor uns sitzt Manig". Wenig fehlt, und Manig vervielfältigt sich, stößt eine Silbe ab, büßt seinen Namen ein und heißt "man"; dann wieder erscheint er als "ein Herr", "Herr Manig", ganz zuletzt und zum Abschied: "Mein lieber Freund Manig".
Ich denke mir Manig klein und dünn. Er ist ein Däumling, ein bleistiftgroßer Mann ohne Eigenschaften. Ein Opernglas ist nötig, so exakt sind seine Bewegungen. Man muß das Glas nur umdrehen, dann erscheinen Manigs Häuser, Treppen und Straßen in ihrer dunstlosen Deutlichkeit: eine Spielzeug-, eine Modellwelt, ein Liliput, aus dem der Autor, ein humoristischer Demiurg, sich zurückgezogen hat. Gullivers Rolle fällt uns zu, die wir mit unseren verhältnismäßig groben Händen in dieser Welt der Verkürzung lesen.
Die Vorfälle, die wir dort erblicken, sind gestellt wie Fallen, Demonstrationen oder Szenen. Sie sind künstlich in jedem Sinn, den man diesem Wort geben kann: unheimlich artifiziell. Gleichsam von oben nehmen wir Versuchsanordnungen wahr, verkleinerte Bühnenbilder,. Prospekte aus Papier; zuweilen mit ihren Kulissen aus Rokoko, das im Gerümpel der Antiquitäten fast verschollen ist: Hinter Dragonerritt und Hammerklavier wird ein Dix-huitième sichtbar, in dem Goya und Piranesi, Swift und Lichtenberg zu Hause sind. Aus dieser Gasse der Szenerie fällt auf Manig kein rosiges, sondern ein erbarmungsloses Licht. Es zeigt ihn in der lakonischen Grazie eines Automaten von Jacques de Vaucanson."
Reinhard Lettau (10 september 1929 - 17 juni 1996)
Erfurt

De Franse schrijver en filosoof George Bataille werd op 10 september 1897geboren in Billom (Auvergne). Zie ook mijn blog van 10 september 2006 en ook mijn blog van 10 september 2008 en ook mijn blog van 10 september 2009 en ook mijn blog van 10 september 2010
Uit: Eroticism
In the domain of our life excess manifests in itself in so far as violence wins over reason. Work demands the sort of conduct where effort is in a constant ration with productive efficiency. It demands rational behaviour where the wild impulses worked out on feast days and usually in games are frowned upon. If we were unable to repress these impulses we should not be able to work, but work introduces the very reason for repressing them. These impulses confer an immediate satisfaction on those who yield to them. Work, on the other hand, promises to those who overcome them a reward late on whose value cannot be disputed except from the point of view of the present moment. From the earliest times work has produced a relaxation of tension thanks to which men cease to respond to the immediate urge impelled by the violence of desire. No doubt it is arbitrary always to construct the detachment fundamental to work with tumultuous urges whose necessity is not constant. Once began, however, work does make it impossible to respond to these immediate solicitations which could make us indifferent to the promised desirable results. Most of the time, work is the concern of men acting collectively and during the time reserved for work the collective has to oppose those contagious impulses to excess in which nothing is left but the immediate surrender to excess, to violence, that is. Hence the human collective, partly dedicated to work, is defined by taboos without which it would not have become the world of work that it essentially is.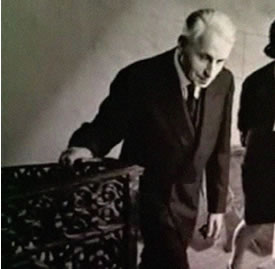 George Bataille (10 september 1897 – 9 juli 1962)
De Deense dichter en schrijver Jeppe Aakjær werd geboren in Aakjær bij Skive op 10 september 1866. Zie ook mijn blog van 10 september 2007 en ook mijn blog van 10 september 2009 en ook mijn blog van 10 september 2010
Uit: Menschenhandel (Vertaald door Erich Holm)
"Während die beiden erbosten Eheleute einander in den Haaren lagen und, umhüllt von den Dämpfen, die aus dem brodelnden Grützekessel aufstiegen, ihren Hexentanz aufführten, nahm der kleine Per die Gelegenheit wahr, sich aus dem Staub zu machen und durch die Waschhaustür hinauszuschlüpfen.
Mit leichtem Herzklopfen stand er nun draußen an der Hausecke, halb von einer großen Klette gedeckt, und lauschte dem Schlachtgetümmel drinnen im Hause. Die Mutter sprang und kreischte, der Vater schlug den Takt mit dem Klumpfuß. Wenn ihr Getrampel sich dem Ausgang näherte, horchte Per mit weitgeöffneten Lippen, bereit, sich unter den schützenden Schild der Klette sinken zu lassen. Als der letzte Stuhl in der Hütte umgestürzt war, kehrten die Geister des Friedens zögernd zurück. Per fand es jedoch für geratener und angemessener, noch eine Weile hinter dem Klettenversteck zu warten; er vertrieb sich die Zeit damit, den Kalk von der Wand zu kratzen oder kleine Käfer unter den hierher geworfenen Ziegelstücken zu suchen.
Wie Per so dastand und halb widerstrebend den unter dem Vordach hintreibenden brenzligen Breiduft einsog, kam eine kräftige, breitschultrige Mannsperson, einen großen Kramkasten auf dem Rücken und einen kleinen, zottigen roten Hund auf den Fersen, des Wegs einhergetrabt. Als er an dem Knaben vorbeikam, blieb er stehen und sagte:
»Du kleiner Taugenichts, sind deine Eltern daheim?«
»Ja, sie sind drin.«
»Was machen sie denn?«
»Raufen.«
»Raufen? So, raufen?« lachte der Ankömmling, »na, wird ihnen wenigstens warm dabei. Schauen wir aber doch einmal bei der Tür hinein, ob sie sich noch in der Arbeit haben.«
»Guten Tag und Gottes Segen!« scholl unmittelbar darauf Kræn Lybskers Baß durch die niedere Haustür."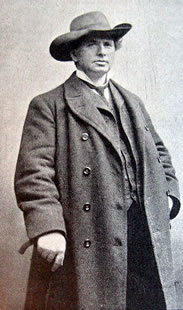 Jeppe Aakjær (10 september 1866 - 22 april 1930)

10-09-2011 om 00:00 geschreven door Romenu

Tags:Viktor Paskov, Hilda Doolittle, Reinhard Lettau, George Bataille, Jeppe Aakjær, Romenu