E-mail mij


Druk op onderstaande knop om mij te e-mailen.


Romenu


Romenu is een blog over gedichten, literatuur en kunst Maar Romenu is ook een professionele freelance vertaler
Du-Ne en Ne-Du http://www.romenu.nl.


Huur eens een (vakantie)huis in een natuurgebied, dichtbij het centrum van Nijmegen


Google


Georg Trakl

Georg Trakl werd op 3 februari 1887 in het conducteurshuis aan de Waagplatz 2 in Salzburg geboren. Zijn vader, Tobias Trakl, was een handelaar in ijzerwaren en zijn moeder, die ook psychische problemen had, was Maria Catharina Trakl, (meisjesnaam Halik). Voorts had hij nog drie broers en drie zussen. Margarethe (doorgaans Grethe genoemd) stond hem het naast, zelfs zodanig dat sommigen een incestueuze verhouding vermoeden. Zijn jeugd bracht hij door in Salzburg. Vervolgens bezocht hij van 1897 tot 1905 het humanistische gymnasium. Om toch een academische opleiding te kunnen volgen, werkte hij tot 1908 in de praktijk bij een apotheker. Sommigen vermoedden dat hij dit vooral deed om zichzelf opiaten te kunnen verschaffen. Bij het uitbreken van WO I werd Trakl als medicus naar het front in Galicië (heden ten dage in Oekraïne en Polen) gestuurd. Zijn gemoedsschommelingen leidden tot geregelde uitbraken van depressie, die verergerd werden door de afschuw die hij voelde voor de verzorging van de ernstig verwonde soldaten. De spanning en druk dreven hem ertoe een suïcidepoging te ondernemen, welke zijn kameraden nochtans verhinderden. Hij werd in een militair ziekenhuis opgenomen in Kraków, alwaar hij onder strikt toezicht geplaatst werd.Trakl verzonk daar in nog zwaardere depressies en schreef Ficker om advies. Ficker overtuigde hem ervan dat hij contact moest opnemen met Wittgenstein, die inderdaad op weg ging na Trakls bericht te hebben ontvangen. Op 4 november 1914, drie dagen voordat Wittgenstein aan zou komen, overleed hij echter aan een overdosis cocaïne


Paul Celan

Paul Celan werd onder de naam Paul Antschel op 23 november 1920 geboren in Czernowitz, toentertijd de hoofdstad van de Roemeense Boekovina, nu behorend bij de Oekraïne. Paul Celans ouders waren Duitssprekende joden die hun zoon joods opvoedden en hem naar Duitse christelijke scholen stuurden. In 1942 werden Celans ouders door de Duitse bezetter naar een werkkamp gedeporteerd en daar vermoord. Hijzelf wist aanvankelijk onder te duiken, maar moest vanaf juli 1942 in een werkkamp dwangarbeid verrichten. Celan overleefde de oorlog. Via Boekarest en Wenen vestigde Celan zich in 1948 in Parijs. Daar was hij werkzaam als dichter, vertaler en doceerde hij aan de prestigieuze Ecole Normale Supérieure. Vermoedelijk op 20 april 1970 beëindigde hij zijn leven zelf door in de Seine te springen.


Gerard Reve

Gerard Reve over: Medearbeiders "God is in de mensen, de dieren, de planten en alle dingen - in de schepping, die verlost moet worden of waaruit God verlost moet worden, door onze arbeid, aangezien wij medearbeiders van God zijn." Openbaring "Tja, waar berust elk godsbegrip op, elke vorm van religie? Op een openbaring, dat wil zeggen op een psychische ervaring van zulk een dwingende en onverbiddelijke kracht, dat de betrokkene het gevoel heeft, niet dat hij een gedachte of een visioen heeft, maar dat een gedachte gedachte of visioen hem bezit en overweldigt."


Simon Vestdijk
Simon Vestdijk (Harlingen, 17 oktober 1898 – Utrecht, 23 maart 1971) was een Nederlands romancier, dichter, essayist en vertaler. Zijn jeugd te Harlingen en Leeuwarden beschreef hij later in de Anton Wachter-cyclus. Van jongs af aan logeerde hij regelmatig bij zijn grootouders in Amsterdam, waar hij zich in 1917 aan de Universiteit van Amsterdam inschrijft als student in de medicijnen. Tijdens zijn studie die van 1917 tot 1927 duurde, leerde hij Jan Slauerhoff kennen.Tot 1932 is hij als arts in praktijken door heel Nederland werkzaam. In 1932 volgt zijn officiële schrijversdebuut met de uitgave van de bundel Verzen in De Vrije Bladen. Doorslaggevend voor Vestdijks uiteindelijke keuze voor de literatuur is zijn ontmoeting in 1932 met Eddy Du Perron en Menno ter Braak. Deze ontmoeting had tot resultaat dat hij redactielid werd van het tijdschrift Forum Kort daarop, in 1933, wordt zijn eerste novelle, De oubliette, uitgegeven. In hetzelfde jaar schrijft hij Kind tussen vier vrouwen, dat, eerst geweigerd door de uitgever, later de basis zal vormen voor de eerste drie delen van de Anton Wachter-romans. In 1951 ontvangt Vestdijk de P.C. Hooftprijs voor zijn in 1947 verschenen roman De vuuraanbidders. In 1957 wordt hij voor het eerst door het PEN-centrum voor Nederland voorgedragen voor de Nobelprijs voor de Literatuur, die hij echter nooit zal krijgen. Op 20 maart 1971 wordt hem de Prijs der Nederlandse Letteren toegekend, maar voor hij deze kan ontvangen overlijdt hij op 23 maart te Utrecht op 72-jarige leeftijd. Vestdijk was auteur van ca. 200 boeken. Vanwege deze enorme productie noemde de dichter Adriaan Roland Holst hem 'de man die sneller schrijft dan God kan lezen'. Andere belangrijke boeken van Simon Vestdijk zijn: "Kind van stad en land" (1936), "Meneer Visser's hellevaart" (1936), "Ierse nachten" (1946), "De toekomst de religie" (1947), "Pastorale 1943" (1948), "De koperen tuin" (1950), "Ivoren wachters" (1951), "Essays in duodecimo" (1952) en "Het genadeschot" (1964).


K.P. Kavafis

K.P. Kavafis werd als kind van Griekse ouders, afkomstig uit Konstantinopel, geboren in 1863 in Alexandrië (tot vandaag een Griekse enclave) waar hij ook het grootste deel van zijn leven woonde en werkte. Twee jaar na de dood van zijn vader verhuist het gezin in 1872 naar Engeland om na een verblijf van vijf jaar naar Alexandrië terug te keren. Vanwege ongeregeldheden in Egypte vlucht het gezin in 1882 naar Konstantinopel, om na drie jaar opnieuw naar Alexandrië terug te gaan. In de jaren die volgen maakt Kavafis reizen naar Parijs, Londen en in 1901 zijn eerste reis naar Griekenland, in latere jaren gevolgd door nog enkele bezoeken. Op de dag van zijn zeventigste verjaardag, in 1933 sterft Kavafis in Alexandrië. De roem kwam voor Kavafis pas na zijn dood, dus postuum. Deels is dat toe te schrijven aan zijn eigen handelswijze. Hij was uiterst terughoudend met de publicatie van zijn gedichten, liet af en toe een enkel gedicht afdrukken in een literair tijdschrift, gaf in eigen beheer enkele bundels met een stuk of twintig gedichten uit en het merendeel van zijn poëzie schonk hij op losse bladen aan zijn beste vrienden.


Thomas Mann


Thomas Mann, de jongere broer van Heinrich Mann, werd geboren op 6 juni 1875 in Lübeck. Hij was de tweede zoon van de graankoopman Thomas Johann Heinrich Mann welke later één van de senatoren van Lübreck werd. Zijn moeder Julia (geboren da Silva-Bruhns) was Duits-Braziliaans van Portugees Kreoolse afkomst. In 1894 debuteerde Thomas Mann met de novelle "Gefallen". Toen Thomas Mann met 21 jaar eindelijk volwassen was en hem dus geld van zijn vaders erfenis toestond - hij kreeg ongeveer 160 tot 180 goldmark per jaar - besloot hij dat hij genoeg had van al die scholen en instituties en werd onafhankelijk schrijver. Kenmerkend voor zijn stijl zijn de ironie, de fenomenale taalbeheersing en de minutieuze detailschildering. Manns reputatie in Duitsland was sterk wisselend. Met zijn eerste roman, Buddenbrooks (1901), had hij een enorm succes, maar door zijn sceptische houding tegenover Duitsland na de Eerste Wereldoorlog veranderde dit volledig. Stelde hij zich tot aan de jaren twintig apolitiek op (Betrachtungen eines Unpolitischen, 1918), meer en meer raakte hij bij het Politiek gebeuren betrokken. Zijn afkeer van het nationaal socialisme groeide, zijn waarschuwingen werden veelvuldiger en heftiger. In 1944 accepteerde hij het Amerikaanse staatsburgerschap. Tussen 1943 en 1947 schreef Mann Doktor Faustus (zie Faust), de roman van de 'Duitse ziel' in de gecamoufleerd geschilderde omstandigheden van de 20ste eeuw. In 1947 bezocht hij voor het eerst sinds de Oorlog Europa, twee jaar later pas Duitsland. In 1952 vertrok hij naar Zwitserland. Op 12 augustus 1955 stierf hij in Zürich. Twintig jaar na zijn dood, in aug. 1975, is zijn literaire nalatenschap geopend: dagboekaantekeningen van 15 maart 1933 tot 29 juli 1955, alsmede notities uit de jaren 1918 tot en met 1921.Belangrijke werken zijn: Der Zauberberg, Der Tod in Venedig, Dokter Faustus , Joseph und seine Brüder en Die Bekenntnisse des Hochstaplers Felix Krull.


Rainer Maria Rilke

Rilke werd op 4 december 1875 geboren in Praag. Hij had al naam gemaakt als dichter met zijn bundels Das Stundenbuch en Das Buch der Bilder, toen hij de literaire wereld versteld deed staan en wereldfaam verwierf met de publicatie van zijn twee delen Neue Gedichte in 1907 en 1908. Hij verzamelde daarin het beste werk uit een van zijn vruchtbaarste periodes, die hij grotendeels doorbracht in Parijs. Rilke was daar diep onder de indruk gekomen van Rodin, bij wie hij een tijdlang in dienst was als particulier secretaris. Rodin, zei hij later, had hem leren kijken. Dit kijken kwam neer op intense concentratie, om het mysterie te kunnen zien 'achter de schijnbare werkelijkheid'. Latere en rijpere werken als Duineser Elegien (1912-1923) en het ronduit schitterende Die Sonette an Orfeus (1924) illustreren Rilkes metafysische visie op het onzegbare, dat haar verwoording vindt in een hermetische muzikale taal. Op 29 december 1926 overlijdt Rilke in het sanatorium in Val-Mont aan de gevolgen van leukemie. Enkele dagen later wordt hij, overeenkomstig zijn wens, begraven op het kerkhof van Raron.


* * * * * * * * * * * * * * * *

| | |
| --- | --- |
| | Over literatuur, gedichten, kunst en cultuur |

13-03-2016

Am fünften Sonntag in der Fasten (Annette von Droste-Hülshoff )
Bij de vijfde zondag van de vasten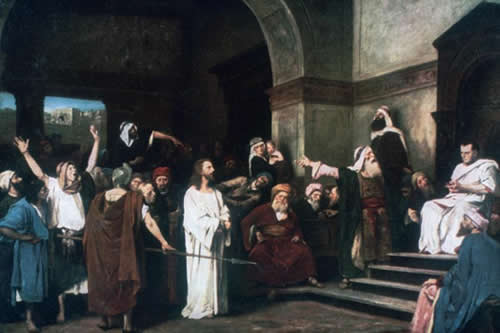 Jezus bij Pontius Pilatus door Mihály Munkácsy, 1881
Am fünften Sonntag in der Fasten
Evang.: Die Juden wollen Jesum steinigen

Die Propheten sind begraben,
Abraham ist tot!
Millionen Greis' und Knaben
Und der Mägdlein rot,
Viele, die mir Liebe gaben,
Denen ich sie bot:
Alle, alle sind begraben,
Alle sind sie tot!

Herr, du hast es mir verkündet,
Und dein Wort steht fest,
Daß nur der das Leben findet,
Der das Leben läßt.
Ach, in meiner Seele windet
Es sich dumpf gepreßt;
Doch du hast es mir verkündet,
Und dein Wort steht fest.

Aber von mir selbst bereitet
Leb' ich oft der Pein;
Alles scheint mir wohl geleitet,
Und der Mensch allein,
Der dein Ebenbild bedeutet,
Jammervoll zu sein;
Sieh, so hab' ich mir bereitet
Namenlose Pein.

Hab' ich grausend es empfunden,
Wie in der Natur
An ein Fäserchen gebunden,
Eine Nerve nur,
Oft dein Ebenbild verschwunden
Auf die letzte Spur:
Hab' ich keinen Geist gefunden,
Einen Körper nur!

Seh' ich dann zu Staub zerfallen,
Was so warm gelebt,
Ohne daß die Muskeln wallen,
Eine Nerve bebt,
Da die Seele doch an allen
Innig fest geklebt:
Möcht' ich selbst zu Staub zerfallen,
Daß ich nie gelebt!

Schrecklich über alles Denken
Ist die dumpfe Nacht,
Drin sich kann ein Geist versenken,
Der allein gedacht,
Der sich nicht von dir ließ lenken,
Helle Glaubensmacht!
Ach, was mag der Finstre denken,
Als die finstre Nacht?

Meine Lieder werden leben,
Wenn ich längst entschwand:
Mancher wird vor ihnen beben,
Der gleich mir empfand.
Ob ein Andrer sie gegeben,
Oder meine Hand:
Sieh, die Lieder durften leben,
Aber ich entschwand!

Bruder mein, so laß uns sehen
Fest auf Gottes Wort!
Die Verwirrung wird vergehen,
Dies lebt ewig fort.
Weißt du, wie sie mag entstehen
Im Gehirne dort?
Ob wir einst nicht lächelnd sehen
Der Verstörung Wort?

Wie es hing an einem Faden,
Der zu hart gespannt,
Mit entflammtem Blut beladen,
Sich der Stirn entwand?
Flehen wir zu Gottes Gnaden,
Flehen zu seiner Hand,
Die die Fädchen und die Faden
Liebreich ausgespannt!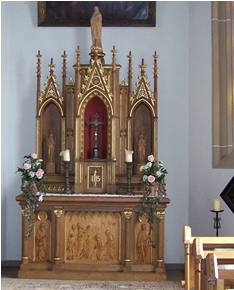 Annette von Droste-Hülshoff (10 januari 1797 – 24 mei 1848)
Altaar in de kapel van Burg Hülshoff

Zie voor de schrijvers van de 13e maart ook mijn vorige drie blogs van vandaag.



13-03-2016 om 13:57 geschreven door Romenu

Tags:Annette von Droste-Hülshoff, Romenu



Mahmoud Darwish, Yuri Andrukhovych, Vladimir Makanin, Didier Decoin, Melih Cevdet Anday
De Palestijnse dichter Mahmoud Darwish werd geboren in Al-Birwa, Palestina, op 13 maart 1941. Zie ook alle tags voor Mahmoud Darwish op dit blog.
Other Berbers Will Come
Other Berbers will come.
The emperor's wife will be abducted.
Drums will beat loudly.
Drums will beat so that horses
will leap over human bodies
from the Aegean Sea to the Dardanelles.
So why should we be concerned?
What do our wives have to do with horse racing?
The emperor's wife will be abducted.
Drums will beat loudly and other Berbers
will come.Berbers will fill the cities' emptiness,
slightly higher than the sea,
mightier than the sword in a time of madness.
So why should we be concerned?
What do our children have to do
with the children of this impudence?
Drums will beat loudly
and other Berbers will come.
The emperor's wife will be taken
from his bedroom. From his bedroom
he will launch a military assault
to return his bedmate to his bed.
Why should we be concerned?
What do fifty thousand victims
have to do with this brief marriage?
Can Homer be born after us . . .
and myths open their doors to the throng?

Here The Birds' Journey Ends
Here the birds' journey ends, our journey, the journey of words,
and after us there will be a horizon for the new birds.
We are the ones who forge the sky's copper, the sky that will carve roads
after us and make amends with our names above the distant cloud slopes.
Soon we will descend the widow's descent in the memory fields
and raise our tent to the final winds: blow, for the poem to live, and blow
on the poem's road. After us, the plants will grow and grow
over roads only we have walked and our obstinate steps inaugurated.
And we will etch on the final rocks, "Long live life, long live life,"
and fall into ourselves. And after us there'll be a horizon for the new birds.
Neighing At The Slope
Horses' neighing at the slope. Downward or upward.
I prepare my portrait for my woman to hang on a wall when I die.
She says: Is there a wall to hang it on?
I say: We'll build a room for it. Where? In any house.
Horses' neighing at the slope. Downward or upward.
Does a thirty-year-old woman need a homeland where she might make a life?
Can I reach the summit of this rugged mountain? The slope is either an abyss
or a place of siege.
Midway it divides. It's a journey. Martyrs kill one another.
I prepare my portrait for my woman. When a new horse neighs in you, tear it up.
Horses' neighing at the slope. Upward, or upward.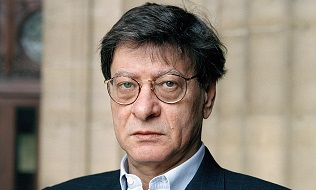 Mahmoud Darwish (13 maart 1941 - 9 augustus 2008)
De Oekraïense dichter en schrijver Yuri Andrukhovych werd geboren op 13 maart 1960 in Iwano-Frankiwsk. Zie ook alle tags voor Yuri Andrukhovych op dit blog.
Nothing But Budapest
I could even wash the locomotives
at Keleti station –
just to be nearer Buda with her green
hills.
Not to say a word
to sit and listen,
as everyone around me talks about something in Hungarian.
According to Peter Zilahy
in the last few years
Hungarians have lost their world dominance
in suicide
and are now just somewhere in the top
five.
That might mean that they
are coming to more of an understanding with the world.
Meaning that more and more people understand their language.
It could just as well
not mean anything
but the fact that the conclusion is premature.
They called me a taxi
somewhere between one and two a.m., the driver
was about eighty
and didn't speak any tourist language.
Just as well at that time of night
the journey from Pest to Buda
didn't take long,
otherwise I would have had to master Hungarian
as quickly as possible
to try and keep the conversation going
which from one point of view isn't easy
after two bottles of quickly drunk
'Palinka'.
In front of the Freedom Bridge (Szabadság hid),
he, of course, forgetting that I'm not from here
(taking his age into account
not strange at all and even natural),
livened up and started to tell me a story.
As if I, in my everyday life,
washed locomotives at Keleti station
and could get the joke!
I seized the moment
when I could follow him and laugh.
Although the funniest thing was something else entirely:
he'd never heard of the name of the hotel
I was staying in.
I had to show him the way
with gestures, and only St Matthew's cathedral (Mátyástemplom)
saved us both.
I paid him much more
than I owed him, after which I discovered
that half his teeth were missing –
he smiled so widely.
What did he wish me
as we parted?
Good night? Sleep well? Good luck
my son, you were my millionth passenger?
That remains his and my secret.
As with the dreadfully swollen young gypsy
sniffing glue from a plastic bag
the next day on Margaret Island (Margit sziget).
Our eyes met
and he kind of stretched out his hand –
go away, you didn't see anything, disappear.
That remains our secret.
I don't rule it out, that from time to time
he washes locomotives at Keleti station –
just to survive, gobble his sandwich,
drink beer,
just to be nearer Buda with her green
hills.
Just so as not to jump into that awful Danube,
with its black-grey water,
thereby moving his fatherland (Magyarország)
a few places higher
in the world rankings.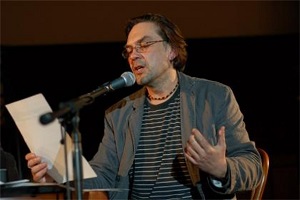 Yuri Andrukhovych (Iwano-Frankiwsk, 13 maart 1960)
De Russische schrijver Vladimir Makanin werd geboren op 13 maart 1937 in Orsk. Zie ook alle tags voor Vladimir Makanin op dit blog.
Uit: Benzinkönig (Vertaald door Annelore Nitschke)
"Nur darum geht es der Roten Armbinde. Schneller, verdammt noch mal! Runter von den Gleisen! Aha! So! Durch den zer-bombten Bahnhof auf den Platz, ebenfalls leicht zerbombt. Da sind schon die Schützenpanzer gekommen – für euch, Jungs! Für euch! Vorwärts!
»Wo sind die Schützenpanzer?«
»Da drüben … Alle rüber – alle in die Kolonne!«
Ein hünenhafter Soldat – einer wie der wird nicht blau – brüllt:
»In welche Kolonne denn? He, du-u! Wo siehst du eine Ko-lonne?«
»Ihr müsst eben eine Kolonne bilden. Alle zusammen … Ihr seid die Kolonne«, erklärt die Rote Armbinde. »Da drüben sind eure Schützenpanzer. Da sind auch zwei leere Lastwagen von Major Schilin. Und drei Laster mit Benzinfässern … Das Benzin ist auch von Major Schilin.«
Der neue Name stachelt die Soldaten sofort auf. Rekruten bei der Ankunft stachelt jeder Name auf, der respektvoll ausgespro-chen wird … Und sie brüllen:
»Wow! … Jungs! Boah … Wir werden auch noch jemanden begleiten.«
»Ihr werdet niemanden begleiten, sondern einfach alle zusam­ men in einer Kolonne fahren. Zusammen marschieren … fah-ren … marschier-fahren …« Die Rote Armbinde verspricht sich bei dem Verb, dem wichtigsten Verb des Krieges.
Die Soldaten verlassen im bunten Haufen die Gleise. ­Endlich … Der Platz ist voller Trichter. Im Eifer des Suffs klettern die Sol-daten auf die Schützenpanzer, und diese, vier Panzerfahrzeuge,­ rollen langsam, Seite an Seite, auf die Straße hinaus … Zu den Lastwagen.
Es geht Richtung Bamut. Zum Truppenteil Nummer xy. Los-los! Die Kolonne formiert sich irgendwie … Los-los! Da sind die Laster mit dem Benzin! Keine Angst! Wir werden nicht ver-brennen!
Ein stiller alter Tschetschene taucht auf. Mit einer Gepäck-trägerplakette auf der Brust. Graukopf. Im Gesicht einen ner-vösen Dauertick."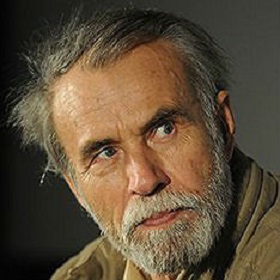 Vladimir Makanin (Orsk, 13 maart 1937)
De Franse schrijver Didier Decoin werd geboren op 13 maart 1945 in Boulogne-Billancourt (Seine). Zie ook alle tags voor Didier Decoin op dit blog.
Uit:John l'enfer
"Lorsque John entame sa progression sur le flanc de la montagne absolument verticale, en manœuvrant les pattes grêles de la bête-à-ventouses, les gens de la rue s'arrêtent, lèvent les yeux, ils le regardent faire et, parfois, le saluent de la main. Mais peu à peu, ils se lassent et s'en vont : pour eux, ce sont toujours les mêmes gestes qui recommencent. John l'Enfer, lui seul, sait qu'aucun de ses
efforts ne ressemble au précédent. D'abord, il y a le risque qui augmente - moins en fonction de l'altitude que de la fatigue.
Ensuite, la musculature s'assouplit, les mouvements sont plus heurtés, plus audacieux. Au fur et à mesure que les vitres retrouvent leur transparence, une sorte d'optimisme comparable a l'ivresse
gagne le laveur de carreaux. Dans certains cas, il ira peut-être jusqu'a se lâcher d'une main pour atteindre tel ou tel recoin. Il siffle, puis il chante, puis il se raconte des histoires. Le vent écarte ses
lèvres, pénètre en trombe dans ses poumons : autant 1'air du rez-de-chaussée était gluant, lourd, comme filandreux, autant le vent d'en haut est rafraîchissant, purifié; un vent bleu comme le sang.
La première demi-heure est pénible, la deuxième est vivifiante; c'est au cours de la troisième demi-heure que, accoutumance aidant, tout peut arriver.
Il faut, à intervalles réguliers, prendre la mesure du vide, défier le vertige; ne pas s'intéresser a ce qui se passe derrière la fenêtre, a l'intérieur du gratte-ciel : sinon, on a vite fait de se croire sur terre ;
le plus dangereux, c'est la fille qui peint ses ongles, qui souffle dessus, qui les tourne vers la lumière du jour, la moquette est épaisse et verte, tout est doux, infiniment trop."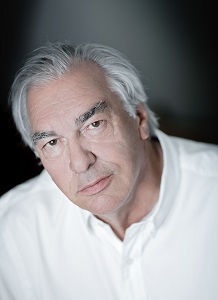 Didier Decoin (Boulogne-Billancourt 13 maart 1945)



De Turkse dichter Melih Cevdet (eig. Melih Cevdet Anday) werd geboren op 13 maart 1915 in Istanboel. Zie ook alle tags voor Melih Cevdet op dit blog.
Die Nacht auf dem Bauernhof
Wir waren Heu holen gefahren zum Kalverhof,
Zehn Wagen, wie schön war der Küste Apfelfarbe,
In der Abenddämmerung war sie tiefrot geworden.
Die Stille armer Dörfer schloss sich uns an
Auf des Abends schmalem Pfad.
Wir schwiegen, entlang der Hecke aus Leid
Und gefiederten Johannisbrotbäumen, fremdartig.
Da fing ein Soldat an, ein Volkslied zu singen.
Wie eine angenehme, erwachende Meeresbrise,
Wie halbe Freude, vom Himmel kommend.
Lief uns nach wie ein verirrter Vogel.
In die Zisterne der Nacht fiel ein leerer Stern,
Krachend, wie ein Fichtenzapfen,
In der vollkommenen Stille unserer Pferde,
Unter alten Olivenbäumen hindurch
Betraten wir den nach totem Heu riechenden Hof, heiß;
Dann zäumten wir die Pferde ab
Und entließen sie auf die endlose Weide im Dunkeln.
Im Wagen legte ich mich hin, aufs Stroh.
Was, wenn die Pferde weglaufen, ich vergesse es nicht,
Im Schlaf weidete ich mit ihnen.
Morgens waren meine Augen und Lippen geschwollen
Von der giftigen Weidenfliege zerstochen.
In meinem Mund raschelte Stroh.
Ich sah auf, die Pferde vierzig Schritte entfernt,
Nur vierzig Schritte hatten sie zurückgelegt,
Im schlaflosen Gras einer langen Nacht.

Vertaald door Johannes Neuner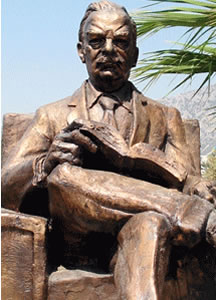 Melih Cevdet Anday (13 maart 1915 – 28 november 2002)
Standbeeld in Ören, Turkije
Zie voor nog meer schrijvers van de 13e maart ook mijn twee vorige blogs van vandaag.
13-03-2016 om 13:53 geschreven door Romenu

Tags:Mahmoud Darwish, Yuri Andrukhovych, Vladimir Makanin, Didier Decoin, Melih Cevdet Anday, Romenu



Yeghishe Charents, Oskar Loerke, Hermine de Graaf, W.O. Mitchell, Hugh Walpole
De Armeense dichter Yeghishe Charents werd geboren op 13 maart 1897 in Kars (toen Rusland, nu Turkije). Zie ook alle tags voor Yeghishe Charents op dit blog.
Requiem Aeternamin Memory of Komitas (Fragment)
Could your holy,
Broken soul ever dream that
You would return one day
To your great fatherland?
That such love and tenderness
Would scent your presence,
And Charents would kiss
Your lifeless lips?
But in your native land,
In its ancient mother-city,
On a new pedesral
And on purple hearts.
Your sacred body,
Embalmed as holy relic,
Has risen loftily,
Soaring like a mountain.
Here is your people,
Bringing its love and affection,
Rocking your fervent hart
mth your ancient songs
A heart, steeped in torment,
That has endured pain with such meekness
See how we sing to your glory now,
See how proud you've made us.
With a deep yearning, like a wound,
And a sacred awe,
I bow
To your dulcet bones.
From my heart and soul
Pours the same regret,
O my father, lost in a sleep without return,
That you could not see your son.
It seems as though I've seen you
From childhood till death.
As if I've wandered
Those deserted roads. 7
Holding your trembling hand,
For bread and water,
I've wandered like a thief,
With my blind beggar of a father.
Thus holding the aged hand
Of my harrowed father
I have begged, disconsolate, for bitter brand
In faraway places.
In the chill courtyards of churches,
Huddling with my sick father,
I have dreamt of our
Faraway home, like dreaming of bread.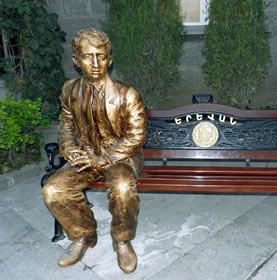 Yeghishe Charents (13 maart 1897 – 29 november 1937)
Standbeeld in Yerevan
De Duitse dichter Oskar Loerke werd geboren op 13 maart 1884 in Jungen. Zie ook alle tags voor Oskar Loerke op dit blog.
Der Stein ist hier zu End...
Der Stein ist hier zu End, hier treibt die grüne Kraft.
Du wünschst, dort stehe eine Steinlaterne,
Chinesisch, großer Meister zu gedenken,
Und nahe gegenüber ihrem Schaft
Ein niedrer Sitz zum Sichversenken.
Am Fuß ihm liegen Pfirsich-Purpurkerne,
Vom Fleisch entblößt, noch naß vom Saft.
Gehackt hat eine Amsel, ein Häher gescholten,
Dann gilt nicht mehr, was eben hat gegolten.
Nach unten siehst du Wüsten unter dem Rasen,
Nach oben Wüsten hinter den Wolkenoasen;
Wüsten endet ein Pflasterpfad und mündet
In einem Viereck aus schweren Platten.
Wo mag das sein? - Ein fremder Mann entzündet
Die heimische Laterne aus Basalt.
Wirklich ist er: er wirft einen Schatten.
Mein Schatten aber hat Baumes Gestalt,
Ich rage sausend über der Abendleuchte.
Der Mann im weiten Kittel aus schwarzer Seide
Erhebt das Auge, das verzückungfeuchte.
Von Weisheit voll und also leer von Leide,
Nimmt er den Wipfel, der über ihm weht,
Tief in sein Schweigen, bevor er geht.
Lautlos ging die Rosenuhr
Lautlos ging die Rosenuhr.
Rote Blätter lagen
Auf der Treppe vor dem Flur
Zu dem Haus der Sagen.
Auf den Stufen der Augur,
Knie um Knie geschlagen,
Schlief beim Gang der Rosenuhr -
Längst aus allen Tagen,
Längst schon ein Gerippe nur,
Los von Milz und Magen,
Unter grüner Stachelschnur -
Ohne daß der Himmelswagen
Aus dem Weltraum weiterfuhr.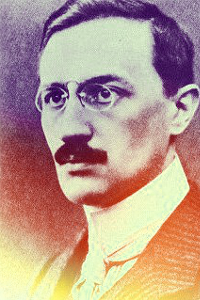 Oskar Loerke (13 maart 1884 – 24 februari 1941)
De Nederlands schrijfster Hermine de Graaf werd geboren in Winschoten op 13 maart 1951. Zie ook alle tags voor Hermine de Graaf op dit blog.
Uit: De weg naar het pompstation
"Ik kan hun gesprekken afluisteren en probeer de misdaad te reconstrueren. Mijn gedachten vormen een postmoderne misdaadgeschiedenis, waarin het lijk zelf de moord oplost. Dat ze me ooit iets zouden aandoen was een ingecalculeerd risico. Wee je gebeente als je niet doet wat de mensen zeggen."
(…)
"Corinne was de knapste en het type dat er bij het ouder worden als een geconserveerde schoonheid goed blijft uitzien. Een fenomeen dat later door haar accountant, die haar als een diepte investering zag, feilloos op juiste waarde werd geschat."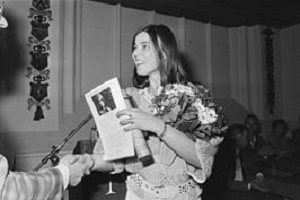 Hermine de Graaf (13 maart 1951 - 24 november 2013)
Hier bij de uitreikingvan de Geert Jan Lubberhuizen Prijs in 1985
De Canadese schrijver W.O. Mitchell werd geboren op 13 maart 1914 in Weyburn, Saskatchewan. Zie ook alle tags voor W. O. Mitchell op dit blog.
Uit: Who Has Seen the Wind
"Although two years of wind had filed the black dust even higher against the fences and farm buildings, and the yellow-stubbled fields were thinly stocked with the meagre stocks of lean times, the fall of 1931 still brought the excitement of harvest with it. The haize green of young wheat no longer spread over the flat expanse of prairie; the incessant winds rolled waves no longer through the darker green of June growth. For several weeks men had been busy in the fields. following the binders, stooping to pick up the sheaves and pile them into the stoolts that thimbled the land.
It was an urgent time of the year for the mu, whose livelihood depended upon the prairie. Down the streets on both sides of the river, tractors hauled threshing machines with feeders turned back upon themselves. linked to cool: cars and followed in turn by the wheeled half-cylinders of water wagons.
Empty and full. high, spreading grain wagons passed through on grinding wheels; long caterpillars of grain freights often blocked Main Street with their slow passage for minutes at a time.
Strange men swung down from the trains, their blanket rolls slung over one shoulder. bright flannel shirts open at the neck, their lean faces dark with coal dust. They stood before the beer parlour of the Royal Hotel, in front of Drew's Pool Hall, or on the bank comer. waiting for the farmers who came into town, looking for bundle pitchers, spikers. and team Skinners. There was harvest work for perhaps half the men who came to the town, at a dollar and a half a day, the day lasting from five in the rooming to seven at night.
Though the crop was poor and wheat only twenty-five cents a bushel - it had cost thirty cents to grow - it must be harvested.
On the morning of the first day of September, the bright noise of sparrows just under the window high in the peaking front of the O'Connal house woke Brian."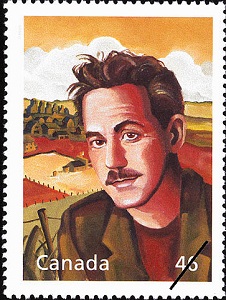 W.O. Mitchell (13 maart 1914 – 25 februari 1998)
De Britse schrijver Hugh Seymour Walpole werd geboren op 13 maart 1884 in Auckland, Nieuw Zeeland. Zie ook alle tags voor Hugh Walpole op dit blog.
Uit:The Young Enchanted
"Young Henry Trenchard, one fine afternoon in the Spring of 1920, had an amazing adventure.
He was standing at the edge of Piccadilly Circus, just in front of Swan and Edgar's where the omnibuses stopped. They now stop there no longer but take a last frenzied leap around the corner into Regent Street, greatly to the disappointment of many people who still linger at the old spot and have a vague sense all the rest of the day of having been cheated by the omnibus companies.
Henry generally paused there before crossing the Circus, partly because he was short-sighted and partly because he never became tired of the spectacle of life and excitement that Piccadilly Circus offered to him. His pince-nez, that never properly fitted his nose, always covered one eye more than the other and gave the interested spectator a dramatic sense of suspense because they seemed to be eternally at the crisis of falling to the ground, there to be smashed into a hundred pieces, these pince-nez coloured his whole life. Had he worn spectacles — large, round, moon-shaped ones as he should have done — he would have seen life steadily and seen it whole, but a kind of rather pathetic vanity — although he was not really vain — prevented him from buying spectacles.
The ill-balancing of these pince-nez is at the back of all those adventures of his that this book is going to record.
(…)
""God! Is there a God, do you think, Henry?"
"Yes," he answered. "I think there is One, but of what kind He is I don't know."
"There must be... There must be... To go out like this when one's heart and soul are at their strongest. And He is loving, I can't but fancy. He smiles, perhaps, at the importance we give to death and pain. So short a time it must seem to Him that we are here... But if He isn't... If there is nothing more- What a cruel, cold game for Something to play with us-"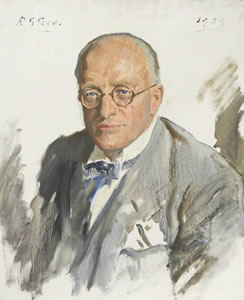 Hugh Walpole (13 maart 1884 – 1 juni 1941)
Portret door Reginald Grenville Eves, 1939
Zie voor nog meer schrijvers van de 13e maart ook mijn vorige blog van vandaag.
13-03-2016 om 13:52 geschreven door Romenu

Tags:Yeghishe Charents, Oskar Loerke, Hermine de Graaf, W.O. Mitchell, Hugh Walpole, Romenu



Inge Müller, Richard Zoozmann, Moritz Graf von Strachwitz, Oscar Blumenthal, Paul Morand
De Duitse dichteres en schrijfster Inge Müller werd geboren op 13 maart 1925 in Berlijn. Zie ook alle tags voor Inge Müller op dit blog.
Unterm Schutt I
Unterm Gebell der Eisenrohre schlief ich
Schon im Griff der Erde
Das Kind Moses im Kästchen treibend
Zwischen Schilf und Brandung
Und wachte auf als irgendwo im Herz der Kontinente
Rauch aufstieg aus offenem Meer
Heißer als tausend Sonnen
Kälter als Marmorherz.
Auf sechzehn Füßen ging ich in die Mitte genommen
Den ersten Schritt gegen den Staub.
Unterm Schutt III
Als ich Wasser holte fiel ein Haus auf mich
Wir haben das Haus getragen
Der vergessene Hund und ich
Fragt mich nicht wie
Ich erinnere mich nicht
Fragt den Hund wie.
Hacks
Dir Lieber wär ich lieber
Wenn ich den Mund halten würde
Wo kein Mund ist
Und kein Halten
Den Alten tust du feind
Und bist älter noch als sie
Versteckst dich in den Falten.
Was weißt du
Und wie?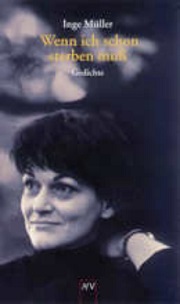 Inge Müller (13 maart 1926 – 1 juni 1966)
Cover
De Duitse dichter, schrijver en vertaler Richard Zoozmann werd geboren op 13 maart 1863 in Berlijn. Zie ook alle tags voor Richard Zoozmann op dit blog.
Ein anspruchsloses Buch
Ein anspruchsloses Buch ist dies,
Nimm´s ohne Anspruch hin und lies,
Gar vieles bringt´s für viele.
Leicht ist´s, darin sich umzusehn,
So oft und wo du bleibest stehn.
Stets bist du dort am Ziele.
Mir ist, als wäre jede Beere...
Mir ist, als wäre jede Beere
Ein Born der Lebensfreudigkeit,
Als gäbe sie die große Lehre:
Gedulde dich, es kommt die Zeit!
Wie durch Millionen Sonnenstrahlen,
Die uns nur tagelang gestreift,
Mit Saft sich füllten unsere Schalen,
Bis wir zur süßen Frucht gereift.
So wird trotz allem welken Laube
Durch freier Seelen Sonnenglut
Der Menschheit volle Wundertraube
Erst in Erkenntnis reif und gut.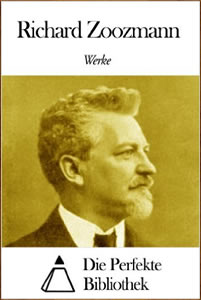 Richard Zoozmann (13 maart 1863 – 15 februari 1934)
Cover
De Duitse dichter Moritz Graf von Strachwitz werd geboren op 13 maart 1822 in Peterwitz nabij Frankenstein. Zie ook alle tags voor Moritz Graf von Strachwitz op dit blog.
Mir ist auf Erden wenig quer gegangen...
Mir ist auf Erden wenig quer gegangen,
Und wenig Gram hat meine Stirn verdunkelt;
Stets hat der Freude Rot aus meinen Wangen,
Aus meinen Augen Jugendmut gefunkelt.
Ich schminkte nie zum Spaß die Wangen blasser,
Noch quetscht' ich je mit affektierten Schmerzen
In meine Augen künstlich Tränenwasser;
Ich leide wenig an zerrißnem Herzen.
Mich freut der Becher noch, der Schmerzvertilger,
Mich freut der holde Zauber noch des Kusses;
Ich walle rasch, ein froher Liebespilger,
Im schrankenlosen Garten des Genusses.
Und wenn der Sturm der Zeit mein Haupt getroffen,
So meint' ich ihn am besten zu verstehen,
Wenn ich mit Mut und meinem kühnsten Hoffen
Dem blauen Himmel wollt' entgegen sehen.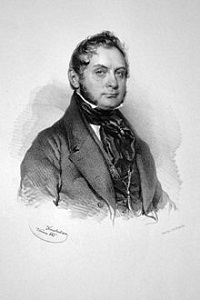 Moritz Graf von Strachwitz (13 maart 1822 – 11 december 1847)
De Duitse dichter, schrijver en criticus Oskar Blumenthal werd geboren op 13 maart 1852 in Berlijn. Zie ook alle tags voor Oskar Blumenthal op dit blog.
Du willst bei Fachgenossen...
Du willst bei Fachgenossen gelten?
Das ist verlorne Liebesmüh.
Was dir missglückt, verzeihn sie selten,
Was dir gelingt, verzeihn sie nie!
Meine Antikritik
"Was machst du, wenn die Kritik dich kränkt?"
Meine Antikritik: ich bleibe heiter.
"Und wenn sie dich an den Galgen gehängt?"
Meine Antikritik: ich lebe weiter.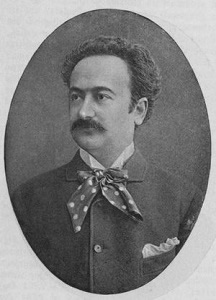 Oscar Blumenthal (13 maart 1852 – 24 april 1917)
De Franse dichter, schrijver en diplomaat Paul Morand werd geboren op 13 maart 1888 in Parijs. Zie ook alle tags voor Paul Morand op dit blog.
Uit: L'homme pressé
"- Quoi, tu n'es pas content ? fit Pierre en souriant.
- Non, non et non ! éclata Placide, trépignant. Vous façons me tuent. Sachez que j'ai failli m'évanouir d'émotion ! Je redoute les chocs. Quand vous me faites une gentillesse, c'est si brusquement que j'en suis plus fâcher que d'une amende ! Vous me réveillez en sursaut ! Vous ne me laissez pas le temps de m'habiller. Même pas le temps de dormir ou si peu que vous m'empêchez de trouver le vrai sommeil. Vous ne me laissez d'ailleurs le temps de rien ! Je suis votre souffre-douleur. Je souffre de toujours essayer de vous rattraper. J'ai besoin de vivre normalement, moi, et non pas crispé à l'arrière du convoi, dans le rôle de serre-frein. Et puisque je suis ici ce matin, contre mon gré, j'en profite pour vous dire que je romps notre association et que je m'installe à mon compte.
- C'est sérieux ? demanda Pierre.
Il regardait, stupéfait, cet ami de quinze ans chez qui il n'apercevait plus qu'une incompréhensible animosité. Il eut envie de dire : « Mais qu'est-ce que je t'ai fait ? » ne parvenant pas à comprendre qu'une simple différence dans leur tempo respectif pût charger d'un tel ressentiment l'âme de Placide.
Il s'efforça de se mettre à sa place, de se juger impartialement qu'est-ce qu'on pouvait lui reprocher ? Un peu trop de rapidité, poussée parfois – bien rarement – jusqu'à la fébrilité. C'était un défaut, un travers plutôt, un travers charmant tant de gens sont léthargiques, poids lourds odieux à soulever. Chez lui, tout était vitalité, envol. On devrait, au contraire, lui être reconnaissant d'accélérer les choses et de les mener si vite à bonne fin.
Placide s'était un peu calmé il reprit froidement :
- J'ai besoin d'un climat plus tempéré que le tien tu torréfies, et moi il faut que je mitonne. Dès ma sortie de l'École des Chartres, tu a été mon mauvais génie…"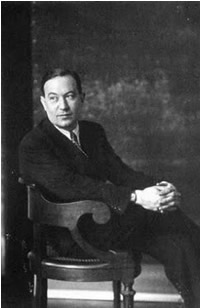 Paul Morand (13 maart 1888 – 23 juli 1976)


13-03-2016 om 13:50 geschreven door Romenu

Tags:Inge Müller, Richard Zoozmann, Moritz Graf von Strachwitz, Oscar Blumenthal, Paul Morand, Romenu



| | |
| --- | --- |
| | |



Inhoud blog


| | |
| --- | --- |
| | Pinksteren I (Willem de Mérode) |
| | Tommy Wieringa, Auke Hulst, Ellen Deckwitz, Jeroen Thijssen, Maurits de Bruijn, Gerrit Achterberg, Annie M.G. Schmidt, Sky du Mont |
| | Honoré de Balzac, William Michaelian, Wolfgang Borchert, Hector Malot, Ingvar Ambjørnsen, A.C. Cirino, Hanna Krall, Sigrid Undset |
| | Constantin Göttfert, Simone van Saarloos, Karel van het Reve, Gijs IJlander, Thera Coppens, H.W.J.M. Keuls, Jodi Picoult |
| | Ruskin Bond, Yahya Hassan, Fritz Rudolf Fries, Lorraine Hansberry, Rahel Varnhagen, Anna Jameson |
| | Yi Mun-yol, W.G. Sebald, Markus Breidenich, François Nourissier, Gunnar Gunnarsson, Omar Khayyam, Ernst Wiechert, Franziska zu Reventlow, John Wilson |
| | Lars Gustafsson, Peter Høeg, Eva Schmidt, Gary Paulsen, Henri Barbusse, Virginie Loveling, Dennis Potter, Cor Bruijn, Dorothy Richardson |
| | Paul Gellings, Adrienne Rich, Friedrich Rückert, Jakob van Hoddis, Juan Rulfo, Olaf J. de Landell, Olga Berggolts, Lothar Baier, Rens van der Knoop |
| | Mai (Johann Wolfgang von Goethe) |
| | Albert Verwey, Arthur Schnitzler, Pem Sluijter, W.J.M. Bronzwaer, Frits van Oostrom, Michael Lentz, Max Frisch, Judith Hermann, Mary Wortley Montagu |
| | In Memoriam Tom Wolfe |
| | Jo Gisekin, Karl-Markus Gauß, Eoin Colfer, Gaby Hauptmann, Wilma Vermaat, Frans Bastiaanse, Dante Alighieri, Krister Axel, Jens Sparschuh |
| | Moeder (M. Vasalis) |
| | Johannes (Willem de Mérode) |
| | Jan Lauwereyns, Reinout Verbeke, Bruce Chatwin, Daphne du Maurier, Kathleen Jamie, Armistead Maupin, Alphonse Daudet, Kōji Suzuki |
| | Theo van Baaren, Gregor von Rezzori, Reinhold Schneider, Jacob Haafner, Adolf Muschg, Roch Carrier, Franz Michael Felder |
| | Hagar Peeters, Bertus Aafjes, August Vermeylen, Andrej Voznesensky, Sabine Imhof, Dante Gabriel Rossetti |
| | Nicolaas Anslijn, Eva Demski, Farley Mowat, Werner Bräunig, Cäsar Flaischlen |
| | Edward Lear, Diana Raznovich, Andrej Amalrik, Maurice Carême, Massimo Bontempelli |
| | J. H. Leopold, Ida Gerhardt, Eva Menasse, Eugen O. Chirovici, Andre Rudolph, Rubem Fonseca, Henning Boëtius, Camilo José Cela, Rachel Billington |
| | De hemelvaart (Nicolaas Beets) |
| | J.C. Bloem, Herman Leenders, Didi de Paris, Ralf Rothmann, Jeremy Gable, Petra Hammesfahr, Roberto Cotroneo, Antonine Maillet, Johann Peter Hebel |
| | Jayne Cortez, Barbara Taylor Bradford, Benito Pérez Galdós, Ivan Cankar, Martin Boelitz, Ariel Durant, Fritz von Unruh, Leonard Buyst |
| | My Computer Ate My Homework 3, Dolce far niente, Gene Ziegler, Pieter Boskma, Jorie Graham, Luuk Wojcik |
| | Roddy Doyle, Thomas Pynchon, Pat Barker, Gary Snyder, Gertrud Fussenegger, Edmund Wilson, Alain-René Lesage, Sophus Schandorph, Romain Gary |
| | Libris Literatuurprijs 2018 voor Murat Isik |
| | Willem Elsschot, Almudena Grandes, Christoph Marzi, Edgar Cairo, Volker Braun, Robert Browning, Peter Carey, Archibald MacLeish, Rabindranath Tagore |
| | In Memoriam Renate Dorrestein |
| | Beloved, let us love one another,' says St. John (Christina Rossetti) |
| | Willem Kloos, Hélène Gelèns, Sasja Janssen, Ariel Dorfman, Erich Fried, Yasushi Inoue, Harry Martinson, Christian Morgenstern, Carl Ludwig Börne |
| | Ferdinand Sauter, Eugène Labiche, Gaston Leroux, Júlio César de Mello e Souza, Marie-Aude Murail, Paul Alverdes, Erik Bindervoet, Simon Mulder |
| | Als je de vrijheid tegenkomt (Ankie Peypers) |
| | Roni Margulies, Miklós Radnóti, Petra Else Jekel, Morton Rhue, Christopher Morley, George Albert Aurier |
| | Henryk Sienkiewicz, Richard Watson Dixon, Hans Werner Kolben, Christian Friedrich Scherenberg, Catullus |
| | Oorlog (Rutger Kopland) |
| | Christiaan Weijts, Amos Oz, J.W.F. Werumeus Buning, Cola Debrot, Graham Swift, Monika van Paemel, David Guterson, Jan Mulder, Werner Fritsch |
| | Erik Lindner, Jehuda Amichai, Johan de Boose, Paul Bogaert, Marc Dugain, Ben Elton, Klaus Modick, Agnès Desarthe, Juan Gelman |
| | Esther Freud, Wytske Versteeg, Rob Waumans, Tilman Rammstedt, James Holmes, Theo Sontrop, Jef Last, Gottfried Benn, Novalis |
| | What Work Is (Philip Levine) |
| | Guido Gezelle, Johano Strasser, Yasmina Reza, Joseph Heller, Yánnis Rítsos, Antal Szerb, Ignazio Silone, Aleksander Wat, Reinier van Genderen Stort |
| | Jeroen Brouwers, Alexander Osang, Ulla Hahn, Luise Rinser, John Boyne, Annie Dillard, Jaroslav Hasek, Jacob Hiegentlich, Kno'Ledge Cesare |
| | Der Weinstock und die Reben (Julie Hausmann) |
| | Konstantínos Petros Kaváfis, Rod McKuen, Bernhard Setzwein, Monika Rinck, Alejandra Pizarnik, Walter Kempowski, Bjarne Reuter, Kurt Pinthus, Humphrey Carpenter |
| | Wim Hazeu, Gerbrand Bakker, Zia Haider Rahman, Roberto Bolaño, Gerhard Henschel, Harper Lee, Joop Waasdorp |
| | Karl Kraus, Ğabdulla Tuqay, Charles Cotton, Nezahualcóyotl, Auguste Barbier, Bruno Apitz |
| | Astrid Roemer, Robert Anker, André Schinkel, Didier Daeninckx, Hovhannes Shiraz, August Wilson, Edwin Morgan, Jules Lemaître, Cecil Day Lewis |
| | Als ik koning was (Michel van der Plas) |
| | Bernard Malamud, Vincente Alexandre, Carl-Christian Elze, Hannelies Taschau, Theun de Vries, Hertha Kräftner, Johann Uhland, Margreet van Hoorn, Leo Stilma |
| | Erik Menkveld, Ted Kooser, James Fenton, Walter de la Mare, Richard Anders, William Temple, John Keble, Ross Franklin Lockridge Jr., Leopoldo Alas |
| | Fletcher Pratt |


Gastenboek


Druk op onderstaande knop om een berichtje achter te laten in mijn gastenboek