Bij Witte Donderdag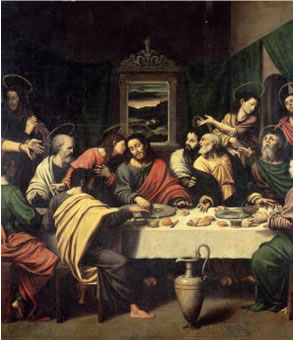 Het laatste avondmaal door Vicente Juan Macip (1475– 1545)
Het Laatste Avondmaal (door María Elena Cruz Varela *)

De lucht ruikt duidelijk naar rampspoed. Ik speel met kaarten
die niet van mij zijn. Aan mijn rechterkant. Stijfjes. De Heilige Familie.
Als een strop om mijn nek. Mij omringend. Mij verstikkend.
En zij zijn zó zwaar. God. En zij doen mij zó'n pijn. En zij verlammen mij
met hun pathetische gezichten. Hun nobele gebaren. Onder hun lichte masker
en hun zwijgzaamheid vermoed ik zwarte plekken. De lucht ruikt naar mest.
Angstaanjagende heksensabbat die de zintuigen afstompt. En het doet zo pijn. God.
En zij drukken hun stempel van opgewonden hemelbewakers op ons.
De lucht voert geuren van messen aan na de ochtendstond te hebben doorkliefd.
De lucht ruikt naar schanddaad, Naar eenzaam kind. Naar grijs. Naar warme as.
De lucht ruikt nar avondmaal. Oneindig. Treurig. Natgeworden brood
van het laatste avondmaal. En zij drukken zo. God.
Het bestek dat in het krijtstaat, schraapt zo over de huid.
Ze genieten onverstoorbaar van jouw bloeddruppels die zich mengen met de wijn.
De lucht ruikt naar namen. Naar tijdloze namen. Voorspellers vereeuwigen de vrede in de vensters.
Aan mijn rechterkant. Eeuwig. Levert de Heilige Familie strijd om de resten
van de zoon die ik niet was. En zij krabben zo. God. En zij vinden zichzelf zo fantastisch.
De wind draait. Draagt de dobbelstenen met behulp van verbazing.
Het scherp van zijn blad snijdt de hoop af. De lucht ruikt naar roest.
Naar duidelijke rampspoed. En ik weet dat ik speel. God. En ik weet dat ik mezelf
voor de gek hou.
Vertaald door Mariolein Sabarte Belacortu
* Zie "Onafhankelijk van geboortedata"
De Britse schrijfster Charlotte Brontë werd geboren in Thornton op 21 april 1816. Zie ook mijn blog van 21 april 2007 en ook mijn blog van 21 april 2008 en ook mijn blog van 21 april 2009 en ook mijn blog van 21 april 2010.
Uit: Jane Eyre
"Though I had now extinguished my candle and was laid down in bed, I could not sleep for thinking of his look wen he paused in the avenue, and told how his destiny had risen up before him, and dared him to be happy at Thornfield.
"Why not?" I asked myself. "What alienates him from the house? Will he leave it again soon? Mrs. Fairfax said he seldom stayed here longer than a fortnight at a time; and he has now been resident eight weeks. If he does go, the change will be doleful. Suppose he should be absent spring, summer, and autumn: how joyless sunshine and fine days will seem!"
I hardly know whether I had slept or not after this musing; at any rate, I started wide awake on hearing a vague murmur, peculiar and lugubrious, which sounded, I thought, just above me. I wished I had kept my candle burning: the night was drearily dark; my spirits were depressed. I rose and sat up in bed, listening. The sound was hushed.
I tried again to sleep; but my heart beat anxiously: my inward tranquility was broken. The clock, far down in the hall, struck two. Just then it seemed my chamber door was touched; as if fingers had swept the panels in groping a way along the dark gallery outside. I said, "Who is there?" Nothing answered. I was chilled with fear.
All at once I remembered that it might be Pilot, who, when the kitchen door chanced to be left open, not infrequently found his way up to the threshold of Mr. Rochester's chamber. I had seen him lying there myself in the mornings. The idea calmed me somewhat: I lay down. Silence composes the nerves; and as an unbroken hush now reigned again through the whole house, I began to feel the return of slumber. But it was not fated that I should sleep that night. A dream had scarcely approached my ear, when it fled affrighted, scared by a marrow-freezing incident enough."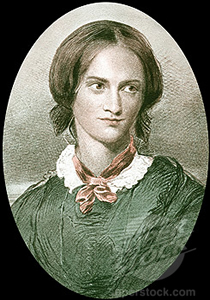 Charlotte Brontë (21 april 1816 – 31 maart 1855)
Portret door George Richmond
De Franse schrijver Patrick Rambaud werd geboren op 21 april 1946 in Parijs. Zie ook mijn blog van 21 april 2007 en ook mijn blog van 21 april 2008 en ook mijn blog van 21 april 2009 en ook mijn blog van 21 april 2010.

Uit Il neigeait
"Ah oui, se souvenait le capitaine, en juin ça avait de la gueule, quand on avait passé le Niémen pour violer le territoire des Russes. Le défilé des troupes sur les ponts flottants avait duré trois jours. Pensez donc, des canons par centaines, plus de cinq cent mille guerriers alertes, Français pour un bon tiers, avec l'infanterie en capotes grises qui côtoyait les Illyriens, les Croates, des volontaires espagnols, les Italiens du prince Eugène. Tant de force, tant d'ordre, tant d'hommes, tant de couleurs : on repérait les Portugais aux plumets orange de leurs shakos, les carabiniers de Weimar à leurs plumets jaunes ; voici les manteaux verts des soldats du Wurtemberg, le rouge et l'or des hussards de Silésie, le blanc des chevau-légers autrichiens et des cuirassiers saxons, les vestes jonquille des chasseurs bavarois. Sur la rive ennemie, la musique de la Garde avait joué Le Nouvel Air de Roland : « Où vont ces preux chevaliers, l'honneur et l'espoir de la France... »
Le fleuve sitôt franchi, les malheurs commencèrent. Il fallut piétiner dans un désert sous de fortes chaleurs, s'enfoncer dans des forêts de sapins noirs, subir le froid soudain après un orage infernal ; une quantité de voitures s'enlisèrent dans la boue. En moins d'une semaine les régiments avaient distancé les convois de provisions, lourds chariots que tiraient lentement des bœufs. Le ravitaillement posait un problème grave. Quand l'avant-garde arrivait dans un village, elle n'y trouvait rien. Les récoltes ? brûlées. Les troupeaux ? emmenés. Les moulins ? détruits. Les magasins ? dévastés. Les maisons ? vides. Cinq ans plus tôt, lorsque Napoléon conduisait la guerre en Pologne, d'Herbigny avait déjà vu les paysans déserter leurs fermes pour se réfugier au cœur des forêts avec leurs animaux et leurs provisions ; les uns cachaient des pommes de terre sous le carrelage, les autres enfouissaient de la farine, du riz, du lard fumé sous les sapins, ils accrochaient des boîtes pleines de viande séchée aux plus hautes branches. Eh bien cela recommençait en pire."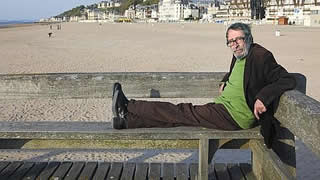 Patrick Rambaud (Parijs, 21 april 1946)

De Engelse schrijver John Mortimer werd geboren op 21 april 1923 in Londen. Zie ook mijn blog van 21 april 2009 en ook mijn blog van 21 april 2010.
Uit: Rumpole and the Reign of Terror
"Tiffany Khan — once, somehow improbably, Tiffany Timson — sat on the edge of my client's chair in cham­bers as though prepared to rush off at any moment in search of the husband she seemed to believe I would have no difficulty in rescuing. As I have said, she had darker hair and eyes than the rest of the Timsons and when she spoke it was in a soft and gentle voice which I thought she might have caught, in part, from her Pakistani husband.
Her story was both simple and alarming. About twelve years ago she had got a job as a secretary at Oakwood, a north London hospital. It was there she had met Dr Khan, who was some fifteen years older than Tiffany, and they'd fallen in love, married and had two children, a boy of ten and a girl of eight.
Mahmood Khan's father had come to England in the 1970s and started a small corner shop just off the Edgware Road. His success then led to his acquiring more corner shops and he sent money back regularly to his family in Pakistan.
He also acquired a highly desirable residence, a fairly large house 'on the better side of Kilburn'. While he was living there, his wife died and his only son, Mahmood (Tiffany's husband), left Pakistan to join him in England.
Mahmood had qualified as a doctor in Pakistan but he was forced to leave the country of his birth because, Tiffany said, 'he had become involved in politics, which is a risky thing to do in Pakistan'. Tiffany wasn't at all clear what exact form her husband's politics took, but they clearly met with the outright disapproval of the Pakistan government. He told her he'd been in danger of prison, and this was when he managed to escape from his country, Tiffany said, 'by a few disguises and a long walk across the mountains', and made his way to England, where his father had organized an immigrant's visa.
In the course of time the father's businesses began to fail and he had to sell off the corner shops. That was the bad news."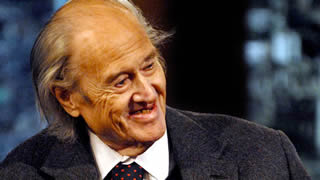 John Mortimer (21 april 1923 – 16 januari 2009)
De Duitse schrijver Peter Schneider werd geboren in Lübeck op 21 april 1940. Zie ook mijn blog van 21 april 2009 en ook mijn blog van 21 april 2010.
Uit: Skylla
Ich bete nicht, aber ich staune ihn an, diesen Himmel. Immer wieder habe ich ihn fotografiert, gemalt, in Briefen beschrieben, doch nicht einen Tag gefunden, an dem er sich gleich geblieben wäre. Die Wahrheit ist vielleicht, dass er nicht zu beschreiben ist, weil jede Beschreibung, jedes Foto, jede Zeichnung einen bereits vergangenen, nicht wieder herstellbaren Zustand festhält. Häuser und Landschaften geben eine Zeit lang ein verlässliches Bild ab, Menschen lassen sich anhand eines simplen Passfotos noch nach Jahren wieder erkennen, man kann, in computergenerierten Bildern, ihr zukünftiges Aussehen auf Jahrzehnte vorausberechnen – aber nicht den Himmel, unter dem ich stehe. Dieser Himmel, der jetzt nichts weiter als blau ist, so eintönig und unveränderlich blau wie seit Menschengedenken, kann sich binnen weniger Minuten schwarzgrauviolett verfärben, mit Blitzkaska-
den das Meer und den Horizont aufreißen, die Wälder anzünden und mich und mein Haus vernichten.
Was die Einheimischen über den Fluch erzählen, der über diesem Hügel liegt und Lucynna von mir fortgetrieben haben soll, ist eine Legende. Wahr ist, dass die Mythen und Geschichten, die unter den Ruinen begraben liegen, eine gefährliche Kraft entfalten können, wenn man sie aufstört."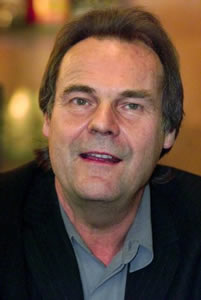 Peter Schneider (Lübeck, 21 april 1940)
Onafhankelijk van geboortedata:
De Cubaanse dichteres María Elena Cruz Varela werd in 1953 geboren in Colón. Haar literaire werk bestaat onder meer uit `Mientras la espera el agua' (1986) en `Afuera está lloviendo' (1987). In 1989 ontving ze in Cuba de Nationale Poëzieprijs voor `Hijas de Eva'. Cruz Varela was in mei 1991, als voorzitter van de oppositiegroepering `Criterio Alternativo', een van de ondertekenaars van het `Manifest van de Tien'. In dit document dat door negen andere intellectuelen werd onderschreven, werd Fidel Castro gevraagd democratische maatregelen te nemen en een `nationaal debat' aan te gaan waaraan alle Cubanen deelnemen. Op 21 november 1991 vielen paramilitaire bendes van het regime Cruz Varela in haar huis aan, samen met een paar vrienden en haar twee kinderen van 16 en 11 jaar oud. Op 27 november werd ze voorgeleid en veroordeeld. Het vonnis luidde twee jaar gevangenisstraf voor `onwettig lidmaatschap en laster'. De dichteres werd overgebracht naar de Combinado del Sur-gevangenis.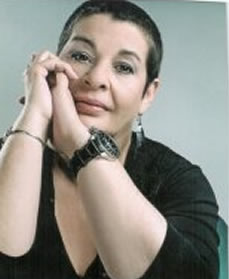 María Elena Cruz Varela (Colón, 1953)
Zie voor nog meer schrijvers van de 21e april ook
mijn vorige blog van vandaag
.

21-04-2011 om 00:00 geschreven door Romenu

Tags:Charlotte Brontë, Patrick Rambaud, John Mortimer, Peter Schneider, María Elena Cruz Varela, Romenu