De Amerikaanse schrijfster Edith Wharton werd geboren op 24 januari 1862 in New York. Zie ook alle tags voor Edith Wharton op dit blog.
Uit: A Backward Glance
"It was on a bright day of midwinter, in New York. The little girl who eventually became me, but as yet was neither me nor anybody else in particular, but merely a soft anonymous morsel of humanity--this little girl, who bore my name, was going for a walk with her father. The episode is literally the first thing I can remember about her, and therefore I date the birth of her identity from that day.
She had been put into her warmest coat, and into a new and very pretty bonnet, which she had surveyed in the glass with considerable satisfaction. The bonnet (I can see it today) was of white satin, patterned with a pink and green plaid in raised velvet. It was all drawn into close gathers, with a bavolet in the neck to keep out the cold, and thick ruffles of silky blonde lace under the brim in front. As the air was very cold a gossamer veil of the finest white Shetland wool was drawn about the bonnet and hung down over the wearer's round red cheeks like the white paper filigree over a Valentine; and her hands were encased in white woollen mittens.
One of them lay in the large safe hollow of her father's bare hand; her tall handsome father, who was so warm-blooded that in the coldest weather he always went out without gloves, and whose head, with its ruddy complexion and intensely blue eyes, was so far aloft that when she walked beside him she was too near to see his face. It was always an event in the little girl's life to take a walk with her father, and more particularly so today, because she had on her new winter bonnet, which was so beautiful (and so becoming) that for the first time she woke to the importance of dress, and of herself as a subject for adornment—so that I may date from that hour the birth of the conscious and feminine ME in the little girl's vague soul."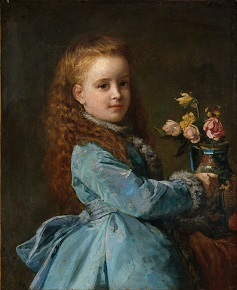 Edith Wharton (24 januari 1862 – 11 augustus 1937)
Wharton als meisje. Portret door Edward Harrison May, 1870
De Duitse dichter en schrijver Ernst Theodor Amadeus Hoffmann werd geboren in Koningsbergen op 24 januari 1776. Zie ook alle tags voor E. Th. A. Hoffmann op dit blog en ook deze tags op dit blog.
Uit: Die Jesuiterkirche in G.
"In eine elende Postchaise gepackt, die die Motten, wie die Ratten Prosperos Fahrzeug, aus Instinkt verlassen hatten, hielt ich endlich, nach halsbrechender Fahrt, halb gerädert, vor dem Wirtshause auf dem Markte in G. Alles Unglück, das mir selbst begegnen können, war auf meinen Wagen gefallen, der zerbrochen bei dem Postmeister der letzten Station lag. Vier magere abgetriebene Pferde schleppten nach mehrern Stunden endlich mit Hilfe mehrerer Bauern und meines Bedienten das baufällige Reisehaus herbei; die Sachverständigen kamen, schüttelten die Köpfe und meinten, daß eine Hauptreparatur nötig sei, die zwei, auch wohl drei Tage dauern könne. Der Ort schien mir freundlich, die Gegend anmutig, und doch erschrak ich nicht wenig über den mir gedrehten Aufenthalt. Warst du, günstiger Leser, jemals genötigt, in einer kleinen Stadt, wo du niemanden – niemanden kanntest, wo du jedem fremd bliebst, drei Tage zu verweilen, und hat nicht irgendein tiefer Schmerz den Drang nach gemütlicher Mitteilung in dir weggezehrt, so wirst du mein Unbehagen mit mir fühlen. In dem Wort geht ja erst der Geist des Lebens auf in allem um uns her; aber die Kleinstädter sind wie ein in sich selbst verübtes, abgeschlossenes Orchester eingespielt und eingesungen, nur ihre eignen Stücke gehen rein und richtig, jeder Ton des Fremden dissoniert ihren Ohren und bringt sie augenblicklich zum Schweigen. – Recht mißlaunig schritt ich in meinem Zimmer auf und ab; da fiel mir plötzlich ein, daß ein Freund in der Heimat, der ehemals ein paar Jahre hindurch in G. gewesen, oft von einem gelehrten geistreichen Manne sprach, mit dem er damals viel umgegangen. Auch des Namens erinnerte ich mich: es war der Professor im Jesuiter-Kollegio Aloysius Walther. Ich beschloß hinzugehen und meines Freundes Bekanntschaft für mich selbst zu nutzen. Man sagte mir im Kollegio, daß Professor Walther zwar eben lese, aber in kurzer Zeit endigen werde, und stellte mir frei, ob ich wiederkommen oder in den äußeren Sälen verweilen wolle. Ich wählte das letzte. Überall sind die Klöster, die Kollegien, die Kirchen der Jesuiten in jenem italienischen Stil gebaut, der auf antike Form und Manier gestützt, die Anmut und Pracht dem heiligen Ernst, der religiösen Würde vorzieht. So waren auch hier die hohen, luftigen, hellen Säle mit reicher Architektur geschmückt, und sonderbar genug stachen gegen Heiligenbilder, die hie und da an den Wänden zwischen ionischen Säulen hingen, die Superporten ab, welche durchgehends Genientänze oder gar Früchte und Leckerbissen der Küche darstellten. – Der Professor trat ein, ich erinnerte ihn an meinen Freund und nahm auf die Zeit meines gezwungenen Aufenthalts seine Gastlichkeit in Anspruch."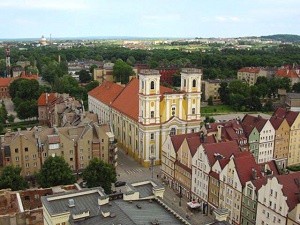 E. Th. A. Hoffmann (24 januari 1776 - 25 juni 1822)
De Jezuïetenkerk in Glogau
De Joegoslavische schrijver, vertaler, diplomaat en journalist Ivan Ivanji werd geboren op 24 januari 1929 in Zrenjanin. Zie ook alle tags voor Ivan Ivanji op dit blog.
Uit: Geister aus einer kleinen Stadt
"Nur einige Wochen vor der Schlachtung werden sie mit Kukuruz oder Kraftfutter gemästet. Henkersmahlzeiten? Das geschlachtete Schwein wird auf Spreizen gehängt, als würde es gekreuzigt – aber das ist ein blasphemischer Gedanke, den man schnell abdrängen muss – und ausgenommen. Hunde versammeln sich und warten hungrig mit weit aufgerissenen Augen auf ihren Anteil. Hunde sind wichtig.
Sie hüten Haus und Hof und nehmen es auch mit den Wölfen auf, wenn die Raubtiere Mensch und Hornvieh zu nahe kommen. In der Nacht ist mitunter trotzdem ein Heulen zu hören, dem die Hunde antworten. Verstehen sie sich mit den Wölfen? Schreien sie einander Schimpfworte zu wie die Menschen aus den Schützengräben vor dem Kampf? Allen Nachbarn werden Platten mit frischer Blutwurst, Leberwurst und Grammeln geschickt. Das ist nicht nur im Dorf Sitte, sondern auch in den kleinen Städten im Umfeld.
Der Bürger kauft ein Jungschwein beim Bauern, lässt es aber vorerst bei ihm im Stall und sagt, wie er es gemästet haben will, je nachdem, ob er mehr auf Schmalz oder auf Fleisch Wert legt. Im Winter wird das arme Tier lebend in den Hof des Stadthauses gebracht, erst dort abgestochen und auf dem Balken gespreizt, auf dem sonst Teppiche geklopft werden. Jede anständige Familie hat ihre eigenen Wurstrezepte, die man seinem Metzger mitteilt. Man verabredet sich im Wohnblock, die Schlachtfeste möglichst nicht gleichzeitig zu veranstalten, so versorgt man einander wochenlang freundschaftlich mit frisch Geschlachtetem. Fast als Glücksfall wird empfunden, dass zwischen Weihnachten, wenn die Geburt Christi von katholischen und protestantischen Menschen – Ungarn, Slowaken, Deutschen – gefeiert wird und demselben Feiertag der Orthodoxen – Serben, Rumänen, Montenegrinern – zwei Wochen liegen."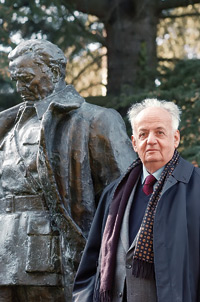 Ivan Ivanji (Zrenjanin, 24 januari 1929)
De Duitse dichter Eugen Roth werd op 24 januari 1895 in München geboren. Zie ook alle tags voor Eugen Roth op dit blog.
Der Herbst
Lang träumte der Sommer. Die scharfen
Herbsthunde lagen noch still.
Seine Hände pflückten aus Harfen
Den unnennbaren Klang
Und er lauschte dem eigenen Sang
Wie einer, der nicht mehr erwachen will.
Doch dann von den Bergen her drang
Der Hornruf des Herbstes und zwang
Zu männlichem Gang.
Aus den Wäldern die Hunde sich warfen.
Der Sommer erschrocken aufsprang
Und rührte die Locken: schön!
Er ging noch nicht gleich:
Im Tal stand er lang und der Herbst auf den Höhn
Und zwischen beiden, so mild, so bang
Hinschwankte das irdische Reich,
Bis eine Nacht kam, die weich war von Föhn.
Der Sommer ging fort, und der siegende Mann,
Der Herbst, stieg schweigend herab aus dem Tann,
So bunt und so bleich zugleich.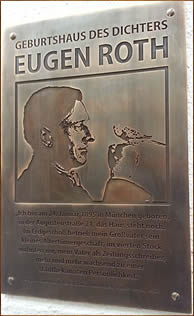 Eugen Roth (24 januari 1895 – 28 april 1976)
Gedenkplaat aan zijn geboortehuis
De Duitse schrijver Ulrich Holbein werd op 24 januari 1953 in Erfurt geboren. Zie ook alle tags voor Ulrich Holbein op dit blog.
Uit: Narratorium
"Behörden schickten Steuerbescheide und Wahlunterlagen weiterhin hartnäckig an »Mr. Cassius Clay«. Weiße hielten Mohammed Alis großgeschriebene Religion für Showeinlage, Publicitygag, für eine neue Marotte, unnötige Arabeske seiner Body-Religion. Im Londoner Isow's Restaurant fuhr er gern simultan 2 übergroße rohe Steaks ein, sprang dann auf, rannte raus, um zu kämpfen. 1964 besuchte er erstmals Afrika; schwarz und horizontfüllend quoll's ihm von überall entgegen. 1966 kämpfte er in Frankfurt, unter landenden und startenden Aeroplanes, erledigte den unkaputtbaren Europameister in der 12. Runde, gab hinterher zu: »Mit eurem Mildenberger hatte ich die meiste Arbeit.« Von Nachtclubsängerin Sonji Roi, 23, der er 5 Minuten nach der Erstbegegnung einen Heiratsantrag machte, den sie mit »Why not?« quittierte, ließ er sich nach 1½ Jahren scheiden, praktisch wegen nichts. Sie war halt nur 99- statt 100%ig gewillt, sich der Kontrolle seiner geistigen Führung auszusetzen, trug ganz gern mal Make-up und Schmuck, dadurch als aufsässig/nicht-islamisch eingestuft und ausgespien. Als sie fragte, ob sie's nicht doch noch versuchen sollten, sagte ihr Gatte: »Wir sehn uns vor Gericht, Darling.« Morddrohungen führten derart zu FBI-Paranoia, daß Ali Betreuer und Gegner öfters in einen Topf warf. Gattin Nr. 2, eine strenge Muslima: Belinda Boyd. Sein »I'm the greatest« posaunte er hinaus in alle Welt, ohne hinzuzufügen: »größter Boxer«. Der beste Schwergewichtler aller Zeiten – da mischten sich Behauptung und Faktum; x Boxexperten hielten andere Boxpäpste, Weltrang-Bullen, Hexenkessel-Bomber, Sexmaniacs, Lederfäuste für zeitweise besser. Mohammed Ali aber konnte als erster am TV als Einzelperson 1 Mrd. Zugucker gleichschalten (später nur noch toppbar von Lady-Di- und Papst-Beisetzungen). Im Ring kassierte er pro Fight 8 Mill. Dollar, zusammen Bruttogagen von 67 Mill. Dollar. Viel verlor er an Moslembrüder, Mitläufer, Ex-Frauen und Hofstaat, kaufte Immobilien in Chicago, Los Angeles, Michigan, Pennsylvania."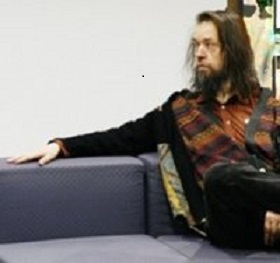 Ulrich Holbein (Erfurt, 24 januari 1953)
De Engelse dichter John Donne werd ergens tussen 24 januari en 19 juni 1572 geboren in Londen. Zie ook alle tags voor John Donne op dit blog.
Holy Sonnet V: I Am a Little World
I am a little world made cunningly
Of Elements, and an Angelike spright,
But black sinne hath betraid to endlesse night
My worlds both parts, and (oh) both parts must die.
You which beyond that heaven which was most high
Have found new sphears, and of new lands can write,
Powre new seas in mine eyes, that so I might
Drowne my world with my weeping earnestly,
Or wash it if it must be drown'd no more;
But oh it must be burnt! alas the fire
Of lust and envie have burnt it heretofore,
And made it fouler; Let their flames retire,
And burne me o Lord, with a fiery zeale
Of thee and thy house, which doth in eating heale.

Holy Sonnet VI: This Is My Playes Last Scene
This is my playes last scene, here heavens appoint
My pilgrimages last mile; and my race
Idly, yet quickly runne, hath this last pace,
My spans last inch, my minutes latest point,
And gluttonous death, will instantly unjoynt
My body, and soule, and I shall sleepe a space,
But my'ever-waking part shall see that face,
Whose feare already shakes my every joynt;
Then, as my soule, to'heaven her first seate, takes flight,
And earth-borne body, in the earth shall dwell,
So, fall my sinnes, that all may have their right,
To where they're bred, and would presse me, to hell.
Impute me righteous, thus purg'd of evill,
For thus I leave the world, the flesh, the devill.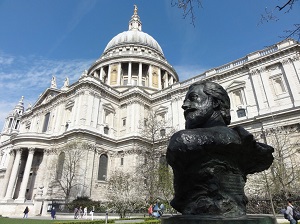 John Donne (24 januari 1572 – 31 maart 1631)
Standbeeld bij St. Paul's Cathedral, Londen
De Engelse dichter en edelman Charles Sackville werd geboren op 24 januari 1638 in Buckhurst. Zie ook alle tags voor Charles Sackville op dit blog.
To Mr Edward Howard, on his Incomparable,
Incomprehensible Poem Called The British
Prince
Come on, ye critics! Find one fault who dare,
For, read it backward like a witch's prayer,
'Twill do as well; throw not away your jests
On solid nonsense that abides all tests.
Wit, like tierce claret, when 't begins to pall,
Neglected lies and's of no use at all;
But in its full perfection of decay,
Turns vinegar and comes again in play.
This simile shall stand in thy defence
'Gainst such dull rogues as now and then write sense.
He lies, dear Ned, who says thy brain is barren,
Where deep conceits, like vermin, breed in carrion;
Thou hast a brain, such as thou hast, indeed —
On what else should thy worm of fancy feed?
Yet in a filbert I have often known
Maggots survive when all the kernel's gone.
Thy style's the same whatever be the theme,
As some digestions turn all meat to phlegm:
Thy stumbling, founder'd jade can trot as high
As any other Pegasus can fly.
As skillful divers to the bottom fall
Sooner than those that cannot swim at all,
So in this way of writing without thinking
Thou hast a strange alacrity in sinking:
Thou writest below e'en thy own natural parts
And with acquired dullness and new arts
Of studied nonsense tak'st kind readers' heart.
So the dull eel moves nimbler in the mud
Than all the swift-finn'd racers of the flood.
Therefore, dear Ned, at my advice forbear
Such loud complaints 'gainst critics to prefer,
Since thou art turn'd an arrant libeller:
Thou sett'st thy name to what thyself dost write;
Did ever libel yet so sharply bite?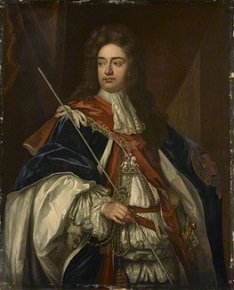 Charles Sackville (24 januari 1638 – 29 januari 1706)
Portret door Sir Godfrey Kneller, 1694
De Oostenrijkse schrijfster Vicky Baum werd op 24 januari 1888 in Wenen geboren. Zie ook alle tags voor Vicky Baum op dit blog.
Uit: Shanghai 1937
"You swine of a Chinaman!" Bobbie roared so loudly that his voice broke. People turned to look at him. Their faces showed neither astonishment nor annoyance, only that toleration of eccentricities which is second nature in Shanghai."Conduct the gentleman into the fresh air, he seems to be suffering," the Chinese in the dress coat said to a waiter, also in dress clothes. The maitre d'hotel, a pale, swarthy, handsome Portuguese, took hold of Bobbie with a jujitsu grip and lugged him outside. The Chinese turned back with a smile to his friends. "How ashamed he will he when he is sober and remembers his behavior," he said with a tolerance that was contempt. "The climate of Shanghai does not always suit the English race very well."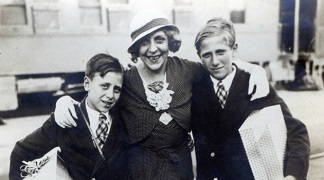 Vicky Baum (24 januari 1888 - 29 augustus 1960)
Hier met haar zonen Wolfgang en Peter
Zie voor nog meer schrijvers van de 24e januari ook mijn vorige blog van vandaag.



24-01-2015 om 19:13 geschreven door Romenu

Tags:Edith Wharton, E. Th. A. Hoffmann, Ivan Ivanji, Eugen Roth, Ulrich Holbein, Charles Sackville, John Donne, Vicky Baum, Romenu