De Amerikaanse schrijver Stewart O'Nan werd geboren op 4 februari 1961 in Pittsburgh, Pennsylvania. Zie ook mijn blog van 4 februari 2007 en ook mijn blog van 4 februari 2008 en ook mijn blog van 4 februari 2009 en ook mijn blog van 4 februari 2010.
Uit: The speed queen
"I love you," he said, still gasping. He didn't even say my name.
And what was I supposed to say? That I felt sick, that I wished I hadn't let him?
I said it back.
"Are you okay?" he said.
I knew there would be blood but not so much. I wiped my thighs with the blanket and folded it over.
"I'm okay," I said. "I just need to clean up."
"I've got Kleenex," he said, and reached through the back window of the cab and handed me the box. He knelt there staring at me.
"Watch the movie," I said.
I stuffed some up there, but I still felt sick, so I put on my top and my old underwear and my shorts and found my clogs. Monty wouldn't leave me alone. "I'm okay," I kept telling him. "I just need to use the bathroom." He wanted to come with me, but I finally shouted at him, and he let me go.
I jumped down from the tailgate and almost fell. My legs were shaky and my stomach was churning like a washing machine. Everything down there stung. I stumbled over the dusty mounds toward the red flourescents outlining the snack bar. It was circular and shaped like a witches hat, the projector in the top part. You could see the movie scissoring through the air. We were in the back, like a mile away. The last hundred feet were deserted. A green light burned on each unused speaker like an eye. Halfway there, I knew I wasn't going to make it. I stopped and leaned against a speaker pole and heaved up everything I'd eaten--the Champale and the mustard fries, the nachos and the Dots--all of it splashing hot over my Dr. Scholl's. I spit to clean my mouth and kicked dust over everything and went on.
My thighs were sticky, and getting sick made me cry, so my face was a mess. I knew the bathrooms were by the front, so I walked around the outside and slipped in, hoping no one would see me."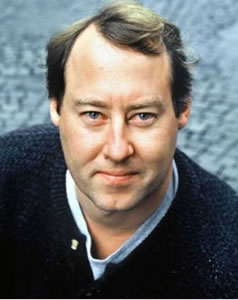 Stewart O'Nan (Pittsburgh, 4 februari 1961)
De Nederlandse dichter en schrijver Louis Ferron werd op 4 februari 1942 geboren in Leiden. Zie ook mijn blog van 4 februari 2007 en ook mijn blog van 4 februari 2008 en ook mijn blog van 4 februari 2009 en ook mijn blog van 4 februari 2010.
Uit: Het stierenoffer
"Wir haben den Schrecken gebrochen,
Für uns wars ein großer Sieg.
Wir werden weitermarschieren,
Wenn alles in Scherben fällt,
Denn heute gehört uns Deutschland
Und morgen die ganze Welt.
Achterovervallend, de armen gelaten spreidend, keek hij me aan met een blik waarin ik dankbaarheid las. Dankbaarheid omdat één draai van mijn bajonet een einde maakte aan zijn laf en tobberig bestaan. Herkende hij in mij de verlossende engel die de al te zwaar belasten bij de hand neemt om hen op te heffen tot daar waar alles licht en gezang is? Nooit zal ik het weten. Na hem voor de loop van mijn Mauser te hebben weggetrapt – en ik deed dat echt zonder woede, zonder walging – werd ik door de luchtdruk van een achter mij exploderende granaat in de modder geworpen, vlak naast de boer die ik juist de helpende hand had gereikt. De slag verstierf en ik hoorde het zachte gepruttel van bloed dat in helrode blaasjes uit zijn buik opborrelde. Een schone offerande.
Ik werkte me overeind uit de drek, veegde mijn gezicht aan mijn mouw af en liet mijn blik op de boer rusten. Het bloed, dat eerst in vrolijke tinten had geschuimd, golfde nu in dramatische gutsen uit de wonde, die groter leek te worden naarmate het bloed zich verder over zijn kiel verspreidde. Zoals hij daar lag kon ik mij niet voorstellen dat ik een hekel aan hem zou hebben gehad. Hij was bepaald aandoenlijk met de in viltlaarzen gestoken benen half opgetrokken, de armen gestold in de laatste wiekslag en de zilverachtig glanzende baardstoppels op het nu uitdrukkingloze gelaat."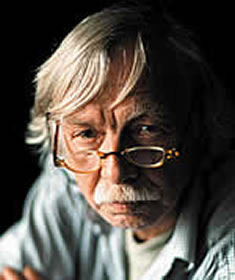 Louis Ferron (4 februari 1942 – 26 augustus 2005)
De Amerikaanse schrijver Robert Coover werd geboren op 4 februari 1932 in Charles City, Iowa. Zie ook mijn blog van 4 februari 2007 en ook mijn blog van 4 februari 2009 en ook mijn blog van 4 februari 2010.
Uit: Briar Rose
"He is surprised to discover how easy it is. The branches part like thighs, the silky petals caress his cheeks. His drawn sword is stained, not with blood, but with dew and pollen. Yet another inflated legend. He has undertaken this great adventure, not for the supposed reward -- what is another lonely bedridden princess? -- but in order to provoke a confrontation with the awful powers of enchantment itself. To tame mystery. To make, at last, his name. He'd have been better off trying for the runes of wisdom or the Golden Fleece. Even another bloody grail. As the briars, pillowy with a sudden extravagance of fresh blooms, their thorns decorously sheathed in the full moonlight, open up to receive him as a doting mother might, he is pricked only by chagrin. Yet he knows what it has cost others who have gone before him, he can smell their bodies caught in the thicket, can glimpse the pallor of their moon-bleached bones, rattling gently when the soft wind blows. That odor of decay is about the extent of his ordeal, and even it is assuaged by the fragrances of fresh tansy and camomile, roses, lilac and hyssop, lavander and savory, which encompass him affectionately -- perhaps he has been chosen, perhaps it is his virtue which has caused the hedge to bloom -- as he plunges deeper into the thicket, the castle turrets and battlements already visible to him, almost within reach, through its trembling branches."

Robert Coover (Charles City, 4 februari 1932)
De Oostenrijkse toneelschrijver Werner Schwab werd geboren in Graz op 4 februari 1958. Zie ook mijn blog van 4 februari 2009 en ook mijn blog van 4 februari 2010.
Uit: Sein letzter Text
"In den siedlungsfremden Geschäften lügt die Mama manchmal noch mehr als in den Siedlungsheimischen Geschäften, weil dort die Lügen eine höhere Lebenserwartung einheimsen können, wegen der erschwerten Kontrollierbarkeit der lügenden Mama. Dort, in den siedlungsfremdländischen Geschäften, erzählt sie dann von einem Hund, der zuhause das vertraute Heim bewacht, und daß sie gerne die gesammelten Wurstzipfel überantwortet bekommen täte.
Das heißt dann freilich, daß es zuhause Wurstnudeln mit Salatabfällen geben muß..
Manchmal denke ich, daß die Mama mich meint, wenn sie einen Hund vortäuscht im auswärtigen
Wurstzipfelgeschäft. Darum muß ich vielleicht andauernd daheim bleiben, wenn ich unbedingt hinauswollen muß aus der blutunterlaufenen Wohnung. Andererseits heißt es immerzu, daß nur zuhausdaheim der gute Einfluß weht, der mich und die Wohnung aber nur dann bewachen kann, wenn die Wohnungstür verschlossen ist und die Wohnung abgefüllt darniederliegt mit mir.
Dann wäre allerdings der gute Einfluß der Hund, auf den es ankäme, aber dem überguten Einfluß täte die Mama keine Wurstzipfelnudeln mit Salatabfallsalat vor die nässende Maulhöhle setzen, da würde sie ein Schweinsschnitzel kochen, mit echten Semmelbrösel und einem ganzen Ei."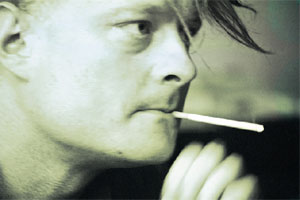 Werner Schwab (4 februari 1958 - 1 januari 1994)
De Canadese dichter E. J. Pratt werd op 4 februari 1882 geboren in Western Bay, Newfoundland. Zie ook mijn blog van 4 februari 2007 en ook mijn blog van 4 februari 2009 en ook mijn blog van 4 februari 2010.
Uit: The Titanic
MARCH 3, 1912

Completed! Waiting for her trial spin —
Levers and telegraphs and valves within
Her intercostal spaces ready to start
The power pulsing through her lungs and heart.
An ocean lifeboat in herself — so ran
The architectural comment on her plan.
No wave could sweep those upper decks — unthinkable!
No storm could hurt that hull — the papers said so.
The perfect ship at last — the first unsinkable,
Proved in advance — had not the folders read so?
Such was the steel strength of her double floors
Along the whole length of the keel, and such
The fine adjustment of the bulkhead doors
Geared to the rams, responsive to a touch,
That in collision with iceberg or rock
Or passing ship she could survive the shock,
Absorb the double impact, for despite
The bows stove in, with forward holds aleak,
Her aft compartments buoyant, watertight,
Would keep her floating steady for a week.
And this belief had reached its climax when,
Through wireless waves as yet unstaled by use,
The wonder of the ether had begun
To fold the heavens up and reinduce
That ancient hubris in the dreams of men,
Which would have slain the cattle of the sun,
And filched the lightnings from the fist of Zeus.
What mattered that her boats were but a third
Of full provision — caution was absurd:
Then let the ocean roll and the winds blow
While the risk at Lloyd's remained a record low.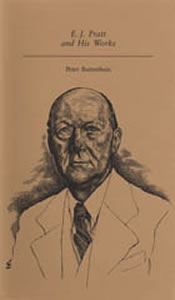 E. J. Pratt (4 februari 1882 – 26 april 1964)
De Duitse schrijver en journalist Norman Ohler werd geboren op 4 februari 1970 in Zweibrücken. Zie ook mijn blog van 4 februari 2007 en ook mijn blog van 4 februari 2008 en ook mijn blog van 4 februari 2009 en ook mijn blog van 4 februari 2010.
Uit: Ungleiche Schwestern (In: Die Zeit, 3 december 2008)
"Die wenigsten Antiguaner kennen das 42 Kilometer entfernte Schwestereiland Barbuda. Was auch kein Wunder ist, denn eine regelmäßige Fährverbindung zwischen den beiden einen Staat bildenden Inseln gibt es erst seit einem Jahr.
Barbuda ist eine andere Welt, es gibt dort kaum Tourismus und keine Industrie. Die Barbudaner erlauben niemandem, nicht einmal den Antiguanern, bei ihnen Land zu besitzen – und konnten sich deshalb ein kleines Paradies erhalten. Aus historischer Sicht ist ihre Skepsis gegen Fremde mehr als verständlich. Sie sind nämlich Nachkommen der Zöglinge des britischen Versuchs, hier so genannte Supersklaven zu züchten, wie es der Einheimische Devon Warner formuliert, Berater des einzigen barbudanischen Kabinettsmitglieds in der Spencer-Regierung. Nur die stärksten Afrikaner (vor allem aus Ghana, der Elfenbeinküste, dem Senegal) wurden im 17. Jahrhundert nach Barbuda verfrachtet und dort untereinander »gekreuzt«, um größere Menschen mit größeren Muskeln, größeren Händen zu schaffen – Exportsklaven für die Plantagen der Kolonien ringsum. Die Ruinen dieser Zuchtstationen sind in der Nähe von Codrington zu sehen, dem einzigen Dorf der Insel. Im Ort bestimmen noch heute Hünen das Bild. Frauen, die einen Meter neunzig groß sind und weit über hundert Kilo wiegen, sind keine Seltenheit.
Auch die Herzen der Barbudaner sind womöglich ein wenig überdimensioniert. Vielleicht erklärt das die Differenzen zum Nachbarn Antigua. Standhaft wehren sich die Barbudaner gegen alle Versuche, auch ihre Insel zu erschließen. Seit dem Ende der Sklaverei im 19. Jahrhundert gehört den Bewohnern das Land kommunal, und keinem ausländischen Investor ist es seitdem gelungen, gegen den Willen der Einheimischen zu investieren. Als im Jahre 2000 eine britische Firma die Behörden auf Antigua ausreichend schmierte und ohne Befragen der Barbudaner begann, ein Luxusresort am Spanish Point zu bauen, einem Naturschutzgebiet an der Südspitze, kamen die aufgebrachten Nachfahren der »Supersklaven« mit ihren Pick-ups angebraust und warfen mit ihren riesigen Händen alle bereits herbeigeschafften Baumaterialien ins Meer, woraufhin die Briten ihr Projekt einstellten."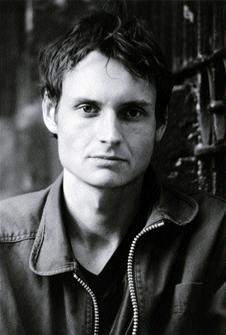 Norman Ohler (Zweibrücken, 4 februari 1970)]


Zie voor nog meer schrijvers van de 4e februari ook
mijn vorige blog van vandaag.
04-02-2011 om 18:55 geschreven door Romenu

Tags:Stewart O'Nan, Louis Ferron, Robert Coover, Werner Schwab, E. J. Pratt, Norman Ohler, Romenu