E-mail mij


Druk op onderstaande knop om mij te e-mailen.


Romenu


Romenu is een blog over gedichten, literatuur en kunst Maar Romenu is ook een professionele freelance vertaler
Du-Ne en Ne-Du http://www.romenu.nl.


Huur eens een (vakantie)huis in een natuurgebied, dichtbij het centrum van Nijmegen


Google


Georg Trakl

Georg Trakl werd op 3 februari 1887 in het conducteurshuis aan de Waagplatz 2 in Salzburg geboren. Zijn vader, Tobias Trakl, was een handelaar in ijzerwaren en zijn moeder, die ook psychische problemen had, was Maria Catharina Trakl, (meisjesnaam Halik). Voorts had hij nog drie broers en drie zussen. Margarethe (doorgaans Grethe genoemd) stond hem het naast, zelfs zodanig dat sommigen een incestueuze verhouding vermoeden. Zijn jeugd bracht hij door in Salzburg. Vervolgens bezocht hij van 1897 tot 1905 het humanistische gymnasium. Om toch een academische opleiding te kunnen volgen, werkte hij tot 1908 in de praktijk bij een apotheker. Sommigen vermoedden dat hij dit vooral deed om zichzelf opiaten te kunnen verschaffen. Bij het uitbreken van WO I werd Trakl als medicus naar het front in Galicië (heden ten dage in Oekraïne en Polen) gestuurd. Zijn gemoedsschommelingen leidden tot geregelde uitbraken van depressie, die verergerd werden door de afschuw die hij voelde voor de verzorging van de ernstig verwonde soldaten. De spanning en druk dreven hem ertoe een suïcidepoging te ondernemen, welke zijn kameraden nochtans verhinderden. Hij werd in een militair ziekenhuis opgenomen in Kraków, alwaar hij onder strikt toezicht geplaatst werd.Trakl verzonk daar in nog zwaardere depressies en schreef Ficker om advies. Ficker overtuigde hem ervan dat hij contact moest opnemen met Wittgenstein, die inderdaad op weg ging na Trakls bericht te hebben ontvangen. Op 4 november 1914, drie dagen voordat Wittgenstein aan zou komen, overleed hij echter aan een overdosis cocaïne


Paul Celan

Paul Celan werd onder de naam Paul Antschel op 23 november 1920 geboren in Czernowitz, toentertijd de hoofdstad van de Roemeense Boekovina, nu behorend bij de Oekraïne. Paul Celans ouders waren Duitssprekende joden die hun zoon joods opvoedden en hem naar Duitse christelijke scholen stuurden. In 1942 werden Celans ouders door de Duitse bezetter naar een werkkamp gedeporteerd en daar vermoord. Hijzelf wist aanvankelijk onder te duiken, maar moest vanaf juli 1942 in een werkkamp dwangarbeid verrichten. Celan overleefde de oorlog. Via Boekarest en Wenen vestigde Celan zich in 1948 in Parijs. Daar was hij werkzaam als dichter, vertaler en doceerde hij aan de prestigieuze Ecole Normale Supérieure. Vermoedelijk op 20 april 1970 beëindigde hij zijn leven zelf door in de Seine te springen.


Gerard Reve

Gerard Reve over: Medearbeiders "God is in de mensen, de dieren, de planten en alle dingen - in de schepping, die verlost moet worden of waaruit God verlost moet worden, door onze arbeid, aangezien wij medearbeiders van God zijn." Openbaring "Tja, waar berust elk godsbegrip op, elke vorm van religie? Op een openbaring, dat wil zeggen op een psychische ervaring van zulk een dwingende en onverbiddelijke kracht, dat de betrokkene het gevoel heeft, niet dat hij een gedachte of een visioen heeft, maar dat een gedachte gedachte of visioen hem bezit en overweldigt."


Simon Vestdijk
Simon Vestdijk (Harlingen, 17 oktober 1898 – Utrecht, 23 maart 1971) was een Nederlands romancier, dichter, essayist en vertaler. Zijn jeugd te Harlingen en Leeuwarden beschreef hij later in de Anton Wachter-cyclus. Van jongs af aan logeerde hij regelmatig bij zijn grootouders in Amsterdam, waar hij zich in 1917 aan de Universiteit van Amsterdam inschrijft als student in de medicijnen. Tijdens zijn studie die van 1917 tot 1927 duurde, leerde hij Jan Slauerhoff kennen.Tot 1932 is hij als arts in praktijken door heel Nederland werkzaam. In 1932 volgt zijn officiële schrijversdebuut met de uitgave van de bundel Verzen in De Vrije Bladen. Doorslaggevend voor Vestdijks uiteindelijke keuze voor de literatuur is zijn ontmoeting in 1932 met Eddy Du Perron en Menno ter Braak. Deze ontmoeting had tot resultaat dat hij redactielid werd van het tijdschrift Forum Kort daarop, in 1933, wordt zijn eerste novelle, De oubliette, uitgegeven. In hetzelfde jaar schrijft hij Kind tussen vier vrouwen, dat, eerst geweigerd door de uitgever, later de basis zal vormen voor de eerste drie delen van de Anton Wachter-romans. In 1951 ontvangt Vestdijk de P.C. Hooftprijs voor zijn in 1947 verschenen roman De vuuraanbidders. In 1957 wordt hij voor het eerst door het PEN-centrum voor Nederland voorgedragen voor de Nobelprijs voor de Literatuur, die hij echter nooit zal krijgen. Op 20 maart 1971 wordt hem de Prijs der Nederlandse Letteren toegekend, maar voor hij deze kan ontvangen overlijdt hij op 23 maart te Utrecht op 72-jarige leeftijd. Vestdijk was auteur van ca. 200 boeken. Vanwege deze enorme productie noemde de dichter Adriaan Roland Holst hem 'de man die sneller schrijft dan God kan lezen'. Andere belangrijke boeken van Simon Vestdijk zijn: "Kind van stad en land" (1936), "Meneer Visser's hellevaart" (1936), "Ierse nachten" (1946), "De toekomst de religie" (1947), "Pastorale 1943" (1948), "De koperen tuin" (1950), "Ivoren wachters" (1951), "Essays in duodecimo" (1952) en "Het genadeschot" (1964).


K.P. Kavafis

K.P. Kavafis werd als kind van Griekse ouders, afkomstig uit Konstantinopel, geboren in 1863 in Alexandrië (tot vandaag een Griekse enclave) waar hij ook het grootste deel van zijn leven woonde en werkte. Twee jaar na de dood van zijn vader verhuist het gezin in 1872 naar Engeland om na een verblijf van vijf jaar naar Alexandrië terug te keren. Vanwege ongeregeldheden in Egypte vlucht het gezin in 1882 naar Konstantinopel, om na drie jaar opnieuw naar Alexandrië terug te gaan. In de jaren die volgen maakt Kavafis reizen naar Parijs, Londen en in 1901 zijn eerste reis naar Griekenland, in latere jaren gevolgd door nog enkele bezoeken. Op de dag van zijn zeventigste verjaardag, in 1933 sterft Kavafis in Alexandrië. De roem kwam voor Kavafis pas na zijn dood, dus postuum. Deels is dat toe te schrijven aan zijn eigen handelswijze. Hij was uiterst terughoudend met de publicatie van zijn gedichten, liet af en toe een enkel gedicht afdrukken in een literair tijdschrift, gaf in eigen beheer enkele bundels met een stuk of twintig gedichten uit en het merendeel van zijn poëzie schonk hij op losse bladen aan zijn beste vrienden.


Thomas Mann


Thomas Mann, de jongere broer van Heinrich Mann, werd geboren op 6 juni 1875 in Lübeck. Hij was de tweede zoon van de graankoopman Thomas Johann Heinrich Mann welke later één van de senatoren van Lübreck werd. Zijn moeder Julia (geboren da Silva-Bruhns) was Duits-Braziliaans van Portugees Kreoolse afkomst. In 1894 debuteerde Thomas Mann met de novelle "Gefallen". Toen Thomas Mann met 21 jaar eindelijk volwassen was en hem dus geld van zijn vaders erfenis toestond - hij kreeg ongeveer 160 tot 180 goldmark per jaar - besloot hij dat hij genoeg had van al die scholen en instituties en werd onafhankelijk schrijver. Kenmerkend voor zijn stijl zijn de ironie, de fenomenale taalbeheersing en de minutieuze detailschildering. Manns reputatie in Duitsland was sterk wisselend. Met zijn eerste roman, Buddenbrooks (1901), had hij een enorm succes, maar door zijn sceptische houding tegenover Duitsland na de Eerste Wereldoorlog veranderde dit volledig. Stelde hij zich tot aan de jaren twintig apolitiek op (Betrachtungen eines Unpolitischen, 1918), meer en meer raakte hij bij het Politiek gebeuren betrokken. Zijn afkeer van het nationaal socialisme groeide, zijn waarschuwingen werden veelvuldiger en heftiger. In 1944 accepteerde hij het Amerikaanse staatsburgerschap. Tussen 1943 en 1947 schreef Mann Doktor Faustus (zie Faust), de roman van de 'Duitse ziel' in de gecamoufleerd geschilderde omstandigheden van de 20ste eeuw. In 1947 bezocht hij voor het eerst sinds de Oorlog Europa, twee jaar later pas Duitsland. In 1952 vertrok hij naar Zwitserland. Op 12 augustus 1955 stierf hij in Zürich. Twintig jaar na zijn dood, in aug. 1975, is zijn literaire nalatenschap geopend: dagboekaantekeningen van 15 maart 1933 tot 29 juli 1955, alsmede notities uit de jaren 1918 tot en met 1921.Belangrijke werken zijn: Der Zauberberg, Der Tod in Venedig, Dokter Faustus , Joseph und seine Brüder en Die Bekenntnisse des Hochstaplers Felix Krull.


Rainer Maria Rilke

Rilke werd op 4 december 1875 geboren in Praag. Hij had al naam gemaakt als dichter met zijn bundels Das Stundenbuch en Das Buch der Bilder, toen hij de literaire wereld versteld deed staan en wereldfaam verwierf met de publicatie van zijn twee delen Neue Gedichte in 1907 en 1908. Hij verzamelde daarin het beste werk uit een van zijn vruchtbaarste periodes, die hij grotendeels doorbracht in Parijs. Rilke was daar diep onder de indruk gekomen van Rodin, bij wie hij een tijdlang in dienst was als particulier secretaris. Rodin, zei hij later, had hem leren kijken. Dit kijken kwam neer op intense concentratie, om het mysterie te kunnen zien 'achter de schijnbare werkelijkheid'. Latere en rijpere werken als Duineser Elegien (1912-1923) en het ronduit schitterende Die Sonette an Orfeus (1924) illustreren Rilkes metafysische visie op het onzegbare, dat haar verwoording vindt in een hermetische muzikale taal. Op 29 december 1926 overlijdt Rilke in het sanatorium in Val-Mont aan de gevolgen van leukemie. Enkele dagen later wordt hij, overeenkomstig zijn wens, begraven op het kerkhof van Raron.


* * * * * * * * * * * * * * * *

| | |
| --- | --- |
| | Over literatuur, gedichten, kunst en cultuur |

30-11-2010

David Nicholls, Lee Klein, Adeline Yen Mah, Reinier de Rooie
De Engelse schrijver David Nicholls werd geboren op 30 november 1966 in Eastleigh, Hampshire. Zie ook mijn blog van 30 november 2008 en ook mijn blog van 30 november 2009.
Uit: One Day
"Friday 15TH July 1988
Rankeillor Street, Edinburgh
'I suppose the important thing is to make some sort of difference,' she said. 'You know, actually change something.'
'What, like "change the world", you mean?'
'Not the whole entire world. Just the little bit around you.'
They lay in silence for a moment, bodies curled around each other in the single bed, then both began to laugh in low, pre-dawn voices. 'Can't believe I just said that,' she groaned. 'Sounds a bit corny, doesn't it?'
A bit corny.'
'I'm trying to be inspiring! I'm trying to lift your grubby soul for the great adventure that lies ahead of you.' She turned to face him. 'Not that you need it. I expect you've got your future nicely mapped out, ta very much. Probably got a little flow-chart somewhere or something.'
'Hardly.'
'So what're you going to do then? What's the great plan?'
'Well, my parents are going to pick up my stuff, dump it at theirs, then I'll spend a couple of days in their flat in London, see some friends. Then France-'
Very nice-'
'Then China maybe, see what that's all about, then maybe onto India, travel around there for a bit-'
'Traveling,' she sighed. 'So predictable.'
'What's wrong with travelling?'
'Avoiding reality more like.'
'I think reality is over-rated,' he said in the hope that this might come across as dark and charismatic.
She sniffed. 'S'alright, I suppose, for those who can afford it. Why not just say "I'm going on holiday for two years"? It's the same thing.'
'Because travel broadens the mind,' he said, rising onto one elbow and kissing her.
'Oh I think you're probably a bit too broad-minded as it is,' she said, turning her face away, for the moment at least. They settled again on the pillow. 'Anyway, I didn't mean what are you doing next month, I meant the future-future, when you're, I don't know...' She paused, as if conjuring up some fantastical idea, like a fifth dimension. '...Forty or something. What do you want to be when you're forty?'
'Forty?' He too seemed to be struggling with the concept. 'Don't know. Am I allowed to say "rich"?'
'Just so, so shallow.'
'Alright then, "famous".' He began to nuzzle at her neck. 'Bit morbid, this, isn't it?'
'It's not morbid, it's...exciting.'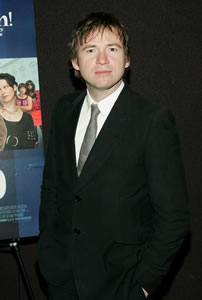 David Nicholls (Hampshire, 30 november 1966)
De Amerikaanse dichter, schrijver en essayist Lee Klein werd geboren op 30 november 1965 in New York. Zie ook mijn blog van 30 november 2008 en ook mijn blog van 30 november 2009.
Uit: The Poetics of Removable Presence in the Work of Damian Loeb
"In the virtual office space of today quickly becoming tomorrow and both quickly becoming yesterday, we are all removable. The staff, the employed cadre of individuals presently before our eyes, is removable. Though their presence has at some point been requested or solicited or made possible by their own devices (if they are the party in need), they are in any context the human contents of such space and are each replaceable by their attainable commensurate. Furthermore, so too removable in all probability is the company they are in as this firm may only be fulfilling a momentary need in a temporary economy (or only a perceived need at that). Both the actors and the location are replaceable and are easily removed. The painter Damian Loeb in his young career has taken these occupational precepts and played an aesthetic variation of the vocational conditions, thereby rendering him the poet/painter of a world in which both everyone and everywhere is but a key stroke or a mouse click from being photoshopped away.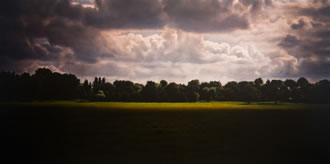 Damian Loebb, The Shadow
This simulated type of human environ (taken to its comic extreme in Peter Weir's 1998 film The Truman Show) far from being a new phenomenon had its origins in the socio-economic landscape created by an arbitrary; invisible, and omni present creative force (the creation known as Utopia by its architect Sir Thomas More). The simulated quality of our lives is so pronounced that it seems that people vanish like browsed web pages. When people step off the stage of existence the human mind in this era of epic replication may be only able to register them as if they were in an ongoing movie. This may lead people to begin to question whether other people even existed in the material world at all. Is it all just film, the predominant metaphor of our age?
In Loeb's first exhibition at the uptown space of dealer Mary Boone in 2000, the then twenty-something painter offered a series of canvases whose environs were settings mostly lifted from other's photos and populated by actors of the painter's choosing. Subsequently, in his second exhibition (again at Mary Boone's Fifth Avenue space) he offered a narrative featuring a young Asian woman on-the-run traveling across a series of canvases whose scenery was of prefabricated origin. (These and all other Damian Loeb paintings may be seen on the web site www.damianloeb.com.) "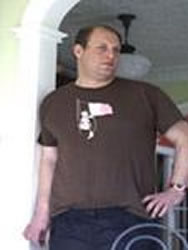 Lee Klein (New York, 30 november 1965)
De Chinese schrijfster Adeline Yen Mah werd geboren op 30 november 1937 in Tianjin. Zie ook mijn blog van 30 november 2008 en ook mijn blog van 30 november 2009.
Uit: Falling Leaves
"My eldest brother Gregory had a sunny personality and the infectious ability to turn ordinary occasions into merry parties. His joie de vivre endeared him to many people. Being the eldest Son in China meant that he was the favourite of Father as well as of our grandparents. I remember him, full of mischief, gazing with rapt fascination at a long, black hair blowing in and out of the right nostril of snoring Ye Ye one hot afternoon. Finally Gregory could no longer resist the temptation. Skilfully, he pinched the hair ever so tightly between his thumb and index finger during the next exhalation. There was a tantalizing pause. Ye Ye finally inhaled while Gregory doggedly hung on. The hair was wrenched from its root and Ye Ye awoke with a yell. Gregory was chased by Ye Ye brandishing a feather duster but managed, as usual, to escape.
On the whole, Gregory ignored James and me because we were too young to be interesting playmates. He was always surrounded by friends his own age. He did not enjoy studying but, like Grandmother, excelled in games of chance such as bridge. Good with numbers, he occasionally taught us younger ones neat mathematical tricks, roaring with laughter at his own cleverness.
Of all my siblings, it was Edgar I feared the most. He bullied James and me and used us as punchbags to vent his frustration. He ordered us around to perform his errands and grabbed our share of toys, candies, nuts, watermelon seeds and salted plums. He did not distinguish himself at school and was deeply insecure, though he possessed enough fortitude to maintain a passing grade.
My san ge (third elder brother) James was my hero and only friend. We used to play together for hours and developed a telepathic closeness, confiding to one another all our dreams and fears. With him, I could discard my vigilance and I needed that haven desperately. Throughout our childhood, it was immensely comforting to know that I could always turn to him for solace and understanding."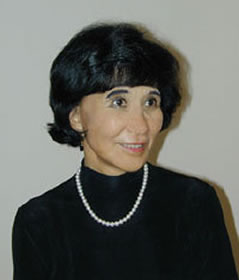 Adeline Yen Mah (Tianjin, 30 november 1937)
De Nederlandse dichter Reinier de Rooie werd geboren op 30 november 1961 in Hengelo. In de jaren '80 en '90 publiceerde hij drie dichtbundels: De vreemdeling verlangt, Het lied van de kinderlokker en Wederiks ingewand. Momenteel werkt hij aan een vierde bundel: Nanoen. N een afwezigheid van 25 jaar is hij in 2006 weer teruggekeerd naar Hengelo, waar hij werkzaam is als beheerder en programmamaker van de Kunst sociëteit Lambooijhuis. In dat kader was hij organisator van de poëziemanifestatie Hengelo (O) Hoort!. Hij liet talrijke dichters naar Hengelo komen om uit hun werk voor te dragen. Hij treedt geregeld op bij poëziemanifestaties en publiceert gedichten in verschillende literaire tijdschriften. Hij was in 2007 initiator van het Stadsdichterschap Hengelo
nachtblad
dat de hel ons aanvaardt ondermaans
principieel tegendraads
en van armoe doorlucht
staat vervat in de krant als een hoedje
's ochtends vroeg van plezier op de mat
ik ontwaak en beschouw
de woorden van confucius
hoe waar en wat zich paart
mits strottenhoofd klaar kronkelt
rond de knal van een koperen k
of o
de oever van wat stroomt omvat
de leugenaars zijn onder ons zo alledaags
onschuldig als het lam vallend blad
tot humus van nerf en nevel
waarop het kind zijn taal vergaard
tot zich uit in een kras langs de kim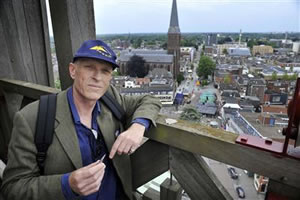 Reinier de Rooie
(Hengelo, 30 november 1961)



Zie voor nog meer schrijvers van de 30e november ook
mijn vorige blog van vandaag
en eveneens
mijn eerste blog van vandaag.
30-11-2010 om 19:53 geschreven door Romenu

Tags:David Nicholls, Lee Klein, Adeline Yen Mah, Reinier de Rooie, Romenu



Jan G. Elburg, Mark Twain, Jonathan Swift
De Nederlandse dichter en schrijver Jan G. Elburg werd geboren op 30 november 1919 te Wemeldinge. Zie ook mijn blog van 30 november 2006 en ook mijn blog van 30 november 2007 en ook mijn blog van 30 november 2008 en ook mijn blog van 30 november 2009.
Niets van dat alles

Zoals matrozen zingen...
maar matrozen zingen niet:
zij spugen in de zee,
zij kennen de achterkanten van steden
en de voorkant van de koude wind;
matrozen zingen niet.

zoals de vogels vrolijk...
maar hun vrolijkheid is vluchten:
zij zijn beschoten,
hun jong is dood.
(zij kennen geen droefheid ook).

zoals de zon...
maar zie het rode stof rond boekarest.
wolken? zijn koude mist.
de klaproos? onkruid.
zand: zand.
water: water.

een mens weet nauwlijks wat de mens is.
de dichter weet alles van niets.
Willen
Ik neem mijn buik op en wandel,
ik heb mijn ogen open,
ik heb mijn borst als kennisgeving aangeslagen,
ik zou die punboomhouten paal in mij
vertikaal willen treffen met licht:
een lang lemmet licht om de dagen te turven.
Ik zou een rood totem willen snijden
waarom mijn hartstocht zich als wingerd slingert,
een beeld voor alledag, waaraan de vingers leven.
Ik heb te nemen.
Ik zou een mens willen maken uit wrok
en afgeslagen splinters: een winterman
met een gezicht van louter ellebogen.
En bomen zouden stampen bij zijn langsgaan
en had hij één minuut te leven,
rood zou hij zijn en rood van kindertranen
en rood.
Ik pak mijzelf als altijd weer tezamen,
ik zie het water aan,
ik neem mijn hongerige maag en wandel,
ik zie een eetsalon voor twintig standen:
wanden zijn er genoeg; hij vloekt
van een doorvoeld gemis aan ramen.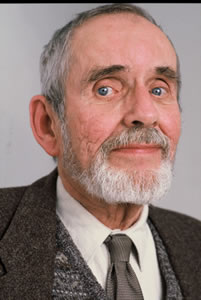 Jan G. Elburg (30 november 1919 – 13 augustus 1992)



De Amerikaanse schrijver Mark Twain (pseudoniem van Samuel Langhorne Clemens) werd geboren op 30 november 1835 te Florida. Zie ook mijn blog van 30 november 2006 en ook mijn blog van 30 november 2008 en ook mijn blog van 30 november 2009.
Uit: Adventures of Huckleberry Finn
"After supper she got out her book and learned me about Moses and the Bulrushers; and I was in a sweat to find out all about him; but by-and-by she let it out that Moses had been dead a considerable long time; so then I didn't care no more about him; because I don't take no stock in dead people.
Pretty soon I wanted to smoke, and asked the widow to let me. But she wouldn't. She said it was a mean practice and wasn't clean, and I must try to not do it any more. That is just the way with some people. They get down on the thing when they don't know nothing about it. Here she was a bothering about Moses, which was no kin to her, and no use to anybody, being gone, you see, yet finding a power of fault with me for doing a thing that had some good in it. And she took snuff too; of course that was all right, because she done it herself.
Her sister, Miss Watson, a tolerable slim old maid, with goggles on, had just come to live with her, and took a set at me now, with a spelling-book. She worked me middling hard for about an hour, and then the widow made her ease up. I couldn't stood it much longer. Then for an hour it was deadly dull, and I was fidgety. Miss Watson would say, "Don't put your feet up there, Huckleberry"; and "don't scrunch up like that, Huckleberry- set up straight"; and pretty soon she would say, "Don't gap and stretch like that, Huckleberry- why don't you try to behave?" Then she told me all about the bad place, and I said I wished I was there. She got mad, then, but I didn't mean no harm. All I wanted was to go somewheres; all I wanted was a change, I warn't particular. She said it was wicked to say what I said; said she wouldn't say it for the whole world; she was going to live so as to go to the good place. Well, I couldn't see no advantage in going where she was going, so I made up my mind I wouldn't try for it. But I never said so, because it would only make trouble, and wouldn't do no good.
Now she had got a start, and she went on and told me all about the good place. She said all a body would have to do there was to go around all day long with a harp and sing, forever and ever. So I didn't think much of it. But I never said so. I asked her if she reckoned Tom Sawyer would go there, and, she said, not by a considerable sight. I was glad about that, because I wanted him and me to be together."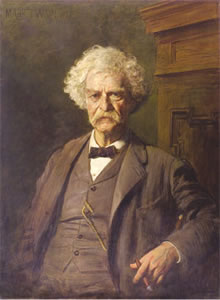 Mark Twain (30 november 1835 – 21 april 1910)

De Engelse schrijver Jonathan Swift werd op 30 november 1667 in Dublin geboren uit Engelse ouders. Zie ook mijn blog van 30 november 2006 en en ook mijn blog van 30 november 2008 en ook mijn blog van 30 november 2009.
Uit: Gulliver's Travels
"Soon after my return from Leyden, I was recommended by my good master Mr. Bates, to be surgeon to the Swallow, Captain Abraham Pannell commander; with whom I continued three years and a half, making a voyage or two into the Levant, and some other parts. When I came back, I resolved to settle in London, to which Mr. Bates, my master, encouraged me; and by him I was recommended to several patients. I took part of a small house in the Old-Jury; and being advised to alter my condition, I married Mrs. Mary Burton, second daughter to Mr. Edmond Burton, hosier, in Newgate-street, with whom I received four hundred pounds for a portion.
But, my good master Bates dying in two years after, and I having few friends, my business began to fail; for my conscience would not suffer me to imitate the bad practice of too many among my brethren. Having therefore consulted with my wife, and some of my acquaintance, I determined to go again to sea. I was surgeon successively in two ships, and made several voyages, for six years, to the East and West-Indies; by which I got some addition to my fortune. My hours of leisure I spent in reading the best authors, ancient and modern; being always provided with a good number of books; and when I was ashore, in observing the manners and dispositions of the people, as well as learning their language; wherein I had a great facility by the strength of my memory.
The last of these voyages not proving very fortunate, I grew weary of the sea, and intended to stay at home with my wife and family. I removed from the Old-Jury to Fetter-lane, and from thence to Wapping, hoping to get business among the sailors; but it would not turn to account. After three years expectation, that things would mend, I accepted an advantageous offer from Captain William Prichard, master of the Antelope, who was making a voyage to the South-Sea. We set sail from Bristol, May 4th, 1699, and our voyage at first was very prosperous."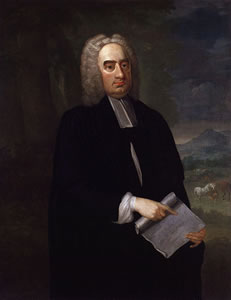 Jonathan Swift (30 november 1667 – 19 oktober 1745)
Portret door Francis Bindon
30-11-2010 om 19:43 geschreven door Romenu

Tags:Jan G. Elburg, Mark Twain, Jonathan Swift, Romenu



Philip Sidney, John McCrae, Winston Churchill, Lucy Maud Montgomery, Rudolf Lavant, John Bunyan, Sergio Badilla Castillo, David Mamet, Wil Mara
De Engelse schrijver Sir Philip Sidney werd geboren op 30 november 1554 in het kasteel van Penshurst in het graafschap Kent. Zie ook mijn blog van 30 november 2006 en ook mijn blog van 30 november 2008 en ook mijn blog van 30 november 2009.
The Bargain
My true love hath my heart, and I have his,
By just exchange one for another given:
I hold his dear, and mine he cannot miss,
There never was a better bargain driven:
My true love hath my heart, and I have his.
His heart in me keeps him and me in one,
My heart in him his thoughts and senses guides:
He loves my heart, for once it was his own,
I cherish his because in me it bides:
My true love hath my heart, and I have his.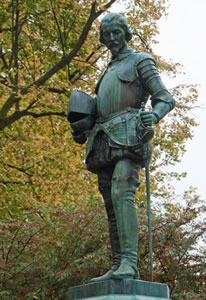 Sir Philip Sidney (30 november 1554 – 17 oktober 1586)
Standbeeld in Shrewsbury
De Canadese dichter, arts, auteur, kunstenaar, militair John Alexander McCrae werd geboren in Guelph (Ontario) op 30 november 1872. Zie ook mijn blog van 30 november 2008 en ook mijn blog van 30 november 2009.
Anarchy
I saw a city filled with lust and shame,
Where men, like wolves, slunk through the grim half-light;
And sudden, in the midst of it, there came
One who spoke boldly for the cause of Right.
And speaking, fell before that brutish race
Like some poor wren that shrieking eagles tear,
While brute Dishonour, with her bloodless face
Stood by and smote his lips that moved in prayer.
"Speak not of God! In centuries that word
Hath not been uttered! Our own king are we."
And God stretched forth his finger as He heard
And o'er it cast a thousand leagues of sea.
The Night Cometh
Cometh the night. The wind falls low,
The trees swing slowly to and fro:
Around the church the headstones grey
Cluster, like children strayed away
But found again, and folded so.

No chiding look doth she bestow:
If she is glad, they cannot know;
If ill or well they spend their day,
Cometh the night.

Singing or sad, intent they go;
They do not see the shadows grow;
"There yet is time," they lightly say,
"Before our work aside we lay";
Their task is but half-done, and lo!
Cometh the night.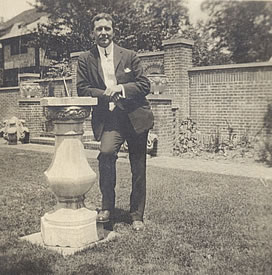 John McCrae (30 november 1872 - 28 januari 1918)
McCrae in 1912
De Britse staatsman en schrijver Sir Winston Leonard Spencer Churchill werd geboren in Woodstock op 30 november 1874. Zie ook mijn blog van 30 november 2007 en ook mijn blog van 30 november 2008 ook mijn blog van 30 november 2009.
Uit: The River War
"The north-eastern quarter of the continent of Africa is drained and watered by the Nile. Among and about the headstreams and tributaries of this mighty river lie the wide and fertile provinces of the Egyptian Soudan. Situated in the very centre of the land, these remote regions are on every side divided from the seas by five hundred miles of mountain, swamp, or desert. The great river is their only means of growth, their only channel of progress. It is by the Nile alone that their commerce can reach the outer markets, or European civilisation can penetrate the inner darkness. The Soudan is joined to Egypt by the Nile, as a diver is connected with the surface by his air-pipe. Without it there is only suffocation. Aut Nilus, aut nihil!
The town of Khartoum, at the confluence of the Blue and White Niles, is the point on which the trade of the south must inevitably converge. It is the great spout through which the merchandise collected from a wide area streams northwards to the Mediterranean shore. It marks the extreme northern limit of the fertile Soudan. Between Khartoum and Assuan the river flows for twelve hundred miles through deserts of surpassing desolation. At last the wilderness recedes and the living world broadens out again into Egypt and the Delta. It is with events that have occurred in the intervening waste that these pages are concerned."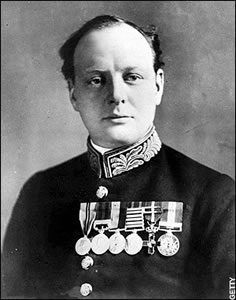 Winston Churchill (30 november 1874 - 24 januari 1965)
Churchill in 1914
Zie voor onderstaande schrijvers ook mijn blog van 30 november 2009.
De Canadese schrijfster Lucy Maud Montgomery werd geboren in Clifton op 30 november 1874. Zie ook mijn blog van 30 november 2008.
De Duitse dichter en schrijver Rudolf Lavant (eig. Richard Cramer) werd geboren op 30 november 1844 in Leipzig. Zie ook mijn blog van 30 november 2008.
De Engelse dichter en schrijver John Bunyan werd geboren op 30 november 1628 in Harrowden bij Bedford. Zie ook mijn blog van 30 november 2006 en ook mijn blog van 30 november 2008.


De Chileense dichter en schrijver Sergio Badilla Castillo werd geboren in Valparaíso op 30 november 1947. Zie ook mijn blog van 30 november 2008.
De Amerikaanse toneelschrijver en filmregisseur David Mamet werd geboren op 30 november 1947 in Chicago. Zie ook mijn blog van 30 november 2008.
De Amerikaanse schrijver Wil Mara werd geboren op 30 november 1966 in de buurt van Long Beach Island, New Jersey. Zie ook mijn blog van 30 november 2008.
30-11-2010 om 00:00 geschreven door Romenu

Tags:Philip Sidney, John McCrae, Winston Churchill, Lucy Maud Montgomery, Rudolf Lavant, John Bunyan, Romenu, Sergio Badilla Castillo, David Mamet, Wil Mara



| | |
| --- | --- |
| | |



Inhoud blog


| | |
| --- | --- |
| | William Shakespeare, Roman Helinski, Pascal Quignard, Peter Horst Neumann, Andrey Kurkov, Halldór Laxness, Christine Busta, Adelheid Duvanel, Richard Huelsenbeck |
| | The Good Shepherd (Stanley Moss) |
| | Giorgio Fontana, Jan de Hartog, Björn Kern, Vladimir Nabokov, Chetan Bhagat, Peter Weber, Jos de Haes, Thommie Bayer, Madame de Staël |
| | Ana María Shua, Louise Glück, Robert Choquette, James Philip Bailey, Henry Fielding, Michael Schulte, Cabrera Infante, Ludwig Renn |
| | The Enkindled Spring (D. H. Lawrence) |
| | Charlotte Brontë, Patrick Rambaud, John Mortimer, Charles den Tex, Ahmed Arif, Michael Mann |
| | Peter Schneider, Meira Delmar, Alistair MacLean, Gerrit Wustmann, Népomucène Lemercier |
| | Prijs der Nederlandse Letteren voor Judith Herzberg |
| | Martinus Nijhoff, Jan Cremer, Jean Pierre Rawie, Marieke Lucas Rijneveld, Sebastian Faulks, Jozef Deleu, Steve Erickson, Arto Paasilinna, Michel Leiris |
| | Martin Michael Driessen, Marjoleine de Vos, Manuel Bandeira, n. c. kaser, Veniamin Kaverin, Louis Amédée Achard, Pierre-Jean de Béranger, Gudrun Reinboth, Werner Rohner |
| | Wam de Moor, Bas Belleman, Roos van Rijswijk, Hanane Aad, Clara Eggink, Kathy Acker, Joy Davidman, Henry Kendall, Katharina Schwanbeck |
| | Antoon Coolen, Vincent Corjanus, Nick Hornby, Ida Boy-Ed, Thornton Wilder, David Wagner, R.J. Pineiro, Helen Meier, Karen Blixen |
| | Sarah Kirsch, Thomas Olde Heuvelt, Kingsley Amis, Patricia De Martelaere, Tristan Tzara, Ewald Vanvugt, Sibylle Lewitscharoff, Jan Luyken, Anatole France |
| | Emmaüs (Felix Timmermans) |
| | Tomas Tranströmer, Daniël Samkalden, Jérôme Lambert, Patrick Bernauw, Benjamin Zephaniah, Henry James, Wilhelm Busch, Ina Boudier-Bakker |
| | Bliss Carman, Beate Morgenstern, Jeffrey Archer, Bernhard Lassahn, Erich Arendt, Pol De Mont, Staf Weyts, Hans Egon Holthusen |
| | Péter Esterházy, Alexandre Jardin, Tjitse Hofman, Landolf Scherzer, Charles Lewinsky, Roman Graf |
| | Roberto Schopflocher, Martin Kessel, Gabriele Stötzer, Helene Hübener, Gerhard Rohlfs |
| | Nachoem Wijnberg, K. Michel, Alexander Münninghoff, Michel Faber, Jean-Marie Gustave Le Clézio, Samuel Beckett, Seamus Heaney, Tim Krabbé, Eudora Welty |
| | Antje Rávic Strubel, Alan Ayckbourn, Scott Turow, Tom Clancy, Agnes Sapper, Edward de Vere, José Gautier Benítez, Alexander Ostrovski, Guillaume-Thomas Raynal |
| | Leonard Nolens, Mark Strand, Silvia Avallone, Walid Soliman, Dorothy Allison, Hubert Nyssen, Rolf Schilling, Glenway Wescott, Claude Tillier |
| | Leo Vroman, Jan van Mersbergen, Paul Theroux, Claudio Magris, Bella Akhmadulina, Stefan Heym, Richard Wagner, Marcel van Maele, Eric Knight |
| | Charles Baudelaire, Jelle Brandt Corstius, Karel Jonckheere, Joolz Denby, Albert von Schirnding, Johannes Bobrowski, Bernard-Marie Koltès, Arnold Stadler, Yaël Vinckx |
| | Thomas (Jan Willem Schulte Nordholt) |
| | Herinnering aan Gerard Reve, Hanz Mirck, Christoph Hein, Judith Koelemeijer, Nnedi Okorafor, Barbara Kingsolver |
| | John Fante, Johann Christian Günther, Glendon Swarthout, Martin Grzimek, Hégésippe Moreau, Robert Askins |
| | Den Haag (Paul Rodenko) |
| | Juliana Spahr, William Wordsworth, Özcan Akyol, Gabriela Mistral |
| | Kazim Ali, Annejet van der Zijl, John Pepper Clark, Jakob Ejersbo, Günter Herburger, Uljana Wolf, Brigitte Schwaiger, Julien Torma, Nicolas Chamfort |
| | Iulian Ciocan |
| | Hugo Claus, Martin Reints, Mieke van Zonneveld, Vítězslav Hálek, Algernon Swinburne, Bora Ćosić,, Werner J. Egli, Michael Georg Conrad, Marente de Moor |
| | Maya Angelou, Hanneke Hendrix, Marko Klomp, Marcel Vaarmeijer, E. L. James, Marguerite Duras, Robert Schindel, Michiel van Kempen, Bettina von Arnim |
| | Charles Ducal, Adriaan Jaeggi, Frederik van Eeden, Bert Bakker, Peter Huchel, Arlette Cousture, Pieter Aspe, Karel N.L. Grazell, Washington Irving |
| | Die Sonne geht im Osten auf (Christian Morgenstern) |
| | Thomas Glavinic, Jay Parini, Anneke Claus, Klaus Ender, Konrad Merz, Ed Dorn, Émile Zola |
| | György Konrád, Anne Waldman, Casanova, Hans Christian Andersen, Roberto Arlt, Edgar Hilsenrath, George Fraser |
| | Hoffmann von Fallersleben, Johann Gleim, Pierre Zaccone, Pietro della Valle, Zwier van Haren, Joanna Chmielewska, Brigitte Struzyk |
| | Preis dem Todesüberwinder! (Friedrich Klopstock) |
| | Milan Kundera, Sandro Veronesi, Nikolaj Gogol, Arnold Aletrino, Max Nord, Urs Allemann, Rolf Hochhuth, John Wilmot, Deborah Feldman |
| | Maria Polydouri, Edgar Wallace, Carl Sternheim, Edmond Rostand, Armel Guerne, Friedrich Güll, Antoine Prévost, Josep de Maistre |
| | Litanie van een wachter bij het graf (Willem Jan Otten) |
| | Stefan Hertmans, Octavio Paz, Asis Aynan, Martijn Teerlinck, Marga Minco, Enrique Vila-Matas |
| | Rob Boudestein, Kornej Tsjoekovski, Andrew Lang, Nichita Stănescu, Hartmut Lange, Marge Piercy |
| | Angela Kreuz, Judith Rossner, Andrew Marvell, John Fowles, Edward FitzGerald, Robert Brasillach, Peter Motte |
| | Golgotha (Theo Thijssen) |
| | Gerrit Komrij, Paul Verlaine, Milton Acorn, Erika Mitterer, Uwe Timm, Tom Sharpe, Gert Heidenreich, Theo Breuer, Luise Hensel |
| | Gethsemane (Jacqueline van der Waals) |
| | Geert van Istendael, Wim Brands, Ernst Jünger, Eric Walz, Georg Klein, Yvan Goll, R. S. Thomas, Jacques Brault, Denton Welch |
| | Walter van den Broeck, Joost de Vries, Mario Vargas Llosa, Chrétien Breukers, Steye Raviez, Nelson Algren, Marianne Frederiksson, Russell Banks, Léon-Gontran Damas |
| | Heinrich Mann, Shusaku Endo, Carolina Trujillo, Golo Mann, Patrick McCabe, Bob den Uyl, Dubravka Ugresić, Francis Ponge, Alfred de Vigny |


Gastenboek


Druk op onderstaande knop om een berichtje achter te laten in mijn gastenboek