E-mail mij


Druk op onderstaande knop om mij te e-mailen.


Romenu


Romenu is een blog over gedichten, literatuur en kunst Maar Romenu is ook een professionele freelance vertaler
Du-Ne en Ne-Du http://www.romenu.nl.


Huur eens een (vakantie)huis in een natuurgebied, dichtbij het centrum van Nijmegen


Google


Georg Trakl

Georg Trakl werd op 3 februari 1887 in het conducteurshuis aan de Waagplatz 2 in Salzburg geboren. Zijn vader, Tobias Trakl, was een handelaar in ijzerwaren en zijn moeder, die ook psychische problemen had, was Maria Catharina Trakl, (meisjesnaam Halik). Voorts had hij nog drie broers en drie zussen. Margarethe (doorgaans Grethe genoemd) stond hem het naast, zelfs zodanig dat sommigen een incestueuze verhouding vermoeden. Zijn jeugd bracht hij door in Salzburg. Vervolgens bezocht hij van 1897 tot 1905 het humanistische gymnasium. Om toch een academische opleiding te kunnen volgen, werkte hij tot 1908 in de praktijk bij een apotheker. Sommigen vermoedden dat hij dit vooral deed om zichzelf opiaten te kunnen verschaffen. Bij het uitbreken van WO I werd Trakl als medicus naar het front in Galicië (heden ten dage in Oekraïne en Polen) gestuurd. Zijn gemoedsschommelingen leidden tot geregelde uitbraken van depressie, die verergerd werden door de afschuw die hij voelde voor de verzorging van de ernstig verwonde soldaten. De spanning en druk dreven hem ertoe een suïcidepoging te ondernemen, welke zijn kameraden nochtans verhinderden. Hij werd in een militair ziekenhuis opgenomen in Kraków, alwaar hij onder strikt toezicht geplaatst werd.Trakl verzonk daar in nog zwaardere depressies en schreef Ficker om advies. Ficker overtuigde hem ervan dat hij contact moest opnemen met Wittgenstein, die inderdaad op weg ging na Trakls bericht te hebben ontvangen. Op 4 november 1914, drie dagen voordat Wittgenstein aan zou komen, overleed hij echter aan een overdosis cocaïne


Paul Celan

Paul Celan werd onder de naam Paul Antschel op 23 november 1920 geboren in Czernowitz, toentertijd de hoofdstad van de Roemeense Boekovina, nu behorend bij de Oekraïne. Paul Celans ouders waren Duitssprekende joden die hun zoon joods opvoedden en hem naar Duitse christelijke scholen stuurden. In 1942 werden Celans ouders door de Duitse bezetter naar een werkkamp gedeporteerd en daar vermoord. Hijzelf wist aanvankelijk onder te duiken, maar moest vanaf juli 1942 in een werkkamp dwangarbeid verrichten. Celan overleefde de oorlog. Via Boekarest en Wenen vestigde Celan zich in 1948 in Parijs. Daar was hij werkzaam als dichter, vertaler en doceerde hij aan de prestigieuze Ecole Normale Supérieure. Vermoedelijk op 20 april 1970 beëindigde hij zijn leven zelf door in de Seine te springen.


Gerard Reve

Gerard Reve over: Medearbeiders "God is in de mensen, de dieren, de planten en alle dingen - in de schepping, die verlost moet worden of waaruit God verlost moet worden, door onze arbeid, aangezien wij medearbeiders van God zijn." Openbaring "Tja, waar berust elk godsbegrip op, elke vorm van religie? Op een openbaring, dat wil zeggen op een psychische ervaring van zulk een dwingende en onverbiddelijke kracht, dat de betrokkene het gevoel heeft, niet dat hij een gedachte of een visioen heeft, maar dat een gedachte gedachte of visioen hem bezit en overweldigt."


Simon Vestdijk
Simon Vestdijk (Harlingen, 17 oktober 1898 – Utrecht, 23 maart 1971) was een Nederlands romancier, dichter, essayist en vertaler. Zijn jeugd te Harlingen en Leeuwarden beschreef hij later in de Anton Wachter-cyclus. Van jongs af aan logeerde hij regelmatig bij zijn grootouders in Amsterdam, waar hij zich in 1917 aan de Universiteit van Amsterdam inschrijft als student in de medicijnen. Tijdens zijn studie die van 1917 tot 1927 duurde, leerde hij Jan Slauerhoff kennen.Tot 1932 is hij als arts in praktijken door heel Nederland werkzaam. In 1932 volgt zijn officiële schrijversdebuut met de uitgave van de bundel Verzen in De Vrije Bladen. Doorslaggevend voor Vestdijks uiteindelijke keuze voor de literatuur is zijn ontmoeting in 1932 met Eddy Du Perron en Menno ter Braak. Deze ontmoeting had tot resultaat dat hij redactielid werd van het tijdschrift Forum Kort daarop, in 1933, wordt zijn eerste novelle, De oubliette, uitgegeven. In hetzelfde jaar schrijft hij Kind tussen vier vrouwen, dat, eerst geweigerd door de uitgever, later de basis zal vormen voor de eerste drie delen van de Anton Wachter-romans. In 1951 ontvangt Vestdijk de P.C. Hooftprijs voor zijn in 1947 verschenen roman De vuuraanbidders. In 1957 wordt hij voor het eerst door het PEN-centrum voor Nederland voorgedragen voor de Nobelprijs voor de Literatuur, die hij echter nooit zal krijgen. Op 20 maart 1971 wordt hem de Prijs der Nederlandse Letteren toegekend, maar voor hij deze kan ontvangen overlijdt hij op 23 maart te Utrecht op 72-jarige leeftijd. Vestdijk was auteur van ca. 200 boeken. Vanwege deze enorme productie noemde de dichter Adriaan Roland Holst hem 'de man die sneller schrijft dan God kan lezen'. Andere belangrijke boeken van Simon Vestdijk zijn: "Kind van stad en land" (1936), "Meneer Visser's hellevaart" (1936), "Ierse nachten" (1946), "De toekomst de religie" (1947), "Pastorale 1943" (1948), "De koperen tuin" (1950), "Ivoren wachters" (1951), "Essays in duodecimo" (1952) en "Het genadeschot" (1964).


K.P. Kavafis

K.P. Kavafis werd als kind van Griekse ouders, afkomstig uit Konstantinopel, geboren in 1863 in Alexandrië (tot vandaag een Griekse enclave) waar hij ook het grootste deel van zijn leven woonde en werkte. Twee jaar na de dood van zijn vader verhuist het gezin in 1872 naar Engeland om na een verblijf van vijf jaar naar Alexandrië terug te keren. Vanwege ongeregeldheden in Egypte vlucht het gezin in 1882 naar Konstantinopel, om na drie jaar opnieuw naar Alexandrië terug te gaan. In de jaren die volgen maakt Kavafis reizen naar Parijs, Londen en in 1901 zijn eerste reis naar Griekenland, in latere jaren gevolgd door nog enkele bezoeken. Op de dag van zijn zeventigste verjaardag, in 1933 sterft Kavafis in Alexandrië. De roem kwam voor Kavafis pas na zijn dood, dus postuum. Deels is dat toe te schrijven aan zijn eigen handelswijze. Hij was uiterst terughoudend met de publicatie van zijn gedichten, liet af en toe een enkel gedicht afdrukken in een literair tijdschrift, gaf in eigen beheer enkele bundels met een stuk of twintig gedichten uit en het merendeel van zijn poëzie schonk hij op losse bladen aan zijn beste vrienden.


Thomas Mann


Thomas Mann, de jongere broer van Heinrich Mann, werd geboren op 6 juni 1875 in Lübeck. Hij was de tweede zoon van de graankoopman Thomas Johann Heinrich Mann welke later één van de senatoren van Lübreck werd. Zijn moeder Julia (geboren da Silva-Bruhns) was Duits-Braziliaans van Portugees Kreoolse afkomst. In 1894 debuteerde Thomas Mann met de novelle "Gefallen". Toen Thomas Mann met 21 jaar eindelijk volwassen was en hem dus geld van zijn vaders erfenis toestond - hij kreeg ongeveer 160 tot 180 goldmark per jaar - besloot hij dat hij genoeg had van al die scholen en instituties en werd onafhankelijk schrijver. Kenmerkend voor zijn stijl zijn de ironie, de fenomenale taalbeheersing en de minutieuze detailschildering. Manns reputatie in Duitsland was sterk wisselend. Met zijn eerste roman, Buddenbrooks (1901), had hij een enorm succes, maar door zijn sceptische houding tegenover Duitsland na de Eerste Wereldoorlog veranderde dit volledig. Stelde hij zich tot aan de jaren twintig apolitiek op (Betrachtungen eines Unpolitischen, 1918), meer en meer raakte hij bij het Politiek gebeuren betrokken. Zijn afkeer van het nationaal socialisme groeide, zijn waarschuwingen werden veelvuldiger en heftiger. In 1944 accepteerde hij het Amerikaanse staatsburgerschap. Tussen 1943 en 1947 schreef Mann Doktor Faustus (zie Faust), de roman van de 'Duitse ziel' in de gecamoufleerd geschilderde omstandigheden van de 20ste eeuw. In 1947 bezocht hij voor het eerst sinds de Oorlog Europa, twee jaar later pas Duitsland. In 1952 vertrok hij naar Zwitserland. Op 12 augustus 1955 stierf hij in Zürich. Twintig jaar na zijn dood, in aug. 1975, is zijn literaire nalatenschap geopend: dagboekaantekeningen van 15 maart 1933 tot 29 juli 1955, alsmede notities uit de jaren 1918 tot en met 1921.Belangrijke werken zijn: Der Zauberberg, Der Tod in Venedig, Dokter Faustus , Joseph und seine Brüder en Die Bekenntnisse des Hochstaplers Felix Krull.


Rainer Maria Rilke

Rilke werd op 4 december 1875 geboren in Praag. Hij had al naam gemaakt als dichter met zijn bundels Das Stundenbuch en Das Buch der Bilder, toen hij de literaire wereld versteld deed staan en wereldfaam verwierf met de publicatie van zijn twee delen Neue Gedichte in 1907 en 1908. Hij verzamelde daarin het beste werk uit een van zijn vruchtbaarste periodes, die hij grotendeels doorbracht in Parijs. Rilke was daar diep onder de indruk gekomen van Rodin, bij wie hij een tijdlang in dienst was als particulier secretaris. Rodin, zei hij later, had hem leren kijken. Dit kijken kwam neer op intense concentratie, om het mysterie te kunnen zien 'achter de schijnbare werkelijkheid'. Latere en rijpere werken als Duineser Elegien (1912-1923) en het ronduit schitterende Die Sonette an Orfeus (1924) illustreren Rilkes metafysische visie op het onzegbare, dat haar verwoording vindt in een hermetische muzikale taal. Op 29 december 1926 overlijdt Rilke in het sanatorium in Val-Mont aan de gevolgen van leukemie. Enkele dagen later wordt hij, overeenkomstig zijn wens, begraven op het kerkhof van Raron.


* * * * * * * * * * * * * * * *

| | |
| --- | --- |
| | Over literatuur, gedichten, kunst en cultuur |

01-01-2017

New Year (Ella Wheeler Wilcox)
Alle bezoekers en mede-bloggers een gelukkig Nieuwjaar!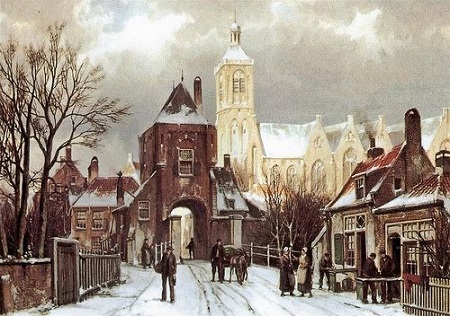 Vianen, Grote Kerk en Landpoort in de winter door Willem Koekoek, 1880
New Year
The New Year dawns again upon the earth,
And all our land re-echoes with its mirth.
From east to west, from north to south, we hear
The sounds of merriment and goodly cheer-
With feast and revelry, with dance and song,
The golden hours slip happily along,
And eyes are bright, and hearts are blithe and gay,
And all seems well upon this New Year Day.
Alas! alas! all is not well; for, oh!
White hands will plant the seeds of sin and woe-
Fair maids, with smiles and glances half divine,
Will lift the muddy glass of poison wine
To manly lips, and plead of them to quaff,
And loud will grow the careless jest and laugh;
And firm resolves, that gird up manly hearts
To brave the devil and withstand his arts,
Will fail before these fiends in forms so sweet,
And they will drain the glass and think it meet.
O shame too deep for tongue or pen to tell!
That woman opens wide the door of hell
For man to enter-woman, who should be
As true as truth and pure as purity.
But when they pass the drunkard in the street,
They lift their robes, lest they shall touch his feet,
And turn from him with scornful eye and lip,
Forgetting that perchance some maiden bade him sip-
Bade him with thrilling glance and tender tone,
Until the deadly habit, mighty grown,
Had mastered all his manhood, and he fell
Lower and lower to the depths of hell.
Go shout aloud fair woman's shame, O wind!
Tell it to nature, and to all mankind,
To hill and vale, and every forest tree,
To bird and beast, and to the mighty sea;
And let them all unite and sing her shame,
Until, with streaming eyes and cheeks aflame,
She makes a vow, and calls on God to hear,
That evermore her record shall be clear,
And she, with all her strength, will strive to save
Instead of aiding to the drunkard's grave.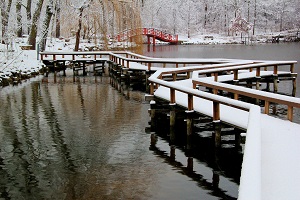 Ella Wheeler Wilcox (5 november 1850 – 30 oktober 1919)
Winter in de Rotary Gardens in Janesville, Wisconsin. Ella Wheeler Wilcox werd geboren in het nabijgelegen Johnstown.
Zie voor de schrijvers van de 1e januari ook mijn drie vorige blogs van vandaag.
01-01-2017 om 10:44 geschreven door Romenu

Tags:Nieuwjaar, Ella Wheeler Wilcox, Romenu



Ernest van der Kwast, Adonis, Jonas T. Bengtsson, Chantal van Gastel, Inge Schilperoord, Juan Gabriel Vásquez
De Nederlandse schrijver Ernest van der Kwast werd geboren in Bombay, India, op 1 januari 1981. Zie ook alle tags voor Ernest van der Kwast op dit blog.
Uit: De IJsmakers
"Mijn vader liet zijn afstandsbediening vallen. Het klepje aan de achterkant kwam los, één batterij rolde over de houten vloer. De Turkse commentator sprak lovend over de worp, maar de zangerige woorden gingen langs hem heen. De herhaling liet zijn breedgeschouderde ballerina nogmaals zien. Haar pirouette, die steeds sneller ging en eindigde in een korte, maar verbazing-wekkend sierlijke buiging.
Het was alsof hij mee had gedraaid. Sneller en sneller. En nu zat hij op zijn sofa, verpletterd en verliefd, alsof híj de kogel van vier kilo op zijn kop had gekregen.
Ze heette Betty Heidler en was de houdster van het wereldrecord, dat ze een jaar eerder met 112 centimeter had verbeterd tijdens een internationale wedstrijd in Halle, Duitsland. Het was een warme meidag; haast geen wind, zonnebrillen, korte mouwen. De atlete liep met vederlichte pas naar de ring met groene netten en wierp bijna terloops een astronomische afstand. De kogel sloeg geen krater, maar stuiterde een paar maal op, zoals de kiezels die kinderen in de zomer over het water gooiden van de nabijgelegen Hufeisensee. Tussen de grote wedstrijden werkte ze voor de politie, een donkerblauw uniform met vier sterren op beide epauletten, het rode haar strak in een knot. Polizeihauptmeisterin Heidler.
In Londen wierp Betty Heidler een afstand die goed was voor een bronzen medaille, maar het meetsysteem faalde waardoor de afstand niet kon worden vastgesteld. Het duurde veertig minuten voordat er uitsluitsel kwam. Deze veertig minuten waren als een romantische film voor mijn vader. Zwijmelend keek hij naar de roodharige kogelslingeraarster die steeds weer in beeld werd gebracht, soms bijna in tranen. Haar concurrente, de vlezige Chinese Zhang Wenxiu, had de rode vlag met de gele sterren al om haar brede schouders geslagen en was begonnen aan een ererondje."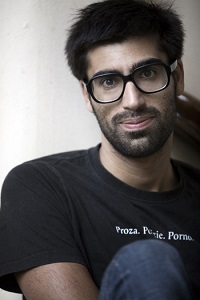 Ernest van der Kwast (Bombay, 1 januari 1981)
De Syrische schrijver Adonis (pseudoniem van Ali Ahmad Sa'id) werd geboren op 1 januari 1930 in Qassabin in het noorden van Syrië. Zie ook alle tags voor Adonis op dit blog.
Desert (Fragment)
Maybe there will come a time in which you'll accept
to live deaf and mute, maybe
they'll allow you to mumble: death
and life
resurrection
and peace unto you.

From the wine of the palms to the quiet of the desert . . . et cetera
from a morning that smuggles its own intestines
and sleeps on the corpses of the rebels . . . et cetera
from streets, to trucks
from soldiers, armies . . . et cetera
from the shadows of men and women . . . et cetera
from bombs hidden in the prayers of monotheists and infidels . . . et cetera
from iron that oozes iron and bleeds flesh . . . et cetera
from fields that long for wheat, and grass and working hands . . . et cetera
from forts that wall our bodies
and heap darkness upon us . . . et cetera
from legends of the dead who pronounce life, who steer our life . . . et cetera
from talk that is slaughter and slaughter and slitters of throats . . . et cetera
from darkness to darkness to darkness
I breathe, touch my body, search for myself
and for you, and for him, and for the others

and I hang my death
between my face and this hemorrhage of talk . . . et cetera
Vertaald door Khaled Mattawa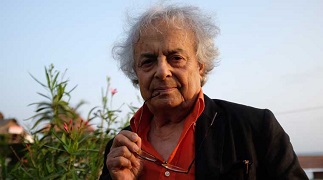 Adonis (Qassabin, 1 januari 1930)
De Deense schrijver Jonas T. Bengtsson werd geboren op 1 januari 1976 in Kopenhagen. Zie ook alle tags voor Jonas T. Bengtsson op dit blog.
Uit: Wie keiner sonst (Vertaald doorFrank Zuber)
"Mein Vater friert selten. Ich friere fast immer. Ich finde, dass ich ihm ähnlich sehe. Wenn ich groß bin, will ich auch den Bart wachsen lassen.
Er findet, dass ich meiner Mutter ähnlicher sehe. Gut so, sagt er, denn sie war schön.
Wenn ich groß bin, will ich auch den Bart wachsen lassen, sage ich, aber wieder bläst der Wind die Worte weg, zerrt an den Bäumen und spielt auf Fallrohren Flöte.
Wir kommen zum einzigen Fernsehladen der Stadt. Alle Apparate im Fenster zeigen dasselbe Bild, manche in Farbe, andere in Schwarz-Weiß. Schon sind wir drinnen, mein Vater lässt mich erst los, als wir vor der Wand voller Fernseher stehen. Große und kleine Preisschilder mit langen Zahlen. Wenn die Frau im Fernsehen den Kopf bewegt und auf ihr Papier guckt, machen die Frauen in den übrigen Apparaten die Bewegung nach. Es erinnert mich an ein Spiel, das wir im Kindergarten einer anderen Stadt gespielt haben.
Der Verkäufer steht ein paar Meter neben uns, er trägt ein gestreiftes Hemd mit Namensschild auf der Brust und schaut auf einen der oberen Bildschirme, den Mund leicht geöffnet. Eine alte Dame hat ihre Plastiktüten abgestellt und nicht bemerkt, dass vier Äpfel herausgekullert sind. Mein Vater blickt sich suchend um, kann sich nicht entscheiden. Dann wählt er einen großen Farbfernseher in der Mitte. Die Lautstärke ist schon hoch, aber er dreht noch lauter. Jetzt steht mein Vater ganz still, wie die anderen. Der Erste, der sich bewegt, hat verloren.
Im Fernsehen laufen Bilder einer dunklen Straße mit Verkehrsschildern und Schnee. Stockholm. Ein Bürgersteig ist mit rot-weißem Plastikband abgesperrt, rundherum stehen Menschen. Auch sie bewegen sich nicht. Manche halten die Hand vor den Mund. Die Frau im Fernsehen spricht langsam, als wäre sie gerade aufgewacht. Sie sagt, Olof Palme sei mit seiner Frau auf dem Heimweg vom Kino gewesen. Sie hatten sich Die Gebrüder Mozart angesehen."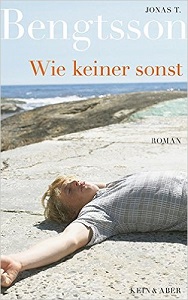 Jonas T. Bengtsson (Kopenhagen, 1 januari 1976)
Cover
De Nederlandse schrijfster Chantal van Gastel werd geboren op 1 januari 1980 in Breda. Zie ook alle tags voor Chantal van Gastel op dit blog.
Uit: Zwaar verguld!
"Waaraan heb jij zoveel geluk verdiend, Isa Verstraten, vraag ik me af. Het is alsof alles op zijn plaats gevallen is en ik zou bijna willen dat ik een foto kon nemen van dit moment en even terug kon reizen in de tijd om die te laten zien aan het vreselijk ongelukkige en onzekere meisje dat ik vroeger was, zodat ik kon zeggen: 'Maak je niet druk. Het komt helemaal goed met jou. Zie je wel?'
Ik ga zo op in mijn eigen gedachten dat ik niet merk dat Floor binnenkomt en in één beweging het toilethokje van Daphne opentrekt. Pas als ik hen beiden hoor gillen, schrik ik op. 'Isa! Je zou de deur dichthouden!' schreeuwt Daphne uit.
'Sorry, sorry,' mompelt Floor, terwijl ze een ander hokje probeert.
'Daar is geen wc-papier,' waarschuwt Daphne.
'Nou, schiet op dan. Deze baby ligt al de hele avond tegen mijn blaas te duwen. Ik moet om de vier minuten naar de wc. Ik mis het grootste deel van mijn eigen bruiloftsfeest!'
Ik hoor Daphne een lang stuk papier afscheuren. 'Pak aan. Je hebt nu toch alles al gezien.'
'Het spijt me dat ik niet oplette, Daph,' zeg ik schuldbewust.
Floor neemt de strook wc-papier van Daphne aan en duikt het andere hokje in. Na wat gestommel komt Daphne naar buiten. 'Je wordt bedankt, Ies. Van schrik heb ik me op de toiletbril laten vallen. Lekker fris!'
'Jij kunt tenminste nog hangen,' antwoordt Floor. 'Probeer dat maar eens met zo'n monster in je buik, dat het leuk vindt om zijn moeder haar halve bruiloft op de plee door te laten brengen.'
'Ach Floor, dat ben je straks allemaal vergeten,' zeg ik.
'Ha!' brengt ze uit. 'Dat is de grootste leugen die ze je wijs proberen te maken, dat weet ik nu al. En sinds vanavond weet ik ook wat ze bedoelen met die harde buiken.'
'Harde buiken?' vraagt Daph en ze trekt een verafschuwd gezicht naar mij."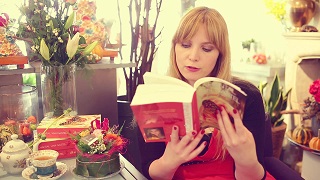 Chantal van Gastel (Breda, 1 januari 1980)
De Nederlandse schrijfster Inge Schilperoord werd geboren op 1 januari 1973. Zie ook alle tags voor Inge Schilperoord op dit blog.
Uit: Muidhond
"Tussen hem en de wereld zat het glas en achter het glas het kustlandschap. Het mooiste land dat hij kende. Hier was hij ruim dertig jaar geleden op een onbeduidende zondagmorgen uit zijn moeder gekropen. Hier zou hij nooit weggaan. Hij keek naar het landschap zoals hij er nog nooit naar had gekeken. Geen enkel detail ontsnapte hem. De toppen van de dennen en het licht van de zon dat de achterste zandheuvels precies uitlichtte, het gras langs de kant van de weg, het water van de vennetjes in de verte. Het licht gleed met de bus mee over de weg en verhitte het asfalt. Het was zo heet dat het hem niet had verbaasd als het teer voor zijn ogen zou openbarsten, begon te kraken en van binnenuit zou gaan smelten. Zachte, kleverige klonten als modder aan zijn schoenzolen.
Hij sloot zijn ogen even, deed ze opende en richtte zijn blik opnieuw op de lucht. Het licht deed haast pijn, zo schel wit.
Voorbij de watertoren nam de bus een ruime bocht naar rechts en daar daalde de weg, om na de volgende bocht weg weer langzaam omhoog te lopen. Hij wist het allemaal precies, had met zijn ogen dicht elke bocht en buts in de weg kunnen voorspellen. Nu nog maar een paar minuten tot de haven, dacht hij, en dan het dorp. Door het halfopen dakraampje rook hij de licht stinkende zeelucht. Vis, wier, olie, rotting. Touw.
Hier, in de duinen, zou hij vanmiddag rondlopen. Misschien over een uur al. Eindelijk. De mensen moesten hem niet, dat was altijd zo geweest. Maar de natuur nam hem zoals hij was. Hij kneep zijn handen samen, hield de spanning vast en rekte toen zijn vingers een voor een uit tot hij ze bij de gewrichten hoorde kraken. Zijn moeder zou thuis op hem wachten. Ze zat op de bank, dat kon niet anders, en keek naar een ochtendprogramma op televisie. Hij hoorde bijna het geluid van het apparaat dat het al jaren ieder moment kon begeven. Al die avonden dat hij naast haar had gezeten, op zijn vaste stoel, de geur van de hond in de kamer."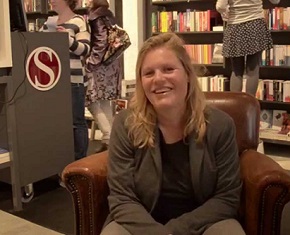 Inge Schilperoord (Den Haag(?), 1 januari 1973)
De Colombiaanse schrijver Juan Gabriel Vásquez werd geboren in Bogotá op 1 januari 1973. Zie ook alle tags voor Juan Gabriel Vásquez op dit blog.
Uit: The Sound of Things Falling (Vertaald door Anne McLean)
"I've often wondered since what would have happened if Ricardo Laverde had asked one of the other billiards players rather than me. But it's a meaningless question, like so much of what we wonder about the past. Laverde had good reasons to choose to ask me. Nothing can change that fact, just as nothing can change what happened afterward.
I had met him at the end of the previous year, a couple of weeks before Christmas. I was about to turn twenty-six,
I'd graduated from law school two years earlier, and, although I knew very little about the real world, the theoretical world of legal studies held no secrets for me. After graduating with honors—a thesis on madness as grounds for exemption from legal responsibility in Hamlet: I still wonder today how I got them to accept it, let alone award it a distinction—I had turned into the youngest lecturer ever to teach in the faculty, or that's what my elders had told me when proposing the idea, and I was convinced that being professor of Introduction to Law, teaching the basics of the career to generations of frightened children just out of high school, was the only possible horizon in my life. There, standing in front of a wooden lectern, facing rows and rows of baby-faced and disoriented boys and impressionable, wide-eyed girls, I received my first lessons on the nature of power. I was barely eight years older than these inexperienced students, but between us opened the double abyss of authority and knowledge, things that I had and they, recently arrived in the world, entirely lacked. They admired me, feared me a little, and I realized that one could get used to this fear and admiration, that they were like a drug. I told my students about the spelunkers who were trapped in a cave and after several days began to eat one another to survive: can the Law defend them or not? I told them about old Shylock, about the pound of flesh he wanted, about the astute Portia, who managed to prevent him from taking it with a pettifogging technicality: I enjoyed watching them gesticulate and shout and lose themselves in ridiculous arguments in their attempts to find, in the thicket of the anecdote, the ideas of Law and Justice."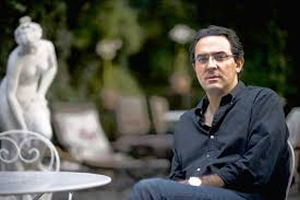 Juan Gabriel Vásquez (Bogotá, 1 januari 1973)
Zie voor nog meer schrijvers van de 1e januari ook mijn vorige blog van vandaag.
01-01-2017 om 10:41 geschreven door Romenu

Tags:Ernest van der Kwast, Adonis, Jonas T. Bengtsson, Chantal van Gastel, Inge Schilperoord, Juan Gabriel Vásquez, Romenu



J.D. Salinger, E. M. Forster, Douglas Kennedy, Rascha Peper, Carry van Bruggen, Paul Hamilton Hayne
De Amerikaanse schrijver Jerome David Salinger werd in New York geboren op 1 januari 1919. Zie ook alle tags voor J. D. Salinger op dit blog.
Uit:The Catcher in the Rye
"What I did do, though, I told the waiter to ask old Ernie if he'd care to join me for a drink. I told him to tell him I was D.B.'s brother. I don't think he ever even gave him my message, though. Those bastards never give your message to anybody.
All of a sudden, this girl came up to me and said, "Holden Caulfield!" Her name was Lillian Simmons. My brother D.B. used to go around with her for a while. She had very big knockers.
"Hi," I said. I tried to get up, naturally, but it was some job getting up, in a place like that. She had some Navy officer with her that looked like he had a poker up his ass.
"How marvelous to see you!" old Lillian Simmons said. Strictly a phony. "How's your big brother?" That's all she really wanted to know.
"He's fine. He's in Hollywood."
"In Hollywood! How marvelous! What's he doing?"
"I don't know. Writing," I said. I didn't feel like discussing it. You could tell she thought it was a big deal, his being in Hollywood. Almost everybody does. Mostly people who've never read any of his stories. It drives me crazy, though.
"How exciting," old Lillian said. Then she introduced me to the Navy guy. His name was Commander Blop or something. He was one of those guys that think they're being a pansy if they don't break around forty of your fingers when they shake hands with you. God, I hate that stuff. "Are you all alone, baby?" old Lillian asked me. She was blocking up the whole goddam traffic in the aisle. You could tell she liked to block up a lot of traffic. This waiter was waiting for her to move out of the way, but she didn't even notice him. It was funny. You could tell the waiter didn't like her much, you could tell even the Navy guy didn't like her much, even though he was dating her. And I didn't like her much. Nobody did. You had to feel sort of sorry for her, in a way. "Don't you have a date, baby?" she asked me. I was standing up now, and she didn't even tell me to sit down. She was the type that keeps you standing up for hours. "Isn't he handsome?" she said to the Navy guy. "Holden, you're getting handsomer by the minute." The Navy guy told her to come on. He told her they were blocking up the whole aisle. "Holden, come join us," old Lillian said. "Bring your drink."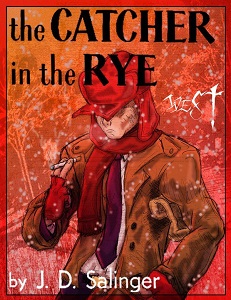 J.D. Salinger (1 januari 1919 – 27 januari 2010)
Cover
De Engelse romanschrijver en essayist Edward Morgan Forster werd geboren op 1 januari 1879 in Londen. Zie ook alle tags voor Edward Morgan Forster op dit blog.
Uit: A Room with a View
"Race you round it, then," cried Freddy, and they raced in the sunshine, and George took a short cut and dirtied his shins, and had to bathe a second time. Then Mr. Beebe consented to run--a memorable sight.
They ran to get dry, they bathed to get cool, they played at being Indians in the willow-herbs and in the bracken, they bathed to get clean. And all the time three little bundles lay discreetly on the sward, proclaiming: "No. We are what matters. Without us shall no enterprise begin. To us shall all flesh turn in the end."
"A try! A try!" yelled Freddy, snatching up George's bundle and placing it beside an imaginary goal-post.
"Socker rules," George retorted, scattering Freddy's bundle with a kick.
"Goal!"
"Goal!"
"Pass!"
"Take care my watch!" cried Mr. Beebe.
Clothes flew in all directions.
"Take care my hat! No, that's enough, Freddy. Dress now. No, I say!"
But the two young men were delirious. Away they twinkled into the trees, Freddy with a clerical waistcoat under his arm, George with a wide-awake hat on his dripping hair.
"That'll do!" shouted Mr. Beebe, remembering that after all he was in his own parish. Then his voice changed as if every pine-tree was a Rural Dean. "Hi! Steady on! I see people coming you fellows!"
Yells, and widening circles over the dappled earth.
"Come this way immediately," commanded Cecil, who always felt that he must lead women, though knew not whither, and protect them, though he knew not against what. He led them now towards the bracken where Freddy sat concealed."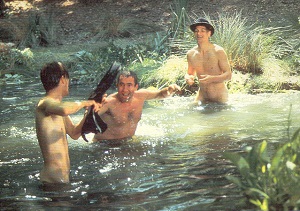 Edward Morgan Forster (1 januari 1879 - 7 juni 1970)
Scene uit de gelijknamige film van regisseur James Ivory uit 1985
De Amerikaanse schrijver Douglas Kennedy werd geboren op 1 januari 1955 in New York. Zie ook alle tags voor Douglas Kennedy op dit blog.
Uit: The Heat of Betrayal
"The sky outside: was it a curved rotunda of emerging blue? The world was still blurred at its edges. I tried to piece together my whereabouts, the exact geographic location within which I found myself. A sliver of emerging clarity. Or maybe just a few basic facts.
Such as:
I was on a plane. A plane that had just flown all night across the Atlantic. A plane bound for a corner of North Africa, a country which, when viewed cartographically, looks like a skullcap abreast a continent. According to the Flight Progress Monitor illuminating the back-of-the-seat screen facing me, we were still seventy-three minutes and eight hundred and forty-two kilometres (I was flying into a metric world) from our destination. This journey hadn't been my idea. Rather I'd allowed myself to be romanced into it by the man whose oversize (as in six-foot-four) frame was scrunched into the tiny seat next to mine. The middle seat in this horror movie of an aircraft. No legroom, no wiggle room, every seat taken, at least six screaming babies, a husband and wife fighting in hissed Arabic, bad ventilation, bad air conditioning, a one-hour wait for the bathroom after the plastic meal they served us, the rising aroma of collective night sweats hanging over this hellhole of a cabin. Thank God I made Paul pack his Zopiclone. Those pills really do induce sleep in even the most impossible conditions. I put aside all my concerns about pharmaceuticals and asked him for one, and it gave me three hours' respite from this high-altitude sweat-box confinement.
Paul. My husband. It's a new marriage – just three years old. Truth be told, we love each other. We are passionate about each other. We often tell ourselves that we are beyond fortunate to have found each other. And I do truly believe that. He is the right man for me. Just as, the day before we legalised our relationship and committed to each other for the rest of our lives, I was silently convincing myself that I could change some of Paul's worrying inclinations; that, in time, things would tick upwards, stabilise. Especially as we are now trying to become parents."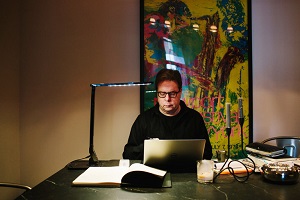 Douglas Kennedy (New York, 1 januari 1955)
De Nederlandse schrijfster Rascha Peper (pseudoniem van Jenneke Strijland) werd geboren op 1 januari 1949 in Driebergen. Zie ook alle tags voor Rascha Peper op dit blog.
Uit: Zwartwaterkoorts
"De keerzijde van de frisheid was dat allerlei virussen de kamer in konden waaien. Je moest er niet aan denken dat de hele boel draaihalsziekte kreeg van de een of andere besmette volière uit de buurt. Maar de sijzen pikten alweer levendig in de appels en de witkuifgaai joeg iedereen bij de wormen weg, dus het zou wel meevallen.
Boven op het ladenkastje waarin hij de vogelspullen bewaarde lag een lila angoratruitje dat hij vorige week bij de vuilniszakken had weggehaald. Het duurde altijd een poosje voordat de vogels aan iets nieuws gewend waren, maar de laatste dagen hadden de zilverbekjes, de aardigste be woners van deze kamer, er de val op gekregen. Uit de nestbollen aan het plafond hingen de plukken lila wol naar buiten. Hij kreeg veel te veel zilverbekjes. Zelfs de man op de Overtoom wilde ze niet meer hebben. Maar aan de reigers voeren deed hij niet graag.
Het was eind april, na drie dagen regen was het vandaag de mooiste lentedag die te bedenken viel, de zon reflecteerde blikkerend op de gevels aan de overkant. Dit werd een boodschappendag: onkruid plukken in het park, op de Albert Cuyp groenten en eendagskuikens halen en in de dierenwinkel vitaminedruppels.
Toen hij met Scheffer aan de keukentafel de laatste schraapsels uit een korst kaas soldaatmaakte, ging de telefoon. Zo snel als zijn heup het toeliet, kwamhij overeind en haastte zich naar de voorkamer. Het kon Hilde zijn.
'Goedemorgen, meneer Stutijn van der Wal,' zei een overdreven articulerende mannenstem die hij direct herkende, alwas het een half jaar geleden dat hij zijn huisbaas voor het laatst had gesproken."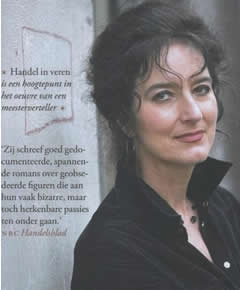 Rascha Peper (1 januari 1949- 16 maart 2013)
De Nederlandse schrijfster Carry van Bruggen (eig. Caroline Lea de Haan) werd geboren in Smilde op 1 januari 1881. Zie ook alle tags voor Carry van Bruggen op dit blog.
Uit: Heleen: een vroege winter
"Heleen's moeder was tenger, dmk en bleek, ze zong met een schrille stem treurige Fransche liedjes' die ze als klein kind van haar grootmoeder had geleerd, doch waarvan ze den zin vergeten of nimmer geweten had, ook Heleen begreep ze dus niet, maar het deerde haar weinig; met het gelaat naar grootmoeders portret, luisterde ze peinzend en indachtig= onthield ze op den klank en neuriede ze bij zichzelf' zoo vaak ze alleen was: net zoo lang tot ze een weekheid in zich voelde als gegraven en schreien moest. De ontroering en het schreien wilden niet altijd komen. Toen ze later de beteekenis van die liedj es wist= stelden ze haar teleur en kon ze er niet meer om schreien; het was of een diepte in haar voorgoed geëfi'end was -' ze had ze zich donker en woest als rotsen en ravijnen gedacht.
Heleen's vader was forsch en stil, zijn handen alleen waren smal en zacht, hij lachte zelden, maar als hij lachte, deed die lach Heleen goed tot in haar hart en ze lachte mee, met vochtige oogen= doch ze hield niet van haar moeders drukke vroolijkheid, die maakte haar schichtig en stil en doofde gemeenlijk in dagenlange neerslachtigheid uit.
Over dingen als braaf oppassen, plicht-doen en vooruitkomen werd in huis nagenoeg niet gesproken, Heleen dacht er uit zichzelf nimmer over na. Ze was van aard meegaande, fel en onverzettelijk alleen tegen geringschatting en dwang van aanleg bevattelijk; het schoolleven deerde haar dus niet, straf was iets dat daarbijuitteraard behoorde en geen indruk op haar maakte, evenmin als het preeken en praten vooraf en daarna. Wanneer ze haar vader haar rapporten van de school toonde, lette hij weinig op de waardeeringen voor vlijt en goed gedrag en Heleen nam gauw genoeg die geringschatting voor het een en het ander over, zonder dat dit evenwel van invloed op haar doen en laten werd. Belooning of bijzondere lof voor hooge cijfers kwam niet voor, zoodat Heleen-zelf ook daaraan weinig waarde hechtte."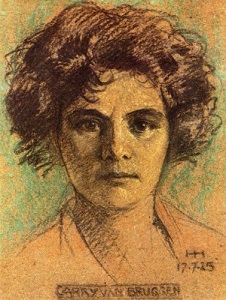 Carry van Bruggen (1 januari 1881 - 16 november 1932)
Portret door Herman Hanna. 1916.
De Amerikaanse dichter Paul Hamilton Hayne werd geboren in Charleston, South Carolina, op 1 januari 1830. Zie ook alle tags voor Paul Hamilton Hayne op dit blog.
Cloud Pictures (Fragment)
Here in these mellow grasses, the whole morn,
I love to rest; yonder, the ripening corn
Rustles its greenery; and his blithesome horn
Windeth the frolic breeze o'er field and dell,
Now pealing a bold stave with lusty swell,
Now falling to low breaths ineffable
Of whispered joyance. At calm length I lie,
Fronting the broad blue spaces of the sky,
Covered with cloud-groups, softly journeying by:
An hundred shapes, fantastic, beauteous, strange,
Are theirs, as o'er yon airy waves they range
At the wind's will, from marvelous change to change;
Castles, with guarded roof, and turret tall,
Great sloping archway, and majestic wall,
Sapped by the breezes to their noiseless fall!
Pagodas vague! above whose towers outstream
Banners that wave with motions of a dream—
Rising, or drooping in the noontide gleam;
Gray lines of Orient pilgrims: a gaunt band
On famished camels, o'er the desert sand
Plodding towards their prophet's Holy Land;
Mid-ocean,—and a shoal of whales at play,
Lifting their monstrous frontlets to the day,
Thro' rainbow arches of sun-smitten spray;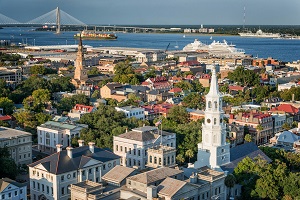 Paul Hamilton Hayne (1 januari 1830 – 6 juli 1886)
Charleston
Zie voor nog meer schrijvers van de 1e januari ook mijn vorige blog van vandaag.
01-01-2017 om 10:37 geschreven door Romenu

Tags:J.D. Salinger, E. M. Forster, Douglas Kennedy, Rascha Peper, Carry van Bruggen, Paul Hamilton Hayne, Romenu



Rüdiger Safranski, Joe Orton, Mariano Azuela, René de Ceccatty, Sven Regener
De Duitse schrijver en filosoof Rüdiger Safranski werd geboren op 1 januari 1945 in Rottweil. Zie ook alle tags voor Rüdiger Safranski op dit blog.
Uit: Goethe - Kunstwerk des Lebens
"Besucher strömen nach Frankfurt, um dort den schönen, beredten und genialischen jungen Mann zu sehen und zu hören. Eine Generation vor Lord Byron fühlt er sich als Liebling der Götter, und wie jener pflegt auch er poetischen Umgang mit seinem Teufel. Noch in Frankfurt beginnt er mit der lebenslangen Arbeit am »Faust«, diesem kanonischen Drama der Neuzeit. Nach der Genie-Zeit in Frankfurt wird Goethe des literarischen Lebens überdrüssig, riskiert den radikalen Bruch und zieht 1775 ins kleine Herzogtum Sachsen-Weimar, wo er, als Freund des Herzogs, zum Minister aufsteigt. Er dilettiert in Naturforschungen, flüchtet nach Italien, lebt in wilder Ehe – und bei alledem schreibt er die unvergeßlichsten Liebesgedichte, tritt in edlen Wettstreit mit dem Freund und Schriftstellerkollegen Schiller, schreibt Romane, macht Politik, pflegt Umgang mit den Großen aus Kunst und Wissenschaft. Bereits zu Lebzeiten wird Goethe eine Art Institution. Er wird sich selbst historisch, schreibt die – nach Augustins »Confessiones« und Jean-Jacques Rousseaus »Confessions« – für das alte Europa wohl bedeutendste Autobiographie, »Dichtung und Wahrheit«. Doch so steif und würdevoll er sich auch bisweilen gibt, so zeigt er sich in seinem Alterswerk auch als kühner und sardonischer Mephisto, der alle Konventionen sprengt.
Dabei blieb ihm stets bewußt, daß die literarischen Werke das eine sind, ein anderes das Leben selbst. Auch ihm wollte er den Charakter eines Werkes geben. Was ist das – ein Werk? Es ragt aus den Zeitläuften heraus, mit Anfang und Ende, und dazwischen eine festumrissene Gestalt. Eine Insel der Bedeutsamkeit im Meer des Zufälligen und Gestaltlosen, das Goethe mit Schrecken erfüllte. Für ihn mußte alles eine Gestalt haben. Entweder er entdeckte sie, oder er schuf sie, im alltäglichen menschlichen Verkehr, in den Freundschaften, in Briefen und Gesprächen. Er war ein Mensch der Rituale, Symbole und Allegorien, ein Freund von Andeutung und Anspielung – und doch wollte er immer auch zu einem Ergebnis, einer Gestalt, eben zu einem Werk kommen. Das galt besonders bei den Dienstpflichten."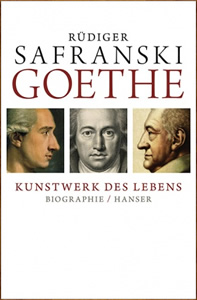 Rüdiger Safranski (Rottweil, 1 januari 1945)
Cover
De Britse schrijver Joe Kingsley Orton werd geboren in Leicester op 1 januari 1933. Zie ook alle tags voor Joe Orten op dit blog.
Uit: Entertaining Mr Sloane
"Silence.
KEMP: He was healthy. Sound as a bell.
SLOANE: How do you know?
KEMP: He won cups for it. Looked after himself.
SLOANE: A weak heart.
KEMP: Weak heart, my arse. You murdered him.
SLOANE: He fell.
KEMP: He was hit from behind.
SLOANE: I had no motive.
KEMP: The equipment.
SLOANE: I never touched it.
KEMP: You meant to.
SLOANE: Not me, Pop. (Laughs.) Oh, no.
KEMP: Liar… lying little bugger. I knew what you was from the start.
Pause.
SLOANE: What are you going to do? Are you going to tell Ed? (KEMP makes no reply.) He won't believe you. (KEMP makes o reply.) He'll think you're raving.
KEMP: No… you're finished. (Attempts to rise. SLOANE pushes him back. KEMP raises his stick. SLOANE takes it from him.)
SLOANE: You can't be trusted I see. I've lost faith in you. (Throws the stick out of reach.) Irresponsible. Can't give you offensive weapons.
KEMP: Ed will be back soon. (Rises to go.)
SLOANE: He will."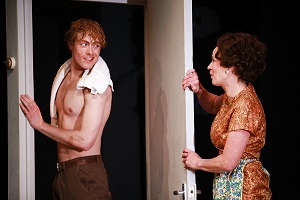 Joe Orton (1 januari 1933 - 9 augustus 1967)
Scene uit een opvoering in Leicester, 2012
De Mexicaanse schrijver en medicus Mariano Azuela González werd geboren in Lagos de Moreno op 1 januari 1873. Zie ook alle tags voor Mariano Azuela op dit blog.
Uit: The Underdogs (Vertaald door E. Munguia jr.)
"They went out together; she bore the child in her arms. At the door, they separated, moving off in different directions.
The moon peopled the mountain with vague shadows. As he advanced at every turn of his way Demetrio could see the poignant, sharp silhouette of a woman pushing forward painfully, bearing a child in her arms.
When, after many hours of climbing, he gazed back, huge flames shot up from the depths of the canyon by the river. It was his house, blazing....
Everything was still swathed in shadows as Demetrio Macias began his descent to the bottom of the ravine. Between rocks striped with huge eroded cracks, and a squarely cut wall, with the river flowing below, a narrow ledge along the steep incline served as a mountain trail.
"They'll surely find me now and track us down like dogs," he mused. "It's a good thing they know nothing about the trails and paths up here.... But if they got someone from Moyahua to guide them ..." He left the sinister thought unfinished. "All the men from Limon or Santa Rosa or the other nearby ranches are on our side: they wouldn't try to trail us. That cacique who's chased and run me ragged over these hills, is at Mohayua now; he'd give his eyeteeth to see me dangling from a telegraph pole with my tongue hanging out of my mouth, purple and swollen...."
At dawn, he approached the pit of the canyon. Here, he lay on the rocks and fell asleep.
The river crept along, murmuring as the waters rose and fell in small cascades. Birds sang lyrically from their hiding among the pitaya trees. The monotonous, eternal drone of insects filled the rocky solitude with mystery.
Demetrio awoke with a start. He waded the river, following its course which ran counter to the canyon; he climbed the crags laboriously as an ant, gripping root and rock with his hands, clutching every stone in the trail with his bare feet."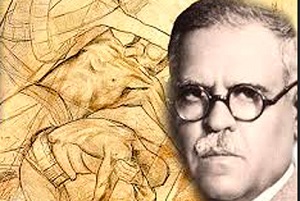 Mariano Azuela (1 januari 1873 - 1 maart 1952)
De Franse schrijver, essayist en vertaler René de Ceccatty werd geboren op 1 januari 1952 in Tunis. Zie ook alle tags voor René de Ceccatty op dit blog.
Uit: Mes argentins de Paris
"Qu'ont apporté les Argentins à la vie culturelle française, au théâtre, à la littérature, à la peinture, au cinéma ? René de Ceccatty tente d'apporter une réponse dans un essai personnel qui évoque le parcours de nombreux artistes, écrivains, acteurs, dramaturges qui ont fui, parfois dans des conditions dramatiques, leur pays pour créer librement en France. Parmi ces figures, se détachent trois amis proches de l'auteur : l'écrivain Hector Bianciotti, le metteur en scène Alfredo Arias et la traductrice et poétesse Silvia Baron Supervielle, qu'il a rencontrés séparément dans des circonstances fortuites, mais qui ont accompagné son propre cheminement littéraire et privé à travers les années. Ces trois portraits très intimes donc dominent ces pages, qui cependant consacrent aussi des analyses à d'autres Argentins, de Copi à Cortázar, sans lesquels la culture française de ces cinquante dernières années aurait été tout autre. Ces trois amitiés de l'auteur ont parfois abouti, comme dans le cas d'Alfredo Arias à des collaborations très fécondes. Il s'agit donc d'un livre d'hommage à la culture argentine devenue française, mais aussi d'un retour sur toute l'histoire du rapport de l'Argentine à la France, à partir des voyageurs du XIXe siècle, des revues franco-argentines, du travail de pionnier de Victoria Ocampo et du grand Borges. Le récit, écrit de manière continue, comme un livre de Mémoires sous l'angle de l'amitié argentine, est suivi d'un historique de la vie politique argentine qui a expliqué bien des exils, d'un bref dictionnaire des Argentins exilés (en France et dans le reste du monde), d'une liste d'adresses argentines à Paris et d'une bibliographie succincte : trente et un livres indispensables pour connaître l'Argentine. Une trentaines de photographies illustrent l'ouvrage. D'Adolfo Bioy Casares à Copi, en passant par Jorge Lavelli, Leonor Fini, Haydée Alba, Marilú Marini, Astor Piazzolla, Seguí, Arnaldo Calveyra, Alberto Manguel, Julio Cortázar et tant d'autres. D'un hémisphère à l'autre, d'une rive à l'autre de l'Océan, il semble qu'un pont invisible mais durable ait réuni les cultures. Le tango, la poésie, le roman, la scène, tous les domaines artistiques semblent s'être, de part et d'autre, regardés en miroir."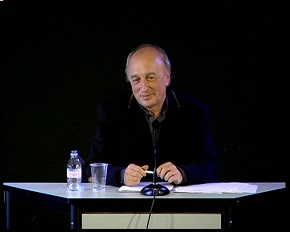 René de Ceccatty (Tunis, 1 januari 1952)
De Duitse schrijver en musicus Sven Regener werd geboren op 1 januari 1961 in Bremen. Zie alle tags voor Sven Regener op dit blog.
Uit:Magical Mystery oder: Die Rückkehr des Karl Schmidt
"Wieso hat der geschrien?"
"Dem hatte einer die Hand in der Tür eingeklemmt, in der Tür von dem Auto. Jedenfalls können wir jetzt nicht mehr da hin, wenn einer von uns da jetzt hingeht, dann ist der ja der Fahrer und dann Drogenkontrolle und was weiß ich, Alkohol, was die da alles machen, das können wir doch gar nicht riskieren. Außerdem haben wir die Papiere nicht und ich meinen Führerschein auch nicht dabei. Das ging um die Ecke, das Taxi ist vorausgefahren …"
"Welches Taxi?"
"Wir wussten ja nicht, wo ein Krankenhaus ist, da haben wir ein Taxi angehalten und das ist dann vorausgefahren und wir hinterher."
"Warum habt ihr denn dann nicht Basti in das Taxi gesetzt, hätte er doch damit ins Krankenhaus …"
"Haben wir ja, aber erst später, also jetzt, weil ja unser Auto auf den Schienen ist. Also Basti ist jetzt weg, jedenfalls ist der blöde Taxifahrer so schnell um die Ecke und wir hinter ihm her, aber der war so schnell, dass wir dann weiter geradeaus, und da war dann nur noch für die Straßenbahn, also keine Straße mehr, nur noch das Schotterbett mit den Schienen und da ist jetzt das Auto drauf. Also ich glaube, im Augenblick kommt noch keine Straßenbahn, aber das ist ziemlich dunkel da, ich mach mir Sorgen, wenn da die Straßenbahn um die Ecke kommt, da sind ja auch die Meerschweinchen hinten drin."
"Bist du gefahren, Raimund?"
"Ich sag nicht, wer gefahren ist, Charlie."
"Natürlich bist du gefahren, wieso willst du das nicht sagen, ich bin doch nicht die Bullen?"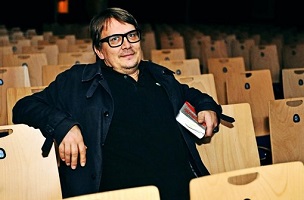 Sven Regener (Bremen, 1 januari 1961)
01-01-2017 om 10:34 geschreven door Romenu

Tags:Rüdiger Safranski, Joe Orton, Mariano Azuela, René de Ceccatty, Sven Regener, Romenu



Rhidian Brook
De Britse schrijver Rhidian Brook werd geboren op 1 januari 1964 in Tenby. Zie ook alle tags voor Rhidian Brook op dit blog.
Uit: The Aftermath
"Lewis nodded and waved the captain on, saving his words. The cold and the calories had taught him to ration these.
"The house belongs to a family called Lubert. Loo-bear-t. Hard 'T.' The wife died in the bombings. Her family were bigwigs in the food trade. Connections with Blohm and Voss. They also owned a series of flour mills. Herr Lubert was an architect. He's not been cleared yet but we think he's a probable white or, at worst, an acceptable shade of grey; no obvious direct Nazi connections."
"Bread."
"Sir?"
Lewis had not eaten all day and had taken the short leap from "flour mill" to bread without thinking; the bread he pictured in his head was suddenly more present, more real, than the captain stand- ing at the map on the other side of the desk.
"Go on—the family." Lewis made an effort to look as if he was listening, nodding and setting his jaw at an inquisitive tilt.
Wilkins continued: "Lubert's wife died in '43. In the firestorm. One child—a daughter. Freda, fifteen years old. They have some staff—a maid, a cook and a gardener. The gardener is a first-rate handyman—ex-Wehrmacht. The family have some relatives they can move in with. We can billet the staff, or you can take them on. They're clean enough."
The process by which the soul-sifters of the Control Commis-sion's Intelligence Branch assessed cleanliness was the Fragebogen, or questionnaire: 133 questions to determine the degree of a German citizen's collaboration with the regime. From this, they were categorized into three colour-coded groups—black, grey and white, with intermediate shades for clarity—and dispatched accordingly.
"They're expecting the requisition. It's just a matter of you viewing the place then turfing them out. I don't think you'll be disappointed, sir."
"You think they will be disappointed, Captain?"
"They?"
"The Luberts? When I turf them out." "They're not allowed the luxury of disappointment, sir. They're Germans."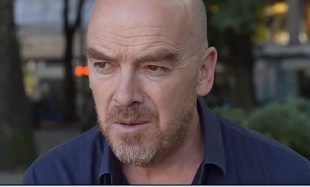 Rhidian Brook (Tenby, 1 januari 1964)
01-01-2017 om 00:00 geschreven door Romenu

Tags:Rhidian Brook, Romenu



| | |
| --- | --- |
| | |



Inhoud blog


| | |
| --- | --- |
| | Susanna Tamaro, Kader Abdolah, Sophie Kinsella, Gustave Flaubert, John Osborne, Ahmad Shamlou, Vassilis Alexakis, Shrinivási, Hans Keilson |
| | P.C. Hooftprijs voor Nachoem M. Wijnberg |
| | Andrea De Carlo, Naguib Mahfouz, Marie Kessels, J.C. van Schagen, Paul Rigolle, Ludwig Laher, Helene Uri, Birago Diop, Janko Ferk |
| | St. Peter and the Angel (Denise Levertov) |
| | Emily Dickinson, Karl Heinrich Waggerl, Reinhard Kaiser Mühlecker, Jorge Semprún, Gertrud Kolmarm, Jacquelyn Mitchard, Nelly Sachs, Cornelia Funke |
| | Carolyn Kizer, Pierre Louÿs, Clarice Lispector, Thomas Lux, Ara Baliozian, Christine Brückner, Rumer Godden |
| | Thomas Verbogt, Eileen Myles, Michael Krüger, Gioconda Belli, Joe McGinniss, Wolfgang Hildesheimer, Anna Gavalda |
| | Ödön von Horváth, John Milton, Jan Křesadlo, Maksim Bahdanovič, Dalton Trumbo |
| | Jamal Ouariachi, Louis de Bernières, Mary Gordon, Bill Bryson, Delmore Schwartz, Jim Morrison, Georges Feydeau, Horatius, Hervey Allen |
| | Tatamkhulu Afrika, Dirk Stermann, Johann Nestroy, Joyce Cary, Gabriel Marcel, Willa Cather, Noam Chomsky, Friedrich Schlögl, Samuel Gottlieb Bürde |
| | Karl Ove Knausgård, Peter Handke, Rafał Wojaczek, Henk van Woerden, Alfred Joyce Kilmer, Dirk Dobbrow, Sophie von La Roche, Baldassare Castiglione, Paul Adam |
| | Charlotte Wood |
| | A Ballad Of Santa Claus (Henry van Dyke) |
| | Hanif Kureishi, Alois Brandstetter, Joan Didion, Christina Rossetti, Fjodor Tjoettsjev, Calvin Trillin, Afanasy Fet, Hans Helmut Kirst, Eugenie Marlitt |
| | In Memoriam Jean d'Ormesson |
| | Rainer Maria Rilke, Geert Mak, Pat Donnez, Feridun Zaimoglu, Nikoloz Baratashvili, Emil Aarestrup, Nikolay Nekrasov, Trudi Guda, Thomas Carlyle |
| | Ready for Silence (Madeleine L' Engle) |
| | Hendrik Conscience, Joseph Conrad, Herman Heijermans, Grace Andreacchi, Ugo Riccarelli |
| | France Preseren, F. Sionil José, Franz Josef Degenhardt, Jules Claretie, Ludvig Holberg |
| | Frédéric Leroy, Ann Patchett, Hein Boeken, T. C. Boyle, George Saunders, Botho Strauß, Jacques Lacarrière, Iakovos Kampanellis, Eric L. Harry |
| | Pierre Kemp, Arthur Sze, Natasza Tardio, Daniel Pennac, Tahar Ben Jelloun, Billy Childish, Ernst Toller, Mihály Vörösmarty, Valery Bryusov |
| | Herinnering aan Ramses Shaffy |
| | Dennis Gaens, Christophe Vekeman, James Worthy, Y.M. Dangre, Reinier de Rooie, David Nicholls, Yasmine Allas, Jan G. Elburg, Jesús Carrasco |
| | Mario Petrucci, George Szirtes, Jean Senac, Carlo Levi, Jean-Philippe Toussaint, C.S. Lewis, Wilhelm Hauff, Louisa May Alcott, Franz Stelzhamer |
| | Erwin Mortier, Alberto Moravia, Hugo Pos, Stefan Zweig, Sherko Fatah, Philippe Sollers, William Blake, Alexander Blok, Rita Mae Brown |
| | Navid Kermani, Nicole Brossard, Han Kang, Philippe Delerm, James Agee, Jos. Habets, Friedrich von Canitz, Jacques Godbout, Klara Blum |
| | Jesus Christus herrscht als König (Philipp Friedrich Hiller) |
| | Luisa Valenzuela, Eugène Ionesco, Marilynne Robinson, Louis Verbeeck, Mihály Babits |
| | Herman Gorter, William Cowper, Theophilus Cibber, Alyosha Brell, Mohamed Al-Harthy, René Becher |
| | Maarten 't Hart, Connie Palmen, Abdelkader Benali, Arturo Pérez-Reverte, Ba Jin, Augusta de Wit |
| | Joseph Zoderer, Alexis Wright, Isaac Rosenberg, José Eça de Queiroz, Lope de Vega |
| | Jules Deelder, Wanda Reisel, Marlon James, Einar Kárason, Ahmadou Kourouma, Thomas Kohnstamm, Wen Yiduo, Laurence Sterne, Cissy van Marxveldt |
| | Paul Celan, Marcel Beyer, Max Goldt, Jennifer Michael Hecht, Sipko Melissen, Henri Borel, Sait Faik Abasıyanık, Nirad C. Chaudhuri, Jeroen Olyslaegers |
| | André Gide, George Eliot, Dirk van Weelden, Christian Filips, Suresh en Jyoti Guptara, Viktor Pelevin, Endre Ady, William Kotzwinkle, Elisabeth Maria Post |
| | Margriet de Moor, Gerard Koolschijn, Isaac Bashevis Singer, Wouter Steyaert, Marilyn French, Freya North, Carl-Henning Wijkmark, Voltaire, Garth Risk Hallberg |
| | Don DeLillo, Viktoria Tokareva, Sheema Kalbasi, Nadine Gordimer, Thomas Chatterton, Zinaida Hippius, Selma Lagerlöf, Ursula Ziebarth, Ferdinand von Schirach |
| | Jordi Lammers |
| | Am fünfundzwanzigsten Sonntage nach Pfingsten (Annette von Droste-Hülshoff) |
| | Scott Cairns, Sharon Olds, Mark Harris, Karel van den Oever, Christoph Wilhelm Aigner |
| | Alan Tate, Anna Seghers, Elise Bürger, Girolamo de Rada, Veronika Aydin |
| | Joost Zwagerman, Toon Tellegen, Joost Oomen, Thomas Möhlmann, Pauline Genee, Klaus Mann, Eugenio Montejo |
| | Margaret Atwood, Seán Mac Falls, Jaap Meijer, Richard Dehmel, William Gilbert, Hans Reimann, Mireille Cottenjé |
| | Joost van den Vondel, Guido van Heulendonk, Pierre Véry, Auberon Waugh, Dahlia Ravikovitch, Rebecca Walker, Christopher Paolini, Archibald Lampman, Max Barthel |
| | Jelko Arts |
| | Anton Koolhaas, Chinua Achebe, José Saramago, Renate Rubinstein, Craig Arnold, Danny Wallace, Frits van der Meer, Jónas Hallgrímsson, Hugo Dittberner |
| | Clemens J. Setz, Jan Terlouw, Wolf Biermann, Ted Berrigan, J. G. Ballard, Gerhart Hauptmann, Liane Dirks, Lucien Rebatet, Marianne Moore |
| | Norbert Krapf, Jonathan van het Reve, Olga Grjasnowa, Astrid Lindgren, René de Clercq, Chloe Aridjis, P.J. O'Rourke, Jurga Ivanauskaitė, Peter Orner |
| | Christine Otten, Inez van Dullemen, Frank Westerman, Timo Berger, Hadjar Benmiloud, Nico Scheepmaker, José Carlos Somoza, Peter Härtling, Stanisław Barańczak |
| | Am vierundzwanzigsten Sonntage nach Pfingsten (Annette von Droste-Hülshoff) |
| | Daniël Dee, Lize Spit, Lucia Berlin, Frank Witzel, Johnny van Doorn, Cristina Peri Rossi, Naomi Wolf, Malcolm Guite |


Gastenboek


Druk op onderstaande knop om een berichtje achter te laten in mijn gastenboek