E-mail mij


Druk op onderstaande knop om mij te e-mailen.


Romenu


Google


Georg Trakl

Georg Trakl werd op 3 februari 1887 in het conducteurshuis aan de Waagplatz 2 in Salzburg geboren. Zijn vader, Tobias Trakl, was een handelaar in ijzerwaren en zijn moeder, die ook psychische problemen had, was Maria Catharina Trakl, (meisjesnaam Halik). Voorts had hij nog drie broers en drie zussen. Margarethe (doorgaans Grethe genoemd) stond hem het naast, zelfs zodanig dat sommigen een incestueuze verhouding vermoeden. Zijn jeugd bracht hij door in Salzburg. Vervolgens bezocht hij van 1897 tot 1905 het humanistische gymnasium. Om toch een academische opleiding te kunnen volgen, werkte hij tot 1908 in de praktijk bij een apotheker. Sommigen vermoedden dat hij dit vooral deed om zichzelf opiaten te kunnen verschaffen. Bij het uitbreken van WO I werd Trakl als medicus naar het front in Galicië (heden ten dage in Oekraïne en Polen) gestuurd. Zijn gemoedsschommelingen leidden tot geregelde uitbraken van depressie, die verergerd werden door de afschuw die hij voelde voor de verzorging van de ernstig verwonde soldaten. De spanning en druk dreven hem ertoe een suïcidepoging te ondernemen, welke zijn kameraden nochtans verhinderden. Hij werd in een militair ziekenhuis opgenomen in Kraków, alwaar hij onder strikt toezicht geplaatst werd.Trakl verzonk daar in nog zwaardere depressies en schreef Ficker om advies. Ficker overtuigde hem ervan dat hij contact moest opnemen met Wittgenstein, die inderdaad op weg ging na Trakls bericht te hebben ontvangen. Op 4 november 1914, drie dagen voordat Wittgenstein aan zou komen, overleed hij echter aan een overdosis cocaïne


Paul Celan

Paul Celan werd onder de naam Paul Antschel op 23 november 1920 geboren in Czernowitz, toentertijd de hoofdstad van de Roemeense Boekovina, nu behorend bij de Oekraïne. Paul Celans ouders waren Duitssprekende joden die hun zoon joods opvoedden en hem naar Duitse christelijke scholen stuurden. In 1942 werden Celans ouders door de Duitse bezetter naar een werkkamp gedeporteerd en daar vermoord. Hijzelf wist aanvankelijk onder te duiken, maar moest vanaf juli 1942 in een werkkamp dwangarbeid verrichten. Celan overleefde de oorlog. Via Boekarest en Wenen vestigde Celan zich in 1948 in Parijs. Daar was hij werkzaam als dichter, vertaler en doceerde hij aan de prestigieuze Ecole Normale Supérieure. Vermoedelijk op 20 april 1970 beëindigde hij zijn leven zelf door in de Seine te springen.


Gerard Reve

Gerard Reve over: Medearbeiders "God is in de mensen, de dieren, de planten en alle dingen - in de schepping, die verlost moet worden of waaruit God verlost moet worden, door onze arbeid, aangezien wij medearbeiders van God zijn." Openbaring "Tja, waar berust elk godsbegrip op, elke vorm van religie? Op een openbaring, dat wil zeggen op een psychische ervaring van zulk een dwingende en onverbiddelijke kracht, dat de betrokkene het gevoel heeft, niet dat hij een gedachte of een visioen heeft, maar dat een gedachte gedachte of visioen hem bezit en overweldigt."


Simon Vestdijk
Simon Vestdijk (Harlingen, 17 oktober 1898 – Utrecht, 23 maart 1971) was een Nederlands romancier, dichter, essayist en vertaler. Zijn jeugd te Harlingen en Leeuwarden beschreef hij later in de Anton Wachter-cyclus. Van jongs af aan logeerde hij regelmatig bij zijn grootouders in Amsterdam, waar hij zich in 1917 aan de Universiteit van Amsterdam inschrijft als student in de medicijnen. Tijdens zijn studie die van 1917 tot 1927 duurde, leerde hij Jan Slauerhoff kennen.Tot 1932 is hij als arts in praktijken door heel Nederland werkzaam. In 1932 volgt zijn officiële schrijversdebuut met de uitgave van de bundel Verzen in De Vrije Bladen. Doorslaggevend voor Vestdijks uiteindelijke keuze voor de literatuur is zijn ontmoeting in 1932 met Eddy Du Perron en Menno ter Braak. Deze ontmoeting had tot resultaat dat hij redactielid werd van het tijdschrift Forum Kort daarop, in 1933, wordt zijn eerste novelle, De oubliette, uitgegeven. In hetzelfde jaar schrijft hij Kind tussen vier vrouwen, dat, eerst geweigerd door de uitgever, later de basis zal vormen voor de eerste drie delen van de Anton Wachter-romans. In 1951 ontvangt Vestdijk de P.C. Hooftprijs voor zijn in 1947 verschenen roman De vuuraanbidders. In 1957 wordt hij voor het eerst door het PEN-centrum voor Nederland voorgedragen voor de Nobelprijs voor de Literatuur, die hij echter nooit zal krijgen. Op 20 maart 1971 wordt hem de Prijs der Nederlandse Letteren toegekend, maar voor hij deze kan ontvangen overlijdt hij op 23 maart te Utrecht op 72-jarige leeftijd. Vestdijk was auteur van ca. 200 boeken. Vanwege deze enorme productie noemde de dichter Adriaan Roland Holst hem 'de man die sneller schrijft dan God kan lezen'. Andere belangrijke boeken van Simon Vestdijk zijn: "Kind van stad en land" (1936), "Meneer Visser's hellevaart" (1936), "Ierse nachten" (1946), "De toekomst de religie" (1947), "Pastorale 1943" (1948), "De koperen tuin" (1950), "Ivoren wachters" (1951), "Essays in duodecimo" (1952) en "Het genadeschot" (1964).


K.P. Kavafis

K.P. Kavafis werd als kind van Griekse ouders, afkomstig uit Konstantinopel, geboren in 1863 in Alexandrië (tot vandaag een Griekse enclave) waar hij ook het grootste deel van zijn leven woonde en werkte. Twee jaar na de dood van zijn vader verhuist het gezin in 1872 naar Engeland om na een verblijf van vijf jaar naar Alexandrië terug te keren. Vanwege ongeregeldheden in Egypte vlucht het gezin in 1882 naar Konstantinopel, om na drie jaar opnieuw naar Alexandrië terug te gaan. In de jaren die volgen maakt Kavafis reizen naar Parijs, Londen en in 1901 zijn eerste reis naar Griekenland, in latere jaren gevolgd door nog enkele bezoeken. Op de dag van zijn zeventigste verjaardag, in 1933 sterft Kavafis in Alexandrië. De roem kwam voor Kavafis pas na zijn dood, dus postuum. Deels is dat toe te schrijven aan zijn eigen handelswijze. Hij was uiterst terughoudend met de publicatie van zijn gedichten, liet af en toe een enkel gedicht afdrukken in een literair tijdschrift, gaf in eigen beheer enkele bundels met een stuk of twintig gedichten uit en het merendeel van zijn poëzie schonk hij op losse bladen aan zijn beste vrienden.


Thomas Mann


Thomas Mann, de jongere broer van Heinrich Mann, werd geboren op 6 juni 1875 in Lübeck. Hij was de tweede zoon van de graankoopman Thomas Johann Heinrich Mann welke later één van de senatoren van Lübreck werd. Zijn moeder Julia (geboren da Silva-Bruhns) was Duits-Braziliaans van Portugees Kreoolse afkomst. In 1894 debuteerde Thomas Mann met de novelle "Gefallen". Toen Thomas Mann met 21 jaar eindelijk volwassen was en hem dus geld van zijn vaders erfenis toestond - hij kreeg ongeveer 160 tot 180 goldmark per jaar - besloot hij dat hij genoeg had van al die scholen en instituties en werd onafhankelijk schrijver. Kenmerkend voor zijn stijl zijn de ironie, de fenomenale taalbeheersing en de minutieuze detailschildering. Manns reputatie in Duitsland was sterk wisselend. Met zijn eerste roman, Buddenbrooks (1901), had hij een enorm succes, maar door zijn sceptische houding tegenover Duitsland na de Eerste Wereldoorlog veranderde dit volledig. Stelde hij zich tot aan de jaren twintig apolitiek op (Betrachtungen eines Unpolitischen, 1918), meer en meer raakte hij bij het Politiek gebeuren betrokken. Zijn afkeer van het nationaal socialisme groeide, zijn waarschuwingen werden veelvuldiger en heftiger. In 1944 accepteerde hij het Amerikaanse staatsburgerschap. Tussen 1943 en 1947 schreef Mann Doktor Faustus (zie Faust), de roman van de 'Duitse ziel' in de gecamoufleerd geschilderde omstandigheden van de 20ste eeuw. In 1947 bezocht hij voor het eerst sinds de Oorlog Europa, twee jaar later pas Duitsland. In 1952 vertrok hij naar Zwitserland. Op 12 augustus 1955 stierf hij in Zürich. Twintig jaar na zijn dood, in aug. 1975, is zijn literaire nalatenschap geopend: dagboekaantekeningen van 15 maart 1933 tot 29 juli 1955, alsmede notities uit de jaren 1918 tot en met 1921.Belangrijke werken zijn: Der Zauberberg, Der Tod in Venedig, Dokter Faustus , Joseph und seine Brüder en Die Bekenntnisse des Hochstaplers Felix Krull.


Rainer Maria Rilke

Rilke werd op 4 december 1875 geboren in Praag. Hij had al naam gemaakt als dichter met zijn bundels Das Stundenbuch en Das Buch der Bilder, toen hij de literaire wereld versteld deed staan en wereldfaam verwierf met de publicatie van zijn twee delen Neue Gedichte in 1907 en 1908. Hij verzamelde daarin het beste werk uit een van zijn vruchtbaarste periodes, die hij grotendeels doorbracht in Parijs. Rilke was daar diep onder de indruk gekomen van Rodin, bij wie hij een tijdlang in dienst was als particulier secretaris. Rodin, zei hij later, had hem leren kijken. Dit kijken kwam neer op intense concentratie, om het mysterie te kunnen zien 'achter de schijnbare werkelijkheid'. Latere en rijpere werken als Duineser Elegien (1912-1923) en het ronduit schitterende Die Sonette an Orfeus (1924) illustreren Rilkes metafysische visie op het onzegbare, dat haar verwoording vindt in een hermetische muzikale taal. Op 29 december 1926 overlijdt Rilke in het sanatorium in Val-Mont aan de gevolgen van leukemie. Enkele dagen later wordt hij, overeenkomstig zijn wens, begraven op het kerkhof van Raron.


* * * * * * * * * * * * * * * *

| | |
| --- | --- |
| | Over literatuur, gedichten, kunst en cultuur |

28-05-2016

Ad Zuiderent, Leo Pleysier, Adriaan Bontebal, Guntram Vesper, Frank Schätzing, Vladislav Chodasevitsj, Sjoerd Leiker
De Nederlandse dichter en criticus Ad Zuiderent werd geboren in 's-Gravendeel op 28 mei 1944. Zie ook alle tags voor Ad Zuiderent op dit blog.
Tuinpad
De paden op! Welja, dat ene pad
dat heel de tuin bestrijkt: het rondje
binnendoor. Diagonale bielzen
hogen hier en daar wat op. En dat is dat.

Wat heb je met me voor dat wij hier gaan?
Een achtertuin van zes bij acht, een spoor
van slakken, minder dan een blokje om.

Jij zegt: 'Dit is het binnenpad.' Volstaat
het schijnbaar vierkant van een streepje grond
of zoek je van de cirkel het kwadraat?

Eens ging de ondergang met paard en kar
de wereld rond; dat hebben we gehad
Nu blijf ik vlak bij huis, en noem je schat.

Dit is het. Naar bielzen draait het pad
licht omhoog. Daar blijft de zon wat langer
voor hij ondergaat. Ik heb je lief, zo lief.
In 't groen draagt dit de waarde van een daad.
Reservaat
Zaten wij op een duintop, was het het bekende
liedje, van de wind die op het hoogste punt
en hopen dat het uitzicht niet bedriegt.

Eerst in de diepte langs het strand, een golf
de horizon, gericht op hond en kind, op zon en wind,
werd je vanzelf gedachteloos en vrij.

Toen onder prikkeldraad omhoog, het verse
nauwelijks begroeide duin, het reservaat.
Het was verboden, maar daar zaten wij, vrij

als de zee die schitterde in zonnegloed, een vol
gemoed van dat je zoiets zong zonder te weten
wat het duin nog meer was dan bescherming

van het achterland. En nu dezelfde haast:
de zeespiegel in stukken in de ochtendkrant
was verder van je bed dan nu je keek

voorbij de opgebolde horizon. Een stip
als een begin; we konden alle kanten op.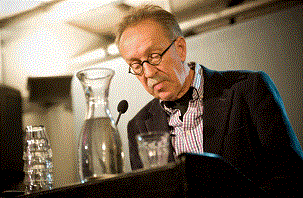 Ad Zuiderent ('s-Gravendeel, 28 mei 1944)
De Belgische schrijver Leo Pleysier werd geboren in Rijkevorsel op 28 mei 1945. Zie ook alle tags voor Leo Pleysier op dit blog.
Joris
Vier meisjes - ze zijn verkleed, ze dragen linten in hun haar, ze hebben zich opgemaakt met lipstick, mascara en oogschaduw - lopen arm in arm over de stoep van de dorpsstraat. Ze zijn vrolijk en uitgelaten. Ze kwetteren en tateren als eksters. De zon schijnt.
Stilzwijgend staat een jongen van een jaar of elf, twaalf misschien, in de deuropening aan de straatkant te kijken. Hij wacht, twijfelt, probeert zich nog snel achter de halfgeopende voordeur te verbergen wanneer de meisjes in het voorbijlopen op hun beurt in zijn richting kijken. Ten slotte komt hij terug te voorschijn en drentelt achter de vier meisjes aan. Maar die hebben het alweer veel te druk met elkaar om nog aandacht aan hem te besteden. De afstand tussen de jongen en de vier meisjes die nu eens verkleint, dan weer vergroot. Alsof hij aan een onzichtbaar elastisch lint over de stoep wordt meegesleept.
Er weerklinkt muziek in de straat. Een vlag wappert in de wind.
Ineens echter houden de meisjes halt. Als op een afgesproken teken draaien ze zich alle vier om en luidop en in koor beginnen ze te skanderen.
'Joo-ris!'
'Joo-ris!'
'Joo-ris!'
'Joo-ris!'
Verlegen druipt Joris af. Giechelend en ginnegappend lopen de meisjes weer voort. Het is een zonnige dag in het voorjaar.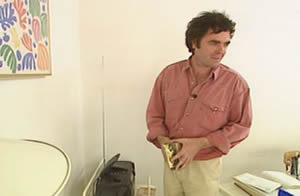 Leo Pleysier (Rijkevorsel, 28 mei 1945)
De Nederlandse dichter en schrijver Adriaan Bontebal werd als Aad van Rijn op 28 mei 1952 in Leidschendam geboren. Zie ook alle tags voor Adriaan Bontebal op dit blog.
Uit: Haags Dagboek
"Het demonstreren heb ik al jaren geleden voor gezien gehouden.
In het bijzonder die wandeltochten die erop zijn gericht overheden van je gelijk te overtuigen. Natuurlijk: de gezelligheid kent geen tijd. Je ziet oude bekenden, je maakt een praatje hier, een afspraakje daar, maar over de resultaten van je protest hoef je je geen illusies te maken. We hebben de vrijheid van meningsuiting in dit land, de autoriteiten hebben niet de plicht tot luisteren. Daarom zoek ik mijn vertier bij voorkeur elders: zelfs in de kleine uurtjes van een feest is er altijd wel iemand te vinden die echt naar me luistert.
Er zit echter ook een praktische kant aan mijn aversie tegen demonstreren, voortkomend uit mijn eenbenigheid. Het betreft niet zo zeer de lengte van die wandelingen; mensen in een massa lopen niet zo vlot, dus het is allemaal wel bij te benen. Het is de eventuele versnelling die me parten kan gaan spelen. Zodra namelijk de oproerpolitie uit de hokken wordt losgelaten slaan mijn medestanders' aan het rennen, mij eenzaam achterlatend. Dat neem ik niemand kwalijk: solidariteit is één ding, je nodeloos in elkaar te laten slaan is heel wat anders. Maar om nou in mijn eentje als kop van Jut te fungeren... Voor het martelaarschap ben ik niet in de wieg gelegd.
Iets dergelijks is me overkomen toen ik me weer eens had laten overhalen mee te brullen op het Binnenhof. (Niemand heeft me ooit kunnen beschuldigen van consequent gedrag en, ach, je woont in Den Haag....) Het was op de dag dat de Tweede Kamer een beslissing zou nemen over de plaatsing van Amerikaanse nucleaire kruisraketten op de vliegbasis Woensdrecht."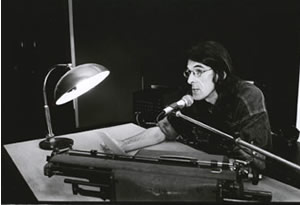 Adriaan Bontebal (28 mei 1952 – 11 februari 2012)
De Duitse schrijver Guntram Vesper werd geboren op 28 mei 1941 in Frohburg. Zie ook alle tags voor Guntram Vesper op dit blog.
Uit: Frohburg
"Unsere ureigene Sache, unser eigentliches Ding: die endlos langen Sommerabende. Fuß- ball. Räuber und Gendarm, Versteckspiel, renn ums Leben, sons t abgeschlagen, ausgeschieden, rausgenommen, zu den Toten. In den Auguststaub klopfende Igelitsandalen, hallende Rufe, spitze Schreie, Grölen, Quieken, zurückgeworfen vom däm-mergrauen Geviert der Häuserreihen. Geschiebe, Geschubse, Gezerre, Gerangel, bei zunehmender Dunkelheit, gemeint die Mädchen, wer sonst. Brückengasse. Wyhrabrücke. Gußeisenkonstruktion aus Cains- dorf, Königin-Marien-Hütte. Unter jedem Laster Zittern, Be-ben, Schwingen. Auch bei Hochwasser und Eisgang: Treibgut Balken, Schollenstoß. Töpferplatz. Die Maulbeerhecke. Eßbar oder. Drei Trittstufen zur Schöpfe. Der alte Bürstenmacher Prause bis zum Knie im seichten Fluß: Auf Wiedersehn, du schöne Welt. Von der Toch-ter zurückgeschleppt ins Haus und eingeschlossen, warum auch nicht, muß sein. Lindenreihe. In den Hundstagswochen, vor Gewittern schwarzrotes Gewimmel der Franzosenkäfer. Greifenhainer Straße.Die Großeltern. Nach dem großen Brand am Markt das Haus am Fluß gekauft. Dort ich geboren.Rechts vom Eingang Tierarztzimmer. Vitrine. Ausgekochte bleiche Schädel von Marder, Dachs und Katze. War das gleich nach dem Krieg in deinen Töpfen, Oma. Im Arzneiregal die Tüte mit dem weißen Pulver. Um Gottes Willen, Kinder, schon aufgewehter Staub kann tödlich sein. Gekreuzte Knochen, Totenkopf. Arsen. Auf der anderen, der linken Hausflurseite die Schlesier, von den Russen, den Polen herausgedrückt, angeweht von der Vertrei-bung, ins Erdgeschoß hineingepreßt, Leibigs, fünf Personen, eng an eng. Den neuen Fahrradschlauch geklaut. Wer sonst.Im ersten Stock Wohnstube. Großvater, auf den Stuhl neben dem Klavier gestiegen, zog jeden Tag die Wanduhr auf, mit neunundachtzig noch. Westminsterschlag. Undenkbar eine volle Stunde ohne. Eßzimmer. An der hinteren Wand die Jugendstilumbauung des Sofas mit Regal. Dort der Brehm im Großformat, zehn Bände, Chromlithos unter Seidenpapier, und Meyers großes Lexikon von 1906 , mit bunten Tafeln wie im Brehm , und dann noch dreißig, fünfunddreißig Klassiker, Novalis auch und Heine. Eine Tür weiter: Schlafraum. Das Ehebett. In dreizehn Jahren elf Geburten. Die Küche gegen-über. Unterm Fenster die Gußeisenwanne auf vier Füßen, ab-gedeckt, sonnabends der Badereigen aus acht, neun, manchmal zehn Personen, je drei im gleichen Wasser, Dampfschwaden zogen in den Korridor und in die Zimmer, Fenster auf, sonst setzt sich Schimmel fest. Mansardenwohnung."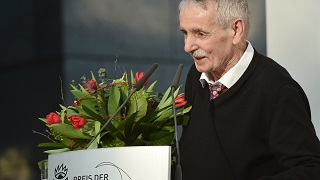 Guntram Vesper (Frohburg, 28 mei 1941)
De Duitse schrijver Frank Schätzing werd geboren in Keulen op 28 mei 1957. Zie ook alle tags voor Frank Schätzing op dit blog.
Uit: Limit
"Lautstark verwünschte er sich. Warum hatte er dem Blonden nicht die Pistole abgenommen? Überall in der Zentrale hatten Waffen herumgelegen. Aufgebracht sah er zu, wie sich Zhaos Kopf und Schultern über den Rand schoben. Mit einem Satz war der Killer auf der Schleuse. Yoyo wich zurück, ging auf alle viere und umfasste das Gestänge des Förderbandes. Behände ließ sie sich daran herunter, bis ihre Füße eine parallel verlaufende, tiefer gelegene Stange berührten, suchte nach halbwegs festem Stand, begann sich abwärtszuhangeln, Meter für Meter -
Glitt aus.
Voller Entsetzen sah Jericho sie fallen. Ein Ruck ging durch ihren Körper. In letzter Sekunde hatten sich ihre Finger um die Stange geschlossen, auf der sie eben noch gestanden hatte, doch nun zappelte sie über einem Abgrund von gut und gerne 70 Metern Tiefe.
Zhao starrte auf sie herab.
Dann verließ er die Deckung des Gerüstaufbaus.
»Böser Fehler«, knurrte Jericho. »Ganz böser Fehler!«
Mittlerweile feuerten seine Nebennieren beträchtliche Salven von Adrenalin, das Herzschlag und Blutdruck auf Heldentatenniveau peitschte. Mit jeder Sekunde gehorchte ihm die Maschine besser. Getragen von einer Woge des Zorns und der Euphorie ließ er das Airbike vorschnellen und nahm Zhao ins Visier, der im selben Moment in die Hocke ging und Anstalten machte, zu Yoyo herunterzuklettern."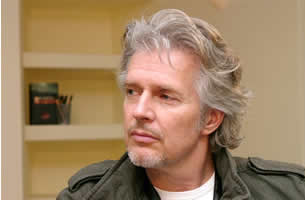 Frank Schätzing (Keulen, 28 mei 1957)
De Russische schrijver en dichter Vladislav Felitsianovitsj Chodasevitsj werd geboren in Moskou op 28 mei 1885. Zie ook alle tags voor Vladislav Chodasevitsj op dit blog.
From the Diary
My ear is shocked by every noise,
My eye – by light of sun or fire,
My spirit launched its cutting growth,
Like a tooth – through gums which swelled entire.
It will break through and leave at once,
The former covering it sphere,
And with his thousands bright eyes,
Will rush in night – not one that's here.
And I'll be here left and laid –
A banker, killed by a thug, meanest,
To press my wound by freezing hands,
To cry and writhe in your existence.
The Evening
Smooth and crunch by feet of mine.
Snow starts and wind regains.
Holly Father! What a pine!
Holly Father! What a pain!
Your world under moon is hard,
And You're not as kind as told.
Why need we this world so wide,
If death reigns in this wide world?…
Nobody could rightly say,
Why in sunset of one's years,
One wants more walks and ways,
Wants to sing, to freeze and… faith.
Vertaald door Yevgeny Bonver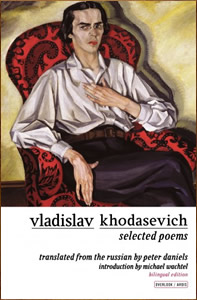 Vladislav Chodasevitsj (28 mei 1885 - 14 juni 1939)
Cover
De Nederlandse schrijver en dichter Sjoerd Leiker werd geboren in Drachten op 28 mei 1914. Zie ook alle tags voor Sjoerd Leiker op dit blog.
Armenhof
Achter het huis van ouden en armen
ligt een jonge tuin in licht en rood.

Een witte uitgebloeide man; hij raakt
zoo dicht aan dit leven, zoo dicht aan de dood;

gaat elke dag verloren in de vreugd
van een glimlach langs de lichte perken.

Hij is zoo blij met bloemen en boomen,
dat de anderen verbaasd het merken,

want ze leven zoo oud in de jonge tuin,
dat haar lichtheid hen niet meer kan bereiken.

Alleen de avond is er hun goed en vertrouwd,
als langzaam het zingende gaat wijken;

en de wind van jaren hun deel en vreugd
nog zacht in een boom ligt te neuren.

Dan is hun denken een wijlende gang,
langs een jonge tuin, naar Gods open deuren.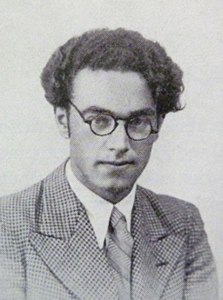 Sjoerd Leiker (28 mei 1914 - 15 december 1988)
Zie voor nog meer schrijvers van de 28e mei ook mijn twee vorige blogs van vandaag.
28-05-2016 om 14:23 geschreven door Romenu

Tags:Ad Zuiderent, Leo Pleysier, Adriaan Bontebal, Guntram Vesper, Frank Schätzing, Vladislav Chodasevitsj, Sjoerd Leiker, Romenu



Maeve Binchy, Thomas Moore, Ian Fleming, Walker Percy, Fritz Hochwälder, Henri-Pierre Roché, Maximilian Voloshin
De Ierse schrijfster en columniste Maeve Binchy werd geboren op 28 mei 1940 in Dalkey. Zie ook alle tags voor Maeve Binchy op dit blog.
Uit: A Week in Winter
"Everyone had their own job to do on the Ryans' farm in Stoneybridge. The boys helped their father in the fields, mending fences, bringing the cows back to be milked, digging drills of potatoes; Mary fed the calves, Kathleen baked the bread, and Geraldine did the hens.
Nor that they ever called her Geraldine-she was "Chicky" as far back as anyone could remember. A serious little girl pouring out meal for the baby chickens or collecting the fresh eggs each day, always saying, "Chuck, chuck, chuck," soothingly into the feathers as she worked. Chicky had names for all the hens, and no one could tell her when one had been taken to provide a Sunday lunch. They always pretended it was a shop chicken, but Chicky always knew.
Stoneybridge was a paradise for children during the summer, but summer in the west of Ireland was short, and most of the time it was wet and wild and lonely on the Atlantic coast. Still, there were caves to explore, cliffs to climb, birds' nests to discover, and wild sheep with great curly horns to investigate. And then there was Stone House. Chicky loved to play in its huge overgrown garden. Sometimes the Miss Sheedys, three sisters who owned the house and were ancient, let her play at dressing up in their old clorhes.
Chicky watched as Kathleen went off to train to be a nurse in a big hospital in Wales, and then Mary got a job in an insurance office. Neither of those jobs appealed to Chicky at all, but she would have to do something. The land wouldn't support the whole Ryan family. Two of the boys had gone to serve their time in business in big towns in the West. Only Brian would work with his father."
Chicky's mother was always tired and her father always worried. They were relieved when Chicky got a job in the knitting factory. Not as a machinist or home knitter but in the office. She was in charge of sending out the finished garments to customers and keeping the books. It wasn't a great job but it did mean that she could stay at home, which was what she wanted. She had plenty of friends around the place. and each summer she fell in love with a different O'Hara boy but nothing ever came of it."

Maeve Binchy (28 mei 1940 – 30 juli 2012)
De Ierse dichter en songwriter Thomas Moore werd geboren op 28 mei 1779 in Dublin. Zie ook alle tags voor Thomas Moore op dit blog.
The Meeting Of The Waters
There is not in the wide world a valley so sweet
As that vale in whose bosom the bright waters meet;
Oh! the last rays of feeling and life must depart,
Ere the bloom of that valley shall fade from my heart.
Yet it was not that nature had shed o'er the scene
Her purest of crystal and brightest of green;
'Twas not her soft magic of streamlet or hill,
Oh! no, -- it was something more exquisite still.
'Twas that friends, the beloved of my bosom, were near,
Who made every dear scene of enchantment more dear,
And who felt how the best charms of nature improve,
When we see them reflected from looks that we love.
Sweet vale of Avoca! how calm could I rest
In thy bosom of shade, with the friends I love best,
Where the storms that we feel in this cold world should cease,
And our hearts, like thy waters, be mingled in peace.

Thomas Moore (28 mei 1779 – 25 februari 1852)
Cover biografie
De Britse schrijver Ian Fleming werd geboren op 28 mei 1908 in Londen. Zie ook alle tags voor Ian Fleming op dit blog.
Uit: Thunderball
"Women are often meticulous and safe drivers, but they are very seldom first-class. In general, Bond regarded them as a mild hazard and he always gave them plenty of road and was ready for the unpredictable. Four women in a car he regarded as the highest potential danger, and two women nearly as lethal. Women together cannot keep silent in a car, and when women talk they have to look into each other's faces. An exchange of words is not enough. They have to see the other person's expression, perhaps to read behind the others' words or analyze the reaction to their own. So two women in the front seat of a car constantly distract each other's attention from the road ahead and four women are more than doubly dangerous for the driver not only has to hear and see, what her companion is saying but also, for women are like that, what the two behind are talking about."
(…)
"Anyway, I make up my own mind about men and women. What's the good of other people's opinions? Animals don't consult each other about other animals. They look and sniff and feel. In love and hate, and everything in between, those are the only tests that matter. But people are unsure of their own instincts. They want reassurance. So they ask someone else whether they should like a particular person or not. And as the world loves bad news, they nearly always get a bad answer--or at least a qualified one."

Ian Fleming (28 mei 1908 – 12 augustus 1964)
Scene uit de Bondfilm uit 1965 met Sean Connery en Claudine Auger
De Amerikaanse schrijver Walker Percy werd geboren op 28 mei 1916 in Birmingham, Alabama. Zie ook alle tags voor Walker Percy op dit blog.
Uit: The Moviegoer
"He was actually like one of those scientists in the movies who don't care about anything but the problem in their heads. . . . Yet I do not envy him. I would not change places with him if he discovered the cause and cure of cancer. For he is no more aware of the mystery which surrounds him than a fish is aware of the water it swims in.
So, just as the malaise threatens to make Binx a ghost who is divorced from the material world, the vertical search rendered him, like Harry, no more than a scientific Anyone Anywhere ("outside the universe," without "time and place"). And just as Binx resolves to vanquish the malaise —" I vow: I'm a son of a bitch if I'll be defeated by the everydayness" — he abandoned his vertical search long ago. He discovered that, in the end, that search was insufficient, failing to put him in touch with ambient "mystery" and leading to the "difficulty" that, "though the universe had been disposed of, I myself was left over. There I lay in my hotel room with my search over yet still obliged to draw one breath and then the next".
Binx's experience of the failure of the vertical search, which rendered him "left over," is suggestive of an idea that, for Percy, was not confined to his first novel. In his essays, Percy often commented on the existential inadequacy of science: "the more science progressed, and even as it benefitted man, the less it said about what it is like to be a man living in the world. every advance in science seemed to take us further from the concrete here-and-now in which we live."

Walker Percy (28 mei 1916 – 10 mei 1990)
De Oostenrijkse schrijver Fritz Hochwälder werd geboren op 28 mei 1911 in Wenen. Zie ook alle tags voor Fritz Hochwälder op dit blog.
Uit: Das heilige Experiment
"Da es erwiesen ist, daß die Jesuiten in Paraguay Unserer Krone abtrünnig geworden; da es erwiesen ist, daß sie unter dem Vorwand der Religion Sklaverei und Bedrückung unter Meinem indianischen Volk aufgerichtet, da es erwiesen ist, daß sie sich durch Verheimlichung von Bergwerken
bereichert; da es erwiesen ist ... befehle ich kraft Meiner höchster Gewalt, die der Allmächtige in Meine Hände niedergelegt hat, daß alle Ordens personen der Gesellschaft Jesu die paraguayanischen Provinz zu räumen haben und daß ihre Güter eingezogen werden. Gegeben zu Buen Retiro, am 27. Februar 1767. ICH, KÖNIG."
(…)
"Eure Weigerung wäre der Untergang Eures Ordens im ganzen spanischen Weltreich! Überlegt: in Frankreich und Portugal ist die Gesellschaft Jesu verboten. Wir lassen Euch im ganzen spanischen Reich bestehen — wenn ihr Euch aus Paraguay freiwillig zurückzieht."
(…)
"Und wir, die wir genau wissen, daß wir im Grund machtlos sind, wir haben uns um äußeren Erfolges willen selbst in die Netze der Macht verstrickt — wir, die wir frei von Parteinahme in allen Ländern der verzweifelnden, unterdrückten, leidenden Menschheit den Weg zu ebnen haben in jenes Reich, in das uns alle erst der Tod entläßt."

Fritz Hochwälder (28 mei 1911 – 20 oktober 1986)
De Franse schrijver, journalist en verzamelaar Henri-Pierre Roché werd op 28 mei 1879 geboren te Parijs. Zie ook alle tags voor Henri-Pierre Roché op dit blog.
Uit: Jules et Jim
"C'était vers 1907.
Le petit et rond Jules, étranger à Paris, avait demandé au grand et mince Jim, qu'il connaissait à peine, de le faire entrer au bal des Quat-z'Arts, et Jim lui avait procuré une carte et l'avait emmené chez le costumier. C'est pendant que Jules fouillait doucement parmi les étoffes et choisissait un simple costume d'esclave que naquit l'amitié de Jim pour Jules. Elle crût pendant le bal, où Jules fut tranquille, avec des yeux comme des boules, pleins d'humour et de tendresse.
Le lendemain ils eurent leur première vraie conversation. Jules n'avait pas de femme dans sa vie parisienne et il en souhaitait une. Jim en avait plusieurs. Il lui fit rencontrer une jeune musicienne. Le début sembla favorable. Jules fut un peu amoureux une semaine, et elle aussi. Puis Jules la trouva trop cérébrale, et elle le trouva ironique et placide.
Jules et Jim se virent tous les jours. Chacun enseignait à l'autre, jusque tard dans la nuit, sa langue et sa littérature. Ils se montraient leurs poèmes, et ils les traduisaient ensemble. Ils causaient, sans hâte, et aucun des deux n'avait jamais trouvé un auditeur si attentif. Les habitués du bar leur prêtèrent bientôt, à leur insu, des moeurs spéciales.
Jim introduisit Jules dans des cafés littéraires où fréquentaient des célébrités. Jules y fut apprécié et
Jim en fut content. Jim avait une camarade, dans un de ces cafés, une jolie petite femme désinvolte, qui tenait le coup aux Halles mieux que les poètes, jusqu'à six heures du matin. Elle distribuait, de haut, ses faveurs brèves. Elle conservait, à travers tout, une liberté hors la loi et un esprit rapide qui frappait juste. Ils eurent des sorties à trois. Elle déconcertait Jules, qu'elle trouvait gentil, mais ballot. Il la jugeait remarquable, mais terrible. Elle amena pour Jules une amie bonasse, mais Jules la trouva bonasse.
Jim ne put donc rien pour Jules. Il l'engagea à chercher seul. Jules, peut-être gêné par son français
encore imparfait, échouait toujours. Jim dit à Jules « Ce n'est pas qu'une question de langue. » Et il lui exposa des principes.
Autant me prêter vos souliers, ou vos gants de boxe, dit Jules, tout cela est trop grand pour moi.
Jules, malgré l'avis de Jim, prit contact avec des professionnelles, sans y trouver satisfaction.
Ils se rabattirent sur leurs traductions et sur leurs entretiens."


Henri-Pierre Roché (28 mei 1879 – 9 april 1959)
Scene uit de film "Jules et Jim" vanFrançois Truffaut uit 1962
De Russische dichter, schrijver en schilder Maximilian Voloshin werd geboren op 28 mei 1877 in Kiev. Zie ook alle tags voor Maximilian Voloshin op dit blog.
From Lunaria
1.
The pearl bejeweling the quiet of night,
The gem of the lagoon's star-studded base!
Your light makes young and pallid every face,
Thorn-apple longs for You in love-lorn plight.
Love's anguish echoes in the hearts the tunes
That, string-like strummed, Your rays set loose.
Uneasy dreams revive and reproduce
In haunting hues the once disquieting moons.
Your humid glow and faded shadows, falling
Upon the walls, the stairway, and the flooring,
Throw tints of turquoise onto stones, finesse
The leaf of plane toward greater yet indention,
Endowing strands of vine with greater fineness.
Dreams' luminary! Mistress of conception!
Vertaald door Constantine Rusanov
Cimmerian Twilight I
The evening light has soaked with ancient gold
And gall the yellow hills. Like tawny fur
Grass rises shaggy in a ruddy blur;
Past fiery bushes metal waves unfold;
And enigmatic cliffs and boulders hold
Worn troughs that are the sea's chronologer.
In the winged twilight figures seem to stir:
A heavy paw, a jowl grins stark and bold,
Like swelling ribs the dubious hillocks show;
On what bent back, like wool, does savory grow?
What brute, what titan, to this region cleaves?
The dark is strange . . . and yonder, space is clean.
And there the tired ocean, panting, heaves,
And rotting grasses breathe of iodine.

Maximilian Voloshin (28 mei 1877 – 11 augustus 1932)
Zie voor nog meer schrijvers van de 28e mei ook mijn vorige blog van vandaag.
28-05-2016 om 14:22 geschreven door Romenu

Tags:Maeve Binchy, Thomas Moore, Ian Fleming, Walker Percy, Fritz Hochwälder, Henri-Pierre Roché, Maximilian Voloshin, Romenu



Xin Qiji, K. Satchidanandan, Patrick White, Maria Müller-Gögler, B. S. Ingemann, J. D. Wyss, C. H. von Ayrenhoff
De Chinese dichter Xin Qiji werd geboren op 28 mei 1140 in Jinan, in de provicie Shandong. Zie ook alle tags voor Xin Qiji op dit blog.
Zhu Yin Ta
Precious hairpin, broken, halved
At the Peach-Leaf Ferry where
We parted; darkening mist and willow shround the place.
I dread to climb the tower-top stair;
Nine days out of ten wind raves, rain torrents race:
It breaks my heart to see the scarlet petals scatter one by one.
All this with nobody to care
Above it - who is there
Will bid the oriole's singing cease?
From mirrored flowers that frame my face
I pluck the petals, try to foretell your return,
Counting and re-counting them a thousand ways.
By silken curtains dimly lit
Words born of dreams fight in my throat for release.
It was he, the Spring, who brought on me this agony of grief;
Who knows where Spring now strays?
He did not guess he should have gone
Taking my grief in his embrace.


Xin Qiji (28 mei 1140 – 1207)
Standbeeld in Changsha, Hunan, Chima
De Indiaase dichter, vertaler en literatuurwetenschapper K. Satchidanandan werd geboren op 28 mei 1946 in centraal Kerala. Zie ook alle tags voor K. Satchidanandan op dit blog.
Gandhi And Poetry
One day a lean poem
reached Gandhi's ashram
to have a glimpse of the man.
Gandhi spinning away
his thread towards Ram
took no notice of the poem
waiting at his door,
ashamed at not being a bhajan.
The poem now cleared his throat
And Gandhi glanced at him sideways
through those glasses that had seen hell.
"Have you ever spun thread?" he asked,
"Ever pulled a scavenger's cart?
Ever stood in the smoke of
An early morning kitchen?
Have you ever starved?"

The poem said: "I was born in the woods,
in a hunter's mouth.
A fisherman brought me up
in a cottage.
Yet I knew no work, I only sing.
First I sang in the courts:
then I was plump and handsome
but am on the streets now,
half-starved."

"That's better," Gandhi said
with a sly smile. "But you must give up this habit
of speaking in Sanskrit at times.
Go to the fields. Listen to
The peasants' speech."
The poem turned into a grain
and lay waiting in the fields
for the tiller to come
and upturn the virgin soil
moist with new rain.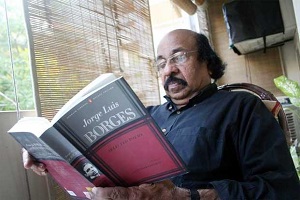 K. Satchidanandan (Kerala, 28 mei 1946)
De Australische schrijver Patrick White werd geboren in Londen op 28 mei 1912. Zie ook alle tags voor Patrick White op dit blog.
Uit: The Hanging Garden
"Mamma had been taken into the saloni. She was sitting talking to the Englishwoman.
"You'll find her a quiet, reasonable child."
It made the reasonable child feel grave, important, while remaining unconvinced.
She was standing in a smaller room which opened off the important one where callers are received. It was a house of many rooms, whether their purpose was reasonable or not she hadn't had time to find out, but sensed that she might approve of the house, dark and quiet, standing on the edge of this precipice.
She looked down through the closed window, through the leaves of dark yet glossy trees growing out of a wall of rock above the shining water of a small, private-seeming bay. More than anything the water consoled, its light that of the Gulf. She half-expected that if the curtain were to lift she would catch sight of the volcano on the island opposite. But the leaves were unmoved. She was reminded of the trees in the Royal Garden. As she ran past the benches with their officers and girls she heard her feet crunch on the gravel, running through the cool towards the muddy smell of ducks.
"I'm sure she won't give you any trouble," (Mamma was saying in the saloni).
"Oh dear, no, I can see, Mrs.—er—Sklavos" carefully, "I can see she is quite the grown-up little lady." Suddenly Mamma burst into tears, through her crying the sound of furniture a rusty stirring and another sort of motion which must have been this Englishwoman's, she had the figure of a dressmaker's dummy.
"It must be a comfort to know she will be on British soil."
Mamma could have been mopping her tears. "But we are not British, Mrs. Bulpit. Eirene is a Greek." How strange it was to hear Mamma's voice, as though feeling its way into a foreign language. "My husband was a Greek—a Greek patriot. And I was Australian before I married. I do not think of myself as British."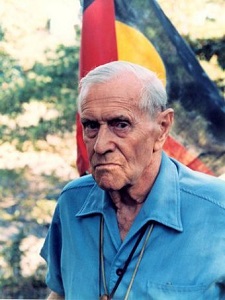 Patrick White (28 mei 1912 - 30 september 1990)
De Zwitserse schrijver Johann David Wyss werd geboren op 28 mei 1743 in Bern. Zie ook alle tags voor Johann David Wyss op dit blog.
Uit: The Swiss Family Robinson
"We immediately searched about for what would answer the purpose, and fortunately got hold of a number of empty flasks and tin canisters, which we connected two and two together so as to form floats sufficiently buoyant to support a person in the water, and my wife and young sons each willingly put one on. I then provided myself with matches, knives, cord, and other portable articles, trusting that, should the vessel go to pieces before daylight, we might gain the shore not wholly destitute.
Fritz, as well as his brothers, now slept soundly. Throughout the night my wife and I maintained our prayerful watch, dreading at every fresh sound some fatal change in the position of the wreck.
At length the faint dawn of day appeared, the long, weary night was over, and with thankful hearts we perceived that the gale had begun to moderate; blue sky was seen above us, and the lovely hues of sunrise adorned the eastern horizon.
I aroused the boys, and we assembled on the remaining portion of the deck, when they, to their surprise, discovered that no one else was on board.
"Hullo, papa! What has become of everybody? Are the sailors gone? Have they taken away the boats? Oh, papa! Why did they leave us behind? What can we do by ourselves?"
"My good children," I replied, "we must not despair, although we seem deserted. See how those on whose skill and good faith we depended have left us cruelly to our fate in the hour of danger. God will never do so. He has not forsaken us, and we will trust Him still. Only let us bestir ourselves, and each cheerily do his best. Who has anything to propose?"

Johann David Wyss (28 mei 1743 – 11 januari 1818)
Scene uit de gelijknamige film uit 1960 met o.a. John Mills en Dorothy McGuire
De Duitse dichteres en schrijfster Maria Müller-Gögler werd geboren op 28 mei 1900 in Leutkirch im Allgäu. Zie ook alle tags voor Maria Müller-Gögler op dit blog.
Leihe mir, Wiese
Leihe mir, Wiese
dein blühend Gewand,
dann kann ich als Königin schreiten.
Esparsetbe um meinen Hals.
wird rosafarbne: Geschmeid.
Salbei umhülle wie Samt meine Schultern,
mit goldenen Sternen: mein Gürtel schließt
den blumenbesticltten Mantel.
Leibe mir, brandroter Mohn,
deine Farbe,
daß ich die Wangen mir schminlte,
leihe mir, Sonne,
Gold und Glanz für mein Haar,
daß ich, glühende Braut,
dern Geliebten entgegenschreihe.

Maria Müller-Gögler (28 mei 1900 – 23 september 1987
Weingarten in Oberschwaben, waar Maria Müller-Gögler lang woonde(Geen portret beschikbaar)
De Deense dichter en schrijver Bernhard Severin Ingemann werd geboren op 28 mei 1789 in Thorkildstrup op het eiland Falster. Zie ook alle tags voor B. S. Ingemann op dit blog.
The Wanderer
All the sky was dull and drear,
But what cared I!
For my sky shone bright and clear
In Eliza's eye.

Not a star was to be seen,
Yet I felt no fear;
For like stars of brightest sheen
Shone those eyes so dear.

All the way was rough and dark;
Unheeding wind, or weather,
O'er the roughest path we trudge,
Joyfully together.

Then the sky again was fair,
But what cared I!
For I saw no longer there
My Eliza's eye.

Friendly shone the stars above,
But joyless was their light;
For in them I could not see
Her sweet eyes so bright.

Would the sky were dark once more!
And no star appear!
But give the wanderer back again
His companion dear.

Bernhard Severin Ingemann (28 mei 1789 – 24 februari 1862)
Jonge vrouwen bieden B. S. Ingemann een Gouden Hoorn aan op zijn 70e verjaardag. Geschilderd door Jørgen Valentin Sonne, 1859
De Oostenrijkse schrijver Cornelius Hermann von Ayrenhoff werd geboren op 28 mei 1733 in Wenen. Zie ook alle tags voor Cornelius Hermann von Ayrenhoff op dit blog.
Uit: Der Postzug oder die noblen Passionen
"DER VERWALTER. Ha nun begreif' ich! Denken Sie nur, Lisette! nebst den hochfreyherrlichen Pferden, mußt' ich alle unsre Mayerpferde, meine zween Braunen, und des Pfarrers Rappen in den herrschaftlichen Stall einstellen. Zum Glück ist nicht mehr Platz, sonst kämen wohl des Schulzens Hengste auch dazu.
LISETTE. O warum nicht auch des Majors von Rheinberg vier Schäcken? Die wären doch gewiß die schönsten von allen. Das nenn' ich Eitelkeit!
DER VERWALTER. Wenn Sie erst wüßten, wie heute der Stall aussieht!
LISETTE. Nu?
DER VERWALTER. Seit Anbruch des Tages sind zwölf Frohnleute mit Putzen, Fegen und Polieren beschäftiget. Der Fußboden wurde mit weißem Sand ausgerieben, und dick mit Sägespähnen bestreut.
LISETTE. Nur? und nicht mit Rosenblättern? Ha! ha! ha!
DER VERWALTER. Sie kennen ja die alten Familienportraits von den geharnischten Rittern, die alle das hochfreyherrliche Wappen neben der Schulter, oder zwischen den Füßen, und allmächtig große Perücken auf den Köpfen haben?
LISETTE. Soll ich sie nicht kennen? sie hängen in des Barons Gewehrkammer.
DER VERWALTER. Nicht mehr. Sie hängen alle im Stalle.
LISETTE. Im Stalle? die Ritter in großen Perücken? Das ist ja eine Schmach für die Familie.
DER VERWALTER. Für die Familie eben nicht – ob diese Helden im Stalle, oder in der Gewehrkammer hängen. Nur dem feinen Geschmack unserer Frau, dessen sie sich so oft rühmet, dürfte diese Veränderung keine Ehre bringen."


Cornelius Hermann von Ayrenhoff (28 mei 1733 – 15 augustus 1819)
Der Postzug", radering door Georg Melchior Kraus. 18e eeuw
28-05-2016 om 14:21 geschreven door Romenu

Tags:Xin Qiji, K. Satchidanandan, Patrick White, Maria Müller-Gögler, B. S. Ingemann, J. D. Wyss, C. H. von Ayrenhoff, Romenu



| | |
| --- | --- |
| | |



Inhoud blog


| | |
| --- | --- |
| | St. Matthew (D. H. Lawrence) |
| | Niels 't Hooft, Jan Blokker, Linda Pastan, Louis-Ferdinand Céline, Georges Eekhoud, Said, John Cheever, John Barth |
| | Max Brod, Kaur Kender, Adriaan Venema, Arnold Bennett, Richard Schaukal, Ferdynand Ossendowski, M. A. von Thümmel, Herman Wouk, Dashiell Hammett |
| | Alan Hollinghurst, Radwa Ashour, Hugo Raes, Vítězslav Nezval, Ivan O. Godfroid, Maxwell Bodenheim, Isabella Nadolny, Edmond De Goncourt |
| | Egyd Gstättner, Madeleine Thien, Claire Castillon, Friedrich Dieckmann, Eve Ensler, Raymond Carver, Jamaica Kincaid, Robert Ludlum, Theodore Roethke |
| | Joseph Brodsky, Michael Chabon, Bob Dylan, Henri Michaux, William Trevor, Tobias Falberg, Arnold Wesker, Rainald Goetz, Louis Fürnberg |
| | Adriaan Roland Holst, Maarten Biesheuvel, Lydia Rood, Jane Kenyon, Susan Cooper, Michaël Vandebril, Jack McCarthy, Mitchell Albom, Pär Fabian Lagerkvist |
| | In Memoriam Philip Roth |
| | Erik Spinoy, Arthur Conan Doyle, Ahmed Fouad Negm, Anne de Vries, Johannes R. Becher, Kees Winkler, Gérard de Nerval, Catulle Mendès, Takis Würger |
| | Pinksteren II (Willem de Mérode) |
| | Gabriele Wohmann, Amy Waldman, Maria Semple, Urs Widmer, Emile Verhaeren, Robert Creeley, Alexander Pope, Tudor Arghezi, Suzanne Lilar |
| | Pinksteren I (Willem de Mérode) |
| | Tommy Wieringa, Auke Hulst, Ellen Deckwitz, Jeroen Thijssen, Maurits de Bruijn, Gerrit Achterberg, Annie M.G. Schmidt, Sky du Mont |
| | Honoré de Balzac, William Michaelian, Wolfgang Borchert, Hector Malot, Ingvar Ambjørnsen, A.C. Cirino, Hanna Krall, Sigrid Undset |
| | Constantin Göttfert, Simone van Saarloos, Karel van het Reve, Gijs IJlander, Thera Coppens, H.W.J.M. Keuls, Jodi Picoult |
| | Ruskin Bond, Yahya Hassan, Fritz Rudolf Fries, Lorraine Hansberry, Rahel Varnhagen, Anna Jameson |
| | Yi Mun-yol, W.G. Sebald, Markus Breidenich, François Nourissier, Gunnar Gunnarsson, Omar Khayyam, Ernst Wiechert, Franziska zu Reventlow, John Wilson |
| | Lars Gustafsson, Peter Høeg, Eva Schmidt, Gary Paulsen, Henri Barbusse, Virginie Loveling, Dennis Potter, Cor Bruijn, Dorothy Richardson |
| | Paul Gellings, Adrienne Rich, Friedrich Rückert, Jakob van Hoddis, Juan Rulfo, Olaf J. de Landell, Olga Berggolts, Lothar Baier, Rens van der Knoop |
| | Mai (Johann Wolfgang von Goethe) |
| | Albert Verwey, Arthur Schnitzler, Pem Sluijter, W.J.M. Bronzwaer, Frits van Oostrom, Michael Lentz, Max Frisch, Judith Hermann, Mary Wortley Montagu |
| | In Memoriam Tom Wolfe |
| | Jo Gisekin, Karl-Markus Gauß, Eoin Colfer, Gaby Hauptmann, Wilma Vermaat, Frans Bastiaanse, Dante Alighieri, Krister Axel, Jens Sparschuh |
| | Moeder (M. Vasalis) |
| | Johannes (Willem de Mérode) |
| | Jan Lauwereyns, Reinout Verbeke, Bruce Chatwin, Daphne du Maurier, Kathleen Jamie, Armistead Maupin, Alphonse Daudet, Kōji Suzuki |
| | Theo van Baaren, Gregor von Rezzori, Reinhold Schneider, Jacob Haafner, Adolf Muschg, Roch Carrier, Franz Michael Felder |
| | Hagar Peeters, Bertus Aafjes, August Vermeylen, Andrej Voznesensky, Sabine Imhof, Dante Gabriel Rossetti |
| | Nicolaas Anslijn, Eva Demski, Farley Mowat, Werner Bräunig, Cäsar Flaischlen |
| | Edward Lear, Diana Raznovich, Andrej Amalrik, Maurice Carême, Massimo Bontempelli |
| | J. H. Leopold, Ida Gerhardt, Eva Menasse, Eugen O. Chirovici, Andre Rudolph, Rubem Fonseca, Henning Boëtius, Camilo José Cela, Rachel Billington |
| | De hemelvaart (Nicolaas Beets) |
| | J.C. Bloem, Herman Leenders, Didi de Paris, Ralf Rothmann, Jeremy Gable, Petra Hammesfahr, Roberto Cotroneo, Antonine Maillet, Johann Peter Hebel |
| | Jayne Cortez, Barbara Taylor Bradford, Benito Pérez Galdós, Ivan Cankar, Martin Boelitz, Ariel Durant, Fritz von Unruh, Leonard Buyst |
| | My Computer Ate My Homework 3, Dolce far niente, Gene Ziegler, Pieter Boskma, Jorie Graham, Luuk Wojcik |
| | Roddy Doyle, Thomas Pynchon, Pat Barker, Gary Snyder, Gertrud Fussenegger, Edmund Wilson, Alain-René Lesage, Sophus Schandorph, Romain Gary |
| | Libris Literatuurprijs 2018 voor Murat Isik |
| | Willem Elsschot, Almudena Grandes, Christoph Marzi, Edgar Cairo, Volker Braun, Robert Browning, Peter Carey, Archibald MacLeish, Rabindranath Tagore |
| | In Memoriam Renate Dorrestein |
| | Beloved, let us love one another,' says St. John (Christina Rossetti) |
| | Willem Kloos, Hélène Gelèns, Sasja Janssen, Ariel Dorfman, Erich Fried, Yasushi Inoue, Harry Martinson, Christian Morgenstern, Carl Ludwig Börne |
| | Ferdinand Sauter, Eugène Labiche, Gaston Leroux, Júlio César de Mello e Souza, Marie-Aude Murail, Paul Alverdes, Erik Bindervoet, Simon Mulder |
| | Als je de vrijheid tegenkomt (Ankie Peypers) |
| | Roni Margulies, Miklós Radnóti, Petra Else Jekel, Morton Rhue, Christopher Morley, George Albert Aurier |
| | Henryk Sienkiewicz, Richard Watson Dixon, Hans Werner Kolben, Christian Friedrich Scherenberg, Catullus |
| | Oorlog (Rutger Kopland) |
| | Christiaan Weijts, Amos Oz, J.W.F. Werumeus Buning, Cola Debrot, Graham Swift, Monika van Paemel, David Guterson, Jan Mulder, Werner Fritsch |
| | Erik Lindner, Jehuda Amichai, Johan de Boose, Paul Bogaert, Marc Dugain, Ben Elton, Klaus Modick, Agnès Desarthe, Juan Gelman |
| | Esther Freud, Wytske Versteeg, Rob Waumans, Tilman Rammstedt, James Holmes, Theo Sontrop, Jef Last, Gottfried Benn, Novalis |
| | What Work Is (Philip Levine) |


Gastenboek


Druk op onderstaande knop om een berichtje achter te laten in mijn gastenboek