E-mail mij


Druk op onderstaande knop om mij te e-mailen.


Romenu


Romenu is een blog over gedichten, literatuur en kunst Maar Romenu is ook een professionele freelance vertaler
Du-Ne en Ne-Du http://www.romenu.nl.


Huur eens een (vakantie)huis in een natuurgebied, dichtbij het centrum van Nijmegen


Google


Georg Trakl

Georg Trakl werd op 3 februari 1887 in het conducteurshuis aan de Waagplatz 2 in Salzburg geboren. Zijn vader, Tobias Trakl, was een handelaar in ijzerwaren en zijn moeder, die ook psychische problemen had, was Maria Catharina Trakl, (meisjesnaam Halik). Voorts had hij nog drie broers en drie zussen. Margarethe (doorgaans Grethe genoemd) stond hem het naast, zelfs zodanig dat sommigen een incestueuze verhouding vermoeden. Zijn jeugd bracht hij door in Salzburg. Vervolgens bezocht hij van 1897 tot 1905 het humanistische gymnasium. Om toch een academische opleiding te kunnen volgen, werkte hij tot 1908 in de praktijk bij een apotheker. Sommigen vermoedden dat hij dit vooral deed om zichzelf opiaten te kunnen verschaffen. Bij het uitbreken van WO I werd Trakl als medicus naar het front in Galicië (heden ten dage in Oekraïne en Polen) gestuurd. Zijn gemoedsschommelingen leidden tot geregelde uitbraken van depressie, die verergerd werden door de afschuw die hij voelde voor de verzorging van de ernstig verwonde soldaten. De spanning en druk dreven hem ertoe een suïcidepoging te ondernemen, welke zijn kameraden nochtans verhinderden. Hij werd in een militair ziekenhuis opgenomen in Kraków, alwaar hij onder strikt toezicht geplaatst werd.Trakl verzonk daar in nog zwaardere depressies en schreef Ficker om advies. Ficker overtuigde hem ervan dat hij contact moest opnemen met Wittgenstein, die inderdaad op weg ging na Trakls bericht te hebben ontvangen. Op 4 november 1914, drie dagen voordat Wittgenstein aan zou komen, overleed hij echter aan een overdosis cocaïne


Paul Celan

Paul Celan werd onder de naam Paul Antschel op 23 november 1920 geboren in Czernowitz, toentertijd de hoofdstad van de Roemeense Boekovina, nu behorend bij de Oekraïne. Paul Celans ouders waren Duitssprekende joden die hun zoon joods opvoedden en hem naar Duitse christelijke scholen stuurden. In 1942 werden Celans ouders door de Duitse bezetter naar een werkkamp gedeporteerd en daar vermoord. Hijzelf wist aanvankelijk onder te duiken, maar moest vanaf juli 1942 in een werkkamp dwangarbeid verrichten. Celan overleefde de oorlog. Via Boekarest en Wenen vestigde Celan zich in 1948 in Parijs. Daar was hij werkzaam als dichter, vertaler en doceerde hij aan de prestigieuze Ecole Normale Supérieure. Vermoedelijk op 20 april 1970 beëindigde hij zijn leven zelf door in de Seine te springen.


Gerard Reve

Gerard Reve over: Medearbeiders "God is in de mensen, de dieren, de planten en alle dingen - in de schepping, die verlost moet worden of waaruit God verlost moet worden, door onze arbeid, aangezien wij medearbeiders van God zijn." Openbaring "Tja, waar berust elk godsbegrip op, elke vorm van religie? Op een openbaring, dat wil zeggen op een psychische ervaring van zulk een dwingende en onverbiddelijke kracht, dat de betrokkene het gevoel heeft, niet dat hij een gedachte of een visioen heeft, maar dat een gedachte gedachte of visioen hem bezit en overweldigt."


Simon Vestdijk
Simon Vestdijk (Harlingen, 17 oktober 1898 – Utrecht, 23 maart 1971) was een Nederlands romancier, dichter, essayist en vertaler. Zijn jeugd te Harlingen en Leeuwarden beschreef hij later in de Anton Wachter-cyclus. Van jongs af aan logeerde hij regelmatig bij zijn grootouders in Amsterdam, waar hij zich in 1917 aan de Universiteit van Amsterdam inschrijft als student in de medicijnen. Tijdens zijn studie die van 1917 tot 1927 duurde, leerde hij Jan Slauerhoff kennen.Tot 1932 is hij als arts in praktijken door heel Nederland werkzaam. In 1932 volgt zijn officiële schrijversdebuut met de uitgave van de bundel Verzen in De Vrije Bladen. Doorslaggevend voor Vestdijks uiteindelijke keuze voor de literatuur is zijn ontmoeting in 1932 met Eddy Du Perron en Menno ter Braak. Deze ontmoeting had tot resultaat dat hij redactielid werd van het tijdschrift Forum Kort daarop, in 1933, wordt zijn eerste novelle, De oubliette, uitgegeven. In hetzelfde jaar schrijft hij Kind tussen vier vrouwen, dat, eerst geweigerd door de uitgever, later de basis zal vormen voor de eerste drie delen van de Anton Wachter-romans. In 1951 ontvangt Vestdijk de P.C. Hooftprijs voor zijn in 1947 verschenen roman De vuuraanbidders. In 1957 wordt hij voor het eerst door het PEN-centrum voor Nederland voorgedragen voor de Nobelprijs voor de Literatuur, die hij echter nooit zal krijgen. Op 20 maart 1971 wordt hem de Prijs der Nederlandse Letteren toegekend, maar voor hij deze kan ontvangen overlijdt hij op 23 maart te Utrecht op 72-jarige leeftijd. Vestdijk was auteur van ca. 200 boeken. Vanwege deze enorme productie noemde de dichter Adriaan Roland Holst hem 'de man die sneller schrijft dan God kan lezen'. Andere belangrijke boeken van Simon Vestdijk zijn: "Kind van stad en land" (1936), "Meneer Visser's hellevaart" (1936), "Ierse nachten" (1946), "De toekomst de religie" (1947), "Pastorale 1943" (1948), "De koperen tuin" (1950), "Ivoren wachters" (1951), "Essays in duodecimo" (1952) en "Het genadeschot" (1964).


K.P. Kavafis

K.P. Kavafis werd als kind van Griekse ouders, afkomstig uit Konstantinopel, geboren in 1863 in Alexandrië (tot vandaag een Griekse enclave) waar hij ook het grootste deel van zijn leven woonde en werkte. Twee jaar na de dood van zijn vader verhuist het gezin in 1872 naar Engeland om na een verblijf van vijf jaar naar Alexandrië terug te keren. Vanwege ongeregeldheden in Egypte vlucht het gezin in 1882 naar Konstantinopel, om na drie jaar opnieuw naar Alexandrië terug te gaan. In de jaren die volgen maakt Kavafis reizen naar Parijs, Londen en in 1901 zijn eerste reis naar Griekenland, in latere jaren gevolgd door nog enkele bezoeken. Op de dag van zijn zeventigste verjaardag, in 1933 sterft Kavafis in Alexandrië. De roem kwam voor Kavafis pas na zijn dood, dus postuum. Deels is dat toe te schrijven aan zijn eigen handelswijze. Hij was uiterst terughoudend met de publicatie van zijn gedichten, liet af en toe een enkel gedicht afdrukken in een literair tijdschrift, gaf in eigen beheer enkele bundels met een stuk of twintig gedichten uit en het merendeel van zijn poëzie schonk hij op losse bladen aan zijn beste vrienden.


Thomas Mann


Thomas Mann, de jongere broer van Heinrich Mann, werd geboren op 6 juni 1875 in Lübeck. Hij was de tweede zoon van de graankoopman Thomas Johann Heinrich Mann welke later één van de senatoren van Lübreck werd. Zijn moeder Julia (geboren da Silva-Bruhns) was Duits-Braziliaans van Portugees Kreoolse afkomst. In 1894 debuteerde Thomas Mann met de novelle "Gefallen". Toen Thomas Mann met 21 jaar eindelijk volwassen was en hem dus geld van zijn vaders erfenis toestond - hij kreeg ongeveer 160 tot 180 goldmark per jaar - besloot hij dat hij genoeg had van al die scholen en instituties en werd onafhankelijk schrijver. Kenmerkend voor zijn stijl zijn de ironie, de fenomenale taalbeheersing en de minutieuze detailschildering. Manns reputatie in Duitsland was sterk wisselend. Met zijn eerste roman, Buddenbrooks (1901), had hij een enorm succes, maar door zijn sceptische houding tegenover Duitsland na de Eerste Wereldoorlog veranderde dit volledig. Stelde hij zich tot aan de jaren twintig apolitiek op (Betrachtungen eines Unpolitischen, 1918), meer en meer raakte hij bij het Politiek gebeuren betrokken. Zijn afkeer van het nationaal socialisme groeide, zijn waarschuwingen werden veelvuldiger en heftiger. In 1944 accepteerde hij het Amerikaanse staatsburgerschap. Tussen 1943 en 1947 schreef Mann Doktor Faustus (zie Faust), de roman van de 'Duitse ziel' in de gecamoufleerd geschilderde omstandigheden van de 20ste eeuw. In 1947 bezocht hij voor het eerst sinds de Oorlog Europa, twee jaar later pas Duitsland. In 1952 vertrok hij naar Zwitserland. Op 12 augustus 1955 stierf hij in Zürich. Twintig jaar na zijn dood, in aug. 1975, is zijn literaire nalatenschap geopend: dagboekaantekeningen van 15 maart 1933 tot 29 juli 1955, alsmede notities uit de jaren 1918 tot en met 1921.Belangrijke werken zijn: Der Zauberberg, Der Tod in Venedig, Dokter Faustus , Joseph und seine Brüder en Die Bekenntnisse des Hochstaplers Felix Krull.


Rainer Maria Rilke

Rilke werd op 4 december 1875 geboren in Praag. Hij had al naam gemaakt als dichter met zijn bundels Das Stundenbuch en Das Buch der Bilder, toen hij de literaire wereld versteld deed staan en wereldfaam verwierf met de publicatie van zijn twee delen Neue Gedichte in 1907 en 1908. Hij verzamelde daarin het beste werk uit een van zijn vruchtbaarste periodes, die hij grotendeels doorbracht in Parijs. Rilke was daar diep onder de indruk gekomen van Rodin, bij wie hij een tijdlang in dienst was als particulier secretaris. Rodin, zei hij later, had hem leren kijken. Dit kijken kwam neer op intense concentratie, om het mysterie te kunnen zien 'achter de schijnbare werkelijkheid'. Latere en rijpere werken als Duineser Elegien (1912-1923) en het ronduit schitterende Die Sonette an Orfeus (1924) illustreren Rilkes metafysische visie op het onzegbare, dat haar verwoording vindt in een hermetische muzikale taal. Op 29 december 1926 overlijdt Rilke in het sanatorium in Val-Mont aan de gevolgen van leukemie. Enkele dagen later wordt hij, overeenkomstig zijn wens, begraven op het kerkhof van Raron.


* * * * * * * * * * * * * * * *

| | |
| --- | --- |
| | Over literatuur, gedichten, kunst en cultuur |

26-12-2015

Am zweiten Weihnachtstage (Annette von Droste-Hülshoff)
Aan alle bezoekers en mede-bloggers een Prettig Kerstfeest!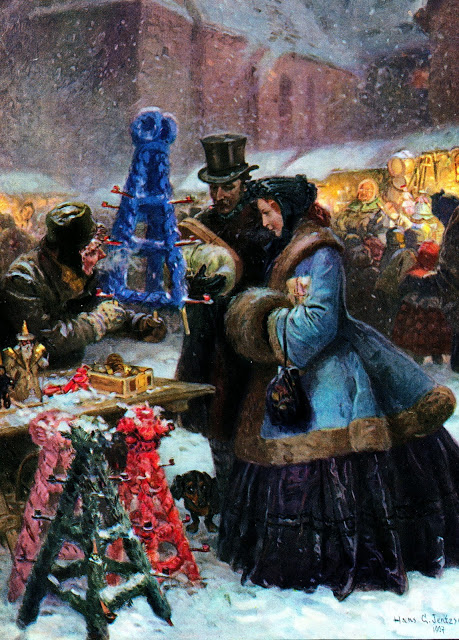 Weihnachtsmarkt door Hans G. Jentzsch, 1907
Am zweiten Weihnachtstage
[Stephanus]

Jerusalem, Jerusalem!
Wie oft erschollen ist sein Ruf;
Du spieltest sorglos unter dem
Verderben, unter Rosses Huf
Und Rades Wucht. Schau, darum ist
Verödet deine Stätte worden,
Und du ein irres Küchlein bist,
Sich duckend unter Geierhorden.

Vorüber ist die heil'ge Zeit,
Wo deine Sinne ihn erkannt;
Noch seiner Wunder Herrlichkeit
Zieht nur als Sage durch das Land.
Der Weise wiegt sein schweres Haupt,
Der Tor will dessen sich entschlagen,
Und nur die fromme Einfalt glaubt
Und mag die Opfergabe tragen.

O bringt sie nur ein willig Tun,
Ein treues Kämpfen zum Altar,
Dann wird auf ihr die Gnade ruhn,
Ein hohes Wunder immerdar.
Doch bleibt es wahr: der Gegenwart
Gebrochen sind gewalt'ge Stützen,
Seit unsren Sinnen trüb und hart
Verhüllt ward seiner Zeichen Blitzen.

War einst erhellt der schwanke Steg,
Und klaffte klar der Abgrund auf,
Wir müssen suchen unsren Weg
Im Heiderauch ein armer Hauf.
Des Glaubens köstlich teurer Preis
Ward wie gestellt auf Gletschers Höhen;
Wir müssen klimmen über Eis
Und schwindelnd uns am Schlunde drehen.

Was, Herr, du ließest fort und fort,
Hat in die Seele wohl gebrannt;
Doch bleibt es ein geschriebnes Wort,
Unsichtbar die lebend'ge Hand.
Ach, nur wo Grübeln nicht und Stolz
Am Stamme nagt seit Tag und Jahren,
Blieb frisch genug das mark'ge Holz,
Frei durch Jahrtausende zu fahren.

So ist es, wehe, schrecklich wahr,
Daß Mancher, der zum starken Mast
Geschaffen, in der Zeit Gefahr
Die Glaubenssegel hat gebraßt,
Nun dürre Säule nackt und schwer
Nur krachend kündet durch das Wehen,
Hier sei in Zweifels schwarzem Meer
Ein mächtig Schiff am Untergehen.

O sende, Retter, deinen Blitz,
Der ihm den frommen Hafen hellt,
Da einst der starke Mast als Sitz
Der Pharuslampe sei gestellt.
Es trägt Gebirge ja dein Land,
Wo Cedern sich zu Cedern einen;
Laß nicht ein Sturmlicht den Verstand
Und einen Fluch die Kraft erscheinen!

Als Stephanus mit seinem Blut
Besiegelte den Christussinn,
Da legten Mörder, heiß vor Wut,
Zu eines Jünglings Füßen hin,
Der stumm und finster sich gesellt,
Die Kleider staubig, schweißbefeuchtet:
Und der ward Paulus, Christi Held,
Des Strahl die ganze Welt durchleuchtet.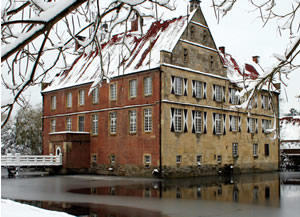 Annette von Droste-Hülshoff (10 januari 1797 – 24 mei 1848)
Winter op Burg Hülshoff, waar von Droste-Hülshoff werd geboren.
Zie voor de schrijvers van de 26e december ook mijn drie vorige blogs van vandaag.
26-12-2015 om 09:57 geschreven door Romenu

Tags:Kerstmis, Annette von Droste-Hülshoff, Romenu



David Sedaris, Elizabeth Kostova, Henry Miller, Rainer Malkowski, Mani Beckmann, Alejo Carpentier
De Amerikaanse schrijver David Sedaris werd geboren in Binghamton, New York, op 26 december 1956. Zie ook alle tags voor David Sedaris op dit blog.
Uit: Me Talk Pretty One Day
"No one else had been called, so why me? I ran down a list of recent crimes, looking for a conviction that might stick. Setting fire to a reportedly flameproof Halloween costume, stealing a set of barbecue tongs from an unguarded patio, altering the word on a list of rules posted on the gymnasium door; never did it occur to me that I might be innocent.
"You might want to take your books with you," the teacher said. "And your jacket. You probably won't be back before the bell rings."
Though she seemed old at the time, the agent was most likely fresh out of college. She walked beside me and asked what appeared to be an innocent and unrelated question: "So, which do you like better, State or Carolina?"
She was referring to the athletic rivalry between the Triangle area's two largest universities. Those who cared about such things tended to express their allegiance by wearing either Tar Heel powder blue, or Wolf Pack red, two colors that managed to look good on no one. The question of team preference was common in our part of North Carolina, and the answer supposedly spoke volumes about the kind of person you either were or hoped to become. I had no interest in football or basketball but had learned it was best to pretend otherwise. If a boy didn't care for barbecued chicken or potato chips, people would accept it as a matter of personal taste, saying, "Oh well, I guess it takes all kinds." You could turn up your nose at the president or Coke or even God, but there were names for boys who didn't like sports. When the subject came up, I found it best to ask which team my questioner preferred. Then I'd say, "Really? Me, too!"
Asked by the agent which team I supported, I took my cue from her red turtleneck and told her that I was for State. "Definitely State. State all the way."
It was an answer I would regret for years to come.
"State, did you say?" the agent asked.
"Yes, State. They're the greatest."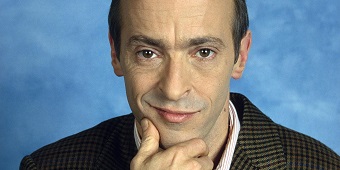 David Sedaris (Binghamton, 26 december 1956)
De Amerikaanse schrijfster Elizabeth Kostova werd geboren op 26 december 1964 in New London, Connecticut. Zie ook alle tags voor Elizabeth Kostova op dit blog.
Uit: The Historian
"Reluctantly, my father agreed. He talked with my teachers and with Mrs. Clay, and reminded me that there would be ample time for my homework while he was in meetings. I wasn't surprised; for a diplomat's child there was always waiting to be done. I packed my navy suitcase, taking my schoolbooks and too many pairs of clean kneesocks. Instead of leaving the house for school that morning, I departed with my father, walking silently and gladly beside him toward the station. A train carried us to Vienna; my father hated planes, which he said took the travel out of traveling. There we spent one short night in a hotel. Another train took us through the Alps, past all the white-and-blue heights of our map at home. Outside a dusty yellow station, my father started up our rented car, and I held my breath until we turned in at the gates of a city he had described to me so many times that I could already see it in my dreams.
Autumn comes early to the foot of the Slovenian Alps. Even before September, the abundant harvests are followed by a sudden, poignant rain that lasts for days and brings down leaves in the lanes of the villages. Now, in my fifties, I find myself wandering that direction every few years, reliving my first glimpse of the Slovenian countryside. This is old country. Every autumn mellows it a little more,in aeternum, each beginning with the same three colors: a green landscape, two or three yellow leaves falling through a gray afternoon. I suppose the Romans—who left their walls here and their gargantuan arenas to the west, on the coast—saw the same autumn and gave the same shiver.
When my father's car swung through the gates of the oldest of Julian cities, I hugged myself. For the first time, I had been struck by the excitement of the traveler who looks history in her subtle face."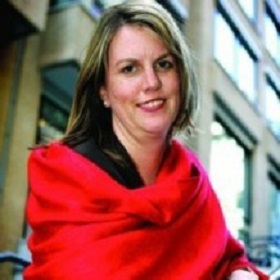 Elizabeth Kostova (New London, 26 december 1964)
De Amerikaanse schrijver Henry Miller werd geboren op 26 december 1891 In New York. Zie ook alle tags voor Henry Miller op dit blog.
Uit: Sexus
"The power which we long to possess, in order to establish the good, the true and the beautiful, would prove to be, if we could have it, but the means of destroying one another. It is fortunate that we are powerless. We have first to acquire vision, then discipline and forbearance. Until we have the humility to acknowledge the existence of a vision beyond our own, until we have faith and trust in superior powers, the blind must lead the blind. The men who believe that work and brains will accomplish everything must even be deceived by the quixotic and unforeseen turn of events.
They are the ones who are perpetually disappointed; no longer able to blame the gods, or God, they turn on their fellow men and vent their impotent rage by crying "Treason! Stupidity!" and other hollow terms. The great joy of the artist is to become aware of a higher order of things, to recognize by the compulsive and spontaneous manipulation of his own impulses the resemblance between human creation and what is called "divine" creation.
In works of fantasy the existence of law manifesting itself through order is even more apparent than in other works of art. Nothing is less mad, less chaotic, than a work of fantasy. Such a creation, which is nothing less than pure invention, pervades all levels, creating, like water, its own level.
The endless interpretations which are offered up contribute nothing, except to heighten the significance of what is seemingly unintelligible. This unintelligibility somehow makes profound sense. Everyone is affected, including those who pretend not to be affected. Something is present, in works of fantasy, which can only be likened to an elixir. This mysterious element, often referred to as "pure nonsense," brings with it the flavor and the aroma of that larger and utterly impenetrable world in which we and all the heavenly bodies have their being.".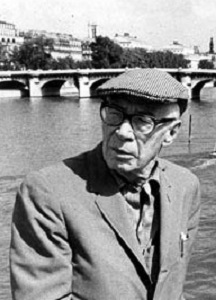 Henry Miller (26 december 1891 – 7 juni 1980)


De Duitse dichter Rainer Malkowski werd geboren op 26 december 1939 in Berlijn-Tempelhof. Zie ook alle tags voor Rainer Malkowski op dit blog.
Am Sonntag leere Chausseen
Am Sonntag leere Chausseen.
Die Stille in den Zementwerken.
Auf den Koppeln rann der Regen
strähnig
in rostende Badewannen.
Sieben Jahre vergingen.
Ich arbeitete, aß, trank, schlief.
Ich starrte auf die dringlich
nickenden Pappeln am Horizont:
Ausrufezeichen, die lange
bereitstanden.
Ich begriff allmählich
für welche nicht
mehr zu unterdrückenden
Sätze.
Uit: Ein Tag für Impressionisten
Etwas von der Ruhe
Fabres,
dem der Nachmittag verging
über der Beobachtung
einer Sandwespe.
Auch Fabre wußte nicht,
was das ist: die Zeit.
Aber er ertrug es vielleicht
besser,
weil er so wenig
für sich selber brauchte.
Ein sehr beschäftigter alter Mann
auf einem Stück Provenceerde.
Was die Mühe lohnt,
konnte er
mit bloßem Auge erkennen.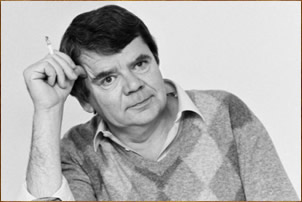 Rainer Malkowski (26 december 1939 – 1 september 2003)
De Duitse schrijver Mani Beckmann (pseudoniem Tom Finnek) werd geboren op 26 december 1965 in Alstätte/Westfalen. Zie ook alle tags voor Mani Beckmann op dit blog.
Uit: Teufelsmühle
"Vor et was mehr als dreißig Jahren, 1974, musste das alte Bauernhaus meiner Großeltern, Heinrich und Anna Vortkamp, dem Neubau einer Landstraße zwischen der münsterländischen Kreisstadt Altheim und dem niederländischen Enschede weichen. Das winzige und windschiefe Häuschen, das von allen im Dorf nur Molenkotten* genannt wurde, hatte mehrere hundert Jahre an dieser Stelle im Ahlbecker Bruch gestanden. Einige Heimatkundler behaupteten gar, bei dem Kotten handele es sich neben der gotischen Dorfkir-che und der an der holländischen Grenze gelegenen Wassermühle um das älteste Gebäude des Dorfes. Alle Proteste, Petitionen und Leserbriefe an die lokalen Zeitungen nützten jedoch nichts, das ur-alte backsteinerne Kötterhaus mit dem niedrigen Schindeldach, der kleinen Holzscheune nebenan und dem verrotteten Brunnen vor der Tür wurde niedergerissen und dem Erdboden gleichge-macht, ebenso wie das umliegende Moor trockengelegt und die Feuchtwiesen dräniert wurden. Nur eine knorrige alte Eiche ne-ben der Landstraße, direkt am Abzweig zum Dorf Ahlbeck, deutet heute darauf hin, wo einst der Molenkotten zu finden war. Meine Großeltern zogen in die nahe gelegene, in den fünfziger Jahren für die Vertriebenen gebaute Hölderlinsiedlung, wo sie jedoch wenig später, in kurzem Abstand zueinander, verstarben. Obwohl ich da-mals erst sechs Jahre alt war, habe ich noch sehr genaue Erinne-rungen an den Bauernhof mit seinen niedrigen Decken, winzigen Butzenscheiben und rußgeschwärzten Wänden, und diese Erinne-rungen sind unauslöschlich mit einem Koffer aus braunem Leder verbunden."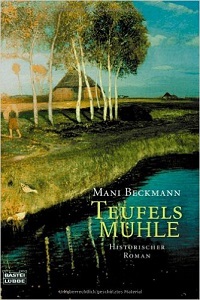 Mani Beckmann (Alstätte, 26 december 1965)
Cover
De Cubaanse schrijver, essayist en musicoloog Alejo Carpentier werd geboren in Havana op 26 december 1904. Zie ook alle tags voor Alejo Carpentier op dit blog.
Uit: The Kingdom of This World (Vertaald door Harriet de Onís)
"The marvelous, manufactured by sleight of hand, by juxtaposing objects ordinarily never found together: the old, fraudulent story of the fortuitous encounter of the umbrella and the sewing machine on an operating table,which engendered ermine spoons, snails in a rainy taxi, the lion's head on the widow's pelvis in Surrealist exhibitions. Or, even more to the point, the literary marvelous: the king in Sade's Juliette, Jarry's supermacho, Lewis's monk, the hair-raising theatrical props of the English gothic novel: ghosts, immured priests, lycanthropy, hands nailed to the castle door.
The result of attempting to arouse the marvelous at all costs is that the thaumaturges become bureaucrats. Invoked by means of cliched formulas that turn certain paintings into a monotonous mess of drooping clocks, seamstress' dummies, or vague phallic monuments, the marvelous is stuck in umbrellas, or lobsters, or sewing machines, or wherever, on an operating table, in a sad room, in a stony desert. Miguel de Unamuno said that memorizing rule books indicated a poverty of imagination.
Today there are codes for the fantastic based on the principle of the donkey devoured by the fig ( proposed in the Chants de Maldoror as the supreme inversion of reality), codes to which we owe Children Menaced by Nightingales or Andre Masson's Horses Devouring Birds.
But we should note that when Andre Masson tried to draw the jungle of Martinique, with its incredible entangling of plants and the obscene promiscuity of certain fruits, the marvelous truth of the subject devoured the painter, leaving him virtually impotent before the empty canvas."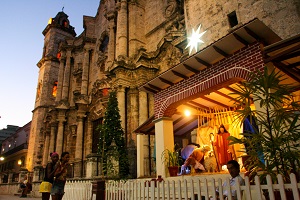 Alejo Carpentier (26 december 1904 - 24 april 1980)
Kersttijd in Havanna
Zie voor nog meer schrijvers van de 26e december ook mijn vorige twee blogs van vandaag.
26-12-2015 om 09:55 geschreven door Romenu

Tags:David Sedaris, Elizabeth Kostova, Henry Miller, Rainer Malkowski, Mani Beckmann, Alejo Carpentier, Romenu



Jean Toomer, Hans Brinkmann, Willy Corsari, Alfred Huggenberger, René Bazin, Julien Benda
De Amerikaanse dichter en schrijver Jean Toomer werd geboren op 26 december 1894 in Washington, D.C. Zie ook alle tags voor Jean Toomer op dit blog.
People
To those fixed on white,
White is white,
To those fixed on black,
It is the same,
And red is red,
Yellow, yellow-
Surely there are such sights
In the many colored world,
Or in the mind.
The strange thing is that
These people never see themselves
Or you, or me.
Are they not in their minds?
Are we not in the world?
This is a curious blindness
For those that are color blind.
What queer beliefs
That men who believe in sights
Disbelieve in seers.
O people, if you but used
Your other eyes
You would see beings.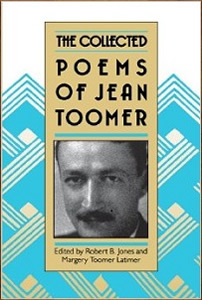 Jean Toomer (26 december 1894 – 30 maart 1967)
Cover
De Duitse dichter, schrijver en criticus Hans Brinkmann werd geboren op 26 december 1956 in Freiberg in Sachsen. Zie ook alle tags voor Hans Brinkmann op dit blog.
Uit:Letternbrut (Lezing bij de presentatie van het boek "Letternbrut" van Jürgen Höritzsch)
"LETTERNBRUT - das Wort lässt an ein Brüten über den Büchern denken, an strenges Selbststudium, der Text als Ei, der Leser als Huhn und der Ertrag des Ganzen, die so genannten Lesefrüchte, als ein Haufen Küken; das dottergelbe Spektakel, das kennt man ja, mit Eierschalen am Hintern unter der Wärmelampe, so schrill und laut allesamt, das man überhaupt nicht mehr zum Denken kommt ...
Aber Brut ist freilich auch die abfällig bis böse Bezeichnung für meist anderer Leute Kinder, da schwingt Genervtheit mit, gelegentlich auch der schiere Schrecken, wenn man sich etwa den Horrorfilmklassiker "Das Dorf der Verdammten" vergegenwärtigt, in dem die Brut vom anderen "bösen" Planeten stammt, oder, um noch weitere Klassiker zu erwähnen: "Das Omen" oder "Rosemaries Baby" oder, oder ...
Und wenn wir schon mal dabei sind, lässt Brut folgerichtig auch an "brutal" denken. - All das schwingt mit, wenn wir das Buch öffnen, auf dessen Einband ein Warnreflektor zu sehen ist, ein so genanntes "Katzenauge", wie wir's von Fahrrädern und Schultaschen kennen, hier allerdings mit einem Vögelchen drin. Gemütlich ist was anderes.
Und genauso beunruhigend fühlen sich die übrigen Visionen an, die der Künstler in seinen Radierungen heraufbeschwört. Kein Zweifel, wir befinden uns im Reich der Träume. Doch von einer anderen Welt als der unseren handeln sie nur bedingt. Was das Literarische betrifft, so gibt es in diesem Buch zwei Arten von Text: die Schrift im Bild und die Schrift außerhalb des Bildes. Man könnte sagen, das Bild steht bzw. entsteht zwischen den Zeilen. Während die Bildunterschrift von außen her die Vorgänge kommentiert, ja, beinahe nacherzählt, ist das Wort oder sind die Wörter im Bild meist versteckte Botschaften, Schrift an der Wand: Menetekel. Sie tun eine Wahrheit kund, die verborgen ist, untergründig, rätselhaft."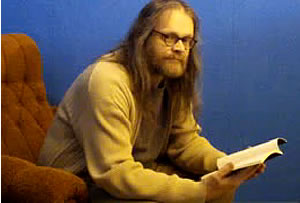 Hans Brinkmann (Freiberg, 26 december 1956)
De Nederlandse schrijfster Willy Corsari (pseudoniem van Wilhelmina Angela Douwes-Schmidt) werd geboren in Sint-Pieters-Jette, Brussel, op 26 december 1897. Zie ook alle tags voor Willy Corsari op dit blog.
Uit:Het mysterie van de Mondscheinsonate
'Ik vraag je, Puck,' zei inspecteur Lund en klapte het dikke boek 'Misdaad en Karakter', waaruit hij had voorgelezen, dicht, 'waarom kan zo'n interessant geval nu niet eens hier voorkomen? Waarom wordt mijn jonge leven verbitterd door drankzuchtige heren en diefachtige dames?
Waarom...' hij maakte een theatraal gebaar, zodat de as van zijn sigaret over tafel vloog, 'waarom zijn al mijn jongensdromen omtrent het romantisch bestaan van een politieman verbleekt in walgelijk-nuchtere werkelijkheid? Ik had evengoed een brave boekhouder of notaris kunnen worden. Waar blijven de mooie meisjes, die eerst schuldig lijken en dan tenslotte toch onschuldig blijken? Waar blijven de misdadigers, wier hersenen letterlijk knarsen door het uitdenken van geraffineerde schurkenstreken? Waar blijven de ingenieuze moorden met veel geheimzinnige en verwarrende aanwijzingen en ogenschijnlijk goede, brave mensen, die allemaal verborgen hartstochten kweken... ik vraag je, waar blijven ze voor een in proza en alledaagsheid verstikkend speurdersgenie, Puck?'
Zijn vrouw keek op van het onmenselijke gat, dat ze stopte in een van zijn sokken en antwoordde: 'Ik had evengoed kunnen trouwen met die acteur, waar ik als meisje zo verliefd op was. Kind, zei m'n moeder, weet wat je doet; acteurs verdienen weinig en zaniken altijd over de rollen die ze niet krijgen. Ik vraag me af,' eindigde ze, haar stopnaald omhoog stekend, 'wààr het verschil nu in zit met jou.'
'Het verschil zit 'em hierin, dat die acteur een walgelijk mannetje was en dat je nu een knappe, innemende, intelligente, interessante echtgenoot bezit. Of heb je spijt, Puck?'
'Nee,' zei ze, 'ik zou het ook leuk vinden als er eens iets gebeurde, iets bijzonders, iets detective-romanachtigs... maar dat kun je bijna niet verwachten van ons keurige villadorp.' Ze zuchtte en stopte de sok in haar verstelmandje. 'Zou je me dan alles vertellen?' vroeg ze, 'je weet, datik mijn mond houd!'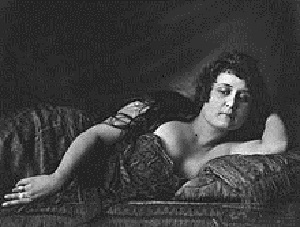 Willy Corsari (26 december 1897 – 11 mei 1998)
De Zwitserse dichter en schrijver Alfred Huggenberger werd geboren op 26 december 1867 in Bewangen nabij Bertschikon. Zie ook alle tags voor Alfred Huggenberger op dit blog.
Der Träumer
Oft wenn Festtagsglocken läuten
Geht's mir plötzlich durch den Sinn,
Dass ich zwischen klugen Leuten
Doch ein sondrer Träumer bin.
Kann nicht froh sein, wie die andern,
Wo die bunten Wimpel wehn,
Lieber möcht' ich einsam wandern,
Sinnend unter Buchen stehn.

Sitz' im fröhlichen Gelage
Oft verloren und allein.
Mein Gewinn sind stille Tage
Und mein Licht der Abendschein.
Könnt' mein Glück wohl besser machen,
Wenn ich wär', wie andre sind;
Manchen sah ich leise lachen:
Seht einmal das grosse Kind!
Konnt' er nicht sein Pfund verwalten,
Dass es reichlich Zinsen trug?
Müsst mir's schon zu gute halten,
Dass ich nie nach Zinsen frug.
Mein Gewinn sind stille Stunden
Und mein Licht der Abendschein.
Wer der Träume Land gefunden,
Wird mit Gott zufrieden sein.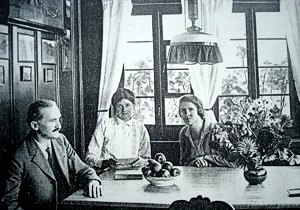 Alfred Huggenberger (26 december 1867 – 14 februari 1960)
Hier met vrouw en dochter
De Franse schrijver René Bazin werd geboren op 26 december 1853 in Angers. Zie ook alle tags voor René Bazin op dit blog.
Uit: Les Noëllet
« La flambée de l'âtre dansante au gré du vent qui venait un peu de partout, éclairait en travers la paysanne, de taille moyenne, sèche et nerveuse, son visage régulier, mais vieilli avant le temps, ses yeux très noirs où vivait une âme maternelle qu'on sentait prompte à s'alarmer, puis la table et les bancs de cerisier ciré, l'échelle au pain suspendue aux solives, et, de chaque côté de la porte donnant accès dans la pièce voisine, deux lits à quatre quenouilles, garnis, suivant l'ancienne mode, de rideaux de futaine grise et de couvertures jaunes.
Quand Perrine Noellet vit s'avancer le châtelain, elle posa le pain sur la table, et releva prestement un coin de son tablier dont l'endroit n'était pas sans doute immaculé.
– Bonjour, monsieur Hubert, dit-elle. Vous voilà donc de retour ?
– Bien tard, n'est-ce pas ? Nous arrivons de Suisse et d'Italie, un voyage de trois mois dont je me serais dispensé volontiers : car vous savez que j'aime avant tout ce pays-ci, ma Landehue, mes bois et ma paroisse du Fief-Sauvin. Mais, que voulez-vous ! mes filles m'ont entraîné : quand les enfants grandissent, on ne leur résiste plus si bien.
– Pourquoi, par exemple ?
– Oui, oui, je sais, métayère… Chez vous, c'est l'ancien régime, l'autorité paternelle des jours passés, tandis que moi, je suis moderne, je gâte un peu mes filles. Croiriez-vous que Madeleine ne veut plus se contenter de son poney et de son petit panier : elle me demande un cheval de chasse. Ah ! les enfants !
– Une bien belle demoiselle que vous avez là, monsieur Hubert."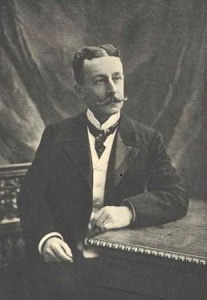 René Bazin (26 december 1853 – 19 juli 1932)
De Franse schrijver en filosoof Julien Benda werd geboren op 26 december 1867 in Parijs. Zie ook alle tags voor Julien Benda op dit blog.
Uit: The Treason of the Intellectuals (Vertaald door Richard Aldington)
"I think I see another motive in the French writers who in 1914 adopted the attitude of M. Romain Rolland—the fear that they would fall into national partiality if they admitted that their nation was in the right. It may be asserted that these writers would have warmly taken up the cause of France, if France had not been their own country. Whereas Barrès said, "I always maintain my country is right even if it is in the wrong," these strange friends of justice are not unwilling to say: "I always maintain my country is in the wrong, even if it is right." There again we see that the frenzy of impartiality, like any other frenzy, leads to injustice.
I have also a word to say about the severities of these "justiciaries" towards France's attitude immediately after her victory, towards her desire to force the enemy to make good the damage done to her, and to seize on pledges if he refused. The motive which here animated these moralists without their perceiving it, seems to me very remarkable; it was the thought that the just person must inevitably be weak and suffer, that he must be a victim. If the just man becomes strong and comes to possess the means of enforcing justice towards himself, then he ceases to be just to these thinkers. If Socrates and Jesus make their persecutors disgorge, then they cease to embody justice; one step more and the persecutors, having become victims, would embody right. In this the cult of justice is replace by the cult if misfortune, a Christian Romanticism which is somewhat unexpected in a man like Anatole France. No doubt the events of 1918 upset all the habits of the advocates of right. Outraged right became the stronger, the assailed toga triumphed over the sword, the Curiatii were victorious. Perhaps some coolness of mind was needed to recognize that right remained right, even when thus invested with force. The French pacifists failed to remain cool. In short, their attitude in the past ten years has been inspired by sentiment alone, and nothing could show better the degree of weakness to which intellectual discipline has now fallen among our "princes of the mind."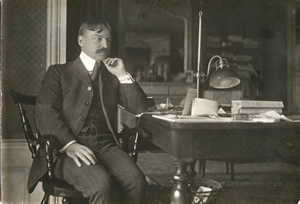 Julien Benda (26 december 1867 – 7 juni 1956)

Zie voor nog meer schrijvers van de 26e december ook mijn vorige blog van vandaag.
26-12-2015 om 09:54 geschreven door Romenu

Tags:Jean Toomer, Hans Brinkmann, Willy Corsari, Alfred Huggenberger, René Bazin, Julien Benda, Romenu



Thomas Gray Jean Galtier-Boissière, Ernst Moritz Arndt, Johann Gaudenz von Salis-Seewis, E. D. E. N. Southworth, Jean-François de Saint-Lambert
De Engelse dichter en geleerde Thomas Gray werd geboren op 26 december 1716 in Londen. Zie ook alle tags voor Thomas Gray op dit blog.
The Bard
1.1
Ruin seize thee, ruthless King!
Confusion on thy banners wait,
Tho' fanned by Conquest's crimson wing
They mock the air with idle state.
Helm, nor Hauberk's twisted mail,
Nor even thy virtues, Tyrant, shall avail
To save thy secret soul from nightly fears,
From Cambria'sÊ curse, from Cambria's tears!'
Such were the sounds, that o'er the crested pride
Of the first Edward scatter'd wild dismay, 10
As down the steep of Snowdon's shaggy sideÊ
He wound with toilsome march his long array.
Stout Glo'ster stood aghast in speechless trance:
'To arms!' cried Mortimer, and couch'd his quiv'ring lance.
I.2
On a rock, whose haughty brow
Frowns o'er old Conway's foaming flood,
Robed in the sable garb of woe,
With haggard eyes the Poet stood;
(Loose his beard, and hoary hair
Stream'd, like a meteor, to the troubled air) 20
And with a Master's hand, and Prophet's fire,
Struck the deep sorrows of his lyre.
'Hark, how each giant-oak, and desert cave,
Sighs to the torrent's aweful voice beneath!
O'er thee, oh King! their hundred arms they wave,
Revenge on thee in hoarser murmurs breath;
Vocal no more, since Cambria's fatal day,
To high-born Hoßl's harp, or soft Llewellyn's lay.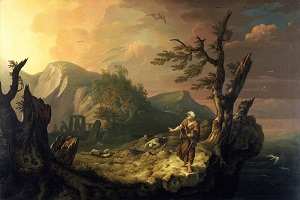 Thomas Gray (26 december 1716 – 30 juli 1771)
The Bard door Tnomas Jones uit 1774 werd geïnspireerd door het gedicht van Gray
De Franse schrijver, polemist en journalist Jean Galtier-Boissière werd geboren op 26 december 1891 in Parijs. Zie ook alle tags voor Jean Galtier-Boissière op dit blog.
Uit: Mémoires d'un Parisien (Nos amours de jeunesse)
« Les réservistes commencent à arriver. Nous accueillons avec joie nos anciens de la classe 10 : Ridet, Sinet, le fourrier Taupin… Il y a beaucoup d'inconnus plus âgés, avec des grosses moustaches, des airs de patrons et de pères de famille. L'atmosphère n'a rien de tragique. Elle évoque les albums militaires de Guillaume : on croise dans les couloirs des civils coiffés de képis et des sergents en pantalons de zingueurs. Toutes les formalités, revues et corvées s'opèrent dans la bonne humeur. La caserne a pris un air de fête ; on dirait vraiment que tout ce monde-là se rassemble en vue d'une réjouissance.
Je ne vois que deux figures renfrognées : le sous-lieutenant Champfraisier, lequel est très pessimiste :
– Tous ces bougres-là se figurent qu'ils partent à une partie de plaisir ! Je crois qu'ils éprouveront quelques désillusions : ça n'a rien de rigolo, vous savez, la guerre moderne !
Et l'électricien Girardet qui m'a pris dans un coin :
– Dis donc, un homme comme toi, tu vas te démerder pour rester au petit dépôt ?
– Penses-tu ! je ne vais pas plaquer les copains !
– Alors, ça t'intéresse, toi, les obus, les mitrailleuses, les assauts ? Eh bien ! moi, ça ne me dit rien de me faire bigorner ; avec ma prostatite, je me suis fait classer aux inaptes. Pas si bête!"


Jean Galtier-Boissière (26 december 1891 – 22 januari 1966)
De Duitse dichter en schrijver Ernst Moritz Arndt werd op 26 december 1769 in Groß-Schoritz geboren op het eiland Rügen. Zie ook alle tags voor Ernst Moritz Arndt op dit blog.
Blüh und leuchte, goldner Baum
Blüh denn, leuchte, goldner Baum,
Erdentraum und Himmelstraum;
blüh und leuchte in Ewigkeit
durch die arme Zeitlichkeit!
Sei uns Bild und sei uns Schein,
dass wir sollen fröhlich sein,
fröhlich durch den süßen Christ,
der des Lebens Leuchte ist.
Sei uns Bild und sei uns Schein,
dass wir sollen tapfer sein
auf des Lebens Pilgerbahn,
kämpfend gegen Lug und Wahn.
Sei uns Bild und sei uns Schein,
dass wir sollen heilig sein,
rein wie Licht und himmelsklar,
wie das Kindlein Jesus war!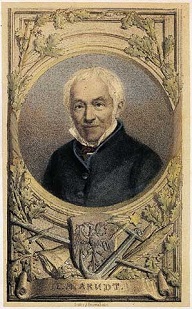 Ernst Moritz Arndt (26 december 1769 – 29 januari 1860)
Het geboortehuis in Groß-Schoritz
De Zwitserse dichter en schrijver Freiherr Johann Gaudenz von Salis-Seewis werd geboren op 26 december 1762 op slot Bothmar bei Malans. Zie ook alle tags voor Johann Gaudenz von Salis-Seewis op dit blog.
Vertrauen
Wer gibt uns unsern Kinderglauben
An eine treue Welt zurück?
Ach, schließt den allzu scharfen Blick!
Was uns die Zuversicht kann rauben,
Zerstört des Herzens Glück.
Dein denkt mein Geist mit Wohlgefallen,
O Zeit, wann, fremd' in klüg'rer Welt,
Man traut zu jedem sich gesellt,
Und arglos, wie die Nachtigallen,
In offne Schlingen fällt.
O Glück, noch kindlich hinzulangen,
Nach Blumen, eh' man sie benennt,
Nach Freuden, die man halb nur kennt;
Wenn unser Blick, kaum aufgegangen
Nicht Schein und Wesen trennt!
Ihr Tage, wo wir klüger werden,
Wie schwül ist euer Mittagslicht,
Wenn die Erfahrung warnend spricht:
Vollkommnes weilet nichts auf Erden!
Was blühet, währet nicht.
Wohl dann dem liebenden Gemüthe,
Das sein Vertrauen rein bewahrt,
Und, sein Gefühl sei noch so zart,
Nie zweifelt an des Edeln Güte,
Noch an der Menschen Art.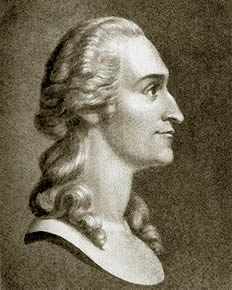 Johann Gaudenz von Salis-Seewis (26 december 1762 – 29 januari 1834)

De Amerikaanse schrijfster Emma Dorothy Eliza Nevitte Southworth werd geboren op 26 december 1819 in Washington, D.C. Zie ook alle tags voor E. D. E. N. Southworth op dit blog.
Uit: Tried for Her Life
"When Sybil recovered from her death-like swoon, she felt herself being borne slowly on through what seemed a narrow, tortuous underground passage; but the utter darkness, relieved only by a little gleaming red taper that moved like a star before her, prevented her from seeing more.
A presentiment of impending destruction possessed her, and overwhelming horror filled her soul and held her faculties. Though her life had depended upon her speech, she could not have uttered a syllable. And no word was breathed by the mysterious beings who bore her on. Dumb as mutes at a funeral, they marched. Silent, breathless as one on the brink of death, Sybil held her senses fast and prayed. And the little red spark moved through the darkness before her, like a malignant star leading her to doom. And how long drawn out the dreadful way! Minutes seemed months, and hours ages. The awful forms that held her in their hands; their monotonous tread as they bore her on; their utter silence; the deep darkness; the damp, earthy, stifling atmosphere; the agony of suspense; the horror of anticipation!--all these must have sent her into another swoon, but that her vigilant mind still held her senses alert, and she prayed.
Who were these beings? Why had they abducted her? What would they do with her? She asked herself these questions, but shrank appalled from any possible answer. Death? dishonor worse than death? Oh that some miracle might save her in this tremendous peril! She prayed. And what a tedious anguish of anxiety! When would the end come?
At length a breath of fresh air as from the upper world was wafted past her face. Welcome as a drop of cold water to a parched palate, was this breath of fresh air to her fevered lungs. But it passed, and all was close and suffocating again."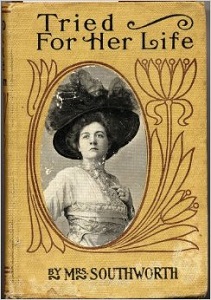 E. D. E. N. Southworth (26 december 1819 – 30 juni 1899)
Cover
De Franse dichter, schrijver en filosoof Jean-François de Saint-Lambert werd geboren op 26 december 1716 in Nancy. Zie ook alle tags voor Jean-François de Saint-Lambert op dit blog.
L'Hiver (Fragment)
Le globe de la nuit d'étoiles entouré,
Montoit sur l'horison, d'un jour pâle éclairé ;
Les nuages légers fuyants dans l'air humide,
Sembloient entraîner tout dans leur ombre rapide :
On voyoit les forêts & les monts s'ébranler,
Et dans l'air incertain les astres osciller.
Ce bruit sourd, qui précède & qui suit les orages,
Expiroit dans les bois & le long des rivages.
Je sentois se calmer le trouble de mon cœur ;
Mon esprit s'élevoit au sein de son auteur ;
Je suivois la nature en ses métamorphoses,
Et cherchois les rapports des effets & des causes ;
Je vis, ou je crus voir l'ordre de l'univers.
Ces orages, disois-je, & ces tristes hivers,
Nos maux & nos plaisirs, nos travaux & nos fêtes,
Les frimats, les chaleurs, les beaux jours, les tempêtes
Sont dans l'ordre éternel l'un à l'autre enchaînés ;
Ils naissent de leur cause aux jours déterminés,
Et par ces changements la sagesse infinie
Dans l'univers immense entretient l'harmonie.
Les vents qui sur ces mers tourmentoient ces vaisseaux,
Sur un rivage aride ont apporté les eaux ;
Les esprits sulphureux, les sels, l'huile étérée,
Dispersés par ces vents de contrée en contrée,
Rajeunissent la terre, & vont rendre féconds
Ces champs couverts de chaume, usés par les moissons.
Hiver, cruel hiver, toi qui sembles détruire,
Tu rends à nos sillons la force de produire :
Tandis que sur ces bords tu répands les frimats,
Le globe des saisons va sur d'autres climats
Renouveller la vie, & varier l'année.
Soleil, marche, & poursuis ta carrière ordonnée ;
Nous te verrons dans peu recommencer ton cours,
Et ramener encor la joie & les beaux jours ;
Voulons-nous jouir seuls de ta clarté féconde,
Que doivent partager tous les peuples du monde ?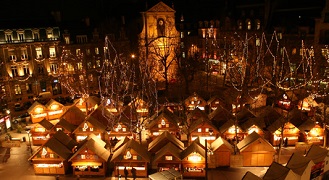 Jean-François de Saint-Lambert (26 december 1716 – 9 februari 1803)
Kerstmarkt in Nancy
26-12-2015 om 09:51 geschreven door Romenu

Tags:Thomas Gray Jean Galtier-Boissière, Ernst Moritz Arndt, Johann Gaudenz von Salis-Seewis, E. D. E. N. Southworth, Jean-François de Saint-Lambert, Romenu



| | |
| --- | --- |
| | |



Inhoud blog


| | |
| --- | --- |
| | The Good Shepherd (Stanley Moss) |
| | Giorgio Fontana, Jan de Hartog, Björn Kern, Vladimir Nabokov, Chetan Bhagat, Peter Weber, Jos de Haes, Thommie Bayer, Madame de Staël |
| | Ana María Shua, Louise Glück, Robert Choquette, James Philip Bailey, Henry Fielding, Michael Schulte, Cabrera Infante, Ludwig Renn |
| | The Enkindled Spring (D. H. Lawrence) |
| | Charlotte Brontë, Patrick Rambaud, John Mortimer, Charles den Tex, Ahmed Arif, Michael Mann |
| | Peter Schneider, Meira Delmar, Alistair MacLean, Gerrit Wustmann, Népomucène Lemercier |
| | Prijs der Nederlandse Letteren voor Judith Herzberg |
| | Martinus Nijhoff, Jan Cremer, Jean Pierre Rawie, Marieke Lucas Rijneveld, Sebastian Faulks, Jozef Deleu, Steve Erickson, Arto Paasilinna, Michel Leiris |
| | Martin Michael Driessen, Marjoleine de Vos, Manuel Bandeira, n. c. kaser, Veniamin Kaverin, Louis Amédée Achard, Pierre-Jean de Béranger, Gudrun Reinboth, Werner Rohner |
| | Wam de Moor, Bas Belleman, Roos van Rijswijk, Hanane Aad, Clara Eggink, Kathy Acker, Joy Davidman, Henry Kendall, Katharina Schwanbeck |
| | Antoon Coolen, Vincent Corjanus, Nick Hornby, Ida Boy-Ed, Thornton Wilder, David Wagner, R.J. Pineiro, Helen Meier, Karen Blixen |
| | Sarah Kirsch, Thomas Olde Heuvelt, Kingsley Amis, Patricia De Martelaere, Tristan Tzara, Ewald Vanvugt, Sibylle Lewitscharoff, Jan Luyken, Anatole France |
| | Emmaüs (Felix Timmermans) |
| | Tomas Tranströmer, Daniël Samkalden, Jérôme Lambert, Patrick Bernauw, Benjamin Zephaniah, Henry James, Wilhelm Busch, Ina Boudier-Bakker |
| | Bliss Carman, Beate Morgenstern, Jeffrey Archer, Bernhard Lassahn, Erich Arendt, Pol De Mont, Staf Weyts, Hans Egon Holthusen |
| | Péter Esterházy, Alexandre Jardin, Tjitse Hofman, Landolf Scherzer, Charles Lewinsky, Roman Graf |
| | Roberto Schopflocher, Martin Kessel, Gabriele Stötzer, Helene Hübener, Gerhard Rohlfs |
| | Nachoem Wijnberg, K. Michel, Alexander Münninghoff, Michel Faber, Jean-Marie Gustave Le Clézio, Samuel Beckett, Seamus Heaney, Tim Krabbé, Eudora Welty |
| | Antje Rávic Strubel, Alan Ayckbourn, Scott Turow, Tom Clancy, Agnes Sapper, Edward de Vere, José Gautier Benítez, Alexander Ostrovski, Guillaume-Thomas Raynal |
| | Leonard Nolens, Mark Strand, Silvia Avallone, Walid Soliman, Dorothy Allison, Hubert Nyssen, Rolf Schilling, Glenway Wescott, Claude Tillier |
| | Leo Vroman, Jan van Mersbergen, Paul Theroux, Claudio Magris, Bella Akhmadulina, Stefan Heym, Richard Wagner, Marcel van Maele, Eric Knight |
| | Charles Baudelaire, Jelle Brandt Corstius, Karel Jonckheere, Joolz Denby, Albert von Schirnding, Johannes Bobrowski, Bernard-Marie Koltès, Arnold Stadler, Yaël Vinckx |
| | Thomas (Jan Willem Schulte Nordholt) |
| | Herinnering aan Gerard Reve, Hanz Mirck, Christoph Hein, Judith Koelemeijer, Nnedi Okorafor, Barbara Kingsolver |
| | John Fante, Johann Christian Günther, Glendon Swarthout, Martin Grzimek, Hégésippe Moreau, Robert Askins |
| | Den Haag (Paul Rodenko) |
| | Juliana Spahr, William Wordsworth, Özcan Akyol, Gabriela Mistral |
| | Kazim Ali, Annejet van der Zijl, John Pepper Clark, Jakob Ejersbo, Günter Herburger, Uljana Wolf, Brigitte Schwaiger, Julien Torma, Nicolas Chamfort |
| | Iulian Ciocan |
| | Hugo Claus, Martin Reints, Mieke van Zonneveld, Vítězslav Hálek, Algernon Swinburne, Bora Ćosić,, Werner J. Egli, Michael Georg Conrad, Marente de Moor |
| | Maya Angelou, Hanneke Hendrix, Marko Klomp, Marcel Vaarmeijer, E. L. James, Marguerite Duras, Robert Schindel, Michiel van Kempen, Bettina von Arnim |
| | Charles Ducal, Adriaan Jaeggi, Frederik van Eeden, Bert Bakker, Peter Huchel, Arlette Cousture, Pieter Aspe, Karel N.L. Grazell, Washington Irving |
| | Die Sonne geht im Osten auf (Christian Morgenstern) |
| | Thomas Glavinic, Jay Parini, Anneke Claus, Klaus Ender, Konrad Merz, Ed Dorn, Émile Zola |
| | György Konrád, Anne Waldman, Casanova, Hans Christian Andersen, Roberto Arlt, Edgar Hilsenrath, George Fraser |
| | Hoffmann von Fallersleben, Johann Gleim, Pierre Zaccone, Pietro della Valle, Zwier van Haren, Joanna Chmielewska, Brigitte Struzyk |
| | Preis dem Todesüberwinder! (Friedrich Klopstock) |
| | Milan Kundera, Sandro Veronesi, Nikolaj Gogol, Arnold Aletrino, Max Nord, Urs Allemann, Rolf Hochhuth, John Wilmot, Deborah Feldman |
| | Maria Polydouri, Edgar Wallace, Carl Sternheim, Edmond Rostand, Armel Guerne, Friedrich Güll, Antoine Prévost, Josep de Maistre |
| | Litanie van een wachter bij het graf (Willem Jan Otten) |
| | Stefan Hertmans, Octavio Paz, Asis Aynan, Martijn Teerlinck, Marga Minco, Enrique Vila-Matas |
| | Rob Boudestein, Kornej Tsjoekovski, Andrew Lang, Nichita Stănescu, Hartmut Lange, Marge Piercy |
| | Angela Kreuz, Judith Rossner, Andrew Marvell, John Fowles, Edward FitzGerald, Robert Brasillach, Peter Motte |
| | Golgotha (Theo Thijssen) |
| | Gerrit Komrij, Paul Verlaine, Milton Acorn, Erika Mitterer, Uwe Timm, Tom Sharpe, Gert Heidenreich, Theo Breuer, Luise Hensel |
| | Gethsemane (Jacqueline van der Waals) |
| | Geert van Istendael, Wim Brands, Ernst Jünger, Eric Walz, Georg Klein, Yvan Goll, R. S. Thomas, Jacques Brault, Denton Welch |
| | Walter van den Broeck, Joost de Vries, Mario Vargas Llosa, Chrétien Breukers, Steye Raviez, Nelson Algren, Marianne Frederiksson, Russell Banks, Léon-Gontran Damas |
| | Heinrich Mann, Shusaku Endo, Carolina Trujillo, Golo Mann, Patrick McCabe, Bob den Uyl, Dubravka Ugresić, Francis Ponge, Alfred de Vigny |
| | Tennessee Williams, Gregory Corso, Hwang Sun-won, Martin McDonagh, Robert Frost, Patrick Süskind, A. E. Housman, Bettina Galvagni, Erica Jong |


Gastenboek


Druk op onderstaande knop om een berichtje achter te laten in mijn gastenboek