E-mail mij


Druk op onderstaande knop om mij te e-mailen.


Romenu


Romenu is een blog over gedichten, literatuur en kunst Maar Romenu is ook een professionele freelance vertaler
Du-Ne en Ne-Du http://www.romenu.nl.


Huur eens een (vakantie)huis in een natuurgebied, dichtbij het centrum van Nijmegen


Google


Georg Trakl

Georg Trakl werd op 3 februari 1887 in het conducteurshuis aan de Waagplatz 2 in Salzburg geboren. Zijn vader, Tobias Trakl, was een handelaar in ijzerwaren en zijn moeder, die ook psychische problemen had, was Maria Catharina Trakl, (meisjesnaam Halik). Voorts had hij nog drie broers en drie zussen. Margarethe (doorgaans Grethe genoemd) stond hem het naast, zelfs zodanig dat sommigen een incestueuze verhouding vermoeden. Zijn jeugd bracht hij door in Salzburg. Vervolgens bezocht hij van 1897 tot 1905 het humanistische gymnasium. Om toch een academische opleiding te kunnen volgen, werkte hij tot 1908 in de praktijk bij een apotheker. Sommigen vermoedden dat hij dit vooral deed om zichzelf opiaten te kunnen verschaffen. Bij het uitbreken van WO I werd Trakl als medicus naar het front in Galicië (heden ten dage in Oekraïne en Polen) gestuurd. Zijn gemoedsschommelingen leidden tot geregelde uitbraken van depressie, die verergerd werden door de afschuw die hij voelde voor de verzorging van de ernstig verwonde soldaten. De spanning en druk dreven hem ertoe een suïcidepoging te ondernemen, welke zijn kameraden nochtans verhinderden. Hij werd in een militair ziekenhuis opgenomen in Kraków, alwaar hij onder strikt toezicht geplaatst werd.Trakl verzonk daar in nog zwaardere depressies en schreef Ficker om advies. Ficker overtuigde hem ervan dat hij contact moest opnemen met Wittgenstein, die inderdaad op weg ging na Trakls bericht te hebben ontvangen. Op 4 november 1914, drie dagen voordat Wittgenstein aan zou komen, overleed hij echter aan een overdosis cocaïne


Paul Celan

Paul Celan werd onder de naam Paul Antschel op 23 november 1920 geboren in Czernowitz, toentertijd de hoofdstad van de Roemeense Boekovina, nu behorend bij de Oekraïne. Paul Celans ouders waren Duitssprekende joden die hun zoon joods opvoedden en hem naar Duitse christelijke scholen stuurden. In 1942 werden Celans ouders door de Duitse bezetter naar een werkkamp gedeporteerd en daar vermoord. Hijzelf wist aanvankelijk onder te duiken, maar moest vanaf juli 1942 in een werkkamp dwangarbeid verrichten. Celan overleefde de oorlog. Via Boekarest en Wenen vestigde Celan zich in 1948 in Parijs. Daar was hij werkzaam als dichter, vertaler en doceerde hij aan de prestigieuze Ecole Normale Supérieure. Vermoedelijk op 20 april 1970 beëindigde hij zijn leven zelf door in de Seine te springen.


Gerard Reve

Gerard Reve over: Medearbeiders "God is in de mensen, de dieren, de planten en alle dingen - in de schepping, die verlost moet worden of waaruit God verlost moet worden, door onze arbeid, aangezien wij medearbeiders van God zijn." Openbaring "Tja, waar berust elk godsbegrip op, elke vorm van religie? Op een openbaring, dat wil zeggen op een psychische ervaring van zulk een dwingende en onverbiddelijke kracht, dat de betrokkene het gevoel heeft, niet dat hij een gedachte of een visioen heeft, maar dat een gedachte gedachte of visioen hem bezit en overweldigt."


Simon Vestdijk
Simon Vestdijk (Harlingen, 17 oktober 1898 – Utrecht, 23 maart 1971) was een Nederlands romancier, dichter, essayist en vertaler. Zijn jeugd te Harlingen en Leeuwarden beschreef hij later in de Anton Wachter-cyclus. Van jongs af aan logeerde hij regelmatig bij zijn grootouders in Amsterdam, waar hij zich in 1917 aan de Universiteit van Amsterdam inschrijft als student in de medicijnen. Tijdens zijn studie die van 1917 tot 1927 duurde, leerde hij Jan Slauerhoff kennen.Tot 1932 is hij als arts in praktijken door heel Nederland werkzaam. In 1932 volgt zijn officiële schrijversdebuut met de uitgave van de bundel Verzen in De Vrije Bladen. Doorslaggevend voor Vestdijks uiteindelijke keuze voor de literatuur is zijn ontmoeting in 1932 met Eddy Du Perron en Menno ter Braak. Deze ontmoeting had tot resultaat dat hij redactielid werd van het tijdschrift Forum Kort daarop, in 1933, wordt zijn eerste novelle, De oubliette, uitgegeven. In hetzelfde jaar schrijft hij Kind tussen vier vrouwen, dat, eerst geweigerd door de uitgever, later de basis zal vormen voor de eerste drie delen van de Anton Wachter-romans. In 1951 ontvangt Vestdijk de P.C. Hooftprijs voor zijn in 1947 verschenen roman De vuuraanbidders. In 1957 wordt hij voor het eerst door het PEN-centrum voor Nederland voorgedragen voor de Nobelprijs voor de Literatuur, die hij echter nooit zal krijgen. Op 20 maart 1971 wordt hem de Prijs der Nederlandse Letteren toegekend, maar voor hij deze kan ontvangen overlijdt hij op 23 maart te Utrecht op 72-jarige leeftijd. Vestdijk was auteur van ca. 200 boeken. Vanwege deze enorme productie noemde de dichter Adriaan Roland Holst hem 'de man die sneller schrijft dan God kan lezen'. Andere belangrijke boeken van Simon Vestdijk zijn: "Kind van stad en land" (1936), "Meneer Visser's hellevaart" (1936), "Ierse nachten" (1946), "De toekomst de religie" (1947), "Pastorale 1943" (1948), "De koperen tuin" (1950), "Ivoren wachters" (1951), "Essays in duodecimo" (1952) en "Het genadeschot" (1964).


K.P. Kavafis

K.P. Kavafis werd als kind van Griekse ouders, afkomstig uit Konstantinopel, geboren in 1863 in Alexandrië (tot vandaag een Griekse enclave) waar hij ook het grootste deel van zijn leven woonde en werkte. Twee jaar na de dood van zijn vader verhuist het gezin in 1872 naar Engeland om na een verblijf van vijf jaar naar Alexandrië terug te keren. Vanwege ongeregeldheden in Egypte vlucht het gezin in 1882 naar Konstantinopel, om na drie jaar opnieuw naar Alexandrië terug te gaan. In de jaren die volgen maakt Kavafis reizen naar Parijs, Londen en in 1901 zijn eerste reis naar Griekenland, in latere jaren gevolgd door nog enkele bezoeken. Op de dag van zijn zeventigste verjaardag, in 1933 sterft Kavafis in Alexandrië. De roem kwam voor Kavafis pas na zijn dood, dus postuum. Deels is dat toe te schrijven aan zijn eigen handelswijze. Hij was uiterst terughoudend met de publicatie van zijn gedichten, liet af en toe een enkel gedicht afdrukken in een literair tijdschrift, gaf in eigen beheer enkele bundels met een stuk of twintig gedichten uit en het merendeel van zijn poëzie schonk hij op losse bladen aan zijn beste vrienden.


Thomas Mann


Thomas Mann, de jongere broer van Heinrich Mann, werd geboren op 6 juni 1875 in Lübeck. Hij was de tweede zoon van de graankoopman Thomas Johann Heinrich Mann welke later één van de senatoren van Lübreck werd. Zijn moeder Julia (geboren da Silva-Bruhns) was Duits-Braziliaans van Portugees Kreoolse afkomst. In 1894 debuteerde Thomas Mann met de novelle "Gefallen". Toen Thomas Mann met 21 jaar eindelijk volwassen was en hem dus geld van zijn vaders erfenis toestond - hij kreeg ongeveer 160 tot 180 goldmark per jaar - besloot hij dat hij genoeg had van al die scholen en instituties en werd onafhankelijk schrijver. Kenmerkend voor zijn stijl zijn de ironie, de fenomenale taalbeheersing en de minutieuze detailschildering. Manns reputatie in Duitsland was sterk wisselend. Met zijn eerste roman, Buddenbrooks (1901), had hij een enorm succes, maar door zijn sceptische houding tegenover Duitsland na de Eerste Wereldoorlog veranderde dit volledig. Stelde hij zich tot aan de jaren twintig apolitiek op (Betrachtungen eines Unpolitischen, 1918), meer en meer raakte hij bij het Politiek gebeuren betrokken. Zijn afkeer van het nationaal socialisme groeide, zijn waarschuwingen werden veelvuldiger en heftiger. In 1944 accepteerde hij het Amerikaanse staatsburgerschap. Tussen 1943 en 1947 schreef Mann Doktor Faustus (zie Faust), de roman van de 'Duitse ziel' in de gecamoufleerd geschilderde omstandigheden van de 20ste eeuw. In 1947 bezocht hij voor het eerst sinds de Oorlog Europa, twee jaar later pas Duitsland. In 1952 vertrok hij naar Zwitserland. Op 12 augustus 1955 stierf hij in Zürich. Twintig jaar na zijn dood, in aug. 1975, is zijn literaire nalatenschap geopend: dagboekaantekeningen van 15 maart 1933 tot 29 juli 1955, alsmede notities uit de jaren 1918 tot en met 1921.Belangrijke werken zijn: Der Zauberberg, Der Tod in Venedig, Dokter Faustus , Joseph und seine Brüder en Die Bekenntnisse des Hochstaplers Felix Krull.


Rainer Maria Rilke

Rilke werd op 4 december 1875 geboren in Praag. Hij had al naam gemaakt als dichter met zijn bundels Das Stundenbuch en Das Buch der Bilder, toen hij de literaire wereld versteld deed staan en wereldfaam verwierf met de publicatie van zijn twee delen Neue Gedichte in 1907 en 1908. Hij verzamelde daarin het beste werk uit een van zijn vruchtbaarste periodes, die hij grotendeels doorbracht in Parijs. Rilke was daar diep onder de indruk gekomen van Rodin, bij wie hij een tijdlang in dienst was als particulier secretaris. Rodin, zei hij later, had hem leren kijken. Dit kijken kwam neer op intense concentratie, om het mysterie te kunnen zien 'achter de schijnbare werkelijkheid'. Latere en rijpere werken als Duineser Elegien (1912-1923) en het ronduit schitterende Die Sonette an Orfeus (1924) illustreren Rilkes metafysische visie op het onzegbare, dat haar verwoording vindt in een hermetische muzikale taal. Op 29 december 1926 overlijdt Rilke in het sanatorium in Val-Mont aan de gevolgen van leukemie. Enkele dagen later wordt hij, overeenkomstig zijn wens, begraven op het kerkhof van Raron.


* * * * * * * * * * * * * * * *

| | |
| --- | --- |
| | Over literatuur, gedichten, kunst en cultuur |

15-11-2010

Wolf Biermann, Gerhard Hauptmann, Heinz Piontek, J. G. Ballard, Liane Dirks
De Duitse zanger, dichter en schrijver Wolf Biermann werd geboren op 15 november 1936 in Hamburg. Zie ook mijn blog van 15 november 2006 en ook mijn blog van 15 november 2007 en ook mijn blog van 15 november 2008 en ook mijn blog van 15 november 2009.
Und als wir ans Ufer kamen

Und als wir ans Ufer kamen
Und saßen noch lang im Kahn
Da war es, daß wir den Himmel
Am schönsten im Wasser sahn
Und durch den Birnbaum flogen
Paar Fischlein. Das Flugzeug schwamm
Quer durch den See und zerschellte
Sachte am Weidenstamm
- am Weidenstamm

Was wird bloß aus unseren Träumen
In diesem zerissnen Land
Die Wunden wollen nicht zugehn
Unter dem Dreckverband
Und was wird mit unsern Freunden
Und was noch aus dir, aus mir -
Ich möchte am liebsten weg sein
Und bleibe am liebsten hier
- am liebsten hier.
Noch

Ein kleiner Regen hat mich gewaschen
Am Himmel ziehn leere Brauseflaschen
Frabrikschlote wuchern drüben am Hang
Rauchnasen laufen den Windweg lang
Wälder sind das da, das nasse Blau
Das da sind Halden, das große Grau
Rot blühn paar Fahnen da auf dem Bau
Das Land ist still
Der Krieg genießt seinen Frieden
Still. Das Land ist still. Noch.

Die Schieferdächer schachteln sich wirr
Geklammert an Essen mit Eisengeschirr
Starrt das Antennengestrüpp nach West
Vom Sonnenball steht noch ein roter Rest
Krähen sind das da, was fällt und schreit
Blüten sind unter die Bäume geschneit
Was da jetzt einbricht, ist Dunkelheit
Das Land ist still
Wie Grabsteine stehen die Häuser
Still. Das Land ist still. Noch.

Dann hing ich im D-Zug am Fenster, und
Der Fahrtwind preßte mir Wind in' Mund
Die Augen gesteinigt vom Kohlestaub
Ohren von kreischenden Rädern taub
Hörte ich schwingen im Schienenschlag
Lieder vom Frühling im roten Prag
Und die Gitarre im Kasten lag
Das Land ist still
Die Menschen noch immer wie tot
Still. Das Land ist still. Noch.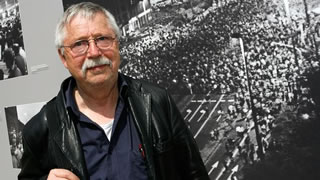 Wolf Biermann (Hamburg, 15 november 1936)
De Duitse schrijver Gerhart Hauptmann werd geboren in Obersalzbrunn (Neder-Silezië) op 15 november 1862. Zie ook mijn blog van 15 november 2008 en ook mijn blog van 15 november 2009.
Uit: Der Biberpelz
"ERSTER AKT
Kleiner, blaugetünchter, flacher Küchenraum mit niedriger Decke; ein Fenster links; eine rohgezimmerte Tür ins Freie führend rechts; eine Tür mit ausgehobenem Flügel mitten in der Hinterwand. - Links in der Ecke der Herd, darüber an der Wand Küchengerät am Rahmen, rechts in der Ecke Ruder und Schiffereigerät; gespaltenes Holz, sogenannte Stubben, unter dem Fenster in einem Haufen. Eine alte Küchenbank, mehrere Schemel usw. usw. - Durch den leeren Türrahmen der
Hinterwand blickt man in einen zweiten Raum. Darin steht ein hochgemachtes, sauber gedecktes Bett, darüber hängen billige Photographien in noch billigeren Rahmen, Öldruckköpfe in Visitenkartenformat usw. Ein Stuhl aus weichem Holz ist mit der Lehne gegen das Bett gestellt. - Es ist Winter, der Mond scheint. Auf dem Herd in einem Blechleuchter steht ein brennendes Talglicht. Leontine Wolff ist auf einem Schemel am Herd, Kopf und Arme auf der Herdplatte, eingeschlafen. Sie ist ein siebzehnjähriges, hübsches, blondes Mädchen in der Arbeitstracht eines Dienstmädchens. Über die blaue Kattunjacke hat sie ein dickes wollenes Brusttuch gebunden. - Einige Sekunden bleibt es still, dann hört man, wie jemand bemüht ist, von außen die Tür aufzuschließen, in der jedoch von innen der
Schlüssel steckt. Nun pocht es.
FRAU WOLFF (unsichtbar von außen). Adelheid! Adelheid!
(Stille; dann wird von der andern Seite ans Fenster gepocht.)
Wirschte gleich uffmachen!
LEONTINE (im Schlaf). Nein, nein, ick laß mir nich
schinden!
FRAU WOLFF. Mach uff, Mädel, sonste komm ich durchs Fenster.
(Sie trommelt sehr stark ans Fenster.)
LEONTINE (aufwachend). Ach, du bist's, Mama! Ick komme
ja schon! (Sie schließt auf)
FRAU WOLFF (ohne einen Sack, welchen sie auf der Schulter
trägt, abzulegen). Was willst'n du hier?
LEONTINE (verschlafen).'n Abend, Mama!
FRAU WOLFF. Wie bist'n du reinkommen, hä?
LEONTINE. Na, übern Ziejenstall lag doch der Schlüssel.
(Kleine Pause.)
FRAU WOLFF. Was willste denn nu zu Hause, Mädel?
LEONTINE (läppisch maulend). Ich soll woll man jar
nich mehr bei euch komm?
FRAU WOLFF. Na, sei bloß so gut und tu dich a bissel.
Das hab ich zu gerne. (Sie läßt den Sack von der
Schulter fallen.)"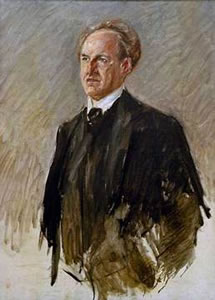 Gerhart Hauptmann (15 november 1862 - 6 juni 1946)
Portret door Max Liebermann, 1912
De Duitse dichter en schrijver Heinz Piontek werd geboren op 15 november 1925 Kreuzburg (Opper-Silezië). Zie ook mijn blog van 15 november 2009.
Einfache Sätze aus dem Jahr 68
1
Jemand läßt durchblicken, daß er
gegen die Zeit ist.
Jemand protestiert mit seinem Transparent
gegen Transparente.
Andere haben gleichschenklige
Dreiecke im Kopf.
Die Aufklärung nimmt zu.
Es wird dunkel.
Neue Bücher ergeben neue
Transparente.
Die Zukunft soll
rothaarig sein.
Über die Zukunft
sprechen wir morgen.
2
Jemand weiß Bescheid.
Er ist Schüler.
Alte Leute erzählen immer nur
alte Geschichten.
Ein Seminarist und eine Wucherin
in St. Petersburg.
Klassiker, gut für
Kreuzworträtsel.
Nichts ist so lästig wie
was gut ist.
Man kann nicht immer nur
auf Fliegen Jagd machen.
Mode wird bald
die Axt unterm Mantel.
Alle sprechen vom Überfluß.
Es soll wieder
Überflüssige Menschen geben.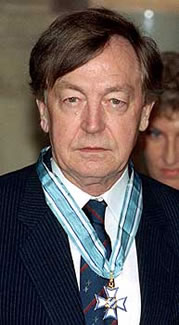 Heinz Piontek (15 november 1925 – 26 oktober 2003)
De Britse dichter en schrijver James Graham Ballard werd geboren in Shanghai op 15 november 1930. Zie ook mijn blog van 15 november 2008 en ook mijn blog van 15 november 2009.
Uit: Crash
"Vaughan died yesterday in his last car crash. During our friendship he had rehearsed his death in many crashes, but this was his only true accident. Driven on a collision course towards the limousine of the film actress, his car jumped the rails of the London Airport flyover and plunged through the roof of a bus filled with airline passengers. The crushed bodies of package tourists, like a hemorrhage of the sun, still lay across the vinyl seats when I pushed my way through the police engineers an hour later. Holding the arm of her chauffeur, the film actress Elizabeth Taylor, with whom Vaughan had dreamed of dying for so many months, stood alone under the revolving ambulance lights. As I knelt over Vaughan's body she placed a gloved hand to her throat.
Could she see, in Vaughan's posture, the formula of the death which he had devised for her? During the last weeks of his life Vaughan thought of nothing else but her death, a coronation of wounds he had staged with the devotion of an Earl Marshal. The walls of his apartment near the film studios at Shepperton were covered with the photographs he had taken through his zoom lens each morning as she left her hotel room in London, from the pedestrian bridges above the westbound motorways, and from the roof of the multistorey car park at the studios. The magnified details of her knees and hands, of the inner surface of her thighs and the left apex of her mouth, I uneasily prepared for Vaughan on the copying machine in my office, handing him the packages of prints as if they were the installments of a death warrant. At his apartment I watched him matching the details of her body with the photographs of grotesque wounds in a textbook of plastic surgery."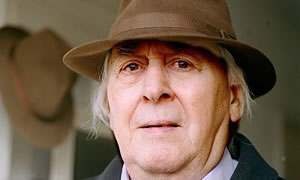 J. G. Ballard (15 november 1930 - 19 april 2009)
De Duitse dichteres en schrijfster Liane Dirks werd geboren op 15 november 1965 in Hamburg. Zie ook mijn blog van 15 november 2007 en ook mijn blog van 15 november 2008 en ook mijn blog van 15 november 2009.
Glück
Als ich 48 war, hatte ich plötzlich diese bestürzende Wendungxml:namespace prefix = v ns = "urn:schemas-microsoft-com:vml" /> xml:namespace prefix = w ns = "urn:schemas-microsoft-com:office:word" />des Glücks.
Sie kam beiläufig, abends bei einem Regen. Der sich kurz vor der Nacht verzog und den Himmel metallen blau zurückließ. In der Farbe des Wissens um Dunkelheit.
Ein ärgerlicher Techno-Sound aus der Nachbarschaft und in der Küche der Geruch von Knoblauch. Auf dem Teppich stöhnte der Hund kurz und ein paar Vögel waren zu hören.
Es war ein heftiges Glück, das sich einfraß, tief in meinen Körper, in jede Faser, in jeden Nervenstrang. Die andere Seite der Trauer.
Und plötzlich löste sich etwas auf in mir. Etwas verschwand. Von mir. Ich war nicht mehr wichtig.
Anstatt meiner war das Glück nun da.
Es hat mir somit sein größtes Geheimnis offenbart. Das Glück hat mit unserem Ich gar nichts zu tun.
Es tritt erst wirklich ein, wenn es uns ersetzt.
Das Glück ist ein großer Auslöscher.
Ich hab dann noch ein paar Vögeln zugehört und etwas Wein getrunken. Die tote Akazie stach skurril vom Himmel ab. Zuletzt war es noch eine Amsel, die sang.
Das Glück ist ein großer Auslöscher.
Vielleicht haften wir deshalb so an unserem privaten Elend. Wir Individualisten, wir Egomanen, wir, wir Ichs.
Ich beschloss den Hund auszuführen und bald zu Bett zu gehen mit irgendeinem Buch von einem jener Amerikaner, die alles so gern ausmalen, und so gern erzählen, so opulent.
Das Glück war immer noch da.
Auch am nächsten Morgen noch.
Was mache ich, wenn es bleibt?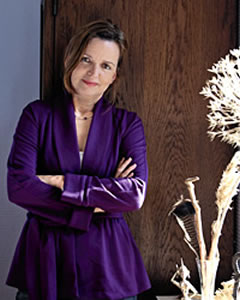 Liane Dirks (Hamburg, 15 november 1965)





Zie voor nog meer schrijvers van de 15e november ook mijn vorige blog van vandaag en eveneens mijn eerste blog van vandaag.
15-11-2010 om 16:22 geschreven door Romenu

Tags:Wolf Biermann, Gerhard Hauptmann, Heinz Piontek, J. G. Ballard, Liane Dirks, Romenu



Antoni Słonimski, Elizabeth Arthur, Carlo Emilio Gadda, Marianne Moore
De Poolse dichter en schrijver Antoni Słonimski werd geboren op 15 november 1895 in Warschau. Zie ook mijn blog van 15 november 2009.
Rebellion
Mein Herz zu rühren braucht es nur sehr wenig.
Mein Wort entlädt sich leicht wie ein Gewehr.
Im Königreich bin ich ein Revolutionär,
Und in der Republik lobpreise ich den König.
Elegy for the Little Jewish Towns
Gone now are, gone are in Poland the Jewish villages,
in Hrubieszow, Karczew, Brody, Falenica
you look in vain for candlelight in the windows
and listen for song from the wooden synagogue.
Disappeared are the last rests, the Jewish possessions,
the blood is covered over by sand, the traces removed,
and the walls whitewashed with lime,
as for a high holiday or after a contagious disease.
One moon shines here, cold, pale, alien,
already behind the town, on the road,
when night uncoils its light,
my Jewish relatives, boys with poetic feeling,
will no longer find Chagal's two golden moons.
The moons now wander above another planet,
frightened away by grim silence, no trace of them.
Gone now are those little towns where the shoemaker was a poet,
The watchmaker a philosopher, the barber a troubadour.
Gone now are those little towns where the wind joined
Biblical songs with Polish tunes and Slavic rue,
Where old Jews in orchards in the shade of cherry trees
Lamented for the holy walls of Jerusalem.
Gone now are those little towns, though the poetic mists,
The moons, winds, ponds, and stars above them
Have recorded in the blood of centuries the tragic tales,
The histories of the two saddest nations on earth.
Vertaald door Howard Weiner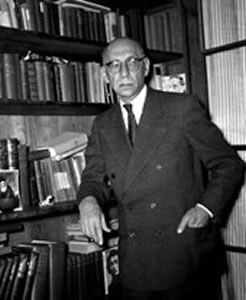 Antoni Słonimski (15 november 1895 – 4 juli 1976)
De Amerikaanse schrijfster Elizabeth Arthur werd geboren op 15 november 1953 in New York. Zie ook mijn blog van 15 november 2009.
Uit: Bring Deeps
"And in the air from all this smoke, there were two odors, coal and peat — two smells upon the chilly wind they blew in. As each fuel burned in hearths around the town, before dispersing in the sky, it heated well, I guessed, the house that it was burning in. But still, they were so different, coal and peat, you'd never think, to smell them, that they could be kin to one another. The smell of peat was lovely, sweet and rich, the smell of something that had once, perhaps, been lilies. These then had gone into the bogs, three thousand years before, created by the changing Orkney weather. The peat bogs had grown up where once there had been grass; and now, the great dark blocks of crumbling earthy peat, when set alight, still smelled of meadows.
The coal, though, smelled of fear. It was a bleak, depressing smell; it made it hard to feel much joy in any place where coal smoke blew around you. And you need not know anything of coal, and how it forged itself within the darkness of the earth a million years before, to feel this. You need not know how miners, even now, were sometimes killed, so far away from light and air, and chipping off black blocks of burning. The smell in any case was bleak; it smelled of places where you'd once been trapped, from which — against all odds — you'd managed to escape. It smelled of times that you would rather not remember, when the things you loved had been upended, loosed by someone's hand and broken. And yet these two smells, intermixed in Kirkwall — now flowers, wafting on the air, and now the hard and hurting memories — came from two fuels which each had lain within the body of the earth in graves, one shallow and one deep, and which had each been then brought forth out of the deeps to give a bright bright gift of ease."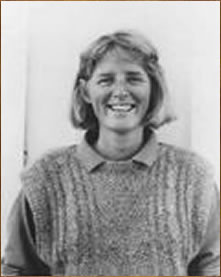 Elizabeth Arthur (New York, 15 november 1953)
De Italiaanse schrijver Carlo Emilio Gadda werd geboren op 15 november 1893 in Milaan. Zie ook mijn blog van 15 november 2008 en ook mijn blog van 15 november 2009.
Uit: Saint Georges chez les Brocchi (Vertaald door Marina Fratnik)
"Que Jole, la femme de chambre du comte, sortît chaque soir pour faire faire à Fuffi sa petite promenade: et que de temps à autre Fuffi, après avoir méticuleusement suivi, la laisse tendue et le museau contre terre, on ne sait quelle odeur, levât tout soudain contre le plus vénérable des marronniers d'Inde sa quatrième papatte comme pour dire: «Vrai de vrai, celui-là mérite qu'on l'arrose!»; qu'entre-temps des volées de bersagliers en retard rentrassent au pas de course, leurs plumes dressées dans le vent du printemps, et qu'ils débitassent à Jole des madrigaux à toute vapeur, avant que le rideau de fer de la retraite ne s'abatte brutalement sur les rêves errants de la nuit; que les trams galopassent à vide vers les hangars de banlieue, ou demi-vides, vers le grouillement des gares: et qu'une religieuse sur le départ baissât les yeux, joignant les mains sur son ventre, parce qu'elle avait entrevu par la fenêtre du tram des amants qui s'embrassaient à l'ombre des jardins obscurs; et que Jole, ayant aperçu la pauvre religieuse, laissât pénétrer dans ses veines un certain désarroi: que tout cela arrivât, c'était, pourrait-on risquer, tout à fait dans l'ordre des choses, du moins de celles de 1928 après J.-C.
Que par la suite Jole, pendant la petite promenade de Fuffi, qui tirait sur sa laisse et levait la patte à tout propos, se fît presque chaque soir aborder, oh la la!, par un «petit jeune homme», mais alors très très «jeune homme», de ceux qui n'ont rien de mieux à faire avec les filles que l'andouille: que parmi les événements de 1928 fût apparue cette complication, les yeux perçants, voire extralucides, des concierges de la belle-sœur du comte l'avaient peu à peu sinon constaté (à cause des marronniers d'Inde, des trams, des taxis, des innombrables ombres errant deux par deux sous les feuillages des uns et derrière les infatigables navettes des autres), du moins presque deviné. Puisque aussi bien, les soirs de printemps, les concierges prenaient le frais sous le porche: et que lui, fumait la pipe.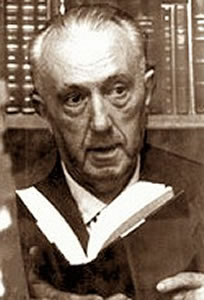 Carlo Emilio Gadda (15 november 1893 – 21 mei 1973)
De Amerikaanse dichteres Marianne Moore werd geboren op 15 november 1887 in Kirkwood, Missouri. Zie ook mijn blog van 15 november 2008 en ook mijn blog van 15 november 2009.
No Swan So Fine
"No water so still as the
dead fountains of Versailles." No swan,
with swart blind look askance
and gondoliering legs, so fine
as the chinz china one with fawn-
brown eyes and toothed gold
collar on to show whose bird it was.
Lodged in the Louis Fifteenth
candelabrum-tree of cockscomb-
tinted buttons, dahlias,
sea-urchins, and everlastings,
it perches on the branching foam
of polished sculptured
flowers--at ease and tall. The king is dead.
To a Steam Roller
The illustration
is nothing to you without the application.
You lack half wit. You crush all the particles down
into close conformity, and then walk back and forth on them.
Sparkling chips of rock
are crushed down to the level of the parent block.
Were not 'impersonal judment in aesthetic
matters, a metaphysical impossibility,' you
might fairly achieve
it. As for butterflies, I can hardly conceive
of one's attending upon you, but to question
the congruence of the complement is vain, if it exists.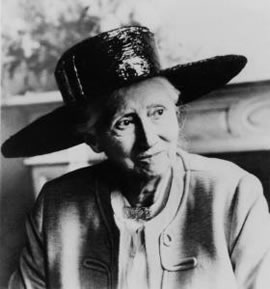 Marianne Moore (15 november 1887 – 5 februari 1972)

15-11-2010 om 16:13 geschreven door Romenu

Tags:Antoni Sł,onimski, Elizabeth Arthur, Carlo Emilio Gadda, Marianne Moore, Romenu



Richmal Crompton, Emmy von Rhoden, Madeleine de Scudéry, Janus Secundus, José de Lizardi
De Engelse schrijfster Richmal Crompton Lamburn werd geboren op 15 november 1890 in Lancashire. Zie ook mijn blog van 15 november 2008.
Uit: More William
"William awoke and rubbed his eyes. It was Christmas Day--the day to which he had looked forward with mingled feelings for twelve months. It was a jolly day, of course--presents and turkey and crackers and staying up late. On the other hand, there were generally too many relations about, too much was often expected of one, the curious taste displayed by people who gave one presents often marred one's pleasure.
He looked round his bedroom expectantly. On the wall, just opposite his bed, was a large illuminated card hanging by a string from a nail--"A Busy Day is a Happy Day." That had not been there the day
before. Brightly-coloured roses and forget-me-nots and honeysuckle twined round all the words. William hastily thought over the three aunts staying in the house, and put it down to Aunt Lucy. He looked at it with a doubtful frown. He distrusted the sentiment.
A copy of "Portraits of our Kings and Queens" he put aside as beneath contempt. "Things a Boy Can Do" was more promising. _Much_ more promising. After inspecting a penknife, a pocket-compass, and a pencil-box (which shared the fate of "Portraits of our Kings and Queens"), William returned to "Things a Boy Can Do." As he turned the pages, his face lit up.
He leapt lightly out of bed and dressed. Then he began to arrange his own gifts to his family. For his father he had bought a bottle of highly-coloured sweets, for his elder brother Robert (aged nineteen)
he had expended a vast sum of money on a copy of "The Pirates of the Bloody Hand." These gifts had cost him much thought. The knowledge that his father never touched sweets, and that Robert professed scorn of pirate stories, had led him to hope that the recipients of his gifts would make no objection to the unobtrusive theft of them by their recent donor in the course of the next few days."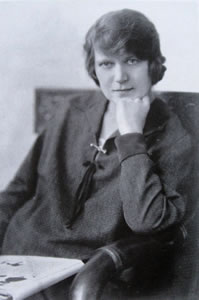 Richmal Crompton (15 november 1890 – 11 januiri 1969)
De Duitse schrijfster Emmy von Rhoden (eig. Emilie Auguste Karoline Henriette Friedrich geb. Kühne) werd geboren op 15 november 1829 in Magdeburg. Zie ook mijn blog van 15 november 2009.
Uit: Der Trotzkopf
»Nichts weiter, mein Kind, als daß du sofort auf dein Zimmer gehen und dich umkleiden sollst. Du wußtest wohl nicht, daß wir Gäste erwarten?«
»Doch, ich wußte es, aber ich mache mir nichts daraus,« gab Ilse kurz zur Antwort.
»Aber ich, Ilse. Ich kann nicht gleichgültig dabei sein, wenn du in einem so unordentlichen Kostüme dich blicken läßt. Du bist kein Kind mehr mit deinen fünfzehn Jahren; bedenke, daß du seit Ostern konfirmiert bist, eine angehende junge Dame aber muß den Anstand wahren. Was soll der junge
Schäffer von dir denken, er wird dich auslachen und dich verspotten.«
»Der dumme Mensch!« fuhr Ilse auf. »Ob der über mich lacht oder spottet, ist mir ganz gleichgültig. Ich lache auch über ihn! Thut, als ob er ein Herr wäre mit seinem Klemmer und geht doch noch in die Schule.«
»Er ist in Prima auf dem Gymnasium und zählt neunzehn Jahre. Nun sei vernünftig und kleide dich um, Kind, hörst du?«
»Nein, – ich ziehe kein andres Kleid an, ich will mich nicht putzen!«
»Wie du willst, aber dann bitte ich dich, ja ich wünsche es entschieden, daß du in deinem Zimmer bleibst und dein Abendbrot dort verzehrst,« gab Frau Macket mit großer Ruhe zur Antwort.
Ilse biß auf die Unterlippe und trat mit dem Fuße heftig auf die Erde, aber sie sagte nichts. Mit einer schnellen Wendung ging sie zur Thür hinaus und warf dieselbe unsanft hinter sich zu. Oben in ihrem Zimmer ließ sie sich auf einen Stuhl fallen, stützte die Ellbogen auf das Fensterbrett und weinte Thränen des bittersten Unmutes."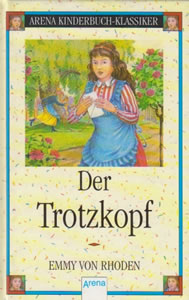 Emmy von Rhoden (15 november 1829 – 7 april 1885)
Boekomslag
De Franse schrijfster Madeleine de Scudéry werd geboren op 15 november 1607 in Le Havre. Zie ook mijn blog van 15 november 2008 en ook mijn blog van 15 november 2009.
Uit: La Carte de Tendre (Clélie, histoire romaine)
"Vous vous souvenez sans doute bien, madame, qu'Herminius avait prié Clélie de lui enseigner par où l'on pouvait aller de Nouvelle-Amitié à Tendre, de sorte qu'il faut commencer par cette première ville qui est au bas de cette carte pour aller aux autres; car, afin que vous compreniez mieux le dessein de Clélie, vous verrez qu'elle a imaginé qu'on pouvait avoir de la tendresse pour trois causes différentes : ou pour une grande estime, ou par reconnaissance, ou par inclination; et c'est ce qui l'a obligée à établir ces trois villes de Tendre sur trois rivières qui portent ces trois noms et de faire aussi trois routes différentes pour y aller. Si bien que, comme on dit Cumes sur la mer d'Ionie et Cumes sur la mer de Tyrrhène, elle fait qu'on dit Tendre-sur-Inclination, Tendre-sur-Estime et Tendre-sur-Reconnaissance. Cependant comme elle a présupposé que la tendresse qui naît par inclination n'a besoin de rien autre chose pour être ce qu'elle est, Clélie, comme vous le voyez, madame, n'a mis nul village le long des bords de cette rivière qui va si vite qu'on n'a que faire de logement le long de ses rives pour aller de Nouvelle-Amitié à Tendre. Mais, pour aller à Tendre-sur-Estime, il n'en est pas de même, car Clélie a ingénieusement mis autant de villages qu'il y a de petites et de grandes choses qui peuvent contribuer à faire naître par estime cette tendresse dont elle entend parler. En effet vous voyez que de Nouvelle-Amitié on passe à un lieu qu'on appelle Grand Esprit, parce que c'est ce qui commence ordinairement l'estime; ensuite vous voyez ces agréables villages de Jolis Vers, de Billet galant et de Billet doux, qui sont les opérations les plus ordinaires du grand esprit dans les commencements d'une amitié."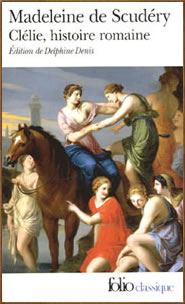 Madeleine de Scudéry (15 november 1607 – 2 juni 1701)
Boekomslag
De Nederlandse humanistische dichter Janus Secundus (eigenlijk Jan Everaerts) werd geboren in werd geboren in Den Haag op 15 november 1511. Zie ook mijn blog van 15 november 2009.
Uit: De kunst van het zoenen (Vertaald door J.P. Guépin)
DE ELFDE KUS Ze zeggen dat we te verfijnde kussen geven, die 't kranig voorgeslacht bepaald niet had geleerd. Zou ik, als om jouw hals mijn grage armen kleven en mij, mijn Licht, jouw kus tot stervens toe blesseert, bezorgd zijn om het kwaad dat mensen van mij zeggen, ik die, 'wie ben ik, waar ben ik', verbijsterd vraag? Neaera hoorde het, ze lachte en verlegde haar handen om mijn nek van boven naar omlaag. Ze gaf een zoen, zo ongelofelijk wellustig als Mars (haar minnaar) nooit van Venus had gekend. 'Vergeet het oordeel' zei ze, 'van die troep maar rustig, alleen mijn rechtbank is in dezen competent.'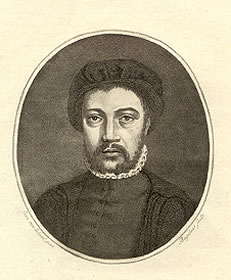 Janus Secundus (15 november 1511 - 1536)
De Mexicaanse dichter en schrijver José Joaquín Fernández de Lizardi werd geboren in Mexico-stad op 15 november 1776. Zie ook mijn blog van 15 november 2008.
Uit: El Periquillo Sarniento
"Nací en México, capital de la América Septentrional, en la Nueva-España. Ningunos elogios serían bastantes en mi boca para dedicarlos a mi cara patria; pero, por serlo, ningunos más sospechosos. Los que la habitan y los extranjeros que la han visto, pueden hacer su panegírico más creíble, pues no tienen el estorbo de la parcialidad, cuyo lente de aumento puede a veces disfrazar los defectos, o poner en grande las ventajas de la patria aun a los mismos naturales; y así, dejando la descripción de México para los curiosos imparciales, digo: que nací en esta rica y populosa ciudad por los años de 1771 a 73 de unos padres no opulentos, pero no constituidos en la miseria; al mismo tiempo que eran de una limpia sangre, la hacían lucir y conocer por su virtud. ¡Oh, si siempre los hijos siguieran constantemente los buenos ejemplos de sus padres!
Luego que nací, después de las lavadas y demás diligencias de aquella hora, mis tías, mis abuelas y otras viejas del antiguo cuño querían amarrarme las manos, y fajarme o liarme como un cohete, alegando que si me las dejaban sueltas, estaba yo propenso a ser muy manilargo de grande, y por último, y como la razón de más peso y el argumento más incontrastable, decían que éste era el modo con que a ellas las habían criado, y que por tanto, era el mejor y el que se debía seguir como más seguro, sin meterse a disputar para nada del asunto; porque los viejos eran en todo más sabios que los del día, y pues ellos amarraban las manos a sus hijos, se debía seguir su ejemplo a ojos cerrados.
A seguida, sacaron de un canastito una cincha de listón que llamaban faja de dijes, guarnecida con manitas de azabache, el ojo del venado, colmillo de caimán, y otras baratijas de esta clase, dizque para engalanarme con estas reliquias del supersticioso paganismo el mismo día que se había señalado para que en boca de mis padrinos fuera yo a profesar la fe y santa religión de Jesucristo."
The Itching Parrot (Vertaald door Katherine Ann Porter)
"I WAS BORN IN MEXICO, capital of Northern America, in New Spain, about the years 1771 to 1773, of parents neither rich nor poverty stricken. At the same time they were of good blood and made it known by their virtue.
As soon as I was born, after the washings and other business of that hour, my aunts, my grandmothers, and other dames of the old school wished to bind my hands and bundle and wrap me up like a firecracker, alleging that if they left me untied I was apt to scare myself, or be very free with my fists when I grew up; and, as the weightiest reason and the final unanswerable argument, they said they had been brought up in this way and on that account it was the best and should be followed as the surest, without disputing the matter at all, because the old are in everything wiser than the young and, since they had always swaddled their children, their example should be followed with closed eyes. Then they took out of a little basket a piece of ribbon called a relic belt, garnished with jet hands, deer's eye, alligator teeth, and other knickknacks of this kind, intending to adorn me with these relics of superstitious paganism; and this on the very day that had been chosen for me to go to church to profess, through the lips of my godparents, the faith and holy religion of Jesus Christ."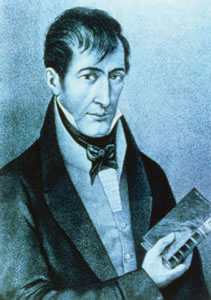 José de Lizardi (15 november 1776 - 27 april 1827)

15-11-2010 om 16:07 geschreven door Romenu

Tags:Richmal Crompton, Emmy von Rhoden, Madeleine de Scudéry, Janus Secundus, José de Lizardi, Romenu



Jan Terlouw
De Nederlandse schrijver, fysicus en voormalig politicus voor Democraten 66 Jan Terlouw werd geboren in Kamperveen op 15 november 1931 Hij groeide op in de Veluwse dorpen Garderen en Wezep, waar zijn vader Gereformeerde Bonds-predikant was. In 1948 begon hij zijn studie wis- en natuurkunde aan de Rijksuniversiteit Utrecht, waarin hij in 1956 zijn doctoraalexamen behaalde. Vervolgens deed hij dertien jaar lang wetenschappelijk onderzoek. Terlouw promoveerde in 1964 op onderzoek naar kernfusie. In 1970 debuteerde hij met zijn eerste boeken 'Pjotr' en 'Oom Willibrord', en werd hij actief als gemeenteraadslid. In 1971 kwam hij voor de D66 in de Tweede Kamer. Twee jaar. In 1999 werd Terlouw senator in de Eerste Kamer. Terlouw heeft een aantal boeken geschreven; voornamelijk jeugdliteratuur. Zijn boeken zijn talloze malen herdrukt, bekroond, en vertaald in vele talen. De laatste jaren schrijft Terlouw sommige boeken samen met zijn dochter Sanne Terlouw.
Uit: Oosterschelde windkracht 10
"Henk en Anne, pas getrouwd, wonen voorlopig nog in bij haar ouders, totdat hij zijn diploma behaald heeft. Het is 31 januari 1953. In de loop van de avond wakkert de wind aan, er is storm op zee en in de polders op Overflakkee een Zeeuws eiland, vreest men voor overstromingen. Zullen de dijken het houden ? Henk is samenmet zijn zwager Piet poolshoogte gaan nemen, terwijl de rest van het gezin zijn voorzorgen neemt en naar de zolder verhuist. Op de dijken rijden auto's af en aan om de bedreigde families naar Nieuwe Tonge te brengen, dat hoger gelegen is dan Battenoord.
"Vlug in mijn auto," riep Tegelaar. "Ik draai om en neem jullie mee naar Tonge."
De vrouw en de kinderen stapten in, terwijl Piet en de mannen naar de andere auto liepen om te kijken waarom hij niet wegreed.
"Hij slaat niet aan - te nat," riep de chauffeur. "Help me duwen." Hij kwam er zelf uit en met z'n vieren begonnen ze de auto door het water te duwen. 't Was geen doen. Waar moest dat heen ? Plotseling kwam er een grote waterhoos op hen af en sloeg bruisend over hen heen. Tegelaar verloor zijn evenwicht, gaf een akelige schreeuw, die even de wind overstemde, en werd meegevoerd
door het water.
Nu pas begreep Piet dat zij in levensgevaar verkeerden. Lang had hij niet om zich daar zorgen over te maken. De situatie werd snel slechter. Steeds hogere golven sloegen over de dijk, tegen de auto aan, tegen hen aan. Hij keek om en zag iets afschuwelijks gebeuren. De auto van Tegelaar, waar juist de vrouw met de twee kinderen in waren gestapt, zakte scheef weg omdat er een stuk dijk afbrokkelde, bleef een paar tellen hangen. Een grote golf kwakte ertegenaan. De auto verdween in het woedende water.
"De auto, de andere auto !" schreeuwde Piet.
"Duwen, duwen," riep de chauffeur van de overgebleven wagen. "In godsnaam, duw!"
De man die net zijn vrouw en kinderen had zien omkomen, stond wezenloos voor zich uit te kijken. Met z'n tweeën probeerden ze het nog even. Het ging niet meer."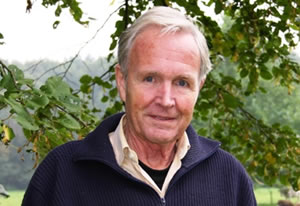 Jan Terlouw (Kamperveen, 15 november 1931)

15-11-2010 om 00:00 geschreven door Romenu

Tags:Jan Terlouw, Romenu



| | |
| --- | --- |
| | |



Inhoud blog


| | |
| --- | --- |
| | Pol Hoste, Menno Van der Beek, Flannery O'Connor, Jaime Sabines, Peter Van Straaten, Toni Cade Bambara, Antonio Fogazzaro |
| | Jacques Bens, Jacques Audiberti, Filip De Pillecyn, Erica Pedretti, Evliya Çelebi, Anne Fanshawe, Daniel Schiebeler, Mary Webb |
| | Peter Bichsel, Martin Walser, Dario Fo, Lawrence Ferlinghetti, Jacob van Lennep, Jeroen Mettes, Harry Prenen, Willem van Iependaal, Top Naeff |
| | Cri Stellweg, Yōko Tawada, Gary Whitehead, Mitch Cullin, Steven Saylor, Roger Martin du Gard, Madison Cawein, Nils-Aslak Valkeapää, Federica de Cesco |
| | Billy Collins, Eveline Hasler, Érik Orsenna, Léon Deubel, Karel Poláček, Arnold Sauwen, Wolfgang Bächler, Albrecht Goes, Gabrielle Roy |
| | In Memoriam Colin Dexter |
| | Willem de Mérode, Pim te Bokkel, Kees van Beijnum, Jean Paul, Hamid Skif, Hubert Fichte, Peter Hacks, Michel Bartosik, Youssef Rzouga |
| | David Malouf, Friedrich Hölderlin, Katharina Hartwell, Ralph Giordano, Ricus van de Coevering, Jens Petersen, Benoît Duteurtre, Gerard Malanga, Henrik Johan Ibsen |
| | Mano Bouzamour, Hans Mayer, Philip Roth, Kirsten Boie, Lynne Sharon Schwartz, Lina Kostenko, Petar Preradović |
| | William Allingham, Ion Barbu, Rosalie Loveling, Tobias Smollett, Irving Wallace, Peter Abrahams |
| | Am dritten Sonntage in der Fasten (Annette von Droste-Hülshoff) |
| | Christa Wolf, Charlotte Roche, John Updike, Wilfred Owen, Stéphane Mallarmé |
| | Héctor Bianciotti, Hellema, Friedrich Hebbel, Max Barry, Wolfgang Bauer, Richard Condon |
| | Walter Rheiner, Srečko Kosovel, Jean Anglade, George Plimpton, Cosmo Monkhouse, Friedrich Nicolai |
| | Siegfried Lenz, Thomas Melle, Hans Wollschläger, Rense Sinkgraven, Hafid Aggoune, William Gibson, Patrick Hamilton, Karl Gutzkow, Jean Ingelow |
| | In memoriam Torgny Lindgren |
| | Frühlingsglaube (Johann Ludwig Uhland) |
| | Ben Okri, David Albahari, Louis Paul Boon, Kurt Drawert, Gerhard Seyfried, Andreas Okopenko, An Rutgers van der Loeff, Prosper van Langendonck, Paul Heyse |
| | Pam Ayres, Jochen Schimmang, Volker von Törne, Horton Foote, Olivier Delorme, Alexandru Macedonski, Albert Robida, Theodore de Banville, Wout Waanders |
| | Mahmoud Darwish, Yuri Andrukhovych, Didier Decoin, Yeghishe Charents, Vladimir Makanin, Oskar Loerke, W.O. Mitchell, Hugh Walpole, Inge Müller |
| | Jenny Erpenbeck, Dave Eggers, Jack Kerouac, Naomi Shihab Nye, Carl Hiaasen, Edward Albee, De Schoolmeester, Benedict Wells |
| | Kathrin Schmidt, Henrike Heiland, M. A. Numminen, Gabriele d'Annunzio, Irving Layton, Helga Goetze, Françoise d'Eaubonne, Antony Deschamps, Sergej Michalkov |
| | Leena Lehtolainen, Karl Krolow, Daan de Ligt, Frans Vogel, Willem Claassen, Amal Karam |
| | Ernst Wichert, Douglas Adams, Torquato Tasso, Georg Maurer, Josef Martin Bauer |
| | John Rechy, Joseph von Eichendorff, Hilde Van Cauteren, Jakob Wassermann, Karel van de Woestijne, Chloé Delaume, Friedrich Schlegel, Boris Vian, Manolis Anagnostakis |
| | Peter Altenberg, Ed Hoornik, Peter Zantingh, Heere Heeresma, Vita Sackville-West, Josef Weinheber, Taras Sjevtsjenko, Umberto Saba, Agnes Miegel |
| | Jeffrey Eugenides, Walter Jens, Hafid Bouazza, A. Marja, Aslı Erdoğan, John McPhee, Mouloud Feraoun, Mechtilde Lichnowsky, Dominic Angeloch |
| | Bret Easton Ellis, Robert Harris, Jürgen Theobaldy, Georges Perec, Abe Kōbō, Reinhard Kaiser, Manfred Gregor, Jan Frederik Helmers, Alessandro Manzoni |
| | Patrick deWitt, Gabriel García Márquez, Jeremy Reed, Marijke Hanegraaf, Thomas Acda, Günter Kunert, Clark Accord, Elizabeth Barrett Browning, Michelangelo |
| | Pier Paolo Pasolini, Arthur van Schendel, Koos van Zomeren, Jurre van den Berg, Nelly Arcan, Danny King, Jean Orizet |
| | Leslie Marmon Silko, Frank Norris, Fritz Usinger, Friedrich Schnack, Ennio Flaiano, Moritz Carrière, Karl August Timotheus Kahlert |
| | Kristof Magnusson, Khaled Hosseini, Robert Kleindienst, Irina Ratushinskaya, Alan Sillitoe |
| | Ryszard Kapuściński, Jean-Joseph Rabearivelo, Annette Seemann, F. W. Bernstein, Giorgio Bassani |
| | Bernardo Ashetu, Léon-Paul Fargue, Kito Lorenc, Jacques Dupin, Thomas S. Stribling |
| | Manfred Flügge, Hans Verhagen, Tjitske Jansen, James Merrill, Kola Boof, Clifton Snider, Gudrun Pausewang, Josef Winkler, Chris Kraus |
| | Godfried Bomans, Multatuli, Frank Albers, John Irving, Thom Wolfe, Michael Salinger, János Arany, Olivia Manning, Rinske Kegel |
| | Ash Wednesday (T. S. Eliot) |
| | Jan Eijkelboom, Jim Crace, Delphine de Vigan, Franz Hohler, Lytton Strachey, Robert Lowell, Myrthe van der Meer, Franzobel, Steven Barnes |
| | Chanson pour mourir d'amour au temps de carnaval (Louis Aragon) |
| | Stephen Spender, Bart Koubaa, Luc Dellisse, John Montague, Marcel Pagnol, Bodo Morshäuser, Martin Suter, Yórgos Seféris, Howard Nemerov |
| | Josef Svatopluk Machar |
| | Carnival Evening (Linda Pastan) |
| | Cynan Jones, John Steinbeck, Lawrence Durrell, André Roy, Henry Longfellow, Elisabeth Borchers, James T. Farrell, Irwin Shaw |
| | Fastnacht (Achim von Arnim) |
| | Michel Houellebecq, Victor Hugo, Adama van Scheltema, George Barker, Hermann Lenz, Antonin Sova, Jean Teulé |
| | Ulrike Syha, Elias Annes Borger, Vercors, Pierre Mac Orlan, Janus Djurhuus, Johann Lauremberg, August Thieme |
| | Amin Maalouf, Aldo Busi, Gabriël Smit, Anthony Burgess, Robert Rius, Karl May, Lesja Oekrajinka, Vittoria Colonna |
| | Franz Xaver Kroetz, Gérard Bessette, Mary Chase, Karl Wilhelm Ramler, Friedrich von Spee, Carlo Goldoni, Quirinus Kuhlmann |
| | Karel Toman |
| | Leon de Winter, Alain Mabanckou, George Moore, Erich Loest, Herman Maas, Luc Verbeke, Wilhelm Grimm, Friedrich Spielhagen, Jacques Presser |


Gastenboek


Druk op onderstaande knop om een berichtje achter te laten in mijn gastenboek