De Duitse dichter Heinrich Heine werd geboren in Düsseldorf op 13 december 1797. Zie ook alle tags voor Heinrich Heine op dit blog.
Uit:Die Harzreise
"Die Stadt Göttingen, berühmt durch ihre Würste und Universität, gehört dem Könige von Hannover, und enthält 999 Feuerstellen, diverse Kirchen, eine Entbindungsanstalt, eine Sternwarte, einen Karzer, eine Bibliothek und einen Ratskeller, wo das Bier sehr gut ist. Der vorbeifließende Bach heißt »die Leine«, und dient des Sommers zum Baden; das Wasser ist sehr kalt und an einigen Orten so breit, daß Lüder wirklich einen großen Anlauf nehmen mußte, als er hinübersprang. Die Stadt selbst ist schön, und gefällt einem am besten, wenn man sie mit dem Rücken ansieht. Sie muß schon sehr lange stehen; denn ich erinnere mich, als ich vor fünf Jahren dort immatrikuliert und bald darauf konsiliiert wurde, hatte sie schon dasselbe graue, altkluge Ansehen, und war schon vollständig eingerichtet mit Schnurren, Pudeln, Dissertationen, Teedansants, Wäscherinnen, Kompendien, Taubenbraten, Guelfenorden, Promotionskutschen, Pfeifenköpfen, Hofräten, Justizräten, Relegationsräten, Profaxen und anderen Faxen. Einige behaupten sogar, die Stadt sei zur Zeit der Völkerwanderung erbaut worden, jeder deutsche Stamm habe damals ein ungebundenes Exemplar seiner Mitglieder darin zurückgelassen, und davon stammten all die Vandalen, Friesen, Schwaben, Teutonen, Sachsen, Thüringer usw., die noch heutzutage in Göttingen, hordenweis, und geschieden durch Farben der Mützen und der Pfeifenquäste, über die Weenderstraße einherziehen, auf den blutigen Walstätten der Rasenmühle, des Ritschenkrugs und Bovdens sich ewig untereinander herumschlagen, in Sitten und Gebräuchen noch immer wie zur Zeit der Völkerwanderung dahinleben, und teils durch ihre Duces, welche Haupthähne heißen, teils durch ihr uraltes Gesetzbuch, welches Comment heißt und in den legibus barbarorum eine Stelle verdient, regiert werden.
Im allgemeinen werden die Bewohner Göttingens eingeteilt in Studenten, Professoren, Philister und Vieh; welche vier Stände doch nichts weniger als streng geschieden sind. Der Viehstand ist der bedeutendste. Die Namen aller Studenten und aller ordentlichen und unordentlichen Professoren hier herzuzählen, wäre zu weitläufig; auch sind mir in diesem Augenblick nicht alle Studentennamen im Gedächtnisse, und unter den Professoren sind manche, die noch gar keinen Namen haben. Die Zahl der Göttinger Philister muß sehr groß sein, wie Sand, oder besser gesagt, wie Kot am Meer; wahrlich, wenn ich sie des Morgens, mit ihren schmutzigen Gesichtern und weißen Rechnungen, vor den Pforten des akademischen Gerichtes aufgepflanzt sah, so mochte ich kaum begreifen, wie Gott nur so viel Lumpenpack erschaffen konnte."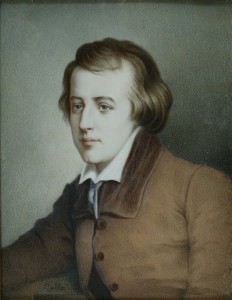 Heinrich Heine (13 december 1797- 17 februari 1856)
Portret uit ongeveer 1820/ 25
De Angolese schrijver José Eduardo Agualusa werd op 13 december 1960 in Huambo geboren. Zie ook alle tags voor José Eduardo Agualusa op dit blog.
Uit: The Book of Chameleons (Vertaald door Daniel Hahn)
"Damn! Whose stupid idea was it to change the name of the high school?! A man who expelled the Dutch colonists, an internationalist fighter of our brother-country, an Afro-antecedent, who gave us one of the most important families in this country - that is to say, mine. No, old man, it won't do. Justice must be restored. I want the high school to go back to being called Salvador Correia, and I'll fight for it with all my strength. I'll have a statue of my grandfather cast to put outside the entrance. A really big statue, in bronze, on a block of white marble. (Yes, marble - don't you think?) Salvador Correia, on horseback, treading with contempt on the Dutch colonisers... The sword's important. I'll buy a real sword - he did use a sword, didn't he? Yes, a real sword, bigger than the one Afonso Henriques has got. And you can write something for the gravestone. Something along the lines of Salvador Correia, Liberator of Angola with the gratitude of the nation and the Marimba Union Bakeries - something like that, or something else, whatever, but something respectful - yes, hell, respectful! Have a think about it and get back to me. Oh and look, I've brought you some sweets, ovos moles from Aveiro - do you like ovos moles? These are the best ovos moles in Aveiro, though in fact they're "Made in Cacuaco", the best OVOS molesin all Africa, in the whole world - even better than the real thing. Made by my master-patissier, who's from Ilhavo - do you know Ilhavo? You ought to. You people spend two days in Lisbon and think you know Portugal. But try them, try them, then tell me if I'm right or not. So I'm descended from Salvador Correia – caramba! - and I never knew it till now. Excellent. My wife will be ever so pleased."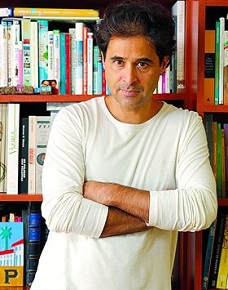 José Eduardo Agualusa (Huambo, 13 december 1960)
De Amerikaanse dichter Kenneth Patchen werd geboren op 13 december 1911 in Niles, Ohio. Zie ook alle tags voor Kenneth Patchen op dit blog.
Pastoral
The Dove walks with sticky feet
Upon the green crowns of the almond tree,
Its feathers smeared over with warmth
Like honey
That dips lazily down into the shadow ...
Anyone standing in that orchard.So filled with peace and sleep,
Would hardly have noticed the hill
Nearby
With its three strange wooden arms
Lifted above a throng of motionless people
- Above the helmets of Pilate's soldiers
Flashing like silver teeth in the sun.
Plow Horses
They stand contentedly chewing
What does it mean to live now?
They are solid and their muscles move
Easily in the oil of their blood.
What does it mean to live now?
They put their faces together like children
And their gentle eyes look at me
What does it mean to live now?
I run my hand along their necks, lovingly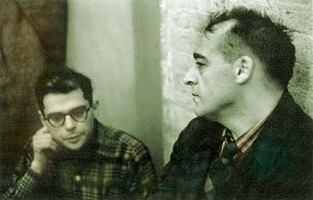 Kenneth Patchen (13 december 1911 – 8 januari 1972)
Hier met Allen Ginsberg (links)
De Nederlandse schrijver Anton H.J. Dautzenberg werd geboren in Heerlen op 13 december 1967.
Uit: Extra tijd
"Verliest Roda vandaag dan is het einde verhaal. Bij winst zijn er in het gunstigste geval nog vier wedstrijden te gaan- en haalt hij Vlieland. Zijn vader zal boven zichzelf uitstijgen, hij zal koste wat het kost de nacompetitie willen volgen, desnoods op zijn tandvlees.(blz. 17)
"Mijn vader heeft afscheid van me genomen. Ik niet van hem. Ik ben een lafaard. Hij is de winnaar. Hij heeft me vastgepakt. Een plank in zijn armen. Zijn zoon: een plank.: (blz. 200)
"We schakelen over naar Ron de Rijk in Landgraaf. Ron, is de wedstrijd al afgelopen?
Nee, Tom, de laatste minuten van de extra tijd tikt langzaam weg in huize Meulenberg. Nog enkele seconden en dan is het over en uit. Het wordt spannend nu. Gustaaf kijkt naar zijn zoon, wijst naar de hond en tikt in één beweging de huisarts op zijn arm: actie.! Het gaat snel nu. De huisarts sluit een ampul aan op het infuus en drukt die langzaam leeg."
(…)
"Mijn vader zit bij een kampvuur. Met een houten lepel eet hij bonen uit een oude, gebutste koekenpan. Hij kijkt lachend in de camera. Naast hem liggen Vlekkie en Oskar rustig te slapen. "I was born under a Wandrin'Star"klinkt. De whiskystem van Lee Marvin."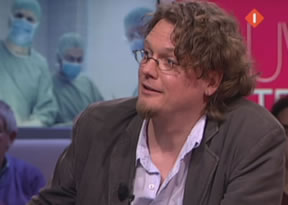 Anton H.J. Dautzenberg (Heerlen, 13 december 1967)
De Franse schrijver Jean Rouaud werd geboren op 13 december 1952 in Campbon (Loire-Atlantique). Zie ook alle tags voor Jean Rouaud op dit blog.
Uit: Le Monde à peu près
"On les entend du bord de touche lancer aux joueurs de pertinentes consignes: passe, tire, dégage - quoique facile à dire, bien sûr -, se lamentant d'une balle perdue comme si sur le coup le sort du monde en dépendait, tournant momentanément le dos de l'air de ceux qui ne veulent plus voir ça ou qui en ont trop vu. Mais le monde n'est pas en cause, il s'agit juste par ce dépit exprimé de montrer à un public se réduisant à eux-mêmes qu'ils prennent de l'intérêt à la partie, ou du moins qu'ils cherchent mutuellement à s'en convaincre. Alors pourquoi celui-là garde-t-il la balle quand son partenaire démarqué s'est déjà engouffré dans une brèche de la défense, provoquant un début de panique dans les rangs adverses ? L'occasion serait nette et franche, la balle déjà dans les filets, si l'autre idiot, moi par exemple, ne s'ingéniait à vouloir la garder."
(…)
"Le plus drôle, c'est que je n'ai rien vu - cette vision tremblée des myopes qui tient le monde à distance, le confine dans un étroit périmètre de netteté aux contours de plus en plus incertains, poudreux, au-delà desquels les formes perdent la rigueur des lignes, se glissent dans une gaine flottante, s'entourent d'une sorte de nuage électronique. Ce qui constitue une réalité physique, au vrai, scientifique, si bien que le myope se trouve avoir une vision microscopique des choses, percevant jusqu'aux filaments du liquide lacrymal qui se déplacent sur la rétine."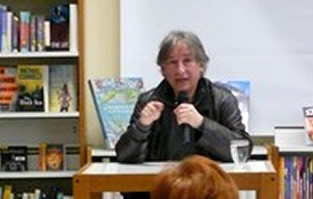 Jean Rouaud (Campbon, 13 december 1952)
De Joods-Nederlandse schrijfster Ida Vos (meisjesnaam Gudema) werd geboren in Groningen op 13 december 1931. Zie ook alle tags voor Ida Vos op dit blog.
Psychiater (aan dr. G.)
ik stond bij
zijn buro
vol statussen
te sterven
bijna van verdriet

zijn pen schreef
automaties:
'valium
drie keer
per dag'

meer niet
Stil
wees stil
want niemand
mag je horen
wees stil
ondergedoken kind.
je naam, je huis
heb je verloren.
zorg, dat men niet
je lichaam vindt.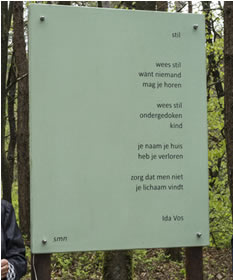 Ida Vos (13 december 1931 - 3 april 2006)
Het gedicht "Stil" als muurgedicht in Nunspeet
De Duitse dichter en schrijver Robert Gernhardt werd op 13 december 1937 in het Estische Reval (het huidige Tallinn) geboren. Zie ook alle tags voor Robert Gernhardt op dit blog.
Materialien zu einer Kritik
der bekanntesten Gedichtform italienischen Ursprungs
Sonette find ich sowas von beschissen,
so eng, rigide, irgendwie nicht gut;
es macht mich ehrlich richtig krank zu wissen,
daß wer Sonette schreibt. Daß wer den Mut
hat, heute noch so'n dumpfen Scheiß zu bauen;
allein der Fakt, daß so ein Typ das tut,
kann mir in echt den ganzen Tag versauen.
Ich hab da eine Sperre. Und die Wut
darüber, daß so'n abgefuckter Kacker
mich mittels seiner Wichserein blockiert,
schafft in mir Aggressionen auf den Macker.
Ich tick nicht, was das Arschloch motiviert.
Ich tick es echt nicht. Und wills echt nicht wissen:
Ich find Sonette unheimlich beschissen.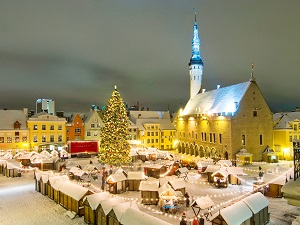 Robert Gernhardt (13 december 1937 – 30 juni 2006)
Kerstmarkt in Talinn (Reval)
Zie voor bog meer schrijvers van de 13e December ook mijn vorige blog van vandaag.
13-12-2014 om 00:00 geschreven door Romenu

Tags:Heinrich Heine, José Eduardo Agualusa, Kenneth Patchen, Anton H.J. Dautzenberg, Jean Rouaud, Ida Vos, Robert Gernhardt, Romenu