De Amerikaanse schrijfster Joyce Maynard werd geboren op 5 november 1953 in Durham, New Hampshire en volgde een opleiding aan de Phillips Exeter Academy. Zie ook mijn blog van 5 november 2008 en ook mijn blog van 5 november 2009.
Uit: The Good Daughters
"My father told me I was a hurricane baby. This didn't mean I was born in the middle of one. July 4, 1950, the day of my birth, fell well before hurricane season.
He meant I was conceived during a hurricane. Or in its aftermath. "Stop that, Edwin," my mother would say, if she overheard him saying this. To my mother, Connie, anything to do with sex, or its consequences (namely, my birth, or at least the idea of linking my birth to the sex act), was not a topic for discussion.
But if she wasn't around, he'd tell me about the storm, and how he'd been called out to clear a fallen tree off the road, and how fierce the rain had been that night, how wild the wind. "I didn't get to France in the war like my brothers," he said, "but it felt like I was doing battle, fighting those hundred-mile-an-hour gusts," he told me. "And here's the funny thing about it. Those times a person feels most afraid for their life? Those are the times you know you're alive." He told me how, in the cab of his truck, the water poured down so hard he couldn't see, and how fast his heart was pounding, plunging into the darkness, and how it was, after—outside in the downpour, cutting the tree and moving the heavy branches to the side of the road, his boots sinking into the mud and drenched from rain, his arms shaking.
"The wind had a human sound to it," he said, "like the moaning of a woman."
Later, thinking back on the way my father recounted the story, it occurred to me that much of the language he used to describe the storm might have been applied to the act of a couple making love. He made the sound of the wind for me, then, and I pressed myself against his chest so he could wrap his big arms around me. I shivered, just to think of how it must have been that night.
For some reason, my father liked to tell this story, though I—not my sisters, not our mother—was his only audience. Well, that made sense perhaps. I was his hurricane girl, he said. If there hadn't been that storm, he liked to say, I wouldn't be here now.
It was nine months later almost to the day that I arrived, in the delivery room of Bellersville Hospital, high noon on our nation's birthday, right after the end of the first haying season, and just when the strawberries had reached their peak."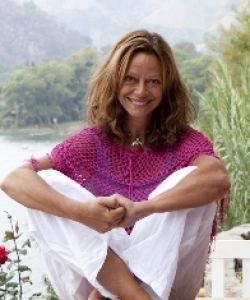 Joyce Maynard (Durham, 5 november 1953)
De Duitse schrijver Hanns-Josef Ortheil werd geboren op 5 november 1951 in Keulen. Zie ook mijn blog van 5 november 2006 en ook mijn blog van 5 november 2007 en ook mijn blog van 5 november 2008 en ook mijn blog van 5 november 2009.
Uit: Die Moselreise
"Die Moselreise im Sommer 1963 war die erste längere Reise, die ich allein mit meinem Vater unternahm. Sie hinterließ in der Geschichte unserer Familie so auffällige und merkwürdige Spuren, dass es sich lohnt, diese Spuren noch ein wenig weiterzuverfolgen. Die erste, sichtbarste Spur war natürlich die hier erstmals gedruckt vorliegende Reise-Erzählung, die ich nach unserer Rückkehr nach Köln aus all den vielen während der Reise gemachten Notizen komponierte. Ich schenkte sie schließlich meinen Eltern, und ich erlebte schon bald, dass dieses Geschenk auf sie einen außerordentlich starken Eindruck machte. Immer wieder lasen beide Eltern darin, und immer wieder kreisten die Gespräche um Themen und Motive dieser Erzählung.
Zwar erfuhr ich als Kind nicht genau, was meine Eltern an meinem Text so beeindruckte, doch konnte ich späteren Kommentaren entnehmen, dass mein Vater die Moselreise vor allem deshalb als einen Erfolg betrachtete, weil ein Reisen in genau dieser Form mir offensichtlich viel von der immer virulenten Angst vor der Fremde und allem Unvertrauten nahm. Als kleines Kind hatte ich mich nämlich viele Jahre tagsüber mit der Mutter in einem nur sehr begrenzten Terrain im Norden Kölns aufgehalten. An den Vormittagen waren wir spazieren gegangen oder hatten kleinere Einkäufe gemacht, die übrige Zeit aber waren wir meist in der Wohnung geblieben.
Meine Mutter hatte sehr viel gelesen, von Beruf war sie Bibliothekarin, und ich hatte in den vielen Bilderbüchern und all den Kinderzeitschriften und Zeitungen geblättert, die der Vater an den Abenden oft mit nach Hause brachte. Seit dem vierten Lebensjahr hatte ich darüber hinaus Klavier gespielt und viele Stunden des Tages mit Klavierüben verbracht. Diese Tätigkeit hatte mich noch enger an die Wohnung und das vertraute Haus gebunden, so dass ich schon bei geringer Entfernung von diesem Zuhause oft unruhig geworden war und zu fremdeln begonnen hatte."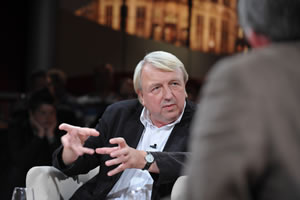 Hanns-Josef Ortheil (Keulen, 5 november 1951)
De Duitse schrijver Andreas Stichmann werd op 5 november 1983 in Bonn geboren. Stichmannn kwam door het tekenen van strips tot schrijven. Hij verbleef langere tijd in Zuidafrika en Iran. Ervaringen die hij daar opdeed zijn in zijn werk verwerkt. Hij studeerde aan het Deutsche Literaturinstitut Leipzig. In 2008 verscheen de verhalenbundel »Jackie in Silber«,waarvoor hij de Clemens Brentano Preis 2009 ontving en bovendien het Stipendium des Literarischen Colloqiums Berlin. Stichmann woont nu in Hamburg. Zie ook mijn blog van 30 augustus 2009.
Uit: Alleinstehende Herren
"Wenn der Nachmittag schwer wird und Schatten aus den Wolken fallen, wenn die Ameisen in Ritzen flüchten, weil es draußen kalt wird, wenn es drinnen warm wird, gehst du raus und kackst hinter die Hochhäuser. Aus der Grube krähen Fahrradspeichen, Kühlschrankleichen und Rostgerippe. Ein Hauch von Abenteuer. Du schreitest durch das pudrige Licht der Laternen, die Arme hinter dem Rücken verschränkt. Du siehst imaginäre Passanten laufen, grüßt mit dem Nicken eines Generals. Erschrickst, wenn du dich im Schaufenster lachen siehst. Nur selten begegnest du wirklich noch einer späten Oma, die istdann plötzlich sehr echt.
Paul, der im ersten Stock wohnt, macht jetzt alles. Du gehst mittags raus, da steht er mit seinem Hot-Dog-Stand an der Straße. Du gehst wieder rein und rufst beim Kinoprogrammservice an, Paul ist dran und sagt: »Sie wünschen?« Du gehst in die Fußgängerzone, da steht Paul als Känguru und verteilt
Reisebürowerbung. Wahrscheinlich ist er einsam, du kennst das, du kennst das. Oft genug wachst du verdattert auf und denkst: Hier bin ich wieder, mit wem rede ich denn? Dann drehst du dich noch mal um und willst dem ganzen Quatsch entgehen, aber etwas sagt dir: Schlaf nicht so lange, Schlaf
kann Menschen trinken. Putz Zähne, steck eine Münze in den Tag. Schließlich bist du der Hootscha-Kutscha-Mann.
Und du stehst auf und richtest die Wohnung her, denn gleich kommen die Jungs vom Club der einsamen Männer. Da will das Fruchtgummi auf den Tisch gestellt sein, da will die ganze Wohnung im warmen Gewand sich zeigen. Go on, zwitschert das Radio, der neueste Hit der Zitronengirls."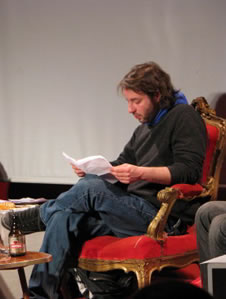 Andreas Stichmann (Bonn, 5 november 1983)
De Duitse schrijfster, uitgeefster en actrice Ulla Berkéwicz werd geboren op 5 november 1948 in Gießen als Ursula Schmidt. Zie ook mijn blog van 5 november 2008 en ook mijn blog van 5 november 2009.
Uit: Golem in Bayreuth
"In den vierhundert Jahren, seit der Hohe Rabbi Löw in Prag einen Golem erschaffen haben soll, wurde der Vertrag mit der Aufklärung geschlossen, die Magie durch Ideologie ersetzt und die Wissenschaft zum Götzen erklärt. In den fünfzig Jahren, seit Norbert Wiener jene »Wissenschaft von Mensch und Maschine« begründete, die er Kybernetik nannte, mußte der Mensch lernen, sich in einer von Daten bestimmten Welt zurechtzufinden, die nicht vollständig beschreibbar sind, da es die hierfür notwendige Mathematik noch nicht gibt. Und da nun nicht mehr ganz auszuschließen ist, daß die Mathematik am Ende doch nichts weiter sein könnte als eine magische Ideologie, wird der Vertrag mit der Aufklärung derzeit diskutiert, steht die Kündigung im Raum.
Rabbi Löw war geistiger Urahn von Norbert Wiener, der die Grundlagen zu jener mathematischen Magie schuf, die den Golem unserer Tage, den Computer, hervorbrachte. Norbert Wiener ist der geistige Ahn all jener Wissenschaftler und Ingenieure, Gelehrten und Schlawiner, die nicht mehr auf das Verständnis von Welt, sondern auf deren pure Simulation hinarbeiten, deren Ziel es ist, Denkmaschinen aus DNS-Strängen statt aus Silikon herzustellen, und die behaupten, daß in
informationsverarbeitenden Systemen Bewußtsein entstehen kann.
Rabbi Löw, Metaphysiker im Sinne der talmudischen Gesetze und Mystiker im Sinne der Kabbala, hat die Schöpfung als ein Hinabsteigen Gottes in die eigenen Urgründe begriffen, »wo alle Dinge urbildlich entfaltet sind«, ein Hinabsteigen in sein eigenes Nichts, aus dem alles hervorkommt. Norbert Wiener ging von der Annahme aus, daß alle Lebewesen »Muster« sind, die sich für immer selbst erhalten, und daß »ein Muster eine Botschaft ist und als Botschaft übertragbar«. Wenn nun Wieners geistige Kinder meinen, ein neues Muster würde gar nicht geschaffen, sondern verließe nur seinen unmanifesten Zustand, um sich in der stofflichen Welt zu etablieren, und Menschen seien nichts weiter als Informationsmuster wie Maschinen, Körper seien lediglich temporäre Behältnisse für die in ihnen enthaltenen Informationen, hören sie das weiße auschen des Vakuums, des Bereichs aller Möglichkeiten, des Subquantenfelds, werden sie zurück und vorwärts geworfen auf Gott und sein Nichts, beginnen sie das kabbalistische Alefbet neu zu buchstabieren."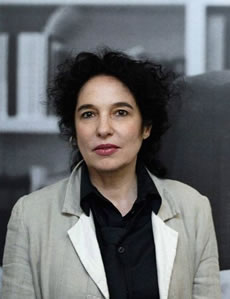 Ulla Berkéwicz (Gießen, 5 november 1948)
De Russische schrijver Mikhail Artsybashev werd geboren op 5 november 1878 in Dubroslavovka. Zie ook mijn blog van 5 november 2008 en ook mijn blog van 5 november 2009.
Uit: Sanin (Vertaald door Percy Pinkerton)
"Such kindliness and courtesy seemed to come naturally from him as the light from a lamp which shines with equal radiance on all objects.
They went out to the garden terrace and sat down on the steps. Lida sat on a lower one, listening in silence to her brother. At her heart she felt an icy chill. Her subtle feminine instinct told her that her brother was not what she had imagined him to be. In his presence she felt shy and embarrassed, as if he were a stranger. It was now evening; faint shadows encircled them. Sanine lit a cigarette and the delicate odour of tobacco mingled with the fragrance of the garden. He told them how life had tossed him hither and thither; how he had often been hungry and a vagrant; how he had taken part in political struggles, and how, when weary, he had renounced these.
Lida sat motionless, listening attentively, and looking as quaint and pretty as any charming girl would look in summer twilight.
The more he told her, the more she became convinced that this life which she had painted for herself in such glowing colours was really most simple and commonplace. There was something strange in it as well. What was it? That she could not define. At any rate, from her brother's account, it seemed to her very simple, tedious and boring. Apparently he had lived just anywhere, and had done just anything; at work one day, and idle the next; it was also plain that he liked drinking, and knew a good deal about women. But life such as this had nothing dark or sinister about it; in no way did it resemble the life she imagined her brother had led. He had no ideas to live for; he hated no one; and for no one had he suffered. At some of his disclosures she was positively annoyed, especially when he told her that once, being very hard up, he was obliged to mend his torn trousers himself.
"Why, do you know how to sew?" she asked involuntarily, in a tone of surprise and contempt. She thought it paltry; unmanly, in fact.
"I did not know at first, but I soon had to learn," replied Sanine, who smilingly guessed what his sister thought.
The girl carelessly shrugged her shoulders, and remained silent, gazing at the garden. It seemed to her as if, dreaming of sunshine, she awoke beneath a grey, cold sky."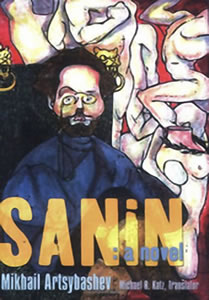 Mikhail Artsybashev (5 november 1878 – 3 maart 1927)







Zie voor nog meer schrijvers van de 5e november ook mijn vorige blog van vandaag.

05-11-2010 om 19:38 geschreven door Romenu

Tags:Joyce Maynard, Hanns-Josef Ortheil, Andreas Stichmann, Ulla Berkéwicz, Mikhail Artsybashev, Romenu