E-mail mij


Druk op onderstaande knop om mij te e-mailen.


Romenu


Romenu is een blog over gedichten, literatuur en kunst Maar Romenu is ook een professionele freelance vertaler
Du-Ne en Ne-Du http://www.romenu.nl.


Huur eens een (vakantie)huis in een natuurgebied, dichtbij het centrum van Nijmegen


Google


Georg Trakl

Georg Trakl werd op 3 februari 1887 in het conducteurshuis aan de Waagplatz 2 in Salzburg geboren. Zijn vader, Tobias Trakl, was een handelaar in ijzerwaren en zijn moeder, die ook psychische problemen had, was Maria Catharina Trakl, (meisjesnaam Halik). Voorts had hij nog drie broers en drie zussen. Margarethe (doorgaans Grethe genoemd) stond hem het naast, zelfs zodanig dat sommigen een incestueuze verhouding vermoeden. Zijn jeugd bracht hij door in Salzburg. Vervolgens bezocht hij van 1897 tot 1905 het humanistische gymnasium. Om toch een academische opleiding te kunnen volgen, werkte hij tot 1908 in de praktijk bij een apotheker. Sommigen vermoedden dat hij dit vooral deed om zichzelf opiaten te kunnen verschaffen. Bij het uitbreken van WO I werd Trakl als medicus naar het front in Galicië (heden ten dage in Oekraďne en Polen) gestuurd. Zijn gemoedsschommelingen leidden tot geregelde uitbraken van depressie, die verergerd werden door de afschuw die hij voelde voor de verzorging van de ernstig verwonde soldaten. De spanning en druk dreven hem ertoe een suďcidepoging te ondernemen, welke zijn kameraden nochtans verhinderden. Hij werd in een militair ziekenhuis opgenomen in Kraków, alwaar hij onder strikt toezicht geplaatst werd.Trakl verzonk daar in nog zwaardere depressies en schreef Ficker om advies. Ficker overtuigde hem ervan dat hij contact moest opnemen met Wittgenstein, die inderdaad op weg ging na Trakls bericht te hebben ontvangen. Op 4 november 1914, drie dagen voordat Wittgenstein aan zou komen, overleed hij echter aan een overdosis cocaďne


Paul Celan

Paul Celan werd onder de naam Paul Antschel op 23 november 1920 geboren in Czernowitz, toentertijd de hoofdstad van de Roemeense Boekovina, nu behorend bij de Oekraďne. Paul Celans ouders waren Duitssprekende joden die hun zoon joods opvoedden en hem naar Duitse christelijke scholen stuurden. In 1942 werden Celans ouders door de Duitse bezetter naar een werkkamp gedeporteerd en daar vermoord. Hijzelf wist aanvankelijk onder te duiken, maar moest vanaf juli 1942 in een werkkamp dwangarbeid verrichten. Celan overleefde de oorlog. Via Boekarest en Wenen vestigde Celan zich in 1948 in Parijs. Daar was hij werkzaam als dichter, vertaler en doceerde hij aan de prestigieuze Ecole Normale Supérieure. Vermoedelijk op 20 april 1970 beëindigde hij zijn leven zelf door in de Seine te springen.


Gerard Reve

Gerard Reve over: Medearbeiders "God is in de mensen, de dieren, de planten en alle dingen - in de schepping, die verlost moet worden of waaruit God verlost moet worden, door onze arbeid, aangezien wij medearbeiders van God zijn." Openbaring "Tja, waar berust elk godsbegrip op, elke vorm van religie? Op een openbaring, dat wil zeggen op een psychische ervaring van zulk een dwingende en onverbiddelijke kracht, dat de betrokkene het gevoel heeft, niet dat hij een gedachte of een visioen heeft, maar dat een gedachte gedachte of visioen hem bezit en overweldigt."


Simon Vestdijk
Simon Vestdijk (Harlingen, 17 oktober 1898 – Utrecht, 23 maart 1971) was een Nederlands romancier, dichter, essayist en vertaler. Zijn jeugd te Harlingen en Leeuwarden beschreef hij later in de Anton Wachter-cyclus. Van jongs af aan logeerde hij regelmatig bij zijn grootouders in Amsterdam, waar hij zich in 1917 aan de Universiteit van Amsterdam inschrijft als student in de medicijnen. Tijdens zijn studie die van 1917 tot 1927 duurde, leerde hij Jan Slauerhoff kennen.Tot 1932 is hij als arts in praktijken door heel Nederland werkzaam. In 1932 volgt zijn officiële schrijversdebuut met de uitgave van de bundel Verzen in De Vrije Bladen. Doorslaggevend voor Vestdijks uiteindelijke keuze voor de literatuur is zijn ontmoeting in 1932 met Eddy Du Perron en Menno ter Braak. Deze ontmoeting had tot resultaat dat hij redactielid werd van het tijdschrift Forum Kort daarop, in 1933, wordt zijn eerste novelle, De oubliette, uitgegeven. In hetzelfde jaar schrijft hij Kind tussen vier vrouwen, dat, eerst geweigerd door de uitgever, later de basis zal vormen voor de eerste drie delen van de Anton Wachter-romans. In 1951 ontvangt Vestdijk de P.C. Hooftprijs voor zijn in 1947 verschenen roman De vuuraanbidders. In 1957 wordt hij voor het eerst door het PEN-centrum voor Nederland voorgedragen voor de Nobelprijs voor de Literatuur, die hij echter nooit zal krijgen. Op 20 maart 1971 wordt hem de Prijs der Nederlandse Letteren toegekend, maar voor hij deze kan ontvangen overlijdt hij op 23 maart te Utrecht op 72-jarige leeftijd. Vestdijk was auteur van ca. 200 boeken. Vanwege deze enorme productie noemde de dichter Adriaan Roland Holst hem 'de man die sneller schrijft dan God kan lezen'. Andere belangrijke boeken van Simon Vestdijk zijn: "Kind van stad en land" (1936), "Meneer Visser's hellevaart" (1936), "Ierse nachten" (1946), "De toekomst de religie" (1947), "Pastorale 1943" (1948), "De koperen tuin" (1950), "Ivoren wachters" (1951), "Essays in duodecimo" (1952) en "Het genadeschot" (1964).


K.P. Kavafis

K.P. Kavafis werd als kind van Griekse ouders, afkomstig uit Konstantinopel, geboren in 1863 in Alexandrië (tot vandaag een Griekse enclave) waar hij ook het grootste deel van zijn leven woonde en werkte. Twee jaar na de dood van zijn vader verhuist het gezin in 1872 naar Engeland om na een verblijf van vijf jaar naar Alexandrië terug te keren. Vanwege ongeregeldheden in Egypte vlucht het gezin in 1882 naar Konstantinopel, om na drie jaar opnieuw naar Alexandrië terug te gaan. In de jaren die volgen maakt Kavafis reizen naar Parijs, Londen en in 1901 zijn eerste reis naar Griekenland, in latere jaren gevolgd door nog enkele bezoeken. Op de dag van zijn zeventigste verjaardag, in 1933 sterft Kavafis in Alexandrië. De roem kwam voor Kavafis pas na zijn dood, dus postuum. Deels is dat toe te schrijven aan zijn eigen handelswijze. Hij was uiterst terughoudend met de publicatie van zijn gedichten, liet af en toe een enkel gedicht afdrukken in een literair tijdschrift, gaf in eigen beheer enkele bundels met een stuk of twintig gedichten uit en het merendeel van zijn poëzie schonk hij op losse bladen aan zijn beste vrienden.


Thomas Mann


Thomas Mann, de jongere broer van Heinrich Mann, werd geboren op 6 juni 1875 in Lübeck. Hij was de tweede zoon van de graankoopman Thomas Johann Heinrich Mann welke later één van de senatoren van Lübreck werd. Zijn moeder Julia (geboren da Silva-Bruhns) was Duits-Braziliaans van Portugees Kreoolse afkomst. In 1894 debuteerde Thomas Mann met de novelle "Gefallen". Toen Thomas Mann met 21 jaar eindelijk volwassen was en hem dus geld van zijn vaders erfenis toestond - hij kreeg ongeveer 160 tot 180 goldmark per jaar - besloot hij dat hij genoeg had van al die scholen en instituties en werd onafhankelijk schrijver. Kenmerkend voor zijn stijl zijn de ironie, de fenomenale taalbeheersing en de minutieuze detailschildering. Manns reputatie in Duitsland was sterk wisselend. Met zijn eerste roman, Buddenbrooks (1901), had hij een enorm succes, maar door zijn sceptische houding tegenover Duitsland na de Eerste Wereldoorlog veranderde dit volledig. Stelde hij zich tot aan de jaren twintig apolitiek op (Betrachtungen eines Unpolitischen, 1918), meer en meer raakte hij bij het Politiek gebeuren betrokken. Zijn afkeer van het nationaal socialisme groeide, zijn waarschuwingen werden veelvuldiger en heftiger. In 1944 accepteerde hij het Amerikaanse staatsburgerschap. Tussen 1943 en 1947 schreef Mann Doktor Faustus (zie Faust), de roman van de 'Duitse ziel' in de gecamoufleerd geschilderde omstandigheden van de 20ste eeuw. In 1947 bezocht hij voor het eerst sinds de Oorlog Europa, twee jaar later pas Duitsland. In 1952 vertrok hij naar Zwitserland. Op 12 augustus 1955 stierf hij in Zürich. Twintig jaar na zijn dood, in aug. 1975, is zijn literaire nalatenschap geopend: dagboekaantekeningen van 15 maart 1933 tot 29 juli 1955, alsmede notities uit de jaren 1918 tot en met 1921.Belangrijke werken zijn: Der Zauberberg, Der Tod in Venedig, Dokter Faustus , Joseph und seine Brüder en Die Bekenntnisse des Hochstaplers Felix Krull.


Rainer Maria Rilke

Rilke werd op 4 december 1875 geboren in Praag. Hij had al naam gemaakt als dichter met zijn bundels Das Stundenbuch en Das Buch der Bilder, toen hij de literaire wereld versteld deed staan en wereldfaam verwierf met de publicatie van zijn twee delen Neue Gedichte in 1907 en 1908. Hij verzamelde daarin het beste werk uit een van zijn vruchtbaarste periodes, die hij grotendeels doorbracht in Parijs. Rilke was daar diep onder de indruk gekomen van Rodin, bij wie hij een tijdlang in dienst was als particulier secretaris. Rodin, zei hij later, had hem leren kijken. Dit kijken kwam neer op intense concentratie, om het mysterie te kunnen zien 'achter de schijnbare werkelijkheid'. Latere en rijpere werken als Duineser Elegien (1912-1923) en het ronduit schitterende Die Sonette an Orfeus (1924) illustreren Rilkes metafysische visie op het onzegbare, dat haar verwoording vindt in een hermetische muzikale taal. Op 29 december 1926 overlijdt Rilke in het sanatorium in Val-Mont aan de gevolgen van leukemie. Enkele dagen later wordt hij, overeenkomstig zijn wens, begraven op het kerkhof van Raron.


* * * * * * * * * * * * * * * *

| | |
| --- | --- |
| | Over literatuur, gedichten, kunst en cultuur |

27-12-2014

Bernard Wesseling, Édouard Nabe, Wendy Coakley-Thompson, Louis de Bourbon, Bob Flanagan
De Nederlandse dichter en schrijver Bernard Wesseling werd geboren in Amsterdam op 27 december 1978. Zie ook alle tags voor Bernard Wesseling op dit blog.
Uit: Portret van een onaangepaste
"Voorlopig gesterkt door je nieuwe voorkomen als ondergrondse rebellenleider uit de toekomst is het nu zaak om ook een en ander uit te dragen. Want bekeken word je en besproken ook en de mensen hè, de mensen, ik vraag 't je, wat valt er eigenlijk nog van ze te vinden? In hun goeie bedoelingen geloof je al niet meer sinds je over dat ongeluk hebt gehoord van die vrouw die overstak en werd aangereden, niet omdat ze van zichzelf te traag was, maar omdat een gek vanaf de stoep 'Kijk uit!' riep en daarmee d'r gang had onderbroken. Daarna zie je alleen nog maar de legio dooie slachtoffers voor je, de slachtoffers van het goedbedoelde 'Kijk uit!' sinds het allereerste Begin Der Moderne Tijden, een uitdrukking van holle verbazing op hun gezichten. Koeristus, dat onsterfelijke 'Kijk uit!' galmt zowat door de eeuwen heen, rechtstreeks je oren in."
(…)
Nee, dat was niet zomaar een dag geweest, achteraf, dat was de dag dat hij zijn grootste geheim prijsgaf en je wist 't eigenlijk al toen ie 't vertelde. Een groter geheim heeft ie nooit gehad. Wat 't precies met jou te maken heeft, weet je niet, maar je besluit genoegen te nemen met je vermoedens, geloven heet dat, en in ene ben je kalm op dat moment."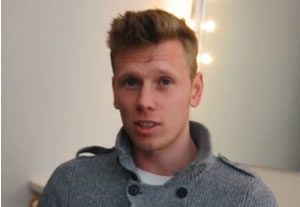 Bernard Wesseling (Amsterdam, 27 december 1978)
De Franse dichter, schrijver, schilder en musicus Marc-Édouard Nabe (eig. Alain Zannini) werd geboren in Marseille op 27 december 1958. Zie ook alle tags voor Edouard Nabe op dit blog.
La Neige (Uit: Loin des fleurs)
J'ai vécu dans beaucoup de paysages de neige. Toujours je suis arrivé au moment où les choses se glacent. Moi-même j'explique la pâleur de mon teint par le fait que je suis né en hiver. Quand je rassemble de chaque côté de mon esprit les lourdes émotions de velours à l'aide des embrasses usées de mes pauvres phrases, je vois s'ouvrir alors un paysage de froid totalement familier. Vivre pour moi se résume à une navigation spectaculaire sur un océan de givre, comme un esquif d'arctique pur. Une atmosphère d'aurore glaciale court sur tous mes paragraphes. Et tout s'en fige... Chaque mot pèse sa tonne de cristal. C'est la dentelle lactée suspendue. Patinage artistique sur flaque de lait dur. Gouttes aux nez des virgules. Peut-être la splendeur frigorifiée de cette géographie neigeuse, phosphorescent panorama de terrasses crémeuses et de gradins d'acier trempé, semble me parler d'une sorte de Principe du Froid où, à force de secrets, frissons et soupirs explosent malgré tout. L'Inerte Flegme blanc cherche-t-il à suggérer le sentiment du suicide qui émane de chaque métamorphose (hier soir il pleuvait, il y a quelques pages de cela), de chaque fusion, de tous les carnages et des naissances, bagarres et transports de la nature ? ...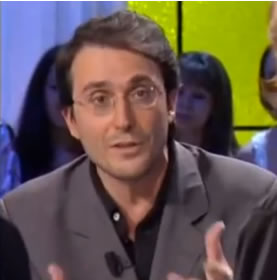 Marc-Édouard Nabe (Marseille, 27 december 1958)
De Amerikaanse schrijfster Wendy Coakley-Thompson werd geboren op 27 december 1966 in Brooklyn, New York. Zie ook alle tags voor Wendy Coakley-Thompson op dit blog.
Uit: What You Won't Do for Love
"She hesitated briefly, feeling any control she'd had over the situation ebb away. She descended the wooden stairs one at a time. Behind her, she heard him close the door, heard him on the stairs behind her. A few more steps, and she entered a whole new world. It reminded her of her basement at the house in Brooklyn… space filled with memories of lives lived well in a home. A sofa bed lay turned down, in front of a 36-inch color TV. He had the TV tuned to BET; the logo was visible in the corner of the screen, and the video for remix of Craig Mack's "Flava in Ya Ear" played at low volume.
He came around her and shut off the TV. They stood there in silence in the subdued lighting. "First of all, she's not a bitch," he announced. "Her name's Kimmy. She fucked up her life by having two kids for two different men, and then hooking up with some insecure redneck who beat her like a rented mule. She needed my help getting out, and that seemed more important than our date. I thought you'd understand that."
Oh, shit! She felt like such a drama queen all of a sudden, railing about her hurt feelings while he was helping out a battered woman. After all, his father had done something similar for her and her family. But still, her pain spoke. "And how would I have known that, Devin?" she asked. "From your oh-so-personal text message?"
"I couldn't talk, Chaney," he explained. "I was holding a baby in one hand while trying to stash about twenty shopping bags into the ride. You know, I could've just been a dick and stood you up."
"So why did you even both with texting, Devin?"
He shook his head. "More degrees than a thermometer, and you don't know anything. Why did I bother? Because I fucking like you, okay?!"
Chaney stared at him in shock, her mouth hanging open. It was out there, in the open. She clutched at the front of her velour sweats. What do I do? What do I say? Finally, she found her voice. "And that's how you think I want to hear it?" she croaked. "'I fucking like you?'"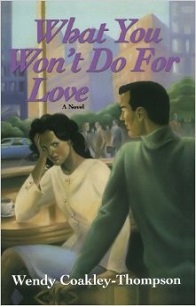 Wendy Coakley-Thompson (New York, 27 december 1966)
Cover
De Nederlandse dichter Louis de Bourbon werd geboren in Renkum op 27 december 1908. Zie ook alle tags voor Louis de Bourbon op dit blog.
Zeilavond
De avond davert van geluk,
de booten schateren van vrouwen,
werp den gehaten doodsangst stuk
en grijp de ruige mastetouwen.
Wij varen recht naar het hart van de maan,
het water is geel en blauw,
dan vangt er een meisje te zingen aan
of ze niet meer ontwaken zou.
De avond davert van geluk,
straks drink ik een ster uit het water,
maar houd met Lizzy voet bij stuk,
het berouw komt altijd pas later.
Kleine dood
Koorts en zijn smalle handen
teekenden feërieke tableaux
op de goedkoope, kleine wanden;
de kamer werd een blokkedoos.
Hij droomde van duizend soldaten van tin
voor een groote, blauwe poort;
die marcheerden met hem den hemel in
en niemand heeft 't gehoord.
Nu speelt hij met God en de H. Maagd
- een rustlooze speelgenoot -
nu krijgt dit knaapje al wat 't vraagt
uit de groote bazaar van den dood.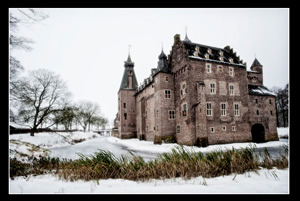 Louis de Bourbon (27 december 1908 – 8 januari 1975)
Renkum, kasteel Doorwerth
De Amerikaanse schrijver en optredend artiest Bob Flanagan werd geboren op 26 december 1952 in New York. Zie ook alle tags voor Bob Flanagan op dit blog.
Why (Fragment)
because it flies in the face of all that's normal (whatever that is);
because I'm not normal;
because I used to think that I was part of some vast experiment and that there was this implant in my penis that made me do these things and allowed THEM (whoever THEY were) to monitor my activities;
because I had to take my clothes off and lie inside this giant plastic bag so the doctors could collect my sweat;
because once upon a time I had such a high fever my parents had to strip me naked and wrap me in sheets to stop the convulsions;
because my parents loved me even more when I was suffering;
because I was born into a world of suffering; because surrender is sweet;
because I'm attracted to it; because I'm addicted to it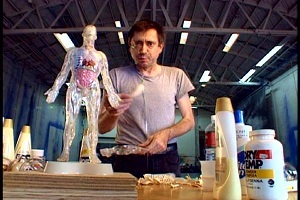 Bob Flanagan (27 december 1952 – 4 januari 1996)
Zie voor nog meer schrijvers van de 27e december ook mijn vorige twee blogs van vandaag.
27-12-2014 om 15:53 geschreven door Romenu

Tags:Bernard Wesseling, Édouard Nabe, Wendy Coakley-Thompson, Louis de Bourbon, Bob Flanagan, Romenu



Malin Schwerdtfeger, Markus Werner, Mariella Mehr, Mirza Ghalib, Carl Zuckmayer
De Duitse schrijfster Malin Schwerdtfeger werd geboren op 27 december 1972 in Bremen. Zie ook mijn blog van 27 december 2008. Zie ook alle tags voor Malin Schwerdtfeger op dit blog.
Uit: Mein erster Achttausender
"Ich glaube nicht", sagte Mama. "Nur Blasen an den Füßen."
Ich rückte ein paar Stühle weiter vor.
Ich trank meinen Kakao und sah zu, wie sie ihren Tee schlürfte. Sie hatte einen Klumpen Yakbutter in einer schmierigen Plastiktüte vor sich liegen. Davon drehte sie mit den Fingern kleine Stückchen ab, warf sie in den Tee und rührte um, bevor sie den Tee trank.
"Mama", sagte ich schließlich, "wir müssen dir die Haare waschen!"
Während ich fast eine ganze Flasche Pfirsichöl-Pflegespülung in ihre verfilzte Matte einmassierte, erzählte Mama ungefragt von Steinschlägen am Annapurna[1], Überschwem­mungen im Rolwalingtal und Schneestürmen in Solo Khumbu. Sie erzählte von den Wäldern Osttibets, wo es Blutegel regnet, von chinesischen Dorfgefängnissen und betrunkenen Polizisten, von Bussen, die in tiefen Schluchten zerschellen, und von den schwarzgefrorenen Gesichtern der Bergsteiger, die in den verrotteten Absteigen von Lukla im Everest-Gebiet auf ihren Rückflug nach Kathmandu warten. Sie erzählte davon, wie ihr Gehirn aufweichte, als sie versuchte, den Pumori zu besteigen, und von der dünnen Luft des Himalaja, die das Blut träge macht und an der sich die Lungen wundatmen.
Zwei Stunden später hatte ich den letzten Knoten aus ihren Haaren gekämmt und alle Blasen an ihren Füßen aufgestochen und desinfiziert. Dann war Mama wieder so müde, daß sie sich aufs Sofa legte und sofort einschlief.
Das Telefon klingelte. Es war Arne von Trekking Guides. "Hallo", sagte Arne. "Ist sie da?"
"Sie schläft", sagte ich, "und will nicht gestört werden. Schon gar nicht von euch."
"Sie soll nicht so viel schlafen, lieber schreiben", sagte Arne."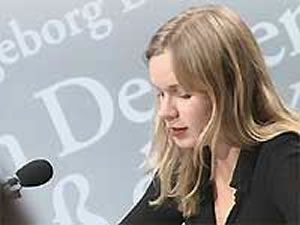 Malin Schwerdtfeger (Bremen, 27 december 1972)
De Zwitserse schrijver Markus Werner werd geboren op 27 december 1944 in Eschlikon (Kanton Thurgau). Zie ook alle tags voor Markus Werner op dit blog.
Uit: Ein Joghurt namens Annika
«Verdammt nochmal, das ist doch Irrsinn, oder nicht? Die macht mich noch fertig!», dröhnte Jan nach ein paar Kölsch am Tresen im Polatze, einer Studentenbar irgendwo am Zülpicher Platz. Sein Jura-Kumpel Clemens presste mit dem Kölschglas feuchte Kreise auf seinen Bierdeckel und nickte artig mit hoch- gezogenen Augenbrauen. Seit über einer Stunde saß Clemens Jan nun schon stumm wie ein Karpfen gegenüber und bemühte sich mit aller Kraft, einen erschütterten Gesichtsausdruck zu machen.
«Mann, Clemens, jetzt denk endlich mal mit. Da stimmt doch was nicht! Oder? CLEMENS!»
«Mann, Jan, ich blick da nicht mehr durch.
Silvia, das Biest – Silvia, der Glückstreffer – Silvia, die dumme Kuh – Silvia, der Engel – Silvia, der Albtraum aller gesunden Männer. Was denn nun?»
Jan warf einen Blick auf seine Armbanduhr: «Hast du Zeit?» Clemens hob die Hand und orderte zwei frische Kölsch. Dann ließ er sich grinsend in den Winkel der Eckbank fallen: «Aber versuch's kompakt."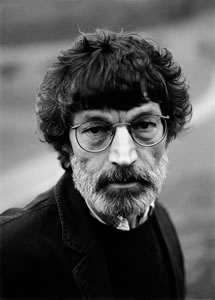 Markus Werner (Eschlikon, 27 december 1944)
De Zwitserse dichteres en schrijfster Mariella Mehr werd geboren op 27 december 1947 in Zürich. Zie ook alle tags voor Mariella Mehr op dit blog.
Uit: Aus Das Sternbild des Wolfes
Vom Wandern sei hier nicht die Rede,
wir waren nie des Müllers Lust.

Wohl aber vom Heimweh,
das atemlos Gebete schreit,
und eines jeden Toten
Waterloo verrät.

Aufbruch und Amen.
Wer weiß wohin,
in welche Ecke dieser Bühne
voller Mörder,

die heute das Geschick
der Welt bestimmen:

auch das des jungen Knabenkrauts,
der Feuerlilie auf dem Feld,
und das des Monds in meiner Hand.

Trotzdem, wir rütteln an der Gegenwart,
als gäb es da noch was zu holen.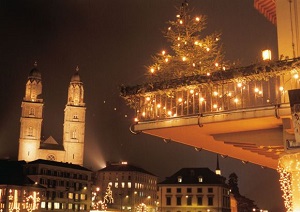 Mariella Mehr (Zürich, 27 december 1947)
Zürich
De Indische dichter Mirza Ghalib (eigenlijk Asadullah Baig Khan) werd geboren op 27 december 1796 in Agra. Zie ook alle tags voor Mirza Ghalib op dit blog.
The World is a Playground
I perceive the world as a playground
Where dawn and dusk appear in eternal rounds
In His Universal form is a plaything the throne of Solomon
The miracles of the Messiah seem so ordinary in my eyes
Without name I cannot comprehend any form
Illusionary but is the identity of all objects
My anguish envelopes the entire desert
Silently flows the river in front of my floods
Ask not what separation has done to me
Just see your poise when I come in front of you
Truly you say that I am egotistical and proud
It is the reflection, O friend, in your limited mirror
To appreciate the style and charm of conversation
Just bring in the goblet and wine
Hatred manifests due to my envious mind
Thus I say, don't take his name in front of me
Faith stops me while temptations attract
Inspite of Kaaba behind and church ahead
I am the Lover, yet notorious is my charm
Thus Laila calls names to Majnu in front of me
'Dies' not one though the union is a delight
In premonition of the separation night
Alas, this be it, the bloody separation wave
I know not what else is in store ahead of me
Though the hands don't move, the eyes are alive
Wine and goblet, let them stay in front of me
Says 'Ghalib'
Conscience is companion and trusted friend
Don't pass any judgments in front of me.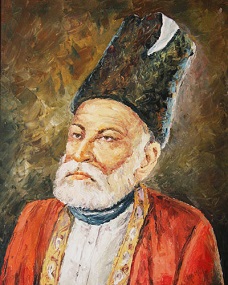 Mirza Ghalib (27 december 1796 – 15 februari 1869)
De Duitse schrijver Carl Zuckmayer werd op 27 december 1896 geboren in Nackenheim am Rhein. Zie ook alle tags voor Carl Zuckmayer op dit blog.
Bauernhaus in Flammen
Plötzlich leckt am gelben strohgedeckten, schwalbenkotbefleckten
Dach des Bauern Philipp Sauern eine kleine rote, züngelfeine
Flamme. Gott verdamme. Schon sind's zwei. Oder drei. Und
In der Hütte bellt ein Hund. Ohne Grund. Und
Auch im Stalle grunzt, ohne Grund, grunzt ein Schwein, Feuersbrunst!
Plötzlich lodert roter gräulich rauchumdrohter
Schein! Kinder schrein! Feuersbrunst! Überall
Flackt's am Dach und kanckt's im Strohgefach, jedoch im Stall
Grunzt, grunzt, grunzt
Des Bauern Philipp Sauern
Mutterschwein.
Auch der Bauer Philipp Sauer
Grunzt, Feuersbrunst. Weiber quaken,
Bett und Laken schleppt heraus. Im Gebälk
Und im Welkholz rollt's und grollt's, johlt
Schon die Flamm' und kichert, scheppert,
Schlecht versichert ist dies Haus! Holt die Spritzen!
Holt, holt
Auch den Schlauch!
Schon verkohlt
Die Backsteinmauer,
Und in Klumpen,
Schrank und Kammern
Brennen
Philipp Sauers
Kleiderlumpen, Weiber jammern, schrill -
Rennen, rennen, rennen
Kreuz und quer, die Schläuche, Spritzen, Feuerwehr
Schwitzen,
Wie Gott will.
In dicken Klumpen
Männer
Pumpen, pumpen, pumpen!
Mordsgezeter. Zwei Stund' später
Ist das rote Feuer aus. Jetzt bekreuzigt
Und jetzt freut sich jede Gret und jeder Peter, jeder Peter,
Daß es nicht sein eignes, sondern nur des Bauern
Philipp Sauern
Haus.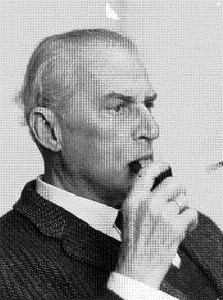 Carl Zuckmayer (27 december 1896 – 18 januari 1977)
Zie voor nog meer schrijvers van de 27e december ook mijn vorige blog van vandaag.
27-12-2014 om 15:44 geschreven door Romenu

Tags:Malin Schwerdtfeger, Markus Werner, Mariella Mehr, Mirza Ghalib, Carl Zuckmayer, Romenu



Louis Bromfield, Wilfrid Sheed, Charles Olson, Serafín Estébanez Calderón, Klaus Hoffer
De Amerikaanse schrijver Louis Bromfield werd geboren op 27. Dezember 1896 in Mansfield, Ohio. Zie ook alle tags voor Louis Bromfield op dit blog.
Uit: The Rains Came
"It was the hour of the day that Ransome loved best and he sat on the verandah now, drinking brandy and watching the golden light flood all the banyan trees and the yellow-gray house and the scarlet creeper for one brilliant moment before the sun, with a sudden plunge, dropped below the horizon and left the whole countryside in darkness. It was a magical business which for his northern blood, accustomed to long still blue twilights of Northern England, never lost its strangeness as if suddenly the whole world stood still for a second and then slipped swiftly into an abyss of darkness. For Ransome there was always a shadow of primitive terror in the Indian sunset.
And here in Ranchipur there were other things besides the beauty of the golden light. It was the hour when the air grew still and laden with a heavy scent compounded of the smoke of burning wood and cow dung and of jasmine and marigold and the yellow dust raised by the cattle being driven home from the burnt pasture of the race course on the opposite side of the road, the hour too when distantly one heard the faint thumping of the drums from the burning ghats down by the river beyond the Maharajah's zoological gardens, when the screaming of the jackals began as they crept to the edge of the jungle waiting for the sudden darkness to bring to their cowardly yellow bodies the courage to start out and seek on the plains what had died during the day. At dawn the greedy vultures would succeed them, coming out of caverns and dung-covered thorn trees, for the beasts which had died during the night. And always at this hour too came the fine thread of sound from John the Baptist's flute, as he squatted at the gate welcoming the cool of the evening.
John the Baptist sat there now, under the vast greedy banyan which each year sent down branches that bit into the earth, struck root and claimed another square yard or two of garden. Up north, near Peshawar, there was an enormous banyan tree which covered acres, a whole forest which was at the same time a single living tree. "If the world went on long enough," thought Ransome, "that tree might take possession of all of it, like the evil and stupidity of man slowly, relentlessly, thrusting down branch after branch with all the greediness and tough vigor of life in India."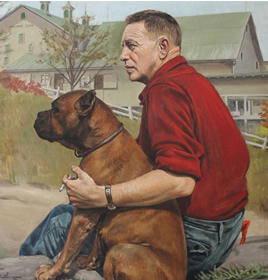 Louis Bromfield (27 december 1896 – 18 maart 1956)
De Amerikaanse schrijver en essayist Wilfrid Sheed werd geboren op 27 december 1930 in Londen. Zie ook alle tags voor Wilfrid Sheed op dit blog.
Uit: The House That George Built
"After all, not too many kids have hips like Elvis's, but anyone who could play "Chopsticks" or whistle "The Star-Spangled Banner" could syncopate, and in no time, as Irving Berlin bragged in two of his hits, "Everybody's doing it" in one form or another, from "Italian opera singers" learning to snap their fingers, to "dukes and lords and Russian czars," who settled for throwing their shoulders in the air and no doubt rolling their eyes. And there was no place to hide from it, even in an ivory tower. In fact, it would become a staple of B-movie musicals to show a professor at first frowning mightily as he hears the kids jazzing up a well-known classic, only to furtively wind up, beneath the gown or the desk, tapping his own foot too, as if the body snatchers had seized that much of him. And if the "professoriate" and the "long hairiate" couldn't stand up to it, the kid at the keyboard wasn't even going to try. Because this is where ragtime belonged, its birthplace, its office and its home, and the great Scott Joplin was still making tunes out of it, which maybe they could use in place of Czerny's finger exercises while no one was listening.
"What's that you're playing? That's not what you're supposed to be playing." Someone was always listening, and one imagines a thousand fights a day over this as George or Harold or Fats would stray once more from his scales and his Bach-made-easy and start to vamp the music of his pulse, the music of the streets."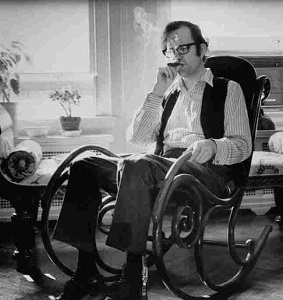 Wilfrid Sheed (27 december 1930 – 19 januari 2011)
De Amerikaanse dichter Charles Olson werd geboren op 27 december 1910 in Worcester, Massachusetts. Zie ook alle tags voor Charles Olson op dit blog.,
The Kingfishers
1
What does not change / is the will to change

He woke, fully clothed, in his bed. He
remembered only one thing, the birds, how
when he came in, he had gone around the rooms
and got them back in their cage, the green one first,
she with the bad leg, and then the blue,
the one they had hoped was a male

Otherwise? Yes, Fernand, who had talked lispingly of Albers & Angkor Vat.
He had left the party without a word. How he got up, got into his coat,
I do not know. When I saw him, he was at the door, but it did not matter,
he was already sliding along the wall of the night, losing himself
in some crack of the ruins. That it should have been he who said, "The kingfishers!
who cares
for their feathers
now?"

His last words had been, "The pool is slime." Suddenly everyone,
ceasing their talk, sat in a row around him, watched
they did not so much hear, or pay attention, they
wondered, looked at each other, smirked, but listened,
he repeated and repeated, could not go beyond his thought
"The pool the kingfishers' feathers were wealth why
did the export stop?"

It was then he left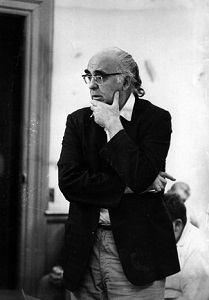 Charles Olson (27 december 1910 – 10 januari 1970)
De Spaanse schrijver Serafín Estébanez Calderón werd geboren op 27 december 1799 in Málaga. Zie ook alle tags voor Serafín Estébanez Calderón op dit blog.
Uit: An Andalusian Duel (Vertaald door Emilia Pardo-Bazan)
"I entered and sat down at once, and in such a manner as not to interrupt Oliver and Roland, and that they might not notice me, when I saw that, as if believing themselves alone, they threw their arms with an amicable gesture round each others' neck, and thus began their discourse:
"Pulpete," said the taller, "now that we are going to meet each other, knife in hand—you here, I there,—one, two,—on your guard,—triz, traz,—have that,—take this and call it what you like—let us first drain a tankard to the music and measure of some songs."
"Señor Balbeja," replied Pulpete, drawing his face aside and spitting with the greatest neatness and pulchritude towards his shoe, "I am not the kind of man either for La Gorja or other similar earthly matters, or because a steel tongue is sheathed in my body, or my weasand slit, or for any other such trifle, to be provoked or vexed with such a friend as Balbeja. Let the wine be brought, and then, we will sing; and afterwards blood—blood to the hilt."
The order was given, they clinked glasses, and, looking one at the other, sang a Sevillian song.
This done, they threw off their cloaks with an easy grace, and unsheathed their knives with which to prick one another, the one Flemish with a white haft, the other from Guadix, with a guard to the hilt, both blades dazzling in their brightness, and sharpened and ground enough for operating upon cataracts, much less ripping up bellies and bowels. The two had already cleft the air several times with the said lancets, their cloak wound round their left arm—first drawing closer, then back, now more boldly and in bounds—when Pulpete hoisted the flag for parley, and said:
"Balbeja, my friend, I only beg you to do me the favor not to fan my face with Juilon your knife, since a slash might use it so ill that my mother who bore me would not know me, and I should not like to be considered ugly; neither is it right to mar and destroy what God made in His likeness."
"Agreed," replied Balbeja; "I will aim lower."
"Except—except my stomach also, for I was ever a friend to cleanliness, and I should not like to see myself fouled in a bad way, if your knife and arm played havoc with my liver and intestines."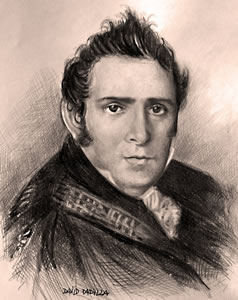 Serafín Estébanez Calderón (27 december 1799 – 5 februari 1867)
De Oostenrijkse schrijver en essayist Klaus Hoffer werd geboren op 27 december 1942 in Graz. Zie ook alle tags voor Klaus Hoffer op dit blog.
Uit: Bei den Bieresch
"Ich sah auf meine Uhr. Es war Punkt acht. Ein neuer Tag hatte angefangen. Leichter Nieselregen fiel vom Himmel. Und Umgekehrt zog einen großen Schlüsselbund aus seiner Rocktasche und sperrte die Geschäftstüre auf. Ich wartete mit meiner Scheibtruhe draußen, während er mit ein paar geübten Handgriffen Kisten mit Gemüse und Salat, der schon etwas verwelkt war, vor dem Geschäft aufbaute. "Schau dir das an!" rief er und zeigte zum Himmel. "Ein Prachtregen! Das gibt frisches Gemüse. Inga, der Regenmacher!" - Über seinen Anzug zog er einen grünen Arbeitsmantel mit dem Abzeichen einer Einkaufskette. Auf den Kopf setzte er sich eine tellergroße, verstaubte Baskenmütze. "Da, fang!" sagte er zu mir und warf mir eine blaue Kappe, die Dienstkappe der Postbeamten, zu. Es war die Kappe meines Onkels. Das Schweißband war speckig, das Posthorn vorne zerbrochen. Ein Toter hatte darin gewohnt. Ich roch daran und entfernte ein langes, schwarzes Haar. Rochen so die Toten? - Als ich fünfzehn war, war meine Großmutter gestorben, und unter der Aufsicht eines Familienmitgliedes hatte ich ihre Lippen küssen müssen. Wie hatte das geschmeckt? Ich hatte immer geglaubt, dass die Hinterbliebenen von ihren Toten essen müssten. Das Fleisch der Toten: Es roch und schmeckte wie rohes Hühnerfleisch. Einmal hatte ich meinen Urin gekostet. "Das Gehirn rülpst", sagen die Bieresch. Sie haben für alles eine Erklärung."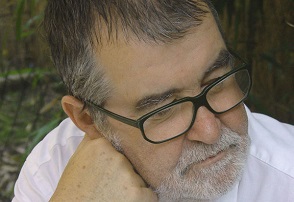 Klaus Hoffer (Graz, 27 december 1942)
27-12-2014 om 15:33 geschreven door Romenu

Tags:Louis Bromfield, Wilfrid Sheed, Charles Olson, Serafín Estébanez Calderón, Klaus Hoffer, Romenu



| | |
| --- | --- |
| | |



Inhoud blog


| | |
| --- | --- |
| | The Enkindled Spring (D. H. Lawrence) |
| | Charlotte Brontë, Patrick Rambaud, John Mortimer, Charles den Tex, Ahmed Arif, Michael Mann |
| | Peter Schneider, Meira Delmar, Alistair MacLean, Gerrit Wustmann, Népomucčne Lemercier |
| | Prijs der Nederlandse Letteren voor Judith Herzberg |
| | Martinus Nijhoff, Jan Cremer, Jean Pierre Rawie, Marieke Lucas Rijneveld, Sebastian Faulks, Jozef Deleu, Steve Erickson, Arto Paasilinna, Michel Leiris |
| | Martin Michael Driessen, Marjoleine de Vos, Manuel Bandeira, n. c. kaser, Veniamin Kaverin, Louis Amédée Achard, Pierre-Jean de Béranger, Gudrun Reinboth, Werner Rohner |
| | Wam de Moor, Bas Belleman, Roos van Rijswijk, Hanane Aad, Clara Eggink, Kathy Acker, Joy Davidman, Henry Kendall, Katharina Schwanbeck |
| | Antoon Coolen, Vincent Corjanus, Nick Hornby, Ida Boy-Ed, Thornton Wilder, David Wagner, R.J. Pineiro, Helen Meier, Karen Blixen |
| | Sarah Kirsch, Thomas Olde Heuvelt, Kingsley Amis, Patricia De Martelaere, Tristan Tzara, Ewald Vanvugt, Sibylle Lewitscharoff, Jan Luyken, Anatole France |
| | Emmaüs (Felix Timmermans) |
| | Tomas Tranströmer, Daniël Samkalden, Jérôme Lambert, Patrick Bernauw, Benjamin Zephaniah, Henry James, Wilhelm Busch, Ina Boudier-Bakker |
| | Bliss Carman, Beate Morgenstern, Jeffrey Archer, Bernhard Lassahn, Erich Arendt, Pol De Mont, Staf Weyts, Hans Egon Holthusen |
| | Péter Esterházy, Alexandre Jardin, Tjitse Hofman, Landolf Scherzer, Charles Lewinsky, Roman Graf |
| | Roberto Schopflocher, Martin Kessel, Gabriele Stötzer, Helene Hübener, Gerhard Rohlfs |
| | Nachoem Wijnberg, K. Michel, Alexander Münninghoff, Michel Faber, Jean-Marie Gustave Le Clézio, Samuel Beckett, Seamus Heaney, Tim Krabbé, Eudora Welty |
| | Antje Rávic Strubel, Alan Ayckbourn, Scott Turow, Tom Clancy, Agnes Sapper, Edward de Vere, José Gautier Benítez, Alexander Ostrovski, Guillaume-Thomas Raynal |
| | Leonard Nolens, Mark Strand, Silvia Avallone, Walid Soliman, Dorothy Allison, Hubert Nyssen, Rolf Schilling, Glenway Wescott, Claude Tillier |
| | Leo Vroman, Jan van Mersbergen, Paul Theroux, Claudio Magris, Bella Akhmadulina, Stefan Heym, Richard Wagner, Marcel van Maele, Eric Knight |
| | Charles Baudelaire, Jelle Brandt Corstius, Karel Jonckheere, Joolz Denby, Albert von Schirnding, Johannes Bobrowski, Bernard-Marie Koltčs, Arnold Stadler, Yaël Vinckx |
| | Thomas (Jan Willem Schulte Nordholt) |
| | Herinnering aan Gerard Reve, Hanz Mirck, Christoph Hein, Judith Koelemeijer, Nnedi Okorafor, Barbara Kingsolver |
| | John Fante, Johann Christian Günther, Glendon Swarthout, Martin Grzimek, Hégésippe Moreau, Robert Askins |
| | Den Haag (Paul Rodenko) |
| | Juliana Spahr, William Wordsworth, Özcan Akyol, Gabriela Mistral |
| | Kazim Ali, Annejet van der Zijl, John Pepper Clark, Jakob Ejersbo, Günter Herburger, Uljana Wolf, Brigitte Schwaiger, Julien Torma, Nicolas Chamfort |
| | Iulian Ciocan |
| | Hugo Claus, Martin Reints, Mieke van Zonneveld, Vítězslav Hálek, Algernon Swinburne, Bora Ćosić,, Werner J. Egli, Michael Georg Conrad, Marente de Moor |
| | Maya Angelou, Hanneke Hendrix, Marko Klomp, Marcel Vaarmeijer, E. L. James, Marguerite Duras, Robert Schindel, Michiel van Kempen, Bettina von Arnim |
| | Charles Ducal, Adriaan Jaeggi, Frederik van Eeden, Bert Bakker, Peter Huchel, Arlette Cousture, Pieter Aspe, Karel N.L. Grazell, Washington Irving |
| | Die Sonne geht im Osten auf (Christian Morgenstern) |
| | Thomas Glavinic, Jay Parini, Anneke Claus, Klaus Ender, Konrad Merz, Ed Dorn, Émile Zola |
| | György Konrád, Anne Waldman, Casanova, Hans Christian Andersen, Roberto Arlt, Edgar Hilsenrath, George Fraser |
| | Hoffmann von Fallersleben, Johann Gleim, Pierre Zaccone, Pietro della Valle, Zwier van Haren, Joanna Chmielewska, Brigitte Struzyk |
| | Preis dem Todesüberwinder! (Friedrich Klopstock) |
| | Milan Kundera, Sandro Veronesi, Nikolaj Gogol, Arnold Aletrino, Max Nord, Urs Allemann, Rolf Hochhuth, John Wilmot, Deborah Feldman |
| | Maria Polydouri, Edgar Wallace, Carl Sternheim, Edmond Rostand, Armel Guerne, Friedrich Güll, Antoine Prévost, Josep de Maistre |
| | Litanie van een wachter bij het graf (Willem Jan Otten) |
| | Stefan Hertmans, Octavio Paz, Asis Aynan, Martijn Teerlinck, Marga Minco, Enrique Vila-Matas |
| | Rob Boudestein, Kornej Tsjoekovski, Andrew Lang, Nichita Stănescu, Hartmut Lange, Marge Piercy |
| | Angela Kreuz, Judith Rossner, Andrew Marvell, John Fowles, Edward FitzGerald, Robert Brasillach, Peter Motte |
| | Golgotha (Theo Thijssen) |
| | Gerrit Komrij, Paul Verlaine, Milton Acorn, Erika Mitterer, Uwe Timm, Tom Sharpe, Gert Heidenreich, Theo Breuer, Luise Hensel |
| | Gethsemane (Jacqueline van der Waals) |
| | Geert van Istendael, Wim Brands, Ernst Jünger, Eric Walz, Georg Klein, Yvan Goll, R. S. Thomas, Jacques Brault, Denton Welch |
| | Walter van den Broeck, Joost de Vries, Mario Vargas Llosa, Chrétien Breukers, Steye Raviez, Nelson Algren, Marianne Frederiksson, Russell Banks, Léon-Gontran Damas |
| | Heinrich Mann, Shusaku Endo, Carolina Trujillo, Golo Mann, Patrick McCabe, Bob den Uyl, Dubravka Ugresić, Francis Ponge, Alfred de Vigny |
| | Tennessee Williams, Gregory Corso, Hwang Sun-won, Martin McDonagh, Robert Frost, Patrick Süskind, A. E. Housman, Bettina Galvagni, Erica Jong |
| | Jezus intrede in Jeruzalem (Nicolaas Beets) |
| | Pol Hoste, Menno Van der Beek, Jung Chang, Paul Meeuws, Flannery O'Connor, Jaime Sabines, Peter Van Straaten, Toni Cade Bambara |
| | Antonio Fogazzaro, Jacques Bens, Jacques Audiberti, Filip De Pillecyn, Erica Pedretti, Evliya Çelebi, Anne Fanshawe, Daniel Schiebeler, Mary Webb |


Gastenboek


Druk op onderstaande knop om een berichtje achter te laten in mijn gastenboek