De Oostenrijkse schrijver Michael Scharang werd geboren in Kapfenberg in de provincie Steiermark op 3 februari 1943. Zie ook alle tags voor Michael Scharang op dit blog.
Uit: Charly Traktor
"Er hat im Laufe des Tages mehrmals einen Anlauf genommen, sich auf dieses andere zu konzentrieren. Aber bei jedem Anlauf sind aus der einen Sache mehrere geworden. Er hat die Übersicht verloren. Er sucht eine Ablenkung.
"Wie kommt der Hügel da her?" Er läuft auf den Schotterkegel, der stellenweise bewachsen ist. Einige Schritte weiter ist noch so ein Hügel. Auf ihm sitzt ein Paar, mit dem Rücken zu Charly Traktor.
Sie wirft den Kopf so weit zurück, daß er glaubt, sie müßte ihn sehen. Er setzt sich. Sie hat eine ländliche Haartracht. Die geflochtenen Haare sind am Hinterkopf zu einem Knoten gedreht. Seine Mutter hatte früher so eine Frisur. Nur glänzten ihre Haare nicht.
Die junge Frau lehnt ihren Kopf gegen den Kopf des Mannes. Der weiße Kragen der Bluse ist über die rote Strickjacke ausgeschlagen.
Charly hofft, daß sie den Kopf wieder zurückwirft. Der Mann neben ihr stützt beide Hände auf dem Schotter auf. Die Hände sieht man nicht, sie sind von den schwarzen Rockärmeln verdeckt. Charly Traktor fragt sich, ob er auch so einen Rock tragen würde, wenn er auf dem Land geblieben wäre. Er streicht über seine Lederjacke. Als er diese Bewegung bemerkt, steckt er die Hand schnell in die Tasche. "Ich komme mir gut vor."
Er nimmt eine Packung Zigaretten heraus, mit der Öffnung nach unten. Drei Zigaretten fallen zu Boden. Eine rollt den Hügel hinunter. Er holt sie. Als er wieder sitzt, waren die beiden bereits aufgestanden. Er erwartet, daß sie sich nach ihm umdrehen. Sie gehen weg. "Wahrscheinlich haben sie sich schon vorher umgedreht, als ich nicht hingeschaut habe".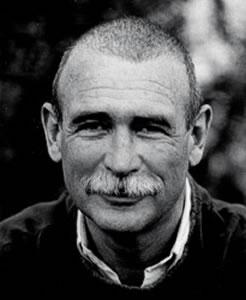 Michael Scharang (Kapfenberg, 3 februari 1943)






De Britse toneelschrijftster

Sarah Kane

werd geboren op 3 februari 1971 in Essex. Zie ook

alle tags voor Sarah Kane op dit blog

Uit: 4.48 Psychosis

A song for my loved one, touching her absence

the flux of her heart, the splash of her smile

In ten years time she'll still be dead. When I'm living with it, dealing with it, when a few days pass when I don't even think of it, she'll still be dead. When I'm an old lady living on the street forgetting my name she'll still be dead, she'll still be dead, it's just

fucking

over

and I must stand alone

My love, my love, why have you forsaken me?

She is the couching place where I never shall lie

and there's no meaning to life in the light of my loss

Built to be lonely

to love the absent

Find me

Free me

from this

corrosive doubt

futile despair

horror in repose

I can fill my space

fill my time

but nothing can fill this void in my heart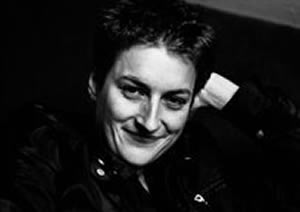 Sarah Kane (3 februari 1971 – 20 februari 1999)
De Amerikaanse schrijver James A. Michener werd geboren op 3 februari 1907 in New York. Zie ook alle tags voor James A. Michener op dit blog.
Uit: Chesapeake
"His logic was rejected not only by the council of chiefs but also by the common warriors, who felt that for a Susquehannock to pass more than a year in peace would be disgraceful. If their great river had proved an excellent place to live, it must be because their tribe had always fought to protect it, and an old warrior predicted, "Pentaquod, when the day comes that we are afraid to fight, we lose the river."
He persisted in talking against a meaningless war, and since any who spoke for peace in the lands along this river would always be charged with treason, his opponents started the, rumor that he had been contaminated by the enemy and served as their spokesman. It was recalled that his wife had died young, which increased the likelihood that the gods rejected his arguments.
To charge him with cowardice was confusing, for he was one of the tallest Susquehannocks in a generation, and they were a tribe of giants. Towering above young men his age, he looked with steady gaze from his great, broad face, darker in color than normal, sure sign of a warrior. This contradiction perplexed children who listened to the accusations against him, and they began to mimic his diffident walk as he moved alone about the edges of the village; soon they would be taunting him openly.
It was one of these children who drove him to his decision. The little boy had been aping him behind his back, causing much merriment among onlookers, when Pentaquod suddenly turned and seized him, demanding to know why he was behaving so, and the child blurted out, "My father says the council is meeting to punish you" And when Pentaquod looked about the village he realized that the elders were missing, and he knew that the boy was speaking truth."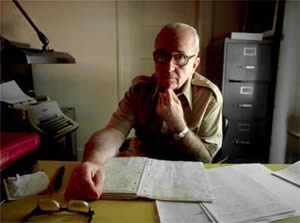 James A. Michener (3 februari 1907 - 16 oktober 1997)
De Duitse schrijfster Annette Kolb werd geboren op 3 februari 1870 in München. Zie ook alle tags voor Annette Kolb op dit blog.
Uit: Zarastro - Memento
"Am 1. Februar 1917 kam ich gegen Abend defi nitiv nach Bern.
Im Zug – am Fenster – schlief ich zwischen Zürich und Baden auf einige Sekunden ein. Dabei rückten sich Bilder aus meiner Wohnung, aber um ein Drittel vergrößert – die sich also selbst vergrößert hatten –, selbst an einer Wand zurecht. –
Trotz dieser so unvermittelt aufblitzenden Vision wurde die Mutlosigkeit, gegen die ich anzukämpfen hatte, immer drückender, und geradezu trostlos gestaltete sich meine Einfahrt in die Bahnhofhalle.
Es goß so recht von innen heraus, wie nur der Berner Himmel zu gießen versteht. So begibt man sich wohl ins Gefängnis, wie ich in das Haus, um dessen anheimelnder alten Stiege willen ich im zweiten
Stock zwei kleine Zimmer mit einem Alkoven gemietet hatte. Übrigens waren sie noch nicht frei, und indessen wurde mir ein großes niedriges angewiesen, das sofort meine Abneigung erregte: bis auf einen gewaltigen Tisch von wahrhaft tröstlichem Umfang. Er stand mitten in der Stube, ganz auf sich beruhend:
Sieh mein geräumiges Rund, und wie gefällig es ist! Sahst du ein weiteres je?
Bürde nur füglich mir auf, was immer du willst. Ich schaffe noch Platz dir. Na also!
So redete er, halb in Hexametern, halb wie eine alte Kindsfrau zu mir, war immer optimistisch und richtete mich auf.
Das Münster aber, das so gut anhebt und so schlecht verläuft, beschattet und beherrscht den Platz, und die Aussicht hart vor meinen Fenstern ist durch ihn versperrt. Auch mein Herz schlägt hinter Riegeln. Ich bin nicht mit den Illusionen hergekommen wie das erstemal."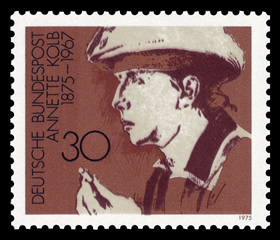 Annette Kolb (3 februari 1870 – 3 december 1967)
De Duitse dichter en schrijver Ernst von Wildenbruch werd op 3 februari 1845 geboren in Beiroet. Zie ook alle tags voor Ernst von Wildenbruch op dit blog.
Reiche Beschäftigung
Abends, wenn ich zur Ruh geh´,
Denk´ich an meine Grete.
Morgens, wenn ich früh aufsteh´,
Mach´ich´s wie abends späte.
Zwischendurch, so am Vormittag,
Denk´ich, was sie wohl treiben mag.
Mittags- aber und Vesperzeit
Sind dem Gedanken an sie geweiht.
Sagt mir nun um des Himmels Willen,
Wo bleibt mir die Zeit, meine Akten zu füllen?
"Ei, so setze die Nacht daran,
Nachts man trefflich schaffen kann!"
Ja, wie sollt´ich die Nacht versäumen?
Muß doch von meiner Grete träumen.
Alt sein heißt...
Alt sein heißt ja nicht schwach sein;
es heißt nur doppelt wach sein
für das, was wahr und echt.

Du lebenslang ein Wächter
des Echten und sein Hegfer,
just dir steht Altsein recht!
Ernst von Wildenbruch (3 februari 1845 – 15 januari 1909)

03-02-2013 om 00:00 geschreven door Romenu

Tags:Michael Scharang, Sarah Kane, James A. Michener, Annette Kolb, Ernst von Wildenbruch, Romenu