E-mail mij


Druk op onderstaande knop om mij te e-mailen.


Romenu


Romenu is een blog over gedichten, literatuur en kunst Maar Romenu is ook een professionele freelance vertaler
Du-Ne en Ne-Du http://www.romenu.nl.


Huur eens een (vakantie)huis in een natuurgebied, dichtbij het centrum van Nijmegen


Google


Georg Trakl

Georg Trakl werd op 3 februari 1887 in het conducteurshuis aan de Waagplatz 2 in Salzburg geboren. Zijn vader, Tobias Trakl, was een handelaar in ijzerwaren en zijn moeder, die ook psychische problemen had, was Maria Catharina Trakl, (meisjesnaam Halik). Voorts had hij nog drie broers en drie zussen. Margarethe (doorgaans Grethe genoemd) stond hem het naast, zelfs zodanig dat sommigen een incestueuze verhouding vermoeden. Zijn jeugd bracht hij door in Salzburg. Vervolgens bezocht hij van 1897 tot 1905 het humanistische gymnasium. Om toch een academische opleiding te kunnen volgen, werkte hij tot 1908 in de praktijk bij een apotheker. Sommigen vermoedden dat hij dit vooral deed om zichzelf opiaten te kunnen verschaffen. Bij het uitbreken van WO I werd Trakl als medicus naar het front in Galicië (heden ten dage in Oekraïne en Polen) gestuurd. Zijn gemoedsschommelingen leidden tot geregelde uitbraken van depressie, die verergerd werden door de afschuw die hij voelde voor de verzorging van de ernstig verwonde soldaten. De spanning en druk dreven hem ertoe een suïcidepoging te ondernemen, welke zijn kameraden nochtans verhinderden. Hij werd in een militair ziekenhuis opgenomen in Kraków, alwaar hij onder strikt toezicht geplaatst werd.Trakl verzonk daar in nog zwaardere depressies en schreef Ficker om advies. Ficker overtuigde hem ervan dat hij contact moest opnemen met Wittgenstein, die inderdaad op weg ging na Trakls bericht te hebben ontvangen. Op 4 november 1914, drie dagen voordat Wittgenstein aan zou komen, overleed hij echter aan een overdosis cocaïne


Paul Celan

Paul Celan werd onder de naam Paul Antschel op 23 november 1920 geboren in Czernowitz, toentertijd de hoofdstad van de Roemeense Boekovina, nu behorend bij de Oekraïne. Paul Celans ouders waren Duitssprekende joden die hun zoon joods opvoedden en hem naar Duitse christelijke scholen stuurden. In 1942 werden Celans ouders door de Duitse bezetter naar een werkkamp gedeporteerd en daar vermoord. Hijzelf wist aanvankelijk onder te duiken, maar moest vanaf juli 1942 in een werkkamp dwangarbeid verrichten. Celan overleefde de oorlog. Via Boekarest en Wenen vestigde Celan zich in 1948 in Parijs. Daar was hij werkzaam als dichter, vertaler en doceerde hij aan de prestigieuze Ecole Normale Supérieure. Vermoedelijk op 20 april 1970 beëindigde hij zijn leven zelf door in de Seine te springen.


Gerard Reve

Gerard Reve over: Medearbeiders "God is in de mensen, de dieren, de planten en alle dingen - in de schepping, die verlost moet worden of waaruit God verlost moet worden, door onze arbeid, aangezien wij medearbeiders van God zijn." Openbaring "Tja, waar berust elk godsbegrip op, elke vorm van religie? Op een openbaring, dat wil zeggen op een psychische ervaring van zulk een dwingende en onverbiddelijke kracht, dat de betrokkene het gevoel heeft, niet dat hij een gedachte of een visioen heeft, maar dat een gedachte gedachte of visioen hem bezit en overweldigt."


Simon Vestdijk
Simon Vestdijk (Harlingen, 17 oktober 1898 – Utrecht, 23 maart 1971) was een Nederlands romancier, dichter, essayist en vertaler. Zijn jeugd te Harlingen en Leeuwarden beschreef hij later in de Anton Wachter-cyclus. Van jongs af aan logeerde hij regelmatig bij zijn grootouders in Amsterdam, waar hij zich in 1917 aan de Universiteit van Amsterdam inschrijft als student in de medicijnen. Tijdens zijn studie die van 1917 tot 1927 duurde, leerde hij Jan Slauerhoff kennen.Tot 1932 is hij als arts in praktijken door heel Nederland werkzaam. In 1932 volgt zijn officiële schrijversdebuut met de uitgave van de bundel Verzen in De Vrije Bladen. Doorslaggevend voor Vestdijks uiteindelijke keuze voor de literatuur is zijn ontmoeting in 1932 met Eddy Du Perron en Menno ter Braak. Deze ontmoeting had tot resultaat dat hij redactielid werd van het tijdschrift Forum Kort daarop, in 1933, wordt zijn eerste novelle, De oubliette, uitgegeven. In hetzelfde jaar schrijft hij Kind tussen vier vrouwen, dat, eerst geweigerd door de uitgever, later de basis zal vormen voor de eerste drie delen van de Anton Wachter-romans. In 1951 ontvangt Vestdijk de P.C. Hooftprijs voor zijn in 1947 verschenen roman De vuuraanbidders. In 1957 wordt hij voor het eerst door het PEN-centrum voor Nederland voorgedragen voor de Nobelprijs voor de Literatuur, die hij echter nooit zal krijgen. Op 20 maart 1971 wordt hem de Prijs der Nederlandse Letteren toegekend, maar voor hij deze kan ontvangen overlijdt hij op 23 maart te Utrecht op 72-jarige leeftijd. Vestdijk was auteur van ca. 200 boeken. Vanwege deze enorme productie noemde de dichter Adriaan Roland Holst hem 'de man die sneller schrijft dan God kan lezen'. Andere belangrijke boeken van Simon Vestdijk zijn: "Kind van stad en land" (1936), "Meneer Visser's hellevaart" (1936), "Ierse nachten" (1946), "De toekomst de religie" (1947), "Pastorale 1943" (1948), "De koperen tuin" (1950), "Ivoren wachters" (1951), "Essays in duodecimo" (1952) en "Het genadeschot" (1964).


K.P. Kavafis

K.P. Kavafis werd als kind van Griekse ouders, afkomstig uit Konstantinopel, geboren in 1863 in Alexandrië (tot vandaag een Griekse enclave) waar hij ook het grootste deel van zijn leven woonde en werkte. Twee jaar na de dood van zijn vader verhuist het gezin in 1872 naar Engeland om na een verblijf van vijf jaar naar Alexandrië terug te keren. Vanwege ongeregeldheden in Egypte vlucht het gezin in 1882 naar Konstantinopel, om na drie jaar opnieuw naar Alexandrië terug te gaan. In de jaren die volgen maakt Kavafis reizen naar Parijs, Londen en in 1901 zijn eerste reis naar Griekenland, in latere jaren gevolgd door nog enkele bezoeken. Op de dag van zijn zeventigste verjaardag, in 1933 sterft Kavafis in Alexandrië. De roem kwam voor Kavafis pas na zijn dood, dus postuum. Deels is dat toe te schrijven aan zijn eigen handelswijze. Hij was uiterst terughoudend met de publicatie van zijn gedichten, liet af en toe een enkel gedicht afdrukken in een literair tijdschrift, gaf in eigen beheer enkele bundels met een stuk of twintig gedichten uit en het merendeel van zijn poëzie schonk hij op losse bladen aan zijn beste vrienden.


Thomas Mann


Thomas Mann, de jongere broer van Heinrich Mann, werd geboren op 6 juni 1875 in Lübeck. Hij was de tweede zoon van de graankoopman Thomas Johann Heinrich Mann welke later één van de senatoren van Lübreck werd. Zijn moeder Julia (geboren da Silva-Bruhns) was Duits-Braziliaans van Portugees Kreoolse afkomst. In 1894 debuteerde Thomas Mann met de novelle "Gefallen". Toen Thomas Mann met 21 jaar eindelijk volwassen was en hem dus geld van zijn vaders erfenis toestond - hij kreeg ongeveer 160 tot 180 goldmark per jaar - besloot hij dat hij genoeg had van al die scholen en instituties en werd onafhankelijk schrijver. Kenmerkend voor zijn stijl zijn de ironie, de fenomenale taalbeheersing en de minutieuze detailschildering. Manns reputatie in Duitsland was sterk wisselend. Met zijn eerste roman, Buddenbrooks (1901), had hij een enorm succes, maar door zijn sceptische houding tegenover Duitsland na de Eerste Wereldoorlog veranderde dit volledig. Stelde hij zich tot aan de jaren twintig apolitiek op (Betrachtungen eines Unpolitischen, 1918), meer en meer raakte hij bij het Politiek gebeuren betrokken. Zijn afkeer van het nationaal socialisme groeide, zijn waarschuwingen werden veelvuldiger en heftiger. In 1944 accepteerde hij het Amerikaanse staatsburgerschap. Tussen 1943 en 1947 schreef Mann Doktor Faustus (zie Faust), de roman van de 'Duitse ziel' in de gecamoufleerd geschilderde omstandigheden van de 20ste eeuw. In 1947 bezocht hij voor het eerst sinds de Oorlog Europa, twee jaar later pas Duitsland. In 1952 vertrok hij naar Zwitserland. Op 12 augustus 1955 stierf hij in Zürich. Twintig jaar na zijn dood, in aug. 1975, is zijn literaire nalatenschap geopend: dagboekaantekeningen van 15 maart 1933 tot 29 juli 1955, alsmede notities uit de jaren 1918 tot en met 1921.Belangrijke werken zijn: Der Zauberberg, Der Tod in Venedig, Dokter Faustus , Joseph und seine Brüder en Die Bekenntnisse des Hochstaplers Felix Krull.


Rainer Maria Rilke

Rilke werd op 4 december 1875 geboren in Praag. Hij had al naam gemaakt als dichter met zijn bundels Das Stundenbuch en Das Buch der Bilder, toen hij de literaire wereld versteld deed staan en wereldfaam verwierf met de publicatie van zijn twee delen Neue Gedichte in 1907 en 1908. Hij verzamelde daarin het beste werk uit een van zijn vruchtbaarste periodes, die hij grotendeels doorbracht in Parijs. Rilke was daar diep onder de indruk gekomen van Rodin, bij wie hij een tijdlang in dienst was als particulier secretaris. Rodin, zei hij later, had hem leren kijken. Dit kijken kwam neer op intense concentratie, om het mysterie te kunnen zien 'achter de schijnbare werkelijkheid'. Latere en rijpere werken als Duineser Elegien (1912-1923) en het ronduit schitterende Die Sonette an Orfeus (1924) illustreren Rilkes metafysische visie op het onzegbare, dat haar verwoording vindt in een hermetische muzikale taal. Op 29 december 1926 overlijdt Rilke in het sanatorium in Val-Mont aan de gevolgen van leukemie. Enkele dagen later wordt hij, overeenkomstig zijn wens, begraven op het kerkhof van Raron.


* * * * * * * * * * * * * * * *

| | |
| --- | --- |
| | Over literatuur, gedichten, kunst en cultuur |

05-01-2014

Umberto Eco, Paul Ingendaay, Ngũgĩ wa Thiong'o, László Krasznahorkai, Friedrich Dürrenmatt
De Italiaanse schrijver Umberto Eco werd geboren op 5 januari 1932 in Allasandria. Zie ook alle tags voor Umberto Eco op dit blog.
Uit: The Prague Cemetery (Vertaald door Richard Dixon)
"A passerby on that gray morning in March 1897, crossing, at his own risk and peril, Place Maubert, or the Maub, as it was known in criminal circles (formerly a center of university life in the Middle Ages, when students flocked there from the Faculty of Arts in Vicus Stramineus, or Rue du Fouarre, and later a place of execution for apostles of free thought such as Étienne Dolet), would have found himself in one of the few spots in Paris spared from Baron Haussmann's devastations, amid a tangle of malodorous alleys, sliced in two by the course of the Bièvre, which still emerged here, flowing out from the bowels of the metropolis, where it had long been confined, before emptying feverish, gasping, and verminous into the nearby Seine. From Place Maubert, already scarred by Boulevard Saint-Germain, a web of narrow lanes still branched off, such as Rue Maître-Albert, Rue Saint-Séverin, Rue Galande, Rue de la Bûcherie, Rue Saint-Julien-le-Pauvre, as far as Rue de la Huchette, littered with filthy hotels generally run by Auvergnat hoteliers of legendary cupidity, who demanded one franc for the first night and 40 centimes thereafter (plus 20 sous if you wanted a sheet).
If he were to turn into what was later to become Rue Sauton but was then still Rue d'Amboise, about halfway along the street, between a brothel masquerading as a brasserie and a tavern that served dinner with foul wine for two sous (cheap even then, but all that was affordable to students from the nearby Sorbonne), he would have found an impasse, or blind alley, which by that time was called Impasse Maubert, but up to 1865 had been called Cul-de-sac d'Amboise, and years earlier had housed a tapis-franc (in underworld slang, a tavern, a hostelry of ill fame, usually run by an ex-convict, and the haunt of felons just released from jail), and was also notorious because in the 18th century there had stood here the laboratory of three celebrated women poisoners, found one day asphyxiated by the deadly substances they were distilling on their stoves."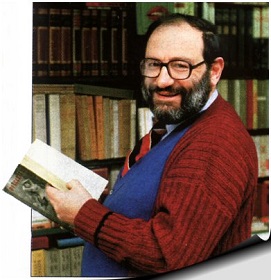 Umberto Eco (Allasandria, 5 januari 1932)
De Duitser schrijver, criticus en literatuurwetenschapper Paul Ingendaay werd geboren op 5 januari 1961 in Keulen. Zie ook alle tags voor Paul Ingendaay op dit blog.
Uit: Die Nacht von Madrid
"Wie die Droschkenkutscher von früher, sage ich gern. Wir hocken vorn und fahren alle, die uns darum bitten. Natürlich haben wir gegenüber den alten Zeiten einen Vorteil. Wir sitzen warm unter einem Dach und bekommen von den Elementen nicht viel mit. Wir brauchen keinen Mantel und keine Mütze. Leider, denke ich manchmal, haben wir auch keine Peitsche mehr.
Unsere Tage sind lang. Zwölf, dreizehn Stunden, manchmal vierzehn. Wer vernünftig ist, hält in der Mittagszeit an und setzt sich in Ruhe hin, um was zu essen. Ich mache es so. Wer nachts fährt, hat es schwerer, aber unmöglich ist das auch nicht. Man kennt seine Stadt. Man kommt herum und findet irgendwo in Madrid eine Nachtbar, um ein Sandwich zu essen. Müsste ich nachts fahren, würde ich Aurora bitten, mir was vorzubereiten, wie sie es früher gemacht hat, als ich noch im Sägewerk war. Alles schön klein geschnitten, ein Stück Obst dazu, Plastikdeckel drauf, damit keine Sägespäne drankamen. Ging gut, über die Jahre. Nur als das Sägewerk zumachte, musste ich mir was einfallen lassen.
Die Taxilizenz habe ich gerade noch gekauft, als sie billig war. Mein jüngerer Bruder kaufte das Ding ein paar Jahre zu spät und konnte nicht aufhören zu fluchen. Er ist ein unglücklicher Taxifahrer geworden, mein Bruder, nicht ganz im Gleichgewicht. Wir haben uns länger nicht gesehen.
Ich merke mir Gesichter und Stimmen, das ist mein Sport. Manche Fahrgäste erkennt man nicht leicht, besonders im Winter, oder sie lesen nur Zeitung und sagen nicht mal fünf Worte, wenn sie bezahlen. »Hier, nehmen Sie«, sagen sie und »Danke«, wenn ich ihnen die Quittung gebe. Das macht keinen Spaß, diese Abfertigung. Mein Taxi ist keine Hühnchenbraterei. Dann muss ich mir sagen, dass auch die Mürrischen zu meiner Sammlung gehören. Dass sie meine Sammlung, ich sag jetzt mal, bereichern. Sobald ich mir das klarmache, ist es gut."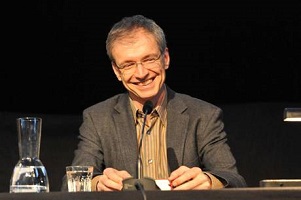 Paul Ingendaay (Keulen, 5 januari 1961)
De Keniase schrijver Ngũgĩ wa Thiong'o werd geboren op 5 januari 1938 in Kamiriithu, Limuru, Kenia. Zie ook alle tags voor Ngũgĩ wa Thiong'o op dit blog.
Uit: Devil on the Cross
"And there and then the people crucified the Devil on the Cross, and they went away singing songs of victory. After three days, th ere came others dressed in suits and ties, who, keeping close to the wall of darkness, lifted the Devil down from the cross. And they knelt before him, and they prayed to him in loud voices, beseeching him to give them a portion of his robes of cunning."
(…)
"What Waringa tried hard to avoid was looking at the pictures of the walls and windows of the church. Many of the pictures showed Jesus in the arms of the virgin Mary or on the cross. But others depicted the devil, with two cow-like horns and a tail like a monkey's, raising one leg in a dance of evil, while his angels, armed with burning pitchforks, turned over human beings on a bonfire. The Virgin Mary, Jesus and God's angels were white, like European, but the devil and his angels were black."
(…)
"As she stared at them, Waringa noted that their skins were indeed red, like that of pigs or like the skin of a black person who has been scalded with boiling water or who has burned himself with acid creams. Even the hair in their arms and necks stood out stiff and straight like the bristle of an aging hog."
(…)
"Literature is the honey of a nation's soul, preserved for her children to taste forever, a little at a time! Gikuyu said that he who has put something aside never goes hungry. Do you think Gikuyu was a fool when he said that? A nation that has cast away its literature is a nation that has sold its soul and has been left a mere shell."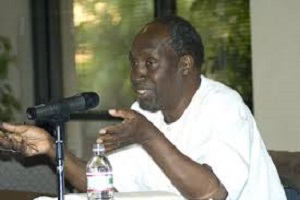 Ngũgĩ wa Thiong'o (Kamiriithu, 5 januari 1938)
De Hongaarse schrijver László Krasznahorkai werd geboren op 5 januari 1954 in Gyula. Zie ook alle tags voor László Krasznahorkai op dit blog.
Uit: Satantango (Vertaald door George Szirtes)
"In the tense silence the continual buzzing of the horseflies was the only audible sound, that and the constant rain beating down in the distance, and, uniting the two, the ever more frequent scritch-scratch of the bent acacia trees outside, and the strange nightshift work of the bugs in the table legs and in various parts of the counter whose irregular pulse measured out the small parcels of time, apportioning the narrow space into which a word, a sentence or a movement might perfectly fit. The entire end-of-October night was beating with a single pulse, its own strange rhythm sounding through trees and rain and mud in a manner beyond words or vision: a vision present in the low light, in the slow passage of darkness, in the blurred shadows, in the working of tired muscles; in the silence, in its human subjects, in the undulating surface of the metaled road; in the hair moving to a different beat than do the dissolving fibers of the body; growth and decay on their divergent paths; all these thousands of echoing rhythms, this confusing clatter of night noises, all parts of an apparently common stream, that is the attempt to forget despair; though behind things other things appear as if by mischief, and once beyond the power of the eye they don't hang together. So with the door left open as if forever, with the lock that will never open. There is a chasm, a crevice."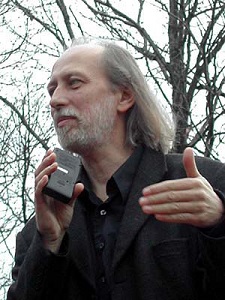 László Krasznahorkai (Gyula, 5 januari 1954)
De Zwitserse schrijver Friedrich Dürrenmatt werd geboren op 5 januari 1921 in Konolfingen. Zie ook alle tags voor Friedrich Dürrenmatt op dit blog.
Uit: Das Versprechen
"Ich ging zur Bar, um noch einen Whisky zu trinken. Außer der älteren Bardame fand ich dort noch einen Herrn, der sich mir vorstellte, kaum daß ich Platz genommen hatte. Es war Dr. H., der ehemalige Kommandant der Kantonspolizei Zürich, ein großer und schwerer Mann, altmodisch, mit einer goldenen Uhrkette quer über der Weste, wie man dies heute nur noch selten sieht. Trotz seines Alters waren seine borstigen Haare noch schwarz, der Schnurrbart buschig. Er saß an der Bar auf einem der hohen Stühle, trank Rotwein, rauchte eine Bahianos und redete die Bardame mit Vornamen an. Seine Stimme war laut und seine Gesten waren lebhaft, ein unzimperlicher Mensch, der mich gleicherweise anzog wie abschreckte. Als es schon gegen drei ging und zum ersten Johnnie Walker vier weitere gekommen waren, erbot er sich, mich am nächsten Morgen mit seinem Opel Kapitän nach Zürich zu schaffen. Da ich die Gegend um Chur und überhaupt diesen Teil der Schweiz nur flüchtig kannte, nahm ich die Einladung an. Dr. H. war als Mitglied einer eidgenössischen Kommission nach Graubünden gekommen und hatte, da ihn das Wetter an der Rückfahrt hinderte, ebenfalls meinen Vortrag besucht, ließ sich jedoch nicht darüber aus, nur daß er einmal meinte: »Sie tragen ziemlich ungeschickt vor.
Am nächsten Morgen machten wir uns auf den Weg. Ich hatte in der Dämmerung um noch etwas schlafen zu können zwei Medomin genommen und war wie gelähmt."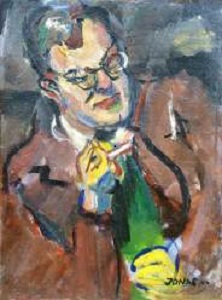 Friedrich Dürrenmatt (5 januari 1921 – 14 december 1990)
Portret door Walter Jonas, rond 1944
Zie voor nog meer schrijvers van de 5e januari ook mijn vorige twee blogs van vandaag.


05-01-2014 om 18:54 geschreven door Romenu

Tags:Umberto Eco, Paul Ingendaay, Ngũ,gĩ, wa Thiong'o, László Krasznahorkai, Friedrich Dürrenmatt, Romenu



Luisa Futoransky, Forough Farokhzad, Yevgeni Popov, William Snodgrass
De Argentijnse dichteres en schrijfster Luisa Futoransky werd geboren op 5 januari 1939 in Buenos Aires. Zie ook alle tags voor Luisa Futoransky op dit blog.
Tatoong

Golden buddhas of Tatoong with their centers of balance in flames
buddhas with guardians strumming wise mandolins to help them sleep

meanwhile the interpreter strives before a shining trinity
explaining that the figures on the sides are the secretaries
but without specifying as to what faction, which cosmic party
what paperwork they have to fill out to pass from the blue
to the orange of illumination

how many incarnations at the mercy of the elements in the shacks of Yunnan
how much silk and manure and horse sweat
and yak's milk so that the gust of silence and wind
causes me to doubt my light and shadow

but the Japanese are filming murmured sequences
of martial arts at the feet of the Contemplator
and after we go off in our buses to empty ourselves
of more dinners, more temples, more purchases

what do these tens of thousands of buddhas do at night
to be so happy and composed the next morning?
Circery

I changed
these men into little poems
and confined them to books and journals
because, nowadays,
it's not worth
going about finding them acorns
or daisies for holy days.

As for Ulysses, the guy from Ithaca,
tell him my oven's already full
of asps, toads
and mastodons like him.
Besides, the (circus) game
of resurrections
is no longer my specialty.
Now I weave.
Believe me.
Vertaald door Jason Weiss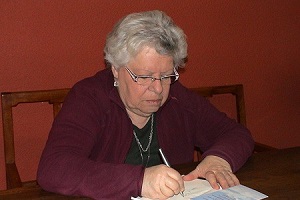 Luisa Futoransky (Buenos Aires, 5 januari 1939)
De Iraanse dichteres Forough Farokhzad werd geboren op 5 januari 1935 in Teheran. Zie ook alle tags voor Forough Farokhzad op dit blog.
The Bird Was Just A Bird
The birds said:
"What a bright day, what a fresh air!
Spring has arrived.
I must look for my mate."

The bird fled from the edge of wire.
The bird soared away towards the clouds-
and disappeared fast.
Just like a wish,
Just like a prayer,
Just like a whisper,
The bird spread far and wide-
in the air.

The bird was tiny.
The bird was light.
The bird was not bright,
The bird was lonely,
But the bird, well,
was truly free.

In the sky,
Over the ups and downs of the hills and the lanes,
Over the traffic lights and over the stop signs,
The bird constantly flew.

And,
in the heights of the peace of her dreams,
She finally felt the blue sense of time and space.

The bird, well, was just a bird.
The bird, well, was truly free.
Vertaald door Maryam Dilmaghani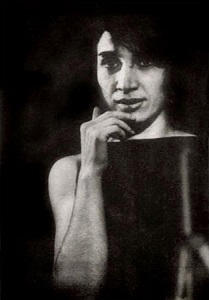 Forough Farokhzad (5 januari 1935 – 13 februari 1967)
De Russische schrijver Yevgeni Anatoljewitsj Popov werd geboren op 5 januari 1946 in Krasnojarsk, Sibirië. Zie ook alle tags voor Yevgeni Popov op dit blog.
Uit: Mein Moskau
"Jahr für Jahr schmückten am 1. Mai und am 7. November die bekannten Figuren der Parteibonzen das Lenin-Mausoleum und die jubilierenden «Vertreter der Werktätigen» den Roten Platz; letztere trugen rote Fahnen sowie die Portraits eben jener «Diener des Volkes», welche auf dem Mausoleum standen.
Jahrelang bestürmten Dichter und Schriftsteller erfolglos die Zeitschriftenredaktionen und Verlage, bis sie zu Dissidenten oder Emigranten wurden, oder sie nahmen die Spielregeln an und stärkten die Reihen der sowjetischen «Kulturarbeiter».
Trotzdem, das war nur Moskaus äussere Hülle. Alle wussten (und ich glaube nicht, dass die Perestroika noch jemandem die Augen öffnen musste), dass es sich mit Moskau nicht so einfach verhielt, dass unter der dünnen Kruste erstarrter kommunistischer Lava vulkanische Leidenschaften brodelten: Kommunisten prügelten sich um die Macht und richteten sich um der Karriere willen gegenseitig zugrunde, Untergrundmilizionäre mehrten ihr Vermögen, wer mochte, konnte in Moskau jedes, auch das «antisowjetischste» Buch auftreiben, und der Siegeszug der Ideen von Marx und Lenin über den Planeten verhinderte keinesfalls, dass es in der Zitadelle des Kommunismus sowohl Prostituierte, Devisenschieber, Spekulanten, Diebe und Banditen als auch andersdenkende Philosophen, Schriftsteller und Künstler gab, aber auch ehrliche Durchschnittsbürger, denen jede Ideologie gestohlen bleiben konnte."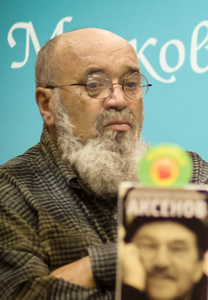 Yevgeni Popov (Krasnojarsk, 5 januari 1946)
De Amerikaanse dichter William De Witt Snodgrass werd geboren op 5 januari 1926 in Wilkinsburg, Pennsylvania. Zie ook alle tags voor William Snodgrass op dit blog.
Who Steals My Good Name
For the person who obtained my debit card number and spent $11,000 in five days

My pale stepdaughter, just off the school bus,
Scowled, 'Well, that's the last time I say my name's
Snodgrass!' Just so, may that anonymous
Mexican male who prodigally claims

My clan lines, identity and the sixteen
Digits that unlock my bank account,
Think twice. That less than proper name's been
Taken by three ex-wives, each for an amount

Past all you've squandered, each more than pleased
To change it back. That surname you affect
May have more consequence than getting teased
By dumb kids or tracked down by bank detectives.

Don't underrate its history: one of ours played
Piano on his prison's weekly broadcast;
One got rich on a scammed quiz show; one made
A bungle costing the World Series. My own past

Could subject you to guilt by association:
If you write anything more than false checks,
Abandon all hope of large press publication
Or prizes—critics shun the name like sex

Without a condom. Whoever steals my purse
Helps chain me to my writing desk again
For fun and profit. So take thanks with my curse:
May your pen name help send you to your pen.

William Snodgrass (5 januari 1926 – 13 januari 2009)
Zie voor nog meer schrijvers van de 5e januari ook mijn vorige blog van vandaag.
05-01-2014 om 18:42 geschreven door Romenu

Tags:Luisa Futoransky, Forough Farokhzad, Yevgeni Popov, William Snodgrass, Romenu



Pierre Seghers, Fred Wander, Humbert Wolfe, Stella Gibbons, Terenci Moix
De Franse dichter en uitgever Pierre Seghers werd geboren op 5 januari 1906 in Parijs. Zie ook alle tags voor Pierre Seghers op dit blog.
La vie
Ainsi passe la vie, de l'un à l'autre va
Se fait et se défait, s'invente, se prolonge
S'endort dans des maisons que bâtissent les songes
Se rêve et s'éveillant ne se reconnaît pas

Ainsi passe la vie. Quand le soleil va naître
Il partage déjà ses hautes graminées
Ses nuages, ses fleurs, ses défuntes années
Son devenir de feux passant dans nos fenêtres

Ainsi passe la vie. On entend des bourdons
Tracer dans la lumière un sillage illusoire
Pour lui seul le poète écoute ses histoires
Et plonge au cœur des fleurs pour apprendre leur nom

Ainsi passe la vie à surprendre un langage
Inaudible et pourtant comme l'herbe vivant
De l'éternel azur qui n'est fait que de vents
De silence, d'attente, et d'autres paysages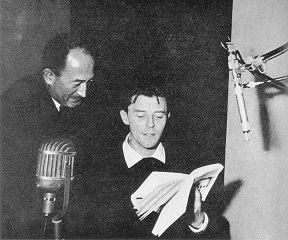 Pierre Seghers (5 januari 1906 – 4 november 1987)
Hier met de acteur Gerard Philipe die zijn gedichten leest, 1955
De Oostenrijkse schrijver Fred Wander werd geboren op 5 januari 1917 in Wenen als Fritz Rosenblatt. Zie ook alle tags voor Fred Wander op dit blog.
Uit: Hôtel Baalbek
"Und dann kam Hanna wieder herunter und berichtete, wirr und wortreich wie immer und ein wenig verächtlich:
Er sieht Gespenster, er sagt, er habe Katja auf der Straße gesehen, sagt er, auf der Canebière. Er ist mit der Straßenbahn gefahren, und unsere Tochter, so sagt er, ist gerade über die Kreuzung gelaufen, mit einem fremden Mann, er hat gerufen, ist abgesprungen und hat sie gesucht, er ist verrückt geworden!
Er konnte Katja natürlich nicht gesehen haben, sie war vor drei Tagen mit dem Schi∑ abgefahren. Mit der Deventer war sie abgefahren, nach Martinique. Gewiß nicht, um in Martinique zu bleiben, wer blieb schon in Martinique oder Honduras oder in Costa Rica, man kau∫e Visa und Schffskarten nach Martinique oder nach Panama, um von dort nach New York zu gelangen.
Hanna ging dann hinaus auf die Straße, wahrscheinlich, um ein wenig Fett und Gemüse für eine Suppe zu besorgen, was in diesen Tagen nicht leicht war. Alles wurde nur im Schleich gehandelt, gehamstert, versteckt, getauscht, man fürchtete, es würde noch schlimmer kommen. Wenn erst die Deutschen da waren, wenn sie ganz Frankreich besetzten, dann würden wir nichts mehr abbekommen, was würde mit uns geschehen? Was würde geschehen, wenn wir nicht rechtzeitig auf ein Schff kamen?"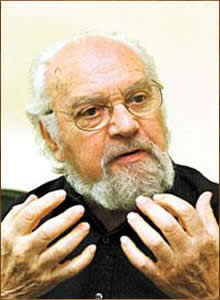 Fred Wander (5 januari 1917 – 10 juli 2006)
De Engelse dichter Humbert Wolfe werd geboren op 5 januari 1885 in Milaan. Zie ook alle tags voor Humbert Wolfe op dit blog.
The Thought
I will not write a poem for you,
because a poem, even the loveliest,
can only do what words can do -
stir the air, and dwindle, and be at rest.

Nor will I hold you with my hands, because
the bones of my hands on yours would press,
and you'd say after, 'Mortal was,
and crumbling, that lover's tenderness.'

But I will hold you in a thought without moving
spirit or desire or will
for I know no other way of loving,
that endures when the heart is stil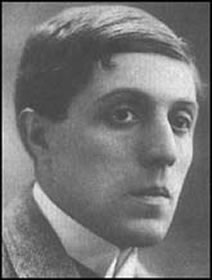 Humbert Wolfe (5 januari 1885 – 5 januari 1940)
De Engelse schrijfster Stella Gibbons werd geboren op 5 januari 1902 in Londen. Zie ook alle tags voor Stella Gibbons op dit blog.
Uit:Cold Comfort Farm
"Mrs Smiling was awaiting her in the drawing-room over-looking the river. She was a small Irishwoman of twenty-six years, with a fair complexion, large grey eyes and a little crooked nose. She had two interests in life. One was the imposing of reason and moderation into the bosoms of some fifteen gentlemen of birth and fortune who were madly in love with her, and who had flown to such remote places as Jhonsong La Lake M'Luba-M'Luba and the Kwanhattons because of her refusal to marry them. She wrote to them all once a week, and they (as her friends knew to their cost, for she was ever reading aloud long, boring bits from their letters) wrote to her.
These gentlemen, because of the hard work they did in savage foreign parts and of their devotion to Mrs Smiling, were known collectively as 'Mary's Pioneers-O', a quotation from the spirited poem by Walt Whitman.
Mrs Smiling's second interest was her collection of brassieres, and her search for a perfect one. She was reputed to have the largest and finest collection of these garments in the world, it was hoped that on her death it would be left to the nation.
She was an authority on the cut, fit, colour, construction and proper functioning of brassieres: and her friends had learned that her interest, even in moments of extreme emotional or physical distress, could be aroused and her composure restored by the hasty utterance of the phrase:
'I saw a brassiere to-day. Mary, that would have interested you...'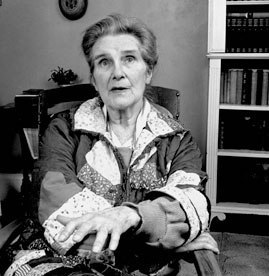 Stella Gibbons (5 januari 1902 – 19 december 1989)
De Spaanse (Catalaanse) schrijver Terenci Moix werd geboren op 5 januari 1942 in Barcelona. Zie ook alle tags voor Terenci Moix op dit blog.
Sexy Whim
Some enchanted evening, quan el dia
derivi envers la nit emmetzinada
florirà entre les ruïnes de Philaë
el rostre turmentós de l'espectre que espero,
em lliuraré, derivant sense nit,
a l'extrema carícia dels no-mites.

Un capvespre màgic, qualsevol, some
enchanted evening, sabràs de mi
que cavalco a l'encalç de l'ensurt
aferrat al timó de la Barca Daurada
que tremola entre els matolls d'esfinxs
somiant l'Opet d'Amon, cerimoniós.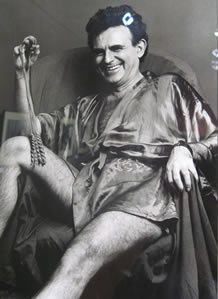 Terenci Moix (5 januari 1942 – 2 april 2003)
05-01-2014 om 18:25 geschreven door Romenu

Tags:Pierre Seghers, Fred Wander, Humbert Wolfe, Stella Gibbons, Terenci Moix, Romenu



| | |
| --- | --- |
| | |



Inhoud blog


| | |
| --- | --- |
| | Leon de Winter, Alain Mabanckou, George Moore, Erich Loest, Herman Maas, Luc Verbeke, Wilhelm Grimm, Friedrich Spielhagen, Jacques Presser |
| | August Derleth, Keto von Waberer, Yüksel Pazarkaya, Erich Pawlu, Irène Némirovsky, Vincent Voiture, Rosalía de Castro, Paul Alfred Kleinert, Stanisław Witkiewicz |
| | César Aira, Robert Gray, Jef Geeraerts, Bernard Cornwell, Ljoedmila Oelitskaja, Toon Kortooms, Jo Ypma, Sonya Hartnett, Maxim Februari |
| | Arnon Grunberg, Rob Schouten, Ruben van Gogh, Paul van Ostaijen, Hugo Ball, Danilo Kis, Sean O'Faolain, Ishmael Reed, Edna St. Vincent Millay |
| | J.M.A. Biesheuvelprijs voor Annelies Verbeke |
| | Herman de Coninck, Tom van Deel, Jonathan Safran Foer, Hans Andreus, David Avidan, Chuck Palahniuk, Wystan Hugh Auden, Laure Limongi, Justus van Effen |
| | P. C. Boutens, David Nolens, Ellen Gilchrist, Julia Franck, Georges Bernanos, William Carleton, Cornelis Sweerts, Johann Heinrich Voß, Pierre Boulle |
| | Michiel Stroink, Siri Hustvedt, Helen Fielding, Jaan Kross, Helene Hegemann, Björn Kuhligk, Thomas Brasch, Dmitri Lipskerov, Wolfgang Fritz |
| | De verzoeking in de woestijn (Nicolaas Beets) |
| | Nick McDonell, Robbert Welagen, Bart FM Droog, Maarten Mourik, Huub Beurskens, Gaston Burssens, Toni Morrison, Elke Erb, Charlotte Van den Broeck |
| | Níkos Kazantzákis, Jean M. Auel, Audre Lorde, Mór Jókai, Hedwig Courths-Mahler, Alexander Kielland, Wallace Stegner, Leone Battista Alberti |
| | Shahrnush Parsipur, Willem Thies, Sadegh Hedayat, Yevgeni Grishkovetz, Albert Kuyle, Jaroslav Vrchlický, Chaim Potok, Mo Yan, Frederik Hetmann |
| | Emmy Hennings, Mori Ōgai, Gustavo Bécquer, Georg Britting, Andrew Paterson, Margaret Truman, Ruth Rendell, Fjodor Sologoeb |
| | Pêr-Jakez Helias, Georg Weerth, Friedrich Klinger, Louisa Lawson, Max Schneckenburger, Maria Rossetti |
| | Ingmar Heytze, Elisabeth Eybers, Anil Ramdas, Iain Banks, Alfred Kolleritsch, Aharon Appelfeld, Iris Kammerer, Annie van Gansewinkel, Richard Ford |
| | Nederlandse Boekhandelsprijs 2018 voor Murat Isik |
| | Richard Blanco, Stacie Cassarino, Elke Heidenreich, Chrystine Brouillet, Hans Kruppa, Douglas Hofstadter, Wilhelm Jensen, Demetrius Vikelas, Tobias Amslinger |
| | A glimpse (Walt Whitman) |
| | Ash Wednesday II (T. S. Eliot) |
| | Hanna Bervoets, Piet Paaltjens, Ab Visser, Ischa Meijer, Robert Shea, Frank Harris, Julia de Burgos, Vsevolod Garsjin, Edmond About |
| | Jean-Luc Lagarce |
| | Kettenlied für den Fasching (Aloys Blumauer) |
| | M. Vasalis, Jan Arend, Arjan Visser, Gerard Keller, Georges Simenon, Nynke van Hichtum, Friedrich Christian Delius, Urs Faes, Katja Lange-Müller |
| | 80 jaar Jan Siebelink |
| | II. Fastnacht, Bern, March 7, 1987 (William Irwin Thompson) |
| | Barbara Honigmann, Detlev Meyer, Mariana Leky, Lou Andreas-Salomé, Sabahattin Ali, Friedrich de la Motte-Fouqué, Janwillem van de Wetering, Joachim Meyerhoff, John Hennessy |
| | Karneval (Ludwig Thoma) |
| | Maryse Condé, Else Lasker-Schüler, Kazys Bradūnas, Gerhard Kofler, Roy Fuller, Karoline von Günderrode, Hermann Allmers |
| | Rachilde, Johannes van Melle, Lydia Child, Marie-Joseph Chénier, Bernard de Fontenelle, Honoré d'Urfé, Rudolf Hans Bartsch |
| | Johan Harstad, Åsne Seierstad, Marjolijn van Heemstra, Derek Otte, Jac. van Hattum, Simone Trieder, Bertolt Brecht, Boris Paste/nak, Carry-Ann Tjong-Ayong |
| | Giuseppe Ungaretti, Fleur Adcock, Joseph Kessel, Charles Lamb, Margarete Hannsmann, Eugène Rellum, Daniel Triller, Thomas Platter de oudere |
| | John Coetzee, Thomas Bernhard, Kees Verheul, Brendan Behan, Geerten Gossaert, Herman Pieter de Boer, Alice Walker, Jacques Schreurs, Amy Lowell, Maurits Sabbe |
| | John Grisham, Robin Block, Elizabeth Bishop, Neal Cassady, Henry Roth, Eva Strittmatter, Gert Jonke, Jules Verne, Kate Chopin |
| | Charles Dickens, Gay Talese, Christine Angot, Pjeroo Roobjee, Emma McLaughlin, A. den Doolaard, Lioba Happel, Rhijnvis Feith, Alban Nikolai Herbst |
| | Annelies Verbeke, Thomas von Steinaecker, Dermot Bolger, Felix Mitterer, Heinz Kahlau, Pramoedya Ananta Toer, John Henry Mackay, Ernst Wilhelm Lotz, Irmgard Keun |
| | Geert Buelens, Ruth Lasters, Jan Prins, William S. Burroughs, Joris-Karl Huysmans, Terézia Mora, Philip Weiss, Rikkert Zuiderveld, Laurens Hoevenaren |
| | Am fünften Sonntage nach Heilige Drei Könige (Annette von Droste-Hülshoff) |
| | Robert Coover, Stewart O'Nan, Louis Ferron, Werner Schwab, Norman Ohler, Luuk Imhann, Else Kemps |
| | Alfred Andersch, Grigore Vieru, E. J. Pratt, Georg Brandes, Jacques Prévert, Jean Richepin, Carl Michael Bellman |
| | Georg Trakl, Paul Auster, Katja Petrovskaya, Jan Willem Holsbergen, Henning Mankell, Richard Yates, Gertrude Stein, Ferdinand Schmatz, Michael Scharang |
| | Johannes Kühn, Andrzej Szczypiorski, Ludwig August Frankl-Hochwart, Lao She, Sarah Kane, James A. Michener, Annette Kolb, Ernst von Wildenbruch |
| | Hella Haasse, Willem van Zadelhoff, Esther Gerritsen, Kees Torn, James Joyce, Eriek Verpale, Santa Montefiore, James Dickey, Monica Camuglia |
| | In Memoriam Menno Wigman |
| | A Song for Simeon (T. S. Eliot) |
| | Hugo von Hofmannsthal, Stijn Vranken, José Luis Sampredo, F. B. Hotz, Toine Heijmans, Dieter Kühn, Günter Eich, Muriel Spark, Georg Rendl |
| | Jan-Paul Rosenberg wint Turing Nationale Gedichtenwedstrijd |
| | Dolce far niente, Bert Leston Taylor, Anton Korteweg, Hasso Krull, Alfred Kossmann |
| | Bernard Dewulf, Tijs Goldschmidt, Anne-Gine Goemans, Shirley Hazzard, Adelbert von Chamisso, Les Barker, Karl Gerok, Michael Dorris, Anton Hansen Tammsaare |
| | Hans Plomp, Saskia de Coster, Willem Hussem, Lennaert Nijgh, Anton Tsjechov, Olga Tokarczuk, Hubert K. Poot, Romain Rolland, Germaine Greer |
| | Am vierten Sonntage nach Heilige Drei Könige (Annette von Droste-Hülshoff) |


Gastenboek


Druk op onderstaande knop om een berichtje achter te laten in mijn gastenboek