De Turkmeens / Russische schrijfster, dissidente en kinderarts Jelena Georgievna Bonner werd geboren in Merv op 15 februari 1923. Zie ook mijn blog van 15 februari 2010 en ook mijn blog van 15 februari 2011.
Uit: I Want A House
"I want a house. My dream - my own house - is unattainable for my husband and myself, as unattainable as heaven on earth. But, I want a house. If not for me, then for my son and his family in America. My son and I plan to buy one. And, I am learning many new things. The house should be near good schools. My Granddaughter is three, and schooling is not far off in the future. It should be in the suburbs - vacations are short, and a child should not have to grow up in a polluted city. It should be close to work - both parents have jobs and there is only one car. It should have a foundation and basement. I have never known such considerations to exist. It should have three bedrooms so my mother can be with them, or at least visit. And, it should have a studio. My Son, Alyosha, needs a workroom for his mathematics.
A house is a symbol of independence, both spiritual and physical. Some own a tiny house, like a toy cottage with only the soil in their flower boxes. Others have lots of bedrooms, baths, and extensive lawns. The American feeling about his house expresses the main traits of Americans - the desire for independence and privacy. But that attitude gives rise to a third trait; "My house is my pride and joy."
And from that comes, "My city, my state, and my country is my pride and joy." It is an attitude that is open, kind, and caring, both toward the house and everything it stands for - the soil in the flower boxes and the lovingly tended lawn, even if it's only three yards square. And I say, this shows that Americans care about the land in general, and about the whole world.
I want, I want, I want. More than the children, I want a house. But, it's time for me to pack my bags. The children live here, I live over there. What difference does it make if Gorbachev and Reagan meet in June, or any other month? Americans don't want war, they want a house. I don't want war, I WANT A HOUSE."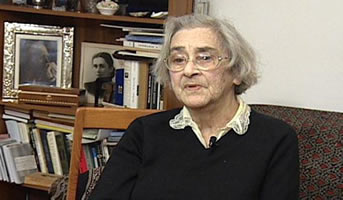 Jelena Bonner (15 februari 1923 – 18 juni 2011)
De Duitse dichter en schrijver Wilhelm Jensen werd geboren op 15 februari 1837 in Heiligenhafen (Holstein). Zie ook alle tags voor Wilhelm Jensen op dit blog.
Auf dem Wege
Viel Zeitgenossen treibt die Welt
Mit dir empor auf dem großen Feld.
Es schwillt aufs neue stets ihr Saft
Und setzt sich um in lebendige Kraft;
In Ringen und Haschen mit Haupt und Hand,
In Lieben und Hassen, in Herz und Verstand,
Es treibt und drängt sich ab und zu,
Und teil am Wege nimmst auch du;
Tust mit, was jeder um dich tut,
Verlangst dein Recht, erwirbst dein Gut.
Es kennen dich viele von Haar und Gesicht,
Von Wuchs und Stimme, Beruf und Pflicht.
Du wirst geachtet, wirst geehrt,
Es halten dich manche besonders wert.
Doch selbst in der nächsten Freunde Verein
Im Innersten bist du allein.
Du teilst mit ihnen Leid und Lust,
Doch nicht das Eigenste deiner Brust.
Dein letztes, dein eigenstes Angesicht,
Dein heimliches Selbst, sie kennen es nicht.
Vielleicht erschräken sie, es zu sehn,
Gewißlich würden sie's nicht verstehn.
Du bist ein Traum am lichten Tag,
Den keiner mit dir zu fühlen vermag.
Im vollsten Sonnenglanze fällt
Dein Schatten nur ins Aug der Welt.
Und erst da drunten im Schattenreich,
Da bist du allen für immer gleich.
Und was geheim gewesen du,
Die Erde deckt's verschwiegen zu.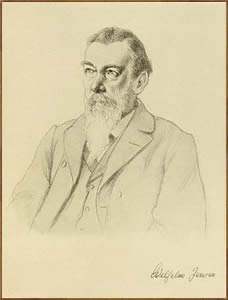 Wilhelm Jensen (15 februari 1837 – 24 november 1911)
Portret door Paul Heyse, 1900 of vroeger
De Deense schrijver en vertaler Jens Immanuel Baggesen werd geboren op 15 februari 1764 in Korsør, op het eiland Seeland. Zie ook alle tags voor Jens Baggesen op dit blog.
Uit: Parthenais oder die Alpenreise
"Längst schon hatte versprochen die fahrt zur gepriesenen Jungfrau
Seinen erwachsenen töchtern der gutsherr Andros von Bonal,
Welcher seit einigen monden in Bern, von jedem verehret,
Aber mit wenigen freundlich vertraut, halb fremdling, sich aufhielt.
Immer mit anderer wohl, sich selbst aufopfernd, beschäftigt,
Hatte zur stadt ihn geführt ein bemühn für die schulen des landvolks,
Dort bey den gnädigen herrn; er selbst sonst liebte die stadt nicht.
Eins mit ihm in bestreben und zweck, und in jeglicher neigung,
Sonderlich aber in hirtengeschmack, und in liebe zur alten
Eidgenossischen sitt' und natürlichkeit, lebte der bergfreund,
Welcher mit ihm viel reisen gemacht, der bewanderte Nordfrank.
Dieser war ihm aus Bonal gefolgt, wo die gattin zurückblieb
Mit den untrennlichen töchtern, derweil die männer besorgten
Ihre geschäft' in der stadt. Doch es fand der vater, dass langsam
Eilen würde die sach' und dass monate dürften darauf gehn.
Also sandt' er den freund, die geliebten zu holen; und alle
Hausten nunmehr beysammen in Bern, wie vormals in Bonal,
Nicht viel fragend nach diesem und dem, in häuslicher eintracht."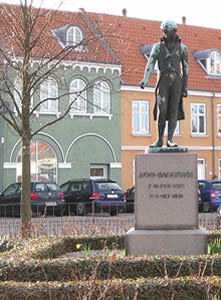 Jens Baggesen (15 februari 1764 - 3 oktober 1826)
Standbeeld in Korsør.
De Duitse dichter en schrijver Wilhelm Heinse werd op 15 februari 1746 in Langewiesen in Thüringen. Zie ook alle tags voor Wilhelm Heinse op dit blog.
Uit: Hildegard von Hohenthal
»Die Sonne löscht alle Freuden der Nacht aus! wie die schönen Sterne, so die süßen Melodien und Harmonien der Phantasie, und die stärksten Gefühle der Vergangenheit und Zukunft. Die Nacht hat etwas Zauberisches, was kein Tag hat; so etwas Grenzenloses, Inniges, Seliges. Das Mechanische der Zeitlichkeit, das einen spannt und festhält, weicht so sanft zurück, und man schwimmt und schwebt, ohne Anstoß, auf Momente im ewigen Leben.«
Mit diesen Worten erhob sich Lockmann von seinem Lager, und sprang aus dem Bette. Sein Wesen war noch Widerhall der Musik zur Oper Achill in Skyros, von welcher er die Nacht den Plan geträumt, und wachend gegen Morgen ausempfunden hatte.
Er war vor wenig Wochen von Neapel zurückgekommen, und gestern mit seinem Fürsten aufs Land gezogen.
Die jungen Strahlen der Sonne über das Gebirge blitzten ihn von seinem Fortepiano weg, auf dem er einige Lustgriffe that. Er ging aus Fenster, betrachtete mit Entzücken, wie die Sonne im dünnen blendenden Purpur der leichten Streifwölkchen empor stieg; und weidete seine Augen, auch nach drey Jahren in Italien, aufs neue an der schönen Gegend.
Ueberhaupt ist der Frühling in Deutschland bey seiner kurzen Zeit viel üppiger, und eben dadurch, und wegen des Kontrastes mit dem Winter, viel erfreulicher als in Italien. Die ganze Flur stand in stolzer Fruchtbarkeit von Kornsaaten und andern Feldfrüchten, die in der Ferne das Gebirg' in herrlicher Pyramidenform begrenzte, um dessen Rücken sich Eichen und Buchenwälder zogen, und an dessen Fuß und Seiten die köstliche Rebe sproßte.
Um und in dem Orte prangten Gärten, durch welche von verschiedenen Seiten zwey volle krystallhelle Bäche rauschten, die sich am Ende in einen Kanal für Mühlen vereinigten, und hernach mehrere aufnahmen, die zu einem ansehnlichen Fluß anschwollen, und dem Vater Rhein ihren Tribut brachten."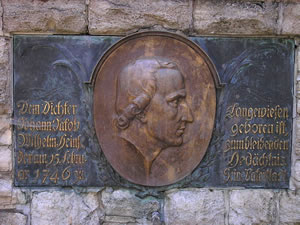 Wilhelm Heinse (15 februari 1746 – 22 juni 1803)
Plaquette aan het Heinse monument, Heinse - Park in Langewiesen
Onafhankelijk van geboortedata:
De Duitse dichter en schrijver Tobias Amslinger werd geboren in 1985 in Stuttgart. Zie ook mijn blog van 15 februari 2010 en ook mijn blog van 15 februari 2011.
IRGENDWO HIER MUSS ICH GEWESEN SEIN:
wo der Tischtennisball über das i springt,
im Indianerzelt, zwischen das W geklemmt,
oder an anderer Stelle: am Geburtstagstisch des T.
Ich bin mir sicher, dass ich hier schon mal gewesen bin.
Die Fakten sind schließlich nicht zu leugnen:
Ich wurde in S geboren und wuchs anschließend auf.
Von a bis Z lernte ich jeden Buchstaben kennen.
Schon im frühesten Alter begegnete ich F, G und H.
Wir verstanden uns schnell, verloren uns jedoch bald
wegen meiner obskuren Leidenschaft für Diphthonge
aus den Augen. Aus dem Sinn
für Chaos, Boa, Ruine
leitet sich meine feine Leidenschaft für's ei ab.
Aber ich will hier keine weiteren Worte verlieren.
Ich will nur betonen: Bevor wir mich nicht finden,
fangen wir diesen Text gar nicht erst an.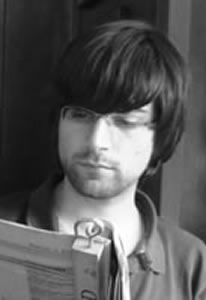 Tobias Amslinger (Stuttgart, 1985)
Zie voor onderstaande schrijvers ook mijn blog van 15 februari 2010.
De Duitse schrijver Dieter Lattmann werd geboren op 15 februari 1926 in Potsdam. Zie ook mijn blog van 15 februari 2007 en ook mijn blog van 15 februari 2009.

15-02-2012 om 19:24 geschreven door Romenu

Tags:Jelena Bonner, Wilhelm Jensen, Jens Baggesen, Wilhelm Heinse, Tobias Amslinger, Dieter Lattmann, Romenu