De Vlaamse dichter en schrijver Dimitri Verhulst werd op 2 oktober 1972 geboren in Aalst. Zie ook mijn blog van 2 oktober 2010 en eveneens alle tags voor Dimitri Verhulst op dit blog.
Uit: Godverdomse dagen op een godverdomse bol
"'t Kan vruchten plukken en in zijn neus peuteren zonder daarvoor zijn stap te moeten onderbreken. Hoe koddig.
Honderd en twintig centimeter groot is 't daarmee, genoeg om over de grassen der savannen te kijken.
In zijn halvelings kokende kop schuilt, behalve hier en daar wat snot, een 650 kubieke centimeter metende drek: hersenen, beveelheren van het neuken en het vreten. 650 kubieke centimeter pure levensvreugd, dat volume zou, jawel, zelfs nog wat groter mogen worden.
Gaat dat?
Maar er is niks om te bikken en de teven zitten vol of hebben kleintjes aan hun spenen hangen, hetgeen hen lusteloos en onvruchtbaar maakt. Als de melkproductie van de wijfjes niet wordt afgebroken laten ze zich niet bespringen, zo simpel zit het. En dus zit er maar één ding op: de kleintjes de kop in slaan. Infanticide!
Zie de uitgelatenheid waarmee het paar dagen oude, nog onder de baarmoederslijmen zittende schepsel bij de achterpoten wordt gepakt en met zijn hoofd tegen de stenen gesmakt. Het bloed gutst alle kanten op, de stront pruttelt eruit bij wijze van overlijdensact.

Kindje dood. Eindelijk kan 't zijn achtentwintig kilogrammen op de moeder smijten, zijn putlucht in haar tronie hijgen naast het lijk waar zij maar blíjft naar kijken.
Maar, als dat een troost mag zijn, lang hoeft de teef niet op haar tanden te bijten: 't kreeg reeds een stijve van het moorden en 't bezit geen woorden om zijn smeerlapperijen eerst nog wat te verpakken in hofmakerij.
Erin en eruit en gedaan. Dat is vooral veel tijd bespaard. Veel tijd, en veel gezeik. En dan nu: eten! Maar wat? Er is niks te rapen in deze gore droogte en de honger is te groot om geduldig wat te scharten in de aarde naar een wortel. Het gras is rost en wordt meteen weer uitgekotst. 't Heeft daar de maag niet voor. Ziet 't er soms uit als een herkauwer, misschien? Vlees moet 't hebben, er is geen andere keus! En 't staart naar de lucht, zijn ogen doen er zeer van, en ziet de gieren schietvizieren cirkelen in het blauw dat zij beheersen. Dáár zou 't moeten zijn.
Maar 't komt te laat. De karkassen zijn verwerkt, de vetten van de dode reeds door de vogels in vlieguren omgezet, en 't moet zich tevreden stellen met het afval dat in de borstkas overblijft. Vuiligheid. 't Grabbelt een stuk maag uit het karkas van wat daarnet nog een gnoe was, en zuigt het leeg. Het is vunzig maar het smaakt, als vele vunzigheden, naar meer"
.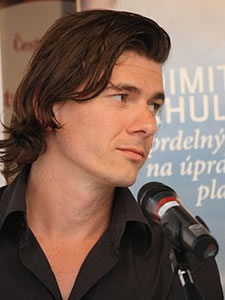 Dimitri Verhulst (Aalst, 2 oktober 1972)

De Engelse schrijver Graham Greene werd geboren op 2 oktober 1904 in Berkhamsted, Hertfordshire. Zie ook mijn blog van 2 oktober 2010 en eveneens alle tags voor Graham Greene op dit blog.
Uit: The Power And The Glory
"Whose cradle's that?" the sick woman's thin querulous tones arrested the man at the threshold.
"Onie Dillard's," he replied hollowly from the depths of the crib which he carried upside down upon his head, like some curious kind of overgrown helmet.
"Now, why in the name o' common sense would ye go and borry a broken cradle?" came the wail from the bed. "I 'lowed you'd git Billy Spinner's, an' hit's as good as new."
Uncle Pros set the small article of furniture down gently.
"Don't you worry yo'se'f, Laurelly," he said enthusiastically. Pros Passmore, uncle of the sick woman and mainstay of the forlorn little Consadine household, was always full of enthusiasm. "Just a few nails and a little wrappin' of twine'll make it all right," he informed his niece. "I stopped a-past and borried the nails and the hammer from Jeff Dawes; I mighty nigh pounded my thumb off knockin' in nails with a rock an' a sad-iron last week."
"Looks like nobody ain't got no sense," returned Laurella Consadine ungratefully. "Even you, Unc' Pros — while you borryin' why cain't ye borry whole things that don't need mendin'?"
Out of the shadows that hoarded the further end of the room came a woman with a little bundle in her arm which had evidently created the necessity for the borrowed cradle.
"Laurelly," the nurse hesitated, "I wouldn't name it to ye whilst ye was a-sufferin,' but I jest cain't find the baby's clothes nowhars. I've done washed the little trick and wrapped her in my flannen petticoat. I do despise to put anything on 'em that anybody else has wore ... hit don't seem right. But I've been plumb through everything, an' cain't find none of her coats. Whar did you put 'em?"
"I didn't have no luck borryin' for this one," complained the sick woman fretfully. "Looks like everybody's got that mean that they wouldn't lend me a rag ... an' the Lord knows I only ast a wearin' of the clothes for my chillen. Folks can make shore that I return what I borry — ef the Lord lets me."
"Ain't they nothin' to put on the baby?" asked Mavity Bence, aghast.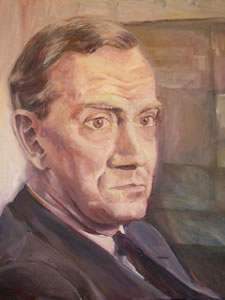 Graham Greene (2 oktober 1904 – 3 april 1991)
De Amerikaanse dichter en essayist Wallace Stevens werd geboren op 2 oktober 1879 in Reading, Pennsylvania. Zie ook mijn blog van 2 oktober 2008 en ook mijn blog van 2 oktober 2009 en ook mijn blog van 2 oktober 2010
A Postcard From The Volcano
Children picking up our bones
Will never know that these were once
As quick as foxes on the hill;
And that in autumn, when the grapes
Made sharp air sharper by their smell
These had a being, breathing frost;
And least will guess that with our bones
We left much more, left what still is
The look of things, left what we felt
At what we saw. The spring clouds blow
Above the shuttered mansion house,
Beyond our gate and the windy sky
Cries out a literate despair.
We knew for long the mansion's look
And what we said of it became
A part of what it is ... Children,
Still weaving budded aureoles,
Will speak our speech and never know,
Will say of the mansion that it seems
As if he that lived there left behind
A spirit storming in blank walls,
A dirty house in a gutted world,
A tatter of shadows peaked to white,
Smeared with the gold of the opulent sun.
Table Talk
Granted, we die for good.
Life, then, is largely a thing
Of happens to like, not should.
And that, too, granted, why
Do I happen to like red bush,
Grey grass and green-gray sky?
What else remains? But red,
Gray, green, why those of all?
That is not what I said:
Not those of all. But those.
One likes what one happens to like.
One likes the way red grows.
It cannot matter at all.
Happens to like is one
Of the ways things happen to fall.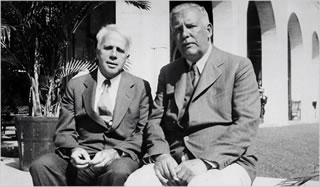 Wallace Stevens (2 oktober – 1879 – 2 augustus 1955)
Stevens (rechts) en Robert Frost in Key West, circa 1940
De Duitse dichter en schrijver Andreas Gryphius (gelatiniseerde naam van Andreas Greif) werd geboren op 2 oktober 1616 in Glogau (Silezië). Zie ook mijn blog van 2 oktober 2010 en eveneens alle tags voor Andreas Gryphius op dit blog.
Morgen Sonnet
Die ewig helle schar wil nun jhr licht verschlissen/
Diane steht erblaßt; die Morgenrötte lacht
Den grawen Himmel an/ der sanffte Wind erwacht/
Vnd reitzt das Federvolck/ den newen Tag zu grüssen.
Das leben dieser welt/ eilt schon die welt zu küssen/
Vnd steckt sein Haupt empor/ man siht der Stralẽ pracht
Nun blinckern auf der See: O dreymal höchste Macht
Erleuchte den/ der sich jtzt beugt vor deinen Füssen.
Vertreib die dicke Nacht/ die meine Seel vmbgibt/
Die Schmertzen Finsternüß die Hertz vnd geist betrübt/
Erquicke mein gemüt/ vnd stärcke mein vertrawen.
Gib/ daß ich diesen Tag/ in deinem dinst allein
Zubring; vnd wenn mein End' vnd jener Tag bricht ein
Daß ich dich meine Sonn/ mein Licht mög ewig schawen.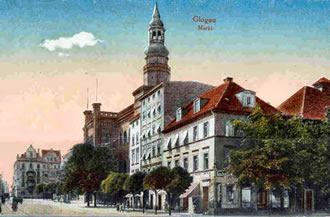 Andreas Gryphius (2 oktober 1616 - 16 juli 1664)
Glogau, Markt, oude ansichtkaart

Zie voor nog meer schrijvers van de 2e oktober ook mijn vorige blog van vandaag.
02-10-2011 om 16:14 geschreven door Romenu

Tags:Dimitri Verhulst, Graham Greene, Wallace Stevens, Andreas Gryphius, Romenu