80 Jaar Jan Terlouw

De Nederlandse schrijver, fysicus en voormalig politicus voor Democraten 66 Jan Terlouw werd geboren in Kamperveen op 15 november 1931. Jann Terlouw viert vandaag zijn 80e verjaardag. Zie ook mijn blog van 15 november 2010.

Uit: Oorlogswinter

"Wat was het toch allemachtig donker.
Voetje voor voetje, met één hand tastend voor zich uit, zocht Michiel zijn weg over het verharde fietspad, dat naast het karrenpad liep. In zijn andere hand droeg hij een katoenen tas, met twee flessen melk erin. 'Nieuwe maan én zwaar bewolkt,' mompelde hij. 'Hier moet de boerderij van Van Ommen zijn.' Hij tuurde naar rechts, maar hoe hij zich ook inspande, hij zag niets. De volgende keer gá ik niet meer als ik de knijpkat niet mee krijg, dacht hij. Dan zorgt Erica maar, dat ze om halfacht thuis is. 't Is geen doen zo.
De gebeurtenissen gaven hem gelijk. Hoewel hij niet sneller liep dan een halve kilometer per uur, stootte hij met de tas tegen een van de paaltjes die hier en daar stonden, zodat de boerenwagens
niet over het fietspad konden rijden. Verdorie! Voorzichtig voelde hij met zijn hand. Nat! Een van de flessen was gebroken. Wat zonde van die kostelijke melk. Danig uit zijn humeur, maar nog behoedzamer dan eerst, ging hij verder. Mensenlief, wat zie je weinig als het zo donker is. Vijfhonderd meter van huis was hij en hij kende bij wijze van spreken iedere steen. En toch zou hij de grootste
moeite hebben om voor achten binnen te zijn.
Wacht eens even, daar zag hij een uiterst flauw lichtschijnsel. Juist, het huis van Bogaard. Die namen het niet zo nauw met de verduistering. Jammer genoeg hadden ze niet veel meer om te verduisteren
dan het licht van een kaars. Enfin, er waren nu geen paaltjes meer tot de straatweg, wist hij, en als hij eenmaal daar was, ging het gemakkelijker. Daar waren meer huizen en op de een of andere manier kwam er toch meestal wel wat licht uit. Jasses, er droop melk in zijn klomp. Liep daar iemand? Onwaarschijnlijk, 't was op slag van achten. En om acht uur mocht er niemand meer op straat zijn. Hij voelde dat hij ander wegdek onder zijn voeten kreeg. De straatweg. Nu rechtsaf en oppassen dat hij niet in de sloot terechtkwam. Zoals hij al gedacht had, ging het nu beter. Heel, heel vaag zag hij de omtrekken van de huizen. De Ruiter, juffrouw Doeven, Zomer, de smederij, het gebouwtje van het
Groene Kruis, hij was er bijna."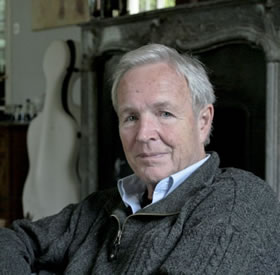 Jan Terlouw (Kamperveen, 15 november 1931)





75 Jaar Wolf Biermann

De Duitse zanger, dichter en schrijver Wolf Biermann werd geboren op 15 november 1936 in Hamburg. Zie ook alle tags voor Wolf Biermann op dit blog. Wolf Biermann viert vandaag zijn 75e verjaardag.


Warte nicht auf beßre Zeiten

Manchen hör ich bitter sagen
"Sozialismus - schön und gut
Aber was man uns hier aufsetzt
Das ist der falsche Hut!"
Manchen seh ich Fäuste ballen
In der tiefen Manteltasche
Kalte Kippen auf den Lippen
Und in den Herzen Asche
Wartest du auf beßre Zeiten
Wartest du mit deinem Mut
Gleich dem Tor, der Tag für Tag
An des Flusses Ufer wartet
Bis die Wasser abgeflossen
Die doch ewig fließen
Manche raufen sich die Haare
Manche seh ich haßerfüllt
Manche seh ich in das Wolltuch
Des Schweigens eingehüllt
Manche hör ich abends jammern
"Was bringt uns der nächste Tag
An was solln wir uns noch klammern
An was? An was? An was?"
Wartest du auf beßre Zeiten
Wartest du mit deinem Mut
Gleich dem Tor, der Tag für Tag
An des Flusses Ufer wartet
Bis die Wasser abgeflossen
Die doch ewig fließen
Manche hoffen, daß des Flusses
Wasser nicht mehr fließen kann
Doch im Frühjahr, wenn das Eis taut
fängt es erst richtig an
Manche wollen diese Zeiten
wie den Winter überstehn
Doch wir müssen Schwierigkeiten
Bestehn! Bestehn! Bestehn –
Warte nicht auf beßre Zeiten
Warte nicht mit deinem Mut
Gleich dem Tor, der Tag für Tag
An des Flusses Ufer wartet
Bis die Wasser abgeflossen
Die doch ewig fließen
Viele werden dafür sorgen
daß der Sozialismus siegt
Heute! Heute, nicht erst morgen!
Freiheit kommt nie verfrüht
Und das beste Mittel gegen
Sozialismus (sag ich laut)
Ist, daß ihr den Sozialismus
AUFBAUT!!! Aufbaut! (aufbaut)
Wartet nicht auf beßre Zeiten
Wartet nicht mit eurem Mut
Gleich dem Tor, der Tag für Tag
An des Flusses Ufer wartet
Bis die Wasser abgeflossen
Die doch ewig fließen
die doch ewig fließen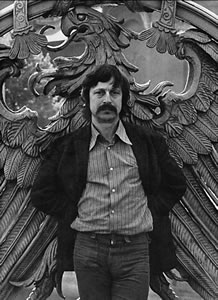 Wolf Biermann (Hamburg, 15 november 1936)




De Duitse schrijver Gerhart Hauptmann werd geboren in Obersalzbrunn (Neder-Silezië) op 15 november 1862. Zie ook mijn blog van 15 november 2008 en ook mijn blog van 15 november 2009 en ook mijn blog van 15 november 2010.

Uit: Bahnwärter Thiel

"Allsonntäglich saß der Bahnwärter Thiel in der Kirche zu Neu-Zittau, ausgenommen die Tage, an denen er Dienst hatte oder krank war und zu Bette lag. Im Verlaufe von zehn Jahren war er zweimal krank gewesen; das eine Mal infolge eines vom Tender einer Maschine während des Vorbeifahrens herabgefallenen Stückes Kohle, welches ihn getroffen und mit zerschmettertem Bein in den Bahngraben geschleudert hatte; das andere Mal einer Weinflasche wegen, die aus dem vorüberrasenden Schnellzuge mitten auf seine Brust geflogen war. Außer diesen beiden
Unglücksfällen hatte nichts vermocht, ihn, sobald er frei war, von der Kirche fernzuhalten.
Die ersten fünf Jahre hatte er den Weg von Schön-Schornstein, einer Kolonie an der Spree, herüber nach Neu-Zittau allein machen müssen. Eines schönen Tages war er dann in Begleitung eines schmächtigen und kränklich aussehenden Frauenzimmers erschienen, die, wie die Leute meinten, zu seiner herkulischen Gestalt wenig gepaßt hatte. Und wiederum eines schönen Sonntag Nachmittags reichte er dieser selben Person am Altare der Kirche feierlich die Hand zum Bunde fürs Leben. Zwei Jahre nun saß das junge, zarte Weib ihm zur Seite in der Kirchenbank; zwei Jahre blickte ihr hohlwangiges, feines Gesicht neben seinem vom Wetter gebräunten in das uralte Gesangbuch --; und plötzlich saß der Bahnwärter wieder allein wie zuvor.
An einem der vorangegangenen Wochentage hatte die Sterbeglocke geläutet: das war das Ganze.
An dem Wärter hatte man, wie die Leute versicherten, kaum eine Veränderung wahrgenommen. Die Knöpfe seiner sauberen Sonntagsuniform waren so blank geputzt als je zuvor, seine roten Haare so wohl geölt und militärisch gescheitelt wie immer, nur daß er den breiten, behaarten Nacken ein wenig gesenkt trug und noch eifriger der Predigt lauschte oder sang, als er es früher getan hatte. Es war die allgemeine Ansicht, daß ihm der Tod seiner Frau nicht sehr nahe gegangen sei; und diese Ansicht erhielt eine Bekräftigung, als sich Thiel nach Verlauf eines Jahres zum zweiten Male, und zwar mit einem dicken und starken Frauenzimmer, einer Kuhmagd aus Alte-Grund, verheiratete.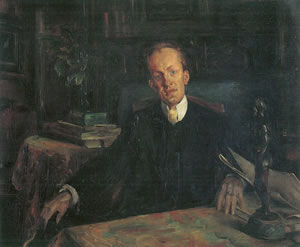 Gerhart Hauptmann (15 november 1862 - 6 juni 1946)
Portret door Lovis Corinth, 1900




De Duitse dichter en schrijver Heinz Piontek werd geboren op 15 november 1925 Kreuzburg (Opper-Silezië). Zie ook mijn blog van 15 november 2009 en en ook mijn blog van 15 november 2010.


Bäume

für Alfred Focke


Ihr ja ihr.

Ruhig auf der dunklen
Erde fußend.

Doch verwundbar
wie wir,

die wir uns vorwärts-
kämpfen müssen.

Nützlich oder
einfach schön

und immer etwas
Neues bedeutend.

So wachsen:

in die Höhe,
in die Tiefe

und mit
ausgebreiteten Armen.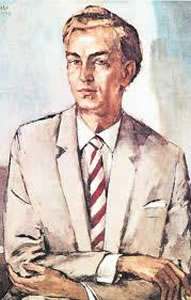 Heinz Piontek (15 november 1925 – 26 oktober 2003)





De Britse dichter en schrijver James Graham Ballard werd geboren in Shanghai op 15 november 1930. Zie ook mijn blog van 15 november 2008 en ook mijn blog van 15 november 2009 en ook mijn blog van 15 november 2010.

Uit: The Dying Fall

"Three years have passed since the collapse of the Tower of Pisa, but only now can I accept the crucial
role that I played in the destruction of this unique landmark. Over twenty tourists died as the thousands of tons of marble lost their grasp on the air and collapsed to the ground. Among them was my wife Elaine, who had climbed to the topmost tier and was looking down at me when the first visible crack appeared in the tower's base. Never were tragedy and triumph so intimately joined, as if Elaine's pride in braving the worn and slippery stairs had been punished by the unseen forces that had sustained this unbalanced mass of masonry for so many centuries.
I realise now that another element — farce — was present on that day. By chance a passing tourist on the steps of the cathedral had taken a photograph of the tower as the crack reached the third floor and a tell-tale section of cornice began its fall to earth. The photograph, endlessly published throughout the world, clearly shows the four startled tourists on the uppermost deck. Three of them are leaning back on their heels, hands raised to grip the sky, aware that the ancient campanile has moved under their feet.
Elaine, alone, has already seized the rail, and is staring at the grass waiting for her nearly two hundred feet below. Using a magnifying glass, one can see that, true to her quirky and mocking character, she shows almost no alarm. Her eyes have noticed the falling cornice, and I like to think that she is already planning to sue the municipality of Pisa for neglecting the safety of its tourists, and is collecting evidence that in due course she will present to her lawyers.
The dozen or so tourists visible on the lower floors are still making their way around its canted decks, groping past the narrow columns as they climb the 300 steps to the roof. A father and his young daughter wave to the tourists below them, two Italian sailors in uniform play the fool for their girl-friends, feigning an attack of giddiness, and an elderly couple pause to rest after climbing to the first floor, determined to complete the ascent. None of them sees the falling cornice and the fine cascade of powdered mortar."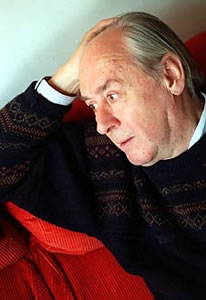 J. G. Ballard (15 november 1930 - 19 april 2009)




De Duitse dichteres en schrijfster Liane Dirks werd geboren op 15 november 1965 in Hamburg. Zie ook alle tags voor Liane Dirks op dit blog.

Uit: Und die liebe?frag ich sie

"Nun hab ich schon so viel gefragt, all die langen Nächte.
Sie ist müde darüber geworden und grau, der Körper sackt zusammen.
An ihren Händen trägt sie noch immer die bunten Ringe und Reifen aus Silber und künstlichem Gold. Ihr Haar ist glatt und gepflegt. Sie hat wie immer Puder aufgelegt.
Auf dem Tisch stehen ein Tee- und ein Cognacglas, mein kleines schwarzes Tonband dazwischen.
Die Vorhänge sind offen, noch ist es hell.
Die Liebe, wiederholt sie.
Ja, sage ich.
Wir werden aufhören danach, nicht wahr?
Ja, sage ich. Bitte! Noch die Liebe. Es wird das letzte sein.
Sie strafft sich, spannt die Muskeln an. Sie stöhnt erneut.
Gut, sagt sie, es gab sie. Und ich drücke den roten Aufnahmeknopf vom Tonband.
Es gab eine Nacht, ich erzähl sie dir, aber es wird unser letztes Band.
Es gab eine Nacht. Ich habe es noch nie erzählt, und ich mache es nur einmal.
Der Anfang war leicht.
Ich kam durch einen Tunnel und sah sie in der Ferne sitzen. Wie eine junge Frau auf einem Mäuerchen, die Beine übereinandergeschlagen, der linke Fuß wippte. Sie trug einen Plisseerock in den Farben Sand und Grau. Ihr Haar war kinnlang, dick und schwer, neben ihr stand ein Mann, mit dem sie kokettierte.
Das Licht war klar an jenem Tag, als hätte ich es mitgebracht von meiner Reise, und warme Luft umstrich noch meinen Körper, der mager war, und meine Seele, die wußte, daß etwas begann.
Darf ich euch vorstellen? fragte der Mann.
Sie lächelte, ich habe schon von Ihnen gehört.
Das wunderte mich, denn von mir gab es noch nicht so viel zu hören.
Wir lasen gemeinsam Texte in einer Schule vor.
Sie von einem Arbeitslosen, der sich bei der Stellenvermittlung als Schwein bewarb, ich irgend etwas in meiner Erinnerung eher Pathetisches von einer Frau, die für immer wegfahren wollte. Was ja schon ein Widerspruch in sich ist, »immer« und »weg«, weil man nicht immer weg sein kann, höchstens und bestenfalls immer da. Den Text hab ich später zerrissen."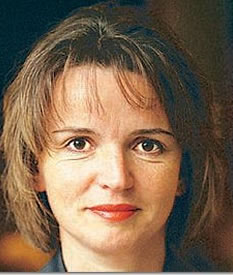 Liane Dirks (Hamburg, 15 november 1965)



Zie voor nog meer schrijvers van de 15e november ook mijn vorige blog van vandaag.

15-11-2011 om 19:46 geschreven door Romenu

Tags:Jan Terlouw, Wolf Biermann, Gerhard Hauptmann, Heinz Piontek, J. G. Ballard, Liane Dirks