De Nederlandse dichter Leo Vroman werd op 10 april 1915 in Gouda geboren. Zie ook alle tags voor Leo Vroman op dit blog.
Drie stenen zitten op een steen...
Drie stenen zitten op een steen.
Acht stenen liggen er om heen.
Daar onder liggen er nog negen.
Andere daar naast en tegen.
Een steen steekt half uit het zand naar buiten
om zich nog eventjes te uiten.
Leer, kinderen, dit uit zijne mond:
houd steeds een vuist boven de grond.
Het landschap
Ik wens je een landschap, zo compleet
dat ik er haast niet ben,
dat jij bemint en ik herken,
waar ik de weg nog weet.
Onder de grote varenblaren
die hier lang geleden waren
wijs ik je de bloemen aan
die ook niet meer bestaan.
Dan sta je stil, knijpt in mijn hand,
en roept: Waarachtig! Daar!
en wijst naar geen spoor in het gras
zodat ik mij weer doodschrik want
het lijkt ons of er even maar,
iemand van vroeger was.
De eenvoud van beuken
Liep ik vijftien meter boven de grond
door de kroon van een beukenwoud
en tastte tussen de twijgen rond
dan denk ik dat ik meer verstond
waarom ik van ze houd.

En kroop ik vijf voet de aarde in
zo traag als hun wortels gaan
dan dronk ik de ware waarde in
van hun aaise groei en staarde in
de poriën van mijn bestaan.

Maar ik zit met mijn gebroekte stramme
hoewel goed bedoelde hammen
op het schijnbaar vriendelijk mos
tussen de schijnbaar gladde stammen
van het schijnbaar simpele bos.

De aarde wordt het best genoten
met onze ogen half gesloten.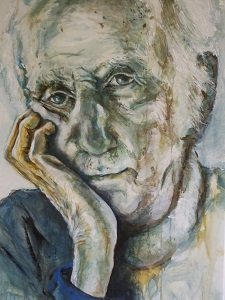 Leo Vroman (10 april 1915 - 22 februari 2014)
Portret door Bert Megens, 2010
De Nederlandse schrijver Jan van Mersbergen werd geboren in Gorinchem 10 april 1971. Zie ook alle tags voor Jan van Mersbergen op dit blog.
Uit: Morgen zijn we in Pamplona
"Een bokser rent door de stad. Hij rent door een straat waarlangs aan beide zijden hoge huizen staan. Hij schiet tussen geparkeerde auto's door, steekt een kruispunt schuin over, neemt een fietspad, gaat een brug over, met de trambaan mee de bocht door, en iedere passant zal denken dat hij aan het trainen is, maar hij loopt harder dan normaal, zijn ademhaling is ongecontroleerd en zijn ogen zijn groot.
Zonder geluid te maken vliegen zijn hoge veterschoenen over de trottoirtegels, en in zijn hoofd herklinken flarden van zinnen, begeleid door een bel. Losse woorden resoneren hol tussen zijn trommelvliezen. Het zijn de stemmen van omstanders die hij hoort, brommende geluiden, vervormd, ver weg. En dan opeens duidelijk.
Stop.
Hij stoot.
Hou op.
Hij stoot nogmaals en weer hoort hij een bel, feller en luider dan eerst. Stop, schreeuwt iemand. Hij voelt een hand op zijn schouder en met zijn elleboog weert hij af. Met zijn linker plaatst hij een hoek, raakt de man vol in zijn gezicht, keert zich weer naar zijn tegenstander.
Ophouwen, klinkt het weer. Maar hij slaat nog een keer, en nog een keer, en nog een keer.
Hij steekt een drukke brede straat over en rent verder, een park in. Hij komt langs een klein veldje waar in het midden een bronzen beeld staat, een vrouw die een kind in de lucht houdt. Alsof ze het kind aan de wolken wil toevertrouwen.
Hij houdt in en kijkt hijgend naar het beeld. Dan gaat hij op een bankje zitten. De struiken en bomen staan bewegingloos tussen hem en de straat met de trambaan. Grijze wolken glijden achter de bomen langs. Geen vogels, zelfs geen duiven".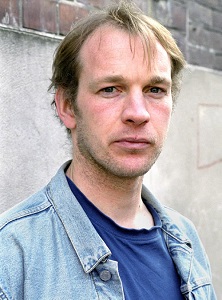 Jan van Mersbergen (Gorinchem, 10 april 1971)
De Amerikaanse schrijver Paul Edward Theroux werd geboren op 10 april 1941 in Medford, Massachusetts. Zie ook alle tags voor Paul Theroux op dit blog.
Uit: Dark Star Safari
"The predominant sound of the African bush was not the trumpeting of elephants nor the roar of lions but the coo-cooing of the turtledove.
After I left Africa, there was an eruption of news about things going wrong, acts of God, acts of tyrants, tribal warfare and plagues, floods and starvation, bad-tempered political commissars, and little teenage soldiers who were hacking people. "Long sleeves?" they teased, cutting off hands; "short sleeves" meant lopping the whole arm. One million people died, mostly Tutsis, in the Rwanda massacres of 1994. The red African roads remained, but they were now crowded with ragged, bundle-burdened, fleeing refugees.
Journalists pursued them. Goaded by their editors to feed a public hungering for proof of savagery on earth, reporters stood near starving Africans in their last shaking fuddle and intoned on the TV news for people gobbling snacks on their sofas and watching in horror. "And these people" — tight close-up of a death rattle — "these are the lucky ones."
You always think, Who says so? Had something fundamental changed since I was there? I wanted to find out. My plan was to go from Cairo to Cape Town, top to bottom, and to see everything in between.
Now African news was as awful as the rumors. The place was said to be desperate, unspeakable, violent, plague-ridden, starving, hopeless, dying on its feet. And these are the lucky ones. I thought, since I had plenty of time and nothing pressing, that I might connect the dots, crossing borders and seeing the hinterland rather than flitting from capital to capital, being greeted by unctuous tour guides. I had no desire to see game parks, though I supposed at some point I would. The word "safari," in Swahili, means "journey"; it has nothing to do with animals. Someone "on safari" is just away and unobtainable and out of touch."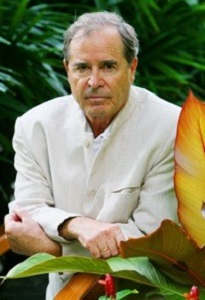 Paul Theroux (Medford, 10 april 1941)
De Italiaanse schrijver en vertaler Claudio Magris werd geboren op 10 april 1939 in Triëst. Zie ook alle tags voor Claudio Magris op dit blog.
Uit: Ein Nilpferd in Lund (Vertaald door Karin Krieger)
"Das Boot, das auf Tresco anlegt, fährt nur eine kurze Strecke übers Meer, doch der Passagier, der seinen Fuß auf die Insel setzt, hat das Gefühl, eine viel längere Reise zurückgelegt zu haben, von einer Halbkugel zur anderen, von Nordeuropa in die Südsee; er hat ein paar Stunden zuvor – oder zwanzig Minuten, wenn er den Hubschrauber nimmt – in Cornwall die Westspitze von Großbritannien hinter sich gelassen und befindet sich nun in einer tropischen Vegetation, zwischen Agaven und Palmen, australischem Eukalyptus, Iris und blauvioletten Lilien aus Südafrika, Orchideen, Büschen von purpurroten Mittagsblumen und scharlachfarbenem Natternkopf, der sich erhebt wie ein keckes erotisches Zeichen.
Tresco ist eine von den über dreihundert Inseln, die im Atlantischen Ozean den Archipel der Scilly-Inseln bilden, sechsundzwanzig Meilen westlich von Land's End, wo Cornwall endet. Es gehört zu den sechs bewohnten Inseln, mit der Hauptinsel St. Mary's, wo die Fähren und Schiffe aus Großbritannien anlegen. Auf der Seite, die dem offenen Meer zugewandt ist, seinen Sturzwellen und seinen Stürmen, sind die Scilly-Inseln rauh und kahl, so auch Tresco, doch auf der Innenseite, die zu St. Mary's zeigt, dieser gleichfalls milden und blühenden Insel, haben der Golfstrom sowie der geniale Augustus Smith und sein Neffe und Nachfolger Thomas Algernon Smith-Dorrien, die der Insel und der Blumenzucht im vergangenen Jahrhundert zu einem unglaublichen Aufschwung verhalfen, ein Paradies geschaffen, eine Insel der Alcina, einen Garten der Armida.
Augustus Smith wurde 1834 »Lord Proprietor« der Scilly-Inseln und ließ Schulen und Leuchttürme bauen und auch Abbey Garden, die Abtei von Tresco mit ihren Gärten, die Algernon Smith-Dorrien vervollkommnete, indem er Blumen und Pflanzen aus aller Herren Länder anpflanzte und so regelrecht eine blühende Industrie schuf, doch der Ur-sprung dieses Gartens Eden der Scilly-Inseln, die doch jahrhundertelang bettelarm gewesen waren, liegt viel weiter zurück.
Die ersten kostbaren Zwiebeln exotischer Blumen wurden im 12. Jahrhundert von den Benediktinern eingeführt, diesen Christen, die wie Odysseus reisten, die sich unerschrokken in die weite Welt aufmachten und sich in fremden Ländern ansiedelten, um die Liebe zur Wahrheit und zum Wissen zu lehren und auch die stabilitas loci, die intensive, stille Liebe zur Heimat, durch die man sein ganzes Leben an einem abgelegenen Fleckchen verbringen und sich in der Welt zu Hause fühlen kann, ohne den Drang zu haben, fortzugehen und zu fliehen. In Tresco ist der Ort der alten Klosterkirche noch zu besichtigen."

Claudio Magris (Triëst, 10 april 1939)
De Russische dichteres Bella Akhmadulina werd geboren op 10 April 1937 in Moskou. Zie ook alle tags voor Bella Akhmadulina op dit blog.
1. Creativity
Oft it comes thus: the kind of pleasant languor,
The clock's weak chiming sounds in my ear,
And far pills of the passing thunder's anger.
It seems to me, that I can badly hear
The mournful prays of the slaved alien voices,
The secret circle tends to be the small,
But in that gulf of bells and whispers, causeless,
Appears the sound that than covers all.
And all's so quiet it around
That you can hear in woods the growing grass,
The evil, going o'er the silent ground . . .
But now I discern the coming words, at last,
The little bells of rimes, elated -
Then I begin to rightly fathom these,
And the new lines, such clearly dictated,
Simply lie down on the snowy list.
Whatever's Going On The Planet
Whatever's going on the planet,
Which always craved for new domain,
What a new fashion else were settled
By gods of war for killing men, -
As in the age of Homer, sightless,
Again a vine breeds fruits for wine,
Flame of a rose, noise of grasses -
All as it was in former time.
As yore, death calls for dejection,
And birth - for happiness to thrive.
And so freshly in old fashion
Craves soul for the endless life!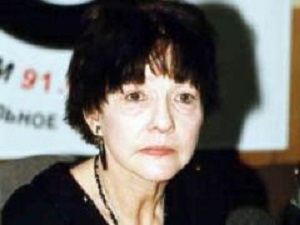 Bella Akhmadulina (Moskou, 10 April 1937)


De Duitse dichter en schrijver Stefan Heym (eig. Hellmuth Flieg) werd geboren op 10 april 1913 in Chemnitz. Zie ook alle tags voor Stefan Heym op dit blog.
Morsesong
In Bangkok fand ein Bankkrach statt,
die Regierung wurde bald der Lage Herr.
Eine Dame der höchsten Gesellschaft hat,
nervös von ihres Kindes Geplärr,
in dunkler Mitternacht
ihr Baby umgebracht.
Die Apparate ticken.
Stenotypistinnen nicken:
Punkt Punkt Strich – Strich Punkt Strich –
Haben Sie gehört? Haben Sie gesehen?
Auf Papierband das ganze Geschehen!
Strich – Punktum!
Bleiche
22 arbeitslose Männer
schluckten gestern tödlich Gas.
Und der fabelhafte Motorrenner
lief, als sei das nur zum Spaß
150 Stunden
gleich 2000 Runden –
Die Maschinen ticken.
Totenköpfe nicken:
Punkt Punkt Strich – Strich Punkt Strich –
Haben Sie gehört? Haben Sie gesehen?
Auf Papierband das ganze Geschehen!
Strich – Punktum!
Große Herren tafeln an reichen Banketten,
ihre Damen zeigen Fleisch.
Wohlfahrt wird die Welt vom Hunger retten –
Offizielles Mitleidsgekreisch.
Äcker früchteschwer.
Ernte ins Meer –
Schiffsschrauben ticken.
Dampfermasten nicken:
Punkt Punkt Strich – Strich Punkt Strich –
Haben Sie gehört? Haben Sie gesehen?
Auf Papierband das ganze Geschehen!
Strich – Punktum!
In Europa, Asien, Afrika
rühren sich die Millionen.
Petroleum – Streiks – Amerika –
an allen Enden Rebellionen!
Kanonenrohre gleißen.
Morsebänder reißen –
Gewehre ticken.
Panzertürme knicken:
Punkt Punkt Strich – Strich Punkt Strich –
Haben Sie gehört? Haben Sie gesehen?
Morsefetzen, die verrückt im Winde wehen!
Strich – Punktum!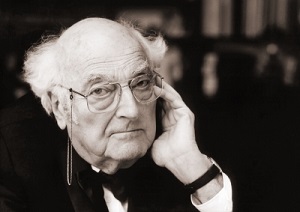 Stefan Heym (10 april 1913 – 16 december 2001)
De Duitse schrijver Richard Wagner werd geboren op 10 april 1952 in Lovrin, in Roemenië. Zie ook alle tags voor Richard Wagner op dit blog.
Uit: Herr Parkinson
"m Grunde war es mein rechtes Bein, das mich ins Unglück gestürzt hat. Ohne dieses Bein wäre mein Leben anders verlaufen. Ich hätte einen Hut getragen, wenn mein rechtes Bein mir nicht ständig an die Krempe getippt hätte. Ich hätte den Frauen tief in die Augen sehen können, wenn das Bein sich nicht sofort auf ihre tausend Füße gestellt hätte.
Ich befand mich mitten im Leben und dachte mir Erklärungen für den Zustand der Welt aus. Damit war viel Zeit zu verbringen, denn mit dem Zustand der Welt stand es schlecht. Nun war ich zwar weder ein Weltverbesserer noch ein Weltretter, aber auch das bloße Zuschauen war nicht meine Sache.
So wurde ich nach und nach in diverse Angelegenheiten geworfen, und hatte bald einen Fuß auf der Brust stehen, einen unerbittlichen Fuß, und eine schnelle Hand am Kopf.
Das meiste von dem, was ich sah und hörte, hatte immer noch Hand und Fuß, und hätte auch so bleiben können.
Manchmal aber stand ich sekundenlang wie angewurzelt da, bis ich zur Tür gehen konnte. Oder es setzte urplötzlich ein Herzrasen ein, das nicht mehr aufzuhören schien. Auch später auf der Parkbank nicht, auf die ich mich während des abendlichen Spaziergangs gesetzt hatte.
Als ich wieder aufstand, war es bereits ein Gehversuch.
Und dann war da noch das Problem mit dem Bein."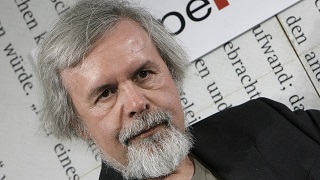 Richard Wagner (Lowrin, 10 april 1952)
Zie voor nog meer schrijvers van de 10e april ook mijn vorige blog van vandaag.
10-04-2016 om 14:22 geschreven door Romenu

Tags:Leo Vroman, Paul Theroux, Claudio Magris, Bella Akhmadulina, Stefan Heym, Richard Wagner, Romenu