De Amerikaanse dichter en schrijver Edward Estlin Cummings werd geboren in Cambridge, Massachusetts op 14 oktober 1894. Zie ook mijn blog van 14 oktober 2008 en ook mijn blog van 14 oktober 2009.
the boys i mean are not refined
the boys i mean are not refined
they go with girls who buck and bite
they do not give a fuck for luck
they hump them thirteen times a night
one hangs a hat upon her tit
one carves a cross on her behind
they do not give a shit for wit
the boys i mean are not refined
they come with girls who bite and buck
who cannot read and cannot write
who laugh like they would fall apart
and masturbate with dynamite
the boys i mean are not refined
they cannot chat of that and this
they do not give a fart for art
they kill like you would take a piss
they speak whatever's on their mind
they do whatever's in their pants
the boys i mean are not refined
they shake the mountains when they dance
why must itself up every of a park
why must itself up every of a park
anus stick some quote statue unquote to
prove that a hero equals any jerk
who was afraid to dare to answer "no"?
quote citizens unquote might otherwise
forget(to err is human;to forgive
divine)that if the quote state unquote says
"kill" killing is an act of christian love.
"Nothing" in 1944 AD
"can stand against the argument of mil
itary necessity"(generalissimo e)
and echo answers "there is no appeal
from reason"(freud)--you pays your money and
you doesn't take your choice. Ain't freedom grand
Als
Als sproetjes lieftallig zijn, en dag nacht is,
En mazelen mooi zijn en een leugen geen leugen is,
Dan zou 't leven heerlijk zijn,--
Maar de dingen zouden niet kloppen
Want in zo'n droeve staat
Zou ik geen ik zijn.
Als de aarde hemel is, en nu toen is,
En verleden heden is, en vals waar is,
Dan klopt dit in zekere zin,
Al zou ik in twijfel zijn,
Want met zo'n voorwendsels
Zou jij niet jij zijn.
Als angst moedig is, en globes vierkant zijn,
En vuil proper is, en tranen vrolijk zijn
Dan zou alles fraai lijken,--
Toch zou iedereen vertwijfeld zijn,
Want als hier daar zou zijn
Dan zouden wij geen wij zijn.



Vertaald door Lepus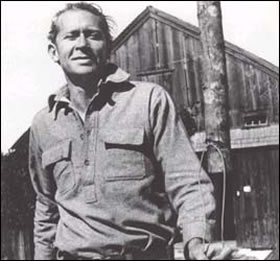 E. E. Cummings (14 oktober 1894 - 3 september 1962)
De Hongaarse schrijver Péter Nádas werd geboren op 14 oktober 1942 in Boedapest. Zie ook mijn blog van 14 oktober 2008 en ook mijn blog van 14 oktober 2009.
Uit: A Lovely Tale Of Photography (Vertaald door Imre Goldstein)
"SILENCE On the black-lacquered short column the flowers are displayed in a new bowl. They may be the same kinds of flowers, though they are arranged differently.
And there is a voice.
"The rebellious soul afflicts itself with thirst, hunger, and silence, but the rational world can be neither punished nor driven off its course. People shamelessly eat and drink, say the proper words, belch and fart — because they are digesting — and under the cover of night they beget children; minute follows minute, the hours pass, filling up with themselves, and who would brood over time that is out of joint?"
Kornélia is standing in the open door of the terrace; an anxious Henriette is behind her.
"Kornélia, my sweet, I beg you, hold on to your senses."
And there is also a voice.
"A daydreaming Kornélia was standing in the open door of the terrace, loyal Henriette behind her. Two lovely human statues. One is rebellious silence itself, the other the guardian angel of bounden duty."
And then, on the steps leading to the terrace, appears the elderly lady, accompanied by the young man who had so much reminded Kornélia of Károly.
"Please, let us go and welcome them."
While they proceed, the voice is heard.
"Of course we must immediately note that neither the girl nor the young man had desired this meeting; it was a scheme — to break Kornélia's morbid silence — devised by Henriette and abetted by the wily Chief Surgeon."
Henriette and the elderly lady exchange amiable smiles and, by way of greeting, as befits the situation, bow their heads. The girl and the youth remain aloof; as their partners halt, so do they, to avoid a collision, yet they appear not to see each other.
"We've been out for a whole hour, man ist aber nicht zu erfüllen, von diesem dahinschleichenden, wunderbaren Wetter. How do you like this wonderful weather we're having?"
"In den Bergen gibt es ja immer das leichte Lüftchen, nicht mehr als einen leisen Hauch, just enough to cool off this late heat wave. Kornélia is absolutely overjoyed."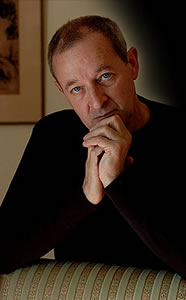 Péter Nádas (Boedapest,14 oktober 1942)




De Amerikaanse dichteres, essayiste, critica en feministe Katha Pollitt werd geboren op 14 oktober 1949 in New York. Zie ook mijn blog van 14 oktober 2008 en ook mijn blog van 14 oktober 2009.
Lot's Wife
Trudging behind the broad backside of God
she hums her useless tune
Oh little black dress at the back of the closet,
who will crush you now against his chest?
Green Italian boots in a midnight window,
a scrabble of rats, a hand
lit from within like a tulip—
Who dashes down that street to meet her lover?
Who sits in the movie theatre
coiled, silent, a black cat?
The dark-eyed daughters idly stroke their breasts.
A jackal crouches in shadow, hungry for salt.
At the base of a dune that heaves to the blank horizon
a palm tree shrugs its shoulders
as if to say: Well, what did you expect?
What I Understood
When I was a child I understood everything
about, for example, futility. Standing for hours
on the hot asphalt outfield, trudging for balls
I'd ask myself, how many times will I have to perform
this pointless task, and all the others? I knew
about snobbery, too, and cruelty—for children
are snobbish and cruel—and loneliness: in restaurants
the dignity and shame of solitary diners
disabled me, and when my grandmother
screamed at me, "Someday you'll know what it's like!"
I knew she was right, the way I knew
about the single rooms my teachers went home to,
the pictures on the dresser, the hoard of chocolates,
and that there was no God, and that I would die.
All this I understood, no one needed to tell me.
the only thing I didn't understand
was how in a world whose predominant characteristics
are futility, cruelty, loneliness, disappointment
people are saved every day
by a sparrow, a foghorn, a grassblade, a tablecloth.
This year I'll be
thirty-nine, and I still don't understand it.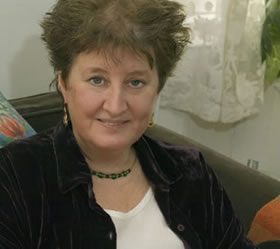 Katha Pollitt (New York,14 oktober 1949)


Zie voor nog meer schrijvers van de 14e oktober ook
mijn vorige blog van vandaag.
14-10-2010 om 18:08 geschreven door Romenu

Tags:E. E. Cummings, Péter Nádas, Katha Pollitt, Romenu