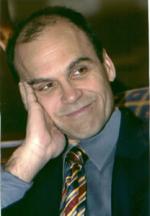 Scott Turow (Chicago, 12 april 1949)
De Amerikaanse schrijver en jurist Scott Turow werd geboren op 12 april 1949 in Chicago. Na zij studie aan de universiteit van Harvard werkte hij van 1978 tot 1986 als officier van justitie. In deze tijd trad hij op in verschillende corruptieprocessen. Daarna begon hij boeken te schrijven, waar hij diverse keren voor werd onderscheiden. Onder andere ontving hij de Silver Dagger van de Britse Crime Writers' Association (CWA). Scott Turows boek Presumed Innocent werd in 1990 door Alan J. Pakula met Harrison Ford in de hoofdrol verfilmd. Turows romans zijn bestsellers, waarvan er wereldwijd meer dan 25 miljoen exemplaren zijn verkocht.
Uit: Reversible Errors
"Arthur Raven, his lawyer, was determined not to worry. After all, Arthur reasoned, he was not even a volunteer. Instead, he'd been drafted by the federal appellate court to ensure that after ten years of litigation, no sound arguments remained to save Rommy Gandolph's life. Worrying was not part of the job.
He was worried anyway.
"I'm sorry?" asked Pamela Towns, his young associate, from the passenger's seat. A gurgle of anguish had escaped Arthur as he had come, once again, face-to-face with himself.
"Nothing," said Arthur. "I just hate being the designated loser."
"Then we shouldn't lose." Pamela, with rosy good looks fit for TV news, flashed a bright coast-to-coast grin.
They were far from the city now, doing eighty on cruise control in Arthur's new German sedan. In these parts, the road was so flat and straight, he did not even have to touch the wheel. The prairie farmlands raced by, corn stubble and loam, silent and eternal in the wan light of morning. They had left Center City at seven to beat the traffic. Arthur hoped to hold a brief introductory meeting with their new client, Rommy Gandolph, at the state penitentiary at Rudyard and to be back at his desk by two o'clock -- or three, if be decided to risk asking Pamela to lunch. He remained intensely conscious of the young woman nearby, of the tawny hair falling softly on her shoulders and of the hand that crept to her thigh every several miles to retract the hiking of her tartan skirt.
Eager as he was to please her, Arthur could offer little hope for the case.
"At this stage," he said, "under the law, the only thing that could possibly amount to reversible error would be new evidence of actual
innocence. And we're not going to find that."
De Amerikaanse schrijver Tom Clancy werd geboren op 12 april 1947 in Baltimore County, Maryland. Zie ook mijn blog van 12 april 2007.
Uit: Rainbow Six
"JOHN CLARK HAD MORE TIME IN AIRPLANES THAN most licensed pilots, and he knew the statistics as well as any of them, but he still didn't like the idea of crossing the ocean on a twin-engine airliner. Four was the right number of engines, he thought, because losing one meant losing only 25 percent of the aircraft's available power, whereas on this United 777, it meant losing half. Maybe the presence of his wife, one daughter, and a son-in-law made him a little itchier than usual. No, that wasn't right. He wasn't itchy at all, not about flying anyway. It was just a lingering . . . what? he asked himself. Next to him, in the window seat Sandy was immersed in the mystery she'd started the day before, while he was trying to concentrate on the current issue of The Economist, and wondering what was putting the cold-air feeling on the back of his neck. He started to look around the cabin for a sign of danger but abruptly stopped himself. There wasn't anything wrong that he could see, and he didn't want to seem like a nervous flyer to the cabin crew. He sipped at his glass of white wine, shook his shoulders, and went back to the article on how peaceful the new world was.

Right. He grimaced. Well, yes, he had to admit that things were a hell of a lot better than they'd been for nearly all of his life. No more swimming out of a submarine to do a collection on a Russian beach, or flying into Tehran to do something the Iranians wouldn't like much, or swimming up a fetid river in North Vietnam to rescue a downed aviator. Someday maybe Bob Holtzman would talk him into a book on his career. Problem was; who'd believe it-and would CIA ever allow him to tell his tales except on his own deathbed? He was not in a hurry for that, not with a grandchild on the way. Damn. He grimaced, unwilling to contemplate that development. Patsy must have caught a silver bullet on their wedding night, and Ding glowed more about it than she did. John looked back to business class-the curtain wasn't in place yet-and there they were, holding hands while the stewardess did the safety lecture. If the airplane hit the water at 400 knots, reach under your seat for the life-preserver and inflate it by pulling . . . he'd heard that one before. The bright yellow life-jackets would make it somewhat easier for search aircraft to find the crash site, and that was about all they were good for."
De Britse blijspelauteur Alan Ayckbourn werd geboren op 12 april 1939 in Londen. Zie ook mijn blog van 12 april 2007.
Uit: Ian Watson, 'Conversations With Ayckbourn'
""It was about a family - it sounds terribly banal - about a husband, his wife, his son and his daughter. The mother has got an obsession with a pop singer. She's fallen in love with him from a distance, thinks he's wonderful and swoony. She therefore rents a house in the country - (a little Anouilh coming out there: there were a lot of definite influences in this play. In fact it's Dinner With The Family, I now realise!) - in order to invite the pop singer down for a marvellous weekend with her. And she was going to pretend to be someone totally different; have no family, and be a rich woman - she'd arranged it all. The family, having got wise to this, followed her down.
"I don't quite know why he comes, but anyway he agrees to come, we find out later. The family has followed her down and is not going to let mother get away as easily as that. They say: 'All right, let him come.' She's very cross and says: 'No, you've spoiled the whole thing.' He turns up - that's me - and of course he's not at all the glittering figure of the silver screen, but shy and bespectacled and wanting a quiet time - and this he thought was it. And he's horrified to see that mother is a sort of elderly groupie. The family roars with merriment saying: 'Look, you see, look at your hero. He's really nothing very much.' At which point he bounds out and comes back again in glitter costume, twanging his guitar, saying: 'OK, this is war' - or words to that effect (I can't remember much of the plot). He gets together with the daughter eventually, and romance blossoms there. Mother finds the error of her ways and goes back to her husband. Jerry Wattis finds true love with the simple girl, and all fades into the sunset. I don't think it was very good as a play, looking back on it, but it was OK for a first one. It's not one that one would ever want to see done again."


De Duitse schrijfster Antje Rávic Strubel werd geboren op 12 april 1974 in Potsdam. Zie ook mijn blog van 12 april 2007.
Uit: Kältere Schichten der Luft
"Vom Licht wußten sie alles.
Sie kannten es in jeder Schattierung. Sie hatten gesehen, wie es den Himmel brüchig und zerrissen erscheinen ließ oder blauschwarz gewachst. Sie wußten, wie das Licht unter anschäumenden Wolken aussah, wie es schräg einfi el am Fjäll, wie es die Felsen, hoch oben den Wald und am Seeufer das dichte Unterholz traf. Sie wußten, wie fl üchtig, wie trügerisch es war. Erstrahlte der See eben noch türkis bis zum Grund, lag er im nächsten Moment schon stumpf und geschlossen da wie Asphalt.Sie hatten gesehen, wie das Licht bei Regen Kiefern und Brombeerbüsche matt erscheinen ließ, sie hatten gesehen, wie es morgens um vier auf vom Steinschlag verwüsteten Straßen und mittags auf dem kurzgeschnittenen Rasen schwedischer Vorgärten war. Sie kannten es in von Hitze flirrendem Gelb, im grünlichen Schimmer des Abends, sie konnten sagen, wie es über dem Dach des Geräteschuppens an verhangenen Tagen aussah.
Sie wußten, wie sich Gesichter verändern, wenn grell das Licht auf sie fällt. Wer morgens aus den Zelten kam und zur Waschstelle ging, mußte den Grasplatz überqueren, den sie aus dem Wald geschlagen hatten. Dort wurden die Gesichter stabil.
Sie wechselten vom milchigen Grau, der Farbe der Nacht, in eine herbe, geschliffene Bräune. Das wußten sie. Sie sahen es jeden Morgen.
Und später, wenn nur noch wenige Wolken am Himmel waren, bekam diese Bräune eine Schärfe, wie sie Gesichter nur hier, auf dieser Landspitze hatten. Es war brutal, wie die Sonne schien.
Keiner von ihnen hat über das Licht gesprochen.
Es gab andere Dinge zu bereden. Sie mußten sich um die Zeltwände kümmern, die im Sturm gerissen waren, die jetzt wie abgezogene Häute auf dem Rasen lagen und ausgebessert werden sollten. Sie hatten für Nachschub zu sorgen, für die Verpfl egung, die jeden Sonnabend aus Berlin kam, sie telefonierten oft. Sie bestellten Kartoffeln und Kaffee nach, Grillkohle und Würstchen und Reis, und niemals vergaßen sie Obst, denn das Obst war in diesem Sommer in Schweden besonders teuer. Sie schickten die eintreffenden Jugendgruppen in festgelegter Reihenfolge auf die Seen, zuerst in den kleinen Stora Le und dann auf den windgepeitschten Foxen, sie gaben kopierte Outdoor-Kochbücher an die Teamer aus, damit die wußten, wie viele Bohnenbüchsen abends in die Chili-Pfanne kamen. Im Küchenzelt wurden Verpflegungstonnen für eine Woche gepackt.
Sie erklärten, wie man über offenem Feuer kocht, und gaben unten am Steg die Boote aus. Es waren schmale Kanus für zwei Personen aus hellgrauem Leichtmetall. Der Ghettoblaster lief den ganzen Tag."
De Russische toneelschrijver Alexander Nikolajewitsj Ostrovski werd geboren op 12 april 1823 in Moskou. Zie ook mijn blog van 12 april 2007.
Uit: POVERTY IS NO CRIME
KORSHUNOV: What are you crying about, young lady? For shame, for shame! He, he, he! There! I'm older than you, and I don't cry. [Looks at her searchingly.] Oh, well, I know what it's about! I suppose you want to marry a young fellow? Now, this, my pretty one, is just girlish folly. Now, just listen to what I'm going to tell you; I'll tell you the truth straight out. I don't like to deceive any one, and have no need to. Will you listen, eh? Good! Now, we'll begin with this point. Will a young man appreciate your love? Any girl will love a young man; that is nothing unusual for him; but to an old man it is precious. An old man will reward you for your love with some little gift, this and that--with gold, and with velvet--and there's nothing he won't give you. And in Moscow there are lots of nice things in the shops; there are things worth giving! So it's nice to fall in love with an old man. That's number one for you! And then this is what happens with a young and good-looking husband. You see they are a fickle lot! Before you know it he will be running after some one else, or some young lady will fall in love with him, and then his wife may pine away. Then come reproaches and jealousy. And what is this jealousy, eh? He, he, he! Do you know, young lady, what this jealousy is? It isn't like a needle prick in the finger; it's far more painful than that. You see the cursed thing consumes a man. From jealousy people stab one another, and poison one another with arsenic! [Laughs spasmodically and coughs.] But when any one falls in love with an old man, then all is peaceful for his wife. And here's something else I will tell you, my dear young lady: Young men like to go on sprees; they like gayety and distraction, and all sorts of dissipations, and their wives may sit at home and wait for them till midnight. And they come home drunk, and bully their wives, and swagger. But an old man will just sit near his wife; he'll die before he'll leave her. And he would like to look into her eyes all the time and to caress her and to kiss her hands. [Kisses them.] Just like that.
Zie voor onderstaande schrijvers ook mijn blog van 12 april 2007.
De Puertoricaanse dichter José Gautier Benítez werd geboren op 12 april 1848 in Caguas.
De Franse schrijver Guillaume-Thomas Raynal (Abbé Raynal ) werd geboren op 12 april 1713 in Lapanouse de Séverac.
De Duitse schrijfster Agnes Sapper werd geboren op 12 april 1852 in München.
12-04-2008 om 20:21 geschreven door Romenu