De Noorse dichter en criticus Johan Sebastian Welhaven werd op 22 december 1807 in Bergen geboren. Zie ook alle tags voor Johan Sebastian Welhaven op dit blog.
The snow's now falling thick and fast
The snow's now falling thick and fast,
And the boy runs hither and thither.
A great many miles does he slither
And slide now before the day's past.
Great blocks of snow in the courtyard he rolls,
And into stout soldiers he makes them;
Much effort and toil does it take him.
The soldiers are given eyes made of coal.
He trundles the snow as if in a trance,
While the towering warriors stand gazing;
A breastwork he now works on raising.
The broomstick he gives them serves as a lance.
And now he is done, and his strength is no more;
His hands are both frozen and stinging.
With strong dreams soon to be winging
A restless night the boy has in store.
You hear him exclaim, the tired little one:
'Tomorrow they all will do battle!'
Then rainclouds the sky shake and rattle,
And his warriors soon are all gone.
Vertaald door John Irons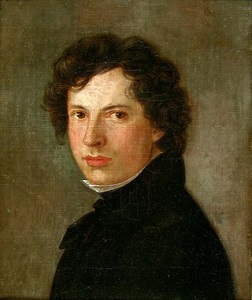 Johan Sebastian Welhaven (22 december 1807 – 21 oktober 1873)
Portret door Jacob Calmeyer, 1827
De Amerikaanse dichter Edwin Arlington Robinson werd geboren op 22 december 1869 in Head Tide, Maine. Zie ook alle tags voor E. A. Robinson op dit blog.
Job the Rejected
They met, and overwhelming her distrust
With penitence, he praised away her fear;
They married, and Job gave him half a year
To wreck the temple, as we knew he must.
He fumbled hungrily to readjust
A fallen altar, but the road was clear
By which it was her will to disappear
That evening when Job found him in the dust.

Job would have deprecated such a way
Of heaving fuel on a sacred fire,
Yet even the while we saw it going out,
Hardly was Job to find his hour to shout;
And Job was not, so far as we could say,
The confirmation of her soul's desire.
The Flying Dutchman
Unyielding in the pride of his defiance,
Afloat with none to serve or to command,
Lord of himself at last, and all by Science,
He seeks the Vanished Land.

Alone, by the one light of his one thought,
He steers to find the shore from which he came,
Fearless of in what coil he may be caught
On seas that have no name.

Into the night he sails, and after night
There is a dawning, thought there be no sun;
Wherefore, with nothing but himself in sight,
Unsighted, he sails on.

At last there is a lifting of the cloud
Between the flood before him and the sky;
And then--though he may curse the Power aloud
That has no power to die--

He steers himself away from what is haunted
By the old ghost of what has been before,--
Abandoning, as always, and undaunted,
One fog-walled island more.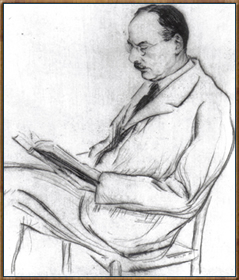 E. A. Robinson (22 december 1869 – 6 april 1935)
Portret door Richard (Thomas) Hood, 1933
De Nederlandse schrijfster Lulu Wang werd geboren op 22 december 1960 in Beijing. Zie ook alle tags voor Lulu Wang op dit blog.
Uit: The Lily Theater (Vertaald door Hester Velmans)
"Chemistry class was interrupted by a knock on the door. I was called out and saw Mother standing in the corridor. I was going to ask her how she had managed to return from the reeducation camp again so soon, but on seeing her tense face I decided to keep the question to myself. I had to run to keep up with her as she strode to the office of the director of the Teachers' University.
"Well, well, little Wine-Cup, in the six months since I saw you last, you have grown from a cheeky little girl into a charming young lady!"
I blushed. I wasn't sure how to behave in his presence. I knew him quite well, because he had supervised the project Mother had been working on for the past five years--the Textbook of the Modern History of China. I had often visited Mother's office after school. The director was usually there. He used to tease me about the dimple in my right cheek: "Well, well, if that little Wine-Cup were full of wine, and you were to drink from it until it was all gone, you'd have to go ask your neighbors, 'Remind me, what's my name again?' That's how deep that dimple of yours is, did you know that?" He was friendly toward me."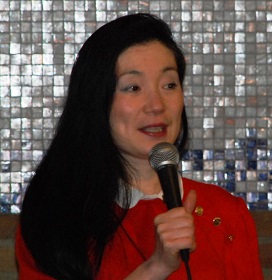 Lulu Wang (Beijing, 22 december 1960)
De Zwitserse schrijver Christoph Keller werd geboren op 22 december 1963 in St. Gallen. Zie ook alle tags voor Christoph Keller op dit blog.
Uit: Der Stand der letzten Dinge (samen met Heinrich Kuhn)
«Prächtig», sagt dieser, «und dir?»
«Genauso», zieht er gleich und beobachtet, wie der andere die Gläser mit Weißwein füllt. Ein chilenischer Chardonnay, registriert er zufrieden. Der kleine Esoteriker weiß, was gut ist.
«Was ich dich fragen wollte», setzt er verlegen an, nachdem sie auf ihre gutnachbarschaftliche Beziehung angestoßen haben. «Sind dir vielleicht in letzter Zeit Leute aufgefallen, die nicht hierher gehören?» Er gibt sich den Anschein, als sei ihm die Antwort eigentlich nicht wichtig.
«Da kommt jeweils dieser Typ, der dich anschleicht. Ich hätte Lust, mir den mal vorzunehmen und ihm Nachhilfestunden anzubieten. Geht ziemlich ungeschickt vor, wenn du mich fragst, aber da du …»
«Mach keine Witze. Das ist doch Prinz. Ich muss ihn dir das nächste Mal vorstellen.»
«Da du schon vormittags im Liegestuhl liegst, wollte ich sagen, und ein vorgezogenes Mittagsschläfchen hältst, schafft er es jeweils doch noch, dich zu überraschen.»
«Ich überdenke Arbeitspläne.»
«Was du nicht sagst.» Der Nachbar grinst gutmütig. «Das wollte ich dich schon einige Male fragen: Woran arbeitest du eigentlich?»
«Zur Zeit schreibe ich an einem neuen Roman.»
«Ach ja, lesen ist meine Achillesferse. Meist bleibt es beim Vorsatz. Du hast nicht zufälligerweise etwas zu Hause? Etwas Spezielles, mit Tiefgang und Action, wenn möglich. Aber zurück zu deinem Anliegen: Hätte ich diesen Prinz denn kennen sollen?»
«Wir schreiben zusammen. Hin und wieder liest man davon.»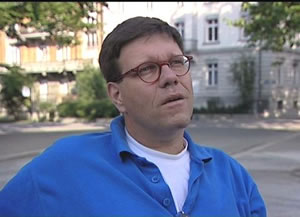 Christoph Keller (St. Gallen, 22 december 1963)
De Zwitserse schrijver Ulrich Bräker werd geboren op 22 december 1735 in Näppis (Scheftenau), Toggenburg, Kanton St. Gallen. Zie ook alle tags voor Ulrich Bäker op dit blog.
Uit:Lebensgeschichte und Natürliche Ebentheuer des Armen Mannes im Tockenburg
"Am End derselben rauschte ein wildangelaufener Bach durch ein Tobel. Den Stäg könnt' ich nicht finden, und wollte darum ohne weiters und gerade hinüber, dem Näbis zu; glitschte aber über eine Riese zum Bach hinab, wo mich das Wasser beynahe ergriffen hätte. Die äusserste Anstrengung meiner jugendlichen Kräfte half mir noch glücklich davon. Ich kroch wieder auf allen Vieren durch Stauden und Dörn' hinauf der Wiese zu, auf welcher ich überall herumirrte, und den Gaden nicht mehr finden konnte – als ich gegen einer Windhelle zwey Kerls – Birn- oder Aepfeldiebe – auf einem Baum ansichtig ward. Diesen ruft ich zu, sie sollten mir doch auf den Weg helfen. Aber da war kein Bescheid; vielleicht daß sie mich für ein Ungeheuer hielten, und oben im Gipfel noch ärger zittern mochten, als ich armer Bube unten im Koth. – Inzwischen war mein Vater, der während meinem Schlummer nach einem ziemlich entfernten Haus gieng, etwas zu holen, wieder zurückgekehrt. Da er mich vermißte, suchte er in allen Winkeln nach, wo ich mich etwa mögte verkrochen haben; zündete bis in die siedenden Kessel hinein, und hörte endlich mein Geschrey, dem er nachgieng, und mich nun bald ausfindig machte. O, wie er mich da herzte und küßte, Freudenthränen weinte und Gott dankte, und mich, sobald wir zum Gaden zurückkamen, sauber und trocken machte – denn ich war mausnaß, dreckigt bis über die Ohren, und hatte aus Angst noch in die Hosen ... Morndeß am Morgen führte er mich an der Hand durch die Wiese: Ich sollt ihm auch den Ort zeigen, wo ich heruntergepurzelt."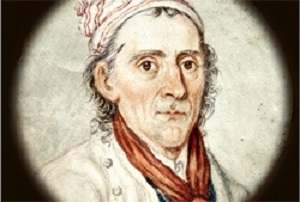 Ulrich Bräker (22 december 1735 – (begraven) 11 september 1798)
De Duitse schrijver Rudolf Krämer-Badoni werd geboren op 22 december 1913 in Rüdesheim als Rudolf Kramer. Zie ook alle tags voor Rudolf Krämer-Badoni op dit blog.
Uit: Die Barbaren waren wir
"Wenn et etwas bewirkte, würde ich diesen Menschen die Zugehörigkeit zu meinem Vaterland absprechen. Aber das wäre Geschwätz. Sie waren Deutsche, wir kommen darum nicht herum.
Ich kann sie nicht einmal Bestien nennen, es wäre eine Beleidigung für die Tiere, die den eigenen Artgenossen nicht zu töten vermögen. Aber ich verweigere diesen ehrlosen Henkern Wehrloser und Schuldloser jeden Schatten eines Gedenkens, und ich verfluche die künftige Stunde, da die verblaßte Erinnerung ihre Namen historisch neutral unter anderen historischen Namen aufzählen wird als Namen, die dies oder jenes ins Rollen gebracht haben, was wir heute noch nicht deutlich sehen. Am Volkstrauertag verweigere ich die mitfühlende Trauer jenen, die mein Vaterland besudelt haben und die Sie alle und mich besudelt haben. De mortuis nil nisi bene - dafür gibt es eine sehr genaue Grenze. Meinungskampf und zuletzt immer wieder Krieg - wir wissen, daß dies bis heute die schmerzliche Mitgift unserer Menschwerdung war..."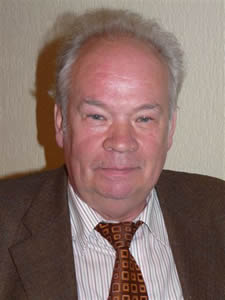 Rudolf Krämer-Badoni (22 december 1913 - 18 september 1989)
De Amerikaanse schrijver en strijder tegen slavernij Thomas Wentworth Higginson werd geboren op 22 december 1823 in Cambridge, Massachusetts. Zie ook alle tags voorThomas Higginson op dit blog.
Uit: The Complete Civil War Journal and Selected Letters
"I have entered on command and am trying to play Col. Sprague as well as may be. Spent morning with Gen. Saxton who is quite absorbed in this regiment & gave up all else for me—He gives me Carte blanche—I am to send for Dr Rogers & James. The line officers I like much, young & not highly educated but thoroughly manly & very ready to meet me as I wish. My adjutant is a Boston Fraternity man and heard me in my Crumble lecture say Come & is delighted to have me, as they all are. Gen. S. had many applications for the place but left it to me. The Lieut. Col. & Major I like least as military men. I am to live in a tent when I can get one. Meanwhile in a forlorn plantation house. Soon after my arrival this morning, in marched a company of my men, to be mustered in—all black as coals as Margaret predicted, not a mulatto among them, but marching well with their red legs which are the only peculiarity of their uniform, as distinct from the ordinary. Gen. Saxton talked to them a little—so did I & they know what they are doing, I assure you. Being introduced to one who has been wounded in the late (second expedition) I said "Did you think that was more than you bargained for"? "Dat's just what I meant for Massa" says he. Very good for my first exchange of remark with my men, was it not?"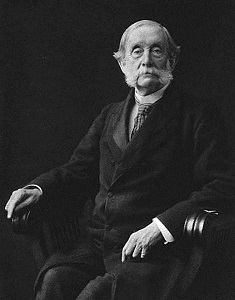 Thomas Higginson (22 december 1823 – 9 mei 1911)
22-12-2013 om 10:46 geschreven door Romenu

Tags:Johan Sebastian Welhaven, E. A.Robinson, Lulu Wang, Christoph Keller, Ulrich Bräker, Rudolf Krämer-Badoni, Thomas Higginson, Romenu