E-mail mij


Druk op onderstaande knop om mij te e-mailen.


Romenu


Romenu is een blog over gedichten, literatuur en kunst Maar Romenu is ook een professionele freelance vertaler
Du-Ne en Ne-Du http://www.romenu.nl.


Huur eens een (vakantie)huis in een natuurgebied, dichtbij het centrum van Nijmegen


Google


Georg Trakl

Georg Trakl werd op 3 februari 1887 in het conducteurshuis aan de Waagplatz 2 in Salzburg geboren. Zijn vader, Tobias Trakl, was een handelaar in ijzerwaren en zijn moeder, die ook psychische problemen had, was Maria Catharina Trakl, (meisjesnaam Halik). Voorts had hij nog drie broers en drie zussen. Margarethe (doorgaans Grethe genoemd) stond hem het naast, zelfs zodanig dat sommigen een incestueuze verhouding vermoeden. Zijn jeugd bracht hij door in Salzburg. Vervolgens bezocht hij van 1897 tot 1905 het humanistische gymnasium. Om toch een academische opleiding te kunnen volgen, werkte hij tot 1908 in de praktijk bij een apotheker. Sommigen vermoedden dat hij dit vooral deed om zichzelf opiaten te kunnen verschaffen. Bij het uitbreken van WO I werd Trakl als medicus naar het front in Galicië (heden ten dage in Oekraïne en Polen) gestuurd. Zijn gemoedsschommelingen leidden tot geregelde uitbraken van depressie, die verergerd werden door de afschuw die hij voelde voor de verzorging van de ernstig verwonde soldaten. De spanning en druk dreven hem ertoe een suïcidepoging te ondernemen, welke zijn kameraden nochtans verhinderden. Hij werd in een militair ziekenhuis opgenomen in Kraków, alwaar hij onder strikt toezicht geplaatst werd.Trakl verzonk daar in nog zwaardere depressies en schreef Ficker om advies. Ficker overtuigde hem ervan dat hij contact moest opnemen met Wittgenstein, die inderdaad op weg ging na Trakls bericht te hebben ontvangen. Op 4 november 1914, drie dagen voordat Wittgenstein aan zou komen, overleed hij echter aan een overdosis cocaïne


Paul Celan

Paul Celan werd onder de naam Paul Antschel op 23 november 1920 geboren in Czernowitz, toentertijd de hoofdstad van de Roemeense Boekovina, nu behorend bij de Oekraïne. Paul Celans ouders waren Duitssprekende joden die hun zoon joods opvoedden en hem naar Duitse christelijke scholen stuurden. In 1942 werden Celans ouders door de Duitse bezetter naar een werkkamp gedeporteerd en daar vermoord. Hijzelf wist aanvankelijk onder te duiken, maar moest vanaf juli 1942 in een werkkamp dwangarbeid verrichten. Celan overleefde de oorlog. Via Boekarest en Wenen vestigde Celan zich in 1948 in Parijs. Daar was hij werkzaam als dichter, vertaler en doceerde hij aan de prestigieuze Ecole Normale Supérieure. Vermoedelijk op 20 april 1970 beëindigde hij zijn leven zelf door in de Seine te springen.


Gerard Reve

Gerard Reve over: Medearbeiders "God is in de mensen, de dieren, de planten en alle dingen - in de schepping, die verlost moet worden of waaruit God verlost moet worden, door onze arbeid, aangezien wij medearbeiders van God zijn." Openbaring "Tja, waar berust elk godsbegrip op, elke vorm van religie? Op een openbaring, dat wil zeggen op een psychische ervaring van zulk een dwingende en onverbiddelijke kracht, dat de betrokkene het gevoel heeft, niet dat hij een gedachte of een visioen heeft, maar dat een gedachte gedachte of visioen hem bezit en overweldigt."


Simon Vestdijk
Simon Vestdijk (Harlingen, 17 oktober 1898 – Utrecht, 23 maart 1971) was een Nederlands romancier, dichter, essayist en vertaler. Zijn jeugd te Harlingen en Leeuwarden beschreef hij later in de Anton Wachter-cyclus. Van jongs af aan logeerde hij regelmatig bij zijn grootouders in Amsterdam, waar hij zich in 1917 aan de Universiteit van Amsterdam inschrijft als student in de medicijnen. Tijdens zijn studie die van 1917 tot 1927 duurde, leerde hij Jan Slauerhoff kennen.Tot 1932 is hij als arts in praktijken door heel Nederland werkzaam. In 1932 volgt zijn officiële schrijversdebuut met de uitgave van de bundel Verzen in De Vrije Bladen. Doorslaggevend voor Vestdijks uiteindelijke keuze voor de literatuur is zijn ontmoeting in 1932 met Eddy Du Perron en Menno ter Braak. Deze ontmoeting had tot resultaat dat hij redactielid werd van het tijdschrift Forum Kort daarop, in 1933, wordt zijn eerste novelle, De oubliette, uitgegeven. In hetzelfde jaar schrijft hij Kind tussen vier vrouwen, dat, eerst geweigerd door de uitgever, later de basis zal vormen voor de eerste drie delen van de Anton Wachter-romans. In 1951 ontvangt Vestdijk de P.C. Hooftprijs voor zijn in 1947 verschenen roman De vuuraanbidders. In 1957 wordt hij voor het eerst door het PEN-centrum voor Nederland voorgedragen voor de Nobelprijs voor de Literatuur, die hij echter nooit zal krijgen. Op 20 maart 1971 wordt hem de Prijs der Nederlandse Letteren toegekend, maar voor hij deze kan ontvangen overlijdt hij op 23 maart te Utrecht op 72-jarige leeftijd. Vestdijk was auteur van ca. 200 boeken. Vanwege deze enorme productie noemde de dichter Adriaan Roland Holst hem 'de man die sneller schrijft dan God kan lezen'. Andere belangrijke boeken van Simon Vestdijk zijn: "Kind van stad en land" (1936), "Meneer Visser's hellevaart" (1936), "Ierse nachten" (1946), "De toekomst de religie" (1947), "Pastorale 1943" (1948), "De koperen tuin" (1950), "Ivoren wachters" (1951), "Essays in duodecimo" (1952) en "Het genadeschot" (1964).


K.P. Kavafis

K.P. Kavafis werd als kind van Griekse ouders, afkomstig uit Konstantinopel, geboren in 1863 in Alexandrië (tot vandaag een Griekse enclave) waar hij ook het grootste deel van zijn leven woonde en werkte. Twee jaar na de dood van zijn vader verhuist het gezin in 1872 naar Engeland om na een verblijf van vijf jaar naar Alexandrië terug te keren. Vanwege ongeregeldheden in Egypte vlucht het gezin in 1882 naar Konstantinopel, om na drie jaar opnieuw naar Alexandrië terug te gaan. In de jaren die volgen maakt Kavafis reizen naar Parijs, Londen en in 1901 zijn eerste reis naar Griekenland, in latere jaren gevolgd door nog enkele bezoeken. Op de dag van zijn zeventigste verjaardag, in 1933 sterft Kavafis in Alexandrië. De roem kwam voor Kavafis pas na zijn dood, dus postuum. Deels is dat toe te schrijven aan zijn eigen handelswijze. Hij was uiterst terughoudend met de publicatie van zijn gedichten, liet af en toe een enkel gedicht afdrukken in een literair tijdschrift, gaf in eigen beheer enkele bundels met een stuk of twintig gedichten uit en het merendeel van zijn poëzie schonk hij op losse bladen aan zijn beste vrienden.


Thomas Mann


Thomas Mann, de jongere broer van Heinrich Mann, werd geboren op 6 juni 1875 in Lübeck. Hij was de tweede zoon van de graankoopman Thomas Johann Heinrich Mann welke later één van de senatoren van Lübreck werd. Zijn moeder Julia (geboren da Silva-Bruhns) was Duits-Braziliaans van Portugees Kreoolse afkomst. In 1894 debuteerde Thomas Mann met de novelle "Gefallen". Toen Thomas Mann met 21 jaar eindelijk volwassen was en hem dus geld van zijn vaders erfenis toestond - hij kreeg ongeveer 160 tot 180 goldmark per jaar - besloot hij dat hij genoeg had van al die scholen en instituties en werd onafhankelijk schrijver. Kenmerkend voor zijn stijl zijn de ironie, de fenomenale taalbeheersing en de minutieuze detailschildering. Manns reputatie in Duitsland was sterk wisselend. Met zijn eerste roman, Buddenbrooks (1901), had hij een enorm succes, maar door zijn sceptische houding tegenover Duitsland na de Eerste Wereldoorlog veranderde dit volledig. Stelde hij zich tot aan de jaren twintig apolitiek op (Betrachtungen eines Unpolitischen, 1918), meer en meer raakte hij bij het Politiek gebeuren betrokken. Zijn afkeer van het nationaal socialisme groeide, zijn waarschuwingen werden veelvuldiger en heftiger. In 1944 accepteerde hij het Amerikaanse staatsburgerschap. Tussen 1943 en 1947 schreef Mann Doktor Faustus (zie Faust), de roman van de 'Duitse ziel' in de gecamoufleerd geschilderde omstandigheden van de 20ste eeuw. In 1947 bezocht hij voor het eerst sinds de Oorlog Europa, twee jaar later pas Duitsland. In 1952 vertrok hij naar Zwitserland. Op 12 augustus 1955 stierf hij in Zürich. Twintig jaar na zijn dood, in aug. 1975, is zijn literaire nalatenschap geopend: dagboekaantekeningen van 15 maart 1933 tot 29 juli 1955, alsmede notities uit de jaren 1918 tot en met 1921.Belangrijke werken zijn: Der Zauberberg, Der Tod in Venedig, Dokter Faustus , Joseph und seine Brüder en Die Bekenntnisse des Hochstaplers Felix Krull.


Rainer Maria Rilke

Rilke werd op 4 december 1875 geboren in Praag. Hij had al naam gemaakt als dichter met zijn bundels Das Stundenbuch en Das Buch der Bilder, toen hij de literaire wereld versteld deed staan en wereldfaam verwierf met de publicatie van zijn twee delen Neue Gedichte in 1907 en 1908. Hij verzamelde daarin het beste werk uit een van zijn vruchtbaarste periodes, die hij grotendeels doorbracht in Parijs. Rilke was daar diep onder de indruk gekomen van Rodin, bij wie hij een tijdlang in dienst was als particulier secretaris. Rodin, zei hij later, had hem leren kijken. Dit kijken kwam neer op intense concentratie, om het mysterie te kunnen zien 'achter de schijnbare werkelijkheid'. Latere en rijpere werken als Duineser Elegien (1912-1923) en het ronduit schitterende Die Sonette an Orfeus (1924) illustreren Rilkes metafysische visie op het onzegbare, dat haar verwoording vindt in een hermetische muzikale taal. Op 29 december 1926 overlijdt Rilke in het sanatorium in Val-Mont aan de gevolgen van leukemie. Enkele dagen later wordt hij, overeenkomstig zijn wens, begraven op het kerkhof van Raron.


* * * * * * * * * * * * * * * *

| | |
| --- | --- |
| | Over literatuur, gedichten, kunst en cultuur |

22-12-2013

Bij de vierde zondag van de Advent (Advent 1955, John Betjeman)
Bij de vierde zondag van de Advent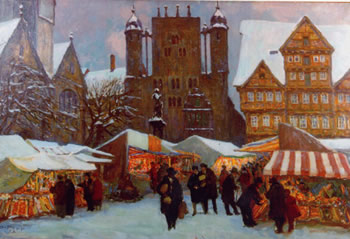 Weihnachtsmarkt in Hildesheim door Oskar Popp, 1928
Advent 1955
The Advent wind begins to stir
With sea-like sounds in our Scotch fir,
It's dark at breakfast, dark at tea,
And in between we only see
Clouds hurrying across the sky
And rain-wet roads the wind blows dry
And branches bending to the gale
Against great skies all silver pale
The world seems travelling into space,
And travelling at a faster pace
Than in the leisured summer weather
When we and it sit out together,
For now we feel the world spin round
On some momentous journey bound -
Journey to what? to whom? to where?
The Advent bells call out 'Prepare,
Your world is journeying to the birth
Of God made Man for us on earth.'
And how, in fact, do we prepare
The great day that waits us there -
For the twenty-fifth day of December,
The birth of Christ? For some it means
An interchange of hunting scenes
On coloured cards, And I remember
Last year I sent out twenty yards,
Laid end to end, of Christmas cards
To people that I scarcely know -
They'd sent a card to me, and so
I had to send one back. Oh dear!
Is this a form of Christmas cheer?
Or is it, which is less surprising,
My pride gone in for advertising?
The only cards that really count
Are that extremely small amount
From real friends who keep in touch
And are not rich but love us much
Some ways indeed are very odd
By which we hail the birth of God.
We raise the price of things in shops,
We give plain boxes fancy tops
And lines which traders cannot sell
Thus parcell'd go extremely well
We dole out bribes we call a present
To those to whom we must be pleasant
For business reasons. Our defence is
These bribes are charged against expenses
And bring relief in Income Tax
Enough of these unworthy cracks!
'The time draws near the birth of Christ'.
A present that cannot be priced
Given two thousand years ago
Yet if God had not given so
He still would be a distant stranger
And not the Baby in the manger.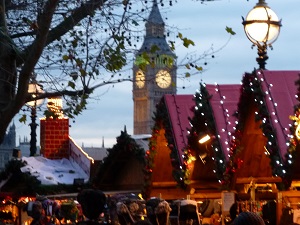 John Betjeman (28 augustus 1906 - 19 mei 1984)
Londen, kerstmarkt, Southbank. John Betjeman werd in Londen geboren.
Zie voor de schrijvers van de 22e december ook mijn vorige twee blogs van vandaag.
22-12-2013 om 11:07 geschreven door Romenu

Tags:Advent,John Betjeman, Romenu



Margit Schreiner, Felicitas Hoppe, Hugo Loetscher, F.T. Marinetti, Jean Racine, Kenneth Rexroth
De Oostenrijkse schrijfster Margit Schreiner werd geboren op 22 december 1953 in Linz. Zie ook alle tags voor Margit Schreiner op dit blog.
Uit: Haus, Friedens, Bruch.
"Zurück bleibt ein süßer Geschmack auf der Zunge und Übelkeit. Es wird die allgemeine Sinnkrise sein, die alles so erschwert. Besonders natürlich das Schreiben. Alles schon tausendmal geschrieben, sagt sich der Schriftsteller in der Sinnkrise, was soll ich dem noch hinzufügen? Er verlegt sich dann auf die Form, weil da hat er noch die größere Hoffnung, etwas Neues bieten zu können. Aber was die meisten Schriftsteller für das Neueste halten, ist ja meistens auch schon ein alter Hut. Die Romantiker haben eigentlich schon alles ausgelotet. Bleibt nur die Verpackung. Das Rundherum. Die Werbung lehrt uns, wie man das macht: Es darf gar nicht um die Sache selbst gehen und auch nicht um ihre Form. Trotzdem muss irgendwie, nebenbei sozusagen, das Produkt durchschimmern, das jeder dann kaufen will. Aber wie ich vor dreißig Jahren schon dem Herrn von der Arbeiterkammer (mittlerweile ist er in Pension, ich nicht), der meinen Beitrag zum Literaturwettbewerb aus formalen Gründen nicht annehmen wollte, gesagt habe, stelle ich Literatur her und keine Klodeckel. Ich mache deshalb keine Produktwerbung. Und das ist bis heute meine Überzeugung. (Obwohl ja der Klodeckel im Gegensatz zur Literatur wenigstens noch zu etwas nütze ist, das muss auch einmal gesagt werden.) Jetzt muss man natürlich auch sagen, dass das schon immer so war. Denken Sie nur an die literarischen Salons und was für ein Kitsch und Quatsch da immer schon vorgetragen wurde. Oder die literarischen Zeitschriften, »Gartenlaube« und so weiter. Da darf man sich nicht wundern, dass es das auch heute noch gibt. Nur eben in anderer Form. Weil irgendwann haben die Deutschen und die Österreicher entdeckt, dass Schriftsteller anderer Länder weitaus witzigere und unterhaltsamere Bücher schreiben, und da haben sie sich gedacht: Heben wir die Trennung zwischen U und E auf und schreiben wir auch witzige und unterhaltsame Bücher. Nur: Das gelingt halt nicht immer. Was dem Engländer möglicherweise im Kolonialblut liegt, muss dem Deutschen noch immer nicht unbedingt aus der Blockwartmentalität herausspringen."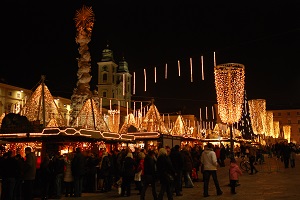 Margit Schreiner (Linz, 22 december 1953)
Kerstmarkt in Linz
De Duitse schrijfster Felicitas Hoppe werd geboren op 22 december 1960 in Hameln. Zie ook alle tags voor Felicitas Hoppe op dit blog.
Uit: Hoppe
"Weltweit, egal welcher Zeitung, hat Hoppe immer dieselbe Geschichte erzählt: wie sie als Ratte mit Schnurrbart und Schwanz versehen, Wurst in der Linken, Brot in der Rechten, den Marktplatz ihrer Heimatstadt Hameln betritt, um sich im Freilichttheater unter der Führung des Rattenfängers vor Touristen aus aller Welt ein Taschengeld zu verdienen. Wie sie das eben Verdiente sofort auf den Kopf haut, Blumen für ihre Mutter (»die Gastgeberkönigin«) und ein Päckchen Zigaretten für ihren Vater (»den Erbauer des ersten Kaspertheaters«) kauft, um danach mit dem verbliebenen Rest ihre vier Geschwister zu einem Ausflug ins Miramare zu überreden, eine Hamelner Eisdiele, »die sommers floriert und sich winters, wenn sich die Italiener saisonbedingt nach Süden verziehen, in einen Ausstellungsraum für Pelze verwandelt.« Bis Hoppe sich dreißig Jahre später »endlich erhebt«, um ein Schiff von Hamburg nach Hamburg zu besteigen und die Welt mit eigenen Augen zu sehen: »Ein Ausflug, nichts weiter, in ein paar Tagen bin ich zurück, sitze wieder am Tisch, der zweite Esser von rechts.« (Pigafetta, 1999)
Sowenig beglaubigt ist, dass Hoppe jene vielzitierte Reise um die Welt auf einem Containerfrachtschiff tatsächlich persönlich unternahm, ist bekannt, dass sie bereits als Kind mehrfach die Weltmeere befuhr. Allerdings nicht als zweiter Esser von rechts, sondern als einzige Tochter eines Patent-agenten, der das deutsche Kaspertheater vermutlich niemals von innen sah."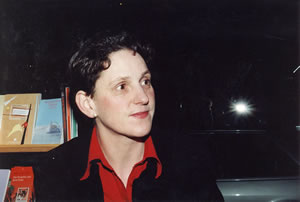 Felicitas Hoppe (Hameln, 22 december 1960)
De Zwitserse schrijver Hugo Loetscher werd geboren op 22 december 1929 in Zürich. Zie ook alle tags voor Hugo Loetscher op dit blog.
Uit: War meine Zeit meine Zeit
"Eines Nachmittags hatte ich ein Holzscheit aus der Sihl gefischt. Ich wunderte mich, dass ein Stück Brennholz im Wasser trieb. Ich hatte den Fund hinter einer Betonröhre versteckt. Als das Holz trocken war, schnitzte ich daran, zunächst ohne Absicht, doch dann formte ich einen Bug, und als das Holz noch die Form eines Rumpfes erhielt, ritzte ich den ersten Buchstaben meines Vornamens ein, bohrte ein Loch, steckte als Mast ein Streichholz hinein, ein kürzeres, um den Mast zu befestigen, und schickte das segellose Schiffchen auf große Fahrt, nicht wissend, wohin, und rief ihm einen Gruß nach, nicht wissend, an wen. Ein Bote, der annoncierte: Einer kommt nach.
Aufregend nur schon war, dazuhocken und sich dem Vorbeifließen hinzugeben, dem Glucksen, Raunen und Flüstern zuzuhören, zuweilen mit geschlossenen Augen, damit, was zu sehen war, nicht das, was zu hören war, störte. Gespannt, ob einem eine Welle anvertraut, wie das ist, wenn sie an einem Stein aufschlägt."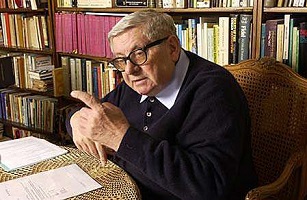 Hugo Loetscher (22 december 1929 – 18 augustus 2009)
De Italiaanse dichter, schrijver en futuristisch kunstenaar Filippo Tomasso Marinetti werd geboren op 22 december 1876 in Alexandrië. Zie ook alle tags voor F.T. Marinetti op dit blog.
Uit: Manifest des Futurismus (Vertaald door Jean-Jacques)
"Nichts kommt dem Glanz ihres roten Schwertes, das zum ersten Male streitet in unserer tausendjährigen Finsternis gleich.
Wir näherten uns den drei schnaubenden Maschinen, um ihre Brust zu streicheln. Ich streckte mich auf meiner Maschine aus wie ein Leichnam auf der Bahre, aber ich richtete mich plötzlich unter dem Lenkrad auf, - diesem Guillotine-Hackmesser -, das meinen Magen bedrohte.
Wirbelnd entführte uns der Wahnsinn uns selbst und trieb durch die steilen, tiefen Straßen wie ausgetrocknete Wildbäche. Hier und da tauchten an den Fenstern Lampen auf, die uns lehrten, unsere mathematischen Augen zu verachten.
- Die Witterung, rief ich, die Witterung genügt dem Rotwild!... Und wir jagten wie junge Löwen den schwarzhaarigen Tod, der vor uns in den weiten, malvenfarbigen, lebenden Himmel lief.
Und dennoch hatten wir keine ideale Gebieterin, die ihre Gestalt bis in die Wolken streckte, noch eine grausame Königin, der wir unsere wie byzantinische Ringe gewundenen Leichname hätten geben können! Nichts, um zu sterben, wäre es auch nur der Wunsch, endlich unseres nur allzu drückenden Mutes ledig zu sein!
Wir sausten dahin und zermalmten auf den Schwellen der Häuser die Hunde, die sich unter unsere brennenden Pneumatiks legten, wie Kragen unter Plätteisen."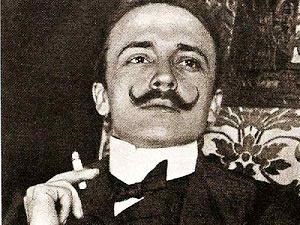 F.T. Marinetti (22 december 1876 – 2 december 1944)
De Franse dichter en schrijver Jean Racine werd geboren op 22 december 1639 in La Ferté-Milon. Zie ook alle tags voor Jean Racine op dit blog.
Le mardi à laudes
L'oiseau vigilant nous réveille ;
Et ses chants redoublés semblent chasser la nuit :
Jésus se fait entendre à l'âme qui sommeille,
Et l'appelle à la vie, où son jour nous conduit.
« Quittez, dit-il, la couche oisive
Où vous ensevelit une molle langueur :
Sobres, chastes et purs, l'œil et l'âme attentive,
Veillez : je suis tout proche, et frappe à votre cœur. »
Ouvrons donc l'œil à sa lumière,
Levons vers ce Sauveur et nos mains et nos yeux,
Pleurons et gémissons : une ardente prière
Écarte le sommeil, et pénètre les cieux.
Ô Christ, ô soleil de justice !
De nos cœurs endurcis romps l'assoupissement ;
Dissipe l'ombre épaisse où les plonge le vice,
Et que ton divin jour y brille à tout moment !
Gloire à toi, Trinité profonde,
Père, Fils, Esprit-Saint : qu'on t'adore toujours,
Tant que l'astre des temps éclairera le monde,
Et quand les siècles même auront fini leur cours !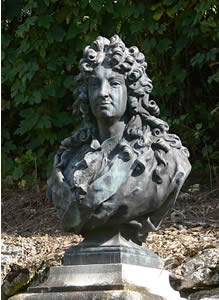 Jean Racine (22 december 1639 - Parijs, 21 april 1699)
Borstbeeld in Port-Royal-des-Champs



De Amerikaanse dichter Kenneth Rexroth werd geboren in South Bend (Indiana) op 22 december 1905. Zie ook alle tags voor Kenneth Rexroth op dit blog.
Rogation Days
Under the orchards, under
The tree strung vines, little blue
Figures are making hay, high
On the steep hillsides above
Palladio's drowsy villas
And Tiepolo's swirling walls.
On the highest field they are
Still cutting with swinging scythes;
Down below they are tossing
The long swathes of hay to cure
In the sun; further down they
Are cocking it, or carrying
It off in two-wheeled donkey carts.
The Venetian plain vanishes
In haze. The nearby Alps are
Indefinite blue smudges,
Capped with faint streaks of orange
Snow. Clouds of perfume roll up
The hillside in waves. All the birds
Sing. All the flowers bloom. Here
At a stone table like this,
On a little hill like this,
In a circle of cypress
And olive like this, the infinite
Visited Leopardi,
And ravished him and carried
Him off in the deep summer.
It would carry me off, too,
If I knew where I wanted
To go, or if I just wanted
To go nowhere at all.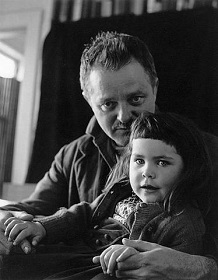 Kenneth Rexroth (22 december 1905 – 6 juni 1982)
Hier met zijn dochter
Zie voor nog meer schrijvers van de 22e december ook mijn vorige blog van vandaag.


22-12-2013 om 10:58 geschreven door Romenu

Tags:Margit Schreiner, Felicitas Hoppe, Hugo Loetscher, F.T. Marinetti, Jean Racine, Kenneth Rexroth, Romenu



Johan Sebastian Welhaven, E. A.Robinson, Lulu Wang, Christoph Keller, Ulrich Bräker, Rudolf Krämer-Badoni, Thomas Higginson
De Noorse dichter en criticus Johan Sebastian Welhaven werd op 22 december 1807 in Bergen geboren. Zie ook alle tags voor Johan Sebastian Welhaven op dit blog.
The snow's now falling thick and fast
The snow's now falling thick and fast,
And the boy runs hither and thither.
A great many miles does he slither
And slide now before the day's past.
Great blocks of snow in the courtyard he rolls,
And into stout soldiers he makes them;
Much effort and toil does it take him.
The soldiers are given eyes made of coal.
He trundles the snow as if in a trance,
While the towering warriors stand gazing;
A breastwork he now works on raising.
The broomstick he gives them serves as a lance.
And now he is done, and his strength is no more;
His hands are both frozen and stinging.
With strong dreams soon to be winging
A restless night the boy has in store.
You hear him exclaim, the tired little one:
'Tomorrow they all will do battle!'
Then rainclouds the sky shake and rattle,
And his warriors soon are all gone.
Vertaald door John Irons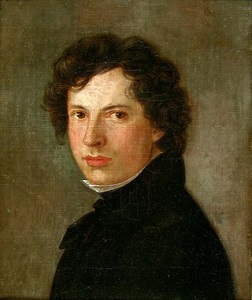 Johan Sebastian Welhaven (22 december 1807 – 21 oktober 1873)
Portret door Jacob Calmeyer, 1827
De Amerikaanse dichter Edwin Arlington Robinson werd geboren op 22 december 1869 in Head Tide, Maine. Zie ook alle tags voor E. A. Robinson op dit blog.
Job the Rejected
They met, and overwhelming her distrust
With penitence, he praised away her fear;
They married, and Job gave him half a year
To wreck the temple, as we knew he must.
He fumbled hungrily to readjust
A fallen altar, but the road was clear
By which it was her will to disappear
That evening when Job found him in the dust.

Job would have deprecated such a way
Of heaving fuel on a sacred fire,
Yet even the while we saw it going out,
Hardly was Job to find his hour to shout;
And Job was not, so far as we could say,
The confirmation of her soul's desire.
The Flying Dutchman
Unyielding in the pride of his defiance,
Afloat with none to serve or to command,
Lord of himself at last, and all by Science,
He seeks the Vanished Land.

Alone, by the one light of his one thought,
He steers to find the shore from which he came,
Fearless of in what coil he may be caught
On seas that have no name.

Into the night he sails, and after night
There is a dawning, thought there be no sun;
Wherefore, with nothing but himself in sight,
Unsighted, he sails on.

At last there is a lifting of the cloud
Between the flood before him and the sky;
And then--though he may curse the Power aloud
That has no power to die--

He steers himself away from what is haunted
By the old ghost of what has been before,--
Abandoning, as always, and undaunted,
One fog-walled island more.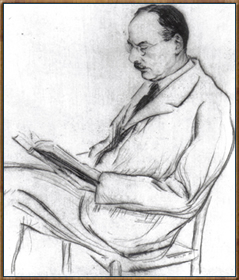 E. A. Robinson (22 december 1869 – 6 april 1935)
Portret door Richard (Thomas) Hood, 1933
De Nederlandse schrijfster Lulu Wang werd geboren op 22 december 1960 in Beijing. Zie ook alle tags voor Lulu Wang op dit blog.
Uit: The Lily Theater (Vertaald door Hester Velmans)
"Chemistry class was interrupted by a knock on the door. I was called out and saw Mother standing in the corridor. I was going to ask her how she had managed to return from the reeducation camp again so soon, but on seeing her tense face I decided to keep the question to myself. I had to run to keep up with her as she strode to the office of the director of the Teachers' University.
"Well, well, little Wine-Cup, in the six months since I saw you last, you have grown from a cheeky little girl into a charming young lady!"
I blushed. I wasn't sure how to behave in his presence. I knew him quite well, because he had supervised the project Mother had been working on for the past five years--the Textbook of the Modern History of China. I had often visited Mother's office after school. The director was usually there. He used to tease me about the dimple in my right cheek: "Well, well, if that little Wine-Cup were full of wine, and you were to drink from it until it was all gone, you'd have to go ask your neighbors, 'Remind me, what's my name again?' That's how deep that dimple of yours is, did you know that?" He was friendly toward me."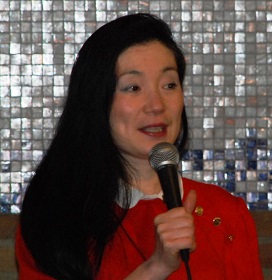 Lulu Wang (Beijing, 22 december 1960)
De Zwitserse schrijver Christoph Keller werd geboren op 22 december 1963 in St. Gallen. Zie ook alle tags voor Christoph Keller op dit blog.
Uit: Der Stand der letzten Dinge (samen met Heinrich Kuhn)
«Prächtig», sagt dieser, «und dir?»
«Genauso», zieht er gleich und beobachtet, wie der andere die Gläser mit Weißwein füllt. Ein chilenischer Chardonnay, registriert er zufrieden. Der kleine Esoteriker weiß, was gut ist.
«Was ich dich fragen wollte», setzt er verlegen an, nachdem sie auf ihre gutnachbarschaftliche Beziehung angestoßen haben. «Sind dir vielleicht in letzter Zeit Leute aufgefallen, die nicht hierher gehören?» Er gibt sich den Anschein, als sei ihm die Antwort eigentlich nicht wichtig.
«Da kommt jeweils dieser Typ, der dich anschleicht. Ich hätte Lust, mir den mal vorzunehmen und ihm Nachhilfestunden anzubieten. Geht ziemlich ungeschickt vor, wenn du mich fragst, aber da du …»
«Mach keine Witze. Das ist doch Prinz. Ich muss ihn dir das nächste Mal vorstellen.»
«Da du schon vormittags im Liegestuhl liegst, wollte ich sagen, und ein vorgezogenes Mittagsschläfchen hältst, schafft er es jeweils doch noch, dich zu überraschen.»
«Ich überdenke Arbeitspläne.»
«Was du nicht sagst.» Der Nachbar grinst gutmütig. «Das wollte ich dich schon einige Male fragen: Woran arbeitest du eigentlich?»
«Zur Zeit schreibe ich an einem neuen Roman.»
«Ach ja, lesen ist meine Achillesferse. Meist bleibt es beim Vorsatz. Du hast nicht zufälligerweise etwas zu Hause? Etwas Spezielles, mit Tiefgang und Action, wenn möglich. Aber zurück zu deinem Anliegen: Hätte ich diesen Prinz denn kennen sollen?»
«Wir schreiben zusammen. Hin und wieder liest man davon.»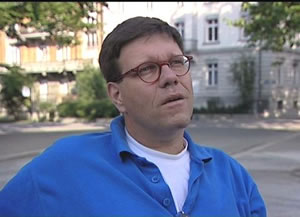 Christoph Keller (St. Gallen, 22 december 1963)
De Zwitserse schrijver Ulrich Bräker werd geboren op 22 december 1735 in Näppis (Scheftenau), Toggenburg, Kanton St. Gallen. Zie ook alle tags voor Ulrich Bäker op dit blog.
Uit:Lebensgeschichte und Natürliche Ebentheuer des Armen Mannes im Tockenburg
"Am End derselben rauschte ein wildangelaufener Bach durch ein Tobel. Den Stäg könnt' ich nicht finden, und wollte darum ohne weiters und gerade hinüber, dem Näbis zu; glitschte aber über eine Riese zum Bach hinab, wo mich das Wasser beynahe ergriffen hätte. Die äusserste Anstrengung meiner jugendlichen Kräfte half mir noch glücklich davon. Ich kroch wieder auf allen Vieren durch Stauden und Dörn' hinauf der Wiese zu, auf welcher ich überall herumirrte, und den Gaden nicht mehr finden konnte – als ich gegen einer Windhelle zwey Kerls – Birn- oder Aepfeldiebe – auf einem Baum ansichtig ward. Diesen ruft ich zu, sie sollten mir doch auf den Weg helfen. Aber da war kein Bescheid; vielleicht daß sie mich für ein Ungeheuer hielten, und oben im Gipfel noch ärger zittern mochten, als ich armer Bube unten im Koth. – Inzwischen war mein Vater, der während meinem Schlummer nach einem ziemlich entfernten Haus gieng, etwas zu holen, wieder zurückgekehrt. Da er mich vermißte, suchte er in allen Winkeln nach, wo ich mich etwa mögte verkrochen haben; zündete bis in die siedenden Kessel hinein, und hörte endlich mein Geschrey, dem er nachgieng, und mich nun bald ausfindig machte. O, wie er mich da herzte und küßte, Freudenthränen weinte und Gott dankte, und mich, sobald wir zum Gaden zurückkamen, sauber und trocken machte – denn ich war mausnaß, dreckigt bis über die Ohren, und hatte aus Angst noch in die Hosen ... Morndeß am Morgen führte er mich an der Hand durch die Wiese: Ich sollt ihm auch den Ort zeigen, wo ich heruntergepurzelt."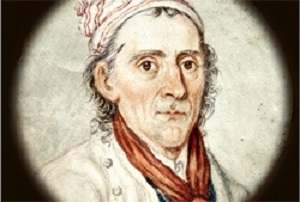 Ulrich Bräker (22 december 1735 – (begraven) 11 september 1798)
De Duitse schrijver Rudolf Krämer-Badoni werd geboren op 22 december 1913 in Rüdesheim als Rudolf Kramer. Zie ook alle tags voor Rudolf Krämer-Badoni op dit blog.
Uit: Die Barbaren waren wir
"Wenn et etwas bewirkte, würde ich diesen Menschen die Zugehörigkeit zu meinem Vaterland absprechen. Aber das wäre Geschwätz. Sie waren Deutsche, wir kommen darum nicht herum.
Ich kann sie nicht einmal Bestien nennen, es wäre eine Beleidigung für die Tiere, die den eigenen Artgenossen nicht zu töten vermögen. Aber ich verweigere diesen ehrlosen Henkern Wehrloser und Schuldloser jeden Schatten eines Gedenkens, und ich verfluche die künftige Stunde, da die verblaßte Erinnerung ihre Namen historisch neutral unter anderen historischen Namen aufzählen wird als Namen, die dies oder jenes ins Rollen gebracht haben, was wir heute noch nicht deutlich sehen. Am Volkstrauertag verweigere ich die mitfühlende Trauer jenen, die mein Vaterland besudelt haben und die Sie alle und mich besudelt haben. De mortuis nil nisi bene - dafür gibt es eine sehr genaue Grenze. Meinungskampf und zuletzt immer wieder Krieg - wir wissen, daß dies bis heute die schmerzliche Mitgift unserer Menschwerdung war..."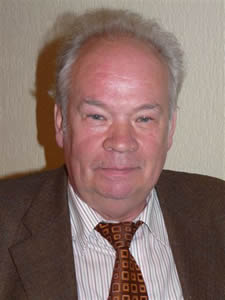 Rudolf Krämer-Badoni (22 december 1913 - 18 september 1989)
De Amerikaanse schrijver en strijder tegen slavernij Thomas Wentworth Higginson werd geboren op 22 december 1823 in Cambridge, Massachusetts. Zie ook alle tags voorThomas Higginson op dit blog.
Uit: The Complete Civil War Journal and Selected Letters
"I have entered on command and am trying to play Col. Sprague as well as may be. Spent morning with Gen. Saxton who is quite absorbed in this regiment & gave up all else for me—He gives me Carte blanche—I am to send for Dr Rogers & James. The line officers I like much, young & not highly educated but thoroughly manly & very ready to meet me as I wish. My adjutant is a Boston Fraternity man and heard me in my Crumble lecture say Come & is delighted to have me, as they all are. Gen. S. had many applications for the place but left it to me. The Lieut. Col. & Major I like least as military men. I am to live in a tent when I can get one. Meanwhile in a forlorn plantation house. Soon after my arrival this morning, in marched a company of my men, to be mustered in—all black as coals as Margaret predicted, not a mulatto among them, but marching well with their red legs which are the only peculiarity of their uniform, as distinct from the ordinary. Gen. Saxton talked to them a little—so did I & they know what they are doing, I assure you. Being introduced to one who has been wounded in the late (second expedition) I said "Did you think that was more than you bargained for"? "Dat's just what I meant for Massa" says he. Very good for my first exchange of remark with my men, was it not?"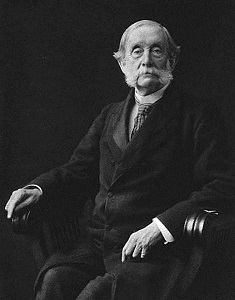 Thomas Higginson (22 december 1823 – 9 mei 1911)
22-12-2013 om 10:46 geschreven door Romenu

Tags:Johan Sebastian Welhaven, E. A.Robinson, Lulu Wang, Christoph Keller, Ulrich Bräker, Rudolf Krämer-Badoni, Thomas Higginson, Romenu



| | |
| --- | --- |
| | |



Inhoud blog


| | |
| --- | --- |
| | Martin Michael Driessen, Marjoleine de Vos, Manuel Bandeira, n. c. kaser, Veniamin Kaverin, Louis Amédée Achard, Pierre-Jean de Béranger, Gudrun Reinboth, Werner Rohner |
| | Wam de Moor, Bas Belleman, Roos van Rijswijk, Hanane Aad, Clara Eggink, Kathy Acker, Joy Davidman, Henry Kendall, Katharina Schwanbeck |
| | Antoon Coolen, Vincent Corjanus, Nick Hornby, Ida Boy-Ed, Thornton Wilder, David Wagner, R.J. Pineiro, Helen Meier, Karen Blixen |
| | Sarah Kirsch, Thomas Olde Heuvelt, Kingsley Amis, Patricia De Martelaere, Tristan Tzara, Ewald Vanvugt, Sibylle Lewitscharoff, Jan Luyken, Anatole France |
| | Emmaüs (Felix Timmermans) |
| | Tomas Tranströmer, Daniël Samkalden, Jérôme Lambert, Patrick Bernauw, Benjamin Zephaniah, Henry James, Wilhelm Busch, Ina Boudier-Bakker |
| | Bliss Carman, Beate Morgenstern, Jeffrey Archer, Bernhard Lassahn, Erich Arendt, Pol De Mont, Staf Weyts, Hans Egon Holthusen |
| | Péter Esterházy, Alexandre Jardin, Tjitse Hofman, Landolf Scherzer, Charles Lewinsky, Roman Graf |
| | Roberto Schopflocher, Martin Kessel, Gabriele Stötzer, Helene Hübener, Gerhard Rohlfs |
| | Nachoem Wijnberg, K. Michel, Alexander Münninghoff, Michel Faber, Jean-Marie Gustave Le Clézio, Samuel Beckett, Seamus Heaney, Tim Krabbé, Eudora Welty |
| | Antje Rávic Strubel, Alan Ayckbourn, Scott Turow, Tom Clancy, Agnes Sapper, Edward de Vere, José Gautier Benítez, Alexander Ostrovski, Guillaume-Thomas Raynal |
| | Leonard Nolens, Mark Strand, Silvia Avallone, Walid Soliman, Dorothy Allison, Hubert Nyssen, Rolf Schilling, Glenway Wescott, Claude Tillier |
| | Leo Vroman, Jan van Mersbergen, Paul Theroux, Claudio Magris, Bella Akhmadulina, Stefan Heym, Richard Wagner, Marcel van Maele, Eric Knight |
| | Charles Baudelaire, Jelle Brandt Corstius, Karel Jonckheere, Joolz Denby, Albert von Schirnding, Johannes Bobrowski, Bernard-Marie Koltès, Arnold Stadler, Yaël Vinckx |
| | Thomas (Jan Willem Schulte Nordholt) |
| | Herinnering aan Gerard Reve, Hanz Mirck, Christoph Hein, Judith Koelemeijer, Nnedi Okorafor, Barbara Kingsolver |
| | John Fante, Johann Christian Günther, Glendon Swarthout, Martin Grzimek, Hégésippe Moreau, Robert Askins |
| | Den Haag (Paul Rodenko) |
| | Juliana Spahr, William Wordsworth, Özcan Akyol, Gabriela Mistral |
| | Kazim Ali, Annejet van der Zijl, John Pepper Clark, Jakob Ejersbo, Günter Herburger, Uljana Wolf, Brigitte Schwaiger, Julien Torma, Nicolas Chamfort |
| | Hugo Claus, Martin Reints, Mieke van Zonneveld, Vítězslav Hálek, Algernon Swinburne, Bora Ćosić,, Werner J. Egli, Michael Georg Conrad, Marente de Moor |
| | Maya Angelou, Hanneke Hendrix, Marko Klomp, Marcel Vaarmeijer, E. L. James, Marguerite Duras, Robert Schindel, Michiel van Kempen, Bettina von Arnim |
| | Charles Ducal, Adriaan Jaeggi, Frederik van Eeden, Bert Bakker, Peter Huchel, Arlette Cousture, Pieter Aspe, Karel N.L. Grazell, Washington Irving |
| | Die Sonne geht im Osten auf (Christian Morgenstern) |
| | Thomas Glavinic, Jay Parini, Anneke Claus, Klaus Ender, Konrad Merz, Ed Dorn, Émile Zola |
| | György Konrád, Anne Waldman, Casanova, Hans Christian Andersen, Roberto Arlt, Edgar Hilsenrath, George Fraser |
| | Hoffmann von Fallersleben, Johann Gleim, Pierre Zaccone, Pietro della Valle, Zwier van Haren, Joanna Chmielewska, Brigitte Struzyk |
| | Preis dem Todesüberwinder! (Friedrich Klopstock) |
| | Milan Kundera, Sandro Veronesi, Nikolaj Gogol, Arnold Aletrino, Max Nord, Urs Allemann, Rolf Hochhuth, John Wilmot, Deborah Feldman |
| | Maria Polydouri, Edgar Wallace, Carl Sternheim, Edmond Rostand, Armel Guerne, Friedrich Güll, Antoine Prévost, Josep de Maistre |
| | Litanie van een wachter bij het graf (Willem Jan Otten) |
| | Stefan Hertmans, Octavio Paz, Asis Aynan, Martijn Teerlinck, Marga Minco, Enrique Vila-Matas |
| | Rob Boudestein, Kornej Tsjoekovski, Andrew Lang, Nichita Stănescu, Hartmut Lange, Marge Piercy |
| | Angela Kreuz, Judith Rossner, Andrew Marvell, John Fowles, Edward FitzGerald, Robert Brasillach, Peter Motte |
| | Golgotha (Theo Thijssen) |
| | Gerrit Komrij, Paul Verlaine, Milton Acorn, Erika Mitterer, Uwe Timm, Tom Sharpe, Gert Heidenreich, Theo Breuer, Luise Hensel |
| | Gethsemane (Jacqueline van der Waals) |
| | Geert van Istendael, Wim Brands, Ernst Jünger, Eric Walz, Georg Klein, Yvan Goll, R. S. Thomas, Jacques Brault, Denton Welch |
| | Walter van den Broeck, Joost de Vries, Mario Vargas Llosa, Chrétien Breukers, Steye Raviez, Nelson Algren, Marianne Frederiksson, Russell Banks, Léon-Gontran Damas |
| | Heinrich Mann, Shusaku Endo, Carolina Trujillo, Golo Mann, Patrick McCabe, Bob den Uyl, Dubravka Ugresić, Francis Ponge, Alfred de Vigny |
| | Tennessee Williams, Gregory Corso, Hwang Sun-won, Martin McDonagh, Robert Frost, Patrick Süskind, A. E. Housman, Bettina Galvagni, Erica Jong |
| | Jezus intrede in Jeruzalem (Nicolaas Beets) |
| | Pol Hoste, Menno Van der Beek, Jung Chang, Paul Meeuws, Flannery O'Connor, Jaime Sabines, Peter Van Straaten, Toni Cade Bambara |
| | Antonio Fogazzaro, Jacques Bens, Jacques Audiberti, Filip De Pillecyn, Erica Pedretti, Evliya Çelebi, Anne Fanshawe, Daniel Schiebeler, Mary Webb |
| | Peter Bichsel, Joy Ladin, Martin Walser, Dario Fo, Lawrence Ferlinghetti, Jacob van Lennep, Jeroen Mettes, Harry Prenen, Willem van Iependaal |
| | Top Naeff, Robert Hamerling, Fanny Lewald, Christian Schubart, Gabriele von Baumberg, Olive Schreiner, William Morris, Richard Leising |
| | Cri Stellweg, Jonathan Ames, Yōko Tawada, Gary Whitehead, Mitch Cullin, Roger Martin du Gard, Madison Cawein, Nils-Aslak Valkeapää, Federica de Cesco |
| | Billy Collins, Theo Kars, Eveline Hasler, Érik Orsenna, Arnold Sauwen, Wolfgang Bächler, Ilse Kleberger, Léon Deubel, Karel Poláček |
| | Willem de Mérode, Pim te Bokkel, Kees van Beijnum, Hamid Skif, Jean Paul |
| | Hubert Fichte, Peter Hacks, Michel Bartosik, Youssef Rzouga, Günter Vallaster, Siegfried Kapper |


Gastenboek


Druk op onderstaande knop om een berichtje achter te laten in mijn gastenboek