De Britse schrijver Sir Vidiadhar Surajprasad Naipaul werd geboren op 17 augustus 1932 in Chaguanas, Trinidad en Tobago. Zie ook alle tags voor V. S. Naipaul op dit blog en ook mijn blog van 17 augustus 2010.
Uit: Miguel Street
"Being a child, I never wondered how Bogart came by any money. I assumed that grown-ups had money as a matter of course. Popo had a wife who worked at a variety of jobs; and ended up by becoming the friend of many men. I could never think of Bogart as having mother or father; and he never brought a woman to his little room. This little room of his was called the servant-room but no servant to the people in the main house ever lived there. It was just an architectural convention.
It is still something of a miracle to me that Bogart managed to make friends. Yet he did make many friends; he was at one time quite the most popular man in the street. I used to see him squatting on the pavement with all the big men of the street. And while Hat or Edward or Eddoes was talking, Bogart would just look down and draw rings with his fingers on the pavement. He never laughed audibly. He never told a story. Yet whenever there was a fete or something like that, everybody would say, 'We must have Bogart. He smart like hell, that man.' In a way he gave them great solace and comfort, I suppose.
And so every morning, as I told you, Hat would shout, very loudly, 'What happening there, Bogart?'
And he would wait for the indeterminate grumble which was Bogart saying, 'What happening there, Hat?'
But one morning, when Hat shouted, there was no reply. Something which had appeared unalterable was missing.
Bogart had vanished; had left us without a word.
The men in the street were silent and sorrowful for two whole days. They assembled in Bogart's little room. Hat lifted up the deck of cards that lay on Bogart's table and dropped two or three cards at a time reflectively.
Hat said, 'You think he gone Venezuela?'
But no one knew. Bogart told them so little.
And the next morning Hat got up and lit a cigarette and went to his back verandah and was on the point of shouting, when he remembered. He milked the cows earlier than usual that morning, and the cows didn't like it.
A month passed; then another month. Bogart didn't return."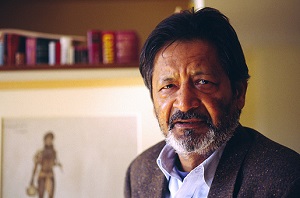 V. S. Naipaul (Chaganuas, 17 augustus 1932)
De Amerikaanse schrijver en essayist Jonathan Franzen werd geboren op 17 augustus 1959 in Western Springs, Illinois. Zie ook alle tags voor Jonathan Franzen op dit blog en ook mijn blog van 17 augustus 2010.
Uit: My Father's Brain
"Here's a memory. On an overcast morning in February, 1996, I received in the mail from my mother, in St. Louis, a Valentine's package containing one pinkly romantic greeting card, two four-ounce Mr. Goodbars, one hollow red filigree heart on a loop of thread, and one copy of a neuropathologist's report on my father's brain autopsy.
I remember the bright-gray winter light that morning. I remember leaving the candy, the card, and the ornament in my living room, taking the autopsy report into my bedroom, and sitting down to read it. The brain (it began) weighed 1,255 gm and showed parasagittal atrophy with sulcal widening. I remember translating grams into pounds and pounds into the familiar shrink-wrapped equivalents in a supermarket meat case. I remember putting the report back into its envelope without reading any further.
Some years before he died, my father had participated in a study of memory and aging at Washington University, and one of the perks for participants was a post-mortem brain autopsy, free of charge. I suspect that the study offered other perks of monitoring and treatment which had led my mother, who loved freebies of all kinds, to insist that my father volunteer for it. Thrift was also probably her only conscious motive for including the autopsy report in my
Valentine's package. She was saving thirty-two cents' postage.
My clearest memories of that February morning are visual and spatial: the yellow Mr. Goodbar, my shift from living room to bedroom, the late-morning light of a season as far from the winter solstice as from spring. I'm aware, however, that even these memories aren't to be trusted. According to the latest theories, which are based on a wealth of neurological and psychological research in the last few decades, the brain is not an album in which memories are stored discretely like unchanging photographs. Instead, a memory is, in the phrase of the psychologist Daniel L. Schacter, a "temporary constellation" of activity-a necessarily approximate excitation of neural circuits that bind a set of sensory images and semantic data into the momentary sensation of a remembered whole. These images and data are seldom the exclusive property of one particular memory."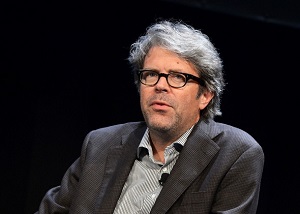 Jonathan Franzen (Western Springs, 17 augustus 1959)
De Amerikaanse dichter en schrijver Ted Hughes werd geboren op 17 augustus 1930 in Mytholmroyd, Yorkshire. Zie ook mijn blog van 17 augustus 2010 en eveneens alle tags voor Ted Hughes op dit blog.
Examination at the Womb-Door
Who owns those scrawny little feet? Death.
Who owns this bristly scorched-looking face? Death.
Who owns these still-working lungs? Death.
Who owns this utility coat of muscles? Death.
Who owns these unspeakable guts? Death.
Who owns these questionable brains? Death.
All this messy blood? Death.
These minimum-efficiency eyes? Death.
This wicked little tongue? Death.
This occasional wakefulness? Death.

Given, stolen, or held pending trial?
Held.

Who owns the whole rainy, stony earth? Death.
Who owns all of space? Death.

Who is stronger than hope? Death.
Who is stronger than the will? Death.
Stronger than love? Death.
Stronger than life? Death.

But who is stronger than Death?
Me, evidently.
Pass, Crow.
Spring & Fall: To A Young Child
Margaret, are you grieving
Over Goldengrove unleaving?
Leaves, like the things of man, you
With your fresh thoughts care for, can you?
Ah! as the heart grows older
It will come to such sights colder
By & by, nor spare a sigh
Though worlds of wanwood leafmeal lie;
And yet you wíll weep & know why.
Now no matter, child, the name:
Sorrow's springs are the same.
Nor mouth had, no nor mind, expressed
What héart héard of, ghóst guéssed:
It is the blight man was born for,
It is Margaret you mourn for.

Ted Hughes (17 augustus 1930 – 28 oktober 1998)

De Duitse schrijfster Herta Müller werd geboren op 17 augustus 1953 in Nitzkydorf, Roemenië. Zie ook alle tags voor Herta Müller op dit blog en ook mijn blog van 17 augustus 2010.
Uit: Vater telefoniert mit den Fliegen.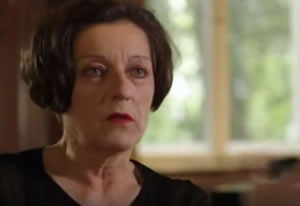 Herta Müller (Nitzkydorf, 17 augustus 1953)
De Ethiopische dichter en schrijver Tsegaye Gabre-Medhin werd geboren op 17 augustus 1936 in Boda bij Ambo. Zie ook alle tags voor Tsegaye Gabre-Medhin op dit blog en ook mijn blog van 17 augustus 2010.
Nile (Fragment)
O Nile, you are the majestic blood line of my African glory
That shower my blessings upon the starved of the world
You are the eloquence that ring the Ethiopian bell across the deaf world
You
are the gifted dancer of graceful rhythms
That harmonize with your sisters Atbara and Shabale
With your brothers Awash and Juba
To fertilize the scorched sands of Arabia
O Nile, without your gift Mediterranea shall be a rock of dead waters
And Sahara shall be a basket of skeletons
You are Africa's black soil that produce life
You are the milk that quench the thirsty multitudes
You are the messenger of my gospel, O Nile
That bring my abundant harves
t to the mouth of the needy
You are the elegant pilgrim of my mercy.
You are the first fountain you are the first ever Ethiopia
You are the appeaser of the lustful greeds
You are the first Earth Mother of all fertility
Rising like the sun from the deepest core of the globe
You are the conqueror of the scorching pestilence
You are the source you the Africa you are the Ethiopia you are the Nile.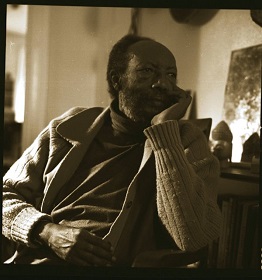 Tsegaye Gabre-Medhin (17 augustus 1936 – 25 februari 2006)
De Franse schrijver en diplomaat Roger Peyrefitte werd geboren op 17 augustus 1907 in Castres. Zie ook alle tags voor Roger Peyrefitte op dit blog en ook mijn blog van 17 augustus 2010.
Uit: Our Love (Vertaald doorJohn Stefan)
"When I entered the court of the college, I immediately observed the look, the beauty of a young boy. He was with the son of the friend I accompanied and it is because of him that the headmaster seemed to escort me. 'I am delighted to show our house to the author of Amitiés particulières (Special Friendships)',this good priest had said to me. 'But special friendships do not exist in our place. We obtained this result by a very simple means: by having confidence in the students, by enlarging the discipline. Imagine that we allow the big boys to smoke!' And he had lead us to the recreation court.
While my friend embraced his son, the other boy, a few steps away from us, did not stop looking at me. He wanted to say to me that he had got to know my name through his friend, that he had passionately read the book, of which the memory had drawn me here, and that he poured the consequences on me again. He had himself sat down in profile, in order to not attract attention, but his green eye sparkled, protected from his long brown hair. His complexion was pink and dim, his nose fine and straight, his well-defined lips added to the softness of his face. A red, cashmere sweater was tightly wrapped around his chest, and his hands, tucked into his pockets, held the arch of his black trousers at the bottom of his back. An imperceptible smile seemed to allude to secrets that we already shared.
'You will have seen it, seen with your own eyes,' the headmaster exclaimed, pointing at students: 'they are smoking! Ah, these nice children!' And he dragged us along to the park, my friend and me. 'Don't judge me naïve,' he continued: 'the clandestine habit of smoking with two was the opportunity for habits that were clandestine as well and by far sadder. If you suppress one of them, you suppress the other ones.' 'We needed to think of this,' I said. 'The heroes of your book were smoking in a conservatory."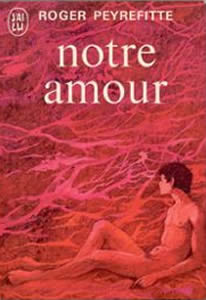 Roger Peyrefitte (17 augustus 1907 – 5 november 2000)
Cover
De Nederlandse dichter en schilder Hendrik de Vries werd geboren in Groningen op 17 augustus 1896. Zie ook alle tags voor Hendrik de Vries op dit blog.
Die bloedrode lichtvlek
Die bloedrode lichtvlek – misschien de maan.
Dan heeft een zandstorm haar afgeduisterd,
Maar als die vlek de zon is, moet alles vergaan.
Er wordt niet meer gesproken, wel gefluisterd.
Enkelen zoeken de weg langs de kerk
Waar twee monsters rukken, reuzensterk,
Tuimelend aan een metalen keten,
Met razend gebrul. Ik had nooit geweten
Dat zo woeste dieren daar lagen gekluisterd.
Koorts
Hoor! Zo is nooit gezongen! Hoor!
't Behang bewoog.
En 't haar van 't zwaar bewimperd oog.
Wat vloog
De ruimten door?

't Zal morgen zijn
Of 't niet bij nacht zo hard met zwepen
Geslagen had. -
Zie door 't gordijn
De geesten in hun koude schepen!

De takken schaven aan de randen
Van 't venster. In de verte fluit
Het altijd helder langs de landen.
De dieren op de wanden
Verdwijnen. 't Licht gaat uit.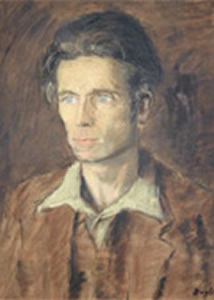 Hendrik de Vries (17 augustus 1896 – 18 november 1989
Portret door A. Buytendijk, 1945
Zie voor nog meer schrijvers van de 17e augustus ook mijn blog van 17 augustus 2014 deel 2..
17-08-2015 om 19:06 geschreven door Romenu

Tags:V. S. Naipaul, Jonathan Franzen, Ted Hughes, Herta Müller, Tsegaye Gabre-Medhin, Roger Peyrefitte, Hendrik de Vries , Romenu