E-mail mij


Druk op onderstaande knop om mij te e-mailen.


Romenu


Romenu is een blog over gedichten, literatuur en kunst Maar Romenu is ook een professionele freelance vertaler
Du-Ne en Ne-Du http://www.romenu.nl.


Huur eens een (vakantie)huis in een natuurgebied, dichtbij het centrum van Nijmegen


Google


Georg Trakl

Georg Trakl werd op 3 februari 1887 in het conducteurshuis aan de Waagplatz 2 in Salzburg geboren. Zijn vader, Tobias Trakl, was een handelaar in ijzerwaren en zijn moeder, die ook psychische problemen had, was Maria Catharina Trakl, (meisjesnaam Halik). Voorts had hij nog drie broers en drie zussen. Margarethe (doorgaans Grethe genoemd) stond hem het naast, zelfs zodanig dat sommigen een incestueuze verhouding vermoeden. Zijn jeugd bracht hij door in Salzburg. Vervolgens bezocht hij van 1897 tot 1905 het humanistische gymnasium. Om toch een academische opleiding te kunnen volgen, werkte hij tot 1908 in de praktijk bij een apotheker. Sommigen vermoedden dat hij dit vooral deed om zichzelf opiaten te kunnen verschaffen. Bij het uitbreken van WO I werd Trakl als medicus naar het front in Galicië (heden ten dage in Oekraïne en Polen) gestuurd. Zijn gemoedsschommelingen leidden tot geregelde uitbraken van depressie, die verergerd werden door de afschuw die hij voelde voor de verzorging van de ernstig verwonde soldaten. De spanning en druk dreven hem ertoe een suïcidepoging te ondernemen, welke zijn kameraden nochtans verhinderden. Hij werd in een militair ziekenhuis opgenomen in Kraków, alwaar hij onder strikt toezicht geplaatst werd.Trakl verzonk daar in nog zwaardere depressies en schreef Ficker om advies. Ficker overtuigde hem ervan dat hij contact moest opnemen met Wittgenstein, die inderdaad op weg ging na Trakls bericht te hebben ontvangen. Op 4 november 1914, drie dagen voordat Wittgenstein aan zou komen, overleed hij echter aan een overdosis cocaïne


Paul Celan

Paul Celan werd onder de naam Paul Antschel op 23 november 1920 geboren in Czernowitz, toentertijd de hoofdstad van de Roemeense Boekovina, nu behorend bij de Oekraïne. Paul Celans ouders waren Duitssprekende joden die hun zoon joods opvoedden en hem naar Duitse christelijke scholen stuurden. In 1942 werden Celans ouders door de Duitse bezetter naar een werkkamp gedeporteerd en daar vermoord. Hijzelf wist aanvankelijk onder te duiken, maar moest vanaf juli 1942 in een werkkamp dwangarbeid verrichten. Celan overleefde de oorlog. Via Boekarest en Wenen vestigde Celan zich in 1948 in Parijs. Daar was hij werkzaam als dichter, vertaler en doceerde hij aan de prestigieuze Ecole Normale Supérieure. Vermoedelijk op 20 april 1970 beëindigde hij zijn leven zelf door in de Seine te springen.


Gerard Reve

Gerard Reve over: Medearbeiders "God is in de mensen, de dieren, de planten en alle dingen - in de schepping, die verlost moet worden of waaruit God verlost moet worden, door onze arbeid, aangezien wij medearbeiders van God zijn." Openbaring "Tja, waar berust elk godsbegrip op, elke vorm van religie? Op een openbaring, dat wil zeggen op een psychische ervaring van zulk een dwingende en onverbiddelijke kracht, dat de betrokkene het gevoel heeft, niet dat hij een gedachte of een visioen heeft, maar dat een gedachte gedachte of visioen hem bezit en overweldigt."


Simon Vestdijk
Simon Vestdijk (Harlingen, 17 oktober 1898 – Utrecht, 23 maart 1971) was een Nederlands romancier, dichter, essayist en vertaler. Zijn jeugd te Harlingen en Leeuwarden beschreef hij later in de Anton Wachter-cyclus. Van jongs af aan logeerde hij regelmatig bij zijn grootouders in Amsterdam, waar hij zich in 1917 aan de Universiteit van Amsterdam inschrijft als student in de medicijnen. Tijdens zijn studie die van 1917 tot 1927 duurde, leerde hij Jan Slauerhoff kennen.Tot 1932 is hij als arts in praktijken door heel Nederland werkzaam. In 1932 volgt zijn officiële schrijversdebuut met de uitgave van de bundel Verzen in De Vrije Bladen. Doorslaggevend voor Vestdijks uiteindelijke keuze voor de literatuur is zijn ontmoeting in 1932 met Eddy Du Perron en Menno ter Braak. Deze ontmoeting had tot resultaat dat hij redactielid werd van het tijdschrift Forum Kort daarop, in 1933, wordt zijn eerste novelle, De oubliette, uitgegeven. In hetzelfde jaar schrijft hij Kind tussen vier vrouwen, dat, eerst geweigerd door de uitgever, later de basis zal vormen voor de eerste drie delen van de Anton Wachter-romans. In 1951 ontvangt Vestdijk de P.C. Hooftprijs voor zijn in 1947 verschenen roman De vuuraanbidders. In 1957 wordt hij voor het eerst door het PEN-centrum voor Nederland voorgedragen voor de Nobelprijs voor de Literatuur, die hij echter nooit zal krijgen. Op 20 maart 1971 wordt hem de Prijs der Nederlandse Letteren toegekend, maar voor hij deze kan ontvangen overlijdt hij op 23 maart te Utrecht op 72-jarige leeftijd. Vestdijk was auteur van ca. 200 boeken. Vanwege deze enorme productie noemde de dichter Adriaan Roland Holst hem 'de man die sneller schrijft dan God kan lezen'. Andere belangrijke boeken van Simon Vestdijk zijn: "Kind van stad en land" (1936), "Meneer Visser's hellevaart" (1936), "Ierse nachten" (1946), "De toekomst de religie" (1947), "Pastorale 1943" (1948), "De koperen tuin" (1950), "Ivoren wachters" (1951), "Essays in duodecimo" (1952) en "Het genadeschot" (1964).


K.P. Kavafis

K.P. Kavafis werd als kind van Griekse ouders, afkomstig uit Konstantinopel, geboren in 1863 in Alexandrië (tot vandaag een Griekse enclave) waar hij ook het grootste deel van zijn leven woonde en werkte. Twee jaar na de dood van zijn vader verhuist het gezin in 1872 naar Engeland om na een verblijf van vijf jaar naar Alexandrië terug te keren. Vanwege ongeregeldheden in Egypte vlucht het gezin in 1882 naar Konstantinopel, om na drie jaar opnieuw naar Alexandrië terug te gaan. In de jaren die volgen maakt Kavafis reizen naar Parijs, Londen en in 1901 zijn eerste reis naar Griekenland, in latere jaren gevolgd door nog enkele bezoeken. Op de dag van zijn zeventigste verjaardag, in 1933 sterft Kavafis in Alexandrië. De roem kwam voor Kavafis pas na zijn dood, dus postuum. Deels is dat toe te schrijven aan zijn eigen handelswijze. Hij was uiterst terughoudend met de publicatie van zijn gedichten, liet af en toe een enkel gedicht afdrukken in een literair tijdschrift, gaf in eigen beheer enkele bundels met een stuk of twintig gedichten uit en het merendeel van zijn poëzie schonk hij op losse bladen aan zijn beste vrienden.


Thomas Mann


Thomas Mann, de jongere broer van Heinrich Mann, werd geboren op 6 juni 1875 in Lübeck. Hij was de tweede zoon van de graankoopman Thomas Johann Heinrich Mann welke later één van de senatoren van Lübreck werd. Zijn moeder Julia (geboren da Silva-Bruhns) was Duits-Braziliaans van Portugees Kreoolse afkomst. In 1894 debuteerde Thomas Mann met de novelle "Gefallen". Toen Thomas Mann met 21 jaar eindelijk volwassen was en hem dus geld van zijn vaders erfenis toestond - hij kreeg ongeveer 160 tot 180 goldmark per jaar - besloot hij dat hij genoeg had van al die scholen en instituties en werd onafhankelijk schrijver. Kenmerkend voor zijn stijl zijn de ironie, de fenomenale taalbeheersing en de minutieuze detailschildering. Manns reputatie in Duitsland was sterk wisselend. Met zijn eerste roman, Buddenbrooks (1901), had hij een enorm succes, maar door zijn sceptische houding tegenover Duitsland na de Eerste Wereldoorlog veranderde dit volledig. Stelde hij zich tot aan de jaren twintig apolitiek op (Betrachtungen eines Unpolitischen, 1918), meer en meer raakte hij bij het Politiek gebeuren betrokken. Zijn afkeer van het nationaal socialisme groeide, zijn waarschuwingen werden veelvuldiger en heftiger. In 1944 accepteerde hij het Amerikaanse staatsburgerschap. Tussen 1943 en 1947 schreef Mann Doktor Faustus (zie Faust), de roman van de 'Duitse ziel' in de gecamoufleerd geschilderde omstandigheden van de 20ste eeuw. In 1947 bezocht hij voor het eerst sinds de Oorlog Europa, twee jaar later pas Duitsland. In 1952 vertrok hij naar Zwitserland. Op 12 augustus 1955 stierf hij in Zürich. Twintig jaar na zijn dood, in aug. 1975, is zijn literaire nalatenschap geopend: dagboekaantekeningen van 15 maart 1933 tot 29 juli 1955, alsmede notities uit de jaren 1918 tot en met 1921.Belangrijke werken zijn: Der Zauberberg, Der Tod in Venedig, Dokter Faustus , Joseph und seine Brüder en Die Bekenntnisse des Hochstaplers Felix Krull.


Rainer Maria Rilke

Rilke werd op 4 december 1875 geboren in Praag. Hij had al naam gemaakt als dichter met zijn bundels Das Stundenbuch en Das Buch der Bilder, toen hij de literaire wereld versteld deed staan en wereldfaam verwierf met de publicatie van zijn twee delen Neue Gedichte in 1907 en 1908. Hij verzamelde daarin het beste werk uit een van zijn vruchtbaarste periodes, die hij grotendeels doorbracht in Parijs. Rilke was daar diep onder de indruk gekomen van Rodin, bij wie hij een tijdlang in dienst was als particulier secretaris. Rodin, zei hij later, had hem leren kijken. Dit kijken kwam neer op intense concentratie, om het mysterie te kunnen zien 'achter de schijnbare werkelijkheid'. Latere en rijpere werken als Duineser Elegien (1912-1923) en het ronduit schitterende Die Sonette an Orfeus (1924) illustreren Rilkes metafysische visie op het onzegbare, dat haar verwoording vindt in een hermetische muzikale taal. Op 29 december 1926 overlijdt Rilke in het sanatorium in Val-Mont aan de gevolgen van leukemie. Enkele dagen later wordt hij, overeenkomstig zijn wens, begraven op het kerkhof van Raron.


* * * * * * * * * * * * * * * *

| | |
| --- | --- |
| | Over literatuur, gedichten, kunst en cultuur |

05-06-2016

Fintro Literatuurprijs 2016 voor Hagar Peeters
Fintro Literatuurprijs voor Hagar Peeters
De Nederlandse dichteres en schrijfster Hagar Peeters heeft de eerste Fintro Literatuurprijs gewonnen met haar debuutroman "Malva". De prijs is de opvolger van de Gouden Boekenuil en wordt nu voor het eerst gewonnen door een vrouw. De lezersjury koos voor "De onderwaterzwemmer" van P.F. Thomése. Hagar Peeters werd geboren in Amsterdam op 12 mei 1972. Zie ook alle tags voor Hagar Peeters op dit blog.
Uit: Malva
"Mijn naam is Malva Marina Trinidad del Carmen Reyes, voor mijn vrienden hier Malfje; Malva voor alle anderen. Ik kan ter zelfrechtvaardiging melden dat ik die naam natuurlijk niet zelf heb bedacht. Dat is gedaan door mijn vader. Je kent hem wel, de grote dichter. Zoals hij zijn gedichten en zijn dichtbundels titels gaf, zo gaf hij mij een naam. Maar nooit noemde hij die in het openbaar. Mijn eeuwige leven begon na mijn dood in 1943 in Gouda. Mijn begrafenis telde een handjevol mensen. Heel anders dan de begrafenis van mijn vader, dertig jaar later in Santiago de Chile.
Op een manier waaraan Sokrates nog een puntje had kunnen zuigen, ontsliep mijn vader in het Santa Mariaziekenhuis in Santiago nadat bij hem de hysterie was gesmoord die hem had bevangen na het aanhoren van zo veel mensonterend onrecht dat hij, die altijd vriendelijk en kalm was geweest, en zelfs onder de meest bloedstollende omstandigheden het hoofd koel had gehouden, ontstak in tirades en wanhopig geschreeuw, kortom: tekeerging als een bezetene, maar daar was al de dokter in witte jas geweest die hem met een kalmeringsinjectie tot rust had gebracht, en de zoete slaap waarin hij vervolgens was gegleden, maakte een ellenlange uitglijder en werd een glijbaan waaraan maar geen einde kwam, zo voelde mijn vader onder in zijn buik hoe hij de heerlijke afdaling inzette terwijl hij in werkelijkheid aan het opstijgen was tot de regionen van het hiernamaals, waarin ik hem nog lang niet zal aantreffen maar waar hij zich wel degelijk moet bevinden want het hiernamaals is groot en bovendien was hij zo dood als een pier, wat de artsen de volgende dag eensluidend vaststelden aan de hand van zijn gestaakte polsslag en gegeven het onmiskenbare feit dat ook zijn ogen gesloten bleven en er niets maar dan ook niets meer aan hem bewoog; nog geen zuchtje wind ging er door die ledematen, die stokstijf bleven alsof zonsverduistering en hartje winter in één klap en op hetzelfde moment waren ingevallen.
Ik rekte deze zin opzettelijk om gedurende het verstrijken ervan mijn vader de tijd te geven op zijn gemak het leven te verlaten en de dood binnen te treden.
Ik rekte deze zin opzettelijk om gedurende het verstrijken ervan mijn vader de tijd te geven op zijn gemak het leven te verlaten en de dood binnen te treden.
Het verlies was aan zijn weduwe Matilde Urrutia. Zij boog voor de dode, kuste zijn handen, tastte op de grond naast het bed naar de uit zijn hand gegleden vulpen, vond die uiteindelijk toen ze al op haar knieën zat en haar armen uitstrekte tot onder het bed, waarna zij de verpleegster mopperend om een bezem verzocht om het ding naar zich toe te bewegen, ze stak hem achter haar rechteroor onder een nonchalant vallende haarlok, olijke, onverbeterlijke Patoja, en nam zich voor er later zijn eigen herinneringen mee af te schrijven, en daarna ook die van haarzelf aan hun leven samen."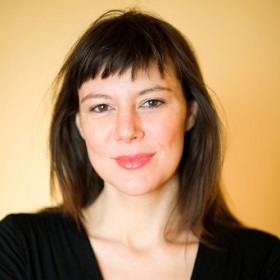 Hagar Peeters (Amsterdam, 12 mei 1972)
De Nederlandse schrijver Pieter Frans Thomése werd geboren in Doetinchem op 23 januari 1958. Zie ook alle tags voor P. F. Thomése op dit blog.
Uit: De onderwaterzwemmer
"Tegen de stroom in blijven zwemmen, herinnert hij zich. Anders kom je nooit aan de overkant.
Normaal wordt de vaargeul voor zwemmers te gevaarlijk geacht. Er zijn stromingen en draaikolken. Die trekken je naar beneden, naar een onbekende onderwereld, waar je wordt uitgewist. Hij denkt aan de gefluisterde verhalen over verdronkenen wier karkassen op de bodem rusten, kaalgevreten door vette alen. Mannen, vrouwen, jongens ook. Hun namen kent hij niet, alleen hun lot. Niet aan denken, aan die ontmenselijkte duisternis onder zich, waar zijn lichaam door niets van gescheiden wordt gehouden. Met het hoofd boven water, nog net op de bodem van de hemel, zodat de blauwogige God hem kan blijven volgen in het al vervagende donker, dat nu duidelijk afsteekt tegen het donkerst van de rivier.
Hij denkt God, maar hij bedoelt zijn vader. Hij richt zich tot Hem omdat hij zijn vader nergens ziet. Als hij naar hem roept, gaan de soldaten schieten. Dus kan hij beter bidden. Hij smeekt God om te kijken of zijn vader op hem toeziet en hem bewaart en niet kopje-onder laat gaan.
Als je het van boven zou zien, dan was hij er al niet meer. Dan zag je geen enkel onderscheid in het donkere water.
Maar precies nu, nu het hopeloos lijkt, wordt hij op wonderbaarlijke wijze sterker. Buiten zichzelf van onmacht klauwt hij door het water, met paniekkracht slaat en trapt hij om zich heen. Maakt hij niet te veel lawaai?"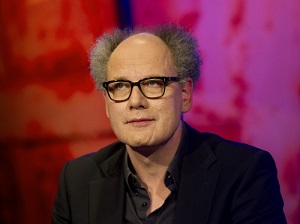 P. F. Thomése (Doetinchem, 23 januari 1958)
05-06-2016 om 22:12 geschreven door Romenu

Tags:Hagar Peeters, P. F. Thomése, Gouden Boekenuil, Fintro Literatuurprijs, Romenu



Federico García Lorca, Adriaan Morriën, Ken Follett, Margo Lanagan, Carel Peeters, Robert Franquinet
De Spaanse dichter en toneelschrijver Federico Garcia Lorca werd geboren op 5 juni 1898 in Fuente Vaqueros, Granada. Zie ook alle tags voor Federico Garcia Lorca op dit blog.
City That Does Not Sleep
In the sky there is nobody asleep. Nobody, nobody.
Nobody is asleep.
The creatures of the moon sniff and prowl about their cabins.
The living iguanas will come and bite the men who do not dream,
and the man who rushes out with his spirit broken will meet on the
street corner
the unbelievable alligator quiet beneath the tender protest of the
stars.
Nobody is asleep on earth. Nobody, nobody.
Nobody is asleep.
In a graveyard far off there is a corpse
who has moaned for three years
because of a dry countryside on his knee;
and that boy they buried this morning cried so much
it was necessary to call out the dogs to keep him quiet.
Life is not a dream. Careful! Careful! Careful!
We fall down the stairs in order to eat the moist earth
or we climb to the knife edge of the snow with the voices of the dead
dahlias.
But forgetfulness does not exist, dreams do not exist;
flesh exists. Kisses tie our mouths
in a thicket of new veins,
and whoever his pain pains will feel that pain forever
and whoever is afraid of death will carry it on his shoulders.
One day
the horses will live in the saloons
and the enraged ants
will throw themselves on the yellow skies that take refuge in the
eyes of cows.
Another day
we will watch the preserved butterflies rise from the dead
and still walking through a country of gray sponges and silent boats
we will watch our ring flash and roses spring from our tongue.
Careful! Be careful! Be careful!
The men who still have marks of the claw and the thunderstorm,
and that boy who cries because he has never heard of the invention
of the bridge,
or that dead man who possesses now only his head and a shoe,
we must carry them to the wall where the iguanas and the snakes
are waiting,
where the bear's teeth are waiting,
where the mummified hand of the boy is waiting,
and the hair of the camel stands on end with a violent blue shudder.
Nobody is sleeping in the sky. Nobody, nobody.
Nobody is sleeping.
If someone does close his eyes,
a whip, boys, a whip!
Let there be a landscape of open eyes
and bitter wounds on fire.
No one is sleeping in this world. No one, no one.
I have said it before.
No one is sleeping.
But if someone grows too much moss on his temples during the
night,
open the stage trapdoors so he can see in the moonlight
the lying goblets, and the poison, and the skull of the theaters.
Vertaald door Robert Bly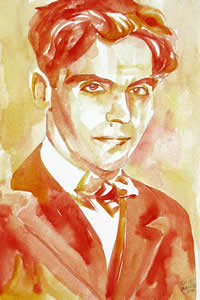 Federico García Lorca (5 juni 1898 – 19 augustus 1936)
Portret door Fabrizio Cassetta, 2013
De Nederlandse dichter en schrijver Adriaan Morriën werd geboren op 5 juni 1912 in Amsterdam. Zie ook alle tags voor Adriaan Morriën op dit blog.
Uit: Herinneringen aan Hans Lodeizen
"Behalve schrijver was Hans Lodeizen ook 'de dichter van zijn leven'. In tegenstelling tot zovele jonge poëten die, bij gebrek aan alles, ons alleen maar komen vervelen, bezat hij het vermogen iemand bezig te houden zonder geleerd, vermoeiend of banaal te zijn. Hij werkte aanstekelijk en ik voor mij gaf mij reeds bij de eerste ontmoeting gewonnen. Hij was, ook in de omgang, vol fantasie, vol van een speelse weemoed. Achteraf heb ik pas begrepen hoeveel spel er in alles van hem was, hoe hij met de zekerheid van een spoedige dood voor ogen zijn vrienden met zijn vrolijkheid om de tuin leidde, niet uit heldhaftigheid, maar eerder uit lust tot mystificeren, uit een behoefte om het spel met de ander niet voortijdig te bederven. Maar wat bij zijn leven alleen maar spel leek, werd later grimmige, neen, toch ook speelse ernst. Ik herinner mij een van onze laatste ontmoetingen, toen hij mij uit de lijnen van mijn hand een lang leven voorspelde en mij zijn eigen hand liet zien, met het teken van een vroege dood. Zijn hand had iets ouwelijks. Zij was grijs en gerimpeld, schilferig hier en daar, als de hand van Carmiggelt. Ook zijn gezicht vertoonde reeds rimpels, veel meer dan het mijne, hoewel ik zoveel ouder was. Hij plaagde mij met mijn rimpelloosheid die plotseling, zei hij, van de ene dag op de andere in de verschrompeldheid van een overjaarse appel kon overgaan, als bij Dorian Gray. Hij was doodsbang voor de ouderdom, voor de machteloosheid, het gebrek aan contrôle van oude lichamen. Zijn gezicht was bleek en zelfs zomers scheen die bleekheid door het bruin heen. Hij zat moeilijk stil, was nerveus in zijn bewegingen, wilde altijd opbreken. In gezelschap liep hij van de een naar de ander en dikwijls voor allen uit. Hij droeg zijn haar op Amerikaanse wijze geknipt en hij had flaporen. Hij kleedde zich goed, een beetje sportief en joyeus, niet het enigszins onverschillige gemak van iemand die altijd over behoorlijke kleren heeft beschikt.
Uit zijn gedichten kan men opmaken hoe verdrietig en wanhopig hij dikwijls was. Toch had hij plezier in het leven en het liefst had hij het als een feest opgevat, een feest met veel vrienden, maskerades, wandelingen, reizen, maar ook met dagen van luiheid en studie, in bed doorgebracht, met alle soorten muziek, met een menigte fijne gevoelens, met gefantaseer dat tot geen maatschappelijke activiteit leidt. Hij was brillant, met een brille om zichzelfs wil, zonder ambities, behalve die van het ogenblik."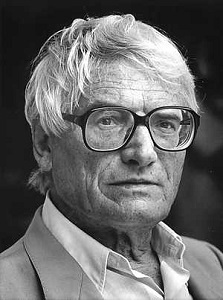 Adriaan Morriën (5 juni 1912 – 7 juni 2002)
De Engelse schrijver Ken Follett werd geboren op 5 juni 1949 in Cardiff, Wales. Zie ook alle tags voor Ken Follett op dit blog.
Uit:Edge Of Eternity
"Only once during their courtship had she doubted him, briefly. They had been in a minor car crash. It had been wholly the fault of the other driver, who had come out of a side street without stopping. Such things happened every day, but Hans had been mad with rage. Although the damage to the two cars was minimal, he had called the police, shown them his Department of Justice identity card, and had the other driver arrested for dangerous driving and taken off to jail.
Afterwards he had apologized to Rebecca for losing his temper. She had been scared by his vindictiveness, and had come close to ending their relationship. But he had explained that he had not been his normal self, due to pressure at work, and she had believed him. Her faith had been justified: he had never done such a thing again.
When they had been dating for a year, and sleeping together most weekends for six months, Rebecca wondered why he did not ask her to marry him. They were not kids: she had then been twenty-eight, he thirty-three. So she had proposed to him. He had been startled, but said yes.
Now he pulled up outside her school. It was a modern building, and well equipped: the Communists were serious about education. Outside the gates, five or six older boys were standing under a tree, smoking cigarettes. Ignoring their stares, Rebecca kissed Hans on the lips. Then she got out.
The boys greeted her politely, but she felt their yearning adolescent eyes on her figure as she splashed through the puddles in the school yard.
Rebecca came from a political family. Her grandfather had been a Social Democrat member of the Reichstag, the national parliament, until Hitler came to power. Her mother had been a city councillor, also for the Social Democrats, during East Berlin's brief post-war period of democracy. But East Germany was a Communist tyranny now, and Rebecca saw no point in engaging in politics. So she channelled her idealism into teaching, and hoped that the next generation would be less dogmatic, more compassionate, smarter."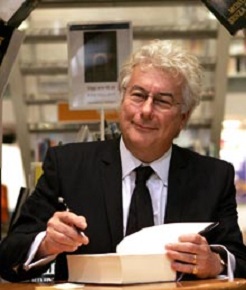 Ken Follett (Cardiff, 5 juni 1949)
De Australische schrijfster Margo Lanagan werd geboren op 5 juni 1960 in Waratah, New South Wales. Zie ook alle tags voor Margo Lanagan op dit blog.
Uit: Singing My Sister Down
"You start, Dash, said Mumma, and Dash got up and put his drum-ette to his hip and began with Fork-Tail Trio, and it did feel a bit like a party. It stirred Ikky awake from her hung-headed shame; she lifted up and even laughed, and I saw her hips move in the last chorus, side to side.
Then Mumma got out one of the ice-baskets, which was already black on the bottom from meltwater.
Ikky gasped. Ha! What! Crab! Where'd that come from?
Never you mind, sweet-thing. Mumma lifted some meat to Ikky's mouth, and rubbed some of the crush-ice into her hair.
Oh, Mumma! Ik said with her mouth full.
May as well have the best of this world while you're here, said Mumma. She stood there and fed her like a baby, like a pet guinea-bird.
I thought Auntie Mai would come, said Ik.
Auntie Mai, she's useless, said Dash. She's sitting at home with her handkerchief.
I wouldn't've cared, her crying, said Ik. I would've thought she'd say goodbye to me.
Her heart's too hurt, said Mumma. You frightened her. And she's such a straight lady—she sees shame where some of us just see people. Here, inside the big claw, that's the sweetest meat.
Oh, yes! Is anyone else feasting with me?
No, darlin', this is your day only. Well, okay, I'll give some to this little sad-eyes here, huh? Felly never had crab but the once. Is it yum? Ooh, it's yum! Look at him!
Next she called me to do my flute—the flashiest, hardest music I knew. And Ik listened, who usually screamed at me to stop pushing spikes into her brain; she watched my fingers on the flute-holes and my sweating face and my straining, bowing body, and for the first time I didn't feel like just the nuisance-brother to her."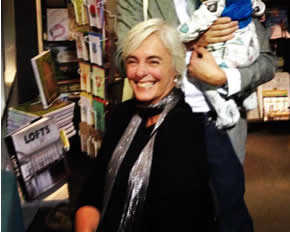 Margo Lanagan (Waratah, 5 juni 1960)
De Nederlandse literair criticus Carel Peeters werd geboren in Nijmegen op 5 juni 1944. Zie ook alle tags voor Carel Peeters op dit blog.
Uit: Kan het licht aanblijven?
"Het optimisme dat men de Verlichting meestal toeschrijft is zonder twijfel ooit een kenmerk van haar filosofie geweest en als er nu nog mensen zijn met een sterk vertrouwen in de mogelijkheden van de rede, dan komt dat daarvandaan. (Dat dit optimisme ook bij de filosofen van de Verlichting niet algemeen was leert Candide van Voltaire.) Maar de Verlichting is al bijna twee eeuwen niet meer de Verlichting waarvoor men haar houdt. Na haar kwam de romantiek, de decadentie, het surrealisme, de psychoanalyse, en al deze stromingen hebben de soevereiniteit van de rede gerelativeerd, want daarmee kwamen menselijke krachten, verlangens, fantasieën aan het licht die de rede over het hoofd gezien had.
De correctie op de Verlichting en op de rationele instelling door het ontstaan van de Romantiek, en het inzicht dat de menselijke geest en de natuur allerminst gebaat zijn bij een unverfroren rationalisme, vaagt de Verlichting nog niet weg. In een cultuur kwmen een rationele instelling en een onbeperkte schakering van wat ik maar de donkere 'romantische' aanvechtingen noem heel goed samengaan, al was het alleen maar omdat die rationele instelling enig licht kan werpen op wat er in de duistere en wonderlijke regionen van de ziel leeft.
De kritiek op de Verlichting in Frans Kellendonks essays in De veren van de zwaan heeft voornamelijk de vorm van uitdagende beweringen; die geven (zeker in het artikel 'Kardinaal Simonis en de Kinderen van het Licht' in de Haagse Post van 28 februari 1987) niet veel te raden. Volgens Kellendonk bestaat er een 'Verlichtingsideologie' en dat zou de 'geloofsleer' van het hmnanisme zijn, Birmen die ideologie zou de opvatting van een 'goede' menselijke naturu* worden gehuldigd en die zou hebben 'geleid tot het sociaal-darwinisme, het fascisme en al die zogenaamd vooruitstrevende verrnormningen van het fascisme die ons heden ten dage teisteren'. Het aanstootgevende van die 'Verlichtingsideologie' is dat zij het zonder metafysische ideeën wil stellen en aan de menselijke naturu* en de rede genoeg heeft."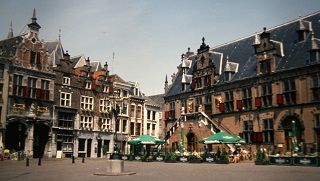 Carel Peeters (Nijmegen, 5 juni 1944)
Nijmegen, Grote Markt
De Nederlandse dichter, schrijver en schilder Robert Marie Philmain Joseph Franquinet werd geboren in Amby (bij Maastricht) op 5 juni 1915. Zie ook alle tags voor Robert Franquinet op dit blog.
Uit: Drijfzand
"Warme stromingen gaan over en door me heen. Ik lig in brandend zand dat rondom me kleeft als een gietvorm rondom een objekt.
Gestalten glijden op vilt in de ruimte vlak bij me. Het ruisen van de zee. Ik zie de eindeloze baai dampen. Bec d'Andaine. Twee vrouwen lopen naar de horizon. Met de rug naar me toegekeerd. Ik roep, maar mijn stem heeft geen geluid. Hun lichamen zinken in het drijfzand. Ik verroer een arm. Een hand. Gesmoorde stemmen zijn naast me. De werkelijkheid wordt tastbaar. Ze heeft een struktuur. Dit is een vorm van ontwaken. Van bewustzijn. Het komt nu al jaren met dezelfde beklemming. Dezelfde onmacht. De verlamming die spier voor spier aantast. En dan de eerste beelden als verward wier. De gedachten nog niet helemaal gevormd. Is het niveau van het denkvermogen een ander dan dat van het voelen? Er is nu al jaren iets dat ik niet kan doorbreken omdat ik er de substantie niet van ken. Een gif dat zich onnaspeurbaar in mijn bloed vermeerdert.
Gewaarwording. Nerveuze verbijstering loopt door mijn opgetrokken been, mijn vingers, mijn gelaatsspieren. Er is iets gebeurd. In koortsig ijlen beweeg ik mijn vingers. Ik speel piano in de lucht. Ik maak mijn arm los en ik zeg: 'kijk! Ze kijken.'
Ik trommel op het laken. Ik krijg er niet genoeg van. Ik kom nog niet helemaal tot de wereld rondom me. Maar zij zien. Ik weet dat ze zien. Ik heb weer een arm die beweegt als een gewone arm. Vingers die als gewone vingers weer een sigaret kunnen vasthouden. Schrijven. Schroeven. Scheren. Strelen... De baaikust ligt als een gebogen vrouwelijk lichaam. Mijn blikken lossen zich op in schuim... Op mijn koortsgrafiek staat 41,3."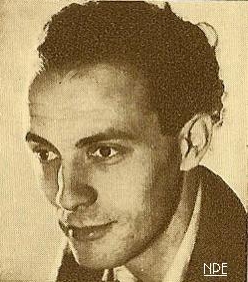 Robert Franquinet (5 juni 1915 - 30 mei 1979)
Zie voor nog meer schrijvers van de 5e juni ook mijn twee vorige blogs van vandaag.
05-06-2016 om 12:05 geschreven door Romenu

Tags:Federico García Lorca, Adriaan Morriën, Ken Follett, Margo Lanagan, Carel Peeters, Robert Franquinet, Romenu



Margaret Drabble, Kristin Gore, Thomas Kling, Hélène Cixous, Spalding Gray
De Engelse schrijfster Margaret Drabble werd geboren op 5 juni 1939 in Sheffield, Yorkshire. Zie ook alle tags voor Margaret Drabble op dit blog.
Uit: A Day in the Life of a Smiling Woman
"The situation was made even more annoying by the fact that everyone looked so interesting. That was why they were all getting on with each other so splendidly, of course. The only people who were not shouting or shuffling were extremely boring-looking people like himself, who were propped up sadly in dark corners. And the girls, one could not deny it, were most impressive. He liked artistic and intellectual-looking girls, himself; he could never see what other people had against all these fiercely painted eyes, these long over-exposed legs, these dramatic dresses. They all looked a little larger and brighter than life, and talked with a more than natural intensity, and laughed with a more than natural mirth. He found them most exhilarating. He gazed with frank admiration at one exotic creature with long pale hair and a long maroon velvet dress: her legs were not over-exposed but on the contrary totally enclosed, though she made up for this modesty elsewhere, displaying to the world a vast extent of pallid back, where angry pointed shoulder-blades rose and fell as she gesticulated and discoursed. All he saw of her was her active back: her face and front were bestowed upon others.
Even she, though, had nothing on a girl he could see at the other side of the room, far away and perched on top of a book-case, whence she was holding court, and whence she smiled serenely above the heads of others and above the sea of smoke. Her slight elevation gave her a look of detached beauty, and her face had a cool superiority, as of one who inhabits a finer air. She too was surrounded, naturally, by hordes of friends and admirers, who were plying her with chat and cigarettes, and constantly refilling her glass. And she too, like the pale girl, had long hair, though hers, as far as he could distinguish, was not pale, but of a dark and fiery red. He decided that he would cross the room and distinguish a little more closely."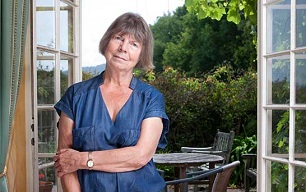 Margaret Drabble (Sheffield, 5 juni 1939)
De Amerikaanse schrijfster Kristin Carlson Gore werd geboren op 5 juni 1977 in Carthage, Tennessee Zie ook alle tags voor Kristin Gore op dit blog.
Uit: Sammy's House
"They'd ordered cases of frozen feeder mice-available on the Internet to pet owners in need of food for raptors and reptiles-and, in an impressive labor of hate, had carefully sewn several hundred of these tiny frozen mice into the hems of all the heavy West Wing drapes.
We'd noticed an unpleasant odor a few days after we'd moved in, but couldn't be positive that wasn't the way the place always smelled. But as the frozen feeder mice had thawed in their thick fabric tombs, the smell had intensified rapidly. In a little over a week, it had become unbearably wretched, rendering the West Wing virtually uninhabitable.
It had been difficult to locate the precise source, since the horrific stench had seemed to emanate from the very walls around us. The maintenance crew had finally discovered the tiny rotting rodent corpses after their fourth thorough search. That very day, a case of champagne had been delivered to the West Wing with a note that read: "To wash down the smell. Enjoy yourselves while you last, because we'll be rid of you before you know it. Love and kisses, the Exterminators." And thus, an annoying nickname had been born.
Even after the discovery and removal of the mice carcasses, the gut-gripping stink had lingered for nearly two months, despite all efforts to eradicate it. To their obnoxious delight, the Exterminators had inflicted a parting gift that had kept on giving.
I knew that my own party was perfectly capable of similar pettiness, because the previous administration had complained instantly to the press when they'd moved into the White House eight years earlier to find tuna sandwiches locked in all their file cabinets and their computers rigged to print the chorus of Bob Dylan's "Ballad of a Thin Man" no matter what the command. Some in the press had privately enjoyed the specter of then President Pile's political guru Carl Jones battling rebellious office machinery that taunted him with the words "Because something is happening here but you don't know what it is. Do you, Mister Jones?" printed over and over again, but the majority of columns and articles had chastised the outgoing administration for such childishness."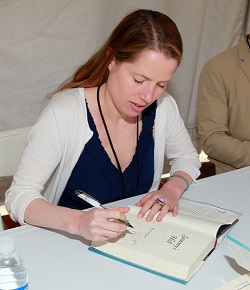 Kristin Gore (Carthage, 5 juni 1977)


Duitse dichter en schrijver Thomas Kling werd geboren op 5 juni 1957 in Bingen. Zie ook alle tags voor Thomas Kling op dit blog.
Bildprogramme
1
ZWISCHNBERICHT
gegnüber. eingelassene plattn; pro-
tzigste heraldik. weißestn marmors
parade: di superfette SPRACH-
INSTALLATION.

(innenansicht außnvor: hat sichsn fürstbi-
schof feingemacht, getäfelt, drin. drauf-
sicht intarsienspielchn; draufsicht turm-
ofn ALLEGORIEN; nix wi mädels
mit blankn möpsn auffe reliefkacheln,
hübsch glasierte ofnwärme.)

und vor-
geblendet. kellen, kehrbleche. aus-
gräbersound. DIE GESCHICHTE
HERBRETTERND AUF SACKKARREN.
der ganze weggeächzte schutt, durch-
gesiebte sprache. dies asservieren auf
knien; kratzen geschieht, gekratz, bürstn,
abgepinselt. knien, nebnnander, an
irgend (kloster)mauer bei rasselndm,
heiser schlürfendm INDUSTRIESTAUB-
SAUGER. so landn, schürf-schürf, schä-
del in obstkistn marke »papa clemente«;
säuberlich schädeldeckn (caput mortuum),
sargbrettchn (pestbeständig, siena) in
cellophantütn, auf geflattertm, windgezerr-
tm zeitungspapier. gotisch und durch-
numeriert. durchnumerierter
grabungsbericht.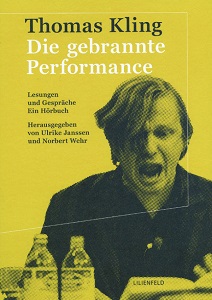 Thomas Kling (5 juni 1957 - 1 april 2005)
Cover luisterboek
De Franse feministische schrijfster, dichteres, professor, filosoof, literair criticus en historica Hélène Cixous werd geboren in Oran, Algerije, op 5 juni 1937. Zie ook alle tags voor Hélène Cixous op dit blog.
Uit: Homère est morte...
« Finalement, c'était une belle nuit.
E.- Qu'est-ce qu'on peut faire, quand on est si vieux? Je ne suis plus rien.
H.- La nuit tu fais beaucoup de bruit.Beaucoup pipi.
E.- J'ai pas d'autre chose à faire. ( Un temps.) Dommage.
Dommage, ai-je pensé. Nous nous sommes battues cote à côte. Dans une autre pièce, le jour nous aurait trouvées allongées dan les bras l'une de l'autre, pensai-je.
Maintenant ma mère craint ma nuit. On voit rien. C'est pas très clair. Voilà que nous nous figurons tous les deux qu'"Elle" viendra la nuit.
"Tu me laisses pas tomber ! dit ma mère. Tu me laisses pas seule!" Maintenant j'ai aussi peur de la nuit que du jour. Je la laisse calmement endormie à 23 heures, je dors à une allure folle, à 5 heures je parcours le petit couloir, étroit conduit peuplé de spectre et d'illusions, je murmure "maman", que dis-je! "maman" c'est moi, si ma mère vit encore. C'est seulement si j'avais perdu mon vieil enfant que maman ce serait celle que j'appelle à mon secours pour me déterrer de cette enterrement vivante. »
(…)
« Ce matin c'est à la boîte à couture assise dans ton armoire que je me suis désaltérée. Je l'ai ouverte. Elle est pleine de ton fatras antique grands boutons jamais vains, écheveaux fatigués, deux dés, que je passe à mon doigt pour y retrouver ton doigt, vieille alliance en faïence. La boîte est extérieurement en bon état, vieux chien sage qui ne fait pas son âge. Dedans c'est un cerveau qui a perdu le sens de l'ouvrage du temps : on amasse des brins de fils, des épingles, une pression, des bouts de galons, comme si l'on s'attendait à une disette. Ou comme si l'on recueillait compulsivement de pauvres orphelins."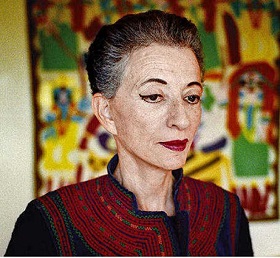 Hélène Cixous (Oran, 5 juni 1937)
De Amerikaanse schrijver en acteur Spalding Gray werd geboren op 5 juni 1941 in Barrington, Rhode Island. Zie ook alle tags voor Spalding Gray op dit blog.
Uit: Life Interrupted
"So off we went to this monastery, and I guess it was kind of the Þrst harbinger of death, although death seemed everywhere in Ireland. This was a monastery on a river where the Vikings used to come and raid it and burn the books and kill the priests. There was a funeral going on, or at least the grave diggers were digging some graves right near the monastery and taking a cigarette break. I remember that, it was kind of Hamletesque.
Then, driving home, another funereal thing happened. They had the funeral announcements on the radio. I'd never heard anything like that in my life. There must have been about sixteen deaths. Every one of them had put up a courageous struggle, had led an exemplary life, never had a bad word to say about anybody. The announcer read in a monotone, with no inflection at all, pausing about five seconds between each name and then talked about the removal time, Saturday at four-thirty, or whenever the body was going to be removed.
So there was a lot of death in the air that day. When we got home, I took a walk to kind of relieve myself of all that, and walked about six miles through dairy country. The cows were baying and mooing. Mad cow disease was around. I had a feeling they were trying to warn me about something. It was the last long walk I'd ever take in my life. I had no idea at the time, did not imagine it. At the end of the walk I came upon a calf that was in real distress. It couldn't stand up, it had arthritis, and it was looking me right in the eye and pleading with me to put it out of its pain. I told the farmer, "That calf is suffering. You should call a vet, or have something done with it." He said, "Ah, yes, I'll be doing that then. Thank you for looking after it."
So off I went thinking I'd saved the calf, or put him out of his misery, and off we went, Þve adults-Barbara Leary and her boyfriend, Kim; Tara Newman; and Kathie and I-to have dinner at John Scanlon's favorite restaurant. I have to say, it wasn't that good. Maybe in terms of Irish cuisine it was, but my duck was dry."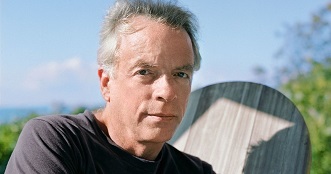 Spalding Gray (5 juni 1941 – 10 januari 2004)
Zie voor nog meer schrijvers van de 5e juni ook mijn vorige blog van vandaag.
05-06-2016 om 12:04 geschreven door Romenu

Tags:Margaret Drabble, Kristin Gore, Thomas Kling, Hélène Cixous, Spalding Gray, Romenu



Christy Brown, David Hare, Alifa Rifaat, Otto F. Walter, Ivy Compton-Burnett
De Ierse dichter, schrijver en schilder Christy Brown werd geboren op 5 juni 1932 in Dublin. Zie ook alle tags voor Christy Brown op dit blog.
Uit:My Left Foot
"Very worried by this, mother told my father her fears, and they decided to seek medical advice without any further delay. I was a little over a year old when they began to take me to hospitals and clinics, convinced that there was something definitely wrong with me, something which they could not understand or name, but which was very real and disturbing.
Almost every doctor who saw and examined me, labelled me a very interesting but also a hopeless case. Many told mother very gently that I was mentally defective and would remain so. That was a hard blow to a young mother who had already reared five healthy children. The doctors were so very sure of themselves that mothers faith in me seemed almost an impertinence. They assured her that nothing could be done for me.
She refused to accept this truth, the inevitable truthh as it then seemed"that I was beyond cure, beyond saving, even beyond hope. She could not and would not believe that I was an imbecile, as the doctors told her. She had nothing in the world to go by, not a scrap of evidence to support her conviction that, though my body was crippled, my mind was not. In spite of all the doctors and specialists told her, she would not agree. I don't believe she knew why she just knew without feeling the smallest shade of doubt.
Finding that the doctors could not help in any way beyond telling her not to place her trust in me, or, in other words, to forget I was a human creature, rather to regard me as just something to be fed and washed and then put away again, mother decided there and then to take matters into her own hands. I was her child, and therefore part of the family. No matter how dull and incapable I might grow up to be, she was determined to treat me on the same plane as the others, and not as the ˜queer one" in the back room who was never spoken of when there were visitors present."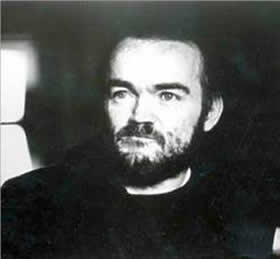 Christy Brown (5 juni 1932 – 6 september 1981)


De Britse schrijver, dramaturg en regisseur David Hare werd geboren op 5 juni 1947 in Sussex. Zie ook alle tags voor David Hare op dit blog.
Uit: Wall: A Monologue
"On June 1, 2001, nine months into the second intifada, a Palestinian suicide bomber named Saeed Hotari crossed into Israel from the West Bank, and exploded himself at the entrance to the Dolphinarium discotheque on the beach in Tel Aviv, killing twenty-one civilians, most of them high school students. A further 132 people were injured. In response to the massacre, a grassroots movement grew up all over Israel calling itself Fence for Life. They argued, as Prime Minister Yitzhak Rabin had argued ten years earlier, that the only way of protecting the country from infiltration by terrorists was by sealing itself off from the Palestinian territories, by removing the points of friction between the two communities. But separation would not be a purely military tactic. No, before he was murdered by a fellow Israeli, Rabin had been arguing something much more radical. "We have to decide on separation as a philosophy."
There it is. Not just a wall. A wall would be a fact. But this wall is a philosophy, what one observer has called "a political code for shutting up shop."
Construction began in 2002. The original plan was that the fence should stretch a full 486 miles, the entire length of Israel's eastern border. The current estimate for its completion is some-time around the end of 2010. Varying in width between 30 and 150 meters, this $2 billion combination of trenches, electronic fences, ditches, watchtowers, concrete slabs, checkpoints, patrol roads, and razor coil is priced at around $2 million per kilometer. Some seventy-five acres of greenhouses and twenty-three miles of irrigation pipes have already been destroyed on the Palestinian side. More than 3,700 acres of Palestinian land have been confiscated, some of it so that the wall may run yards away from Palestinian hamlets and villages. Already, 102,000 trees have been cut down to clear its path.
It is, says an Israeli friend, an acknowledgment of failure. "History has not followed the course we might have wished." Another way of putting it, later the same evening, after a few drinks in one of the big beachside hotels that are beginning to make the Bauhaus quarter of Tel Aviv look like Florida: "You do have to ask yourself: I'm not sure Ben-Gurion would be thrilled."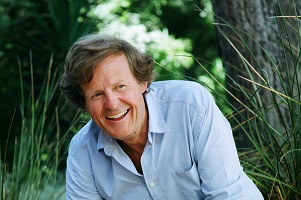 David Hare (Sussex, 5 juni 1947)
De Egyptische schrijfster Alifa Rifaat werd op 5 juni 1930 in Caïro geboren. Zie voor onderstaande schrijfster ook alle tags voor Ailfa Rifaat op dit blog.
Uit: Another Evening at the Club
"Her mother had herself laid them out on the silver-plated tray with its elaborately embroidered spread. When the two men had taken their coffee, her father had looked up at her with a smile and had told her to sit down, and she had seated herself on the sofa facing them, drawing the end of her dress over her knees and looking through lowered lids at the man who might choose her as his wife. She had been glad to see that he was tall, well-built and clean-shaven except for a thin greying moustache. In particular she noticed the well-cut coat of English tweed and the silk shirt with gold links. She had felt herself blushing as she saw him returning her gaze. Then the man turned to her father and took out a gold case and offered him a cigarette.
"You really shouldn't, my dear sir," said her father, patting his chest with his left hand and extracting a cigarette with trembling fingers. Before he could bring out his box of matches Abboud Bey had produced his lighter.
"No, after you, my dear sir," said her father in embarrassment. Mingled with her sense of excitement at this man who gave out such an air of worldly self-confidence was a guilty shame at her father's inadequacy.
After lighting her father's cigarette Abboud Bey sat back, crossing his legs, and took out a cigarette for himself. He tapped it against the case before putting it in the corner of his mouth and lighting it, then blew out circles of smoke that followed each other across the room.
"It's a great honour for us, my son," said her father, smiling first at Abboud Bey, then at his daughter, at which Abboud Bey looked across at her and asked:
"And the beautiful little girl's still at second school?"
She lowered her head modestly and her father had answered:
"As from today she'll be staying at home in readiness for your happy life together, Allah permitting," and at a glance from her father she had hurried off to join her mother in the kitchen."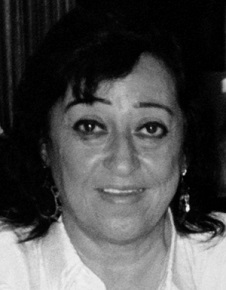 Alifa Rifaat (5 juni 1930 - 4 januari 1996)

De Zwitserse schrijver en uitgever Otto Friedrich Walter werd geboren op 5 juni 1928 in Rickenbach. Zie ook alle tags voor Otto. F. Walter op dit blog.
Uit:Tiefer Sog, freundliches Plätschern (Recensie van "Zeit des Fasans" door Reinhard Baumgart)
"Rekonstruktion ist in beiden Schichten, in der braven wie der kühnen, Aufgabe und Schreibziel: "Rekonstruktion von möglicher Geschichte und als Vermutung". Die dreißiger und vierziger Jahre vor allem mit ihrer weltgeschichtlichen Blut- und Machtspur bis nach Jammers/SO und dahinter oder vielmehr davor die gewaltigen Schatten von Onkeln, Tanten, Vater, Mutter, Schwestern, Groß- und Urgroßvätern, dazu Geschichten von Bäumen, Hunden, Hengsten, Mardern und Hühnern, von Revolvern, Madonnen, Reitpeitschen, Schlagruten. Rekonstruktion einerseits am Faden einer bis in Traumschichten abgedrängten Erinnerung, Rekonstruktion andererseits mit dem Hilfsgerüst abrufbarer Geschichtsdaten und aufgeklärter Meinungen über deren Zusammenhang. Montage soll die so gebildeten Schichten und Geschichten, das Erfahrungsmaterial und das Aktenkundliche verbinden, vermitteln zwischen der epischen Sinnlichkeit und Phantasie des Walterschen Erzählens und einer bald klug, bald linkisch, aber immer sympathisch mit dem Blick von unten dazuarrangierten Zeitgeschichte. Doch die Hoffnung aller Montage, daß nämlich die Ränder der kalt gegeneinander gesetzten Fragmente nicht nur Grenzen markieren, sondern Verbindungen stiften, daß sie zu flimmern beginnen, ja verschmelzen – diese Hoffnung will sich hier kaum je einlösen."

Otto F. Walter (5 juni 1928 – 24 september 1994)
In 1981
De Engelse schrijfster Ivy Compton-Burnett werd geboren op 5 juni 1884. Zie ook alle tags voor Ivy Compton-Burnett op dit blog.
Uit: Manservant and Maidservant
"You are rather old for a tutor," said Marcus, "I thought they were generally young."
"Some young men begin by being tutors, and pass on to something else."
"Then you are a failure?" said Tamasin.
"I think I should be called one. I paid too much attention to my studies when I was young, and that does lead to people's being tutors."
"How old are you?" said Marcus
"I am forty-one."
"Oh, quite a young man," said Tamasin.
"Does your wife think you are a failure?" said Marcus.
"I am not married. I live with my mother and sister. If they think so, they do not betray it. Women are so loyal."
"What do you do with the money you earn?" said Jasper. "If you have no wife, you can't have children, and you don't seem as if you spend very much on yourself."
"Part of it I subscribe to the family expenses, and part to a fund that is to give me an income when I am old."
"Your hair is gray now," said Marcus.
"Yes, but that is premature. It merely gives me a personality."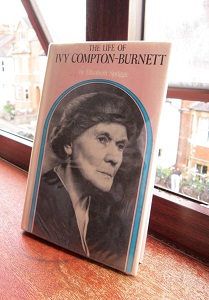 Ivy Compton-Burnett (5 juni 1884 - 27 augustus 1969)
Cover biografie


05-06-2016 om 12:03 geschreven door Romenu

Tags:Christy Brown, David Hare, Alifa Rifaat, Otto F. Walter, Ivy Compton-Burnett, Romenu



Stanislav Kostka Neumann
De Tsjechische dichter Stanislav Kostka Neumann werd geboren op 5 juni 1875 in Praag als zoon van een advocaat uit Praag-Zizkov en gezant van de Keizerlijke Raad. Hij bezocht eerst een tijdlang het gymnasium, maar verruilde dat later voor de handelsschool, waar hij echter vanaf werd gestuurd. Hij ging om met arbeiders en bezocht de Tsjechoslowaakse Sociaal-Democratische Partij in Oostenrijk. In 1894 werd hij als een van de intellectuele leiders van de Omladina-beweging tot een gevangenisstraf van een jaarveroordeeld. Na zijn vrijlating publiceerde hij zijn eerste poëtische werk, geschreven in het Latijn fabriek "Nemesis, bonorum custos", sterk beïnvloed door Josef Svatopluk Machar. Hij werd leider van de anarchistische groeperingen om František Gellner, Fráňa Šrámek, Karel Toman en Jiří Mahen. In 1904 ging hij naar Wenen en beleefde daar de crisis van het anarchisme in de strijd voor algemeen kiesrecht. In 1905 verhuisde hij naar Řečkovice, later naar Bílovice in Moravia en leefde voornamelijk van zijn artikelen in de pers. In Moravia maakte hij kennis met de natuur en keerden zich af van het anarchisme. De Eerste Wereldoorlog beleefde hij aan het front in Albanië. Na de demobilisatie was hij redacteur van de krant "Stem van het Volk" (Hlas národa). In de jaren 1920 was Neumann betrokken bij de oprichting van de Communistische Partij van Tsjecho-Slowakije en wijdde hij zich in toenemende mate aan de proletarische poëzie. In de jaren 1930 werd hij erg ziek en ging hij naar Poděbrady voor een kuur. Tijdens de Tweede Wereldoorlog woonde hij in kleine plaatsjes om aan de aandacht van de Gestapo te ontsnappen. Hij werkte voor verschillende tijdschriften als redacteur, waaronder "Moderní revue", "Omladina", "Lidové noviny", "Tvorba". In de periode tussen de twee wereldoorlogen, toen hij betrokken raakte bij de Communistische Partij, schreef hij agitatie- en strijdpoëzie, de ook wel als arbeidersliteratuur bekende 'proletarische poëzie ", maar ook filosofisch aandoende bundels tegen het fascisme. Hij gebruikte tenminste 25 pseudoniemen die hij ook wel met elkaar combineerde.
And so stand tall

And so stand tall
you stood so strong,
keeping your lips and breast unfouled by calls
perfidious.

My kinfolk clutched
the scythe, the hammer.
Waited for dawn so much,
waited with trust.

They'll gather in the coming harvest fine
on their own, with their own.
Stand aside. Theirs is the edifying shrine
to times of brotherhood.
Vertaald door Václav Z. J. Pinkava
Ei, Stille
Ei, Stille,
der steilen Waldverhaue heiße Stille,
wenn Kerf und Kerf sich auf den Blüten gattet
und tanzt und singt und rast in goldnen Brünsten —
ei, Stille, unserer Wiesen duftend innige Stille,
wenn Wunderblumenweiß, Blau von Salbei
in quellendes und laues Grün sich mengen —
ei, Stille, unserer Felder weitverklärte Stille,
wenn wellend Roggen schoßt im Hochgefühl
unter dem Blau, gefurcht von weißer Wolke —
ei, Stille, Stille,
ein wenig Helle mehr noch wolle spenden
friedlichem Sinn, daß Laune der Geliebten
nicht stör ihn auf aus seinem Mittagsfrieden,
in dem er stehn bleibt wie die Blum' am Hang!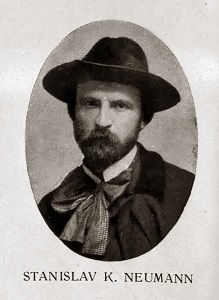 Stanislav Kostka Neumann (5 juni 1875 - 28 juni 1947)
05-06-2016 om 00:00 geschreven door Romenu

Tags:Stanislav Kostka Neumann, Romenu



| | |
| --- | --- |
| | |



Inhoud blog


| | |
| --- | --- |
| | Leonard Cohen, Stephen King, Frédéric Beigbeder, Xavier Roelens, Fannie Flag, H.G. Wells, Johann Peter Eckermann, Max Porter, Paul Ewen |
| | Donald Hall, Javier Marías, Cyriel Buysse, Upton Sinclair, Joseph Breitbach, Adolf Endler, Henry Arthur Jones, Stevie Smith, Hanns Cibulka |
| | Crauss, Patrick Marber, William Golding, Ingrid Jonker, Orlando Emanuels, Jean-Claude Carrière, Stefanie Zweig, Mika Waltari, Hartley Coleridge |
| | Michaël Zeeman, Armando, Ton Anbeek, Stephan Sarek, Omer Karel De Laey, Michael Deak, Einar Már Gudmundsson, Gerrit Borgers |
| | Nicolien Mizee |
| | H.H. ter Balkt, Piet Gerbrandy, William Carlos Williams, Ken Kesey, Abel Herzberg, Dilip Chitre, Ludwig Roman Fleischer, Albertine Sarrazin, Mary Stewart |
| | Breyten Breytenbach, Alfred Schaffer, Frans Kusters, Michael Nava, Justin Haythe |
| | James Alan McPherson, Hans Arp, Andreas Neumeister, Anna Bosboom - Toussaint, Frans Eemil Sillanpää |
| | Lucebert, Jan Slauerhoff, Sergio Esteban Vélez, Chimamanda Ngozi Adichie, Agatha Christie, Orhan Kemal, Gunnar Ekelöf, James Fenimore Cooper, Claude McKay |
| | Dolce far niente, Eugen Roth, Hans Faverey, Theodor Storm, Leo Ferrier, Corly Verlooghen, Bernard MacLaverty, Ivan Klíma |
| | Tõnu Õnnepalu, Roald Dahl, Janusz Glowacki, Jac. van Looy, Nicolaas Beets, Marie von Ebner-Eschenbach, Otokar Březina, Julian Tuwim, Muus Jacobse |
| | Michael Ondaatje, James Frey, Chris van Geel, Louis MacNeice, Hannes Meinkema, Eduard Elias, Jan Willem Schulte Nordholt, Werner Dürrson, Gust Van Brussel |
| | Constantijn Huygens-prijs 2017 voor Hans Tentije |
| | David van Reybrouck, Murat Isik, D.H. Lawrence, Eddy van Vliet, Andre Dubus III, Tomas Venclova, Merrill Moore, Barbara Bongartz, Adam Asnyk |
| | Edmund de Waal, Andreï Makine, Franz Werfel, Paweł Huelle, Mary Oliver |
| | Eddy Pinas, Jeppe Aakjær, Viktor Paskov, Hilda Doolittle, Reinhard Lettau, George Bataille |
| | C. O. Jellema, Wim Huijser, Cesare Pavese, Leo Tolstoj, Gentil Th. Antheunis, Gaston Durnez, Edward Upward, Hana Androníková, Bas Jongenelen |
| | Siegfried Sassoon, Anthonie Donker, Clemens Brentano, Wilhelm Raabe, Eduard Mörike, Franz Hellens, Frederic Mistral, Grace Metalious |
| | Merijn de Boer, Anton Haakman, Edith Sitwell, Willem Bilderdijk, Michael Guttenbrunner, Jenny Aloni, Margaret Landon, Henry Morton Robinson |
| | Christopher Brookmyre, Jennifer Egan, Aart G. Broek, Amelie Fried, Jessica Durlacher, Alice Sebold, Julien Green, Willem Brandt, Carmen Laforet |
| | 250 jaar August Wilhelm Schlegel, Marcel Möring, Herman Koch, Jos Vandeloo, Margaretha Ferguson, Ward S. Just, Heimito von Doderer, Rachid Boudjedra, Peter Winnen |
| | Helga Ruebsamen, Antonin Artaud, René de Chateaubriand, Constantijn Huygens, Richard Wright, Mary Renault, Marijn Sikken, Femke Brockhus, Dik van der Meulen |
| | In memoriam Theo Sontrop |
| | In Memoriam John Ashbery |
| | Jacq Firmin Vogelaar, Fritz J. Raddatz, Eduardo Galeano, Alison Lurie, Sergej Dovlatov, Kiran Desai, Ernst Meister, Lino Wirag, Doğan Akhanlı |
| | Willem de Mérode, Eric de Kuyper, R.A. Basart, Chris Kuzneski, Johan Daisne, Robert Habeck, Pierre Huyskens |
| | Joseph Roth, Johann Georg Jacobi, Manfred Böckl, Paul Bourget, Paul Déroulède, Giovanni Verga, Richard Voß |
| | W. F. Hermans, Hubert Lampo, Blaise Cendrars, Edgar Rice Burroughs, Sabine Scho, Peter Adolphsen, Lenrie Peters, J. J. Cremer |
| | William Saroyan, Éric Zemmour, Wolfgang Hilbig, Elizabeth von Arnim, Théophile Gautier, Raymond P. Hammond |
| | Dolce far niente, James Whitcomb Riley, Charles Reznikoff, François Cheng, Jiři Orten, Libu¨e Moníková, Mary Wollstonecraft Shelley |
| | Dolce far niente, Jennifer Grotz, Hugo Brandt Corstius, Elma van Haren, John Edward Williams, Maurice Maeterlinck, Thom Gunn |
| | Dolce far niente, Friedrich Hebbel, Johann Wolfgang von Goethe, Maria Barnas, A. Moonen, C. J. Kelk, Frederick Kesner |
| | Rainer Kirsch, Tom Lanoye, Kristien Hemmerechts, Paul Verhuyck, Jeanette Winterson |
| | Lolita Pille, David Rowbotham, Norah Lofts, Cecil Scott Forester, Lernert Engelberts |
| | Christopher Isherwood, Laura van der Haar, C. B. Vaandrager, Paula Hawkins, Joachim Helfer, Guillaume Apollinaire, Rashid Al-Daif |
| | Jules Romains, Julio Cortázar, Walter Helmut Fritz, Joachim Zelter, Jürgen Kross, Ludwig Aurbacher, Boris Pahor |
| | Martin Amis, Kees Stip, Howard Jacobson, Charles Wright, Maxim Biller, Frederick Forsyth, Jògvan Isaksen, Johann Gottfried von Herder, Thea Astley |
| | John Green, Drs. P, Marion Bloem, Pepijn Lanen, Stephen Fry, Jorge Luis Borges, A. S. Byatt, Sascha Anderson, Johan Fabricius |
| | Dolce far niente, Victor Vroomkoning, Charles Busch, Curtis Sittenfeld, Koos Dijksterhuis, Albert Alberts, Ilija Trojanow |
| | Dolce far niente, Jacob Israël de Haan, Griet Op de Beeck, Jeroen Theunissen, Annie Proulx, Krijn Peter Hesselink, Willem Arondeus |
| | Alfred Wellm |
| | Dolce far niente, Martin Bril, Rogi Wieg, X.J. Kennedy, Robert Stone, Aubrey Beardsley, Frédéric Mitterrand |
| | Dolce far niente, Tom van Deel, Anneke Brassinga, Etgar Keret, James Rollins, Clemens Meyer, Arno Surminski |
| | Maren Winter, Charles de Coster, Edgar Guest, Tarjei Vesaas, Salvatore Quasimodo, Colin MacInnes |
| | Sylvie Richterová, Ernst-Jürgen Dreyer, Boleslaw Prus, Menno Lievers, Vasili Aksjonov, Jacqueline Susann |
| | Alfred Birney |
| | Mies Bouhuys, Jonathan Coe, Li-Young Lee, Frederik Lucien De Laere, Louis Th. Lehmann, Ogden Nash, Frank McCourt |
| | Marion Pauw, John Dryden, Samuel Richardson, Jerzy Andrzejewski, James Gould Cozzens, Claude Gauvreau, Inigo de Mendoza |
| | Dolce far niente, Hans Andreus, Ulrich Woelk, Marc Degens, Luciano de Crescenzo, Alain Robbe-Grillet, Idea Vilariño |
| | Dolce far niente, Simon Vestdijk, Ted Hughes, V. S. Naipaul, Nis-Momme Stockmann, Jonathan Franzen, Jan Emmens |


Gastenboek


Druk op onderstaande knop om een berichtje achter te laten in mijn gastenboek