De Franse schrijver en journalist Patrick Besson werd geboren op 1 juni 1956 in Montreuil. Zie ook mijn blog van 1 juni 2009 en alle tags voor Patrick Besson op dit blog.
Uit: Les Frères de la consolation
« Le soleil lui fracassait le crâne à lents et lourds coups de massue. La sueur qui coulait sur ses tempes et ses joues était douce, tiède et rapide comme du sang. La chaleur était si forte qu'elle le faisait frissonner. S'il se trouvait là, c'était à cause de Macropoulos, car les Turcs attaquaient de préférence la nuit, peut-être parce que ça leur rappelait la prise de Constantinople, mais d'abord parce qu'à la guerre, au contraire de la paix, on choisit ses heures de travail, et que la nuit il fait frais, c'est plus agréable pour se battre. Les Turcs aimaient leurs aises. Milo ne les haïssait plus : il en avait trop tué. Trente ? Cinquante ? Cent ? Au moins cinquante. En moyenne : un par mois. Il aurait dû faire la liste. Après la guerre, c'est-à-dire hier, il l'aurait déposée, avec un petit bouquet de coquelicots, sur la tombe de sa femme Theodora, violée, égorgée et violée de nouveau par l'émir Ben Kouri le 27 janvier 1825 à Dafnio, dans le sud du Péloponnèse. Il se serait peut-être autorisé un léger sourire et aurait chuchoté : « Voilà, ma chérie, cinquante Turcs tués de ma main. Avant-hier, j'ai eu l'occasion d'en tuer encore un mais je ne l'ai pas fait car je préférais un compte rond, et la paix était signée. » Non, plus de haine, c'était fini. Une vague gêne dans la main droite, oui. « La crampe de l'assassin », lui avait écrit, de Belgrade, son frère Srdjan, qui prétendait avoir un jour assez d'esprit pour être capable de régner sur les salons parisiens de la Restauration.
Ce qu'aimait Macropoulos - « le général Macropoulos », comme l'appelaient les journaux étrangers, alors que dans le campement on lui donnait plutôt du Mikis ou du Mike quand c'était Hamilton qui lui parlait -, c'étaient les belles et franches attaques au milieu du jour, dans la torpeur de la canicule.Il disait que les Turcs étaient furieux qu'on les dérangeât pendant la sieste et que pour bien se battre il ne fallait pas être furieux mais en colère. Au-delà de la colère, on ne voit rien ? et en deçà, on en voit trop. C'était dans Homère."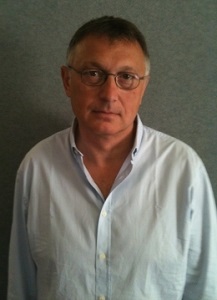 Patrick Besson (Montreuil, 1 juni 1956)
De Engelse dichter en schrijver John Edward Masefield werd geboren op 1 juni 1878 in Ledbury, in Herefordshire. Zie ook mijn blog van 1 juni 2009 en eveneens alle tags voor John Masefield op dit blog.
A Wanderer's Song
A wind's in the heart of me, a fire's in my heels,
I am tired of brick and stone and rumbling wagon-wheels;
I hunger for the sea's edge, the limit of the land,
Where the wild old Atlantic is shouting on the sand.
Oh I'll be going, leaving the noises of the street,
To where a lifting foresail-foot is yanking at the sheet;
To a windy, tossing anchorage where yawls and ketches ride,
Oh I'l be going, going, until I meet the tide.
And first I'll hear the sea-wind, the mewing of the gulls,
The clucking, sucking of the sea about the rusty hulls,
The songs at the capstan at the hooker warping out,
And then the heart of me'll know I'm there or thereabout.
Oh I am sick of brick and stone, the heart of me is sick,
For windy green, unquiet sea, the realm of Moby Dick;
And I'll be going, going, from the roaring of the wheels,
For a wind's in the heart of me, a fire's in my heels.
On Eastnor Knoll
Silent are the woods, and the dim green boughs are
Hushed in the twilight: yonder, in the path through
The apple orchard, is a tired plough-boy
Calling the cows home.
A bright white star blinks, the pale moon rounds, but
Still the red, lurid wreckage of the sunset
Smoulders in smoky fire, and burns on
The misty hill-tops.
Ghostly it grows, and darker, the burning
Fades into smoke, and now the gusty oaks are
A silent army of phantoms thronging
A land of shadows.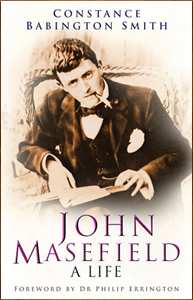 John Edward Masefield (1 juni 1878 – 12 mei 1967)
Cover biografie
De Oostenrijkse schrijver Ferdinand Raimund werd geboren op 1 juni 1790 in Wenen. Zie ook mijn blog van 1 juni 2009 en eveneens alle tags voor Ferdinand Raimund op dit blog.
Uit: Die unheilbringende Krone
"Phalarius und Hades.
(Hades grinst Phalarius an, der ihn mit Entsetzen betrachtet.)
Phalarius. Welch ekliche Gestalt, wer bist du?
Hades (mit etwas hohler Stimme, lauernd und gezogen). Ich?
Phalarius. Bist du der Rachefurien eine? (Starr.) Sprich!
Hades (langsam aufstehend, er geht gebeugt und spricht langsam im hohlen Tone).
Bin keine von den Rachefurien,
Kann selbst kaum mehr auf morschen Knochen stehn;
Bin nicht Tisiphone, Megär', Alecto,
Nein, nein, ich bin, – vergib, – mich schauert so.
Phalarius. Du kannst nicht ganz der Erde angehören,
Du könntest sonst den schönen Glauben stören,
Daß nach dem hohen Götterbild des Zeus
Der Mensch geformet sei durch Prometheus.
Hades. Nicht ganz ist mehr die Erd' mein Vaterland,
Tief unten ruft es mich am styg'schen Strand;
Harpyen, die wie Nachtigallen klagen,
Verkünden, daß die Furien um mich fragen.
Phalarius. Hast du so bös gehaust in dieser Welt,
Daß dir im Enden jeder Trost nun fehlt?
Bist du so arm, daß dich Verzweiflung faßt,
Und hast wohl einst im Übermut gepraßt?
Hades. So ist es, du hast furchtbar wahr gesprochen,
Doch jetzt ist meines Glückes Stab gebrochen;
Viel hab' ich einst auf dieser Erd' besessen,
Geliebt ward ich, ich werd' es nie vergessen,
Doch jetzt bin ich gehaßt, bin unbeweibt,
(Weinend.)
So arm, daß mir nichts mehr, als eine Krone bleibt.
Phalarius (nach einer Pause des Erstaunens).
Was sprichst du, eine Kron'? Wahnwitzig Tier!"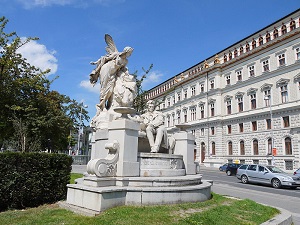 Ferdinand Raimund (1 juni 1790 - 5 september 1836)
Raimund monument in Wenen
De Duitse schrijver, essayist, journalist, biograaf en uitgever Peter de Mendelssohn werd op 1 juni 1908 in München geboren. Zie ook mijn blog van 1 juni 2009 en eveneens alle tags voor Peter de Mendelssohn op dit blog.
Uit: Thomas Mann: Tagebücher (Uitgegeven door Peter de Mendelssohn)
"Dienstag den 24. XII. 35. Weihnachtsabend,
Der dritte, den wir im "Exil" verbringen – welches mich eigentlich völlig gleichgültig läßt, da ich nur meine Möbel, Lüster, Bücher entbehre, aber auch diese nicht sehr, und ich das Vaterland viel lieber nicht um mich habe. Im Übrigen fehlt mir nichts, was ich brauche, um mein Leben und Werk zu Ende zu führen. Im Grunde decken die Außengeschehnisse wieder meine Arbeit, wie der Krieg es tat, an den der Zustand von heute sehr erinnert.
Stand früh auf, bei Lichtern im Ort, und schrieb etwas Schwieriges an der "Keuschheit" weiter. – Es kam die ungarische Ausgabe der "Meister"; Brief von Albert Einstein, Glückwunsch zu dem Brief nach Oslo. – Ging allein mit dem Hund über Johannisburg. Milderung der Luft, dünne Bläue, der Schnee stumpfer und weniger beschwerlich. – K. in der Stadt, ihre Besorgungen zu beenden und zur Abholung Erikas. Deren Zug kam mit stundenlanger Verspätung. Außerdem Verfehlung. Wir warteten lange mit dem Lunch, aßen um ½3 ohne die Frauen, die später glücklich gleichzeitig eintrafen. Erika mit leichter Grippe. – Tennenbaum schickte 12 Flaschen Bordeaux. – Orchideen von Kahler. – Wiedererscheinen des von Landshoff lädierten Radio-Apparates. Las Vorschläge zur Herausgabe eines Buches. Die Bilanz der deutschen Republik."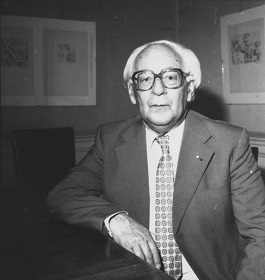 Peter de Mendelssohn (1 juni 1908 – 10 augustus 1982)


Zie voor nog meer schrijvers van de 1e juni ook mijn vorige blog van vandaag.
01-06-2014 om 13:33 geschreven door Romenu

Tags:Patrick Besson, John Masefield, Ferdinand Raimund, Thomas Mann, Peter de Mendelssohn, Romenu