E-mail mij


Druk op onderstaande knop om mij te e-mailen.


Romenu


Romenu is een blog over gedichten, literatuur en kunst Maar Romenu is ook een professionele freelance vertaler
Du-Ne en Ne-Du http://www.romenu.nl.


Huur eens een (vakantie)huis in een natuurgebied, dichtbij het centrum van Nijmegen


Google


Georg Trakl

Georg Trakl werd op 3 februari 1887 in het conducteurshuis aan de Waagplatz 2 in Salzburg geboren. Zijn vader, Tobias Trakl, was een handelaar in ijzerwaren en zijn moeder, die ook psychische problemen had, was Maria Catharina Trakl, (meisjesnaam Halik). Voorts had hij nog drie broers en drie zussen. Margarethe (doorgaans Grethe genoemd) stond hem het naast, zelfs zodanig dat sommigen een incestueuze verhouding vermoeden. Zijn jeugd bracht hij door in Salzburg. Vervolgens bezocht hij van 1897 tot 1905 het humanistische gymnasium. Om toch een academische opleiding te kunnen volgen, werkte hij tot 1908 in de praktijk bij een apotheker. Sommigen vermoedden dat hij dit vooral deed om zichzelf opiaten te kunnen verschaffen. Bij het uitbreken van WO I werd Trakl als medicus naar het front in Galicië (heden ten dage in Oekraïne en Polen) gestuurd. Zijn gemoedsschommelingen leidden tot geregelde uitbraken van depressie, die verergerd werden door de afschuw die hij voelde voor de verzorging van de ernstig verwonde soldaten. De spanning en druk dreven hem ertoe een suïcidepoging te ondernemen, welke zijn kameraden nochtans verhinderden. Hij werd in een militair ziekenhuis opgenomen in Kraków, alwaar hij onder strikt toezicht geplaatst werd.Trakl verzonk daar in nog zwaardere depressies en schreef Ficker om advies. Ficker overtuigde hem ervan dat hij contact moest opnemen met Wittgenstein, die inderdaad op weg ging na Trakls bericht te hebben ontvangen. Op 4 november 1914, drie dagen voordat Wittgenstein aan zou komen, overleed hij echter aan een overdosis cocaïne


Paul Celan

Paul Celan werd onder de naam Paul Antschel op 23 november 1920 geboren in Czernowitz, toentertijd de hoofdstad van de Roemeense Boekovina, nu behorend bij de Oekraïne. Paul Celans ouders waren Duitssprekende joden die hun zoon joods opvoedden en hem naar Duitse christelijke scholen stuurden. In 1942 werden Celans ouders door de Duitse bezetter naar een werkkamp gedeporteerd en daar vermoord. Hijzelf wist aanvankelijk onder te duiken, maar moest vanaf juli 1942 in een werkkamp dwangarbeid verrichten. Celan overleefde de oorlog. Via Boekarest en Wenen vestigde Celan zich in 1948 in Parijs. Daar was hij werkzaam als dichter, vertaler en doceerde hij aan de prestigieuze Ecole Normale Supérieure. Vermoedelijk op 20 april 1970 beëindigde hij zijn leven zelf door in de Seine te springen.


Gerard Reve

Gerard Reve over: Medearbeiders "God is in de mensen, de dieren, de planten en alle dingen - in de schepping, die verlost moet worden of waaruit God verlost moet worden, door onze arbeid, aangezien wij medearbeiders van God zijn." Openbaring "Tja, waar berust elk godsbegrip op, elke vorm van religie? Op een openbaring, dat wil zeggen op een psychische ervaring van zulk een dwingende en onverbiddelijke kracht, dat de betrokkene het gevoel heeft, niet dat hij een gedachte of een visioen heeft, maar dat een gedachte gedachte of visioen hem bezit en overweldigt."


Simon Vestdijk
Simon Vestdijk (Harlingen, 17 oktober 1898 – Utrecht, 23 maart 1971) was een Nederlands romancier, dichter, essayist en vertaler. Zijn jeugd te Harlingen en Leeuwarden beschreef hij later in de Anton Wachter-cyclus. Van jongs af aan logeerde hij regelmatig bij zijn grootouders in Amsterdam, waar hij zich in 1917 aan de Universiteit van Amsterdam inschrijft als student in de medicijnen. Tijdens zijn studie die van 1917 tot 1927 duurde, leerde hij Jan Slauerhoff kennen.Tot 1932 is hij als arts in praktijken door heel Nederland werkzaam. In 1932 volgt zijn officiële schrijversdebuut met de uitgave van de bundel Verzen in De Vrije Bladen. Doorslaggevend voor Vestdijks uiteindelijke keuze voor de literatuur is zijn ontmoeting in 1932 met Eddy Du Perron en Menno ter Braak. Deze ontmoeting had tot resultaat dat hij redactielid werd van het tijdschrift Forum Kort daarop, in 1933, wordt zijn eerste novelle, De oubliette, uitgegeven. In hetzelfde jaar schrijft hij Kind tussen vier vrouwen, dat, eerst geweigerd door de uitgever, later de basis zal vormen voor de eerste drie delen van de Anton Wachter-romans. In 1951 ontvangt Vestdijk de P.C. Hooftprijs voor zijn in 1947 verschenen roman De vuuraanbidders. In 1957 wordt hij voor het eerst door het PEN-centrum voor Nederland voorgedragen voor de Nobelprijs voor de Literatuur, die hij echter nooit zal krijgen. Op 20 maart 1971 wordt hem de Prijs der Nederlandse Letteren toegekend, maar voor hij deze kan ontvangen overlijdt hij op 23 maart te Utrecht op 72-jarige leeftijd. Vestdijk was auteur van ca. 200 boeken. Vanwege deze enorme productie noemde de dichter Adriaan Roland Holst hem 'de man die sneller schrijft dan God kan lezen'. Andere belangrijke boeken van Simon Vestdijk zijn: "Kind van stad en land" (1936), "Meneer Visser's hellevaart" (1936), "Ierse nachten" (1946), "De toekomst de religie" (1947), "Pastorale 1943" (1948), "De koperen tuin" (1950), "Ivoren wachters" (1951), "Essays in duodecimo" (1952) en "Het genadeschot" (1964).


K.P. Kavafis

K.P. Kavafis werd als kind van Griekse ouders, afkomstig uit Konstantinopel, geboren in 1863 in Alexandrië (tot vandaag een Griekse enclave) waar hij ook het grootste deel van zijn leven woonde en werkte. Twee jaar na de dood van zijn vader verhuist het gezin in 1872 naar Engeland om na een verblijf van vijf jaar naar Alexandrië terug te keren. Vanwege ongeregeldheden in Egypte vlucht het gezin in 1882 naar Konstantinopel, om na drie jaar opnieuw naar Alexandrië terug te gaan. In de jaren die volgen maakt Kavafis reizen naar Parijs, Londen en in 1901 zijn eerste reis naar Griekenland, in latere jaren gevolgd door nog enkele bezoeken. Op de dag van zijn zeventigste verjaardag, in 1933 sterft Kavafis in Alexandrië. De roem kwam voor Kavafis pas na zijn dood, dus postuum. Deels is dat toe te schrijven aan zijn eigen handelswijze. Hij was uiterst terughoudend met de publicatie van zijn gedichten, liet af en toe een enkel gedicht afdrukken in een literair tijdschrift, gaf in eigen beheer enkele bundels met een stuk of twintig gedichten uit en het merendeel van zijn poëzie schonk hij op losse bladen aan zijn beste vrienden.


Thomas Mann


Thomas Mann, de jongere broer van Heinrich Mann, werd geboren op 6 juni 1875 in Lübeck. Hij was de tweede zoon van de graankoopman Thomas Johann Heinrich Mann welke later één van de senatoren van Lübreck werd. Zijn moeder Julia (geboren da Silva-Bruhns) was Duits-Braziliaans van Portugees Kreoolse afkomst. In 1894 debuteerde Thomas Mann met de novelle "Gefallen". Toen Thomas Mann met 21 jaar eindelijk volwassen was en hem dus geld van zijn vaders erfenis toestond - hij kreeg ongeveer 160 tot 180 goldmark per jaar - besloot hij dat hij genoeg had van al die scholen en instituties en werd onafhankelijk schrijver. Kenmerkend voor zijn stijl zijn de ironie, de fenomenale taalbeheersing en de minutieuze detailschildering. Manns reputatie in Duitsland was sterk wisselend. Met zijn eerste roman, Buddenbrooks (1901), had hij een enorm succes, maar door zijn sceptische houding tegenover Duitsland na de Eerste Wereldoorlog veranderde dit volledig. Stelde hij zich tot aan de jaren twintig apolitiek op (Betrachtungen eines Unpolitischen, 1918), meer en meer raakte hij bij het Politiek gebeuren betrokken. Zijn afkeer van het nationaal socialisme groeide, zijn waarschuwingen werden veelvuldiger en heftiger. In 1944 accepteerde hij het Amerikaanse staatsburgerschap. Tussen 1943 en 1947 schreef Mann Doktor Faustus (zie Faust), de roman van de 'Duitse ziel' in de gecamoufleerd geschilderde omstandigheden van de 20ste eeuw. In 1947 bezocht hij voor het eerst sinds de Oorlog Europa, twee jaar later pas Duitsland. In 1952 vertrok hij naar Zwitserland. Op 12 augustus 1955 stierf hij in Zürich. Twintig jaar na zijn dood, in aug. 1975, is zijn literaire nalatenschap geopend: dagboekaantekeningen van 15 maart 1933 tot 29 juli 1955, alsmede notities uit de jaren 1918 tot en met 1921.Belangrijke werken zijn: Der Zauberberg, Der Tod in Venedig, Dokter Faustus , Joseph und seine Brüder en Die Bekenntnisse des Hochstaplers Felix Krull.


Rainer Maria Rilke

Rilke werd op 4 december 1875 geboren in Praag. Hij had al naam gemaakt als dichter met zijn bundels Das Stundenbuch en Das Buch der Bilder, toen hij de literaire wereld versteld deed staan en wereldfaam verwierf met de publicatie van zijn twee delen Neue Gedichte in 1907 en 1908. Hij verzamelde daarin het beste werk uit een van zijn vruchtbaarste periodes, die hij grotendeels doorbracht in Parijs. Rilke was daar diep onder de indruk gekomen van Rodin, bij wie hij een tijdlang in dienst was als particulier secretaris. Rodin, zei hij later, had hem leren kijken. Dit kijken kwam neer op intense concentratie, om het mysterie te kunnen zien 'achter de schijnbare werkelijkheid'. Latere en rijpere werken als Duineser Elegien (1912-1923) en het ronduit schitterende Die Sonette an Orfeus (1924) illustreren Rilkes metafysische visie op het onzegbare, dat haar verwoording vindt in een hermetische muzikale taal. Op 29 december 1926 overlijdt Rilke in het sanatorium in Val-Mont aan de gevolgen van leukemie. Enkele dagen later wordt hij, overeenkomstig zijn wens, begraven op het kerkhof van Raron.


* * * * * * * * * * * * * * * *

| | |
| --- | --- |
| | Over literatuur, gedichten, kunst en cultuur |

19-03-2016

Hans Mayer, Philip Roth, Mano Bouzamour, Kirsten Boie, Lynne Sharon Schwartz, Lina Kostenko, Petar Preradović
De Duitse literatuurwetenschapper, schrijver, criticus, jurist en socioloog Hans Mayer werd geboren op 19 maart 1907 in Keulen. Zie ook alle tags voor Hans Mayer op dit blog.
Uit: Du störst mich nicht (Über Thomas und Heinrich Mann: Briefwechsel 1900-1949)
"Thomas dagegen schreibt am 31. Juli, auch aus Kalifornien und nachKalifornien: "Wir haben große Personalnot, unsere Dunklen verlassen uns und neue sind teils unerschwinglich, teils unerträglich. Aber einmal werden wir ja wieder in Ordnung kommen und hoffen, dann Nelly und Dich recht bald einen Abend bei uns zu haben." Dieser Briefwechsel macht es Verehrern Thomas Manns nicht leicht.
Da ist noch mehr. Für den biographischen und auch literarischen Hintergrund des Frühwerks von Thomas Mann nämlich sind seine Briefe an Heinrich von einzigartiger Bedeutung.
Den ersten der erhaltenen Briefe schreibt der 25jährige Thomas Mann nach Abschluß von "Buddenbrooks"; das Manuskript liegt nun beim Verleger Samuel Fischer, aber noch hat der Autor über sein Werk "nichts Neues" gehört; gleichzeitig gratuliert er ein bißchen säuerlich zur Verleger-Reklame für Heinrichs Roman "Im Schlaraf-fehlend". Man lebt in einem Zeitalter der Migränen, ästhetischen Ressentimente und Nervenkrisrm, und der junge Thomas Mann, arg auf Modernität erpicht, läßt es sich gesagt sein. Leidenschaften werden .durchlitten' genossen und literarisch filtriert, was Schmerzhaftes nicht ausschließt.
Als .'Buddenbrooks" endlich angenommen ist, teilt der Verfasser dem älteren Bruder etwas ironisch mit: "Ich werde mich photographieren lassen, die Rechte in der Frackweste und die Linke auf die drei Bände gestützt; dann kann ich eigentlich getrost in die Grube fahren." Im selben Brief aber (13. Februar 1901} hieß es Vorher: "Depressionen wirklich arger Art mit vollkommen ernst gemeinten Selbstabschaffungsplänen haben mit einem unbeschreiblichen, reinen und unverhoftten Herzensglück gewechselt' mit Erlebnissen, die sich nicht erzählen lassen, und deren Andeutung natürlich wie Renommage wirkt." Es ist schwer, hier vom Bericht. über ein .,ernstes Leben" zu sprechen."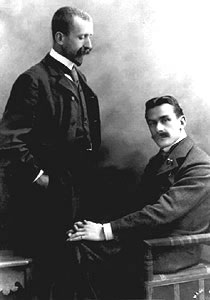 Hans Mayer (19 maart 1907 – 19 mei 2001)
Heinrich en Thomas Mann rond 1902
De Amerikaanse schrijver Philip Roth werd geboren op 19 maart 1933 in Newark. Zie ook alle tags voor Philip Roth op dit blog.
Uit: Nemesis
"What people did know was that the disease was highly contagious and might be passed to the healthy by mere physical proximity to those already infected. For this reason, as the number of cases steadily mounted in the city — and communal fear with it — many children in our neighborhood found themselves prohibited by their parents from using the big public pool at Olympic Park in nearby Irvington, forbidden to go to the local "air-cooled" movie theaters, and forbidden to take the bus downtown or to travel Down Neck to Wilson Avenue to see our minor league team, the Newark Bears, play baseball at Ruppert Stadium. We were warned not to use public toilets or public drinking fountains or to swig a drink out of someone else's soda-pop bottle or to get a chill or to play with strangers or to borrow books from the public library or to talk on a public pay phone or to buy food from a street vendor or to eat until we had cleaned our hands thoroughly with soap and water. We were to wash all fruit and vegetables before we ate them, and we were to keep our distance from anyone who looked sick or complained of any of polio's telltale symptoms.
Escaping the city's heat entirely and being sent off to a summer camp in the mountains or the countryside was considered a child's best protection against catching polio. So too was spending the summer some sixty miles away at the Jersey Shore. A family who could afford it rented a bedroom with kitchen privileges in a rooming house in Bradley Beach, a strip of sand, boardwalk, and cottages a mile long that had already been popular for several decades among North Jersey Jews. There the mother and the children would go to the beach to breathe in the fresh, fortifying ocean air all week long and be joined on weekends and vacations by the father. Of course, cases of polio were known to crop up in summer camps as they did in the shore's seaside towns, but because they were nothing like as numerous as those reported back in Newark, it was widely believed that, whereas city surroundings, with their unclean pavements and stagnant air, facilitated contagion, settling within sight or sound of the sea or off in the country or up in the mountains afforded as good a guarantee as there was of evading the disease."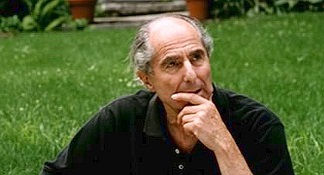 Philip Roth (Newark, 19 maart 1933)
De Nederlandse schrijver Mano Bouzamour werd geboren op 19 maart 1991 in Amsterdam. Zie ook alle tags voor Mano Bouzamour op dit blog.
Uit: De belofte van Pisa
"Ik hurkte neer en strikte mijn veters, toen het me opviel dat er al geruime tijd geen verkeer meer over de weg suisde, als een afvoer die verstopt zat een geen water door liet stromen. (…) Voordat tot me doordrong wat ik zag, ontvouwde zich een onwerkelijk schouwspel. Het werd aangekondigd door zwaar accelererende geluiden, als het gegrom van leeuwen, die uit omliggende straten kwamen en steeds luider werden. Mensen op terrasjes en bij het ijstentje keken verbaasd op om vast te stellen wat er gaande was. Donkerkleurige sportauto's vlogen uit alle denkbare richtingen over de weg, met gierende banden die grip op het asfalt probeerden te houden maar doorschoten, als de remmende klauwen van een snellende kat op een houten vloer. Ze stopten voor ons in een ondoordringbare verweerlinie. Mannen sprongen uit de sportauto's, als slierten strijdbare soldaatmieren. Ze brachten een symfonie ten gehore van openslaande autodeuren, rappe voetstappen en ladende machinegeweren.'
(…)
"'Wat kijk je?!' 'Mag ik niet kijken?'
'Kijk weg voordat ik je ga beuken, blonde bitch.'
'Mij beuken? Kom dan als je lef hebt, kut-Marokkaantje.'
We stapten van de Vespa's en veinsden een vuistgevecht. Automobilisten stapten uit en voetgangers snelden schreeuwend op ons af.
En dan lachten we ze ineens uit.
En gaven elkaar een high five.
De gezichten van die lui.
Ze begrepen het niet.
Sommigen lachten.
Anderen niet.
Sukkels."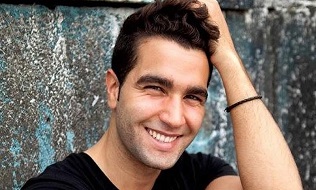 Mano Bouzamour (Amsterdam, 19 maart 1991)
De Duitse schrijfster Kirsten Boie werd geboren op 19 maart 1950 in Hamburg. Zie ook alle tags voor Kirsten Boie op dit blog.
Uit: Bestimmt wird alles gut
"Dies ist die wahre Geschichte von Rahaf, die ist jetzt zehn Jahre alt. Und von ihrem Bruder Hassan, der ist jetzt neun.
Rahaf und Hassan wohnen mit Mama und Papa in einem kleinen deutschen Ort. Und natürlich wohnen auch ihre beiden kleinen Schwestern da, Amal und Haia. Die sind aber erst drei und vier. Mit Amal und Haia kann man nicht gut spielen.
Früher haben Rahaf und Hassan in einer anderen Stadt gewohnt. Die Stadt heißt Homs und liegt in einem anderen Land. Das Land heißt Syrien.
In Homs fanden Rahaf und Hassan es schön. Sie haben in einem großen Haus gewohnt, mit vier Stockwerken. Ganz unten haben Oma und Opa gewohnt. Im ersten Stock haben Onkel Ahmed und Tante Jinin gewohnt, mit ihren fünf Kindern. Im zweiten Stock haben Onkel Ziad und Tante Marwa gewohnt, die hatten drei Kinder. Da hatten Rahaf und Hassan acht Cousins und Cousinen, das war gut zum Spielen. Rahaf und Hassan haben mit Mama und Papa und Amal und Haia ganz oben im Haus gewohnt, im dritten Stock.
Rahaf hat am liebsten mit ihrer Cousine Aycha gespielt. Aycha war genauso alt wie Rahaf. Darum sind sie sogar zusammen in die Schule gegangen, in dieselbe Klasse. Manchmal haben Rahaf und Aycha mit ihren Puppen gespielt."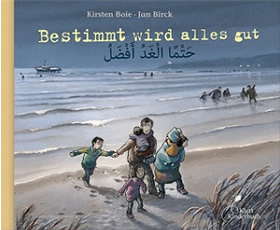 Kirsten Boie (Hamburg, 19 maart 1950)
Cover
De Amerikaanse schrijfster Lynne Sharon Schwartz werd geboren op 19 maart 1939 in New York. Zie ook alle tags voor Lynne Sharon Schwartz op dit blog.
Uit: Leaving Brooklyn
"He looked at me in startled, confused pleasure, as if I had cunningly put my finger on one of the profound and inexplicable contradictions at the heart of things, as if I had asked why is there suffering in the world or why do men constantly make war if they say they want peace. He tousled my hair and had no answer, which surprised me because he usually did.
I minded the mystery of the eye more than the eye itself. I craved an exotic story to tell, a label by which I might be known. At school there was Carlotta Kaplowitz, famed for her dark beauty and wondrous name - one of the few girls not named Barbara or Susan or Carol or Judy - who contracted polio. When she returned months later on crutches, scattering true medical tales like favors, she was lionized in the playground. Polio was dramatic, though Carlotta's case, like Hans Castorp's tuberculosis, was mild - she would walk again. Another girl, one of the Carols, stayed home for a whole term with an unnamed ailment. I brought her the class assignments. How enviously I breathed the musty, invalid air of the shaded room where she sat propped up on pillows, her every need attended to by her scurrying mother, like a Victorian heroine enervated by vocation, like Elizabeth Barrett before she met Browning.
The iris of my right eye was smaller than that of the left. And at the top of the sphere, the part you couldn't see unless the lid was raised, was a milky, blurry patch, a scar. It was as if someone had painted an eye and smudged the upper rim, giving it an unfinished look, then was called away from the easel - an emergency, a long trip - and never came back.
The smudging was not all. Because of a weak muscle, the iris, of its own volition and at unpredictable times, would drift from its resting place to float - I almost wrote "flee" - beneath the upper lid for a few seconds, leaving blank white space. A wandering eye, it is aptly called. Restless, bored with the banality of what is presented, it escapes to the private darkness beneath the lid, with the wild dancing colors. Soon it drifts back and attends to its duties, not being totally irresponsible. Much of the time no one would know about its little trip, just as no one knows about the secret journeys or aberrations of anyone else."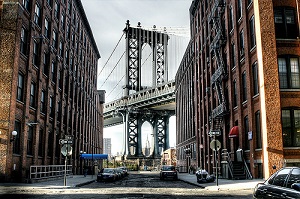 Lynne Sharon Schwartz (New York, 19 maart 1939)
Brooklyn, New York
De Oekraïense schrijfster en dichteres Lina Kostenko werd op 19 maart 1930 geboren in Rzhyshchiv. Zie ook alle tags voor Lina Kostenko op dit blog.
Destin

J'ai rêvé une nuit d'un étrange bazar
En plein air, en plaine campagne
On vendait des destins de toutes sortes
Pour des généreux, pour des avares
Et pour des clients de toutes sortes.

Il y en avait pour pas moins que des fils de roi
D'autres n'étaient faits que pour des pauvres mignons
On pouvait acheter un destin à un sou
D'autres en achetaient qui valaient des millions.

Certains payaient avec leur chance
D'autres payaient de leur conscience
Certains payaient de tout leur or
Et d'autres s'embarrassaient fort.

Les diseuses de bonne aventure comme des cartes
Tassaient les jours et se massaient près des clients
Les destins eux-mêmes pour moi s'assemblaient
Et parmi eux un seul se détourna.

Je regardai celui-là dans son visage clair
Et du fond de moi-même j'appelai son regard
— Qu'importe, me dit-il, tu ne me prendras pas
Mais de le dire, lui faisait mal au cœur.

— Je te prendrai peut-être
— Non, tu sais bien
Dit-il d'un ton sévère
Pour moi il faudrait que tu donnes ta vie
Et moi en échange t'apporterais le chagrin.

— Mais alors, qui es-tu ?
Et ton nom quel est-il ?
Pour être digne de me coûter si cher ?
— Poésie est ma sœur
Et l'humaine vérité notre mère.
Je l'ai reçu et j'en ai fait ma loi.
Alors, grande merveille se fit :
La nuit passa, le songe finit
Mais le destin est resté avec moi.

J'ai un destin que j'ai choisi moi-même
Et qu'il m'arrive n'importe quoi
De rien ne demanderai compte
A mon destin, c'est moi qui l'ai choisi.
Vertaald door Marie-France Jacamon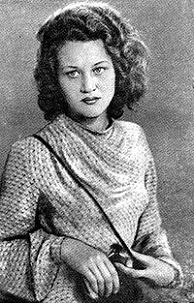 Lina Kostenko (Rzhyshchiv, 19 maart 1930)
De Kroatische dichter en schrijver Petar Preradović werd geboren op 19 maart 1818 in het dorp Grabrovnica bij Virovitica. Zie ook alle tags voor Petar Preradović op dit blog.
Traveller (Putnik, fragment)
Where am I? Where have I come?
Trapped by night in this foreign land.
I don't know what track to follow,
On naked rocks I just wallow,
Weary legs in this wilderness!"

What other shelter can I find?
The North wind blows on snowy peaks
While this poor wayfaring stranger
Finds in darkness darkest danger
As this cold earth with hardness speaks."

All around the fog has fallen,
And well concealed now is the moon
Star tracks have disappeared and yes,
Mother dearest,
Take under your roof a foreign son!"

She said:"I'd take you in with pleasure,
But look; see how they are sleeping –
Three sons three daughters, a full house,
Which fills this mothers heart of course
To the brim – it's overflowing."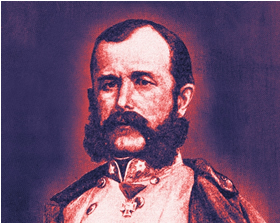 Petar Preradović (19 maart 1818 – 18 augustus 1872)

Zie voor nog meer schrijvers van de 19e maart ook mijn vorige blog van vandaag.
19-03-2016 om 10:32 geschreven door Romenu

Tags:Hans Mayer, Philip Roth, Mano Bouzamour, Kirsten Boie, Lynne Sharon Schwartz, Lina Kostenko, Petar Preradović,, Thomas Mann, Heinrich Mann, Romenu



William Allingham, Ion Barbu, Rosalie Loveling, Tobias Smollett, Irving Wallace, Peter Abrahams
De Ierse dichter William Allingham werd geboren op 19 maart 1824 in Ballyshannon, Donegal. Zie ook alle tags voor William Allingham op dit blog.
A Seed
See how a Seed, which Autumn flung down,
And through the Winter neglected lay,
Uncoils two little green leaves and two brown,
With tiny root taking hold on the clay
As, lifting and strengthening day by day,
It pushes red branchless, sprouts new leaves,
And cell after cell the Power in it weaves
Out of the storehouse of soil and clime,
To fashion a Tree in due course of time;
Tree with rough bark and boughs' expansion,
Where the Crow can build his mansion,
Or a Man, in some new May,
Lie under whispering leaves and say,
"Are the ills of one's life so very bad
When a Green Tree makes me deliciously glad?"
As I do now. But where shall I be
When this little Seed is a tall green Tree?

In A Spring Grove
Here the white-ray'd anemone is born,
Wood-sorrel, and the varnish'd buttercup;
And primrose in its purfled green swathed up,
Pallid and sweet round every budding thorn,
Gray ash, and beech with rusty leaves outworn.
Here, too the darting linnet hath her nest
In the blue-lustred holly, never shorn,
Whose partner cheers her little brooding breast,
Piping from some near bough. O simple song!
O cistern deep of that harmonious rillet,
And these fair juicy stems that climb and throng
The vernal world, and unexhausted seas
Of flowing life, and soul that asks to fill it,
Each and all of these,--and more, and more than these!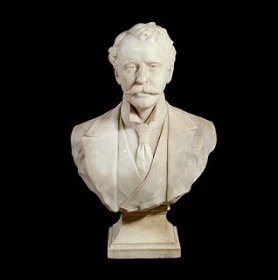 William Allingham (19 maart 1824 – 18 november 1889)
Borstbeeld door Albert Toft
De Roemeense dichter en wiskundige Ion Barbu (eig. Dan Barbilian) werd geboren op 19 maart 1895 in Câmpulung. Zie ook alle tags voor Ion Barbu op dit blog.
Le Paon

Il faisait des courbettes serviles et, mollement,
Voulait du maïs dans ta paume picorer,
Tremblait tout bleu et chaud, de la tête aux pans
Comme on voit dans une tasse l'alcool ondoyer.

Sur une souche, une coiffe portant, ton drôle de singe
Des yeux inégaux, terriblement tristes, roulait.
Ta main démancha, comme on enssore un linge
Et rompit le cou de l'oiseau, qui criait.



Vertaald door Constantin Frosin
Out of an hour glass, inferred,
Out of an hour glass, inferred, the depth of this calm highpoint
Seeped through a mirror inside redeemed azure
Cuts out from groups of water, through drowned celestial herds,
A secondary game, more pure yet.

Latent nadir! The poet raises the sum of
Scattered harps, lost in inverted flights,
And songs subside: secretive, as only seas can be,
Floating off jelly fish beneath green bells.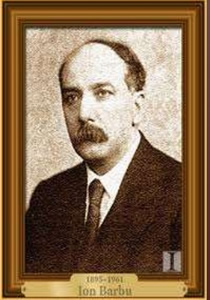 Ion Barbu (19 maart 1895 – 11 augustus 1961)
De Vlaamse schrijfster en dichteres Rosalie Loveling werd geboren op 19 maart 1834. Zie ook alle tags voor Rosalie Hoveling op dit blog.
Moederangst
Zij zag het wiegje op de stroom,
Gelijk een schuitje drijven;
Dat zag zij in een nare droom,
Het hart vol schroom,
Zij voelt haar bloed verstijven!

Waar of ze 't nu nog wedervindt,
Haar zo op eens ontnomen?
Een prooi aan 't water en de wind,
Hoe kan het kind
Aan zulk gevaar ontkomen?

Maar zie, ze ontwaakt en 't lacht haar aan,
Zij is nog diep bewogen,
En voelt het hart nu dankbaar slaan,
Terwijl een traan
Komt schittren in hare ogen.

De nacht is stil, en kalm en klaar;
Haar bange droom is henen;
Maar is voor 't rustend kindje daar,
Ook al 't gevaar,
En alle leed verdwenen?

Ach neen; zij 't wiegje nog zo zacht,
't Moet toch langs wilde baren,
Gelijk een scheepje met zijn vracht,
Bij mist en nacht,
De levensstroom bevaren.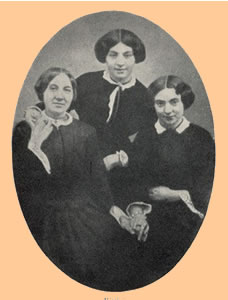 Rosalie Loveling (19 maart 1834 – 4 mei 1875)
Pauline (de moeder van Cyriel Buysse), Rosalie en Virginie Loveling, ca. 1850
De Schotse romanschrijver Tobias George Smollett werd geboren op 19 maart 1721 in Dalquhurn in het tegenwoordige West Dunbartonshire. Zie ook alle tags voor Tobias Smolett op dit blog.
Uit: The Adventures of Roderick Random
"I was born in the northern part of this united kingdom, in the house of my grandfather, a gentleman of considerable fortune and influence, who had on many occasions signalised himself in behalf of his country; and was remarkable for his abilities in the law, which he exercised with great success in the station of a judge, particularly against beggars, for whom he had a singular aversion.
My father (his youngest son) falling in love with a poor relation, who lived with the old gentleman in quality of a housekeeper, espoused her privately; and I was the first fruit of that marriage. During her pregnancy, a dream discomposed my mother so much that her husband, tired with her importunity, at last consulted a highland seer, whose favourable interpretation he would have secured beforehand by a bribe, but found him incorruptible. She dreamed she was delivered of a tennis-ball, which the devil (who, to her great surprise, acted the part of a midwife) struck so forcibly with a racket that it disappeared in an instant; and she was for some time inconsolable for the lost of her offspring; when, all on a sudden, she beheld it return with equal violence, and enter the earth, beneath her feet, whence immediately sprang up a goodly tree covered with blossoms, the scent of which operated so strongly on her nerves that she awoke. The attentive sage, after some deliberation, assured my parents, that their firstborn would be a great traveller; that he would undergo many dangers and difficulties, and at last return to his native land, where he would flourish in happiness and reputation. How truly this was foretold will appear in the sequel. It was not long before some officious person informed my grandfather of certain familiarities that passed between his son and housekeeper which alarmed him so much that, a few days after, he told my father it was high time for him to think of settling; and that he had provided a match for him, to which he could in justice have no objections."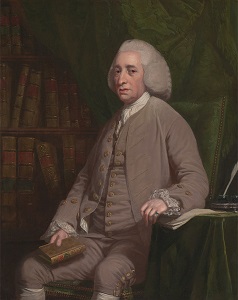 Tobias Smollett (19 maart 1721 - 17 september 1771)
Portret door Nathaniel Dance-Holland, rond 1764
De Amerikaanse schrijver Irving Wallace werd geboren op 19 maart 1916 in Chicago, Illinois. Zie ook alle tags voor Irving Wallace op dit blog.
Uit: The Fan Club
"Her green eyes still betrayed nothing of her inner feelings, revealed only gracious interest, as they scanned the dramatis personae readying to exit from the stage. Her gaze froze each in a frame for an instant, while her mind added a caption, then photographed and categorized the next.
Hank Lenhardt, the most successful publicist in town, with his boring and stupid anecdotes and endless pitch and slick gossip. Justin Rhodes, the producer of her current film, a gentleman from the legitimate theatre, but another phony on the make, not for her (he was surely a fag or a neuter) but on the make for her dependence upon him and for her name to use as another steppingstone on his non-stop power trip. Tina Alpert, the widely syndicated movie columnist, a smiler with a knife, a twenty four hour bitch you never turned your back on or ignored or ever forgot to woo with expensive birthday or Christmas presents.
Sy Yaeger, the hot new filmmaker, euphemism for director, who rewrote writers on the set and had the arrogance to make a cult of the kitsch peddlers of the past like Busby Berkeley, Preston Sturges, Raoul Walsh. Sky Hubbard, the radio and television network news commentator, a dumb lip reader and foghorn, a face out of a shirt ad, whom that idiot Lenhardt had insisted that she invite as an investment in goodwill. Nadine Robertson, whose only claim to fame was that she had once played opposite Charles Chaplin (no small thing) and who was now a silicone smooth old socialite and giver of charity balls, a grand dame who whined clichés and somehow had escaped interment in the Movie land Wax Museum."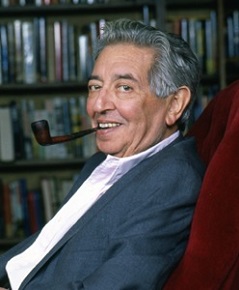 Irving Wallace (19 maart 1916 – 29 juni 1990)
De Zuid-Afrikaanse schrijver Peter Abrahams werd op 19 maart 1919 geboren in Vrededorp bij Johannesburg. Zie ook alle tags voor Peter Abrahams op dit blog.
Uit: Mine Boy
"But as fast as they moved the sand so fast did the pile grow. A truck load would go and another would come from the bowels of the earth. And another would go and another would come. So it went on all day long. On and on and on and on.
But the sand remained the same. A truck would come from the heart of the earth. A truck would go up to build the mine-dump. Another would come. Another would go. . - All day long...
And for all their sweating and hard breathing and for the redness of their eyes and the emptiness of their stare there would be nothing to show. In the morning the pile had been so big. Now it was the same.
And the mine-dump did not seem to grow either.
It was this that frightened Xuma. This seeing of nothing for a man's work.' This mocking of a man by the sand that was always wet and warm; by the mine-dump that would not grow; by the hard eyes of the white man who told them to hurry up.
It made him feel desperate and anxious. He worked feverishly.
Straining his strength behind the loaded truck and running behind the empty truck and looking carefully to see if the dump had grown any bigger, and watching the sand from the earth to see if it had grown less. But it was the same. The same all the time. No change.
Only the startling and terrifying noises around. And the whistles blowing. And the hissing and the explosions from the bowels of the earth. And these things beat against his brain till his eyes reddened like the eyes of the other men."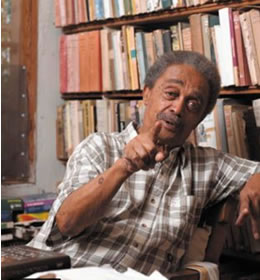 Peter Abrahams (Vrededorp, 19 maart 1919)
19-03-2016 om 10:31 geschreven door Romenu

Tags:William Allingham, Ion Barbu, Rosalie Loveling, Tobias Smollett, Irving Wallace, Peter Abrahams, Romenu



| | |
| --- | --- |
| | |



Inhoud blog


| | |
| --- | --- |
| | 'Unless a grain of wheat falls into the ground and dies…' (Malcolm Guite) |
| | Christa Wolf, Charlotte Roche, John Updike, Wilfred Owen, Stéphane Mallarmé, Héctor Bianciotti, Hellema, Friedrich Hebbel, Max Barry |
| | Wolfgang Bauer, Richard Condon, Walter Rheiner, Srečko Kosovel, Jean Anglade, George Plimpton, Cosmo Monkhouse, Friedrich Nicolai |
| | In Memoriam F. Starik |
| | Siegfried Lenz, Thomas Melle, Rense Sinkgraven, Hafid Aggoune, Hans Wollschläger, William Ford Gibson |
| | Patrick Hamilton, Karl Gutzkow, Urmuz, Jean Ingelow, Ebenezer Elliott, Paul Green |
| | P.C. Hooft, Bredero, Dirk von Petersdorff, Zoë Jenny, Alice Hoffman, Hooshang Golshiri, Francisco Ayala, César Vallejo, Per Leo |
| | Ben Okri, David Albahari, Louis Paul Boon, Kurt Drawert, Gerhard Seyfried, Andreas Okopenko, An Rutgers van der Loeff, Prosper van Langendonck, Paul Heyse |
| | Pam Ayres, Jochen Schimmang, Horton Foote, Volker von Törne, Olivier Delorme, Alexandru Macedonski, Albert Robida, Theodore de Banville, Wout Waanders |
| | Mahmoud Darwish, Yuri Andrukhovych, Didier Decoin, Vladimir Makanin, Yeghishe Charent, Geert van Beek, Jan H. de Groot, Kemal Tahir, Joseph Beaumont |
| | Dave Eggers, Jenny Erpenbeck, Jack Kerouac, Henrike Heiland, Naomi Shihab Nye, Carl Hiaasen, Edward Albee, De Schoolmeester, Gabriele d'Annunzio |
| | Nicodemus (Muus Jacobse) |
| | Leena Lehtolainen, Karl Krolow, Daan de Ligt, Frans Vogel, Willem Claassen, Amal Karam, Max Hermens, Eva Meijer, Helena Hoogenkamp |
| | Ernst Wichert, Douglas Adams, Torquato Tasso, Georg Maurer, Josef Martin Bauer, Maartje Smits |
| | John Rechy, Hilde Van Cauteren, Joseph von Eichendorff, Jakob Wassermann, Karel van de Woestijne, Chloé Delaume, Friedrich Schlegel |
| | Boris Vian, Manolis Anagnostakis, Peter McArthur, Samuel Ferguson, Georges Dor, Pedro Antonio de Alarcón, Otto Heinrich Kühner |
| | Koen Peeters, Peter Zantingh, Ed Hoornik, Heere Heeresma, Peter Altenberg, Vita Sackville-West, Josef Weinheber, Taras Sjevtsjenko, Umberto Saba |
| | Jeffrey Eugenides, Walter Jens, Hafid Bouazza, Cándani, A. Marja, Aslı Erdoğan, John McPhee, Mouloud Feraoun, Dominic Angeloch |
| | Bret Easton Ellis, Robert Harris, Jürgen Theobaldy, Georges Perec, Abe Kōbō, Reinhard Kaiser, Manfred Gregor, Jan Frederik Helmers, Alessandro Manzoni |
| | Patrick deWitt, Gabriel García Márquez, Jeremy Reed, Marijke Hanegraaf, Thomas Acda, Günter Kunert, Clark Accord, Elizabeth Barrett Browning, Michelangelo |
| | Pier Paolo Pasolini, Koos van Zomeren, Jurre van den Berg, Arthur van Schendel, Nelly Arcan, Jean Orizet, Leslie Marmon Silko, Frank Norris, Ennio Flaiano |
| | De tempelreiniging (Nicolaas Beets) |
| | Robert Kleindienst, Khaled Hosseini, Kristof Magnusson, Irina Ratushinskaya, Alan Sillitoe, Ryszard Kapuściński, Jean-Joseph Rabearivelo, Annette Seemann |
| | F. W. Bernstein, Giorgio Bassani, Bernardo Ashetu, Léon-Paul Fargue, Kito Lorenc, Jacques Dupin, Thomas S. Stribling |
| | Manfred Flügge, Hans Verhagen, Tjitske Jansen, James Merrill, Kola Boof, Clifton Snider, Gudrun Pausewang, Chris Kraus |
| | Josef Winkler, Heinz Knobloch, Alexandros Papadiamantis, Charles Sealsfield, William Godwin, Paul Guimard, Edmund Waller, Thomas Otway |
| | Godfried Bomans, Multatuli, Frank Albers, John Irving, Thom Wolfe, Michael Salinger, János Arany, Olivia Manning, Rinske Kegel |
| | Jan Eijkelboom, Jim Crace, Delphine de Vigan, Franz Hohler, Lytton Strachey, Robert Lowell, Myrthe van der Meer, Franzobel, Steven Barnes |
| | Peter Pessl |
| | Benedict Wells |
| | Bart Koubaa, Stephen Spender, John Montague, Josef Svatopluk Machar, Luc Dellisse, Marcel Pagnol, Bodo Morshäuser, Martin Suter, Yórgos Seféris |
| | Howard Nemerov, Daniel Handler, Dee Brown, Michel de Montaigne, Marin Sorescu, Saul Williams |
| | Cynan Jones, John Steinbeck, Ruy Belo, Lawrence Durrell, André Roy, Henry Longfellow, Elisabeth Borchers, James T. Farrell, Irwin Shaw |
| | Michel Houellebecq, Victor Hugo, Adama van Scheltema, George Barker, Ulrike Syha, Hermann Lenz, Antonin Sova, Jean Teulé, Elias Annes Borger |
| | De verheerlijking op den berg (Nicolaas Beets) |
| | Amin Maalouf, Aldo Busi, Gabriël Smit, Anthony Burgess, Robert Rius, Karl May, Lesja Oekrajinka, Karel Toman, Vittoria Colonna |
| | Franz Xaver Kroetz, Gérard Bessette, Mary Chase, Karl Wilhelm Ramler, Friedrich von Spee, Carlo Goldoni, Quirinus Kuhlmann |
| | Leon de Winter, Alain Mabanckou, George Moore, Erich Loest, Herman Maas, Luc Verbeke, Wilhelm Grimm, Friedrich Spielhagen, Jacques Presser |
| | August Derleth, Keto von Waberer, Yüksel Pazarkaya, Erich Pawlu, Irène Némirovsky, Vincent Voiture, Rosalía de Castro, Paul Alfred Kleinert, Stanisław Witkiewicz |
| | César Aira, Robert Gray, Jef Geeraerts, Bernard Cornwell, Ljoedmila Oelitskaja, Toon Kortooms, Jo Ypma, Sonya Hartnett, Maxim Februari |
| | Arnon Grunberg, Rob Schouten, Ruben van Gogh, Paul van Ostaijen, Hugo Ball, Danilo Kis, Sean O'Faolain, Ishmael Reed, Edna St. Vincent Millay |
| | J.M.A. Biesheuvelprijs voor Annelies Verbeke |
| | Herman de Coninck, Tom van Deel, Jonathan Safran Foer, Hans Andreus, David Avidan, Chuck Palahniuk, Wystan Hugh Auden, Laure Limongi, Justus van Effen |
| | P. C. Boutens, David Nolens, Ellen Gilchrist, Julia Franck, Georges Bernanos, William Carleton, Cornelis Sweerts, Johann Heinrich Voß, Pierre Boulle |
| | Michiel Stroink, Siri Hustvedt, Helen Fielding, Jaan Kross, Helene Hegemann, Björn Kuhligk, Thomas Brasch, Dmitri Lipskerov, Wolfgang Fritz |
| | De verzoeking in de woestijn (Nicolaas Beets) |
| | Nick McDonell, Robbert Welagen, Bart FM Droog, Maarten Mourik, Huub Beurskens, Gaston Burssens, Toni Morrison, Elke Erb, Charlotte Van den Broeck |
| | Níkos Kazantzákis, Jean M. Auel, Audre Lorde, Mór Jókai, Hedwig Courths-Mahler, Alexander Kielland, Wallace Stegner, Leone Battista Alberti |
| | Shahrnush Parsipur, Willem Thies, Sadegh Hedayat, Yevgeni Grishkovetz, Albert Kuyle, Jaroslav Vrchlický, Chaim Potok, Mo Yan, Frederik Hetmann |
| | Emmy Hennings, Mori Ōgai, Gustavo Bécquer, Georg Britting, Andrew Paterson, Margaret Truman, Ruth Rendell, Fjodor Sologoeb |


Gastenboek


Druk op onderstaande knop om een berichtje achter te laten in mijn gastenboek