E-mail mij


Druk op onderstaande knop om mij te e-mailen.


Romenu


Romenu is een blog over gedichten, literatuur en kunst Maar Romenu is ook een professionele freelance vertaler
Du-Ne en Ne-Du http://www.romenu.nl.


Huur eens een (vakantie)huis in een natuurgebied, dichtbij het centrum van Nijmegen


Google


Georg Trakl

Georg Trakl werd op 3 februari 1887 in het conducteurshuis aan de Waagplatz 2 in Salzburg geboren. Zijn vader, Tobias Trakl, was een handelaar in ijzerwaren en zijn moeder, die ook psychische problemen had, was Maria Catharina Trakl, (meisjesnaam Halik). Voorts had hij nog drie broers en drie zussen. Margarethe (doorgaans Grethe genoemd) stond hem het naast, zelfs zodanig dat sommigen een incestueuze verhouding vermoeden. Zijn jeugd bracht hij door in Salzburg. Vervolgens bezocht hij van 1897 tot 1905 het humanistische gymnasium. Om toch een academische opleiding te kunnen volgen, werkte hij tot 1908 in de praktijk bij een apotheker. Sommigen vermoedden dat hij dit vooral deed om zichzelf opiaten te kunnen verschaffen. Bij het uitbreken van WO I werd Trakl als medicus naar het front in Galicië (heden ten dage in Oekraïne en Polen) gestuurd. Zijn gemoedsschommelingen leidden tot geregelde uitbraken van depressie, die verergerd werden door de afschuw die hij voelde voor de verzorging van de ernstig verwonde soldaten. De spanning en druk dreven hem ertoe een suïcidepoging te ondernemen, welke zijn kameraden nochtans verhinderden. Hij werd in een militair ziekenhuis opgenomen in Kraków, alwaar hij onder strikt toezicht geplaatst werd.Trakl verzonk daar in nog zwaardere depressies en schreef Ficker om advies. Ficker overtuigde hem ervan dat hij contact moest opnemen met Wittgenstein, die inderdaad op weg ging na Trakls bericht te hebben ontvangen. Op 4 november 1914, drie dagen voordat Wittgenstein aan zou komen, overleed hij echter aan een overdosis cocaïne


Paul Celan

Paul Celan werd onder de naam Paul Antschel op 23 november 1920 geboren in Czernowitz, toentertijd de hoofdstad van de Roemeense Boekovina, nu behorend bij de Oekraïne. Paul Celans ouders waren Duitssprekende joden die hun zoon joods opvoedden en hem naar Duitse christelijke scholen stuurden. In 1942 werden Celans ouders door de Duitse bezetter naar een werkkamp gedeporteerd en daar vermoord. Hijzelf wist aanvankelijk onder te duiken, maar moest vanaf juli 1942 in een werkkamp dwangarbeid verrichten. Celan overleefde de oorlog. Via Boekarest en Wenen vestigde Celan zich in 1948 in Parijs. Daar was hij werkzaam als dichter, vertaler en doceerde hij aan de prestigieuze Ecole Normale Supérieure. Vermoedelijk op 20 april 1970 beëindigde hij zijn leven zelf door in de Seine te springen.


Gerard Reve

Gerard Reve over: Medearbeiders "God is in de mensen, de dieren, de planten en alle dingen - in de schepping, die verlost moet worden of waaruit God verlost moet worden, door onze arbeid, aangezien wij medearbeiders van God zijn." Openbaring "Tja, waar berust elk godsbegrip op, elke vorm van religie? Op een openbaring, dat wil zeggen op een psychische ervaring van zulk een dwingende en onverbiddelijke kracht, dat de betrokkene het gevoel heeft, niet dat hij een gedachte of een visioen heeft, maar dat een gedachte gedachte of visioen hem bezit en overweldigt."


Simon Vestdijk
Simon Vestdijk (Harlingen, 17 oktober 1898 – Utrecht, 23 maart 1971) was een Nederlands romancier, dichter, essayist en vertaler. Zijn jeugd te Harlingen en Leeuwarden beschreef hij later in de Anton Wachter-cyclus. Van jongs af aan logeerde hij regelmatig bij zijn grootouders in Amsterdam, waar hij zich in 1917 aan de Universiteit van Amsterdam inschrijft als student in de medicijnen. Tijdens zijn studie die van 1917 tot 1927 duurde, leerde hij Jan Slauerhoff kennen.Tot 1932 is hij als arts in praktijken door heel Nederland werkzaam. In 1932 volgt zijn officiële schrijversdebuut met de uitgave van de bundel Verzen in De Vrije Bladen. Doorslaggevend voor Vestdijks uiteindelijke keuze voor de literatuur is zijn ontmoeting in 1932 met Eddy Du Perron en Menno ter Braak. Deze ontmoeting had tot resultaat dat hij redactielid werd van het tijdschrift Forum Kort daarop, in 1933, wordt zijn eerste novelle, De oubliette, uitgegeven. In hetzelfde jaar schrijft hij Kind tussen vier vrouwen, dat, eerst geweigerd door de uitgever, later de basis zal vormen voor de eerste drie delen van de Anton Wachter-romans. In 1951 ontvangt Vestdijk de P.C. Hooftprijs voor zijn in 1947 verschenen roman De vuuraanbidders. In 1957 wordt hij voor het eerst door het PEN-centrum voor Nederland voorgedragen voor de Nobelprijs voor de Literatuur, die hij echter nooit zal krijgen. Op 20 maart 1971 wordt hem de Prijs der Nederlandse Letteren toegekend, maar voor hij deze kan ontvangen overlijdt hij op 23 maart te Utrecht op 72-jarige leeftijd. Vestdijk was auteur van ca. 200 boeken. Vanwege deze enorme productie noemde de dichter Adriaan Roland Holst hem 'de man die sneller schrijft dan God kan lezen'. Andere belangrijke boeken van Simon Vestdijk zijn: "Kind van stad en land" (1936), "Meneer Visser's hellevaart" (1936), "Ierse nachten" (1946), "De toekomst de religie" (1947), "Pastorale 1943" (1948), "De koperen tuin" (1950), "Ivoren wachters" (1951), "Essays in duodecimo" (1952) en "Het genadeschot" (1964).


K.P. Kavafis

K.P. Kavafis werd als kind van Griekse ouders, afkomstig uit Konstantinopel, geboren in 1863 in Alexandrië (tot vandaag een Griekse enclave) waar hij ook het grootste deel van zijn leven woonde en werkte. Twee jaar na de dood van zijn vader verhuist het gezin in 1872 naar Engeland om na een verblijf van vijf jaar naar Alexandrië terug te keren. Vanwege ongeregeldheden in Egypte vlucht het gezin in 1882 naar Konstantinopel, om na drie jaar opnieuw naar Alexandrië terug te gaan. In de jaren die volgen maakt Kavafis reizen naar Parijs, Londen en in 1901 zijn eerste reis naar Griekenland, in latere jaren gevolgd door nog enkele bezoeken. Op de dag van zijn zeventigste verjaardag, in 1933 sterft Kavafis in Alexandrië. De roem kwam voor Kavafis pas na zijn dood, dus postuum. Deels is dat toe te schrijven aan zijn eigen handelswijze. Hij was uiterst terughoudend met de publicatie van zijn gedichten, liet af en toe een enkel gedicht afdrukken in een literair tijdschrift, gaf in eigen beheer enkele bundels met een stuk of twintig gedichten uit en het merendeel van zijn poëzie schonk hij op losse bladen aan zijn beste vrienden.


Thomas Mann


Thomas Mann, de jongere broer van Heinrich Mann, werd geboren op 6 juni 1875 in Lübeck. Hij was de tweede zoon van de graankoopman Thomas Johann Heinrich Mann welke later één van de senatoren van Lübreck werd. Zijn moeder Julia (geboren da Silva-Bruhns) was Duits-Braziliaans van Portugees Kreoolse afkomst. In 1894 debuteerde Thomas Mann met de novelle "Gefallen". Toen Thomas Mann met 21 jaar eindelijk volwassen was en hem dus geld van zijn vaders erfenis toestond - hij kreeg ongeveer 160 tot 180 goldmark per jaar - besloot hij dat hij genoeg had van al die scholen en instituties en werd onafhankelijk schrijver. Kenmerkend voor zijn stijl zijn de ironie, de fenomenale taalbeheersing en de minutieuze detailschildering. Manns reputatie in Duitsland was sterk wisselend. Met zijn eerste roman, Buddenbrooks (1901), had hij een enorm succes, maar door zijn sceptische houding tegenover Duitsland na de Eerste Wereldoorlog veranderde dit volledig. Stelde hij zich tot aan de jaren twintig apolitiek op (Betrachtungen eines Unpolitischen, 1918), meer en meer raakte hij bij het Politiek gebeuren betrokken. Zijn afkeer van het nationaal socialisme groeide, zijn waarschuwingen werden veelvuldiger en heftiger. In 1944 accepteerde hij het Amerikaanse staatsburgerschap. Tussen 1943 en 1947 schreef Mann Doktor Faustus (zie Faust), de roman van de 'Duitse ziel' in de gecamoufleerd geschilderde omstandigheden van de 20ste eeuw. In 1947 bezocht hij voor het eerst sinds de Oorlog Europa, twee jaar later pas Duitsland. In 1952 vertrok hij naar Zwitserland. Op 12 augustus 1955 stierf hij in Zürich. Twintig jaar na zijn dood, in aug. 1975, is zijn literaire nalatenschap geopend: dagboekaantekeningen van 15 maart 1933 tot 29 juli 1955, alsmede notities uit de jaren 1918 tot en met 1921.Belangrijke werken zijn: Der Zauberberg, Der Tod in Venedig, Dokter Faustus , Joseph und seine Brüder en Die Bekenntnisse des Hochstaplers Felix Krull.


Rainer Maria Rilke

Rilke werd op 4 december 1875 geboren in Praag. Hij had al naam gemaakt als dichter met zijn bundels Das Stundenbuch en Das Buch der Bilder, toen hij de literaire wereld versteld deed staan en wereldfaam verwierf met de publicatie van zijn twee delen Neue Gedichte in 1907 en 1908. Hij verzamelde daarin het beste werk uit een van zijn vruchtbaarste periodes, die hij grotendeels doorbracht in Parijs. Rilke was daar diep onder de indruk gekomen van Rodin, bij wie hij een tijdlang in dienst was als particulier secretaris. Rodin, zei hij later, had hem leren kijken. Dit kijken kwam neer op intense concentratie, om het mysterie te kunnen zien 'achter de schijnbare werkelijkheid'. Latere en rijpere werken als Duineser Elegien (1912-1923) en het ronduit schitterende Die Sonette an Orfeus (1924) illustreren Rilkes metafysische visie op het onzegbare, dat haar verwoording vindt in een hermetische muzikale taal. Op 29 december 1926 overlijdt Rilke in het sanatorium in Val-Mont aan de gevolgen van leukemie. Enkele dagen later wordt hij, overeenkomstig zijn wens, begraven op het kerkhof van Raron.


* * * * * * * * * * * * * * * *

| | |
| --- | --- |
| | Over literatuur, gedichten, kunst en cultuur |

26-06-2016

Aimé Césaire, Jacqueline van der Waals, Yves Beauchemin, Elisabeth Büchle, Laurie Lee, Pearl S. Buck
De Afrocaraïbische schrijver en politicus Aimé Césaire werd geboren op 26 juni 1913 in Basse-Pointe, Martinique. Zie ook alle tags voor Aimé Césaire op dit blog.
The Woman and the Flame
A bit of light that descends the springhead of a gaze
twin shadow of the eyelash and the rainbow on a face
and round about
who goes there angelically
ambling
Woman the current weather
the current weather matters little to me
my life is always ahead of a hurricane
you are the morning that swoops down on the lamp a night stone
between its teeth
you are the passage of seabirds as well
you who are the wind through the salty ipomeas of consciousness
insinuating yourself from another world
Woman
you are a dragon whose lovely color is dispersed and darkens so
as to constitute the
inevitable tenor of things
I am used to brush fires
I am used to ashen bush rats and the bronze ibis of the flame
Woman binder of the foresail gorgeous ghost
helmet of algae of eucalyptus
dawn isn't it
and in the abandon of the ribbands
very savory swimmer
Vertaald door Clayton Eshleman
Mississipi
Too bad for you men who don't notice that my eyes remember
slings and black flags
which murder with each blink of my Mississipi lashes
Too bad for you men who do not see who do not see anything
not even the gorgeous railway signals formed under my eyelids by the black and red discs
of the coral snake that my munificence coils in my Mississipi tears
Too bad for you men who do not see that in the depth of the reticule where chance has
deposited our Mississipi eyes
there waits a buffalo sunk to the very hilt of the swamp's eyes
Too bad for you men who do not see that you cannot stop me from building to his fill
egg-headed islands of flagrant sky
under the calm ferocity of the immense geranium of our sun.
Vertaald door Clayton Eshleman en A. James Arnold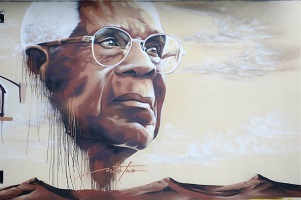 Aimé Césaire (26 juni 1913 – 17 april 2008)
Muurschildering in Bagnolet, Frankrijk
De Nederlandse dichteres Jacqueline Elisabeth van der Waals werd geboren op 26 juni 1868 in Den Haag. Zie ook alle tags voor Jacqueline van der Waals op dit blog.
Afscheid
Eén ogenblik van het voorbije leven
Als voor 't bewogen spiegelvlak te staan
Van rimplend water, dat met stadig beven,
Het beeld, eer het tot stand komt, doet vergaan.
De vorm te zien, die in het water drijft,
Onzuiver zo van kleuren als contouren,
Die, vluchtig bij het allerlichtst beroeren,
Geen wezen heeft, dat in zichzelf beklijft...

En heen te gaan - en niets dat achter blijft
Dan dingen, die wij meenden te bezitten,
En niet ons eigen waren, die als klitten
Nog hechten in de plooien van ons kleed,
Maar die wij van ons doen, zoals we leed
En bitterheid en zorgen van ons deden,
Als niet van ons, als dingen van 't verleden...

Een oogwenk voor het vlottend watervlak te staan
En naar 't verwarde spiegelbeeld te staren,
Dat nog de trekken draagt, die de onze waren,
En stil en eenzaam heen te gaan.
Avondnevel
O, die blinkend witte nevel over de venen! de uitgestrekte,
Grote, stille nevelzee, wier waatren de aarde bedekten!

Wij liepen des avonds tegen
De tijd, dat de zon onderging,
Samen op stille wegen
Door het moeras en zwegen
Van verwondering.
Slechts hoopjes turf en daken
Van donkere huisjes staken
Zwart uit de nevel omhoog.
Ze was zo stil, zo zonderling,
Die zee, waar niets bewoog.

O, die zwarte, grillige heuvelkust,
Die met haar brede lijn,
Scheidde de blinkende nevelrust
Van 't gloeiende karmijn!
Want boven de donkere landen
Stond vuurrood de hemel te branden
Met onheilspellende schijn.

Ik werd onrustig en ik zocht
Een woord, dat de stilte verbreken mocht.
Ik keek in de zon, in het nevelmeer....
Het zwijgen werd pijnlijk.
De avond, de aarde, mijn leven werd zeer,
zeer onwaarschijnlijk.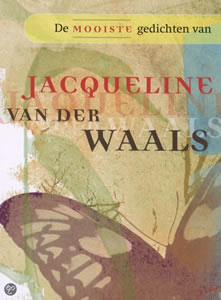 Jacqueline van der Waals (26 juni 1868 – 29 april 1922)
Cover
De Canadese schrijver Yves Beauchemin werd geboren op 26 juni 1941 in Rouyn-Noranda, Quebec. Zie ook alle tags voor Yves Beauchemin op dit blog.
Uit: Le Matou
"-Qu'est-ce que je vais faire de tout cet alphabet? se demandait Florent, de plus en plus intrigué.
- Va la vendre dans un magasin d'antiques, lui suggéra Slipskin et il lui fournit sur-le-champ l'adresse de l'établissement de son père.
Deux jours passèrent. la générosité de son bienfaiteur ne donnait pas de signes de fatigue. Florent résolut d'aller au fond de l'affaire et de recevoir lui-même son prochain colis. Il se leva à l'aube et s'installa à son bureau devant une tasse de café.
À six heures vingt, il entendit une auto stopper devant Musipop. Bondissant de sa chaise, il courut ouvrir la porte et se retrouva nez à nez avec un infirme loqueteux, à la barbe hirsute, au visage creusé, qui le regardait d'un air stupide, la bouche béante.
- Mo... mo... mossieu Bwazono, bafouilla-t-il en lui tendant un colis, pendant que l'auto démarrait avec fracas.
Florent le considéra un instant, puis se retira dans le bureau. L'infirme déposa le colis par terre et s'avança au milieu de la rue, tournant la tête de tous côtés, complètement désemparé.
(…)
- Votre père sur la deuxième ligne, fit mademoiselle Relique dont la voix, aggravée par le récepteur, avait la douceur de la broche piquante.
- Salut, lança Florent, je m'achète un restaurant.
- Hein ? Quoi ? Que c'est que tu me dis là ?
- Oui, je m'achète une restaurant. La Binerie, sur la rue Mont-Royal.
- Es-tu sérieux ? La Binerie ? C'est un très bon spot, ça. J'allais manger là durant la guerre. Mais tu veux rire. Jamais je ne croirai…
- Je te raconterai. Pour l'instant, je suis un peu pressé. Dis donc, tu connais un peu le milieu des affaires, toi… As-tu déjà entendu parler d'un bonhomme du nom d'Egon Ratablavasky ?
- Egon quoi ? Minute! Laisse-moi prendre un crayon et répète-moi ça lentement, mon blond. Je vais m'informer, fit-il après avoir noté. Fie-toi sur moi, j'ai le nez long et le bras sans fin. Ah oui! Pendant que j'y pense : ta mère fait demander si vous venez souper dimanche? "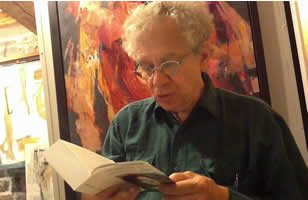 Yves Beauchemin (Rouyn-Noranda, 26 juni 1941)
De Duitse schrijfster Elisabeth Büchle werd geboren op 26 juni 1969 in Trossingen, Baden-Württemberg. Zie ook alle tags voor Elisabeth Büchle op dit blog.
Uit: Unter dem Polarlicht
"Die künstliche Beleuchtung des Büros im Bankgebäude surrte leise vor sich hin, während Chiara Kilians Finger der Tastatur ein schnelles Stakkato an Klackgeräuschen abverlangte. Die Frau auf dem Stuhl gegeniiber rutschte unruhig umher. Sie hatte ihr Anliegen geschäftsmäßig und detailliert vorgetragen, doch nun verriet ihre Körpersprache ihre innere Aufregung.
Chiara lächelte die Eingabemaske mehr traurig als fröhlich an.
Sie fand Noa Schochs Idee von einem Blumen-Geschenk-Bücher-Café in einem reinen Wohngebiet in Freiburg interessant, ahnte jedoch, dass die Finanzierung durch die Bank, bei der Chiara morgen genau ein halbes Jahr angestellt war, nicht zustande kommen würde. Mit ihren 22 Jahren war Noa noch ein Jahr jünger als Chiara und hatte bis auf eine gut durchdachte und bezaubernde Geschäftsidee keine Sicherheiten vorzuweisen.
Sie wollte der hübschen Rothaarigen gerade mitteilen, wie gering ihre Chancen waren. als es an der Tür klopfte. Einer der neuen Auszubildenden - ihr Namensgedächtnis verweigerte wieder einmal seinen Dienst - kam herein und sagte, ohne die Kundin zu beachten: "Frau Kilian, Sie werden von Herrn Meier erwartet."
"Zwei Minuten, bitte", erwiderte Chiara Freundlich und warf Noa einen cntschulcligenden Blick zu.
"Er sagte aber sofort!", widersprach der jugendliche und trat neben sie, als plane er, ihr den Drehstuhl unter dem Hintern wegzuziehen. "Ich kümmere mich so lange um "Frau Schoch". brummte Chiara und stand auf. Dieser junge Mann würde es weit bringen, dessen war sie sich gewiss. "Entschuldigen Sie mich bitte. Ich bin gleich wieder für Sie da."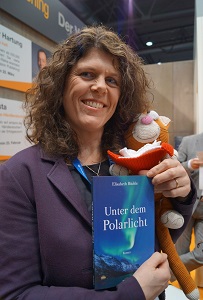 Elisabeth Büchle (Trossingen, 26 juni 1969)
De Engelse dichter en schrijver Laurence Edward Alan "Laurie" Lee werd geboren in Stroud, Gloucestershire op 26 juni 1914. Zie ook alle tags voor Laurie Lee op dit blog.
Day of These Days
Such a morning it is when love
leans through geranium windows
and calls with a cockerel's tongue.
When red-haired girls scamper like roses
over the rain-green grass;
and the sun drips honey.
When hedgerows grow venerable,
berries dry black as blood,
and holes suck in their bees.
Such a morning it is when mice
run whispering from the church,
dragging dropped ears of harvest.
When the partridge draws back his spring
and shoots like a buzzing arrow
over grained and mahogany fields.
When no table is bare,
and no beast dry,
and the tramp feeds on ribs of rabbit.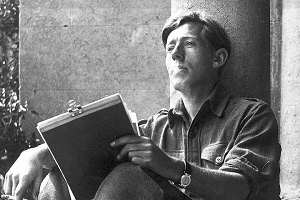 Laurie Lee (26 juni 1914 – 13 mei 1997)
De Amerikaanse schrijfster Pearl S. Buck werd geboren in Hillsboro West-Virginia, op 26 juni 1892. Zie ook alle tags voor Pearl S. Buck op dit blog en eveneens alle tags voor P. S. Buck.
Uit: The good earth
"And out of his heaviness there stood out strangely but one clear thought and it was a pain to him, and it was this, that he wished he had not taken the two pearls from O-lan that day when she was washing his clothes at the pool, and he would never bear to see Lotus put them in her ears again."
(…)
"When the rich are too rich there are ways, and when the poor are too poor there are ways. Last winter we sold two girls and endured, and this winter, if this one my woman bears is a girl, we will sell again. One slave I have kept—the first. The others it is better to sell than to kill, although there are those who prefer to kill them before they draw breath. This is one of the ways when the poor are too poor. When the rich are too rich there is a way, and if I am not mistaken, that way will come soon."
(…)
"Spring passed and summer passed into harvest and in the hot autumn sun before winter comes Wang Lung sat where his father had sat against the wall. And he thought no more about anything now except his food and his drink and his land. But of his land he thought no more what harvest it would bring or what seed would be planted or of anything except of the land itself, and he stooped sometimes and gathered some of the earth up in his hand and he sat thus and held it in his hand, and it seemed full of life between his fingers. And he was content, holding it thus, and he thought of it fitfully and of his good coffin that was there; and the kind earth waited without haste until he came to it."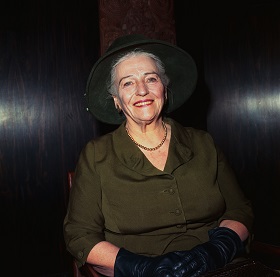 Pearl S. Buck (26 juni 1892 – 6 maart 1973)
Zie voor nog meer schrijvers van de 26e juni ook mijn vorige blog van vandaag.
26-06-2016 om 11:37 geschreven door Romenu

Tags:Aimé Césaire, Jacqueline van der Waals, Yves Beauchemin, Elisabeth Büchle, Laurie Lee, Pearl S. Buck, Romenu



Stefan Andres, Martin Andersen-Nexø, Branwell Brontë, Bankim Chandra Chatterjee, Sunthorn Phu, Sidney Howard
Duitse schrijver Stefan Andres werd geboren op 26 juni 1906 in Breitwies bij Trier. Zie ook alle tags voor Stefan Andres op dit blog.
Uit: Wir sind Utopia
"Die enge, düstere Gassenrinne fuhr der Wagen langsam dahin, wiewohl kein Mensch, weder Zivilist noch Soldat, ihm begegnete. Auf dem weiten, gleißenden Platz nahm er die Kehre, und im Schatten vor der Freitreppe der in ihrem starrenden Prunk unfreudig wirkenden Barockfassade des Karmeliterklosters stand er dann still.
Unter der Pforte erschien auf das groblässige Signal des Wagens hin ein Offizier, von einem Sergeanten und einem Soldaten begleitet, welche die Ankömmlinge mit düster gleichmütigen Blicken empfingen.
Die sechs Bajonette sprangen sofort auf das Pflaster, ein Kommando schnarrte, und die Lehmgestalten erhoben sich mühsam, traten ein paarmal hin und her und sprangen ebenfalls, nachdem sie die eingeschlafenen Füße zuvor möglichst tief hatten herabkommen lassen, vorsichtig auf das Pflaster.
Es waren über zwanzig Gefangene, die im Karmeliterkloster untergebracht werden sollten. Seine Geräumigkeit und vergitterten Fenster machten den Bau für seine neue Bestimmung noch geeigneter; zudem lag das Kloster mit der Hinterfront an der Stadtmauer, und da ging es aus den Fenstern des ersten Stockes über fünfzehn Meter tief jäh hinunter. Das war ein weiterer Vorteil für die Wachhabenden, denn das etwa zweihundert Gefangene beherbergende Lager konnte so mit einer schwachen Besatzung auskommen, die in der Tat nur aus einem Leutnant, einem Sergeanten und zwei Soldaten bestand.
Freilich lagen in der Stadt noch einige Fliegerabwehrbatterien und leichte Kraftfahrverbände, die auf den Einsatz warteten."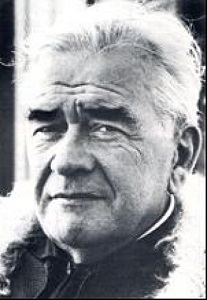 Stefan Andres (26 juni 1906 - 29 juni 1970)
De Deense schrijver Martin Andersen-Nexø werd geboren op 26 juni 1869 in Kopenhagen. Zie ook alle tags voor Martin Andersen-Nexø op dit blog.
Uit:Die Passagiere der leeren Plätze (Vertaald door Ellen Schou en Karl Schodder)
"Aber eines Tages hielt ich dann doch eine gewaltige Summe Geldes in der Hand: vierhundert Kronen, für die ich nach Italien fahren sollte; die unfassbar gutherzige Frau hatte sie herangeschafft. Es ist nicht zu sagen, wie mir zumute war; dem Tode war ich entschlüpft, und dem noch Schlimmeren — der Sklaverei — ebenfalls! Wie ein Sperling, der durch wunderbaren Zufall aus dem Rachen der Katze entkommt, flatterte ich davon, halbtot, aber froh und warm im Herzen. Ich war — im letzten Augenblick — auf die Sonnenseite des Daseins versetzt worden; jetzt war ich an der Reihe, Sonne zu schlecken!
Aber war da Platz für mich? Und würden jene, die dort schon saßen, mit mir zu tun haben wollen — oder würden sie mich hetzen wie einen fremden Köter, der dort nichts zu suchen hätte?
Es war ganz merkwürdig, ins Lager der Auserwählten versetzt zu werden, zu denen, deren Leben so viel mehr galt, dass Reisen in den Süden dafür aufgewendet wurden. Wenn ich auch nur dritter Klasse fuhr, so nahm sich vor dem Hintergrund des Zwecks der Reise doch alles ganz anders aus. Mein Leben sollte gerettet werden, während alle die anderen, meine Leidensgefährten, in ihrem Elend stecken blieben! Ich empfand zugleich ein Gefühl des Auserwähltseins und der Fahnenflucht — der Treulosigkeit gegenüber allen jenen, mit denen ich ein Schicksal gemeinsam hatte.
Und ich war aus meiner Arme-Leute-Ergebenheit herausgerissen worden. Ich entdeckte rasch, dass es auf der Sonnenseite des Daseins Platz genug gab, für mich und viele andere; überall fuhren die Züge halbleer, während jene, die hätten mit dabei sein sollen, irgendwo im Dunkel saßen und verkamen. Warum wagten sie sich nicht hervor und machten ihr Recht geltend? Und warum war ich selber so geniert und verschüchtert, als ob ich ein Schmarotzer wäre?
Schon die erste Nacht der Reise von der schleswigschen Grenze bis zur Hauptstadt wurde mir zu einer unvergesslichen Lektion, mich nicht deshalb als auserwählt zu betrachten, weil ich zufällig einem Menschen begegnet war, der in mein Schicksal eingegriffen und mich aus meinem Zusammenhang, aus dem Zusammenhang des Elends herausgerissen hatte."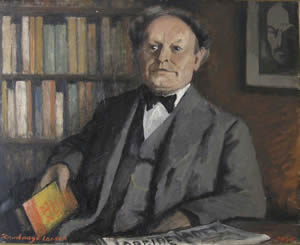 Martin Andersen-Nexø (26 juni 1869 – 1 juni 1954)
Portret door Knud Aage Larsen, 1934.
De Engelse dichter en schilder Branwell Brontë werd op 26 juni 1817 geboren in Thornton, Yorkshire. Zie ook alle tags voor Branwell Brontë op dit blog.
Epistle To The Labouring Poor (Fragment)
Your mean attire and scanty fare
Are, doubtless, springs of bitter care,
Expose you blushing, trembling, bare,
To haughty scorn;
Yet murmur not in black despair,
Nor weep forlorn.

You see that lordling glittering ride
In all the pomp of wealth and pride,
With lady lolling at his side,
And train attendant:
'Tis all, when felt and fairly tried,
But care resplendent.

As riches grow his wants increase,
His passions burn and gnaw his peace,
Ambition foams like raging seas
And breaks the rein,
Excess produces pale disease
And racking pain.

Compared with him thrice happy you;
Though small your stock your wants are few,
Each wild desire your toils subdue,
And sweeten rest,
Remove all fancied ills from view,
And calm your breast.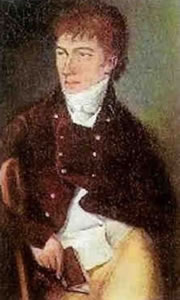 Branwell Brontë (26 juni 1817 – 24 september 1848)


De Bengaals – Indische dichter, schrijver, essayiste en journalist Bankim Chandra Chatterjee werd geboren op 26 juni 1838 in Kanthalpura. Zie ook alle tags voor Bankim Chandra Chatterjee op dit blog.
Uit: The Poison Tree (Vertaald door Miriam S. Knight)
"It was not quite an ordinary house, but it had no sign of prosperity. The door-frames were broken and dirty; there was no trace of human occupation—only owls, mice, reptiles, and insects gathered there. The light came only from one side. Nagendra saw some articles of furniture for human use; but everything indicated poverty. One or two cooking vessels, a broken oven, three or four brass dishes—these were the sole ornaments of the place. The walls were black; spiders' webs hung in the corners; cockroaches, spiders, lizards, and mice, scampered about everywhere. On a dilapidated bedstead lay an old man who seemed to be at death's door; his eyes were sunk, his breath hurried, his lips trembling. By the side of his bed stood an earthen lamp upon a fragment of brick taken from the ruins of the house. In it the oil was deficient; so also was it in the body of the man. Another lamp shone by the bedside—a girl of faultlessly fair face, of soft, starry beauty.
Whether because the light from the oil-less lamp was dim, or because the two occupants of the house were absorbed in thinking of their approaching separation, Nagendra's entrance was unseen. Standing in the doorway, he heard the last sorrowful words that issued from the mouth of the old man. These two, the old man and the young girl, were friendless in this densely-peopled world. Once they had had wealth, relatives, men and maid servants—abundance of all kinds; but by the fickleness of fortune, one after another, all had gone. The mother of the family, seeing the faces of her son and daughter daily fading like the dew-drenched lotus from the pinch of poverty, had early sunk upon the bed of death. All the other stars had been extinguished with that moon. The support of the race, the jewel of his mother's eye, the hope of his father's age, even he had been laid on the pyre before his father's eyes. No one remained save the old man and this enchanting girl. They dwelt in this ruined, deserted house in the midst of the forest. Each was to the other the only helper."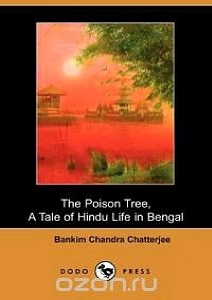 Bankim Chandra Chatterjee (26 juni 1838 – 8 april 1894)
Cover
De Thaise dichter Sunthorn Phu werd geboren op 26 juni 1786 in Bangkok. Zie ook alle tags voor Sunthorn Phu op dit blog.
Uit: Phra Aphai Mani (Vertaald door Prince Prem Burachat)
"The two pupils made rapid advance in their studies. The professor of music took Phra Abhai Mani to the top of a mountain to play his flute, and what he learned was no common kind of flute-playing.
When he played, all the wild animals in the forest - even tigers and elephants - forgot to eat and came to listen, enraptured by the magic notes that came out of the musical instrument. Within seven months, Phra Abhai Mani had completely mastered the art of music, with which he could charm the hearts of men and lull them to sleep or make them fall in with his desires. His instruction finished, the professor handed him back his ring : he desired no payment from a pupil such as Phra Abhai Mani. So Phra Abhai Mani, full of gratitude, took leave of him and rejoined his brother, who had likewise completed his course. Sri Suvarna now knew all there was to be known about military tactics and could handle any weapon with infinite skill. He had als o been handed back his ring on completing his studies. There was nothing to prevent the two brothers from returning to their father's palace with all due speed.
On their arrival, they went straight to the hall where Sudasna was giving audience. As soon as the Prince saw his sons, he beamed with pleasure, and called them to his side. At once he began to ask how they had fared. But when he heard how his elder son has been learning to play the flute, and his younger son had spent his time wielding common weapons, his pleasure turned to anger, and, stamping his royal foot, said in his rage
"I do not wish to hear an not wish to hear any more! Music! Music is fit only for hired minstrels and entertainers. Why, even the women in my palace can learn to play music. And a knowledge of common weapons is suitable only for common soldiers. What have the sons of princes to do with such things? You have both put me to shame. I cannot let you stay in my palace. I ought to drive you out. You have been away a whole year, wasting your time, and then you come to annoy me with your foolish talk."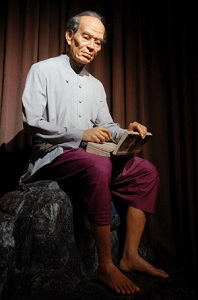 Sunthorn Phu (26 juni 1786 - ? 1855)
Beeld in het wassenbeelden museum in Nakhon Pathom
De Amerikaanse toneel- en draaiboekschrijver Sidney Howard werd geboren op 26 juni 1891 in Oakland, Californië. Zie ook alle tags voor Sidney Howard op dit blog.
Uit: The Story Gets a Treatment
"The talking picture should, if possible, never pause to talk about itself. This is a lesson which many directors and writers in Hollywood have still to learn. One still sees too many picture scenes which are no more than photographed play scenes. By this I mean scenes in which the director has deluded himself into the belief that he is satisfying the action demands of the picture medium by moving his camera round and about a theater stage and cutting from close-up of A to close-up of B.
Dialogue scenes of talking pictures should be written as though each were a full-rate cable, for every word of which the writer has to pay out of his own pocket.
Length hangs like doom over any picture. All producers and directors seem to have one weakness in common. They are unwilling to face the fact that their scripts are too long, and proceed in the delusion that they will not need cutting after the film has been shot and put together. The picture which is cut to length in script can be smoothly cut and the cuts blended over so that they will not afterwards be apparent. The picture which is shot from an over-length script and cut after it has been put together will always show the bad joints of crude carpentry.
The day of important original screenplays is near, when our O'Neills and Kaufmans will be writing for the screen as independently as they now write for the stage and arranging for their productions, not out of deference to the higher weekly salary, but with the same greed for the best artistic conditions of cast and direction which they now impose upon the theater. This is inevitable because the best talents for producing, directing and acting have already been drawn to the screen. In the screen drama that is to come, the director will continue his domination, at least until the screen has welded director and screenwriter into a single individual. But the writer's side of this superman will still play second fiddle and screen drama will not be literature but something else, something new. It is always a sound idea in art, as in life, to welcome anything new when it is good, and motion pictures seem bent on growing better and better."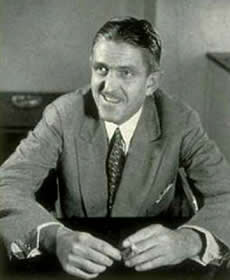 Sidney Howard (26 juni 1891 – 23 augustus 1939)
26-06-2016 om 11:36 geschreven door Romenu

Tags:Stefan Andres, Martin Andersen-Nexø, Branwell Brontë, Bankim Chandra Chatterjee, Sunthorn Phu, Sidney Howard, Romenu



| | |
| --- | --- |
| | |



Inhoud blog


| | |
| --- | --- |
| | Niels 't Hooft, Jan Blokker, Linda Pastan, Louis-Ferdinand Céline, Georges Eekhoud, Said, John Cheever, John Barth |
| | Max Brod, Kaur Kender, Adriaan Venema, Arnold Bennett, Richard Schaukal, Ferdynand Ossendowski, M. A. von Thümmel, Herman Wouk, Dashiell Hammett |
| | Alan Hollinghurst, Radwa Ashour, Hugo Raes, Vítězslav Nezval, Ivan O. Godfroid, Maxwell Bodenheim, Isabella Nadolny, Edmond De Goncourt |
| | Hemelvaart (Gabriël Smit) |
| | Egyd Gstättner, Claire Castillon, Friedrich Dieckmann, Eve Ensler, Raymond Carver, Jamaica Kincaid, Robert Ludlum, Theodore Roethke, W. P. Kinsella |
| | Joseph Brodsky, Michael Chabon, Bob Dylan, Henri Michaux, William Trevor, Tobias Falberg, Arnold Wesker, George Tabori, Rainald Goetz |
| | Adriaan Roland Holst, Maarten Biesheuvel, Lydia Rood, Jane Kenyon, Susan Cooper, Michaël Vandebril, Jack McCarthy, Mitchell Albom, Pär Fabian Lagerkvist |
| | Erik Spinoy, Arthur Conan Doyle, Ahmed Fouad Negm, Anne de Vries, Johannes R. Becher, Kees Winkler, Gérard de Nerval, Robert Neumann, Catulle Mendès |
| | Takis Würger |
| | Gabriele Wohmann, Amy Waldman, Maria Semple, Urs Widmer, Emile Verhaeren, Robert Creeley, Alexander Pope, Tudor Arghezi, Suzanne Lilar |
| | Tommy Wieringa, Auke Hulst, Ellen Deckwitz, Jeroen Thijssen, Maurits de Bruijn, Gerrit Achterberg, Annie M.G. Schmidt, Sky du Mont |
| | Honoré de Balzac, William Michaelian, Wolfgang Borchert, Hector Malot, Ingvar Ambjørnsen, A.C. Cirino, Hanna Krall, Sigrid Undset |
| | Constantin Göttfert, Karel van het Reve, Simone van Saarloos, Gijs IJlander, Thera Coppens, H.W.J.M. Keuls, Jodi Picoult, Yahya Hassan, Ruskin Bond |
| | Markus Breidenich, W.G. Sebald, Yi Mun-yol, François Nourissier, Gunnar Gunnarsson, Omar Khayyam, Ernst Wiechert, Franziska zu Reventlow, John Wilson |
| | Lars Gustafsson, Peter Høeg, Gary Paulsen, Henri Barbusse, Virginie Loveling, Dennis Potter, Cor Bruijn, Dorothy Richardson, Mischa Andriessen |
| | Adrienne Rich, Paul Gellings, Friedrich Rückert, Jakob van Hoddis, Juan Rulfo, Olga Berggolts, Lothar Baier, Rens van der Knoop, Naomi Rebekka Boekwijt, Olaf J. de Landell |
| | Albert Verwey, Arthur Schnitzler, Pem Sluijter, W.J.M. Bronzwaer, Frits van Oostrom, Michael Lentz, Max Frisch, Judith Hermann, Peter Shaffer |
| | Mary Wortley Montagu |
| | Moeder (Gerrit Achterberg) |
| | Jo Gisekin, Karl-Markus Gauß, Eoin Colfer, Gaby Hauptmann, Wilma Vermaat, Frans Bastiaanse |
| | Dante Alighieri, Krister Axel, Jens Sparschuh, Evelyn Sanders, Kasper Peters, Walter E. Richartz, Karin Struck |
| | Jan Lauwereyns, Reinout Verbeke, Bruce Chatwin, Daphne du Maurier, Kathleen Jamie, Armistead Maupin, Alphonse Daudet, Kōji Suzuki |
| | Gregor von Rezzori, Theo van Baaren, Reinhold Schneider, Jacob Haafner, Adolf Muschg, Roch Carrier, Franz Michael Felder |
| | Hagar Peeters, Bertus Aafjes, August Vermeylen, Andrej Voznesensky, Sabine Imhof, Dante Gabriel Rossetti, Nicolaas Anslijn, Eva Demski, Farley Mowat |
| | J. H. Leopold, Ida Gerhardt, Eugen O. Chirovici, Andre Rudolph, Rubem Fonseca, Henning Boëtius, Camilo José Cela, Rachel Billington, Carl Hauptmann |
| | J.C. Bloem, Herman Leenders, Didi de Paris, Ralf Rothmann, Jeremy Gable, Petra Hammesfahr, Roberto Cotroneo, Antonine Maillet, Johann Peter Hebel |
| | Pieter Boskma, Charles Simic, Jotie T'Hooft, Jan Drees, Leopold Andrian, Alan Bennett, Lucian Blaga, Richard Adams, James Barrie |
| | Libris Literatuur Prijs 2017 voor Alfred Birney |
| | Luuk Wojcik |
| | Roddy Doyle, Thomas Pynchon, Pat Barker, Gary Snyder, Gertrud Fussenegger, Edmund Wilson, Romain Gary, Alain-René Lesage, Sophus Schandorph |
| | Willem Elsschot, Almudena Grandes, Christoph Marzi, Edgar Cairo, Volker Braun, Robert Browning, Peter Carey, Archibald MacLeish, Rabindranath Tagore |
| | Horst Bienek, Joseph Joubert, Stanisław Przybyszewski, Karl Gustav Vollmõller, A. E. W. Mason, Therese Huber, Dorit Zinn, Angela Carter, André du Bouchet |
| | Am dritten Sonntage nach Ostern (Annette von Droste-Hülshoff) |
| | Willem Kloos, Hélène Gelèns, Sasja Janssen, Ariel Dorfman, Erich Fried, Yasushi Inoue, Harry Martinson, Christian Morgenstern, Carl Ludwig Börne |
| | Ferdinand Sauter, Eugène Labiche, Gaston Leroux, Júlio César de Mello e Souza, Marie-Aude Murail, Paul Alverdes, Erik Bindervoet, Simon Mulder |
| | Vrijheid (Marion Bloem) |
| | Miklós Radnóti, Roni Margulies, Petra Else Jekel, Morton Rhue, Christopher Morley, George Albert Aurier, Henryk Sienkiewicz, Richard Watson Dixon, Catullus |
| | Stad (Willem van Toorn) |
| | Cola Debrot, Christiaan Weijts, Amos Oz, Monika van Paemel, Graham Swift, David Guterson, Jan Mulder, Werner Fritsch, Jacques Lanzmann |
| | Erik Lindner, Jehuda Amichai, Johan de Boose, Paul Bogaert, Marc Dugain, Ben Elton, Jens Wonneberger, Klaus Modick, Agnès Desarthe |
| | Esther Freud, Wytske Versteeg, Rob Waumans, Tilman Rammstedt, James Holmes, Jef Last, Gottfried Benn, Novalis, Jurgis Baltru¨aitis |
| | Die Arbeiter (Alfons Petzold) |
| | Guido Gezelle, Johano Strasser, Yasmina Reza, Joseph Heller, Yánnis Rítsos, Antal Szerb, Ignazio Silone, Aleksander Wat, Reinier van Genderen Stort |
| | John Greenleaf Whittier, Jeroen Brouwers, Alexander Osang, Ulla Hahn, Luise Rinser, John Boyne |
| | Konstantínos Petros Kaváfis, Rod McKuen, Bernhard Setzwein, Monika Rinck, Alejandra Pizarnik, Walter Kempowski, Bjarne Reuter, Kurt Pinthus, Humphrey Carpenter |
| | Zia Haider Rahman, Wim Hazeu, Roberto Bolaño, Gerhard Henschel, Harper Lee, Joop Waasdorp, Karl Kraus, Ğabdulla Tuqay, Charles Cotton |
| | De koning had geen zin (Annie M.G. Schmidt) |
| | Astrid Roemer, Robert Anker, André Schinkel, Didier Daeninckx, Hovhannes Shiraz, August Wilson, Edwin Morgan, Jules Lemaître, Cecil Day Lewis |
| | Bernard Malamud, Vincente Alexandre, Carl-Christian Elze, Hannelies Taschau, Theun de Vries, Hertha Kräftner, Johann Uhland |
| | Erik Menkveld, Ted Kooser, James Fenton, Walter de la Mare, Richard Anders, William Temple, John Keble |


Gastenboek


Druk op onderstaande knop om een berichtje achter te laten in mijn gastenboek