De Duitse schrijfster Tanja Kinkel werd geboren op 27 september 1969 in Bamberg. Zie ook mijn blog van 27 september 2010 en eveneens alle tags voor Tanja Kinkel op dit blog.
Uit: Venuswurf
»König der Missgeburten, meinst du wohl«, sagte Fausta. Dann versank sie wieder in dem gleichen dumpfen Schweigen, das der Rest der Gefangenen sich teilte.
Es roch nach Schweiß, nach Angst und Pisse, und trotz ihrer Aufregung spürte Tertia, wie ihr Magen sich zusammenkrampfte. Aber sie wusste auch, dass die anderen sie zwingen würden, in ihrem Erbrochenen zu sitzen, nicht einmal aus Bosheit, sondern weil sonst kein Platz in dem engen Verschlag war. Der Händler hatte dafür gesorgt, dass sein Karren an allen Seiten von hohen Wänden begrenzt wurde, für den Fall, dass jemand an Flucht dachte. Es gab noch nicht einmal die Möglichkeit, den Kopf darüber in die frische Luft zu strecken. Also versuchte sie alles, um sich zu beherrschen. Und dabei auch einen Gedanken zu unterdrücken: dass sie sich ihr neues Leben anders vorgestellt hatte.
Inmitten von Lärm und Gestank zählte sie an den Fingern ihre wichtigsten Zahlen ab: Drei mal fünf, so alt war sie. Drei Kühe, die sich ihr Vater für das Geld kaufen konnte, das er für sie bekommen hatte. So viel Geld, wie sein Bruder in zwei Jahren in der Legion verdiente, hatte er zu Tertias Mutter gesagt. Auf eine dritte Drei brachte sie es nicht, denn sie war nur zwei Fuß und einen Spann hoch. Mit vier Jahren war sie nicht mehr weiter gewachsen. Tertia hatte sich schon lange damit abgefunden, dass sie nie größer werden würde. Und sie wusste, dass Fausta Recht hatte: Es war ein Glück, dass man sie damals nicht einfach aussetzte. Ein Mädchen, das ein Zwerg war, konnte nur ein unnützer Esser bleiben, den nie jemand heiratete und der noch nicht einmal richtig auf dem Hof zupacken würde. Aber was Fausta nicht wusste, war, dass es keinen Grund gab, Tertia zu bedauern. O nein.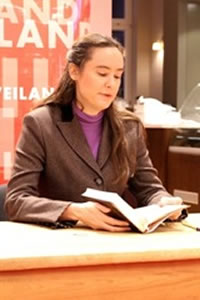 Tanja Kinkel (Bamberg, 27 september 1969)
De Poolse dichter en vertaler Wacław Koźma Damian Lieder, ook: Rolicz-Lieder werd geboren op 27 september 1866 in Warschau. Zie ook mijn blog van 27 september 2008 en ook mijn blog van 27 september 2009 en ook mijn blog van 27 september 2010

PALME IN DER WUSTE
Herrin · ich sah dich plötzlich schlank wie die palme
Und dachte dass ich im wandern jezt rasten würde
Mein schweres haupt dem schutz deiner haare vertrauend
Wie einem baum ein pilger seine bürde.
Ich wollte zu füssen deines kräftigen lebens
Den lüften lauschen die deiner wimper begegnen ·
Ich möchte die wonnen mystischer liebe trinken ·
Erwartend ob weiche küsse auf mich regnen.
Doch weisheit die jede lust zu zerstören bedacht ist
Lässt mich mit trügendem gleichmut vorübereilen
Damit ich nicht eines traurigen abends bedaure
Die schatten des lieblichen baumes die hinter mir weilen.

PHONIX STEIGT AUS DEN FLAMMEN
Ewig unsterbliches lied der immer jungen liebe
Fliegt geheimnisvoll durch vermooster jahrhunderte wald
Auf der holdseligen schwermut melodischen flügeln.
Schliessen möchten sich menschliche lippen gleich mimosen
Rosen gleich wenn vom kirchturm der angelus niederfliesst
Wie bei des mondes erscheinen die persischen tulpen.
Auf der holdseligen schwermut melodischen flügeln
Durch die gärten durch meine träume fliegt wonnend dahin
Ewig unsterbliches lied der immer jungen liebe.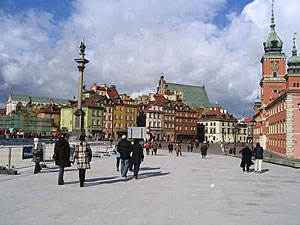 Wacław Rolicz-Lieder (27 september 1866 – 25 april 1912)
Warschau
De Franstalige Zwitserse schrijver en filosoof Henri-Frédéric Amiel werd geboren op 27 september 1821 in Genève. Zie ook mijn blog van 27 september 2009 en ook mijn blog van 27 september 2010
Uit: Journal (Vertaald door Mrs. Humphrey Ward)
"May 3, 1849.--I have never felt any inward assurance of genius, or any presentiment of glory or of happiness. I have never seen myself in imagination great or famous, or even a husband, a father, an influential citizen. This indifference to the future, this absolute self-distrust, are, no doubt, to be taken as signs. What dreams I have are all vague and indefinite; I ought not to live, for I am now scarcely capable of living. Recognize your place; let the living live; and you, gather together your thoughts, leave behind you a legacy of feeling and ideas; you will be most useful so. Renounce yourself, accept the cup given you, with its honey and its gall, as it comes. Bring God down into your heart. Embalm your soul in Him now, make within you a temple for the Holy Spirit, be diligent in good works, make others happier and better.
Put personal ambition away from you, and then you will find consolation in living or in dying, whatever may happen to you.
May 27, 1849.--To be misunderstood even by those whom one loves is the cross and bitterness of life. It is the secret of that sad and melancholy smile on the lips of great men which so few understand; it is the cruelest trial reserved for self-devotion; it is what must have oftenest wrung the heart of the Son of man; and if God could suffer, it would be the wound we should be forever inflicting upon Him. He also—He above all--is the great misunderstood, the least comprehended. Alas! alas! never to tire, never to grow cold; to be patient, sympathetic, tender; to look for the budding flower and the opening heart; to hope always, like God; to love always--this is duty."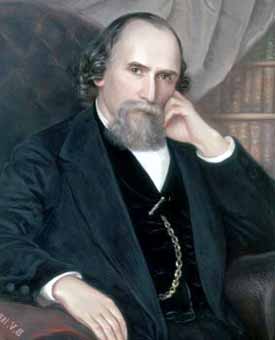 Henri-Frédéric Amiel (27 september 1821 – 11 mei 1881)
Portret door Berthe Vadier, 1878
De Italiaanse schrijfster Grazia Deledda werd geboren op 27 september 1871 in Nuoro op Sardinië. Zie ook mijn blog van 27 september 2010 en eveneens alle tags voor Grazia Deledda op dit blog.
Uit Marianna Sirca (Vertaald door Cathy Vignale)
"Cuddled up, glad that the shepherds could not pull on her skirt as she passed, and say winking: "Will you lend me your place, Marianna?" She had even fallen asleep. And she woke up here, after so many years. She was thirty, now, and did not even know love. They had raised her as a girl of a noble family, destined to a rich marriage; in reality her life had been that of a submissive servant not only to the padrone but to the servants of greater rank than she.
But her father is returning: and her thoughts retire in their most secret hiding place: no one in the world must know them, and this not so much out of pride but because she loves her soul as her home, everything should be in order, clean, closed in trunks, belonging to her alone. After all, even though her father had a mute admiration for her and the attachment of a faithful servant, he was not a man to understand her: as he comes forward, small, bent over, with his hands together, the large bald head seems to be pulled down to his chest by the long gray curly beard. He seemed like a friar disguised as a shepherd, a meek hermit with large brown, still innocent eyes."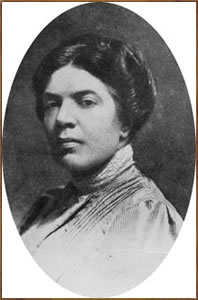 Grazia Deledda (27 september 1871 – 15 augustus 1936)


De Oostenrijkse dichter, bibliograaf, bibliothecaris en vertaler Johann Nepomuk Cosmas Michael Denis werd geboren in Schärding op 27 september 1729. Zie ook mijn blog van 27 september 2009 en ook mijn blog van 27 september 2010
Wein und Barden
Genug, genug, schon lange genug erging
Von Tokays Höhen, edelster Traubensohn!
Dein Goldfluß und von Tarzals Höhen,
Greisenverjüng'ter, Herzenerfreuer!
Des Herbstes Ersterzeugter und Stolz der Theiß!
Du warst genug, schon lange genug der Fürst,
Bei vaterländischen Gelagen,
Unter den übrigen Traubensöhnen.
Nun sieht den Irrthum langer Jahrhunderte
Der weise Gaumen eckeler Großen ein,
Erklärt dich angemaßter Herrschaft
Ueber die Rebengetränke schuldig,
Und wittert nach den Trauben der Ufer hin,
Wo Gothen einst geboten, verarteten,
Von Süden hergeschiffter, schwarzer
Fremdlinge leidende Knechte wurden.
Der Schimpf ist groß. Doch tröste dich Heldentrank!
Du hast Gefährten. Siehe, den höflichen,
Geschminkten, kalten Auslandliedern
Hangen mit hastigem Ohr' entgegen
Thuiskons Zwitterenkel, verachten ihn,
Verstehn ihn nicht den heimischen Herzgesang,
Den kühnen heißen vollgedrängten
Thatenverewiger, Seelenheber.
Ist er darum nun weniger, was er ist?
O nein! Von seinem blaulichen Wege sieht,
Voll seines Werthes, dieser, Adler
Ruhig auf quäkende Sümpfe nieder.
So du auch, Sohn der Traube! Wann Friederichs
Und Herrmanns Barde fallen, dann wird der Ruhm,
Der jetzt auf Tarzal und Tokay
Zeitiget, andre Gebirge gölden.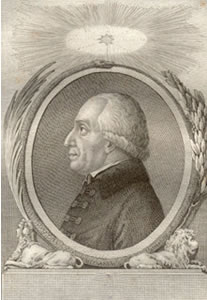 Michael Denis (27 september 1729 - 29 september 1800)
27-09-2011 om 19:29 geschreven door Romenu

Tags:Tanja Kinkel, Wacł,aw Rolicz-Lieder, Henri-Frédéric Amiel, Grazia Deledda, Michael Denis, Romenu