E-mail mij


Druk op onderstaande knop om mij te e-mailen.


Romenu


Romenu is een blog over gedichten, literatuur en kunst Maar Romenu is ook een professionele freelance vertaler
Du-Ne en Ne-Du http://www.romenu.nl.


Huur eens een (vakantie)huis in een natuurgebied, dichtbij het centrum van Nijmegen


Google


Georg Trakl

Georg Trakl werd op 3 februari 1887 in het conducteurshuis aan de Waagplatz 2 in Salzburg geboren. Zijn vader, Tobias Trakl, was een handelaar in ijzerwaren en zijn moeder, die ook psychische problemen had, was Maria Catharina Trakl, (meisjesnaam Halik). Voorts had hij nog drie broers en drie zussen. Margarethe (doorgaans Grethe genoemd) stond hem het naast, zelfs zodanig dat sommigen een incestueuze verhouding vermoeden. Zijn jeugd bracht hij door in Salzburg. Vervolgens bezocht hij van 1897 tot 1905 het humanistische gymnasium. Om toch een academische opleiding te kunnen volgen, werkte hij tot 1908 in de praktijk bij een apotheker. Sommigen vermoedden dat hij dit vooral deed om zichzelf opiaten te kunnen verschaffen. Bij het uitbreken van WO I werd Trakl als medicus naar het front in Galicië (heden ten dage in Oekraďne en Polen) gestuurd. Zijn gemoedsschommelingen leidden tot geregelde uitbraken van depressie, die verergerd werden door de afschuw die hij voelde voor de verzorging van de ernstig verwonde soldaten. De spanning en druk dreven hem ertoe een suďcidepoging te ondernemen, welke zijn kameraden nochtans verhinderden. Hij werd in een militair ziekenhuis opgenomen in Kraków, alwaar hij onder strikt toezicht geplaatst werd.Trakl verzonk daar in nog zwaardere depressies en schreef Ficker om advies. Ficker overtuigde hem ervan dat hij contact moest opnemen met Wittgenstein, die inderdaad op weg ging na Trakls bericht te hebben ontvangen. Op 4 november 1914, drie dagen voordat Wittgenstein aan zou komen, overleed hij echter aan een overdosis cocaďne


Paul Celan

Paul Celan werd onder de naam Paul Antschel op 23 november 1920 geboren in Czernowitz, toentertijd de hoofdstad van de Roemeense Boekovina, nu behorend bij de Oekraďne. Paul Celans ouders waren Duitssprekende joden die hun zoon joods opvoedden en hem naar Duitse christelijke scholen stuurden. In 1942 werden Celans ouders door de Duitse bezetter naar een werkkamp gedeporteerd en daar vermoord. Hijzelf wist aanvankelijk onder te duiken, maar moest vanaf juli 1942 in een werkkamp dwangarbeid verrichten. Celan overleefde de oorlog. Via Boekarest en Wenen vestigde Celan zich in 1948 in Parijs. Daar was hij werkzaam als dichter, vertaler en doceerde hij aan de prestigieuze Ecole Normale Supérieure. Vermoedelijk op 20 april 1970 beëindigde hij zijn leven zelf door in de Seine te springen.


Gerard Reve

Gerard Reve over: Medearbeiders "God is in de mensen, de dieren, de planten en alle dingen - in de schepping, die verlost moet worden of waaruit God verlost moet worden, door onze arbeid, aangezien wij medearbeiders van God zijn." Openbaring "Tja, waar berust elk godsbegrip op, elke vorm van religie? Op een openbaring, dat wil zeggen op een psychische ervaring van zulk een dwingende en onverbiddelijke kracht, dat de betrokkene het gevoel heeft, niet dat hij een gedachte of een visioen heeft, maar dat een gedachte gedachte of visioen hem bezit en overweldigt."


Simon Vestdijk
Simon Vestdijk (Harlingen, 17 oktober 1898 – Utrecht, 23 maart 1971) was een Nederlands romancier, dichter, essayist en vertaler. Zijn jeugd te Harlingen en Leeuwarden beschreef hij later in de Anton Wachter-cyclus. Van jongs af aan logeerde hij regelmatig bij zijn grootouders in Amsterdam, waar hij zich in 1917 aan de Universiteit van Amsterdam inschrijft als student in de medicijnen. Tijdens zijn studie die van 1917 tot 1927 duurde, leerde hij Jan Slauerhoff kennen.Tot 1932 is hij als arts in praktijken door heel Nederland werkzaam. In 1932 volgt zijn officiële schrijversdebuut met de uitgave van de bundel Verzen in De Vrije Bladen. Doorslaggevend voor Vestdijks uiteindelijke keuze voor de literatuur is zijn ontmoeting in 1932 met Eddy Du Perron en Menno ter Braak. Deze ontmoeting had tot resultaat dat hij redactielid werd van het tijdschrift Forum Kort daarop, in 1933, wordt zijn eerste novelle, De oubliette, uitgegeven. In hetzelfde jaar schrijft hij Kind tussen vier vrouwen, dat, eerst geweigerd door de uitgever, later de basis zal vormen voor de eerste drie delen van de Anton Wachter-romans. In 1951 ontvangt Vestdijk de P.C. Hooftprijs voor zijn in 1947 verschenen roman De vuuraanbidders. In 1957 wordt hij voor het eerst door het PEN-centrum voor Nederland voorgedragen voor de Nobelprijs voor de Literatuur, die hij echter nooit zal krijgen. Op 20 maart 1971 wordt hem de Prijs der Nederlandse Letteren toegekend, maar voor hij deze kan ontvangen overlijdt hij op 23 maart te Utrecht op 72-jarige leeftijd. Vestdijk was auteur van ca. 200 boeken. Vanwege deze enorme productie noemde de dichter Adriaan Roland Holst hem 'de man die sneller schrijft dan God kan lezen'. Andere belangrijke boeken van Simon Vestdijk zijn: "Kind van stad en land" (1936), "Meneer Visser's hellevaart" (1936), "Ierse nachten" (1946), "De toekomst de religie" (1947), "Pastorale 1943" (1948), "De koperen tuin" (1950), "Ivoren wachters" (1951), "Essays in duodecimo" (1952) en "Het genadeschot" (1964).


K.P. Kavafis

K.P. Kavafis werd als kind van Griekse ouders, afkomstig uit Konstantinopel, geboren in 1863 in Alexandrië (tot vandaag een Griekse enclave) waar hij ook het grootste deel van zijn leven woonde en werkte. Twee jaar na de dood van zijn vader verhuist het gezin in 1872 naar Engeland om na een verblijf van vijf jaar naar Alexandrië terug te keren. Vanwege ongeregeldheden in Egypte vlucht het gezin in 1882 naar Konstantinopel, om na drie jaar opnieuw naar Alexandrië terug te gaan. In de jaren die volgen maakt Kavafis reizen naar Parijs, Londen en in 1901 zijn eerste reis naar Griekenland, in latere jaren gevolgd door nog enkele bezoeken. Op de dag van zijn zeventigste verjaardag, in 1933 sterft Kavafis in Alexandrië. De roem kwam voor Kavafis pas na zijn dood, dus postuum. Deels is dat toe te schrijven aan zijn eigen handelswijze. Hij was uiterst terughoudend met de publicatie van zijn gedichten, liet af en toe een enkel gedicht afdrukken in een literair tijdschrift, gaf in eigen beheer enkele bundels met een stuk of twintig gedichten uit en het merendeel van zijn poëzie schonk hij op losse bladen aan zijn beste vrienden.


Thomas Mann


Thomas Mann, de jongere broer van Heinrich Mann, werd geboren op 6 juni 1875 in Lübeck. Hij was de tweede zoon van de graankoopman Thomas Johann Heinrich Mann welke later één van de senatoren van Lübreck werd. Zijn moeder Julia (geboren da Silva-Bruhns) was Duits-Braziliaans van Portugees Kreoolse afkomst. In 1894 debuteerde Thomas Mann met de novelle "Gefallen". Toen Thomas Mann met 21 jaar eindelijk volwassen was en hem dus geld van zijn vaders erfenis toestond - hij kreeg ongeveer 160 tot 180 goldmark per jaar - besloot hij dat hij genoeg had van al die scholen en instituties en werd onafhankelijk schrijver. Kenmerkend voor zijn stijl zijn de ironie, de fenomenale taalbeheersing en de minutieuze detailschildering. Manns reputatie in Duitsland was sterk wisselend. Met zijn eerste roman, Buddenbrooks (1901), had hij een enorm succes, maar door zijn sceptische houding tegenover Duitsland na de Eerste Wereldoorlog veranderde dit volledig. Stelde hij zich tot aan de jaren twintig apolitiek op (Betrachtungen eines Unpolitischen, 1918), meer en meer raakte hij bij het Politiek gebeuren betrokken. Zijn afkeer van het nationaal socialisme groeide, zijn waarschuwingen werden veelvuldiger en heftiger. In 1944 accepteerde hij het Amerikaanse staatsburgerschap. Tussen 1943 en 1947 schreef Mann Doktor Faustus (zie Faust), de roman van de 'Duitse ziel' in de gecamoufleerd geschilderde omstandigheden van de 20ste eeuw. In 1947 bezocht hij voor het eerst sinds de Oorlog Europa, twee jaar later pas Duitsland. In 1952 vertrok hij naar Zwitserland. Op 12 augustus 1955 stierf hij in Zürich. Twintig jaar na zijn dood, in aug. 1975, is zijn literaire nalatenschap geopend: dagboekaantekeningen van 15 maart 1933 tot 29 juli 1955, alsmede notities uit de jaren 1918 tot en met 1921.Belangrijke werken zijn: Der Zauberberg, Der Tod in Venedig, Dokter Faustus , Joseph und seine Brüder en Die Bekenntnisse des Hochstaplers Felix Krull.


Rainer Maria Rilke

Rilke werd op 4 december 1875 geboren in Praag. Hij had al naam gemaakt als dichter met zijn bundels Das Stundenbuch en Das Buch der Bilder, toen hij de literaire wereld versteld deed staan en wereldfaam verwierf met de publicatie van zijn twee delen Neue Gedichte in 1907 en 1908. Hij verzamelde daarin het beste werk uit een van zijn vruchtbaarste periodes, die hij grotendeels doorbracht in Parijs. Rilke was daar diep onder de indruk gekomen van Rodin, bij wie hij een tijdlang in dienst was als particulier secretaris. Rodin, zei hij later, had hem leren kijken. Dit kijken kwam neer op intense concentratie, om het mysterie te kunnen zien 'achter de schijnbare werkelijkheid'. Latere en rijpere werken als Duineser Elegien (1912-1923) en het ronduit schitterende Die Sonette an Orfeus (1924) illustreren Rilkes metafysische visie op het onzegbare, dat haar verwoording vindt in een hermetische muzikale taal. Op 29 december 1926 overlijdt Rilke in het sanatorium in Val-Mont aan de gevolgen van leukemie. Enkele dagen later wordt hij, overeenkomstig zijn wens, begraven op het kerkhof van Raron.


* * * * * * * * * * * * * * * *

| | |
| --- | --- |
| | Over literatuur, gedichten, kunst en cultuur |

08-12-2013

Bij de tweede zondag van de Advent (Mariae Verkündigung, Rainer Maria Rilke)
Bij de tweede zondag van de Advent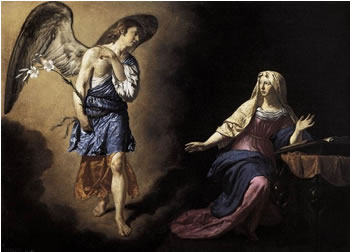 Adriaen van de Velde, De boodschap aan Maria, 1667
Mariae Verkündigung
Nicht dass ein Engel eintrat (das erkenn),
erschreckte sie. Sowenig andre, wenn
ein Sonnenstrahl oder der Mond bei Nacht
in ihrem Zimmer sich zu schaffen macht,
auffahren -, pflegte sie an der Gestalt,
in der ein Engel ging, sich zu entrüsten;
sie ahnte kaum, dass dieser Aufenthalt
mühsam für Engel ist. (O wenn wir wüssten,
wie rein sie war. Hat eine Hirschkuh nicht,
die, liegend, einmal sie im Wald eräugte,
sich so in sie versehn, dass sich in ihr,
ganz ohne Paarigen, das Einhorn zeugte,
das Tier aus Licht, das reine Tier -.)
Nicht, dass er eintrat, aber dass er dicht,
der Engel, eines Jünglings Angesicht
so zu ihr neigte; dass sein Blick und der,
mit dem sie aufsah, so zusammenschlugen
als wäre draußen plötzlich alles leer
und, was Millionen schauten, trieben, trugen,
hineingedrängt in sie: nur sie und er;
Schaun und Geschautes, Aug und Augenweide
sonst nirgends als an dieser Stelle -: sieh,
dieses erschreckt. Und sie erschraken beide.
Dann sang der Engel seine Melodie.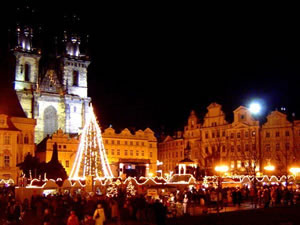 Rainer Maria Rilke (4 december 1875 – 29 december 1926)
Praag in de Advent (Rilke werd geboren in Praag)
Zie voor de schrijvers van de 8e december ook mijn vorige twee blogs van vandaag.
08-12-2013 om 13:40 geschreven door Romenu

Tags:Advent, Rainer Maria Rilke, Romenu



Louis de Berničres, Bill Bryson, Mary Gordon, Delmore Schwartz, Jim Morrison, James Thurber, Hervey Allen
De Britse schrijver Louis de Bernières werd geboren in Londen op 8 december 1954. Zie ook alle tags voor Louis de Bernières op dit blog.
Uit: Corelli's Mandolin
'Only my finger,' replied Stamatis.
'And how long have you been deaf in this ear?'
'Since as long as I can remember.'
Dr Iannis found an absurd picture rising up before his imagination. It was Stamatis as a toddler, with the same gnarled face, the same stoop, the same overmeasure of aural hair, reaching up to the kitchen table and taking a dried pea from a wooden bowl. He stuck it into his mouth, found it too hard to bite, and crammed it into his ear. The doctor chuckled, 'You must have been a very annoying little boy.'
'He was a devil.'
'Be quiet, woman, you didn't even know me in those days.'
'I have your mother's word, God rest her soul,' replied the old woman, pursing her lips and folding her arms, 'and I have the word of your sisters.'
Dr Iannis considered the problem. It was undoubtedly an obdurate and recalcitrant pea, and it was too tightly packed to lever it out. 'Do you have a fishhook, about the right size for a mullet, with a long shank? And do you have a light hammer?'
The couple looked at each other with the single thought that their doctor must have lost his mind. 'What does this have to do with my earache?' asked Stamatis suspiciously.
'You have an exorbitant auditory impediment,' replied the doctor, ever conscious of the necessity for maintaining a certain iatric mystique, and fully aware that 'a pea in the ear' was unlikely to earn him any kudos. 'I can remove it with a fishhook and a small hammer; it's..."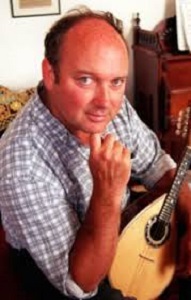 Louis de Bernières (Londen, 8 december 1954)
De Amerikaanse schrijfster Mary Catherine Gordon werd geboren op 8 december 1949 in Far Rockaway, New York. Zie ook alle tags voor Mary Gordon op dit blog.
Uit: Circling My Mother
"Am I purposely creating difficulties for myself, a situation of false conflict, so that I can be tested and emerge a hero? There is the chance that I will not be able to leave the dazzle of the first room, to resist the intoxication of these paintings, so absorbing, so saturating, so suggestive of a world of intense color, of prosperous involvement, of the flow of good life and good fortune. There's the chance that I will forget to call the therapist. I do not forget, but my experience of the first paintings is poisoned by the fear that I will.
My mother has no idea that her ninetieth birthday is coming up. She has no notion of the time of day, the day of the week, the season of the year, the year of the century. No notion of the approaching millennium. And no idea, any longer, who I am. Her forgetting of me happened just a few months ago, after I had been traveling for more than a month and hadn't been to see her. When I came back, she asked me if I was her niece. I said no, I was her daughter. "Does that mean I had you?" she asked. I said yes. "Where was I when I had you?" she asked me. I told her she was in a hospital in Far Rockaway, New York. "So much has happened to me in my life," she said. "You can't expect me to remember everything."
My mother has erased me from the book of the living. She is denying the significance of my birth. I do not take this personally. It is impossible for me to believe any longer that anything she says refers to me. As long as I remember this, I can still, sometimes, enjoy her company.
The day before I go to the Bonnard show, I visit my mother. It is not a good visit. It is one of her fearful days. I say I'll take her out to the roof garden for some air. She says, "But what if I fall off?" I bring her flowers, which I put in a vase near her bed. She says, "But what if they steal them or yell at me for having them?"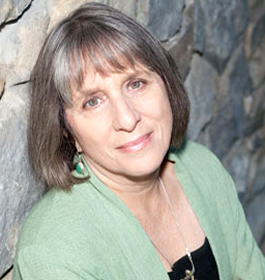 Mary Gordon (Far Rockaway, 8 december 1949)
De Amerikaanse schrijver Bill Bryson werd geboren in Des Moines (Iowa) op 8 december 1951. Zie ook alle tags voor Bill Bryson op dit blog.
Uit: African Diary
"I can't say it actively preyed on me that my impressions of Africa were based so heavily on a series of B-movies made in California more than half a century ago, but when a personable young man named Dan McLean from the London office of CARE International, the venerable and worthy charity, asked me if I would be willing to go to Kenya to visit some of their projects and write a few words on their behalf, it occurred to me that there were some gaps in my familiarity with the Dark Continent that I might usefully fill in. So I agreed.
Some weeks later, I was summoned to CARE's London offices for a meeting with Dan, his boss Will Day and a rugged and amiable fellow named Nick Southern, CARE's regional manager for Kenya, who happened to be in London at the time. We sat around a big table spread with maps of Kenya, while they outlined what they had in mind for me.
"Of course, you'll have to fly to the refugee camp at Dadaab," Will observed thoughtfully at one point. He glanced at me. "To avoid the bandits," he explained.
Dan and Nick nodded gravely.
"I beg your pardon?" I said, taking a sudden interest.
"It's bandit country all round there," Will said.
"Where?" I asked, peering at the map for the first time.
"Oh, just there," Will said, waving a hand vaguely across most of east Africa. "But you'll be fine in a plane."
"They only rarely shoot at planes," Nick explained.
This wasn't at all what I had had in mind, frankly. By way of homework, I had dutifully watched Out of Africa, from which I derived the impression that this trip would mostly take place on a verandah somewhere while turbaned servants brought me lots of coffee."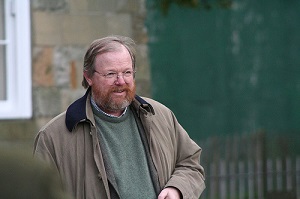 Bill Bryson (Des Moines, 8 december 1951)
De Amerikaanse dichter en schrijver Delmore Schwartz werd geboren op 8 december 1913 in New York. Zie ook alle tags voor Delmore Schwarz op dit blog.
Old man in the crystal morning after snow
Old man in the crystal morning after snow,
Your throat swathed in a muffler, your bent
Figure building the snow man which is meant
For the grandchild's target,
do you know
This fat cartoon, his eyes pocked in with coal
Nears you each time your breath smokes the air,
Lewdly grinning out of a private nightmare?
He is the white cold shadow of your soul.

You build his comic head, you place his comic hat;
Old age is not so serious, and I
By the window sad and watchful as a cat,
Build to this poem of old age and of snow,
And weep: you are my snow man and I know
I near you, you near him, all of us must die.
The Spring
(After Rilke)

Spring has returned! Everything has returned!
The earth, just like a schoolgirl, memorizes
Poems, so many poems. ... Look, she has learned
So many famous poems, she has earned so many prizes!

Teacher was strict. We delighted in the white
Of the old man's beard, bright like the snow's:
Now we may ask which names are wrong, or right
For "blue," for "apple," for "ripe." She knows, she knows!

Lucky earth, let out of school, now you must play
Hide-and-seek with all the children every day:
You must hide that we may seek you: we will! We will!

The happiest child will hold you. She knows all the things
You taught her: the word for "hope," and for "believe,"
Are still upon her tongue. She sings and sings and sings.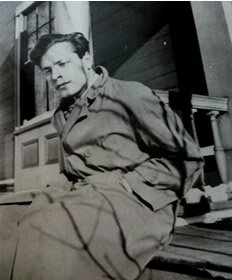 Delmore Schwartz (8 december 1913 – 11 juli 1966)
De Amerikaanse zanger, dichter en tekstschrijver James Douglas (Jim) Morrison werd geboren in Melbourne (Florida) op 8 december 1943.Zie ook alle tags voor Jim Morrison op dit blog.
A man rakes leaves into
a heap in his yard, a pile,
& leans on his rake &
burns them utterly.
The fragrance fills the forest
children pause & heed the
smell, which will become
nostalgia in several years

*

"Have you ever seen God?"
-a mandala. A symmetrical angel.
Felt? yes. Fucking. The Sun.
Heard? Music. Voices.
Touched? an animal. your hand.
Tasted? Rare meat, corn, water,
& wine.

*

An angel runs
Thru the sudden light
Thru the room
A ghost precedes us
A shadow follows us
And each time we stop
We fall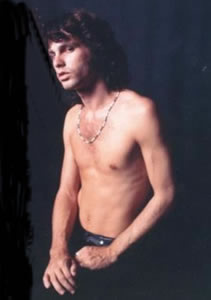 Jim Morrison (8 december 1943 – 3 juli 1971)


De Amerikaanse schrijver James Thurber werd geboren op 8 december 1894 in Columbus, Ohio. Zie ook alle tags voor James Thurber op dit blog.
Uit: My Life and Hard Times
"Old Aunt Clarissa Beall (who could whistle like a man, with two fingers in her mouth) suffered under the premonition that she was destined to die on South High Street, because she had been born on South High Street and married on South High Street. Then there was Aunt Sarah Shoaf, who never went to bed at night without the fear that a burglar was going to get in and blow chloroform under her door through a tube. To avert this calamity—for she was in greater dread of anesthetics than of losing her household goods—she always piled her money, silverware, and other valuables in a neat stack just outside her bedroom, with a note reading: "This is all I have. Please take it and do not use your chloroform, as this is all I have." Aunt Gracie Shoaf also had a burglar phobia, but she met it with more fortitude. She was confident that burglars had been getting into her house every night for forty years. The fact that she never missed anything was to her no proof to the contrary. She always claimed that she scared them off before they could take anything, by throwing shoes down the hallway. When she went to bed she piled, where she could get at them handily, all the shoes there were about her house. Five minutes after she had turned off the light, she would sit up in bed and say "Hark!" Her husband, who had learned to ignore the whole situation as long ago as 1903, would either be sound asleep or pretend to be sound asleep. In either case he would not respond to her tugging and pulling, so that presently she would arise, tiptoe to the door, open it slightly and heave a shoe down the hall in one direction and its mate down the hall in the other direction. Some nights she threw them all, some nights only a couple of pairs."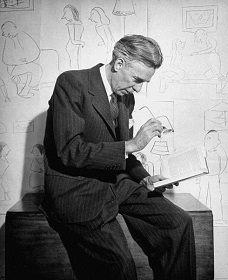 James Thurber (8 december 1894 – 2 november 1961)
De Amerikaanse dichter en schrijver William Hervey Allen werd geboren op 8 december 1889 in Pittsburgh. Zie ook alle tags voor Hervey Allen op dit blog.
Upstairs Downstairs
The judge, who lives impeccably upstairs
With dull decorum and its implication,
Has all his servants in to family prayers,
And edifies _his_ soul with exhortation.
Meanwhile his blacks live wastefully downstairs;
Not always chaste, they manage to exist
With less decorum than the judge upstairs,
And find withal a something that he missed.
This painful fact a Swede philosopher,
Who tarried for a fortnight in our city,
Remarked, one evening at the meal, before
We paralyzed him silent with our pity--
Saying the black man living with the white
Had given more than white men could requite.
Dead Men To a Metaphysician
If they were shadows walking to and fro
Upon a screen you call reality,
Then, when the light fails, where do shadows go?
This boy enigma rapes philosophy.
But if they really occupied three-square,
And now are only shadows on a screen,
How can the light still cast a shadow there
From shades of shadows that have never been?
Such questions are a mimic pantomime
Of ghosts to utter nothings in dream chairs,
Myopia squinting in a mist of time,
An eye that sees the eye with which it stares.
Your light too clearly shows the ancient stigma
Of questions solved by posing an enigma.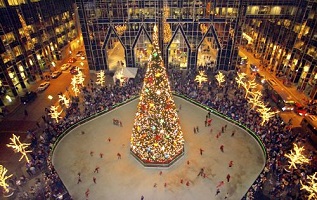 Hervey Allen (8 december 1889 – 28 december 1949)
Light Up Night in Pittsburgh
Zie voor nog meer schrijvers van de 8e december ook mijn vorige blog van vandaag.
08-12-2013 om 13:32 geschreven door Romenu

Tags:Louis de Berničres, Bill Bryson, Mary Gordon, Delmore Schwartz, Jim Morrison, James Thurber, Hervey Allen, Romenu



Georges Feydeau, Horatius, Carmen Martín Gaite, Nikos Gatsos, Jura Soyfer, Bjřrnstjerne Bjřrnson, Joel Chandler Harris
De Franse theaterauteur Georges Feydeau werd geboren op 8 december 1862 in Parijs. Zie ook alle tags voor George Feydeau op dit blog.
Uit: Par la fenêtre
"Scène II
Hector, Emma
Emma, très agitée. — Ah ça ! vous n'entendiez donc pas ?
Hector, gracieusement. — Parfaitement, madame, mais...
Emma, l'imitant. — Parfaitement, madame, mais... Imbécile, va !
Elle passe devant lui, va à la fenêtre et regarde à travers les carreaux.
Hector. — Hein ! (A part.) Eh bien, si c'est pour me dire des choses comme celles-là qu'elle vient me voir ! (Haut.) Pardon, madame, mais...
Emma, sans se déranger. — Allons, vite ! Votre maître !
Hector. — Mon maître ? c'est moi, madame.
Emma, de même, et haussant les épaules. — Comment c'est vous ! Ah ! ça, vous êtes fou !
Hector, ôtant son tablier et remettant sa redingote. — Non, madame, je suis avocat !
Emma, se retournant. — Avocat !
Hector. — Oui, madame.
Emma, descendant. — Comment, c'est vous qui...
Hector. — Oui madame.
Emma. — Oh ! Monsieur ! que d'excuses ! Et moi qui vous ai traité d'imbécile !
Hector, gracieusement. — Oh ! mon Dieu, quand on ne connaît pas les gens !
Emma. — Recevez toutes mes excuses !
Hector, saluant. — Oh ! madame !... tout à votre service. Mais pourrais-je savoir ce qui me vaut l'honneur ?
Emma. — Voilà, monsieur.
Elle ôte son chapeau et son manteau qu'elle pose sur une chaise, à gauche.
Hector, à part. — Hein !... Eh ! bien, elle s'installe ? Sapristi !... et moi qui n'ai pas déjeuné !
Emma, très agitée. — Monsieur !..."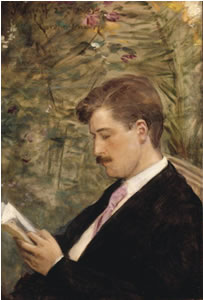 Georges Feydeau (8 december 1862 - 5 juni 1921)
Portret door Carolus-Duran, z.j.
De Romeinse dichter en schrijver Quintus Horatius Flaccus werd geboren op 8 december 65 v. Chr. Zie ook alle tags voor Horatius op dit blog.
Oden III.30
Daar staat mijn monument en tart het duurzaam brons,
de koninklijke rust der hooge pyramiden,
veilig voor regenvlaag en bulderenden storm,
voor eindelooze reeks van snelgewiekte jaren.
Nu leeft iets van mij voort, dat nimmer sterven zal.
Het koele graf ten spijt zal jonge roem mij bloeien,
zoolang een bedevaart opgaat ten Capitool.
Daar, waar de Aufidus bruist langs de dorre velden,
waar Daunus koning was in overouden tijd,
daar, zal men zeggen, werd in needrigheid geboren,
wie, machtig opgegroeid, het Oud-Aeolisch lied
in Italiaansche taal het eerst heeft nagezongen.
Muze, aanvaard een trots, waarvoor geworsteld is,
en kroon uw trouwen knecht met onverwelkbren krans!

Vertaald door Dr. A. Rutgers van der Loeff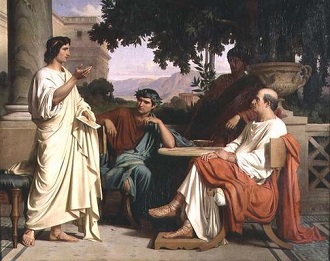 Horatius (8 december 65 v. Chr. - 27 november 8 v. Chr.)
In het huis van Maecenas: v.l.n.r. Vergilius, Horatius, Varius en Maecenas
Geschilderd door Charles François Jalabert, ca. 1846
De Spaanse schrijfster, vertaalster en journaliste Carmen Martín Gaite werd geboren op 8 december 1925 in Salamanca. Zie ook alle tags voor Carmen Martín Gaite op dit blog.
Uit: Drôle de vie la vie (Vertaald doorClaude Bleton)
"Drôle de vie la vie. Être assis ici, à nous parler et nous écouter, enfiler les phrases les unes à la suite des autres sans regarder aucun livre, ne pas en souffrir, avaler une boisson qui sache emprunter le chemin voulu et bifurquer au bon moment, être nourris par l'air quand d'autres ne le sont plus, avoir envie d'une chose et de son contraire et permettre que cette envie détermine notre destin, cela fait beaucoup à la fois non ? C'est trop, et le plus drôle c'est que nous trouvions cela normal.
(…)
Parfois je pense, dis-je comme si je réfléchissais à haute voix, que l'ont ment parce que l'on est incapable de supplier les autres de vous accepter tel que vous êtes. Quand on refuse d'avouer le désarroi de sa vie, on se déguise en autre chose, on trouve le truc pour inventer et on passe à la chimère pure, on n'arrête pas de brinquebaler avec un masque sur le nez, en s'éloignant du chemin au bout duquel on aurait pu découvrir qui on est."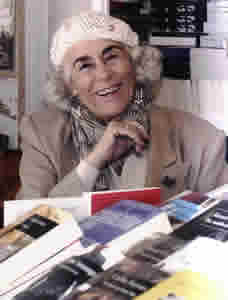 Carmen Martín Gaite (8 december 1925 – 22 juli 2000)
De Griekse dichter en schrijver Nikos Gatsos werd geboren op 8 december 1911 in Kato Asea in Arcadië. Zie ook alle tags voor Nikos Gatsos op dit blog.
Amorgos (Fragment)
With their country tangled up in their sails, and their oars hanging
in the wind
The shipwrecked sailors slept like stunned dead beasts amid sheets
of sponges
But the eyes of the seaweed are twisted towards the sea
Hoping the south wind will bring them back to life again
with newly-dyed sails
For one lost elephant is always worth more than the trembling breasts
of a girl
May the roofs of the deserted mountain chapels light up
with desire for the evening star
May birds come in waves to the masts of the lemon trees
With a new way of walking, a steady white breathing
Only then shall come the small-winded bodies of swans
who have been waiting immaculate, motionless and tender
Amid the steam-rollers of commerce and the cyclones of market-gardens
When the eyes of the women turned to coal and the hearts of the
chestnut-sellers were broken
When the harvest was stopped and the hopes of crickets began.
Vertaald door Anita Sullivan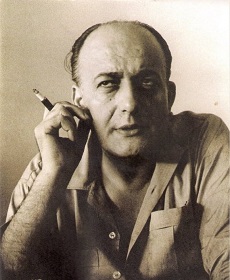 Nikos Gatsos (8 december 1911 – 12 mei 1992)
De Oostenrijkse schrijver Jura Soyfer werd op 8 december 1912 in Charkov, Oekraïne, geboren. Zie ook alle tags voor Jura Soyfer op dit blog.
Lied vom einfachen Menschen
Menschen sind wir einst vielleicht gewesen
Oder werden's eines Tages sein,
Wenn wir gründlich von all dem genesen.
Aber sind wir heute Menschen? Nein!
Wir sind der Name auf dem Reisepaß,
Wir sind das stumme Bild im Spiegelglas,
Wir sind das Echo eines Phrasenschwalls
Und Widerhall des toten Widerhalls.

Längst ist alle Menschlichkeit zertreten,
Wahren wir doch nicht den leeren Schein!
Wir, in unsern tief entmenschten Städten,
Sollen uns noch Menschen nennen? Nein!
Wir sind der Straßenstaub der großen Stadt,
Wir sind die Nummer im Katasterblatt,
Wir sind die Schlange vor dem Stempelamt
Und unsre eignen Schatten allesamt.

Soll der Mensch in uns sich einst befreien,
Gibt's dafür ein Mittel nur allein:
Stündlich fragen, ob wir Menschen seien?
Stündlich uns die Antwort geben: Nein!
Wir sind das schlecht entworfne Skizzenbild
Des Menschen, den es erst zu zeichnen gilt.
Ein armer Vorklang nur zum großen Lied.
Ihr nennt uns Menschen? Wartet noch damit!

Jura Soyfer (8 december 1912 – 16 februari 1939)
De Noorse dichter, schrijver, journalist en politicus Bjørnstjerne Bjørnson werd geboren op 8 december 1832 in Kvikne bij Tynset. Zie ook alle tags voor Bjørnstjerne Bjørnson op dit blog.
Alone And Repentant
A friend I possess, whose whispers just said,
"God's peace!" to my night-watching mind.
When daylight is gone and darkness brings dread,
He ever the way can find.

He utters no word to smite and to score;
He, too, has known sin and its grief.
He heals with his look the place that is sore,
And stays till I have relief.

He takes for his own the deed that is such
That sorrows of heart increase.
He cleanses the wound with so gentle a touch,
The pain must give way to peace.

He followed each hope the heights that would scale
Reproached not a hapless descent.
He stands here just now, so mild, but so pale; --
In time he shall know what it meant.
Choice
April for me I choose!
In it the old things tumble,
In it things new refresh us;
It makes a mighty rumble,-
But peace is not so precious
As that his will man shows.

April for me I choose,
Because it storms and scourges,
Because it smiles and blesses,
Because its power purges,
Because it strength possesses,-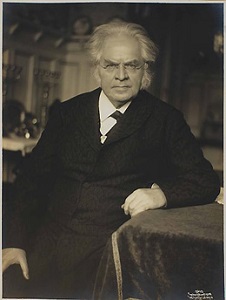 Bjørnstjerne Bjørnson (8 december 1832 – 26 april 1910)
In 1908
De Amerikaanse schrijver Joel Chandler Harris werd geboren op 8 december 1848 in Eatonton, Georgia.Zie ook alle tags voor Joel Chandler Harris op dit blog.
When you've got a thing to say
"When you've got a thing to say,
Say it! Don't take half a day.
When your tale's got little in it
Crowd the whole thing in a minute!
Life is short--a fleeting vapor--
Don't you fill the whole blamed paper
With a tale which, at a pinch,
Could be cornered in an inch!
Boil her down until she simmers,
Polish her until she glimmers."
Now on this bobbin I wind a hair
"'Now on this bobbin I wind a hair,
White, and silken, and long;
I wind it slow, I wind it fair,
Glossy, and white, and strong.
"'I wind it here in shade and sun,
For one, one, one are three--
Three and no more where the stag shall run,
Close by the chestnut-tree.
"'And one shall catch, and two shall hold,
And three shall clamp and kill;
Just say to your hand, Be steady and bold;
And say to your heart, I will.'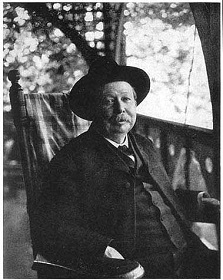 Joel Chandler Harris (8 december 1848 – 3 juli 1908)
08-12-2013 om 13:09 geschreven door Romenu

Tags:Georges Feydeau, Horatius, Carmen Martín Gaite, Nikos Gatsos, Jura Soyfer, Bjřrnstjerne Bjřrnson, Joel Chandler Harris, Romenu



Jamal Ouariachi
De Nederlandse schrijver Jamal Ouariachi werd geboren in Amsterdam op 8 december 1978. Ouariachi heeft een Nederlandse moeder en een Marokkaanse vader. Hij doorliep het Barlaeus Gymnasium, tot hij daar halverwege de vijfde klas van verwijderd werd. Tussen 2000 en 2008 studeerde hij psychologie aan de Universiteit van Amsterdam. Een tijd lang was hij werkzaam als (online) therapeut. Tegenwoordig is hij fulltime schrijver. In augustus 2010 debuteerde Ouariachi bij uitgeverij Querido met de roman "De vernietiging van Prosper Morèl". Een verhaal van zijn hand, "Zopor", verscheen in de bloemlezing "Agents-Provocateurs: 20 onder 35" (2011), een selectie van de origineelste jonge schrijvers van nu. Verder schreef hij verhalen, artikelen en polemieken voor onder meer nrc.next, HP/De Tijd, De Revisor en Knack.
Uit: De Vernietiging van Prosper Morèl
"Hooghartig rees het gebouw boven de oude stad uit, met een vanzelf- sprekendheid, alsof het daar altijd gestaan had, alsof niet eerst de stad, maar eerst het gebouw er was geweest.
'Dames en heren,' zei de gids in Nederlands gekleurd Engels, 'soms groeit een bouwwerk uit tot het logo van de stad waar het zich bevindt. Ik noem een Eiffeltoren... een Brandenburger Tor... de Akropolis, het Kremlin... of voor de Amerikanen onder u: het Empire State Building, of het Capitool.'
Wij knikten, ja, die namen kenden we wel. Ons, fervente stedenreizigers, veelal gepensioneerd – ons hoefde je niets te vertellen, we waren mensen van de wereld, we hadden heel wat gezien.
'Stuk voor stuk iconen,' zei de gids. 'Bouwwerken die méér zijn dan een cliché op een ansichtkaart. Ze zijn synoniem geworden aan hun thuishaven. Denk je aan het bouwwerk, dan denk je aan de stad, en omgekeerd.'
Wij kregen een ogenblik de tijd om dit filosofische inzicht te ver- werken. Achter ons op de kade raasde het verkeer voorbij, terwijl van voren een stevige wind ons in het gezicht blies.
'But!' ging hij verder, met een dreigende vinger in de lucht. 'Hoe zit het met Amsterdam? Wat is dat ene unieke bouwwerk dat wij met Amsterdam vereenzelvigen?' Zijn retorische blik ging als een zoeklicht de kring rond.
Een Amerikaanse dame van minstens tachtig waagde het om haar hand op te steken en te vragen: 'Well, how about the canals?'
Ja, daar had ze een punt. Alle blikken richtten zich nu verwachtingsvol op de gids. Die plukte met een smalende glimlach aan zijn opzichtige, gele vlinderdasje en antwoordde kalmpjes: 'Of course... de grachten zijn wereldberoemd... Wie kent ze niet? Maar wat zijn het?"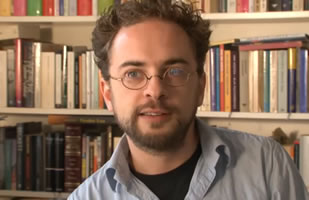 Jamal Ouariachi (Amsterdam, 8 december 1978)
08-12-2013 om 00:00 geschreven door Romenu

Tags:Jamal Ouariachi, Romenu



| | |
| --- | --- |
| | |



Inhoud blog


| | |
| --- | --- |
| | Bernard Malamud, Vincente Alexandre, Carl-Christian Elze, Hannelies Taschau, Theun de Vries, Hertha Kräftner, Johann Uhland, Margreet van Hoorn, Leo Stilma |
| | Erik Menkveld, Ted Kooser, James Fenton, Walter de la Mare, Richard Anders, William Temple, John Keble, Ross Franklin Lockridge Jr., Leopoldo Alas |
| | Frans Coenen, Eric Bogosian, Robert Penn Warren, George Oppen, Sue Grafton, Carl Spitteler, Anthony Trollope, Michael Schaefer, Marcus Clarke |
| | William Shakespeare, Roman Helinski, Pascal Quignard, Peter Horst Neumann, Andrey Kurkov, Halldór Laxness, Christine Busta, Adelheid Duvanel, Richard Huelsenbeck |
| | The Good Shepherd (Stanley Moss) |
| | Giorgio Fontana, Jan de Hartog, Björn Kern, Vladimir Nabokov, Chetan Bhagat, Peter Weber, Jos de Haes, Thommie Bayer, Madame de Staël |
| | Ana María Shua, Louise Glück, Robert Choquette, James Philip Bailey, Henry Fielding, Michael Schulte, Cabrera Infante, Ludwig Renn |
| | The Enkindled Spring (D. H. Lawrence) |
| | Charlotte Brontë, Patrick Rambaud, John Mortimer, Charles den Tex, Ahmed Arif, Michael Mann |
| | Peter Schneider, Meira Delmar, Alistair MacLean, Gerrit Wustmann, Népomucčne Lemercier |
| | Prijs der Nederlandse Letteren voor Judith Herzberg |
| | Martinus Nijhoff, Jan Cremer, Jean Pierre Rawie, Marieke Lucas Rijneveld, Sebastian Faulks, Jozef Deleu, Steve Erickson, Arto Paasilinna, Michel Leiris |
| | Martin Michael Driessen, Marjoleine de Vos, Manuel Bandeira, n. c. kaser, Veniamin Kaverin, Louis Amédée Achard, Pierre-Jean de Béranger, Gudrun Reinboth, Werner Rohner |
| | Wam de Moor, Bas Belleman, Roos van Rijswijk, Hanane Aad, Clara Eggink, Kathy Acker, Joy Davidman, Henry Kendall, Katharina Schwanbeck |
| | Antoon Coolen, Vincent Corjanus, Nick Hornby, Ida Boy-Ed, Thornton Wilder, David Wagner, R.J. Pineiro, Helen Meier, Karen Blixen |
| | Sarah Kirsch, Thomas Olde Heuvelt, Kingsley Amis, Patricia De Martelaere, Tristan Tzara, Ewald Vanvugt, Sibylle Lewitscharoff, Jan Luyken, Anatole France |
| | Emmaüs (Felix Timmermans) |
| | Tomas Tranströmer, Daniël Samkalden, Jérôme Lambert, Patrick Bernauw, Benjamin Zephaniah, Henry James, Wilhelm Busch, Ina Boudier-Bakker |
| | Bliss Carman, Beate Morgenstern, Jeffrey Archer, Bernhard Lassahn, Erich Arendt, Pol De Mont, Staf Weyts, Hans Egon Holthusen |
| | Péter Esterházy, Alexandre Jardin, Tjitse Hofman, Landolf Scherzer, Charles Lewinsky, Roman Graf |
| | Roberto Schopflocher, Martin Kessel, Gabriele Stötzer, Helene Hübener, Gerhard Rohlfs |
| | Nachoem Wijnberg, K. Michel, Alexander Münninghoff, Michel Faber, Jean-Marie Gustave Le Clézio, Samuel Beckett, Seamus Heaney, Tim Krabbé, Eudora Welty |
| | Antje Rávic Strubel, Alan Ayckbourn, Scott Turow, Tom Clancy, Agnes Sapper, Edward de Vere, José Gautier Benítez, Alexander Ostrovski, Guillaume-Thomas Raynal |
| | Leonard Nolens, Mark Strand, Silvia Avallone, Walid Soliman, Dorothy Allison, Hubert Nyssen, Rolf Schilling, Glenway Wescott, Claude Tillier |
| | Leo Vroman, Jan van Mersbergen, Paul Theroux, Claudio Magris, Bella Akhmadulina, Stefan Heym, Richard Wagner, Marcel van Maele, Eric Knight |
| | Charles Baudelaire, Jelle Brandt Corstius, Karel Jonckheere, Joolz Denby, Albert von Schirnding, Johannes Bobrowski, Bernard-Marie Koltčs, Arnold Stadler, Yaël Vinckx |
| | Thomas (Jan Willem Schulte Nordholt) |
| | Herinnering aan Gerard Reve, Hanz Mirck, Christoph Hein, Judith Koelemeijer, Nnedi Okorafor, Barbara Kingsolver |
| | John Fante, Johann Christian Günther, Glendon Swarthout, Martin Grzimek, Hégésippe Moreau, Robert Askins |
| | Den Haag (Paul Rodenko) |
| | Juliana Spahr, William Wordsworth, Özcan Akyol, Gabriela Mistral |
| | Kazim Ali, Annejet van der Zijl, John Pepper Clark, Jakob Ejersbo, Günter Herburger, Uljana Wolf, Brigitte Schwaiger, Julien Torma, Nicolas Chamfort |
| | Iulian Ciocan |
| | Hugo Claus, Martin Reints, Mieke van Zonneveld, Vítězslav Hálek, Algernon Swinburne, Bora Ćosić,, Werner J. Egli, Michael Georg Conrad, Marente de Moor |
| | Maya Angelou, Hanneke Hendrix, Marko Klomp, Marcel Vaarmeijer, E. L. James, Marguerite Duras, Robert Schindel, Michiel van Kempen, Bettina von Arnim |
| | Charles Ducal, Adriaan Jaeggi, Frederik van Eeden, Bert Bakker, Peter Huchel, Arlette Cousture, Pieter Aspe, Karel N.L. Grazell, Washington Irving |
| | Die Sonne geht im Osten auf (Christian Morgenstern) |
| | Thomas Glavinic, Jay Parini, Anneke Claus, Klaus Ender, Konrad Merz, Ed Dorn, Émile Zola |
| | György Konrád, Anne Waldman, Casanova, Hans Christian Andersen, Roberto Arlt, Edgar Hilsenrath, George Fraser |
| | Hoffmann von Fallersleben, Johann Gleim, Pierre Zaccone, Pietro della Valle, Zwier van Haren, Joanna Chmielewska, Brigitte Struzyk |
| | Preis dem Todesüberwinder! (Friedrich Klopstock) |
| | Milan Kundera, Sandro Veronesi, Nikolaj Gogol, Arnold Aletrino, Max Nord, Urs Allemann, Rolf Hochhuth, John Wilmot, Deborah Feldman |
| | Maria Polydouri, Edgar Wallace, Carl Sternheim, Edmond Rostand, Armel Guerne, Friedrich Güll, Antoine Prévost, Josep de Maistre |
| | Litanie van een wachter bij het graf (Willem Jan Otten) |
| | Stefan Hertmans, Octavio Paz, Asis Aynan, Martijn Teerlinck, Marga Minco, Enrique Vila-Matas |
| | Rob Boudestein, Kornej Tsjoekovski, Andrew Lang, Nichita Stănescu, Hartmut Lange, Marge Piercy |
| | Angela Kreuz, Judith Rossner, Andrew Marvell, John Fowles, Edward FitzGerald, Robert Brasillach, Peter Motte |
| | Golgotha (Theo Thijssen) |
| | Gerrit Komrij, Paul Verlaine, Milton Acorn, Erika Mitterer, Uwe Timm, Tom Sharpe, Gert Heidenreich, Theo Breuer, Luise Hensel |
| | Gethsemane (Jacqueline van der Waals) |


Gastenboek


Druk op onderstaande knop om een berichtje achter te laten in mijn gastenboek